Japanese singer-songwriter Reol dropped her first full album Jijitsu Jo on October 17. Since then she has been to five cities across Japan for her Reol Japan Tour MADE IN FACTION which concluded on November 30 at Zepp Tokyo in Odaiba.
Reol kicked off the finale with the mystical Saisaki which was propped up by eye-popping visuals on a semi see-through screen. The audience was sucked into a futuristic world of entertainment as they followed the lyrics on screen coming from all directions.
The underlying theme of this show was titled Meido IN FACTION ('The Underworld IN FACTION'). The entire 26-song set bred both foot-stomping dance numbers with electronic sounds as well as a groovy performance from a live band. Embedded throughout were elements of pop as well as an essence of the avant garde, resulting in something that was akin to a festival for the gods.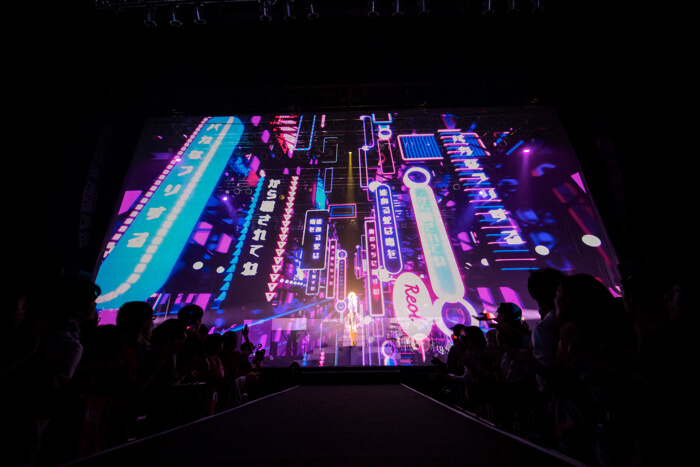 Reol's arsenal of tunes included a string of her best hits that we have heard throughout her career, offering a chance to reminisce at the various styles she has surged through. This included SAIREN which was the ending theme to the anime series Major 2nd, as well as End, Rettou Joutou and more. Song after song, Reol sent the audience into a heated frenzy of excitement.
During the concert, Reol commented: "The concept this time is 'the underworld.' I'm sure you all go through both good things and bad things in your everyday lives. I believe music is there to also help you escape from those unwanted things. Doing a show like this at a venue brings many people and their lives together. I can feel the greatness of the music in being able to all spend the same time together. I'd like to invite you all to the 'underworld' so you can lose your senses even further." She subsequently went on to perform the psychadelic song Cult and then the rap track Bonnō Yūgi.
Firework visuals sparked on the screen and there was a complete shift in the air as Reol quickly changed outfits and stepped back out wearing high heels, the kind you'd don with a black dress. We must also take a moment to appreciate Reol's trumpet solo during her pop song ROXY.
When calls for an encore echoed, a techno pop intro began to play and Reol performed a cover of Desire by Akina Nakamori reproduced by track-maker Gigal. This was followed by Reol's hit song No Title which boasts over 25 million views across video streaming platforms. Reol approached the grand finale with Akibae, a melancholic song about family, and the danceable LUVORATORRRRRY!.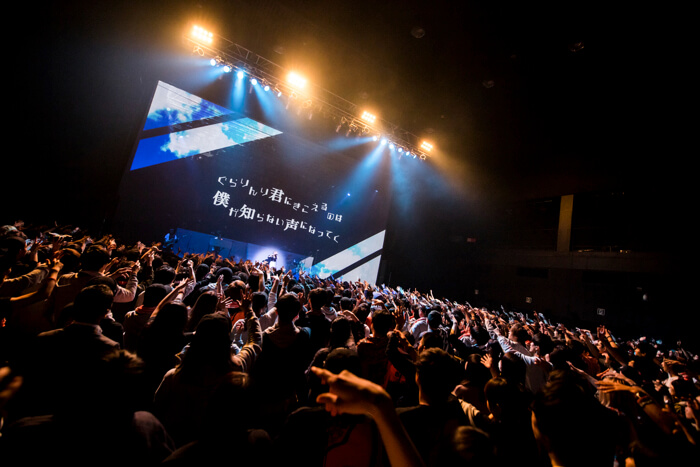 Before the concert started, Reol's music video for Gekihaku was shown for the first time. It is the lead track from Jijitsu Jo. It was once again directed by Shiuchi Bamba (MAZRI Inc.) and features striking colourful imagery that brings to life the song. The video is scheduled to be released sometime this year.
Reol will head overseas for a series of solo concerts. She will hit Honda Muv Hall in Soeul, South Korea on December 15 before heading to Mao Livehouse in Guanzhou, China on January 10 and Modernsky Lab in Shanghai on January 12 and finally Beijing on January 13. Reol has very much made her mark in Japan so it is time for her to embark overseas. We look forward to seeing her activity throughout 2019.
https://www.youtube.com/watch?v=TMw0zYdcK9I
Text: Fukuryuu (Music Concierge)
Photography: Shusei, Ryo Rokuhara
Information
Reol Japan Tour MADE IN FACTION – November 30 at Zepp Tokyo
A playlist compiling the songs from Reol's set can be found below.
https://jvcmusic.lnk.to/reol_20181130
Tour Schedule
Reol MADE IN FACTION in KOREA
Date: December 15, 2018 at 5:00pm
Venue: HONDAE MUVHALL
Price: ₩77,000 (Tax Included)
Ticket Enquiries: http://www.ticketlink.co.kr/product/25569
Reol MADE IN FACTION in CHINA
Date: January 10, 2019
Venue: Mao Live House
Time: Open 19:00 / Start 20:00
Date: January 12, 2019
Venue: Modernsky Lab, Shanghai
Time: Open 14:00 / Start 15:00
Date: January 13, 2019
Venue: Beijing, Tango Live
Time: Open 14:00 / Start 15:00
Ticket Prices: Early ticket: 450RMB / Pre ticket: 480RMB / Door ticket: 580RMB
Buy: https://wap.showstart.com/event/list?type=1
Reol 1st Full Album – 'Jijitsu Jo'
■First Press Limited Edition (CD+DVD+Booklet): ¥3,800 (Pre-Tax) [VIZL-1418]
Bonus①: First press editions come with a DVD featuring the music videos for End, Saisaki and Siren as well as behind-the-scenes footage of the album production.
Bonus 2: Original 36-page 'Jijitsu Jo' concept booklet
■Regular Edition (CD-Only): ¥2,500 (Pre-Tax) [VICL-65037]
Official Website: http://reol.jp