Corona Extra opens "OUTDOOR SAUNA" and a special bar in winter wonderland
With a slice of lime, the style of drinking Corona Extra is beloved by people all over the world. "Corona Winter Escape" is a brand campaign to promote enjoying winter with Corona's platform, "This is Living".
"CORONA WINTER SAUNA SHIMOKITAZAWA" is an enjoyable outdoor winter sauna in the city opening at Shimokitazawa Cage, and "CORONA ESCAPE" is a bar in the snow at an altitude of 1,450m in Hakuba, Nagano prefecture.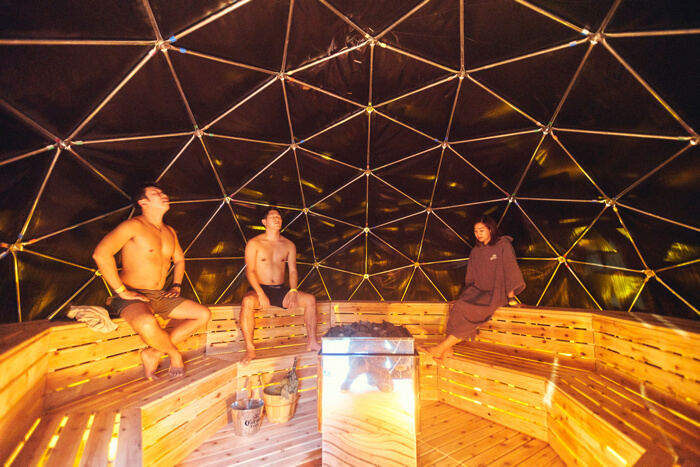 "CORONA WINTER SAUNA SHIMOKITAZAWA" is the second year of an outdoor sauna event. It is an authentic Finnish "löyly" sauna in a tent, paired with outdoor baths to cool yourself down, located in the center of Shimokitazawa. A Finnish sauna, cool water bath and fresh air is a great combination to enhance your mind and body and then enjoy an ice cold Corona Extra to experience a "Winter Escape". In collaboration with Keio Dentetsu, this event will be open for 2 months from the 19th of January (Sat) to the 17th of March (Sun).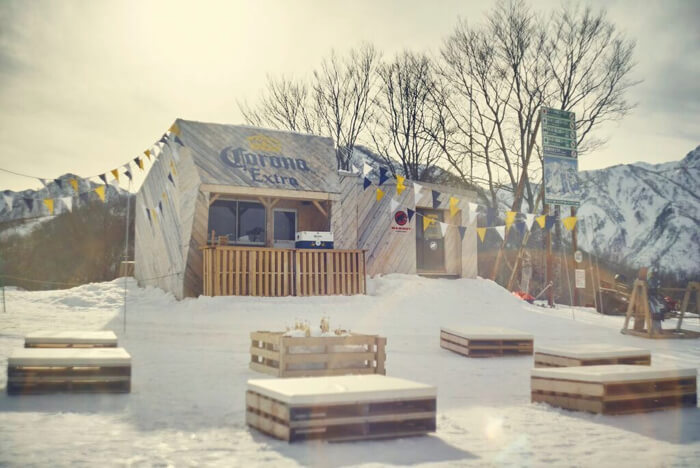 The "CORONA ESCAPE BAR" and "CORONA ESCAPE TERRACE" located in Hakuba, Nagano prefecture is the 4th year and a familiar event of Corona winter campaign.
Cool down after winter sports with a refreshing Corona Extra in your hand while enjoying the incredible snow covered vista of the Northern Japan Alps mountains. You can experience a relaxing time admiring the sunset over this winter wonderland.
Enjoy special winter experience together with CORONA.
Information
CORONA WINTER SAUNA SHIMOKITAZAWA
Date: January 19th(Sat)- March 17th(Sun), 2019
Location: Keio-Inokashira line Koka-Shita,2-6-2 Kitazawa Setagaya-ku Tokyo
Access: 3 minutes walk from Shimokitazawa station, Keio- Inokashira line, Odakyu line.
Time: 112:00-13:30(only weekends and holidays) 214:00-15:30 316:00-17:30 418:00-19:30 520:00-21:30
※ An event ticket is valid for only one time period above
※ Requires an ID-check (age verification) at the entrance
Price: weekday23- ¥3,000, weekday45, weekend and holidays-¥3,500
Including one drink and one towel/ bath robe is available for women only/ please bring your own bathing suit
Capacity: 40 persons for each time period Tickets sales from December 17th(Mon),2018 URL:sauna.s-cage.com
CORONA ESCAPE TERRACE
Date: December 22th(Sat),2018 – March 31th(Sun) 2019
Open: 11:00- 15:30 ※No extended business hours for this season. ※May be changed without notice depending on the weather and snowfall.
Location: Hakuba Happo-One Snow Resort, Usagidaira terrace(4487-12 Ooaza Hokujo, Hakuba-mura, Kita-Azumino-gun, Nagano)
Access: Happo-One gondola lift "Adam", Sancho station
CORONA ESCAPE BAR
Date: December 25th(Tue),2018 – March 31th(Sun),2019
Open: 11:00- 15:00 ※May be changed without notice depending on snowfall Location: Hakuba47 WINTER SPORTS PARK(24196-47 Kamishiro, Hakuba-mura, Kita-Azumino-gun, Nagano)
Access: near the exit of Quad Lift Line-C
CORONA WINTER ESCAPE: http://corona-extra.jp/event/corona-winter/

CORONA WINTER SAUNA SHIMOKITAZAWA: sauna.s-cage.com
RELATED ENTRIES
The North Face and ANA Holiday Inn Resort Shinano-omachi Kuroyon to Co-Develop Mountain Resort

The North Face is set to collaborate with ANA Holiday Inn Resort Shinano-omachi Kuroyon, which opened in Nagano's city of Omachi in July, to develop a new mountain resort where guests can enjoy outdoor activities. The first part of the collaboration will see activities offered which have been made under the supervision of athletes contracted to The North Face. The activities will make full use of Omachi's gorgeous natural environment which is surrounded by stunning mountains.

The North Face has had a high affiliation with this region for a long time. The brand created an original uniform for the staff that work along Tateyama Kurobe Alpine Route, a 37km mountain sightseeing route. It also opened the outdoor clothing and equipment shop The North Face Gravity in Hakuba.

ANA Holiday Inn Resort Shinano-omachi Kuroyon, too, embraces the outdoors of this region as it sits embedded within the lush natural landscape of Omachi. It hails as one of Japan's best mountain resorts which offers guests the chance a sojourn amongst nature. One of the brand's concepts is cultivating real human communication which it offers through its hospitable service, aiming to increase the number of smiles to those who visit.

The North Face x ANA Holiday Inn Resort Shinano-omachi Kuroyon

The collaboration will see the two companies coming together to serve up a plethora of outdoor activities throughout the year to encourage more families to spend time outside. The hotel will offer equipment that can be used for the activities, and there'll also be workshops for people to create their own items that can also be used. They will also work to increase sustainability with local businesses and groups in Omachi in an effort to revitalise the local region.

Workation Plan

The hotel is also offering a workation plan for guests to get away from the hustle and bustle of the busy city to work somewhere more quiet and peaceful. The plan takes into account well-being and is a way for people to up their creativity and motivation. Guests can work and relax at the same time with Wi-Fi and electrical outlets available as well as off-work treats like the open-air baths, spa, gym, and more. The hotel will also offer other plans this winter which include snow biking, family skiing, and more.

YUEN BETTEI DAITA: Tokyo's New Onsen Ryokan Opening in Shimokitazawa

UDS HOTELS is set to open YUEN BETTEI DAITA, a new onsen ryokan (hot spring Japanese inn), in Shimokitazawa, Tokyo, on September 28, 2020. The hotel is just a 1-minute walk from Setagaya-Daita Station and an 8-minute walk from Shimokitazawa Station.

YUEN BETTEI DAITA sits in a quiet location surrounded by old, historical Japanese houses and is basked in nature. It houses 300 guest rooms and has open-air baths, a spa, and offers traditional Japanese food the tea ceremony.

The inn is equipped with considerate facilities and has a relaxed atmosphere. It caters to modern day needs while still promising a traditional Japanese inn experience. And it doesn't have to be just used as a hotel either – guests can just spend the day there in the hot springs if they like, allowing locals to get away from the hustle and bustle of the big city and their busy Tokyo lives.

The Design

YUEN BETTEI DAITA bases itself on the appearance of residences seen back in Tokyo back in the day. The hotel has taken in furniture and materials that were inherited in a thatched-roof residence in Setagaya which has over a 100 year history, which gives a nod to the history and culture of traditional Japanese architecture, while still incorporating more modern techniques in the wooden roofing and other areas. All of this combines to create a sophisticated Japanese culture-imbued space.

Guest Rooms

There are 35 guest rooms in total, each coming in one of seven types ranging from 19㎡-32㎡. The rooms open up into a tatami and seating area. Guests are provided with yukata and leather-soled geta shoes, and are treated to Japanese tea and confections from local shops.。

Open-air onsen baths (1st Floor)

The large open-air baths receive water from Odakyu Hotel de Yama's own water source in Hakone. Guests can enjoy looking at a traditional Japanese garden while they bathe and listen to the sound of the water from Mount Fuji. The female baths also have scented mist saunas while the male baths have dry saunas.

Cooking & Tea Ceremony (1st Floor)

Kappou Tsukikage

Enjoy seasonal vegetables harvested from the local farms in Setagaya as well as Japanese sake and wine chosen to pair perfectly with the dishes.

Saryou Tsukikage

Guests can also experience the Japanese ceremony with local tea. Daita was once rich with tea farms, and so guests can look forward to enjoying delicious and authentic tea.

SOJYU spa

If guests want to relax the hotel's SOJYU spa offers full body massage, original essential oil treatments, and much more. The spa will also be open to non-guests from spring next year.

Information

YUEN BETTEI DAITA
Grand Opening: September 28, 2020

*Baths and eating facilities are open to non-guests from October 12, 2020

Address: 2-31-26 Daita, Setagaya-ku, Tokyo

Access: 1-minute on foot from Setagaya-Daita Station / 8-minute on foot from Shimokitazawa Station
TEL: 03-5431-3101

Official Website: https://www.uds-hotels.com/yuenbettei/daita

The Best Place to Gaze On Japan's Night Sky: Sky Paradise Sea of Clouds Harbor in Nagano

This autumn, the Star Village Association in Achi, Nagano is hosting the special limited-time event "Sky Paradise Sea of Clouds Harbour" from October 25 to November 23 which offers one of the best views of Japan's starry sky and the sea of clouds of the far-off southern alps.

The site is located at Ropeway Heavens Sonohara in Fujimidai Highland, surrounded by the bountiful nature of Nagano Prefecture. The 15-minute gondola ride is 2,500 meters long and takes you up to the observation deck 1,600m above sea level. Your prize is a view of the sea of clouds which stretches to the distant southern alps of Japan – truly is a sky paradise.

The other prize is the starry night sky. This spot placed first in the Ministry of the Environment's list of the best places to see Japan's night sky. From here, one can watch the sky of twinkling lights change to warm morning light. During October, the trees and verdure below are dyed in the colours of autumn, and when November rolls around you can spot the snow-capped peaks of the southern alps.

Information

Sky Paradise Sea of Clouds Harbor (Japanese Name: 天空の楽園 雲海Harbor)

Running: October 25, 2020 – November 23, 2020

Gondola: Ascension 5:30-7:00 / Descent until 16:30

Observation Deck Lift Operating Times: 5:45-16:00

Location: Ropeway Heavens Sonohara in Fujimidai Highland

Address: 3731-4 Chisato, Achi, Shimoina-gun, Nagano

Price: Adults ¥3,600 / Children ¥1,800 / Infants – Free

Official Website: http://sva.jp

Ra Casta Natural Healing Garden: Heal Your Mind, Body and Soul in Nagano While Staying Safe From COVID-19

Ra Casta Natural Healing Garden in Omachi, Nagano, is open for business throughout Japan's Obon season and is taking mandatory bookings to ensure visitors' protection from COVID-19 while following precautions against the Three Cs as laid out by the World Health Organization—crowded places, close-contact settings, and confined and enclosed spaces.

Ra Casta Natural Healing Garden is exactly what it says on the tin. It's a place that embraces beauty and healing while incorporating La CASTA's brand concept of "the life force of plants and healing." Guests are invited to use all five of their senses to relish the natural wonder of the garden, with its abundance of plants and trees and natural waterfall which flows from the northern alps.

The garden has its own "Healing Cafe" too which is an open-style cafe, allowing diners to enjoy the gift of nature throughout the seasons while enjoying a drink or dessert. A must-try during summer is their "Herb Cordial Lime & Lemongrass," a refreshing herb soda that enjoy the sour citrus flavour of lime and the taste of lemongrass. There's also the "Chamomile Milk" gelato ice cream.

The garden also has its own aromatherapy workshop inside the La CASTA Factory where visitors can make their own blends of oils using different products and scents.

What better way to de-stress during these turbulent times than getting close with nature in a safe, protected environment?

Information

Ra Casta Natural Healing Garden
Address: 9729-2 Tokiwa, Omachi, Nagano
Opening Hours: 10:00-17:00 (Until 16:00 in October and November)
Closed: Wednesdays

Official site: http://www.alpenrose.co.jp/garden

Tateshina Bamboo Grass Garden Opens 20,000m² Sasarikyu Garden For Free

Tateshina Bamboo Grass Garden has is opening the Sasarikyu area of its gardens for free from June 5 to October 31 this year. The area spans almost 20,000m² and is home to an arbour and over 120 varieties of bamboo grass.

Opening the gardens in June means that visitors will get to see the bamboo grass at its most beautiful. Tateshina Bamboo Grass Garden wants more people to enjoy the gorgeous scenery, and so decided to make it a free experience for visitors.

It's an opportunity to see the vivid green leaves of the bamboo free which, on a clear day, glistens brightly at the shine of the early summer sun. On a rainy day during the rainy season, it offers a completely different spectacle: the twinkle of the leaves as a result of the dew. In addition to the bamboo grass, rows of hydrangeas also blossom in the garden at the start of summer, and in autumn, the area takes on gorgeous red and yellow hues.

Another charm of Sasarikyu is the tea ceremony arbour that sits amongst the verdure. This arbour, which was designed by Japanese architect Kiyoshi Yasui, continues the tradition of sukiya style of building known as sukiya-zukuri which was first established in Kyoto.

Sasarikyu

The Tateshina Plateau sits enveloped by the Yatsugatake, a collection of towering inactive volcanoes. In this expanse lies Sasarikyu, a botanical garden of kuma bamboo grass with over 120 varieties from both Japan and overseas. It is the only bamboo grass garden of its kind in the world and aims to contribute to the region's culture by drawing out the unknown when it comes to bamboo grass.

Bamboo grass area (13,200m²)

Sasarikyu is not just a botanical garden. It is also home to the world's largest tsukubai basin called Zuigetsusen, as well as an azekura-zukuri style statue of the god of wealth, Hashiri Daigoku. It also has Jōmonka, a style of building from the middle of the Jōmon period in Japanese history which has bamboo grass-thatched roofs.

Sukiya Arbour Garden Area (6,600m²)

The sukiya arbour was designed by Kiyoshi Yasui who helped carry out major renovations to the Katsura Imperial Villa, as well as helped dismantle and reconstruct two national treasures of Japan: the Joan and Taian tea houses.

Another highlight of the gardens is an area where medicinal herbs area grown. The herbs there are ones mostly seen in Nagano Prefecture. It not only serves as an area with specimens of such herbs, but also offers gorgeous scenery too when the flowers bloom through the seasons.

Information

Sasarikyu Free Opening

Running: June 5, 2020 – October 31, 2020 (Subject to change depending on season and weather)

Address: 1017-11400 Tamakawa Azaharayama, Chino, Nagano (Japanese Address: 場所:笹離宮 長野県茅野市玉川字原山11400番地1017)

Opening Hours: 10:00-17:00 (Last Entries 16:00)

Closed: Tuesday/Wednesday/Thursday

Access:

①15 minutes by car from Suwa-minami Interchange

②30 minutes by car from Suwa Interchange

③20 minutes by car from Chino Station

Official Website: https://tateshina-sasa.com/sasarikyu/

Grapes For Wine Now Being Picked at Shiojiri Station's Platforms

Shiojiri is a city in central Nagano with a population of 67,000 (as of April 2020). As a tourist destination, it's a place that goes under the radar, but it's actually home to the best quality grapes for wine in Japan, and also boasts 17 wineries (as of April 2020).

Shiojiri is a place with many tourist attractions, such as the historical town of Narai-juku whose streets still echo the Edo Period, Kiso-Hirasawa lacquerware, the Hiraide ruins which are one of Japan's three biggest ruins, Takabotchiyama which has become known for appearing in anime and Japanese drama series in recent years, the local dish "sanzokuyaki" (large fried chicken), and more.

In 1988, the city of Shiojiri began growing grapes at Shiojiri Station to promote the city's grapes and wine. It has gone on to become famous as the only station in Japan with grape production. They grow Merlot and Niagara grapes.

The station encourages volunteers to help pick the grapes. The first picks of this year's season began on May 29, and the efforts are being posted about on the city's official social media accounts and website. The Merlot wine made from the grapes picked in August last year is also ready and will be posted about soon too.

Information

Shiojiri Station
Platforms 3 & 4
Shiojiri Tourism Association Official Website: https://tokimeguri.jp/

Travel Virtually to Japan's City of Komoro in Nagano to See Cherry Blossoms, Soak in the Onsen & More

Komoro Tourism Bureau has developed the new "Komoro Tourism Channel" using Voicy, a news and media site which reports spoken information online. The channel focuses on the latest information with regards to tourism in Komoro, and focuses on the city's many different hot springs.

About Komoro

Komoro is a city in Nagano Prefecture. Komoro Castle is home to Kaikoen Park, which was chosen as the 100 best cherry blossom spots in Japan. The city also boasts a wide variety of onsen (hot springs) which offer amazing views and numerous different bathing experiences. Komoro Tourism Channel covers all of this and more.

Komoro is about 2-hours by car via the Nerima Interchange on Kan-etsu Expressway. It's also accessible from Tokyo via car. You can also reach it in around 24 minutes from Karuizawa Station via Shinano Railway.

Delivering the sounds of the relaxing onsen from Komoro

Komoro has eight water sources which provide water to its hot springs. The city sits 1,400 meters above sea level, from which each of its hot springs offer breathtaking views. The podcast on the hot springs, which is in Japanese, lets you feel like you're experiencing them from your very own home. More podcasts on Komoro are planned to be released in the future, and QR codes will be implemented are various hotels and tourist facilities in Komoro which when scanned will offer voice guides to those places.

Komoro Tourism Channel: https://voicy.jp/channel/1074

The Komoro Tourism Bureau is coming up with measures to continue promoting the city during the ongoing coronavirus pandemic. As well as Komoro Tourism Channel, it is also releasing information on its website, Twitter page, and elsewhere.

Kaikoen Park at Komoro Castle

Kaikoen Park at Komoro Castle is a tourist hot spot in Komoro. The castle itself was chosen as one of Japan's 100 most famous castle sites. It is also famous for the castle itself being situated lower than the town around the castle. Kaikoen Park was selected as one of Japan's 100 best cherry blossom spots, where around 500 trees bloom Yoshino cherries, shidare-zakura, higan-zakura, and more through April every year. The "Komoro-yae-beni-share" tree is an endemic species of cherry tree to Komoro and has a deep pink colour. The park also has towering stone walls and is home to the the front castle gate.

Komoro Castle Official Website (Japanese): https://www.komoro-tour.jp/castle/

Komoro Castle Official Website (English): https://www.komoro-tour.jp/lg_en/

Starbucks to Open New Branch Along Nakamise Street in Nagano Near Zenkoji Temple

Starbucks Coffee Japan is set to open a new branch in Japan on March 26, 2020. It will open along Nakamise-dori, a street that leads to Nagano's famous Zenkoji Temple.

It will open as the Kōshin'etsu region's first Starbucks Regional Landmark Storeーa Starbucks branch unique to Japan that's built as a symbol of that area which promotes that region's culture to customers. They enable coffee-loving visitors to discover or rediscover the wonder of a region's history, culture, craftsmanship, and industry, while building a connection with the region through those discoveries. The branches incorporate various local design elements into them.

The new branch, called Starbucks Coffee Shinshu Zenkoji Nakamise-dori, neighbours the Niou Gate of Zenkoji Temple. It's a place where you can sit down with a delicious cup of coffee and relax while feeling the history of the place. The coffee shop's design and decor also takes inspiration from local history and culture, their concept behind "Busy and Quiet, Light and Dark." It's situated a little away from the hustle and bustle of Nakamise-dori, and houses two spacious floors.

The sliding doors and skylight let in a soft light which also casts shadows in places, mimicking the beauty of shade found in a Japanese-style house. The ceiling and walls at the entrance are made from Japanese red pine, while the bar uses five different types of wood from Nagano Prefecture like hornbeam and katsura. The stone lanterns which were in the original building have been put at the entrance, and the great beams on the second floor have been left as they are. All of this preserves the feeling of the local region while small Starbucks touches are added here and there, resulting in a unique Starbucks experience.

Information

Starbucks Coffee Shinshu Zenkoji Nakamise-dori

Grand Opening: March 26, 2020

Address: 483 Motoyoshicho, Nagano, Nagano Prefecture

Opening Hours: 7:00-21:00

No Fixed Holidays

Starbucks Japan Official Website: https://www.starbucks.co.jp/

SHISHI-IWA HOUSE in Nagano Prefecture Makes Travel + Leisure Magazine's "2020 It List"

SHISHI-IWA HOUSE, a "boutique resort" located in Karuizawa, Nagano, has made it into the "2020 It List" of American travel magazine Travel + Leisure.

Travel + Leisure is a New York-based travel magazine. "The Best New Hotels in the World (The It List)" shines a light on hotels around the world that have newly-opened or have been renovated that year.

The "2020 It List" has placed 72 establishments around the world in its ranking. Ten of these are located in Asia, with two being in Japan: SHISHI-IWA HOUSE and Aman Kyoto.

SHISHI-IWA HOUSE opened in February 2019. Described as a boutique resort, this hotel was built by internationally-acclaimed Japanese architect Shigeru Ban who won the 34th Pritzker Architecture Prize in 2014ーthe most prestigious award in modern architecture. The unique hideaway blends together nature and architecture, and is built in such a way as to strengthen the bonds between people.

The resort accommodation has two floors, and a unique structure which makes it look curved. It has ten individual rooms and three terraces. All the rooms enjoy a breathtaking view of the gardens which enjoy gorgeous scenery all year around. It's home to over 250 trees, including cherry blossoms, maples, and evergreens. You can also see Mount Asuma from all rooms.

Planning a trip to Nagano? Why not book to stay at this little hideaway?

SHISHI-IWA HOUSE in Nagano Prefecture Makes Travel + Leisure Magazine's "2020 It List"

SHISHI-IWA HOUSE, a "boutique resort" located in Karuizawa, Nagano, has made it into the "2020 It List" of American travel magazine Travel + Leisure.

Travel + Leisure is a New York-based travel magazine. "The Best New Hotels in the World (The It List)" shines a light on hotels around the world that have newly-opened or have been renovated that year.

The "2020 It List" has placed 72 establishments around the world in its ranking. Ten of these are located in Asia, with two being in Japan: SHISHI-IWA HOUSE and Aman Kyoto.

SHISHI-IWA HOUSE opened in February 2019. Described as a boutique resort, this hotel was built by internationally-acclaimed Japanese architect Shigeru Ban who won the 34th Pritzker Architecture Prize in 2014ーthe most prestigious award in modern architecture. The unique hideaway blends together nature and architecture, and is built in such a way as to strengthen the bonds between people.

The resort accommodation has two floors, and a unique structure which makes it look curved. It has ten individual rooms and three terraces. All the rooms enjoy a breathtaking view of the gardens which enjoy gorgeous scenery all year around. It's home to over 250 trees, including cherry blossoms, maples, and evergreens. You can also see Mount Asuma from all rooms.

Planning a trip to Nagano? Why not book to stay at this little hideaway?

BALCÓN TOKYO: Roppongi's Sophisticated New Bar and Restaurant Offers Luxurious Food & Drinks

BALCÓN TOKYO is the newest luxury bar and restaurant to hit Tokyo's Roppongi district. Set to open on the 14th floor of Mitsui Garden Hotel Roppongi Tokyo Premier on January 24, BALCÓN TOKYO offers opulent lounge and balcony spaces for fine wine and dining.

Located away from the hustle and bustle of busy Roppongi, the establishment offers a breathtaking view of Tokyo's city nightscape in both the eastern and western directions.

When customers pass through the beautiful bar and lounge they are met with the spacious museum-like balcony area where they can enjoy a dining experience wrapped in soft warm lights. For those looking for a more private meal, they can reserve one of the individual private rooms, each of which has its own distinct touch and flavour. Whether you're looking for a quiet drink or dinner, or even midnight teatime, BALCÓN TOKYO caters to customers' needs.

The interior design is the brainchild of none other than Yasumichi Morita of GLAMOROUS co.,ltd., and company that specialises not only on interior and exterior building and establishment designs, but graphic visuals, products, and more.

​Taking the spotlight at dinnertime is the restaurant's incredible and mouthwatering roast beef which is aged at ice temperature and cooked carefully with time and care. The gravy sauce drizzled over the meat takes three days to make and only adds to the delicious offering of the beef.

The restaurant also offers plenty of seasonal foods and ingredients that go perfect with a glass of champagne. Whether you're celebrating something special or just out for a casual meal, the restaurant caters to all.

For breakfast, a half-buffet of western-style food is prepared where you can pick one main. And so that foreign guests can get a taste of the quality of Japanese food, all ingredients used at the restaurant are domestic to Japan. The restaurant also uses organic vegetables shipped directly from growers and producers.

To celebrate the grand opening of BALCÓN TOKYO, customers who reserve a table online or via telephone between January 24 and February 29 this year will receive a 30% discount on meal courses.

Information

BALCÓN TOKYO
Address: Mitsui Garden Hotel Roppongi Tokyo Premier (Floor 14F), 3-15-17 Roppongi, Minato War, Tokyo
Opening Hours:
・Morning 6:30-10:30 (Last Orders 10:00) *Please note that there may be waiting times due to priority going to hotel guests
・Dinner 17:00-02:00 (Food Last Orders 01:00 / Drinks Last Orders 01:30)

Enquiries: 03-6441-3231
Official Website:  http://balcon-tokyo.jp/

Reservation Page: https://www.tablecheck.com/shops/balcon-tokyo/reserve

Relaxing Café by Day, Neon-Lit Bar by Night: Enjoy a Drink at Jinbōchō CAMPUS in Tokyo

Hello everyone, this is MOSHI MOSHI friend Banako.

Today I'll be introducing you to an interesting place in Jinbōchō, Tokyo that is a café by day and a café & bar at night.

From 9:00 to 17:00 it's known as COFFEE CAMPUS  and from 18:15 to 22:00 it runs as CAMPUS TOY cafe&bar. It first opened its doors approximately 48 years ago, solely operating as a café. Its current owner is an avid American toy and pop culture-lover who started running the café & bar seven years ago.

To get here, it's just a five-minute walk from exit A2 of Jinbōchō Station. The café is located in a quiet place just one turn off Odori Street.

Check out the menu:

The toast here is really good, so I ordered the Egg on Toast. (¥500)

To my surprise, an exceptionally large and thick slice of toast arrived at my table. The egg was evenly cooked and spread on top. I curiously sunk my knife into the toast to reveal the inside.

The egg dripped beautifully like melted cheese. It tasted wonderful with the freshly toasted slice of bread and was very filling. I was in a good mood after my very first bite.

Once the clock strikes 18:15, the café completely transforms into CAMPUS TOY cafe&bar which has a completely different atmosphere. 

One step into the newly-transformed café & bar and…

The calm undertones of the café were replaced with a cute pop-themed atmosphere illuminated by colourful neon lights. Rather than preparing a drinks menu, owner matz takes orders directly from customers, creating drinks catered to each individual customer based on what flavours and colours they like. 

Waiting to see what kind of drink is going to be brought to you is very exciting. Ordering drinks with friends and taking photos of the outcome is the best way to enjoy your time here. 

There are also lots of good spots to take photos for your Instagram so don't hold back! From time to time, there is a small market here where the owner sells small fantasy-themed items.

 Make sure to check out CAMPUSTOY cafe&bar on Instagram for their latest updates and information on opening hours. Whether you want to enjoy a pop-themed American atmosphere or are simply looking for a relaxing spot to chat, this café is for you. Matz the owner is very friendly and is full of interesting stories that you just got to hear.

Information

COFFEE CAMPUS /CAMPUS TOY cafe&bar

Address: Jinbōchō Mansion Floor 1, 2-10, Jinbōchō, Kanda Ward, Chiyoda, Tokyo

Opening Hours

COFFEE CAMPUS: 9:00 ー 17:00

CAMPUSTOY cafe&bar: 18:15 ー 22:00

* Please be careful to not mix up the opening hours of the café and café and bar.

Closed: Saturdays, Sundays and National Holidays

Access: Approx. 5-minute walk from Jimbocho Subway Station exit A2

CAMPUS TOY cafe&bar Instagram:https://instagram.com/campustoy_matz?igshid=2nblcij8r4b7