Kamakura Igloo Event to Take Place at Hoshino Resorts KAI Tsugaru & Alps
KAI―a line of hot spring hotels produced by Hoshino Resorts―is set to hold an event that makes use of kamakura igloos at Hoshino Resorts KAI Tsugaru and Hoshino Resorts KAI Alps.
Each branch of KAI offers the chance to experience the full charm of the local area to guests. The event taking place at KAI Tsugaru and KAI Alps will celebrate 2019 being a good new year with lots of lucky decorations adorning the area, sake offerings to the gods and more.
During Japan's Koshogatsu―or "Little New Year"―which takes place from January 14 to 16, altars are set up inside kamakura igloos where people offer sake and rice cakes to the god of water. The event taking place at KAI too will follow this tradition and make it even more festive by catering it to Tsugaru traditions like "zuguri" spinning tops and aburidashi which is writing done in invisible ink that appears when heated.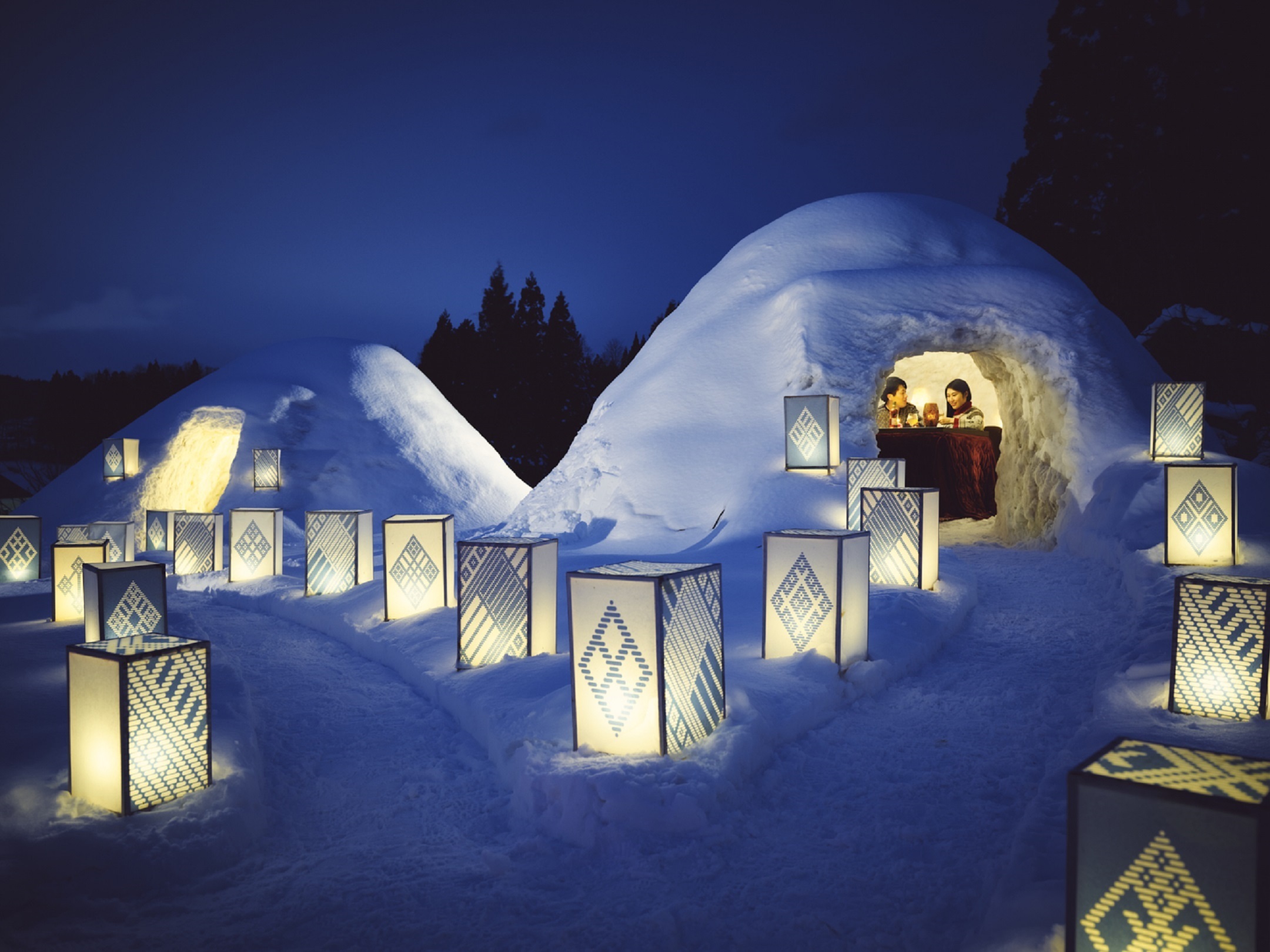 KAI Tsugaru
Going into more specifics of the events, over at KAI Tsugaru people will offer Joppari sake from Rokka, a local sake brewery, inside the igloos. A 2-meter all fan with a nebuta design will also decorate inside as it is said waving it will ward off evil. People will also be able to play with wooden zuguri spinning tops on top of the snow outside their igloo. This tradition is said to bring good fortune.
When night falls magical golden lamps will line the snow and path to the igloos.
Running: March 1, 2019 – March 7, 2019
Time: 15:00-17:00
KAI Alps
Over at KAI Alps, decorative cocoons will be put up at the igloos in the courtyard to pray for abundant harvest. These cocoon decorations are generally spherical but at Alps they are changing things up by bringing in colourful waving cat and daruma designs.
Omikuji―slips of paper that tell your fortune―will be given inside the kamakura. But these aren't any regular omikuji. When taken out of the box they will appear blank. You must hold the paper close to the flame inside the igloo to see your fortune.
At night, Hokuan Daikoku from a local sake brewery will be served to the gods from inside the igloos lit up with lanterns made from Japanese paper from Shinshu Matsusaki Washi.
Running: February 4, 2019 – February 11, 2019
Time: Omikuji – 15:00-17:00 / Sake Offering – 19:30-20:30
RELATED ENTRIES
Yukai Resort Premium Toba Saichoraku: The New Hot Spring Resort Hotel in Mie Prefecture

Yukai Resort, a company in Japan which manages lots of famous hot spring resorts across the country, opened Yukai Resort Premium Toba Saichoraku in Toba, Mie on June 5, 2020.

Yukai Resort manages 29 well-established hot spring resort hotels and ryokan throughout Japan, including hotels where you can get one night with dinner and breakfast from just ¥7,500 (before tax) to ryokan where you can enjoy kaiseki meal courses, and more. All their luxury establishments feature hot springs surrounded in lush environments.

Yukai Resort Premium Toba Saichoraku opened on June 5, 2020 and is taking all of the necessary precautions against COVID-19 to protect guests and so that guests can enjoy a comfortable stay.

Yukai Resort Premium Toba Saichoraku is 10 minutes by car from Toba Aquarium and 30 minutes from Ise Grand Shrine, making it a great location to enjoy the sightseeing spots of Ise and Shima. The hotel's concept is centred on being an "active resort" where you can get the full Toba experience with history, the sea, and activities.

The large open-air communal baths look out onto Toba Bay. The baths are designed like infinity pools, giving the effect that they are connected to the sea. Guests can enjoy a dip in the day or evening so they can enjoy both a blue sky or starry sky. There are also saunas.

There is also an indoor swimming pool with warm water, as well as foot baths, a kids play park, karaoke room, and many more fun features.

Yukai Resort Premium Toba Saichoraku also houses Yukai Resort's first ever indoor glamping guest rooms with large tents decked with beds, sofa, carpet, cushions, and other amenities for a glamorous camping experience. There are glamping rooms with their own open-air baths that look out onto Toba Bay too, as well as both Japanese-style and Western-style rooms.

As a precaution against COVID-19, the restaurant is serving its food for takeout only until August 31, 2020. Guests can enjoy their meal in their rooms or in one of the many communal spaces. There's plenty of health Japanese food to enjoy including sushi, Matsuzaka roast beef, eel, tuna, and more.

Local Shaved Ice Recipes Whipped Up at Hoshino Resorts KAI This Summer

Hoshino Resorts has brought back its annual local shaved ice festival for the summer which will be served at branches of Hoshino Resorts KAI, a hot spring ryokan brand. It has been held every year since 2017 and gives people the chance to enjoy shaved ice with a variety of syrups and toppings inspired by local regions in which branches of KAI are dotted around.

Strawberry Shaved Ice | Hoshino Resorts KAI Nikko (Chuzenji Onsen, Tochigi Prefecture)

Tochigi Prefecture has enjoy est the largest harvest of strawberries in Japan for the last 50 years. This shaved ice is doused in a sweet strawberry syrup and a bitter matcha sauce. It can be enjoyed while gazing out to Nikko's beautiful scenery where you can see Chuzenji Lake and Mount Nantai from 1,300 meters above sea level in Hoshino Resorts KAI Nikko.

Hydrangea Shaved Ice | Hoshino Resorts KAI Hakone (Hakone Yumoto Onsen, Kanagawa Prefecture)

The Hakone area enjoys long blooming periods of hydrangeas. During their full bloom, the Hakone Tozan Line mountain railway gets nicknamed the "Hydrangea Line" and becomes a popular route for sightseeing. This refreshing shaved ice has hydrangea flavoured jelly and syrup.

Art Shaved Ice | Hoshino Resorts KAI Sengokuhara (Sengokuhara Onsen, Kanagawa Prefecture)

Hoshino Resorts KAI Sengokuhara is surrounded by many art museums, so what better way to keep with the them than with an art-inspired shaved ice dessert? Show your art skills by using strawberry red, orange-flavoured orange, and other colourful syrups to create your own unique design on your fluffy white canvas of shaved ice.

Apple Shaved Ice | Hoshino Resorts KAI Alps (Omachi Onsen, Nagano Prefecture)

Nagano Prefecture is famous in Japan for its apples. There are two types of syrup poured over this shaved ice, including one that tastes like mashed apples, and another made from Bramley apples.

Ginger Shaved Ice | Hoshino Resorts KAI Izumo (Tamatsukuri Onsen, Shimane Prefecture)

The ginger adds a sharp bite to the sweetness of this refreshing shaved ice and is perfect for overcoming the summer heat.

Tomato Shaved Ice | Hoshino Resorts KAI Aso (Sen no Moto Onsen, Oita Prefecture)

Made from tomatoes harvested in summertime, this sweet and sour shaved ice takes on a gorgeous red colour. Tomatoes are low in calories and have many nutritional ingredients, and are a good source of vitamin C and D, making this a healthier option.

And there are lots of other flavours to come from Hoshino Resorts KAI this summer too.

Information

Hoshino Resorts KAI Local Shaved Ice 2020 (Japanese Name: 界のご当地かき氷 2020)
Running: July 11, 2020 – August 31, 2020

Price: Free

Available: At 15 Hoshino Resorts KAI branches
Official Website: https://kai-ryokan.jp/features/kakigori/
Notes: Reservations not required

Hoshino Resorts KAI Official Website: https://kai-ryokan.jp/

A Cafe With a View: Okinawa's New Seaside Cafe 'Hoshino Resorts Banta Cafe' Opens This July

Hoshino Resorts's new cafe Hoshino Resorts Banta Cafe will open in the village of Yomitan in Okinawa on July 1, 2020, offering a spectacular view.

The cafe is split into four distinct areas which overlook the the beach from atop a cliff. Customers are invited to take in the breathtaking scenery with a delicious dessert made from ingredients like mangoes, pineapple, and sugar—or a tasty meal.

An incredible beach cafe overlooking the sea

Banta Cafe runs along the western coast of Yomitan, a village in central Okinawa which is about an hour's drive from Naha Airport. The cafe gets its name from iyumibanta which in Okinawan dialect refers to the cliffs you climb to spot the shadows of fish in the water, and is also the name they give to enormous rocks. The cafe is located atop one of these iyumibanta, or cliffs, making Banta Cafe a fitting name. From the cliff, customers can enjoy a panoramic view of the horizon which stretches across infinity. According to Hoshino Resorts, Banta Cafe sits as the largest beach cafe in Japan, spanning 1600㎡.

4 Unique Areas to Pick From

Having four distinct areas to choose from means you can select where you want to go depending on your mood on the day. Let's take a look at each of them.

Rooftop Deck: A panoramic view welcomes you

Beyond the entrance is the Rooftop Deck which offers an unbroken view of the horizon. With the comfortable shadow cast by the eaves of the roof, and the sound of the rolling waves and wind, it feels like you're sitting on the deck of a boat.

Beach Terrace: Kick back and enjoy the sea breeze

The Beach Terrace is located along a footpath that leads from the top of the cliff down to the beach. This spacious area sits nice and close to the sea. The Okinawan Ryukyu-tatami flooring has cushions for you to sit on as well as cabanas, so you can sit and chat with people while enjoying the view of the ocean, offering the real Okinawan experience.

Rocky Terrace: Lose yourself in the green wild of nature

The Rocky Terrace is enveloped in plants and vegetation that has grown naturally—it's like a hideaway created by nature. The area has a wooden deck and rocking chairs for people to kick back and relax in, and there are tables with towering rocks that offer shade too.

Goro Goro Lounge: Lay down on a sofa and look out to the sea

The final area is the Goro Goro Lounge where an entire wall is made up of open windows. Here, you can relax and lay down nice and comfy on the sofas. There are long tables by the sofas too, perfect for pulling out a map or guidebook and planning the rest of your trip.

A true Okinawan cafe experience


Bubbly Jelly Soda

The cafe's "Bully Jelly Soda" is inspired from a traditional bubbly Okinawan tea called bukubuku cha. It's flavoured with lemongrass and mint and contains different jellies like mango and hibiscus.

Chulato

This gelato ice cream gets its name from the Okinawan word for delicious which is chura. Choose from a variety of classic Okinawan flavours like pineapple and guava and top your ice cream with purple yam and bitter melon chips, chinsuko, and more.

Food Menu


The food lineup is to die for, with tasty bites like pizza toast topped with bitter melon, pork and egg rice ball which is a soul food of Okinawa, hot dogs filled with juicy sausages, shrimp fritters served with mango sauce, fried chicken, and plenty of other finger food.

Witness the magnificent sunset during business hours


Banta Cafe is home to a gorgeous beach with coral. The sea is cobalt blue as far as the eyes can see, there are strangely shaped rocks worn by the waves, and in the evenings is an incredible view of the sunset which can be enjoyed with a cocktail in hand.

Hoshino Resorts Olu Grill


Banta Cafe will also have its own separate grilled food restaurant called Olu Grill. Olu is another Okinawan word which means "blue," in this case referring to the blue ocean. From fried steak served with an original sauce made from Okinawan awamori liquor and kurozu black vinegar to seafood and juicy burgers, there's plenty to fill you up.

Information

Hoshino Resorts Banta Cafe / Olu Grill
Grand Opening: July 1, 2020
Address: 560 Gima, Yomitan, Nakagami District, Okinawa Prefecture
Access: 60-minutes by car from Naha Airport / 90-minutes by limousine bus from Naha Airport

Hoshino Resorts Banta Cafe
Opening Hours: 10:00 until sunset
TEL: 098-921-6810
Official Website: https://banta-cafe.com/
*Breakfast service available from mid-July 2020. Serving hours will be 7:00-9:30

Hoshino ResortsOlu Grill
Opening Hours: [Dinner] 17:00-21:00 (Last Orders 20:30)
TEL: 098-921-6811
Official Website: https://banta-cafe.com/olu-grill/
*Reservations required. Lunch service available from mid-July 2020. Serving hours will be 11:00-15:00.

Kyoto's New Hotel Mitsui Garden Hotel Kyoto Kawaramachi Jokyoji Fuses With a Temple

Mitsui Garden Hotel Kyoto Kawaramachi Jokyoji, a new hotel by major real estate developer Mitsui Fudosan and Mitsui Fudosan Hotel Management, opened bookings for the new hotel last Friday. The hotel is set to officially open on September 28, 2020.

The hotel was developed to integrate into Jokyoji, a temple in Kyoto with a history spanning over 500 years. Even in Japan, where it is common for temples to undergo reconstruction, this is a rare project. The hotel aims to be a model case for breathing new life into temples.

The hotel is just a 1-minute walk from Kyoto-Kawaramachi Station and within walking distance from the bustling retail area of Shijō Kawaramachi, the Hanamachi district Ponto-chō, and Kyoto's geisha district Gion. Guests are wrapped in the serene atmosphere of Jokyoji Temple where they can enjoy its historically maintained art, get involved in morning activities, and more.

Entrance Lobby

Mitsui Garden Hotel Kyoto Kawaramachi Jokyoji's design concept is "Hotel Temple." Nikken Space Design crafted the hotel's interior design, which makes use of Jokyoji Temple's preserved wood, gold leaf-covered folding screens and other features, while adding a modern white and black colour scheme throughout, giving a sense of comfort and high quality. From the lobby, guests can glimpse the main area of the temple and feel one with it.

Spacious rooms and baths

  

Guest rooms, even the standard room types, are a spacious 24m². All rooms can accommodate 2+ people, and there are even triple rooms which can house 3 people. Every room also comes with separate toilets and showers. Up on the second floor are the baths where guests can wind down after a day of travelling and sightseeing.

Restaurant

The 2nd floor restaurant, Sanga Ono Kyoto Jokyoji, was developed by ONO GROUP which has built many restaurants in Fukuoka Prefecture. This is the company's first restaurant to be built outside Fukuoka. Guests can enjoy delicious Japanese rice, Kyoto vegetables, tai-chazuke (green tea poured over sea bream), Kyoto-style grilled fish, and more. The restaurant will also serve Japanese buckwheat noodles overseen by Akamachaya Asago, a restaurant listed in the Michelin Guide.

Experience Jokyoji Temple

Jokyoji Temple was founded in 1171 by Taira no Shigemori. In 1591, the temple was moved to Teramachi-dori where it has stayed to this day. When the hotel opens its doors, it will offer various activities to guests. Those who take part in the morning activity will receive a goshuin stamp from the chief priest.

Experience a hotel and a temple like never before as both are fused together at Mitsui Garden Hotel Kyoto Kawaramachi Jokyoji.

Nazuna Kyoto Tsubaki: A Luxury Ryokan Renovated From a Traditional Townhouse Alleyway

Nazuna Kyoto Tsubaki St. is a new inn that recently opened in Kyoto which is made up of 23 machiya (townhouses) and two restaurants. It was co-developed by Nazuna and Kiraku and offers an accommodation experience like no other.

Nazuna Kyoto Tsubaki St. is renovated from an entire 110-year-old L-shaped alleyway of machiya spanning 1,400 square meters. The reception building sits on an unassuming streetand  serves as both an entrance to welcome guests, as well as a passage from the outside world into Tsubaki St. On the other side, guests are greeted by a world reminiscent of the historical geisha districts of Kyoto known as Hanamachi. In the evening, guests can experience the luster of Tsubaki St. as the Japanese paper lanterns and paper lamps illuminate the stone-cobbled path.

All guest rooms enjoy private semi open-air baths

All 23 guest rooms are named and decorated based on the elements of nature that have long been enjoyed in the ancient city of Kyoto: TAKE (bamboo), MIZU (water), IWA (stone), HANA (flower), and HA (leaf). And since each guest room is its own building, guests can enjoy the entire space to themselves. There is also a large open area between the reception and guest rooms to reduce the chance of running into other guests, offering a more private experience.

Chisao Shigemori's modern rock garden greets guests at the reception

The first floor of the reception building features a rock garden created by landscape architect Chisao Shigemori which fuses the traditional and the modern. His grandfather was Mirei Shigemori, a famous Japanese landscape architect who is known for having designed the Tofukuji Hojo Temple gardens in Kyoto, amongst other projects. Chisao himself has produced numerous works both inside and outside Japan, such as at Matsuo-Taisha Shrine.

The reception building's second floor is a lounge space where guests can enjoy tea and confections made by d:matcha after checking in. It's a chance to try Kyoto's famous Uji matcha. At nighttime, this are is free for people to use where they can enjoy friendly soft drinks and alcohol.

Unforgettable food at two different restaurants

Behind a secret door located somewhere inside Tsubaki is "q," a six-seated chef's table produced by Hiroshi Sasaki, who is the owner of the Michelin three-star restaurant Gion Sasaki, and TOROMO PRODUCE. A roster of chefs will rotate for service, with Hiroshi Sasaki in the line-up. The restaurant will open officially on July 2, 2020 and is now taking enquiries via mail@toromi.co.jp. Group and family bookings are available. The restaurant will serve special courses the likes of which cannot be experienced anywhere else.

The other restaurant, "Wagyu Ryotei bungo" will serve courses made with specially-selected high quality Japanese wagyu beef. There are counter seats as well as 7 private and semi-private rooms which house 2-8 people.

Information

Nazuna Kyoto Tsubaki St.
Address: 838 Bomoncho, Shimogyo-ku Kyoto 600-8388
TEL: 075-748-0402

NEARBY STATIONS & AIRPORTS
5 minutes on foot from Omiya Station (Hankyu Kyoto Line) and Shijo-Omiya Station (Keifuku Arashiyama Line)
10 minutes by taxi from Kyoto Station

Official Website: https://www.nazuna.co/property/nazuna-kyoto-tsubaki-st/

Help Fukuoka's Hotels During COVID-19 With Crowdfunding Project

Fukuoka's tourism industry is suffering greatly as a result of the novel coronavirus (COVID-19) pandemic, and so the city has launched a crowdfunding project to ask for people's help and support.

By donating, you can receive a special ticket which can be used when travel returns to normal which can be used at hotels you have donated towards. The tiers are priced at ¥3,000 and ¥5,000, which will get you tickets priced at ¥3,300 and ¥5,500 respectively to be used in the future. If you're thinking of travelling to Fukuoka, or already had plans booked to go there, then consider donating towards the city.

Fukuoka is a city loved by Japanese people and foreigners alike. It has a rich food culture, incredible festivals, a rich history, and an amalgamation of urban and rural scenery.

Japan's Anime Theme Park Nijigen no Mori Has Naruto, Boruto & Other Exciting Events This June

Nijigen no Mori is an anime theme park located on Awaji Island in Hyogo Prefecture. Here's a list of the latest events running at the park in June.

NARUTO & BORUTO SHINOBIZATO

NARUTO & BORUTO SHINOBIZATO is an area of Nijigen no Mori with attractions and more based on Naruto and his son Boruto. The area celebrated its 1st anniversary on April 20, 2020. The park is currently selling anniversary merchandise as well as other exclusive items. Guests who buy a ticket to the park online will receive a free 1st anniversary postcard.

Opening Hours: 10:00-22:00 (Reception Closes 20:00)

Price: Adults ¥1,800 / High & Junior High School Students ¥1,800 / Children (Elementary School Students & Younger) ¥500
*Free entry for those aged 3 and below

Price: ¥1,280 Each (Before Tax) *6 flavours

There are also beverages inspired by characters from the series.

Price: ¥1,050 (Before Tax)

There is also a special ramen dish you can order inspired by the Akatsuki, the biggest threat to the Hidden Leaf Village.

GRAND CHARIOT Hokutoshichisei 135°, a hotel and glamping facility located in the area, also opened its new Naruto-themed room on June 1, 2020.

The room, called "Hokage no Bessou" (Hokage's Villa), is renovated from one of the resort's buildings, and aims to plunge guests into the world of ninjas. The room takes inspiration from the Hidden Leaf Village and its characters, with references to the series and recreated scenes littered throughout. It also offers exclusive amenities for guests to enjoy.

Guests who stay in the Naruto room receive a free ticket to NARUTO & BORUTO SHINOBIZATO at Nijigen no Mori.

ⒸMasashi Kishimoto Scott / Shuiehsa・TV Tokyo・Pierrot

Crayon Shin-chan Adventure Park

Over at the Crayon Shin-chan shop in Nijigen no Mori, they're selling limited quantities of a "Happy Bag" full of Shin-chan merchandise, from picnic cushions to towels and more for a total of six items.


And for the summer season, the last entries to all attractions at Crayon Shin-chan Adventure Park have been extended. It's a chance to work your body while enjoying the green outdoors.

Opening Hours: 10:00-20:00 (Last Entries 19:30)
Price: Adults ¥4,480 / High & Junior High School Students ¥2,880 / Children (Elementary School Students & Younger) ¥1,180 / Seniors ¥1,440
*Free entry for those aged 4 and below. Please check the official website for weekend and national holiday prices.

Phoenix Night Walk

June 21 is Father's Day, and to celebrate Nijigen no Mori is holding an event on the day based on Osamu Tezuka's manga Phoenix. Dads can attend the event for free. The park is holding a birthday campaign for June for those whose birthdays were in March, April, and May since they were unable to go out due to isolation, as well as for those whose birthdays are in June.

Date: June 21, 2020

Time: 19:30-20:30

Price: General ¥3,300 (Junior High School Students & Older) / Children ¥1,200 (Aged 5-12)2020年6月21日(日)
営業時間:19:30~20:30(季節により異なる)
*Free entry for those aged 3 and below.

Tateshina Bamboo Grass Garden Opens 20,000m² Sasarikyu Garden For Free

Tateshina Bamboo Grass Garden has is opening the Sasarikyu area of its gardens for free from June 5 to October 31 this year. The area spans almost 20,000m² and is home to an arbour and over 120 varieties of bamboo grass.

Opening the gardens in June means that visitors will get to see the bamboo grass at its most beautiful. Tateshina Bamboo Grass Garden wants more people to enjoy the gorgeous scenery, and so decided to make it a free experience for visitors.

It's an opportunity to see the vivid green leaves of the bamboo free which, on a clear day, glistens brightly at the shine of the early summer sun. On a rainy day during the rainy season, it offers a completely different spectacle: the twinkle of the leaves as a result of the dew. In addition to the bamboo grass, rows of hydrangeas also blossom in the garden at the start of summer, and in autumn, the area takes on gorgeous red and yellow hues.

Another charm of Sasarikyu is the tea ceremony arbour that sits amongst the verdure. This arbour, which was designed by Japanese architect Kiyoshi Yasui, continues the tradition of sukiya style of building known as sukiya-zukuri which was first established in Kyoto.

Sasarikyu

The Tateshina Plateau sits enveloped by the Yatsugatake, a collection of towering inactive volcanoes. In this expanse lies Sasarikyu, a botanical garden of kuma bamboo grass with over 120 varieties from both Japan and overseas. It is the only bamboo grass garden of its kind in the world and aims to contribute to the region's culture by drawing out the unknown when it comes to bamboo grass.

Bamboo grass area (13,200m²)

Sasarikyu is not just a botanical garden. It is also home to the world's largest tsukubai basin called Zuigetsusen, as well as an azekura-zukuri style statue of the god of wealth, Hashiri Daigoku. It also has Jōmonka, a style of building from the middle of the Jōmon period in Japanese history which has bamboo grass-thatched roofs.

Sukiya Arbour Garden Area (6,600m²)

The sukiya arbour was designed by Kiyoshi Yasui who helped carry out major renovations to the Katsura Imperial Villa, as well as helped dismantle and reconstruct two national treasures of Japan: the Joan and Taian tea houses.

Another highlight of the gardens is an area where medicinal herbs area grown. The herbs there are ones mostly seen in Nagano Prefecture. It not only serves as an area with specimens of such herbs, but also offers gorgeous scenery too when the flowers bloom through the seasons.

Information

Sasarikyu Free Opening

Running: June 5, 2020 – October 31, 2020 (Subject to change depending on season and weather)

Address: 1017-11400 Tamakawa Azaharayama, Chino, Nagano (Japanese Address: 場所:笹離宮 長野県茅野市玉川字原山11400番地1017)

Opening Hours: 10:00-17:00 (Last Entries 16:00)

Closed: Tuesday/Wednesday/Thursday

Access:

①15 minutes by car from Suwa-minami Interchange

②30 minutes by car from Suwa Interchange

③20 minutes by car from Chino Station

Official Website: https://tateshina-sasa.com/sasarikyu/

Fufu Nara: The First Luxury Hotel Set to Open in Nara Park is Designed by Kengo Kuma

Fufu Nara is set to be the first luxury hotel to open inside Nara Park on June 5, 2020. Designed by industry-leading Japanese architect Kengo Kuma, the hotel promises a unique dining experience with food served using herbal medicines that can only be tasted here, and guest rooms that are covered in art made by Nara-based artists who use traditional techniques. Both the dining and accommodation experiences aim to immerse guests in the culture of Nara.

Witness the handiwork of Nara's artists

Nara is a city steeped with beautiful history and culture. This has been captured by the artists who have collaborated with Fufu Nara in the form of paintings, crafts, entrance decorations, and more. A stay at Fufu Nara is an opportunity to witness first hand the deep traditions and techniques of Nara's art world.

There are 30 rooms in total which are split into five different types. For example, one room type is designed around the old Japanese style of sitting on the floor. Inks and woods are used in the room to enhance that feeling that you're in Nara, and the colour tones too are chosen to bring to mind the ancient city.

Fufu Nara's dining concept

Nara Prefecture is closely tied to herbal medicines. Herbal medicine came about in the year 611 during the monarch of Empress Suiko. It is written in the Nihon Shoki that the use of herbal medicine had already been adopted by the time Prince Shōtoku was serving under the Empress. Many different traditional herbal medicines are still used in Nara today, including Angelica root, shakuyaku peonies, fennel, and so on. Traditional herbal medicines have become popular again in the prefecture in recent years.

The food prepared at Nara Fufu makes use of ingredients grown and produced in Nara, from vegetables to herbs and beyond. Breakfast, lunch, and dinner all incorporate Japanese and Chinese herbal ingredients.

Spa by sisley

The hotel also has a spa made in collaboration with French luxury skin care brand Sisley. There, guests can enjoy Fufu Nara's medicated baths.

Information

Fufu Nara
Address: 1184-1 Takabatakecho, Nara, Nara Prefecture
Grand Opening: June 5, 2020
Price: From ¥77,000 (for 1 night and 2 meals for 2 guests in 1 room) *Tax and service charge included; spa charged separately
TEL: 0557-52-6606
Official Website: https://fufunara.jp

THIRD ishigakijima: Okinawa's New Island Hopping Hotel to Open in July

Due to concerns surrounding the novel coronavirus (COVID-19), Star Resort had to postpone the opening of THIRD ishigakijima, a new hotel in Okinawa originally scheduled to open in April 2020. However, it has been confirmed that the hotel's new grand opening date is July 31, 2020.

Ishigaki is an island in Okinawa which faces Ishigaki Port Ritoh Terminal, a port that connects Okinawa to remote islands like Taketomi Island and Iriomote Island. Many tourists and sightseers flock to Ishigaki to hop to all the different islands it connects to.

The new THIRD ishigakijima hotel is a perfect choices for groups of travellers, with its room that can accommodate over 3 guests. As well as hotel food, drinks and alcohol, THIRD ishigakijima also offers various activities to guests like shisha, fitness, and more. The hotel is all-inclusive, something which isn't offered that much on Ishigaki.

The hotel also benefits from a self check-in system accessed using a QR code. Rooms are also accessed using a facial recognition system, making THIRD ishigakijima a tech-savvy experience.

The hotel is adopting guidelines from the government on operating hotels during the novel coronavirus (COVID-19) pandemic to protect its staff, guests, and local islanders.

Information

THIRD ishigakijima
Address: 4-7 Misakicho, Ishigaki, Okinawa
Guest Rooms: 28 (21 Loft Rooms/3 Suite Rooms/3 Twin Rooms)
Facilities: Cafe & Lounge, Book Lounge, Rooftop, Fitness
No Car Park
Access: 30-minutes on foot from Ritoh Terminal / 30-minutes by car or bus from Painushima Ishigaki Airport

Official Website: https://hotelthird.com/

COVID-19: https://hotelthird.com/antivirus/

Naruto Themed Hotel Room Opens at GRAND CHARIOT Hokutoshichisei 135° in Japan

GRAND CHARIOT Hokutoshichisei 135°, a hotel and glamping facility located in Awaji, Hyogo, opened its new Naruto-themed room on June 1, 2020.

The room, called "Hokage no Bessou" (Hokage's Villa), is renovated from one of the resort's buildings, and aims to plunge guests into the world of ninjas.

The room takes inspiration from the Hidden Leaf Village and its characters, with references to the series and recreated scenes littered throughout. It also offers exclusive amenities for guests to enjoy.

Guests who stay in the Naruto room will receive a free ticket to the popular "Naruto & Boruto Shinobi Zato" attraction at the anime theme park Nijigen no Mori on Awaji Island where the hotel is located.

ⒸMasashi Kishimoto Scott / Shuiehsa・TV Tokyo・Pierrot

Information

Naruto Collaboration Room "Hokage no Bessou"

Grand Opening: June 1, 2020

Time: Check In 15:00-18:30 / Check Out 11:00

Capacity: 5 people

Price: From ¥93,000 (Before Tax/Service Charge Charged Separately)

Official Website: https://awaji-grandchariot.com/

Grapes For Wine Now Being Picked at Shiojiri Station's Platforms

Shiojiri is a city in central Nagano with a population of 67,000 (as of April 2020). As a tourist destination, it's a place that goes under the radar, but it's actually home to the best quality grapes for wine in Japan, and also boasts 17 wineries (as of April 2020).

Shiojiri is a place with many tourist attractions, such as the historical town of Narai-juku whose streets still echo the Edo Period, Kiso-Hirasawa lacquerware, the Hiraide ruins which are one of Japan's three biggest ruins, Takabotchiyama which has become known for appearing in anime and Japanese drama series in recent years, the local dish "sanzokuyaki" (large fried chicken), and more.

In 1988, the city of Shiojiri began growing grapes at Shiojiri Station to promote the city's grapes and wine. It has gone on to become famous as the only station in Japan with grape production. They grow Merlot and Niagara grapes.

The station encourages volunteers to help pick the grapes. The first picks of this year's season began on May 29, and the efforts are being posted about on the city's official social media accounts and website. The Merlot wine made from the grapes picked in August last year is also ready and will be posted about soon too.

Information

Shiojiri Station
Platforms 3 & 4
Shiojiri Tourism Association Official Website: https://tokimeguri.jp/