Kamakura Igloo Event to Take Place at Hoshino Resorts KAI Tsugaru & Alps
KAI―a line of hot spring hotels produced by Hoshino Resorts―is set to hold an event that makes use of kamakura igloos at Hoshino Resorts KAI Tsugaru and Hoshino Resorts KAI Alps.
Each branch of KAI offers the chance to experience the full charm of the local area to guests. The event taking place at KAI Tsugaru and KAI Alps will celebrate 2019 being a good new year with lots of lucky decorations adorning the area, sake offerings to the gods and more.
During Japan's Koshogatsu―or "Little New Year"―which takes place from January 14 to 16, altars are set up inside kamakura igloos where people offer sake and rice cakes to the god of water. The event taking place at KAI too will follow this tradition and make it even more festive by catering it to Tsugaru traditions like "zuguri" spinning tops and aburidashi which is writing done in invisible ink that appears when heated.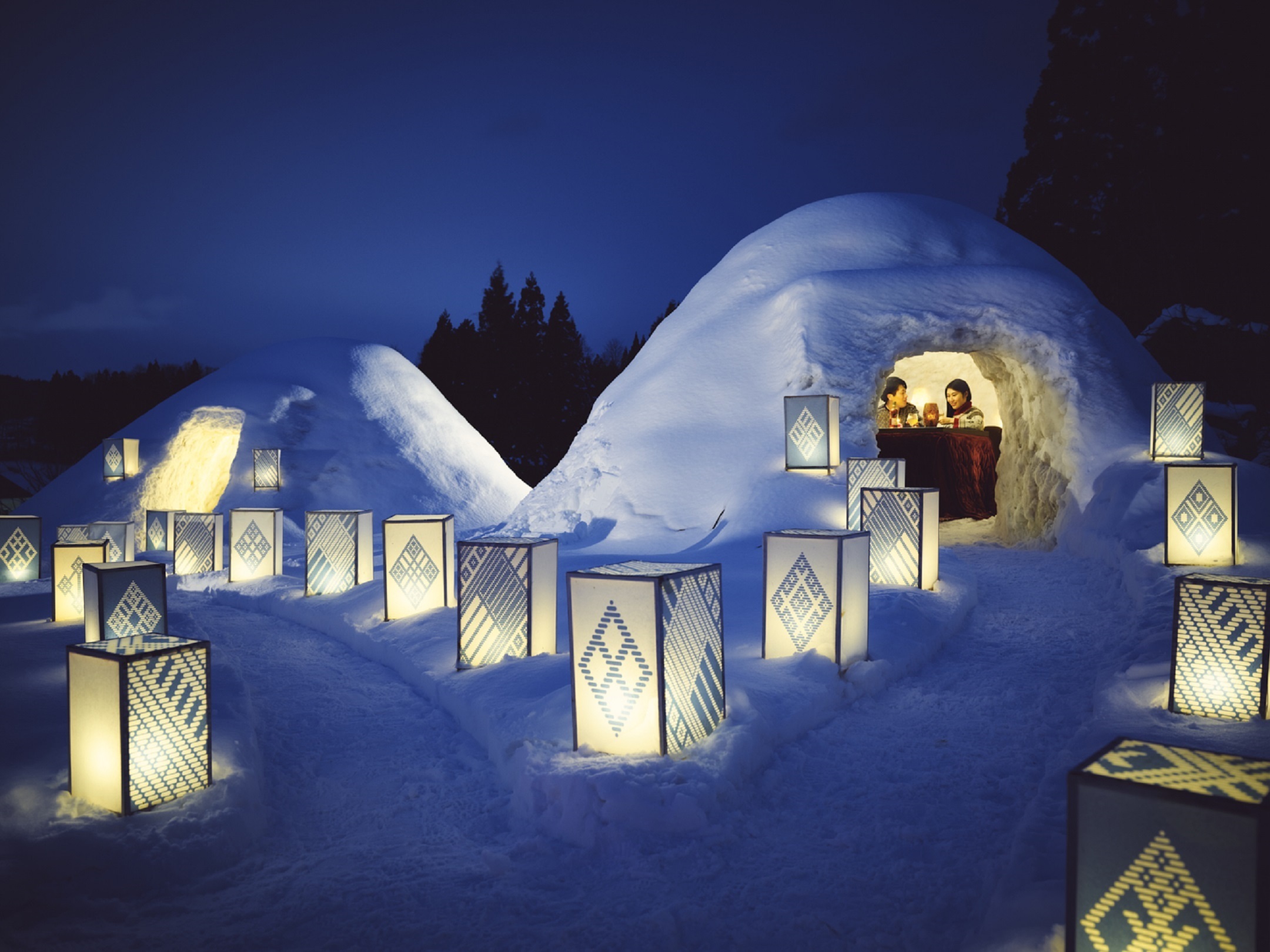 KAI Tsugaru
Going into more specifics of the events, over at KAI Tsugaru people will offer Joppari sake from Rokka, a local sake brewery, inside the igloos. A 2-meter all fan with a nebuta design will also decorate inside as it is said waving it will ward off evil. People will also be able to play with wooden zuguri spinning tops on top of the snow outside their igloo. This tradition is said to bring good fortune.
When night falls magical golden lamps will line the snow and path to the igloos.
Running: March 1, 2019 – March 7, 2019
Time: 15:00-17:00
KAI Alps
Over at KAI Alps, decorative cocoons will be put up at the igloos in the courtyard to pray for abundant harvest. These cocoon decorations are generally spherical but at Alps they are changing things up by bringing in colourful waving cat and daruma designs.
Omikuji―slips of paper that tell your fortune―will be given inside the kamakura. But these aren't any regular omikuji. When taken out of the box they will appear blank. You must hold the paper close to the flame inside the igloo to see your fortune.
At night, Hokuan Daikoku from a local sake brewery will be served to the gods from inside the igloos lit up with lanterns made from Japanese paper from Shinshu Matsusaki Washi.
Running: February 4, 2019 – February 11, 2019
Time: Omikuji – 15:00-17:00 / Sake Offering – 19:30-20:30
RELATED ENTRIES
sequence SUIDOBASHI: Tokyo's Next-Generation Hotel Opens November 25

Major real estate developer Mitsui Fudosan and Mitsui Fudosan Hotel Management will open "sequence SUIDOBASHI," the third branch of their "sequence" hotel chain, in Chiyoda, Tokyo, on November 25, 2020.

A convenient stay in Tokyo

sequence SUIDOBASHI is just a 1-minute walk from Suidōbashi Station's JR Line and a 6-minute walk from its Toei Subway-Mita Line. Its convenient location puts it near the Tokyo Dome City entertainment complex where you can enjoy sports events, concerts, an amusement park, and more. It also means easy access to other places like Akihabara, Kagurazaka, and Otemachi.

Suidobashi is home to many office buildings, and so to blend in with its environment, sequence SUIDOBASHI features monotone colouring with chic and sophisticated design.

An easy check-in with facial recognition technology

At the hotel entrance is the facial recognition check-in counter. Guests use an app to register in advance and can use facial recognition or a QR code to self check-in easily. The hotel lobby also has a counter table and DJ booth as well as a cafe counter.

One checked-in, guests can enter the hotel to find their rooms or other facilities throughout the building. sequence SUIDOBASHI is the second branch to incorporate facial recognition, which lets the hotel do everything for you from checking-in to entering your room, following sequence KYOTO GOJO. The hotel chain is also the first in Tokyo to incorporate it.

The concept of "MOMENT"

The hotel is built around the concept of a moment, offering a range of spaces for guests to enjoy different moments like the theatre and the lounge, all of which can be experienced with proper COVID-19 precautionary measures in place.

Bar and dining at KANPAI TERRACE

The hotel's bar and dining restaurant KANPAI TERRACE has a spacious open terrace where guests can enjoy a selection of sandwiches, French toast, mains and sides for breakfast and lunch. During bar time, pick from a range of alcohols and pair them with various Japanese, Western, and Chinese foods.

SHUNKAN LOUNGE

Up on the 2nd floor is the guest-only "SHUNKAN LOUNGE," a 40m² mini theatres with an enormous 120-inch screen where guests can enjoy sports, entertainment, and more. They can also take food and drink they bought from KANPAI TERRACE in there.

SHUNKAN LOUNGE also has its own art gallery showcasing art themed on the concept of "MOMENT" from young, up-and-coming artists.

Guest Rooms

There are eight types of rooms to choose from, all of which can accommodate 2+ people. Rooms are compact and functional whether it be for guests' morning routines or for desk work. The hotel has selected black as the base colour for the backstage area while the bed area uses white which softly illuminates with the light to create a chic contrast in the room design. There are also speckles of orange throughout the room which is the brand's colour and adds accent to the overall design.

Floors 3-6 and 12 feature bunk bed rooms perfect for friends and families travelling together. The rooms are compact with everything guests need in there including the washrooms with showers and toilets. There's also a concept room called "Bunk Bed 4 LIVE" which features a projector and BOSE speakers for guests looking for more of a party room.

If you're looking for a place to stay in Tokyo, why not check out the "next-generation" lifestyle hotel sequence SUIDOBASHI?

Japan's First Icefall Open-Air Bath to Open at Hoshino Resorts Oirase Keiryu Hotel in Aomori

Hoshino Resorts Oirase Keiryu Hotel has announced the limited-time opening of its new Hyobaku open-air icefall bath which guests can enjoy this winter from December 18, 2020 to March 22, 2021. The bath overlooks a gorgeous mountain stream, offering an exclusive wintertime view.

Hoshino Resorts Oirase Keiryu Hotel

Hoshino Resorts Oirase Keiryu Hotel stands alone near the the picturesque Oirase Keiryu mountain stream which lets guests immerse themselves in the undisturbed serenity of nature. The hotel lobby features a grand fireplace created by Japanese artist Taro Okamoto.

The Icefall Bath

Icefalls are created when glaciers flow over a steep drop. The 14km Oirase Keiryu mountain stream is made up of 14 waterfalls which give rise to icecalls of various shapes and sizes. When light shines through them they turn a striking ice blue, something only visible during winter. The hotel has been offering the icefall bath service since 2017 to allow guests to see the icefall themselves, in the comfort of a warm bath, when the waterfalls freeze.

The Icefall Created Over Time

The waterfalls begin to freeze in early December which gradually gives rise to the icefall. The harsh cold allows the water to freeze and layer bit by bit overtime which. By mid January, the frozen waterfalls stand 3.5m high and 16cm accross. The icefall is ever-changing as its shape changes depending on the temperature, wind, and light shining through.

Experience an outdoor hot spring experience like never before in Japan during winter at Hoshino Resorts Oirase Keiryu Hotel.

Information

Icefall Bath
Running: December 18, 2020 – March 22, 2021
Times: 6:00-11:30 / 14:30-24:00
Location: Hoshino Resorts Oirase Keiryu Hotel
Address: Tochikubo-231 Okuse, Towada, Aomori

Official Website: https://www.oirase-keiryuu.jp

Sanrio's Little Twin Stars Kiki & Lala to Feature in Special Christmas Event in Shinjuku

Sanrio's beloved character pair Kiki & Lala, also known as the Little Twin Stars, will feature as part of a special winter event titled "TWINKLE COLOR CHRISTMAS" in collaboration with Odakyu Electric Railway. It will take place at Shinjuku Southern Terrace from December 1 to 25, illuminating the area with beautiful Christmas lights.

Kiki & Lala's Twinkling Christmas Tree

Shinjuku Southern Terrace will dazzle visitors with its pink and blue illuminations as will its towering 4-meter tall Christmas Tree which was made in collaboration with the installation art group MIRRORBOWLER. It will be decorated in countless mirror balls which will reflect beautifully both during the day from the sun and at night with Kiki & Lala's illuminations. The tree will also be adorned with numerous Christmas decorations like clouds, moons, and stars—all very reminiscent of Sanrio's pastel-coloured pair.

Kiki & Lala Food & Drink

Kiki & Lala Ruby Chocolate Latte ¥400 (Tax Included) | Kiki & lala Twinkle Crepe ¥600 (Tax Included)

On weekends, as well as from December 19 up to Christmas Day, a food wagon will make an appearance at the event serving Kiki & Lala food and drink like the pink and fruity Ruby Chocolate Latte and fruit-filled Twinkle Crepe.

Limited-Edition Design Clip

Customers who spend over ¥2,000 (tax included) at the wagon will get themselves a free limited-edition design clip.

Cafe Wagon Schedule
Running: December 5th-6th, 12th-13th, 19th-25th, 2020
Opening Hours: 10:00-19:00

AR Kiki & Lala Tree

Those unable to visit Shinjuku this Christmas can access the "TWINKLE COLOR CHRISTMAS AR TREE" digitally This will have Kiki & Lala's Christmas tree appear on your phone when taking photos. You can access it here.

©'76,'20 SANRIO  著作(株)サンリオ

Information

Little Twin Stars x Shinjuku Southern Terrace TWINKLE COLOR CHRISTMAS
Running: December 1, 2020 – December 25, 2020
Tree Light-Up Schedule: December 1 = 17:00-24:00 / December 2-24 = 16:30~24:00 / December 25 = 16:30-21:00
Address: 2-2-1 Yoyogi, Shinjuku, Tokyo
Entry: Free
Official Website: https://www.sanrio.co.jp/news/ts-odakyu-twinkle-color-christmas-20201119/

Tokyo Tower to Begin Morning Tea Gathering On 150-Meter Main Deck

Tokyo Tower is set to host a special morning tea gathering on its 150-meter-high main deck, which overlooks central Tokyo, from November 21, 2020.

A peaceful morning cup of tea above Tokyo

Tokyo is a communications tower in the middle of Tokyo which has its own observation deck open to the public which offers an incredible view of the capital. During the day, the tower is very busy with visitors, and so this morning tea gathering aims to offer people a chance to enjoy the tower and its view in peace and quiet, before opening hours, with a cup of Japanese tea.

An open display showcasing Japanese crafts

The event is cooperating with the Japan-France Tea Ceremony Association who is providing specially-selected traditional Japanese tea-making and serving equipment, all of which were made by traditional Japanese artisans and have been passed down since the Edo Period for an authentic.

Open to foreigners even if you don't know Japanese or the etiquette of the Japanese tea ceremony

Don't worry if you can't speak Japanese or don't know the manners or proper etiquette when it comes to the Japanese tea ceremony – the event is open to all, and you can participate without sitting in the traditional seiza positioning. The staff can speak English, French, and Spanish, so foreign tourists won't miss out on anything.

Information

Morning Tea Gathering
Running: November 21, 2020 / December 5, 2020 / December 19, 2020 / January 9, 2021 / January 23, 2021 / February 6, 2021 / February 20, 2021
Time: Meeting at 8:15am / Entering at 8:30am
Meeting Point: Tokyo Tower Floor 1F Foot Town
Sign Up: アソビューサイト

Fuji-Q Highland Begins Christmas Event at Gaspard and Lisa Town

Christmas cheer is here at Fuji-Q Highland, the popular amusement park in Yamanashi, where a special Christmas event is taking place at Gaspard and Lisa Town in the park.

Christmas gift set with original tote bag

Hot Coffee Set | ¥2,000 (Tax Included)

Up until Christmas Day, the Gaspard and Lisa Town shop is selling a special hot coffee set to warm visitors this holiday season which comes with coffee, cookies, and a coffee cup sleeve.


The set comes in a festive tote bag with Gaspard and Lisa celebrating Christmas 2020 around a Christmas tree.

Hot Coffee Set Contents
①Drip Coffee (Gaspard or Lisa version)
②5 Fujiyama Cookies
③Sleeve (Gaspard or Lisa version)
*Tote bags are available while supplies las

Treats for Christmastime

Gaspard and Lisa Christmas Jar Sweets | ¥500 (Tax Included)

At the Les Rêves Salon de thé tea salon, visitors can pick up a jar dessert which contains a sweet and sour tart topped with Gaspard and Lisa shaped cookies. Cafe Brioche is also selling a selection of freshly-made Christmas pastries.

When visitors spend over ¥2,000 in a single transaction at shops in the town they will receive a limited-edition Gaspard and Lisa Christmas coaster.

Send Christmas post to the Gaspard and Lisa creators

When buying something in the town, customers will be handed a Christmas card that they can send a message in to post in the town's Christmas postbox. The post will be sent to wife and husband Anne Gutman and Georg Hallensleben, the creators of Gaspard and Lisa, in Paris, France. Up on the second floor of the town's shop are also drawings and messages by the two creators delivered for this year's Christmas event.

Post Collection: November 14, 2020 – December 13, 2020

Location: Gaspard and Lisa Town Shop

*1 card per transaction, available while supplies last

Meet Gaspard and Lisa

Gaspard and Lisa donning Christmas cloaks will make an appearance on Christmas cloaks to light up the Towatomo Tree. Visitors can also enjoy a soup with a cute Gaspard or Lisa sleeve.

Date: December 25, 2020
Time: From 16:30
Location: Gasprd and Lisa Town's Towatomo Tree
Prices:
Soup Only – ¥300 (Tax Included)

Soup & Sleeve – ¥720 (Tax Included)

Wine bottle shaped chocolate

~Le Premier~Le chocolate au vin | ¥2,980 (Tax Included)

The bakers at Highland Resort Hotel & Spa have crafted a new wine bottle-shaped chocolate for the Christmas event. Its sweetness makes it perfect for pairing with wine.

Available: Les Rêves Salon de thé in Gaspard and Lisa Town

©2020 Hachette Livre

Information

Gaspard and Lisa Town Christmas
Running: November 14, 2020 – December 25, 2020

Location: Fuji-Q Highland

Address: 5–6-1 Shinnishihara, Fujiyoshida, Yamanashi

Opening Hours: 9:00-17:00

Closed: December 3 / December 10

Official Website: https://www.fujiq.jp/en/

Directions to the park: https://www.fujiq.jp/en/access/

Starbucks Japan Reveals Matcha x Matcha White Chocolate Frappuccino®

Starbucks Coffee Japan has revealed that its second instalment of its limited-edition holiday season 2020 beverages will be the "Matcha x Matcha White Chocolate" and "Matcha x Matcha White Chocolate Frappuccino®" which customers can order from November 24. A new batch of festive Starbucks merch will also hit Japanese branches on November 30.

A harmonious fusion of matcha and sweet white chocolate

Matcha x Matcha White Chocolate Frappuccino® Tall ¥590 (Tall-size only)

Matcha x Matcha White Chocolate: Short ¥450 / Tall ¥490 / Grande ¥530 / Venti® ¥570 (Hot option only)

Matcha is one of Starbucks Japan's signature flavours and just to happens to have been in the spotlight in last year's holiday season drinks. This year sees marbling mixture of of rich matcha sauce and sweet white chocolate syrup with the Frappuccino®, finished with a squirt of whipped cream, brownie bits, and snowy powdered sugar. The hot version comes as a marriage of matcha and white mocha mixed together with steamed milk to warm the cockles of hearts during the cold months.

New holiday season merchandise

The theme of the second batch of merchandise is "Brilliant Season" which capture the bright and sparkly vibe of winter like with the snowflake-covered stainless steel bottle, a glass mug with beads in it that move around when shaken, a snow globe, and more. The perfect line-up for capturing the holiday season mood during your coffee break.

Starbucks Japan is currently serving the Berry x Berry No-Bake Cheesecake Frappuccino® and Berry x Berry White Mocha holiday season drinks for the holiday season until November 24 when they will be replaced by the Matcha x Matcha White Chocolate and Matcha x Matcha White Chocolate Frappuccino®. It is also serving the Starbucks® Christmas Blend, Gingerbread Latte, and Macadamia Toffee Latte until Christmas Day.

Information

Matcha x Matcha White Chocolate and Matcha

Matcha White Chocolate Frappuccino®

Running: November 1, 2020 – December 25, 2020

Available: Starbucks in Japan
Starbucks Japan Official Website: https://www.starbucks.co.jp/

Hoshino Resorts Tomamu's Ice Village Will Be Open For Winter 2020-2021

Hoshino Resorts Tomamu, Hokkaido's top snow resort where you can stay, has announced that this year's Ice Village will open from December 10, 2020 to March 14, 2021.

Ice Village opens up at Tomamu in wintertime only and has done so every year since 1998. It boasts 3.2 hectares of land and houses 10 enormous igloos to create a little village of ice. At its lowest, the temperature there can drop to -30°C which is what works the magic behind the Ice Village.

Many events around Hokkaido have been cancelled this year as a result of the pandemic, and so Tomamu has decided to remain open to both guests and non-guests while operating under strict countermeasures against COVID-19. This way, people can still enjoy the wonderful winter season of Hokkaido. This year sees the opening of the Ice Milk Cafe and Ice Fruit shop in the Ice Village where they can order a variety of food and drink to take out onto the Ice Terrace. There's even the Ice Hotel and Ice Chapel.

Draw fresh milk from the Ice Milk Cafe

The one-meter tall Ice Milk Bottle lets visitors who order a glass of Ice Milk at the Milk Cafe draw fresh Tomamu Milk which has a distinctly deep flavour during winter. You can also mix the milk on an ice sheet to create gelato.

Ice Milk Cafe

Opening Hours: 17:00-22:00 (Last Orders 21:30)

Enjoy chilled fruits at the Ice Fruit Shop

Visitors can enjoy a range of whole frozen fruits that have been shaved into smaller pieces as well as frozen fruit beverages. They also serve fruits on skewers you can pick which fruit combinations you like to enjoy out on the Ice Terrace.

Ice Fruit Shop
Opening Hours: 17:00-22:00 (Last Orders 21:30)

Enter a magical frozen world at the Ice Terrace

Once you've ordered your takeout drink or dessert, you can go out onto the terrace to sit at the tables and chairs, which are also made of ice, and enjoy the frozen world around you, like the giant snowflakes.

Ice Terrace
Opening Hours: 17:00-22:00

Order a crisp drink at the Ice Bar

The ice bar serves over 50 different alcoholic beverages at the ice counter, with drinks like colourful cocktails served chilled in ice cubes.

Ice Bar

Opening Hours: 17:00-22:00 (Last Orders 21:45)

Dogs are allowed at the Ice Hotel

Everything at the Ice Hotel, from the ceiling to the walls, is made from ice. It's available to one group per day and has its own ice bath and hot springs. Dogs are also allowed and get their own pup igloo.

Running: January 18, 2021 – February 28, 2020
*Reservations required 7 days in advance

The Ice Chapel made entirely of ice

A chapel made entirely of ice which represents "the unbreakable love between two pure souls which shall last forever." From the altar and crucifix, to the wedding aisle and benches, everything is made of ice and snow. Firework displays will take place to congratulate newly-wed couples.

Running: January 18, 2020 – February 14, 2020

Visiting Times: 17:45 / 19:45 / 21:45 (10 minutes each)
Ceremony Times: 14:00 / 17:00 / 19:00 / 21:00

Crafts at the Ice Atelier and shopping at the Ice General Store

Visitors can craft things made from ice at the Ice Atelier as well as buy a selection of ice and snow-themed items like crafts, accessories, mugs, and more at the shop.

Ice Atelier / Ice General Shop
Opening Hours: 17:00-22:00

Kids and adults can have fun at the Ice Slide and Ice Rink

The Ice Slide is the most popular part of the Ice Village where kids and adults alike can slide down and overlook the bustling village. Right next to the slide is the Ice Rink, another bustling spot popular with visitors.

Ice Slide Opening Hours: 17:00-22:00
Ice Rink Opening Hours: 17:00-21:45 (Last Entries 21:30)

Information

Hoshino Resorts Tomamu Ice Village
Running: December 10, 2020 – March 14, 2021
Opening Hours: 17:00-22:00 (Last Entries 21:30)
Official Website: https://www.snowtomamu.jp/special/icevillage/en/
*Dates and content subject to change depending on the weather

Hotel & Rooms Kyoto Shichijo: Kyoto's New Hotel Opening in Spring 2021

Solare Hotels & Resorts has announced that the new Hotel & Rooms Kyoto Shichijo will open in Spring 2021. It will be located just a 7-minute walk from the JR side of Kyoto Station's Central Exit, making it a convenient hub for tourists looking to sightsee in the city.

The casual yet stylish hotel caters to couples, families, and groups travelling together.

"Verical Garden" in the Elevator Hall

Enjoy the open central garden at the hotel cafe

The hotel takes advantage of the building's old Kyoto-style townhouse design and incorporates a contemporary feel to its interior. The décor is a merging of traditional and contemporary Japan. Guest rooms are centred on groups 2-3 people with double and twin rooms available, allowing for comfort and relaxation.

Spacious washroom with wooden décor

A traditional and modern fusion of stylish mirrors and warm wood

The washrooms offer a relaxing respite from the day's travels, incorporating the beauty of traditional Kyoto with the modern. The hotel also has its own cafe on the first floor which serves breakfast and lunch and even turns into a bar in the evenings. It's open to both guests and non-guests to serve as a hub for travellers and locals to enjoy the fruits of Kyoto together.

If you're planning a trip to Kyoto next spring or beyond, be sure to check out

Information

Hotel & Rooms Kyoto Shichijo (Japanese: ホテル・アンドルームス京都七条)
Address: 730 Ebisunocho, Shimogyo-ku, Kyoto
Grand Opening: Spring 2021

Official Website: https://www.solarehotels.co.jp/

teamLab's Rinkan Spa & Tea Ceremony, Ruins and Remains Opens as Permanent Exhibit at Mifuneyama Rakuen

Japanese art collective teamLab opened its teamLab: Rinkan Spa & Tea Ceremony, Ruins and Remains series of artworks at Mifuneyama Rakuen in Kyushu as permanent exhibitions on November 10. The artworks can be enjoyed as part of a set which includes enjoying the exhibits as well as a soak in Mifuneyama Rakuen Hotel's sauna and a complimentary cup of Japanese tea.

Rakan no Yu, a sauna located at Mifuneyama Rakuen Hotel, won the Saunachelin Grand Prix two years in a row in 2019 and 2020. The sauna and open-air baths enjoy natural water from Mt. Mifune and are surrounded by the vast nature of the local area.

A sauna and new art experience fusion

Sitting on the borderline of Mifuneyama Rakuen Park is the 3,000-year-old sacred Okusu tree of Takeo Shrine, which is Japan's 7th largest. Also in the heart of the garden is another 300-year-old sacred tree. Knowing the significance of this, Japan's forebears turned a portion of this forest into a garden, utilizing the trees of the natural forest. The border between the garden and the wild forest is ambiguous, and when wandering through the garden, before they know it, people will find themselves entering the woods and animal trails.

Visitors can get their hands on a combo ticket which includes access to teamLab's exhibition as well as daytime entry to the sauna. These are limited to 40 people per day.

Below are some of the artworks that visitors can experience.

Megaliths in the Bath House Ruins
teamLab, 2019, Interactive Digital Installation

Graffiti Nature – Living in the Ruins of a Bathhouse, Red List
teamLab, 2017-, Interactive Digital Installation, Sound: Hideaki Takahashi

Butterflies Dancing in the Depths of the Underground Ruins, Transcending Space
teamLab, 2019, Digital Installation, Sound: Hideaki Takahashi

Forest and Spiral of Resonating Lamps in the Forest – One Stroke, Autumn Mountain
teamLab, 2018, Interactive Installation, Murano Glass, LED, Endless, Sound: Hideaki Takahashi

Information

teamLab Ruins and Heritage: Rinkan Sauna & Tea Ceremony
Location: Mifuneyama Rakuen
Address: 4100 Takeo, Takeo-cho, Takeo City, Saga, Japan
Opened: November 10, 2020
Buy Tickets (English): https://mifuneyamarakuen.teamlabticket.com/#/order

teamLab Borderless to Turn Tokyo's Odaiba Into Digital Winter Wonderland

MORI Building DIGITAL ART MUSEUM: EPSON teamLab Borderless in Odaiba, Tokyo, is set to welcome a world of wonderful winter artworks this year.

teamLab Borderless is a group of artworks that form one borderless world. Artworks move out of rooms, communicate with other works, influence, and sometimes intermingle with each other with no boundaries.

Sketch Christmas

This December, teamLab invites children to create a Christmas world from their own pictures. When they draw a picture of Santa Claus on a piece of paper, he will appear in a town right in front of their eyes as if by magic.

Forest of Resonating Lamps

Throughout December and into January, the lamps at the art museum's Forest of Resonating Lamps area will be changed to blue, inspired by the Blue Grotto sea cave in Italy. Going into January, they will turn red to be inspired by flames.

Proliferating Immense Life

The museum's immense flower art piece Proliferating Immense Life – A Whole Year per Year will welcome numerous winter flowers over the next few months including Jack-in-the-pulpits in December, Chinese aster in January, and Asian bleeding-heart in February. When people touch the flowers they scatter, wither, and die, before being reborn. 100,000 flowers will scatter at once, creating a breathtaking display.

Memory of Topography

This artwork installation depicts a rural mountain landscape of varying elevations. For winter, it will depict wintertime scenery starting from December, from powdery snow to snow storms, kantsubaki midwinter camellias, plum blossoms, and more.

EN TEA HOUSE GENKA-TEI

Enter teamLab Borderless's cafe where flowers bloom inside your cup. The tea house will make tea with a variety of winter flowers like chrysanthemums and cyclamens until December before switching to daffodils and plum blossoms from January to March.

Experience winter like never before at MORI Building DIGITAL ART MUSEUM: EPSON teamLab Borderless.

Information

MORI Building DIGITAL ART MUSEUM: EPSON teamLab Borderless
Location: Odaiba Palette Town
Address: 1-3-8 Aomi, Koto Ward, Tokyo
*Opening hours subject to change depending on the season, check the official website for the latest information
teamLab Borderless Official Website: https://borderless.teamlab.art/

Pokémon Illuminations to Light Up Lake Sagami Pleasure Forest This Year

Lake Sagami Pleasure Forest's annual SAGAMIKO ILLUMILLION winter event is set to run from November 14, 2020 to April 4, 2021, and this year, it has been announced that a new Pokémon area will be set up at the event with Pokémon illuminations.

About SAGAMIKO ILLUMILLION

SAGAMIKO ILLUMILLION is an annual winter event held at Lake Sagami Pleasure Forest. About an hour from the main city, the event takes place up a high slope with the 6 million lights becoming one with the surrounding natural environment. The event uses the latest in lighting technology and has gotten bigger and better every year. In 2018, it was chosen as one of Kanto's three biggest illumination events.

Pokémon Illuminations

This year marks the 12th run of SAGAMIKO ILLUMILLION, and this time around it's collaborating with the Pokémon franchise with lots of colourful illuminations set to light up forest and trees. Wild Pokémon illuminations roam everywhere and there are plenty of Pokémon photo spots to take your picture with including Pikachu sleeping in the forest, Charmander taking a nap by an open-air, and more.

Eevee Friends Rainbow Lift

The Rainbow Lift this year features nine colours inspired by Eevee and all of its evolutions. Ride up high with a carpet of colourful lights underneath.

Pokémon Gondola

The Pokémon decoration-wrapped gondola will ride visitors up 420m high. There are 36 different Pokémon gondola designs to see.

Pokémon Street

There are plenty of photo opportunities to be had at the event, from a Pikachu 100,000 volt exhibit to Pikachu napping by a fire and more. Take a picture with your favourite Pokémon.

Pikachu's Forest of Light

Visitors will definitely want to check out the forest too which is filled with Pikachu. Deep in the forest stands a giant, towering Pikachu too. Various Pikachu-related events will also take place including a Pikachu light show, a photo meeting, and more.

・Illumination Show: Tickets
・Photo Meet-Up: To attend, visitors can buy a ticket at the Pleasure Station or visit the site's official Twitter

Coaster (For illustrative purposes only)

Visitors who order from the ILLUMILLION menu at the park's Wild Dining restaurant will receive a Pokémon lunch mat, and if they order a drink one of eight possible coasters. They can also receive a Pokémon eco-bag if they spend over ¥3,000 at Pleasure Station.

©2020 Pokémon. ©1995-2020 Nintendo/Creatures Inc. /GAME FREAK inc.

Pokémon, ポケットモンスター, and ポケモン are registered trademarks of Nintendo, Creatures Inc., and GAME FREAK inc.

Information

SAGAMIKO ILLUMILLION
Address: 1634 Wakayanagi, Midori-ku, Sagamihara, Kanagawa
Running: November 14, 2020 – April 4, 2021

Illumination Times: 16:00-21:00 (Last Entries 20:30)

*Illumination times to begin from 17:00 starting in February

Official Website: https://www.sagamiko-resort.jp/illumillion/

5 Must-Visit Places in Japan to See the Autumn Colours in 2020

Online travel website Booking.com has revealed its 5 must-visit and places in Japan for seeing the autumn colours, all of which can be enjoyed safely with the necessary social distancing measures in place.

According to a survey carried out by Booking.com, when asked what the next desired travel destination is, 37% of users in Japan responded that they wanted to plan a sightseeing trip outdoors in nature. With the autumn leaves still ripe in Japan and the winter spectacle on the horizon, the website has compiled a list of recommended destinations.

Sanga Nikko in Nikko, Tochigi

If kicking back and relaxing is your thing, but you still want to keep active then Sanga Nikko is a place to consider. Mid November is the peak of the autumn season when all the trees are dyed reds and yellows. There, friends and families can stay in a villa all of which avoid the three C's: closed spaces, crowded places, and close-contact. The owner is an advocate of the outdoors and so guests can rent bicycles there to feel the breeze on their faces while lost in nature. (User Rating: 9.3/10)

Rakuyu in Fujikawaguchiko, Yamanashi

Rakuyu is a hotel where guests can relax in luxury while embedded in the expanse of the outdoors. It sits high on Lake Kawaguchi, and all rooms offer a breathtaking panoramic view of the lake. There are open-air baths and rentable private baths where guests can enjoy the view, one which is gorgeous to behold even from the hotel lobby. If you book through Booking.com there's a meal plan which offers Japanese-style food made with seasonal ingredients. (User Rating: 9.0/10)

Jeugiya Inn in Higashiyama, Kyoto

Those looking for an authentic Japanese experience that also incorporates autumn should check out Jeugiya Inn. Nobel Prize-winning Japanese novelist Yasunari Kawabata stayed at this inn and likened it to a Kyoto-style home. Its favourable location also puts it within 5-minutes walking distance of many Kyoto sightseeing spots such as Yasaka Shrine and Chion-in, as well as Gion-Shijō Station, making it easy to get to. One group can stay at the single building for one day, giving them a chance to enjoy the traditional Japanese garden. There's a spacious bath too from which guests can enjoy nature. (User Rating: 9.9/10)

Tsukihitei in Kasuganocho, Nara

Tsukihitei is separated from the hustle and bustle of the city which is perfect for those looking for a quiet and tranquil time. It's limited to three groups per day and is sits within Kasugayama Primeval Forest which is listed as a UNESCO World Heritage Site. Guests can open the sliding doors to reveal an unbroken view of autumnal woods. Food served here is served as authentic Japanese-style kaiseki-ryori made with carefully-selected seasonal ingredients. (User Score: 9.6/10)

Sanso Tensui in Hita, Oita

If you're talking seeing the autumn colours the popular Hita area of Kyushu then Sanso Tensui is a must-mention. There are various room types available such as the Special Rooms which are limited to three groups per day, single buildings, and more. Sanso Tensui is another place that serves up meals with abundant seasonal ingredients. After strolling around to see the red and yellow hues, guests can take a dip in the hot springs to enjoy a soak under the autumn colours.