Valentine's Day Arrives at Pompompurin Cafe in Collaboration With Gudetama
Sanrio's hugely popular characters Pompompurin and Gudetama will meet at the Yokohama and Nagoya branches of the Pompompurin Cafe for a special Valentine's Day and White Day menu special from January 15 to March 14.
Okota de Poka Poka Souffle Omurice: ¥1,290 (+Tax) *¥1,590 for the mug
This delightful dish has a rice ball Purin and Macaroon keeping warm under a Gudetama kotatsu souffle. Cheese sauce is hidden under the kotatsu, and when the food is combined with the added tomato sauce it makes for a richer taste and much more filling meal.
Pompompurin & Macaroon's 2 Coloured Love Love Curry: ¥1,390 (+Tax)
This mysterious black and white curry has a mashed potato Macaroon filled with a meatball and Purin made from rice. They are both lovingly surrounded by lots of hearts.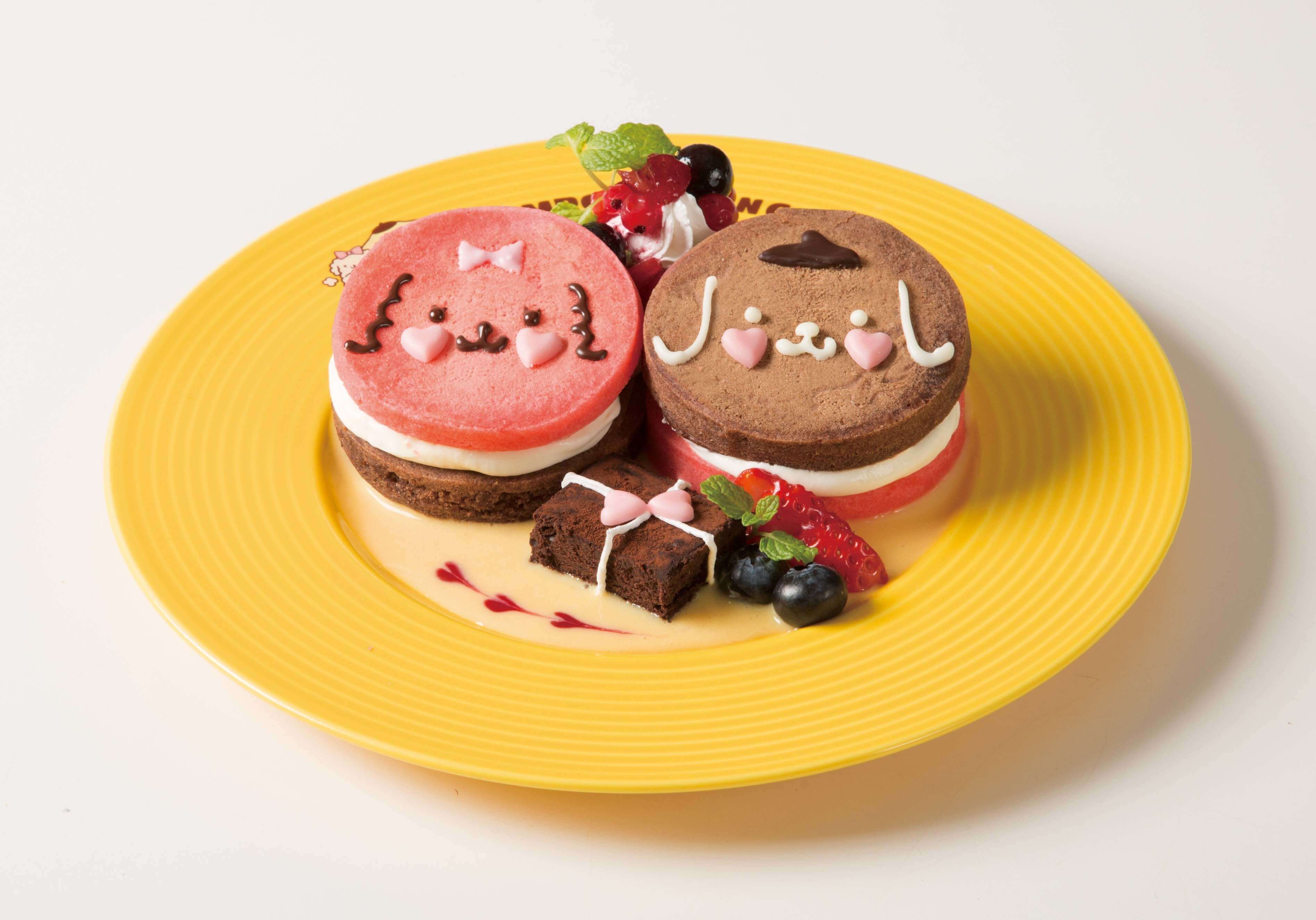 Cream Cheese Sandwich Lovely Pancakes: ¥1,290 (+Tax)
Cream cheese-filled pancake sandwiches with Purin and Macaroon's faces drawn on them, what could be cuter? The sweet and salty flavour combinations make for a tasty dessert.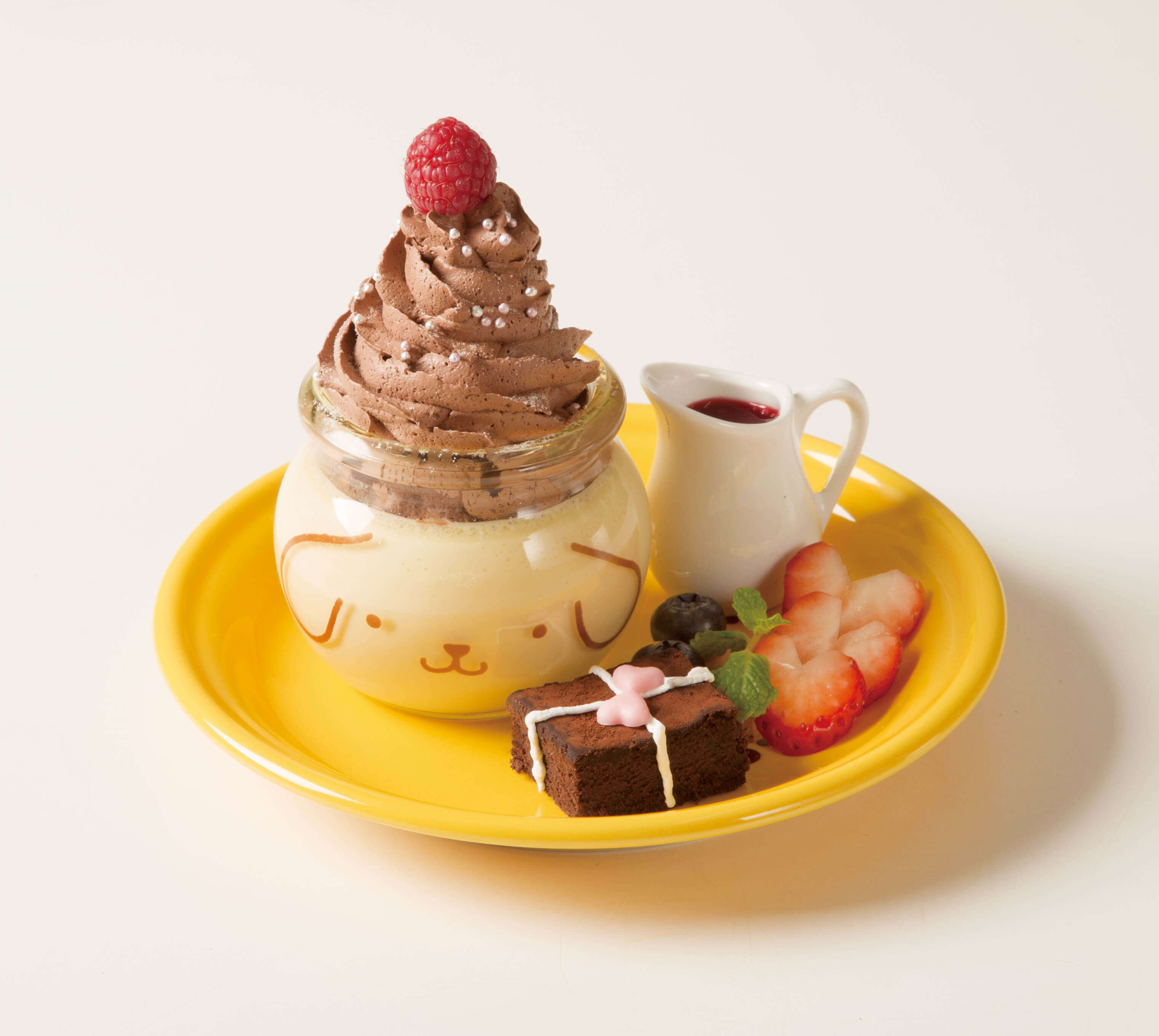 Cocoa Cream On White Choco Purin: ¥590 (+Tax)
Mouths will drip at this dessert which sees a white chocolate Purin topped generously with cocoa cream.
*When ordered with a set it will be served at the set price of ¥350 (+tax).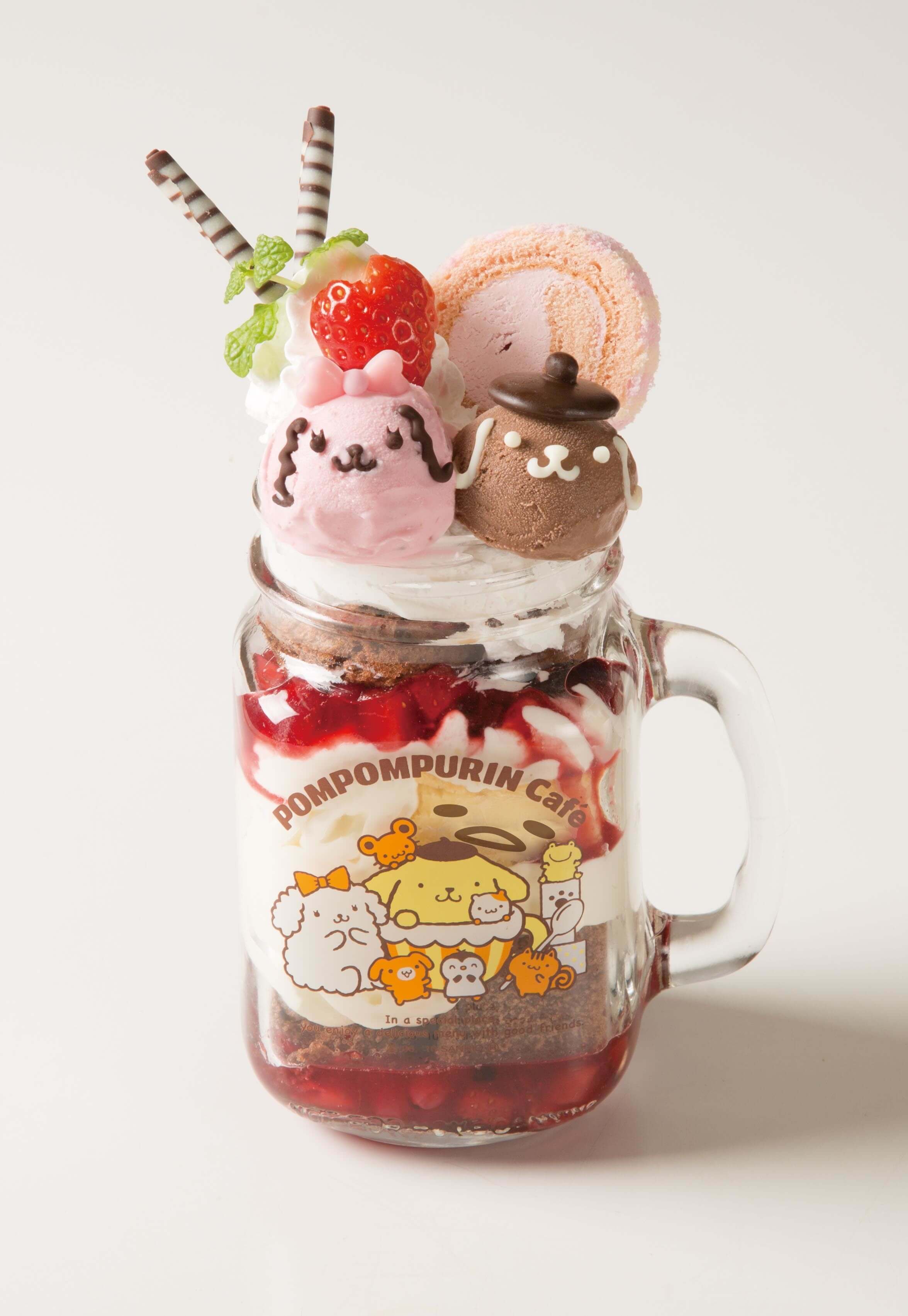 Berry & Cream Cheese Trifle: ¥1,190 (+Tax)
Trifles are the treat that just keep on giving. This one is piled with berries, chocolate sponge cake, cream cheese and whipped cream before being topped with an ice cream Purin and Macaroon and strawberry roll cake. If you look closely you'll see Gudetama hidden in there disguised as cheesecake.
Pompompurin Bubble Tea (20 Flavours): ¥550 Each (+Tax)
From classic choices such as milk tea and coconut milk to popular matcha milk and strawberry milk there are a whopping 20 bubble teas to choose from all topped with Pompompurin's cute face.
Customers who dine at the cafe will each receive the above card calendar and lunch mat. The design of the calendar will change on February 15 until the collaboration ends.
Those who order a drink will also get the above coaster. All of these items will discontinue once the stock has been given out.
See, eat and drink cute food at the Pompompurin Cafe and treat that special someone this Valentine's season.
Information
Pompompurin Cafe Yokohama
Address: Yokohama Sotetsu Square, 2-1-5 Minamisaiwai, Nishi-ku, Yokohama-shi
Opening Hours: 10:00-21:00 (Last Orders 20:30)
Access: 5-minutes on foot from West Exit at Yokohama Station via JR
TEL: 045-311-6750
Pompompurin Cafe Nagoya
Address: BECOME SAKAE 2F, 3-32-6 Sakae, Naka-ku, Nagoya-shi
Opening Hours: 11:00-20:00 (Food Last Orders 19:30 / Drinks Last Orders 19:30)
Access: 1-minutes on foot from Sakae Station via the Meijo Line
TEL: 052-249-8320
Pompompurin Cafe Official Website: http://pompom.createrestaurants.com
©1996, 2013, 2019 SANRIO CO., LTD. APPROVAL NO.S593875
RELATED ENTRIES
9th Installment of Anime-Inspired Cooking Project AniCook Features Bungo Stray Dogs

AniCook, a project using anime to make cooking more fun, is already holding it's 9th collaboration with a popular series. This time, characters from the popular anime series Bungo Stray Dogs are coming to cook up some fall treats at Shinsaibashi PARCO in Osaka from October 1 until October 26! 

Menu

Sticker gifted to guests who purchase a meal or dessert (8 varieties) / Postcard gifted to guests ordering a drink (8 varieties) 

Original Merchandise

Acrylic Stands (8 varieties) / 8-pack set

Pins (8 varieties) / 8-pack set

Acrylic Keychain (8 varieties) / 8-pack set

Acrylic Muddler (8 varieties) / 8-pack set

100 Limited-Edition pouches (2 varieties) available by lottery: Those spending over ¥5,000 at the cafe will be entered.

CookpadTV is behind the cafe, and continues to lead the way in quality collaboration cafes across Japan. This time, popular characters from Bungo Stray Dogs are serving up their favorite autumn-themed foods, inspiring visitors to enjoy cooking just a little more. Themed meals and sweets will be available, while the beverages are each themed on the character's abilities. Be sure to grab some of the limited-edition merchandise only available during the event! These can now be pre-ordered on the cookpadLive cafe Online Store. 

Which character would you like to see in the kitchen? 

Popular Chichiyasu Chi-bou Fair 2021 Returns to LOFT Locations After Two Years

Household goods shop LOFT is teaming up with beverage company Chichiyasu for the Chichiyasu Chi-bou Fair 2021 at four locations nationwide. The event will run from September 16 until September 29 at Shibuya LOFT, and from October 20 until November 3 at Nagoya LOFT, Umeda LOFT, and Tenjin LOFT. Chi-bou is the name of the adorable character on the Chichiyasu logo.

Chi-bou Drawstring Bag (Set of 2): ¥1,650 (Tax Included)

Chi-bou Gauze Handkerchief: ¥770 each (Tax Included)

Chi-bou T-shirt: ¥2,200 each (Tax Included) *Only available at Shibuya LOFT and Umeda LOFT.

Chi-bou Pouch: ¥1,650 (Tax Included)

Chi-bou Rubber Keychain (Set of 2): ¥1,650 (Tax Included)

Chi-bou A5-size Notebook: ¥385 each (Tax Included)

Chi-bou Mug: ¥1,650 each (Tax Included)

Chi-bou Eco Bag (with Pouch): ¥2,200 (Tax Included)

Chi-bou Masking Tape (Chichiyasu Milk/Boxed Milk): ¥495 each (Tax Included)

 

The Chichiyasu Chi-bou Fair was a popular event held at Shibuya LOFT in 2018 and at Yokohama and Umeda LOFT locations in 2019.

How would you like to buy some of this adorable merchandise?

Information

Chichiyasu Chi-bou Fair 2021

Locations:

Shibuya LOFT 1F, Masaka Stage
Nagoya LOFT 5F, Variety Goods Section

Umeda LOFT 1F, Loft Market

Tenjin LOFT 5F, Variety Goods Section

Running:

Shibuya LOFT: September 16 – September 29, 2021

Nagoya LOFT, Umeda LOFT, Tenjin LOFT: October 20 – November 3, 2021

Hours: Same as LOFT business hours *Shibuya LOFT and Umeda LOFT to close at 18:00 on the final day.

Official Site: https://www.loft.co.jp/

Sega to Open Limited-time Love Live! Themed Cafes Around Japan

GENDA SEGA is set to open a series of Love Live! School Idol Festival themed collaboration cafes around Japan starting September 4. Guests can enjoy original food, desserts, and drinks inspired by characters from the franchise. The limited-time cafes will be open until November 7, and will be divided into four phases, each based on a certain aspect of the Love Live! series.

Drinks: ¥660 each (Tax Included) 

Food Menu

Phase 1: Teru Teru Bozu White Rice & Soup / Magic of Makeup Open-Faced Hamburger 

Phase 2: Cat Ear Curry Soup / Spring Fairy Soba with Yuzu 

Phase 3 : Menu to be announced soon

Phase 4 : Menu to be announced soon

Dessert Menu

Love Live! Parfait (Liella!) (Available during entire event period.)

Phase 1:  μ' s 1st Grade Soda Parfait / μ' s 2nd Grade Strawberry Parfait / μ' s 3rd Grade Muscat Parfait 

Phase 2: Aquors 1st Grade Banana Parfait / Aquors 2nd Grade Strawberry Parfait / Aquors 3rd Grade Muscat Parfait

Phase 3 / Phase 4: Dessert Menus to be announced soon

Get Special Freebies for Each Order

Phase 1: Drink Coaster / Food Coaster / Parfait Coaster

Phase 2: Drink Coaster / Food Coaster / Parfait Coaster

Phase 3 / Phase 4: Freebies to be announced soon

Love Live! Character Birthday Cards

Kotori Minami – September 12

Riko Sakurauchi – September 19

Ruby Kurosawa – September 21

Sumire Heanna – September 28

Shioriko Mifune – October 5

Eli Ayase – October 21

Rin Hoshizora – November 1

Limited-time Merchandise

Releasing: September 4, 2021

Art Panel (μ' s Thanksgiving 2020 ~ONLINE~, 10 designs, random) / Art Panel (Aqours Thanksgiving 2020 ~ONLINE~, 10 designs, random) / Art Panel (Nijigasaki Thanksgiving 2020 ~ONLINE~, 11 designs, random): ¥660 each (Tax Included)

Art Panel (μ' s Makeup Magic, 9 designs, random): ¥660 each (Tax Included) / Chibi Acrylic Key Rings (μ' s Thanksgiving Festival 2020 ~ONLINE~, 9 designs, random): ¥770 each (Tax Included) / Acrylic Stands (μ' s Teru Teru Bozu, 9 designs): ¥1,320 each (Tax Included)

Releasing: September 18, 2021

Art Panel (Aqours Cat Cafe, 9 designs, random): ¥660 each (Tax Included) / Chibi Acrylic Key Rings (Aqours Thanksgiving Festival 2020 ~ONLINE~, 9 designs, random): ¥770 each (Tax Included) / Acrylic Stands (Aqours Spring Fairy, 9 designs): ¥1,320 each (Tax Included)

Bonus Merch for Every ¥2,000 Spent

Limited-edition clear photos, 4 designs: Available September 4 – September 17

Limited-edition clear photos, 4 designs: Available September 18 – October 1

Phase 3 / Phase 4: Bonus merch to be announced

Which Love Live! character's merch would you be after?

©2013 プロジェクトラブライブ! ©2017 プロジェクトラブライブ!サンシャイン!!
©2020 プロジェクトラブライブ!虹ヶ咲学園スクールアイドル同好会 ©2021 プロジェクトラブライブ!スーパースター!!
©KLabGames ©SUNRISE ©bushiroad ©GENDA SEGA Entertainment Inc.

Information

SEGA x Love Live! School Idol Festival Collaboration Cafe

Running: September 4 – November 7, 2021

Where: SEGA Collaboration Cafe Akihabara 3 (SEGA Akihabara 3 Floor 7F) /

SEGA Collaboration Cafe Stand / SEGA Akihabara 4 / Nanbasennichimae / Sendai / Okayama / Fukuoka Tenjin / Sasashima/ Kumamoto

Phase 1, μ' s: September 4 – September 17, 2021

Phase 2, Aqours: September 18 – October 1, 2021

Phase 3, Nijigasaki High School Idol Club: October 2 – October 15, 2021

Phase 4, Love Live! ALL STARS: October 16 – November 7, 2021

Official Site: https://sega-collabocafe.com/top/sif06.html

Miss Kobayashi's Dragon Maid to Collaborate with At Home Maid Cafe

Maid cafe At Home in Akihabara is collaborating with Kyoto Animation's new anime series Miss Kobayashi's Dragon Maid S for a limited-time crossover cafe starting September 1. Original menu items and special merch will be on sale during this month-long period.

Food Menu

I love you, Miss Kobayashi! Tohru's Omurice: ¥1,400 (Tax Included)

 

Let's play together! Mogu Mogu Lunch: ¥1,200 (Tax Included)


Eat while you game! Jet-black Sweet Curry: ¥1,200 (Tax Included)

The more we fight, the closer we get? Let's have seconds Parfait: ¥1,100 (Tax Included)

 

Magic power up?! Secret Apple Pie: ¥1,100 (Tax Included)

 

Classic Candies a la mode: ¥1,100 (Tax Included)

Special Drinks: Tohru/Kanna/Elma/Lucoa/Ilulu: ¥800 each (Tax Included)

Bonuses

Original Placemat

Coasters

 

Shop Decorations

Entrance Tapesty

Interior Tapestries

Original Collaboration Uniforms

Miss Kobayashi's Dragon Maid S Uniform (Tohru Color)

Kanna and Elma Color Uniforms

Special Merchandise

First Release: September 1, 2021

B2-size Tapestry: ¥5,500 (Tax Included)

 

Luggage Tag: ¥1,430 (Tax Included)

Second Release: September 18, 2021

 

Tote Bag: ¥4,400 (Tax Included)

At Home Cafe, celebrating its 17th anniversary this month, has been collaborating with a number of characters and properties. Kyoto Animation's Miss Kobayashi's Dragon Maid S began airing in July, and has amassed legions of fans both in Japan and abroad with its collection of adorable characters and hilarious universe.

For this new maid cafe collaboration, Kyoto Animation provided new illustrations of the show's five main characters: Tohru, Kanna, Elma, Lucoa, and Ilulu. World-famous designer Keita Maruyama designed the staff's new uniforms, inspired by the characters!

Customers who order a special food and drink set during the event period will get a limited-edition placemat. Those who order a character's drink will receive a coaster featuring that character's face. The shop will feature various tapestries and visuals from Miss Kobayashi's Dragon Maid S throughout the space.

All goods will be sold at the At Home Cafe Shop Akihabara and the At Home Web Shop. Maids at the cafe will wear one of three special uniforms each day–Tohru, Kanna, and Elma–so guests will want to come back to see them all!

(C)Coolkyousinnjya・Futabasha/Dragon Maid Production Committee

Information

At Home Cafe x Miss Kobayashi's Dragon Maid S

Running: September 1 – September 30, 2021

Location: At Home Cafe Main Store (7F)

Address: 7F Mitsuwa Building, 1-11-4 Sotokanda, Chiyoda-ku, Tokyo

Hours:

Weekdays 11:00 – 22:00

Weekends: 10:00 – 22:00 (Last orders at 21:20)

*Hours of operation are subject to change. Please check the official website for details.

Stop-motion Series Pui Pui Molcar Gets Collaboration Cafe for Limited-Time

Adorable stop-motion series Pui Pui Molcar is getting a limited-time cafe run! The Mogu Mogu Molcar Restaurant will open in four areas–Tokyo, Osaka, Shizuoka, and Sendai–starting September 2. 

Main Visual

Those who reserve a seat early will receive a randomly-selected sticker. (5 designs.)

For each drink ordered, guests will receive a random paper coaster. (5 designs)





Menu

Who Caused the Traffic Jam? PUIPUI Temarizushi: ¥1,430 (Tax Included)

Cat Rescuing Operation – Meat! Meat! Pasta: ¥1,540 (Tax Included)

Zombies and Lunch Green Curry: ¥1,540 (Tax Included)

Pui Pui Racing Salad: ¥1,210 (Tax Included)

Time Molcar Stew: ¥1,320 (Tax Included)

It's a Prank? It's Tiramisu: ¥1,430 (Tax Included)

Mission Impossible Pancakes: ¥1,430 (Tax Included)


Everything is a Surprise Box Cake: ¥1,100 (Tax Included)

Angelic Parfait: ¥1,320 (Tax Included)

Let's Molcar Party Drinks: ¥880 each (Tax Included)


Masked Shiromo Cafe Latte: ¥990 (Tax Included)

Chewing Chewing Popcorn Smoothie: ¥1,100 (Tax Included)

Original Merchandise

Acrylic Keychains (5 designs): ¥700 (Tax Included)


Pins (5 designs): ¥450 each (Tax Included)

Acrylic Stands (5 designs): ¥1,100 each (Tax Included)

Mug: ¥1,800 (Tax Included) / Tag Roll: ¥800 (Tax Included)

Neck Strap: (5 designs): ¥1,700 each


Drawstring Pouch: ¥1,200 (Tax Included)

Pui Pui Molcar is the first animated television series directed by Asaki Misato, and has captured the hearts of children and adults alike with it's short episodes and fluffy characters. The series began broadcasting in January 2021, and in only the first week, the official Molcar Twitter page exceeded 100,000 followers. The show is available on Netflix in the west, and is being rebroadcast in Japan each Tuesday morning on TV Tokyo. 

The cafe menu utilizes each episode's title, and guests can enjoy reliving their favorite moments of the show through artfully-plated dishes. 

What would you order at the cafe? 

©Tomoki Misato JGH・Shin-Ei Animation/Molcars

Information

Mogu Mogu Molcar Restaurant

Locations

Tokyo

Location: TOKYO BOX cafe&space Tokyo Solamachi

Address: 1F Tokyo Skytree Town Solamachi, 1-1-2 Oshiage, Sumida-ku, Tokyo

Running: September 2 – October 17, 2021

Osaka

Location: #702 CAFE&DINER Namba Parks

Address: 7F Namba Parks, 2-10-7 Nambanaka, Naniwa-ku, Osaka

Running: September 2 – October 9, 2021

Shizuoka

Location: kawara CAFE&KITCHEN Shizuoka PARCO

Address: 3F Shizuoka PARCO, 6-7 Konyacho, Aoi-ku, Shizuoka

Running: September 8 – October 11, 2021

Miyagi

Location: GabuLIcious Sendai

Address: 1-2F 1-6-3 Chuo, Aoba-ku, Sendai

Running: September 10 – October 11, 2021

Online Shop Open: September 2, 11:00 – October 17, 23:59

Online Shop: https://molcar-cafe.jp/online_store

Reservations/Official Site: https://molcar-cafe.jp/

*The cafe will take thorough measures to prevent the spread of COVID, and will implement various safety measures for both customers and employees. For more information, refer to the official website. 

New BT21 Cafe Coming to Tokyo, Yokohama, Nagoya, Osaka, and Okinawa

The 9th BT21 Cafe ~Relaxing Holiday~ will be open for a limited time in six venues across Tokyo, Yokohama, Nagoya, Osaka, and Okinawa. If you're a fan of these adorable LINE FRIENDS, just take a look at the menu items and goods on offer!

Main Visual

The Menu

Chicken and Orange Hot Sandwich: ¥1,760 (Tax Included) 

Grilled Vegetable Curry: ¥1,870 (Tax Included)

Tandoori Chicken Tacos: ¥1,870 (Tax Included)

Scrambled Eggs with Smoked Bacon: ¥1,870 (Tax Included)

Mug Collection

Combo Meals

Pistachio and Chocolate S'mores: ¥1,540 (Tax Included)

Cinnamon Apple Pie: ¥1,540 (Tax Included)

Maple Lemon German Pancake: ¥1,650 (Tax Included)

Mixed Berry German Pancake: ¥1,650 (Tax Included)

Strawberry Mojito/Kiwi Mojito/Peach Mojito: ¥990 each (Tax Included)

Coffee (Iced/Hot) / Black Tea (Iced/Hot): ¥550 (Tax Included)

Original Merchandise 

Pins (Random, 7 designs): ¥660 (Tax Included)

Acrylic Keyrings (7 designs): ¥770 (Tax Included) / Clear Folder: ¥440 (Tax Included)

Stickers (7 designs): ¥770 each (Tax Included) / Placemat (2 designs): ¥1,000 each (Tax Included)

Swizzle Stick (7 designs): ¥990 each (Tax Included) / Tote Bag: ¥1,650 (Tax Included)

Canvas Pouch: ¥1,980 (Tax Included) / Mini-towel (7 designs): ¥990 each (Tax Included)

Bandana (2 designs): ¥1,320 each (Tax Included) / Marshmallows: ¥972 (Tax Included)

Customers who book a table in advance will receive a randomly selected A5-size clear folder and a random clear coaster for each drink ordered.

The first installment of the 9th BT21 Cafe run, ~MY LITTLE BUDDY~, began in July 2021. The menu and goods, based on cute babies and their friends, received rave reviews. 

 

~Relaxing Holiday~ is inspired by summer and being outside with friends. Menu items look like what people may eat while camping, and the original character art features your favorite BT21 characters eating their favorite foods. Various soups and desserts are available in cute souvenir cups, and anything ordered is perfect for posting on social media!

Which menu item looks the most delicious to you? 

 

*Images for reference only. 

©BT21

Information

BT21 Cafe 9th Run ~Relaxing Holiday~

Tokyo 1:
Address: SHINJUKU BOX café&space Lumine EST (B1F 3-38-1 Shinjuku, Shinjuku-ku, Tokyo)
Running: August 28, 2021 – October 3, 2021

Tokyo 2:
Address: HARAJUKU BOX Alta (3F 16-4 Jingumae 1-chome, Shibuya-ku, Tokyo)
Running: September 16, 2021 – October 31, 2021

Yokohama:
Address: Collabo_Index Lumine Yokohama (6F 2-16-1 Takashima, Nishi-ku, Yokohama, Kanagawa)
Running: September 1, 2021 – October 3, 2021

Nagoya:
Address: Nagoya Box café&space (B1F LACHIC, 3-6-1 Sakae, Naka-ku, Nagoya, Aichi)
Running: September 30, 2021 – November 7, 2021

Osaka:
Address: Shinsaibashi contact (1-6-24 Kitahorie, Nishi-ku, Osaka)
Running: August 27, 2021 – September 23, 2021

Okinawa:
Address: OKINAWA BOX café&space (Naha OPA 2F, 1-20-1 Izumizaki, Naha, Okinawa)
Running: September 3, 2021 – October 3, 2021

Official Site: https://2021-2.box-cafe.jp/

BT21 is a globally popular cast of characters from LINE FRIENDS.
*The products and menu items produced and sold by LEGS COMPANY, Ltd. are the result of an official license agreement with LINE FRIENDS Co., Ltd. and may not be reproduced or sold without permission from LINE FRIENDS Co., Ltd. 

Upcoming The Prince of Tennis CG Film Inspires Limited-Time Cafe

Capcom Cafe Ikebukuro will be hosting a special cafe inspired by the upcoming The Prince of Tennis film, releasing in theaters September 3. The cafe will run from September 3 until October 14. 

The Prince of Tennis ran in the popular manga magazine Shonen Jump from 1999 until 2008, and found incredible popularity in Japan. It was adapted into an anime series in 2001, running for 178 episodes, and has also been transformed into 15 stage musicals, a live-action film, a radio show, multiple video games, and more. The upcoming 3DCG film was announced in 2019. 

In a teaser image released to promote the special cafe, main character Ryoma appears beside other characters from the series in an adorable tiny style. More details about the menu and goods offered will be revealed soon, so keep an eye out for an update!

What goods are you hoping to see sold at the cafe? 

©TK/S ©RPT
©CAPCOM CO., LTD. ALL RIGHTS RESERVED.

Pretty Boy Detective Club Anime Themed Cafe Menu to be Served in Osaka

As part of their AniCook project which gets people to enjoy anime through cooking, CookpadTV have announced that the 7th series they are collaborating with is Pretty Boy Detective Club. The collaboration includes a food menu inspired by the series that will be served on the 5th floor of Shinsaibashi PARCO in Osaka from August 19 to September 5.

Food

Trump Demi Hamburger / Hagoita Chirashi Chahan

Desserts

Starry Sky Cream Pancakes / Yubiwa Academy Middle School Gateau Chocolate / Auditorium Cheesecake

Drinks

Manabu's Assam Blue Moon Tea / Nagahiro's English Breakfast Sesame Tea / Michiru's Earl Grey Acerola Tea / Hyota's Ceylon Mango Tea / Sosaku's Darjeeling Hazelnut Tea

Get 1 of 5 stickers with every food and dessert order, and 1 of 5 postcards when ordering a drink

Exclusive merchandise

Acrylic Stands | 5 Designs

Acrylic Keyrings | 5 Designs

Acrylic Coasters | 5 Designs

Pins | 5 Designs

The dishes and drinks on the menu were created to get people enjoying food more. The cafe is also selling a range of exclusive merchandise both at the cafe and online.

Life Lessons with Uramichi Oniisan Anime Themed Cafe to Open in Ikebukuro

Animate Cafe Stand Hareza Ikebukuro has announced a collaboration with the ongoing TV anime series Life Lessons with Uramichi Oniisan which will see the cafe served up a themed menu, sell exclusive merchandise, and decorate the interior with original illustrations from August 25 to September 27.

Animate Cafe exclusive illustrations

Animate Cafe exclusive chibi illustrations

Collab Menu (Excerpt)

Parfait | ¥700 (Tax Included)

Latte | ¥600 (Tax Included)

Soda | ¥650 (Tax Included)

Original Merchandise

Big Acrylic Stand Keyrings | 3 Designs | ¥1,600 Each (Tax Included)

Cookies | ¥1,000 (Tax Included)

Acrylic Stand Keyrings | 6 Designs | ¥700 (Tax Included)

Rubber Keyrings | 10 Designs | ¥700 Each (Tax Included)

Life Lessons with Uramichi Oniisan is a dark comedy manga series by Gaku Kuze that's been serialised in Comic POOL since 2017. An anime adaptation began airing on July 6, 2021.

(C)久世岳・一迅社/「うらみちお兄さん」製作委員会

Pokémon Postboxes Arrive in Yokohama For a Whole Year

Japan Post Service has teamed up with Pokémon to set up three postboxes with Pikachu, Eevee, and Piplup designs in Yokohama. They first opened on July 7, 2021 and will be available until June 30, 2022.


Yokohama is no stranger to Pokémon as it is the city that hosts the annual Pikachu Outbreak event, one which is set to return this year from August 7-13. It is also one of the cities taking part in the Poké Lid project to place Pokémon manhole covers across Japan.

And if you post your letter in the postbox pictured below, located in Yokohama Port Post Office, your envelope will be stamped with a special Pokémon stamp.

Information

Pokémon Postboxes

Locations: 2 at Yokohama City Hall / 1 at Yokohama Sakuragi Post Office
Running: July 7, 2021 – June 30, 2022

Pokémon Stamp Post Service

Location: Yokohama Port Post Office
Running: July 7, 2021 – June 30, 2022

Rilakkuma x Tower Records Collaboration Includes Exclusive Merchandise and Themed Cafe Menu

Tower Records has announced Rilakkuma x Tower Records Campaign 2021, an event set to run from August 4 to August 29. The retail music chain is joining paws with Rilakkuma and company for a campaign with the theme "Wow, what a surprise!" at Tower Records stores, their online shop, and Tower Records Cafe.

Merch collab line-up

Tower Records has collaborated with Rilakkuma every year since 2009. This year sees the arrival of brand new original merchandise, a CD, and themed cafe.

The merchandise will be available at 27 Tower Records stores, Tower Records Cafe Omotesando, and online. Enjoy adorable original artwork of Rilakkuma, Korilakkuma, Chairokoguma, and Kiiroitori. There's lots of freebies to get your hands on too – check out the line-up below.

Available at 27 Tower Records stores, Tower Records Cafe Omotesando, and the online shop

Available at Tower Records Shibuya, Tower Records Cafe Omotesando, and the online shop

Free character cards with every purchase

Red Rilakkuma zabuton floor cushion

For this year's campaign, Rilakkuma fans can win themselves a zabuton floor cushion too. For a chance to win, you need to sign up online.

Tower Records x Rilakkuma CD cover

Postcard included with CD

The eighth Tower Records x Rilakkuma CD includes background music for doing yoga. There are 15 popular J-pop tracks in total which can be enjoyed for just chilling out to as w2ell.

Themed cafe menu

The cafe collaboration at Tower Records Cafe Omotesando takes on an American diner theme. Takeout drinks will also be available at the Nagoya Sakae SKYLE and Umeda NU Chayamachi branches too.

At Tower Records Omotesando

Table mats at Tower Records Omotesando

Rilakkuma, Korilakkuma, Chairokoguma, and Kiiroitori themed dishes, drinks, and desserts

Receive a free fan when you book a table in advance

Receive a free postcard when you order from the collab menu

Set of 3 original stickers

Free postcard when ordering from the Special Menu

Free postcard when you order a takeout bottle

Collect all six stamps in the stamp rally to win a poster

During the campaign, for every piece of merchandise ordered, you'll receive one of four possible character cards. 20 people who also scan the QR codes included on the cards by September 12 will be randomly chosen to win either a white Rilakkuma zabuton cushion or a ¥3,000 Tower Records gift card.

©2021 San-X Co., Ltd. All Rights Reserved.

Information

Rilakkuma x Tower Records Campaign 2021

Running: August 4, 2021 – August 29, 2021

Zabuton Cushion Applications

Units: 20

Submission Page: Tower Records Online

Submission Period: July 15, 2021 – August 29, 2021

Collab Merchandise

Pre-Orders: July 15, 2021

Release Date: August 4, 2021
Details: http://tower.jp/rkmg21 

Collab Cafe


Locations: Tower Records Cafe Omotesando / Tower Records Cafe Nagoya Sakae SKYLE (Takeout Drinks Only + Closed August 17) / Tower Records Cafe Umeda NU Chayamachi (Takeout Drinks Only + Closed August 16)

Menu ①: August 4, 2021 – August 13, 2021

Menu ②: August 14, 2021 – August 22, 2021

Details: https://tower.jp/rilakkuma-cafe2021 

*Table bookings mandatory

Detective Conan Escape Games Open in Japan

In promotion of SCRAP's new Detective Conan themed escape game Escape From the Scarlet Investigation (Blood Task Force), five of the company's past escape games made in collaboration with the anime series are being revived for a temporary period.

Escape From the Orient Express

Escape From the Magical Castle

Escape From the Black Assassin

Escape From the Final Public Examination

Escape From the Navy Blue Art Museum

Here's what it's like to play..

SCRAP's escape games are made in collaboration with many different series and see players become a character in the story where they must solve puzzles and riddles to find a way out. They have collaborated with Detective Conan since 2013 during which over 1.3 million people have played. The newest entry to the series is Escape From the Scarlet Investigation (Blood Task Force).


Five previous escape games make a return this year including Escape From the Orient Express (2014), Escape From the Magical Castle (2015), Escape From the Black Assassin (2016), Escape From the Final Public Examination (2018), and Escape From the Navy Blue Art Museum (2019). Each features a completely original story set in the world of Detective Conan.

©青山剛昌/小学館・読売テレビ・TMS 1996
©青山剛昌/小学館

Information

Escape From the Scarlet Investigation (Blood Task Force)

Japanese Title:「緋色の捜査網からの脱出」

Release Date: 2021

Details:  https://realdgame.jp/conan2020/

Escape From the Orient Express

Japanese Title:「オリエント急行からの脱出」

Tokyo
Venue: Tokyo Mystery Circus
Running: August 4, 2021 – September 12, 2021
Details: https://mysterycircus.jp/events/8933

Aichi
Venue: Real Dasshutsu Game Nagoya (formerly Nazo Complete Nagoya)

Running: September 2, 2021 – September 20, 2021
Details: https://www.scrapmagazine.com/nazocomplex/events/orient_express2021/
 

Escape From the Magical Castle

Japanese Title:「奇術城からの脱出」

Tokyo
Venue: Real Dasshutsu Game Kichijoji
Running: August 19, 2021 – September 5, 2021
Details: https://www.scrapmagazine.com/nazobldg_kichijoji/events/2021conan3/
 

Escape From the Black Assassin

Japanese Title:「黒き暗殺者からの脱出」

Aichi
Venue: Real Dasshutsu Game Nagoya (formerly Nazo Complete Nagoya)

Running: July 29, 2021 – August 29, 2021
Details: https://www.scrapmagazine.com/nazocomplex/events/assassin2021/

Tokyo
Venue: Real Dasshutsu Game Kichijoji

Running: September 15, 2021 – October 24, 2021
Details: https://mysterycircus.jp/events/8934
 

Escape From the Final Public Examination

Japanese Title:「公安最終試験からの脱出」

Aichi
Venue: Real Dasshutsu Game Nagoya (formerly Nazo Complete Nagoya)

Running: August 26, 2021 – September 26, 2021
Details: https://www.scrapmagazine.com/nazocomplex/events/project_zero2021/
 

Escape From the Navy Blue Art Museum

Japanese Title: 「紺青の美術館からの脱出」

Tokyo
Venue: Real Dasshutsu Game Kichijoji

Running: September 9, 2021 – September 26, 2021
Details: https://www.scrapmagazine.com/nazobldg_kichijoji/events/2021conan7/