Shingo Katori's art exhibition "BOUM! BOUM! BOUM! Shingo Katori NIPPON hatsukoten" to be held at Toyosu, Tokyo
For an 88 day period from Friday 15th March 2019 t0 Sunday 16th June, Katori's exhibition will take place at IHI Stage Around Tokyo. This is the only theatre in Japan to have a 360-degree stage with a rotating seating platform in the centre.
"BOUM!" is the French word for "boom!" and is an onomatopoeia that can be used to describe the thudding of a heartbeat. In September 2018, Japanese artist Katori displayed his first solo exhibition called "NAKAMA des ARTS" at Carrousel du Louvre, which is located on the basement floor of the Louvre art museum in France. Here, Katori displayed more than 100 art paintings. This year, Katori will be building on the theme of breaking through the boundary of common knowledge. The exhibition will include art you can explore and experience with your bodily senses!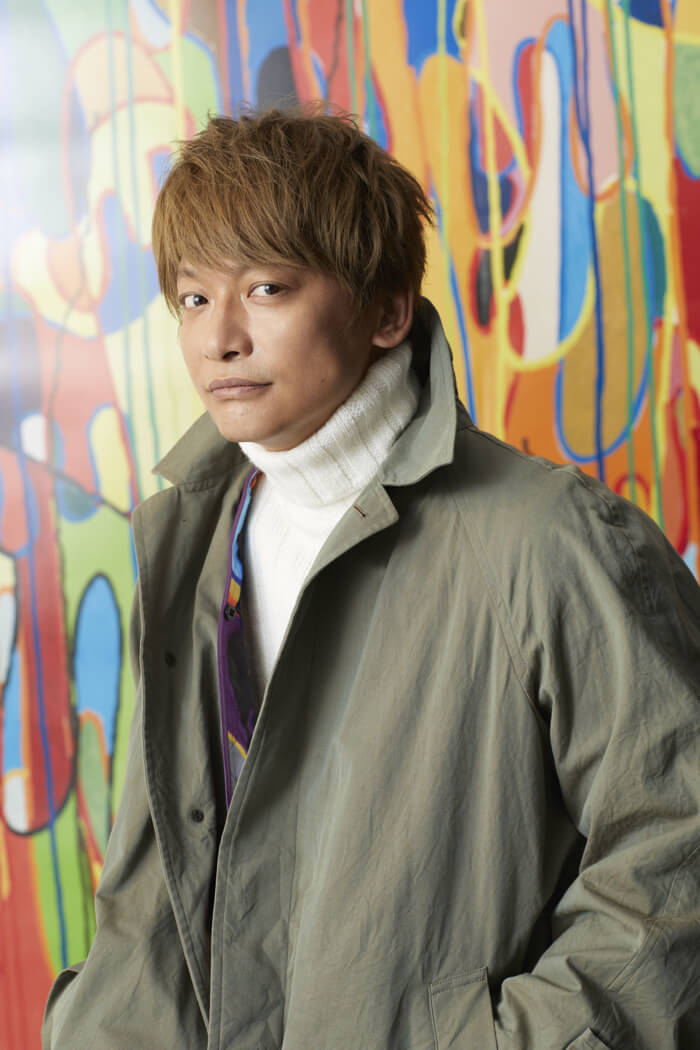 For Katori and those who appreciate experiencing and enjoying the aesthetics of art, this exhibition is bound to make your heart race! Those attending the exhibition will be spinning around 360 degrees, enjoying the unique, artistic atmosphere of IHI Stage ARound Tokyo – expectations are high!
Information
Suntory ALL-FREE presents BOUM!BOUM!BOUM!(ブン!ブン!ブン!)Shingo Katori NIPPON Hatsu Koten (First solo exhibition)
Dates:Friday 15th March 〜 Sunday 16th June 2019 (88 days)
※ Closed:19/03, 02/04, 16/04, 07/05, 21/05, 04/06
Exhibition start times:10:00、11:15、12:30、13:45、15:00、16:15、17:30、18:45、20:00
※ A limit of 350 people per exhibition. Each exhibition period lasts 120 minutes.

Location:IHI Stage Around Tokyo  6-4-25 Toyosu, Koto , Tokyo
General ticket sales:
1st round [15th March (Fri) 〜 15th April (Mon)] 10th Feb (Sun) 12:00〜
2nd round [17th April (Weds) 〜 20th May (Mon)] 17th March (Sun) 12:00〜
3rd round [22nd April (Weds) 〜 16th June (Sun)] 21st April (Sun) 12:00〜
As the event will be open for a long period of time, it has been divided into three rounds. 
(For more information about reservations and tickets, please visit the official website.)
Price:General:¥3,500, Secondary/ Middle school students:¥3,000 Children: (Primary school and below) ¥2,500(Designated seating/prices include tax)
※ Under three-year-olds are not permitted to enter the venue. Children over the age of 4 who have not entered school can enter for free.(In this scenario, one parent/guardian can bring only one child and they must sit on the knees of their parent/guardian.)

Official website:http://boum3.com
RELATED ENTRIES
RIVERSIDE CLUB: Food, Art & Music Culture Come Together in Nakameguro's New All-Day Lounge

RIVERSIDE CLUB officially opened on the first floor of "THE WORKS" along Meguro River in Tokyo on July 17, 2020. An all-day lounge which can be enjoyed from breakfast to dinner, its concept is a fusion of food, art, and music cultures which it calls "GOOD CULTURE SALON."

RIVERSIDE CLUB boasts an incredible menu forged by chefs at the forefront of Tokyo's food culture. Meals can be enjoyed while gazing at the various artwork on display, and customers can look forward to seeing collaborations with numerous apparel brands. It's a unique space designed by adults for adults, the likes of which has never been seen before.

Comfort food is at the heart of RIVERSIDE CLUB's menu design which they have cooked up using their own unique vision.


For breakfast, customers can enjoy a healthy smoothie made from a blend of kale, pineapple, kiwi and avocado. If they're looking for something more classic, they can order the avocado toast served with bacon and eggs, or cold-pressed juice by SUNSHINE JUICE which hails as Japan's first shop specialising in cold-pressed juice. The thought behind the morning menu is making sure to get both a tasty and nutritional meal down customers even if they're in a rush.

If customers are looking for something a bit more hearty in the morning then they can check out the all-day menu where they'll find the lounge's fat and juicy 100% beef "RIVERSIDE BURGER." There's also the "Lemon Rice" provided by LEMON RICE TOKYO, a popular Shibuya-based restaurant owned by Yuhi Komiyama, the vocalist of Hoff Dylan and known as the gourmet chef of the music industry. Everything on the menu is made with Tokyo's food culture in mind, and if you're looking for something very Tokyo-esque, then there's the "Hamburger Naporitan," a bed of spaghetti topped with a hamburger.

Popular foods from NAKAMURA GENERAL STORE will also be served, such as scones, carrot cake, apple crumble, lemon pie, and more. NAKAMURA GENERAL STORE is a popular Hawaiian bakery which was originally in charge of pastries served at Diamond Head Market & Grill, which is famous for its Hawaiian lunches and scones, but subsequently opened its own store in Kyoto and became so popular that it often sells out its stock by evening time. Coffee made using specially selected coffee beans provided by Minami-Aoyama-based coffee rosters will also be served and goes perfectly with NAKAMURA GENERAL STORE's food. Customers will be able to order their own coffees or buy their own bag of beans to take home.

RIVERSIDE CLUB has collaborated with numerous artists for graphics on show there. Their logo was created by "& Supply," a Tokyo-based creative studio. Various artwork will be displayed, including a photograph of Lady Gaga taken by Nobuyoshi Araki for a bondage-themed photoshoot in Vogue Hommes Japan. Pieces by LEEGET, who creates graphics and illustrations, will also be displayed. RIVERSIDE CLUB will continue to serve its "GOOD CULTURE SALON" theme by promoting more artwork in the future.

RIVERSIDE CLUB also allows pets, so customers can enjoy a quiet time with their furry comrades. Pets will get their own pet-friendly menu, toys, and more in the future.

Information

RIVERSIDE CLUB
Address: 3-18-3 Aobadai, Meguro-ku, Tokyo

Official Website: http://theworks.tokyo

Sebastian Masuda's New Art Book Covers Everything From Kyary Pamyu Pamyu's 'PONPONPON' to Today

Sebastian Masuda, the leader of Japan's culture of kawaii, released his first art book Masuda Sebastian Artworks PAINT IT, COLORFUL on July 31, 2020.

The scope of Sebastian Masuda's influence is unrivalled. His touch can be seen all across Japanese kawaii culture, ranging from his work on Kyary Pamyu Pamyu's viral hit music video PONPONPON which skyrocketed her career, to Harajuku's famous concept restaurant KAWAII MONSTER CAFE, the Miracle Gift Parade at Sanrio Puroland, as well as countless work on TV, commercials, advertisements, characters, stage, concerts, and more.

Printed in full colour, the art book covers Masuda's art direction from 2010 to 2019 in the form of photos of his actual works, design sketches, and plenty of other content for fans to soak up.

It also includes photos of an installation that has been visited by over 20,000 people which was created during Masuda's time overseas in places like New York and Amsterdam, as well as his art exhibit currently on display at World Disney World Florida.

Sebastian Masuda's career as an artist spans over 30 years. Get your hands on a copy of his first art book to see his success over the past decade.

Information

Masuda Sebastian Artworks PAINT IT, COLORFUL
Released: July 31, 2020
Price: ¥3,200 (Before Tax)
Size: A4 (Sleeve Included)
Pages: 144
ISBN: 978-4-7683-1200-1

Tokyo's New ART AQUARIUM MUSEUM to Open in Nihonbashi This Summer

ART AQUARIUM MUSEUM is set to open in Nihonbashi, Tokyo on August 28, 2020. Produced by Hidetomo Kimura, the museum will be Art Aquarium's first permanent museum which will fuse music and lighting to create a breathtaking aquarium experience

Area Concepts

ART AQUARIUM MUSEUM will offer Art Aquarium's biggest museum space to date, with each area having its own unique theme.

Prologue

Dive into the extraordinary world of water. This area will showcase popular artworks of past events held by Art Aquarium, with artwork altered on an irregular basis from the company's collection.

Transitoriness

This area symbolises the modern Edo Hanamachi district, which represents the basic concept of the Art Aquarium. Feel the beautifully transient stories and gorgeous glittering world through the life of oiran.

Mystery

Visitors are invited to an extraordinary world and surreal space, one with different dimensions beyond human wisdom. Is it on the ground? Underwater? In the universe? Stepping into this mysterious and overwhelming space where different worlds coexist at the same time will bring you incredibly unforgettable experiences.

Traditional Art

Here, you can feel the Japanese aesthetics while gazing at Oimatsu, the cultural property drawn by the Kano school during the Edo period. Traditional art performances will often take place here too.

Joy


The sense of taste is most familiar to human beings among five basic human senses. Enjoy the Art Aquarium and feel the Japanese nostalgic atmosphere along with the original cuisines of the Cafe Lounge.

Gift


Souvenirs are essential for remembering the places where you have visited.  Visit the gift shop and take away a piece of the dreamlike Art Aquarium world away with you.

Information

ART AQUARIUM MUSEUM
Grand Opening: August 28, 2020

Address: 1-3 Nihonbashihoncho, Chuo Ward, Tokyo
Opening Hours: 10:00-22:00 (subject to change)

No Fixed Holidays (Except for planned maintenance, special events, and so on)

Official Website: https://artaquarium.jp/en/

Tokyo National Museum Now Showing 'Secrets of Screen Paintings' Exhibition in its VR Theater

TNM & TOPPAN Museum Theater—a theatre set up by Tokyo National Museum, The National Center for the Promotion of Cultural Properties, and Toppan Printing where visitors can experience cultural assets in virtual reality—had to temporarily closed due to the effects of the COVID-19 outbreak. However, they their Secrets of Screen Paintings: Wind God and Thunder God and Flowering Plants of Summer and Autumn exhibition can finally go ahead in the VR experience which will run from July 1 to October 4.

Additionally, Tokyo National Museum will display Japan's painting and cultural property Wind God and Thunder God in Room 7 of the main building from July 21 to August 10.

The Secrets of Screen Paintings: Wind God and Thunder God and Flowering Plants of Summer and Autumn online exhibition speaks for itself: it is a VR recreation that looks into the secrets behind two screen paintings and cultural properties—Wind God and Thunder God by Ogata Kōrin and Flowering Plants of Summer and Autumn by Sakai Hōitsu.

VR "Secrets of Screen Paintings: Wind God and Thunder God and Flowering Plants of Summer and Autumn"

There's something hidden behind Kōrin's byōbu screen painting Wind God and Thunder God. Incredibly, it's Hōitsu's masterpiece Flowering Plants of Summer and Autumn. Kōrin's screen painting belonged to Hōitsu's family. Hōitsu long admired Kōrin and considered him his mentor.

The exhibition will dive into this secret story behind Flowering Plants of Summer and Autumn, the famous painting of rain-drenched and wind-battered flowers.

The ancient paintings brought to life

The two folding screen paintings have been separated and safely stored since 1974 to ensure their preservation. The VR experience recreates the paintings' original back-to-back form.

Understand the secrets

Wind God and Thunder God was painted on the front of the folding screen while Flowering Plants of Summer and Autumn was painted on the back. By looking at both, we uncover the deeper story behind these ancient paintings.

See the folding screens in the right light

Thanks to VR technology, the folding screens can be made bigger to look at all of the little details and in the right light.

Information

Secrets of Screen Paintings: Wind God and Thunder God and Flowering Plants of Summer and Autumn

Location: TNM & TOPPAN Museum Theater (Tokyo National Museum Floor B1F)
Running: July 1, 2020 – October 4, 2020

Times: [Wed-Sun/National Holidays] 11:00/12:00/13:30/15:00/16:00
* Running time: about 35 min.
* All visitors must make an online reservation to the museum.
* Screening times are subject to change.
* Admission starts 5 minutes prior to screening.
* You may not enter/exit mid-way through the program.
* Please purchace tickets ahead of screening time. (Tickets are sold on the day only.)

Official Website: http://www.toppan-vr.jp/mt/en/showing/

KAIKA TOKYO by THE SHARE HOTELS: Asakusa's New Artist Lounge and Hotel Fusion

KAIKA TOKYO by THE SHARE HOTELS is set to open on July 15, 2020 as the 8th branch of THE SHARE HOTELS, a chain of renovated hotels which aim to find and share new beauty of the local area.

KAIKA TOKYO is renovated from a 7-floor 1966 warehouse building and is comprised of an artist lounge and a hotel. It aims to become a new hub for contemporary art in Japan.

The name "KAIKA" is derived from several Japanese words, all of which are read as kaika: "開架" which means open-access i.e. giving open access to the warehouse, "開化" which means enlightenment i.e. to spread and make known Japan's art culture, and "開花" which means blossom, i.e. to bring out the talent of future artists.

Sumida is a city popular amongst local and foreign tourists for its many art and cultural facilities. It is a promoter of art and culture in many ways, and KAIKA Tokyo aims to be a part of that process. One way in which it will do this will be with the new "KAIKA TOKYO AWARD." The judge for awarding the prize is Yūji Akimoto—the director of and lecturer at Tokyo University of the Arts—and Japanese artist Noritaka Tatehana. The prize itself will be having your art piece displayed inside KAIKA TOKYO. To commemorate the grand opening, an exhibition by Noritaka Tatehana himself entitled FORM AND COLOR will be displayed until August 16, 2020.

The downstairs lounge which is accessible to guests will include the art storage area as well as the KAIKA TOKYO AWARD winning pieces. There are also appliances and amenities for guests to freely use too, like kettles, microwaves, plates, cutlery, washing machine, and a vending machine.

Rooms have a relaxed vibe to them thanks to the colours and materials used. There are 73 rooms in total split across 10 different types which can cater to 2, 4, and even 6 people.

The 1st floor bar lounge is open to non-guests during the evenings where they sell Japanese tea cocktails, coffee, Japanese finger food, and more. The coffee served uses single-origin beans from a local cafe in Sumida, Tokyo. The bar is open 19:00 to midnight, with last orders ringing in at 23:30.

Information

KAIKA Tokyo by THE SHARE HOTELS
Grand Opening: July 15, 2020
Address: 2-16-5 Honjo Sumida Ward, Tokyo
Access: 8-minutes on foot from Asakusa Station / 9-minutes on foot from Honjo-Azumabashi Station / 9-minutes on foot from Kuramae Station

Official Website: https://www.thesharehotels.com/kaika/

Kyoto City Kyocera Museum of Art Opens New ART LAB KYOTO Shop

Kyoto City Kyocera Museum of Art opened its new museum shop ART LAB KYOTO on May 26 where it is set to promote the centre of Japanese culture—Kyoto, a place which reveals in tradition and history while constantly evolving and innovating.

The museum shop opens in line with the recent revamp the museum underwent, with design work co-created by Japanese architects Jun Aoki and Tezzo Nishizawa.

ART LAB KYOTO is a spacious shop were guests can get their hands on goods related to exhibitions held at the museum as well as books and items on everything from traditional Kyoto culture to the city's contemporary art, items made in collaboration with artists, exclusive sweets, and more.

Let's take a select look at just some of the items you can pick up at ART LAB KYOTO.

Kyoto City Kyocera Museum of Art x BEAMS

Kyoto City Kyocera Museum of Art has teamed up with BEAMS to release a line of original merchandise bearing the museum's logo—a new logo which represents both the design of the revamped museum carried conceived by the museum's newly-appointed museum director Jun Aoki, and contemporary art. The merchandise's design is minimal, combining white and grey.

The line-up aims to function not just as souvenirs, but as items that can be used in everyday life, from bags to notebooks and more.

Kyoto City Kyocera Museum of Art Collection x Miyawaki Baisen-an

Miyawaki Baisen-an is a preserver of traditional Japanese folding fans which has been around since 1923. The company has joined hands with Kyocera to release an exclusive line of fans that represents the art museum.

Kyoto City Kyocera Museum of Art Collection x Juko Confections

"Juko" is a confectionery from Kyoto which changes flavours with the season. Twice a month, they will be sold in limited quantities at the shop.

Weathering with You Anime Film's Official Art Book Limited Edition Bonuses Revealed

The official Weathering with You art book is set for release in Japan on May 27, 2020. The book will include a limited edition version, and depending on where you purchase it from you will receive a different bonus item.

KADOKAWA announced the release of the art earlier this month. The hit anime film directed by Makoto Shinkai (Your Name, The Garden of Words) was released in July last year to critical acclaim, earning the title of Best International Feature Film at the 92nd Academy Awards.

The art book is to feature over 240 gorgeous pieces of background art which of course includes image of Tokyo's sky changed by the weather in the film. It will also include an interview with the director Makoto Shinkai, comments by the art director Hiroshi Takiguchi, and plenty more for a detailed, behind-the-scenes look into the movie.

Let's check out the different stores offering their exclusive bonus items.

Animate

IC Card/Smartphone/Tablet Stickers (Sticker Set A)

Books Kinokuniya

IC Card/Smartphone/Tablet Stickers (Sticker Set B)

MARUZEN & JUNKUDO

IC Card/Smartphone/Tablet Stickers (Sticker Set C)

*Stickers are available at select branches only. Please enquire in-branch for more information.

The three different sticker sets feature breathtaking background art from Weathering with You, and can be used on IC cards, smartphones, or tablets.

Amazon

PC Wallpapers (3 Designs/3 Sizes) – these can be used as backgrounds for online calls too

Smartphone Wallpaper (1 Design)

If bought on Amazon, you'll get some PC wallpapers and a smartphone wallpaper.

*Wallpaper designs subject to change without notice. The wallpapers are exclusive to customers who buy the book by July 31, 2020 at 23:59 (JST). Wallpapers can be downloaded until October 29, 2020 at 23:59 (JST).

©2019 "Weathering with You" Production Committee

Information

Weathering with You Official Art Book (Japanese Title: 新海誠監督作品『天気の子』美術画集)
Release Date: May 27, 2020

Price: ¥2,700
Size: B5 (224 pages, comes with sleeve)
ISBN: 978-4-04-604698-7
Publisher: KADOKAWA
Rolling out on Amazon Japan and Japanese book retailers

KADOKAWA Official Webpage: https://www.kadokawa.co.jp/product/321911000087/

Reiko Sudo's Incredible 'Japanese Fanfare' Installation Art Now Viewable Online

Reiko Sudo's installation art piece Japanese Fanfare is currently on show at Compton Verney Art Gallery in the UK as part of its Fabric: Touch and Identity exhibition. Dubbed the "weaver of ideas," Sudo is the co-founder, CEO, and Design Director of NUNO Corporation, an internationally lauded innovative textile company.

Japanese Fanfare by Reiko Sudo, 2020, Fabric Touch and Identity ©Compton Verney, photography Jamie Woodley


Compton Verney Art Gallery is temporarily closed due to the novel coronavirus (COVID-19) outbreak, but the art museum is now showcasing the Fabric: Touch and Identity exhibition online in a series of videos detailing each piece on display.

Tearing down easy assumptions about gender and sexuality


Compton Verney Art Gallery is a Grade I listed 18th century art gallery located in Compton Verney, England, and is enveloped in an immense stretch of parkland. One of their latest exhibitions, Fabric: Touch and Identity, "explores how clothes and textiles conceal, reveal and seduce through the lenses of art, design, fashion, film and dance" in a playful and provocative manner.

Liz Rideal《Terme di Diocleziano》2017, Fabric Touch and Identity(c)Compton Verney, photography Jamie Woodley


Vivienne Westwood《RED SUIT》1992, Fabric Touch and Identity(c)Compton Verney, photography Jamie Woodley


The exhibition welcomes works by a diverse range of contemporary artists from around the world, and seeks to explore how artists and designers have used fabric to both express and subvert societal expectations, as well as sexuality and identity. The artist line-up includes Reiko Sudo and Noda Suzumi from Japan and British fashion designer Vivienne Westwood, just to name a few.

A world of indigo-dyed fans

Japanese Fanfare by Reiko Sudo, 2020, Fabric Touch and Identity ©Compton Verney, photography Jamie Woodley


The final art piece to enter the Fabric: Touch and Identity exhibition was Reiko Sudo's Japanese Fanfare. This art installation was also set up at The John F. Kennedy Center for the Performing Arts in Washington D.C. back in 2017 to commemorate the national centre's 100th anniversary. The installation is made up of 223 individual fans―a type of fan which was invented in Japan during the Heian Period―all of which are dyed in indigo, a colour worn by many Japanese people up until the last century. Both the fan and the colour are therefore synonymous with Japanese identity.

Be sure to check out the piece on Compton Verney Art Gallery's official website below along with all the other exhibits.

Information

Fabric: Touch & Identity
Location: Compton Verney Art Gallery
Partnership: University for the Creative Arts, Manchester Metropolitan University
Online Exhibition: www.comptonverney.org.uk/fabric-touch-identity
*The exhibition has been extended until January 2021. The exhibition will run once again after the lockdown has been lifted in the UK.
*For the latest details on the exhibition, be sure to visit the official website: www.comptonverney.org.uk

Mori Art Museum Encourages People to Stay Creative at Home With Free Online Art Content

Like many institutions around the world now, Mori Art Museum is temporarily closed as a result of COVID-19. But that hasn't stopped the museum spreading creativity as it recently launched a new page on its website titled "Mori Art Museum Digital."

The page comes as part of a new agenda by Mori Art Museum which it is calling "MAM @ HOME" which encourages people to "Stay Home, Stay Creative." The project aims for the museum to stay connected with people even while the building itself is closed by offering a host of free art-related content.

This includes the "Future and the Arts 3D Walkthrough" which had to end in response to the museum's closure, an online sneak preview of the postponed "MAM Screen 013: Mounira Al Solh," the "ARTISTS COOKBOOK" which features recipes, photos and stories from artists around the world, and more.

Program #1: Online Sneak Preview of MAM Screen 013: Mounira Al Solh

Mounira Al Solh – Rawane's Song (2006)

Mounira Al Solh – As If I Don't Fit There (2006)

Since "MAM Screen 013: Mounira Al Aolh" has been postponed as a measure against the novel coronavirus (COVID-19), Mori Art Museum is introducing two works online prior to the official screening: Rawane's Song (2006) and As If I Don't Fit There (2006).

Mounira Al Solh works internationally and is based in her home country Lebonan and in Europe. Her work offers humorous takes on everyday events and stories, as well as episodes based on the lives of women from a contemporary society where political and religious conflicts as well as issues surrounding refugees occurs.

Program #2: Future and the Arts 3D Walkthrough

Due to the museum's closure, "Future and the Arts: AI, Robotics, Cities, Life – How Humanity Will Live Tomorrow" was forced to end earlier than scheduled. Since then, the museum has been able to share walkthroughs of the exhibition via Instagram Live, as well as photos. Now people can enjoy the exhibition in a more immersive way as the museum introduces a virtual, 3D walkthrough, which they were able to capture thanks to the galleries being empty. It's a complete recreation of the exhibition for people to enjoy at home.

Special #1: ARTISTS COOKBOOK by MAM

As a special project during Mori Art Museum's closure, the museum has introduced "ARTISTS COOKCOOK by MAM," a collection of recipes, stories, and photographs that artists from around the world have shared with them. The first recipe showcased is the "Kusama Lotus" by Kataoka Mami, the Director of Mori Art Museum. She describes lotus roots as reminiscent of polka dots and white nets, and that it's a dish we could keep eating forever. She calls it a "dish for infinity."

More recipes can be found on the museum's official social media pages, so be sure to check them out.

Learning Online: Enjoy, Play, Learn Art @ HOME

Mori Art Museum hosts various programs and events where people can deepen their knowledge about contemporary art from around the world. The museum has posted an archived list of videos from some of their programs which people can tune in to from the comfort of their homes.

Information

Mori Art Museum
Address: Roppongi Hills Tower Floor 53F, 6-10-1 Roppongi, Minato Ward, TOkyo
Opening Hours: 10:00-22:00 (until 17:00 on Tuesdays)
*Last entries 30 mins before closure
*The museum is currently temporarily closed due to the COVID-19 pandemic
Official Website: https://www.mori.art.museum/en/

Weathering with You's Official Art Book to Feature Over 240 Breathtaking Background Pieces

KADOKAWA has announced that it is releasing an official art book for Weathering with You on May 27, 2020. The hit anime film directed by Makoto Shinkai (Your Name, The Garden of Words) was released in July last year to critical acclaim, earning the title of Best International Feature Film at the 92nd Academy Awards.

Art Book Sleeve

The art book is to feature over 240 gorgeous pieces of background art which of course includes image of Tokyo's sky changed by the weather in the film. It will also include an interview with the director Makoto Shinkai, comments by the art director Hiroshi Takiguchi, and plenty more for a detailed, behind-the-scenes look into the movie.

Front Cover

Background Imagery

The book is split into 14 chapters such as "Clear Sky Tokyo," "Rainy Tokyo," "Abandoned Warehouse," "Hina's Apartment," and more. Each chapter is coupled with comments from the art staff who give their thoughts on the gorgeous backgrounds and how they change during the movie when the weather changes.

14 Chapters

To Tokyo / Shopping District / Abandoned Warehouse / Clear Sky Tokyo / Rainy Tokyo / Suga Office / Hina's Apartment / Shitamachi Private Houses / Shrine / Backstreets / Parks / Escape / Clouds & Sky / The World Years Later

*Chapter names translated from Japanese

Interview

The book will feature an interview with the film's director Makoto Shinkai on the film's layout, storyboarding, and more. It will also include talks with the art director Hiroshi Takiguchi as well as Nizou Yamamoto (who was the art director for Studio Ghibli's Laputa: Castle in the Sky) who worked on the film's shrine and ceiling art, and other staff.

Background Art Pre-Production

Comments by art director Hiroshi Takiguchi along with visuals will show the four stages of pre-production for the background art including storyboarding, colouring, rough sketches, and 3D models.

Step into the breathtaking world of Weathering with You once more by picking up a copy of the official art book, out May 27, 2020 in Japan.

©2019 "Weathering with You" Production Committee

Information

Weathering with You Official Art Book (Japanese Title: 新海誠監督作品『天気の子』美術画集)
Release Date: May 27, 2020

Price: ¥2,700
Size: B5 (224 pages, comes with sleeve)
ISBN: 978-4-04-604698-7
Publisher: KADOKAWA
Rolling out on Amazon Japan and Japanese book retailers

KADOKAWA Official Webpage: https://www.kadokawa.co.jp/product/321911000087/

#StayHome and Enjoy Art With Pola Museum of Art's Creativity Packed Website

Pola Museum of Art, an art museum in Hakone, Kanagawa, has launched a new page on its website for people to immersive themselves in the world of art while at home. From gallery talk videos to painting activities that kids and adults alike can enjoy, the web page is packed full of fun and diverse content.

The page is split into four sections: "Watch," "Read," "Create," and "Learn About Pola Museum of Art."

<Watch>

A menu of videos showcasing exhibitions and artwork from the museum. This includes videos hosted by the museum's curators who talk about certain works of art, paintings, art tools, and more.

<Read>

Learn more about art by reading commentary about artists and their works. This includes manga, life drawing, and much more. Discover the history of these artists, see how scientific research has brought to life the process of how they created their works, and more.

<Create>

A wide selection of video tutorials encourage you to simply move your hand to create something yourself. From painting to cutouts, there's something for everyone to enjoy.

<Learn About Pola Museum of Art>

This section is a chance for people who have never heard of the Pola Museum of Art, or who have never visited it, to get to know the place. It covers everything from Fuji Hakone Izu National Park where the museum is located to the work that goes on behind the scenes at the museum.

Pola Museum of Art will continue to update the page, so be sure to check it out.

Experience Japan's Poo Museum at Home With Unko Museum Online

Akatsuki Live Entertainment and KAYAC are bringing Japan's famous Unko (Poop) Museum into your home this Golden Week with Unko Museum Online. The website is set to launch on May 1, 2020.

Experience the Unko Museum at home during the lockdown

Unteractive Area

The Unko Museum's hugely popular poop game "Unko Shutter" has been turned into a mobile game. It can also be played on PC. The game has players snapping the perfect pictures of poop that's flying at different speeds.

Unstagenic Area

Change your backgrounds on video calls to have different coloured poop designs on the screen. Make your call even more fun by creating your own poop world.

Untelligence Area

Normally, the illustrations displayed at the museum drawn by famous people can only be seen in person at the Unko Museum, but now you'll be able to check them out online. Also, on Twitter, the museum has a poop template that invites everyone to design their own poop. Create yours and post it on social media!

Unberto at Home

Unberto is the god that protects the Unko Museum. He'll be doing Instagram live streams from time to time starting from May 1, 2020. He's there to answer everyone's worries. Follow the museum's official page below.

Official Instagram: https://www.instagram.com/unko_museum/
Streaming: From May 1, 2020 and onward on random days

Unko Food for a special price

Unko Museum Tokyo is currently closed due to the ongoing COVID-19 pandemic. Because of this, the best before dates on their food snack items are approaching their end, and so the museum is selling items at heavily discounted prices, such as a set of 6 Unko Gummies for just ¥2,000 (that's 45% off) or a box of four for ¥7,500 (47% off).

Running: April 24, 2020 – May 1, 2020
Official Website: https://unkomuseum.shop/