Nogizaka46's Asuka Saitō Features in LARME Magazine Issue 038 March
Issue 038 Mar of the cute girls fashion magazine LARME was released today on January 17.
Making her cover photo return to 2019's first issue after a year and a half is Asuka Saitō of Japanese idol group Nogizaka46.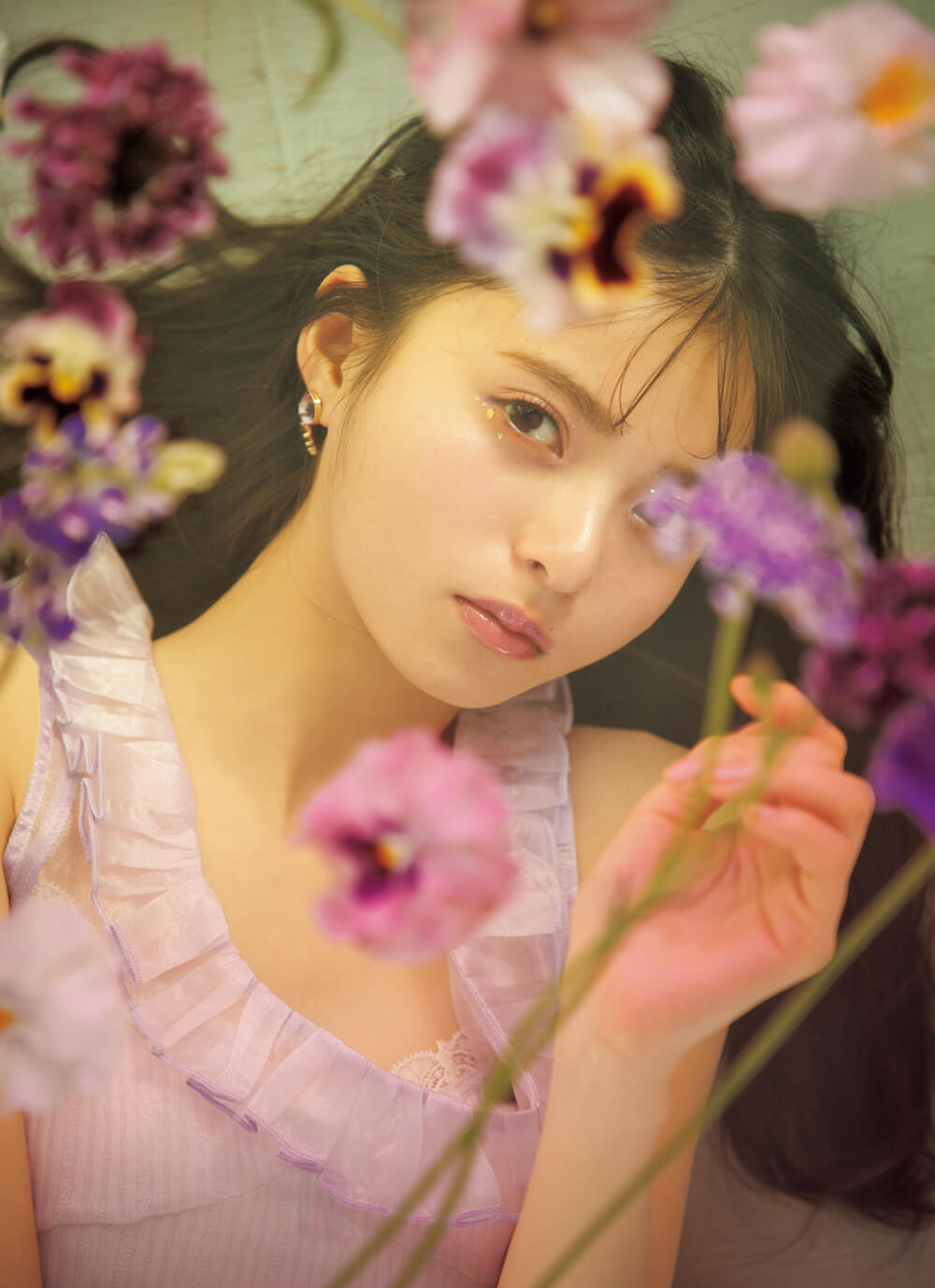 The issue includes a section by Saitō talking about her everyday life including her recent routine, three big pieces of news from 2018, her plans for Valentine's Day this year, her comments on her LARME photoshoot and more. There is also a fashion feature of her dressed as a flower fairy.
This issue's special feature section focuses on "Red," LARME's recommended colour for this spring, a Valentine's piece and more. LARME's iconic models Yui Kanno, Maria Kurotaki, Risa Nakamura and Chisato Yoshiki also talk about their aspirations for 2019 while donning colourful furisode.
Don't miss out on this year's LARME trends in the newest issue.
Information
LARME 038 Mar
Release Date: January 17, 2019
Available: At bookshops, convenience stores and online book stores in Japan
Price: ¥722 (Before Tax)
LARME Official Website: http://www.larme-magazine.jp
RELATED ENTRIES
RecoChoku Announces Winners for Best Music of August 2022

13.September.2022 | MUSIC

Japanese music streaming site RecoChoku has announced the top song and album rankings for August 2022!

Unsurprisingly, Ado tops both the single and album charts with her new tracks from the movie ONE PIECE FILM RED. The singer provided the singing voice of Uta, a main character in the film which was released nationwide on August 6, 2022.

New Genesis, the theme from ONE PIECE FILM RED, was released ahead of the movie's release on June 8, 2022. It ranked 4th in the monthly rankings for June and July, and following the film's release in August, it shot to the top of the charts for four consecutive weeks, continuing to hold the #1 spot.

Ado also took first place in August's album ranking with her collection of songs from ONE PIECE FILM RED. Released on August 19, 2022, the album features a number of tracks made for the film, with seven different artists helping to produce these now legendary songs.

For the daily ranking on August 11, the top seven singles were all from this one album. Starting at the top spot, the songs included were: New Genesis, Where the Wind Blows, Tot Musica, The World's Continuation, Binks' Sake, I'm Invincible, and Fleeting Lullaby.

In the album ranking, it was number one in the weekly ranking for three consecutive weeks since its release on August 17 and continued its momentum to take the top position in the monthly ranking for the month of August.

Ado had her first top single ranking in February 2021 with Usseewa, and her first #1 album in January and February 2022 with Kyogen.

If you haven't listened to the singer's collection of songs from the most recent ONE PIECE film, you're missing out!

RecoChoku Monthly Music Award – August 2022 (Announced September 1, 2022)

Single Ranking


1st Place: New Genesis (Uta from ONE PIECE FILM RED) – Ado (Released June 8, 2022)
2nd Place: Start Over – THE BEAT GARDEN
3rd Place: Ame Sansan – King Gnu
4th Place: Where the Wild Blows – Ado
5th Place: Mixed Nuts – Official HiGE DANdism

https://recochoku.jp/ranking/single/monthly/

Album Ranking


1st Place: Uta's Songs from ONE PIECE FILM RED – Ado (Released August 10, 2022)
2nd Place: M – INI
3rd Place: BE:1 – BE:FIRST
4th Place: Falling into your eyes Record – Aimyon
5th Place: Suki Toiunowa Rock Daze! (Special Edition) – Nogizaka46

https://recochoku.jp/ranking/album/monthly/

©尾田栄一郎/2022「ワンピース」製作委員会

Nogizaka46 Announces Second Live Show in Collaboration With Knives Out

Japanese idol group Knives Out is set to host a second live show in collaboration with the popular mobile game Knives Out on February 6, 7, and 14 for Valentine's Day. Their performances on February 7 and 14 will be archived and reposted.

Knives Out is a mobile battle royale game developed by NetEase Games for iOS, Android, Windows, Nintendo Switch, and PlayStation 4. The game has over 300 million users worldwide.

The concerts will serve as a sequel to Nogizaka46's successful New Year's shows, which took place on January 2 and 3, and will take on a special Valentine's theme with a pink stage. The group will perform a variety of their most popular new songs amongst other things.

Information

Nogizaka46 x Knives Out Valentine Special

Japanese Show Title: 乃木坂46 LIVE IN荒野〜Valentine Special〜
Date: February 6, 2021 @ 21:00 (JST)

Reupload: February 7, 2021 @ 21:00 (JST) / February 14, 2021 @ 21:00 (JST)

How to Watch: Download the Knives Out app and access the special in-game pag
More Details: https://www.knivesout.jp/fab/Nogizaka/

Nogizaka46 Reveal CD Cover Art For New Single 'Shiawase no Hogoshoku'

Japanese idol group Nogizaka46 has released the CD cover art for their upcoming 25th single Shiawase no Hogoshoku ("Happiness Camouflage") which is set to hit shelves in Japan on March 25, 2020.

The photos for each edition of the single were taken by Japanese photographer Masanori Ikeda, whose photography work spans from the music industry to advertisement. The shots were taken in early February this year at a studio in Yokohama.

The song is centred on graduation and dance, and imagines a prom that takes place in the near future aboard a spaceship.

A large set was built in the studio to take the photos on. The members explained that it was difficult taking the photos wearing the astronaut helmets because their faces would never show up because of the lighting.

The CD covers include Mai Shiraishi, as well as several members who are graduating from Nogizaka46 with this single. The spaceship theme conjures up an image of these members moving on to new heights.

Kawaii Fashion Magazine LARME's 44th Issue Includes Pokémon Inspired Outfits & More

The 44th issue of self-described "sweet girly artbook" fashion magazine LARME was released today (January 17).

Nagisa Saitō makes her second appearance in the =LOVE section

Japanese music artist Nagisa Saitō made her debut appearance in LARME 043 and received a huge reaction from readers in the =LOVE section of the magazine. In the latest issue, she showcases trending spring makeup for the start of the new year, explains how to make your lips look juicy and tempting, and more.

Maika Yamamoto becomes a mystery foreign exchange student

Maika Yamamoto is serving various hair and fashion styles in the new issue inspired by foreign exchange students from various countries, including a lycéenne from France, a beautiful blonde-haired girl from Russia, a hot girl from Mexico, a girl from a samgyeopsal shop in South Korea, and a traditional-looking girl from England.

Stylish collaboration with Pokémon

©Nintendo/Pokémon

©Nintendo/Pokémon

LARME has collaborated with Pokémon to bring Pokémon-inspired outfits. See Marina, Chisato Yoshiki, Cocona Umeyama, and Natsue Tokomoto dress like Pikachu, Scorbunny, Bulbasaur, Eevee, Ho-Oh, Gengar, Mew, and Vulpix (Alola version).

And plenty more kawaii content

There's lots of other cute content to took forward to in the first issue of 2020 too, including a lolita maid Valentine's co-ord, the LARME models' various interpretations of "girly" shown in a chronology of how their styles have matured, and more.

Learn all about the latest in Japanese fashion trends in the new spring-themed issue of LARME.

Information

LARME 044 MARCH
Release Date: January 17, 2020

Available: At bookshops, convenience stores, and online bookshops in Japan

Price: ¥609 (Before Tax)

LARME Official Website: http://www.larme-magazine.jp

Tokyo Ghoul Movie Actress Maika Yamamoto Appears in LARME Fashion Magazine

The 40th issue of "sweet girly artbook" fashion magazine LARME was released on July 17.

The new issue is a special beauty edition celebrating 7 years of the magazine. Making her debut on the front cover and featuring in the opening pages is Japanese actress and model Maika Yamamoto who is known for playing Touka in the recently-released Tokyo Ghoul S movie as well as her role in the serialised television drama Scum.

In her feature she expands on the concept of 'kawaii' by showcasing her relationship with makeup and clothing. Glitter, organdy, tulle and other white adornments make up her looks.

Yui Ogura also makes her LARME debut in the new issue. She is known for her voice acting work in recent popular TV anime series and movies and has also garnered huge popularity as a singer. In the magazine she appears alongside NMB48 member Akari Yoshida and fashion model Yui Kanno to show how anybody can cover up their complexes with makeup. Ogura will use herself as an example by showing how she covers hides the "dango-like look" of her nose by using makeup.

The LARME models also show their adorable pets in the latest issue.

Pick up the newest edition of LARME and find out what's hot in Japan's fashion world right now.

Information

LARME 041 September
Release Date: July 17, 2019

Price: ¥731 (Before Tax)
Available: At bookstores, convenience stores and online bookstores in Japan
LARME Official Homepage: http://www.larme-magazine.jp

Mai Shiraishi Features On Front Cover Of LARME Magazine's 40th Issue

The 40th issue of "sweet girly artbook" fashion magazine LARME was released today.

The newest issue is centred around things that girls are crazy about with 11 topics included. Japanese model, singer and member of idol group Nogizaka46 Mai Shiraishi features on the magazine's front cover, her first time in almost a year.

The opening page features an interview with Shiraishi about things that she's always liked and has newly come to like. In the photos, she delivers sophisticated and elegant vintage-like fashion, signalling her transition to adulthood; something much different from her cuter, sweeter looks from when she was younger.

In the Cosmetics section Shiraishi features alongside fellow Nogizaka46 member Renka Iwamoto in which they both introduce 4 of their favourite latest cosmetic brands. In one part they showcase items which are high in quality but especially cute in appearance.

Yui Kanno and Risa Nakamura feature in the Girl Is Crazy About 2: RIBBON section and actress Nana Mori in Girl Is Crazy About 8: PRETTY GIRL.

There is also a special interview with popular visual kei band A9―who will celebrate their 15th anniversary this August―who are asked a series of questions centred around "If LARME readers were your girlfriends…"

Pick up the newest issue of LARME and find out what girls are crazy about today!

Information

LARME 040 July
Release Date: May 17, 2019
Available: In Japan at bookstores, convenience stores and online
LARME Official Homepage: http://www.larme-magazine.jp

NMB48's Akari Yoshida Makes Front Cover Debut in LARME Magazine Issue 039

The latest edition of girl magazine LARME, issue 039, was released on March 15, 2019.

LARME 039 sees the hugely popular Akari Yoshida of Japanese idol group NMB48 appear on the magazine's front cover for the first time as well as on the magazine's first page. The issue includes a big feature entitled "CAT HOUNTED AKARI YOSHIDA" which debuts her new brand.

The following is an excerpt from the magazine by Yoshida: "My goal this year was to appear on lots of front covers so I am over the moon! I never imagined I would make it onto a magazine that I buy and read regularly. I don't think my fans predicted it either, so I think they will be very surprised♡ It's all thanks to everybody having worked hard to answer the questionnaire. Thank you so much as always! There's also a thing attached to the magazine I made in collaboration with EATME, so this is a really wonderful issue."

Yuna Shibata/Sakura Endou/Saya Kanagawa (Nogizaka46)

Many of the members of idol group Nogizaka46 work as regular models for girl magazines. Yuna Shibata, Sakura Endou and Saya Kanagawa are making their appearance in LARME for the very first time in a feature titled "AMBIGUOUS HAIR ARRANGE" which combines a sweet look with an adult maturity, creating an ambiguous appearance. There are 8 Q&A topics which cover their strong and weak points, personal outfits, makeup, messages to the reader and more.

Other features include one focusing on the colour pink, another on one-piece co-ords, the history of "girly" looks, a spring fashion feature and more.

Discover the latest fashion trends in Japan by picking up a copy of LARME 039 May.

Information

LARME 039 May

Release Date: March 15, 2019

Price: ¥676 (Before Tax

Available: At bookshops, convenience stores and online book stores in Japan

LARME Official Website: http://www.larme-magazine.jp

Nogizaka46 Artwork Exhibition to Take Place at Sony Roppongi Museum

Having wrapped up the Snoopy Museum in September 2018, the Sony Music Roppongi Museum is set to open as a new and even more exiting museum next year. The first exhibition to welcome the re-opening will be the Nogizaka46 Artworks Daitai Zenbu Ten ('Exhibition of Almost All Nogizaka46 Artwork') which will run from January 11 to May 12.

Fans of the Japanese idol group Nogizaka46 can look forward to seeing CD covers on display as well as actual outfits worn during their music videos, unreleased artwork and much more. It will be an accumulation of almost all of their artwork since their debut in 2012.

Exclusive merchandise developed for the event will be sold, and there will even be a café called the Zaka CAFE with food made in collaboration with the members. Live concert footage will be screened using a crystal LED display that will make you feel like you're really there.

Special preview days of the event will be held from November 11 to 14 giving an early peek into the exhibition before it opens to the general public on January 15. Tickets to the early previews go on sale via on November 30 from noon (JST) via Lawson Tickets. General tickets will be available on December 15 from 10:00am (JST)

Further information on the menu items, merchandise and more will be posted on the venue's official website in the coming months.

Information

Nogizaka46 Artworks Daitai Zenbu Ten
Location: Sony Music Roppongi Museum (5-6-20 Roppongi, Minato, Tokyo)
Running: January 11, 2019 – May 12, 2019
Opening Hours: 10:00-20:00 (Last Entries 19:30) *No scheduled closures
Access: 7-minutes on foot from Roppongi Station via Tokyo Metro / 10-minutes on foot from Azazu-Juban Station

Tickets
Adults/University Students: Set Date ¥1,800/ Same Day ¥2,000
High School/Junior High School Students: Set Date ¥800 / Same Day ¥1,000

Elementary School Students: Set Date ¥400 / Same Day ¥600
*Set date tickets are bought in advance and mean you can only enter on a specific date. Sold via Lawson Tickets.

*Same day tickets are sold at the museum depending on the amount of set date tickets that have been sold on that day.
*Free for those aged 6 and under.

Official Website: https://smrm.jp/

Discover Japan's Autumn Fashion Trends in LARME Magazine in Issue 036

Issue 036 of popular "Girly & Sweet" fashion magazine LARME was released on September 15. The new issue comes with a separate bonus volume featuring Japanese fashion model Risa Nakamura who has a large following with LARME readers. It also contains lots of information on fashion and makeup for the coming autumn.

Bonus Book: Jam-Packed With Information on Risa Nakamura

Risa Nakamura's feature "RISA is addicted to ♡♡♡" has been serialised in LARME since the 014 issue published in 2015. The latest issue marks the feature's 22nd entry which comes as a separate 24-page booklet containing coloured-themed photos, an interview with the model herself talking about the feature and much more.

Asking LARME Models: What Are You Interested In This Autumn?

Hear about the fashion, makeup and culture of autumn this year from 10 LARME models. The line-up includes Risa Nakamura, Rika Watanabe, Chisato Yoshiki, Nana Kato, Yui Kanno, Maria Kurotaki, Moe Kamikokuryo, Maika Yamamoto, Akari Yoshida and Yui Oguri.

Defining & Explaining LARME-Style Lolita

The autumn edition of this year's LARME will look at neo-lolita, a style that isn't childish but not mature either. It will include 10 must-know keywords of the "New Lolita Girl" as well as plenty of outfit co-ords exemplifying them. Learn what lolita is to LARME.

Angerme's Moe Kamikokuryo Make A Return

It's almost Halloween, and this season, LARME won't be presenting how-to's. You will instead see Moe Kamikokuryo and Nana Kato dress up as sisters who live in an old fashioned western-style house. What is the shocking secret these two beautiful girls are hiding…?

Get yourself a copy of LARME and learn all about autumn fashion in Japan♡

◼︎Information

LARME 036 Nov

Released: September 15, 2018

Available: Bookshops, convenience stores and online bookshops in Japan

Price: ¥639 (+Tax)

LARME Official Website: http://www.larme-magazine.jp

LARME Magazine's First Photo Collection in 4 Years Features Sayumi Michishige

Issue 35 of popular kawaii girl's magazine LARME will be released on July 17.

The new issue features the magazine's first photo collection in 4 years and includes pop-singer and talent Sayumi Michishige for the very first time, who's currently on the rise. The magazine also includes a new feature from Rika Watanabe, aka Pee-chan, titled "Inside Pee's Head." Japanese model Chisato "Chii Popo" Yoshiki has also made the front cover for the first time in a year.

Sayumi Michishige Makes Her LARME Debut

Includes photos of kawaii outfits described as 'transient' like strawberry, vanilla, lemon, mint and chocolate ice cream. Also features an interview for readers to get to know her, covering topics such as her thoughts on the photo shoot, what she wants to do this summer, and fashion she wants to try out.

Regular Model Rika Watanabe Begins Her First Feature

Rika "Pee-chan" Watanabe unveils her brand new LARME feature series "Inside Pee-chan's Head." It will talk about the Pee-chan of today, detailing her thoughts as well as places and things she's interested in, all told through illustrations. The first feature will talk about her love towards her plush toy that she's held onto for years.

Chisato Yoshiki's Return to the Front Cover

Support for Chii Popo from readers has risen over the past year. She has levelled up to being a representative model of LARME magazine. This issue includes an interview with her about how she became a girl that everybody loves. You'll also get to see her 'Sweet Popo' make-up which you can't see anywhere else.

The new issue includes plenty of other kawaii topics too, so be sure to get your hands on a copy!

■Information

LARME 035 Sep

On Sale: July 17, 2018=

Available: In Japanese bookstores, convenience stores and online shops

Price: ¥602 (+Tax)

LARME Official Homepage: http://www.larme-magazine.jp

LARME032 On Sale: Includes Yui Kanno & Mai Shiraishi Revival and more!

The 32nd edition of cute and girly fashion magazine LARME was released on January 17th. Let's take a look at the latest news.

Risa Nakamura Graces the First Front Cover of the Year in LARME 032!

The latest edition of LARME showcases a comeback from the former popular feature "YUI MAI TWINS" after 2 years, and Yoda Yuki, who recently released her solo photo album to gracious popularity, will appear for the first time in third run of Nogizaka46's feature "What girls like." There's plenty more where that came from too in 2018's first edition of LARME.

Popular Feature "YUI MAI TWINS" Comeback After 2 Years
Those two popular twins are making a comeback – and it's already been two years. They will introduce colour-styling in the theme of girl favourite 'sweet and girly.' In addition, the twins look back over 2017 and talk about their hopes for 2018. Don't miss out on them charmingly tell their innocent and colourful story.

Yoda Yuki's Debut LARME Appearance in Nogizaka46's "What girls like" Feature

This special fashion feature combines everything a girl loves in that sweet, LARME-esque style, like flowers and candy. There's also a girls' talk with Reno Nakamura, Mizuki Yamashita, and Yoda Yuki too, so be sure to check it out!

Popular Millennial Generation Model Mei Tanaka Makes Her LARME Debut!

Mei Tanaka, who receives overwhelming love and support from the teens of today, will appear in the fashion feature "BALANCE UP STYLE" where she will showcase how to deal with tackling common problems when it comes to co-ordinating outfits, such as how to create a balance between 'sweet & hot' to look stylish.

There's lots of other awesome info in new LARME edition too, like make-up tutorials, appearances from spectacular models, and much more! Be sure to pick up a copy if you can.

◼︎Information

LARME 032 Mar

On Sale: January 17, 2018 at bookshops, convenience stores and online bookstores in Japan

Rika Watanabe of Keyakizaka 46 graced the cover of LARME! Let's check her Christmas coordinate

The cute fashion magazine/picture book, "LARME 031" will be sold from the 17th of November (Fri.)

LARME celebrated its 5th anniversary recently. Rika Watanabe who became the regular model of the magazine from LARME 029 released in July, graced the cover of the magazine this month. The magazine includes many pages where Rika Watanabe appears, and it can be said that it is like a fun book of "Pechan (Rika's nick name)." The magazine includes many interesting pages such as the collection page of rose-colored items worn by Mai Shiraishi and the Christmas celebrating page which the members of the third class of Nogizaka 46 appear.

<Rika Watanabe's comment>

Hello, everyone. I'm Rika Watanabe of Keyakizaka 46 and I was selected as the cover girl of LARME.

I felt a bit nervous on the day of the shooting, but it was really a fun experience. I hope you will enjoy the magazine.

Rose-colored wardrobe worn by Mai Shiraishi "Fascine par la couleur de Rose."

The wardrobe will give you a lovely warmness. It is recommended to wear a rose-colored item like a delicate rose.

Christmas fashions of the third class of Nogizaka 46. "Nostalgie Christmas."

Lots of illuminations can be seen during the Christmas season. Mizuki Yamashita, Reno Nakamura and Ayano Yoshida who are all members of Nogizaka 46 will introduce to you the events and activities incorporating Northern Europe's cultures which you can enjoy during the Christmas season.

Let's check out the latest fashion by reading LARME.

■Information

LARME 031 Jan

Release date: 2017,11,17 (Fri.)

Available stores: Book stores throughout Japan, convenience stores and online book stores.

Price: 602 yen + tax

LARME official HP:http://www.larme-magazine.jp