Naomi Osaka Wins 2019 Australia Open Wearing Citizen Watch
Naomi Osaka, professional tennis player and ambassador for Citizen, won the 2019 Australian Open in Melbourne while stylishly wearing a Citizen watch.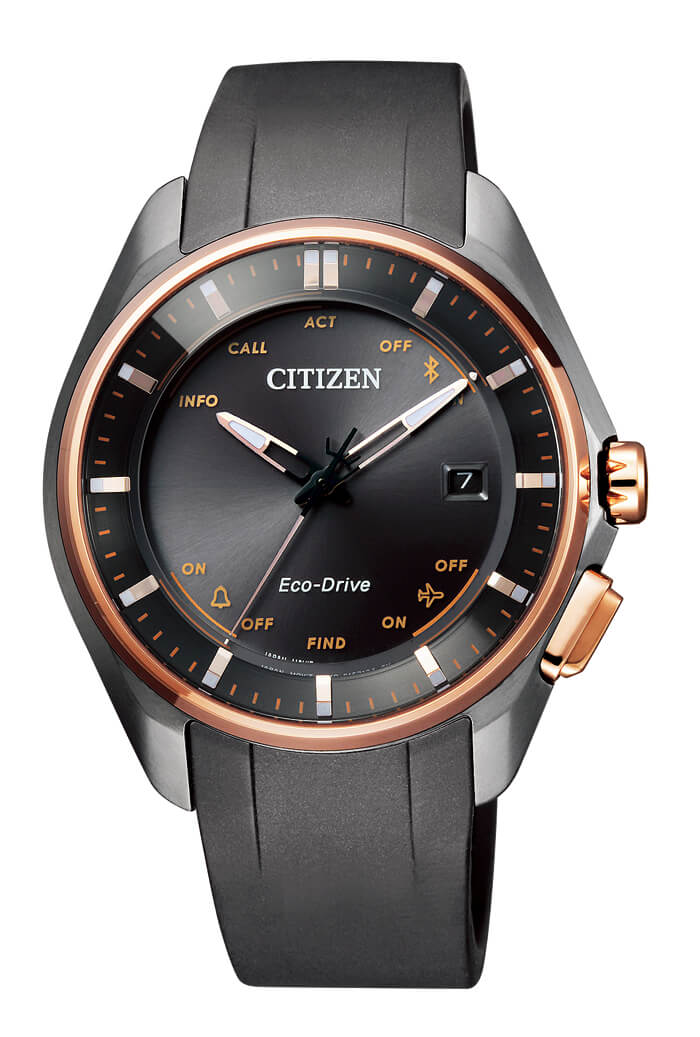 Citizen is a watch manufacturer that develops its products from the parts to the finished piece. Established in 1918, the company has gone on to create a multitude of watches for the international market using the latest technology such as the solar-powered Eco Drive.
Eco Drive Bluetooth BZ4006-01E: ¥75,000 (Before Tax) – Releasing March 7, 2019
The watch that Naomi Osaka donned during her victory is the above-pictured Eco Drive 1 model. This analogue wristwatch has Bluetooth technology that can link to smartphones. It's comfortable, light and encased in Citizen's Super Titanium and finished with an eye-catching orange.
Its functions include call, message and social media notifications, an alarm, time sync, world time and more.
As brand ambassador for Citizen, Naomi Osaka shares the same spirit as the company: "Better Starts Now," which it describes as encapsulating "the belief that no matter who you are and what you do, it is always possible to make something better — and now is the time to start doing it."
Only 1,000 of this limited edition watch will be sold, so if you're interested be sure to check it out!
RELATED ENTRIES
Naomi Osaka Dons Citizen Watch For 2019 French Open

Citizen Watch has announced that pro tennis player and ambassador for the company Naomi Osaka will wear a new model of watch for the 2019 French Open.

Osaka became an ambassador for Citizen in August 2018 and went on to win a Grand Slam at the 2018 US Open and 2019 Australian Open all while donning the brand's Eco-Drive 1 model watch. This was the first watch to be released with the Eco-Drive mark.

For the 2019 French Open she will wear the new Citizen Eco-Drive Bluetooth W410, an analogue wristwatch that can link to one's smartphone via Bluetooth. Osaka will wear a black and green model. The watch is light and so is comfortable to wear while playing and is also encased in Citizen's Super Titanium™, a hardening technology that increases the durability of the watch and resistance to wear and tear. The watch is also stylish and unisex.

Information

Citizen Eco-Drive Bluetooth W410

Stock No.: BZ4005-03E

Price: ¥80,000 (Before Tax)

Website (Japanese): https://citizen.jp/about/ambassador.html

2019 French Open

Running: May 26, 2019 – June 9, 2019

Location: Stade Roland Garros, Paris

Travel the world with this Hello Kitty-themed "BABY-G" watch!

Travel the world with Hello Kitty with the new "BABY-G" collaboration anti-shock watch for women. Two collaboration models of the watch (BGA-190KT) will be released for sale from Friday 9th March.

Using the BGA-190 model as a base, this collaboration model can display the time in two different cities at the same time.

The Hello Kitty world traveller design will capture the hearts of many females who love travelling.

The minute hand of the watch is decorated with a Hello Kitty red ribbon motif and the band is decorated with a passport immigration stamp.

The band has very flexible usage and is bound to stimulate your lust for travel.

To commemorate the collaboration, an original Pilot Hello Kitty design will be incorporated into the design for the back of the watch and on the special packaging. The special packaging is decorated to look like a trunk – an essential must-bring for your travels! This special model comes with all this and still more!

Celebrating their launch of the new watch model, collaboration couple BABY-G and Hello Kitty have opened a special edition site! The site includes a special movie so please check it out!

■Information

Release date: Friday 9th March 2018

Price: ¥18,500 + tax

Purchasable from:

Selected Casio watch specialist stores and volume retailers
Selected Sanrio official shops/ the online shop

Special edition site: http://baby-g.jp/hellokitty/

A collaborative product of LINE's character "CHOCO" and Baby-G is now on sale (Japan-limited)

The collaborative product "Baby-G × LINE FRIENDS" of the official characters of "LINE FRIENDS" called "CHOCO" and CASIO's "Baby-G"  was released on the 14th of December (Thurs.).

CHOCO who has a big ribbon on her head is a girl who likes fashion and SNS. CHOCO joined "LINE FRINDS" in 2016. This year, CHOCO appeared on the covers of popular fashion magazines as a model and reported about a party of foreign brands as an editor. Also, CHOCO has been participating in many offline events such as the collaborative party held by London's popular cup cake brand "LOLA's Cupcakes." The number of friends of CHOCO's official LINE account (@choco_official) has now exceeded 3 million.

And now CHOCO has collaborated with "Baby-G," a watch brand that has many fans in foreign countries and they have started selling a collaborative model from the 14th of December (Thurs.).

Based on the basic series called "BGD-501" which is the combination of classical designs and fashion trends, the face of the board of the collaborative product has a camouflage-patterned design with a ribbon which is the charm point of CHOCO. Moreover, the product has an illustration of CHOCO on the digital part mounting the EL back-light and on its case. The fans of CHOCO must love this product!

The number of products is 1,000 and the limited edition where CHOCO doll is wearing the same ribbon as the one printed on the watch, will be sold too.

Let's get this original Japan-limited product.

■Information

Baby-G × LINE FRIENDS

Release date: 2017,12,14 (Thurs.)

Available stores: LINE FRIENDS STORE Harajuku, LINE FRIENDS CAFE & STORE Fukuoka, LINE FRIENDS STORE Online( https://www.linefriends.jp/ )

Price: usual price 11,000 yen (tax not included) limited product 13,000 yen (tax not included)

SWATCH started selling its 2018 zodiac animal sign wrist watch model, "SWATCH WOOF"

SWATCH's zodiac animal sign wrist watches have been gaining much popularity every year. Sales of the 2018 model, "SWATCH WOOF" started from the 2nd of December 2017 (Sat.) at SWATCH stores, the SWATCH official online store and stores that sell SWATCH's products (except at certain stores).

Sales of SWATCH's zodiac animal sign wrist watches started from 2006 and they have been selling unique products. In 2018, started sales of SWATCH WOOF created under the motif of a dog which is the zodiac animal sign of the year 2018.

The golden-colored dial plate has an illustration of a dog wearing a heart-shaped choker ring and the bar index is a red color adding a superb accent. Also, the white-colored belt has the pattern of red × gold which is very stylish.

Since there is an illustration of a dog enjoying a walk and Japanese lanterns on the special package box, the product is suitable as a gift.

All SWATCH products are designed under the themes of "LIFESTYLE," "ART" and "ACTIVE SPORTS" and are created based on the wish that each product will have a deep connection of the consumer's life style.

Let's enjoy SWATCH's fashion by purchasing this 2018 zodiac animal sign wrist watch.

Sailor Moon 25th Anniversary wristwatch released in collaboration with "wicca"

To celebrate the 25th anniversary of the Sailor Moon series, PREMICO are selling a special watch that was made in collaboration with "wicca" and Sailor Moon. The watch was released on November 24th, 2017.

 

"Bishojo Senshi Sailor Moon" is a female shojo manga series by Naoko Takeuchi that began serialization in 1991 in the monthly magazine "Nakayoshi." The original work is loved all over the world – to date, the manga been translated in 17 different languages, and the anime series has made its way to over 40 countries.

Citizen watch makers "wicca" design watches for girls who want to shine and feel like themselves.

Sailor Moon has captured the heart of stargazing girls for 25 years. To celebrate this special anniversary, wicca teamed up with the series to create a truly wonderful product.

 

The cosmic-blue face of the watch features floating crystals and the image of a starry sky. The star hands twinkle by the seconds of the day just as the guardian marks of the shining gold Sailors go around.

The cool and beautiful design is perfect for female fans out there, and even comes equipped with solar tech so it moves with the light making it even more beautiful.

The watch is a special model from wicca to share their joy of Sailor Moon's 25th anniversary.

 

The watch can be ordered now from the PREMICO online shop. Each watch has a 25th anniversary logo on the crystal back as well as an edition number.

 

Tell the time like a Sailor with the limited edition Sailor Moon watch!

◼︎Information

wicca×Sailor Moon – Bishojo Senshi Sailor Moon 25th Anniversary Special Collaborative Watch

Price: ¥29,800 + tax (shipping fee not included)

Stock: 2,500 available

Released: Pre-orders began on November 24, 2017

Delivery: Orders will be shipped starting from the end of February 2018

TEL: 0120-989-808 (9:30-17:00 on weekdays / closed weekends and national holidays)

Homepage: https://iei.jp/sailor-wicca/

*Please note that the contents may change without notice.

*Please be aware that the product may altered for improvement without notice.

©Naoko Takeuchi / PNP / Toei Animation

Aniware Teams Up With "Dragon Ball" to Release Collaborative Wristwatch & Sneakers!

Aniware have announced a collaboration with the hugely popular "Dragon Ball" series to release two new items!

The line-up includes a high-quality chronograph wristwatch and some funky sneakers.

The watch's overall design is reminiscent of the series, with the face featuring scales of the Dragon God while and its dial echoing the design of the Dragon Radar and Four-Star Dragon Ball.

The sneakers are dotted with lots of Dragon Ball references, including the 7 Dragon Balls, the Dragon Radar, the Capsule Corporation logo, and the Hoi Poi capsule design.

While fans of the series will love these geeky items, they are also extremely stylish and will look great when co-ordinating your outfits.

■Information

"Dragon Ball" Collaboration Wristwatch & Sneakers

Reservation Dates: August 17, 2017 to September 3, 2017

Delivery Date: Wristwatch – beginning of February 2018 / Sneakers – beginning of December 2017

Price: Wristwatch – ¥23,000 (tax not incl.) / Sneakers – ¥13,800 (tax not incl.)

Webpage: https://www.super-groupies.com/feature/detail.php?id=460

Dispatched by SuperGroupies.

【Sizes】

Wristwatch – Mens Free Size / Sneakers – 23cm/24cm/25cm/26cm/27cm/28cm (Japanese shoe size)

©B/S・T

Related Article:Streetwear Brand "XLARGE®" to Release Dragon Ball Z Collaborative Clothing

Related Article:Limited Edition "Lipovitan-D×Dragon Ball" Collaborative Bottle Designs on Sale!

Fashion watch brand "Wired" have teamed up with the Nintendo franchise "Super Mario Bros" to release a limited edition model wristwatch. The watch is priced at a bargain ¥18,000 (tax exlc.) and will be available at all "Wired" stores around Japan from September 8th.

"Wired" is a brand that established back in 2000 that produces next-generation watches from Tokyo that combine fashion with technology. The brand is based on the concept of "From Japan to the world."

The new limited edition models from "Wired" sees a collaboration with the internationally renowned video game "Super Mario Bros." which has continued to reign since its first release more than 30 years ago. The watches have 2 different dial designs and come in a special box. The designs as a whole have lots of little Mario references.

The first model (AGAK702) has that retro video game look. It has a black background with coins that are visible depending on what angle you look at the watch. The second hand dial is designed around the Super Star, and of course we have Mario positioned above a pipe.

The second model (AGAK703) is based on the classic "World 1-1" level – the very first level in the original Super Mario Bros. game that any fans of the game will instantly recognise – with a more colourful pop look. It has a black case and strap, a Goomba, a mushroom, question blocks and pretty much anything that will hit you with that feeling of nostalgia.

And since this is such a special model, they even went and added the classic final scene of Mario vs. Bowser on the back. Plus, since these are limited edition, each watch also has a serial number. But it doesn't stop there. The winding knobs also have a star on them, the underside of the straps have a Goomba on it, and they come in a stylish box. The watches are littered with little Mario Easter eggs that all gamers will know.

Now you can reminisce and support your favourite video game every day while looking stylish with these fun watches from Wired.

■Information

Wired×Super Mario Bros.

Price: ¥18,000 (tax excl.)

On Sale: September 8, 2017

For full details, visit http://w-wired.com/

Related article:Swedish watch brand TRIWA limited sale in Japan – order yours this Autumn.

Related article:Master Watchmaker Franck Muller Releases New "Rising Sun" Watch in His Vanguard Series!

Swedish watch brand TRIWA limited sale in Japan – order yours this Autumn.

I NEXT GE Inc. will be selling two varieties of watches made by the Swedish brand "TRIWA". The two new varieties of watches to be sold are "Watch All Black" and "Watch all Rose Gold". These will be available for purchase from Friday 8th September 2017.

 

The Scandinavian countries are known for being set on the colour black – the most cutting-edge colour. Besides the luminous white clock hands, the watch has been touched with an all matte black finish. However, the roughness of the small second hand and the minute hand is still visible. This excellent design combines practicality and exquisite aesthetics into one product.

 

Add colour to your arm with the rose gold watch, which was designed by the FALKEN series and is a model limited to only Japan. Both watch models are 38mm in diameter and are built with a sleek and slim design. They are designed for both men and women and would make a wonderful gift.

These two models utilise one tone and are the essence of autumn fashion.

■ Information

Product name:MIDNIGHT FALKEN

Product code:FAST115–CL010101

Price:¥30,000(price without tax)

Product name:SHINEROSE FALKEN

Product code:FAST118-ME021414

Price:¥30,000(price without tax)

TRIWA official website:https://www.triwa.com/jp/#close

Related article: Master Watchmaker Franck Muller Releases New "Rising Sun" Watch in His Vanguard Series!

Related article: New Sunglasses Collection Produced by Popular Model Rina Tanaka to be Sold at Zoff!

Master Watchmaker Franck Muller Releases New "Rising Sun" Watch in His Vanguard Series!

From Franck Muller's latest "Vanguard" collection comes a brand new watch based around the concept of Japan as the "land of the rising sun". The contemporary styled case is masculine looking and boasts individuality and elegance.

"Vanguard" is a series of watches masterfully crafted by the watchmakers of Watchland. Franck Muller is acclaimed for constantly paving the way for innovative watchmaking. Within his activities, Franck Muller is also known for his "Grand Complications", a series of very special watches made up of many components and complex mechanisms to produce watches that push the boundaries of the art of watchmaking.

Franck Muller offers a new standard with his Vanguard series and proposes a new way to read time.

"Vanguard Rising Sun" is a wrist watch that boasts a polished finish and an extremely sturdy build. The deep crimson colour of the index represents the Japanese flag, while the circle in the middle enveloped in oceanic waves captures the life force of the rising sun.



The case side slit and watch stem are the same colour as the index, and 12 o-clock is marked by the Franck Muller logo. The strap is a D-buckle and the mechanisms are even more active. As expected of such a grand limited edition model.

Franck Muller has captured the essence of Japan in this watch. And since this is a limited edition model, those interested should check it out straight away!




■Information

VANGUARD RISING SUN (Limited Edition Model)

Reference: V45SCDTRSUN ACNR.RG

Movement: Automatic

Display: Hours, minutes, seconds, date

Power Reserve: Approx. 42 hours

Case: Stainless Steel

Case Size: Length – 53.7mm × Width – 44mm

Strap: Clock dial & rubber strap

Price: ¥1,100,000 (tax excluded)

 Official Site: 

http://www.franckmuller-japan.com/v45risingsun

Related Article:"BIWACOTTON" Release Cool and Comfy T-shirts for Summer Using Traditional Clothes-Making Techniques From the Edo Period!

Related Article:Laforet Harajuku to Host "Yukata in Laforet"—Pick Out Your Summer Yukata from the Cutest Trends!