MOSHI MOSHI NIPPON Goes To Fuji Rock 2016
This year Fuji Rock celebrated their 20th year anniversary, receiving yet another smashing response as the number of overseas Fuji Rock fans continue to increase year after year. To jump in on this celebratory occasion, we made our way to Fuji Rock and heard some wonderful stories from the visiting crowd on their fun and exciting experience at the venue!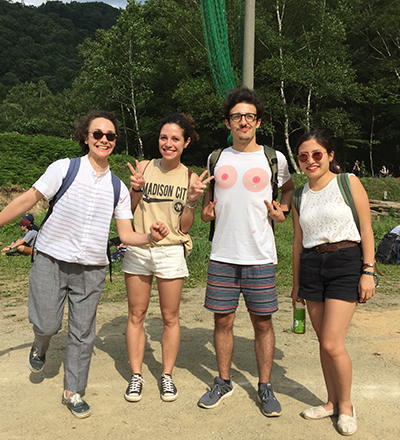 【1】3 exchange students from Italy and their Japanese friend
This was the first time we have ever been to Fuji Rock. The atmosphere is the best! The hospitality of the Japanese is also top-notch! Everyone is nice to us and we are enjoying the festival atmosphere!
…Isn't this shirt great? It's very popular and everyone here is praising me for its boobs-themed design!
【2】Fan from the US
I had so much fun. I came to like Japanese festivals! I came dressed to impress in a Singha-themed T-shirt and socks, and I am wearing my sun visor the wrong way round for extra appeal! EGO-WRAPPIN' were awesome!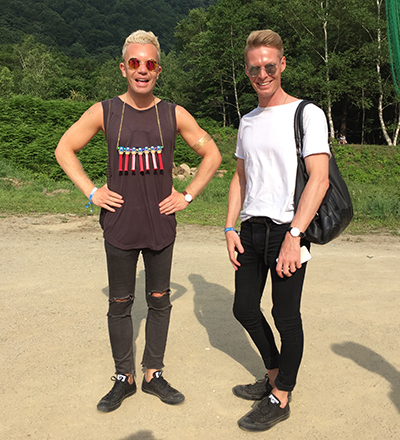 【3】2 fans from Oslo, Norway
We've been coming to Fuji Rock every single summer for 6 years now. The shining jewel of this year's performance was BABYMETAL. For Fuji Rock, I coordinated my outfit by wearing a PEZ accessory!
The location of Fuji Rock is the best!
【4】Two British tourists
This is our first experience at Fuji Rock.
We have never seen such a clean and tidy festival!
The food and drinks here are delicious!
Other Japanese fans who attended the festival are very friendly and kind, so making friends with them here is really fun!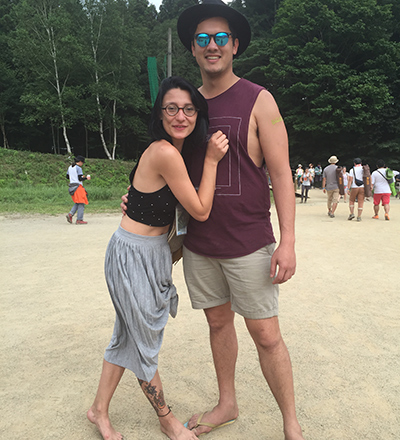 【5】 An Australian and Austrian couple
There were a variety of different areas where different artists performed — we had so much fun! There were so many amazing bands and I can't choose a favourite! We also really like Japanese artists!
Other comments:
The atmosphere of the venue was great — to hold an event like this amongst the nature felt awesome!
It was so much fun to see lots of Japanese bands for the first time like this!
The toilets and other facilities were so clean! It was very surprising!
Everybody at the venue was making the effort to ensure that they were separating their rubbish correctly. It was amazing to see that there was no rubbish on the ground!
EVENT INFORMATION
FUJI ROCK FESTIVAL'16
2016.07.22-24 (Fri-Sun)
OPEN 09:00/START 11:00/CLOSE 23:00(予定)
Yuzawa, Niigata  Naeba Ski Resort
http://www.fujirockfestival.com/
RELATED ENTRIES
Q-pot.'s Fall/Winter Collection Theme is "Candy"

Q-pot. manages multiple brands, including their accessories brand Q-pot. which features jewellery made to look like sweets and desserts. Check out their new lineup of cute and colourful candy-themed dresses which they will release as their 2019 autumn/winter collection on August 24.

Let's take a look at some of the must-see items in the line-up.

Candy Puff Sleeve Dress ¥37,000 / Skirt ¥26,000 / Shirt ¥22,000 / Blouse – Price TBA (Release Date: October 2019)

The dress and other clothing items are littered with candy designs in a fusion of retro and pop. Everything from the material to the embroidery is made in Japan, and everything is comfortable, soft and difficult to wrinkle.

Candy Beret ¥7,000

This stylish and sophisticated candy beret is sure to look even more fashionable when paired with a one piece. Don't forget to also check out their AUTUMN <CANDY> accessories which would go perfectly with one of their dresses.

Shiny Candy Necklaces (Orange/Green/Purple/Gold) ¥12,000 / Brooches ¥8,000

Add a little spice to your outfit with some shiny candy.

Rings (Japan Size 11) ¥10,000

he rings feature a unique candy design like they have just jumped out of the packet.

Stay sweet this fall with Q-pot.'s new candy collection.

*Listed prices are pre-tax

Mario & Sonic at the Olympic Games Tokyo 2020 Release Date & Details Revealed

Sega has announced that Mario & Sonic at the Olympic Games Tokyo 2020 will be released on Nintendo Switch™ on November 1, 2019.

The upcoming sports video game is a crossover between Nintendo's Super Mario and Sega's Sonic the Hedgehog franchises which makes full use of the Joy-Con™ on the Nintendo Switch.

The latest trailer which dropped on Tuesday revealed that players will also be sent back in time to the Tokyo 1964 Olympics with a set of 10 games with classic 2D graphics. The game will also feature a Story Mode where players can compete in the Olympics and play a variety of mini games.

The game is now available for pre-order on the Nintendo eShop. If you pre-order the game you will be able to play the game immediately at midnight when it drops on November 1.

TM IOC/TOKYO2020/USOC 36USC220506. © 2019 IOC. All Rights Reserved. © NINTENDO. ©SEGA.

4 Must-Try Kawaii Bubble Teas & Desserts in Kyoto

Japan is a haven for bubble tea and tapioca-based beverages. Here on MOSHI MOSHI NIPPON we have covered many shops selling these tasty drinks in Harajuku―the town which started the tapioca boom in Japan―but today we will be heading to the ancient city of Kyoto.

We are joined by Kyoto café life tiara who posts photos of the best drinks and desserts they have tried around the Kansai region of Japan. They have provided us with photos of two must-try bubble teas and two must-try desserts in Kyoto.

ROCCA & FRIENDS PAPIER KYOTO in Shijo

ROCCA & FRIENDS PAPIER KYOTO is just a 5-minute walk from Shijo Station. The cafe is made from a traditional townhouse along an old-fashioned Kyoto-esque street.

It takes a little while for your drink to arrive placing your order, but that's because each beverage is carefully handmade from fresh. I ordered the mango smoothie soda and the strawberry smooth soda. Both are fruity and super refreshing and full of chewy tapioca pearls.

▼ROCCA & FRIENDS PAPIER KYOTO

Address: 735-2 Shinkamanzacho, Shimogyo Ward, Kyoto, Kyoto Prefecture

Opening Hours: 10:00-18:00

Closed: Mondays

Official Instagram Page: https://www.instagram.com/rocca.papier/

&Hana in Shijo

&Hana is located at the back of Kyoto Daimaru. The cheese rose tapioca milk tea I bought is a cute pink colour. It's a mix of rose which is good for skin and relaxation, sweet brown sugar tapioca, and sour cheese.

Draped at the back of the cafe are bunches of dried flowers which provide an Instagrammable background for your drinks.

▼&hana

Address: 619 Nishiuoyacho, Shimogyo Ward, Kyoto, Kyoto Prefecture

Opening Hours: Weekdays 11:00-22:00 / Weekends & Holidays 10:00-22:0

No Fixed Holidays

Official Instagram Page: https://www.instagram.com/and_hana_/

KISSHOKARYO KYOTO in Gion

This honey and tea parfait is special because they only serve 20 of them a day. Tapioca pearls go well not just in drinks but in desserts like this one too♡

The fluffy shaved ice is a perfect match with the homemade Earl Grey tea syrup. The rest of the parfait is made up of milk tea flavoured jelly, tapioca pearls, tea ganache, and other delightful surprises.

I enjoyed mine with lots of syrup and roasted soybean flour!

▼KISSHOKARYO KYOTO Gion Honten

Address: 306 Ishibashicho, Higashiyama Ward, Kyoto

Opening Hours: 10:00-19:00 (Last Orders 18:30)

No Fixed Holidays

Official Website: https://kisshokaryo.jp/

MASHOLA in Kawaramachi

MASHOLA is a South Korean-style cafe which of course sells tapioca pearl drinks, but also this delicious capo egg brulee tart as well. As soon as you put the order in their fire up the tarts fresh along with hot tapioca pearls for a heavenly melt-in-the-mouth experience.

They also sell bottled strawberry milk packed full of fresh strawberries, and for an extra ¥80 you can top if off with tapioca.

▼MASHOLA

Address: 406 Sakuranocho, Nakagyo Ward, Kyoto, Kyoto Prefecture

Opening Hours: 11:00-20:00

No Fixed Holidays

Official Website:  https://mashola.business.site/

Did you enjoy this list? Kyoto café life tiara has lots of other tempting recommendations of drinks and desserts on their Instagram page too, so if you're looking for something to try while in the Kansai region of Japan be sure to give them a follow.

Text & Photos: @happy_pinkrose_tiara

Translation: Joshua Kitosi-Isanga

Kaori's Easy Recipe: Learn to Make Mickey Mouse Ice Box Cookies

With just a small bit of ingenuity, turn everyday food into something cute using Kaori's easy recipe! With a few simple ideas, an ordinary recipe magically transforms into a cute dish.

For this edition of Kaori's Easy Recipe, I used a recipe from the Disney dessert cookbook Oishii Disney Sweets Recipes to make cute Mickey Mouse-shaped ice box cookies. Ice box cookies are made by forming the dough into a cylindrical shape, leaving it to set in the fridge, and cutting into slices. This means you can make cookies even if you don't have a specific cookie cutter, for example one in the shape of Mickey. You can create lots of different kinds of cookies using this method. They're light, crunchy and best of all, delicious.

1. Ingredients (Makes: Approx. 30)

100g unsalted butter

80g powdered sugar

180g sieved weak flour

20g egg yolk (1 medium size egg)

A pinch of salt

10g pure cocoa

2. Bring the unsalted butter to room temperature until it's soft. Break into small pieces until it turns creamy then add the powdered sugar and salt. Mix well until everything is blended together.

3. Add the egg yolk into the mixture and mix well with a whisk.

4. Slowly add the sieved flour. Add about a quarter at a time and mix well before adding the rest to avoid clumps. After all the flour is mixed in, divide in half and mix one of the halves with cocoa powder.

5. Shape both halves into a rectangular shape at 12cm x 6cm. Wrap in cling film and refrigerate for 30 minutes.

6. Divide each half like in the picture below.

7. Put ⅞ of the plain dough to one side, and roll the rest of the plain dough and all of the cocoa dough into 15cm rods.

8. Roll the ⅞ of plain dough you put to one side into a 17cm x 15cm square. Referencing the pictures above and below, place plain "C" dough in the middle between the cocoa "B" dough. Ensure there are no gaps when pushing them together.

9. Place the cocoa "A" dough on top of the "C" dough. Take both sides of your rolled out square dough and bring together ensuring there are no gaps. Wrap in cling film and leave in the fridge for 20 minutes.

10. Take out of the fridge and cut about 5mm off the ends. Make sure to handle with care – if handled too roughly the dough will collapse.

11. Slice into single cookies and bake at 160℃ for 20-25 minutes.

Your cookies are done!

Kaori invites you into her world of character-themed food dishes in her recipe series. Be sure to check out her Instagram where she has uploaded many pictures of her character dishes!

There are many other cute Disney recipes available in the book that Kaori used too, so if you're in Japan then why not pick up a copy?

©️Disney

Profile

Kaori Kubota (@kaopan27)
I live in Hokkaido and I love to make character themed foods, desserts and pastries♡

I want to see my family smile, so I enjoy putting in a bit of effort to make character foods and changing food into something cute♡

You can see more of my character foods and character bento boxes on my Instagram page→@kaopan27

Information

Oishii Disney Sweets Recipes (Japanese Title: おいしい ディズニー スイーツ レシピ)

Price: ¥1,200 (Tax Included)

Available: Amazon Japan, Rakuten, and elsewhere

Colourful New Agar & Mango Jelly Drink Released at Kyo Yakasa Pudding in Kyoto

Kyo Yakasa Pudding opened its doors to the world back in April, and since then they have whipped up many different kinds of Japanese custard pudding, known as purin. Earlier this month they released their all new "Yasaka Cider," a jelly-like drink which became a hit on Japanese Instagram (search with #京八坂プリン).

The shop's most popular product since launching is the Kyo Yasaka Pudding―named just like the shop. It has a honey and lemon flavoured jelly which is full of agar and mango jelly balls, giving it a cute appearance and very refreshing flavour and completely new kind of texture.

Now, the shop has released its new Yasaka Cider. The word "Cider" in Japanese doesn't actually refer to the alcoholic drink, but instead is usually a carbonated mixture of lemon and/or lime.

Available this summer only, the Yasaka Cider is the perfect accompaniment for cooling yourself down while strolling the streets of Kyoto, filled with Kyo Yasaka Pudding jelly, agar balls, mango jelly balls, and an in-house made lemon slice and honey mix. The beverage is made fresh to order and comes in a cute bag which you can carry around easily with you.

There are lots of great photo opportunities for Instagram in the store too! If you're in or travelling to Kyoto this summer then be sure to stop.

Information

Kyo Yakasa Pudding

Address: 87-4 Hoshinocho, Higashiyama, Kyoto, Kyoto Prefecture

Opening Hours: 10:00-17:30

No Fixed Holidays

Website: http://www.kyo-yasaka-pudding.co.jp

Spooky Halloween Doughnuts Float Into Krispy Kreme Japan

Krispy Kreme Doughnuts Japan (KKDJ) is carving its jack-o-lanterns out early this year in time for Halloween as it reveals its new series of holiday-themed doughnuts titled "MONSTER HARVEST in Monster DINER."

This pumpkin, chestnut and apple flavoured selection will be available at most Krispy Kreme branches across Japan from September 11 to October 31.

Pumpkin Custard Jack

Price: ¥230

The jack-o-lantern is the centrepiece of Halloween, and now you can much on one in doughnut form! Its face is coated in dark chocolate and filled with a velvety pumpkin custard cream. It also contains some pumpkin seeds for a crunch.

Black Cat Chestnut

Price: ¥250

The black cat's dark chocolate covered face includes crunchy cracker ears, giant white chocolate button eyes, and caramel chocolate nose and whiskers. Inside it's filled with a rich chestnut cream made from domestic chestnuts. The bottom part of the face is also sprinkled with tasty poppy seeds.

Apple Caramel Monster

Price: ¥230

This cute apple monster is a new addition to the KKDJ Halloween range. It's made from a juicy, sweet and sour apple nappage made from the juice of apples grown in Aomori Prefecture. The single eyeball is made from a mix of white and dark chocolate and is what makes this doughnut so cute. The single pumpkin seed at the top completes the monster's apple disguise.

Halloween Sprinkle

Price: ¥190

Covered in rainbow sprinkles, this custard pudding (purin) flavoured doughnut is subtly sweet and satisfyingly crunchy.

Halloween Dozen (Box of 12)

Price: ¥2,000

If you're having a Halloween party with family or friends then this box of dozen doughnuts is the perfect treat, containing all of the above doughnuts as well as some of KKDJ's classic doughnuts. You save ¥440 by picking up this box.

Don't miss this year's seasonal delights from Krispy Kreme.

Information

MONSTER HARVEST in Monster DINER

Running: September 11, 2019 – October 31, 2019
Krispy Kreme Doughnuts Japan Website: https://krispykreme.jp/

Japanese Cosmetic Picture Book #2: Brightening Oil & Beauty Essence by AGILE COSMETICS PROJECT

Japan is home to an abundance of top-class, high quality cosmetic items. Knowledge about these cosmetics is slowly becoming widespread outside the country, with travellers stuffing their suitcases with everything they can to take back home with them.

Our featured series Japanese Cosmetic Picture Book is all about us here in the MOSHI MOSHI NIPPON team recommending products to you, our readers, that are made in Japan and that we use ourselves. Look forward to learning about the latest in cosmetics from the land of the rising sun.

Left: Clock G.e.n.e / Right: White Oil

The products we are taking a look at today are the White Oil and Clock G.e.n.e by AGILE COSMETICS PROJECT. The White Oil is an indispensable partner for the summer season while the Clock G.e.n.e is an essence that conditions the skin throughout the day.

AGILE COSMETICS PROJECT is a Japanese skincare brand that launched in November last year. They use completely natural ingredients in their products that are safe and good for your skin. What's characteristic about them however is that they update their products based on the demands of customers. To make products that their customer base will want to continue using, they focus on how an item feels on the skin, the functionality of its visual aspect, and its palatability amongst other things, all while making speedy improvements.

Has there ever been another brand that has listened to the desires of its users?

White Oil – ¥6,400 (Before Tax/Free Shipping) / Repeat Purchase – ¥5,500 (Before Tax/Free Shipping)

The White Oil is a two-layer product and so is to be shaken first before being used. Mixing two separate layers makes it easier for the oil to come together, down to the smallest corners of the outer layer. Ensure you mix it well before use.

When applied to your skin, it has a smooth texture despite being oil and does not become sticky. It feels very comfortable and natural on the skin and never becomes sticky even after applying, all while ensuring it stays moist. Since it's fairly smooth it means you can use it in summer and before you put on any makeup.

It's a personal favourite of mine. It makes a skincare routine super simple: after applying skin lotion you use the oil and you're done. It even comes in a stylish bottle and has a pleasant herb fragrance. I also have sensitive skin, so the fact that it's free from petroleum-based oils, mineral oil, parabens, UV absorption, and synthetic colouring is a huge plus.

I have used it for a week so I can't feel any change to my skin tone yet, but it has been incredible for keeping my skin in good condition. There are a lot of people on social media who have used it and have said that their skin tone has become brighter, so I will wait and continue using it!

Clock G.e.n.e – ¥7,000 (Before Tax/Free Shipping)

The second product to showcase is Clock G.e.n.e which was developed to create and maintain a "daily rhythm" in your skin. This liquid essence will treat one's tired skin, whether it be from your body clock being off, stress or the like. It adds moisture to the skin throughout the day and also protects it from damage and repairs at night.

It comes in a pipette-type bottle. It is added to your skin after applying moisturiser and makes it super soft. This too is made from 98% natural ingredients and is free from silicon, parabens, mineral oil, synthetic fragrances, and synthetic colouring, meaning people with sensitive skin can use it freely without worry.

If you use skin lotion, Clock G.e.n.e and White Oil in that order, your skin is going to feel completely different the next year. When you start using these items, people are going to complement how smooth your skin looks, so for me the effects are outstanding.

Even now, with the high level of satisfaction people have with these two products, the company are continuing to update them based on feedback buyers can give via the QR code that is coupled with the products. I feel strongly AGILE COSMETIC PROJECT's desire to create products that they want consumers to continue using means that they are making good products. Both items are sold online, but the first production batch for Clock G.e.n.e is currently sold out. They are set to release more in the near future, so be sure to peruse their website.

Writer: Sayuri Mizuno (MOSHI MOSHI NIPPON)

Translator: Joshua Kitosi-Isanga

Japanese Netflix Original Comedy-Drama Series 'The Naked Director' Global Trailer Released

The Japanese semi-biographical comedy-drama series The Naked Director was released worldwide on Netflix on August 8. Based on the the non-fiction novel of the same name, the series tells the story of real-life Japanese adult film director Toru Muranishi who turned every crushing setback into an opportunity as he revolutionised the pornography industry in the 1980's.

The Daily Dot described the The Naked Director as a "vehicle for zany, comic creativity, set in a captivating locale you've never seen quite like this before." Marie Claire Taiwan also praised the actors' performances as well as the costumes which it described as being so on-point for the time and so will pull viewers even further into its world. It also gave props to the production staff who said were proof of the series' high quality.

PEN International highlighted Takayuki Yamada's acting abilities, who plays the main character Muranishi, saying that his "unflinching seriousness gives him a determined quality which he never loses, even in the most comical scenes."

A new trailer for the series was released and showcases the many language dubs the series has received. Watch The Naked Director on Netflix now, available in over 190 countries with 12 language dubs and 28 language subtitles.

"The Naked Director" Global Trailer

Kenshi Yonezu 'Uma to Shika' New Single Details Released

Kenshi Yonezu's new single was released digitally on August 12―ahead of the CD release which is set for September 11. It serves as the main theme for the TBS Sunday drama No Side Game for which it has drawn a great deal of attention. The track has raked in 165,000 downloads on Oricon's digital single ranking (for August 26) and has taken the No. 1 spot on Billboard Japan's download song charts with 172,000 downloads, making it the song with the most number of downloads in the first week in 2019.

New details have been released on Uma to Shika, including the unveiling of the CD cover art, and the different editions it will be released in.

As with most of Yonezu's releases, the cover art of the new single was illustrated by the singer-songwriter himself. It will be released in three editions: the "No Side Edition," "Video Edition," and "Regular Edition."

The "No Side Edition" comes in pure white packing, decorated in silver leaf and manufactured in a way so that it feels like leather. The disc is printed with a picture label on it. The whistle-shaped pendant is made from metal and coated in a white matte while the string is white leather. And the whistle isn't just for show―it actually works too. The illustration itself is a mix of of a horse (uma) and deer (shika) which is the name of the single.

The "Video Edition" opens up like a book to reveal a CD and DVD both with picture labels on them. The DVD features a teaser of 11 songs covering 18-minutes taken from Kenshi Yonezu's "Sekisui ga Opal ni Naru Koro" 2019 tour. It also includes the music video for Umi no Yuurei.

All three editions come with application cards for a chance to get pre-sale tickets to Kenshi Yonezu's "HYPE" tour which will begin in February 2020 and take him to 10 cities for 20 shows. Pre-sale sign-up ends on Sunday September 15.

When bought at select stores, all CDs will come with a special leather wristband. These are available on a first-come, first-served basis at each store.

The single's "No Side" and "Video" editions are both limited-edition, so you'll want to put your orders in quick if you want a copy.

Information

Uma to Shika

Digital Download: https://smej.lnk.to/JCJ0B

CD Release Date; September 11, 2019

First Press No Side Limited Edition (CD+Whistle Pendant+Leather Cover): ¥1,900 (Before Tax) [SECL-2493~94]

First Press Video Limited Edition (CD+DVD+Paper Cover): ¥1,500 (Before Tax) [SECL-2495~96]

Regular Edition (CD-Only): ¥1,000 (Before Tax) [SECL-2497]

First Press Edition Bonus (All Editions)

Application card for a chance to purchase pre-sale tickets to Kenshi Yonezu's 2020 "HYPE" tour

Application Window: September 10, 2019 at 10:00 (JST) – September 15, 2019 at 23:59

*Available with first press copies only which are limited in stock

Store Bonus Item

Rubber Band

*Available on a first-come, first-served basis. Select stores and only stores only. Please check the stock of rubber bands at your place of purchase before buying to avoid disappointment.

Uma to Shika Webpage: https://reissuerecords.net/umatoshika/

Kenshi Yonezu Official Website: http://reissuerecords.net/

BL Anime Series 'Given' Opening Theme Music Video by Centimillimental Released

It has been announced that Centimillimental's new single Kizuato will be released on CD on September 11. The music video has also just dropped.

The song was written as the opening theme for the ongoing anime series Given. It was released as an independent digital single when the anime first aired last month and instantly shot to No. 1 on iTunes Japan's rock charts.

Centimillimental – "Kizuato" Music Video

The music video features appearances from Ryosuke Miyake and Mayu Nishida, two models who are gaining rapid popularity. Originally, only the short version of the music video was to be posted on YouTube, but due to fan demand they decided to release the full thing. In Japan, full versions of music videos are often only made available by picking up a limited edition copy of a CD which will come with a DVD or Blu-ray with the video on it.

First Press Limited Edition S-1

The CD's cover art has also been unveiled, including the Given anime jacket featured on first press limited edition copies. When purchasing the single at select stores, fans can receive special bonus items including folders and pictures. The store list can be found here (Japanese).

©︎Natsuki Kizu・Shinshokan / Given Production Committee

Chibi Maruko-chan Themed Cafe Heading to Tower Records Cafe Omotesando

To celebrate the 30th anniversary of the Chibi Maruko-chan anime series, Tower Records Cafe in Omotesando is collaborating with the franchise to turn its establishment into all things Maruko-chan for a limited time from September 5 to 29. Also, 22 branches of Tower Records as well as the Tower Records online store will sell collaborative merchandise.

Maruko-chan's Hamburger Plate – ¥1,500

The hamburger plate will be served throughout the entire collaboration. Hamburgers are Maruko-chan's favourite meal, and this one is served with vegetables and a rice ball with her adorable face on it.

The collaboration will be split into two different periods with different food and merchandise line-ups. The food in the second period has yet to be unveiled, so we will take a look at some of the things for the first period.

Collaboration Period ①

Nagasawa-kun's Onion Soup Pasta – ¥1,500

Served with a whole onion, this soup seeped vongole pasta is inspired by the onion-head himself Nagasawa-kun.

Chi Chicken Sandwich – ¥1,500

This dish is  inspired by the scene in the anime series when Maruko fights with her sister over who gets to have a notebook as there is only one of them. When her sister claims ownership, Maruko proceeds to write "idiot" on the front cover while she's asleep and slips it back onto her bookshelf. This tuna mayo packed sandwich comes with a sandwich bag featuring the design of the notebook.

Noguchi-san's Birthday Cake – ¥1,200

Celebrate Noguchi-san's birthday (September 9) with this very special blueberry and milk crepe birthday cake.

30th Anniversary Melon Soda Float – ¥800

Topped with a dollop of ice cream and a cherry, the melon soda comes with a special 30th anniversary straw tag.

Chibi Maruko-chan Lattes – ¥700

The character lattes will have different character designs for each period as pictured above with the top row being the first collaboration and the bottom the second.

For every menu item ordered, customers will receive a random postcard. The postcards above feature the designs from the first collaboration period.

And the ones above here are those in the second.

And if you order a set of three items (food, drink and dessert), you'll receive an exclusive lunch mat. All of these items are first-come, first-served so you'll want to get to the cafe ASAP when it opens.

The exclusive merchandise takes on a music theme with original designs, from a towel to a tote bag and more.

Three t-shirts and a hoodie will also be sold exclusively at Tower Records Shibuya, Tower Records Shinjuku, Tower Records Cafe Omotesando, and the Tower Records online store.

Full information can be found on the official website below.

*All prices are tax-inclusive. Photos are for illustrative purposes only.

*Please enquire with shop staff about any food allergies.

ⒸSakura Production/Nippon Animation

Information

Chibi Maruko-chan x TOWER RECORDS CAFE

Running: September 5, 2019 – September 29, 2019

Period ①: September 5, 2019 – September 17, 201

Period ②: September 18, 2019 – September 29, 2019

*The menu line-up and free gifts will be different for each period

TOWER RECORDS CAFE Omotesando
Address: Imon Harajuku Bldg. 2F, 6-3-9  Jingumae, Shibuya, Tokyo

Opening Hours: 11:00-21:30 (Last Orders 20:30)
Official Website: http://tower.jp/restaurants/cafe/omotesando

*No reservations, however during busy times numbered tickets will be handed out. Details on numbered tickets will be announced on the cafe's official Twitter page: @TRC_Omotesando

Chibi Maruko-chan x TOWER RECORDS Collaboration Merchandise
Release Date: September 5, 2019 (*Pre-orders now open)
Available: At 22 Tower Records branches and the online store
Tower Records Online: https://tower.jp
Collaboration Page: https://tower.jp/chibimaru

Kyoto's Kurodani Temple Autumntime Illuminations Begin on November 4

Konkaikōmyō-ji, also known as Kurodani Temple, is set to open its doors to the public from November 4 for its autumn illuminations.

Kurodani Temple has a long history, best known as serving as the Kyoto Shugoshoku―the office of the Tokugawa shogunate―during the Bakumatsu period. It has relations to the Shinseigumi, a military force which was active during this time which was dedicated to suppressing anti-shogunate activities. It is also the first place that Hōnen, the founder of Japanese Pure Land Buddhism, spread his teachings.

For the special opening, you will be able to see the famous chicken painting Tori-zu Oshiebari Byobu by Itō Jakuchū as well as treasures associated with Hōnen and more.

The number of tigers on the famous tiger doors of the temple changes as you slide them.

From the temple grounds you can enjoy a breathtaking scene of the gardens where the autumnal colours of the trees reflect from the surface of the pond.

Kurodani Temple is also home to the Gokōshiyui Amidabutu Statue, which became the talk of the town in the media when it was dubbed the "Afro Buddha," and looks deep in contemplation.

There will also be performances three times a day in the evening using traditional Japanese instruments like the koto and shinobue.

If you pay for the premium entry plan you can enter 30 minutes earlier and will be guided by one of the official gardeners or expert of the gardens.

Information

Autumnal Light-Up

Running: November 4, 2019 – December 8, 2019

Time: 17:30-21:00 (Last Entries 20:30)

Price: Adults ¥800 / Children ¥400 / Infants – Free

*Groups of over 20 people – ¥700

Music Performances: Everyday at 18:00/18:45/19:30

Premium Plan

Running: Fridays & Weekends

Time: From 17:00

Price: Adults ¥1,200 / Children ¥600

Kurodani Temple

Address: 121 Kurodanicho, Sakyo Ward, Kyoto, Kyoto Prefecture

Event Page: https://www.kurodani.jp/lightup_aut/