KAWAII MONSTER CAFE HARAJUKU Announces Dessert-Packed 'MONSTER EASTER PARTY'
KAWAII MONSTER CAFE HARAJUKU is gearing up for Easter with the announcement of their "MONSTER EASTER PARTY" set to run from March 9 to April 21.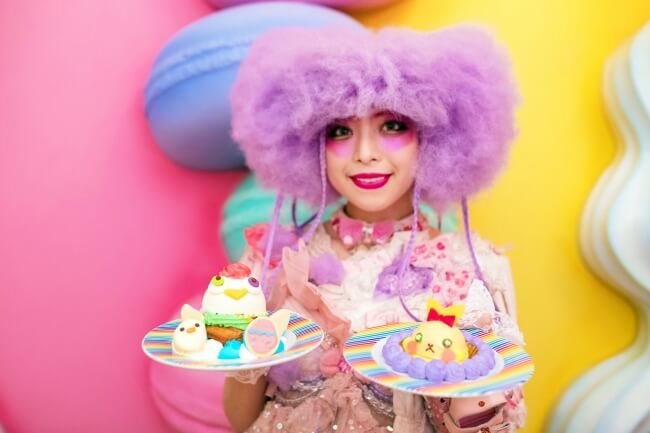 Like in the West, Easter is celebrated in full excitement in Japan too. At the KAWAII MONSTER CAFE, you can look forward to a very exciting time with a line-up of cute monster desserts inspired by eggs, rabbits and other Easter motifs.
Little Chick Cake: ¥1,500 (Tax Included)
This white chocolate mousse cake takes the form of an adorable little yellow chick and its colourful chicken mother.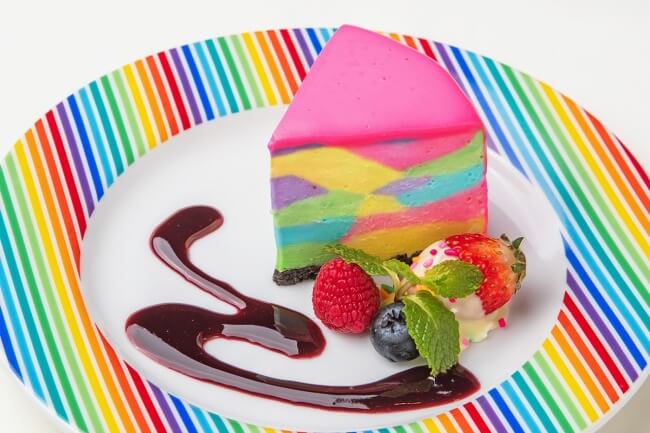 Colourful Pastel Cheese Cake: ¥1,300 (Tax Included)
Served with a thick drizzle of berry sauce and a side of fruits, this cute cheese cake takes on multiple pastel colours.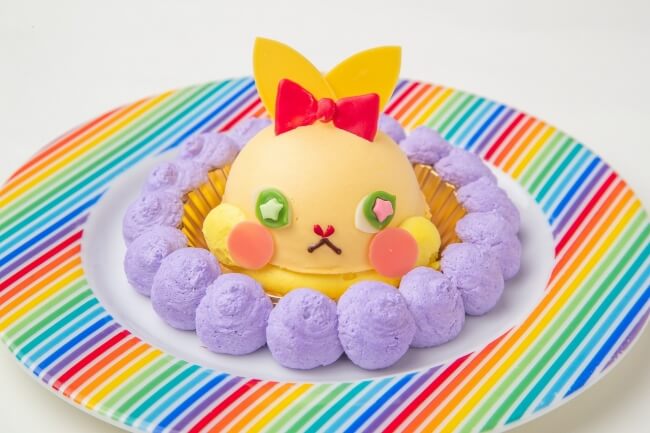 Baby Rabbit Easter: ¥1,400 (Tax Included)
Don't stare at this baby bunny too long, she's looking pretty angry! She's made from a mango mousse which contains pieces of mango and lime mousse.
Each of these desserts comes with a drink too.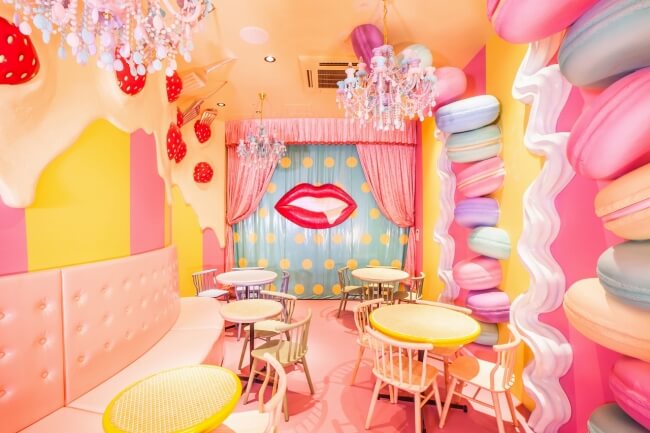 Mel-Tea ROOM – A cute & dreamy photo spot
Follow the sugar-coated path in the cafe to reach the tea party room decorated with melting ice cream, chocolate and macarons. This pastel coloured heaven is the ultimate dream fantasy and can be rented for parties. It costs around ¥4,000 per person and is for 20+ year olds only. A further ¥500 will be charged per person who wishes to order à la carte.
Where better to spend your Easter than at Harajuku's KAWAII MONSTER CAFE?
Information
KAWAII MONSTER CAFE Harajuku
Address: YM Square Bldg. 4F, 4-31-10 Jingumae, Shibuya, Tokyo
Access: 5-minutes on foot Harajuku Station via JR / 1-minutes on foot from Meiji-Jigumae Station via Chiyoda Line and Fukutoshin Line
TEL/FAX: 03-5413-6142/03-5413-6143
Opening Hours
Weekdays & Saturday:
[Lunch] 11:30-16:30 (last entry 15:30 / last orders 16:00 – 90 min stay max)
[Dinner] 18:00-22:30 (last orders 22:00)
Sundays & Holidays:
11:00-20:00 (last orders 19:30)
*During busy times, a max stay time of 2 hours may be implemented.
KAWAII MONSTER CAFE: http://kawaiimonster.jp
RELATED ENTRIES
Tokyo DisneySea To Hatch 'Disney Easter' Foods, Events and More This Spring

DisneySea will hold its 78-day fun-filled Disney Easter event from March 27, to June 12, 2020.

Make sure to visit the Mediterranean Harbor for the Tip Top Easter performance where Mickey Mouse and friends will put on an exciting show to celebrate the coming of spring. Look out for the usapiyo – the half bunny half chicks that are born from Easter eggs. 

From March 27 to May 31, 2020, there will be a special programme called CookieAnn's Greeting Drive where Duffy's friend CookieAnn and Mickey Mouse will be seen driving around American Waterfront on the Big City Vehicle.

There will be lots of photo spots with interactive features around Mediterranean Harbor and American Waterfront where you can interact with the adorable uchipiyo – your Easter is bound to be filled with magic. 

There will be 80 new merchandise items featuring Disney friends and usapiyo designs.

Hand Puppet: ¥2,800

Toy Badge: ¥1,900 Each


Cream Sandwich Cake: ¥1,500/ Chocolate Crunch ¥1,700

From usapiyo puppets that cry like a real usapiyo and soft toy badges of hatched usapiyo chicks to a cream sandwich cake decorated with the face of an usapiyo, there are plenty of spring souvenirs that you won't be able to resist.

Tokyo DisneySea will also be celebrating the Easter tradition of Easter egg hunting with the Egg Hunt Tasting menu which includes 15 varieties of Easter-themed foods and drinks. 

Horizon Bay Restaurant Special Set: ¥1,980

Horizon Bay Restaurant will be serving up a special hamburger decorated with an usapiyo-themed cheese slice for mains. The set will include an usapiyo dessert made from colourful marshmallows and raspberry cream that is arranged to look like a bird's nest. 

Horizon Bay Restaurant Special Drink (Orange and Cream): ¥450

Enjoy the gradation of colours in this refreshing orange soft drink. It is topped with chocolate usapiyo ears to add that special spring feeling.

New York Deli Special Set: ¥1,260

At New York Deli, enjoy a fried chicken sandwich drizzled with teriyaki sauce and topped with egg salad. The fried chicken is hugged between two pink buns to represent spring. This special set will provide you with enough energy to carry on your DisneySea adventure. 

Enjoy the vibrant spring scene at Tokyo DisneySea this year.

*All images are representations
©Disney

Harajuku's Korilakkuma Cafe: another me in the mirror | Food Review

"Korilakkuma Cafe: another me in the mirror" is set to open in Japan's hub of kawaii culture Harajuku on December 21 where it will run until March 22 next year.

MOSHI MOSHI NIPPON received early access to the cafe, so we went together with Ruki from Spain.

The cafe incorporates "interactive tabletop projection mapping" technology developed by Sony, which allows customers to enjoy their meals while playing together with the characters as they walk around their plates and tables.

So what exactly does this look like…?

Korilakkuma Cafe: another me in the mirror is located along Takeshita Street in Harajuku. Enter Takeshita Street and walk just a little bit to find HARAJUKU AR BOX. The entrance is pictured above.

The cafe operates on a "pair seating" system, making it the perfect spot to go with your best friend or special someone♡

The theme of the cafe is "another me in the mirror," which sees Korilakkuma meeting another Korilakkuma inside of a mirror. When seated at your pair table, you'll notice all of the Korilakkuma artwork adorning the cafe.

When we sat down, the staff came and gave us a dolomite coasterーa gift for all customers who visit the cafe.

When you place the coasters down on the table, that's when the fun begins. Trace your finger around the table to play with Korilakkuma and company.

Here is Ruki having Korilakkuma move around.

When we had finished playing, the appetisers from our course menu arrived. It costs ¥2,500 per person, and you both have to order when ordering this course menu. You can pick from clam chowder or minestrone.

If you thought that was it for the projection mapping, think again! The fun was only just beginning, as a new display came on the table when the plates went down.

Ruki was completely enchanted by the sparkling food. It makes you feel like you're inside of a picture book♡

The salad was Caesar, and the minestrone was packed full of veg and ingredients, making it nice and filling.

The next dish that was brought was the main. You pick one each of a main dish and dessert and share between two people.

We ordered the "Omurice – Let's Draw Together" (in Japanese: 一緒におえかきオムライス). Korilakkuma was wrapped up completely in an omelette blanket. The projection mapping comes on when you set this plate down too.

Korilakkuma draws around the plate, and we got to join in too by decorating Korilakkuma's blanket with drawings of Rilakkuma and Kiiroitori in ketchup.

The mapping helps you with drawing by projecting an outline you can trace. Ruki did hers really well!

As we forked into the omurice we found a cheeseburger underneath! The combination of the juicy cheese hamburger with the soft egg was to die for, and it becomes even more delicious and smooth when you pour over the cream sauce.

Last up was dessert. We got the "Spell-Cast Pancakes" (in Japanese: パンケーキに魔法をかけて). The projection mapping cast a mirror onto the pancakes. Even more animations happen when you wave the brush you're given on the table.

The fluffy pancakes are topped with a hearty serving of cream. You can enjoy them as they are, but they're delicious if you top them with the fruits, iced cream and nuts scattered around the plate too!

Twin Korilakkuma Strawberry Milk – ¥990

Korilakkuma Cafe au Lait – ¥890 (Served Hot Only)

As well as the course menu, there are also special drinks you can order separately which come with another free and exclusive coaster.

Sliding Mirror (Pink or Purple) – ¥1,200 Each

Acrylic Key Ring (4 Designs/Chosen Randomly) – ¥500 Each

Korilakkuma fans can expect to sift through a whole range of cafe-exclusive merchandise too, so be sure to check out what they've got in stock when you visit.

Korilakkuma Cafe: another me in the mirror is Harajuku's hottest new spot where you can enter the kawaii world of Korilakkuma. Pull up a seat and enjoy and interactive meal experience.

©2019 San-X Co., Ltd. All Rights Reserved.

Information

Korilakkuma Cafe: another me in the mirror

Running: December 21, 2019 – March 22, 2020 (Not running December 30, 2019 to January 3, 2020)

Location: HARAJUKU AR BOX -table projection mapping cafe- (4-28-28 Jingumae, Shibuya, Tokyo)

Grand Opening: December 9, 2019 at 16:00

Reservations: Now Open

*This cafe serves course menus for two people to share only

*Drinks ordered separately

Table Projection Mapping Seats: ¥2,500 per person (Before Tax)

*Reservations for two people only
*Course menu charged separately

Official Website: https://korilakkumacafe.jp/

Laforet Harajuku's 2020 Fukubukuro Lucky Bags Are Not to be Missed

Laforet Harajuku has finally dropped details on its 2020 fukubukuro. Fukubukuro is a New Year custom in Japan where stores make up grab bags full of random items for people to purchase at a discounted price. Around 50 stores in Laforet are set to participate, with pre-orders now running until December 31, 2019.

As always, the line-up this year is diverse, from the unique fukubukuro you can actually look inside to see what they have—which is a popular one every year—to the Laforet Gentei Fukubukuro which contains items exclusive to Laforet Harajuku, and more.

Those who pre-order a lucky bag will receive one of two things: either a coupon to get a random free item at one of the eateries at the GOOD MEAL MARKET on the second floor, or a ¥200 discount voucher to spend at Laforet Harajuku.

On New Year's Day and January 2, a taiko performance by Yushima Tenjin Shiraume Taiko will take place at the first floor entrance to drum in the New Year.

Around 70 stores in the shopping complex will also sell items at a special price between January 1 and 7 to celebrate 2020. Select stores will be handing out bag hooks in collaboration with the popular South Korean boy band SEVENTEEN.

The "Look and Choose" Fukubukuro

OLIVE des OLIVE (Floor 5F) – Set of up to 6 items priced at ¥7,700 (Tax Included) (Original Price: ¥25,000)

Cosme Kitchen (Floor 1.5F) – Set of 7 items priced at ¥5,500 (Tax Included) (Original Price: ¥14,000)

Laforet Harajuku Exclusives-Filled Fukubukuro

POU DOU DOU (Floor 4F) – Set of 7 items priced at ¥13,200 (Tax Included) (Original Price: ¥56,000)

la belle Etude (Floor B0.5F) – Set of 6 items priced at ¥11,000 (Tax Included) (Original Price: ¥70,000~¥80,000)

Other Fukubukuro

Ank Rouge (Floor 4F) – Set of 6 items priced at ¥16,500 (Tax Included) (Original Price: ¥50,000)

jouetie (Floor 4F) – Set of 5 items priced at ¥11,000 (Tax Included) (Original Price: ¥39,600)

This is just a small look at just some of the fukubukuro set to be sold, there are so many more to get your hands on. Start your 2020 year with some delicious discounts from Laforet Harajuku.

*Contents subject to change without notice

*Listed photos are select look only – more fukubukuro to be sold

A.T.A.D: Harajuku's New adidas Store to Open in Collaboration With atmos

adidas Japan is collaborating with atmos—Tokyo's streetwear and sneaker focused boutique—to open a new shop called A.T.A.D in Harajuku on December 20, 2019.

adidas Japan has collaborated with countless artists to date, and this will be its first with atmos, together with whom it will showcase streetwear sneakers the likes of which people have never seen.

A carefully selected line-up of adidas' newest shoes will be displayed at the counter where customers order their shoes like they would a drink at a bar. They can pick the model, colour, and size, and can try them on before making a purchase. The current designs, logos and other items in the store were created by YAR, a creative studio spearheaded by Japanese graphic artist YOSHIROTTEN.

The store also plans to sell items exclusive to A.T.A.D in collaboration with Japanese artists. More information will be posted on the store's official Instagram page.

Information

A.T.A.D

Grand Opening: December 20, 2019

Address: Majima Bldg. 1F, 4-29-1 Jingumae, Shibuya, Tokyo
Opening Hours: 11:00-20:00

Official Instagram: @a.t.a.d_tokyo

PLAYFUL KIRBY: Laforet Harajuku's Newest Pop-Up Shop Offers Exclusives For Fans of Nintendo's Popular Character

Fans of Kirby who are in Japan for the holiday season will be delighted to hear that the Kirby-themed pop-up shop "PLAYFUL KIRBY" finally opened at Laforet Harajuku today and will run until Boxing Day.

When playing Super Smash Bros. there's no other character I'll pick but Kirby. If you love Kirby as much as I do, then you'll be waiting no time at all to head to PLAYFUL KIRBY like I did after hearing that they're selling a whole range of original and exclusive merchandise the likes of which Nintendo players have never seen before.

The store itself is located on the second floor of Laforet Harajuku in Harajuku, Tokyo. You'll spot it instantly with the Kirby-pink text wrapped around the walls of the entrance.

Kirby's pink colour fills the entire shop floor. Upon entering you'll spot all the different items on offer, including fashion items, as well as various photo spots featuring Kirby's cute face.

There's even a tiny Kirby door so that he can get into the shop! Be sure to find it if you visit.

The original version of this pop-up shop first appeared two years ago, and enjoyed visits not only from game fans, both kids and adults who had never heard of Kirby before, or who had heard of him but never played the games. The fashion line-up was a result of fan demand to enjoy Kirby in a variety of different ways. A visit to PLAYFUL KIRBY is like being inhaled into his Dream Land.

PLAYFUL KIRBY is centred on two collaborations. This includes a teaming-up with popular illustrator Shogo Sekine. When this pop-up shop was conceived, Shogo Sekine was at the top of the list for collaborations with the staff in charge. The staff agreed that mixing the worlds of Kirby and Sekine together would give rise to some seriously wonderful results. After much internal discussion and talks with Sekine, a whole line of merchandise was created.

The items feature Sekine's stylised typography, symbols, shapes and so on. Their subtle design means they can be used as both everyday items and nerdy fan items. They're stylish while retaining the cute aspects of Kirby.

The following items are the number one most recommended pieces of merchandise to pick up as chosen by the PLAYFUL KIRBY staff.

Tote Bags Ver. 2 PINK STRIPE – ¥2,800

These tote bags feature gradations of Kirby pinks. This design is also featured on a t-shirt you can pick up too. They're both made with high quality fabrics.

Sacoche Pouches (2 Designs) – ¥2,300 Each

The "Copy" written on the sacoche pouches refers to Kirby's ability to copy his opponents' abilities and appearance. This design is also included on a variety of other merchandise pieces like a smartphone case and more.

Blanket – ¥3,800

At first glance, this blanket just looks like a stylish blanket with a floral print, but if you look closely you'll spot Kirby blended in with the design. A perfect choice for the coming winter season.

Plush Toy – ¥2,300

Kirby had intended to put on his stylish t-shirt ready to go out, but he ended up looking just adorable.

The store's second collaboration is with Converse Stars, also showcasing an assortment of cute and fun items.

Cap – ¥5,800 / Long T-Shirt (Medium/Large) – ¥7,800 Each

Show off your love of Kirby with some simple but stylish unisex Kirby attire.

Hand Towel – ¥1,200

Another must-get item is this hand towel which keeps the roundness of Kirby's head. Use at home or take it out with you!

Stickers (3 Designs) – ¥500 Each

Get your hands on these Laforet Harajuku-exclusive stickers with designs so cute you'll want to collect them all!

I spoke with the person in charge of the pop-up shop about the future of Kirby outside of the video game, and they told me that they plan to have more pop-up shops like this and open the opportunity for people to enjoy Kirby in a range of different ways while playing his games. For someone like me, who likes Kirby more than anything, I can't wait to enjoy even more Kirby in the future.

PLAYFUL KIRBY is open until December 26, 2019, so if you're in Tokyo until then, make sure to pop on over to Laforet Harajuku.

▶︎Win Limited Edition Stickers

MOSHI MOSHI NIPPON is holding a competition on our official Instagram, Twitter and Weibo pages for a chance to win limited edition stickers from PLAYFUL KIRBY.

How to Apply: Follow us on social media and share/retweet our post about the competition for a chance to win 1 special sticker from PLAYFUL KIRBY. (Designs are chosen randomly.)

These are limited edition stickers exclusive to PLAYFUL KIRBY, so don't miss your chance to get one!

© Nintendo / HAL Laboratory, Inc.

Information

PLAYFUL KIRBY

Running: December 16, 2019 – December 26, 2019

Location: Laforet Harajuku's 2nd Floor CONTAINER (1-11-6 Jingumae, Shibuya, Tokyo)

Opening Hours: 11:00-21:00 (Until 19:00 on December 26, 2019)

PLAYFUL KIRBY Official Website: http://playfulkirby.jp

Laforet Harajuku Official Website: https://www.laforet.ne.jp/

Kimono IN LAFORET 2020: Kimono Brands Galore to Gather at Event in Harajuku

Laforet Harajuku has announced that its next "Kimono IN LAFORET" kimono and furisode pop-up shop will run from January 4 to 22 next year.

Iroca Kimono "Leopard Gecko" – ¥63,800 (Tax Included) / Half-Width Obi – ¥26,400 (Tax Included)

Pure Silk Butterfly Black Cloth Furisode – ¥132,000 (Tax Included)

Light Blue Dove Print Polyester Furisode – ¥128,150 (Tax Included)

Eight brands will line the shelves of the annual pop-up shop, with kimono, furisode, accessories and more available for purchase, including new items.

Model and actress Shen Tanaka features as the star of the main visual for Kimono IN LAFORET 2020, mixing colourful kimono with western clothing to create a unique look. Marie Higuchi, who was the stylist for the visual, has also released some dress advice for those who love kimono or those who are beginners and newcomers to the scene.

Mixing kimono with the kind of regular clothing that screams you

Marie Higuchi is a stylist who also writes columns in Nylon Japan and Sozen. Her advice can be used by both beginners and experts alike: by mixing kimono with some of your own clothing, you can simply and easily create a stylish look that's you. This makes for a perfect outfit for a special occasion.

Styling Point

This outfit combines fishnet tights with sandals that have thick metallic soles to create an edgy kimono style. Using thick sandals makes them really stand out when wearing kimono, so you can easily incorporate them with any kimono you wear.

Items Used

Kimono/Obi/Other: iroca

Haneri: C.H.O.K.O

Obi Clip: conoco

Styling Point

The gorgeous flower head dress brings a strikingly elegant touch to the overall look of this outfit. Whether used with kimono or in your regular day-to-day outfits, it's sure to bloom beauty with whatever style you go with.

Items Used

Kimono: MIKI SAKURA

Head Dress: Atelier Senka

One Piece Shirt: Ank Rouge (Laforet Harajuku Floor 4F)

Styling Point

Coloured turtlenecks are in right now for the current season in Japan, and this kimono look incorporates one underneath the kimono. The mix of loose socks and thick-sole sneakers really adds to the flavour of this style, even more so with the addition of personal items like the vinyl record headband and lip clutch bag which make it unique.

Items Used

Kimono/Obi: Tamao Shigemune

Headband/Clutch Bag: SINZ (Laforet Harajuku Floor B0.5F)

Other: Personal items

If you're looking for kimono and furisode when visiting Japan in January, be sure to hit up Kimono IN LAFORET at Laforet Harajuku, located in Tokyo's fashion central: Harajuku.

WITH HARAJUKU: Shiseido to Open Beauty Parlour, Hair & Makeup Academy and More in Harajuku's New Shopping Complex

Shiseido has announced that it will open three new facilities in WITH HARAJUKU—a shopping complex currently in development by NTT URBAN DEVELOPMENT CORPORATION in front of Harajuku Stationーin April 2020. This includes the new beauty parlour Beauty Square, the hair & makeup academy and studio SABFA*, and the restaurant and lounge SHISEIDO PARLOUR THE HARAJUKU managed by Shiseido Parlour.

*SABFA is a school managed by Shiseido for training professional hair and makeup artists

Beauty Square will be located in the first floor as a place to discover beauty, have fun, and share experiences. As well as selling cosmetics, the facility will offer various beauty experiences using digital technology, and there will be a hair and makeup salon where customers can receive high quality service for a short period of time. By combining real experience with digital tech, Beauty Square hopes to bring in people of all ages and backgrounds from inside and outside Japan so that they can discover the fun of beauty and unlock their inner charm.

SABFA on the second floor will be home to an all-new lecture and training facility as well as a photo studio. It will train educate and support the next generation of hair and makeup artists who will challenge the ideas of beauty and revolutionise the industry.

SHISEIDO PARLOUR THE HARAJUKU is on the eighth floor where customers will be able to dine on French cuisine and indulge in line-up of wines carefully chosen by sommeliers. The restaurant overlooks Meiji Jingu, and its interior was designed by Kazuya Ura who designed the Twilight Express Mizukaze, a multiple unit sleeping-car excursion train operated by West Japan Railway Company.

Be sure to visit WITH HARAJUKU when it opens in April next year.

Information

WITH HARAJUKU

Grand Opening: April 2020

Address: 1-14-30 Jingumae, Shibuya, Tokyo

Korilakkuma Cafe Opens in Harajuku With Projection Mapping Incorporated Dishes

The all-new "HARAJUKU AR BOX -table projection mapping cafe-" will open in Harajuku, Tokyo on December 21, 2019. This permanent cafe incorporates "interactive tabletop projection mapping" technology developed by Sony. The cafe runs in a "pair seating" system and so tables must be occupied by two people. 

The first collaboration to hit the cafe for its grand opening is with Korilakkuma. The collaboration is titled "Korilakkuma Cafe: another me in the mirror." Customers will be able to enjoy their meals while playing together with the characters as they walk around their plates and tables through projection mapping technology.

The theme of the cafe is "Korilakkuma inside a mirror," which sees Korilakkuma meeting another Korilakkuma inside the mirror in a world of cats and cosmetics.

Customers will be able to get their hands on a range of exclusive merchandise with original art illustrated for the cafe, as well as enjoy themed meals which come in the form of courses made to share between two people. They are free to choose an appetizer, main dish and dessert. *Course menu only – items not available to order separately

Menu item names are translated from Japanese.

Appetizers: Soup and Salad

Welcome to the World Inside the Mirror! Soup & Salad

There are two soups to choose from: clam chowder and minestrone. As a pair you can also order one of each.

Main Dishes

Omurice – Let's Draw Together

Chicken and Mushroom Cream Pasta Made Delicious With Magic!

Friendly Twin Korilakkuma Burger (Available December 21 – January 19 only)

There are five main dishes in total to choose from including those above.

Desserts

Spell-Cast Pancakes

Crème Brûlée & Magic Mirror (Available December 21 – January 19 only)

Heart-Filled Fondant Chocolate (Available January 20 to February 16 only)

There are five desserts in total to choose from including those above.

Drinks

Korilakkuma Cafe au Lait – ¥890 (Served Hot Only)

Korilakkuma Cocoa – ¥890 (Served Hot Only)

Twin Korilakkuma Strawberry Milk – ¥990

When you order a drink, you'll get an original coaster too.

Merchandise

Pin Badge (6 Designs) – ¥400

Folder Set – ¥500

Sliding Mirror (Pink or Purple) – ¥1,200 Each

There are lots of other exclusive pieces of merchandise to get your hands on too. Every customer will also receive one of two dolomite crystals.

*All listed prices include tax. Photos are for illustrative purposes only.

©2019 San-X Co., Ltd. All Rights Reserved.

Information

Korilakkuma Cafe: another me in the mirror

Running: December 21, 2019 – March 22, 2020 (Not running December 30, 2019 to January 3, 2020)

Location: HARAJUKU AR BOX -table projection mapping cafe- (4-28-28 Jingumae, Shibuya, Tokyo)

Grand Opening: December 9, 2019 at 16:00

Reservations: Now Open

*This cafe serves course menus for two people to share only

*Drinks ordered separately

Table Projection Mapping Seats: ¥2,500 per person (Before Tax)

*Reservations for two people only
*Course menu charged separately

Official Website: https://korilakkumacafe.jp/ 

Kirby Pop-Up Shop 'PLAYFUL KIRBY' to Open in Laforet Harajuku in Tokyo

LEGS is opening a Kirby-themed pop-up shop named 'PLAYFUL KIRBY' for a limited time in Laforet Harajuku, a landmark of Tokyo's fashion hub Harajuku.

The shop has invited popular Japanese illustrator Shogo Sekine on board, who is known for its distinct typography work which mixes fashion with messages written in English, to create an original line of Kirby apparel and miscellaneous fashion items.

PLAYFUL KIRBY is also teaming up with Converse. Kirby has inhaled a few too many Converse Stars and has turned into a truly fashionable pink blob. The line-up is unisex so can be enjoyed by anyone and everyone. It will include items also available to purchase at Converse Stars branches as well as Laforet Harajuku exclusives.

Witness Nintendo's Dream Land hero in an all-new light as he becomes a fashion icon at Laforet Harajuku this month from December 16 to 26.

©Nintendo / HAL Laboratory, Inc.

*Photos are for illustrative purposes only

Information

PLAYFUL KIRBY

Running: December 16, 2019 – December 26, 2019

Location: Laforet Harajuku's 2nd Floor CONTAINER (1-11-6 Jingumae, Shibuya, Tokyo)

Opening Hours: 11:00-21:00 (Until 19:00 on December 26, 2019)

PLAYFUL KIRBY Official Website: http://playfulkirby.jp

Laforet Harajuku Official Website: https://www.laforet.ne.jp/

Pompompurin Cafe Reveals Christmas Menu For Harajuku, Yokohama & Umeda Branches

The Harajuku, Yokohama and Umeda branches of the Pompompurin Cafeーthe cafe chain centred on Sanrio's popular character Pompompurinーis serving up two cute Christmas menu items this year from December 1 to 25.

*Food names below are translated from Japanese

Hurry Up Santa – Pompompurin Cheese Keema Curry – ¥1,290 (Before Tax)

This rich and spicy keema curry is made with Parmesan cheese, cheddar cheese, and natural cheese. The colourful stars are made from carrot and paprika, while the spiralled Christmas cheese is a combination of spinach and mashed potato. Purin is made of rice and is waiting in anticipation for Santa to deliver his present. You'll see he's holding a stocking which is a made from bread and walleye pollack mayo. A hearty dish that is both delicious and adorable

Snowman Pompompurin – Snow Covered Chocolate Tart ¥1,190 (Before Tax)

Pompompurin has turned into a vanilla ice cream snowman and is standing next to a pistachio cream Christmas tree. They are both atop a rich chocolate tart. This cute dessert is like a Christmas garden straight out of a children's picture book.

If you decide you want to spend your Christmas with Pompompurin this year, then you'll receive a free lunch mat when you order food and a free coaster when you get a drink. These are both limited in quantity, so don't miss out!

©1996, 2019 SANRIO CO., LTD. APPROVAL NO.S603310

Information

■Pompompurin Cafe Harajuku

Address: CUTE CUBE HARAJUKU 3F, 1-7-1 Jingumae, Shibuya, Tokyo

Opening Hours: 11:00-21:00 (Food Last Orders 20:00 / Drinks Last Orders 20:30)

Access: 3-minutes on foot from the Takeshita Exit at Harajuku Station

TEL: 03-5786-0770

■Pompompurin Cafe Yokohama

Address: Yokohama Sotetsu Square, 2-1-5 Minamisaiwai, Nishi-ku, Yokohama-shi

Opening Hours: 10:00-21:00 (Last Orders 20:30)

Access: 5-minutes on foot from West Exit at Yokohama Station via JR

TEL: 045-311-6750

■Pompompurin Cafe Umeda
Address: Hankyu Sanbangai South Wing B2F, 1-1-3 Shibata, Kita-ku, Osaka-shi
Opening Hours: Weekdays 11:00-22:00 (Last Orders 21:30) / Weekends & Holidays 10:00-22:00 (Last Orders 21:30)
Access: 3-minutes from Osaka Station via JR
TEL: 06-6292-7140

Pompompurin Cafe

Official Website: http://pompom.createrestaurants.com

10 Things You Can Do at the MOSHI MOSHI ROOMS Hotel in Harajuku | Foodie Edition

MOSHI MOSHI ROOMS is a hotel accommodation service run by MOSHI MOSHI NIPPON located in Harajuku and bookable via Airbnb. Our hotel isn't just popular for sleep, however: it has become a hot spot with stylish girls who get together and use it as a party space. 

Today we'll be looking at the different ways you can have fun when staying at our pink paradise room SAKURA. 

 

Girls' Night In Edition: https://www.moshimoshi-nippon.jp/262308

Birthday Party Edition: https://www.moshimoshi-nippon.jp/264752

【8】Extend your adventures to the rooftop 

The rooftop of MOSHI MOSHI ROOMS can be used freely by our guests. There are tables and chairs and even a hammock so make yourself comfortable. We particularly recommend spending a morning here. Enjoy bathing in the morning light on our spacious rooftop right below the clouds and make some good memories eating breakfast with your friends. 

*Please note that the rooftop is not accessible when booked.


MOSHI MOSHI ROOMS is located near a number of breakfast foodie favorites including Bread, Espresso & and whyte which have made their fame on Instagram. How about a baked good and a drink to enjoy on the rooftop with your friends?

【9】Barbeque it up on the rooftop with zero preparation


There is still more to your rooftop adventures. There is a barbeque course which you can enjoy without having to prepare anything at all. The barbeque course includes meat, fish, vegetables, dessert and even more luxurious dishes. The course even comes with a selection of drinks so you can spend less time preparing and more time enjoying.

This course is available to book for groups of six people or more. You can even invite your friends who are not staying at MOSHI MOSHI ROOMS so feel free to invite many people. Find out more about what's on the menu here. 

【10】Feast out with your foodie friends near MOSHI MOSHI ROOMS: Recommendations from locals

Where do the locals and people working in Harajuku choose to eat out? As our office is located in Harajuku, we have plenty of knowledge to share with you:

Just a five-minute walk from MOSHI MOSHI ROOMS lies the Okonomiyaki restaurant Sakura Tei. From the beautiful interior decoration and wonderful atmosphere to the delicious food, this restaurant should be on your food adventure list. As many foreigners eat here, the staff can even speak in multiple foreign languages. Make use of Sakura Tei's simple guide on how to make okonomiyaki and put your skills to the test. 

KAWAII MONSTER CAFE TOKYO is one of the landmarks of Harajuku. Welcome to the vivid world of bright pop colours where you will be staring in awe at everything from the decorations to the food and drinks. Some of the crazy meals to satisfy your kawaii cravings include rainbow pastas and cakes. Don't leave without getting your hands on some KAWAII MONSTER CAFE-limited merchandise! Your meal will also be interrupted by the Monster Girls who will put on an incredibly fun performance for you. 

Seaweed from the well-established shop Maruyama Nori and only the freshest and luxurious fish is used to make these temaki sushi. The seafood used in these temaki sushi rolls is of a quality that you won't find at a conveyor belt sushi restaurant so if you are looking for a new experience of sushi, make sure to stop by.

If your burger cravings get to you then cafe Hohokam is for you. The interior is spacious and there is even terrace seating, creating a refreshing atmosphere. From mozzarella to barbeque to cheese, the menu is full of different flavours and is filling enough to leave any foodie fully satisfied.

Harajuku is a kawaii ice cream shop hot spot. The shops serve up a range of toppings and will fill your cone with heaps of colours and fun flavours. A trip to an ice cream shop in Harajuku is an adventure in itself. When you're done with dinner and the sweet cravings kick in, let the kawaii ice cream shops of Harajuku be your saviour. 

MOSHI MOSHI ROOMS is located at the heart of Harajuku and is surrounded by great places to shop, eat, sightsee and much more. Enjoy a stay at MOSHI MOSHI ROOMS and embark on a wild Harajuku adventure.

Information

MOSHI MOSHI ROOMS

Address: 2-18-7 Jingumae, Shibuya Ward, Tokyo  

Access: 8-minute walk from Meiji-jingumae Station (Harajuku), Tokyo Metro
Website: https://rooms.moshimoshi-nippon.jp/

BABYMETAL Collaborates On Fashion Designer Yohji Yamamoto's Ground Y Collection

2019 is the year of BABYMETAL, with their latest album METAL GALAXY having dropped in October and making them the highest Japanese group/artist to place on the Billboard Top 200 in the US in 56 years. As they continue knee-deep in their ongoing world tour, you might be wondering what else they have in the pipeline.

Well, we can confirm that for you right here and now: they have teamed up with internationally-lauded Japanese fashion designer Yohji Yamamoto on his revolutionary Ground Y collection which boasts a genderless and ageless style.

Pre-sales of the collection will take place at the new Shibuya PARCO which is set to open on November 22. This will be followed by sales at GINZA SIX, Laforet Harajuku, and the online store THE SHOP YOHJI YAMAMOTO.

The collection will bring together the unique world of BABYMETALーa band which has won love the world over and has featured as guest acts on many tours of international artistsーand Yohji Yamamoto, a rebel and innovator in the fashion industry whose DNA is woven into the Ground Y line. The inspiration for this jet black collaborative collection is "galaxy," an homage to BABYMETAL's latest record METAL GALAXY.

There are numerous items in the collection, including a jumbo cut and sewn embroidered with both the BMD FOX APPAREL logoーBABYMETAL's official apparel brandーand the Ground Y logo. There's also a big hoodie featuring a 360° print and BABYMETAL's logo, a draped silk satin long shirt, and more.

MASATOSHI YAMASHIRO snapped the photos in this photoshoot, a Tokyo-based photographer who started his career in LA and New York and works with fashion magazines, advertisements, and more.

Information

Ground Y feat.BABYMETAL "GALAXY" Collection

Items: Long Shirt / Shirt Dress / Jumbo Cut & Sewn / Big Cut & Sewn / Big Hoodie / Big Sweater

Prices: Cut & Sewn ¥25,000-¥28,000 / Hoodie ¥35,000 / Sweater ¥38,000 / Shirt Dress ¥110,000-¥120,000 (All prices tax-excluded)

Release Date: November 28, 2019 (Pre-sales bein at Ground T Shibuya PARCO on November 22, 2019)

▼SHOP INFO:

Ground Y GINZA SIX (Floor 4F, 6-10-1 Ginza, Chuo Ward, Tokyo)
Ground Y LAFORET HARAJUKU (Floor 1F, 1-11-6 Jingumae, Shibuya, Tokyo
Ground Y FaSoLa STARS (Narita International Airport 1, Passenger Terminal Central Building Floor 3F, Narita, Chiba)
Ground Y SHIBUYA PARCO (Floor 2F, 15-1 Udagawacho, Tokyo) *Opens November 22, 2019
THE SHOP YOHJI YAMAMOTO: http://theshopyohjiyamamoto.jp/JP/shop/c/c20