Adorable Easter Sweets Hatching at Hilton Tokyo
Hilton Tokyo is releasing an assortment of Easter inspired takeout sweets at its first floor Chocolate Boutique. They will be sold from March 8 to April 30.
Easter Chick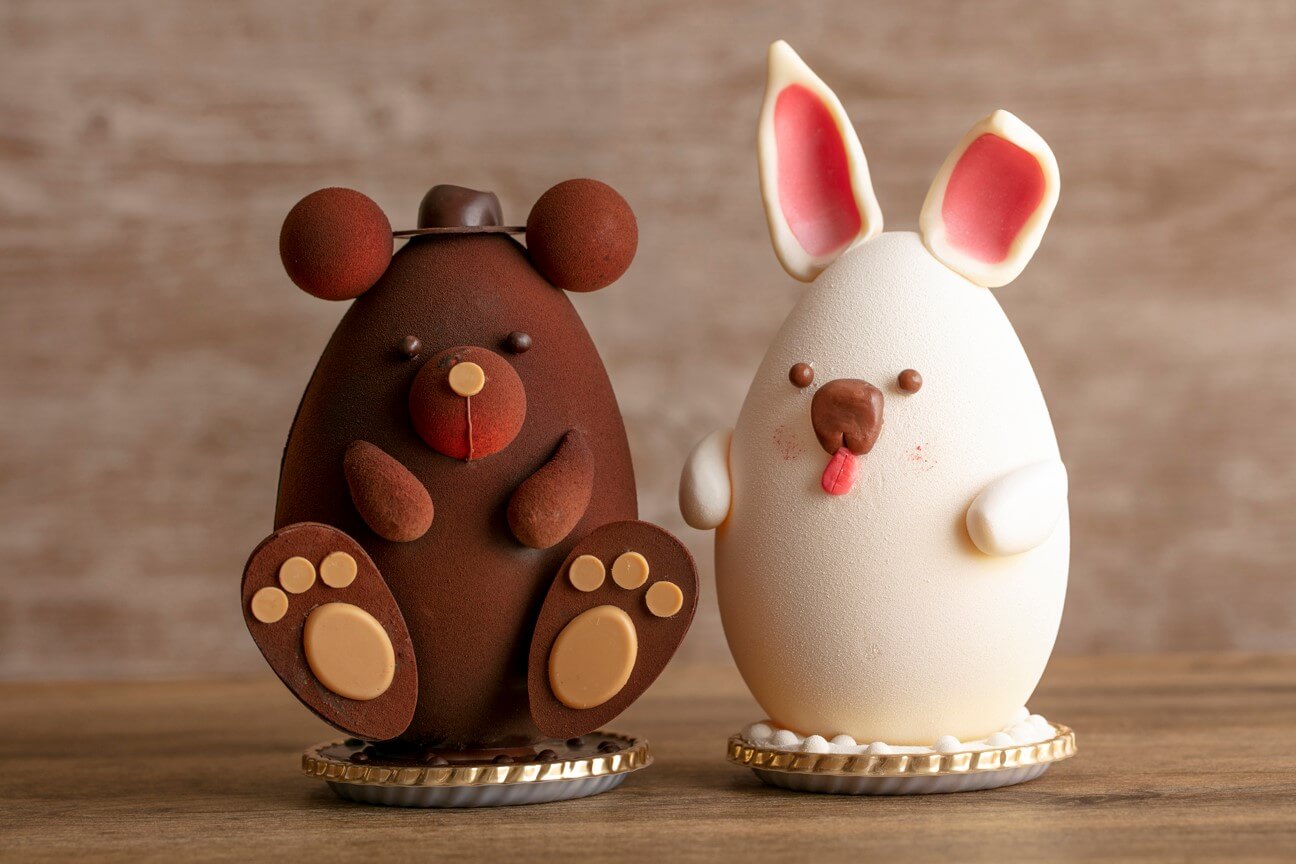 Easter Bear & Rabbit
All of the sweets were created by executive pastry chef Harita including the cute Easter Chick made to look like a newborn peeping from its egg, the Easter Chicken, the Easter Pig―made in line with the Year of the Pig―and more.
Easter Takeout Sweets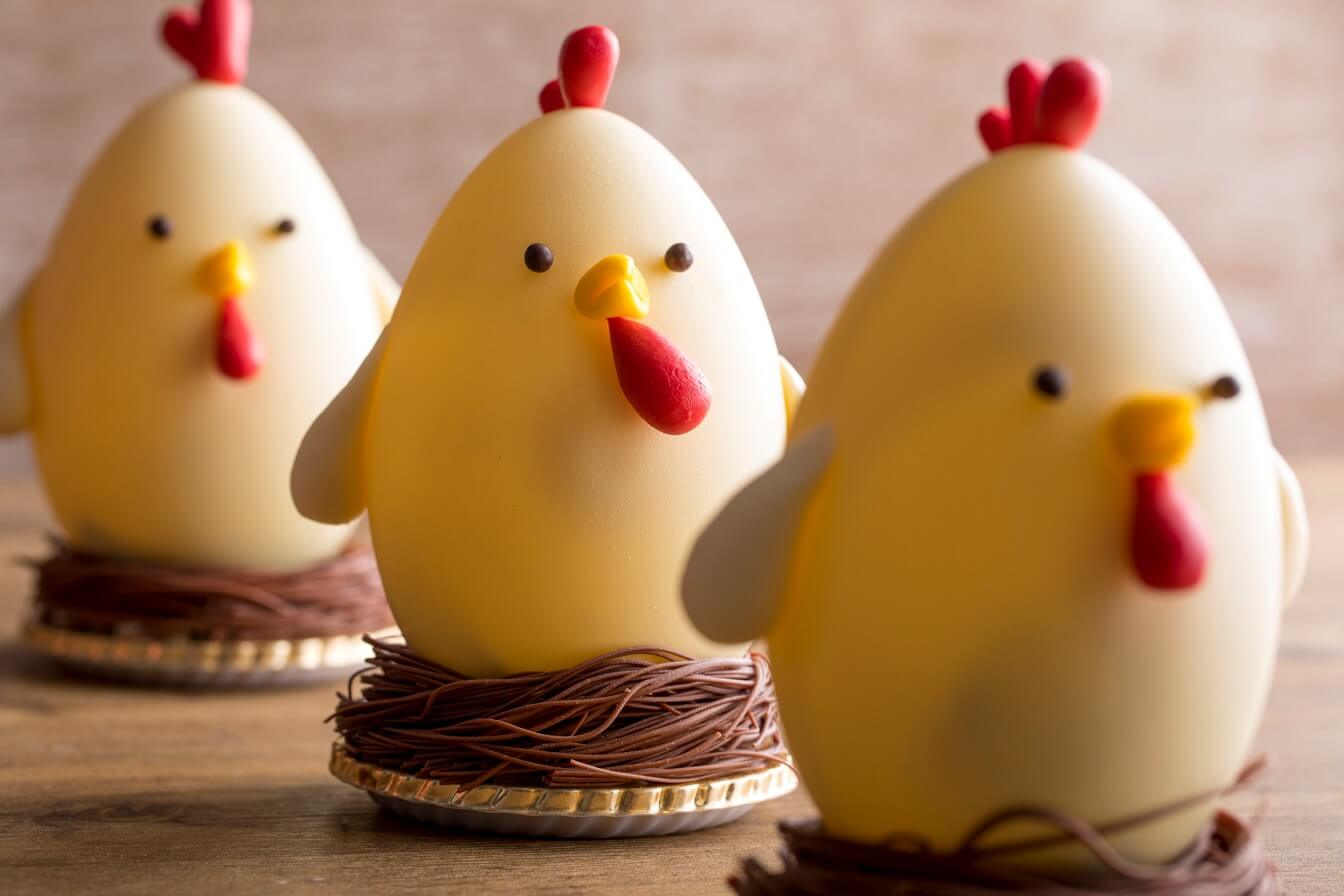 Easter Chickens
The chocolates contain a variety of nuts, fruits and more. They make for the perfect springtime souvenir, so don't miss out♡
Information
Easter Chocolate
Location: Chocolate Boutique (Hilton Tokyo Floor 1F, 6-6-2 Nishi-Shinjuku, Shinjuku Ward, Tokyo)
Running: March 8, 2019 – April 30, 2019
Opening Hours: Chocolate Boutique – 9:00-20:30
Prices: Easter Chicken ¥3,500 / Easter Rabbit ¥3,500 / Easter Pig ¥3,500 / Easter Pair ¥4,000 / Easter Chick ¥4,500
Official Website: https://www.hiltontokyo.jp/
RELATED ENTRIES
Japanese Desserts Shop Mme KIKI Sells Doraemon Dorayaki and Unmissable Delicacies in Italy

Japanese chocolatier Mme KIKI opened up their first ever Dorayaki shop in Rome, Italy called DORAYAKI- DOLCEZZE GIAPPONESI on 11th May. The shop is located at Via Del Porto Fluviale 3E, Rome.

As the anime Doraemon is also popular in Europe, Doraemon's face decorates the dorayaki pancakes of this shop. Besides the standard sweet Red Bean Paste filling, there is also Yuzu Orange Mascarpone, or Tiramisu Cream, Matcha Ice Cream and many other delicious flavours. For the dorayaki pancake, you can either choose standard wheat flour-based pancakes or gluten free pancakes that are made from organic rice flour.In fact, this shop mostly caters for a gluten-free diet. They also sell savoury pancakes called Doyrayaki Sandwiches. Flavours include avocado miso, tuna mayo, and ethnic vegetables.

Besides dorayaki, there is also Japanese tea and matcha. These are served with original teapots and teacups for you to enjoy a full experience. 

There are also other Japanese sweet treats such as Dango (sweet dumplings on a stick), Matcha Tiramisu, and much more. You can also enjoy Japanese drinks such as the Matcha Latte or Hojicha Latte. There are also small Japanese Otsumami (snacks served with drinks) such as potato salad, crispy karaage chicken, green edamame beans and much more. You can enjoy these alongside Japanese beer, sake, and cocktails made from sake. This cafe bar is full of delicious desserts, snacks and drinks.

Last summer in Rome, a test kitchen was run where LEXUS ITALIA, the Embassy of Japan, and many others teamed up to hold workshops and set up food stands to carry out intense research. Finally as a result, this shop opened. The interior is a sakura pink colour and a round moss-like green plant hangs from the ceiling. Art by modern artist Rui Sakurai is also being displayed here.

This is becoming a very popular cafe in Italy. On just the first day, a queue of over 600 people formed before the shop!

Traditional Japanese sweets are taking over the world so don't miss out!

Information

DORAYAKI- DOLCEZZE GIAPPONESI

Address: Via Del Porto Fluviale 3E Roma Italia

Japanese confectionery series Tabemasu makes Kirby and the Warp Star!

 Tabemasu is a Japanese confectionery series that features sweets designed to look like characters. A new Tabemasu series is about to be released called Tabemasu Asorto (Tabemasu assortment). The design for this series is based around Kirby, Kirby's Dream Land and the Warp Star which Kirby rides in the game. This series will be released on Tuesday 23rd April 2019. Tabemasu has plans to release another round of the Tabemasu Asorto series later!

The new Tabemasu Asorto series includes two traditional Japanese-style sweets in a set. The sweets are based on the world of Kirby. Kirby comes in the form of a chewy mochi sweet, and the Warp Star comes in the form of a soft, nerikiri sweet.

The name "Tabemasu" is a combination of the word "tabemasu" (eat) and "mascot". As the name implies, the entire sweet is made from traditional Japanese ingredients, and so you can consume it all!

 

 Kirby is a chewy pink ball of mochi dough filled with custard cream. There are a range of expressions to choose from, from smiley Kirby to sleepy Kirby and even a winking Kirby! There is also one secret design! There are six Kirby designs in total. Which of these squishy, round, cute Kirbys will you encounter? You'll just have to head to the store to get one to find out!

 The Warp Star is a chocolate cream nerikiri. Both the sweets are made with natural colourings. Put your squishy Kirby on the Warp Star to enjoy an image straight out of the game! Of course you won't be able to help but take photos of this edible mascot before eating it! Don't forget to post your pictures on social media!

 You have to try this cute, photogenic Kirby!

©Nintendo / HAL Laboratory, Inc. KB19-P1654

Yokohama Chinatown's Beauty & the Beast Cafe & Restaurant Holds Easter Fair

Beauty & the Beast is a cafe and restaurant located in Yokohama Chinatown that is based on the French fairy tale Beauty and the Beast. The establishment has announced that it will hold an Easter fair from April 20 to May 31 where it will add a cute and delicious assortment of rabbit themed desserts to its menu.

Rabbit Hide and Seek Pancakes: ¥1,100 (Before Tax)

These incredibly cute pancake dish features a rabbit lost in Beast's rose garden. Sandwiches between the pancakes is chocolate, banana and cereal. The rose itself is made from blackcurrant flavour jelly.

Strawberry Rabbit: ¥700 (Before Tax)

Also lost in Beast's rose garden is this pink bunny made from lemon and cheese cream and strawberry ice cream.

Easter Bunny Vanilla Pudding: ¥980 (Before Tax)

A returning dessert from last year, this homemade pudding is a traditional smooth Japanese custard pudding topped with cool vanilla ice cream.

Head to Beauty & the Beast to fill your belly and add some new amazing desserts to your Instagram page.

Information

Beauty & the Beast

Location: 219 Yamashitacho, Naka Ward, Yokohama, Kanagawa Prefecture)

Opening Hours:

[Weekdays] Lunch 12:00-16:00 / Dinner 17:00-21:00

[Weekends] Lunch 11:03-16:00 / Dinner 17:00-19:00, 19:30-21:30 (2 Slots)

Closed: Tuesdays & Wednesdays (*But will be open every day for Golden Week from April 27 – May 6)

TEL: 045-228-9910

Reservations: https://r.gnavi.co.jp/hhvsp6pf0000/e

Celebrate Tokyo Disneyland's Disney Easter Parade With Usatama

Hey readers, Midori here from the MMN Editorial Team.

Tokyo Disneyland never fails to go all-out with its popular parades. A new parade is currently taking place for Disney Easter featuring the character Usatama for the first time. I went and experienced the parade myself and here's what I saw!

Usatama is an Easter egg with hands, legs, rabbit ears and a rabbit tail. The parade was lined with this bizarre and curious creatures. Mickey and his friends are actually holding an Usatama Easter egg hunt which you can get involved in to help them find all of the escaped Usatama around the park.

The road on which the parade takes place in the park was announced earlier on and so I waited in that very spot for it to start.

The parade cast taught all the spectators the moves for a dance for everybody to do together. The moves make you want to start dancing straight away, so don't be embarrassed. Get involved and bust out those moves with everyone!

After dance practice Mickey and the gang began appearing on floats. Help catch the Usatama together with the Usatama Chasers!

The cast's outfits have an even more pop design than usual parades. They look really cute!

Partway through the show the dance part finally began. It's fun dancing together with the characters!

Will all of t he Usatama be caught in the end? Join the characters in this huge celebratory parade yourself this Easter!

Tokyo DisneySea's Colourful Easter Cocktails & Beer

Hey, everyone. It's Midori from the MMN Editorial Team.

Did you know that you can drink alcohol at Tokyo DisneySea? This is rare at theme parks around the world. For this year's Disney Easter the park is serving up a selection of springtime sake drinks so I went to try them out.

Beer Cocktails – A refreshing taste with moderate sweetness

Passion Fruit Beer Cocktail: ¥680

This passion fruit flavoured beer cocktail is served at New York Deli at American Waterfront. At first glance it looks like a simple beer but drizzled on top of the bubbles is a squirt of fruity passion fruit sauce. The beverage is more refreshing than beer and is easy to drink! I recommend sipping it with a meal.

Red Beer Cocktail: ¥680

This bright red drink is available at Barnacle Bill's which is also located at American Waterfront. It contains a sweet syrup and has no bitter flavour at all. It's so easy to drink that you won't even think it's beer making it a great option for those who don't like the taste of regular beer. Bill's does also serve regular beer so there's a choice for everyone.

Cute Sparkling Cocktails

Lychee Sparkling Cocktail: ¥680

Simply looking at this sparkling cocktail is enough to leave you feeling refreshed. Head to the Nautilus Galley on Mystery Island at the foot of Mount Prometheus to enjoy this springtime cocktail combination of lychee and jelly.

Green Sparkling Cocktail: ¥680

You can get the green sparkling cocktail on the right in the photo from Zambini Brothers' Ristorante in Mediterranean Harbor. The green gradation is so beautiful! This drink also has a spring feel to it with the flower petals floating inside the cup. Mediterranean Harbor has a particularly large amount of blooming flowers. Sipping these drinks by the sea and the gorgeous European architecture at this area of the park is just the best.

Putting both sparkling cocktails side by side makes for a cute photo! Nautilus Galley and Zambini Brothers' Ristorante are a little far from each other so it might be good for you to go to one place and someone else to the other before meeting up again.

The sights and scenery of Disney Easter and extremely beautiful. There's nothing better than drinking in the warm spring weather. But be sure not to go overboard!

Tokyo DisneySea's Fun and Adorable Usa-Piyo Easter Show

Every year, Tokyo DisneySea puts on a brand new live show. This year, it is holding an Easter-themed show starring the LINE sticker character Usa-Piyo who is a chicken with rabbit ears.

The performance takes place in the lake in the middle of the park. This was my first time seeing Usa-Piyo. He has a somewhat strange appearance about him. I wondered to myself how he will act in the show.

The show began with a dance performance followed by the arrival of a boat with Disney characters on board.

Where else better to see a show on the water than at Tokyo DisneySea?

As the boat rolled on by the eggs on board all of a sudden hatched to reveal lots of Usa-Piyo. This means guests can see him from wherever they're standing. It's so cute seeing so many of them bunched together♡

Usa-Piyo joined the dancers, Mickey and other cast members to celebrate Easter but since he was only just born he wasn't too good at it! Seeing him like that is just too adorable, you can't help but cheer him on.

Mickey and the cast spoiled Usa-Piyo with everything they had so we were pretty moonstruck by him. He's so fluffy you just want to squeeze his cheeks, just seeing him filled us with happiness.

It was cute seeing him play with the other characters too.

By the end of the show everyone was captivated by Usa-Piyo!

There's merchandise on sale too to get your own adorable pet Usa-Piyo for at home too♡

Disney spring-limited menu report! Come check out 2019's Easter food at DisneySea! ♡

Hi, I'm Midori from Moshi Moshi Nippon's Editorial Department!

Finally, the Disney Easter we've all been waiting for has finally begun! Every year, Disney Resort is bustling with people during its Easter celebration. Not only are there shows, but the food is also noteworthy! I made my way down there, tried the food and now I've put together this report on DisneySea's Easter-limited food based on my findings! You can only try these dishes this season so make sure you experience these precious flavours!

An Egg hunt…in my pasta?! Cafe Portofino special set!

The Mediterranean harbour area that looks like a South European port city is located on the right as you enter DisneySea. It is here that you will find Portofino, and they're selling a special Easter set! Portofino is popular because you can enjoy Mediterranean food whilst looking over the beautiful townscape. I have been here to eat quite a few times and I am very pleased with my experiences here!

Special Set ¥1,880 (tax included)

This linguine tomato carbonara and appetizer even comes with a dessert and drink! All of a sudden, your table will be filled with bright colours! If you pay extra, you can change your drink into an alcoholic drink! The appetizer includes marinated salmon, barley salad, octopus, mussels and egg – all the individual foods were full of flavour! The eggs were just so cute I didn't want to eat them!

Within the tomato and carbonara lies a hidden soft boiled egg that customers can enjoy hunting down! Even adults who have graduated from university will secretly get a kick out of this egg hunt! The fresh tomato flavour is refreshing and perfect for the Easter spirit. The dessert is panna cotta with passionfruit sauce. It looks like a sunny-side-up egg! How cute!

Sweet panna cotta and refreshing passion fruit sauce is the perfect combination!

I could feel something granulated in the dessert which made me curious, so I asked the staff what it was. They told me it was panna cotta seeds! This granulated texture is very mysterious and fun! The Cafe Portofino Special Set is indeed very "special" and with just that, you can tell it's very satisfying. This set is the perfect way to complete your day of memories at the park!

Mamma Biscotti's Bakery souvenir sweets cafe is so cute!

Vanilla pudding and Milk Jelly, Cherry and Vanilla Mousse Cake with souvenir cup ¥800 each (tax included)

Mamma Biscotti's Bakery is located in the same area as the Mediterranean harbour and serves up desserts with souvenirs! This Easter, there's a limited edition vanilla pudding and milk jelly that come with a souvenir cup, and a cherry and vanilla mousse cake that comes with a souvenir plate. The vanilla pudding has quite a deep flavour with a refined sweetness. The souvenir mug has a spring-themed design that uses spring colours – you will want to use it straight away!

The mousse cake is easy to eat quickly and goes perfectly with the sour cherry flavour. It also looks cute too! The plate that comes with it is a good size to use for a range of purposes. Like the mug design, the plate also has a spring-themed design. It's so hard to just have one of these souvenirs! This design is only available here so I wouldn't be surprised if people come here every season to buy all the seasonal designs!

Continue through the park to discover the special meal set at the "Yucatan Base Camp Grill" located in the Central America-themed jungle "Lost River Delta".

Special Set ¥1,580 (tax included)

A hamburger with tomato, barbeque sauce, omelette rice and sausage all on one plate! The set gives you the opportunity to choose vanilla pudding and a soft drink for the perfect hearty meal! You can also change your soft drink for an alcoholic drink for an extra fee.

The main plate includes a hamburger, omelette rice and a sausage for a good price! Take your first bite and you'll immediately return to your childhood. The burger is juicy, and even called back the adventurous spirit that I left behind when I entered adulthood! This is the fuel you need to explore Lost River Delta! The pudding is moist and dense but comes in a small quantity. This is the perfect meal for an adventurer! Enjoy your hearty meal here and embark on your adventure to uncover the secrets of ancient Central America!

Don't miss out on the Egg Hunt Tasting event being held at DisneyLand and DisneySea! If you buy off the Easter menus and post three photos of your food on your social media sites, you will receive an Easter egg! Of course, the Easter menus that are part of this campaign also include the two menus mentioned in this report. There are 21 different kinds of Easter eggs you could receive! Which will you get? Aren't you excited?!

Not only is DisneySea's Easter menu delicious, but there are a range of special extras that come with what you order. The normal menu is also great but the Easter-limited menu has been specially made, so please come check it out!

Easter Angel Strawberry Latte Releasing at Segafredo Japan This Easter

Segafredo Zanetti Japan is celebrating a cute and dreamy Easter this year with the release of its hot and iced Easter Angel Strawberry Latte at Segafredo Zanetti Espresso branches on April 2.

Easter Angel Strawberry Latte (Hot/Iced) – ¥580

This strawberry flavoured latte comes with in an eye-catching pastel pink and topped with fresh cream, rainbow coloured chocolates and a drizzle of strawberry chocolate sauce. Both beverages come with specially made edible angel wings to finish their dreamy-cute appearance. They look like angels that have fluttered down from the heavens for Eastertime.

Information

Easter Angel Strawberry Latte (Hot/Iced)

Available: At the following 10 Segafredo Zanetti Japan Branches in Tokyo: Hiroo, Shinjuku Sanchome, Seibu Shinjuku PePe, Shinjuku Station South Exit, Suehirocho, Odaiba, Harumi Island Triton Square, Shinjuku Grand Tower Floor 1F, Shinjuku Grand Tower Floor 30F, Sunshine City

Running: April 2, 2019 – April 26, 2019

Segafredo Zanetti Japan Official Website:  http://www.segafredo.jp/

8 Character Themed Cafés Running in April 2019

Character cafés are an exciting experience in Japan which sees a café collaborate with well-known anime series, game series and various franchises by decorating the café interior with designs and illustrations based on them and meals and drinks inspired by them.

Before continuing this article be sure to check out our March 2019 list of character cafes as some are still running.

The Very Hungry Caterpillar x Cafe Cucina & Company (March 20 – April 3)

Cafe Cucina & Company in Shibuya, Tokyo is collaborating with Eric Carle's internationally-beloved picture book The Very Hungry Caterpillar for two weeks from March 20 to April 3 to serve up a themed menu inspired by the colourful world. A total of 6 items will decorate the menu from hearty dishes to fruity drinks. This café will soon close on April 3, so don't miss out!

Full Details: https://www.moshimoshi-nippon.jp/185739

Devil May Cry 5 x CAPCOM CAFE AEON Lake Town (March 7 – April 24)

CAPCOM CAFE AEON Lake Town is celebrating the release of Devil May Cry 5―which hit consoles on March 8, 2019―with a themed cafe. A whole range of inspired dishes are on offer as well as drinks based on Nero, Dante and V. Reservations can be made online.

Full Details: https://www.moshimoshi-nippon.jp/180331

Pokémon Cafe 1 Year Anniversary Menu (March 14 – April 26)

Nihombashi's Pokémon Cafe is currently celebrating its one-year anniversary with a special commemorative menu. Order a latte with latte art of any of the original 151 Pokémon, sips on smoothies, tuck into desserts and more.

Full Details: https://www.moshimoshi-nippon.jp/178933

Pompompurin Café Birthday Menu (March 15 – April 30)

Pompompurin's birthday falls on April 16, and to celebrate, the Harajuku, Umeda, Yokohama and Nagoya branches of the Pompompurin Café is holding a celebratory birthday event. Food includes the "Hamburger Plate" which is made from a hamburger and a layer of mashed potato served with a rice ball Purin. For dessert you can enjoy a delicious creamy cheese pudding. Head to the Pompompurin Café to celebrate Purin's 23rd birthday!

Full Details: https://www.moshimoshi-nippon.jp/181662

Gudetama Cafe x MACCHA HOUSE (March 14 – May 6)

The Gudetama Cafe located in HEP FIVE is now collaborating with MACCHA HOUSE, a cafe that has received huge media coverage for its Uji matcha tiramisu. For the collaboration MACCHA HOUSE have created Gudetama versions of their Uji Matcha Tiramisu and Houjicha Tiramisu. These fun treats will only be available for a limited time so don't miss out! There are lots of other Instagram-worthy delights to enjoy too such as the "Gudetama White Curry," "Hot Matcha Latte" and more.

Full Details: https://www.moshimoshi-nippon.jp/181060

Sword Art Online: Alicization x SEGA Akihabara 4th (March 23 – May 6)

Sword Art Online: Alicization now has its own themed cafe on the fifth floor of SEGA Akihabara 4th which is running until May 6. Enjoy a line-up of original dishes, desserts and drinks inspired by the series, and get your hands on an original coaster and limited-edition merchandise!

Full Details: https://www.moshimoshi-nippon.jp/181099

Kaido Kid x BOX CAFE&SPACE (April 19 – June 12)

Two cafés themed on the Detective Conan character Kaito Kid, or the "Phantom Thief Kid" will open in Harajuku and Umeda on April 19. These will be the first ever Detective Conan cafés themed on Kaito Kid with a menu named by the manga's author Gosho Aoyama. There will even be exclusive Kaito Kid merchandise you can't get anywhere else sold, and the cafés will be decorated in all things Kaito Kid. The cafés will be decorated in all things Kaito Kid, so fans won't want to miss out!

Full Details: https://www.moshimoshi-nippon.jp/184611

Leo Lionni Cafe x Sunday Brunch Marronnier Gate Ginza 1 (April 3 – July 31)

Leo Lionni was a children's picture book illustrator and author whose famous works include Swimmy and Frederick. His works were so popular that they even appear in textbooks! Dishes will be inspired by both Frederick and Swimmy. These are the world's first ever collaborative cafes with Lionni, so check the link below to see all the different delicious dishes!

Full Details: https://www.moshimoshi-nippon.jp/181236

Did you enjoy this list? If you're in Japan this spring, be sure to dine at all the character cafés you can!

Kagurazaka Terrine de Chocolat au Matcha Released at Le Coquillage

French restaurant Le Coquillage has released the second item in its line of premium sweets: the Kagurazaka Terrine de Chocolat au Matcha.

Kagurazaka Terrine de Chocolat Matcha

The sweet is a harmonious marriage of white chocolate and matcha. It combines the delicate flavours of milk and vanilla and the rich deep notes of matcha to create enjoyable textures and tastes on the palate from the sweetness of the matcha to the refreshing delight of the chocolate.

Milk and vanilla is a combination loved by the world's patissiers. The smooth white chocolate used for this sweet is "Ivoire" by Valrhona.

It also uses Nishio Matcha carefully selected by Yukiya Koumatsu, one of only 37 Tea Judges in Japan. In using this highly-regarded ingredient, Le Coquillage has been able to create delicious notes and flavours that linger in the mouth long after having eaten the sweet. The sweet is also alcohol and gluten free so anybody can enjoy it.

If you're thinking of gifting this to somebody then Le Coquillage can tie the box with a ribbon and give you a message card for free.

The packaging has been specially designed to celebrate both French couverture chocolate and Japanese matcha production.

Be sure to pick up a box for yourself or someone special if you're in Shibuya.

Tokyo DisneySea'sⓇ Easter Cocktails Mean Grown-Ups Can Enjoy Easter Too

Disney Easter will run from April 4 to June 2 this year at Tokyo DisneySea® and Tokyo Disneyland® with both parks taking on different themes.

At Tokyo DisneySea, Usa-Piyo, the cute chicken-rabbit mutation from the LINE messenger app, will make his first ever appearance alongside the Disney cast. In the run up to the Easter event, Tokyo DisneySea has released its alcoholic Easter cocktails early.

There are 7 of these colourful alcoholic beverages to choose from, all inspired by springtime, including one based on the pink cherry blossoms and another on fresh verdure.

Sparkling Cocktail (Lychee Liqueur & Grapfruits): ¥680 @ Nautilus Galley

Sparkling Cocktail (Green Apple): ¥680 @ Zambini Brothers' Ristorante

The must-try sparkling cocktails are the Lychee Liqueur & Grapefruits with its refreshing flavour and vivid mix of strawberry, orange and melon jellies which dance in your mouth, and the Green Apple which has a bright green appearance like that of fresh verdure.

Sparkling Cocktail (Cranberry & Lime): ¥680 @ Miguel's El Dorado Cantina

Beer Cocktail (Passion Fruit Syrup): ¥680 @ New York Deli

Other options include the Cranberry & Lime if you're looking for something not as sweet, and the Passion Fruit Syrup beer cocktail which has a tropical sauce to give it a refreshing taste. Each of these beverages are sold at different establishments around the park so you get to walk around and enjoy each area.

Enjoy a springtime sip of one of these cocktails while basking in the sunlight and appreciating the cherry blossoms.

Tokyo Disneyland® Announces Merchandise Pre-Sale for Disney Easter

Disney Easter will run from April 4 to June 2 this year at Tokyo Disney Resort®. Usatama will make an appearance for the first time in two years, a character with rabbit ears and an egg for a body who loves playing pranks and is full of vim, vigour and curiosity.

A parade will take place which will see Mickey Mouse and the other Disney cast―who were quietly making preparations for Easter by making Easter eggs―chasing Usatama around the park.

Plush Toy Charms: ¥1,800 Each

Fan Cap: ¥2,500

Shoulder Bag: ¥2,300

Disney lovers can feel like Usatama chasers too with a selection of special themed merchandise. These items will go on pre-sale form April 1 just before Disney Easter begins. Gear up nice and early!

Flyers will also be handed out around the park from April 4 requesting guests to locate Usatama eggs around the park.

If you find them all you'll receive an original seal pictured above. Enjoy Eastertime this year at Tokyo Disney Resort!