Limited number of spring panda-themed Japanese crackers selling at Ueno station!
From Friday 15th March, Ecute Ueno, which is a shop located inside Ueno station, will be selling a limited number of spring panda-themed Keishindo shrimp crackers for the first time!
Panda no Tayori (Spring) 5 individually wrapped crackers ¥648/8 individually wrapped crackers ¥1,080/16 individually wrapped crackers ¥2,160 (prices include tax)
Sold at:Ueno Ecute (Inside Ueno Station ー open for a limited time only)
These senbei crackers are packed tightly with shrimp flavour. The crackers are decorated with the image of a panda and a panda cub watching the spring cherry blossoms.
It is not only the rich flavour of the shrimp cracker that makes it so appealing but also the vivid colours and prints. The inks used for the prints use natural ingredients for their colours such as red yeast rice and cape jasmine. Whoever you give this to as a present can rest assured they are consuming healthy ingredients.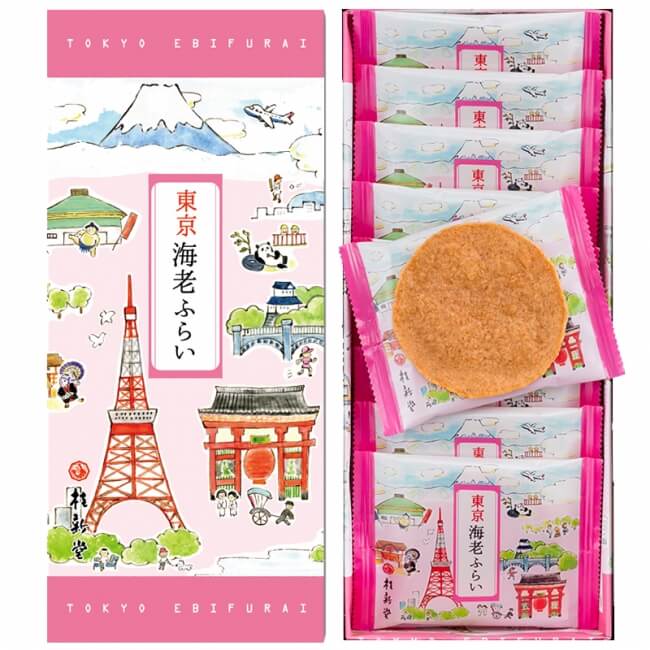 Tokyo fried shrimp (Tokyo-limited) 5 individually wrapped  ¥540/10 individually wrapped ¥1,080/ 20 individually wrapped ¥2,160 (tax included) 
There is also another standard product for sale. This senbei cracker is filled with shrimp paste flavouring and then flash fried. As a famous Tokyo treat, the packaging is also decorated colourfully and the design is rather popular.
Ebi Zukushi 6 packets + 2 trays ¥2,160/ 11 packets + 2 trays ¥3,240/ 13packets + 4 trays ¥ 5,400 (prices include tax)
Keishindo's unique shrimp products are a one and only, allowing you to indulge in a variety of shrimp flavours including Japanese shrimp, sweet shrimp, shiba shrimp, botan shrimp and aka shrimp.
These are not only the perfect Tokyo souvenir, but also a great way to thank your host when you visit someone. If you're interested, definitely try them out!
RELATED ENTRIES
Japan Coronavirus: Studio Ghibli Museum, Sanrio Puroland & Other Facilities Close Temporarily

A number of facilities in Japan have announced temporary closures to help stop any possible spreading of the coronavirus. Please check the following closures if you're planning a trip to Japan in February or March. New information is rolling out all the time, so for the latest updates, please check the official websites for each establishment listed below.

Sanrio Puroland

Closed: February 22, 2020 – March 12, 2020

The park is scheduled to reopen on March 13, 2020, but this is subject to change depending on the circumstances of the coronavirus and news published by the government.

▶Refunds

・Pre-booked Tickets

Tickets valid between the dates February 22, 2020 – March 12, 2020 will have their validity period extended to September 30, 2020.

・Original Passports

Passport tickets valid between the dates February 22, 2020 – September 29, 2020 will have their validity period extended to September 30, 2020.

・Pre-booked PUROPASS

Payments for PUROPASSES bought between the dates February 22, 2020 – March 10, 2020 will be cancelled.

・Anniversary Time

Payments for Anniversary Time tickets for the dates February 22, 2020 – March 10, 2020 will be cancelled. Those who paid with cash will be refunded via registered mail.

Official Website (English): https://en.puroland.jp/

Official Website (Japanese): https://www.puroland.jp/

Ghibli Museum

Closed: February 25, 2020 – March 17, 2020

▶Refunds

Refunds are applicable for tickets dated between January 22, 2020 – March 30, 2020.

Refunds will be paid in full between February 15, 2020 – March 31, 2020.

Official Website (English): http://www.ghibli-museum.jp/en/

Official Website (Japanese): http://www.ghibli-museum.jp/

Toei Animation Museum

Closed: February 26, 2020 – March 18, 2020

The museum's reopening is subject to consideration depending on the circumstances of the coronavirus. It will be announced via the museum's official Twitter page and website.

Official Website: https://museum.toei-anim.co.jp/

Asahi Beer Oyamazaki Villa Museum

Closed: February 22, 2020 until further notice

Official Website (English): https://www.asahibeer-oyamazaki.com/english/

Official Website (Japanese): https://www.asahibeer-oyamazaki.com/

 

Kyoto National Museum

Closed: February 22, 2020 until further notice

All events, the museum shop Benrido, and the museum cafe Maeda Coffee, have also closed temporarily.

Official Website (English): https://www.kyohaku.go.jp/eng/index.html

Official Website (Japanese): https://www.kyohaku.go.jp/jp/index.html

ARASHI EXHIBITION "JOURNEY"

Closed: February 22, 2020 – March 9, 2020

Location: Osaka Culturarium at Tempozan

Official Website: https://arashiexhibition.jp/

Sanrio Harmony Land

Closed: February 22, 2020 – March 12, 2020

Official Website (English): https://www.harmonyland.jp/english/harmony/harmony.html

Official Website (Japanese): https://www.harmonyland.jp/welcome.html

Numerous other sports and cultural events will also close for two weeks commencing February 26, 2020. If you're travelling to Japan in February and March, please check the websites of any places you plan to visit during your trip to see if they are open.

New Kaiju Comedy Film 'Daikaiju no Atoshimatsu' to Release in 2020

The world never seems to be short of big SFX movies, with the announcement of Godzilla Vs. Kong set for release in the US on November 20, 2020 and Shin Ultraman in Japan in 2021.

But what about a comedic kaiju (giant monster) film? Well, that's exactly what we're about to get with the surprise announcement that movie companies Shochiku and Toeiーwho are normally rivalsーare coming together for the first time to put a spin on the monster movie genre with a completely original script. The title of the film is Daikaiju no Atoshimatsu ("Cleaning Up After the Big Monsters"), and it's coming this year.

Ever wondered who cleans up after a giant monster wrecks a city? Who's in charge of cleaning up a kaiju corpse?"

The story is as follows. One day, a giant monster who wreaked havoc across the country dies suddenly. Its dead body is extraordinarily enormous, enough to make you do a doubleーno, a quadruple take. Time is of the essence as the gas emitting from the dead beast could explode at any moment. If it's not taken care of immediately, it could mean disaster for the country. Someone has to do it. And that person is Arata Taito (played by Ryosuke Yamada), a member of the Prime Minister's special forces who is responsible for the role of the field commander for this unprecedented national disaster. Before him appears Yukino Ameoto (Tao Tsuchiya), Arata's former fiancee and a secretary for the Minister of the Environment. They are tasked with the unheard-of, unreasonable demand to "clean up the giant corpse of a monster," which they must do using their wisdom, their scheming, and their… love?

Everybody knows what happens in SFX kaiju movies, but nobody has seen into the world of what happens after. Now we'll get to see that impossible mission unfold.

Japanese actor and singer Ryosuke Yamada  (Hey! Say! JUMP), who will play the role of Arata Taito, is known for playing characters who are firm and resolute. This will be his first dive into a fully-fledged comedy movie. Tao Tsuchiya, who will play Yukino Ameoto, is climbing her way to the top in both name and reality in the industry as an actress. This will be Yamada and Tsuchiya's first time working together.

Cast Comments

Ryosuke Yamada (Arata Taito, Special Forces)

"When we first had talks about this film, although I've been in a lot of serious movies, this was my first ever talk about a comedy movie, so I felt really lost. But when they let me read the script, I saw how interesting it was that the protagonist is super serious despite being in such a ridiculous situation. So I said sign me up! I don't really feel much pressure now. I'm going make the character interesting and go all out to be as ridiculous as I can to meet director [Satoshi] Miki's expectations."

He continues: "The movie makes you think, 'So this is what happens when adults try to be as silly as possible!' <laughs> And the cast line-up is incredible, you'd think it was a lie. The jokes are really gonna come down! This is my first time working with [Tao] Tsuchiya in a film, but she's played a lot of movies roles where she's the serious one in a comedic situation, so  she can be both serious and humorous. I'm looking forward to seeing her in action in this one. I wondered to myself if it's really alright for Shochiku and Toei to come together for the first time in a film like this. It's industry-shaking. But I also think it's really significant that such big players in the movie industry come together to go all out have fun like this too. I want to work hard to make this a film where people say, 'Yamada and Tsuchiya' do this kind of thing!?' and make it one that's more than just people playing to watch it. I ask all of your support."

Tao Tsuchiya (Yukino Ameoto, Secretary for the Environmental Minister)

"I love heroes. Films that are called SFX talk about things that are important in life, things you can't forgive, things that you do forgive but will never forget. Like something that satirises reality, like a real sense of danger. It has everything in there, and within that are the heroes who shine bright, who suffer, who fight. They've given me so much courage."

She continues: "When I came to know about heroes as a kid, there wasn't a system in place at cinemas where you could reserve seats. You would line up in the morning. The first time I experienced experienced excitement before a film starts when it goes dark in the room might have been a Shochiku film or a Toei film. Whatever film it was, I remember getting sucked into the screen, and was intensely moved by it. When I read the script for Daikaiju no Atoshimatsu, the emotions from that memory came flooding back, and my eyes opened. And when I met director Miki, I had a hunch of the power and deepness that this film holds. I'll stand resolute and return the favour to all those heroes as a member of the team supporting the protagonist, who's played by Ryosuke Yamada."

Information

Daikaiju no Atoshimatsu

Release Date: 2020 (Japan)

QUEEN BEE Release 'P R I D E' Music Video From New Album 'BL'

QUEEN BEE just dropped the music video for their song P R I D E which is taken from their new record BL. The band dropped their new album BL last Wednesday, which charted at No. 3 on Oricon's daily charts and No. 5 on Billboard Japan's weekly album charts. 

The music video is built up on the two CD covers for the album, including the above-pictured illustrated one drawn by manga artist Harada which blew up on social media when it was released, and the exclusive version which features a different cover.

 

QUEEN BEE – "P R I D E" Official MV

MOre details have also been released for the band's upcoming two concerts at Makuhari Event Hall on April 4 and 5.

Titled QUEEN BEE Solo Concert "Ten" −Introduction−, the first day (April 4) will be "BLACK" themed, while the second day (April 5) will be "BLUE" themed.

It is anticipated that the band will fuse together their last album TEN, which was released last year and which features in the name of the two concerts, and BL.

BLUE ENCOUNT to Perform Ahiru no Sora Anime's New Opening Theme 'Hummingbird'

Kumamoto-bred Japanese rock band BLUE ENCOUNTーwho have been garnering huge attention recently for the announcement of their nationwide tour set to begin on May 13, 2020ーwill perform the new opening theme song Hummingbird for the ongoing TV anime series Ahiru no Sora. The song will be introduced to the series this April.

Ahira no Sora is a popular basketball manga series written and illustrated by Takeshi Hinata. 51 volumes have been published in Japanese to date, making it known as Hinata's masterpiece. Hear BLUE ENCOUNT add their positive messages into this manga seriesーone which paints a picture of youth days.

BT21 Cafe to Open in Tokyo and Osaka With a Spring Theme

The 6th run of the popular BT21 Cafe is here. The cafes will open at TOKYO BOX cafe&space Tokyo Solamachi on February 28, 2020, and at TOKYO BOX cafe&space Omotesando and UMEDA BOX cafe&space on March 5, 2020.

BT21 are the LINE messenger app characters created by K-pop group BTS. The cafe has seen five runs in Japan, and has proven immensely popular amongst fans for the selection of original dishes and drinks as well as exclusive merchandise.

TOKYO BOX cafe&space Omotesando & UMEDA BOX cafe&space

Kobu Salad & Baguettes – ¥1,690

Chef's Crepe – ¥1,690

Drinks – ¥990 Each

"Springtime" is the theme this time around. TOKYO BOX cafe&space Omotesando and UMEDA BOX cafe&space will be based around a spring party, and customers will be able to order a set menu with food or dessert.

TOKYO BOX cafe&space Tokyo Solamachi

SHOOKY's Brown Burger — ¥1,690

TATA's Very! Berry! Sandwich – ¥1,690

Drinks – ¥990 Each

TOKYO BOX cafe&space Solamachi's menu will be centred on the BT21 Baby Series, where all the characters have been turned into babies.

TOKYO BOX cafe&space Omotesando & UMEDA BOX cafe&space – "Let's Party With You" Original Stickers and Coasters

TOKYO BOX cafe&space Tokyo Solamachi – "BABY" Original Stickers and Coasters

Customers can also get their hands on some original merchandise and bonus items too. Book a table and receive one of seven stickers, and order a drink to receive one of seven coasters.

Information

BT21 Cafe

TOKYO BOX cafe&space Omotesando (6-3-7 Jingumae, Shibuya, Tokyo) / Running: March 5, 2020 – March 29, 2020

TOKYO BOX cafe&space Tokyo Solamachi (Tokyo Skytree Town Solamachi Floor 1F East Yard, 1-1-2 Oshiage, Sumida, Tokyo) / Running: February 28, 2020 – March 23, 2020

UMEDA BOX cafe&space (16-7 Chayamachi, Kita Ward, Osaka, Osaka Prefecture) / Running: March 5, 2020 – April 19, 2020

Reservtions: ¥650 (Before Tax)

BT21 Cafe Official Website: https://box-cafe.jp/

Tokyo Tokyo Official Souvenir Shop Opens in Haneda Airport

Tokyo Toyko, a website that provides information on things to do in Japan's capital, opened its own souvenir shop, called Tokyo Tokyo Official Souvenir Shop, in EDO KOJI on February 22, 2020, which is located on the fourth floor of Haneda Airport International Passenger Terminal.

As part of an effort to promote the appeals of Tokyo to the world, Tokyo Metropolis is carrying our PR work and branding with the catchphrase "Tokyo Tokyo Old meets New."

Happy Daruma / Mamehapi

Edo Kimekomi Waving Cat

The "Tokyo Omiyage Seisaku Project" aims to develop products in collaboration with Tokyo Metropolis and local businesses with the "Tokyo Tokyo" brand. To date, 50 products (excluding colour variations) have been produced, from traditional crafts to stationery, food, and moreーall embodying the spirit of Tokyo.

The shop design features illustrations of Asakusa and Shibuya, two a symbols of Tokyo that have been around since the Edo Period and are and hub of traditional and contemporary Japanese culture respectively. The shop is also planning to hold workshops, where you can learn to make your own daruma and origami.

If you're travelling to or from Haneda Airport, then be sure to pay a visit to Tokyo Tokyo Official Souvenir Shop where you can pick up souvenirs that combine traditional and contemporary culture.

Information

Tokyo Tokyo Official Souvenir Shop

Location: EDO KOJI – Haneda Airport International Passenger Terminal (Floor 4F)

Address: 2-6-5 Hanedakuko, Ota Ward, Tokyo

Opening Hours: 8:00-21:00 (Open all year round)

RADWIMPS Release Trailer For ANTI ANTI GENERATION TOUR Documentary

A trailer was released on the official RADWIMPS YouTube channel for a documentary that is featured on the band's upcoming live DVD and Blu-ray release ANTI ANTI GENERATION TOUR 2019, which is set to hit shelves on March 18, 2020.

"Documentary of ANTI ANTI GENERATION TOUR" Trailer

The documentary follows RADWIMPS on their long tour from last year, which saw them play 20 shows in 11 cities across Japan. It includes rehearsal and backstage footage, as well as the band interacting with the artists that joined them across the 2019 tour.

The DVD and Blu-ray will feature 23 songs which includes the guest performance from Aimyon for Nakidashisodayo, a song by RADWIMPS which she features on. It also includes a documentary of the tour, as well as guest appearances from artists who joined the band on stage including Miyachi, Titan Zombies, Taka from ONE OK ROCK, and Toko Miura.

RADWIMPS are set to embark on an all-new tour starting this March. Titled "KONNICHIWA NIPPON TOUR 2020," it will take them to seven cities in Japan for 10 showsーincluding four dome venues.

For the latest information on the upcoming tour and the band's releases, check their official website below.

Information

"ANTI ANTI GENERATION TOUR 2019" LIVE Blu-ray & DVD

Release Date: March 18, 2020

Price: Blu-ray ¥6,800 (Before Tax) / DVD (2 Discs) ¥6,800 Before Tax)

Stock Numbers: Blu-ray UPXH-20091 / DVD UPBH-20262/3

RADWIMPS Official Website: http://radwimps.jp/

Baymax Themed Food Flies Into Tokyo Disneyland Ahead Of New Big Hero 6 Attraction

The world is about to get its first Big Hero 6 themed park attraction, "The Happy Ride with Baymax," at Tokyo Disneyland when it opens on April 15, 2020.

In promotion of the exciting new ride, Tokyo Disneyland has announced it will serve six different Baymax inspired menu items starting from April 8ーa week before The Happy Ride with Baymax's grand opening.

Baymax Curry – ¥1,480 @ Center Street Coffeehouse

When you think of Baymax, you think of his white, chubby round face and body. Well, that image has been brought to life in this curry dish, with Baymax's cute appearance recreated in the form of white rice. The dish takes inspiration from the spicy chicken wings made by Hiro's auntie, Cass.

Special Pancake Set – ¥1,080 @ Center Street Coffeehouse / Time Served: 13:00-18:00 (Not serving June 1, 2020 – September 2, 2020)

Like the curry, this pancake set is also sold at Center Street Coffeehouse. It comes with two thick pancakes topped with Baymax's faceーwhich is a Japanese 'manju' steamed cakeーassorted berries, strawberry sauce, and other delicious delights, mixing together Japanese and western flavours.

Sparkling Tapioca Tea (Cheese Cream & Berries) – ¥600 @ Tomorrowland Terrace / Time Served: 14:00-17:00

BB Popcorn w/Basket – ¥2,600 @ The Big Pop

There's also a dessert-style drink at Tomorrowland Terrace which is a berry flavoured ice tea packed with dollops of cheese cream, as well as popcorn which comes with a popcorn basket of Baymax riding. This will be sold at the new popcorn shop, The Big Pop, which is opening on April 15.

Tuck into some cute and delicious Baymax food at Tokyo Disneyland before The Happy Ride with Baymax opens for business.

©Disney

HOSHINOYA Guguan Chosen as Best New Hotel in the World by Travel + Leisure Magazine

HOSHINOYA Guguan, a ryokan in Taiwan managed by Japanese ryokan operator Hoshino Resorts, was picked as one of Travel + Leisure's "The Best New Hotels in the World (The It List)" on February 20, 2020.

Travel + Leisure is a New York-based travel magazine. "The Best New Hotels in the World (The It List)" shines a light on hotels around the world that have newly-opened or have been renovated that year.


HOSHINOYA Guguan opened on June 30, 2019 as the first Taiwan-based luxury hot spring resort produced by Hoshino Resorts, which manages 41 branches outside Japan. It is also the second overseas branch of the company's "HOSHINOYA" brand, whose concept is "taking a break from the modern world." It's located on the outskirts of Taichung in Guguan which is home to natural hot springs. There, it co-exists and blends in naturally with the landscape. All guest rooms have open-air baths, so guests can enjoy the warm water together with the breeze in a spacious environment. They also offer various programs for guests to enjoy Guguan's culture and natural environment.

If you're planning a trip to Taichung, why not consider staying with HOSHINOYA Guguan?

Information

HOSHINOYA Guguan

Address: 424, Taiwan, Taichung City, Heping District, 東關路一段溫泉巷16號
TEL: 0570-073-066 (HOSHINOYA Booking Centre)

Official site:https://hoshinoya.com/

yonkey Drops New Track 'Haunter' in Collaboration with Chicago's Ace Hashimoto

yonkey is a 22-year-old music producer known for his edgy hip-hop electric fusion. Known as the front man in his band Klang Ruler, his YouTube videos are followed by a large number of enthusiastic fans consisting largely of teens and young people in their early 20s. Some of his videos got over 50,000 views in just two months. 

yonkey's second single, which has already been released,  features vocalist Ace Hashimoto (Brandun DeShay) who is famous for being in Odd Future alongside Tyler, the Creator and is also an avid Japan fan. Through the power of music, the two musicians crossed the international border, joining forces for an epic collaboration. yonkey from Tokyo composed the music and created the track, while Chicago's Ace Hashimoto wrote and sung the lyrics, layering it with a number of melodies and brushing up on the instrumental arrangement. 

The cleverly weaved lyrics are entirely in English and reflect Ace Hashimoto's edgy style. The flowing rhythm bounces with pop vibes. Mixing it with yonkey's refined track, the dope duo churned up their new song Haunter (feat. Ace Hashimoto). 

A statement by yonkey

It was a pleasure to have Ace Hashimoto jump in on my second ever track. With Ace's dope lyrics as the base for the song, I created a track inspired by lofi hip-hop, which is popular worldwide. I'm so proud of what we made so please check it out!

A statement by Ace Hashimoto

It was incredibly fun making Haunter. Usually I write songs while discussing the track in the same room as the artists and producers but this time, yonkey's manager was there to help with communication and we discussed our ideas over messages. It was a very unique experience for me to create a song with yonkey without directly talking to him. I first discovered yonkey's songs in Chicago through my manager and my friend Moe Shop. After visiting Japan in 2017, I became eager to work with Japanese musicians. It's usually difficult to work with Japanese musicians when you don't live in Japan but that just made this experience all the more special. yonkey is an amazingly talented producer and I'd love to make more tracks with him. It would be incredible if we could perform Haunter in Japan together and get Moe Shop to jump in on it too.

Mika Ninagawa Releases 'Lady-Killer' Photo Collection Featuring Tori Matsuzaka and Ryota Katayose

Fashion magazine Oggi's popular Warui Otoko ("Bad Boys") feature has turned into a photo book. Released on February 12, it features a collection of photos of handsome 'lady-killers.'

Warui Otoko stars a special selection of current popular Japanese actors and artists that have women across the country in thrall. The photos are taken by internationally-renowned Japanese photographer and director Mika Ninagawa who has captured the lovely line-up's alluring nature beautifully.

Yudai Chiba | Photographer: Mika Ninagawa

Koji Seto | Photographer: Mika Ninagawa

Every issue, the editors hand pick female readers' requests of heart-throbbing situations, and in turn, Mika Ninagawa makes those dreams come true in the form of photos, such as "What if Kentaro Sakaguchi was my co-worker?", "What if I visited an aquarium alone, and while I was there I just happened to be standing next to Masaki Suda?", "What if I had an appointment with Kuranosuke Sasaki on a Saturday night in a bar?", and so on. The feature also includes interviews with the handsome men photographed.

Below are comments from some of the 'lady-killers' featured in the photo collection.

Comment: Eita Nagayama

Eita Nagayama | Photographer: Mika Ninagawa

"I just met with Mika Ninagawa before the shoot for Warui Otoko for another magazine. Getting to shoot with again, I couldn't help but think, 'so it's one of those times.' Usually when I look at Ninagawa's various pieces and how she works, it gives me insight into what she's thinking during that time. That being said, I think we've created something interesting together this time. What made it so interesting for me was the theme of 'Bad Boys.' Ninagawa photo conveys my idea of a 'Bad Boy.' I wonder why it's so fun to do?"

Comment: Tori Matsuzaka

Tori Matsuzaka | Photographer: Mika Ninagawa

"I first met Mika Ninagawa around eight years ago. It's been a considerably long time since I've known her, but this 'Bad Boys' [feature] is only the second time I've shot with her. It didn't feel like we hadn't shot together in so long, but I was really nervous when the shutter closed on the first shot. There might have been things we overcame, like that sense of it being the first time again, but to say 'you haven't changed' after eight years would be pretty bad. In the time you don't meet with someone, their way of thinking will have changed, not to mention their physical appearance, and that may show itself. I thought to myself, Ninagawa is sensitive to details, she's someone who's going to see through worries like that. That's how nervous I was with that first cut after these eight years. I wonder how it will come out of her?"

Comment:Ryota Katayose (GENERATIONS from EXILE TRIBE)

Ryota Katayose | Photographer: Mika Ninagawa

What impressed me most about shooting with Mika was how quick she was when we started. But there was absolutely nothing stressful about it. We were chatting naturally, and before I knew it, the shoot was over. The Warui Otoko pages have been a buzz on social media, so I remember how happy I was when I found out I'd be part of it. But in all honesty, when I look at it now, I think how childish I looked <laughs>. If I get the chance again, I want to make myself look even more like a 'Bad Boy.'"

Takumi Saitoh | Photographer: Mika Ninagawa

"When this serialisation was released in book form, it garnered attention with the ladies, and orders skyrocketed on online book shops! Prints for additional copies were decided before it even went on sale. The volume is a keeper, and has stirred the imaginations of girls, so check it out."

Information

Warui Otoko

Release Date: February 12, 2020

Price: ¥2,700 (Before Tax)
Photographer: Mika Ninagawa

Line-Up: Kentaro Sakaguchi, Masaki Suda, Kuranosuke Sasaki, Shohei Miura, Yudai Chiba, Sota Fukushi, Kento Nagayama, JUNHO, Hiroki Hasegawa, Koji Seto, Ryo Ryusei, Kazuki Kitamura, Ryo Narita, Mahiro Takasugi, iKON, Tomoya Nakamura, Ryota Katayose, Eita Nagayama, Tori Matsuzaka, Takumi Saitoh

Shogakukan Official Website: https://www.shogakukan.co.jp/books/09682327

Raise Your Own Sky Lantern at New Greenpia Tsunan in Niigata

New Greenpia Tsunan, a resort facility in Tsunan, Niigata, is holding an exciting sky lantern event every day until March 31, 2020.

 

The sky lantern event is held every winter at New Greenpia Tsunan, and has returned again for 2020. It began in 2012 as a means of showing respect for and praying for the revival of disaster-stricken areas, such as the areas affected by the 2011 Tohoku earthquake, the Nagano and Niigata earthquake, and so on. Every year, couples and families come together to put their prayers and wishes into the lanterns before letting them go into the night sky. The countless lanterns raised at once soar up high and light up the black cloak of the night like burning stars.

For 2020, the event will also sell lantern t-shirts, handkerchiefs, hand towels, cookies, and other themed items.

 

If you're travelling in or around Niigata in Japan this year, then don't miss New Greenpia Tsunan's very special winter event.

Information

Sky Lantern Event

Running: Everyday until March 31, 2020 (Except select days where the site is closed or booked)

Location: New Greenpia Tsunan (12300 Akinari, Tsunan, Nakauonuma-gun, Niigata)

Time: Weekdays – From 18:00 / Saturdays & Days Before Public Holiday – From 18:00 & 20:00 / March Onward – From 18:30

Booking: Bookings available until 17:00 on the day at New Greenpia Tsunan

Price: ¥1,500 (1 lantern)

Official Website: https://new-greenpia.com/

*In the case of stormy weather, the event will not proceed on that day