18+ Hailey'5 manga café opens new branch in Kawaramachi, Kyoto!
Hailey'5 Café is a next generation manga shop for those aged 18-years old and above. A new branch will open in Shijō, Kawaramachi on Wednesday 27th March 2019 and it will be the first Hailey'5 Café to open in the Kansai region.
Hailey'5 Café, which is often abbreviated to "Hailey", was the first ever internet café for aged 18 and over and it opened in Ikebukuro in August 2015. This became the first ever manga café in the industry to have a quick online reservation system, soundproofed private rooms with auto lock for ensured security (which is especially good for women), full-scale café food, and a beautiful photogenic interior space. For these reasons, the café receives high ratings. The word of this cozy internet café has spread wildly over social media. In 2017, a second café opened in Shibuya which became so popular that reservations started becoming impossible to obtain. This internet café is so popular, you would think it is a hotel!
Hailey café Kyoto Kawaramachi branch has a very convenient location ー it is just a one- minute walk from Hankyu Kawaramachi Station and is directly connected to the station.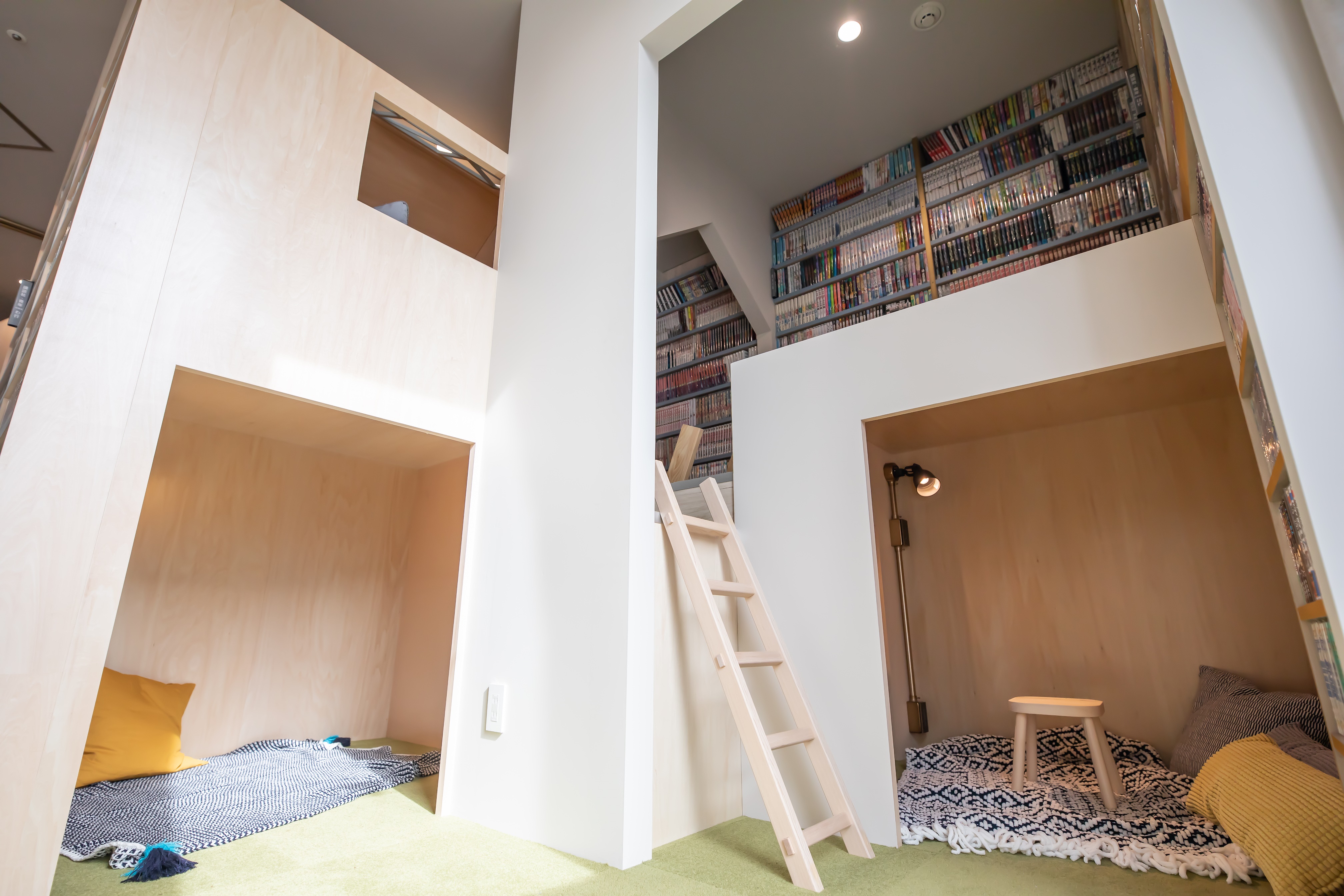 Hailey's first ever free address "bookvillage" also opened in this café. Enjoy the atmosphere of a library created by approximately 25,000 manga, or get lost amongst the giant bookcases and discover little cave-like cosy spaces where you can return to a comfortable world full of your childhood fantasies like searching for hidden treasure. There are also private rooms where you can enjoy a unique Kansai experience of online dart games. There are so many spaces for visitors to enjoy and use in their own ways.
And good news for those who are searching for a place to stay at night! You can check the room availability in realtime from the official website and make an immediate reservation. You can also enter and exit by auto check in and out ー how smart!
All rooms are fully soundproofed, with auto lock for perfect security. You can spread work materials, work on your laptop, and make phone calls without worrying about other people at the café. All rooms are also popular because they are non-smoking.
There is also a beautiful menu consisting of approximately 40 meals and 20 drinks that are fun to eat, good for your health and good for your beauty. This menu was carefully developed by a female chef who trained in France. The original Kyoto Kawaramachi branch menu also includes bowls of healthy foods that use multigrain rice and many dishes that are easy to eat such as plates of finger foods and mug foods.
Besides this, there is also Hailey's most popular dish across all stores called the "Hailey Dog", which is made from Yamato pork sausage and German pretzels.  A limited number of puddings are made by hand in the kitchen every day. You can also enjoy Kyoto's local beer, alcohol and much more!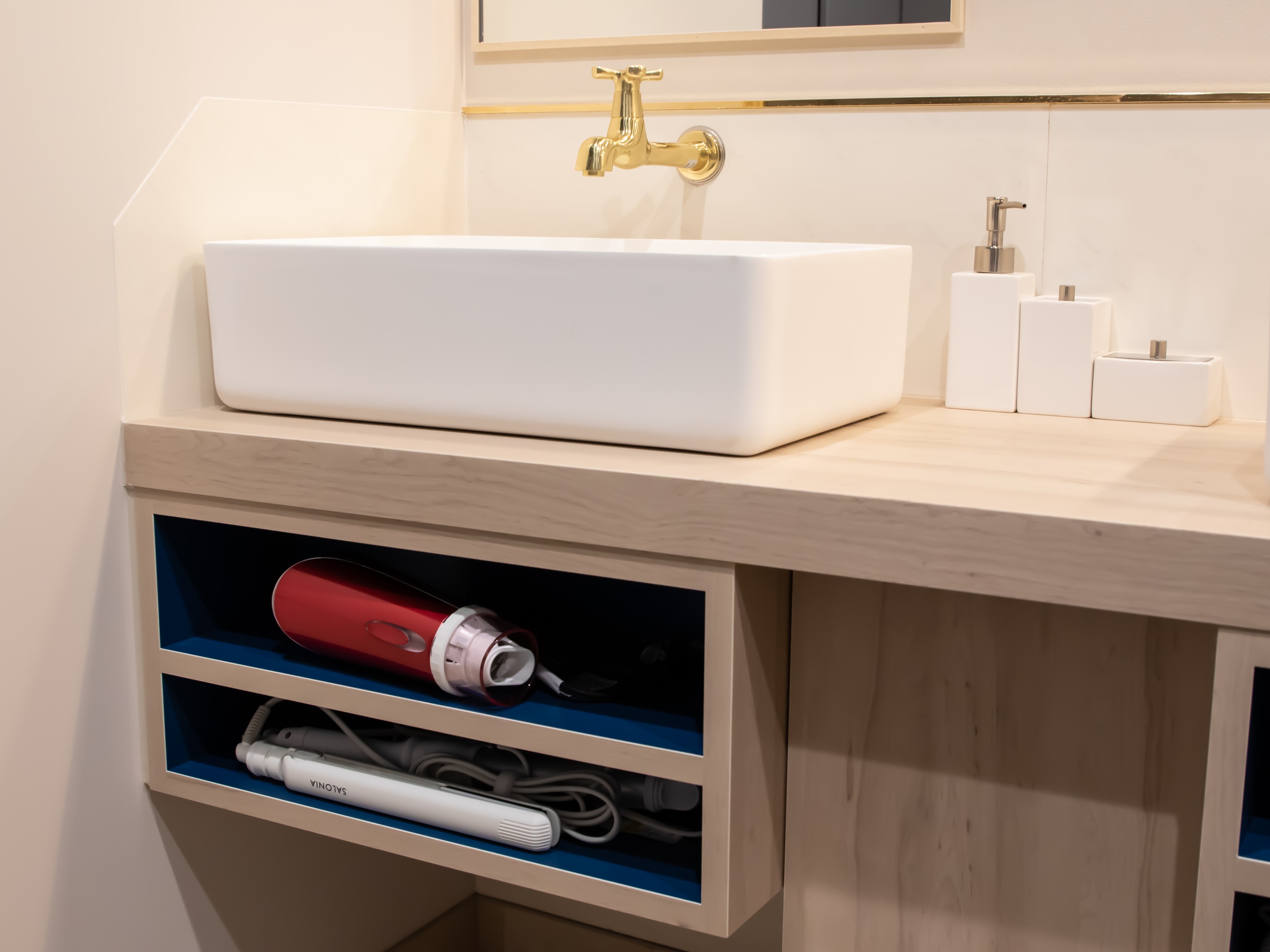 From curling tongs, straighteners and hair dryers to mirrors and aroma oils, you can use a range of electronic devices and items free of charge!
Come over to this manga café for a totally unique and full experience!
Information
Hailey'5 Café Kyoto Kawaramachi
Address: Kawaramachi, Shijyodori, Shimogyo Ward, Kyoto, Koto Cross 4th/5th floor
Access: 1 min walk from Kawaramachi station (Hankyu Kyoto Main Line) ※ Directly attached to station building.
Opening hours: 24hrs a day
No regular holidays
Advanced reservations taken online
Please refer to Hailey'5 official website for information on prices.
TEL: 075-275-8411
Official website: http://www.hailey5cafe.com/
RELATED ENTRIES
Colourful New Agar & Mango Jelly Drink Released at Kyo Yakasa Pudding in Kyoto

Kyo Yakasa Pudding opened its doors to the world back in April, and since then they have whipped up many different kinds of Japanese custard pudding, known as purin. Earlier this month they released their all new "Yasaka Cider," a jelly-like drink which became a hit on Japanese Instagram (search with #京八坂プリン).

The shop's most popular product since launching is the Kyo Yasaka Pudding―named just like the shop. It has a honey and lemon flavoured jelly which is full of agar and mango jelly balls, giving it a cute appearance and very refreshing flavour and completely new kind of texture.

Now, the shop has released its new Yasaka Cider. The word "Cider" in Japanese doesn't actually refer to the alcoholic drink, but instead is usually a carbonated mixture of lemon and/or lime.

Available this summer only, the Yasaka Cider is the perfect accompaniment for cooling yourself down while strolling the streets of Kyoto, filled with Kyo Yasaka Pudding jelly, agar balls, mango jelly balls, and an in-house made lemon slice and honey mix. The beverage is made fresh to order and comes in a cute bag which you can carry around easily with you.

There are lots of great photo opportunities for Instagram in the store too! If you're in or travelling to Kyoto this summer then be sure to stop.

Information

Kyo Yakasa Pudding

Address: 87-4 Hoshinocho, Higashiyama, Kyoto, Kyoto Prefecture

Opening Hours: 10:00-17:30

No Fixed Holidays

Website: http://www.kyo-yasaka-pudding.co.jp

Kyoto's Kurodani Temple Autumntime Illuminations Begin on November 4

Konkaikōmyō-ji, also known as Kurodani Temple, is set to open its doors to the public from November 4 for its autumn illuminations.

Kurodani Temple has a long history, best known as serving as the Kyoto Shugoshoku―the office of the Tokugawa shogunate―during the Bakumatsu period. It has relations to the Shinseigumi, a military force which was active during this time which was dedicated to suppressing anti-shogunate activities. It is also the first place that Hōnen, the founder of Japanese Pure Land Buddhism, spread his teachings.

For the special opening, you will be able to see the famous chicken painting Tori-zu Oshiebari Byobu by Itō Jakuchū as well as treasures associated with Hōnen and more.

The number of tigers on the famous tiger doors of the temple changes as you slide them.

From the temple grounds you can enjoy a breathtaking scene of the gardens where the autumnal colours of the trees reflect from the surface of the pond.

Kurodani Temple is also home to the Gokōshiyui Amidabutu Statue, which became the talk of the town in the media when it was dubbed the "Afro Buddha," and looks deep in contemplation.

There will also be performances three times a day in the evening using traditional Japanese instruments like the koto and shinobue.

If you pay for the premium entry plan you can enter 30 minutes earlier and will be guided by one of the official gardeners or expert of the gardens.

Information

Autumnal Light-Up

Running: November 4, 2019 – December 8, 2019

Time: 17:30-21:00 (Last Entries 20:30)

Price: Adults ¥800 / Children ¥400 / Infants – Free

*Groups of over 20 people – ¥700

Music Performances: Everyday at 18:00/18:45/19:30

Premium Plan

Running: Fridays & Weekends

Time: From 17:00

Price: Adults ¥1,200 / Children ¥600

Kurodani Temple

Address: 121 Kurodanicho, Sakyo Ward, Kyoto, Kyoto Prefecture

Event Page: https://www.kurodani.jp/lightup_aut/

Official Slam Dunk Manga T-Shirts Release at American Sports Merch Store Selection

A new collection of t-shirts based on the sports manga series Slam Dunk, which has had a huge influence on basketball fans around the world, are now available at the American sports goods store Selection.

The line-up includes a casual t-shirt displaying just the series logo as well as a sports line t-shirt which breathes well and is super absorbent, and more. As well as t-shirts there's also towels, tote bags and other items featuring illustrations of scenes from the manga.

Popular characters from Shohoku High School, where the protagonist goes to school, also feature on many on the t-shirts.

This collection is sure to be a must-grab by fans around the world.

Top 13 Cream Sodas in Tokyo: Cool Yourself Down This Summer with Classic Drinks & Modern Beverages

Hey, MOSHI MOSHI NIPPON readers! I'm Banako of MOSHI MOSHI FRIENDS.

It's safe to say that most long-standing, older cafés in Japan serve cream soda. It's a drink that bellows with nostalgia, topped cutely with a dollop of ice cream and sparkling bright with vivid colour like some rare jewel.

It's a rather simple drink, but the number of people intrigued by its unique appearance are evidently on the rise. And I'm one of those people! I've had times where if it's available on the menu I want to order it-and further still I've gone out of my way to a café solely because I've wanted some cream soda.

Depending on the vibe and atmosphere of a café, the appearance of the cream soda will be different, which also means a different flavour. This is all part of the enjoyment of cream soda: it's fun to compare the different tastes.

I have made a long list of my most recommended cream sodas in Tokyo, all of which I have actually tried!

To make it easier to picture each drink I have also given a rating out of 5☆ stars for the strength of the fizziness, the sweetness of the soda, and sweetness of the ice cream. Use this as reference when picking your drink of choice. Enjoy this specially curated selection of drinks in cafés that you're going to want to snap lots of pictures of♡

①CAMPUS TOY cafe&bar

CAMPUS TOY is located in the Jinbocho district of Tokyo. This exciting little place has gone for an American pop vibe. They sell toys too.

The extra goodies they put in the cream soda here is influenced by the US too. The owner is a really interesting person, so much so that you end up losing track of the time as you get lost in conversation with them.

Fizziness:★★★★☆

Soda Sweetness:★★☆☆☆

Ice Cream Sweetness:★★★☆☆

CAMPUS TOY cafe&bar

Address: 2-10 Kanda-Jinbocho, Chiyoda Ward, Tokyo

Opening Hours: [Mon-Fri] 18:00-22:00

Closed: Weekends & Public Holidays

Access: 2-minutes on foot from Jinbocho Station's A2 Exit

TEL: 03-3261-7383

Instagram: https://www.instagram.com/campustoy_matz/?hl=ja

②Café Negura

This little-known-good-spot can be found in Shimokitazawa. The café interior has relaxed and retro décor. Their cream soda is served with two stacks of ice cream and a crown of whipped cream topped off with a cherry. What a cute-looking drink!

Fizziness:★★★☆☆

Soda Sweetness:★☆☆☆☆

Ice Cream Sweetness:★★★★☆

▶︎ Café Negura

Address: PACKAGE ONE Floor 1F (North Side), 2-26-13 Kitazawa, Setagaya Ward, Tokyo

Opening Hours: 11:30 ー 20:00

Closed: Mondays & Tuesdays

Access:152m walk from Shimokitazawa Station

Twitter:https://twitter.com/neguracafe_mi

③Sepia

Another retro-style café, except this one is specifically influenced by the Showa period . Situated in Shibamata, everything about this café, from the outside to the interior, breathes retro-Showa. On the second floor is the Candy Candy Museum.

Their cream soda is the quintessential classic cream soda…but with a twist. It has mikan in it, a type of orange, which is very rare with cream sodas. That gives off a retro-ness too. Another cute beverage!

Fizziness:★★★☆☆

Soda Sweetness:★★☆☆☆

Ice Cream Sweetness:★★★☆☆

▶︎ Sepia

Address: 7-4-11 Shibamata, Katsushika Ward, Tokyo

Opening Hours: 10:00-18:30 (Last Orders 18:00

Closed: Tuesdays & Wednesdays

Access: 2-minutes on foot from Shibamata Station (Accessed via the Keisei Line)

Instagram: https://instagram.com/sepiamama?igshid=1urnwdix23qbx

④ALL C'S CAFE

ALL C'S CAFE is in Koenji, the retro hub of Tokyo. Decorations of cute bears are what this café is all about. There are enormous life-sized bears everywhere, so you can get ready to snap some seriously kawaii pictures.

The café itself, as well as the adorable smiley bear on your cream soda, is sure to elicit some high-pitched "Aww's."

Fizziness:★★★☆☆

Soda Sweetness:★★☆☆☆

Ice Cream Sweetness:★★★★☆

▶︎ALL C'S CAFE

Address: Miyake Bldg. 2F, 3-25-24 Koenji, Suginami Ward, Tokyo

Opening Hours: 12:00-22:00

Closed: No Fixed Holidays (except Obon and New Year's Holidays)

Access: 5-minutes on foot from the north exit of Koenji Station (Accessed via the JR Chuo Line)

Website: http://www.allcscafe.com

⑤Café Hosekibako

Hosekibako, which means 'jewelry box' in Japanese, is right next to Chitose-Karasuyama Station. Retro vibes waft their way throughout this cozy little hideaway with the littering of Showa manga and other miscellaneous odds and ends.

This café too has the signature classic cream soda. It has a transparent appearance in its truly beautiful colour.

Fizziness:★★★☆☆

Soda Sweetness:★★★☆☆

Ice Cream Sweetness:★★★☆☆

▶︎ Café Hosekibako

Address: Koyama Mansion 102, 4-18-18 Minamikarasuyama, Setagaya Ward, Tokyo

Opening Hours: 12:00-18:30 (Last Orders 18:00)

Closed: Wednesdays

Access: 5-minutes on foot from the east exit of Chitose-Karasuyama Station (Accessed via the Keio Line)


Website: https://housekibako.wixsite.com/2009

⑥THE GREAT BURGER STAND

This hamburger shop sells an American-style cream soda, topped with swirly ice cream rather than cream soda's classic dollop. That, together with the huge glass it's served in, is enough to get you excited before you even take a sip. The café can be found in Shibuya Stream, meaning you can stop by for a breather after shopping.

Fizziness:★★★★☆

Soda Sweetness:★★☆☆☆

Ice Cream Sweetness:★★★★☆

▶︎THE GREAT BURGER STAND

Address: Shibuya Stream 1F, 3-21-3 Shibuya, Shibuya Ward, Tokyo

Access: 1-minute on foot from Shibuya Station via the JR Yamanote Line 

Opening Hours: 11:00 ー 23:00 (Last orders:  22:30)

Closed when Shibuya Stream is closed.

Access: Approx. 1-minute walk from Shibuya Station (JR Yamanote Line)

Instagram: https://www.instagram.com/the_great_burger/

⑦Coffee Shop Galant

Right beside Ueno Station you'll find Galant, a coffee shop also with an air of retro-Showa to it during the bubble economy period. You'll feel like you've been transported back in time when you see the dazzling décor and the staff uniforms. Peeking through the see-through liquid is a cute red cherry♡

Fizziness:★★★★☆

Soda Sweetness:★★☆☆☆

Ice Cream Sweetness:★★★☆☆

▶︎ Coffee Shop Galant

Address: 6-14-4 Ueno, Taito Ward, Tokyo

Opening Hours: 8:00-23:00

No Fixed Holidays

Access: Directly behind the toy store Yamashiroya (山城屋), just a two minute walk from JR Ueno Station. Also 1-minute on foot from exit 5b of Ueno Station (accessed via the Tokyo Metro Line and Hibiya Line)

Tabelog: https://www.google.co.jp/amp/s/s.tabelog.com/tokyo/A1311/A131101/13039759/top_amp/

⑧bio ojiyan cafe Harajuku

Ojiya, also known as zosui, is a type of Japanese rice-based vegetable soup. In my opinion, the ojiya served here is the tastiest in the world! Their cream soda comes in a large round cup and is a nice refreshment after a spot of ojiya.

Fizziness:★★★★☆

Soda Sweetness:★★☆☆☆

Ice Cream Sweetness:★★★★☆

▶︎bio ojiyan café

Location: 4-26-28 Jingumae, Shibuya, Tokyo

Opening Hours: 11:00-20:00

No Fixed Holidays

Access: 10-minutes on foot from JR Harajuku Station / 3-minutes on foot from the Jingumae Crossing ticket gate elevator exit of Meiji-Jingumae Station (Accessed via the Tokyo Metro Fukutoshin Line)

Website: http://mfs11.com/brand/bio-ojiyan-cafe-harajuku/

⑨PEPPERS DRIVE IN

The main dish at this Kanagawa-based restaurant is curry. Every single thing about PEPPERS DRIVE IN is influenced by retro US elements, from the car park to the nooks and crannies inside and even the trays. You can take some really cute photos literally anywhere in the restaurant. The cream soda portion stays true to the American taste too with a generous serving.


Fizziness:★★★☆☆

Soda Sweetness:★★☆☆☆

Ice Cream Sweetness:★★★☆☆

▶︎PEPPERS DRIVE IN 

Address: 1129-1 Kidokoro, Hiratsuka, Kanagawa

Opening Hours: Lunch 11:30-15:00 (Last Orders 14:45) / Dinner 18:00-22:00 (Last Orders 21:30)

Closed: Wednesdays (Except on public holidays, in which case closed the following day)

Access: 6-minutes by taxi from south exit of Isehara Station (Accessed via the Odakyu Odawara Line) / 16-minutes by taxi from the north exit of Hiratsuka Station (Accessed via the JR Tokaido Main Line)

Official Website: http://www.peppers.co.jp

⑩BRIDGE

I reviewed the melon bread pancakes at this Ginza-based café earlier this year. It's located inside a long-standing department store meaning the cream soda here has been around for a long time too, offering a more traditional taste. They are served on coasters which you can take home with you. It's a great place to stop off for a break when strolling around Ginza.

Fizziness:★★☆☆☆

Soda Sweetness:★★★★☆

Ice Cream Sweetness:★★★☆☆

▶︎BRIDGE

Address: NISHIGINZA Floor B1F, 4-1 Ginza, Chuo Ward, Tokyo

Business Hours: [Monday-Saturday] 11:00-20:30 (Last Orders 20:00) / [Sunday & Holidays] 11:00-20:00 (Last Orders 19:30)

Closed: When NISHIGINZA Department Store is closed.

Website: http://www.nishiginza.co.jp/page/shopguide/detail/?id=33

⑪HIROMAN'S COFFEE

Another snug hideout, situated in the backstreets and surrounded by trees, is HIROMAN'S COFFEE. This cute café has lots of antique picture frames, rabbit ornaments, and other tidbits. Their melon soda arrives in a cute round and plump glass. They plenty of other Instagrammable drinks too including one topped with cotton candy. This one is one to keep coming back to!

Fizziness:★★★★☆

Soda Sweetness:★★☆☆☆

Ice Cream Sweetness:★★★☆☆

▶︎ HIROMAN'S COFFEE

Address: 3-18-12 Jingumae, Shibuya, Tokyo

Opening Hours: 11:00-19:00 (Last Orders 18:30)

No Fixed Holidays

Access: 10-minutes on foot from Meiji-Jingumae Station

Instagram: https://instagram.com/hiromans_coffee?igshid=oumb3g7aergo

⑫ blikje button

⑫blikje button

blikje button in Shimokitazawa, which offers both a café and dining experience, has a vintage vibe to it with decorations that have a handcrafted feel to them.  The glasses the cream sodas come in match that aesthetic. The stroking colours of the sodas are something beautiful to behold!

Fizziness:★★★★☆

Soda Sweetness:★★☆☆☆

Ice Cream Sweetness:★★★☆☆

▶︎blikje button

Address: Shimokitazawa Central Bldg. 2F, 2-14-7 Kitazawa, Setagaya Ward, Tokyo

Opening Hours: 12:00-23:00 (Lunch 12:00-16:00/Café 12:00-18:00/Dinner 17:00-23:00) *Food last orders 22:00, drink last orders 22:30

No Fixed Holidays

Access: 2-minutes on foot from Shimokita Station via the Odakyu Line / 2-minutes on foot from the south-west exit of Shimokitazawa Station via the Keio Inokashira Line

Website: http://www.blikje-button.com/

⑬CAROLINE DINER

CAROLINE DINER is a famous café in Harajuku inspired by American diners. The cream sodas sold here are striking and nothing short of Instagram-worthy! They go perfectly with the stylish interior of the café that you'll no doubt find yourself taking photos.

Fizziness:★★★☆☆

Soda Sweetness:★★★☆☆

Ice Cream Sweetness:★★★☆☆

▶︎CAROLINE

Address: 2-14-11 Jingumae, Shibuya, Tokyo

Opening Hours: 12:00-18:30 (Last Orders 18:00)

Closed: Thursdays

Access: 10-minutes on foot from Meiji-Jingumae Station / 10-minutes on foot from Kita-Sando Station / 10-minutes on foot from Setagaya Station

Website: http://caroline1.theshop.jp/

And that's all from me Banako and my must-try recommendations for Tokyo cream soda. Do you have a favourite from this list?

Tokyo's summer is nowhere near over yet. How about treating to yourself to a nice refreshing cream soda to cool yourself down from the scorching heat?

Tokyo Stroll: The Café That You Want to Visit to See Someone #11 – 'Hatoya' in Asakusa

In this edition of The Café That You Want to Visit to See Someone, I visited Hatoya which is located in Asakusa Shin-Nakamise Arcade.

The streets of Tokyo's historical district of Asakusa are packed to end with cafés. You can be spoiled for choice, but Hatoya stood out to me in particular as it's an especially old café. Business there began back in 1927 but the actual building was built back in the Taisho period, meaning its history spans more than 90 years ago!

The outside appearance of the shop is smart and chic so it's very easy to spot. I couldn't tell by looking from the outside, but the inside is full of old decorations and odds and ends which make you feel the history of the café.

One reason why I wanted to visit this place so much is because I was drawn to their logo. It's really retro-kawaii so I just couldn't resist!

You should take some photos too if you visit.

It was time to head inside. It's really comfy and cozy in there; the atmosphere was nice and relaxed.

Framed on the wall is a map of the Asakusa area during the Taisho era. Hatoya became famous back then because people could buy coffee for a mere 5 sen (a single sen is one-hundredth of a yen).

When business first began at Hatoya, because the café was opposite the stage door of a theatre, all of the famous actors and actresses would pop in. Some include famous Japanese comedian Roppa Furukawa and film actor Kiyoshi Atsumi who played Tora-san in the film series Otoko wa Tsurai yo.

I ordered the café's popular hotcakes which cost ¥600. They have been making these same hotcakes since before the war.

They were nice and fluffy and had a deliciously gorgeous brown colour. The flavour was out of this world when the butter melted from the heat of the hotcakes and mixed together with the syrup.

The portion might look like a lot but they are fluffy and have a light flavour so can be finished with no problem.

And is the café's signature milkshake (¥500).

It's so refreshing that you can knock it back all in one go. It has a simple flavour but it tasted so good!

I also ordered the ¥600 cream soda, my favourite beverage.

I've been to many cafés, and have covered many in this series, but this is the first I have dined at with such a deep history. I found myself enthralled by the stories of the owner who has continued to treasure the café and maintained it all the same since it opened. I feel like I have learned about a world I never knew about. The next time I go to Hatoya with a friend I'll be sure to let them in on its history. I encourage you to visit too!

Writer/Model: Ema Tanioku
Photographer: Haruka Yamamoto
Design: Yuko Abe (ASOBISYSTEM)

TALENT PROFILE

Ema Tanioku

"Emaeri" is the nickname for models Ema and Eri Tanioku, who are Aomoji fashion model twins. Ema and Eri Tanioku specialise in twin fashion coordination. Over the years their fanbase has increased due to their cute looks. Ema Tanioku spreads Harajuku culture within Japan as well as overseas and works as a Harajuku Tourism Ambassador. Starting off as a model, Ema has broadened her talent range from fashion magazines to TV, and from playing the lead role in dramas to movies.

Kyoto's Sweet and Salty Matcha Cheese Tea is an Enlightening Flavour Discovery

Kiyomizu Cheese Kobo opened at Kiyomizu Gojozaka at the foot of the famous Kiyomizudera Temple as Kyoto's first ever cheesecake shop to sell its delicious cheesecakes in a cute jar. On August 13, they released a mouthwateringly rich Matcha Cheese Tea which will enlighten you with a new way to enjoy matcha.

The Matcha Cheese Tea harnesses Kyoto's unbeatable Uji matcha which is full of rich and fresh flavour. A light cloud of fluffy cheese foam floats on top of the drink, adding a salty accent to the overall flavour. A traditional tea combined with a sweet and salty cheese flavour ー this brand new flavour discovery will leave you feeling refreshed and enlightened. The recipe for the cheese foam consists of cream cheese carefully selected by the cheesecake shop's specialists. This is then blended with a small amount of salt to accent the flavour. 

If you mix the matcha milk tea with the cheese foam, the rich matcha mixes with the saltiness of the cream cheese, creating a sweet salty flavour that you will not be able to get enough of. As the flavour is not too overpowering, you can enjoy this drink endlessly and will feel refreshed even on a hot summer's day. 

Matcha Cheese Tea: ¥460

Kiyomizu Cheese Kobo recommends three different ways to drink the Matcha Cheese Tea to enjoy three different levels of flavour combinations. 

① First off, drink just the matcha milk tea so you can experience the true authentic flavour of Kyoto's famous rich Uji matcha tea. 

② Next, move your straw so that you taste just the cheese foam on its own. The fluffy foam will gently slide over your tongue and spread a mild and sweet flavour all over your mouth. 

③ Finally, it's time to mix everything. The saltiness of the cheese foam and the sweetness of the matcha milk will create a new salty sweet flavour that you will want to try again and again.

Whether you are a Japanese local or a foreigner, this drink is a fun new way to enjoy matcha. If you are new to matcha, this is a good way to try the flavour without being too overwhelmed. 

Information

Kiyomizu Cheese Kobo (清水チーズ工房)

Address: 569-10, Shiraitocho, Higashiyama Ward, Kyoto City, Kyoto

Opening Hours: 11:00 ー 17:30

No fixed closed days.

Official Website: http://kiyomizu-cheese.com/

Mango Drinks Cafe CAFE MANGOSIX Opens First Japan Branch in Okinawa

MANGOSIX Japan opened its first ever CAFE MANGOSIX branch in Naha, the capital of Okinawa, on August 10.

CAFE MANGOSIX is a hugely popular cafe in South Korea which serves healthy drinks and desserts themed on its 6 S's concept: Sensual, Slim, Sweet, Social, Sexy, and Style.

Their must-try beverage is the Mango & Coconut Juice which combines rich mango with sweet coconut milk. The cafe even has some drinks exclusive to Japan so you won't find them anywhere else!

The popular Blue Lemonade from South Korea is also being sold.

Cool yourself off after sunbathing on the beaches of Okinawa by grabbing a drink from the new CAFE MANGOSIX!

Information

CAFE MANGOSIX

Address: 1-16-6 Matsuo, Naha, Okinawa

Opening Hours: 8:00-22:00

Access: 10-minutes by car from Naha Airport / 4-minutes on foot from Prefectural Office Station (via Yui Rail, aka Okinawa Monorail) / 2-minutes on foot from Okinawa Prefecture Government Building

Official Website: http://www.mangosix.co.jp/

4 Must-Visit Fireworks Festivals in Kyoto This Summer

Kyoto―also known as the "old capital" and said to be the birthplace of Japanese culture. In its 1,200 year history, this ancient city has given rise to much of what can be considered quintessential Japanese culture. Fireworks are a monumental feat of summer in Japan with countless festivals up and down the country dedicated to them, and Kyoto is no exception.

If you're in Kyoto this summer then you mustn't miss these 4 fireworks festivals.

Kameoka Peace Festival Hozugawa River Fireworks Festival – A Magnificent Arsenal of 8,000 Beauties

This long-running event is held every year to pray for world peace. Its spectacular display features a lineup of fireworks specially selected by the Japan Fireworks Artist Association which aims to evolve the tradition of firework culture. Expect to see the night sky illuminated with a rainbow of colours from the festival's launch of 8,000 fireworks, including the Starmine which shoots a cloud of bright stars into the overhead abyss, as well as some original fireworks crafted for the festival such as the "Kamemaru Hanabi."

▼Kameoka Heiwasai Hozugawa Fireworks Festival (Kameoka Peace Festival Hozugawa River Fireworks Festival)

Date: August 11, 2019

Time: From 19:30
Location: Hozubashi Bridge
Official Website: http://kameoka-hanabi.jp/

Kyoto Nantan City Fireworks Festival – The Spectacular Starmine

Held by the riverbed of the Katsura River, the fireworks festival in Nantan makes use of the opposite shore from the viewing point which makes the fireworks look like they are raining down from the sky like a waterfall. The finale of this festival welcomes the behemoth of all Starmine fireworks which rips across the night sky in a blazing spread. The festival is also held as part of the Bon Festival and so lanterns are let loose down the Ōi River, creating a sight of subtle grace and beauty.

▼Kyoto Nantan City Fireworks Festival

Date: August 14, 2019

Time: From 19:30

Location: Katsura River
Official Website: http://www.yagi-hanabi.com/

Miyazu Toronagashi Fireworks Festival – Floating Lanterns & Fireworks For 400 Years

Held in the city of Miyazu, this festival combines fireworks with floating lanterns and shoryobune―boats adorned with tanzaku paper slips that are sent out to light the way for the deceased as part of the Bon Festival.  Floating lanterns on the water (known as toronagashi in Japanese) in Miyazu began 400 years ago. This year, it was counted as one of Japan's three biggest toronagashi events.

Together with the boat, around 10,000 lanterns are sent into Miyazu Bay, creating a beautiful and majestic atmosphere. Close to 3,000 fireworks are set to illuminate the sky above, leading to an indescribable beauty as the fireworks and lights give off their own light.

▼Miyazu Toronagashi Fireworks Festival

Date: August 14, 2019

Time: From 19:30

Location: Shimasaki Park
Official Website: https://www.kyo.or.jp/miyazu/hanabi/

Ine Fireworks – Fireworks Galore Envelop Ine Bay

Around 1,200 fireworks climb up and over Ine Bay, lighting the calm water surface and the funaya boat houses of Ine with their brilliance. The boat houses themselves are also strung and lined with hanging lanterns.

▼Ine Fireworks

Date: August 24, 2019

Time: 20:15

Location: Ine, Kyoto
Official Website: http://www.ine-kankou.jp/inehanabi/

Did you enjoy our pick? It isn't summer in Japan without fireworks. If you're travelling to Kyoto to catch some sun this year, finish the day off with one of its many fireworks festival―from traditional Kyoto-esque events to large-scale ones with 8,000 fireworks ready to be deployed.

Sold Out On Day One―Itohkyuemon's Matcha Parfait Bars Release at Gion Shijo Store

Kyoto-based Uji tea store Itohkyuemon released its new Matcha Parfait Bars at its new branch in Gion Shijo on August 7.

The bars proved so popular that all 1,500 in stock sold out on the first day. The store is currently being piled with orders for future sales. There are five flavours to enjoy: the classic matcha parfait flavour as well as cherry blossom, tropical, mont blanc, and strawberry.

Matcha Parfait Bar – Matcha

The matcha flavoured bar retains the original rich flavour of the Uji matcha, which has been passed down since the Muromachi period, and combines it with a delicious assortment of parfait toppings including raw matcha chocolate, mini daifuku, coarse sweet red bean paste, and more.

Matcha Parfait Bar – Sakura (Cherry Blossom)

For another traditional Japanese twist there is the springtime sakura parfait bar which is made with cherry blossom pink rice flour dumplings and ice cream. It's also topped with cherry blossom cream and salted cherry blossom petals for a cute finish.

Matcha Parfait Bar – Tropical

Tropical flavours like pineapple and mango blend together in this bar which is drizzled in a sweet, sour and refreshing tropical sauce. Topped with fresh tropical fruits, this is the ultimate summertime luxury.

Matcha Parfait Bar – Mont Blanc

This bar incorporates a sense of autumn with its mix of candied chestnut, astringent chestnut skin, and melt-in-the-mouth mont blanc cream.

Matcha Parfait Bar – Strawberry

Strawberry lovers will delight in the handmade strawberry sauce and strawberry meringue of this bar. The meringue elevates the sumptuous flavours of the parfait even more, including the fresh strawberry, raspberry and blueberry toppings which provide a sweet and sour kick.

Which of these Matcha Parfait Bars do you want to try the most?

Information

Matcha Parfait Bars

Released: July 10, 2019 (On August 7, 2019 at the Gion Shijo branch)

Prices

Matcha Parfait Bar – Matcha: ¥540 (Tax Included)

Matcha Parfait Bar – Sakura (Cherry Blossom): ¥590 (Tax Included)

Matcha Parfait Bar – Tropical: ¥590 (Tax Included)

Matcha Parfait Bar – Mont Blanc: ¥590 (Tax Included)

Matcha Parfait Bar – Strawberry: ¥640 (Tax Included)

Participating Branches: Uji Honten, JR Uji Station, Gion Shijo, Byodoin, Kyoto Station, and online shop

Online Shop Product Page: https://www.itohkyuemon.co.jp/site/parfait-bar/index.html

Stay Cool This Summer in Kyoto at These 4 Nature Spots

When talking about seasons in Kyoto, a lot of people are sure to point towards autumn when the leaves turn fiery red and sun yellow. But did you know that in Kyoto enjoys cool and truly beautiful summers?

If you're in the old capital this summer, or are planning to catch the sun there with a trip next year, then you'll want to add the 4 spots in this list into your schedule, each abloom with magical foliage and verdure.

We are joined by Macchan, a Japanese Instagrammer who snaps photos of sightseeing spots around Kyoto lush with greenery.

Giouji Temple

Giouji Temple is a modest thatched hut wrapped in a bamboo thicket and maple trees. The temple is detailed in the epic The Tale of the Heike in which the dancer Gio fled to the temple from her home in the capital with her mother and sister after falling out of love with Taira no Kiyomori.

A visit here ensures you can enjoy the summer with more than just your eyes as you listen to the dancing of the bamboo thicket and the cries of the cicadas.

Giouji Temple
Address: 32 Sagatoriimoto Kozakachō, Ukyo Ward, Kyoto
Official Website: http://www.giouji.or.jp/en

Adashino Nenbutsu-ji

Adashino Nenbutsu-ji is a Buddhist temple with a history spanning 1,200 years. A memorial service for those who died without kin is taking place on August 23 and 24 at the riverbed of the temple's west wing where candles will be lit in their honour. Lanterns are also lit in the surrounding area along the streets.

Adashino Nenbutsu-ji

Address: 17 Saga Toriimotoadashinocho, Ukyo Ward, Kyoto

Official Website: http://www.nenbutsuji.jp/index.html

Fushimi Port Park

Fushimi Port Park is a huge park home to a gymnasium and sumo area. They also have a hiking course. The sea does not reach here, but there is a canal which boats go up and down, and this is where the park gets its name. It has a bounty of trees and plants, so if you're looking to enjoy a peaceful stroll in nature then be sure to visit.

Fushimi Port Park

Address: Yoshijima Kanaidocho, Fushimi Ward, Kyoto
Official Website: http://www.kyoto-park.or.jp/fushimi/

Kan'in-no-miya Residence

This residence was built for and used by the Kan'in-no-miya family in 1710, with Prince Naohito as its founder―the son of Emperor Higashiyama. The family lived in the house until 1877 after which they moved to Tokyo. Following the war, it was liberated and became a park, and today it is used to exhibit photography and paintings. The residence is famous for its peach trees, making it a popular spot in spring. However, in summertime, it's much quieter, adding grace to the tranquillity of the surrounding green landscape. What's more is that despite it being such a prestigious location, it's free to enter! Don't tell too many people about this secret spot.

Kan'in-no-miya Residence

Address: 3 Kyotogyoen, Kamigyo War, Kyoto, Kyoto Prefecture

Official Website: https://kan-in-nomiya-teiato.jp/eng/

Macchan has visited many incredible spots around Kyoto, so if you're in need of recommendations be sure to give them a follow.

Photos: @macchan358

Popular Tokyo Café Bakery BREAD, ESPRESSO & to Open in Fukuoka

Bakery café BREAD, ESPRESSO &  has made quite a reputation in Omotesando, Tokyo for its stylish interior and delicious coffee and bread. The bakery café is now opening a new branch in Fukuoka called BREAD, ESPRESSO & HAKATA & on September 25th, 2019.

To commemorate 10 years in business, BREAD, ESPRESSO & will be opening their first ever branch in Hakata, Kyushu. The café bakery will be nestled between Hakata Station and CANAL CITY HAKATA. Whether you are a busy commuter looking for a heartwarming cup of coffee or a traveling tourist, the location is ideal for anyone looking for a quick rest stop. 

The new café bakery is approximately 165 m² in size, making it the largest branch. The shop is decorated with a pure white base theme and has the perfect comfortable environment to enjoy a coffee. 

Mu: ¥330 (after tax)

French Toast: ¥750 (after tax)

BREAD, ESPRESSO &'s popular Mu and French Toast will be on the menu along with Hakata-limited goods. If you are searching for some delicious bread in Hakata, please make your way to BREAD, ESPRESSO &.

Information

BREAD, ESPRESSO & HAKATA & (パンとエスプレッソと博多と)

Address: 101, 2-8-12, Hakata Ekimae, Hakata Ward, Fukuoka 

Opening Hours: 8:00 ー 20:00

No regular holidays. 

TEL:092-292-1190

Website: http://www.bread-espresso.jp/

Best Kyoto Souvenirs to Pick Up This Summer at Daimaru Kyoto

Are you planning to shop for souvenirs in Kyoto this August? Daimaru Kyoto has the perfect lineup for the summer season, from cool and refreshing wagashi confections to sweets made with matcha grown in Kyoto and more―all packaged in gorgeous in packaging exclusive to the Kyoto branch of Daimaru. Here's our top picks for summer 2019!

Ryo no Seifuu (Contains 8) @ Sasaya Iori, Floor B1F Wagashi Marketplace – ¥2,160 (Tax Included) *Available until Mid-August

Inspired by cool springs, this tasty Japanese-style confection comes in 4 different refreshing and fruity flavours.

Kuzu Nagashi (Contains 3) @ Oimatsu, Floor B1F Wagashi Marketplace – ¥1,339 (Tax Included) *Available until Mid-August

Indulge in two different flavours of arrowroot: one made with brown sugar from the island of Hateruma and another with sweet apricot juice. The brown sugar arrowroot is also mixed with honey and the apricot with apricot honey.

Kakitsubata (Contains 6) @ Shogoin Yatsuhashi Sohoten, Floor B1F Wagashi Marketplace – ¥540 (Tax Included)

Yatsuhashi is a classic Japanese confection and is a famous souvenir sweet in Kyoto. These uncooked yatsuhashi have a faint cinnamon aroma and are formed in a way similar to dango.

Salted Lemon Pound Cake (1 Cake) @ Adachi Otoemon, Floor B1F Wagashi Marketplace – ¥2,160 (Tax Included)

Laced with tangy lemon skin, this refreshing pound cake is topped with rock salt which elevates the flavours to delicious new heights.

Raw Uji Matcha Chocolate (Contains 8) @ ATELIER de GODIVA [Kyoto Branch Only], Floor B1F Wagashi Marketplace – ¥2,916 (Tax Included) *Available until Mid-August

Luxurious, rich and melt-in-your-moth raw chocolate made lavishly with bitter Uji matcha.

Kyo Chafure (Contains 5) @ Kyoto Tsuruya, Floor B1F Wagashi Marketplace – ¥810 (Tax Included)

These soft doughy sablés made with rich Uji matcha.

Koto no Natsu @ Nomura Kyotsukidani, Floor B1F Tsukudani Marketplace – ¥1,080 (Tax Included)

If you're looking for something a little more savoury then you'll absolutely want to check out the popular chirimen sansho, dried whitebait seasoned with pepper. It comes packaged in beautiful summery Kyoto packaging.

Did you enjoy this list? Be sure to pick up as many tasty edible Kyoto souvenirs while exploring the ancient city.