18+ Hailey'5 manga café opens new branch in Kawaramachi, Kyoto!
Hailey'5 Café is a next generation manga shop for those aged 18-years old and above. A new branch will open in Shijō, Kawaramachi on Wednesday 27th March 2019 and it will be the first Hailey'5 Café to open in the Kansai region.
Hailey'5 Café, which is often abbreviated to "Hailey", was the first ever internet café for aged 18 and over and it opened in Ikebukuro in August 2015. This became the first ever manga café in the industry to have a quick online reservation system, soundproofed private rooms with auto lock for ensured security (which is especially good for women), full-scale café food, and a beautiful photogenic interior space. For these reasons, the café receives high ratings. The word of this cozy internet café has spread wildly over social media. In 2017, a second café opened in Shibuya which became so popular that reservations started becoming impossible to obtain. This internet café is so popular, you would think it is a hotel!
Hailey café Kyoto Kawaramachi branch has a very convenient location ー it is just a one- minute walk from Hankyu Kawaramachi Station and is directly connected to the station.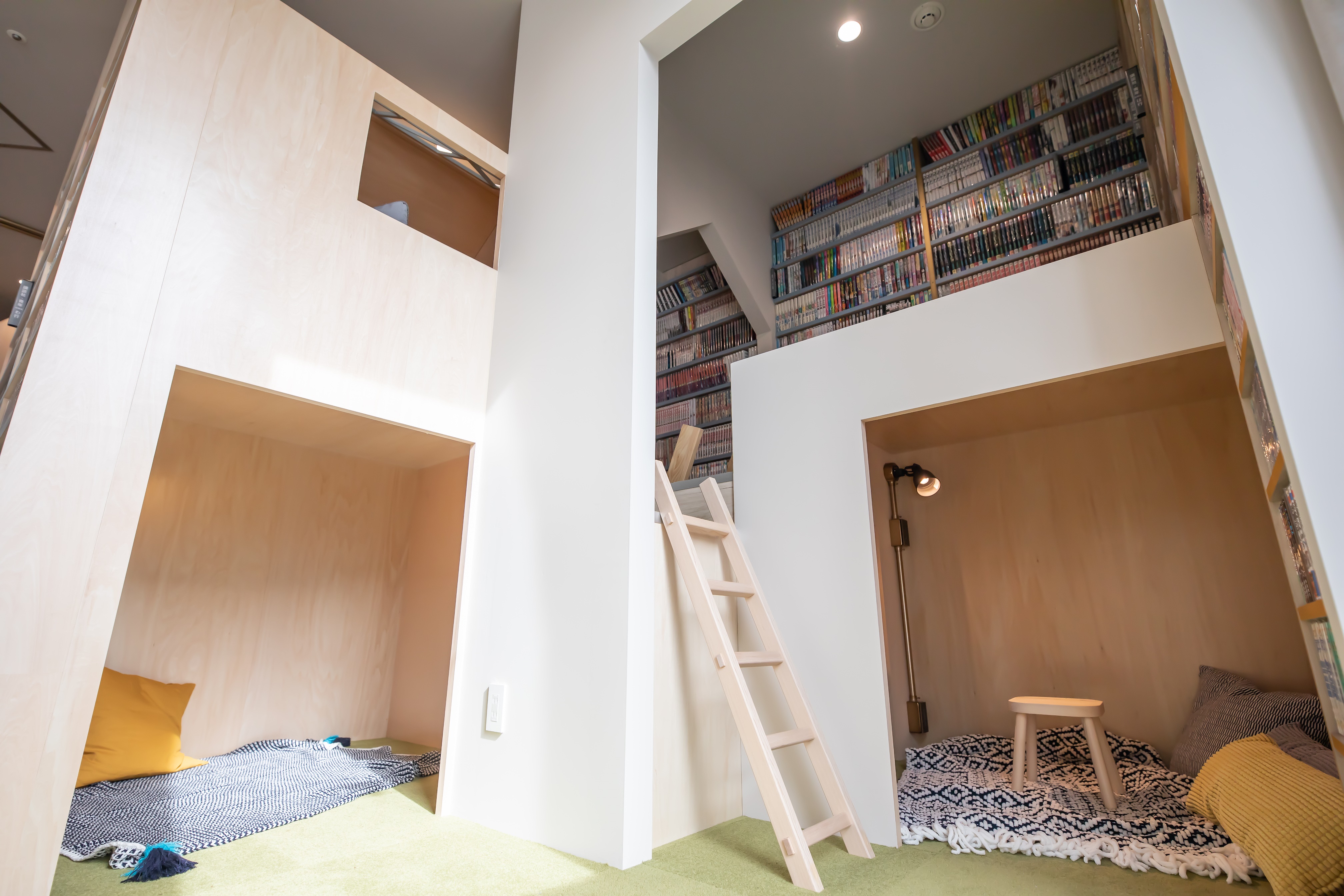 Hailey's first ever free address "bookvillage" also opened in this café. Enjoy the atmosphere of a library created by approximately 25,000 manga, or get lost amongst the giant bookcases and discover little cave-like cosy spaces where you can return to a comfortable world full of your childhood fantasies like searching for hidden treasure. There are also private rooms where you can enjoy a unique Kansai experience of online dart games. There are so many spaces for visitors to enjoy and use in their own ways.
And good news for those who are searching for a place to stay at night! You can check the room availability in realtime from the official website and make an immediate reservation. You can also enter and exit by auto check in and out ー how smart!
All rooms are fully soundproofed, with auto lock for perfect security. You can spread work materials, work on your laptop, and make phone calls without worrying about other people at the café. All rooms are also popular because they are non-smoking.
There is also a beautiful menu consisting of approximately 40 meals and 20 drinks that are fun to eat, good for your health and good for your beauty. This menu was carefully developed by a female chef who trained in France. The original Kyoto Kawaramachi branch menu also includes bowls of healthy foods that use multigrain rice and many dishes that are easy to eat such as plates of finger foods and mug foods.
Besides this, there is also Hailey's most popular dish across all stores called the "Hailey Dog", which is made from Yamato pork sausage and German pretzels.  A limited number of puddings are made by hand in the kitchen every day. You can also enjoy Kyoto's local beer, alcohol and much more!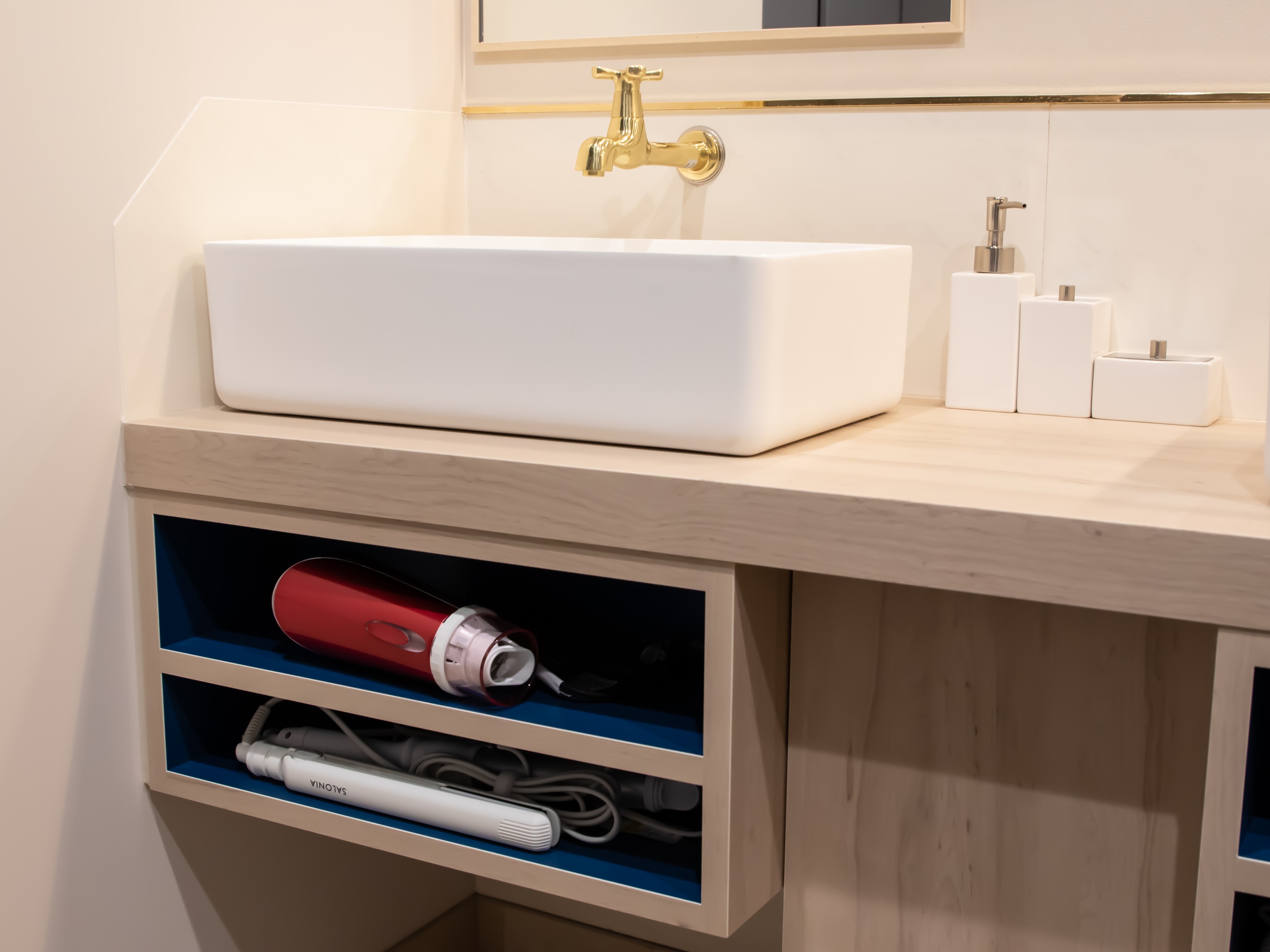 From curling tongs, straighteners and hair dryers to mirrors and aroma oils, you can use a range of electronic devices and items free of charge!
Come over to this manga café for a totally unique and full experience!
Information
Hailey'5 Café Kyoto Kawaramachi
Address: Kawaramachi, Shijyodori, Shimogyo Ward, Kyoto, Koto Cross 4th/5th floor
Access: 1 min walk from Kawaramachi station (Hankyu Kyoto Main Line) ※ Directly attached to station building.
Opening hours: 24hrs a day
No regular holidays
Advanced reservations taken online
Please refer to Hailey'5 official website for information on prices.
TEL: 075-275-8411
Official website: http://www.hailey5cafe.com/
RELATED ENTRIES
Nijo Castle Light-Up Event Streaming Tickets Now Available

One of seventeen Historic Monuments of Ancient Kyoto is currently being illuminated in a sea of otherworldly lights. Nijo Castle in Kyoto is the location for the One to Ten: Evening Party, using projection mapping to bring out the beauty of this magnificent locale. For those who can't visit in person, an event on December 7 is inviting people to watch the lights online, including the illumination of the Karamon Gate and the Ninomaru Garden. Tickets for the online event go on sale on December 3, 2021. 

To capture the feeling of being on-site and to convey the incredible atmosphere, a camera will guide viewers along the normal route through the castle grounds with audio commentary. The popular 'Special Performance,' which only allows a limited number of people each day due to space constraints, will be available to view in its entirety during the stream. 

The live event will air on December 7 at 10:00 PM JST, and will be archived until December 26 at midnight. Tickets to watch are available from December 3 until December 26. 

Information

One to Ten: Evening Party at Nijo Castle

Running: November 5 – December 12, 2021 *Closed December 8

Hours: 18:00-21:20 (Grounds close at 22:00)

*The event may be canceled due to inclement weather. Content may be changed at the discretion of the organizer.

Official Site: https://yakai.1-10.com/nijojo/

Manga Series Dandadan Gets Collaboration Merch at Tower Records to Celebrate Volume 3

To celebrate the release of volume 3 of the Dandadan manga series, participating Tower Records locations in Japan will be selling some collaborative merchandise starting on December 3. The items will also be available to purchase on Tower Records Online. 

Acrylic Keychain (8 varieties): ¥715 (Tax Included) 

*This product is limited to 16 per person.

Square Pins (6 varieties): ¥605 (Tax Included) 

*This product is limited to 12 per person. 

Sticker (Momo Ayase, Okarun, Aira Shiratori & Turbo-Granny, 3 Varieties): ¥880 each

Tiny Pin: ¥660 (Tax Included) 

Sticky Note Set: ¥880 (Tax Included) 

Towel:  ¥2,200 (Tax Included) 

Reversible Reuseable Bag: ¥2,200 (Tax Included) 

T-shirt (Okarun, Turbo-Granny, 2 varieties): ¥3,850 each

©︎龍幸伸 / 集英社

Information

Dandadan x TOWER RECORDS

Release Date: December 3, 2021 *Reversable bag will go on sale December 10

Participating Locations: Shibuya, Shinjuku, Sapporo PIVOT, Sendai PARCO, Ikebukuro, Akihabara, Machida, Kawasaki, Nagoya Kintetsu Pass'e, Umeda NU Chayamachi, Fukuoka PARCO

Tower Records Online: https://tower.jp

Details: https://tower.jp

Hot-Pot Party-Themed Gorogoro Nyansuke Cafe Opens in Ikebukuro

Gorogoro Nyansuke, a popular character featured on LINE stickers, will get his own cafe in Ikebukuro for a limited time! The nabe (hot-pot) party-themed location will be open from December 2, 2021 until January 23, 2022. In Japan, it's popular to enjoy nabe with friends and family during the winter months to warm up!

Reservation Bonus

Menu

Refreshing Lemon Nabe

Tomato Nabe

Soy Milk Nabe

Black Sesame Parfait

Dorayaki Pancakes with Japanese Sweets

Red Bean Paste Covered in Snow

Warm and Cozy Kotatsu Cake

Nyansuke Float (Melon Soda)

Nyansuke Float (Anzu Soda)

Nyansuke Float (Roasted Green Tea and Milk)

Nyansuke Sake

Cafe Latte: ¥660 (Tax Included)

Original Merchandise

Acrylic Keychain (Random, 10 varieties)

A4-size Clear Folder (Set of 2)

Mug

The adorable kitty-cat has become popular on LINE and social media and was designed by Tsumugi Murasato. Her first manga was published in October 2020 with merchandise following, and she has become more and more popular since!

© MIND WAVE INC. / GORO GORO Nyansuke ®

DANDELION PROJECT Comes to Kosho-ji Temple in Uji, Kyoto for Limited Time

NAKED'S DANDELION PROJECT has popped up at seven different locations around Kyoto, including the famous Kiyomizu-dera and Heian Shrine. From December 3 until December 5, the participatory art project for peace will come to Kosho-ji Temple at nighttime. 

Kosho-ji Temple is famous for its autumn foliage and is designated as a place of scenic beauty by Kyoto prefecture. The gently sloping path from the front gate along the Uji River to the temple gate is called Kotozaka, because the flowing freshwater sounds like a Koto, the national instrument of Japan. The event will include a nighttime viewing of the temple along with lights around the grounds and gardens. The Uji Light Path will line the streets of the town with lanterns based on The Tale of Genji. 

NAKED's popular attractions–the NAKED Distanced Lanterns and NAKED Flower Cleansing–will also be available to participate in during the event.

Information

DANDELION PROJECT in Uji, Kyoto

Address: Kosho-ji Temple (27 Yamada, Uji, Kyoto)

Running: December 3 – December 5, 2021 

Hours: 17:30-20:00 (Last Entry at 19:00)

Admission: ¥1,000

Official Site: https://naked.co.jp

Manga Artist Macoto Takahashi Collaborates With Tsudanuma PARCO for Christmas Event

Legendary shojo manga artist Macoto Takahashi is collaborating with Tsudanuma PARCO in Funabashi, Chiba, for the 2021 Christmas event from November 19 until December 25, 2021. The creator recently released an art book featuring many of his works titled 'Macoto Takahashi's Jewelry Box.' An exhibition featuring mini-prints and mini-panels of works featured in the book will also be held, and merchandise will be on sale both on-site and online. 

Main Visual

Window

After his debut in 1953, Takahashi published the manga series Arashi wo Koete and Princess Anne. His signature style of depicting glittering stars in the eyes of his protagonists would have a lasting influence on other manga artists. In the 1960s and 1970s, he was at the helm of many magazine covers and illustrations for popular girls' manga magazines like Nakayoshi, Shojo Friend, and Margaret. Despite his classic style, his works are still largely popular today. The main visual for the event 'Lucky Star' features a girl in a red Christmas-themed costume surrounded by animals, blue snowflakes, and delicate lace.

Information

MACOTO CHRISTMAS 2021

Running: November 19 – December 25, 2021

Location: Tsudanuma PARCO 1F Entrances, Windows (Christmas Decorations) /

B Building 4F, In front of ACADEMIA Kumazawa Bookstore, Next to Escalators (Exhibition / Shop)

Online Store: https://kaeru.parco.jp/shop/detail/shop000027204/

gelato pique café Releases its Christmas Collection Including New Menu and Goods

gelato pique café launched its Christmas collection for limited time only from November 24 to December 26.

Brown Bear Caramel Crêpe

Raspberry Caramel Cheesecake Crêpe

Caramel and Hazelnuts Hot Chocolate

Eco Bag with Chocolate Bear (Small Size) 

Mug with Chocolate Bear

The theme for gelato pique cafe's Christmas Sweets 2021 is "Brown Bear Caramel Christmas – With Pique Bear and Rich Caramel- and three new sweets and drinks are available, including a crepe topped with an adorable chocolate "Pique Bear". As well as the food menu, two types of original goods, eco-bags and mugs, featuring the chocolate bear topping are available at gelato pique cafes nationwide and gelato pique official online store.

Popular Seinen Manga Series Mononogatari Getting Anime Adaptation

Manga series Mononogatari is finally getting an anime adaptation. The series began in Shueisha's Miracle Jump in April 2014, switching to Ultra Jump in January 2016. Onigunso, the manga's creator, drew an original illustration to celebrate the announcement and posted it to Twitter along with a comment. 

Comment from Onigunso

"Thanks to the support of so many people, Mononogatari is becoming an anime series. Thank you to all of the readers, and thank you to everyone involved in this project! As a manga artist, I draw the character's movements and words, but it can be hard to visualize exactly how it would look in motion. As the author, I'm looking forward to seeing how the characters appear on screen. I hope you'll continue supporting both the manga and anime series in the future!"

Mononogatari Synopsis

As objects get older, they eventually get worn-out and rusty. When this happens, they develop a 'soul,' becoming a tsukumogami. Hyoma Kunato hates these creatures for stealing something important from him. Traveling to Kyoto, he meets Botan Nagatsuki, a girl who loves tsukumogami and lives with six of them as her family.

©オニグンソウ/集英社

Sanrio Starts First Multiprotagonist Manga Series 'Maimaimaigoen,' Focusing on Growing Pains

Sanrio has started an ambitious new manga project. 'Maimaimaigoen' is currently being serialized on the Young Ace UP website, and a special music video by Vocaloid producer Kairiki Bear has been released to celebrate the series start. A free game is also under development and is scheduled to be released during 2021. 

Nursery School Students: (From the Top Row, Left) Maria, Hikaru, Shinta, Kanata, Daigorou, Lion, Lime, Zoya (From the Bottom Row, Left) Madoka, Yuzuriha, Hayate, Mamoru, Rinrin, Wataru, Daiya, Aki

Teachers: (From the Left) Yuu Okada, Rumi

The Mysterious Lifeform, 'Froggy Egg' 

(c)Yakan Nabeya

(c)Yakan Nabeya

'Maimaimaigoen' is an ensemble drama series focusing on emotional growing pains. In an age where many people feel uncomfortable in their own skin, this story is sure to hit close to home, affirming that it's perfectly okay to be just the way you are. The story invites readers into the world of many diverse characters, each with incredible individuality. 'Maimaimaigoen' aims to team up with unique creators in the future, and with that in mind, Sanrio has released some guidelines for fan content. This is the first time Sanrio has ever directly offered support to fan creators. 

To commemorate the manga's release, a collaborative music video with popular Vocaloid creator Kairiki Bear is now available to watch on YouTube. The artist has over 560,000 subscribers. 

The latest information about the project will be released on pixivFANBOX, along with new creator content and behind-the-scenes stories. Don't miss it!

Synopsis


One day, a group of nursery school students and their teacher, Yuu, go on a field trip to Sanrio Puroland. Suddenly, they are swept away into a deserted amusement park called 'Yuuropia.' 

Froggy Egg, a mysterious creature from this strange world, explains that by completing the attractions in the park, the children can return to their world…

Love of Kill Anime Adaptation Coming January 2022, 1st Key Visual and Trailer Unveiled

The popular manga series Love of Kill is getting an anime adaptation in January 2022, and the first image and trailer have been released. The key visual shows the members of Ritzland Support, the organization to which the main character Chateau Dankworth belongs, and the people targeting Son Ryang-ha. In the first trailer, you can see a glimpse of the fierce battles between hitmen to expect in the series set to Toshiki Masuda's theme song Midnight Dancer.

Key Visual

1st Trailer

 

More cast members have also been announced: Kenyu Horiuchi will play Ritzland Support owner Euripedes Ritzland, Kohei Amasaki will play Jim (named Indian in the manga), Tomoaki Maeno will play Hou, and Hochu Otsuka will play Donny. Each actor has also provided a comment about the upcoming series. 

To celebrate the release of the first trailer, a special campaign is taking place on Twitter now, with the winner snagging a script signed by the aforementioned actors as well as Saori Onishi (Chateau) and Hiro Shimono (Son Ryang-ha). Don't miss it!

Cast Comments

Kenyu Horiuchi (Euripedes Ritzland) Comment
When I was chosen to perform in the Love of Kill anime adaptation, I quickly fell in love with the series. I expected it to be about this twisted love between killers, but it's much deeper than that. So many characters are intertwined, and their pasts are continuously being unraveled. There's a love between two incompatible people, and it is portrayed with such heartache. The story is so action-packed and full of content. I play the role of Euripedes Ritzland, who is unreliable but who gets things done when he has to. There is so much kindness in his heart. I just hope that everyone who sees the show enjoys it–it's a wonderful work of art.

Kohei Amasaki (Jim) Comment


I've loved Jim as a character since I read the original manga, so I'm super excited to play him. There was a lot of trial and error while I tried to find the best way to express him, and I hope you'll enjoy what I came up with! The story is addicting, the characters are fascinating, and Jim is a major player in the story…Please watch!

Tomoaki Maeno (Hou) Comment


This is a super impactful character. Ho has his own personal beliefs and objectives, and these drive his every action. My first impression of Ho was that he was a somewhat unlikeable character, but I grew to love his cunning. He knows that he could be killed if he isn't careful at every moment. Please enjoy his story.

Donny (Hochu Otsuka) Comment


I am so excited to portray Donny in Love of Kill. Donny was born in noir and lives in noir. I absolutely love noir novels, so this is my dream role! It's ruthless, it's cruel, it's filled with sorrow. I hope you'll look forward to the first episode!

Toshiki Masuda (Opening Theme) Comment


This is the first time I've ever performed an anime theme, so I've really been feeling the pressure. While creating this song, I wanted it to express the world of Love of Kill without spoiling anything. Please enjoy the song as much as I do!

Aika Kobayashi (Ending Theme) Comment


I'm so proud to announce that I will be performing the ending theme, Makoto Period, for the Love of Kill anime series. I read the original manga before starting the project, and I ended up binging it in one go. While reading, I couldn't help but wonder–what is true and what is false? It's sad, it's filled with love and pain. I created this song with those feelings in mind. Please enjoy the show!

Banana Fish Collaboration Cafe and Bar Coming to Tokyo and Osaka

While the Banana Fish anime series will make you cry, this new collaboration cafe will have guests smiling from ear to ear. This stylish New York-inspired cafe and bar will be open from November 25, 2021, until January 16, 2022, in Tokyo, and from December 2, 2021, until January 30, 2022 in Osaka. Guests can enjoy dishes and drinks inspired by the show's characters and can grab some limited merchandise too. 

Banana Fish began as a manga series in 1985 and was created by Akio Yoshida. Set in New York City, the series follows the teenage gang leader Ash Lynx as he tries to overcome his painful past and solve the mystery of 'banana fish,' a strange drug that drove his brother mad during the war in Vietnam. He is joined by Eiji Okumura, a Japanese college student and photographer's assistant who arrives in America to help with a story about gang violence. 

Menu

Tofu and Salmon Salad Bowl

His Main Dish for the Night

N.Y. Style Tacos

Grilled Banana Waffle

Chinese Sweets Plate

Chocolate Fondue

N.Y. Style Cheesecake with Caramel Nuts

Ash, Eiji, Shorter

Hot Cocoa, Hot Cafe Latte

Original Merchandise

Acrylic Pin (7 varieties, random)

Aurora Sticker (7 varieties, random)

Acrylic Stand (7 varieties, random) 

Acrylic Keychain (6 varieties, random)

Clear Folder Set (Includes two folders)

Acrylic Stand (Ash, Eiji, Shorter)

Acrylic Board

Cork Coaster (Ash, Eiji) / Cup Sleeve

Glass (Ash, Eiji) / Plate

Bonus for Advanced Reservation Holders: Paper Ornament (8 varieties, random)





How would you like to spend some time with these characters in a swanky New York-style cafe?

© 吉田秋生・小学館/Project BANANA FISH

Information

Banana Fish Cafe and Bar -New York Night-

Tokyo 

BOX cafe&space Omotesando Hills B3F (4-12-10 Jingumae, Shibuya, Tokyo)

Running: November 25, 2021 – January 16, 2022

Osaka

BOX cafe&space Umeda LOFT 1F (16-7 Chayamachi, Kita-ku, Osaka)

Running: December 2, 2021 – January 30, 2022

Reservations now open

Reservation Fee: ¥715 (Tax Included) *Includes reservation bonus

Official Site: https://bananafish-cafebar.jp/

Online Shop

Open: November 25, 2021 at 11:00 – January 30, 2022 at 23:59

Birth Book Coffee in Tokushima Offering Santa & Reindeer Inspired Daifuku

Located in Tokushima, Birth Book Coffee specializes in both a tasty cup of joe and a delightful selection of dango and fruit daifuku. Daifuku is a Japanese sweet made of small round mochi filled with sweet filling, typically red bean paste. It's the perfect snack to have with a warm drink, and now, Birth Book Coffee has unveiled some Christmas-themed sweets!

Christmas

Chinese Zodiac

Chinese Zodiac

Character Daifuku

Character Dango

Matcha Chocolate Strawberry Daifuku

White Chocolate Strawberry Daifuku

If Christmas isn't your thing, the shop is also selling sweets shaped like animals from the Chinese zodiac. 

Birth Book Coffee is a sweets shop, a coffee shop, and a book shop all in one. Employees make the sweets by hand each day, and invite guests to curl up with a nice story as they enjoy the calming environment. Each Daifuku is made using Shiga Habutae Mochi Rice, one of the three most glutinous rice varieties in Japan. It's stickier and sweeter, making for a more rich treat. The reindeer Daifuku is flavored with caramel milk, and the Santa with red bean paste. Be sure to take a shot of them for social media, or give them as a gift!

The Matcha Chocolate Strawberry and White Chocolate Strawberry Daifuku are only available during winter, so try to snag them before they're gone!

Information

Dango & Birth Book Coffee

Address: Inside Marunaka Tokushima (1-6-1 Nishishinhama-cho, Tokushima)

Immersive Art Event Now Open at Kyoto World Heritage Site Nijo Castle

Nijo Castle in Kyoto is one of seventeen Historic Monuments of Ancient Kyoto, built by the Tokugawa Shogunate. It's worth a visit on a trip to the old capital of Japan, but a new event is making it even more exciting! From November 5 until December 12, 2021, guests to the castle at night can enjoy projection mapping across the castle grounds and a collection of food from Kyoto's most famous restaurants.

The giant interactive light show will take over 400 square meters, and was created by the company Creative AI. By analyzing environmental information such as density and location of visitors and surrounding weather, the art will change to engage the senses. Shifting light and sound will enhance Nijo Castle's beauty–guests should pay special attention to the Karamon Gate, an Important Cultural Property, and the Ninomaru Garden. This is the first of these evening parties held in Kyoto, meant to infuse traditional Japanese culture with modern innovations.

Kyoto is a city that has been based around Feng Shui since ancient times, with a local saying claiming that the water flowing beneath Nijo Castle carries good energy. These thoughts resonated with the historical figures that lived in Kyoto during the construction of the castle, and they believed that the spot was special. The Ninomaru Garden is the perfect location to use this new technology to bring this energy to life!

Information

One to Ten: Evening Party at Nijo Castle

Running: November 5 – December 12, 2021 *Closed on December 8

Hours: 18:00-21:20 (Grounds close at 22:00)

Address: Nijo Castle (541 Nijojocho, Nakagyo-ku, Kyoto)

Tickets/Event Details: https://yakai.1-10.com/nijojo/