Weird is Wonderful. MOSHI MOSHI NIPPON Selects 5 of the Quirkiest Spots in Japan
To the question that goes "Where's a good place to go to in Tokyo? It's my first time visiting!" you've heard these places being thrown around way too many times: Shibuya Crossing, Sky Tree, Asakusa, etc. All these tourist destinations are a definite must for Japan first-timers, and it's true, it doesn't get old when you don't see it everyday. But we know you curious travelers are out there, trying to dig deeper into the even weirder side you're sure Japan possesses.
After all, we are the country that have fed you with your latest guilty pleasure: "pen-pineappo-appo-pen"! (Don't even try to deny it.)
So here are five MOSHI MOSHI NIPPON-selected places that have the right amount of quirk that'll make your Japan trip next level.
Let's go in order of weird to weirder.
Photo credits: http://toyosukukan.com
1. Takoyaki Museum
Just like there's HERSHEY'S CHOCOLATE WORLD in the states, Japan's got a place to celebrate one of their much-loved foods, which is not chocolate, but Takoyaki. The octopus balls that hail from Osaka are a casual munch, and this food court in DECKS Odaiba is perfect for those of you who are obsessed with these cheap goodness, since it dedicates itself to solely serving Takoyaki. Welcomed by a cute character that comes in the shape of a takoyaki (surprise!), here, you can find some of the best Takoyaki hailing from Osaka as well as ones with a twist such as Takoyaki soda. There's also a petite shrine that you could visit before you start munching away — praying there might just make the takoyaki taste even better. Mmm.
2. A Restaurant that Delivers All Your Food on Steam Trains
NIAGARA is a curry restaurant located in Yutenji, which is three stops away from Shibuya, running in the Yokohama direction. Run by a man who loves trains and curry, (note: read with much stress on love), the restaurant is decked with station signs, safety straps hanging from the ceiling, and autographs by train drivers hung up on the wall. You even get to sit on seats that emulate those used on the trains in Japan; you almost feel like you're on a train — except it's stationary and you get to satisfy that empty stomach. The only thing that is moving is your food, that gets delivered to your table on a mini steam train. Now that's exciting. Curry rice is also what the Japanese do best at, so don't succumb to Coco Curry to get that Japanese curry fix, but make your way here for an experience unlike any other. Niagara is out here to prove that a curry and train ride combo is always better than curry or a train ride on its own.
Details: http://www.niagara-curry.com/index.html (all in Japanese)
3. Adorable Fruit-Shaped Bus Stops Lined up in Konagai, Nagasaki
You may remember how the Travel Expo took place in Nagasaki back in 1990 or you may have not been born. Either way, these 20 fruit-shaped bus stops were made to coincide with the event, and were made to provide comfort and put a smile on visitors traveling to Nagasaki for the very occasion. There is a total of 16 fruit-stops comprised by five fruit varieties running along Route 207 from the center of Konagai, Nagasaki all the way to Saga Prefecture. It's perfect for a relaxed drive, where you can stop by to snap a shot in a fantasy world that dots enlarged melons, watermelons, strawberries, oranges and tomatoes.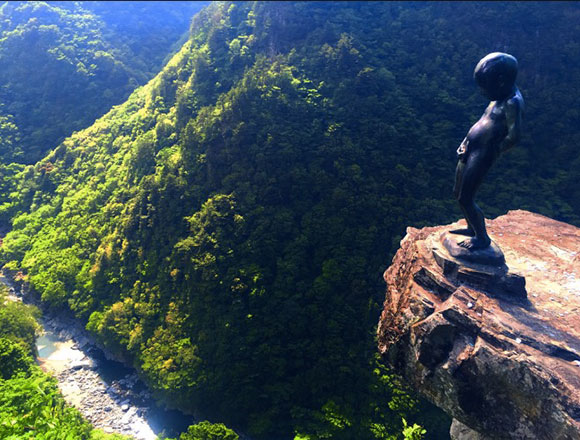 Photo credits: http://www.atlasobscura.com/places/
4. Iya Valley's Peeing Boy
Guys, if you ever go hiking and find yourself on a cliff with a 200m drop, make sure you don't pee off of it. This is one of the myths that serve as an explanation as to why there is a peeing boy chilling out on this cliff of Iya Valley, one of the most beautiful valleys all the way down in Tokushima Prefecture in Kyushu. Don't do the peeing, because this boy will do it for you. Prior to this Peeing Boy's arrival, this cliff was known as a place where kids and travelers would come to test their fears. This is a definite no-go for those with a fear of heights, but come snap a selfie with the peeing boy 200m above ground otherwise!
Photo credits: https://asoview-trip.com
5. Meet and Greets With Dinosaurs in Wakayama
Jurassic Park lives on…in Wakayama. Named "Dinosaur Land," this slightly somber yet unwaveringly interesting amusement park is located in Katsuragi, Wakayama. First, it'll take you on an adventure into a labyrinth cave where you can meet over 20 different types of dinosaurs and wild bats. The random location of this makes it all the more better, and you can even enter their Paradise Cavernae that they've built right next to it that leads you into a "spiritual world." Step away from reality for once while you're in Japan and rewind time here at Dinosuar Land in Wakayama.
Website: http://dinosaurland.com
RELATED ENTRIES
Licaxxx's Tokyo Community Radio to Hold "sessions," a Training Program Open to the Public

Tokyo Community Radio (TCR), an online radio platform run by the popular DJ Licaxxx, has announced an open call for "sessions." This unique training program will be held from April 27 to 29 at the Izu Inatori Sports Villa in Shizuoka Prefecture.

"sessions" is a program for people who have already started learning more about DTM and want to create or release tracks that can be played by DJs, people who are already DJs, or people who are in the field who have started dabbling in DTM. The event will help those with an interest in music to further develop their skills and will allow brainstorming and networking with like-minded creators. Instead of a series of lectures, "sessions" is what the title implies–a jam session, of sorts. The moderators, including Licaxxx, will share problems they have faced during their careers and how they overcame them, helping visitors in both DTM and DJing. While these seem to be two very different processes, they are very much intertwined.

The first event will be a 3-day, 2-night training camp in Izu, just before the outdoor music festival Rainbow Disco Club (RDC). The program will feature a focus on the technical aspects of creation, individual and group productions, direct advice from moderators and support staff, and detailed discussions on niche topics such as releasing tracks after they are made and promotion. DJs, organizers, and agents will also hold open chats. Supported by RDC and Red Bull, participants will also receive tickets to RDC as a bonus. After the training camp, they will be able to experience some of the world's top-level DJs and trackmakers in person.

Applications are currently being accepted until 23:59 on March 27.

<Comment from Licaxxx>

"TCR is launching a new training program called "sessions."

Focusing on dance music, it's designed for those who have already started with DTM and want to create and release tracks to be played by DJs. It's also perfect for people who are already DJs, or people who are in the field who have started dabbling in DTM.

While the skills needed to DJ and the skills needed to create DTM are totally different, the paths you'll need to take toward both are closely linked. There is no completely correct way to learn, but searching the internet tends to make people even more confused. I think that hearing from your predecessors in the craft and shaping their experiences and pieces of advice to fit your needs will help you in the best way.

With that in mind, we've prepared a session rather than just a lecture, with the intention of sharing problems that we ourselves–who are active in the field–have or have had, and how to overcome them, so that we can all grow together.
The first training camp will be held for 3 days and 2 nights in Izu, just before the RDC. The program will include advice on technical aspects for both individual production and group production, advice from creators, and detailed discussions on niche topics such as releasing tracks after they are made and promotion. We'll also have some talks between DJs, organizers, and agents.

In addition to the support staff listed below, we'll be welcoming several other participants who have been invited by the management. A few open spots are still available, so be sure to apply as support staff if you have something to share with students!

This time, participants will also get tickets to RDC thanks to the incredible support of RDC and Red Bull!!!!
After the training camp, students will be able to experience some of the world's top-level DJs and trackmakers in person.

Be sure to read all the details carefully. I'm looking forward to your applications!!"

<Comment from Rainbow Disco Club>

"We're so honored to be able to contribute to this program dedicated to dance music, even in a small way.
During the three days and two nights of "sessions," we're looking forward to your input. Afterward, you can have all the fun you can handle at RDC!"

Rainbow Disco Club

Information

■Tokyo Community Radio Presents "sessions" Event Outline
Running: April 27 – April 29, 2023
Venue: Izu Inatori Sports Villa (Shizuoka Prefecture)
Admission: Free
Bonus: Ticket to visit the Rainbow Disco Club starting April 29
Application Period: March 17 – March 27 at 23:59

For more information including entry requirements and application details, visit the Tokyo Community Radio official website.
http://tokyocommunityradio.jp/shows/758/

Moderator: Licaxxx
Support: Stones Taro (NC4K), Carpainter (TREKKIE TRAX), Pharakami Sanders (KOOL SWITCH WORKS), Naco (85acid)

■About Tokyo Community Radio
TCR is a distribution platform based in Tokyo that focuses on introducing both local DJs and up-and-coming DJs from around Japan. The program features all musical genres and showcases both DJ mixes and live performances. In featured podcasts, DJs talk about their music, hobbies, and interests, allowing fans the rare chance to learn more about their favorite creators. The station also cooperates with community radio stations in other Asian cities and supports DJs and artists from Asia and beyond when they visit Japan. In addition to regular DJ sessions and podcasts, TCR also collaborates with corporate events, produces music events, and matches DJs to places and brands

Facebook: https://www.facebook.com/Tokyo-Community-Radio-407604730046277/
Twitter: https://twitter.com/Radio_TCR_jp
Instagram: https://www.instagram.com/tokyocommunityradio/

■Rainbow Disco Club Event Details
Running: April 29 – May 1, 2023
Venue: Higashi Izu Cross Country Course
Official Site: https://www.rainbowdiscoclub.com/

Atarashii Gakko! Releases Music Video for Popular Track 'Otonablue'

The globally popular four-member dance and vocal group Atarashii Gakko! has released the music video for their song Otonablue, originally released in 2020.

The live performance video of Otonablue currently has over six million views on YouTube, with related TikTok videos pulling in 400 million views to date. The song's choreography–particularly during the chorus–became a big hit on TikTok after a television performance last year, inspiring a music video to be created.

In the video, the members perform the retro-inspired number in nostalgic and gimmicky locations that pay homage to the Showa era. The video is a must-see for fans both young and old.

In addition, tickets for the group's live performance in Tokyo and Osaka, tentatively titled We're working on some amazing new songs and we're dying for everyone to see our newest evolution at Tokyo and Osaka ZEPP, have almost sold out. An additional performance will be held at Zepp Shinjuku on May 1.

Information

Otonablue – Atarashii Gakko! (Digital Single)
Streaming URL: https://leaders.lnk.to/AmUOakIg

<New Single>
Janaindayo – Atarashii Gakko! (Digital Single)
Release Date: March 22, 2023

<Live Concert Information>
We're working on some amazing new songs and we're dying for everyone to see our newest evolution at Tokyo and Osaka ZEPP (Tentative Title)

■Osaka Performance
Date: April 30, 2023
Venue: Zepp Osaka Bayside
Time: Doors open 17:15 / Show starts 18:00
Contact: Kyodo Information
0570-200-888 (11:00-18:00 *Closed on Sundays and holidays)

■Tokyo Performance
Date: May 1, 2023 *Additional performance
Venue: Zepp Shinjuku
Time: Doors open 18:00 / Show starts 19:00

Date: May 2, 2023
Venue: Zepp Shinjuku
Time: Doors open 18:00 / Show starts 19:00

Contact: Disk Garage Customer Center
050-5533-0888 (Open weekdays 12:00-15:00)

<Preorder Tickets for Additional Show>
On sale: March 15, 18:00 – March 22, 23:59

Lawson: https://l-tike.com/leaders/
e+: https://eplus.jp/leaders/
Pia: https://w.pia.jp/t/atarashiigakko-tozepp/

Female Artist and Creator Collective bala Unveils Music Video for 1st Single 'barla'

The Tokyo-based girl artists and creators' collective bala has released the music video for its first single barla, released on March 8. The song was produced by Shinichi Osawa (Mondo Grosso) and written by Kenmochi Hidefumi (Wednesday Campanella).

Music Video


The music video fuses the virtual and real balallel world' multiverse and includes futuristic footage using 3D scan data of bala members, surrealistic dance scenes, and street-style location shots. Fans can also spot BI, an adorable avatar character created by bala member KANO.

Directed by YUKARI of the digital creative crew OFBYFOR TOKYO, the music video is already making a major splash. "This video packs in the charm of each individual bala member and is filled with cuteness, maturity, and retro-pop style," said YUKARI.

bala put the unique 'balallel world' on display during αU spring week 2023. The event was held from March 8 to 12 to celebrate KDDI's αU, a new Web3 metaverse platform. An exhibition was held inside the aU apartment within Hz-Shibuya, a photo-realistic 3D experience set in virtual Shibuya. The girls appeared virtually during their αU Live, giving a special performance with their character avatars in the metaverse, allowing fans to gather and chat with one another. On March 12, the last day of the event, a real live event titled 'bala presents balalell-party' was held at Hz-Shibuya. The group has impressed audiences by moving back and forth seamlessly between the real and virtual worlds.

A video of bala's special live performance in the αU metaverse is now available on bala's official YouTube channel. In addition, the bala exhibition featuring photos of the members is still available to view inside the αU metaverse through March 31.

「balallel-meta-Party Ver2.0@αU metaverse」


Information

barla – bala (1st Single)
Release Date: March 8, 2023

Download & Stream
https://orcd.co/barla
Now available via download or on all major music streaming sites

Music Video
https://youtu.be/pZUHD7AOJww

balallel-meta-Party Ver2.0@αU metaverse
https://youtu.be/eBA3jarwJRo

■αU metaverse – bala Exhibition (Photo Exhibition)
Running: March 7 – March 31, 2023
This exhibition will feature photographs of each member of the bala girls' collective. Be sure to check out each girl's individual style and personality!
URL: https://alpha-u.io

[Event Report] CANDY TUNE, the Newest Idol Group from KAWAII LAB, Holds Debut Performance, FRUITS ZIPPER and IDOLATER Also Take the Stage

On March 14, ASOBISYSTEM's idol project KAWAII LAB. held a live event at Spotify O-EAST. The event, titled KAWAII LAB. SESSION ~CANDY TUNE~, saw the first-ever performance from CANDY TUNE, the newest idol group from KAWAII LAB, also known for creating the popular groups FRUITS ZIPPER and IDOLATER.

KAWAII LAB. is a new project by ASOBISYSTEM created to introduce Japan's growing idol culture to the world.

FRUITS ZIPPER is one of the most talked-about idol groups in recent memory, with their solo concert shows selling out instantly and their song Watashi no Ichiban Kawaiitokoro pulling in over 690 million views on TikTok. KAWAII LAB also produces IDOLATER, a group known for exploring the boundary of music, fashion, and other unique aspects of culture through an idol perspective.

In March, the seven-member idol group CANDY TUNE was announced. Its members include Rino Fukuyama, Mizuki Kirihara, Natsu Minami, Nanako Ogawa, Bibian Murakawa, Shizuka Miyano, and Kotomi Tachibana.

Tickets for this show were completely sold out in advance. The packed venue was filled with excitement, with fans looking forward to the live performance far before the show started.

To start, Misa Kimura, a model and talent who serves as the general producer of KAWAII LAB., appeared with FRUITS ZIPPER members Suzuka Chinzei and Runa Nakagawa. Despite the project only being active for one year, she seemed to be filled with incredible emotion at the addition of CANDY TUNE to the lineup, bringing the total number of idols signed to KAWAII LAB to 19.

IDOLATER was the first to take the stage, called out by Misa Kimura herself. Dressed in fashionable light blue outfits, the girls immediately grabbed the fan's hearts with their cool performance of Kesenai…before moving into Endless Summer, Vapor City, Kimi ni MuCHU♡XX, and Mahou no Kagi wo Te ni Iretara in quick succession. The girl's potential was on full display as they played hit after hit.

IDOLATER's stylish and clean live performance ended with DIAMOND and Endroll wo Mukaeru Mae ni.

When Misa reappeared on stage, she announced that IDOLATER would be holding its anniversary solo concert on April 22 at Spotify O-WEST. Member Fuka Oishi was delighted to be performing at the largest venue in IDOLATER's history. "I'm so thrilled," she said.

FRUITS ZIPPER took to the stage next, and the venue was immediately illuminated with colorful penlights. The members were greeted with loud applause as the starting track began to play.

The group performed RADIO GALAXY first, and the audience's enthusiasm was palpable as the songs jumped between various genres like a roller coaster ride, from EDM and hip-hop to idol pop and mellow tunes. Continuing into Sekai wa Kimikara Hajimaru, the sweet love song made the audience swoon as they heard the girl's incredible vocals.

Suzuka Chinzei also congratulated CANDY TUNE on its debut during the MC portion of the performance. FRUITS ZIPPER also promised to keep the stage lively until it was their turn to perform at their own debut show.

The group then performed Happy Chocolate, a popular song currently trending on TikTok. Their comical and cute choreography spread into the audience where fans mimicked their moves, making it a truly sweet and memorable moment.

As the girls began performing the fast-paced song Kanpeki Shugide☆, the mood in the venue took a turn, and things became much more lively. As expected, the group performed the massively-popular track Watashino Ichiban Kawaiitokoro as the finale, and just as Suzuka promised, the audience was all warmed up for CANDY TUNE to finally take the stage!

Just as was the case with IDOLATER, another major announcement was made during the MC portion. The first KAWAII LAB Official Fan Club event for FRUITS ZIPPER was announced to take place on April 10 at Shirokane Takanawa SELENE b2. The group's first live show was originally scheduled to take place at this venue on April 10 last year, but it was postponed due to the pandemic.

Finally, it was time for the new group CANDY TUNE to appear. Misa Kimura took to the stage first "I'm so nervous," she said to the audience. "Can we get some cheers?"

The fans erupted with loud applause, and soon after, the seven members of the group–Rino Fukuyama, Mizuki Kirihara, Natsu Minami, Nanako Ogawa, Bibian Murakawa, Shizuka Miyano, and Kotomi Tachibana–took their first steps onto the stage, ready to share the wonders of Harajuku with the world.

Dressed in colorful outfits, they first performed hanamaru, a song written to cheer up anyone who listens to it. The girls were clearly a little nervous, but they danced as hard as they could, obviously doing their very best. As the song blended into Kiss Me Patissier, the audience erupted–it was hard to believe that this was the first time that the song had ever been performed live. The song is one of the most popular tracks from the group's first album, and its flirty lyrics immediately melted fans' hearts.

During the MC, Murakawa, a former HKT48 member and veteran idol, spoke to the fans. "Isn't this venue too full," she said with a laugh. Each girl introduced herself, offering some insight into why they had become idols and what they hoped to achieve going forward. It seemed that their time chatting had cut through the tension, and they performed Nanairo Prologue in high spirits. As if in sync with the members, the fans' voltage also rose to a fever pitch, and following the performance of Mikan na Seishun, the audience exploded with thunderous applause.
After all four songs from the group's first album had been performed, it was revealed that, like the senior groups in KAWAII LAB, CANDY TUNE also had a surprise to reveal. On the big screen, it was announced that CANDY TUNE's first solo live performance would be held at Spotify O-WEST on June 27. The members immediately shouted with joy.

"Aren't you full yet," Murakawa asked the audience, before announcing one more song.

CANDY TUNE performed hanamaru again, but unlike the first time, a music video produced in secret for the occasion played on the screen. Sounds of surprise and excitement immediately erupted from those in the audience.

The audience's voltage was at its highest during this performance, which was synchronized with the music video featuring the members in cute cheerleader outfits and a picnic scene that their friendship with one other. Although it was their first time on stage together, the seven members showed as much poise and dignity as their seniors.

At the end, each member shared a message with their fans. "I have a bad habit of second-guessing my own happiness. There have been so many times in my life when I wonder if I should be as happy as I am–but right now, I'm so incredibly overjoyed," said Fukuyama.

"I was so nervous before we got here," said Kirihara. "But when I saw all of your faces, I knew from the bottom of my heart that I had made the right choice to become an idol!"

"Even if I'm reborn, I hope to stand on this same stage again," said Minami while crying.

"I didn't really feel like an idol until today, and I was so afraid to stand up here in front of a packed audience," said Ogawa. "I never thought I'd be an idol," echoed Tachibana. Both showed intense appreciation for the countless fans that had gathered at the venue.

"I will always cherish this moment," said Miyano. "I hope to make many more memories in the future!"

"I never thought I could care for people so quickly after meeting them," said Murakawa, shedding a few tears. "I have so much love and affection for everyone, and I want the seven of us to keep working hard to share Harajuku with the world. Standing here now, I know that we can become an idol group loved around the globe!"

After each group had finished their performances, all 19 idols from all three KAWAII LAB groups stood on the same stage together.

As a final surprise, Misa Kimura announced that KAWAII LAB. SESSION would be held on June 12 at Zepp Shinjuku, a venue scheduled to open in April. "I'm so excited that we get to perform at Zepp," said FRUITS ZIPPER member Yui Sakurai.

With excitement in the venue still building, the final performance and the long-awaited collaboration began. All 19 members formed a circle and began to perform FRUITS ZIPPER's breakout hit Watashino Ichiban Kawaiitokoro. Fans in the audience were permitted to record during this part of the concert, and after the show concluded, countless videos were posted to social media sites.

A project to shoot a TikTok video of Happy Chocolate with the audience also took place at the end of the event. FRUITS ZIPPER member Mana Manaka gave a brief explanation of the choreography before taking a video of the fans gathered at the venue. The night ended as the idols and fans danced together.

KAWAII LAB is continuing to produce cutting-edge idols ready to be shared with the world. With the addition of CANDY TUNE, the future is looking bright, and fans will want to watch out for what's coming next.

Text: Masatoshi Mayuzumi
Photo: Shinsuke Hayashi / Miki Higashi

■Setlist

[IDOLATER]
Kesenai…(short ver.)
Endless Summer
Vapor City
Kimi ni MuCHU♡XX
Mahouno Kagiwo Teniiretara
DIAMOND
Endrollwo Mukaeru Maeni

[FRUITS ZIPPER]
RADIO GALAXY
Sekaiwa Kimikara Hajimaru
Happy Chocolate
Kanpeki Shugide☆
Watashino Ichiban Kawaiitokoro

[CANDY TUNE]
hanamaru
Kiss Me Patissier
Nanairo Prologue
Mikanna Seishun
hanamaru (MV.ver)

[KAWAII LAB.]
Watashi no Ichiban Kawaiitokoro

Information

<FRUITS ZIPPER Fan Club Exclusive Concert 'FIRST CONTACT'>

Date: April 10, 2023

Venue: Shirokane Takanawa SELENE b2
Time: Doors open 17:30 / Show starts 18:30
General Admission Presale Tickets: ¥4,500 (Standing, Tax Included)
*Excluding drinks
*This event is for members of the KAWAII LAB. Official Fan Club only.
*Accompanying guests must also be Fan Club members. We will confirm if you are a fan club member upon entrance to the venue.

Details: https://kawaiilab.asobisystem.com/news/detail/10284

<IDOLATER Anniversary LIVE>

Date: April 22, 2023

Venue: Spotify O-WEST

Time: Doors open 17:30 / Show starts 18:30
VIP Admission: ¥10,000 (Tax Included)

VIP Bonuses:
・Access to the front area of the venue
・Commemorative goods

General Admission: ¥1,500 (Standing, Tax Included)
*Excluding drinks

Details: https://kawaiilab.asobisystem.com/news/detail/10283

<KAWAII LAB. SESSION>

Date: June 12,

Venue: Zepp Shinjuku (Tokyo)

Time: Doors open 17:30 / Show starts 18:30
Starring: IDOLATER, FRUITS ZIPPER, CANDY TUNE
Admission: ¥5,000 (Priority Standing, Tax Included) / ¥3,000 (General Standing, Tax Included)
*Excluding drinks

Details: https://kawaiilab.asobisystem.com/news/detail/10281

<CANDY TUNE First Solo Concert>

Date: June 27, 2023

Venue: Spotify O-WEST

Time: Doors open 17:30 / Show starts 18:30
Admission: ¥5,000 (Priority Standing, Tax Included) / ¥2,000 (General Standing, Tax Included)
*Excluding drinks

Details: https://kawaiilab.asobisystem.com/news/detail/10285

Kyary Pamyu Pamyu to Appear as a Regular on NHK Educational TV's 'Let's Play English Meets the World'

Kyary Pamyu Pamyu will appear as the Novice Wizard Kyary on NHK Educational TV's Let's Play English Meets the World. The series will premiere on April 4, 2023.

Yasutaka Nakata will produce the show's opening theme and a selection of music used throughout.

<Comment from Kyary Pamyu Pamyu>

"I'm so thrilled to be appearing on a show I've watched since I was a kid!
Even though I often perform overseas, I'm still a beginner in English. I hope I can learn together with everyone through this series!

Also, Yasutaka Nakata is providing the opening song and quite a few tracks throughout the show.

Some of the tracks you'll hear are very different than the standard Kyary songs, so I hope you'll enjoy them and sing along!"

Information

Let's Play English Meets the World (NHK Educational TV)
First Broadcast: April 4, 2023 (Airing Tuesdays at 8:35AM)

<About the Series>
People from all around the world travel to the Novice Witch Kyary's house to teach her tons of interesting things. As you listen and play along, you might also find yourself speaking English before you know it! The series will also be filled with games, cartoons, and plenty of singing and dancing, so you'll certainly want to tune in! Just what kind of fun awaits?

Kyary Pamyu Pamyu WORLD TOUR 2023 – POPPP –

May 15, 2023
New York, U.S. – Webster Hall
https://www.axs.com/events/471552/kyary-pamyu-pamyu-tickets?skin=websterhall

May 17, 2023
Los Angeles, U.S – The Novo
https://www.axs.com/artists/1262/kyary-pamyu-pamyu-tickets

June 2, 2023
Barcelona, Spain – PRIMAVERA SOUND 2023 Parc del Forum
https://www.primaverasound.com/

June 5, 2023
Paris, France – Cabaret Sauvage
https://www.seetickets.com/fr/d/event/kyary-pamyu-pamyu/cabaret-sauvage/8769451

June 7, 2023
London, England – London EartH Halll
https://www.gigsandtours.com/tour/kyary-pamyu-pamyu

June 9, 2023
Madrid, Spain – PRIMAVERA SOUND 2023 Ciudad del Rock
https://www.primaverasound.com/

More Details
https://wt2023.kyary.asobisystem.com/

KAWAII LAB. Report #19: New Idol Group CANDY TUNE Shares Thoughts on Upcoming Debut Concert

Following the success of the idol groups IDOLATER and FRUITS ZIPPER, KAWAII LAB., a project created to introduce Japan's growing idol culture to the world, has revealed the new group CANDY TUNE! Just as candy comes in a variety of flavors and shapes, each member of CANDY TUNE has their own unique personality and passion. Keeping KAWAII LAB's goal of bringing Harajuku to the world at the forefront of its activities, this idol group is ready to perform its pop tunes for audiences around the globe.

The group's name was created to convey gentleness, harmony, and sweet melodies, and on March 7, the debut album from these new idols hit all major streaming services. The titular CANDY TUNE is filled with powerful pop tracks already capturing the hearts of listeners around the world.

In CANDY TUNE's first appearance in the KAWAII LAB. Report series, we interviewed the members about their upcoming debut concert, KAWAII LAB. SESSION ~CANDY TUNE~. Are they ready to take to the stage?

-Your debut concert is coming up soon! How are you feeling? Share a message with the fans!

Bibian Murakawa

"Hi everyone! I'm Bibian Murakawa and my member color in CANDY TUNE is pink. The seven of us have been working together during all kinds of different lessons to become world-class idols. Everyone is so cheerful and each member has her own hobbies and special skills. It's been a blast spending time with them every day! We want the world to know what we're like inside and out, and to love us for who we are!"

Twitter: @bibian_ct1203
Instagram: @murakawabibiann
TikTok: @murakawabibiann

Mizuki Kirihara

"After so much training and so many different lessons, I'm happy to finally be able to perform on stage. We're lucky to have such amazing songs and costumes, and I hope to express myself in authentic CANDY TUNE style. Just spending each day with the members and staff, in general, fills me with so much happiness, and I can't wait to bring that joy to the fans! I just hope everyone can be happy!☺️"

Twitter: @mizuki_ct0221
Instagram: @kirihara_mizuki
TikTok: @kirihara_mizuki

Rino Fukuyama

"I feel blessed to have had all these months of lessons and prep before our debut, and I've really been giving my all! I want this to be the best possible debut concert and I hope we can exceed everyone's expectations. I know I'll be nervous before we go on stage, but this is something that will happen only once in my life, so I want to enjoy it as much as I can! I hope you enjoy listening to our music right up until you see the live performance!"

Twitter: @rino_ct1224
Instagram: @rinomaru_
TikTok: @rinomaru_

Nanako Ogawa

"Only a few days are left until our debut. I still can't believe I'm about to become an idol! (Laugh)

Thankfully, I've been able to interact with fans even before our debut. I feel so happy when I see people's words of support and hear about fans keeping track of new information coming out about CANDY TUNE each day. I hope I can cheer everyone up, even if it's just a little bit. Through CANDY TUNE, I'll make many dreams come true and devote myself to becoming someone's hope in this world!"

Twitter: @nachico_ct1001
Instagram: @__nchisan__
TikTok: @__nachisan__

Natsu Minami

"Not long ago, everything felt so new and I was just trying my hardest to keep up with lessons each day. But as we get closer to our debut, I feel more and more like I've really become an idol. I'm both nervous and excited about what I'll see at our first concert since it will be my first time appearing as a real idol! I'm just so happy to be a member of CANDY TUNE…I'll keep bettering myself right up until the show on 3/14!"

Twitter: @natsu_ct0317
Instagram: @nattanntan
TikTok: @nattanntan

Shizuka Miyano

"Each member of CANDY TUNE is very unique, and I think that really comes through in our performances. I can't wait to show you all how much we've grown! So many people have supported us since before our debut, and we'll never stop being grateful for that. Having been able to perform as idols in such a wonderful environment is a blessing. We'll keep improving ourselves in order to give even better performances in the future, but first, we want to give our all at our debut!"

Twitter: @shizuka_ct0530
Instagram: @myn_szk_ct
TikTok: @miyano_shicha.

Kotomi Tachibana

"I'm thankful to have been given so many opportunities leading up to our debut, like dance and singing lessons, speaking lessons, and so many other things that other idols might have never had a chance to do. I'm working hard every day to put those efforts to good use during our first live show! I have so many feelings about our first concert–I wonder what the view will be like! I want it to be a huge success, and while I'm a little anxious, I'm just looking forward to meeting the fans more than anything! ♡ I hope the concert makes everyone happy!"

Twitter: @kotomi_ct0525
Instagram: @kotomi_5chan
TikTok: @kotomi_5chan

Check out each member's profile here: https://www.moshimoshi-nippon.jp/ja/676709

The members of CANDY TUNE have been working hard as a team each and every day in preparation for their debut concert, focusing on the feelings they hope to convey to their new fans.

The girls are sure to put on a memorable show, and there's no doubt that their historical first performance will bring happiness to each and every person in attendance. Be sure to keep an eye on CANDY TUNE going forward!

Girl Artist and Creator Collective bala Releases First Single 'barla'

The Tokyo-based girl artists and creators' collective bala has finally released its first single! The song barla, produced by Shinichi Osawa (Mondo Grosso) and written by Kenmochi Hidefumi (Wednesday Campanella) dropped on March 8.

The song is a dance track with a late '90s house sound. A music video teaser was posted along with the song's release and was directed by YUKARI of the digital creative crew OFBYFOR TOKYO. The video expresses the group's desire to resonate with Gen Z youth culture and to be a collective of artists that connects hybrid Japanese pop culture with audiences around the world.

The music video not only includes futuristic footage using 3D scan data of bala members within an expansive virtual world, but also surrealistic dance scenes and street-style location shots. The full video will be released soon.

The mysterious character in the music video is "BI," an avatar character created by bala member KANO as a gateway to the Balarelle World and, a diverse collection of virtual worlds each inhabited by a member of the group. BI is also the girl's virtual pet and the creature will be at the center of bala's techno-expression in the future.

Guests visiting αU Spring Week, a celebration of KDDI's metaverse Web3 service 'αU,' will be able to experience a special exhibition at Hz-Shibuya featuring a virtual performance. Special live performances by bala's character avatars and collaborative room exhibitions will also be held in the αU metaverse, a virtual world where fans can gather and enjoy conversations with other fans. On March 12, 'bala presents balallel-party,' a real-life live event with free admission, will be held at Hz-Shibuya. For details, please see the event website.

Information

barla – bala (1st Single)
Release Date: March 8, 2023
Streaming URL: https://orcd.co/barla

[αU Spring Week]
In celebration of KDDI's metaverse and Web3 service platform αU, αU Spring Week will be held in both real-world and virtual locations starting on March 8, 2023. In the αU metaverse, fans can participate in live music events in virtual recreations of Shibuya and Osaka and can chat with other fans. Special live events will be held in collaboration with musicians, animators, VTubers, and comedians, and collab rooms will begin opening starting March 7, 2023.

URL: https://alpha-u.io
URL: https://alpha-u.io/artist/bala

■ αU apartment ROOM 'balallel-world'
Running: March 8 – March 12
Venue: Hz-Shibuya (4-3 Udagawacho, Shibuya-ku, Tokyo 1F)
The "balallel-world," which connects the diverse lives of each bala member, is expressed in this special room. Fans are welcome into this unique world that embodies a new generation of gyaru, incorporating remakes, DIY, and more. Inside the room, visitors can enjoy a more immersive experience of the collective's first Single barla using the latest technology.

■αU Live 'balallel-party'
Running: March 8 – March 12, 2023
Venue: Hz-Shibuya (4-3 Udagawacho, Shibuya-ku, Tokyo 1F)
The girl collective bala has descended on the streets of Shibuya to perform their debut song barla. Enjoy the live performance in neon Shibuya from a 360-degree freely-moveable viewpoint.
(This can be experienced at terminals installed inside Hz-Shibuya.)

■αU apartment Garden Party – bala presents balallel-party
Date: March 12, 15:00-20:00
Venue: Hz-Shibuya (4-3 Udagawacho, Shibuya-ku, Tokyo 1F)
The cutting-edge sound, powerful performance, and unmatched style of bala will bring the audience's excitement to a fever pitch. See the official website for event details and how to attend.

■αU metaverse – bala balallel-meta-Party
Date: March 11, 19:00
(An archive of the performance will be shown on the same day at 21:00 and 23:00.)
*For more information, please visit the official website or see the announcement in the αU metaverse app.
Check out this virtual live music performance by bala! The members will perform three tracks including their debut single barla, accompanied by their virtual pet BI designed by member KANO. The show itself will spread beyond the stage, taking over the entire hall.

■αU metaverse – bala Exhibition (Photo Exhibition)
Running: March 7 – March 31, 2023
This exhibition will feature photographs of each member of the bala girls' collective. Be sure to check out each girl's individual style and personality!

Idol Group Dempagumi.inc to Release Digital Single 'The Legend of Ancient Akiba,' Jacket Visual Revealed

The popular Akihabara-based idol group Dempagumi.inc has announced that the new single The Legend of Ancient Akiba will be released digitally on March 15, 2023. The group first performed the song live on March 5 at J:COM Hall Hachioji during their nationwide ONE NATION UNDER THE DEMPA TOUR. The track is a traditionally adorable moe moe kyun track updated for the modern age by ARM (IOSYS), a popular creator of Dempagumi.inc tracks, and MOSAIC.WAV.

The jacket photo and solo artist photos for the digital single, created by hanavbara, have also been released.

Information

The Legend of Ancient Akiba – Dempagumi.inc (Digital Single)
Streaming: March 15, 2023

Insomniacs After School Anime Series Announces Opening Theme, New Visual and Trailer Revealed

The opening theme for the new anime series Insomniacs After School has been announced as Itsu Aetara (When We Can Meet) by aiko. The series has been in the news since it was first announced, and a live-action film will also be released soon. aiko is one of Japan's leading singer-songwriters, and fans are pumped to hear her incredible new track. The artist also gave a comment which you can read below.

[Comment from aiko]

"I'm someone who can't really sleep either.
But I don't really get stressed because of it, because during the time that I'm awake, I can find new feelings and more enjoyable moments.

During Ganta and Isaki's sleepless nights, I want them to find some meaning in their insomnia. I want everyone to see the bright side.

I'd love to lend a copy of Insomniacs After School to my high school self.

I hope that the song Itsu Aetara will reach Ganta, Isaki, and anyone else who can't sleep at night."

PV第3弾


The third trailer and third key visual have also been unveiled.

In the key visual, Ganta and Isaki meet and sit back-to-back in the observatory, a major location in the series. The roof of the observatory has been removed to allow fans to enjoy a nighttime view of Nanao City and the starry sky above.

The trailer shows the struggle of two people suffering from insomnia who share their problems with each other and who slowly grow closer. The character designs and scenery are mind-blowing, and the high quality is already making this one of the most highly-anticipated series of the year.

More details regarding the show's broadcast in April have also been revealed!

Insomniacs After School will begin broadcasting on TV Tokyo, TV Osaka, TV Aichi, TV Setouchi, TV Hokkaido, and TVQ Kyushu on April 10 and will air Mondays at 24:00. In Ishikawa Prefecture, the setting of the series, the show will start airing on Hokuriku Broadcasting at 25:25 on April 13. The series will also air on BS TV Tokyo starting April 10 and will air Mondays at 24:30.

An original soundtrack has also been announced featuring music by Yuuki Hayashi. Releasing April 19, it's sure to be a must-have item for fans!

■Story

"When she's at school, I want to go to school. What kind of relationship is this?"

Rumors about what befell the members of the astronomy club keep people away from the school observatory, and that's what makes it the perfect sanctuary for Ganta and Isaki to get some much-needed rest. Unfortunately, the school faculty can't allow its unsanctioned use. But if there were a new astronomy club, maybe these two insomniacs could have a place to call home!
Makoto Ojiro's manga series is finally coming to life on the small screen.

<Your sleepless nights have meaning.>

©オジロマコト・小学館/アニメ「君ソム」製作委員会

Information

Insomniacs After School
Official Site: https://kimisomu-anime.com

<Streaming Information>
Broadcasting on TV Tokyo, TV Osaka, TV Aichi, TV Setouchi, TV Hokkaido, and TVQ Kyushu on April 10 / Airing Mondays at 24:00
Broadcasting on Hokuriku Broadcasting starting April 14 / Airing Thursdays at 25:25
Broadcasting on BS TV Tokyo starting April 10 / Airing Mondays at 24:30
*Dates and times of broadcasts are subject to change.

Insomniacs After School Opening Theme
Itsu Aetara – aiko
https://kimisomu-anime.com/music/

Globally Popular Girls Group XG Releases Performance Video for 3rd Single 'SHOOTING STAR'

On January 25, 2023, XG returned with their third single SHOOTING STAR.

The music video for the new track has racked up over 13 million views in its first two weeks of release. SHOOTING STAR has ranked in the top spot in 25 countries and regions, including the U.K., Canada, and Japan. The song ranked #3 in the United States and took the #1 spot in the worldwide music video ranking.

Following this incredible success, the group has released the performance video for SHOOTING STAR on their official YouTube channel. While the previous performance video for MASCARA was shot in an abandoned factory, the new video for SHOOTING STAR was shot on a stage surrounded by twinkling lights and a ceiling like a starry sky. Given the song's title and message, it's extremely fitting.

SHOOTING STAR – XG (Performance Video)

XG has appeared on KBS 2TV's Music Bank, MBC's Show! Music Core, SBS's INKIGAYO, Mnet's M COUNTDOWN, Arirang TV's SIMPLY K-POP, MBC M's SHOW CHAMPION, and other popular Korean music TV programs.

The group has branched out of Korea in a big way, also appearing in interviews on popular American radio stations like iHeartRadio and WiLD 94.9. The girls have also been invited as guests to the American YouTube channel REACT, which has over 20 million subscribers. They've also appeared in the Hindustan Times, a major Indian newspaper, and NYLON Manila in the Philippines.

You'll want to keep an eye on these rising stars in 2023!

Mediabase Top 40 Radio Airplay Chart
http://www.mediabase.com/mmrweb/fmqb/charts.asp?SHOWYEAR=N

Attack on Titan The Final Season – Season 3, Part 2 Finally Announced for Fall 2023

The second half of Attack on Titan The Final Season Part 3 will debut this fall!

The first half recently aired in a one-hour special, and the new announcement was made following its conclusion. The new trailer shows Falco flying above the clouds, a throwback to Zeke's memories.

Attack on Titan The Final Season – Season 3 (Part 2) Announcement Video

Attack on Titan The Final Season – Season 3 (Part 1) Special Anime Video|
UNDER THE TREE – SiM


A special anime video of SiM's new song UNDER THE TREE, the theme song of Season 3, Part 1, has also been uploaded to YouTube. Fans of the series won't want to miss the shots of Eren, Mikasa, and Armin during their childhood.

Additionally, Attack on Titan The Final Season – Season 3, Part 1 is now available to stream on dtv, d Anime Store, GYAO!, Netflix, TELASA, Hikari TV, U-NEXT, Amazon Prime Video, and DMM TV.

Season 3, Part 1 Summary
Eren activates The Rumbling to destroy the world. Countless Titans begin their march, trampling down everything in their path. Those left behind prepare to take the final fight to their former friend, including Mikasa, Armin, Jean, Connie, Hanji, Annie, Reiner, and others who hope to find a way to save civilizations around the globe.

Information

Attack on Titan The Final Season – Season 3 (Part 2)
Final episodes airing on NHK General in Fall 2023
Streaming Information
Attack on Titan The Final Season – Season 3 (Part 1)
Streaming on the following sites:
dtv, d Anime Store, GYAO!, Netflix, TELASA, Hikari TV, U-NEXT, Amazon Prime Video, DMM TV, etc.

Attack on Titan The Final Season Season 3 (Part 1) Theme Song
UNDER THE TREE – SiM
Streaming Links: https://lnk.to/underthetree

Official Site: https://shingeki.tv/final/

HARAJUKU COLLECTIVE, a Collaboration Between Hot Topic & Studio Ghibli, Gets Pop-Up Store at Shinsaibashi PARCO

Last year, the HARAJUKU COLLECTIVE collaboration appeared at AF Gallery in Harajuku from August 10 until August 28, garnering massive acclaim from fans. The collection is now being sold at Shinsaibashi PARCO until March 12, 2023.

HARAJUKU COLLECTIVE is a Studio Ghibli-inspired apparel collection by the popular American counterculture chain Hot Topic. Bringing more Japanese culture to the ongoing Studio Ghibli collaboration launched in 2014, Hot Topic stores began selling original items produced by nine Japanese creators and brands, as well as some original American items produced by Hot Topic's executive designers.

The lineup of Japan-original items includes T-shirts, tote bags, and other items featuring exclusive artwork by up-and-coming creators. These items depict beloved characters from Studio Ghibli's works, as well as logos created for the collaboration. Fans won't want to miss grabbing these unique items!

 

Details on the Previous HARAJUKU COLLECTIVE Pop-Up Store: https://www.moshimoshi-nippon.jp/ja/625747