Hello Kitty & GeGeGe no Kitaro Collaborate With Japan National Rugby Union Team
The Japan National Rugby Union Team has collaborated with numerous characters to date including Snoopy, Doraemon, Rilakkuma, Kinnikuman and Astro Boy.
The Brave Blossoms have now announced that they are teaming up with Hello Kitty and GeGeGe no Kitaro.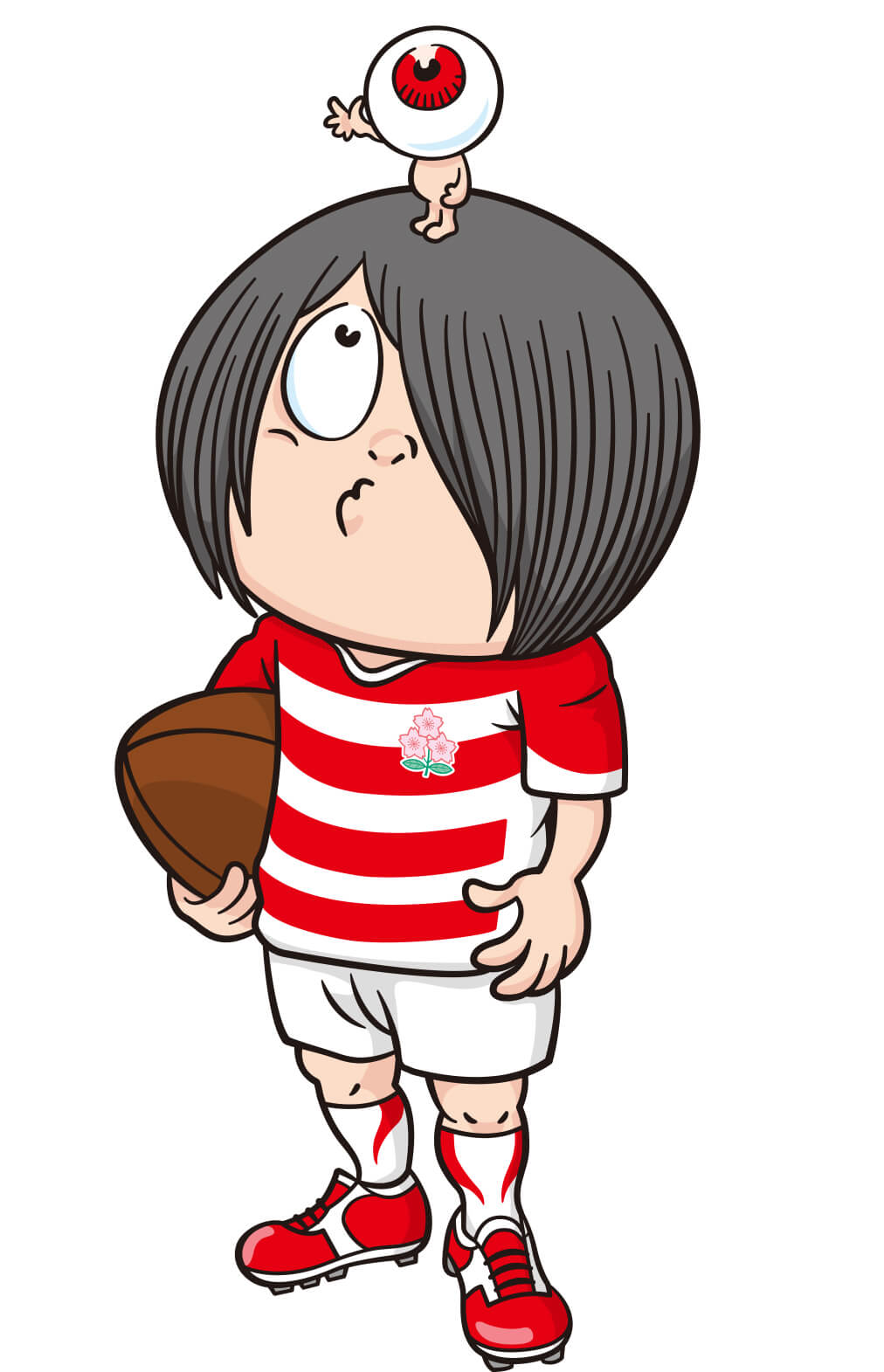 Collaborative merchandise will be sold at respective licensee companies, select sports shops and the team's official online shop. Their collaborations are set to expand in the near future.
Information
Japan National Rugby Union Team x Hello Kitty & GeGeGe no Kitaro
Release Date: May 2019 (*More info TBA on the online shop and other outlets)
Product Examples: Hello Kitty Plush Toy, Hello Kitty Stationery, Hello Kitty Misc. Items and more / Gegege no Kitaro Misc. Items, Gegege no Kitaro Food Products and more
Available: At licensee companies, select sports shops and the team's official online shop
Japan National Rugby Union Team Official Website: https://www.rugby-japan.jp/
Japan National Rugby Union Team Official Shop: https://shop.rugby-japan.jp/
Sanrio Official Hello Kitty Page:https://www.sanrio.co.jp/character/hellokitty/
©JRFU  ©1976, 2019 SANRIO CO., LTD.  ©Mizuki Pro
RELATED ENTRIES
Sanrio's Cute Face Mask Bags Keep Your Mask Safe With Hello Kitty and Cinnamoroll

Pre-sales for Sanrio's new face mask bags opened on Wednesday (September 9) on Asunarosha's online shop. There are two bag designs, one with Hello Kitty and another with Cinnamoroll.

Hello Kitty Face Mask Bag ¥700 (Before Tax) / Cinnamoroll Face Mask Bag ¥700 (Before Tax)

Now you can store your masks safely and hygienically wherever you go and make it look cute.

The bags are made from TPU plastic and combines the strength of plastic with the lightweightness of silicone, so your mask won't get dusty and even if the bag gets wet or dirty, the face mask stays safe and in tact.

The bags also take on an adorable rainbow colour when the light hits them, adding a bit of fun to the face mask routine.

©1976, 2001, 2020 SANRIO CO., LTD.

Sanrio Puroland Announces New Mewkledreamy Live Show

Sanrio Puroland is giving Mewkledreamy (Mew) her very first show this autumn titled "Mewkledreamy March ~Atsumare☆Dreamy Mate" which will begin showing from October 16, 2020.

Mew made her debut at Sanrio Puroland in January 2018. This will be the first show she has ever participated in. Like the anime series named after her, the performance will feature an original story that will pull the audience into a mysterious and wonderful world. She will be joined by her friends Peko and Suu who have never made an appearance at Sanrio Puroland before.

Dreamy☆Set | ¥1,500

Miracle♡ Heart Light | ¥1,500

The show will include a dance scene that encourages audience participation. Park guests can get their hands on the Dreamy☆Set which includes a headband and cute colour as well as the Miracle♡ Heart Light to make their time watching the show even more fun. These will be released at Sanrio Puroland and their online shop on September 11.

Rope Purse | ¥1,320

Mewkledreamy Mewchan's Twinkling Chesse & Korokke Curry | ¥1,400

As well as the show, Mewkledreamy will have her own exclusive merchandise, food dishes, and more for fans of the cute and fluffy pink kitten.

Mew, Peko, and Suu were born on top of the clouds of the Miracle Dreamy Kingdom, and each holds a mysterious power. See them come together for the first time at Sanrio Puroland this autumn. Oh, and Hello Kitty will be in the show too!

©1976, 2009 SANRIO CO., LTD.  ©1976, 1989, 1993, 1999, 1996, 2001, 2020 SANRIO CO., LTD.

Information

Mewkledreamy March ~Atsumare☆Dreamy Mate

(Japanese Title: ミュークルドリーミーマーチ~集まれ☆ドリーミーメイト~ )
Running: October 16, 2020 until an indefinite date
Location: Sanrio Puroland Floor 1F entertainment hall
Participating Characters: Mew, Peko, Suu, Hello Kitty

Official Website: https://www.puroland.jp/liveshow/mewkledreamy_march/

Kaori's Easy Recipe: Learn to Make Hello Kitty Strawberry Ice Cream

With just a small bit of ingenuity, turn everyday food into something cute using Kaori's Easy Recipe! With a few simple ideas, an ordinary recipe magically transforms into a cute dish.

Today's recipe will show you how to make a simple ice cream made with frozen strawberries and a blender.

Ingredients


500g frozen strawberries (either store bought or self-frozen)

120ml condensed milk

Sliced white chocolate to make Hello Kitty

1.


Defrost around 3/10 of the frozen strawberries until they are more soft than frozen, allowing them to be blended more easily.

2.


Throw the defrosted strawberries into a blender along with the condensed milk and blend.

3.


Place the blended mix into a ziplock bag and place into the freezer. After about an hour, massage the mix while it's still inside the bag. Repeat this whole process 2-3 times. Doing this will make the ice cream tastier.

Once fully set, place into a serving cup of your choice, use sliced white chocolate to make your chocolate Hello Kitty, and serve!

Kaori invites you into her world of character-themed food dishes in her recipe series. Be sure to check out her Instagram where she has uploaded many pictures of her character dishes!

Kaori Kubota (@kaopan27)

I live in Hokkaido and I love to make character themed foods, desserts and pastries♡

I want to see my family smile, so I enjoy putting in a bit of effort to make character foods and changing food into something cute♡

You can see more of my character foods and character bento boxes on my Instagram page → @kaopan72

Hello Kitty, My Melody and Kuromi Themed Dessert Buffet Whipped Up at Hilton Osaka

Hilton Osaka has revealed a special dessert buffet called "Mysterious Sweets Forest ~Hello Kitty, My Melody & Kuromi's Collaboration Tea Party~" which will be served at the hotel's Folk Kitchen restaurant from September 18 to December 20 this year.


Themed on a mysterious magic forest, the dessert line-up is a tantalising buffet of 25 sweet treats made with chestnuts, sweet potatoes, apples, pear and other tasty bites. The buffet will also have several photo spots for people to take cute photos, including one with a giant Hello Kitty ribbon and one with My Melody and Kuromi.

Following the success of the "Summer Sweets Buffet Festival ~Hello Kitty & My Melody Collaboration Tea Party~" held at Hilton Osaka this summer which we also covered, the Sanrio characters return, this time with the cute and mischievous Kuromi joining the party.

Mochi Mochi Doughnuts Parfait

The "Mochi Mochi Doughnuts Parfait" is a sweet mix of Japanese gyuhi and raspberry jam topped with a doughnut that has a cute Hello Kitty chocolate on it.

Kuromi's Jet Black Heart Chocolate Mousse

Kuromi's chocolate mousse is made with fruity organic chocolate from Dominica and is topped with fruity chocolate crunch pieces for added texture.

Magic Pudding

The Magic Pudding is made using sweet potato and is served with a square-shaped chocolate that has different My Melody illustrations on it.

There's also the "White Candle Cake" which is made to look like a candle you would light at home, made from moist almond sponge and filled with berries and vanilla Bavarian cream. It's finished with a chocolate Hello Kitty ribbon.

Forest Mushroom Cinnamon Bavaria

The hotel's pastry chefs recommend the Forest Mushroom Cinnamon Bavaria. Their yellow colour and red dots will catch your eye, and one bite will have you hooked as sweet and sour redcurrant jelly and cinnamon Bavarian cream create a harmony of flavours on your taste buds.

Snow Covered Gateau Chocolate

This snow-covered chocolate cake is filled with various spices like cloves and ginger and a coating of snowy cream. This one's really giving those winter vibes.

Children of the Forest

The "Children of the Forest" which are actually lemon cakes dipped in chocolate. Other desserts include the "Vegan Chestnut Cream Cupcakes" which are generously topped with mont blanc cream, "Apple Pie" made luxuriously with apples, "Mysterious Forest Mousse" which combines sour yuzu citrus with bitter matcha, and lots of others.

There's also savoury options too like curry, mushroom soup, pumpkin and mushroom salad, and more.

Finally, Hilton Osaka's cafe and bar "MYPLACE" is also getting in on the tea party by serving up a special Hello Kitty, My Melody, and Kuromi afternoon tea, all served in a beautiful jewellery box.

Information

Mysterious Sweets Forest ~Hello Kitty, My Melody & Kuromi's Collaboration Tea Party~
Location: Hilton Osaka – Folk Kitchen (Floor 2F)

Running: September 18, 2020 – December 20, 2020 (Everyday except November 15)

Time: 15:00-16:30

Prices
[Weekdays] ¥3,950 per person / ¥1,950 for those ages 4-11 years
[Weekends/Holidays] ¥4,250 per person / ¥2,100 for those ages 4-11 years
*Comes with drink of choice from tea, coffee, hot chocolate, and others

*Listed prices do not include 10% consumption tax or service charge

Mysterious Sweets Forest ~Hello Kitty, My Melody & Kuromi's Afternoon Tea Set~

Location: MYPLACE (Hilton Osaka Floor 1F)
Running: September 18, 2020 – December 20, 2020
Time: From 12:00 until it sells out (limited quantity per day)

Price: ¥3,500 per person

*Comes with drink of choice from tea or coffee

*Listed prices do not include 10% consumption tax or service charge

Official Website: https://www.hiltonosaka.com/plans/restaurants/sweets/folkkitchen_2009

Japan's Hello Kitty Themed Hotel Rooms Open at Asakusa Tobu Hotel in Tokyo

Tobu Hotel Management are set to welcome Tokyo's only hotel rooms based around Sanrio's popular character Hello Kitty at Asakusa Tobu Hotel when the hotel official opens for business on October 8, 2020.

There are two different room types, of which there are three rooms for each for a total of 6 rooms: "Cherry Blossom Maiden" and "Japanese Modern," both centred around Hello Kitty.

The Cherry Blossom Maiden room brings together Japanese cherry blossoms with Hello Kitty dressed as a cute maiden. Decorated in pastel pink, this room is all things kawaii, and even comes with a raised flooring area to add to that Japanese vibe.

On the other side of the kawaii coin is the Japanese Modern room. The design here combines Asakusa-style colours with traditional Japanese elements, resulting in a stylish interior.

Reservations for the Hello Kitty Rooms open on August 24 at 10:00 (JST) via the hotel's official website. If you're staying in Japan anytime after October 8, make sure to book your room ASAP!

Information

Hello Kitty Rooms
Official Website Reservations: August 24, 2020 @ 10:00am (JST)
Telephone Reservations: August 31, 2020 @ 10:00am (JST)

*Other guest rooms already available for bookings
Official Website: https://www.tobuhotel.co.jp/asakusa/
TEL: 03-5809-7320 (Weekdays 10:00-18:00)

Asakusa Tobu Hotel
Address: 1-1-15 Asakusa, Taito-ku, Tokyo
Grand Opening: October 8, 2020

Access

30 seconds on foot from Asakusa Station via the Tobu Skytree Line side

1 minute on foot from Asakusa Station via the Tokyo Metro Ginza Line side
3 minutes on foot from Asakusa Station via the Toei Asakusa Line side
1 minute on foot from Kaminarimon

Kaori's Easy Recipe: Learn to Transform a Standard Roll Cake into a Kawaii Hello Kitty Cake

With just a small bit of ingenuity, turn everyday food into something cute using Kaori's easy recipe! With a few simple ideas, an ordinary recipe magically transforms into a cute dish.

In this recipe, you'll learn how to transform a store-bought roll cake into a kawaii Hello Kitty cake which contains gyūhi – a form of traditional Japanese sweet which is a variety of mochi.

Ingredients

50g refined rice flour
100ml water
70g sugar
potato starch
strawberries and whipped cream to your liking
sliced chocolate (for Hello Kitty's face)

1

First, make the gyūhi by mixing 50g of refined rice flour with 100ml of water. Mix well to avoid lumps.


Once this has been mixed, add 70g of sugar and mix again.

2


Cover the bowl with plastic wrap and microwave at 600W for 2 minutes.

3

Stir the mixture with a rubber spatula and microwave again for one more minute at 600W.

4


Use a rubber spatula to stir the mixture until it clumps together in one piece. Put a large portion of potato starch onto a tray and place your gyūhi on top.

5


Once the gyūhi has cooled, cut it to the size of the palm of your hand and use a rolling pin to stretch it out into a flat shape.

6

Leave your gyūhi to cool. In the meantime, bring out your store-bought roll cake piece and fill the inside with strawberries. When done, top your roll cake piece with whipped cream.

*If your forget to add the whipped cream, the strawberries underneath will be visible through the gyūhi layer!

7


Place the gyūhi layer on top of the roll cake and press the dough together at the bottom of the cake to seal it.

8

Shape two pieces of remaining gyūhi dough into triangles and affix them to the top of the cake to create Hello Kitty's ears. Use the sliced chocolate to create whiskers, eyes and a nose for Hello Kitty's face and cut up a strawberry to make her bow.

Once you have finished putting all the decorations in place, you're done!

Kaori invites you into her world of character-themed food dishes in her recipe series. Be sure to check out her Instagram where she has uploaded many pictures of her character dishes!

Kaori Kubota (@kaopan27)

I live in Hokkaido and I love to make character themed foods, desserts and pastries♡
I want to see my family smile, so I enjoy putting in a bit of effort to make character foods and changing food into something cute♡
You can see more of my character foods and character bento boxes on my Instagram page → @kaopan72

Handmade Hello Kitty Double Wall Glasses to be Released in Japan

GOODGLAS Japan has revealed its cute new Hello Kitty double wall glasses which it will release in Japan on July 20, 2020.

Glass products at GOODGLAS are all handmade and use the traditional glass blowing method. When you pour either your hot or cold drink into the glass, Hello Kitty's face stands out even more—and depending on the beverage you pour inside, you can create different looks. The glasses also come in four variations with different coloured ribbons: red, pink, blue, or gold.

You can make your own glass desserts too. There are plenty of ideas you can try to bring the cafe experience into your own home.

Information

Hello Kitty Double Wall Glass

Pre-orders: July 17, 2020

Release Date: July 20, 2020

GOODGLAS Japan Official Website: https://www.r-kj.com/ 


LOFT

The glasses will also be released at select LOFT branches throughout Japan. More info can be found on GOODGLAS's website.

Ueno Marui

Available: July 18, 2020 – July 23, 2020

Location: Ueno Marui 1F Event Space

Address: 6-15-1 Ueno, Taito-ku, Tokyo

Hello Kitty Themed Sports Collection Released in Collaboration With Samantha Thavasa

Samantha Thavasa Japan Limited has released a new Hello Kitty sports themed bag collection in collaboration with Sanrio as part of the company's Samantha Thavasa Petit Choice brand. Titled "We Love Sports!!", pre-sales for the collection opened on Samantha Thavasa's online shop on July 15. In-store general sales will begin at Samantha Thavasa Petit Choice branches and its online shop in Japan on July 22.

Judo Kitty

Tennis Kitty

The collaboration series sees Hello Kitty going all-out sports with soccer, baseball, swimming, volleyball, tennis, judo, and various other sports.

Baseball Kitty 2-Way Mini Shoulder Bag: ¥12,000 (Before Tax) / Flat Pouch: ¥5,500 (Before Tax)


Hello Kitty is wearing her baseball outfit and is ready to strike a home run with this two-way shoulder bag and pouch.


The bag comes with a snap flap set so you can customise this stylish bag for any occasion

The flat pouch is a must-have piece of sports gear, whether for storing medicine, band-aids, and any other items. It's the perfect size for storing little things.


Swimming Kitty Sacoche: ¥5,500 (Before Tax) / Flat Pouch: ¥5,500 (Before Tax)

Hello Kitty wears a wardrobe of different outfits in this sports series. For this one, it's her swimming gear. The sacoche is ideal for putting your smartphone away, and inside are three compartments for storing cards. Keep your credit card or sports game tickets safe.

Fastener Charms: ¥3,800 (Before Tax)

Add some more excitement to your pouch or bag with one of these sporty fastener charms.

The collection is ideal for both popping out to the shops, going to a sporting event, or pretty much any occasion. Hello Kitty is here to share her love of sports with you.

©1976,2020 SANRIO CO., LTD. APPROVAL NO. L611478

Tell the Time With the Kawaii New Hello Kitty KAORU Wristwatches

Japanese watchmakers MARUZEKI released a new collection of Hello Kitty wristwatches as part of their KAORU model series on June 27, 2020.

KAORU x Hello Kitty Sweets Collaboration: ¥4,180 (Tax Included)

MARUZEKI's "KAORU" watches are inspired by aromatherapy, implementing a world-first concept that lets the wearer enjoy their favourite fragrances on the go. Designed and created with Japan's state-of-the-art materials and technology, the Hello Kitty collection of 3 watches come with vanilla, strawberry, and coconut scents.

The 'Vanilla White' fragrance is like a waft of sweet candy. It's a popular scent seen in products, and uses a mix of aroma oils and perfumes to create the uplifting fragrance. The watch face has an illustration of Hello Kitty enjoying a cup of tea.


'Strawberry Pink' is inspired by strawberry milk and strawberry shakes. They recommend this one if you're wanting a change of pace. This clock face has Hello Kitty enjoying some apple pie and talking on the phone.


'Coconut Mint Green' is a relaxing blend of coconut and passion fruit. Hello Kitty is dressed adorably as a mother making an apple pie for this design.


The watches are packaged in special boxes with a cute pop-up Hello Kitty inside like that of a picture book. This itself serves as kawaii decoration, and makes for a great gift to someone (or yourself!)

Hello Kitty Cafe to Open in Narita Airport's Anime Deck This July

KADOKAWA is set to open a Hello Kitty themed cafe on the Narita Anime Deck—which is located on the Main Building second floor of Narita International Airport Terminal 2—for a limited time from July 3, 2020 to October 2, 2020.

The Narita Anime Deck

The Narita Anime Deck opened inside Narita International Airport Terminal 2 in November 2019. It's an entertainment facility where travellers from around the world can experience and enjoy Japanese anime culture in various forms such as with character merchandise, food, events, and a variety of photo spots.

Hello Kitty Cafe

The facility has collaborated with numerous anime series to open up limited-time cafes since it opened. This time around it is joining paws with Hello Kitty, a face known to all across the globe. As well as themed food, drinks and merchandise, customers can take a Hello Kitty quiz, learn the history behind Hello Kitty, and more.

An Original Food Menu


Hello Kitty's Lovely♡ Pink Curry: ¥1,500


Hello Kitty's Gurakoro Burger: ¥1,500


Hello Kitty's Strawberry Pancake: ¥1,400


Hello Kitty's Strawberry Parfait: ¥1,200

An Original Drinks Menu

The incredible drinks menu is diverse, including lattes where you can get 46 different latte art designs of Hello Kitty from 1974-2019. It could be fun to pick your birth year, or a year where you have fond memories.

Hello Kitty's Colourful Tapioca Drinks (Matcha Milk/Strawberry Milk/Milk Tea): ¥720 Each

 
Hello Kitty's Marshmallow Coffee: ¥800


Hello Kitty's Latte (46 Designs): ¥720 Each

Novelties

For every item you order from the collaboration menu, you can also receive one of 46 possible original coasters once again featuring a different design of Hello Kitty between the years 1974-2019.

1st Line-Up: July 3, 2020 – August 2, 2020


2nd Line-Up: August 3, 2020 – September 2, 2020


3rd Line-Up: September 3, 2020 – October 2, 2020

If you're travelling through Narita Airport anytime this year up to October, then be sure to head on up to the Narita Anime Deck to dine at the Hello Kitty Cafe.

© 1976, 2020 SANRIO CO., LTD. APPROVAL NO. L611439

Hello Kitty Becomes Japan's Mythical Mermaid Figure Amabie in New Merchandise Collection

A new collection of merchandise is being released for Sanrio's popular character Hello Kitty this August which sees her becoming Amabie, a legendary Japanese mermaid which emerges from the sea and prophesies an epidemic.

The first alleged appearance of Amabie was in Higo Province (now Kumamoto Prefecture) during the closing years of the Edo period. Legend has it that if a disease spreads, you must draw a picture of Amabie and show it to those who fall ill to cure them.

Antibacterial Face Mask Pouch: ¥1,300 (Before Tax) *Design subject to change


Antibacterial Eco Bag: ¥1,100 (Before Tax) *Design subject to change

The item collection includes an antibacterial mask pouch, eco bag, and more—all items that are best used during the time of the COVID-19 pandemic.

Lemon Drops: ¥400 (Before Tax) *Available Late June 2020


Cream Sandwich: ¥600 (Before Tax) *Available Late June 2020

Delicious sweets will also be available from late June.

This line-up is a great way to bring some smiles about during these current turbulent times, whether as a gift to yourself or someone special to you.

©︎1976, 2020 SANRIO CO., LTD.

Hello Kitty Takes Over Osaka's Maid Cafe '@home cafe'

The Osaka branch of @home cafe—a chain of maid cafes that originated in Akihabara—is collaborating with Sanrio to serve up a Hello Kitty experience from July 1 for a limited time, with special decorations, food, and exclusive merchandise.

@home cafe Akihaabra collaborates with Sanrio characters every year. In 2018, it joined hands with My Melody and Cinnamoroll, and in 2019 with Pompompurin. In January this year, it teamed up with Hello Kitty, who is now heading to the Osaka cafe.

The cafe will be decorated with cute pictures of Hello Kitty and her twin sister Mimmy, as well as pink and yellow gingham designs for each character.

The maids at @home cafe Osaka will also wear special Hello Kitty and Mimmy maid outfits for the duration of the collaboration.

Food Menu

Hello Kitty's KAWAII♡ Pink Curry: ¥1,400 (Before Tax) *Comes with a free certificate-style card


Hello Kitty & Mimmy's Moe Moe Ribbon Pasta Plate: ¥1,300 (Before Tax)


Hello Kitty's Lovely Sweet Sandwich: ¥1,300 (Before Tax)

Dessert Menu

Hello Kitty's Moe Moe Parfait / Mimmy's Kyun Myun Parfait: ¥1,000 Each (Before Tax)


Okyumuka Cake Topped With a Bright-Red Apple: ¥1,000 (Before Tax)

All customers who dine at the cafe will receive one of two possible lunch mats for free. You get one of three free coasters too when you order a drink.

Hello Kitty x @home cafe Merchandise

Acrylic Key Rings (3 Designs): ¥600 Each (Before Tax)


Mirror: ¥800 (Before Tax)

See Hello Kitty and Mimmy transform into maids at @home cafe Osaka.

©1976,2020 SANRIO CO., LTD. APPROVAL NO.S603899

Information

Hello Kitty x @home cafe Osaka

Running: July 1, 2020 – August 31, 2020

Location: @home cafe Osaka 1F

Address: SEM Bldg. 1F, 4-19-13 Nipponbashi, Naniwa Ward, Osaka

Opening Hours: [Weekdays] 11:00-22:00 / [Weekends & Holidays] 10:00-22:00 (Last Orders 21:20)

Official Website: http://www.cafe-athome.com/