Collection of Studio Ghibli Short Films to be Released on DVD & Blu-ray
Walt Disney Japan have announced they will release a collection of all short films by Studio Ghibli spanning 1992-2016 on DVD, Blu-ray and for DVD rental in Japan on July 17, 2019.
A collection of Ghibli shorts was first released in 2005 and featured everything from the studio's their ever animated short Sora Iro no Tane (1992) to the latest animated PV at the time. The new collection will feature all of those plus another eleven for a total of 33 shorts. This is also the first time they will be released on Blu-ray.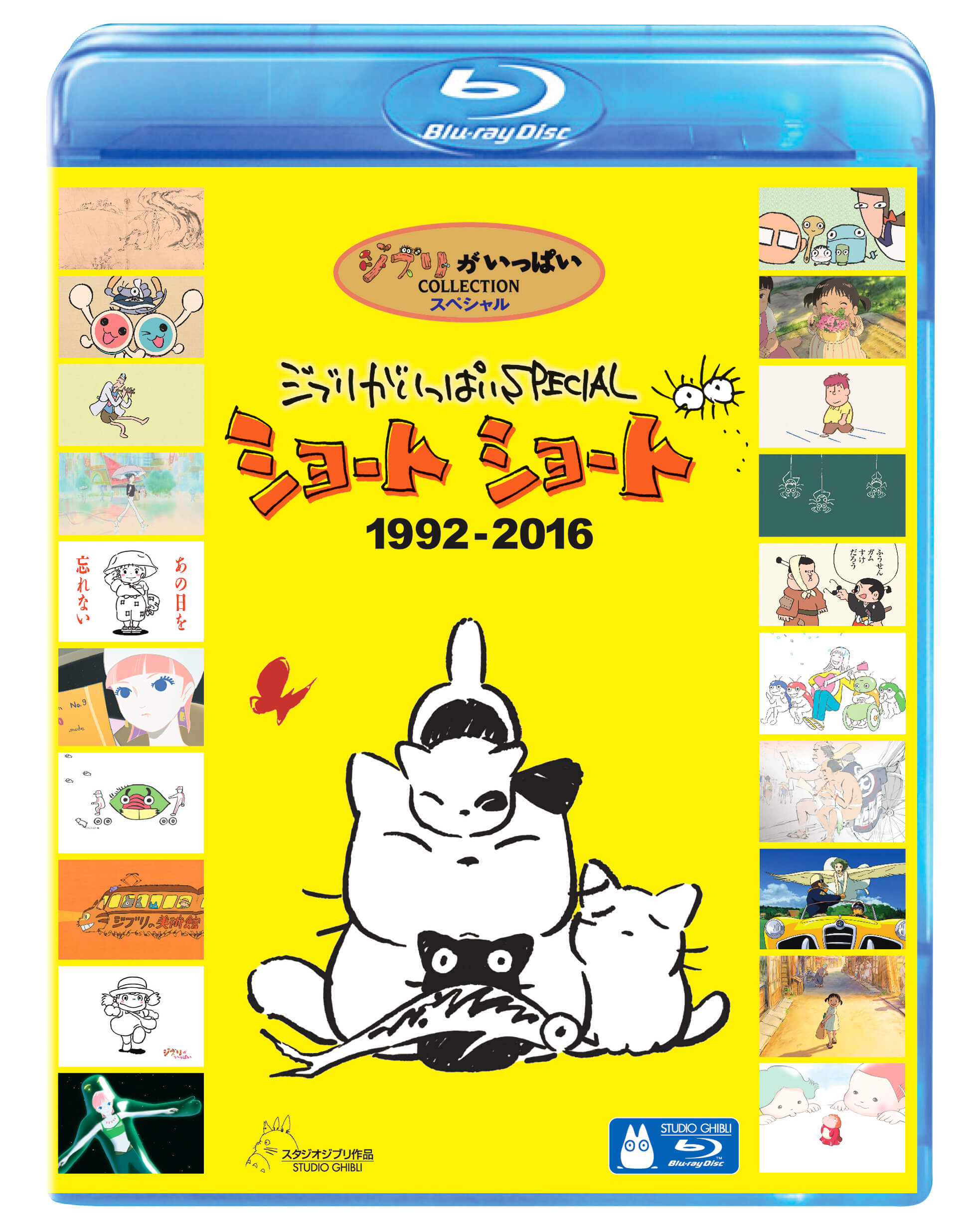 The line-up features films worked on by Studio Ghibli animators and directors including  Hayao Miyazaki, Yoshifumi Kondō, Yoshiyuki Momose, Takeshi Inamura, Osamu Tanabe, Shinji Hashimoto, Shinji Ootsuka, Katsuya Kondō, and Gorō Miyazaki.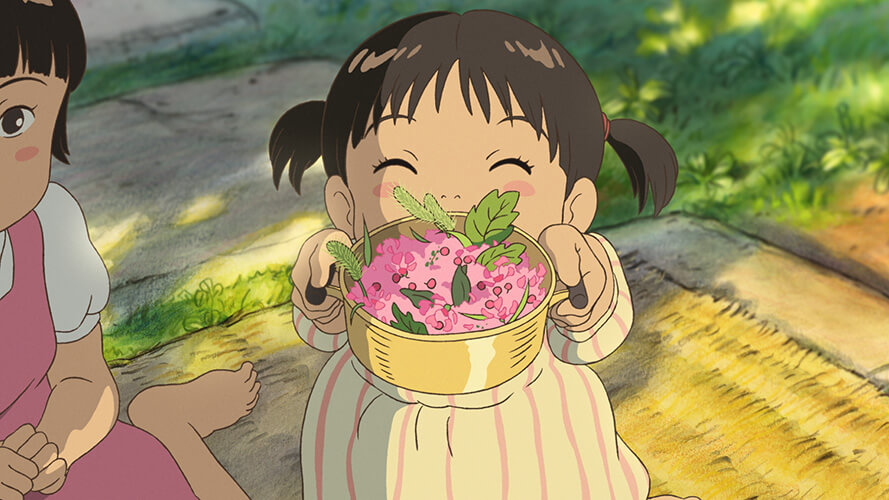 House Foods "Ouchi de Tabeyō" Series Commercial – "Niwa no Chigusa" Version
The collection also includes various commercials Studio Ghibili have done in collaboration with other companies such as House Foods, Asahi Soft Drinks, Nisshin Seifun Group and others. It even features Ghibli Experimental Theater On Your Mark (1995), an animated music video created by Studio Ghibli for the song On Your Mark by Japanese rock group Chage & Aska.
This one is a must-have for collectors of Studio Ghibli movies.
©2016 Studio Ghibli
©2019 Studio Ghibli
Information
Ghibli ga Ippai Special Short Short 1992-2016 (Japanese Title: ジブリがいっぱいSPECIALショートショート 1992-2016)
Release Date: July 17, 2019
Price: Blu-ray – ¥4,700 (Before Tax) / DVD – ¥3,800 (Before Tax)
Studio Ghibli Website: http://www.ghibli.jp/
Walt Disney Japan Website: https://www.disney.co.jp/
RELATED ENTRIES
Studio Ghibli's Totoro, Spirited Away, Laputa, and Kiki Release Official Mug Planter Collection

Benelic are releasing four new mug planters at Donguri Kyowakoku and online at Sora no Ue, both official Studio Ghibli merchandise shops in Japan, this month.

The porcelain planters include designs for My Neighbor Totoro, Kiki's Delivery Service, Laputa: Castle in the Sky, and Spirited Away, each capturing the wonderful world of the beloved animated movies. They make for the perfect plant pots for around your home.

The designs up close

My Neighbor Totoro | ¥3,960 (Tax Included)

 

Kiki's Delivery Service | ¥3,960 (Tax Included)

 

Laputa: Castle in the Sky | ¥3,960 (Tax Included)

 

Spirited Away | ¥3,960 (Tax Included)

Tokyo's Studio Ghibli & Animate Exhibition Reveals Original Merchandise Collection

Matsuya Ginza is set to host the "Animage & Ghibli Exhibition" which will run from April 15 to May 5. The event will pay homage to Hayao Miyazaki's Nausicaä of the Valley of the Wind manga which was serialised in Animage by showcasing a range of never-before-seen cell artwork, as well Mamoru Oshii's OVA art film Angel's Egg, and much more.

With two weeks until it begins, the exhibition has revealed some of the exciting original and exclusive merchandise anime fans can expect to get their hands on. Tickets for the event were released on Saturday.

Teto Plush Toy ¥11,000 (Tax Included) / Ohmu Plush Toy ¥14,300 (Tax Included)

Bath Towel ¥8.800 (Tax Included)

Tapestry ¥16,500 (Tax Included)

Multipurpose Cases ¥3,300 Each (Tax Included)

Notebook ¥495 (Tax Included)

Square Pins ¥440 Each (Tax Included)

Animage Logo Pins ¥330 Each (Tax Included)

Wooden Brooches ¥1,320 Each (Tax Included)

Stainless Steel Bottles ¥3,520 Each (Tax Included)

Handkerchiefs ¥1,650 Each (Tax Included)

The exhibition is a nostalgia fest and celebration of animation during the 70's and 80's, a time when 'anime' was yet to be widespread in the vocabulary of ordinary Japanese people. It wills how how the anime boom really set off after the release of Mobile Suit Gundam in 1979 which was lauded for its animation quality, as well as how Toshio Suzuki, a producer at Studio Ghibli, approached Hayao Miyazaki and Isao Takahata during his time as an editor at Animage. The exhibition will also feature the works produced by Suzuki and much more. Over 200 materials will be showcased for the duration of the exhibition.

 

Around 150 pieces of original merchandise will also be sold at the event, including gorgeous must-grabs for fans of Nausicaä of the Valley of the Wind that capture its wonderful world, such as a tapestry featuring the design taken from the film's opening credits.



A special exhibit will also take place entitled ALL ABOUT TOSHIO SUZUKI which covers everything about Studio Ghibli's famous producer. Other things to look forward to include books and merch for the upcoming animated film Earwig and the Witch directed by Hayao Miyazaki's son Goro Miyazaki, merch for the internationally beloved animated hit Spirited Away which is celebrating its 20th anniversary this year, and more.

© 1984 Studio Ghibli – H© 1986 Studio Ghibli© 1988 Studio Ghibli© 1989 Eiko Kadono – Studio Ghibli – N

Studio Ghibli Fashion Brand Reveals New My Neighbor Totoro Bag Collection

Japanese company Familiar will release a new collection of bags based on the classic Studio Ghibli animated feature film My Neighbor Totoro on March 16 via their online shop. The bags will be released by Studio Ghibli no Ano Fuku ("Those Studio Ghibli Clothes"), a fashion brand created by Ano Fuku and Studio Ghibli.

The two bags feature the iconic movie scene of Mei, Satsuki, Totoro, and the little Totoros sat upon a tree branch.

Denim Bag – ¥19,800 / Sub Bag ¥16,500 (Tax Included)

This is the third and final bag collection to be released in this bag series. The first collection was inspired by the bus stop scene from My Neighbor Totoro as well as Ponyo running along the water in Ponyo. The second collection was the classic scene of Kiki flying over the town with Jiji on her broomstick from Kiki's Delivery Service. Restocks of these two collections are now available too.

1st Collection

Ponyo Denim Bag ¥19,800 / Ponyo Sub Bag ¥16,500 / Totoro Bus Stop Denim Bag ¥19,800 / Totoro Bus Stop Sub Bag ¥16,500 (Tax Included)

 

2nd Collection

Kiki's Delivery Service Denim Bag ¥19,800 / Kiki's Delivery Service Sub Bag ¥16,500 (Tax Included)

Animage & Ghibli Exhibition in Ginza Pays Homage to Hayao Miyazaki's 'Nausicaä of the Valley of the Wind'

Matsuya Ginza is set to host the "Animage & Ghibli Exhibition" which will run from April 15 to May 5. The event will pay homage to Hayao Miyazaki's Nausicaä of the Valley of the Wind manga which was serialised in Animage by showcasing a range of never-before-seen cell artwork, as well Mamoru Oshii's OVA art film Angel's Egg, and much more. Over 200 materials will be showcased for the duration of the exhibition.

An Excerpt of the Exhibits

Animage was Japan's first magazine devoted to comics and animation to be aimed at the general public

Mobile Suit Gundam original movie poster (Animage, April 1981)

Original advertising posters used on trains back during each respective release

Original magazine inserts

Nausicaä of the Valley of the Wind movie poster © 1984 Studio Ghibli・H

The exhibition is a nostalgia fest and celebration of animation during the 70's and 80's, a time when 'anime' was yet to be widespread in the vocabulary of ordinary Japanese people. It wills how how the anime boom really set off after the release of Mobile Suit Gundam in 1979 which was lauded for its animation quality, as well as how Toshio Suzuki, a producer at Studio Ghibli, approached Hayao Miyazaki and Isao Takahata during his time as an editor at Animage. The exhibition will also feature the works produced by Suzuki and much more.

Fans of Studio Ghibli won't want to miss out on a look at the studio's history with Animage at this special exhibition.

LeSportsac Reveals My Neighbor Totoro Bag Collection

A new collection of 22 bags inspired by Studio Ghibli's beloved animated feature film My Neighbor Totoro will be released on the animation studio's character merchandise website Sora no Ue and their official store Donguri Kyowakoku on March 10.

The collection is made by American handbag brand LeSportsac. The designs are inspired by children's' ability to discover things when they look at something that adults cannot and feature Totoro, Satsuki, Mei, and other familiar faces. The cute bags' vivid colourings capture the magical world of My Neighbor Totoro.

The Line-Up Excerpt

Totoro botanical DELUXE EVERYDAY BAG | ¥17,500 (Before Tax)

Totoro gray EMERALD TOTE | ¥9,000 (Before Tax)

Totoro botanical HARPER BAG | ¥18,000 (Before Tax)

Totoro gray RECTANGULAR COSMETIC | ¥3,200 (Before Tax)

 It wasn′t a dream SQUARE COSMETIC | ¥3,500 (Before Tax)

Studio Ghibli's Kiki's Delivery Service Bag Serves Free-Flying Broom Witch Vibes

Japanese apparel company Familiar has is releasing a series of limited-edition items in collaboration with Studio Ghibli Anofuku, a fashion brand created by Anofuku and Studio Ghibli in 2018.

Kiki's Delivery Service Sub Bag ¥16,500 | Kiki's Delivery Service Denim Bag ¥19,800 (Prices Include Tax)

The second entries to the series are two bags based on the beloved Studio Ghibli anime film classic Kiki's Delivery Service. The bag designs feature Kiki on her broom with Jiji as they fly over the seaside town of Koriko where the movie is set. It's a direct reference to the same scene in the film itself.

The 1st entries were Ponyo and Totoro denim bags

Ponyo Denim Bag ¥19,800 | Ponyo Sub Bag ¥16,500 | My Neighbor Totoro Bus Stop Denim Bag ¥19,800 | My Neighbor Totoro Bus Stop Denim Sub Bag ¥16,500 (Prices Include Tax)

The first entries to the line-up were a collection of denim bags based on two other Studio Ghibli fan favourites: My Neighbor Totoro and Ponyo. The Ponyo bag is still available at the time this article was written, but the Totoro one is unfortunately sold out.

Information on a third collection is scheduled for release in March, so stay tuned.

Studio Ghibli's Kiki's Delivery Service Releases Jiji Wreath

If you're a collector of all things Studio Ghibli, then Donguri Closet has the latest must-grab item for fans of the animated film studio. Donguri Closet is a brand of the official Studio Ghibli merchandise shop Donguri Kyowakoku which is managed by Benelic. It offers a variety of merchandise, ornaments, cosmetics, and more all based around Studio Ghibli.

The brand has revealed two cute new hanging wreaths featuring the beloved Jiji from Studio Ghibli's hit animated feature film Kiki's Delivery Service. The wreaths were released exclusively at the Lazona Kawasaki Plaza branch of Donguri Closet at the end of January.

The wreaths are arranged with dried flowers and come with different scented floral sprays.

Pop Wreath Yellow – BERRY | ¥3,500 (Before Tax)

A vivid springtime yellow wreath coupled with a sweet berry fragrance spray.

Pop Wreath Yellow – GREEN | ¥3,500 (Before Tax)

A forest of green flowers coupled with a fresh scented floral spray.

Information

Kiki's Delivery Service Pop Wreaths

Japanese Product Name: 魔女の宅急便 ポプリース
Released: Late January 2021
Where: Donguri Closet Lazona Kawasaki Plaza
Address: Lazona Kawasaki Plaza Floor 3F, 72-1 Horikawacho, Saiwai-ku, Kawasaki-shi Kanagawa
Opening Hours: 10:00-21:00
Access: Connected directly to the West Exit of JR Kawasaki Station
Donguri Closet Official Website: https://benelic.com/closet/

My Neighbor Totoro Bag Hanger Released by Studio Ghibli Store Donguri Kyowakoku

Studio Ghili merchandise store Donguri Kyowakoku, and its online shop Sora no Ue, is now selling a new bag hanger inspired by My Neighbor Totoro.

My Neighbor Totoro Bag Hanger | ¥1,800 (Before Tax)

The hanger is inspired by the opening scene of My Neighbor Totoro when Mei is talking to her father and lines up the yellow flowers.


At first glance, the hanger looks just looks like the flowers, but if you peek a little closer you'll see small Totoro hiding behind the leaves, crafted with all the little details.


The hanger is perfect for at home or at the office when you want to hang your bag so it doesn't touch the floor.

My Neighbor Totoro Baseball Jacket to be Released by Studio Ghibli Clothing Brand GBL

Japanese company Benelic revealed a new baseball jacket inspired by Studio Ghibli's internationally-beloved animated featured film My Neighbor Totoro. The jacket will be released at the Studio Ghibli stores GBL in Japan on October 31, 2020.

My Neighbor Totoro Baseball Jacket – Gale Cat Bus Shibuya ver. | ¥29,800 (Before Tax)

The first edition of this baseball jacket was released in 2018 to celebrate the 30th anniversary of My Neighbor Totoro and almost sold out during pre-orders. It is now being re-released to commemorate the recent opening of GBL MIYASHITA PARK with a special Shibuya design.

The body has been changed from black to navy blue, and the sleeves are now embroidered with the Dust Bunnies seen in My Neighbor Totoro.


The front of the Cat Bus on the jacket also reads that its destination is bound for Shibuya, and the inner collar reads '2020 Shibuya' too. Sizes are available from Small to XL. The jacket will also be available to order online in Japan via Sora no Ue from November 4, 2020 at 11:00am (JST).

© Studio Ghibli

Information

My Neighbor Totoro Baseball Jacket – Gale Cat Bus Shibuya ver.
Release Date: October 31, 2020
GBL Official Website: http://www.gbl.tokyo

Studio Ghibli's Whisper of the Heart Celebrates 25th Anniversary With Original Merchandise

All branches of the official Studio Ghibli merchandise Donguri Kyowakoku in Japan, along with the shop's online website Sora no Ue, are releasing a new collection of merchandise to celebrate the 25th anniversary of the beloved animated feature film Whisper of the Heart.

Merchandise Line-Up


Whisper of the Heart Clock | ¥17,000 (Before Tax)

This clock is inspired by the one that appears in the movie when the protagonist Shizuku Tsukishima meets the shop owner. It features all the details of the clock seen in the film like the Elf Princess and the miners at the bottom.

Whisper of the Heart Baron | ¥18,000 (Before Tax)

This figurine is like the Baron has stepped out of the film and into the real world. Green Tiger's Eye are used for his eyes.

Whisper of the Heart Wristwatch (ACCK 716) | ¥13,000 (Before Tax)

The clock face features a beautiful rendition of the King of the Dwarves and the Elf Princess that's sure to have you sucked into their magical world.

Bonus Items

Desk Pad


Original Mirror

Customers can receive either an exclusive desk pad or mirror when they spent over ¥4,000 (before tax) on merchandise at the shop. These two bonus items are available while supplies last.

Will you be watching Whisper of the Heart once again in celebration of the 25th anniversary?

Studio Ghibli's Kiki's Delivery Service and Whisper of the Heart Get Fragrance Candle Release

Donguri Closet is releasing two new fragrance candles this month inspired by the hit Studio Ghibli animated feature films Kiki's Delivery Service and Whisper of the Heart.

Donguri Closet is a store brand in Japan which is a branch of the official Studio Ghibli merchandise shop Donguri Kyowakoku managed by Benelic.

The Donguri Closet brand focuses on the heroines of Studio Ghibli's moviesーfemale characters who are by nature gentle but all of whom are strong women. The brand's concept centres on being a place where people can be themselves through the merch.

Kiki's Delivery Service Fragrance Candle – A Fulfilling Day (Citrus) | ¥2,700 (Before Tax)

The Kiki's Delivery Service candle bears the words written by Kiki to her mother and father in a letter, in English:

Everything at work seems to be falling into place nicely. I'm even starting to gain some confidence. There are still times when I feel sad… but all in all, I sure love this town.

The candle is a relaxing citrus fragrance to fill you with positivity.

Whisper of the Heart Fragrance Candle – Close Love (Berries) | ¥2,700 (Before Tax)

The Whisper of the Heart candle features the words written by the Baron, who appears in the protagonist Shizuku Tsukishima's dreams, in English:

Louise and I were happy… because he had made us so we could love each other.

The candle smells of sweet berries to relax you during those times you can't settle.

Once you've used up the candle, you can reuse the beautiful glass it comes in which has plants inside it.

Information

Donguri Closet LAZONA Kawasaki Plaza
Address: LAZONA Kawasaki Plaza Floor 3F, 72-1 72-1 Horikawachō, Saiwai-ku, Kawasaki, Kanagawa
Opening Hours: 10:00-21:00
Donguri Closet Instagram: https://www.instagram.com/closet_by_donguri/

*The candles are also available at Donguri Kyowakoku LUCUA Osaka, Donguri Kyowakoku Nagoya Takashimaya Gate Tower Mall, Donguri Kyowakoku Tokyo Skytre Town Solamachi, and Donguri Kyowakoku Canal City Hakata

New Studio Ghibli Book Focuses On the Main Characters' Daily Lives

Tokuma Shoten Publishing released a new picture book entitled Studio Ghibli no Ironna Kurashi in Japan on October 9, 2020 which is centred on the everyday lives of the protagonists from 13 of Studio Ghibli's animated feature films.

The book looks at where the characters of these films reside and what kinds of lives they live, whether it be in the Toxic Jungle of Nausicaä of the Valley of the Wind, or Sophie taking up the role of the cleaning lady in Howl's Moving Castle, or Sosuke and Lisa who live upon the cliff in Ponyo.

Life in the castle in Howl's Moving Castle ©2004 Studio Ghibli・NDDMT

Who's who in the family? What kind of house do they live in? What job do they work? These are the questions that the book will answer as it delves deep into the livelihoods of the globally-beloved characters conceived by the incredible minds of Studio Ghibli.

The town of Koriko in Kiki's Delivery Service ©1989 Eiko Kadono・Studio Ghibli・N

Arrietty's house in The Secret World of Arrietty ©2010 Studio Ghibli・NDHDMTW

Noboru Yoshida (Art Supervisor for The Secret World of Arrietty)

The house that Satsuki and Mei move to in My Neighbor Totoro, the dwelling of Totoro, the wartime life of Seita and Setsuko living in Kobe in Grave of the Fireflies, the town where Kiki begins her life living alone at the age of 13, and so on.

The book is a must-have in the collection of any fans of Studio Ghibli, and is sure to make you want to step into those magical worlds once again.

Information

Studio Ghibli no Ironna Kurashi (Japanese Title: スタジオジブリのいろんなくらし)
Films Featured: Nausicaä of the Valley of the Wind, Laputa: Castle in the Sky, My Neighbor Totoro, Grave of the Fireflies, Kiki's Delivery Service, Princess Mononoke, My Neighbors the Yamadas, Spirited Away, Howl's Moving Castle, Ponyo, The Secret World of Arrietty, From Up on Poppy Hill, The Tale of Princess Kaguya
Release Date: October 9, 2020

Price: ¥1,800 (Before Tax)

Size: B5 Hardback

Pages: 96 full colour

Publisher: Tokuma Shoten Publishing Co., Ltd.
Product Page: https://www.tokuma.jp/book/b535734.html