MOSHI MOSHI ROOMS: The Most 'Kawaii' Accommodation Experience in Harajuku
I visited MOSHI MOSHI ROOMS -SAKURA- with Chinese talent Etsuna and Japanese model Ren Koseki. This accommodation and Harajuku hot spot is gaining much attention right now for its interior design which offers the full 'kawaii' experience wherever you look. It is produced by ASOBISYSTEM, a company that aims to promote Harajuku culture to the rest of the world.
It is located just an 8-minute walk from Meiji-Jingumae Station via the Tokyo Metro Line or 10 minutes on foot from Harajuku Station via the JR Line. Its ideal location places it very close to the most popular areas in Harajuku including Takeshita Street, Ura-Harajuku and Omoteando. It is even within walking distance from the New National Stadium which is set to be completed in November 2019 and will serve as the venue for the 2020 Summer Olympics and Paralympics.
The concept of this single-room accommodation is 'SAKURA' which is the Japanese word for cherry blossom making it the perfect place to be in right now for the spring season. Its gorgeous and unique layout is overlooked by a huge cherry blossom monument in the bedroom which also works as a light to create a magical atmosphere.
Pink is the base colour for the room which is perfect for parties and girl-only get-togethers. The is the main bed and separate simple beds to accommodate up to 5 guests. But it can house as many people as you like if they're just coming to play! This fantastic system is made possible by Airbnb.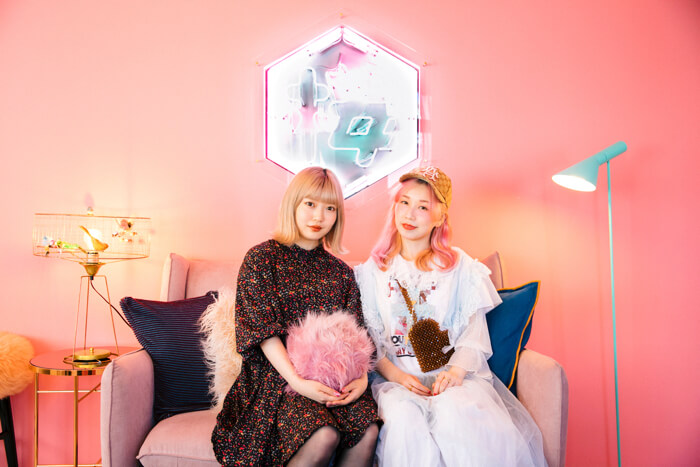 You're sure to snatch an Instagram moment in front of this neon sign which reads 桜―that's 'sakura' in Japanese!
The room even comes with an iconic dresser fitted with a huge mirror. This means you and your friends can all put your makeup on together at the same time before you head out. There's a hair drier as well as hair straighteners which Ren is using in the photo.
There's even a rooftop area which provides a panoramic view of Harajuku. This space can be used for parties, BBQs and whatever else you can think of! But keep in mind that the roof can be reserved by non-guests too in which case access will be restricted. Be sure to find out in advance if you're thinking of using it.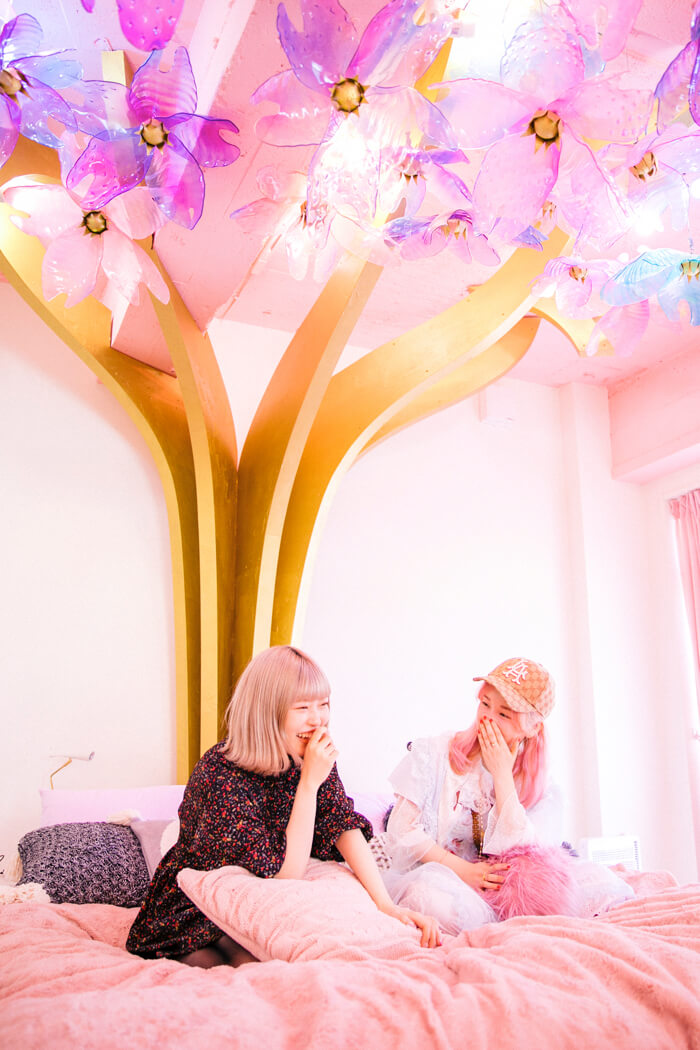 How did you find your stay at MOSHI MOSHI ROOMS -SAKURA-, Etsuna and Ren?
Etsuna: "From a foreigner's perspective, I really felt the Japanese-ness towards the sakura which is great. The dresser is huge too, I'm happy that two people can do their makeup at the same time! The place is not only cute, but it's made in such a way that the functionality of the room is easy to use. It felt heart-warming to be there."
Ren: "When it comes to lots of girls wanting a place to get together, not for travel but just to hang out, love hotels are the mainstream, but 'fun' and 'cute' don't really stand together in a place like that. But here, five people can stay together, and no matter where they take photos it's going to look cute! Plus it's in Harajuku, you can get some stylish-looking food and drinks from nearby cafés for takeout and stay up late. That sounds amazing. I can think of so many things!"
SAKURA is located on the 5th floor of a building, but if you have a lot of luggage you can contact the staff in advance and they will carry it up for you. MOSHI MOSHI ROOMS offers a very special experience where you get to stay the night in Harajuku. And SAKURA is just the start. We plan to open even more rooms on the other floors with different concepts, so look forward to it!
RELATED ENTRIES
Explore Harajuku Virtually as Virtual Shibuya Announces New Harajuku Area

Virtual Shibuya has announced that its new Harajuku area will open on May 25, 2021. The virtual experience is hosted on Cluster, a virtual social media platform.

Shibuya 5G Entertainment Project launched the "Virtual Shibuya" back in May of last year in collaboration with KDDI, Shibuya Future Design, and the Shibuya Tourism Association. Officially recognised by Shibuya City, Virtual Shibuya comes in response to the effects of the COVID-19 pandemic which has brought tight restrictions to the economy and people's way of life. It enables people to continue enjoying entertainment from the comfort of their homes by participating in a whole host of virtual events and activities. The project aims to deliver content from Shibuya with live performances from artists, art exhibitions, talks, and more. The use of 5G and the latest cutting edge technology connects the real Shibuya to a virtual space, combining the realms of the digital and real world.

Virtual Harajuku is the second area to open in the service and brings together the iconic locations surrounding Jingumae Crossing such as Laforet Harajuku and Tokyu Plaza. As part of the new area's launch, Japanese pop icon Kyary Pamyu Pamyu has been announced as a Special Supporter of the service. The singer and model made her debut on the streets of Harajuku with her unique fashion. Ten years since her debut, she will continue promoting Harajuku from the service.

Information

Virtual Harajuku au 5G POP DAY OUT 2021
Running: May 25, 2021 – May 31, 2021

Location: Virtual Harajuku (The URL will be revealed in the coming weeks)
Virtual Harajuku Details: https://vcity.au5g.jp/harajuku

Cluster Official Website: https://corp.cluster.mu/

Stay in Harajuku's Yados Jingumae Hotel if You Love Art

Japanese company Rokuyon, which is responsible for creating a variety of hotel plans in Shibuya including at our own MOSHI MOSHI ROOMS, has launched a new project for guests of various hotels who are fans of brands and artists.

For their first endeavour, Rokuyon has teamed up with Yados Jingumae which has undergone major renovations. Guests staying in Room 202 this spring can enjoy a range of artworks as part of the room's exclusive Harajuku Night Owl Art Exhibition, while in summertime Room 301 will incorporate furniture by Sekai Class.

Yados Jingumae Room 202: Harajuku Night Owl Art Exhibition

Living room

Bedroom

Artist room

Participating Artists

CHiNPAN | April 23, 2021 – May 30, 2021

CHiNPAN began their career as an oil painter after getting selected at the 2008 Asia Creative Art Exhibition at The National Art Center in Tokyo. They explore the possibilities of oil painting by not limiting themselves to just paper. "Fusion" is the theme of their work which has taken them to creating visuals for shops, fashion, music, and more.

BANBU | June 10, 2021 – July 19, 2021

BANBU is a 24-y-ear-old artist who studied art abroad in Canada and New York after graduating at a vocational school in Japan. Currently based in Tokyo, they create colourful and eye-catching graphics with their three-eyed character.

Hotel Stay x Artists Come Together

"Harajuku Night Owl Art Exhibition" is the theme of Room 202 which will collaborate with different illustrators, video makers, photographers, and other artists every 1-2 months, shining the spotlight on each of their unique visions.

Yados Jingumae Room 301: Sekai Class

Hotel Stay x Furniture

Vintage furniture and artwork from around the world will be brought together in Room 301 so guests can experience a 'world living' experience. What's more is that all of the furniture, art, and items on display will be purchasable, and will change on a fixed schedule.

Coji-Coji's Jiro Becomes Legendary Japanese Mermaid Amabie at Harajuku Event

Nippon Animation began holding the Amabie Jiro Fair at KIDDYLAND Harajuku's Maruko & Coji-Coji Store on April 29, selling merchandise of the character Jiro from Momoko Sakura's manga series Coji-Coji.

Pre-sale merchandise

Free hand towel


Jiro has turned into Amabie once again this year, a legendary Japanese mermaid who is said to emerges from the sea and prophesise either an abundant harvest or an epidemic. People are instructed people to make copies of its likeness to defend against illness.

Fans who spend over ¥8,000 at the Maruko & Coji-Coji store will receive a free original hand towel as pictured above.

Laforet Harajuku Announces LAFORET GOLDEN WEEK

Golden Week is almost here in Japan, and so Laforet Harajuku is readying itself for its special LAFORET GOLDEN WEEK event which will run from April 24 to May 9.

Around 60 stores inside the Harajuku-based shopping centre are participating in this event where shoppers can get their hands on a new wardrobe full of outfits, a stock of items and accessories, and more. There is also a special item available at Charles Chaton on Floor 4F of Laforet that is made as part of a triple collaboration between the store, DJ and music producer Night Tempo, and Rie Kanou, the author of the manga series Slow Motion wo Mou Ichido. At FRAPBOIS on Floor 1.5F, there's a selection of t-shirts, shirts, one pieces and other must-grabs created in collaboration with Osamu Goods. And that's just a taste of the many exclusives to be sold and doesn't take into account all the other events that will take place at this year's LAFORET GOLDEN WEEK. Let's dive deeper.

The Little Cat Shop by MILKBOY | April 30 – May 9 | Floor 1F Entrance Space

The Little Cat Shop by MILKBOY is a cat-themed shop by three brands: MILK, MILKBOY, and LAND. It will incorporate hit motifs from the brands' past line-ups as well as introduce all-new trends. As well as clothes, there are accessories, sofvi toys, and other items, each woven with each of the brand's touch. There will also be a raffle to win exclusive sofvi toys made by notable sofvi artists like IZUMONSTER and Konatsuya. Plus, all customers who spend over ¥10,000 will get an original sticker.

Cat eyes dress ¥32,450 / CAT EYES SHIRTS ¥19,250 / CAT TOWER TEE ¥8,800 / MISCHIEF cat Frill TEE ¥13,200 / Ribbon CAT TEE ¥7,920 (Tax Included)

Kuttsuketemiyou Picture Book Pop-Up Shop | May 1 – May 16 | Floor 2F POP UP SHOP SPACE

Kuttsuketemiyou is a picture book by contemporary artist Ken Kagami and it's getting its first pop-up shop at Lofret Harajuku. The humorous book sees Kagami seeing what would happen if he tried attaching certain things to animals. It's a work of artistic nonsense enjoyed by children and adults alike, and fans of the quirky story can get their hands on a range of merchandise featuring the cute creatures. Kagami will also be doing signings.

Kuttsuketemiyou Book ¥1,650 / Mug ¥2,750 / Tote Bag ¥4,180 / T-Shirt ¥4,950 (Tax Included)

ABEMA 5th Anniversary Laforet Harajuku Campaign

In celebration of ABEMA's 5th anniversary, it is holding a limited-time campaign in collaboration with several popular Japanese TV shows such as Koi to Ookami ni wa Damasarenai and Black Cinerella. ABEMA is a Japanese video streaming website. During the campaign, customers who spend over ¥2,000 at select stores will receive a limited-edition Black Cinderella sticker and a ticket to an online event centred on Koi to Ookami ni wa Damasarenai. They can also enter a raffle to win signed merchandise from the shows if they show their receipt and have spend over ¥2,000.

Harajuku Shopping Week 2021 | April 28 – May 7

Shoppers who spend over ¥1,000 at select stores will receive a scratch card that may net them a ¥1,000 coupon.

UNDER GROUND SNAP Photoshoot | April 29 – May 8 @ 12:00-16:00

A photoshoot will take place down on Floor B1.5F. Those who sign up can have their photo taken professionally by Gothic and Lolita Market which will be featured in the early June 2021 edition of Laforet Harajuku's tabloid as well as on HARAJUKU POP WEB. Info on how to apply can be found on LAFORET GOLDEN WEEK's official website.

Laforet Harajuku Welcomes New Stores For Spring 2021

Starting this month, Laforet Harajuku is readying itself for Spring 2021 with the rollout of items by high-end brands and shops, all with an audience in mind who simply love culture regardless of their age or gender.

4.23 | New Store Opening
《Floor 3.5F》circle in circle

circle in circle welcomes a diverse selection of brands such as l'atelier du savon, CHILD WOMAN, and more. The new store's concept is to act as the perfect place for an appointment with your wardrobe. Every month, the store will collaborate with various different people, and line the shop floor with outfits that will have customers feeling like a kind in a candy store. For its initial opening, circle in circle is collaborating with photographer Kensuke Hosoya.

4.9 | New Store Opening

《Floor 1.5F》LIBERTY TOKYO

"Freedom" is the keyword at LIBERTY TOKYO, where customers are encouraged that it's great to get your hands on the things you want, and great to wear the things you want to wear. The shop stocks a range of apparel and items that combine accessories and fashion. They even sell stickers, merchandise, and more. This custom select shop offers made-to-order products, making each and every one unique and the only one in the world. It also collaborates with artists and other brands.

3.12 | New Store Opening

《Floor 5F》OSEWAYA TOKYO

OSEWAYA TOKYO is an accessory shop offering everything from basics to trends. Their motto is "bring your happiness" which is melded into their range, spanning the latest trends to must-have dailies. They have everything you hope a store specialising in accessories would have.

4.9~6.6 | New Store Opening

《Floor B0.5F》GLAZE KOHL x NUTTY VINTAGE

GLAZE KOHL x NUTTY VINTAGE is a limited-time collaboration shop between chic apparel brand GLAZE KOHL and NUTTY, a vintage shop that first opened in 1995. They line-up features new Spring 2021 items as well as the "GLAZE KOHL add VINTAGE" corner which features a selection of vintage items picked out by designers who themselves are vintage buyers. NUTTY VINTAGE is also offering a huge selection of the best authentic vintage items. Customers can enjoy some little limited-edition gifts when shopping there which are being given out to commemorate the shop's opening.

5.22~6.4 | New Store Opening

《Floor 4F》Mansion Mikura

Mansion Mikura's main store is located at Harajuku Cat Street. This limited-time rendition is a 'mansion' with four tenants – a collection of four second-hand shops including SAUCE which stocks miscellaneous items and second-hand clothes, top ranking vintage name STEP A HEAD, side car charlie which specialises in 'maniac items,' and the long-selling brand vintagesheets.

6.5~7.25 | New Store Opening

《Floor 4F》SAUCE

SAUCE is another vintage store located behind Cat Street. For its limited-time opening, it's selling hats in collaboration with Antage which previously sold out, as well as its own upcycled vintage clothing, as well as vintage clothes, rugs, and more from overseas.

5.22~5.30 | New Store Opening

《Floor 0.5F》vanilla(B0.5F)

vanilla will provide a diverse line-up of unique fashion as well as brands such as att production, room boy pony, phemesaccessories, and more.

5.31~6.6 | New Store Opening

《Floor 0.5F》Ochame Department

At Ochame Department, they believe simply being cute is being, and being the same as others is boring. Their fashion stock and handmade bits and bobs are imbued with the magic to make customers smile.

CLEAN KEEPERS Regular Member Uniforms

CLEAN KEEPERS is a cleaning project that takes place every Saturday at Laforet Harajuku in the hopes of creating a clean town and in turn clean hearts for all. Their uniform worn by regular members has changed into a blouson and one piece produced by ehka sopo on Floor B1F of Laforet. The blouson has a retro feel to it while the one piece has long sleeves and is inspired by 19th century British maids.

CLEAN KEEPERS

Running: Saturdays @ 10:30-12:30 (Booking Required/Cancellation if it rains)毎

Stay in Harajuku's New Hotel Produced by Rolling Roster of Artists

India-ink painter CHiNPAN is collaborating with Rokuyon, who is known for helping to create a range of unique accommodations such as MOSHI MOSHI ROOMS, to launch a new kind of hotel experience in Harajuku beginning on April 23, 2021.

The project's name is Harajuku Yofukashi Art Exhibition, with yofukashi being Japanese for 'staying up late.' It will invite a new artist or creator on board every one or two months as an opportunity for them to showcase their works.

One of the art pieces

Wall art

Works displayed in the living space

The bedroom with art pieces against the walls and on the ceiling

Private area

MOSHI MOSHI ROOMS Series

MOSHI MOSHI ROOMS is our own hotel site located in the heart of Harajuku's tourism: it is within walking distance of Takeshita-dori (Takeshita Street), Meiji-dori, the Ura-Harajuku area, and Omotesando. This makes it the ideal place to stay for travellers visiting Harajuku.

SAKURA | More details here

ORIGAMI | More details here

DOSUKOI | More details here

With art events and exhibitions cancelled or severely restricted due to the pandemic, this project serves as a get promotional opportunity for artists to display their works and for art lovers to appreciate them. It aims to grow and become a new way to enjoy art.

Information

Harajuku Yorufukashi Art Exhibition

Japanese Name: 原宿夜ふかしアート展

Start Date: April 23, 2021

Where: Yados Jingumae (Formerly Wind Jingumae)

Address: 2-26-10 Jingumae, Shibuya, Tokyo

Official Website: https://www.chillnn.com/1773daedf52237 

Love Live! Super Star!! Official Shop to Open in Harajuku

Anime product and merchandise chain Gamers is set to open an official shop in collaboration with the upcoming anime series Love Live! Super Star!! on May 30.

Pre-Sale Merch

Full-Colour Pass Cases | ¥1,430 (Tax Included)

Luggage Tags | ¥1,320 Each (Tax Included)

Rubber Key Rings | ¥660 Each (Tax Included)

Korokotto Love Live! Super Star!! | ¥990 Each (Tax Included)

Love Live! Super Star!! comes as the latest entry to the Love Live! anime franchise and will begin airing this July. The story follows five girls who aim to become school idols. Fans of the series won't want to miss out on a chance to visit the shop if they're in Tokyo this spring as they get their hands on a selection of exclusive merchandise, pre-sales, and more.

(C)2021 プロジェクトラブライブ!スーパースター!!

Information

Love Live! Super Star!! Official Shop
Location: Harajuku Gamers

Address: 6-16-2 Jingumae, Shibuya-ku, Tokyo, 150-0001
Opening Hours: 12:00-19:00

Official Website: https://www.gamers.co.jp/

Harajuku's Pompompurin Maid Café to Open on April 14

Akihabara's premiere maid café chain "@home café" announced last month the opening of a permanent maid café themed on Sanrio's popular character Pompompurin. The café is set to open along Harajuku's famous Takeshita Street on April 14, 2021.

 © 2021 SANRIO CO., LTD.  APPROVAL NO. S620028

@home café has collaborated with many of Sanrio's popular characters in the past at its Akihabara-based café branches such as Hello Kitty, My Melody, Cinnamoroll, and of course Pompompurin, but this time the collaboration is flying out of Akiba and straight into the heart of Japanese pop culture: Harajuku.

This new Pompompurin Café is themed on Pompompurin throwing a party for everyone—that's you and your friends. It's a place for Purin to deliver happiness to all who visit in the form of cute and tasty food.

Of course, the @home café maids will also be present, and all wearing original maid uniforms coloured like Pompompurin.

A little look at some things on the menu

The Food

Soufflé Omurice | ¥1,450

Butter Chicken Curry | ¥1,300

The Desserts

Pompompurin Pudding | ¥700

Chocolate Banana Mountain Waffle | ¥1,200

The Drinks

Custard Pudding Latte | ¥850

Muffin's Caffe Mocha | ¥850

Take a commemorative photo

For just ¥550, you can take a chekki photo at the café. It comes with café-original stickers and paper. For an extra ¥300, you can take a photo with one of the maids.

Pompompurin Birthday Party

 

April 16 is Pompompurin's birthday, so on that day the café will have a special dessert prepared (which you can see below) along with novelties for customers, new decorations, and more.

Pompompurin's Birthday Dessert

Special Birthday Parfait | ¥1,700 | Serving: April 14, 2021 – April 30, 2021

Birthday Novelty

To commemorate Pompompurin's birthday and the opening of the café, all visitors will receive the pin below for free.

Pompompurin will visit the café

On the evening on April 16, Pompompurin will visit the cafe for his birthday to celebrate with everyone. Details and bookings can be found here in Japanese.

Information

Pompompurin Cafe x @home cafe

Grand Opening: April 14, 2021

Where: CUTE CUBE HARAJUKU Floor 3F, 1-7-1 Jingumae, Shibuya, Tokyo

Opening Hours: [Weekdays] 11:00-22:00 / [Weekends] 10:00-22:00

No Fixed Holidays

Pompompurin Cafe Official Website: https://pompompurincafe.com/

@home Official Website: http://www.cafe-athome.com/

Japanese Illustrator Mai Yoneyama Releases Limited-Edition T-Shirts

To commemorate her exhibition "EGO" exhibition currently taking place at Anicoremix Gallery in Harajuku, Japanese illustrator Mai Yoneyama has released a collection of limited-edition t-shirts in collaboration with the sneaker brand atmos. The exhibition, which is showcasing many of Yoneyama's works, is running until April 14.

Wear Mai Yoneyama's iconic pop style wherever you go with these limited-edition tees.

The Little BAKERY Tokyo Revamps and Reopens With New Eat-In Area

The beloved takeout bakery The Little BAKERY Tokyo, which is just down the road from another of Harajuku's popular eateries THE GREAT BURGER, has undergone refurbishment to add a brand new eat-in space. The site reopened on March 22 as a bakery and cafe.

A tasty new eat-in menu

Crushed Avocado Toast | ¥1,250 (Before Tax)

Homemade Maple Granola | ¥1,350 (Before Tax)

New York Pizza (Pepperoni Slice) | ¥1,000 (Before Tax)

Classic Ham, Egg, & Cheddar Cheese Sandwich | ¥1,500 (Before Tax)

Apple Gorgonzola Cheddar Cheese Sandwich | ¥1,450 (Before Tax)

Bread loaves and takeout goodies

Red Bean Paste & Butter Ball | ¥420

Hokkaido Yotsuha Butter Croissaint | ¥260

Custard Pudding | ¥550

Hokkaido Brioche Loaf – Whole ¥580, Half ¥320 / Hokkaido Whole Wheat Loaf – Whole ¥560, Half ¥300 / Hokkaido Milk Loaf – Whole ¥580, Half ¥320 (Before Tax)

The new eat-in menu features a range of irresistibles like vegan-friendly avocado toast, homemade granola topped with fresh fruits and Greek yogurt, a selection of sandwiches made with homemade brioche toast, New York-style, pizza, and more.

Takeout options includes all the classics like bread loaves, sweet custard pudding, soft and crispy croissants, and so on.

There are around 30 baked delights to pick from at The Little BAKERY Tokyo all of which are made using flour from Hokkaido and natural yeast. All items on the menu are made fresh in-house every day, all ingredients from the salt and sugar to the eggs and more are domestic, and all ingredients are sourced sustainably and locally. The bakery also caters to all needs from those with food restrictions and allergies as well as a fantastic vegan menu which replaces animal products like eggs and butter with soy milk and grapeseed oil.

They even sell American-style doughnuts from the doughnut brand GOOD TOWN DOUGHNUTS who are inspired by doughnuts from Brooklyn. There's around 20-30 to choose from, all colourful and all used with natural ingredients like fruit – none of the bad additives. Of course, there's vegan doughnuts too, so if you're struggling to find vegan food in Tokyo, you know where to go.

One worry in the bakery industry is that of leftover stock. But The Little BAKERY Tokyo has a solution for that: by wrapping up their pastries and baked foods and selling them as 'DAY OLD BREAD' on their online shop so nothing goes to waste, something which has received huge praise from people across Japan.

Chibi Maruko-chan and Coji-Coji themed store to open in Harajuku.

The store themed on Chibi Maruko-chan and Coji-Coji by Momoko Sakura, the writer and illustrator of the animations, is set to open permanently from March 26 at KIDDYLAND Harajuku with the cooperation of Nippon Animation, the Japanese animation studio.

Commemorate illustration

Purchase bonus

Character stickers (15 designs and 1 secret design) |Not for sale

Tote bag | Not for sale

Exclusive shopper bag

Exclusive merchandise

Acrylic key rings (5 designs) |¥660 each (Tax included)

Acrylic stand |¥880 (Tax included)

Sticker |¥550 (Tax included)

Anti-bacterial spray |¥550 (Tax included)

Glass mug | ¥1,320(Tax included)

Pouch | ¥550 (Tax included)

Can with chocolate | ¥1,320 (Tax included)

Eco-bag | ¥1,100 (Tax included)

Capsule-toy

Chibi Maruko-chan/Coji-Coji Acrylic stand vol.1 ¥400 each (Tax included)

Senjafuda votive card ¥300 each (Tax included)

Presale products 

Maruko and Coji-Coji Plushy | ¥3,850 (Tax included) 

Maruko and Coji-Coji Mask case pink/purple | ¥1,078 each (Tax included)

New merchandise

Maruko and Coji-Coji Acrylic key rings (2 designs) | ¥528 each (Tax included) / Maruko and Coji-Coji Magnets (2 designs) | ¥550 each (Tax included)

Maruko and Coji-Coji Postcards (2 designs) | ¥165 each (Tax included) / Maruko and Coji-Coji Pouch | ¥880 (Tax included)

Maruko and Coji-Coji Tote bag (2 designs) | ¥1,760 each (Tax included)/ Chibi Maruko-chan Plushy (2 designs) | ¥1,848 each (Tax included)

KIDDYLAND Harajuku has held the fairs called  "Thank you, Momoko Sakura" and "Maruko and Coji-Coji" in the past which have ended with great success. In response to this, they have launched the store combined both characters that has never existed before.

The scene of characters from Chibi-Maruko-chan and Coji-Coji playing together has illustrated specially to commemorate the store's opening. The fans can look forward to getting their hands on the first series of exclusive merchandise using the store logo and its purchase bonus.

The store themed nostalgic and soothing animations by the writer and illustrator Momoko Sakura is irresistible to visit.

©さくらプロダクション/日本アニメーション

©さくらプロダクション

©さくらももこ

Pompompurin Maid Cafe to Open in Harajuku This Spring

Japanese maid cafe chain "@home cafe" has announced that it is launching a permanent maid cafe themed on Sanrio's popular character Pompompurin. The cafe will open on the famous Takeshita Street in Harajuku on April 14, 2021.

@home cafe has collaborated with many of Sanrio's popular characters in the past at its Akihabara-based cafe branches such as Hello Kitty, My Melody, Cinnamoroll, and of course Pompompurin, but this time the collaboration is flying out of Akiba and straight into the heart of Japanese pop culture: Harajuku. The cafe will feature a menu conceived by Pompompurin, and fans of the cute golden retriever will also get to take their pictures with him. The cafe maids will also wear @home-original outfits inspired by Purin.

If you're planning a visit to Harajuku, don't miss out on the chance to dine at the new Pompompurin Cafe, opening April 14.

© 2021 SANRIO CO., LTD.  APPROVAL NO. S612265