LiSA to Perform TV Anime Demon Slayer: Kimetsu no Yaiba Opening & Ending Theme
LiSA's new song Gurenge ("Red Lotus") is currently being used as the opening theme for the ongoing TV anime series Demon Slayer: Kimetsu no Yaiba which began airing on April 6.
To fans' surprise, LiSA is also performing the show's ending theme song from the edge written by Yuki Kajiura under her pseudonym FictionJunction. The song debuted during episode 2.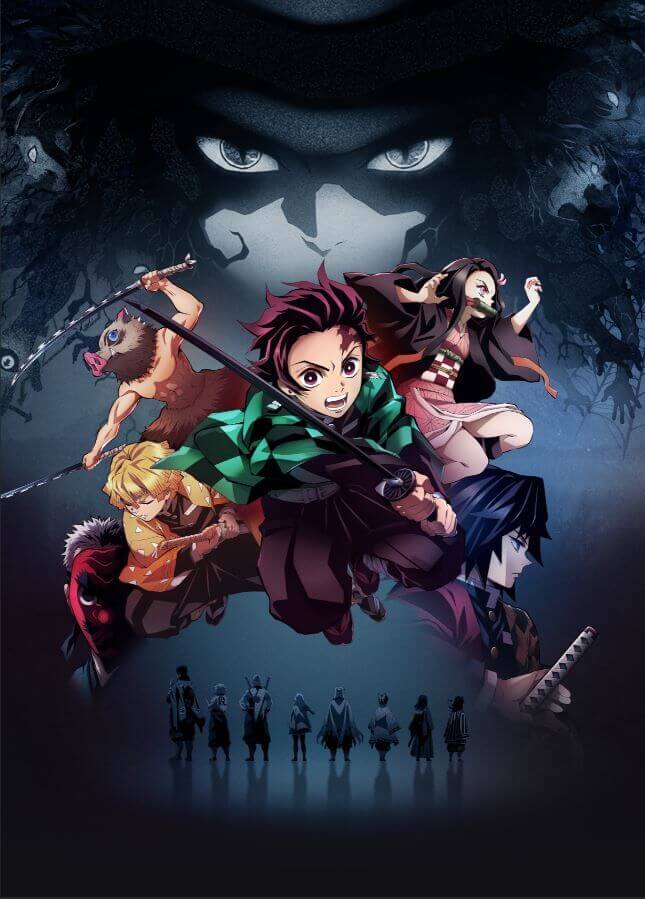 Speaking about the collaboration, LiSA comments: "Not only have I been given the chance to perform the opening theme Gurenge for the TV anime series Demon Slayer: Kimetsu no Yaiba as LiSA, I also get to perform the ending theme from the edge under FictionJunction feat. LiSA. Working on music together with Yuki Kajiura has been nerve-racking, but I made sure to sing my heart out. I would be overjoyed if people totally enjoy the world that the series has to offer every week, from start to finish.
©Koyoharu Gotouge / Shueisha・Aniplex・ufotable
RELATED ENTRIES
Demon Slayer: Kimetsu no Yaiba Collaborates With Kyoto's Famous Kabuki Theatre Minami-za

Minami-za, one of the most respected kabuki theatres in Japan, has announced a special exhibition in collaboration with the TV anime series Demon Slayer: Kimetsu no Yaiba which will run from November 6 to 23.

Minami-za is the oldest theatre in Japan and is registered as a Tangible Cultural Property of Japan. The Demon Slayer exhibition will feature displays, decorations, and a range of exclusive merchandise.

Lobby Exhibit

Fans will find a range of character boards displayed at the entrance lobby to Minami-za with the characters donning traditional kabuki attire.

Special Stage Photo Spots

Cut-outs of the main cast of characters will be displayed on stage. People will be able to stand up on stage and take photos with the characters in this unique collaboration with kabuki.

Signboard

An original signboard will be displayed at the entrance to Minami-za.

Free Bonus Items

All customers who visit the theatre will receive one of these 18 possible coasters for free.

Merchandise

Those who hold a ticket to the event will be able to purchase a selection of original merchandise at the theatre. The items will also be sold online at Shochiku Kabuki-ya Honpo.

Teabags (4 Flavours) | ¥800 (Tax Included)

Special teabags will also be sold at the Tokyo and Kobikicho Square branches of Shochiku Kabuki-ya Honpo as well as their online website between October 21 and 23.

Tickets to the event are available via Lawson in Japan.

©Koyoharu Gotouge/Shueisha・Aniplex・ufotable

Information

Demon Slayer: Kimetsu no Yaiba x Minami-za
Location: Minami-za (Hashihigashizumecho, Higashiyama-ku, Kyoto)
Running: November 6, 2020 – November 23, 2020 (Closed November 9 and 16)
[Tue-Thur] 15:00-20:00 (Last Entries 19:00)

[Fri-Sun] 10:00-20:00 (Last Entries 19:00)
Tickets: https://l-tike.com/kabukimetsu_minamiza/
Official Website: https://www.kabukimetsu.com/

Demon Slayer Confections Slash Their Way Into Lawson Convenience Stores in Japan

Bandai Candy's character-inspired Japanese confectionery series Tabemas collaborating with the popular TV anime series Demon Slayer: Kimetsu no Yaiba to release two confections themed on the show's main characters Tanjiro Kamado and Nezuko Kamado as well as a collection of tarts. The sweet treats will hit the chilled desserts corner of Lawson convenience stores in Japan on October 20, 2020.

Tabemas x Demon Slayer


Tabemas x Demon Slayer: Kimetsu no Yaiba (Tanjiro Kamado/Nezuko Kamado) – ¥264 Each (Before Tax)

The tarts feature all the little details of the beloved characters, from the scar on Tanjiro's forehead and his earrings to the bamboo pipe in his sister Nezuko's mouth and her hair adornment. It also captures the designs of their clothes. Both are filled with Japanese red bean paste with Tanjiro being chocolate flavoured and Nezuko strawberry flavoured.

Demon Slayer Tarts


Demon Slayer Tarts | ¥231 (Before Tax)

An assortment of biscuit base tarts laced with caramel mousse. The tart designs feature a range of popular characters from the anime series including the Kamado siblings, Zenitsu, Inosuke, Shinobu, and Tomioka.

Demon Slayer: Kimetsu no Yaiba is a manga series by Koyoharu Gotouge serialised in Weekly Shonen Jump. The popular series has over 100 million copies in circulation and spawned a hit anime series last year. The upcoming anime film Demon Slayer: Kimetsu no Yaiba the Movie: Mugen Train, which is being animated by ufotable, is set for release tomorrow on October 16, 2020 will serve as a direct sequel to the 2019 anime series.

©Koyoharu Gotouge/Shueisha・Aniplex・ufotable

Demon Slayer: Mugen Train Anime Film Promotion to Take Place at Tokyo Skytree

The highly-anticipated anime film Demon Slayer: Mugen Train is set for release on October 16, 2020. To promote the film, Tokyo Skytree will hold special lighting shows where the tower will be lit up in Demon Slayer themed colours, as well as display photo spots signed by the anime's voice cast, from October 16-18.

Demon Slayer: Mugen Train Light-Up

Tokyo Skytree will be lit up in colours inspired by Rengoku Kyojuro's Flame Breathing technique as well as the film's main theme Homura ("Flame").

Light-Up Dates


October 16, 2020 @ 17:45-Midnight
October 17, 2020 @ 17:45-22:00
October 18, 2020 @ 17:45-22:00

Demon Slayer: Mugen Train Signed Photo Spots


直筆サイン入りフォトスポット©Koyoharu Gotouge/Shueisha・Aniplex・ufotable ©TOKYO-SKYTREE


The Tokyo Skytree Tembo Deck will also have numerous photo spots signed by members of the anime's main voice cast including Natsuki Hanae (who voices Tanjiro Kamado), Akari Kitō (Nezuko Kamado), Hiro Shimono (Zenitsu Agatsuma), and Yoshitsugu Matsuoka (Inosuke Hashibira).

Running: October 12, 2020 – December 22, 2020
Location: Tokyo Skytree Tembo Deck (Floor 350F)

If you're in Tokyo this autumn, and are looking forward to the release of Demon Slayer: Mugen Train, then be sure to visit Tokyo Skytree for this promotion.

Information

Demon Slayer: Mugen Train Light-Up
Light-Up Dates
October 16, 2020 @ 17:45-Midnight
October 17, 2020 @ 17:45-22:00
October 18, 2020 @ 17:45-22:00

Demon Slayer: Mugen Train Signed Photo Spots
Running: October 12, 2020 – December 22, 2020
Location: Tokyo Skytree Tembo Deck (Floor 350F)

Demon Slayer: Mugen Train Voice Cast and LiSA to Attend TOHO Cinemas Roppongi Hills Premiere

The hotly-anticipated anime film Demon Slayer: Mugen Train is set for release next Friday on October 16, 2020. If you're in Japan, that's even better news, as the voice cast are set to appear at a post-showing event the day after, and this event will be streamed live at cinemas across the country.

Demon Slayer: Kimetsu no Yaiba is a manga series by Koyoharu Gotouge serialised in Weekly Shonen Jump. The popular series has over 100 million copies in circulation and spawned a hit anime series last year. The upcoming anime film Demon Slayer: Kimetsu no Yaiba the Movie: Mugen Train, which is being animated by ufotable, is set for release on October 16, 2020 will serve as a direct sequel to the 2019 anime series.

Demon Slayer: Mugen Train Voice Cast Talk

The main voice cast for Demon Slayer: Mugen Train as well as LiSA who sings the anime series opening theme Homura and the series director Haruo Sotozaki will appear at TOHO Cinemas Roppongi Hills on October 17 for a special talk on the film as well as talk about the recording process and more. The cast members attending the event includes Natsuki Hanae (who voices Tanjiro Kamado), Akari Kitō (Nezuko Kamado), Hiro Shimono (Zenitsu Agatsuma), Yoshitsugu Matsuoka (Inosuke Hashibira), Satoshi Hino (Kyojuro Rengoku), and Daisuke Hirakawa (Enmu).

The event will be showcased live simultaneously at theatres in Japan.

©Koyoharu Gotouge/Shueisha・Aniplex・ufotable

Information

Demon Slayer: Kimetsu no Yaiba the Movie: Mugen Train

Release Date: October 16, 2020

Official Website: https://kimetsu.com

Post-Film Event
Venue: TOHO Cinemas Roppongi Hills

Date: October 17, 2020

Time: After the 8:40 showing
Attendees: Haruo Sotozaki, Natsuki Hanae, Akari Kitō, Hiro Shimono, Yoshitsugu Matsuoka, Satoshi Hino, and Daisuke Hirakawa, LiSA

*There will be no live performance of the main theme by LiSA

*Attendee line-up subject to change
Tickets: https://w.pia.jp/t/kimetsu-movie/

Event Live Showcasing
Tickets will roll out at theatres in Japan on October 10, 2020 at midnight. For more information, visit the official website.

Demon Slayer: Mugen Train Anime Film Announces Bonus Manga For Theatergoers

Demon Slayer: Kimetsu no Yaiba is a manga series by Koyoharu Gotouge serialised in Weekly Shonen Jump. The popular series has over 80 million copies in circulation and spawned a hit anime series last year. The upcoming anime film Demon Slayer: Kimetsu no Yaiba the Movie: Mugen Train, which is being animated by ufotable, is set for release on October 16, 2020 will serve as a direct sequel to the 2019 anime series.

The official Japanese Twitter account for the Demon Slayer: Kimetsu no Yaiba film announced that theatergoers in Japan will be given a limited-edition manga when they see the upcoming film.

Rengoku Volume 0 Limited-Edition Manga

The special 84-page manga by Demon Slayer author Koyoharu Gotouge follows Kyojuro Rengoku, the Flame Hashira, on his first mission as a slayer of demons. It also features interviews with the staff and cast. The manga is limited to 4.5 million copies.

Jump Special Anime Festa 2020 Talk Show

'Jump Special Anime Festa 2020' will be hosted on Youtube on October 11 from 13:00 before the film is released. It will see the voice actors for Tanjiro, Nezuko, and Kyojuro discuss the upcoming film.

It's less than a month until the release of Demon Slayer: Kimetsu no Yaiba the Movie: Mugen Train. Stay tuned for the latest updates.

©Koyoharu Gotouge/Shueisha・Aniplex・ufotable

Information

Demon Slayer: Kimetsu no Yaiba the Movie: Mugen Train

Release Date: October 16, 2020

Official Website: https://kimetsu.com

Demon Slayer Exhibition to Open at Sapporo Factory in Hokkaido

Sapporo Factory is set to welcome an exhibition themed on the popular TV anime series Demon Slayer: Kimetsu no Yaiba from October 17 to November 8 this year.

Demon Slayer: Kimetsu no Yaiba is a manga series by Koyoharu Gotouge serialised in Weekly Shonen Jump. The popular series has over 80 million copies in circulation and spawned a hit anime series last year. The upcoming anime film Demon Slayer: Kimetsu no Yaiba the Movie: Mugen Train set for release on October 16, 2020 will serve as a direct sequel to the 2019 anime series and is being animated by ufotable.

The exhibition will look back over the anime series to date, as well as the upcoming film, which will be released the day before the exhibition starts. Fans can expect a variety of exhibits at the event, from video content to artwork, as well as exclusive merchandise.

Tickets go on sale in Japan on September 15 at 17:00 via Lawson. The first round of tickets will be allocated to random people who sign up.

Information

Demon Slayer: Kimetsu no Yaiba Exhibition (Japanese Title: TVアニメ「鬼滅の刃」全集中展)
Running: October 17, 2020 – November 8, 2020

Opening Hours: 10:00-19:30 (Last Entries 18:30)

*Open until 17:00 (Last Entries 16:30) on November 8
Location: Sapporo Factory Building 3 (Floor 3F

Exhibition Website: https://kimetsu.com/zenshuchuten/
STV Event Homepage: http://www.stv.jp/event/zenshuchuten/index.html

Demon Slayer: Kimetsu no Yaiba Pop-Up Event Announced at Narita Airport

Narita International Airport Terminal 2 is set to host a pop-up event for the TV anime series Demon Slayer: Kimetsu no Yaiba at its 2nd floor Narita Anime Deck from September 10 to October 9. Fans can get their hands on exclusive and pre-sale merchandise, tuck into food themed on the series, and participate in an event to find Nezuko who is lost in Narita Airport.

Uchiwa fans

The Nezuko event has players going to each terminal at Narita International Airport to solve puzzles dotted around them. Those who clear the event will receive one of three possible uchiwa fans with original art.

To participate in the Nezuko event, you must first pick up a kit which you can get at the pop-up store.

©Koyoharu Gotouge/Shueisha・Aniplex・ufotable

Information

Demon Slayer: Kimetsu no Yaiba x Narita Airport Locate Nezuko Event

Running: September 10, 2020 – October 9, 2020

Location: Narita Airport Terminals 1, 2 and 3
Required Time: 60-90 minutes

Desk: Narita Anime Deck Counter

Time: 10:00-18:00

Kit Price: ¥1,000 (Before Tax)
Official Website: https://www.animedeck.jp/

Demon Slayer Themed Takoyaki Collaboration to Launch With Gindaco

Japanese takoyaki company Gindaco has announced a collaboration with the TV anime series Demon Slayer: Kimetsu no Yaiba which will take place at select Gindaco restaurants around Japan from September 8 to December 7.

Demon Slayer: Kimetsu no Yaiba is a manga series by Koyoharu Gotouge serialised in Weekly Shonen Jump. The popular series has over 80 million copies in circulation and spawned a hit anime series last year. The upcoming anime film Demon Slayer: Kimetsu no Yaiba the Movie: Mugen Train set for release on October 16, 2020 will serve as a direct sequel to the 2019 anime series and is being animated by ufotable.

Gindaco's collaboration with the internationally celebrated anime series will include takoyaki inspired by its beloved characters, and fans can get their hands on some exclusive Demon Slayer folders too.

The "Collab Takoyaki" box contains 8 takoyaki and comes with an exclusive card. Available while supplies last, this box of takoyaki is inspired by familiar faces from the anime series such as Tanjiro Kamado, his sister Nezuko, and Kyojuro Rengoku.

Collaboration: Part One

Tanjiro Kamado's Chicken Soboro Takoyaki in Black Sauce | ¥880 (Tax Included)

This takoyaki is inspired by Tanjiro and is made with the popular flavour 'negi mayo' together with teriyaki sauce. It comes with a separate small bag of black sauce to pour over.

Running: From September 8, 2020 until each store runs out of stock

Collaboration: Part Two

Nezuko's Cheese Walleye Pollack Roe Takoyaki in Baketsu Ketchup | ¥880 (Tax Included)

Cheese walleye pollack roe is a popular flavour with women in Japan. Topped with egg, and served with a separate bag of ketchup, this takoyaki is inspired by Nezuko.

Running: From October 1, 2020 until each store runs out of stock

Collaboration: Part Three

Zettai Umai Kyojuro Rengoku's Negi Chili in Rengoku Powder | ¥880 (Tax Included)

Hot takoyaki served with crunchy spring onion and sweet chili sauce. Top with the accompanying specially-made Rengoku powder for extra deliciousness.

Running: From November 2, 2020 until each store runs out of stock

*Takeaway only
*Served in a box
*Payments by card only

Danran Pack – 24 Takoyaki With Sauce | ¥1,680 (Tax Included)

Danran Pack – 24 Takoyaki With Sauce & 2 Toppings | ¥1,880 (Tax Included)

There is also a pack of 24 takoyaki which comes with an exclusive and original folder. For each collaboration 'Part,' the design of the folder will change.

Release Dates

Design ①: September 14, 2020 / Design ②: October 12, 2020 / Design ③: November 9, 2020
*Available while supplies last
*Takeaway only
*Folders not sold separately


Exclusive and limited-edition merchandise will also be sold for the collaboration. More details can be found on the official website.

Get your fill of Demon Slayer and takoyaki with Gindaco's special collaboration.

©Koyoharu Gotouge/Shueisha・Aniplex・ufotable


LiSA Launches Third Collaboration With Japanese Clothing Company Candy Stripper

Japanese singer-songwriter LiSA's third collaboration with the Japanese apparel company Candy Stripper launched on Friday. The new collection features three unisex items designed by LiSA herself.

CHECK SWITCHED HOODIE: ¥20,000 (Before Tax) | <Colours:  BLUE×BLUE×RED(BLACK OTHER) / BLACK×YELLOW×BLUE>

A hoodie made to look upcycled by docking a hoodie with a flannel shirt. It has long sleeves as well as a zipper down the middle, giving it a punk look and enabling you to wear it open or closed. With its loose silhouette, the hoodie can be worn as a one piece.

CND YOUTH JACKET: Ladies – ¥26,000, Men – ¥27,000 (Before Tax) | <BLACK>

A blouson with vintage graphics and logos that will leave an impact. It's lined with thick satin, and since it's light, can be worn in all seasons. Available in women's and men's sizes.

BREAK THROUGH L/S TEE: ¥12,000 (Before Tax) | <Colours: OFF WHITE / BLUE / BLACK>

A thick cut and sewn long T-shirt with a unisex silhouette. The front and right sleeve and logos printed on them, while on the back is a cartoon cat munching on a record.

LiSA's new collection is a must-grab for Autumn 2020.

Demon Slayer's Made to Order Character Socks Now Available to Buy in Japan

Japanese sock manufacturer Tabio has teamed up with the TV anime series Demon Slayer: Kimetsu no Yaiba to release an original collection of character socks this autumn. Made to order, pre-orders for this limited edition socks opened on August 11, 2020 via Tabio's official online store, Premium Bandai, and Tabio's Rakuten page.

Tanjiro Kamado socks


Full line-up of embroidered designs | ¥1,350 Each (Before Tax)

There are six character designs in total, each with two different colours to pick from, and are sized at 22cm-24cm. Designs include Tanjiro Kamado, Nezuko Kamado, Zenitsu Agatsuma, Inosuke Hashibira, Giyu Tomioka, and Shinobu Kocho.

Which design would you go for?

The upcoming anime film Demon Slayer: Kimetsu no Yaiba the Movie: Mugen Train is set for release on October 16, 2020. It serves as a direct sequel to the 2019 anime series adapted from Koyoharu Gotouge's manga series Demon Slayer: Kimetsu no Yaiba and is being animated by ufotable.

©Koyoharu Gotouge/Shueisha・Aniplex・ufotable

UNIQLO's UT Demon Slayer T-Shirt Collection to Release in Collaboration With GU

UNIQLO's graphic T-shirt brand is partnering up with GU to drop a new T-shirt collection in collaboration with the hugely popular manga series Demon Slayer: Kimetsu no Yaiba which has over 80 million copies in circulation. The first batch of the collection by UT will drop in Japan on August 7, followed by the second from both UT and GU at the end of the same month.

The collection features illustrations of the popular characters from the series whom are set to appear in the upcoming anime film Demon Slayer: Kimetsu no Yaiba the Movie: Mugen Train set for release on October 16, 2020.

UT – 1st Collection

The first batch of the unisex collection is packed full of scenes specially selected from the Demon Slayer manga series.

This includes iconic scenes from popular characters, including the protagonist Tanjiro Kamado in battle. It's a must have line-up for fans.


Each t-shirt captures essence of the characters from this sad series in which humans and demons fight each other.

Left: GU | Right: UT – 2nd Collection

The second collection also features kids T-shirts as well as merchandise. The full line-up is set to be revealed on August 17. GU's line-up includes not only popular characters and scenes from the series, but words from it too, as well as colouring inspired by the clothing and hairstyles worn by the characters.

©Koyoharu Gotouge / Shueisha

Demon Slayer: Mugen Train New Trailer Reveals Main Theme to be Performed by LiSA

A new poster and trailer have been released for the upcoming film Demon Slayer: Kimetsu no Yaiba the Movie: Mugen Train which is set for release on October 16, 2020. The trailer gives us a snippet of the main theme Homura (Flame) performed by LiSA. The singer-songwriter previously performed the TV anime's first opening theme Gurenge.

Demon Slayer: Kimetsu no Yaiba the Movie: Mugen Train is a direct sequel to the 2019 anime series adapted from Koyoharu Gotouge's manga series Demon Slayer: Kimetsu no Yaiba. It is being animated by ufotable.

The showcases the protagonist Tanjiro Kamado battling it off against Enmu aboard the Infinity Train (Mugen Train). Tanjiro is clenching his teeth while Enmu smiles on, revealing what is sure to be a testing battle for our hero.

Enmu threatens Tanjiro with the words, "To be able to die while dreaming… Just how lucky are you?" We also see Tanjiro reunite with his siblings, who are supposed to be dead, but he senses something amiss and encourages himself to wake up as he is being attacked. The Infinity Train will be an action-packed locale as Tanjiro and Enmu battle it out. We also see returning characters on the train with Tanjiro.

Fans also get to hear the main theme Homura by LiSA for the first time. The song was composed by Yuki Kajiura who also wrote the TV anime adaptation's ending theme from the edge which is performed by FictionJunction feat. LiSA.

Natsuki Hanae (Voices: Tanjiro Kamado) | Comment

"When I read the Mugen Train arc, I saw so many scenes I wanted to hurry up and voice act for, so I'm so happy that I get to perform for this film. All the other voice actors during the recording sessions were on fire. When it was over, I was so burnt out, I really thought I was gonna die. ufotable's gorgeous animation and the beautiful music both come together wonderfully. It's a really amazing film. Like the fans, I wanna watch it in the cinema already. I hope you're looking forward to it just as much as I am!" (Translated from Japanese by MMN)

Akari Kitō (Voices: Nezuko Kamado) | Comment

"It had been a while since we'd done voice work for Demon Slayer, but getting to work on the Mugen Train arc, which is a popular one in the manga series, I psyched myself up like the rest of the cast! Despite us not having any visuals to work with for the recording sessions, everyone really put their all into it. Seeing that actually brought tears to my eyes. I think what we achieved by the end of it exceeded our expectations! I hope you all enjoy watching it in the cinema!" (Translated from Japanese by MMN)

LiSA | Comment

"I previously performed for the TV anime series, now I'm doing them main theme for the Mugen Train film arc. It's personally my favourite arc from the manga, so I was able to add another layer of strength to the song. While the characters face sadness, they still have a fire lit in their hearts. I hope that all of you who may be sad have the strength to move forward just like them." (Translated from Japanese by MMN)

©Koyoharu Gotouge/Shueisha・Aniplex・ufotable

Information

Demon Slayer: Kimetsu no Yaiba the Movie: Mugen Train

Release Date: October 16, 2020

Official Website: https://kimetsu.comz