Pokémon cafe celebrates release of new Pokémon movie Detective Pikachu with new limited menu!
The Pokémon cafe is celebrating the release of the new movie Pokémon: Detective Pikachu with the release of a limited menu only available from Saturday 27th April to Sunday 30th June!
The movie is based on the Nintendo 3DS game Detective Pikachu, which is focussed around Pikachu, who is loved across the world and across generations of people. The film is the first ever live action Hollywood Pikachu film! Pikachu is voiced by Ryan Reynolds, who starred in the American hit film Deadpool. Justice Smith, who starred in Jurassic World: Fallen Kingdom plays the role of Pikachu's partner Tim, and the role of Detective Yoshida is played by Ken Watanabe.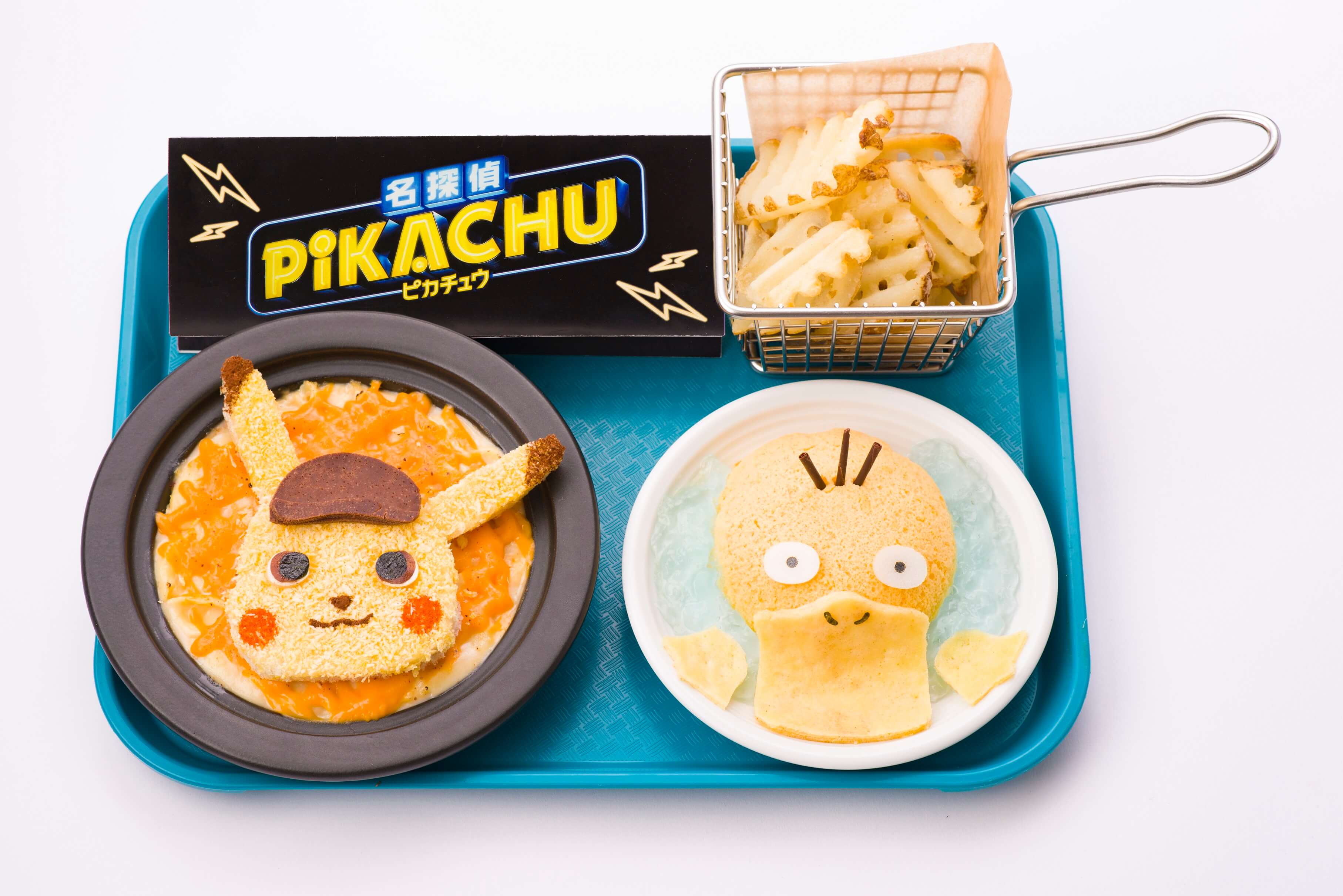 Detective Pikachu & Psyduck collaboration ¥2,570 (price after tax)  
Psyduck from the movie stands by Pikachu!
Detective Pikachu Thunderbolt!? Float drink ¥1,274 (price after tax) 
There's popping candy inside! What a shocking surprise!
Detective Pikachu: Choose your Pokémon latte!  ¥756 each (price after tax) 
The Pokémon from the movie make a comeback in latte form and their designs look so accurate!
For every drink you order, you will receive an original Pokémon cafe clear coaster! The limited edition designs are only available from Saturday 27th April ー Friday 31st May. You can either pick a limited edition design or be given one in a lottery draw!
Celebrate the release of the film during this special time at the Pokémon cafe!
©1995-2019 Nintendo/Creatures Inc./GAME FREAK inc.c. Pocket Monsters, Pokémon, Pokémon is a product of Nintendo, Creatures and Game Freak.
© 2019 Legendary and Warner Bros. Entertainment Inc. All Rights Reserved.
© 2019 Pokémon.
Information
Pokémon cafe
Address: Nihombashi Takashimaya S.C. East Building  (5th floor) 2-11-2 Nihombashi, Chuo-ku, Tokyo, Japan
Opening hours: 10:30 ー 22:00
Closed according to Nihombashi Takashimaya S.C. East Building hours.
Official website (where you can make reservations):  https://www.pokemoncenter-online.com/cafe/
Pokémon: Detective Pikachu movie official website: https://meitantei-pikachu.jp/
RELATED ENTRIES
Pokémon Tokyo Banana Adds Special Pikachu Box Set Online

Tokyo Banana World recently added its special Dengeki Box (Electric Box) of Pikachu Tokyo Banana confections to its official website which is available to order in Japan until January 30, 2021 at 17:00 (JST).

Tokyo Banana is Tokyo's official souvenir sweets brand and it launched its new Pokémon Tokyo Banana series of confections in November last year with the first catch being Pikachu. It subsequently added Eevee to the collection in December. The Pikachu confections are also available to buy at Tokyo Station.

Pikachu Tokyo Banana – Dengeki Box | Box of 12 Packs (24 Confections) | ¥3,456 (Tax Included)

The limited-time addition of the Dengeki Box to Tokyo Banana's official website means that anyone in Japan can get a taste of the electrifyingly delicious sweet fluffy custard-filled sponge cakes without having to travel to Tokyo.

Waiting inside the Dengeki Box are 12 packages each with two cakes in and each in one of six different Pikachu designs to greet hungry Trainers, all of which are positively kawaii. The box itself also features these adorable illustrations.

Left: Front of Box | Right: Back of Box

The box even has a handle attached to it so you can reuse it after to store all your bits and bobs.

©2021 Pokémon. ©1995-2021 Nintendo/Creatures Inc./GAME FREAK inc.
Pokémon, ポケットモンスター, and ポケモン are registered trademarks of Nintendo, Creatures Inc., and GAME FREAK inc..

Information

Pikachu Tokyo Banana – Online Orders
Running: January 12, 2021 – January 30, 2021
*Available while supplies last

*Shipping not available to select islands in Japan

Tokyo Banana Group Official Online Shop
https://www.paqtomog.com/shop/c/cpk-bana/

Pokémon Shirts Releases New Customisable Sword and Shield Designs

Pokémon Shirts released three new shirt designs on Friday (January 15) of Grookey, Scorbunny, and Sobble from Pokémon Sword and Shield. These new designs are currently only available in Japan but Pokémon Shirts has stated that they will be made available worldwide at a later date.

Pokémon Shirts was launched back in February 2019 by American custom shirt brand Original Stitch—which offers over one billion design customisations—and the Pokémon franchise. Pokémon Shirts ships worldwide including Europe, Canada, Australia and New Zealand.

Japanese designer Minami Kitamura designed the Grookey, Scorbunny, and Sobble shirts, adding her iconic pop colours and style to the line-up.

Have you shopped on Pokémon Shirts yet? Which Pokémon designs are you looking to catch?

Information

Pokémon Shirts
Shipping: Japan, US, UK, Spain, Germany, Italy, France, Canada, Australia, New Zealand, Hong Kong, Taiwan, Singapore, Malaysia, Phillippines, India, Indonesia
Official Website: https://pokemon.originalstitch.com/en/

*Grookey, Scorbunny, and Sobble designs currently only available in Japan (as of January 18, 2021) but will be made available worldwide at a later date.

SNOOPY MUSEUM TOKYO's PEANUTS Cafe Serves Up New Menu Items Inspired by the Comics

The PEANUTS Cafe at SNOOPY MUSEUM TOKYO rolled out new menu items on Saturday (January 16) as part of a new exhibition called "Snoopy to Kyoudai" (Snoopy and Siblings) featuring a sandwich and desserts inspired by scenes from the beloved Peanuts comics.

The New Menu Line-Up

Snoopy Flower Basket Sandwich | ¥1,400 (Before Tax)

This flower basket is based on a scene when Snoopy meets with his siblings who pay him a visit after he recovers from being unwell and they eat sandwiches together. The tasty sandwiches are stuffed with pastrami beef and veg so you too can get your fill like Snoopy. The basket also comes with mini corn dogs and crispy fries. This is one to share (or hog all to yourself!)

Olaf's Pancakes | ¥1,200 (Before Tax)

These pancakes are inspired by Olaf, who was first introduced in the ocmics as the winner of the Ugly Dog Contest. They are loaded with ice cream, fruit, a whole Japanese custard pudding, fresh cream, and a drizzle of caramel sauce.

Belle's Raspberry Milkshake | ¥900

A doughnut-topped raspberry milkshake like the one that appears in the comics. It's a nod to Belle, Snoopy's only sister.

©2021 Peanuts Worldwide LLC (短縮形 ©2021 Peanuts)

Information

PEANUTS Cafe SNOOPY MUSEUM TOKYO
Running: January 16, 2021 – July 11, 2021
Address: Minami-Machida Grandberry Park Park-Life Site, 3-1-1 Tsuruma, Machida, Tokyo
TEL: 042-850-7390
PEANUTS Cafe Official Website: http://www.peanutscafe.jp/snoopymuseum-tokyo/

Tokyo's Kirby Café Whips Up Chocolate and Fruit Loaded Limited-Time Menu

The Kirby Café in Tokyo, which is based entirely around the popular Kirby video game series, will release a new limited-time menu on January 15 called 'Chocolate de PUPUPU' which will be served until February 28. The fruit and chocolate-packed line-up features three items. Item names are translated from Japanese by MMN.

The 'Chocolate de PUPUPU' Menu


Kirby Café's Stovetop Dessert Pizza ~Looking Out the Chocolate Train Window~ | ¥1,380 (Before Tax)


Waddle Dee Also Loves Chef's Chocolate Pan Stew! | ¥1,480 (Before Tax)


Old Odyssey | ¥780 (Before Tax)


Which of these delightfully cute treats do you want to inhale?

Information

Kirby Café
Running: January 15, 2021 – February 28, 2021
Official Website/Table Reservations: https://kirbycafe.jp

Harajuku's BOTANIST Tokyo Reveals its Spring 2021 Menu

BOTANIST's flagship shop BOTANIST Tokyo is set to begin serving up its spring season menu for the new year at its second floor BOTANIST Cafe from January 8 to March 31.

Quinoa Teapot Salad & Potage (Vegan-Friendly) | ¥1,500 (Tax Included)

A sophisticated salad of quinoa, crunchy carrot and red onion, tomato, and more, all served in a cute teapot.

Salmon Salad & Waffles | ¥1,500 (Tax Included)

Naturally sweet vegan waffles with lime-drizzled vegetables and served with slightly salted salmon and cream cheese. Pour over the maple syrup to make the cream cheese even richer and enjoy a completely different flavour.

Cherry Blossom Jelly & Fromage Mousse (Vegan-Friendly) | ¥50 (Tax Included)

Refreshing cherry blossom flavoured jelly made with rich and velvety soy cream. The cherry blossom petal topping and sparkly appearance of the jelly makes this a luxurious looking dessert.

Cherry Blossom Chiffon Cake | ¥800 (Tax Included)

A fluffy cherry blossom chiffon cake dusted with cherry blossom powder. It's a sweet and subtly salty mix topped with fresh cream.

Left: Three Berry Smoothie, Right: Strawberry & Raspberry Sweet Sake Smoothie (Vegan-Friendly) | ¥850 Each (Before Tax)

The Three Berry Smoothie incorporates the chunky texture of strawberries, sweetness of blueberries, and tangy taste of raspberries, creating a rich but not overly-sweet beverage. The Strawberry & Raspberry Sweet Sake Smoothie is one to go for if you love amazake.

Strawberry Decoration Hot Chocolate (Collaboration Drink) | ¥800 (Tax Included)

This luxurious strawberry hot chocolate is made in collaboration with Dari K, a craft chocolate maker who uses high quality cacao beans from Indonesia.

Select items on the spring menu are available for takeout as well as via Uber Eats in Japan, perfect for enjoy an indoor hanami this year.

BOTANIST Tokyo's first floor shop will also release its spring series of products, such as the limited edition Botanical Spring Hair Perfume.

Information

BOTANIST Tokyo
Address: 6-29-2 Jingumae, Shibuya, Tokyo
TEL: Floor 1F Shop: 03-5766-3777 / Floor 2F Cafe: 03-5766-3778
Opening Hours: 11:00-19:30 (Currently operating on decreased hours)
Official Website: https://shop.botanistofficial.com/ 

JINS Eyewear Launches Official Pokémon Model Design Glasses

JINS is teaming up with The Pokémon Company to release a special collection of glasses at JINS stores and their official online shop on January 1, 2021.

Your Pokémon partner with you wherever you go

The glasses come in four different models – Pikachu, Snorlax, Eevee, and Mew – so your favourite can set out on your Pokémon journey with you and be there wherever you go.

Completely original models capture the Pokémons' designs

The JINS Pokémon Model collection feature original designs and come with an original glasses case. There are plans to launch the glasses globally at JINS stores in the US, China, and elsewhere in the future.

Flagship Model | ¥12,000 (Before Tax)

All the glasses come in four different models: Flagship, Kanto Region, Johto Region, and Kids. The flagship model frames capture the colours of Pikachu, Snorlax, Eevee, and Mew, and each features pixel art of the respective Pokémon. The inner part of the frames also have silhouettes of the Pokémon along with the logo.


Pokémon Trainers will find their stylish glasses cases with a Poké Ball in the front, and inside, Pokémon pixel art.


Kanto Region Model | ¥8,000 (Before Tax)

The Kanto models are based on the Pokémon found in the Kanto Region of the Pokémon world, with Bulbasaur, Squirtle, Charmander, and Pikachu featured on the inner side of the left temple. On the inner right are the same Pokémon including Pikachu not wanting to go into its Poké Ball. This story woven into the glasses is sure to have long-time fans feeling nostalgic.

The top of the grey case has our four pixel friends, and they're featured on the inside too in silver leaf. The glasses cloth has designs of the original 151 Kanto Pokémon.


Johto Region Model | ¥8,000 (Before Tax)

Fans of the Johto Region Pokémon will enjoy these models which are metal combination frames featuring Chikorita, Cyndaquil, and Totodile.


The white glasses case features a sleek design with the logo on it while the cloth has alternating silver and gold Poké Balls.


KIDS MODEL | ¥5,000 (Before Tax)

On the inner part of the frames you'll find Pikachu, Eevee, Mew, Lucario, and Cinderace, as well as Poké Balls on the ends of the temple parts.

Kids Anti-Allergy Models | ¥3,000 (Before Tax)

The anti-allergy models have Pikachu designs and are equipped with hoods that protect the wearer from pollen. A special laser is used to make the hoods to that the glasses feel natural and not uncomfortable on the face.

These last two glasses cases are compatible with the kids models and include a Poké Ball design and Rotom Phone.

Limited-Edition Bag

Glasses come in a special limited-edition bag. These are limited in stock.

© 2020 Pokémon. © 1995 – 2020 Nintendo/Creatures lnc./GAME FREAK inc.
TM, ®, and character names are trademarks of Nintendo.

Japan's Kirby Cafe to Celebrate the Near Year With a Special 2021 Menu Addition

The Kirby Cafe in Tokyo has announced a seasonal dish for the new year as part of the cafe's "Sweet NEW YEAR 2021" celebration which it will begin serving from January 1, 2021.


Kirby Burger & New Year Dessert | ¥1,980 (Before Tax)

The dish comes with a miniature version of Kirby Cafe's popular burger on a teeny-tiny plate measured at just 10cm in circumference.

The mini dish looks super cute lined up next to the cafe's plush toys.


The plate that the food is served on comes as a free souvenir which you can take home with you after eating. These will be limited in stock so will be available while supplies last for the New Year.

Information

Sweet NEW YEAR 2021
Kirby Burger & New Year Dessert
Serving: January 1, 2021 – January 31, 2021
Kirby Cafe Official Website/Table Reservations: https://kirbycafe.jp

Tokyo Banana Chooses Eevee as Next Pokémon Souvenir Sweet

Tokyo Banana World has revealed that its next sweet treat in its Pokémon Tokyo Banana series will be Eevee which Pokémon Trainers can expect to catch up and down Japan from January 2, 2021, including at the store itself as well as at 7-Eleven branches.

Pokémon Tokyo Banana Welcomes Eevee as Entry #2

Tokyo's official souvenir sweets brand Tokyo Banana launched its new Pokémon Tokyo Banana series of confections in November with the first catch being Pikachu. Now Eevee is being added to the collection.


The fluffy sponge is a delicious caramel macchiato flavour and is filled with sweet banana custard cream. It can be eaten as it is, refrigerated, or even baked to create completely different flavour experiences.

6 Designs Including a Lucky Heart-Shaped Tail

The sponge cakes come in six different designs, all of which are adorable. The one to look out for though is the one with a cute heart-shaped tail.

Fluffy Eevee Design Packaging

Eevee Tokyo Banana Caramel Macchiato (Contains 2) | ¥291 (Tax Included)

The packaging features fluffy artwork of Eevee in six different designs, such as a waving Eevee and winking Eevee.

Where Can You Catch Eevee Tokyo Banana?

Eevee will roll out at 7-Eleven stores across Japan (excluding Okinawa) at the dates listed below. Each branch will have a limited stock so don't miss out.

January 2, 2021 Release
Tokyo/Kanagawa/Chiba/Saitama

January 16, 2021 Release
Hokkaido/Aomori/Iwate/Akita/Miyagi/Yamagata/Fukushima/Ibaraki/Tochigi/Gunma/Niigata/Fuji/Ishikawa/Fukui

January 23, 2021 Release
Yamanashi/Nagano/Shizuoka/Aichi/Gifu/Mie/Okayama/Hiroshima/Tottori/Yamaguchi/Tokushima/Kagawa/Ehime/Kochi

January 30, 2021
Osaka/Kyoto/Hyogo/Shiga/Nara/Wakayama/Fukuoka/Saga/Nagasaki/Oita/Kumamoyo/Miyazaki/Kagoshima

©2021 Pokémon. ©1995-2021 Nintendo/Creatures Inc. /GAME FREAK inc.
ポケットモンスター・ポケモン・Pokémonは任天堂・クリーチャーズ・ゲームフリークの登録商標です。

Hop Aboard The Exeggutor-Themed Plane in Japan

Japanese regional airline company Solaseed Air Inc. has partnered up with Pokémon, creating an Exeggutor-themed plane.

In October 2020, Exeggutor was labelled as Miyazaki prefecture's favourite Pokémon. This selection is due to Miyazaki being commonly associated with its warm and sunny climate. Exeggutor also resembles Miyazaki's famous Phoenix palm trees, making it the perfect Pokémon ambassador.

Solaseed Air Exeggutor decal sticker on the right side of the plane



Solaseed Air Alolan Exeggutor decal sticker on the left side of the plane


Solaseed Air has decorated the outside of their planes with large Pokémon decal stickers of approximately 9m long by 3m wide. Exeggutors can be seen on the right side whereas Alolan Exeggutors can be seen on the left.

Once you enter the aircraft, you will discover original Exeggutor headrest covers. The cabin crew will also be serving passengers while wearing original Exeggutor-themed aprons.

Solaseed Air Commemoration Gifts


A celebration was held at Miyazaki Airport on December 19, 2020 to commemorate the launch of the first Pokémon aircraft Solaseed Air 54, which departed Miyazaki at 10:05am and arrived at Tokyo Narita Airport at 11:40am. The passengers aboard were given Exeggutor-themed gift bags which contained sweets, an original Miyazaki prefecture ballpoint pen, coaster, magazine, commemoration certificate and more.

Solaseed Air Ceremony


Exeggutor also managed to make it to the ceremony to deliver happiness and express gratitude towards Solaseed Air passengers.

Enjoy the wonders of Miyazaki prefecture with Exeggutor and hop on the plane for an unforgettable adventure.

WHO are YOU? Pokémon Plush Toys Make a Comeback

Back in November, Sega Toys released a new Pikachu plush toy as part of its "WHO are YOU?" surprise toy series which reveals what character it is after being washed. As the series became more popular than expected, Sega Toys is continuing sales of the adorable anonymous balls of fluff.

Overwhelming Success

Since being launched in 2018, over 10 million WHO are YOU? toys have been sold worldwide. As a result, WHO are YOU? Pokémon was added to the collection, becoming a bigger sensation than ever imagined when it launched in November 2020. Pictures of the toys flooded social media and reservations were overwhelmingly high. As a result of its popularity, the WHO are YOU? Pokémon series is making a comeback and will be available to purchase online, at toy shops in Japan and elsewhere.

A Mysterious Pokémon Appeared!

WHO are YOU? Pokémon: ¥3,800 (Before Tax)

The WHO are YOU? series has plush toys taking the form of a fluffy ball to conceal the identity of the character. To evolve your mysterious Pokémon and discover its identity, it needs to be washed. In addition to the standard facial expression, there is also a smiling face and winking face. The winking Pokémon is the only female Pokémon and its tail is heart-shaped!

Give Your Pokémon Berries To Become Friends

After carefully coaching your Pikachu out of hiding, you will be rewarded for your efforts with delicious berries for your Pokémon. There are five different types of berries available including Pecha berries, Sitrus berries, Oran berries, Pomeg berries, and Lum berries. Your Pokémon will be clutching two to three of these berries and they will only be accessible when you successfully evolve your Pokémon. Use the berries to take your friendship to the next level. This toy is the perfect way to interact with Pokémon in a brand new way.

This is the perfect Christmas or New Year's gift for any Pokémon fan.

©2020 Pokémon. ©1995-2020 Nintendo/Creatures Inc./GAME FREAK inc. ©2019 Moose Group ©SEGATOYS
セガとセガロゴは株式会社セガまたはその関連会社の登録商標です。
SEGA and SEGA logo are registered trademarks of SEGA Co., Ltd. or its affiliates.

KAWAII MONSTER CAFE HARAJUKU Collaborates With Ty On Photo Room and Food

The KAWAII MONSTER CAFE in Harajuku is celebrating its 5th anniversary with a special collaboration with the multinational toy company Ty. The collaboration is running from December 18, 2020 to January 17, 2020.


©︎Ty Inc.Oak Brook,IL USA

Photo Spot: "My Ty Room"

©︎Ty Inc.Oak Brook,IL USA ©︎KAWAII MONSTER CAFE

KAWAII MONSTER CAFE's iconic Mel-Tea-Room has been transformed into the "My Ty Room" with fluffy plush toys adoring a bed and making for a truly kawaii photo spot. There are also panels detailing more about Ty for people to get to know the brand more. If you're in Japan for the kawaii experience, then look no further than this room for some Instagram-worthy shots.

人気エリアがTyギフトステージに

©︎Ty Inc.Oak Brook,IL USA ©︎KAWAII MONSTER CAFE

All of Ty's toys have their own birthdays, so to celebrate everyone's at the same time, KAWAII MONSTER CAFE's popular "Sweets-Go-Round" area, which features a giant moving cake stage in the middle, has been turned into the "Ty Gift Stage." Guests will find plush toys inside and dangling out of present boxes. There will also be an appearance of a mascot of a Ty toy that has never been showcased in Japan before.


Beanie Boos Reagan the Kitty (M) / Beanie Boos Enchanted the Owl (L) / Beanie Boos Tasha Leopard (KC)

If there's a plush toy you're interested in you can buy it at the cafe, including toys in Christmas colours for the holiday season. The toys come in three sizes, and there's other merch to pick up too like key rings, pencil cases, and more.

Ty x KAWAII MONSTER CAFE Collab Menu

Six menu items combine Ty's toys with KAWAII MONSTER CAFE's kaleidoscopic world. This includes some of Ty's most popular characters as well as the cafe's own character Mr Choppy.

Collab Food Menu Excerpt


Colourful Dotty Curry | ¥1,300

A colourful vegetable curry inspired by Dotty the Leopard filled with carrots, daikon radishes, beets, and more.

Colourful Pop Buger – Mr Choppy | ¥1,480

A burger based on KAWAII MONSTER CAFE's own Mr Choppy. It's filled with sautéed chicken and covered in a honey mustard sauce.

Gilda the Flamingo Cake | ¥950

A fresh cream-filled cake made with chocolate mousse and sat on a fluffy pancake. It also has a cute rainbow just like the one in the cafe's Ty room.

Fantasia Cupcake | ¥900

Fantasia the Unicorn has turned into a cute cupcake with an adorable marshmallow nose.

Colourful Christmas Heather Parfait | ¥2,400 (Available until December 25)

The cafe's popular "Colourful Poison Parfait" has been turned into Heather the Unicorn Cat, topped with strawberry, lemon, and ramune ice cream.

Information

Ty x KAWAII MONSTER CAFE Collaboration

Location: KAWAII MONSTER CAFE HARAJUKU
Address: YM Square Bldg. 4F, 4-31-10 Jingumae, Shibuya, Tokyo

Opening Hours: 11:30-19:00

No Fixed Holidays
Access: 5-minutes on foot Harajuku Station via JR / 1-minutes on foot from Meiji-Jigumae Station via Chiyoda Line and Fukutoshin Line

Official Website: https://kawaiimonster.jp/day/pc/

Bookings: https://www.tablecheck.com/shops/kawaiimonster/reserve

A BATHING APE® Set To Release Zarude-Themed Clothing Collection In Time For The New Pokémon Movie

A BATHING APE® (BAPE®) is once again collaborating with Pokémon to release a new clothing collection called A BATHING APE® Pokémon Collection – Zarude. The new line will be released on December 19, 2020 at A BATHING APE® shops as well as on the online shop.

  

A BATHING APE® is hoping to follow up on the success of their previous Pokémon collaboration collection which was released in October. The October collection incorporated their signature ape head design and was a big hit. The new collaboration is inspired by Zarude from the upcoming Pokémon film Pocket Monsters the Movie: Coco, which will be released on December 25 this year. The collection design merges the mystical concept of Zarude with a BABY MILO® style.

The collection is available in adult sizes as well as children's sizes making it the perfect clothing collection to match your kids or younger siblings. As the new Pokémon film touches on themes of parents and children, this is the perfect outfit to wear to watch the film. The items in this collection are not available anywhere else, so make sure to get your hands on them while stocks last.

©Nintendo・Creatures・GAME FREAK・TV Tokyo・ShoPro・JR Kikaku
©Pokémon ©2020 ピカチュウプロジェクト

Information

A BATHING APE® Pokémon Collection – Zarude
Release Date: December 19, 2020
Available At: A BATHING APE® Stores