Japan is home to many castles, but which are the most searched for online? Hankyu Travel International has answered this very question by ranking the top 10 most searched Japanese castles over the past year.
Japan's castles are ever-popular, lauded and enjoyed for their elegant architecture, their natural surroundings which transform with each passing season, and their eventful histories.
In recent years they have enjoyed much social media attention on websites like Instagram and are one of the big tourist spots with foreigners visiting the island nation. Some castles have even incorporated the latest cutting-edge technology, like AR and VR, to provide modern tour guide service. The appearance of the castles change with every era, and for each one the Japanese castle boom never lets up.
1st Place: Himeji Castle (Hyogo Prefecture)
Himeji Castle hails as Japan's first designated World Heritage Site. It has also been appointed a national treasure and Important Cultural Property. It continues its reign from last year by once again taking the No. 1 spot. It is known by its nickname Shirasakijou (White Heron Castle) as its graceful exterior is like that of the spread wings of a white heron. Visitors not only enjoy the castle's appearance but its history too which told by the display items situated up and down its floors, from the basement up to the sixth. Waiting atop the apex is a vantage point to take in the sights and scenery spread around and beyond the castle grounds. What's more, is that every day from sunset to midnight the castle is illuminated with lights, offering a completely different visiting experience for people in the evening. Besides the main castle, Some of its iconic spots include the Keshou Yagura where Senhime, or Lady Sen, was said to use as a resting place. There is also Okiku's Well which features in the Japanese ghost story Banshō Sarayashiki.
Himeji Castle Website: https://www.himejicastle.jp/en/
Hankyu Travel Information Page: https://www.hankyu-travel.com/kinki/hyogo/himejijo/?p_baitai=9597
2nd Place: Takeda Castle (Hyogo Prefecture)
Takeda Castle is located in Hyogo Prefecture's city of Asago on a mountain 353.7m above sea level. This ruined castle was abandoned some 400 years ago and is now just home to its old stone walls. Surrounding the castle is a bellowing bed of thick fog which looks like a sea of clouds. This has led the castle to be nicknamed the "castle in the sky," and in recent years it has enjoyed bustling popularity. In the plaza in front of the Tenku no Shiro Information Center, which is attached to Takeda Station, a special ice cream called "Mofu Mofu Soft" is sold on weekends and during holidays which is wrapped in a big fluffy serving of candy floss to look like the mountain and fog. Its Instagram-worthy appearance makes it popular with tourists. The closest cat park to the castle is about a 20-minute walk, so put on some comfy trainers or mountain climbing shoes and begin your ascent.
Takeda Castle Website: http://www.city.asago.hyogo.jp/takeda/
Hankyu Travel Information Page: https://www.hankyu-travel.com/kinki/takeda_castle/?p_baitai=9597
3rd Place: Matsumoto Castle (Nagano Prefecture)
In Nagano Prefecture's special city of Matsumoto you will encounter the famous Matsumoto Castle. It is admired for the beauty in its outer walls which are covered in white plastering and black lacquering. It is also a must-visit for its view of the Japanese northern Alps. Various smartphone apps have been developed related to Matsumoto Castle including a quiz game (国宝松本城クイズ) as well as Street Museum (ストリートミュージアム) which offers a VR experience of the Edo period. There are also people dressed in armour and ninja gear in the castle, so be sure to track one down and have your photo taken with them.
Matsumoto Castle Website: https://www.matsumoto-castle.jp/lang/
Hankyu Travel Information Page: https://www.hankyu-travel.com/kokunai/castle/kanto.php?p_baitai=9597#Anc01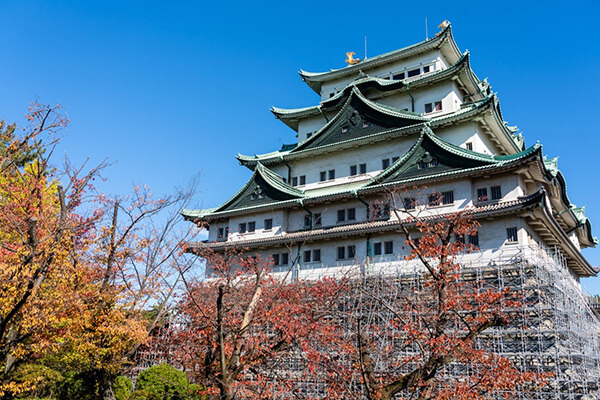 4th Place: Nagoya Castle (Aichi Prefecture)
It is said that Nagoya Castle was constructed in order for Tokugawa Ieyasu to unify the whole of Japan. It is just a 10-minute train ride from Nagoya Station. Since June 2018 the Honmaru Palace has been on full display to the public, and visitors can also visit the Jourakuden which was built in full luxury for the third Tokugawa shogun Iemitsu to stay in. The newly-opened Kinshachi Yokocho is also drawing attention, a commercial facility connected to the Nagoya Castle area which recreates the castle town. In 2018, 2.2 million people visited Nagoya castle. The castle has been ranked third place many times and has moved up to 4th this year from its last position in 10th place.
Nagoya Castiel Official Website: https://www.nagoyajo.city.nagoya.jp/en/
Hankyu Travel Information Page: https://www.hankyu-travel.com/kokunai/castle/chubu-hokuriku.php?p_baitai=9597#Anc05
Details on 5th-10th place can be found on Hankyu Travel's official website here. Use this valuable reference when planning your next trip to a Japanese castle.
Information
Top 10 Most Search For Japanese Castles
1st Place – Himeji Castle (Hyogo Prefecture)
2nd Place – Takeda Castle (Hyogo Prefecture)
3rd Place – Matsumoto Castle (Nagano Prefecture)
4th Place – Nagoya Castle (Aichi Prefecture)
5th Place – Hikone Castle (Shiga Prefecture)
6th Place – Goryōkaku (Hokkaido)
7th Place – Matsue Castle (Shimane Prefecture)
8th Place – Osaka Castle (Osaka Prefecture)
9th Place – Hirosaki Castle (Aomori Prefecture)
10th Place – Inuyama Castle (Aichi Prefecture)
*Ranked from the most searched castles from April 1, 2019 – March 31, 2019.
Webpage: https://www.hankyu-travel.com/kokunai/castle/?p_baitai=9597
RELATED ENTRIES
ONSEN GUEST HOUSE TSUTAYA to Open in Hakone This November

ONSEN GUEST HOUSE TSUTAYA is a new hot spring and guest house facility set to open in the town of Sokokura in Hakone on November 26. The building is being renovated from an old guest house that has enjoyed a long history of hot springs since the Edo period.

Sokura Onsen is about a 90 minute car drive from the city centre and is considered one of Hakone's "7 Hot Springs," a list that has been around since the Edo period. The place is said to have been used and loved by many military commanders back in the day for the high water yield gifted by the water source.

When the building was first constructed it was known as "Tsutaya Ryokan" and became a famous guest house with not only locals but travellers who would arrive all the way from Tokyo. ONSEN GUEST HOUSE TSUTAYA combines history of both Sokura Onsen and Tsutaya Ryokan.

The renovated building was built 29 years ago. Though it has been revamped, it still maintains a nostalgic air to it in the style of a traditional guest house. It's home to 6 spacious ryokan-type rooms and 46 compact rooms.

There is a space where one can gaze at the river after taking a dip in the hot springs, as well as a lounge with tables which encourages you to socialise with people you have just met. There are male and female open-air baths and indoor baths as well as a cooking space and laundry service for those looking to stay longer.

 The facility offers a retro environment in which each guest can relax and enjoy their own time as they please. Throughout the guest house is original old-fashioned furniture that has been upcycled, including kotatsu tables and shelves, to give that sense of traditional Japanese culture. This has been combined with contemporary art to create a fusion of the old and new.

It is a harmonious combination of a traditional Japanese hot spring ryokan, or inn, and a guest house, which means travellers from abroad will be able to enjoy the beauty of the country's traditional culture.

Escape the noisy city and enjoy peace and tranquillity surrounded in the colours of autumn at ONSEN GUEST HOUSE TSUTAYA

Information

ONSEN GUEST HOUSE TSUTAYA (Sokokura no Yu Tsutaya Ryokan)
Address: 240-1 SokokuraHakone, Ashigarashimo-gun, Kanagawa 250-0403
Arrival: 10-minutes on foot from Miyanoshita Station or 12-minutes on foot from Kowakidani Station, both via the Hakone Tozan Line 
Grand Opening: November 26, 2019 (Bookings begin in late October)

Official Website: https://hakone-tsutaya.com/

Himeji Castle Places Number 1 On Japan's Top 20 Castles For 4th Year in a Row

TripAdvisor® has just released its list of the top 20 castles in Japan from 2019 as reviewed by travellers and tourists.

Himeiji Castle

This is the 7th time the website has run this list. Coming in at No. 1 for the fourth year in a row is none other than Himeiji Castle, located in the city of Himeiji in Hyogo Prefecture.

Matsumoro Castle

Kumamoto Castle

Moving up from 4th place to 2nd place this year is Matsumoto Castle in Nagano Prefecture, and from not ranking at all last year to 3rd place this year Kumamoto Castle. These top three castles comes as a package as they are considered Japan's three premier castles.

Kumamoto Castle is set to re-open this autumn after reconstruction work is complete. The castle suffered damages after the 2016 Kumamoto earthquakes. Although time is required for the full restoration, you can still see the majestic tower keep surrounded by paling. Japanese users on TripAdvisor have commended it as a symbol of restoration and their joy with the repairs being done.

Hirosaki Castle

For the first time in four years, Hirosaki Castle ranks on the list in 12th place. Situated in central Hirosaki in Aomori Prefecture, the castle is a known living symbol of the Edo Period (1603-1868). Construction work has been taking place since 2015 to repair the base of the castle structure on the east side due to deterioration. In summer 2015, the castle tower was moved 70 meters without taking the castle apart to allow for work to be carried out. A moving castle is certainly a rare sight to see in Japan-and something you only imagine from a Studio Ghibli movie!

The castle has been praised on TripAdvisor for how beautiful its surrounding nature is, from the cherry blossoms in spring to the red and yellow leaves in autumn. The castle can be enjoyed throughout all the seasons.

Tsuyama Castle

Making the list for the first time ever is Tsuyama Castle which can be found in the beautiful Kakuzan Park in Okayama. When you ascend the magnificent stone steps of the castle and turn around you can enjoy a panoramic view of the city of Tsuyama. In spring, the castle's white watchtowers look picturesque next to the pink cherry blossom trees.

From castles that have been maintained since they were first built to others that have been rebuilt from their former forms, there are countless sites to behold while in Japan. Be sure to use the Top 20 list as reference when travelling there!

Haneda Airport Releases First Bubble Tea Which Passengers Can Enjoy as They Fly

XFLAG STORE + HANEDA is a small branch of XFLAG STORE and is located in Terminal 1 of Haneda Airport. On August 13th, they released three energising bubble tea flavours served in a bottle that you can take on board with you when travelling along domestic air routes. The three bubble tea flavours are; MILK TEA, HOJICHA (a type of green tea) and MATCHA. 

These bubble tea flavours are limited to XFLAG STORE + HANEDA and were created with the intention of providing a splash of energizing fun to tiresome travels. 

As long as you screw the lid on properly, you can store your delicious drink in your bag and even carry it onto your flight so you can enjoy it whilst soaring through the clouds. This is the first time a shop at Haneda airport has ever sold a bubble tea drink with the intention of flight passengers taking it on board with them.

*Drinks and liquids are usually permitted on domestic flights in Japan. Please check the specific rules of your flight by referring to the official website of your airline. 

To commemorate the release of the new bubble teas, XFLAG STORE + HANEDA has launched an Instagram campaign with the chance to win an Amazon gift card worth ¥10,000 (approx. 80GBP/95USD). 

To take part in the Instagram campaign for the chance to win a ¥10,000 Amazon gift card, be sure to take a photo with your XFLAG STORE + HANEDA bubble tea drink and then post the picture on Instagram with the following three hashtags:

#旅タピ #タピオカ #空の上で飲めるタピオカドリンク

Four winners will be selected.

Get your summer holidays off to a soaring start with a beautiful bottle of bubble tea. 

Information

MILK, HOJICHA, MATCHA Bubble Teas

Price: ¥650 (before tax)

Release Date: August 13, 2019 

Available at: XFLAG STORE + HANEDA 

Address: Haneda Airport Terminal 1 South Wing, floor 3 (3-3-2 Haneda Airport, Ota Ward, Tokyo)

*Bubble teas sold may differ in appearance to the images in this article. 

* The MILK Bubble Tea (cup) is also available at XFLAG STORE SHINSAIBASHI. Both the HOJICHA and MATCHA Bubble Tea flavours are limited to XFLAG STORE + HANEDA.

XFLAG STORE Portal Website: https://xfl.ag/soratapi

Stay Cool This Summer in Kyoto at These 4 Nature Spots

When talking about seasons in Kyoto, a lot of people are sure to point towards autumn when the leaves turn fiery red and sun yellow. But did you know that in Kyoto enjoys cool and truly beautiful summers?

If you're in the old capital this summer, or are planning to catch the sun there with a trip next year, then you'll want to add the 4 spots in this list into your schedule, each abloom with magical foliage and verdure.

We are joined by Macchan, a Japanese Instagrammer who snaps photos of sightseeing spots around Kyoto lush with greenery.

Giouji Temple

Giouji Temple is a modest thatched hut wrapped in a bamboo thicket and maple trees. The temple is detailed in the epic The Tale of the Heike in which the dancer Gio fled to the temple from her home in the capital with her mother and sister after falling out of love with Taira no Kiyomori.

A visit here ensures you can enjoy the summer with more than just your eyes as you listen to the dancing of the bamboo thicket and the cries of the cicadas.

Giouji Temple
Address: 32 Sagatoriimoto Kozakachō, Ukyo Ward, Kyoto
Official Website: http://www.giouji.or.jp/en

Adashino Nenbutsu-ji

Adashino Nenbutsu-ji is a Buddhist temple with a history spanning 1,200 years. A memorial service for those who died without kin is taking place on August 23 and 24 at the riverbed of the temple's west wing where candles will be lit in their honour. Lanterns are also lit in the surrounding area along the streets.

Adashino Nenbutsu-ji

Address: 17 Saga Toriimotoadashinocho, Ukyo Ward, Kyoto

Official Website: http://www.nenbutsuji.jp/index.html

Fushimi Port Park

Fushimi Port Park is a huge park home to a gymnasium and sumo area. They also have a hiking course. The sea does not reach here, but there is a canal which boats go up and down, and this is where the park gets its name. It has a bounty of trees and plants, so if you're looking to enjoy a peaceful stroll in nature then be sure to visit.

Fushimi Port Park

Address: Yoshijima Kanaidocho, Fushimi Ward, Kyoto
Official Website: http://www.kyoto-park.or.jp/fushimi/

Kan'in-no-miya Residence

This residence was built for and used by the Kan'in-no-miya family in 1710, with Prince Naohito as its founder―the son of Emperor Higashiyama. The family lived in the house until 1877 after which they moved to Tokyo. Following the war, it was liberated and became a park, and today it is used to exhibit photography and paintings. The residence is famous for its peach trees, making it a popular spot in spring. However, in summertime, it's much quieter, adding grace to the tranquillity of the surrounding green landscape. What's more is that despite it being such a prestigious location, it's free to enter! Don't tell too many people about this secret spot.

Kan'in-no-miya Residence

Address: 3 Kyotogyoen, Kamigyo War, Kyoto, Kyoto Prefecture

Official Website: https://kan-in-nomiya-teiato.jp/eng/

Macchan has visited many incredible spots around Kyoto, so if you're in need of recommendations be sure to give them a follow.

Photos: @macchan358

Don't Miss The Beautiful Blooming of Karuizawa Lake Garden This Summer

Over the summer, Karuizawa Lake Garden is holding a range of events for parents and children to immerse themselves in the beautiful nature, smell the fragrant lilies, and experience the popular false anemone, water lilies and many more gorgeous flowers. Approximately 33,000m2 of space is covered with the Karuizawa's most beautiful plants and even a lake.  

At Karuizawa, roses are particularly beautiful during the summer O-Bon festival season, flourishing more than ever in Karuizawa's unique climate. As the roses bloom for the second time in the year during mid august, this is a particularly beautiful sight. ♪

The entire garden consists of eight areas where you can enjoy different sceneries. The rose garden, for example, consists of roses and a whole range of plants that flower at different times of the year, so you can enjoy the variation in appearance of the garden throughout the year. Different flowering plants and roses surround a waterfront in the rose garden. You must come witness just how beautiful it looks during the summer. 

Information

Lake Garden

Address: Lake New Town, Karuizawa-machi, Kitasaku District, Nagano 

Opening hours: 9am ー 5 pm (Last entries: 4:30pm)

※ The opening hours of the garden vary according to the season, so please confirm these times by visiting the garden's official website. 

※ The garden will close one hour earlier than the usual time on Wednesdays for maintenance. 

Entry fees: Vary depending on the season.

Website: http://www.karuizawa-lakegarden.jp/ 

Explore The Hidden Beauty, Culture And Local Cuisine Of Hida Takayama In A Yukata

Shimocho is one of the districts of Hida Takayama and is overflowing with traditional culture that you absolutely must experience. To make the most of your trip, there is a summer yukata-wearing programme running from July 20th which is the perfect opportunity to wear cooling and refreshing Japanese clothes while strolling and exploring the streets. 

This year will be the 7th time the programme has been run. The Hida Takayama de Nippon no Natsu Yasumi programme allows visitors to dress in a comfortable and cooling yukata, stroll, explore, try different foods and enjoy the culture of the area. This year's theme is "romance and yukatas" and gives visitors the opportunity to enjoy programme-limited desserts and the rich culture of the district.  

Discover Hidden Beauty with the Stroll Map

Visitors will be given a map packed with wonderful spots of the area. The map will also include the destinations of 31 shops where you can enjoy special experiences, meals and desserts that are limited to those who take part in the yukata programme. Recommended spots to visit are also drawn on the map in a very cute handwriting-like style, so you can stop by these places easily while enjoying your walk. There are even many places on the map that only a local would know about. 

Some of the special benefits of the programme allow you to enjoy the best regional cuisine that Hida has to offer, including the wonderful experience of restaurants that have been loved by the locals for generations, a beef delicacy restaurant, and much more. Besides food, the programme also gives you the opportunity to witness the beautiful festival floats used during the Takayama festival at the Takayama Matsuri Yatai Kaikan. You can also enjoy experiencing baking your own senbei crackers and gold panning.  

The programme includes a wide range of experiences for you to enjoy from local shops to food to culture to some new experiences. 

 An old-style café called Sabou Usagi is particularly popular with the locals. Here, the coffee is made using a vacuum coffee maker. With the summer programme, you can enjoy the delicious heart Tiramisù served here.

The stroll map includes a variety of locations such as the Takayama Tourist Information Centre, Hida Takayama Tourism Convention Association, Hida Takayama Travel Hotel Association and much more. The map also includes some of the accommodations available around Takayama, some important train stations and much more. You can easily download this map from the official website. (Japanese only )  

Stroll the Streets in an Elegant Yukata

Change into a traditional Yukata that matches the beautiful surrounding townscape. There are four shops Yukata rental shops available to pick up your favourite Yukata, so there is no need to worry if you did not come prepared. There are also some accommodations that allow for yukata rental. 

If you decide to join the Hida Takayama Nippon Natsu Yasumi programme, make sure to share your beautiful memories on Instagram with the hashtag #Hidasummer 

Information

Hida Takayama de Nippon no Natsu Yasumi Programme

Running: July 20 ー September 8, 2019 

Location: Shimocho, Takayama (in the general area of Sakurayama Hachimangu Shrine, Kamiichinomachi, Takayama, Gifu)

Official Website:  https://hida-natsu.jp/

Visit 16 Cities Around Japan as a Student Ambassador With Jetstar Japan

Jetstar Japan has launched a new campaign for students to become ambassadors and visit 16 countries around Japan. Applications opened students on July 11.

The campaign serves to show more students how easy it is to get on a plane and travel. As an ambassador, students will be encouraged to promote the fruits of their travels.

For a chance to join the campaign as an ambassador, students must post their own travel photo of choice on Instagram with the relevant hashtags between July 11 to August 8 this year. Winners will receive a special plane ticket that lets them travel on all the Jetstar Japan lines within the country. They must visit each location within a year and post about them on their social media places.

Full details can be found below. If you're living or studying abroad in Japan and want to see more of the beautiful sights the country has to offer, then don't miss out on this super special opportunity.

Information

Jetstar Student Ambassador Campaign

Running: July 11, 2019 at 11:00 (JST) – August 8, 2019 at 16:00 (JST)

*The campaign period is subject to extension

Requirements: Must be living in Japan and be a undergraduate, postgraduate or vocational school student between the period October 1, 2019 – March 31, 2021

*Minors must receive permission from their parents or guardian before applying

Prize: Special Jetstar ticket and promotion to Jetstar Student Ambassador to promote the places of travel

*Please note that the campaign is subject to changes or cancellation without notice. There are other conditions and requirements for the campaign which must be agreed to and can be found on the official website

How to Apply

①Follow Jetstar Japan on Instagram @jetstar_japan
②Post your own photo of a trip you went on that showcases your experience at the location. Please include a comment that describes the trip and location that would make other people want to visit there. Please also include the following 4 hashtags:

① #ジェットスター
② #ジェットスター旅部
③ #学生ニッポンまるっと旅

④ @jetstar_japan

Cautions When Applying

*Each person applying can post multiple times
*Your application is invalid if you are not following @jetstar_japan
*Make sure your photo is set to "Public" so that Jetstar Japan can review the post. Please also note that your application is invalid if you forget or misspell the hashtags.

Campaign Page: https://campaign.jetstar.com/gakusei/

17 Fireworks Festivals Taking Place This Summer in Ito City

This summer, Ito city will be seeing lots of large-scale fireworks festivals take place between July 20 and August 24.  

Ito Onsen Yume Hanabi/ Ito Onsen, Ito Coast 

The Yume Hanabi (Dream Fireworks) event will be held 10 times during the summer fireworks season. Enjoy a range of fireworks exploding before your very eyes. The sizes of the fireworks range from an outer diameter of 9 cm to 30 cm. Each day, between 1,000 and 1,500 fireworks will pierce the night sky with a beautiful show of colours. The best spot to watch these would be from a simple patch of grass in Nagisa Park. 

July 20 (Sat)  20:30 ー 20:50 (Approx. 1,000 fireworks)

July 28 (Sun) 20:30 ー 20:50 (Approx. 1,000 fireworks)

July 30  (Tues) 20:30 ー 21:00 (Approx. 1,500 fireworks)

July 31 (Weds) 20:30 ー 21:00 (Approx. 1,500 fireworks)

August 2 (Fri) 20:30 ー 20:50 (Approx. 1,000 fireworks)

August 3 (Sat) 20:30 ー 20:50 (Approx. 1,000 fireworks)

August 6 (Tues) 20:30 ー 20:50 (Approx. 1,000 fireworks)

August 7 (Weds) 20:30 ー 20:50 (Approx. 1,000 fireworks)

August 17 (Sat) 20:30 ー 20:50 (Approx. 1,000 fireworks)

August 24 (Sat) 20:30 ー 20:50 (Approx. 1,000 fireworks)

Usami Summer Festival  Kaijo Hanabi Taikai/ Usami Coast

This festival remains popular among the locals but is still yet to be discovered by tourists. This is the perfect spot to relax and enjoy the view at your own pace. The road leading from Usami Station is a pedestrian zone lined with stands and stalls, making it the perfect place to enjoy the festival vibes. 

August 1 (Thurs) 20:00 ー 20:30 (Approx. 1,500 fireworks)

Floating Lanterns Uchiage Hanabi/ Ito Coast

Bright lanterns are floated down the Matsukawa river which runs through the heart of the city. As the last magical lantern makes its way down the river, the fireworks are set off into the sky, illuminating the lanterns as they float downstream.

August 8 (Thurs) 20:50 ー 21:00 (Approx. 800 fireworks)

Taiko no Hibiki (Echoing Drums)  Uchiage Hanabi (Ito Kaigan)

Head over to Nagisa Park to witness the taiko drum battle. Nagisa Park is one of the best locations in Ito city to watch the fireworks. The energy from the drums will resonate throughout the entire park. As the battle reaches its climax, fireworks will soar into the sky, exploding to the beat of your heart.

August 9 (Fri) 20:50 ー 21:00 (Approx. 800 fireworks)

Anjin Large-Scale Seaside Fireworks Festival / Along Ito Coast 

This is the largest fireworks festival in Ito. Over the course of an hour, approximately 10,000 fireworks will be launched from five different areas along the coast, striking vibrant streaks of colour into the night sky over the sea. The fireworks range from digital Star Mines to Niagara fireworks. For those of you who want to escape the crowds to watch the fireworks at your own pace, we recommend the seating area, where you can fully enjoy a closeup view of the breathtaking fireworks for just ¥2,000 per seat. August 10 (Sat) 20:00 ー 21:00 (Approx. 10,000 fireworks)

Yanmono Sato Hanabi Taikai /Yawatano

In just 30 mins, 3,000 fireworks are fired into the sky, bursting into dynamic patterns that illuminate the sea and create a scene of lingering beauty that you will not be able to peel your eyes from. The fireworks are set off right before the spectator's eyes so you can watch the fireworks develop into spontaneous beauty right above you. 

August 14 (Weds) 20:00 ー 20:30 (Approx. 3,000 fireworks)

Kawana Dolphin Beach Large-Scale Seaside Fireworks / Dolphin Beach Park

This is a popular event among locals as well as tourists. Although there are not as many fireworks, the fact that viewers can enjoy them close up more than makes up for it. Niagara fireworks that shower over the ocean and Star Mines that blossom above you are just some of the popular kinds of fireworks this festival will allow you to witness.

August 15 (Thurs) 20:00 ー 20:30 (Approx. 2,000 fireworks)

Ito Hot Springs Hashi Festival Fireworks/ Ito Beach

At this unique festival, a tower made of chopsticks used at the hot springs is set on fire for a memorial service. A portable shrine overflowing with strong energy is carried through the streets as part of a parade. The event also sees hand-held fireworks, enhancing the festival vibes. The fireworks explode over the sea, colouring the sky with a scene that represents the end of summer. 

August 22 (Thurs) 20:30 ー 21:00 (Approx. 1,500 fireworks)

The summer holidays is the perfect time to enjoy a fireworks festival, so why don't you check one out?

Kyoto Sightseeing | 4 Desserts You Must Try While in Kyoto

Kyoto is renowned for its historical architecture and richness in traditional Japanese culture, but did you know it's also home to some extremely cute and delicious desserts? Their sweets and desserts are actually pretty popular, some of which contain motifs and little nods to the city.

Today, Instagrammer meme takes us on a tour in Kyoto to try out 4 popular desserts.

JEREMY&JEMIMAH

JEREMY&JEMIMAH is a shop selling cute and colourful cotton candy. Their staple Wata-Hako cotton candy comes in 10 different flavours! In the photo we have yuzu, rose and matcha flavours. Of the two branches of the store, there is one along Furukawacho Shopping Street where you order your cotton candy for takeout, and another in Yasaka that serves cotton candy on long sticks.

We picked up a few different ones since there are so many flavours and designs. It was fun lining them up to take a picture.

We took them home to eat and they stayed nice and fluffy the whole way back. The yuzu one tasted a little herbal, like it was healthy for you.

▼JEREMY&JEMIMAH (Furukawacho Shopping Street Branch)

Address: Furukawacho Shopping Street, 444-3 Hachikenchō, Higashiyama Ward, Kyoto

Opening Hours: 11:00-17:00

Official Website: http://www.jeremyjemimah.com/

ROCCA & FRIENDS TRUCK

At ROCCA & FRIENDS TRUCK, you can order these iced dessert matcha and houjicha lattes which are topped with yatsuhashi―a confection sold in Kyoto―shaped into various sights across the city including Kyoto Tower, Hōkanji Temple, Daimonji, a Torii gate, and more.

I ordered the matcha latte. The drink itself isn't sweet at all so you can enjoy the full original rich and bitter flavour of the matcha. The fresh cream however is quite sweet so you can mix it into the drink as much as you want to get your desired flavour.

There are lots of great spots in the area such as the Hōkanji Temple pagoda and Yasaka Shrine so  you can snap some great sightseeing photos♡

▼ROCCA & FRIENDS TRUCK

Address: 370 Yasaka Kamimachi, Higashiyama Ward, Kyoto, Kyoto Prefecture

Opening Hours: 9:00-18:00

Official Instagram: https://www.instagram.com/rocca.truck/

Jumondo

We also visited Jumondo which sells Kyoto-style dango, or "sweet dumplings." We shared three different orders amongst three people: Danraku (団楽) which comes as a set with a drink, Dandan (だんだん) which comes with matcha, and Zenzai to Aburi Kuri Kinton (ぜんざいと炙り栗きんとん).

Once you order, the dango are made fresh so are served hot and chewy. Each dumpling is on the small side so are nice and easy to eat.

The Danraku comes with five different dumplings including sweet soy glaze, mashed sweet bean paste, soy sauce and black sesame seed, fried, and white miso. The Dandan comes with three types of your choice and a wafer filled with mashed sweet bean paste. The Zenzai to Aburi Kuri Kinton with mashed sweet potatoes with sweetened chestnut dango. The final one comes with matcha which can be served hot or cold.

Everything was tasty but my personal favourite was the yuzu flavoured white miso dumpling.

The one that everybody raved about was the Zenzai which is a thick soup that the dango are placed into. These dumplings are bigger, not too sweet and light. The soup went really well with the dango, it was super tasty.

▼Jumondo

Address: 76 Tamamizuchō, Higashiyama Ward, Kyoto

TEL: 075-525-3733

Official Website: http://jumondo.jp/index.html

Kyo Yasaka Pudding

Yasaka is a particularly popular tourist spot in Kyoto, and that's where the cute purin shop Kyo Yasaka Pudding is located.

Purin is a type of custard purring sold in Japan. The first pudding we picked up was the store's recommended option named after the store itself, the Kyo Yasaka Pudding. It contains a transparent lemon and honey flavoured jelly inside which there are small and colourful agar agar balls and mango jelly balls.

It has an enjoyable texture and a refreshing sweetness that I've never experienced before with other purin. It's very tasty!

There are five flavours to choose from, the others being hard, smooth, matcha and black soy bean, and houjicha black soy bean. All are served in tiny cute jars. Not only do they look great, they taste amazing too. Each is made with ingredients sourced in Kyoto including the milk, Uji matcha, houjicha, and black soy beans.

They also sell soft serve ice cream topped with candy balls, very Kyoto-like! You can choose from vanilla, matcha, or a mix of both. I think it'll be really fun if you can snap a photo of your ice cream with one of Yasaka's stylish locations in the background! Speaking of which, there was a cute illustration on the wall of the store so we took our photo there.

Be sure to pay a visit to Kyo Yasaka Pudding to pick up your own pudding whether as a souvenir or for yourself.

▼Kyo Yasaka Pudding

Address: 87-4 Hoshinochō, Higashiyama Ward, Kyoto, Kyoto Prefecture

TEL: 075-533-8338

Official Website: https://kyo-yasaka-pudding.co.jp/

Kyoto is full of shops selling desserts and sweets perfect to walk around and munch on while you walk its ancient streets, or to take home as a souvenir. Enjoy all the tasty things you can during your visit to this beautiful city♡

—

Photos/Text: meme

Translation: Joshua Kitosi-Isanga

Six Recommended Souvenirs You Can Buy At Tokyo Station

It is already summer! As people return to their families in the countryside or embark on a special trip with friends, Tokyo station is just a thriving hive of busy bees. That is why today we will be introducing you to a variety of general souvenirs that you can buy at Tokyo Station and take to your friends and family. 

Souvenirs for Visitors to Japan

Tokyo Station Hand Towel (SHARED TOKYO): ¥1,404 (after tax )    ※ GRANSTA-limited 

This hand towel is decorated with classic illustrations of Tokyo Station's reliefs and clematis flowers. The flowers portray the message: "happiness of travellers"

Furoshiki Patchin (SHARED TOKYO ) 1 set: ¥2,484 (after tax) 

This is a beautiful shaped piece of wood with four holes. When you wrap your bento lunch inside a cloth, this piece of wood comes in handy when tying the corners of the cloth together. In moments, you can turn a normal piece of cloth into a useful bag. When you are going on a trip and have lots of luggage, this will come in very handy. 

Character-themed Souvenirs

Suica Penguin O-mikuji Fortunes (TRAINIART TOKYO): ¥594 each (after tax)

Perhaps you are familiar with the Suica card, which is a form of rechargeable contactless card used to pay for train fares in Japan. For fans of the adorable Suica Penguin, which is the mascot of the card, this gift is a must. Peel off the sticker on the bottom and a red string will be revealed. Pull the string and your fortune will be revealed to you!

Unusual Souvenirs

Stained Glass-Style Bookmark (Neue ): ¥1,188 (after tax) 

How about a luxurious stained glass-style book mark? This would make the perfect gift for any bookworm. Just having this would make you excited to get reading.

Bullet Train Souvenirs 

TOKYO STATION SOCKS (Happy Socks): ¥972 (children )/¥ 1,620 (prices after tax ) ※GRANSTA-limited 

The pop-coloured socks are perfect for pumping energy through any child's feet! There are also socks for adults which come in more mature colours which are easier to colour coordinate. These socks are easy to put on and are a great way to add a touch of cuteness to your look. 

Electric Pen: E6 Series Super Komachi Shinkansen /Electric Car Pen E5 Hayabusa (Neue): ¥648 (after tax)

 Tip the pen and the bullet train will zip to Tokyo Marunouchi Station. There's no doubt that train fans and children would love to get this present. 

We hope this article helps you choose a souvenir on your next visit to Tokyo station.

Information

Tokyo Station City Official Website: 

Oita Prefecture News Letter June 2019

Oita Prefecture is Kyushu is known as having the most hot spring sources and yield in Japan. Places in Oita such as the city of Beppu and town of Yufuin are highlighted as some of the most famous hot spring sites in Japan and enjoy an influx of tourists every year, but their appeal doesn't stop at hot springs. Oita will host this year's Rugby World Cup, and because of that, the prefectural government is putting more efforts into dining, speciality products and spreading tourist and sightseeing information.

Let's take a look at some of the must-see sites, art and culture of the prefecture.

InterContinental ANA Beppu Resort & Spa

InterContinental ANA Beppu Resort & Spa is Oita's first foreign-owned luxury brand hotel set to open this year on August 1. This resort-style hotel will combine Beppu's status as Japan's spearhead of hot springs with the concept of an intercontinental brand hotel to offer the ultimate relaxation and healing.

There are 89 rooms at the hotel which incorporate the strenuous craft and expertise of local artists and artisans such as bamboo work. The rooms span 62-212m2 and are decked out with interiors made with natural materials and enjoy presentations perfect for those seeking peace and tranquillity. 21 of the rooms are suites and club rooms each with terraces equipped with private open-air baths. And if you make use of the Club Intercontinental Lounge you can enjoy top class service.

Guests can enjoy the rich spring water of Beppu in both the open-air baths and public baths. Not only is there a spa there's even an infinity pool from which guests can enjoy a gorgeous view.

Official Website: https://anaicbeppu.com/en/

Ryumon Falls (Kokonoe)

Ryumon Falls is a 26-meter waterfall spanning 40-meters wide. The waterfall itself runs down the rocks below it, almost creating a second waterfall. In summer, kids and adults alike both enjoy the thrill of using it as a water slide. During the summer season, the camp sites, diners and souvenir shops bustle with tourists. You can pick up a mat and other items required to slide down the rocky slope in the surrounding area.

Address: Matsugi, Kokonoe-machi, Kusu-gun 879-4632, Oita Prefecture

Traditional Crafts at Nakatsu Castle Shitamachi – Shuka's Japanese Umbrellas

During Japan's economic crisis at the turn of the 19th century, policies were enacted that encouraged areas to create their own speciality products. This sparked the manufacturing and selling of umbrellas which were made from bamboo, Japanese paper, oil, astringent and other materials all sourced locally. The early Showa period was the golden age for Japanese umbrella production, but it later declined and production eventually stopped in 2003 due to the ageing of the craftsmen who made them. However, production restarted in 2005 by Shuka to help revitalise the traditional Japanese craft of creating umbrellas. Since then, the same production methods that were used back in the day have been adhered to, and new designs have come to life. They are now back in fashion and growing in popularity.

Official Website: http://shu-ka.jp/

Michi no Eki Innai

Michi no Eki Innai is located in the centre of Innaimachi Kushino, a town home to the only village in Japan built on a stone bridge. They sell a variety of food products including speciality food items, including a range of loach dishes such as fried loach and loach hot pot. They also have information on the stone bridge itself, and visitors can see a Japanese giant salamander up close. Their Usa Karaage is a favourable dish amongst visitors.

Official Website: https://www.michinoeki-innai.net/

Oita Prefecture is home to many fun and exciting spots and events, so be sure to explore if you're planning a visit.

Disney Store's New Merchandise Gives a Reason to Go Out in the Rain

Japan is about ready to enter its rainy season as the country transitions from spring to summer. Rain has the tendency to make people want to stay indoors, but Japan's branches of the Disney Store are here to help as they reveal their new collection of merchandise made for those times when you don't want to go out because it's raining.


Umbrellas: ¥2,700 Each (Tax Included)

At first glance, these umbrellas look plain and simple, but when you open them up they spread out into cute illustrations of various Disney characters. Your heart is sure to fill with warmth when you open these out on a cold and rainy day.

Folding Umbrellas: ¥1,728 Each (Tax Included)

These refreshing and more simple designs are catered more towards adults. They also make for a great UV protector against the sun, so you can take them out whenever.

Umbrella Pouch: ¥1,080 (Tax Included)

Keep your dry or wet umbrella inside one of these cute pouches. They are the same size as a water bottle so you can use them for a multitude of things.

Umbrella Covers: ¥648 (Tax Included)

These cute umbrella covers feature various character motifs on them. In Japan there are umbrella points at most shops and buildings where you can leave your umbrella – these covers will ensure you don't get yours mixed up!

The Disney Store collaborated with KiU, a brand that creates outdoor items for adults, to make this poncho which can be used in the rain when on a stroll, going to a festival, and more.

The Disney Store is also holding a campaign at its branches and website. If you purchase any of these items you will receive one of four possible stickers.

Have a reason to go out in the rain with this new line of rainy merch from Disney.

©Disney ©Disney. Based on the "Winnie the Pooh" works by A.A. Milne and E.H. Shepard.

©Disney/Pixar BARREL OF MONKEYS is a trademark of Hasbro used with permission. ©Hasbro. All Rights Reserved.

Mr. Potato Head & Mrs. Potato Head are trademarks of Hasbro used with permission. ©Hasbro. All Rights Reserved.

Mr. Potato Head is a trademark of Hasbro used with permission. ©Hasbro. All Rights Reserved.