LiSA Announces CD Release Of Demon Slayer: Kimetsu no Yaiba Opening Theme 'Gurenge'
The anime adaptation of Demon Slayer: Kimetsu no Yaiba began airing last month. The opening theme song Gurenge is performed by LiSA who is also featured in the ending theme from the edge by FictionJunction.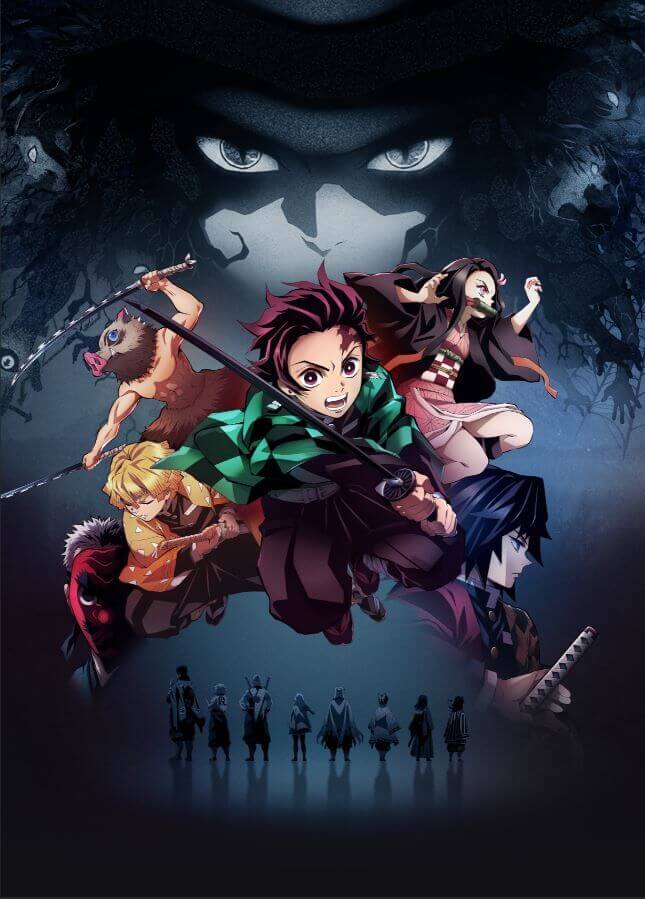 LiSA digitally released her new song Gurenge on April 22 across major digital music platforms. The song made it into 38 separate Daily Single charts.
The pop-rock singer just performed in front of 26,000 fans across two days at Yokohama Arena on April 29 and 30. She performed Gurenge for the first time ever on the first night which enjoyed sold-out tickets.
Photo by: HAJIME KAMIIISAKA
The moment the performance of the successful track began playing there was an uproar of excitement throughout Yokohama Arena. The song has a Japanese-like melody to it with lyrics that combine both the world of the anime series with a message from LiSA as an artist. The audience never doused their fire once for the duration of the song.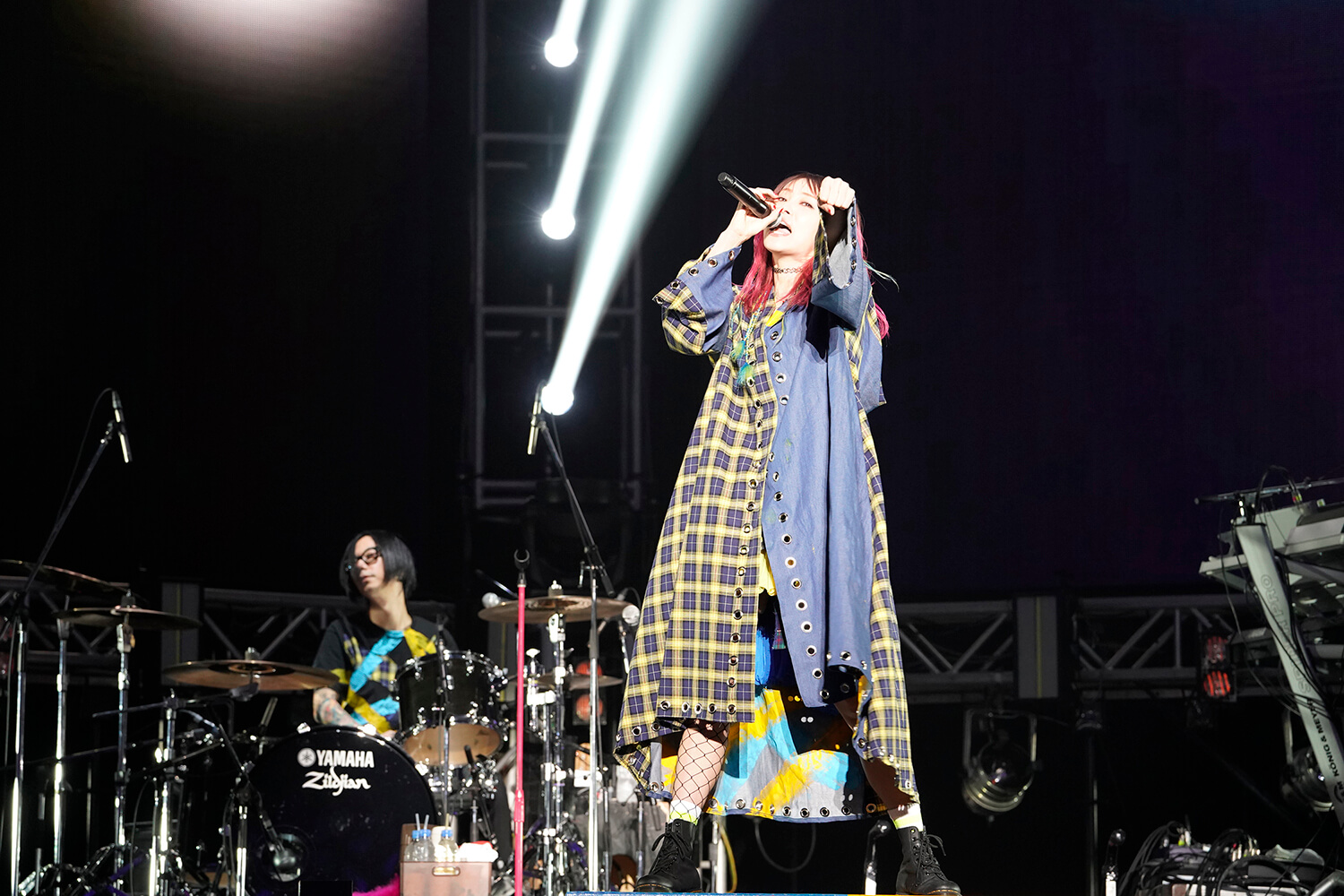 Photo by: HAJIME KAMIIISAKA
Gurenge will be released on CD as a single on July 3. It will come in three editions: an anime edition, first press limited edition, and regular edition. The anime edition cover features Demon Slayer artwork while the other two have photos of LiSA.
©Koyoharu Gotouge / Shueisha・Aniplex・ufotable
Information
Gurenge
Release Date: July 3, 2019
First Press Limited Edition (CD+DVD): ¥1,600 (Before Tax) [VVCL 1458~9]
Regular Edition (CD): ¥1,200 (Before Tax) [VVCL 1460]
Anime Limited Pressing Edition (CD+DVD): ¥1,600 (Before Tax) [VVCL 1461~2]
Digital Download: https://LiSA.lnk.to/gurenge
Demon Slayer: Kimetsu no Yaiba Official Website: https://kimetsu.com/anime/
LiSA Official Website: http://www.lxixsxa.com/
RELATED ENTRIES
Demon Slayer: Kimetsu no Yaiba Cororo Candies to Hit Stores in Japan

Japanese confectionery company UHA Mikakuto is collaborating with the TV anime series Demon Slayer: Kimetsu no Yaiba for the 7th time with new peach flavoured versions of its Cororo gummies which will hit convenience stores, supermarkets, and drug stores in Japan on January 25, 2021.

Demon Slayer: Kimetsu no Yaiba is a manga series written and illustrated by Koyoharu Gotoge and serialised in Shueisha's Jump Comics. The series concluded with its 23rd volume in May last year. The anime adaptation has produced a 26-episode series which aired in 2019 followed by an anime film, Demon Slayer: Kimetsu no Yaiba the Movie: Mugen Train, which released last year to critical acclaim, going on to become the highest-grossing film of all time in Japan.

Cororo Oni Mori (Peach Flavoured) | ¥188 (Tax Included)


This marks the anime series's 7th collaboration with UHA Mikakuto and its 2nd with the Kororo candy, following the cola flavour. The peach flavour of the sweet and rich gummy contains 20% peach juice. It enjoys that crisp flavour of a fresh white peach. The packaging comes in two designs: one featuring Nezuko and the other with both Nezuko and Tanjiro.

Special collaborative box

A special box has also been created for the collaboration featuring the same designs.

If you're in Japan and are stopping by a convenience store or supermarket later this month then be on the lookout for these limited-edition gummies.

©Koyoharu Gotoge / Shueisha・Aniplex・ufotable


Information

UHA Mikakuto Cororo Oni Mori Peach
Release Date: January 25, 2021
Available: Convenience stores, supermarkets, and drug stores in Japan
*Select stores not participating
Cororo Official Website: http://uha-cororo.jp/

Demon Slayer: Kimetsu no Yaiba x Lagunasia Theme Park Collaboration Event Begins in March

Lagunasia, a theme park managed by Laguna Ten Bosch, has announced an event in collaboration with the TV anime series Demon Slayer: Kimetsu no Yaiba which will run from March 6 to June 5.

©Koyoharu Gotouge / Shueisha・Aniplex・ufotable

©Koyoharu Gotouge / Shueisha・Aniplex・ufotable

The event will feature an immersive attraction called "Trial of Recollection: Tanjiro's Journey" as well as a rally event to hunt down all the stickers around the theme park, a Demon Slayer themed menu line-up, exclusive merchandise, and more.

Further details will be announced in the coming months.

Demon Slayer: Kimetsu no Yaiba Anime Event Slashes Into Kyoto Until March

An event centred on the TV anime series Demon Slayer: Kimetsu no Yaiba is now taking place in Kyoto at Toei Kyoto Studio Park, Kyoto Railway Museum, and Shijō-Ōmiya Station and Arashiyama Station on the The Keifuku Randen Tram Line until March 14, 2021. Fans of the series can participate in a 'keyword rally' where they'll be walking around Kyoto trying to locate specific words to win prizes, enjoy unique Demon Slayer exhibits at each of the venues, gets their hands on original merch, tuck into themed food, and more.

Pins (17 Designs) | ¥440 Each (*Design chosen is random)


Long Chocolate Baumkuchen | ¥1,080

Merch includes pins of the anime series's main characters, a special baumkuchen cake based on the Infinity Train from the Demon Slayer: Kimetsu no Yaiba the Movie: Mugen Train film, and more. Online orders are also available in Japan at Chugaionline.

Fans still hyped over Demon Slayer: Kimetsu no Yaiba the Movie: Mugen Train, which broke records in Japan to become the highest-grossing film of all time in the country, can expect to stock up even more of their favourites for their collection at the event.

©吾峠呼世晴/集英社・アニプレックス・ufotable

Information

Demon Slayer: Kimetsu no Yaiba Exhibition

Event Name in Japanese: 鬼滅の刃 京ノ御仕事 弐
Running: December 26, 2020 – March 14, 2021
Locations: Toei Kyoto Studio Park / Kyoto Railway Museum / Randen (Shijō-Ōmiya Station and Arashiyama Station)
Event Page: https://www.toei-eigamura.com/kimetsu/
*Event opening hours subject to sudden change or cancellation depending on COVID-19.

Online Orders
Running: Until January 31, 2021 at 23:59

Shipping: March 2021 (Japan only)

Chugaionline: https://www.chugai-contents.jp/blog/event/eigamura_kimetsu/

Demon Slayer: Kimetsu no Yaiba Clothing Collection to Release in Japan

Japanese jeans select shop Right-On is collaborating with the TV anime series Demon Slayer: Kimetsu no Yaiba to release a selection of attire at their stores and online shop on December 23, 2020. The collection includes 8 adult tops, 6 child tops, socks, and handkerchiefs.

Adult Long T-Shirts ¥3,000 | Children's Long T-Shirt ¥2,000 | Socks ¥350 | Handkerchiefs ¥580 (Before Tax)

The items feature designs inspired by the anime's main cast Tanjiro, Nezuko, Zenitsu, Tomio, Inosuke, and Shinobu, as well as stills taken from the anime series.

©吾峠呼世晴/集英社・アニプレックス・ufotable

Demon Slayer x ANNA SUI Fashion and Accessory Collection Features Nezuko and Shinobu Designs

Bandai Apparel and fashion brand ANNA SUI are teaming up to release the new 'ANNA SUI meets Demon Slayer: Kimetsu no Yaiba' clothing collection. Item orders will open on the BANDAI FASHION COLLECTION and ANNA SUI Japan Webstore sites on December 17, 2020 at 10:00am (JST).

The line-up features 48 items ranging from T-shirts to bangs, accessories, handkerchiefs, umbrellas, hats, legwear, aprons, children's clothing, and more, all designed around the Demon Slayer: Kimetsu no Yaiba characters Nezuko Kamado, Shinobu Kocho, Kanae Kocho, and Kanao Tsuyuri.

Line-Up (Excerpt)


Demon Slayer: Kimetsu no Yaiba x ANNA SUI – Nezuko Kamado Bag | ¥30,800 (Tax Included)

This bag can be easily combined with an elegant look, featuring golden metal parts to give it that ANNA SUI essence. The pink colour is inspired by Nezuko, and the bag comes with two charms: one made from hemp leaf extracted from the fabric of specially-made kimono for this collaboration, and another symbolising Nezuko's hair ribbon, adding a touch of cuteness.

Demon Slayer: Kimetsu no Yaiba x ANNA SUI – Nezuko Kamado Bag Cache-cœur Apron | ¥11,000 (Tax Included)

A cache-cœur one piece-style apron based on the kimono that Nezuko wears, littered with ANNA SUI-esque roses to create a cute and stylish look It combines Nezuko pink with ANNA SUI's popular combination of black and purple.

Demon Slayer: Kimetsu no Yaiba x ANNA SUI – Nezuko Kamado Microfiber Handkerchief | ¥1,100

A handkerchief combining designs of Nezuko-inspired roses and her ribbon. Both sides are made from microfiber so can be used for both drying your hands as well as cleaning your smartphone or glasses.

Demon Slayer: Kimetsu no Yaiba x ANNA SUI – Kocho Sisters Tights | ¥2,640 (Tax Included)

Elegant tights branded with butterflies based on the Kocho sisters and finished with Swarovski® stones.

Demon Slayer: Kimetsu no Yaiba x ANNA SUI – Kocho Sisters Multi Scarf | ¥3,850 (Tax Included)鬼

This handkerchief features the Kocho sisters' butterfly hair pin and Shinobu's haori designs coupled with roses. It's made from polyester so can be used as a scarf or tied up to be used as a bag.

Demon Slayer: Kimetsu no Yaiba x ANNA SUI – Shinobu Kocho Necklace | ¥14,300

A necklace inspired by the Kocho sisters' butterfly hairpin and made to look like stained glass.


The line-up also includes a selection of children's clothing too as part of the 'ANNA SUI mini' series.

©吾峠呼世晴/集英社・アニプレックス・ufotable

Information

ANNA SUI meets Demon Slayer: Kimetsu no Yaiba
Release Date: December 17, 2020 at 10:00am (JST)
ANNA SUI Official Website: https://annasui.co.jp

Figuarts Zero Reveal Demon Slayer: Kimetsu no Yaiba Kyojuro Rengoku and Shinobu Kocho Figures

BANDAI SPIRITS Collectors will release two new figures in their Figuarts Zero line in April 2021 of Kyojuro Rengoku and Shinobu Kocho from the TV anime series Demon Slayer: Kimetsu no Yaiba.

Figuarts Zero: Kyojuro Rengoku, the Flame Hashira

Figuarts Zero: Kyojuro Rengoku, the Flame Hashira – ¥8,250 (Tax Included)

Being the Flame Hashira, it was only right that this Figuarts Zero feature an encasing of wild flames, capturing the strength of Kyojuro Rengoku. Everyone from the character himself to his haori coat and sword are made with fine details.

The figures come with removable parts too including two facial expressions that capture Kyojuro's face from the recently-released movie Demon Slayer: Mugen Train.

Figuarts Zero: Shinobu Kocho, the Insect Hashira

Figuarts Zero: Shinobu Kocho, the Insect Hashira – ¥8,250 (Tax Included)

This figure captures Shinobu's enchanting beauty in all her butterfly-glory and with all the minute details of her outfit.

©Koyoharu Gotouge / Shueisha・Aniplex・ufotable

TV Anime Back Arrow's Opening Theme to be Performed by LiSA

It has been announced that the opening theme for the upcoming TV anime series Back Arrow will be performed by LiSA while the ending theme will be performed by Shuka Saitō. Set to air in January 2021, Back Arrow is an original anime series being produced by Studio VOLN, directed by Gorō Taniguchi, and written by Kazuki Nakashima.

The opening theme by LiSA is entitled dawn and was featured in the newest promotional video for the series which you can watch below. It introduces two new characters: Fine Forte (voiced by Ami Koshimizu) and Prax Conrad (Mikako Komatsu).

TV Anime "Back Arrow" 2nd PV

A special program about the series will air in Japan on ABEMA on December 11, 2020 where more details will be revealed.

LiSA | Comment

"The characters, as well as we ourselves, are heading towards a dazzling new dawn. I hope we can continue believing in ourselves as we advance, no matter what the future holds."

Shuka Saitō | Comment

"I'm so happy to be the one to sing the ending theme for Black Arrow! Thank you! I hope this becomes a song of strength, not only for the characters in Back Arrow, but everyone who hears it too, so that we can carve a path to our goals and dreams together. That's the kind of song 'Sekai no Hate' is. It's a song about the delicate aspects of people and their strengths hidden away inside. I hope you enjoy it together with the Black Arrow story."

©谷口悟朗・中島かずき・ANIPLEX/バック・アロウ製作委員会

Demon Slayer: Kimetsu no Yaiba Collaborates With Fujifilm's instax Cameras

Fujifilm Imaging Systems is collaborating with the popular TV anime series Demon Slayer: Kimetsu you Yaiba to release two models of its instant photo-printing instax cameras based on the main characters Tanjiro and Nezuko. Pre-orders will open in Japan at Fujifilm as well as camera and electronic stores in Japan on November 25 at 10:00am (JST) and be released on December 10.

First introduced in 1998, the instax instant camera allows users to take and produce photos on the spot. The new Demon Slayer models are packed in limited-edition boxes in promotion of the recently-released anime film Demon Slayer: Mugen Train which hit theatres in Japan on October 16, 2020.


Tanjiro Model

Nezuko Model

The collaboration uses the instax mini 11 model as its base are adds motifs that reference Tanjiro and Nezuko.

Each comes with its own themed accessories too including a shoulder pouch and camera strap. All these items are exclusive to those who purchase the box.

More info as well as a promotional video can be found over on instax's official website here.

©Koyoharu Gotouge/Shueisha・Aniplex・ufotable

Information

instax mini 11 x Demon Slayer: Kimetsu no Yaiba Box
Pre-Orders: November 25, 2020 at 10:00am

Release Date: December 10, 2020
Official Website: https://instax.jp/kimetsu/

Second Demon Slayer Clothing Collaboration With GU Launches November 2020

Japanese clothing brand GU will launch its second clothing collection in collaboration with the TV anime series Demon Slayer: Kimetsu no Yaiba at GU stores in Japan and its online store in late November.

The first collection was released in August. The second comes just after the release of the anime film Demon Slayer: Kimetsu no Yaiba the Movie: Mugen Train which continues to break box office records in Japan.

"Love" is the theme of the line-up this time around, with unisex sweaters, hoodies, and other items planned with designs inspired by the clothing and hair colours of characters in the series. The full line-up for the autumn/winter collection will be revealed in early November.

Demon Slayer: Mugen Train New Key Visual and Promotional Video Released

The hotly-anticipated anime film Demon Slayer: Mugen Train was finally released in Japan on October 16, 2020. To promote the film, a fiery new key visual and promotional video featuring Rengoku and Akaza fighting has been released along with a comment from Satoshi Hino who voices Rengoku.

3rd Key Visual & New Promotional Video

3rd official key visual for Demon Slayer: Mugen Train

The key visual features Kyojuro Rengoku, the Flame Hashira, fighting against Akaza, one of the Twelve Kizuki who holds the position of Upper Rank 3. It will be displayed as theatres in Japan from October 31. You can see both of them battling to the death in the new promotional video below with gorgeous animation from the studio working on the series and film Ufotable.

Akaza is a new face in the anime adaptation

Akaza is a powerful Demon who surpasses even Rui who we see in the Demon Slayer: Kimetsu no Yaiba anime series, as well as Enmu who appears in the film. He is voiced by Akira Ishida (Kaworu Nagisa in Neon Genesis Evangelion and Evangelion: 2.0 You Can (Not) Advance).

Kyojuro Rengoku's father, Shinjuro Rengoku, is voiced by Rikiya Koyama (Yamato in Naruto Shippuden and Kogoro Mouri in Case Closed), while his younger brother, Senjuro Rengoku, is voiced by Junya Enoki who voiced Peter Parker and Spiderman in the Japanese dub of Marvel's Avengers film series as well as the Spider-Man films.

Akira Ishida (Voices: Akaza) | Comment

"When I read the script, I saw how it certainly isn't wrong that Akaza is a character who makes sense when it comes to good and evil. And not just him either. Kyojuro is like that too. And they both clash when it comes to these two things, and I found that dynamic to be really interesting. I hope people get to enjoy it at the cinema."

Meet the voice cast in Japan

Natsuki Hanae, Satoshi Hino, and Akira Ishida who voice Tanjiro Kamado, Kyojuro Rengoku, and Akaza respectively, will hold a talk session at TOHO Cinemas Hibiya on October 31st after the 16:40 (JST) film screening. It will also be streamed live at theatres across Japan.

©Koyoharu Gotouge/Shueisha・Aniplex・ufotable

Demon Slayer Merchandise Collaboration With Onigawara Demon Decorative Tile Makers Announced

Sanshu Onigawara Kogeihen, a traditional crafts company in Takahama, Aichi, which is known for making 'onigawara'—a type of decorative tile in Japan (kawara) traditionally bearing the face of a demon—has announced a collaboration with the hit TV anime series Demon Slayer: Kimetsu no Yaiba which will begin in the city of Takahama on October 30, 2020.

The tiles are made by artisans called Onishi and are used for warding away evil spirits and evil in general. For the collaboration, Demon Slayer fans can get their hands on a selection of original kawara tiles, get involved in an Onishi workshop, and more.

Original Kawara Merchandise

Demon Slayer x Kawara

Crafted by a real Onishi, the kawara line-up includes paperweights, magnets, card stands, and other items all with Demon Slayer designs. They can be purchased at the ONI-House tourist information centre, Takahamashi Yakimononosatokawara Museum shop, Sanshu Onigawara Kogeihen's online shop, and elsewhere.

Onishi Workshop (Reservations Required)

A special workshop will be held by a real Onishi where people can learn to make their own paperweights featuring characters from Demon Slayer. All participants will also receive a free original pin badge and folder. Bookings for December workshops will open at the end of this month (October) and January workshop bookings open in November.


Other Merchandise

A monument to the 14 Taishi from the Demon Slayer: Kimetsu no Yaiba series will be put up in front of Takahama City Hall for a limited time. A selection of exclusive merchandise will also be sold at the city's tourist information centre and museum shop too.

There is lots planned for this collaboration which is set to run until January 29, 2021. More details can be found on Takahama City's official website.

©Koyoharu Gotouge/Shueisha・Aniplex・ufotable

Information

Onishi x Demon Slayer: Kimetsu no Yaiba Collaboration
Running: October 30, 2020 – January 29, 2021

Location: Takahama, Aichi
Takahama City Official Website: https://www.city.takahama.lg.jp/
*Event subject to cancellation or postponement depending on the situation of COVID-19

Demon Slayer: Kimetsu no Yaiba Collaborates With Kyoto's Famous Kabuki Theatre Minami-za

Minami-za, one of the most respected kabuki theatres in Japan, has announced a special exhibition in collaboration with the TV anime series Demon Slayer: Kimetsu no Yaiba which will run from November 6 to 23.

Minami-za is the oldest theatre in Japan and is registered as a Tangible Cultural Property of Japan. The Demon Slayer exhibition will feature displays, decorations, and a range of exclusive merchandise.

Lobby Exhibit

Fans will find a range of character boards displayed at the entrance lobby to Minami-za with the characters donning traditional kabuki attire.

Special Stage Photo Spots

Cut-outs of the main cast of characters will be displayed on stage. People will be able to stand up on stage and take photos with the characters in this unique collaboration with kabuki.

Signboard

An original signboard will be displayed at the entrance to Minami-za.

Free Bonus Items

All customers who visit the theatre will receive one of these 18 possible coasters for free.

Merchandise

Those who hold a ticket to the event will be able to purchase a selection of original merchandise at the theatre. The items will also be sold online at Shochiku Kabuki-ya Honpo.

Teabags (4 Flavours) | ¥800 (Tax Included)

Special teabags will also be sold at the Tokyo and Kobikicho Square branches of Shochiku Kabuki-ya Honpo as well as their online website between October 21 and 23.

Tickets to the event are available via Lawson in Japan.

©Koyoharu Gotouge/Shueisha・Aniplex・ufotable

Information

Demon Slayer: Kimetsu no Yaiba x Minami-za
Location: Minami-za (Hashihigashizumecho, Higashiyama-ku, Kyoto)
Running: November 6, 2020 – November 23, 2020 (Closed November 9 and 16)
[Tue-Thur] 15:00-20:00 (Last Entries 19:00)

[Fri-Sun] 10:00-20:00 (Last Entries 19:00)
Tickets: https://l-tike.com/kabukimetsu_minamiza/
Official Website: https://www.kabukimetsu.com/