Japan's first-ever "Glamping" (Glamorous camping) resort Hoshinoya Fuji is hosting its Glamourous Fuji Tozan mountain climbing program again this year. The program was first launched in 2017. This year, it will run from 1st to 9th September starting on four days only (see information below). The program has significantly upgraded its contents over the years. Just one of the many new features is a special dinner which will be offered to Hoshinoya Fuji guests before and after the Mountain Climb to show their gratitude and support.
There are many people who aspire to climb Mount Fuji during their lives. However, they don't have the equipment and getting back home before dark leaves them with a tight schedule. As a result, many get ill or injured, or abandon their journey part way through. There are even people who cannot make the challenge because they have little experience with mountain climbing, are not fit enough or lack the appropriate gear. This is where Hoshinoya Fuji steps in. They will take guests to the 5th station of the mountain by car, which takes approximately one hour. Here, you can enjoy the breath-taking landscape and rest assured that you will be able to climb Mount Fuji safely and have a very pleasant trip.
In 2013, Mount Fuji was acknowledged as a sacred religious and artistic location. It was recorded as a world heritage site. The sacred Asama shrines and shrine gates dotted around the mountain trails have profound meaning that mountain climbers can visit to learn and deepen their cultural understanding. Not only is this physically challenging, but the discovery of culture makes it also spiritually and mentally challenging. Hoshinoya Fuji's program ensures that all participants receive physical as well as mental support during their climb.
Fuji Tozan Gakko GORIKI will support the mountain climbers. The company started up in 2002, creating special tours to guide small groups of people safely up and down the mountain. Since starting, they even offer counselling to the mountain climbers before the trip. They also lead their climbers during the daytime and ensure that everyone is absolutely safe from start to finish.  
As a general rule, mountain climbers are only able to climb during the daytime, On the first day, climbers leave the 5th station around noon and are lead to the mountain hut to which they will arrive in the evening. Here, everyone will enjoy a long, deep rest until the next morning. Not only is this a chance to catch up on sleep, but also provides time for the body to recover. The next day, the climbers will leave the mountain hut at the break of dawn and will be lead to the summit of the mountain. The schedule plans for everyone to arrive before noon.
The mountain hut Kaibatsu Ichiman-jaku Toyokan is 3,000m above sea level. One room is booked for up to five people. Usually, mountain huts are large rooms where climbers sleep in sleeping bags or on bunk beds. However, this mountain hut has private rooms. Sharing the same concept of hospitality as Hoshinoya, they also provide mattresses made like beds. In addition, all climbers can enjoy Hoshinoya Fuji's beef stew, wine and much more. It might be a shock to some that you can get hotel-level service at this mountain hut! You can even enjoy a footbath, a guided tour of the starry night sky, and much more! This is an opportunity to enjoy a pleasant and luxurious environment whilst climbing the mountain!
With Hoshinoya Fuji, not only can you break the achievement of climbing to the summit of Mount Fuji, but curious climbers can enjoy the breathtaking scenery and learn about the history of the mountain and the impact it has had on Japanese people. This mountain-load of benefits is what it makes this program so "glamorous". Compared to a normal schedule, Hoshinoya Fuji's schedule is very well thought out and has been planned to include stops at the shrines along the mountain's path so that visitors can trace back to learn how the sacred mountain was used in religion.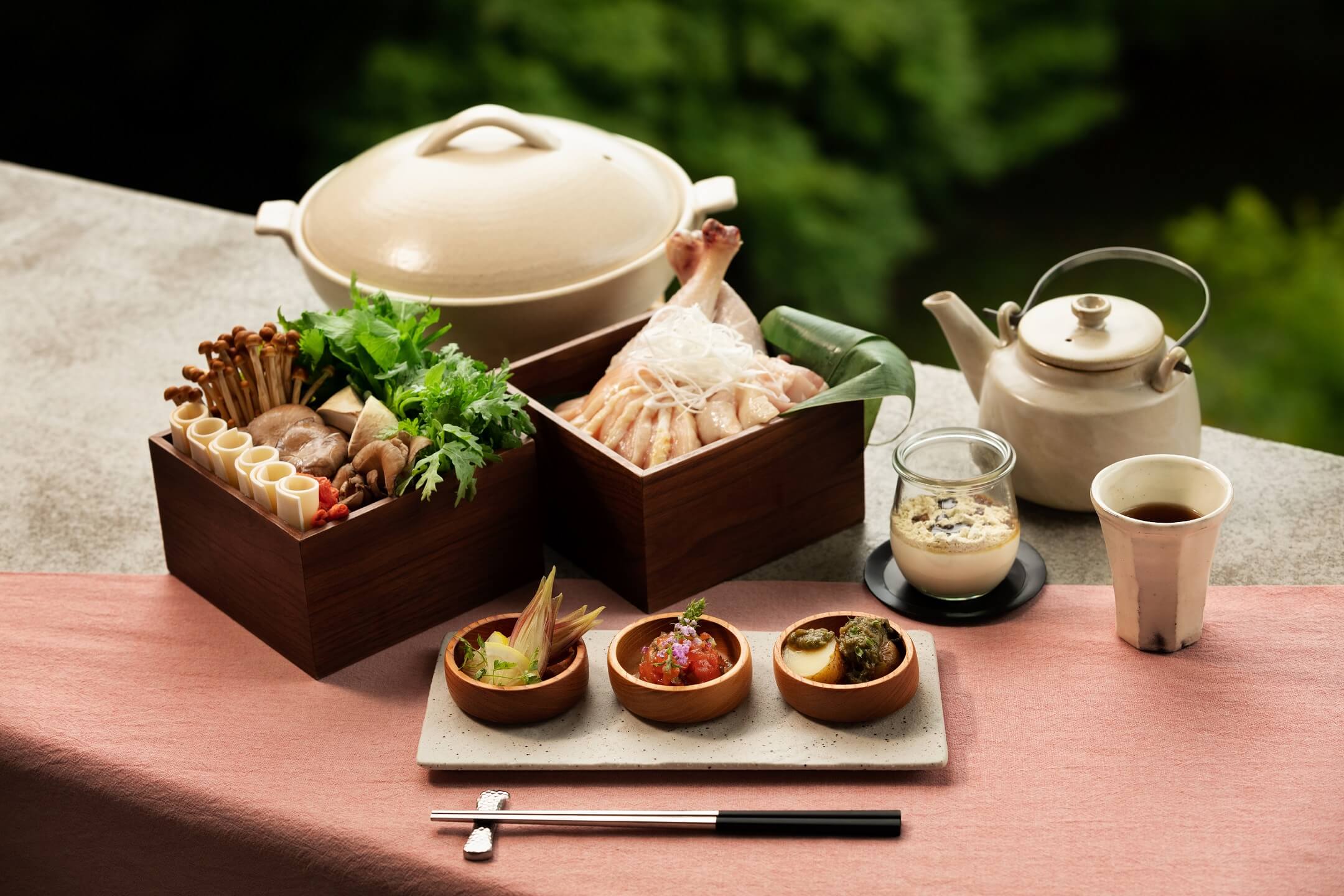 Hoshinoya Fuji's specially made evening meal "Hoshinoya Fuji Ryu Onshi Ryori" consists of local specialties such as Hoto and Seidanotamaji. Hoto is a noodle soup made by stewing thick and flat noodles with vegetables. Seidanotamaji is made by boiling potatoes with sugar and miso. The meal is said to represent what the Shinto priests would have eaten.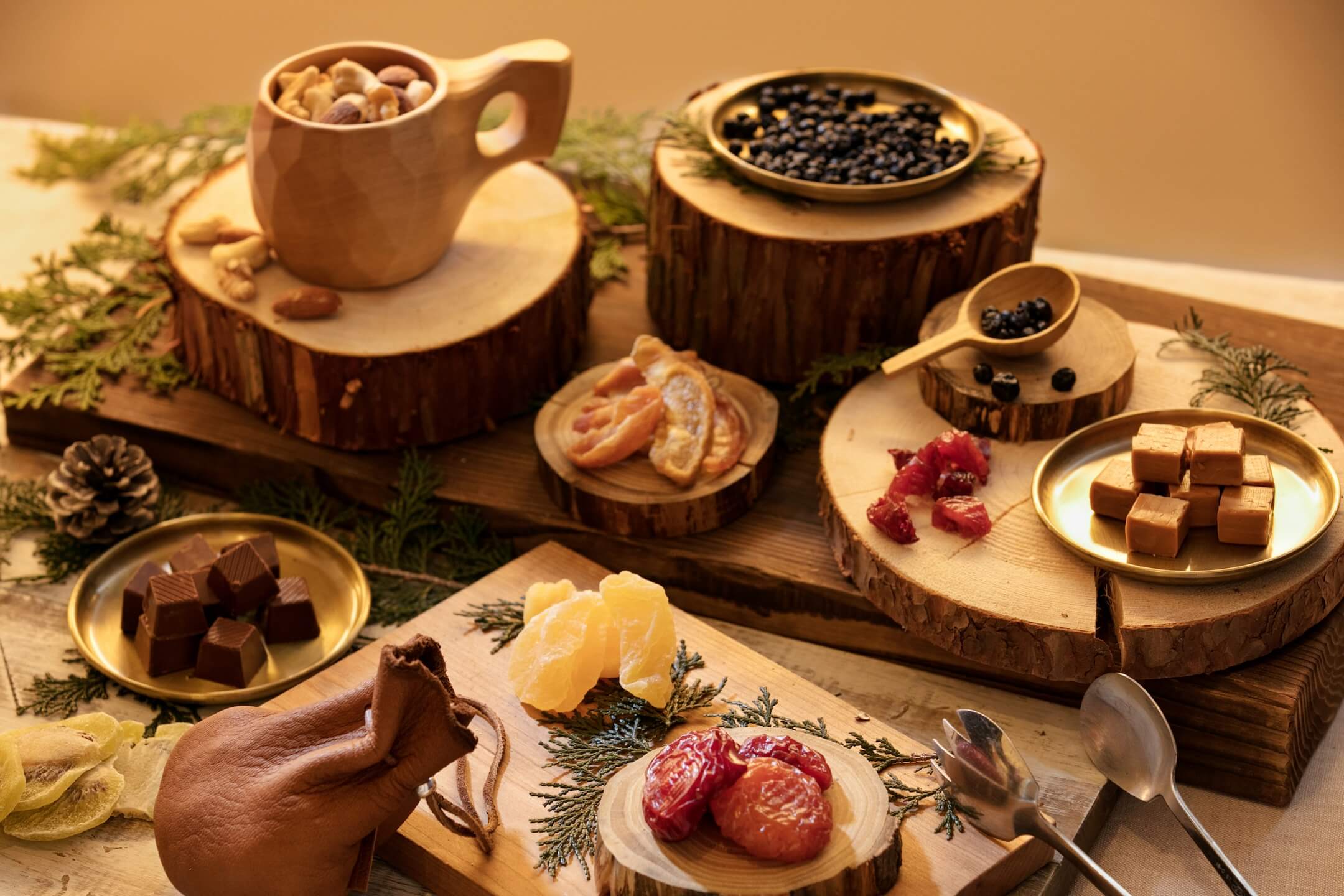 The previous night, the climbers are also given the opportunity to make their own energy snacks so they are fully prepared to face the next day. With the assistance of a glamping lecture, the climbers can choose their own ingredients such as dried fruits or nuts. After choosing their ingredients, they can have them coated in chocolate or preserved in sugar. Now the climbers are ready to challenge the rest of the mountain!
After descending the mountain, there is the opportunity to have a foot treatment or a herb bath. Many people say that descending the mountain is actually more tiring than climbing it. The uneven descent of the mountain can put more strain on your feet than you think, and so after checking in at Hoshinoya Fuji, make sure to check in for your foot treatment and treat yourself to a relaxing herb bath while you're at it! Bathe away the tiredness of your body and soften your skin!
There's never been a more luxurious experience of climbing Mount Fuji than this one ー this is an impressive experience that you must try!
Information
Glamorous Fuji Tozan
Dates: 1st, 3rd, 5th & 9th September (four times)
*Dates shown above are the dates of the first day of departure. You must reserve your stay at Hoshinoya Fuji before and after the trip separately.
Limit: 5 people max per climb. A minimum of two people per group.
Age restrictions: Elementary school year 4 +, under 69 years old and in good health
Price: ¥118,000 per person/ (+ tax, 10% service charge & separate accommodation fee)
Reservations accepted up to one month before departure.
Make reservations using the official website.
* Sunrise times and stargazing is unpredictable due to the weather. It may not be possible to view the sunrise or the stars.
* The contents of the tour may be skipped or altered due to nature, the conditions of participants and the condition of the climbing route.
Hoshinoya Fuji
Address: 1408 Oishi, Fujikawaguchiko, Minamitsuru District, Yamanashi
Access:20-minute drive from Kawaguchiko IC
Check in: from 15:00/check out: from 12:00
Price: Approx. ¥43,800 per room per night (does not include tax, 10% service charge and separate meal charge)
TEL:0570-073-066 (general reservations)