Pour on the soy sauce and a scary Kabuki face will appear?! Order your Village Vanguard soy sauce dishes now!
Village Vanguard is well known for their collaborations with characters and their animal-themed designs. This time, they've made a Kabuki-themed soy sauce dish that you can order online.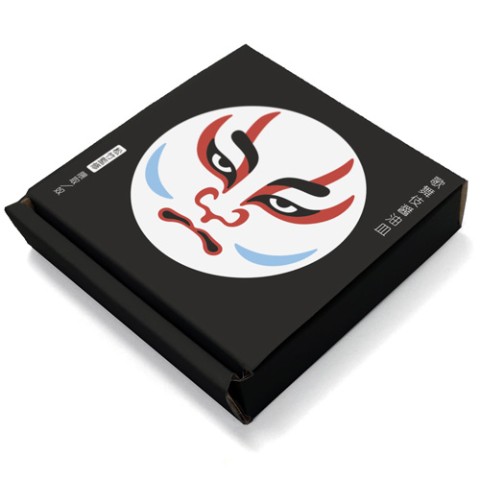 Young, old, male or female, Japanese people love their traditional theatre shows called "Kabuki". One fascinating feature of Kabuki is the impressive makeup of the actors and actresses called "Kumadori

They made animal-themed soy sauce dishes, then character-themed ones, and now finally, we've got Kabuki-themed ones! There are many different designs in this new series ー you can enjoy all their different expressions! This is bound to make your dinner table a thousand times more exciting!
There are a total of six designs. Please come and choose from this wonderful selection!
RELATED ENTRIES
Kyary Pamyu Pamyu to Perform Kabuki Themed Concert at Japan's Oldest Kabuki Theatre

Kyary Pamyu Pamyu announced her Oto no Kuni Live Tour earlier this year which will take her to various locations across Japan in 2019 that are rich in Japanese history and tradition.

The tour is produced by Kyary herself and is supported by her latest album Japamyu which is also Japan-themed. The first place she revealed that she will perform at is Izumo-taisha Shrine in Shimane Prefecture on Saturday March 30.

Kyary has now drawn the curtain back on the next venue: Minami-za, the kabuki 'holy ground.' She will incorporate kabuki elements into her show.

Minami-za is one of the oldest kabuki theatres in Japan. It is located in Kyoto's Shijō Kawaramachi area which is said to have been where kabuki originated. The theatre has continued to give host to a wide range of entertainment, including that which is not kabuki, for over 400 years. It was registered as a Japanese Tangible Cultural Property in 1996 and as an example of Kyoto Historical Architectural Design. The theatre re-opened last year after having undergone renovations to reinforce earthquake resistance. The outside of the building maintains the traditional look of the theatre but the interior has been completely renewed. Throughout the year, it promotes culture to the people of the world with its performances.

Kyary is receiving proper kabuki training and guidance. Shewill use a range of kabuki techniques in her dance and performance such as roppo, a type of stylised walk, and mie, a dramatic pose pulled by an actor who then freezes for a brief moment.

Don't miss her first ever show to include kabuki!

Cute Neko no Buu-chan Merchandise Arrives at Village Vanguard

Village Vanguard are now selling cute new merchandise for Neko no Buu-chan, an adorable cat character created by Japanese illustrator Kino Takahashi.

This cute die cut smartphone ring functions as a stand to keep your phone propped up.

The cookie tin is filled with Buu-chan cookies! The designs are just too cute to eat.

There's even Buu-chan's first ever line of t-shirts. There's 3 colours to choose from. A must-have for this summer.

There's a range of other new Buu-chan items to get your hands on too, like stickers and badges. Litter your room with this cute kitty!

Shogi Rucksack Now Available for Pre-Order at Village Vanguard

Village Vanguard is now taking pre-orders for their shogi backpacks.

Shogi is often referred to as 'Japanese chess.' Japan is currently undergoing a shogi boom. The anime series March Comes in Like a Lion, which finished airing in March this year, follows the story of Rei Kiriyama, a 17-year-old professional shogi player. The two-season series became a hit in Japan and overseas, even getting a live action adaptation.

Sota Fujii is a 15-year-old high school student in Japan who made headlines for becoming the youngest person to achieve professional status as ranked by the Japan Shogi Association. He is currently ranked 7-dan.

Thanks to anime fans and budding young shogi players, the scene is gaining much attention with males and females of all ages. Now they can express their love for the game by wearing this backpack.

The bag comes with a pouch reading Oushou (王将), or 'King,' one of the shogi pieces. You can stow away all of your shogi pieces inside for easy access if a new opponent appears.

The bag is also perfect for mirushou, a rapidly growing population of shogi fans who like to watch shogi games but don't play and don't necessarily know the rules.

The bag can be used for carrying bigger items too, whether they're related to shogi or not. They're great for day-trips, overnight stays or as a souvenir from Japan!

If you're a fan of shogi or know someone who is, then look no further for a present than this!

Wagakki Band to Perform Ending Theme Song for Naruto Kabuki Play

Wagakki Band will provide the ending theme song for the upcoming kabuki play adaptation of manga series Naruto which will be performed in Tokyo at the Shinbashi Enbujo Theatre this August. It was announced back in April that the band would perform a song for the play, but new details have been revealed. The song is titled Hikari no Naka de ('In the Light').

Naruto was first serialised in Weekly Shonen Jump in 1999 and tells the story of Naruto Uzumaki, a young ninja who trains in the art of ninjitsu, who must take out his enemies, and who ultimately aspires to be Hokage, the leader of the village. The series has brought in fans across the globe, with well over 220 million copies sold in over 40 countries outside Japan. Kabuki actors Bandou Minosuke and Hayato Nakamura will play the roles of Naruto Uzumaki and Sasuke Uchiha respectively.

Comment by Yuko Suzuhana (Wagakki Band Vocalist):

"Collaborating with kabuki theater is something I've really wanted to do so we are extremely honoured that they called out to us. They said that Wagakki Band's sound was necessary for the play, so our mutual love was realised. We wrote this new song for the production as [they said] it was something only we can do. I believe it's a very bright and piercing song compared to the recent Wagakki Band. The composition and lyrics were written by our guitarist Machiya. He's a fan of Naruto, so much so that he's watched it 3 times. The song is packed with words like 'hope' and 'light' which align with the story's final arc which rang together really well in our heads with the music when we were writing it. We also tried some new songs, like having multiple choruses. There's also less sounds in the ensemble than we've ever had to bring more of a balance. I hope people enjoy this unique fusion of kabuki and Wagakki Band which has never been seen before."

We look forward to hearing what kind of song Wagakki Band has in store for the play.

■Information

"Naruto" Kabuki Play

Running: August 4, 2018 – August 27, 2018

Author: Masashi Kishimoto

Script: G2

Location: Shinbashi Enbujo Theatre, Tokyo

Official Play Website: http://naruto-kabuki.com/

Wagakki Band Official Website: http://wagakkiband.jp

Scary! Ice Made to Look Like Legs Sticking Out of Water

If you're in Japan this summer and can't bear the heat, then we've got a recommendation to cool you off. A fun and innovative ice cube tray made by Kyoto Ohata of Mousou Kousaku―who won the 2nd Zakka Awards―has been released at Village Vanguard.

The ice cube tray make your ice cubes look like human legs. Stick them into your drink and it'll look like someone's thighs, legs and feet are poking out. It costs ¥1,296.

The ice cubes are simple to make!

Prepare the silicon ice cube tray.

Pour lots of water into the holes at the top.

Place in the freezer for 5-6 hours.

Take off the seal and detach.

Open up the silicon tray to reveal your ice legs.

Put into your favourite drink!

You can combine the ice cubes with a bunch of different things for summer, not just drinks.

You can watch a funny example video showing how the ice cubes can be used. A male bartender makes a female customer a specially made 'cursed' cocktail. Be sure to check it out yourself!

Nothing's better in summer than a nice cold beverage chilled with some ice. How about shaking things up a bit this summer with this ice cube tray?

These Towels Look Just Like Norimaki Sushi Rolls

geodesign are a design team known for their amusing creations. They have just put out their new Super Norimaki Towel which is a rolled towel that looks just like norimaki. It's available online at Village Vanguard.

They're made to look just like the norimaki you'd find at the supermarket from the gold and black colours to the packaging.

There are five types to choose from.

Super Norimaki Towel (Thick Roll)

Super Tamago Maki Towel (Thick Roll)

Super Norimaki Towel (Tuna Sushi Roll)

Super Norimaki Towel (Cucumber Roll)

Super Norimaki Towel (Natto Roll)

Beat the summer heat with one of these fun towels!

■Information

Super Norimaki Towel
https://vvstore.jp/feature/detail/3841/?utm_source=press

Village Vanguard Online
http://vvstore.jp/?utm_source=press

Super Norimaki Towel (Thick Roll)

Price: ¥918 (Tax-Included)

Super Tamago Maki Towel (Thick Roll)

Price: ¥918 (Tax-Included)

Super Norimaki Towel (Tuna Sushi Roll)

Price: ¥702 (Tax-Included)

Super Norimaki Towel (Cucumber Roll)

Price: ¥702 (Tax-Included)

Super Norimaki Towel (Natto Roll)

Price: ¥702 (Tax-Included)

Kawaii 'Cat Ear' Lingerie Now On Sale at Village Vanguard

A new line of cute kitty lingerie is now available for pre-order at Village Vanguard, including lace cat ears, a collar with a bell and lingerie with a heart in the top piece. The set is available in both black and white, with orders shipping in early to mid June.

The black set transforms its wearer into a sexy black cat, with a cute golden bell on the collar.

The white set is more cute and pure with plenty of frills to make you into a fluffy white cat.

The characteristic silhouette is the selling point of this lingerie – whether you look from the front, side or back it's cute.

This cute and sexy nekomimi ('cat ear') lingerie sets are sure to blow up online once they are released.

There's a lingerie feature over on Village Vanguard right now so be sure to check that out along with this new release.

HELLO KITTY will challenge Kabuki! Sanrio Puroland's "KAWAII KABUKI"

The new musical using the motif of "Kabuki (Japanese traditional drama performed by male actors) named "KAWAII KABUKI ~HELLO KITTY Ichiza no Momotaro~" will be performed from at Meruhen Theater inside Puroland from the 10th of March 2018 (Sat.)

A press conference was held on the 7th of March (Wed.) and persons who are related to the play such as Kensuke Yokouchi who produced the script/rendition/lyrics of the play (he has been producing "Super Kabuki") and Esaburo Ichikawa, a kabuki acting coach, participated in the press conference. Also, Sanrio's characters including HELLO KITTY appeared on the stage.

It can be said that it is a new type of "spectacle entertainment show" using projection mapping and the motif of kabuki. The performance incorporates both the "kawaii" of Sanrio and the traditional "wa" culture of Japan.

 Let's enjoy Sanrio's new type of collaborative musical of Sanrio characters and kabuki!

Showa-period style, modern room wear "Yuru Hakama" can be purchased at Village Vanguard Online

"MOCOLLE" which realizes everybody's delusions is now selling its third version of the "Wafu (Japanese-style) Room Share" series.


"Yuru Hakama (Japanese male skirt)"was designed by the very popular illustrator, Shun Akagi.


It is a room wear which is designed like a "hakama" so it is very easy to wear since the bottom and the top are attached.

Each of the four patterns has their own image concept. These image concepts are "Kiku (chrysanthemum): a girl who loves reading," "Tsubaki (camellia): a girl who loves retro-songs of Showa Period," "Sakura (cherry blossom): a charming and active girl" and "Asagao (morning glory): a girl who loves tea and inviting her friends to her house."


This cute and comfortable room wear is suitable to be used when holding parties like a music-listening party or a tea party!


Who is your favorite "Showa-modern" girl?

February 2nd is "Cats' Day!" "Limited cat goods" will be sold at Village Vanguard Online

The 2nd of February is cats' day! In commemoration of this special day, Village Vanguard Online Store will sell cat-related goods.

Lots of limited special sets, interiors and foods related to cat will be sold.

Neko Fukubukuro Nyanko Zuki Kanki no Knapsack Iri Fukubukuro – 5,400 yen (tax included)

The fukubukuro (sealed lucky bug) which were sold out last year's year's will be sold again! Many cat-related items such as a cat knapsack with many pockets, cat-ring and cat-blanket will be included in the bag.

Kokoneko Glass – 1,296 yen (tax included)

A Glass using the motif of a cat's paw. There are three patterns available (tiger cat, calico cat and spotted cat) and each glass has a paw of a cat colored in pink. The glass looks very cute when milk is poured inside.

NEKO no AKARI – Washi Neko Lamp – 8,100 yen (tax included)

A lamp made with Japanese paper. It looks like a cat is relaxing.

Nyanko Sugar – 702 yen (tax included)

A cat sugar which is suited to be used when you want to spend some time with your guests. A paw-shaped type and a"sitting-on-the-edge-of-the-cup" type are also available. The paw-shaped sugar includes a mélange shaped like a cat's paw.

Nyammy Nekono Hocho – 2,376 yen (tax included)

By using this item using the motif of cat, you can feel like a cat is helping you cook your foods. Cat's footprints are printed on the blade every 1cm. An essential item for cooking!

For more details go to the following page:

https://www.moshimoshi-nippon.jp/43351

They also sell many kinds of strictly selected cat goods! Let's check out their website.

Sanrio Puroland will perform a new musical using the element of "Kabuki"

Sanrio Puroland will perform a new musical "KAWAII KABUKI ~HELLO KITTY Ichiza no Momotaro~" using the element of "Kabuki (traditional drama performed by male actors)" from the 10th of March 2018 (Sat.)

It is a first time that a musical using the element of kabuki will be performed at Puroland. You can enjoy a brand-new experience-based spectacle entertainment show combining the cuteness of Sanrio characters, traditional kabuki and projection mapping technology which will be used at the Meruhen Theatre.

Kensuke Yokouchi who has been directing "Super Kabuki" will write the script and do the staging of the show. Also, Shochiku, a leading company in the field of theater, will direct the show. The Sanrio characters, including KITTY, will receive training by Esaburo Ichikawa to perform this kabuki show. The scenes where the Sanrio characters wear kabuki uniforms, making gestures and tussling about are a "must-see."

The story of the show uses the motif of the famous folktale in Japan "Momotaro." Therefore, even viewers who are not familiar with kabuki can enjoy the show and understand the story. It is a show that both Puroland's fans and kabuki fans can enjoy.

Also, Shido Nakamura will participate in the show as a voice actor and Minosuke Bando will appear on the screen during the show. Shido Nakamura will play the part of an important character in the story, one of the "Oni (demons)" and Minosuke Bando will appear on the screen with "Kabuki Nyantaro," a new kabuki PR character to fight against the villains.

Digest movie

The story of the show promotes "the importance of understanding each other and living peacefully with your neighbors." Moreover, many elements including the renditions of kabuki, high realistic video renditions and acrobatic dance performance are incorporated into the show.

Don't miss this new musical of Puroland!

■Information

KAWAII KABUKI ~HELLO KITTY Ichiza no Momotaro~

Starting date: 2018/03/10 (Sat.) – last day is undecided

Venue: Meruhen Theatre inside Sanrio Puroland

Time: 40 minutes per play

Characters which will appear in the show: HELLO KITTY, Cinnamoroll, Dear Daniel, Bad Batsu Maru

 "KAWAII KABUKI" ~HELOO KITTY Ichiza no Momotaro" information site:

https://www.puroland.jp/kawaiikabuki/

Sanrio Puroland

Address: 1-31, Ochiai, Tamashi, Tokyo

TEL:042-339-1111

A 180cm-long "chub mackerel" cushion will be sold at Village Vanguard Online

"Don't you think it would be great fun to use a cushion shaped like a chub mackerel which looks smelly inside your room?" This product was created based on such an idea.

The huge chub mackerel cushion cover produced by the project "MOCOLLE" which commoditizes many fun products, will be sold at Village Vanguard Online.

The length of this cushion cover is 180cm.

Chub mackerel can be divided into three types, common mackerel, southern mackerel and Pacific mackerel and they decided to use the motif of the common mackerel.

 

They say that they created this product through a trial and error process to print the gradation of the belly nicely. Since mackerel does not have squama, they put much effort into printing the common mackerel precisely.

It is recommended that you put clothes you are not using inside the cushion cover so that you can use it as a huggable pillow.

Don't miss this chance to get this unique cushion cover.

If you have this common mackerel cushion lying around in your room you will for sure never feel lonely, even if you are living alone.