Pour on the soy sauce and a scary Kabuki face will appear?! Order your Village Vanguard soy sauce dishes now!
Village Vanguard is well known for their collaborations with characters and their animal-themed designs. This time, they've made a Kabuki-themed soy sauce dish that you can order online.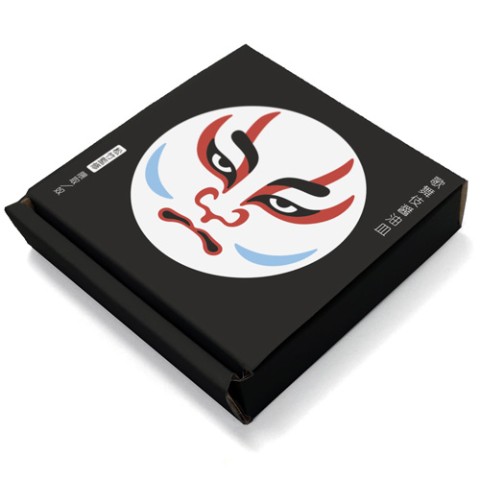 Young, old, male or female, Japanese people love their traditional theatre shows called "Kabuki". One fascinating feature of Kabuki is the impressive makeup of the actors and actresses called "Kumadori

They made animal-themed soy sauce dishes, then character-themed ones, and now finally, we've got Kabuki-themed ones! There are many different designs in this new series ー you can enjoy all their different expressions! This is bound to make your dinner table a thousand times more exciting!
There are a total of six designs. Please come and choose from this wonderful selection!
RELATED ENTRIES
Onoe Matsuya and Ukon Onoe Team Up for Traditional Japanese Art Experience 'Kabuki Derby'

The 89th Tokyo Yushun, or Japanese Derby, is scheduled to take place on May 29, 2022. Ahead of the event, a special site featuring Kabuki actors Onoe Matsuya and Ukon Onoe was opened on May 12. That's right–it's time for the Kabuki Derby!

Celebrating its 89th year, the Japanese Derby is considered one of the finest horse races in the world. To make this traditional and prestigious event even more exciting, a collaboration with the traditional Japanese performing art of Kabuki is getting people talking.

Tokyo Yushun Kabuki Simulation Game

In the Kabuki Derby, visitors can enjoy tons of unique content made with Onoe Matsuya and Ukon Onoe. The site's racing game even has a completely original story! Trivia quizzes related to the Derby and obstacle courses will also provide hours of fun.

Special Video: Home Horse Racing!

Special Video: Instant PAT!

Special Video: Full House Derby

In the original videos, both Kabuki actors appear as brothers in the Edo Period. The two are sure to make you smile with their performances, as they explain what they do on their days off and show off how fun horse racing can be.

Horse Designer

There will also be a Twitter campaign where you can win prizes depending on the results of the Japanese Derby. Be sure to tune in and root for your favorite horse!

Information

Kabuki Derby
Available May 12, 2022


Kabuki Actor Somegoro Ichikawa VIII Becomes Brand Ambassador for Shu Uemura Japan

Shu Uemura Japan has announced that Kabuki actor Somegoro Ichikawa VIII will be the brand ambassador for its popular cleansing oil and other cosmetic items.

Shu Uemura products are all crafted in Japan and the brand exemplifies the Japanese spirit of perfection, care, and tradition. This advanced technology and cutting-edge design philosophy is a perfect match for Somegoro Ichikawa, who is incredibly passionate about Japanese artistry through his work in kabuki theater. This collaboration is bringing kabuki, a 400-year-old art form, to the mainstream, infusing it with modernity.

Comment from Somegoro Ichikawa


"I'm honored to have been chosen to serve as an ambassador for Shu Uemura Cleansing Oil, which I personally use on a regular basis. What can we do to pass on Kabuki and other Japanese traditions to future generations? I feel a strong connection between my own ideas and challenges and those of the Shu Uemura brand." 

Village Vanguard Online Store Opens Rilakkuma Pop-Up Shop with Massive Plushies

If you visit Japan, you'll likely find yourself in a Village Vanguard shop eventually. The popular chain sells just about everything under the sun for low prices, from apparel and toys to books and DVDs. Until January 6, 2022, visitors to Village Vanguard Online can peruse a special Rilakkuma pop-up shop named 'My Imaginary Rilakkuma.' Most importantly, a super long Rilakkuma stuffed animal will only be available from this shop!

Big Long Huggable Plush (Rilakkuma/Kiiroitori)

Plushie Keychain (5 varieties)

Plushie (Korilakkuma/Kiiroitori)

Acrylic Stand (2 varieties)

Shopping Bag​

Rilakkuma is known for always being lazy, but can you imagine if he decided to actually work hard for a day? You might fall in love with him a little more. The acrylic stands read "You look beautiful today," and "Let's make today a wonderful day." Will you be snagging any of these items? 

Yuki Tokuda x Village Vanguard Cute Illustration Collection Released

Popular Japanese illustrator Yuki Tokuda, who is known for their adorable artwork, released a collection of items exclusively on Village Vanguard on Friday.

The Line-Up

Girl & Animals Mug | ¥1,430 (Tax Included)

Densetsuno Usagi Tote Bag | ¥2,310 (Tax Included)

Ebiten iPhone Case  (12/12 Pro/12mini) | ¥2,530 (Tax Included)

Densetsuno Usagi Acrylic Key Ring | ¥715 (Tax Included)

Sankakukin Acrylic Key Ring | ¥715 (Tax Included)

Densetsuno Usagi Pin | ¥385 (Tax Included)

Sankakukin Pin | ¥385 (Tax Included)

Hitogata-kun Pin | ¥385 (Tax Included)

Sticket Sheet | ¥605 (Tax Included)

Yuki Tokuda is a Japanese illustrator whose line-up of original characters have proven extremely popular with people on Japanese social media, including Hitogata-kun, his unnamed girl character, and line-up of mysterious animals and creatures. His work spans books, illustrations, 3D sculptures, and more.

©YUKI TOKUDA

Lovisia Releases Detective Conan Cosmetic Collection

Japanese cosmetic brand Lovisia has released its New Styley collection in mid-April this year. The collection is based on the popular anime series Detective Conan, also known as Case Closed outside Japan, in promotion of the upcoming film Detective Conan: The Scarlet Bullet.

Detective Conan Eyeshadow – Conan & Kid Gold and Brown | ¥2,200 (Tax Included)

Detective Conan Eyeshadow – Conan & Kid Gold and Brown | ¥2,200 (Tax Included)

Detective Conan Lipsticks – Clear, Coral Pink, Beige Pink, Scarlet Red, Nude Beige | ¥1,320 Each (Tax Included)

USGMEN x Village Vanguard Clothing Collection Releases

The popular Japanese LINE sticker character series USGMEN is now taking orders for a new collection of merchandise on Village Vanguard for a limited time. The collection dropped on March 13.

The Line-Up

USGMEN White T-Shirt | Medium, Large | ¥4,180 (Tax Included)

USGMEN Yellow T-Shirt | Medium, Large | ¥4,180 (Tax Included)

USGMEN Black Suuetto T-Shirt | Medium, Large | ¥5,830 (Tax Included)

USGMEN Hoodie | Medium, Large | ¥6,380 (Tax Included)

USGMEN Cap | ¥3,630 (Tax Included)

USGMEN Face Mask | ¥1,430 (Tax Included)

USGMEN Clear Pencil Case | ¥2,200 (Tax Included)

USGMEN – Usagi & Same Acrylic Key Rings | ¥770 Each (Tax Included)

USGMEN Tote Bag | ¥2,530 (Tax Included)

USGMEN Sacoche | ¥2,420 (Tax Included)

©︎うさぎメン

Classic Japanese Candies Feature On Eco Bag Collection

Village Vanguard has released a new collection of eco bags featuring designs of long-time classic and nostalgic Japanese candy brands.

Marukawa Fusen Bubble Gum (Orange) | ¥968 (Tax Included)

Marukawa Fusen Bubble Gum (Strawberry) | ¥968 (Tax Included)

Marukawa Fusen Bubble Gum (Grape) | ¥968 (Tax Included)

Kuppy Ramune | ¥968 (Tax Included)

Cocoa Cigarette | ¥968 (Tax Included)

Popular Japanese Illustrator UZNo Releases Merchandise Collection Featuring Their Original Character Artwork

The popular Japanese illustrator UZNo, who is known for their cute original character art, has teamed up with Village Vanguard to release a collection of merchandise. The items are available to order until March 14.

UZNo T-Shirts (Medium/Large) | ¥3,850 Each (Tax Included)

UZNo Mug Set | ¥3,300 (Tax Included)

UZNo Acrylic Coasters | ¥935 Each (Tax Included)

UZNo Acrylic Key Rings | ¥770 Each (Tax Included)

UZNo Tote Bags | ¥2,420 Each (Tax Included)

The adorable made-to-order line-up captures the warm and fuzzy world of UZNo's characters – a must have for the collection!

© UZNo

Watch Gifu Prefecture's 'Jikabuki' Local Kabuki Theatre Plays On YouTube

As part of this year's Gifu, Land of Clear Waters Ji-Kabuki All-Star Performance 2020, Gifu Prefecture has posted a special commentary video over on the official YouTube channel of Gifu Seiryu Bunka Plaza which combines footage from two local kabuki plays held this year.

The local kabuki of Gifu

Japan is home to 200 jikabuki, or 'local kabuki,' preservation organisations, 30 of which can be found in Gifu Prefecture. Gifu is one of the most active regions for jikabuki in the whole of Japan. The prefecture also has 9 historical shibai-goyas, or playhouses, some of which are over 100 years old.

Gifu, Land of Clear Waters Ji-Kabuki All-Star Performance 2020

https://www.youtube.com/channel/UCx_NJKW7JOicMjhzfqBC1hQ 

Gifu Seiryu Bunka Plaza made the decision to postpone the 11 jikabuki performances that were scheduled to take place January to July 2020 this year. They are being rescheduled for 2021, so for now people can enjoy the content over on their official YouTube channel.

Demon Slayer: Kimetsu no Yaiba Collaborates With Kyoto's Famous Kabuki Theatre Minami-za

Minami-za, one of the most respected kabuki theatres in Japan, has announced a special exhibition in collaboration with the TV anime series Demon Slayer: Kimetsu no Yaiba which will run from November 6 to 23.

Minami-za is the oldest theatre in Japan and is registered as a Tangible Cultural Property of Japan. The Demon Slayer exhibition will feature displays, decorations, and a range of exclusive merchandise.

Lobby Exhibit

Fans will find a range of character boards displayed at the entrance lobby to Minami-za with the characters donning traditional kabuki attire.

Special Stage Photo Spots

Cut-outs of the main cast of characters will be displayed on stage. People will be able to stand up on stage and take photos with the characters in this unique collaboration with kabuki.

Signboard

An original signboard will be displayed at the entrance to Minami-za.

Free Bonus Items

All customers who visit the theatre will receive one of these 18 possible coasters for free.

Merchandise

Those who hold a ticket to the event will be able to purchase a selection of original merchandise at the theatre. The items will also be sold online at Shochiku Kabuki-ya Honpo.

Teabags (4 Flavours) | ¥800 (Tax Included)

Special teabags will also be sold at the Tokyo and Kobikicho Square branches of Shochiku Kabuki-ya Honpo as well as their online website between October 21 and 23.

Tickets to the event are available via Lawson in Japan.

©Koyoharu Gotouge/Shueisha・Aniplex・ufotable

Information

Demon Slayer: Kimetsu no Yaiba x Minami-za
Location: Minami-za (Hashihigashizumecho, Higashiyama-ku, Kyoto)
Running: November 6, 2020 – November 23, 2020 (Closed November 9 and 16)
[Tue-Thur] 15:00-20:00 (Last Entries 19:00)

[Fri-Sun] 10:00-20:00 (Last Entries 19:00)
Tickets: https://l-tike.com/kabukimetsu_minamiza/
Official Website: https://www.kabukimetsu.com/

Watch Legendary Kabuki Actor Ichikawa Ebizo XI Perform at Tomioka Silk Mill Online

Japanese kabuki actor Ichikawa Ebizo XI, the eleventh holder of the famous Ebizo name, is set to perform at Tomioka Silk Mill, one of Japan's World Heritage Sites, and it will be streamed online.

Tomioka Silk Mill is the oldest modern silk reeling factory in Japan. Ichikawa Ebizo XI will perform two kabuki plays there: the long-celebrated Kotobuki Shiki Sanbaso and Ebizo's famous piece Otokodate Hana no Yoshiwara.

This is a special one-night-only opportunity to see a legendary perform at such historical location.

Kabuki Cat Mascot Claws Its Way into koe donuts kyoto Collaboration Set

From old shrines and temples to cuisine, Kyoto enjoys a rich arts and culture scene. The former capital is also famed for preserving Japan's traditional stage drama known as Kabuki. Every year, Minamiza Theatre located on Shijō Street in Kyoto holds a grand Kabuki performance called THE FESTIVE KAOMISE PRODUCTION to commemorate its debut. This year, the performance will run from November 30 – December 26.

To celebrate, koe donuts kyoto will be selling collaboration doughnuts themed around the official Kabuki character "Kabuki Nyantaro" during the same period.

Kabuki Nyantaro's adorable face decorates some of the doughnuts and can even be seen on the packaging too. This set is exclusive to koe donuts Kyoto.

Enjoy a traditional Kabuki performance with some delicious Kabuki Nyantaro doughnuts to complete your Kyoto experience.

©2017, 2019 SANRIO/SHOCHIKU APPROVAL NO. G603142  著作(株)サンリオ

Information

koe donuts kyoto × Kabuki Nyantaro Collaboration Doughnuts

Selling: November 30 – December 26, 2019

Selling Times: 10:00 – 21:40 (During performance intervals only)

Shop Location: Minamiza Theatre Floor 2, Shijō Street, Kyoto

Box of 6 Doughnuts: ¥1,800 (After Tax)

 

Information and updates will be posted on koe donuts' official social media websites.

koe donuts Official Instagram: (@koe_donuts) https://www.instagram.com/koe_donuts/