Taiwanese Cheese Tea Shop machi machi to Open New Branch in Laforet Harajuku
Taiwan-based cheese tea specialists machi machi are set to open their very first Japanese branch in Laforet Harajuku on June 26, 2019.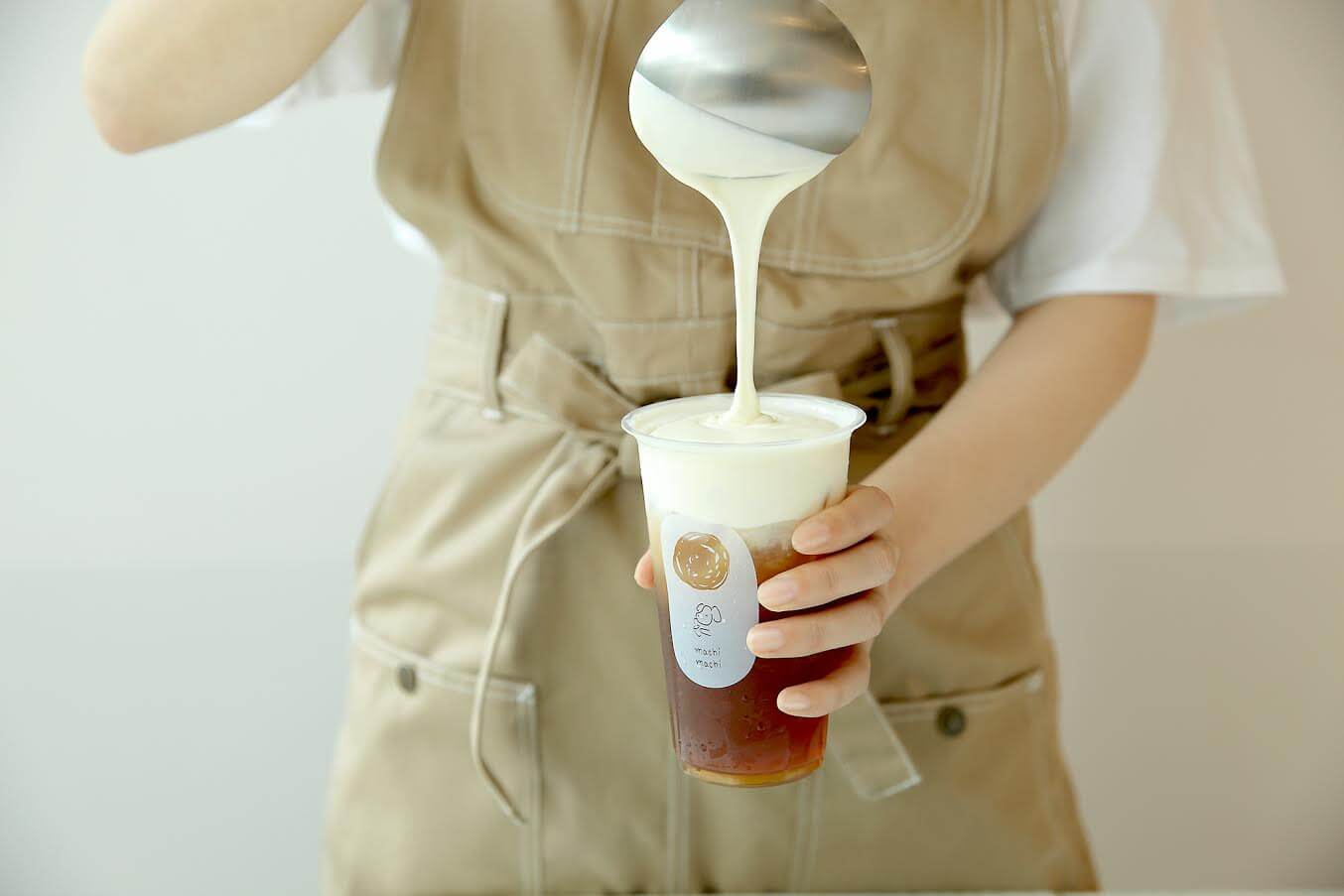 machi machi's cheese tea has been described as "godlike" in the Taiwanese news. Each cup of this frothy tea is carefully crafted one by one, containing a mix of delicious Taiwanese tea and rich and salty cream cheese. The tea chain even opened a branch this spring in London's Piccadilly Circus.
In the run up to the grand opening of their first Japanese store, machi machi will first open a pop-up shop in Jiyūgaoka on May 22. It will have neon signs and stylish wall art.
Iron Buddha Oolong Cheese Tea: ¥480 (Before Tax)
The Iron Buddha tea contains refreshing Taiwanese oolong tea topped with a rich cheese cap. The tea has a full-bodied flavour but its aftertaste is sweet. The smell is sweet with honey notes throughout. This is machi machi's best tea to go with cheese.
Wildberry Cheese Tea: ¥680 (Before Tax)
This frozen tea is a mix of berry and jasmine teas topped with rich and soft cream cheese.
Strawberry Milk Panna Cotta: ¥630 (Before Tax)
A mix of strawberry milk and panna cotta is poured into a cute bottle to create an Instagrammable two-layered beverage.
From May 22 to 25, if you follow the new branch on Instagram you can get 50% off all drinks sold at the pop-up shop.
Information
machi machi Jiyūgaoka Pop-Up Shop
Running: May 22, 2019 – June 16 ,2019
Address: Chestnut Hills 2 Floor 1F, 1-26-18 Jiyūgaoka, Meguro, Tokyo
Opening Hours: 11:00-20:00
No Fixed Holidays
TEL: 03-6773-0647
machi machi Harajuku
Grand Opening: June 26, 2019
Address: GOOD MEAL MARKET, Laforet Harajuku Floor 2F, 1-11-6 Jingumae, Shibuya, Tokyo
Opening Hours: 11:00-21:00
No Fixed Holidays
TEL: TBA設定中
machi machi Facebook Page: https://www.facebook.com/pages/category/Restaurant/%E9%BA%A5%E5%90%89machi-machi-266090640705313/
RELATED ENTRIES
Valentine's Day 2020 in Japan: Must-Buy Chocolate & Sweet Gifts

Christmas is over, and Easter is still on the horizon, but if you love chocolate as much as we do, never fearーas our sweet tooth cravings will soon be satisfied with the season of love.

In Japan, shop's and restaurant's are already carving their Cupid arrows to fire at customers for Valentine's Day to tempt them into one of their many tantalising treats. If you're in Japan this year, we've whipped up a list just for you of five must-buy gifts for Valentine's Day 2020.

Garrett Popcorn

Almond Chocolate Truffle | Garrett Valentine's Tin | Valentine's Mix

Garrett Popcorn is an American brand of popcorn that boasts a myriad of gourmet handcrafted popcorn flavours. You may not know that it's also a household name in Japan, where they also make the popcorn fresh every day for snack-hungry customers. For Valentine's, they serving up an exclusive series full of love which consists of the "Almond Chocolate Truffle," "Garrett Valentine's Tin," and "Valentine's Mix."

Almond Chocolate Truffle in Garrett Valentine's Tin – From ¥1,130

First up, the Almond Chocolate Truffle. If you're not already drooling at that name, let the description begin: this popcorn takes Garrett's crushed almond CaramelCrisp™️, coats it in chocolate, and sprinkles it generously with a dust storm of cocoa powder. The fragrant scent and texture of the almonds adds an incredible touch to the combination of the sweet, velvety milk chocolate and the slightly-bitter bite of the cocoa powder. Get in the Valentine's mood even more by purchasing one of the Garrett Valentine's Tin – the perfect accompaniment to your movie night in with your loved one.

Valentine's Mix (Chocolate Cocoa & Strawberry) – ¥1,200

Valentine's Mix (Chocolate Cocoa & White Chocolate Bark) – ¥1,200

Last year, Garrett Popcorn release a cute heart-shaped tin big enough to fit in the palm of your hands. 2020 will see the return of the tin, this time with two different designs: one with kissing lips and the other with hearts.

Inside the first tin is a mix of sweet chocolate cocoa flavoured CaramelCrisp™️ and sour freeze-dried strawberries. The other tin, which has a more sophisticated chocolate brown and salmon pink design, contains the same cocoa flavoured CaramelCrisp™️ but combines it with "white chocolate bark" – a white chocolate made with almonds and dried cranberries.

▶︎Garrett Popcorn Valentine's Day Products

Running: January 10, 2020 – February 14, 2020 (Mix available from January 17, 2020) *While supplies last

Prices:
・Almond Chocolate Truffle: Small ¥620/Medium ¥1,100/Large ¥1,720/Jumbo ¥3,450/Quart Tin ¥1,750/1 Gallon ¥4,400/2 Gallons ¥8,400
・Garrett Valentine's Tin/Quart Tin: From ¥1,130
・Valentine's Mix: ¥1,200
Available: Garrett Popcorn Shops®︎ branches in Japan
Official Website: http://jpgarrettpopcorn.com/

KitKat Chocolatory

Ruby 2020 Assortment

KitKat Chocolatory is releasing a new assortment of KitKat treats for the Valentine's season in Japan made with ruby chocolateーthe fourth type of chocolate alongside milk, white, and darkーwhich was developed by Belgian-Swiss chocolate makers Barry Callebaut.

KitKat Chocolatory Ruby 2020 Assortment – ¥1,200

Ruby chocolate gets its striking pink colour from the original bean and has a distinct fruity sourness to it. This is the perfect Valentine's Day giftーor even just as a treat to yourself!

▶︎KitKat Chocolatory Ruby 2020 Assortment

Price: ¥1,200
Running: from January 15, 2020
Available: KitKat Chocolatory store/Online
Official Website: https://nestle.jp/brand/kit/chocolatory/

GODIVA

Valentine's Collection

GODIVA, one of the main players in the Japanese chocolate game, has developed the "Chocolate Chronicle Sweet Collection"ーan assortment of individually unique chocolates. The "chronicle" refers to the many places the chocolates have encountered since being created, both in the past and present.

Chocolate Chronicle Sweetheart (Contains 6) – ¥3,240

Chocolate Chronicle Chic Assortment (Contains 15) – ¥6,264

The "Original Maya" considers the civilisation and mysteries of Mesoamerica. The "Cocoa Honey Delight" uses honey to sweeten the chocolate like they did in the latter half of the Middle Ages when there was no sugar. The "Modern Love"burns into your mind the image of its vivid red heart lovingly made with sweet and sour strawberries, ganache, and milk chocolate.

▶︎GODIVA Valentine's Collection 2020

Running: from January 10, 2020 (Limited Time)
Prices:
Chocolate Chronicle Sweetheart: 6 Set ¥3,240/12 Set ¥5,400
Chocolate Chronicle Chic Assortment: 4 Set ¥1,296/6 Set ¥2,160/10 Set ¥3,240/16 Set ¥5,400
Chocolate Chronicle Sweet Kare Assortment: 6 Set ¥1,080
Chocolate Chronicle Chic Collection: 4 Set ¥1,836/6 Set ¥2,700/9 Set ¥3,888/12 Set ¥5,076/15 Set ¥6,264/20 Set ¥8,208
Official Website: https://www.godiva.co.jp/

Koi Suru Chocolate

Valentine's Collection 2020

The base of these treats is chocolate by Shiroi Koibito. The collection was first released in January 2018 and is very reminiscent of Hokkaido chocolate. There are lots of chocolates in the collection made with cute pink ruby chocolate too.

Mille-feuille (Contains 3) – ¥520

These mille-feuille are layered with milk and white chocolate and coated in things like couverture chocolate and ruby chocolate.

The Heart (Contains 7) – ¥1,080

Each of these hearts has its own distinct sauce: the ruby chocolate has blackcurrant, the milk chocolate has caramel, and the white chocolate has yuzu.

▶︎Koi Suru Chocolate Valentine's Collection 2020

Release Date: January 17, 2020
Available: ISHIYA store/Online
Prices:
Mille-feuille: 3 Set ¥540/6 Set ¥1,080/12 Set ¥2,160
The Heart: 7 Set ¥1,080/14 Set ¥2,160
Official Website: http://www.ishiya.co.jp/koi_choco/

Morozoff

Valentine's Dessert Plate

Morozoff specialises in western-style sweets, and at Cafe Morozoff, they're serving up a Valentine's-only dessert.

Valentine's Dessert Plate – ¥1,200

The beautiful dessert plate is an assortment of cute heart-shaped treats. The rich chocolate mousse has an orange scent, and the fluffy chocolate sponge combines sweet and sour strawberries with smooth whipped cream which elevate the flavour of the chocolate.

▶︎Morozoff Valentine's Dessert Plate

Running: January 15, 2020 – February 14, 2020

Available: select Cafe Morozoff branches in Japan
Price: ¥1,200 (comes with tea or coffee)
Official Website: http://www.morozoff.co.jp/

Did you enjoy this list? There's plenty of Valentine's Day delights to be enjoyed while in Japan. Which on this list has you drooling the most?

Succulent Amaou Strawberries From Fukuoka Take These Desserts to the Next Level

BAKE CHEESE TART, a company in Japan specialising in baked cheese tarts (hence the name), is releasing two new desserts on February 15, 2020. Made with amaou strawberries, the Amaou Ichigo Cheese Tart and Amaou Ichigo Sundae will be served for a limited time until March 31, 2020.

The Amaou Ichigo Cheese Tart was first released in February last year as a seasonal product for spring where it was well-received by sweet-tooth customers. They were so popular in fact that there was growing demand from them for it to return, so BAKE CHEESE TART is delivering that sumptuous request. Topping decoratively with freeze-dried amaou strawberries, the tarts are a sweet call to the coming spring.

The Fukuoka-grown strawberries have been nicknamed the "King of Strawberries." The tarts are filled with a creamy cheese mousse and mixed with a puree made from the sweet berries. They add a rich sweetness to the slightly sour mousse, bringing together a mix of delightful flavours that will leave you wanting another. They also give the inside a light pink colour.

The Amaou Ichigo Sundae has a dollop of soft serve ice cream so soft it's almost like melted fresh cream. It's topped with a sauce and powder made from those incredible strawberries, as well as freeze-dried strawberries. This bright-red mountain of a dessert is a satisfying experience to both look at and consume.

While these two desserts are being sold, they will be served in special springtime packaging designed by creative studio KLOKA, a notable player in the creative scene that has had a hand in art direction for fashion magazines, shopping centre displays, and more.

Information

Amaou Ichigo Cheese Tart

Price: ¥300 Each (Tax Included)

Available: At all BAKE CHEESE TART branches in Japan (excluding SAN-A PARCO CITY in Okinawa)

Running: February 15, 2020 – March 31, 2020

Amaou Ichigo Sundae

Price: ¥500 Each (Tax Included)

Available: At select BAKE CHEESE TART branches – click here for actual list

BAKE CHEESE TART Official Website: https://cheesetart.com/

Star Wars Theme Cafe Opens in Tokyo, Osaka, Nagoya, Hokkaido & Fukuoka

With The Rise of Skywalker concluding the Skywalker saga of the Star Wars film franchise, fans are left craving more from the galaxy far far away.

If you're one of those people, and need a fix before season two of The Mandalorian, which is coming in late 2020, then you'll want to hit up the all-new Star Wars-themed cafes now open for a limited time at branches of OH MY CAFE across Japan in Tokyo, Osaka, Nagoya, Hokkaido, and Fukuoka.

We visited the Tokyo branch of the cafe which is located inside Tokyu Plaza Omotesando Harajuku. Here's our report of this must-see cafe for Star Wars fans, a museum-like space chock-full of concept art.

Ready to greet you as you walk into the cafe is none other than Darth Vader. This life-size recreation of the Sith Lord is really striking, but don't worryーthough he is realistic, he won't use his Force choke on you, he only wishes for you to have a nice meal.

Plastered across the cafe walls are pieces of concept art used during the production of the Star Wars film series.

Here's a galactic showcasing of the cafe's menu. There are 7 food items and 5 drinks to choose from, all inspired by the franchise and its characters.

<STAR WARS> Far Far Away Galaxy Black Curry – ¥1,590

A signature dish of the cafe, this black curry features the Star Wars logo which is actually an edible wafer. The space design is bamboo charcoal-cooked rice which is mixed with spicy sauce and topped with peanuts for stars.

<BB-8> Seafood BB-8 Gratin – ¥1,690

Fans of BB-8 won't be able to resist this delicious gratin, served with salad and French bread for a full belly.

<Yoda> Root Leaf Stew – ¥1,590

This stew is inspired by Yoda living his final years in his little shack in Dagobah during Star Wars: Episode V – The Empire Strikes Back. It's packed full of vegetables and will no doubt be enjoyed by both kids and adults alike.

<R2-D2 & C-3PO> Buddy Burger Plate – ¥1,990

This set of two chicken burgers comes with an R2-D2 seasoned with béchamel sauce and a C-3PO burger seasoned with meat sauce. You can take the flags home with you too. We recommend sharing this between two people.

Portion Bread – ¥500

This is the one I was most interested in personally, because I was curious to know from its appearance how it would taste. It's the portion bread that Rey tries eating in the film. At first glance it looks crunchy, but to my surprise it was soft with a subtle sweet flavour.

Lightsaber Drinks – ¥600 Each (w/ Coaster ¥1,300)

From the left, the flavours are Darth Vader blood orange, Luke Skywalker ramune, and Yoda melon. When you draw your straw from the paper wrapping, it turns into a lightsaber!

<STAR WARS > Jet Black Coffee – ¥600 (w/Bottle ¥1,750)

These limited edition bottles of black coffee feature the famous Star Wars opening crawl credits. Which one you get is randomーa must-have for all fans!

After enjoying some Star Wars food and drink, it's time to check out the cafe's exclusive merchandise. There are 13 types of merch in total all bearing artwork from across the film series.

Folder – ¥350

I recommend picking up one of these folders made in collaboration with the cafe. It has illustrations of the food and drinks being sold there.

Tote Bag – ¥3,500

This tote bag has illustrations of characters from Star Wars and how they are all connected.

There's plenty of other must-grab merch too, from music to stationery and more.

Customers who spend over ¥1,000 (excluding tax) on any of these exclusive items will receive the above-pictured limited edition bag. These are limited in stock so are available while supplies last.

There's plenty of places inside for fans to take great photos, so make sure you snap lots.

Also, if you book a table in advance and order something from the menu, you'll receive one of these 25 possible A5 folders, so be sure to book before you go!

© & TM Lucasfilm Ltd.

*All listed prices are pre-tax. Photos are for illustrative purposes only.

Information

"Star Wars" at OH MY CAFE

Locations/Dates:

■Tokyo: OH MY CAFE TOKYO (Tokyu Plaza Omotesando Harajuku) / January 18, 2020 – February 23, 2020

■Osaka: kawara CAFE&DINING Shinsaibashi / January 17, 2020 – February 23, 2020
■Nagoya: kawara CAFE&KITCHEN Nagoya PARCO / January 23, 2020 – February 25, 2020

■Hokkaido: Cafe Interlude, Coach & Four Shinkawa-dori / January 24, 2020 – February 24, 2020

■Fukuoka: kawara CAFE & DINING KITTE Hakata / January 24, 2020 – February 26, 2020

"Star Wars" OH MY CAFE Official Website: https://sw.ohmycafe.jp/

Explore Kyoto With a Hot Pudding Latte From Kyo Yasaka Pudding

Kyo Yasaka Pudding is a shop with a new vision. Located in Kyoto's tourist hot spot of Higashiyama ward, it's home to a team of people who love and are well-versed when it comes to food. Their incredible purin, or Japanese custard puddings, are made carefully one by one to make people happy. These puddings are tried and tested: much trial and error was done to ensure the ingredients, flavours, technique, and appearance were perfect.

On January 24, they're set to release a new product to the menu: the Kyo Yasaka Hot Pudding Latte.

This hot beverage combines a pudding latte, made from incredible Kyoto milk, with super rich caramel cream. It's then topped with a mix of tempting decorations. The caramel and cream are of a high quality, with the caramel cream itself having a unique and irresistible bitter bite you won't find anywhere else.

This is the perfect accompaniment to a winter walk through Kyoto while sightseeing.

Information

Kyo Yasaka Hot Pudding Latte

Release Date: January 24, 2020

Price: ¥700 (Tax Included)

Kyo Yasaka Purin

Address: 87-4 Hoshinochō, Higashiyama Ward, Kyoto, Kyoto Prefecture

Official Website: https://www.kyo-yasaka-pudding.co.jp/

Interview: Internationally Popular Japanese Artist Chocomoo Talks About Upcoming Harajuku Exhibition

A huge exhibition of Chocomoo's artwork is set to adorn WITH HARAJUKU HALL from August 20 to September 28 this year for "Chocomoo EXHIBITION -OUR SECRET PARTY- Supported by WITH HARAJUKU."

Chocomoo is a Japanese artist born and bred in Kyoto. Her work is known for its originality and pop style which she draws in black and white. Her work has been used for clothing and apparel brands, for music artists, and for many other special collaborations with other companies. She is active internationally and draws huge popularity with Japanese women between the ages of 10-20. We have translated an interview with her which was just released.

Chocomoo Interview

"I've loved drawing ever since I was a kid. I'd draw in notebooks, sketchbooks. When I went to New York for the first time, too, I kept a sketch diary and would draw in the park. I was later asked by a guy who managed a gallery if I'd put my work on at his site."

It was there at that gallery exhibiting several of her works that the first buyer came by.

"I sold my first piece of art. A piece of art drawn by an 'ordinary person,' not someone who was an active artist. It was about 30 dollars, if I recall, but I was super happy."

 

New York helped pave the way for Chocomoo to begin her first steps towards becoming an illustrator.

She would post her art on her blog and social media, which was seen by singers and songwriters who got in touch with her. She penned artwork for their tour merchandise, album covers, and more. Recently, she collaborated with Italian car brand FIAT. They released 100 limited edition cars with her art on it. Japanese convenience store FamilyMart even sold umbrellas with Chocomoo's illustrations on them. The reach of her work has no limits.

"When I create a piece, I incorporate a lot of positive words into it in the hopes that it lifts people up."

One distinct aspect of Chocomoo's art is the black and white monotone colouring. When asked why she draws in this way, she said: "I did calligraphy from elementary school to high school and was captivated by how we would write in black. When using black ink, it has a matte look to it, and when using black paint, it's got a glossiness. I think that's part of the reason why I do it."

This will be Chocomoo's biggest exhibition. She is currently working on new material and looking into the details of the exhibition. Speaking about it, she said: "I want to try evolving in a way that's me. I'm aiming to stimulate the people who come to see my work in a different kind of way."

She also commented on the 'OUR SECRET PARTY' part of the exhibition title. "It's an exhibition of my work, but I want everyone to enjoy it like they would a party. There's also new things to be discovered which you won't no about unless you visit, so I put 'secret' in there."

 

Chocomoo was asked to give a comment on her future plans and goals. She said, with a smile: "I want to steadily keep doing what I'm best at without changing what I already have, but I also want my work to reach lots of children too. I'd be happy for them to colour in my work, and I want to challenge myself to making some kind of video format aimed at kids. After that, since I've already painted a car, I want to go bigger and paint an aeroplane!"

Interview/Original Text: Naho Sotome (五月女菜穂)

Photos: 大黒屋 Ryan 尚保

English Translation: Joshua Kitosi-Isanga

As Chocomoo looks to expand her portfolio and reach, we look forward to seeing what she has in store for her exhibition in Harajuku.

©2020 Chocomoo

Information

Chocomoo EXHIBITION -OUR SECRET PARTY- Supported by WITH HARAJUKU
Running: August 20, 2020 – September 28, 2020
Location: WITH HARAJUKU HALL (1-14-30, Jingumae, Shibuya, Tokyo) *Building under construction at the time of posting this article
Exhibition Website: http://chocomoo-exihibition.com/

Make Your Own Rilakkuma Valentine's Day Treats With Kai's Recipe Kits

Cupid is readying his arrows for Valentine's Day 2020 which is right around the corner. It's the time of the year to show your special someone that you love them with some tasty chocolatey treats.

If you're wanting to make a grand gesture this year by making your own gifts, but are struggling for ideas or are intimidated by the task, the Kai Corporation in Japan has you covered with its collection of Rilakkuma goods. Now you can make some Instagram-worthy gifts with little effort. Let's take a look.

Make lots of Rilakkuma chocolates with this simple tool

Rilakkuma Silicone Chocolate Maker – ¥850 (Before Tax) – Buy Here

Five different patterns of Rilakkuma, Kiiroitori, and Korilakkuma make up this silicone tray, allowing you to make lots of bite-sized chocolates at once. This is perfect for sharing between you and your loved one or amongst friends. It can be used for making gummy treats and ice for drinks too, meaning it's useful for the entire year.

Make cute cookies by simply pressing your dough

Korilakkuma Cutter Set – ¥650 (Before Tax) – Buy Here

Anyone can make cute Korilakkuma cookies easily with this cutter set which you simply press the dough with. It comes with two different poses so you can make an assortment of them. If you know someone who's not a fan of chocolate, then this is a perfect alternative.

Decorate your sweets and desserts with this mini chocolate tray

Mini Chocolate Tray – ¥650 (Before Tax) – Buy Here

This chocolate tray makes makes chocolate bears which can hold things like nuts and candy. They can be used in a lot of creative different ways. The tray was made in collaboration with Cookpad.

Super simple recipes that take out the work

Here are some super simple recipes that remove the labour out of making and decorating sweet treats. Learn how to make Instagrammable delights with these items and techniques.

Korilakkuma Cookie Marshmallow Sandwich – Item Used: Korilakkuma Cutter Set

All you need to do is warm some marshmallows in a microwave and stick them between two cookies for a gooey and crunchy treat. At some toppings like freeze-dried strawberries for colour and to make them even cuter.

Gateaux Chocolate Cupcakes – Item Used: Rilakkuma Face Cupcake Paper Wraps (5 Included)

Make your Valentine's cupcakes even more adorable with these paper wraps with Rilakkuma's kawaii face on them.

Tiny Bear Chocolates: Item Used – Mini Chocolate Tray

There are many creative ways you can utilise these tiny bear chocolates. Make them hold small candy, nuts, and other delicious bites, or just simply top them on another dessert.

Take the stress out of making something for Valentine's Day this year with this range of items from Kai.

Cute and Chewy Pompompurin Confection Now Being Sold at Lawson Convenience Stores in Japan

Lawson, one of the main convenience store chains in Japan, has released the all-new Mochi Mochi Pompompurin Yaki, a cute and chewy confection filled with custard pudding flavoured cream.

The kawaii sweet recreates Pompompurin's adorable sleeping form. Inside of him is a squirt of purin, or Japanese custard pudding, flavoured cream, which happens to be Sanrio Golden Retriever's favourite treat. You'll find yourself reaching for your phone to snap a photo of him to post online before tucking in.

The confection will be discontinued once all have been sold, so if you're in Japan, head to your closest Lawson.

©1996, 2020 SANRIO CO., LTD. APPROVAL NO.S604266

4 Matcha-tastic Desserts Selling at Convenience Stores in Japan

If you love delicious Japanese desserts and are keen to discover more, you've visited the right website. Today with the help of Instagrammer Yukko, we'll be looking at matcha desserts you can purchase from Japanese convenience stores. 

Matcha Purin Cake Sandwich: ¥324/ Family Mart

Matcha Purin Cake Sandwich: ¥324

This is a fluffy sandwich with a hearty filling of sweet matcha purin, matcha cream, whipped cream and red bean paste. The fluffy cake and light cream create a wonderful balance of textures and enjoy a moderate sweetness. This dessert is sure to leave your stomach fully satisfied.

Dorayaki Pancakes Stuffed with Matcha Cream: ¥300/ 7-Eleven


Dorayaki Pancakes Stuffed with Matcha Cream: ¥300


The delicious aroma of the matcha will entice you before you have even tried it. The refined, rich matcha flavour will spread throughout your mouth and melt beautifully. 

Uji Matcha and Shiratama White Dumpling Parfait:¥300/ 7-Eleven


Uji Matcha and Shiratama White Dumpling Parfait:¥300

This is a luxurious parfait containing Shiratama dango, warabi mochi, matcha whipped cream, dorayaki pancake pieces, plain whipped cream, matcha mousse and matcha starch cakes. Enjoy a variety of textures – perfect for the matchaholic!

Matcha & Sweet Red Beans & Whipped Cream Doyayaki: ¥140/ 7-Eleven

Matcha & Sweet Red Beans & Whipped Cream Doyayaki: ¥140

Sweet red bean paste, matcha sauce, whipped cream and chewy warabi mochi are stuffed between two matcha dorayaki. The matcha sauce is rich and plentiful, creating the perfect matcha-tastic treat.

 If you're on a matcha hunt, how about starting at the convenience store? There are just so many matcha desserts to discover. Mogu Mogu Yukko's Instagram is full of delicious desserts that you can buy from Japanese convenience stores and supermarkets. If you're looking for a sweet treat, make sure to check it out.

 Original Article Contents and Photos By: Mogu Mogu Yukko

*Convenience stores are always updating their products and therefore the desserts mentioned in this article may stop selling at any time. Please check the convenience store's social media or official website for the most up-to-date information. 

Delicious Valentine's Desserts and Drinks All Over Japan For You and Your Sweetheart

As Valentine's fever slowly sets in across Japan, for many of us, thoughts turn to what we could give to our lovers. For the rest of us, how about a  bit of self-love with a romantic dessert for one? Whether it's for just yourself or that special someone, if you're in Japan, you got to try one of these Valentine's-limited desserts.

Eggs 'n Things

Fondant Chocolate Strawberry Pancakes: ¥1,580 (Before Tax)

Eggs 'n Things Fondant Chocolate Strawberry Pancakes will be love at first bite. Hazelnut gianduia chocolate pancakes are topped with a luxurious mountain of fruity strawberries and drizzled with chocolate sauce for an overall mellow flavour. The pancakes come with a generous tower of whipped cream – a sweet treat perfect for you and your sweetie. 

▼Eggs 'n Things

Fondant Chocolate Strawberry Pancakes 

Price: ¥1,580 (After Tax)
Selling: January 16 – February 27, 2020
Available At: Most Eggs 'n Things restaurants across Japan

Not Available At:
・EGGS'N THINGS Lalaport Nagoya minato AQULS
・EGGS'N THINGS Coffee OPA Takasaki
・EGGS'N THINGS Coffee Kashiwa Takashimaya Station Mall

Official Website: https://www.eggsnthingsjapan.com/

nana's green tea

Choco Orange Latte/Hōjicha Chocolate Brownie Parfait

nana's green tea is serving up a gorgeous Valentine's latte and parfait topped with orange zest and gold leaf. The Choco Orange Latte is full of chocolatey goodness. The orange zest contributes a tangy kick to the sweet yet bitter chocolate latte. The Hōjicha Chocolate Brownie Parfait is topped with Valentine's limited hōjicha chocolate brownie and hōjicha ice cream, drizzled with chocolate sauce and sprinkled with gold leaf. nana's green tea is the perfect place to enjoy a sip of luxury with your lovebird. 

▼nana's green tea

Choco Orange Latte/Hōjicha Chocolate Brownie Parfait

Selling: January 6 – February 14, 2020
Available At: All nana's green tea restaurants

Please check the official website for pricing.

Official Website: http://www.nanasgreentea.com/

Sarabeth's

Choco Pudding French Toast: ¥1,600 (Before Tax)


 Sarabeth's Choco Pudding French Toast is made with their special challah bread. The bread is toasted and topped with their popular Chocolate Pudding dessert. The beauty of this Valentine's-limited dessert is captivating. Enjoy a moment of pure bliss with this luxury treat.

▼Sarabeth's

Choco Pudding French Toast

Price: ¥1,600 (Before Tax)
Selling: January 14 – February 14, 2020
Available At: Sarabeth's LUMINE Shinjuku, Shinagawa, Tokyo, Nagoya and Osaka

Official Website:http://sarabethsrestaurants.jp/

Segafredo Zanetti Espresso

Chocolat Peach Melba: ¥560 (After Tax)

White chocolate is poured over a peach melba sauce made from peaches and raspberries. The barrister then seals the drink under a thick lid of their unique, smooth foam. The sweetness of the chocolate enjoys a fruity accent and the rich flavour of the milk will warm your body and your heart.

▼Segafredo Zanetti Espresso

Chocolat Peach Melba

Price: ¥560 (After Tax)
Selling: January 7 – February 14, 2020
Available At: All Segafredo Zanetti Espresso Cafés in Japan

Official Website:https://www.segafredo.jp/

Give yourself and/or your loved ones a wonderful treat this Valentine's Day.

Kaori's Easy Recipe: Learn to Make My Melody Strawberry Purin

With just a small bit of ingenuity, turn everyday food into something cute using Kaori's easy recipe! With a few simple ideas, an ordinary recipe magically transforms into a cute dish.

As strawberries are currently in season in Japan, today we'll be looking at an easy recipe for delicious strawberry purin. All you have to do is mix the ingredients and you're done! In previous recipes, we've looked at purin recipes that involve decorating the inside of the glass. Many people commented that this is quite difficult so today we've got a recipe that is easy enough for even kids.

Ingredients (For 2 Portions)

Two small jars (this recipe uses Weck jars)

200g Strawberries with stems and leaves removed (approximately one small pack)

20g Sugar

20ml Fresh Cream (or milk to substitute)

5g Gelatin (dissolved in a tablespoon of water)

½ Teaspoon Lemon Juice

To Decorate

Premade Chocolate Decorations or Chocolate Slices (as you like)

Strawberries to Decorate (as you like)

Fresh Cream (As you Like)

Chocolate Pen

2: After removing the leaves and stems from the strawberries, blend them in a mixer.

3: Heat the mixture in a microwave on 600w for 50 seconds. Afterwards, add the sugar, gelatin solution and lemon juice in that order. Finally, mix in the fresh cream.

4: Meanwhile, press the premade chocolate decorations or sliced chocolate (white) into the inside wall of your jar.

5: Use the chocolate pen to draw the face, strawberries and ribbons from the outside of the glass. If you make a mistake, wipe it off using kitchen paper and try again.

6:Put the jar into the fridge for the chocolate to harden. Once the chocolate does not sink when the jar is placed upright, slowly add your strawberry mixture into the jar and put it back in the fridge until hard. After your dessert solidifies, you can add the finishing touches of whipped cream and strawberries.

And you're done!

Kaori invites you into her world of character-themed food dishes in her recipe series. Be sure to check out her Instagram where she has uploaded many pictures of her character dishes!

Profile

Kaori Kubota

@kaopan27

I live in Hokkaido and I love to make character-themed foods, desserts and pastries♡I want to see my family smile, so I enjoy putting in a bit of effort to make character foods and changing food into something cute♡You can see more of my character foods and character bento boxes on my Instagram page→ 

@kaopan27

Check Out The New Desserts in The Strawberry World of Ichigo BonBonBerry This Season

Strawberry Shop Izunokuni Shizuoka Michi-no-Eki Izu no Heso ichigo BonBonBerry Izunokuni factory will be celebrating "ii ichigo no hi" (Good Strawberry Day) on January 15 by releasing new strawberry purin desserts which are full of strawberry goodness. 

Committed to increasing love for strawberries, Michi-no-Eki Izu no Heso Ichigo BonbonBERRY Izunokuni factory sells a wide range of delicious strawberry-based foods as well as cute merchandise throughout the year. For example, strawberry-themed merchandise, jams, seasoning containing strawberries, desserts and much more. 

Strawberry Parfaits

Toge Toge Bonbon: ¥1800 (After Tax)

The Toge Toge Bonbon parfait is full of impact and full of strawberries. The glass is filled with homemade no-bake cheesecake, milk purin, homemade strawberry jam and much more. As strawberries are currently in season, the parfait currently enjoys a sweeter flavour. The fruitiness balances out with the mildness of the cheesecake and leaves a refreshing aftertaste.

Mix and Enjoy – Strawberry Pouch Pudding

Strawberry Pouch Pudding: ¥650 (After Tax)

A smooth strawberry purin is layered with slices of strawberry and fluffy whipped cream. The adorable purin pouch is packed with dried, crispy strawberry granola mix. Mix up the granola to enjoy a range of different textures. This can also be enjoyed on the go. 

As strawberries are in season, this is the perfect time to treat yourself to one of Japan's sweet and beautiful strawberry desserts.

Information

Michi-no-Eki Izu no Heso Ichigo BonBonBerry Izunokuni factory

Address: 195-2 Takyo, Izunokuni, Shizuoka

Opening Hours:

・Souvenir Corner: 09:00 – 17:00

・Bonbon Berry Cafe: 10:00 – 16:00 (Last Orders: 15:30)

・Bonbon Berry Stand (Soft Serve Ice Cream and Drinks): 10:00 – 16:00

Phone Number: 0558-99-9300

Michi-no-Eki Izu no Heso Official Website: http://www.izunoheso.com

Ichigo BonBonBERRY Izunokuni factory Official Website: http://www.izu-ichigo.com

Matcha Desserts in Sapporo You Just Have To Try

We've previously covered the best spots to try delicious matcha desserts in Kyoto. Now, with the help of expert dessert Instagrammer Kei, we are going to introduce you to some of the most delicious spots to try matcha desserts in Sapporo, Hokkaido.

If you want to discover more delicious cafés, desserts and drinks in Hokkaido, make sure to check out Kei's Instagram (@607keih).

 

KotoniSand, Nishi Ward

Macchan French Toast: ¥1200

 From dinners to desserts, this café serves up lots of meals based on their delicious thick-sliced bread. Bread flavours include plain, matcha and even coffee. You can order to go or enjoy the eat-in-limited menu. This fluffy french toast is soaked in matcha liqueur and is full of flavour even before trying it with the toppings. Take a bite of it with the red bean paste for a flavour adventure. A limited number of these are sold per day so if you want to try it, make sure to get there early. 

▼KotoniSand

Address: 1-1-1 Yamanote 5 Jō, Nishi-ku, Sapporo, Hokkaido

Opening Hours: 11:00-18:00
Closed: Tuesdays
Official Website: https://kotonisand.business.site

Ame no hi to yuki no hi, Minami Ward

Gelato Futatsu: ¥450

Located before Jozankei's onsen hotspot is a café called Ame no hi yuki no hi. It serves delicious pizzas and a variety of gelato flavours depending on the season. Their matcha ice cream is delicious. They even allow you to order two or three flavours at once so you can enjoy a mix and match of combinations. 

▼Ame no hi to yuki no hi

Address: 2-4-1, Jozankeionsennishi, Minami Ward, Sapporo, Hokkaido 

Opening Hours: 10:00-17:30
Closed: Thursdays
Official Website: https://www.amenohitoyukinohi.com

KANON pancakes, Shiroishi Ward

Matcha Tiramisu Pancake: ¥1500

This is a famous pancake shop in Kikusui. Tuck into a stack of fluffy pancakes inside the relaxing and soothing restaurant. The Matcha Tiramisu Pancakes are soaked with liqueur, creating a texture that is softer and moister than their standard pancakes. In addition to the matcha liqueur, the pancake is also dusted with matcha powder for a richer matcha flavour. Finally, they are drizzled with delicious brown sugar syrup and topped with walnuts.

▼KANON pancakes

Address: 5-5-18 Kikusui 3 Jo, Shiroishi Ward, Sapporo,

Opening Hours: 10:00-17:00 (Last Orders: 16:00)
No Regular Holidays
Official Website: https://kanon-pancakes.com

Any cafe, Kita Ward

Matcha Kintoki: ¥1350

This shop uses gluten-free ingredients in their food. This pancake dish is made using unpolished rice powder, three pieces of Turkish delight, red bean paste, rice flour dumplings, and cream made from Hokkaido-produced mascarpone and fresh cream. The cream is full of the bitter and delicious flavour of matcha, making the pancake sweet and very delicious. 

▼Any cafe

Address: 3-2-24 Kita 18 Jonishi, Kita Ward

Opening Hours: 11:00-18:30 (Last Orders: 18:00)
Closed: Tuesdays

Official Instagram: https://www.instagram.com/any_cafe_sapporo/

If you are looking for delicious matcha desserts in Sapporo, let this article help you decide where to go. When your food cravings kick in, make sure to visit Kei's Instagram which is full of the most delicious meals, drinks and desserts in Hokkaido. 

Original Article Contents and Photos by: Kei (@607keih )