It's ok for this Kitty to bite your phone charger! CABLE BITE releases Sanrio character series!
Benelic is collaborating with CABLE BITE to release the CABLE BITE Sanrio character series!
Sanrio is loved by all generations and all kinds of people! Now, a new cable bite series has been released featuring three Sanrio characters;  Kero Kero Keroppi, Bad Badtz-Maru, and Hello Kitty! These characters will look cute and protect your cable from disconnecting!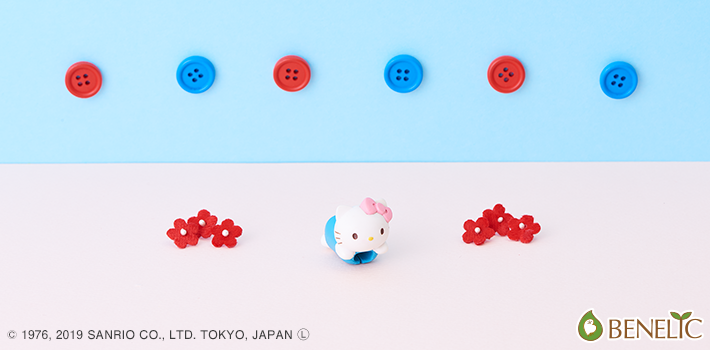 Hello Kitty? More like Hungry Kitty!
Kero Kero Keroppi hops on the job!
Even Bad Badtz-Maru sits on your cable as if it were his own egg ♪
These cable bites are small yet made carefully with beautiful designs.  They're the perfect accessory for your standard iPhone cable. All you have to do is simply insert your charger into your device and then easily affix the cable bite! Not only do the cute characters look like they're biting your phone, but they also prevent your cable from disconnecting.
Cute and useful ー please check them out!
©1976, 1988, 1993, 2019 SANRIO CO., LTD. TOKYO, JAPAN Ⓛ
RELATED ENTRIES
Godiva Cafe Collaborates with Sanrio Characters Badtz-Maru and Keroppi

Godiva Cafe has collaborated with Sanrio's character unit Hapidanbui twice since February, and the third collaboration is scheduled to start on September 15! All locations nationwide will sell hot or cold cocoa milk with a special sleeve and sticker featuring everyone's favorite Sanrio characters.

The third collaboration will focus on Badtz-Maru and Keroppi. The shop's cocoa milk combines smooth Godiva chocolate with milk and fresh cream, so why not grab one this fall?

Information

Godiva Cafe x Sanrio (Collaboration #3)

Hapidanbui Hot Cocoa Milk / Hapidanbui Cold Cocoa Milk

Available: September 15 while supplies last

Where to Find: All Godiva Cafe locations nationwide

Official Site: https://www.godiva.co.jp/cafe/

Hello Kitty and Wish Me Mell Inspire Dinner and Dessert Buffet at Keio Plaza Hotel

Starting September 3, Keio Plaza Hotel Tama will offer a special dinner and dessert buffet inspired by the Sanrio characters Hello Kitty and Wish Me Mell. The adorable event will take place at the Jurin restaurant on the 4th floor, and guests will be able to enjoy some cute dishes and desserts inspired by the character's gratitude. The event will run until October 30 and will only be held on weekends and holidays. 

The restaurant's patissier has designed a collection of sweet dishes based on the two characters, from strawberry shortcakes inspired by Wish Me Mell's outfit to pastel-colored cakes and rainbow jello. Cream-filled fruit sandwiches cut to look like Hello Kitty's face are sure to offer guests the perfect photo op! For those wanting something savory, over 15 dishes will be available, including roast beef, pasta and cheese, curry, and more.

Special seats including large stuffed animal versions of Hello Kitty and Wish Me Mell will be available, limited to two tables per day.

Come enjoy a relaxing meal with these two adorable characters!

Soft and Adorable yoshikitty Pastel Moon Plushies Available for Preorder

Yoshikitty, a character formed in collaboration between Hello Kitty and rock legend YOSHIKI, is being featured in an adorable new collection! Items in the Moon Pastel collection are now available to preorder at the Asunaro Online Store and the yoshikitty Online Shop.

Yoshikitty first debuted in 2009 as a collaboration between YOSHIKI of X JAPAN and Sanrio's popular character Hello Kitty. These new plushies were inspired by YOSHIKI's hairstyle when he first debuted and his classic purple eyeshadow.

Since the character's creation, over 10 different designs have been released. The Pastel Moon Series is a first, showing a different side to the usual grungy rock 'n roll vibe. No one expected a fluffy unicorn yoshikitty with such soft colors!

Medium Plush : ¥5,800 (Tax Included) / Large Plushie: ¥8,800 (Tax Included)

Colorful Charm (Chain not included) : ¥1,100 (Tax Included)

The collection includes two plush toys, a mascot keychain, a colorful charm, and two reusable bags. Will you be snagging anything?

ⓒ 2022 SANRIO CO., LTD. APPROVAL NO. L630897   

ⓒ 2022 Japan Music Agency Co., Ltd.

YOSHIKI x Hello Kitty Goods Now Available at the Yoshikitty Online Shop

Yoshikitty, a character formed in collaboration between Hello Kitty and rock legend YOSHIKI, now has an online shop!


Yoshikitty first debuted in 2009 as a collaboration between YOSHIKI of X JAPAN and Sanrio's popular character Hello Kitty. The character's first goods collection sold out immediately, with additional items also selling out online the same day. Yoshikitty's popularity isn't limited only to Japan, with global fans also anxious to snag some of this sought-after merchandise.



Since 2015, Yoshikitty has been nominated for the Sanrio Character Awards, rising in popularity year after year and keeping up with other beloved Sanrio personalities.

To commemorate the eighth consecutive year of her appearance in the Sanrio Character Awards, the Yoshikitty Online Shop has opened its doors. Fans can now purchase a number of exclusive items whenever they please!

Opening Announcement Video

https://www.youtube.com/watch?v=YFDArLVYAuw

Pouch (3 colors: Purple, Red, Blue): ¥2,600 each (Tax Included)

Cushion (3 colors: Purple, Red, Gray):  ¥4,400 each (Tax Included)

To celebrate the shop's opening, a new collection of lace goods is on sale now, featuring the character alongside roses and musical notes in elegant black lace. Items available include pouches, tote bags, and plenty of other goods perfect for both everyday use and formal occasions.

©️ 2022 SANRIO CO., LTD. APPROVAL NO.L630057    

©️ 2022 Japan Music Agency Co., Ltd.

Hello Kitty and the United Nations Reveal New Collaborative Products

Sanrio has announced the Hello Kitty SDG series of products, scheduled to release on March 25, 2022. The designs for the series were developed in collaboration with the United Nations with the aim of spreading knowledge about Sustainable Development Goals (SDGs) throughout the world. These items will be available at Sanrio stores, in department stores, and online.

The Hello Kitty SDGs series features a lineup of goods made from environmentally friendly materials. These items are perfect for daily use, and all were designed to raise awareness of SDGs and the global environment with Hello Kitty in the office, at school, and at home.

Merchandise at a Glance

Tote Bag: ¥2,750

Each Tote Bag is made of 100% organic cotton canvas.

Clear Folder: ¥594



Made of recycled polypropylene.

Mug: ¥1,980

Each mug is made of recyclable materials.

Neck Strap: ¥1,980

Recycled PET bottles were used to create this product.

In September 2018, Hello Kitty launched her own YouTube channel to promote peace and harmony around the world.

As of March 16, Hello Kitty has uploaded 27 videos, so be sure to watch them all!

©'21、'22 SANRIO 著作(株)サンリオ

Information

Hello Kitty SDGs

Release Date: March 25, 2022
Where to Buy: Sanrio Shops Nationwide, Department Store Sanrio Corners, Sanrio Online Shop

Hello Kitty Channel: https://www.youtube.com/channel/UCyof-1Ko_jy2sOtivyTpc4Q

New Merchandise Now Available from the Hello Kitty Museum Art Collection

New items from the Hello Kitty Museum Art Collection, a series in which Sanrio's popular character Hello Kitty collaborates with a number of classic masterpieces, are now available at the Asunarosha Online Shop!

Hello Kitty Reimagined in 7 Iconic Paintings




・The Scream – Edvard Munch
・Mona Lisa – Leonardo da Vinci
・The Milkmaid – Johannes Vermeer
・The Fifer – Edouard Manet
・Woman with a Parasol – Claude Monet
・Portrait of Mademoiselle Irene Cahen d'Anvers – Pierre-Auguste Renoir
・The Green Dancer – Edgar Degas

Merchandise

Sliding Puzzle (3 varieties)

Cube Puzzle

Picture Frame Magnets (5 varieties)

Stickers (7 varieties)

Mini Mascot Stickers

Scratch Art (Pack of 10)

The Hello Kitty Museum Art Collection transforms Hello Kitty into famous masterpieces that everyone has seen before. The first collaboration in 2013 saw the popular character in Edvard Munch's The Scream and was a massive hit! Which piece of art is your favorite?

Ⓒ 2022 SANRIO CO., LTD. Ⓛ

Cotomono Marche Collaborates with Sanrio Characters for New Jewelry Collection

Cotomono Marche's original brand 'BUTTON&CUFFLINKS' has released a selection of earrings and brooches inspired by popular Sanrio characters! These are available online and at select Cotomono Marche stores. 

The accessories are inspired by Hello Kitty, Cinnamoroll, Pompompurin, My Melody, Kuromi, and Little Twin Stars, and are perfect for Sanrio fans of any age. 

Earrings: ¥2,750 (Tax Included) / Brooch: ¥1,650 (Tax Included)

Hello Kitty debuted in 1974 and continues to captivate fans around the world. The character peeking out from behind an apple is an original design for the collaboration. 

Pompompurin and Cinnamoroll have been transformed into adorable accessories, while My Melody and Kuromi are featured in two different color palettes: seasonal pastel or vivid. 

The Little Twin Stars accessories are perfect for wearing with a friend, with a different character on each ear!

Information

Buttons & Cufflinks Sanrio Character Mini Accessories

Release Date: February 11, 2022
Where to Buy: 26 Cotomono Marche stores nationwide, Limited-Time Shop, Online Store

Online Shop: https://cotomono.official.ec

Hello Kitty Releases Collaboration Video with YouTube's Most-Watched Cat Mochimaru

On February 22, Hello Kitty released her first collaboration video with the popular YouTube channel Mochimaru Diary, which currently has over 1.6 million subscribers!

Mochimaru Diary follows the uneventful life of Mochimaru, a Scottish Fold, whose life is documented by his owner. The collaboration was planned as a celebration of Cat Day, which takes place in Japan on February 22. 

In the video, Hello Kitty talks passionately about the 10 most adorable things about Mochimaru. Be sure to give it a watch!

Hello Kitty is a Mega-fan?! Video Highlights and Screencaps

Comment from Hello Kitty

I've been such a big fan of Mochimaru for so long, I can't believe we finally get to collab~

We had a super happy day talking about all the things Mochi likes!

I'm a little embarrassed to be THIS excited, but I'm just so happy to bring everyone this video for Cat Day!

Give it a watch for me! ♡

©'22 SANRIO S/F・G 著作(株)サンリオ

Resi Stay The Hotel Kyoto Opens Hello Kitty-Themed Room

Japanese hotel chain Resi Stay is known for having some stylish rooms. After a Hello Kitty-themed room opened at the hotel's Kyoto Nishiki branch, Resi Stay The Hotel Kyoto in the center of the city has now opened a brand-new Hello Kitty room!

The new concept room combines the cuteness of the Sanrio character with traditional Japanese elements like sliding doors and paper screens. Made to look like a Kyoto teahouse, guests also won't leave empty-handed–those reserving the room will get a free Hello Kitty tote bag, mask, hand sanitizer, and mask case. 

© 2022 SANRIO CO., LTD. APPROVAL NO. L622077

Hello Kitty and Cinnamoroll Collaborate with Pringles for the First Time

Sanrio characters Hello Kitty and Cinnamoroll are collaborating with the potato chip brand Pringles, which are sold in over 140 countries around the world. The new products were made just in time for White Day, and are currently available for purchase on the Sanrio Online Shop, at Sanrio stores nationwide, and at Sanrio corners in major department stores.

Pringles and Plushie

Pringles Pen Holder

Pringles Drawstring Bag

Pringles Pouch

Pringles Mini Tote Bag

Reuseable Bag

Mini Towel

Stickers

The two popular Sanrio characters are sporting fake mustaches to look like Mister P. These gifts are paired with the popular snack and are perfect not only for White Day, but just to give to a friend for fun! The Pringles & Plushie sets come with detachable fake mustaches for the stuffed animals as well.

 

The Pringles paired with Hello Kitty is the traditional salty flavor, while Cinnamoroll is in charge of Sour Cream & Onion. 

Godiva Cafe to Hold First Collaboration with Sanrio's Hapidanbui

Godiva Japan's 'Godiva Cafe' locations have started a special collaboration with Sanrio's Hapidanbui team! Novelty items, special chocolixirs, and original goods will be available until the end of May. While there have been many collaborations with these characters, this is the first time they have appeared at Godiva Cafe. 

Hapidanbui includes Tuxedosam, Badtz-Maru, Hangyodon, Pochacco, Keroppi, and Pekkle. 

Hapidanbui Chocolixir – Left: Dark Chocolate Cacao 72% / Right: Milk Chocolate Cacao 31%

Hapidanbui Godiva Cafe Original Pouch with Godiva Milk Chocolate Cookie

Two characters from Hapidanbui will appear each season during the collab, with the first two being Hankyodon and Tuxedosam. Godiva's iconic Chocolixir drink will be available with a specially designed sleeve. Original stickers will be gifted to those buying drinks!

© 2022 SANRIO CO., LTD. APPROVAL NO. L621965

Information

Hapidanbui Chocolixir

Price: ¥680 (Tax Included) 

Available at All GODIVA Cafe Locations

Available: February 1 – End of May 2022

Hapidanbui Godiva Cafe Original Pouch

(Includes Godiva Milk Chocolate Cookie)

Price: ¥1,850 (Tax Included)

Available at All GODIVA Cafe Locations

Available starting February 11 (While Supplies Last)

Official Site: https://www.godiva.co.jp/cafe/

Mario, Pokemon, and Other Iconic Characters Dance Together at USJ's New Parade for Spring 2022

After a year on hiatus, Universal Studios Japan will be bringing back the daytime parade with the  'NO LIMIT! PARADE,' scheduled to be held for a year starting in Spring 2022.

 

 

The 'NO LIMIT! PARADE' is like a dance party, unifying each guest as one with the power of dance. The energetic entertainment turns everybody into "the protagonist."

In addition to well-known 

park characters like the Minions and Hello Kitty, Mario and his Nintendo friends will also be joining the parade from their home in the super popular Super Nintendo World™, bringing some Pokémon buddies along for the ride. The various worlds will collide to a range of party tracks, from 60's rock to modern EDM, with each character performing a representative dance.

By dancing with these iconic characters and entertainers, everybody can become "The Protagonist" – young or old! The grand finale of each parade truly pushes the meaning of NO LIMITS, with production exceeding all expectations. Each visitor will feel their mind and body growing "Super Energetic" from all the fun with this all-new entertainment experience!

Become one with the all-star cast at the 'NO LIMIT! PARADE!'

 WIZARDING WORLD and all related trademarks, characters, names, and indicia are © & ™ Warner Bros. Entertainment Inc. Publishing Rights © JKR. (s21)
Minions and all related elements and indicia TM & © 2021 Universal Studios. All rights reserved.
© Nintendo
TM & © 2021 Sesame Workshop
© 2021 Peanuts Worldwide LLC
© 2021 SANRIO CO., LTD. APPROVAL NO. EJ1100402
TM & © Universal Studios & Amblin Entertainment
© 2021 UNIVERSAL STUDIOS
©2021 Pokémon. ©1995-2021 Nintendo/Creatures Inc. /GAME FREAK inc.
TM & © Universal Studios. All rights reserved.