SHIBUYA109's Purikura Photo Booth Shop moreru mignon Undergoes Rennovation
moreru mignon is a shop located in the department store SHIBUYA109 in Tokyo. It specialises in 'purikura,' a unique type of photo booth which lets you decorate your photos before printing them out. The shop just reopened on May 22 with all-new decor and has been moved to floor B2F of SHIBUYA109.
GIRLS'TREND Kenkyuusho of Japanese entertainment company FuRyu produced the new design of the shop. It is inspired by the bedroom of a girl who loves style and is just a smidgen selfish. The wall is plastered with pictures of cats based on female models, and poking out of the clothe-filled closet is a huge cat's tail with a ribbon tied around it.
There is also a huge Instagrammable sofa bed and a display of food, milk and more.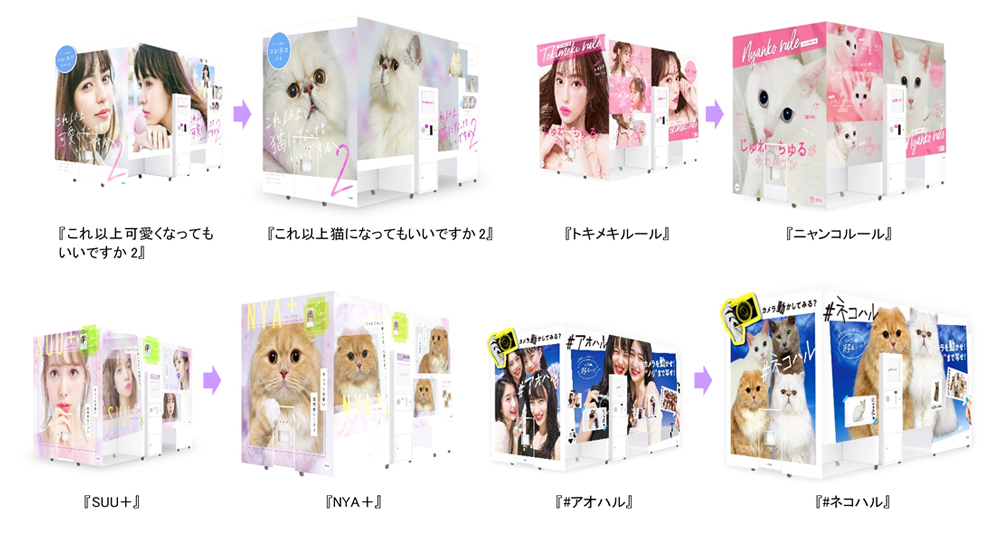 For a limited time only, the purikura machine designs have cats posing as models on the side of them. Customers can also get their hands on a cute new shop card. The shop itself serves up all the "kawaii" a girl could need with its photogenic interior. It can be enjoyed for some simple purikura shots, for taking commemorative photos, and for just getting together with your girl friends.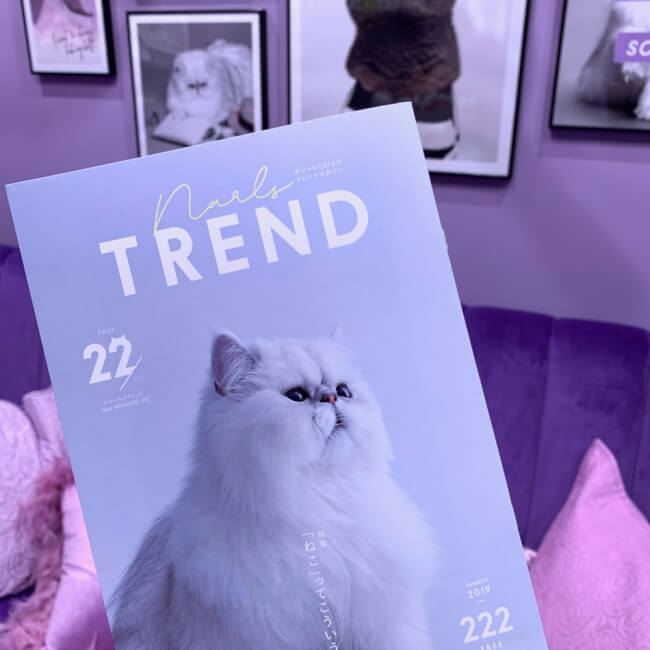 And to celebrate the reopening, limited copies of a free magazine titled Nyaaruzu Trend ("Girly Cat Trends") will be available at the shop from May 31. It includes a bonus copy of GIRLS'TREND, a free magazine published by FuRyu.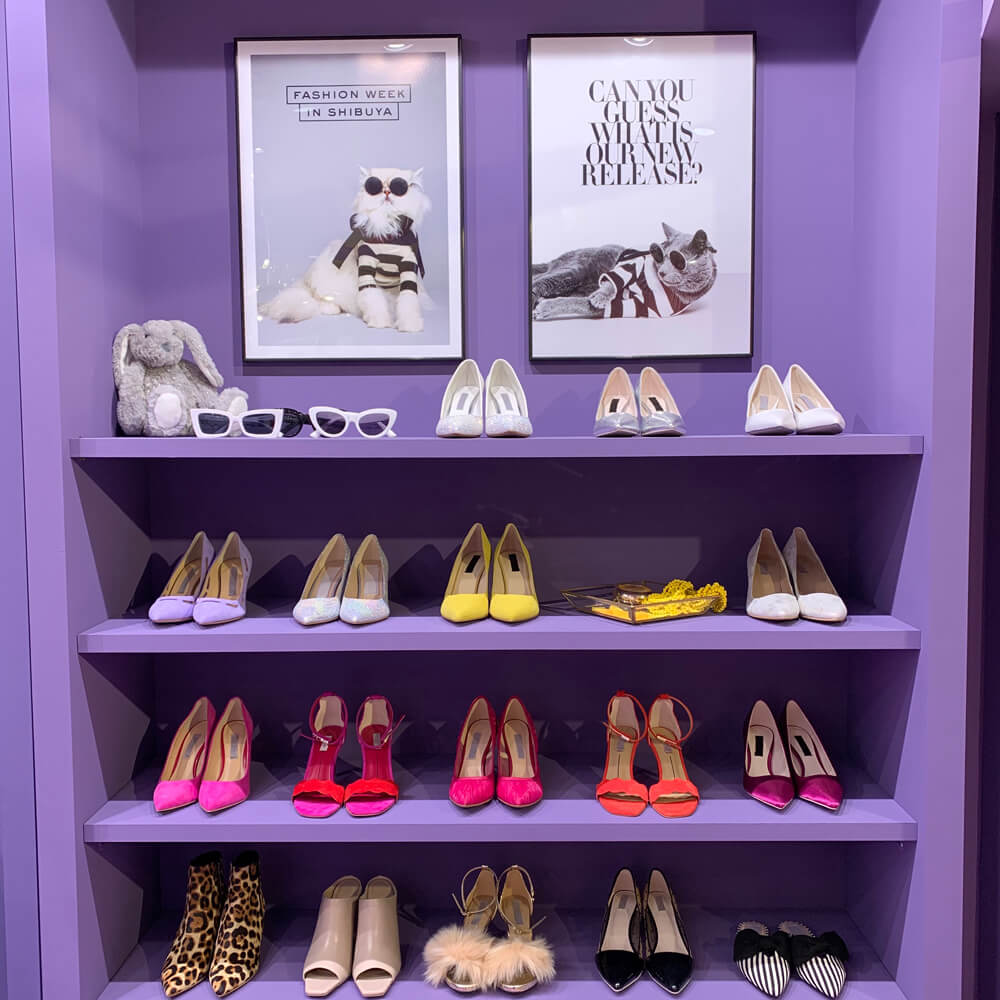 If you're in Tokyo and in need of taking some kawaii photos then be sure to head to moreru mignon.
Information
moreru mignon SHIBUYA109
Address: SHIBUYA109 Floor B2F (2-19-1 Dogenzaka, Shibuya, Tokyo)
Business Hours: 10:00-21:00
*In line with the renovations, the name of the floor which this shop is on will change to "MOG MOG STAND" on June 28, 2019.
SHIBUYA109 Official Website: https://www.shibuya109.jp/ladies/
RELATED ENTRIES
Re:Zero Characters Ram and Rem Birthday Goods Available at Shibuya Marui

Starting February 2, 2022, Shibuya Marui begin selling Ram and Rem birthday goods! The popular characters from the anime series Re:Zero will be featured in brand-new illustrations exclusively for the event, showing them in their pajamas on a plethora of merchandise. Two birthday sets have been announced ahead of the event's start date.

Selected Merchandise

Ram & Rem Birthday Celebration 2022 Mug

Ram & Rem Birthday Celebration 2022 Full Color Tote Bag

Ram & Rem Birthday Celebration 2022 Canvas Art

Ram & Rem Birthday Celebration 2022 Acrylic Stand Keychain

Birthday Set

Ram & Rem Birthday Celebration 2022 Birthday Set A

Ram & Rem Birthday Celebration 2022 Birthday Set B

 

Birthday Set A will include a blanket and pillow, while the B Set will feature a trendy hoodie with silhouettes of Ram and Rem. The bag is also split into two colors with motifs of each character. Which girl is your favorite?

© 長月達平・株式会社KADOKAWA刊/Re:ゼロから始める異世界生活2製作委員会

Boutique Hotel TRUNK to Hold Winter Market with Outdoor Comfort Concept

From December 20 until December 26, 2021, TRUNK, a boutique hotel in Jingumae, Shibuya, will hold the TRUNK Winter Market 2021. The theme of the event will be 'outdoor comfort,' and carrying on last year's tradition, the hotel will deliver content aiming to warm the body and soul during the cold winter season. The public terrace will be decorated with fire pits and lanterns, creating a space where visitors can fully enjoy the cozy atmosphere. The limited-time event will offer workshops, food, and drinks to be enjoyed with family and friends.

The food menu includes 'Chicken and Mushroom Pan Stew,' served in a bread bowl and made with fresh ingredients. Guests can also enjoy a 'Cheddar Cheese Crepe with Homemade Roast Ham,' along with plenty of scrumptious desserts. Perfect for the Christmas season, warm eggnog and mulled wine will be served, and kids will love the organic hot chocolate!

Four different workshops will be set up at tents in the public terrace. Kids Gabbeh Painting will teach kids how to design their own Gabbeh, a traditional small fabric woven by nomads in southwestern Iran. After drawing their design, artisans will weave the Gabbeh, and will send it to your home. The 'Socializing Flower Swag' workshop allows visitors to make swag using dried flowers that were upcycled from fresh flowers that would otherwise be thrown away. These will be silk-screened and wrapped for a great souvenir. Outdoor Candle is a workshop where visitors can create original leather candle holders. 




At Campfire Roast Coffee, guests can roast coffee over an open fire pit. Imagine how good it smells! Afterwards, you can take home your spoils.

There will also be a TRUNK Vintage Store on-site, where hotel staff will sell decorations and furniture no longer needed in the hotel, as well as clothes and other goods. 

Report: Sebastian Masuda's 'Yes, Kawaii is Art' Exhibition at Kanda Myojin Shrine Goes Beyond 'Cute'

What does the word 'kawaii' mean to you? For most people overseas, it's a purely Japanese aesthetic combining colorful visuals with cutesy characters to make something so adorable it defies imagination. In recent years, however, 'kawaii' has become a kind of philosophy that transcends language, national borders, and even consciousness. It's a driving force behind people's lives and something that pulls people out of bed in the morning–it's something capable of instantly putting a smile on people's faces. For those wishing to study the philosophy behind the 'kawaii' movement, the Godfather of Kawaii Sebastian Masuda is currently holding an exhibition at Kanda Myojin Shrine in Tokyo until December 12, 2021. What is it about 'kawaii' that is so capable of inspiring so many different people and cultures around the world? 

A correlation chart welcomes guests to the grounds. The 'Kawaii Archival Research,' a project on kawaii culture conducted with students from the Kyoto University of Arts, collected data on 'kawaii' trends from the post-war period to the present day. Through interactions with the worldwide 'kawaii' community, it's clear how much of an impact the aesthetic has had on people around the globe. 

In the midst of the pandemic in 2020, Masuda announced #KAWAIITRIBE, a way to encourage those coping with depression during the days of COVID-19. His followers were asked to use 'color' to bring the world together, and more and more, the 'kawaii' movement became a way to express and love oneself. Using #KAWAIITRIBE, more and more fans of the movements became connected–even if those users were countries apart. 

The hashtag #SPEAKUP was also utilized by Masuda to collect data from 'kawaii' lovers around the world, asking about hobbies, interests, and opinions on 'kawaii' culture. The data collected over the course of 12 days was incredibly meaningful to Masuda and led to plenty of new discoveries about the community as a whole. 

Masuda explains that each country has different types of 'kawaii,' and that the aesthetic is expressed in different ways around the world. One country may have people influenced mainly by 'kawaii' expressions in anime and manga, while another expresses it through fashion or music. 'Kawaii' is diverse, just as people are diverse. 

Sebastian Masuda has also held a Zoom meeting with people in 'kawaii' communities around the globe to discover how they became involved with the aesthetic initially, while also asking how it inspired them and gave them strength during these difficult times. Certain people claimed that 'kawaii' helped them in their personal growth, while others say it has brought out some of their potential in new and unexpected ways. While Masuda's artwork may simply seem visual, 'kawaii' has become a tool for new communication and personal healing and growth. Some may even call it a kind of therapy: a place where people can surround themselves with color and joy to heal from the difficulties of life. The bold colors of the 'kawaii' movement can inspire people to be bold in their daily lives. Individuality should be celebrated and self-confidence should reign supreme–that is yet another message of the 'kawaii' movement. 

Many people involved in the Zoom call had never met, and after the initial meeting, the room was left open to give people a place to communicate. Afterward, the 'kawaii' circle only became bigger, with a Facebook group bringing together more and more members of the community. 

The research done during the last year of the COVID-19 pandemic has given 'kawaii' lovers a reason to think deeply on how to overcome the many struggles born from the 'new normal,' and these forums are perfect places to share colorful messages of hope and strength. 

Inspired by Masuda's own struggles during his time in Manhatten in 2013, Colorful Rebellion -Seventh Nightmare- is on display at Kanda Myojin. The installation has previously appeared in locations around the world including New York City, Milan, and Amsterdam. This time, the exhibit was inspired by 'muro,' a basement room in Omotesando where amazake is fermented. The room was used as an air-raid shelter during the war, and walking along the dimly-lit path leading to Masuda's brightly-colored room, it's hard not to wish that those evacuees could have been surrounded by these beautiful colors instead of pitch darkness. 

It is no exaggeration to say that this is Masuda's representative work. Created in the midst of the artist's own struggles, it has helped establish the philosophy of 'kawaii' culture and continues to help those dealing with their own problems.

The Time After Time Capsule Art Project, starting in 2014 and held in 12 cities around the world, is a massive time capsule filled with messages and wishes for the future. Shaped like the beloved Sanrio character Hello Kitty, the capsule is gradually changing color as it becomes heavier and heavier with wishes for peace and happiness from fans around the world. Originally planned to be exhibited at the 2020 Tokyo Olympics, this couldn't come to fruition due to the current pandemic. This is the first time it is being shown in Japan. 

The WORLD TIME CLOCK, a once-famous landmark of Harajuku, has also been recreated and installed within Kanda Myojin. 

'Yes, Kawaii Is Art' at Kanda Myojin is a deeply emotional, personal, and inspiring exhibition allowing visitors to experience firsthand how 'kawaii' culture is capturing the hearts of people around the world. Sebastian Masuda isn't slowing down any time soon, and his works will continue to heal people and bring joy for many years to come. 

Sebastian Masuda's solo exhibition 'Primal Pop' will be held at Roppongi Hills A/D Gallery from December 11, 2021, until January 10, 2022.

TEXT:Natalie(MOSHI MOSHI NIPPON)

A Sneak Peek at Sebastian Masuda's 'Yes, Kawaii Is Art' Exhibition at Kanda Myojin Shrine

The Godfather of Kawaii Sebastian Masuda will open his 'Yes, Kawaii Is Art' exhibition at the 1,300-year-old Kanda Myojin Shrine on December 4, 2021. A number of Masuda's representative works will be on display at the historical site, known as one of the most important shrines during the Edo period. 

Colorful Rebellion -Seventh Nightmare-

Kanda Myojin Shrine

 

Colorful Rebellion -Seventh Nightmare- has been shown in New York, Milan, and Amsterdam over the past few years, and will now make an appearance as part of this exhibition. Given the magnificence of the venue, the work will be presented in a unique way–in the basement of the shrine. In addition, a part of the research on Kawaii culture conducted in collaboration with Kyoto University of Arts Ultra Factory will be on display as well. Guests will be invited to ponder the nature of Kawaii, and what makes it so beloved by audiences worldwide.


 

Colorful Rebellion -WORLD TIME CLOCK-

Time After Time Capsule Art Project

Kawaii Archival Research

Near the entrance to the shrine, the Colorful Rebellion -WORLD TIME CLOCK will be on display. Clad in the cutest colors imaginable, it has become a symbol of Harajuku around the world. The Hello Kitty-shaped time capsule, which was on display for five months in New York City in 2015, will also be shown on the temple grounds. The participatory art project has made it to 12 cities around the world so far. 

Kawaii culture will blend with traditional Japanese culture during this exhibition, so keep an eye out for more details coming soon!

What is 'Yes, Kawaii Is Art?' 

Sebastian Masuda has been at the helm of the global Kawaii movement for decades. 

 In 2020, Masuda asked a number of questions to fans of Japanese pop culture around the world–what is Kawaii? Why does Kawaii cross borders, generations, and gender? This new exhibition tries to find an answer to those questions while bringing some joy and excitement to the local community. 

Information

Sebastian Masuda Exhibition 'Yes, Kawaii Is Art' at Kanda Myojin Shrine

Dates: December 4 – December 12, 2021

Hours: 12:00-18:00 (Last Entry at 17:30)

Address: Kanda Myojin Shrine (2-16-2 Sotokanda, Chiyoda-ku, Tokyo)

Admission: Free (¥500 for Colorful Rebellion -Seventh Nightmare-)

https://sebastianmasuda.com/works/tokyo/

For more details on the event, follow Sebastian Masuda's Twitter: 

Hotel Koe Tokyo in Shibuya to Hold Solo Exhibition by Illustrator Kae Tanaka

Kae Tanaka will hold a solo exhibition at Hotel Koe Tokyo in Shibuya from November 26 until December 10, 2021. The artist has recently collaborated with popular girls group Nogizaka46 and actress Rio Uchida, and is skyrocketing in popularity throughout Japan.

Collaboration Goods

Overalls

Overalls

Socks

Hoodies

Tote Bag

Kae-chan Soft Vinyl Figures in Limited-Edition Color (By Lottery)

Over the past year, Hotel Koe Tokyo has been supporting the solo exhibitions of up-and-coming artists. This ima no koe (The Voices of Today) initiative is helping to highlight local talent that may otherwise be overlooked. 

Kae Tanaka is a Tumblr-based illustrator who has garnered large amounts of attention across social media. Collaborative goods created in conjunction with the hotel will be available, all of which are unisex and created by the French brand Le Pigeon Voyageur. A special Kae-chan vinyl figure will be available by lottery. 

Information

Kae Tanaka Exhibition 'Select' 

Running: November 26 – December 10, 2021

Location: Hotel Koe Tokyo 1F 'koe space' (3-7 Udagawacho, Shibuya, Tokyo)

Sebastian Masuda Kawaii Exhibition to be Held at 1,300-Year-Old Kanda Myojin Shrine

Sebastian Masuda, the Godfather of Kawaii, is bringing his 'Yes, Kawaii is Art' exhibition to Tokyo. If that isn't cool enough, the event will be held from December 4 until December 12, 2021, at the 1,300-year-old Kanda Myojin Shrine, known as one of the most important shrines during the Edo period. 

Kanda Myojin, the Tokyo Venue

Work at 'Yes, Kawaii is Art' Venue in Osaka

Related Event, 6%DOKIDOKI Fashion Show

Originally scheduled to arrive in Tokyo in September, the exhibition was postponed due to the state of the COVID-19 pandemic. Kanda Myojin is known as the site of the Kanda Festival, one of the three major Shinto festivals in Tokyo started by Tokugawa Ieyasu in 1600. The shrine is very close to Akihabara, and has become a place for technophiles to pray for their electronics!

Sebastian Masuda is known as the Godfather of Kawaii, and his colorful and crazy art is known around the world. In 2020, Masuda asked a number of questions to fans of Japanese pop culture around the world–what is Kawaii? Why does Kawaii cross borders, generations, and gender? This new exhibition tries to find an answer to those questions while bringing some joy and excitement to the local community. 

Osaka's City of Art Kitakagaya has hosted Masuda's exhibition since October 30, with his works spread out across three different venues. These will be open until November 30, 2021. 

Additionally, on November 13, a street fashion show by Masuda's popular Harajuku fashion brand 6%DOKIDOKI will be held at the third venue. The brand turns 26 this year. 

Information

Yes, Kawaii is Art

Tokyo Event

Sebastian Masuda's "Yes, Kawaii is Art" Exhibition at Kanda Myojin Shrine

Running: December 3 – December 12, 2021

Hours: 12:00-18:00

Address: Kanda Myojin Shrine (2-16-2 Sotokanda, Chiyoda-ku, Tokyo)

*Details to be announced at a later date.

Osaka Event

Exhibition Pricing

Venue 1: ¥500 (Weekdays) ¥1,000 (Weekends/Holidays) 

Both Venue 1 + Venue 2: ¥1,500 (Viewing) ¥2,000 (Experience) 

Venue 3: Free

Details: https://sebastianmasuda.com/works/osaka/

Access: Close to Kita-Kagaya Station on the Osaka Metro Yotsubashi Line, Exit 4

Map: https://www.google.com/maps/placelists/list/fGC5yMFnbboXkfjYxijLmbHIzgP88w

Venue 1: kagoo

Main Work: 'Colorful Rebellion -Seventh Nightmare-

Running: October 30 – November 21, 2021

Closed Mondays and Tuesdays, November 17

Hours: 12:00-18:00

Address: 5-4-19 Kita-Kagaya, Suminoe-ku, Osaka

Venue 2: Oto Building

Main Work: 'Fantastic Voyage, Prototype II' 

Running: November 5, 6, 7, 12, 13, 14

Hours: Shows at 13:00, 15:00, 17:00 *Only at 17:00 on November 14

Address: 5-5-1 Kita-Kagaya, Suminoe-ku, Osaka

Tickets: https://sebastianmasuda.peatix.com/

Venue 3: Chidori Bunka

Main Work: 'Colorful Rebellion -WORLD TIME CLOCK-

Running: November 12 – November 21, 2021

Closed on Mondays, Tuesdays, Wednesdays

Hours: 12:00-18:00

Address: 5-2-28 Kita-Kagaya, Suminoe-ku, Osaka

Related Event

6%DOKIDOKI Fashion Show 'Colorful Riot'

Date: November 14, 2021

Time: 15:00~

Address: Venue 1 (Free Admission)

Official Site: https://sebastianmasuda.com/

SHIBUYA109 Taken Over by Sanrio's Popular Character Kuromi

Kuromi is taking over the fashion headquarters of Japan! The #WorldKuromificationProject x SHIBUYA109 Autumn Campaign featuring My Melody's punk rival is currently underway until November 21, 2021!

Original Apparel

Novelties

Kuromi Pop-up Shop: Let the #WorldKuromification Process Begin!

Sticker

Mask Case

Decorations

Sculpture

Kuromi came up with the #WorldKuromificationProject to inspire people to become their best possible selves. It's also a way to create more 'Kuromies': what Kuromi calls her fans. SHIBUYA109, a hotspot for trending fashion and new styles, is the perfect spot for the character to help people find themselves through fashion and pop culture. 

 

During the event period, the famous building will be decorated from top to bottom in Kuromi swag, and original collaboration goods with popular brands will be available for pre-sale. A pop-up store will be selling unique Kuromi items, so don't miss out on these before they disappear! A campaign will also be held to give away tickets to Sanrio Puroland, and visitors will discover plenty of photo spots and other surprises as they explore SHIBUYA109. 

Report: The Beauty of Wakayama Prefecture in Shibuya! Kinokuni Wakayama Culture Festival 2021 in Shibuya, Produced by Channel 47

The Kinokuni Wakayama Culture Festival 2021 in Shibuya, produced by Channel 47 and sponsored by the Agency for Cultural Affairs, was held at Shibuya CAST on October 3, 2021. 

The event was held to spread the word about the Kinokuni Wakayama Culture Festival 2021, the largest cultural festival in Japan, being held in Wakayama City from October 31 to November 21. Channel 47, the producer of the event in Tokyo, is a company using the power of pop culture and entertainment to share local Japanese culture with the world. 

Shibuya CAST, located between the popular neighborhoods of Shibuya and Harajuku, was the perfect location for the event, and visitors enjoyed a number of presentations showing off the best parts of Wakayama. Various goods from the southern prefecture were on sale, and celebrity guests and local figures were in attendance. An original Wakayama Panda Mask Cover, produced by ASOBISYSTEM, was given to over 3,000 guests to help prevent the spread of COVID-19. 

Click below for a video of the event highlighting the venue and talks. 

A Market Highlighting Wakayama's Cuisine

Booths in the plaza of Shibuya CAST were set up, each selling some local goods from the heart of Wakayama, including oranges, dried plums, sake, and shochu. 

Cultural Figures, Models, and Celebrities in Attendance

On a special stage erected on the grand staircase of the venue, a series of talks were held by cultural figures, models, and celebrities, including author Alex Kerr, TV personality Martin, and members of the popular girl group Atarashii Gakko!!

The guests chatted about a number of topics, from sharing what they love about Wakayama prefecture to discussing the tourism issues faced by local governments. A particularly interesting talk discussed how Wakayama intends to attract Gen Z tourists. These discussions were live-streamed on Instagram, with about 1,000 viewers outside the venue tuning in. 

▼Program

Part 1 [Why Come to Wakayama? PR Showcase]

Presenters: Saki Hontani (Model / Special Influencer for Kinokuni Wakayama Culture Festival 2021), Owarai Sumitani (Wakayama-born Comedy Duo), Kii-chan (Wakayama Mascot)

Part 2 [How Local Towns Should Approach Tourism ~How to Blend Tourism, Shibuya, and Entertainment~]

Presenters: Alex Kerr (Writer), Hiroyo Koike (Secretary-General, Shibuya City Tourism Association), Geiko Motoyasu (Director of Industry, Tourism, and Culture, Shibuya City)

Part 3 [Gen Z from Harajuku and Shibuya Discuss Wakayama Ver.1]

Presenters: Yume Kawabata (Model), Mitsuki Hasegawa (Model), MIOCHIN (Model), Saki Hontani (Model / Special Influencer for Kinokuni Wakayama Culture Festival 2021)

Part 4 [Gen Z from Harajuku and Shibuya Discuss Wakayama Ver.2]

Presenters: Atarashii Gakko!! (Music Group), Alex Kerr (Writer), Martin (TV personality), Yuutarou (Model)

Wakayama Panda Mask Cover, Produced by ASOBISYSTEM and Distributed to Guests

An original Wakayama Panda Mask Cover, produced by ASOBISYSTEM, was given to over 3,000 guests. Talent agency ASOBISYSTEM aims to promote Japanese pop culture worldwide and represents a number of popular artists, models, and creators, including Kyary Pamyu Pamyu and AMIAYA. With two available designs, TV personality Martin tweeted out images of the adorable creations. (https://twitter.com/martin_0406/status/1444163519696424963)

PR for on Giant Screens in Shibuya

The Kinokuni Wakayama Culture Festival 2021 in Shibuya was widely publicized around Shibuya on massive television screens. 

Information

The Kinokuni Wakayama Culture Festival 2021 in Shibuya (Now Over)

Sponsored by the Agency for Cultural Affairs

Produced by Channel 47

Date: October 3, 2021 (12:00-17:00)

Location: Shibuya CAST, Tokyo

Attendees: Over 3,000 (30% men, 70% women)

Official Site: https://wakayamainshibuya.jp/

Official Twitter: https://twitter.com/wkym2021_sby

Official Instagram: https://www.instagram.com/wakayamainshibuya/

About the Kinokuni Wakayama Culture Festival 2021

The Kinokuni Wakayama Culture Festival 2021 combines the 36th Wakayama Culture Festival and the 21st Festival of Wakayama Art and Culture for the Disabled. The event will take place from October 31 to November 21, 2021, with a number of events happening in Wakayama City to showcase local culture. 

The Kinokuni Wakayama Culture Festival 2021

Sponsors: The Agency for Cultural Affairs, the Ministry of Health, Labor, and Welfare, Wakayama Prefecture, Municipalities in Wakayama, the 36th Wakayama Culture Festival and 21st Festival of Wakayama Art and Culture for the Disabled Committee, Municipal Executive Committees, Cultural Organizations, Organizations for Those With Disabilities, etc. 

Running: October 31 – November 21, 2021

Location: Wakayama City 

Official Site: https://kinokuni-bunkasai2021.jp/

About Channel 47

Channel 47 is a project using the power of entertainment to share Japan and its local culture with the world. By getting popular celebrities and public figures involved, the company produces events and content that conveys the appeal of specific Japanese locales and customs to global audiences. 

Illustrator Hiten Holds First Solo Exhibition at pixiv WAEN GALLERY in Tokyo

The pixiv WAEN GALLERY in Shibuya will hold an exhibition by popular artist Hiten from October 22 until November 10, 2021. 

Merchandise

Signed Copy of Original Painting with Certificate of Authenticity / Original Mug / Long Sleeve T-shirt, etc.

The exhibition, titled 'Claire,' will be the artist's first-ever solo showing. Hiten will have 70 pieces on display, with the highlight being a large acrylic piece made exclusively for the exhibition. One original piece of art will be given away by lottery, while reproductions will be available for purchase. 

Special stickers will be gifted to those posting pictures of the exhibition on social media, so don't hold back!

Information

Pixiv WAEN GALLERY by TWIN PLANET x pixiv

Running: October 22 – November 10, 2021

Hours: 12:00-19:00

Address: pixiv WAEN GALLERY (TWIN PLANET South BLDG 1F, 5-46-1 Jingumae, Shibuya)

Access: 5-minute walk from Tokyo Metro Omotesando Station Exit A1

Admission: Free

pixiv: https://www.pixiv.net/users/490219

Official Site: https://www.pixiv.co.jp/

King of Kawaii Sebastian Masuda Opens Exhibition in Osaka

Artist Sebastian Masuda is a leading figure in Japan's culture of KAWAII. The creator of the popular Harajuku brand 6%DOKIDOKI, the creator has worked with Kyary Pamyu Pamyu and a number of other kawaii personalities in the past. Now, his exhibition titled 'Yes, Kawaii is Art' is coming to Osaka from October 30 to November 21, 2021. The event will take place in Kitakagaya, an art district located in an old factory area, with three distinct venues opening each week. Each will exhibit a different work. 

Fantastic Voyage Digest Video

Presale tickets for Fantastic Voyage, Prototype II, a performance taking place at the second venue, went on sale on October 21. The prototype was created as a device for 'imagining the isolated future,' and shows a transparent capsule traveling through space. The thirty-minute performance will surround viewers with sounds and images and is sure to dig deep into the psyche. 

An exclusive VIP plan will be available on October 30 and 31 and is reserved for only two groups per day. Those who can afford the ¥80,000 per person ticket price can enjoy a luxurious Halloween buffet at the Conrad Osaka hotel. Each scrumptious sweet was designed by Masuda himself, and VIP guests can also tour rooms where his works are displayed. Masuda will accompany visitors to directly explain his works, so the cost might be worth it!

Information

Yes, Kawaii Is Art 

Details: https://sebastianmasuda.com/works/osaka/

1st Showing – kagoo (General reception and ticket office)

Featuring 'Colorful Rebellion -Seventh Nightmare– and more 

Running: October 30 – November 21, 2021 (Closed Mondays and Tuesdays, and November 17)

Hours: 12:00-18:00

Address: 5-4-19 Kitakagaya, Suminoe-ku, Osaka

2nd Showing – Oto Building

Featuring 'Fantastic Voyage, Prototype II'

Open: November 5, 6, 7, 12, 13, 14 at 13:00, 15:00, and 17:00 (Only 17:00 on November 14)

Address: 5-5-1 Kitakagaya, Suminoe-ku, Osaka

Details: https://voyage-osaka2021.peatix.com/

3rd Showing: Chidori Bunka

Featuring 'Colorful Rebellion -WORLD TIME CLOCK– and more

Open: November 12 – 21, 2021 (Closed Monday, Tuesday, Wednesday) 

Hours: 12:00-18:00

Address: 5-2-28 Kitakagaya, Suminoe-ku, Osaka

6%DOKIDOKI Fashion Show 'Colorful Riot'

Date: November 14, 2021 from 15:00-16:00

Address: At 1st Showing location's Free Area

 "Yes, Kawaii is Art" VIP Plan

Yes, Kawaii is Art VIP Plan Including Conrad Osaka Halloween Buffet

Price: ¥80,000 per person (Tax Included, limited to two groups per day) 

Dates: October 30 & 31, 2021

Hours: 14:30-18:30

Private Art Tour Plan for Groups and Businesses

Price: ¥200,000 (Tax Included) 

Dates: November 6, 7, 10, 11, 12

Hours: Morning Group 10:00-12:00 / Evening Group 18:30-20:30

VIP Plan Details/ Reservations: https://forms.gle/BMjMHb9jr6RMZg1G7

Boy Band BE:FIRST Celebrates Debut by Becoming the Managers of Shibuya's Tsutaya

BE:FIRST, scheduled to make their debut on November 3, will serve as the managers of Shibuya's Tsutaya location for a limited time. Visitors can enjoy some exclusive privileges and see special videos only at this location during the event. 

The group was assembled during BMSG's 'THE FIRST' audition and will release their first single Gifted next month. The sales floor of Shibuya's Tsutaya location will be decorated to celebrate, with huge panels of each member lining the aisles and a huge monitor showing videos of the band. 





Those who purchase the Gifted single at this location will be given a special Store Manager member card (7 varieties) at random. Those who purchase the CD from the Shibuya Tsutaya official online store will also receive this special gift!

SNEAKERWOLF Edo-Inspired Exhibition to Open in Shibuya and Harajuku

From October 23 until October 29, art project production group WATOWA GALLERY will host a solo exhibition by SNEAKERWOLF at elephant STUDIO in Shibuya. The artist has become popular both in Japan and abroad for his works inspired by calligraphy found in the Edo period of Japanese history. 

SNEAKERWOLF has garnered worldwide attention for his graffiti-style artwork depicting Edo-inspired kanji characters. In the past, he has collaborated with ASICS Tiger Japan and other popular brands. The artist will show around 15 new abstract works during this exhibition, many inspired by SD–or 'super deformed'–versions of characters. The #FR2 x SNEAKERWOLF collaborative exhibition will be happening simultaneously in Harajuku, bringing the artist together with fashion brand #FR2. The brand and artist were brought together during an exhibition sponsored by WATOWA GALLERY in January 2021. During this period, three new pieces made specifically for #FR2 will be on display, and limited-edition clothing will be available for purchase!





Information

SNEAKERWOLF SOLO EXHIBITION

(INSTRUMENTAL)

Running: October 23 – October 29, 2021

Hours: 12:00-19:00

Address: elephant STUDIO 1F (2-7-4 Shibuya, Tokyo)

Free Admission, No Reservations Required

Details: http://www.watowa.jp/news/2021/10/sneakerwolf-instrumental.html

#FR2 x SNEAKERWOLF

"FXXKING WOLF" 

Running: October 23 – October 29, 2021

Hours: 11:00-19:00

Address: #FR2GALLERY (TX 101 Building 1F, 4-28-16 Jingumae, Shibuya) 

Free Admission, No Reservations Required

Official Site: https://fr2.tokyo/