Official Final Fantasy XIV-Themed Weddings Now Available in Japan
In the hugely popular MMORPG Final Fantasy XIV, players are able to participate in a marriage system called the Ceremony of Eternal Bonding in which they can get married in game. But Square Enix are about to take it to the next level as they team up with Bridal Heart to offer real-life, official FFXIV-themed weddings.
Registrations for the wedding plan opened on May 22 in which people can look forward to professional wedding photography, gourmet cuisine, decorations and much more.

A giant 4K screen will project immersive visuals of the gorgeous world of XIV, sounds and music will play to make it feel like you are in the game, a performance LED lights will be carried out by guests. The venue it is held at has been completely redeveloped and redesigned for the purpose of Final Fantasy XIV weddings.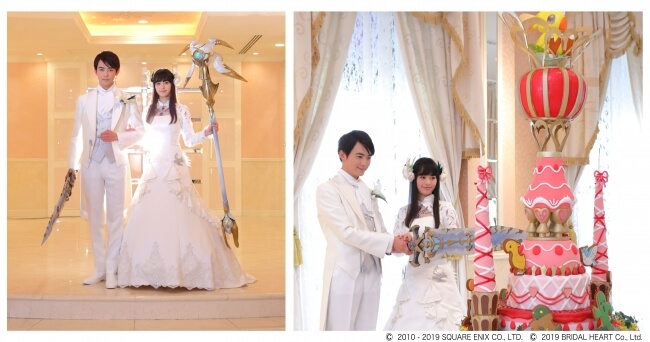 The banquet table will be adorned with an original wedding cake and Eternal Chocobo, music will chime, and there will be weapons carefully and elaborately recreated from the game. The immersive atmosphere is sure to make your wedding an emotional and memorable one.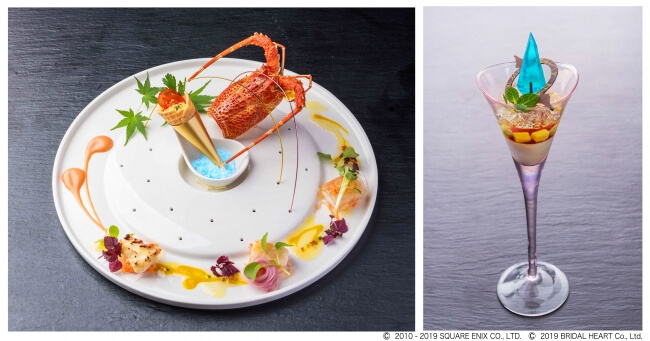 Of course, we mustn't forget the gourmet menu line-up which is a mix of both Japanese and Western-style cuisine. It includes a full course as well as drinks, cakes, and more.
This is the kind of wedding any fan of Final Fantasy XIV is going to want to have.
RELATED ENTRIES
Yoshitaka Amano Exhibition Now Open at Kikka Gallery in Omotesando

Known for his work on the Final Fantasy series, Yoshitaka Amano is one of the most beloved artists in Japanese popular culture. From November 5 until November 30, an exhibition displaying many of his works is open at the Kikka Gallery in Omotesando, Tokyo. Online lottery sales of many Amano works shown in the exhibition began on November 20. 

While overseas fans know him best for Final Fantasy, Amano is also the creator of many iconic characters such as Gatchaman, Tekkaman, and Casshan. 

The PREMONITION OF HAPPINESS exhibition boasts 111 paintings and 3D works on display, all of which are one-of-a-kind. A number of colorful works drawn on traditional Japanese paper and bamboo plates are also attracting guests, based on his fine artwork CANDY GIRL, which he has been working on since 2015. 

Fender Announces FINAL FANTASY XIV Stratocaster

Fender, the iconic American instrument maker, is celebrating their 75th anniversary by holding a special collaboration with Square Enix's MMORPG Final Fantasy XIV. This includes the release of the all-new FINAL FANTASY XIV Stratocaster®. Pre-orders for the guitar will open first in Japan on May 25 and subsequently the Americas, EMEA and Australia in late 2021 with shipping scheduled for early 2022.

The Stratocaster is all-black with translucent sections of blue and purple to represent the Crystals of Light and Darkness in the game. It features a maple neck with a slim Modern C shape and a 12-fret fingerboard which has a meteor inlaid in the 12th fret. As well as the FFXIV logo, each guitar has the edition number printed on it to give it that premium feel.

The guitar is also equipped with the Fender V-Mod Strat Single-Coil Strat which features a Limit Break inspired by the ultimate moves seen in the Final Fantasy series' combat. Pressing it allows the player to. Using this enables the bridge and middle pickups in series for a heaviersound.

The guitar also comes with a hardshell case featuring the Fender and FFXIV logos.

 

FINAL FANTASY XIV Stratocaster® | $3,499.99 / £3,199 / €3,499 / $6,499 AUD / ¥396,000 JPY


The FINAL FANTASY XIV Stratocaster will also be playable inside the world of FFXIV in accordance with an update to the game's Performance Mode arriving in Patch 5.55 which is set to release on May 25. The in-game electric guitar will enable players to switch between clean and distorted tones, and they can also enjoy special performance features for the guitar including pick slide and mute effects.

 

Enjoy the FINAL FANTASY XIV Stratocaster in real life and in-game!

Information

FINAL FANTASY XIV Stratocaster®

Release Dates

Japan: May 25, 2021

Rest of the World: Late 2021

Fender Official Website: http://www.fender.com/

Have a One Piece Anime Themed Wedding in Japan

Japanese bridal company ESCRIT INC. launched its new "One Piece Bridal Fair" service on May 5, 2021 in collaboration with the manga series One Piece.

The service is inspired by the Grand Line in One Piece, the ocean current that wraps eternally around the entire world like a ring. Those who order the service will be given a collection of One Piece wedding items and gifts including original wedding registrations for all guests, a welcome board for greeting everyone, a life-sized photo cutout of Luffy and the Straw Hat Pirates, a special Sanji-themed food course, and more.

FINAL FANTASY VII THE FIRST SOLDIER Battle Royale Game Announced For Mobile

Square Enix announced on Friday (February 26) the release of FINAL FANTASY VII THE FIRST SOLDIER, a new battle royale game for mobile which is set for release sometime in 2021. Check out the teaser trailer below.




FINAL FANTASY VII THE FIRST SOLDIER is set in Midgar and takes place 30 years before the events of Final Fantasy VII when Shinra is forming SOLDIER. In the trailer, the game looks to feature close quarters first-person and third-person gun fights, classic Final Fantasy summons, and more.

Tetsuya Nomura, the artist for the original Final Fantasy VII and director for Final Fantasy VII Remake, is serving as Creative Director for FINAL FANTASY VII THE FIRST SOLDIER.

© 1997, 2021 SQUARE ENIX CO., LTD. All Rights Reserved.

Powered by Ateam Inc.

CHARACTER DESIGN: TETSUYA NOMURA

Pikachu Marriage Certificates Promote Pokémon the Movie: Coco in Japan

The October 2020 issue of Zexy, a wedding magazine produced by Recruit Marketing Partners, was hit shelves in Japan on August 21 and comes with a free Pikachu themed marriage certificate in collaboration with the upcoming film Pokémon the Movie: Coco which is set for release on December 25, 2020.

Zexy has released numerous themed marriage certificates in the past, and even released another Pikachu design back in 2017 to celebrate the 20th anniversary of the anime series. The new design features 90 Pikachu all of whom are happy to celebrate their Pokémon Trainer's wedding.

Zexy is also offering special Pikachu welcome boards for the wedding day which can have the bride and groom's names written on it along with the date, as well as another board that shows gratitude to the couples' parents—which ties in with Pokémon the Movie: Coco's theme of the love between parents and children. These are available in Japan by answering Zexy's quiz that they posted on Twitter—and will only be given to one lucky person. The magazine is also giving out tickets to 10 people to see the movie in Japan, also available by taking the quiz.

Rilakkuma Themed Wedding Ceremonies Now Available in Japan

Japanese bridal company ESCRIT INC. launched its new "Rilakkuma Bridal Fair" on July 22, 2020 in collaboration with Sun-X's popular character Rilakkuma. This will be the first ever wedding service produced in collaboration with the beloved relaxed bear.

All who join the service will receive a free "Rilakkuma & Korilakkuma Ring Pillow." Moreover, all brides and grooms who get married through this bridal fair will also receive a welcome board, cake topper, decorative stickers, soup with a design of San-X's Kiiroitori character, and a Rilakkuma dessert—all specially prepared for and exclusive to this service. There is also a "Greeting Plan" whereby Rilakkuma and Korilakuma will visit your wedding service on the day of the wedding to celebrate with everyone. This is a dream come true for any fan of Rilakkuma.

If you're planning to get married in Japan, and love Rilakkuma, then how about it?

©2020 San-X Co., Ltd. All Rights Reserved.

Rilakkuma's First Ever Official Wedding Plan Is Perfect For Your Dream Day

Wedding and reception planning company ESCRIT INC. is producing its first wedding plan in collaboration with the adorable San-X character Rilakkuma. The Rilakkuma Bridal Fair will be available for reservation from mid July 2020.

 

As the number of weddings taking place has fallen drastically, ESCRIT INC. has been working hard to breathe life back into the industry, collaborating with a number of businesses and insourcing dresses, flowers and other services to make every couple's dream day come true. They have also been running a variety of bridal fairs to help customers with a more personal approach.


From the welcome board to the cake-topper and desserts, the Rilakkuma collaboration sees a number of adorable ways to accessorise your dream wedding. The sign-up for this service opened yesterday on the Rilakkuma Bridal Fair Official Website. After signing up with your email address, you will receive a notification to reserve the bridal fair service during mid July along with the latest information.

If you and your partner love Rilakkuma, the Rilakkuma Bridal Fair is sure to exceed your expections.

Animal Crossing: New Horizons Weddings Add Yumi Katsura Dresses For Free

Yumi Katsura International has teamed up with the Nintendo Switch title Animal Crossing: New Horizons to release the first of a series of wedding dresses designed by the wedding dress company.

The distribution of the free dresses comes in response to the weddings around the world that have had to be cancelled or postponed for couples as a result of the coronavirus.

The dresses feature lace and see-through textures, off-should designs, back ribbons, and so on. The arms and train can be enjoyed in a number of ways too, and the dresses come in either a silver blue or classic beige colour. The dresses are packed full of Yumi Katsura's popular inclusions.

The Animal Crossing: New Horizons wedding event "June Bride" is running for the entire month of June, so enjoy yourself a cute wedding ceremony and a photo shoot, or just simply dress up for a date, in your new wedding dress.

Share your wedding photos with the hashtag #あつ森YumiBrides for the chance to be featured on Yumi Katsura's official Instagram page. Yumi Katsura will be posting more content each week for the June Bride event.

FINAL FANTASY VII REMAKE Exclusive Tokyo Skytree Video Now Streaming On YouTube

To celebrate the launch of FINAL FANTASY VII REMAKE, Tokyo Skytree launched an event titled "SKYTREE® in MIDGAR FINAL FANTASY Ⅶ REMAKE." However, due to the effects of the novel coronavirus (COVID-19), the event and tower had to close on March 1, 2020.

But Tokyo Skytree still wants people to enjoy the event in some way, and so they have decided on something super special that is sure to please fans. Originally, there was an original FINAL FANTASY VII REMAKE video created exclusively for Tokyo Skytree which was being shown up in the tower's TEMBO DECK, 350 meters in the air. It's called FINAL FANTASY VII PREMIUM ROUND THEATER, and you can now watch it over on Tokyo Skytree's official YouTube channel. It's available to watch until June 1, 2020 at 11:00 (JST).

Have you played FINAL FANTASY VII REMAKE yet? Be sure to check out this exclusive content before you have to travel to Tokyo to see it!

© 1997, 2020 SQUARE ENIX CO., LTD. All Rights Reserved.
CHARACTER DESIGN: TETSUYA NOMURA/ROBERTO FERRARI
LOGO ILLUSTRATION: © 1997 YOSHITAKA AMANO
©TOKYO-SKYTREE

Junpaku no Mori Night Museum: Japan's Wedding Facilities Turned Into Pure White Forests

Japanese wedding company NOVARESE Inc. is set to open 19 of its marriage ceremony facilities as museums for a limited time this year. The theme of this art event is "Pure White Forest" and will showcasing tree-inspired objet d'art, candles and more, and projection mapping will also be used.

This event will run from June 7, 2019 to February 20, 2020 and will roll out from different dates at each venue. Venues in Chiba, Atsugi, Kyoto, Ashiya, Gifu and Aomori will open on Friday June 7 and will be open until Saturday June 8. Entry is free and there are no age restrictions.

To create the Pure White Forest, the banquet table of each main venue will give way to 14 huge white trees decorated in glitter and hanging decorations. Tables and the floor will be lined with white lace reminiscent of leaves and flowers. The walls and ceilings will transport guests into a wonderful white world using projection mapping. Flower-shaped interior lights will also be dotted around  with white LED lights to brighten the room. Once the doors open, you are transported into the dazzling world of the Pure White Forest.

150 enchanting floating candles of various sizes will bob by the wedding aisle of the chapel.

There will also be a 1.94m x 1.3m tall white canvas where a living painting session will be carried out. Expect to take lots of photos too at the "Flower Walls" that adorn each venue as well as herbariums made from dried flowers and preserved in glass bottles.

If you're in Japan, have your camera in hand and head to one of the wedding venues to see the forest for yourself.

Pokémon Bridal Fair Offers a New Kind of Wedding Plan With Pikachu

Bridal service company ESCRIT INC is now taking reservations for a new Pokémon themed wedding plan: the Pokémon Bridal Fair which offers free wedding consultation.

The plan comes with an original Pokémon wedding registration sheet and paper bag. Newly wed couples will also be gifted Pikachu Welcome Boards for signing their marriage contract.


Other goodies include a Pikachu wedding cake, French full course, a range of decorative paper items, a baumkuchen cake, green tea, and best of all – a visit from two Pikachus. There will also be wedding gifts for guests.

Enjoy a very special and memorable wedding together with Pikachu.

Information

34 venues across Tokyo, Tohoku, Hokuriku, Tokai, Kansai, Shikoku, Kyushu, Okinawa

Paper bags

Wedding registration

Pikachu welcome board

Original welcome items

Invitations, wedding cake, French full course, baumkuchen, tea, Pikachu visit

… and more

©2019 Pokémon. ©1995-2019 Nintendo/Creatures Inc. /GAME FREAK inc.

ポケットモンスター, ポケモン and Pokémon are registered trademarks of Nintendo, Creatures and Game Freak.

Hotel Hankyu International Introduces Bride & Groom and Photo Opportunity for Foreign Guests

Hotel Hankyu International is introducing a new accommodation plan for non-Japanese guests on December 10.

The hotel has taken on board the change in consumption trends of inbound foreign visitors Japan in wanting to "do" rather than "buy." The hotel will offer hair, makeup and styling services run by professionals have photos taken in the style of a Japanese wedding ceremony.

Photos will be taken wearing traditional Japanese outfits. Hair and makeup will be carried out at the Shiseido salon in the hotel.

Information

Foreign Guests-Only "Bride & Groom and Photography" Accommodation Plan

Bookings: Available from December 10, 2018

Usage: With accommodation bookings from January 7, 2019

Price: Weekdays Only – ¥80,000 (Male & Female Pair)

Hotel Homepage: https://global.hankyu-hotel.com/hankyu-international/

TEL: 06-6377-2100