BBQ, Beach House & Music Served at avex beach paradise FUKUOKA Landing Ashore Itoshima
Itoshima is a sizzling tourist hotspot in Fukuoka and this summer, Avex Inc. is turning up the heat with it's annual summer beach party avex beach paradise FUKUOKA to be held at Fukae beach!
Avex Inc. is going all out to add a splash of colour to your summer in true Avex fashion with an unforgettable beach party, plenty to experience and the all important beach house that first landed on the shore of Kyushu in the summer of 2016.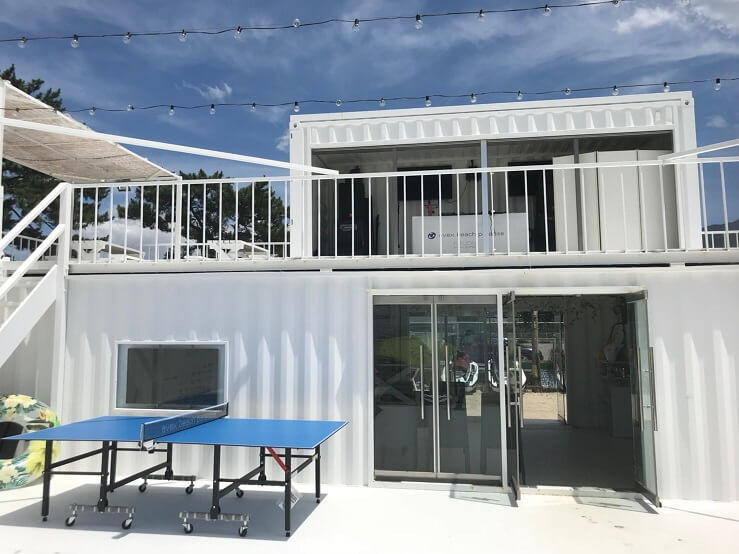 The beach house is a large container house with white as the main colour scheme. As you enter, you will be filled with the warm summer vibes of a luxury foreign resort. There's a sky lounge on the second floor of the beach house. You can take a seat here, taking in the picturesque view of the Genkai Sea in one sweep. This is a popular spot amongst the trendy young crowd, who cannot stop taking pictures.
The food and drink menu is also fully loaded with summer goodness. Thanks to the barbecue plans available on the official website, you can turn up empty handed, indulge in the barbecue, and enjoy the all-you-can-drink drinks! The BEACH BAR also has a large variety of other drinks including cocktails. The DJ booth is equipped with the latest sound system to make you feel just like you're at an outdoor concert.
As the first summer of the Reiwa era, avex beach paradise FUKUOKAis definitely going to be the hottest spot in Japan!
Information
avex beach paradie FUKUOKA
Open: Sat 6 ー Sun 7 July
Friday 12th July ー National hol. Monday 16 September.
Opening hours: 10:00 ー 20:00 ※ Sometimes varies
Location: Fukae Kaisuiyokujo, 2129-5 Nijofukae, Itoshima, Fukuoka
※ 30-min drive from Tenjin Kita ICexpressway exit.
※ Closest station: JR Chikuzen-Fukae Station (10-minute walk)
Visitor limits:
25 barbecue sites (up to 4 people per site)
6 sky lounge sites on 2nd floor  (Up to 4 people per site)
Extra facilities: Showers, powder rooms, coin lockers, changing rooms, separate boys & girls toilets, speaker system.
Reservations: 092-325-1188(Operation times: 10:00-20:00)
For more information on prices, please visit the avex beach paradiseofficial website: http://avexbeachparadise-fukuoka.com/
RELATED ENTRIES
Street Fighter Exhibition at Fukuoka City Science Museum Rescheduled For July

The Street Fighter exhibition "Street Fighter: Ore Yori Tsuyoi Yatsura no Sekai Ten" (Street Fighter Exhibition: The World of Those Stronger Than Me) was originally scheduled to run from March 14 to May 24 but was cancelled due to the COVID-19 outbreak. However, it has been announced that the exhibition has been rescheduled and will take place from July 1 to September 22.

A ticket system is in place where attendees need to book a time and date in advance as a precaution against the novel coronavirus. Tickets can be bought in advance from the exhibition's official website.

Street Fighter is a fighting video game franchise developed and published by Capcom. The first game was released in 1987 for arcades. Street Fighter II was released in 1991 is hailed as a landmark title in the series and would set the standard of fighting games that followed. The latest instalment to the series, Street Fighter V, was released in 2016, with Street Fighter V: Champion Edition following in 2019.

The Street Fighter exhibition is set to display treasured documents and art pieces from the franchise, as well as showcase a cabinet of the arcade games. With full support and cooperation from Capcom, the exhibition is a must-visit for all fans of the influential fighting game.

Here's just a select glimpse of what to expect.

Street Fighter Gallery

This incredible gallery features a physical catalogue of game packages and cases, posters, and much more from across the series.

Memorable Street Fighter Scenes

①BONUS STAGE 2020 in FUKUOKA

Interactive Content: Destroy the car with a Surge Fist

②CONTINUE? Match Loss Facial Expression Collection

EXTRA ROUND: Secrets

A display of initial Street Fighter concepts, logos, character art, backgrounds, and more

CONTINUE: The Legend of Street Fighter Continues to Evolve

Information

Street Fighter Exhibition (Japanese Name: ストリートファイター「俺より強いやつらの世界展」)
Running: July 1, 2020 – September 22, 2020
Closed: Tuesdays (Except August 11/August 18/September 22)
Time: 9:30-18:00 (Last Entries 17:30) (Open until 21:30 from August 7-19)

Location: Fukuoka City Science Museum (4-2-1 Ropponmatsu, Chuo Ward, Fukuoka)
Price: General ¥1,100 / High School & Junior High School Students ¥800 / Ages 4+ ¥500

Official Website: https://streetfighter.artne.jp/

Help Fukuoka's Hotels During COVID-19 With Crowdfunding Project

Fukuoka's tourism industry is suffering greatly as a result of the novel coronavirus (COVID-19) pandemic, and so the city has launched a crowdfunding project to ask for people's help and support.

By donating, you can receive a special ticket which can be used when travel returns to normal which can be used at hotels you have donated towards. The tiers are priced at ¥3,000 and ¥5,000, which will get you tickets priced at ¥3,300 and ¥5,500 respectively to be used in the future. If you're thinking of travelling to Fukuoka, or already had plans booked to go there, then consider donating towards the city.

Fukuoka is a city loved by Japanese people and foreigners alike. It has a rich food culture, incredible festivals, a rich history, and an amalgamation of urban and rural scenery.

1→10, Inc. Brings Magical Shores Interactive Land Art to Siloso Beach in Singapore

Japanese creative studio 1→10, Inc. opened up Singapore's first ever permanent interactive land art exhibition "Magical Shores" on January 23 this year together with Lighting Planners Associates (LPA), a lighting company based in both Tokyo and Singapore.

Magical Shores spans 400 meters of Sentosa's Siloso Beach, turning it into an immersive, multi-sensory experience of AI-operated lights and sounds which elevate the beauty of the surrounding natural environment.

Guide To Magical Shores | Siloso Beach, Sentosa:

AI technology responds to visitors on the beach, giving them a breathtaking and unique performance. Sensors are dotted around the area which use sensing data to react based on people's movement around the beach. The AI is constantly developing as it collects big data about the temperature and climate of Siloso Beach as well as that of people's movements.


In two of the interactive areas, people can witness the "Circle of Life" beginning with the big bang. After that there is magma, followed by heavy rainfall and eventually flowing water which gives birth to life. Cells divide as plants begin to sprout, fish swim in the sea, and birds and insects sing in the mountains. At the end, life falls, and the process begins again.


Japanese musician Masakatsu Takagi was put in charge of the music and sound design of the exhibition. Takagi is known for having written the music for Wolf Children and The Boy and the Beast. He took inspiration from his music project "Marginalia," a sound diary where he would record the sounds of birds, insects, the wind, rain, and so on from his studio window. Takagi did field recording on the beach to capture the sounds of nature to use for the art exhibition.

Kuniyuki Takahashi also offered his musicianship to the exhibition. Based in Sapporo, he is an internationally-recognised composer. He also recorded the sounds of Siloso Beach, and together with Takagi, created the perfect soundtrack for Magical Shores.

Magical Shores is currently temporarily closed as a result of the coronavirus but will resume once more as soon as the situation allows it.

Cherry Blossoms and Rape Blossoms Compete For Spring at Kusaba River in Fukuoka

The town of Chikuzen in Fukuoka Prefecture is home to a 2km strip of cherry blossom trees which bloom their pink beauty along the Kusaba River in spring. The area sees countless people flock there during the Hanami season to see the trees in full bloom.

But Kusaba River isn't only home to cherry blossoms; it also sees rape blossoms sprout their yellow flowers during springtime, which offers a beautiful contrast to the overhead pink from the cherry trees.

The place is lit up in the eveningsーa great chance to see the cherry blossoms in a different light at night.

Rich verdure lines the whole of Kusaba River, so be sure to visit if you're heading to Fukuoka this spring to see the cherry and rape blossoms.

Information

Kusaba River

Address: 875 Hisamitsu, Chikuzen, Asakura-gun, Fukuoka

Bloom Period: Late March – Early April

Access: 5-minutes on foot from Shincho Bus Stop (新町バス停) via Nishi Tetsu Bus

THE LOCAL COFFEE STAND FUKUOKA: New Coffee Shop Opens in Fukuoka's Hakata Ward

Japan's biggest online coffee publisher Good Coffee is opening a new cafe called "THE LOCAL COFFEE STAND FUKUOKA" in Hakata, Fukuoka.

Good Coffee looks to bring together coffee lovers with all kinds of coffee shops. THE LOCAL COFFEE STAND FUKUOKA will be their second branch of "THE LOCAL COFFEE STAND" in Japan following the branch they opened in Shibuya, Tokyo.

Good Coffee provides a wealth of information and the latest news on where to get delicious coffee inside and outside Japan. They have joint sponsorship and manage the TOKYO COFFEE FESTIVAL where roasters from across the country all come together and serve coffee in a variety of ways, host live performances, and more.


The coffee beans at THE LOCAL aren't roasted in-house. Instead, the head barista, Yuji Otsuki, personally selects roasts every month from shops published on Good Coffee. This is a rare style of coffee shop in Fukuoka where every month, customers can enjoy a different cup of high quality coffee every month from popular roasters inside and outside Japan from the comfort of Fukuoka.

The coffee beans used for the cafe's opening month of March will be drip coffee from GLITCH COFFEE&ROASTERS in Jinbocho, Tokyo and espresso from CRAFTSMAN COFFEE ROASTERS in Shimonoseki, Yamaguchi. Events are scheduled to be held at THE LOCAL COFFEE STAND FUKUOKA every month where baristas and coffee roasters will be invited as guests.

Find your new favourite coffee at THE LOCAL COFFEE STAND FUKUOKA.

Information

THE LOCAL COFFEE STAND FUKUOKA

Address: 2-14-1 Hakataekihigashi, Hakata, Fukuoka, Fukuoka Prefecture

Opening Hours: 9:00-23:00 (*Pre-opening hours)
Access: 5-minutes from Hakata Station's Tsukushi Exit
Official Website: http://thelocal2016.com/fukuoka/

Kirby Café HAKATA to Open Permanently in Fukuoka's Canal City Hakata

The second permanent Kirby Café, themed entirely on Nintendo's popular video game series Kirby's Dream Land, is set to open in Canal City Hakata in Fukuoka on March 12, 2020.

Kirby Café HAKATA has its own story that the cafe is based around. One day, Kirby motioned Whispy Woods to help him collect the tools needed to open another Kirby café. Together with Whispy Woodsーwho appears in the cafeーKirby will serve hospitality to his customers.



The food menu includes the same stone oven baked pizzas serve at Kirby Café TOKYO.

Kirby Café Stone Oven Baked Dessert Pizza ~Whispy's Caramelised Apples~: ¥1,380 (Before Tax)

Kirby Café Stone Oven Baked Dessert Pizza ~Waddle Dee's Freshly-Picked Chocolate Bananas~: ¥1,280 (Before Tax)

As well as standard savoury pizzas, the café includes a selection of dessert pizzas made with fresh fruit. The flavours of the dessert pizzas here are exclusive to the Hakata branch of Kirby Café.



Kirby's Home: ¥1,980 (Before Tax)

Kirby's High-Spirit Helping Parfait: ¥1,580 (Before Tax)


There are lots of cute food dishes and desserts to enjoy at Kirby Café. Kirby's Dream Land home has also been turned into a dessert, and there's also a cute parfait which Kirby himself helped make.



Kirby Café Hakata Exclusive T-Shirt – Kirby & Home: ¥3,400 (Before Tax)


Fans can also pick up a selection of new and exclusive Kirby merchandise, and an original Kirby Café soundtrack created by HAL Laboratory will play in the café.

Priorities are given to those who book a table in advance, which can be done on the café's official website starting on February 25, 2020.

Get sucked into the world of Kirby and inhale your food like he does at the all-new Kirby Café HAKATA.


Information

Kirby Café HAKATA

Grand Opening: March 12, 2020

Address: Canal City Hakata North Bldg. B1F, 1-2-1 Sumiyoshi, Hakata, Fukuoka, Fukuoka Prefecture

Opening Hours: 11:00-23:00 (Last Orders 22:00)

Official Website: https://kirbycafe.jp/hakata/
*Kirby Café is a character café managed by BENELIC CO.,LTD. under the license of WARPSTAR Inc., a copyright management company entrusted by Nintendo / HAL Laboratory, Inc.

Yellow Coloured Minnie Mouse Cafes to Open in Tokyo, Osaka, Nagoya & Fukuoka

A new line of Minnie Mouse cafes are set to open in Tokyo and Osaka from February 28, 2020 and Nagoya and Fukuoka from February 29, 2020 for a limited time. Named "OH MY! MINNIE MOUSE," the cafes are an official collaboration between Disney and the Japanese cafe chain OH MY CAFÉ.

The cafe takes on the theme of Minnie Mouse being a living, breathing icon of today with a positive lifestyle. This is represented through the yellow colouring of the cafe, which features her iconic polka dots as well as ribbon taking on a yellow colour. Tuck into a cute menu line-up and get your hands on some cafe-exclusive Minnie Mouse merchandise.

Original Menu

Cheerful Burger – ¥1,990

This healthy burger is packed full of vegetables with a black bun made in the image of Minnie's silhouette. Feel as energised as Minnie with one bite of this tasty burger.

Beef Hash Ribbon Rice – ¥1,390

Inspired by Minnie Mouse's iconic ribbon, this hearty dish is a beef stroganoff plated with rice and veg. The ribbon is so cute it almost seems a waste to eat!

Fruit Sandwich – Single ¥990/ With Plate ¥2,790

An absolute must-order if you're wanting a dessert. This sandwich is piled with fresh fruits creamy yoghurt, sprinkled with poppy seeds, and doused in lemon juice.

Fizzy Lemon Squash – Single ¥690 / With Coaster ¥1,390

Charge yourself up with this fizzy lemonade and its refreshing aftertaste.

Relaxing Chamomile Tea – Single ¥490 / With Mug ¥2,090

Kick back and relax after your meal with a cup of chamomile tea♡

Original Merchandise

Heart Badge (8 Designs/Chosen Randomly) – ¥500

Folder – ¥350

Lunch Mat (6 Designs/Chosen Randomly) – ¥650 (*Table reservation required)

Those who book a table in advance will be given one of six possible lunch mats chosen randomly.

If you're in Japan for the spring, then why not stop by the OH MY! MINNIE MOUSE cafe for a Disney treat?

©Disney

Information

OH MY!MINNIE MOUSE

Locations/Dates

Tokyo: OH MY CAFE TOKYO (Tokyu Plaza Omotesando Harajuku Floor 3F, 4-30-3 Jingumae, Shibuya, Tokyo)

Running: February 28, 2020 – April 12, 2020

Osaka: kawara CAFE&DINER Shinsaibashi (Shinsaibashi OPA Floor 9F, 1-4-3 Nishi-Shinsaibashi, Chuo Ward, Osaka, Osaka Prefecture)

Running: February 28, 2020 – April 19, 2020

Nagoya: kawara CAFE&KITCHEN Nagoya PARCO (Nagoya PARCO South Building Floor 5F, 3-29-1 Sakae, Naka Ward, Nagoya, Aichi Prefecture)

Running: February 29, 2020 – April 26, 2020

Fukuoka: Kawara CAFE & KITCHEN KITTE Hakata (KITTE Hakata Floor 9F, 9-1 Hakataekichuogai, Hakata Ward, Fukuoka)

Running: February 29, 2020 – March 28, 2020

"OH MY! MINNIE MOUSE" OH MY CAFE Booking Website: https://mm.ohmycafe.jp/

5 Must Try Strawberry Desserts in Fukuoka – MOSHI MOSHI NIPPON

If you thought we hadn't covered enough desserts and food from Fukuoka already here on MOSHI MOSHI NIPPON, never fearーwe've got you covered with another tasty line-up for you. This time we're looking at a list of 5 must-try strawberry desserts from Kyushu's northern island, and we're joined by Instagrammer moe who has provided us with some mouth-watering photos of each pick.

COFFEE COUNTY | Kurume

COFFEE COUNTY is a famous coffee shop in the city of Kurume. It has a chill and relaxing atmosphere which is wrapped with the delicious smell of freshly-brewed coffee and desserts. Their strawberry pie, which is made with amaou strawberries from Fukuoka, blends together harmoniously the sourness of the strawberries with the sweetness of the cake.

Also, if you love coffee and happen to buy some coffee beans from the cafe, you'll receive a free cup of coffeeーwhich goes great with the pie.

▼COFFEE COUNTY

Address: 1-21-21 Takasago, Chuo Ward, Fukuoka, Fukuoka Prefecture

Opening Hours: 11:00-19:00

Closed: Wednesdays

Kurasukoto | Hirao

Kurasukoto is another relaxing cafe, decked out with wooden tables and shelves. They also sell a range of miscellaneous items in addition to the food menu too, like clothes and accessories. Their strawberry parfait was incredibly popular last year, and is back again this year. It's loaded with handmade fresh cream and custard which sits on a pile juicy jam made from fresh strawberries. The top layer is subtly sweet while the bottom is sweet and sour. Combined, they make the ultimate balance of flavours.

▼Kurasukoto

Address: 1-11-21 Hirao, Chuo Ward, Fukuoka, Fukuoka Prefecture

Opening Hours: 11:30-18:00

Closed: Mondays & Sundays

DAIMYO SOFT CREAM | Hakata

Strawberry x Strawberry Ice Cream

DAIMYO SOFT CREAM is an incredibly popular ice cream shop which sells around 10,000 ice creams a day. During the daytime, there are lines of people waiting outside for a scoop. It's close to Hakata Station so is easy to get to.

Their ice cream is really soft and rich, and the flavours change with each passing season. They have an eat-in space too if you want to sit and relax to enjoy your cone.

▼DAIMYO SOFT CREAM

Address: 1-11-4 Daimyo, Chuo Ward, Fukuoka, Fukuoka Prefecture

Opening Hours: 11:00-22:00

Pinsirio | Kuromon

Pinsirio's parfaits get you excited by just looking at them. Their parfaits are made with fresh in-season fruits. The cafe has an open kitchen, so you can enjoy watching your parfait being made.

The "Strawberry Forest" is served in a glass and absolutely overflows with strawberries. Every mouthful down to the last bite is strawberry flavoured. The rich taste of the salted butter sable cookies and the light sourness of the cheesecake are to die for too.

▼Pinsirio

Address: 8-15 Kuromon, Chuo Ward, Fukuoka, Fukuoka Prefecture

Opening Hours: 11:00-18:00

Closed: Tuesdays

yorimichi | Kasuya

Shrimp & Egg / Strawberry Chocolate Chip

yorimichi is famous for being a bakery with a unique custom where customers must take their shoes off to enter. It's customary in Japan to take your shoes off when entering someone's home, as well as in certain restaurants and izakaya, but it's pretty much unheard of for a bakery.

The bakery makes a limited batch of 600 breads a day, meaning that most of the time they sell out their stock by evening time. The strawberry chocolate chip bread is filled with a homemade chocolate chip cream which is a match made in heaven when paired with the sweet strawberries. Try eating it together with one of the savoury sandwiches for a real treat.

▼yorimichi

Address: 1-10-43 Chōjabaruhigashi, Kasuya District, Fukuoka Prefecture

Opening Hours: 7:30-15:00

Closed: Tuesdays

Did you enjoy this list? If you're in need of more cafe recommendations in Fukuoka, then be sure to follow moe on Instagram.

Original Text & Photos: moe

Translation: Joshua Kitosi-Isanga

*Information written in this article is correct at the time of publishing. For more details on each shop, please visit their official websites and social media pages.

Star Wars Theme Cafe Opens in Tokyo, Osaka, Nagoya, Hokkaido & Fukuoka

With The Rise of Skywalker concluding the Skywalker saga of the Star Wars film franchise, fans are left craving more from the galaxy far far away.

If you're one of those people, and need a fix before season two of The Mandalorian, which is coming in late 2020, then you'll want to hit up the all-new Star Wars-themed cafes now open for a limited time at branches of OH MY CAFE across Japan in Tokyo, Osaka, Nagoya, Hokkaido, and Fukuoka.

We visited the Tokyo branch of the cafe which is located inside Tokyu Plaza Omotesando Harajuku. Here's our report of this must-see cafe for Star Wars fans, a museum-like space chock-full of concept art.

Ready to greet you as you walk into the cafe is none other than Darth Vader. This life-size recreation of the Sith Lord is really striking, but don't worryーthough he is realistic, he won't use his Force choke on you, he only wishes for you to have a nice meal.

Plastered across the cafe walls are pieces of concept art used during the production of the Star Wars film series.

Here's a galactic showcasing of the cafe's menu. There are 7 food items and 5 drinks to choose from, all inspired by the franchise and its characters.

<STAR WARS> Far Far Away Galaxy Black Curry – ¥1,590

A signature dish of the cafe, this black curry features the Star Wars logo which is actually an edible wafer. The space design is bamboo charcoal-cooked rice which is mixed with spicy sauce and topped with peanuts for stars.

<BB-8> Seafood BB-8 Gratin – ¥1,690

Fans of BB-8 won't be able to resist this delicious gratin, served with salad and French bread for a full belly.

<Yoda> Root Leaf Stew – ¥1,590

This stew is inspired by Yoda living his final years in his little shack in Dagobah during Star Wars: Episode V – The Empire Strikes Back. It's packed full of vegetables and will no doubt be enjoyed by both kids and adults alike.

<R2-D2 & C-3PO> Buddy Burger Plate – ¥1,990

This set of two chicken burgers comes with an R2-D2 seasoned with béchamel sauce and a C-3PO burger seasoned with meat sauce. You can take the flags home with you too. We recommend sharing this between two people.

Portion Bread – ¥500

This is the one I was most interested in personally, because I was curious to know from its appearance how it would taste. It's the portion bread that Rey tries eating in the film. At first glance it looks crunchy, but to my surprise it was soft with a subtle sweet flavour.

Lightsaber Drinks – ¥600 Each (w/ Coaster ¥1,300)

From the left, the flavours are Darth Vader blood orange, Luke Skywalker ramune, and Yoda melon. When you draw your straw from the paper wrapping, it turns into a lightsaber!

<STAR WARS > Jet Black Coffee – ¥600 (w/Bottle ¥1,750)

These limited edition bottles of black coffee feature the famous Star Wars opening crawl credits. Which one you get is randomーa must-have for all fans!

After enjoying some Star Wars food and drink, it's time to check out the cafe's exclusive merchandise. There are 13 types of merch in total all bearing artwork from across the film series.

Folder – ¥350

I recommend picking up one of these folders made in collaboration with the cafe. It has illustrations of the food and drinks being sold there.

Tote Bag – ¥3,500

This tote bag has illustrations of characters from Star Wars and how they are all connected.

There's plenty of other must-grab merch too, from music to stationery and more.

Customers who spend over ¥1,000 (excluding tax) on any of these exclusive items will receive the above-pictured limited edition bag. These are limited in stock so are available while supplies last.

There's plenty of places inside for fans to take great photos, so make sure you snap lots.

Also, if you book a table in advance and order something from the menu, you'll receive one of these 25 possible A5 folders, so be sure to book before you go!

© & TM Lucasfilm Ltd.

*All listed prices are pre-tax. Photos are for illustrative purposes only.

Information

"Star Wars" at OH MY CAFE

Locations/Dates:

■Tokyo: OH MY CAFE TOKYO (Tokyu Plaza Omotesando Harajuku) / January 18, 2020 – February 23, 2020

■Osaka: kawara CAFE&DINING Shinsaibashi / January 17, 2020 – February 23, 2020
■Nagoya: kawara CAFE&KITCHEN Nagoya PARCO / January 23, 2020 – February 25, 2020

■Hokkaido: Cafe Interlude, Coach & Four Shinkawa-dori / January 24, 2020 – February 24, 2020

■Fukuoka: kawara CAFE & DINING KITTE Hakata / January 24, 2020 – February 26, 2020

"Star Wars" OH MY CAFE Official Website: https://sw.ohmycafe.jp/

Beautiful and Delicious Lunches You Have to Try in Fukuoka

With the help of moe, we've covered the best food spots in Fukuoka to enjoy a beautiful scenery, for desserts and much more. Today, we're joined by food Instagrammer moe again to introduce you to the top lunch spots in Fukuoka. 

cafe mii, Asakura

Curry Plate

cafe mii is one of those places that very few people know but is very delicious. The curry plate is full of spices and is accompanied by fried vegetables and many other side dishes. As Asakura is known for its delicious vegetables, this is the perfect opportunity to get your fill. The café is relaxing and the perfect spot to enjoy a quiet lunch.

▼cafe mii

Opening Hours: 11:00-17:00 (Last Orders: 14:30)

Closed: Wednesdays
Address: Floor 2, 531-2 Tonta, Asakura, Fukuoka
Website: https://www.instagram.com/cafe_mii/

Cosses, Chihaya

Plate Lunch

Cosses is a bakery shop full of pastries and desserts. The Plate Lunch includes a hamburger steak, soup, salad, yoghurt and much more. The thick bread that comes with the set perfectly completes it. The wide shop is full of delicious bread and pastries that would be perfect to bring back to your family.

▼Cosses

Opening Hours: 10:00-21:00 (Last Orders: 19:30)
No Regular Holidays

Address: Namiki Square Floor 1, 4-21-45, Chihaya, Higashi-ku, Fukuoka

Official Website:http://cosses.orto-cafe.com/

Chocolate Bar, Hirao

Chicken Curry Risotto

Whether you're looking for lunch, dinner or a casual snack, this is the place to go. When you order the Chicken Curry Risotto, you can choose how spicy you want it. Risotto and curry is quite a rare combination, but it is very tasty. After your lunch, you can choose to have a gâteau au chocolat from the main menu. 

 

▼Chocolate Bar

Opening Hours: 

Lunch Menu:  11:30-15:00 (Last Orders: 15:00)

Café Menu: 14:00-17:00 (Closed from 17:00 to 18:00)

Dinner Menu: 18:00-22:00 (Closed from 22:00)
Closed: Sundays
Address: 1-11-22 Takamiya, Minami-ku, Fukuoka

Official Website: https://www.facebook.com/CHOCOLATE-BAR-726314500885075/

Filipepe, Kego

Dry-Cured Ham and Creamy Lemon Spaghetti

Filipepe is a hidden Italian restaurant. The Dry-Cured Ham and Creamy Lemon Spaghetti is covered in a refreshing lemon cream sauce. The thinly-sliced cured ham and creamy pasta make the perfect combination. The tongue-tantalizing menu also includes fish, meat and much more.

▼Filipepe

Opening Hours:

Lunch: 11:30-14:00 (Last Orders: 14:00)

Dinner: 18:00-21:00 (Last Orders: 21:00)
No Regular Holidays
Address: Floor 3, 3-1-28 Kego, Chuo Ward, Fukuoka,
Website: https://www.facebook.com/Filipepe-フィリペペ-699810910145678/

Good up coffee, Hairo

Homemade Red Bean Paste on Toast

Good up coffee's homemade red bean paste on toast is often greeted by a long queue of customers. The fluffy bread is like a giant cushion and is filled with a generous serving of red bean paste. The butter melts, creating a moderate salty touch to the meal. This is a very popular shop and often sells out so if you want to try it, make sure to get there early.

▼Good up coffee

Opening Hours:

Monday, Tuesday, Friday, Saturday: 12:00-20:00

Wednesday and Sunday: 12:00-18:30
Closed: Thursdays
Address: 1-chōme-15-18 Takasago, Chuo-ku, Fukuoka
Official Website: https://www.instagram.com/good_up_coffee/

KURASUKOTO, Hairo

Lunch Plate

Fukuoka's famous and popular café KURASUKOTO serves parfaits, doughnuts, puddings and other famous desserts as well as delicious lunches. Choose to have meat or fish for your lunch plate and it will be served with lots of healthy vegetables. The café also sells small miscellaneous goods too.

▼KURASUKOTO

Opening Hours:11:30-18:00
Closed: Mondays and Sundays
Address: Floor 2, 1-11-21 Hirao, Chuo Ward, Fukuoka
Official Website: https://www.kurasukoto.com/shop-hirao/

Eureka, Sakurazaka

Duck and Lotus Root Ragout Pasta

Bistro and café Eureka is an isolated restaurant located out of the way in a residential area. The Duck and Lotus Root Ragout Pasta is available in the lunchtime menu and is served with tasty relishes made from pomegranate and Japanese persimmon. Duck and lotus root is cooked in a delicious ragout sauce with tagliatelle. The meal comes with relishes so your stomach will be left completely satisfied.

▼Eureka

Opening Hours:Monday-Thursday: 12:00-20:00 (Last Orders: 19:00)

Friday and Saturday: 12:00-22:00(Last Orders: 21:00)
Closed: Sundays
Address: 1-4-19 Sakurazaka, Chuo-ku, Fukuoka

Official Website:https://www.instagram.com/eureka.sakurazaka

Yamamoto no Hamburg, Ropponmatsu

Hamburger

The Kanto region's popular hamburger restaurant Yamamoto no Hamburg has opened in Fukuoka. Here, you can enjoy a burger served in a large curry bowl fit for a curry soup. The hamburger is surrounded by a hearty serving of sauce and is even topped with a mince cutlet. There is a bottle of Chinese red chile oil on the table for a satisfying meal. 

▼Yamamoto no Hamburg

Opening Hours:

Lunch: 11:30-15:30 (Last Orders: 14:30)

Dinner: 17:30-22:30 (Last Orders: 21:30)
No Regular Holidays
Address: Ropponmatsu Kobo Floor 1, Chuo Ward, Fukuoka

Official Website:  http://www.yamahan.tokyo/news/

 If you're stuck on where to get lunch in Fukuoka, or love looking at gorgeous food, let moe's Instagram be your guide. 

Original article contents and photos by: moe

7 Ways to Start Your Morning with Delicious Food in Fukuoka

Our website has loads of information on delicious desserts and food to try in Fukuoka. Today we'll be looking at the best places to try a traditional "Morning" according to expert Instagrammer moe. "Morning" is a typical breakfast enjoyed by the Japanese and is a great way to start the day. moe has been travelling from head to toe of Fukuoka, taste-testing different breakfasts and photographing them. Here are the findings. 

Full Full Kaze no Mori, Kashii-Kaenmae

Croque Madame Set and French Toast Set

Full Full recently opened at Kashii-Kaenmae. The Croque Madame Set or the French Toast Set is the perfect way to start your day. For the croque madame, their delicious bread made from special whole wheat flour is topped with tomatoes, bacon, white sauce and a sunny-side-up egg. The french toast is made from the same round bread used to make their popular Mentai France which is a baguette topped with creamy fish roe. The fluffy bread is topped with a crispy sweet sugar coating that is scorched like a crème brûlée.

▼Full Full Kaze no Mori

Opening Hours: 8:00-18:00 (Café Last Orders)
Closed: Tuesdays
Address: 7 Chome-4-2 Kasumigaoka, Higashi Ward, Fukuoka

Official Website: https://www.full-full.jp/

BAKERY TATSUYA, Minami

Simple yet stylish, BAKERY TATSUYA is white on the interior and exterior. There is space to eat-in so it is possible to enjoy your freshly baked goods upon purchase. There is so much variety that you will be spoilt for choice.

▼BAKERY TATSUYA

Opening Hours: 9:00-17:00
Closed: Mondays, every first and third Tuesday of the month.

Address: 2 Chome-45-29 Hanahata, Minami Ward, Fukuoka

Official Website: https://www.facebook.com/BakeryTatsuya

amam dacotan, Ropponmatsu

Fig Fruit Sandwich and Salted Milk Gelato Croissant 

amam dacotan's crusty bread is so delicious that it appeared on TV. The shop is packed with different varieties of bread. Alongside the takeout menu there is also an eat-in-limited menu. The Salted Milk Gelato Croissant is an exquisite balance of sweetness and saltiness that you just have to try.

▼amam dacotan

Opening Hours: 10:00-19:00 (Sales end once stock is depleted)

Closed: Wednesdays
Address: 3-chōme-7-6 RopponmatsuChūō-ku, Fukuoka

Website: https://www.instagram.com/amam_dacotan/

Siro coffee, Josei

Red Bean Jam and Butter Sandwich with a Japanese Tea Latte

The simple and stylish interior of Siro Coffee has earned its Instagram fame. Treat yourself to a warm red bean paste and butter sandwich to enjoy the sweetness of the paste as it fuses with the saltiness of the butter. Everything is packed into a neat and beautiful small bun. The rich Japanese tea latte is the perfect way to finish off a refreshing meal. 

▼Siro coffee

Opening Hours: 12:00-19:00
Closed: Wednesdays and the first and third Tuesday of the month.
Address: 2-12-16 Josei, Sawara Ward, Fukuoka
Official Website: https://www.instagram.com/siro_coffee/

Shirogane Sabo, Hirao

Platinum Salad Morning

Shirogane Sabo's classic pancakes can be simply enjoyed as they are for a buttery flavour or enhanced as you please by adding maple syrup or honey. The Platinum Salad Morning comes with juice, the platinum salad, classic pancakes and coffee. Shirogane Sabo can get quite crowded so it is best to reserve a time slot if you are set on going.

▼Shirogane Sabo
Opening Hours:

Weekdays: 10:00-22:00(Last Orders: 21:00)

Weekends and National Holidays: 8:00-22:00(Last Orders 21:00)
Address: 1 Chome-11-7 Shirogane, Chuo Ward, Fukuoka

No closing days.
Website: http://s-sabo.com/

Bread, Espresso & Hakata &, Fukuoka Ekimae

Teppan French Toast

Mu-Mentai

A Bread, Espresso & Hakata & opened in Hakata. This branch serves the Fukuoka-limited Mu-Mentai where you can enjoy a heap of creamy fish roe covered in butter and cream. The bread and sandwiches start to sell out past lunchtime so make sure you get there early if you are interested. 

▼Bread, Espresso & Hakata &

Opening Hours:8:00-20:00
No Regular Holidays
Address: 2-8-12 Hakataekimae, 1F, Hakata, Fukuoka
Website: https://www.instagram.com/bread.espresso.and.hakata/

Blue Jam, Sawara

Croissant d'Amande Choco Banana 

Blue Jam uses carefully-selected natural ingredients in their bread and pastries. The luxurious Croissant d'Amande Choco Banana is a three-in-one almond, banana and chocolate croissant. The melon pan here is also delicious.

▼Blue Jam

Opening Hours:8:00-18:00 (Last Orders: 17:30)
Closed: Sundays
Address: 3-1-41 Tamura, Sawara Ward, Fukuoka
Official Website: http://www.bluejam-fukuoka.com/

 So, what do you think? moe's Instagram is full of the most delicious lunches you have ever seen. If you're struggling on where to go for breakfast in Fukuoka, let moe's Instagram be your guide. 

Original Article Information and Photos by:  moe

teamLab: Digitized Fukuoka Castle Ruins to Take Place in 2019-2020

teamLab has announced a new digital art event entitled "teamLab: Digitized Fukuoka Castle Ruins" which will bring interactive digital art to Fukuoka Castle from November 29 to February 2.

Breathing Resonating Stone Wall – Fukuoka Castle Ruins, teamLab, 2017, Digital Installation, Endless, Sound: Hideaki Takahashi

Construction of Fukuoka Castle began in 1601 and took place over the course of 7 years. The historical landmark is lined with hundreds of meters of stone walls, which has led the castle to be nicknamed Stone Castle.

Animals of Flowers, Symbiotic Lives in the Stone Wall – Fukuoka Castle Tower Ruins, teamLab, 2017, Interactive Digital Installation, Sound: Hideaki Takahashi

The exhibition is a part of teamLab's Digitized City art project, the concept of which is that non-material digital technology can turn a city into art without physically altering it.

The castle's enormous span of 20,000 square meters will be decorated with interactive digital art that reacts to people's presence.

Crows are Chased and the Chasing Crows are Destined to be Chased as Well in the Stone Wall – Fukuoka Castle Tower Ruins, teamLab, 2019, Digital Installation, 4 min 20 sec (loop), Sound: Hideaki Takahashi

Sketch Kuroda Kanbei, teamLab, 2019, Interactive Digital Installation, Sound: Hideaki Takahashi, Kenta Matsukuma, Jun Tanaka (Big Cats Creatives) 

7 installations will make up the exhibition, including 4 new ones such as Crows are Chased and the Chasing Crows are Destined to be Chased as Well in the Stone Wall – Fukuoka Castle Tower Ruins, where three-legged crowds from Japanese mythology known as Yatagarasu are rendered in light and fly across the castle walls, and Sketch Kuroda Kanbei, where people can draw Kuro Kanbei and historical figures and see them come to life.

Information

teamLab: Digitized Fukuoka Castle Ruins 2019-2020
Running: November 29, 2019 – February 2, 2020 (No planned holidays)
Time: 18:00-22:00 (Last Entries 21:30) *Open until 1:00am the following day on December 31
Location: Maizuku Park, Fukuoka Castle (Jonai, Chuo Ward, Fukuoka)

Tickets: Available on Ticket Pia, 7-Eleven, and directly at Fukuoka Castle

Access
①8 minutes on foot from Akasaka Station or Ōhorikōen Station via the Kūkō Line (Fukuoka City Subway)
②5-8 minutes on foot from the "Fukuoka-jo Korokan-mae", "Fukuoka-shi Bijutsukan Higashi-guchi" or "Otemon & Heiwadai Rikujo Kyogijo-iriguchi" bus stops, or 10 minutes on foot from "Akasaka 3-Chome" bus stop via the Nishitetsu bus

Official Website: https://www.teamlab.art/e/fukuoka-castle/

*Please note that there are stairs and areas with different height levels as well as unpaved areas, and so there may be areas which are difficult to access for those with wheelchairs, a physical disability, pushchairs, and so on

*Drunk attendees, attendees who cause disruption for others and so on will be ejected from the premises

*The exhibition will be cancelled on the day in the case of severely bad weather