Disney's The Lion King Themed Merchandise to be Sold at Laforet Harajuku
To celebrate the release of Disney's upcoming film The Lion King, Laforet Harajuku has announced a collection of merchandise to be sold at around 30 stores inside the shopping complex. Running from August 7 to September 1, look forward to getting your paws on one pieces, t-shirts, bags, smartphone cases and more. Everything on sale is exclusive to Laforet Harajuku meaning you won't get it anywhere else.
An exhibition entitled "The World of Disney's The Lion King" will also take place alongside the event which will feature stills, photo spots and more all themed on the film.
Additionally, another stall will open called "Disney Classics MARKET" which will sell a selection of chic Disney-themed goods including The Lion King and many more.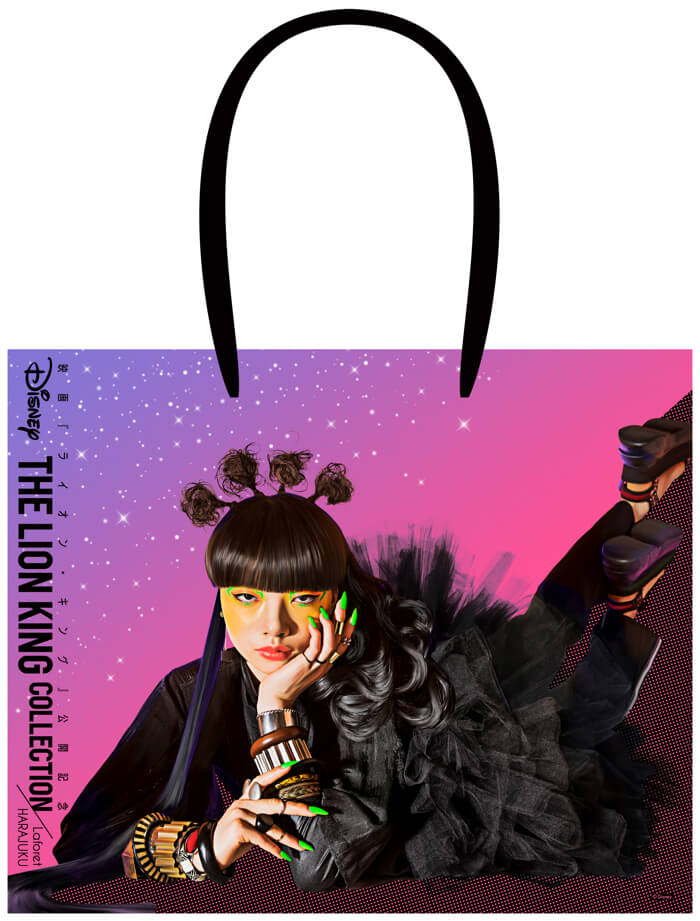 Customers who purchase any items in The Lion King collection will receive the above-pictured original shopping bag too. Further details will be announced on Laforet Harajuku's website in the run up to the event.
©2019 Disney Enterprises, Inc. All Rights Reserved.
©Disney
Information
Disney THE LION KING Collection | Laforet HARAJUKU
Running: August 7, 2019 – September 1, 2019
*Orders for fashion items will begin on August 1, 2019
The World of Disney's The Lion King Exhibition
Location: Laforet Museum Harajuku
Running: August 7, 2019 – September 1, 2019
Opening Hours: 11:00-21:00
*Entry may be restricted during busy times
*Please refrain from allowing children in by themselves
The Lion King (2019)
Release Date: July 18, 2019 (Japan: August 9, 2019)
Official Website: https://disney.co.uk/movies/the-lion-king-2019
Laforet Harajuku
Address: 1-9-13 Jingumae, Shibuya, Tokyo
Official Website: http://www.laforet.ne.jp/
RELATED ENTRIES
Basketball Culture Space TOKYO 23 Reopens on Cat Street in Harajuku

TOKYO 23, a shop promoting basketball culture, is set to reopen as a large-scale shop in Harajuku on September 18, 2021. 

TOKYO 23 x JUN INOUE TEE (Black/White): ¥5,500 each (Tax Included)

Guests will enter the space to find a basketball court at the center, both keeping with the theme of the shop and maintaining a minimalist vibe. The location is bold, using a balance of different upcycled materials and gray-tone colors reminiscent of the Tokyo streets. 

JUN INOUE was in charge of designing the lanterns throughout the store, giving a more traditional Japanese feel to the modern storefront. The store is dotted with artworks by Inoue as well as Reina Koyano, both located in Los Angeles. 

The coffee shop "LATTEST" will also be a permanent fixture in the store, and is the perfect place for visitors to relax and take in the art and feeling of the TOKYO 23 store. To commemorate the opening of this massive space, special collaborative JUN INOUE x TOKYO 23 T-shirts will be on sale for a limited time. 

Information

TOKYO 23

Opening: September 18, 2021

Address: Harmony Harajuku 1F (4-28-21 Jingumae, Harajuku, Tokyo)

Hours: 11:00-22:00

Phone: 03-6804-2635

Official Site: https://www.atmos-tokyo.com/brands/tokyo23

Zoff Announces New Disney Collection Glasses for 20th Anniversary

Glasses brand Zoff has released a new collection titled the "Disney Collection Zoff 20th Anniversary Line," featuring Mickey Mouse and Minnie Mouse motifs. The collection will be released on September 17 2021 in Zoff stores nationwide and online.

Mickey Mouse Model

Minnie Mouse Model

Case, Glasses Cloth

The very first Zoff store opened 20 years ago. To mark the occasion, a selection of commemorative glasses will be available in their Disney collection, featuring Mickey and Minnie Mouse. The pair are dressed up more than usual, seemingly invited to a fun party. The design is special and full of details, as are all of the models in the Disney Collection.

Be sure to check out these special frames, with their charming Disney features!

Nature-filled Digital Detox Cafe HANARIDA Opens in Harajuku

Zoomers are used to life with their smartphones and computers. While life certainly is more convenient being able to connect instantly with your friends, have you ever felt a certain emptiness despite this? According to the Ministry of Internal Affairs and Communications, young people in their 20s spend approximately four to five hours looking at screens per day. However, sometimes, it can be nice to put down your phone and enjoy a cup of tea with your friends in front of you. With those thoughts, the HANARIDA Harajuku cafe open on August 8 2021. The hidden cafe is filled with flowers and greenery, aimed at adults. Here you can enjoy a quiet time away from the bustle of the city, relaxing with a cup of dry fruit-infused herbal tea.

Every sunday is a digital detox day, meaning that smartphones and laptops are banned in the cafe. You can leave your phone with the staff to receive a free drink. With the comfy interior and a selection of board games, conversations will flow naturally to create a home-like space, even without technology

The flowers and trees in the cafe, which was decorated by a professional flower artist, are all real. The atmosphere changed based on the time of day – the sunshine lights up the cafe while the warm lights make for a relaxing evening. You won't get tired of this cozy space! 

Experience relaxation away from the busy city while watching the flowers bloom throughout the day, as you puff on a dried fruit Hanakemuri hookah. The hookah used by HANADIRA is both nicotine and tar free, meaning they can be enjoyed by non-smokers. 

Their drink selection for Valentine's day 2021 was a huge hit on social media, particularly the Sakicha dry fruit tea. The tea is now available on the menu, so make sure to try it for yourself!

Information

HANARIDA Harajuku

Opening Date: September 8 2021 

Opening Hours: 11:30 ~ 24:00 (No regular holidays)

※Closes at 20:00 until September 12 due to the current state of emergency declaration.

Address: Section L Pop-up House 2F 4-27-2, Jingumae, Shibuya, Tokyo 

Seven minute walk from JR Harajuku Station

https://goo.gl/maps/bXVEsW735gHT7kZD9 

※Under 20s are denied entry to the cafe

Official Site: https://hanarida-official.com/ 

Experience "Love" with All Five Senses at Disney Princess Exhibition, Visiting Fukuoka, Osaka in 2022

The WHAT IS LOVE? -Sparkling Secrets of the Princess' World- exhibition, based on "Courage and Kindness" and held to commemorate the Global Princess Celebration, is currently touring in Tokyo and Nagoya. The event has announced that the next venue will be in the Fukuoka Asian Museum from January 2, 22. The exhibit will be held in Osaka in Summer 2022.

 

In addition, the Disney Princess Exhibition VR, currently being held at Docomo Shop D Garden in Nagoya, will move to the Docomo Shop Grand Front in Osaka from September 12, 2021, with ticket reservations currently being accepted.

 Original Goods Samples

Earl Gray Tea: ¥1,296 (Tax Included)

 2 Pocket Mirror File (A4, Key Visual): ¥462 (Tax Included)

 Framed Poster (A3, Princess Aurora) ¥1,100 (Tax Included)

 Room Fragrance (Jasmine) ¥5,280 (Tax Included)

The concept of the exhibition is WHAT IS LOVE, reflecting the title. At the exhibition, you can learn more about the "Love" that made each Princess shine throughout their story, featuring 12 Princesses: Snow White from Snow White, Cinderella from Cinderella, Aurora from Sleeping Beauty, Belle from Beauty and the Beast, Jasmine from Aladdin, Pocahontas from Pocahontas, Mulan from Mulan, Tina from Princess and the Frog, Rapunzel from Tangled, Merida from Brave, and Moana from Moana.

The exhibition consists of six areas where you can experience "Love" as taught by Disney Princess, using video, digital technology, music, and fragrances to stimulate all five senses. By experiencing the exhibition, your own world will begin to shine as you learn more about the various types of "Love" that can be felt towards your soulmate, family, friends, and yourself. 

 

A selection of popular exhibition original goods are currently on sale at the Tokyo venue (Shibuya Marui) and the Nagoya venue (JR Nagoya Takashimaya).  They can also be purchased through the official online shop, so don't miss out!

 

Information

WHAT IS LOVE?  ~Sparkling Secrets of the Princess' World~

Fukuoka

Venue: Fukuoka Asian Art Museum Planning Gallery

Duration: January 2 ~ March 27, 2022

 *Admission fees and ticket sales information will be announced in future.

 *The addition of a VR exhibition is unconfirmed

Osaka

Date: Summer 2022

 

Online shop: https://store.plusmember.jp/princessexhibition/ 

Disney's Winnie The Pooh to Celebrate 95th Anniversary at Ginza MITSUKOSHI

A special shop will be opened in Ginza's MITSUKOSHI mall between September 15 and 27 to celebrate the 95th anniversary of Disney's Winnie The Pooh. There will be a variety of limited projects and free gifts to mark the occasion, including MITSUKOSHI ISETAN pre-sale products, daily presents, and even limited tumblers!

There will also be a photo corner set up for you to take photos with Winnie The Pooh himself.

Pre-Sale Products

MITSUKOSHI ISETAN Pre-Sale/ MITSUKOSHI ISETAN Limited Magnet: ¥495 (Tax Included)

MITSUKOSHI ISETAN Pre-Sale/ MITSUKOSHI ISETAN Limited Can Mirror: ¥495 (Tax Included)

MITSUKOSHI ISETAN Pre-Sale/ Event Limited Key Holder: ¥935 (Tax Included)

MITSUKOSHI ISETAN Pre-Sale/ Event Limited Mascot Ball Pen: ¥715 (Tax Included)

The first 500 customers spending over ¥2,200 will receive an original sticker that changes daily.

The first 500 customers spending over ¥11,000 will receive an original stainless tumbler.

Ginza MITSUKOSHI Limited Winnie The Pooh Photo Spot

Make sure to check out these adorable Winnie The Pooh items as he celebrates his 95th anniversary!

mc. ©DISNEY. Based on the "Winnie the Pooh"works by A.A. MiIne and E.H Shepard.

Trailer for Star Wars Anime Project 'Star Wars: Visions' Releases Worldwide

The anime Star Wars anthology Star Wars: Visions is coming to Disney Plus on September 22, and ahead of release, a more detailed trailer has been released to excited audiences worldwide. Seven of Japan's leading animation studios are participating in the highly-anticipated project, which will tell nine new stories from the Star Wars universe. Each studio will bring their own unique vision to the epic space opera, and fans worldwide have been blown away by the new teaser footage. 

While details on the nine stories are still scarce, the global trailer does feature some of the show's voice actors: English audiences recognized actors Joseph Gordon-Levitt and David Harbour, while the Japanese trailer featured such well-known performers as Masako Nozawa, Yuichi Nakamura, Junya Enoki, Yuma Uchida, Daisuke Hirakawa, and Hiroyuki Yoshino. 

The project aims to introduce Japanese anime and pop culture to the world in a new way. The trailer contains fantastical lightsaber battles and unique characters along with memorable moments from the films, including the famous line "May the Force be with you." Fans around the world are raising their expectations for the explosive final product. 

Global Trailer (In Japanese with English Subtitles)


English Dubbed Trailer (In English with Japanese Subtitles)


 

Below is a list of the animated shorts featured in Star Wars: Visions, as well as the contributing studio: 

The Duel – Kamikaze Douga

Lop and Ochō – Geno Studio (Twin Engine) 

Tatooine Rhapsody – Studio Colorido (Twin Engine) 

The Twins – Trigger

The Elder – Trigger

The Village Bride – Kinema Citrus

Akakiri – Science Saru

T0-B1 – Science Saru 

The Ninth Jedi – Production IG


George Lucas, the creator of Star Wars, has cited Japanese director Akira Kurosawa, and Japanese culture as a whole, as a great influence on his works. The executive producer of Star Wars: Visions, James Waugh, calls the project 'a love letter from Lucasfilm to Japan, the country that gave the world anime culture.'

©2021 TM & c Lucasfilm Ltd. All Rights Reserved.

Information

Star Wars: Visions

Release Date: September 22, 2021 on Disney+

Official site:https://disneyplus.jp/

New Original Japan-Inspired Mickey Mouse Goods Now on Sale

The MICKEY NEXT JAPAN MARKET, a collection of Mickey Mouse goods designed in Japan, will be held at the Odakyu Department Store in Shinjuku for a limited time, from August 18 to September 6, 2021. 

The Merchandise

Pouch: ¥770 each



Small Dish: ¥990

Drawstring Pouch: ¥880

Teacup: ¥1,650

Tote Bag: ¥1,650

Kyoto Traditional Crafts Series

Hand-painted Japanese Disney Fantasia Candles (5 pieces, with frame): ¥27,500

Incense (15 sticks): ¥1,430 each box

Disney Classics MARKET Limited Items

Lady and the Tramp Stackable Mug: ¥1,870

101 Dalmatians Classic Plate (2 plate set): ¥2,200

These goods feature Mickey as you've never seen him before: in classical Japanese designs and arrangements! In addition to Japanese items like furoshiki (wrapping cloth) and teacups, fans can also grab a number of special crafts from Kyoto. These can only be purchased here, so don't miss out!

Starting September, several anniversary goods will also be available. 101 Dalmatians is celebrating its 60th anniversary, Alice in Wonderland is turning 70, and Dumbo is turning 80!

How do you like Mickey's Kabuki-style look? 

©Disney    NTVS

Twin Fashion Icons AMIAYA Release Photobook with STREET Magazine

Tokyo fashion icons and twin unit AMIAYA have collaborated with street-snap magazine STREET on a new photobook! 'AMIAYA x STREET TOKYO FASHION 2021ss' will go on sale August 23 at select bookstores and online.

AMIAYA began their fashion journey in street fashion when they were teenagers, and are currently attracting worldwide attention as icons representing Tokyo style. STREET magazine has been highlighting unique international streetwear since its first issue in 1985, and both parties are using this collaboration to help the fashion industry, which has been adversely affected by the pandemic.

The magazine features snapshots of AMIAYA wearing the hottest Tokyo fashions on the streets of Harajuku and other popular areas around Japan's capital. The photos were taken by Shoichi Aoki, photographer and editor-in-chief of STREET.

Each photo has the power to open up your mind to a new world of fashion, so why not give it a look?





Comment from AMIAYA

 

"The Coronavirus pandemic has given us a new perspective on fashion, and how we can share it from Tokyo to the rest of the world. STREET magazine has so many readers overseas, and it's truly made an effort to boost the Japanese fashion scene. We believe in the potential of fashion to connect Japan to the rest of the world, and we hope that through this collaboration, we share some positive energy through our style."





Comment from the Editor-in-chief of STREET, Shoichi Aoki

"The pandemic has caused unprecedented damage to the entire fashion industry, and it has become more difficult to share Japanese fashion with the rest of the world. Fashion is not something unnecessary–it's something important for Japan, and for humanity as a whole. AMIAYA are Japanese fashion icons that are recognized around the globe. They are somewhere between reality and the virtual world. By having them model on the streets of Tokyo, I wanted to create something to convey the current state of Japanese street fashion with international audiences. It took a year and a half of shooting while adjusting AMIAYA's schedule, but it's finally being published. Even if it seems like a small project, even the smallest activity can have a massive impact."

Information

AMIAMA x STREET TOKYO FASHION 2021ss

Release Date: August 23, 2021

Page Count: 76 pages

Price: ¥4,950 (Tax Included)

Where to Buy: Tokyo TSUTAYA stores/ UNITED TOKYO Jingu-mae, Shanghai, Beijing, Hong Kong

Online Store: https://amiayaxstreet.com (Open August 23, 12:00JST)

Official Site: https://amiaya.asobisystem.com

Cafe & Gift Shop Disney HARVEST MARKET By CAFE COMPANY Pre-Opens

Disney HARVEST MARKET By CAFE COMPANY, pre-opening for reservations on August 12, is a new cafe and gift shop that offers "Food that connects with the future." 

The 'Health-ertainment' themed menu is healthy for people, society, and the earth itself, while staying tasty, fun, and enjoyable to reflect Disney's world view.

 

Menu Sample


Afternoon Tea Party: ¥3,200 per customer (2+ guests)
An Afternoon Tea set with seasonal fruits, pancakes, open sandwiches and drinks.


From the bottom: Otoboke Barista Cafe Latte: ¥770 / Cheerful Farmer Jumbo Mushroom Burger: ¥2,530 / Fluffy & Crumbly Doggy Potato (Curry Flavor): ¥935 / Cute Chef's Pink Berry Pancake: ¥2,200 / Stylish Patisserie Double Berry Glass: ¥1,980 / Careless Fisherman's Wholegrain Carbonara : ¥2,200 

The menu is made up of the characters and stories that make up Disney, starting with Mickey and Minnie Mouse, perfect for both adults and children.  

In addition, with the concept of Japan Local, there will be a special menu that allows you to experience the four seasons of Japan, with menu items that reflect Japanese seasonal events.

By combining the act of eating with entertainment through Disney's world view, the customer can enjoy a "delicious and fun" food experience. 

Oh!Miyage ~GOODS EXPERIENCE~

The gift shop offers not just Omiyage (souvenirs) but Oh!Miyage, filled with original products and traditional crafts made by trustworthy creators from across Japan. The gift shop provides an experience packed with the fun of choosing, buying, gifting, and using your purchases while offering awareness of both yourself and the makers. 

 

A 'Harvest' Experience Full Of Disney

The Harvest store is decorated with wood and greenery,  built using both new and recycled goods made from waste materials.

The menu represents the four seasons of Japan by combining Japanese culture and natural motifs with designs inspired by Mickey and Friends.

 

 

The back of the store is taken up by a huge white Mickey Mouse statue, standing 1.7m tall. The statues outfit and display changes based on the season, welcoming guests as a symbol of the store. Limited merchandise based on the statue's hand towel and muffled designs are scheduled to be released in the future. 

 

BGM

The store background music is full of timeless and beloved tunes, perfect for relaxing in a cafe. Songs have been selected from Disneyland Records and Burns Vista Records, both popular since the 1950's, including legendary Disney tunes from the Sherman Brothers and Annette.

You can also hear rare tracks sung by Mickey Mouse, Minnie Mouse, Donald Duck, and other disney characters within the playlist.

Make sure to enjoy this Disney-colored 'Health-ertainment' experience for yourself!

Information

Disney HARVEST MARKET By CAFE COMPANY

Location: 2-21-1, Shibuya Hikarie 7F, Shibuya, Tokyo

Telephone: 050-3733-5055

Opening Hours: 11:00~20:00 (FOOD L.O.19:00  DRINK L.O. 19:00)

Official site: http://d-harvestmarket.com/ 

*The above information is based on regular opening hours and seat availability. Please note that the store is currently operating at different opening times and reduced seating to prevent the spread of Covid-19.

FAKY Members Model for new MOUSSY x Disney Collection

High-casual brand MOUSSY is collaborating with Disney to release the "Disney SERIES CREATED by MOUSSY" Fall 2021 collection. Items from the new collab will be available on August 18 at the SHEL'TTER Web Store and the MOUSSY Flagship Shop. Also, two "Disney SERIES CREATED by MOUSSY" Pop Up shops are now open!

This particular line has been developed by MOUSSY since April 2018. Chosen to model the 2021 Autumn Collection were Hina and Taki from the popular four-member girl group FAKY. The styles displayed in the lookbook cover a wide variety of genres, from the adventurous "JUNGLE SAFARI" series to the elegant "ORIENTAL" series, giving some Chinese flair. The "PALS" series focuses on the importance of friendship, and those with a love of nostalgia will love the "VINTAGE POSTER" looks, reminiscent of famous works. 

 

It's possible that certain items may stick around if popular enough, so be sure to grab any pieces you love!




©Disney

Winnie the Pooh POP UP SHOP Opens at First Avenue Tokyo Station

As a fitting celebration of Honey Day (August 3), popular toy and character shop Kiddyland has opened a limited-edition Winnie the Pooh POP UP SHOP within Ichiban Plaza at First Avenue Tokyo Station. The festive locale will be open until August 12. 

Coinciding with the start of the event, 28 other shops around the country will also begin selling new Winnie the Pooh products featuring Kiddyland's original design. This includes 10 Disney Avenue locations, as well as 18 Kiddyland shops around Japan. 

After spending time picking up some adorable new merch, guests can also take pictures at the new Winnie the Pooh photo spot!





Beginning July 30, visitors spending over ¥3,000 will get the Heffalump can badge free of charge. (Item not for individual sale.)

After August 3, visitors spending over ¥3,000 will get the PJ Pooh can badge! (Item not for individual sale.)

Those spending ¥2,000 or more on Heffalump merch will receive two Winnie the Pooh stickers. (Stickers not for sale.)

Spend ¥3,000 or more (tax included) at participating Disney Avenue stores to receive a limited Pooh's Nightmare badge. (Not for individual sale.)

The Heffalump plush, which went on presale July 30, is now available at 31 stores for ¥3,300 (Tax included.)

Original Design Merch

Beginning July 30, these goods are only available at the Harajuku, Osaka Umeda, and Tokyo Station Disney Avenue locations, as well as the First Avenue Tokyo Station Ichiban Plaza shop.

A5-size Mini Towel, 8 Designs: ¥660 each (Tax Included)

Acrylic Keychains, 8 Designs: ¥924 each (Tax Included)

8月1日(日)~ ディズニー・アベニュー10店舗/東京駅一番街いちばんプラザ限定

Candy Keychains, 2 Designs: ¥660 each (Tax Included)

T-Shirts, 3 designs: ¥3,190 each (Tax Included)

Tissue Pouch: ¥1,980 (Tax Included)

Mesh Pouch, 2 Designs: ¥2,090 (Tax Included)

Money Pouch: ¥1,100 (Tax Included)

Round Drawstring Pouch: ¥1,100 (Tax Included)

Flat Pouch: ¥1,100 (Tax Included)

IC Card Holder: ¥2,420 (Tax Included)

Pouch Set: ¥2,200 (Tax Included)

Tote Bag: ¥3,080 (Tax Included)

Mini Reusable Shopping Bag: ¥1,540 (Tax Included)


Reusable Shopping Bag: ¥1,815 (Tax Included)

When you think of honey, you think of Winnie the Pooh. Released last year to massive popularity, these original designs featuring our favorite bear in cozy pajamas alongside the fuzzy Heffalump are sure to bring a smile to anyone's face. Those who preordered the Heffalump plush will get a few special perks!

This original collection is full of goods as sweet as honey, so try to collect them all!

©Disney. Based on the "Winnie the Pooh" works by A.A.Milne and E.H.shepard.

Japanese Music Artists to Perform at Crocs Japan x atmos pink's Summer Festival

Casual footwear brand Crocs Japan and sneaker select shop atmos pink are set to host a summer pop-up event titled 'Atokuro Natsumatsuri' at atmos pink's flagship store in Harajuku as well as online from July 31 to August 9.

atmos is one of the leading sneaker brands in Japan, while Crocs is a staple of summertime footwear. Together, the two brands are set to deliver an array of summer season content with classic Japanese summer stalls, creating your own custom Crocs Jibbitz™, and more. Additionally, everyone who attends the event and buys something will enter for a chance to win some limited-edition merhandise.

Starting on August 2, a line-up of Japanese artists will perform live on YouTube for the event, with names such as FAKY, Yurufuwa Gang, ELLE TERESA, CHAMELEON LIME WHOOPIEPIE, Atarashii Gakko no Leaders, and more.

Information

Atokuro Natsumatsuri
Running: July 31, 2021 – August 9, 2021

Location: atmos pink Flagship Shop Harajuku

Address: 6-5-3 Jingumae, Shibuya, Tokyo

Opening Hours: 11:00-20:00

Live Schedule​
August 2 @ 21:00 – FAKY

August 4 @ 21:00 – Yurufuwa Gang
August 6 @ 21:00 – ELLE TERESA
August 8 @ 21:00 – CHAMELEON LIME WHOOPIEPIE, Atarashii Gakkou no Leaders

atmos pink channel: https://www.youtube.com/channel/UCkSEEsKnBrGz0bP9XLDkSGw

atmos pink Official Website: https://www.atmos-pink.com/