Rilakkuma Umbrella by Felissimo Can Be Used in Clear or Rainy Weather
Felissimo released a new Rilakkuma-inspired beige-pink umbrella on their website on June 10.
The umbrella's design is subtle and sophisticated. The outer rim is lined with a brown coloured lace reminiscent of Rilakkuma. It also has a handle made from high quality wood carved into Rilakkuma's face. The umbrella also cuts 98% of UV rays meaning it can be used in both clear and rainy weather.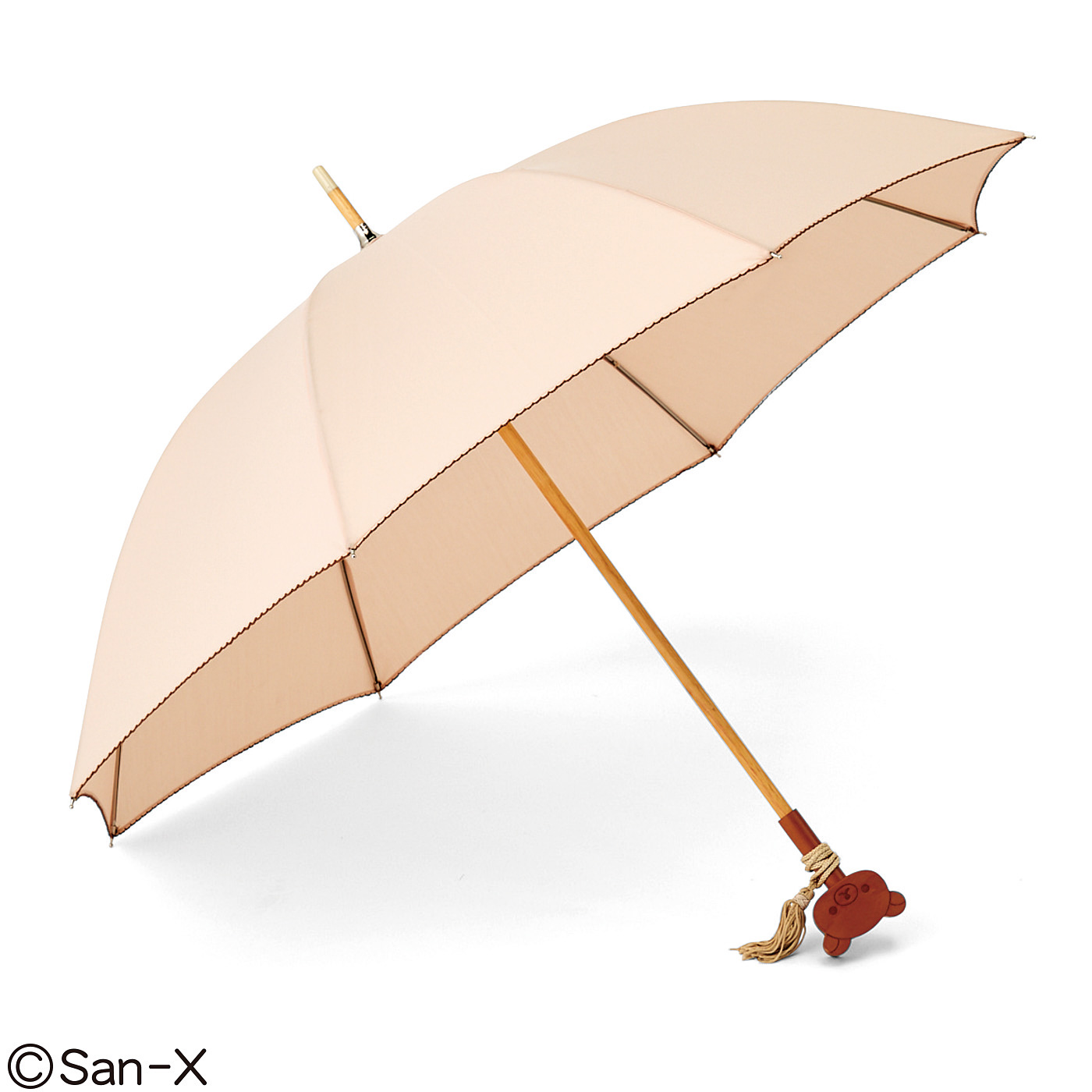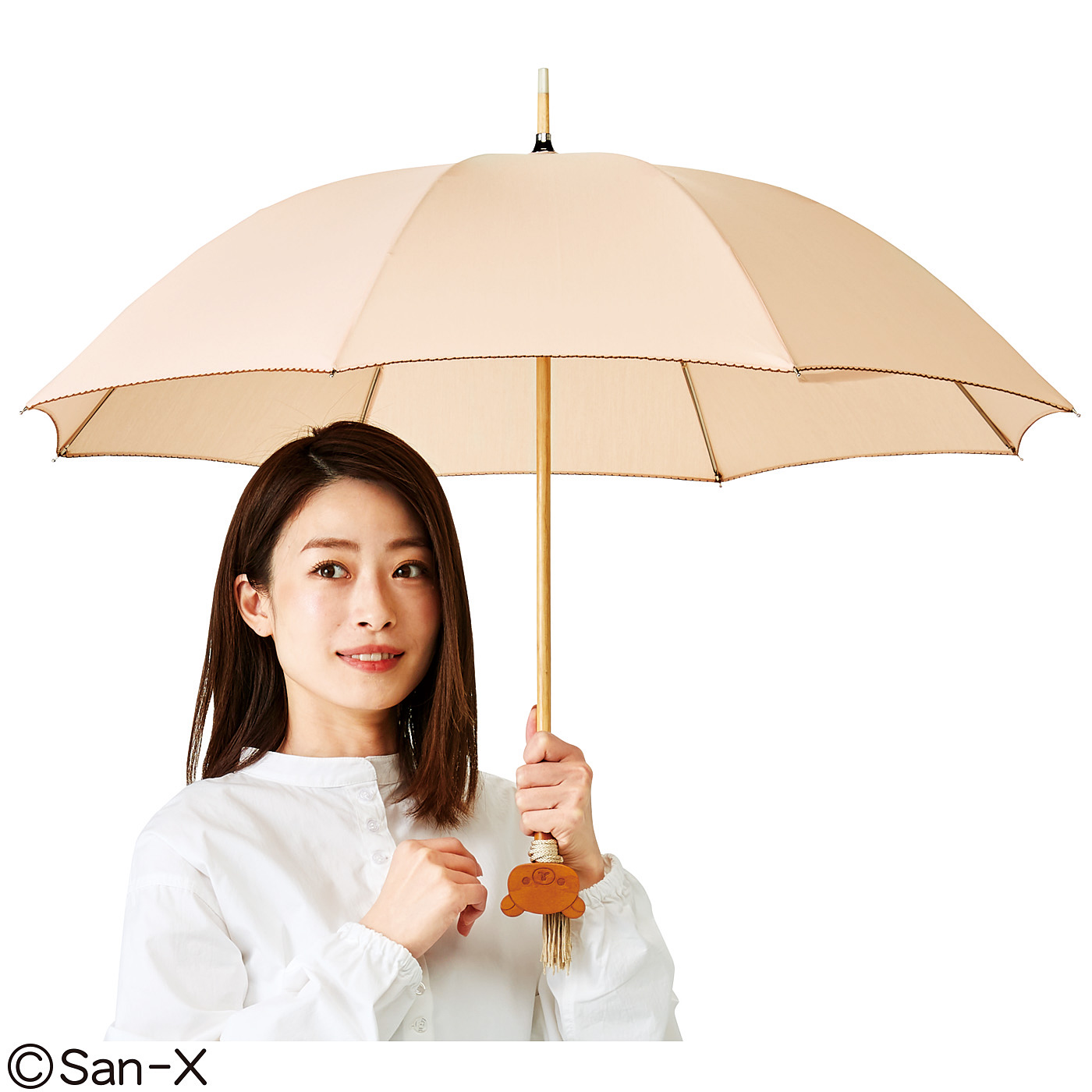 Its beige pink colour with brown lacing gives it a sophisticated feminine design.
Rilakkuma's facial features on the handle were made using laser cutting and together with the frilly cotton rope tied to it give it a polished and refined look.
There is also a name tag on the umbrella with a nonchalant Rilakkuma logo printed on it.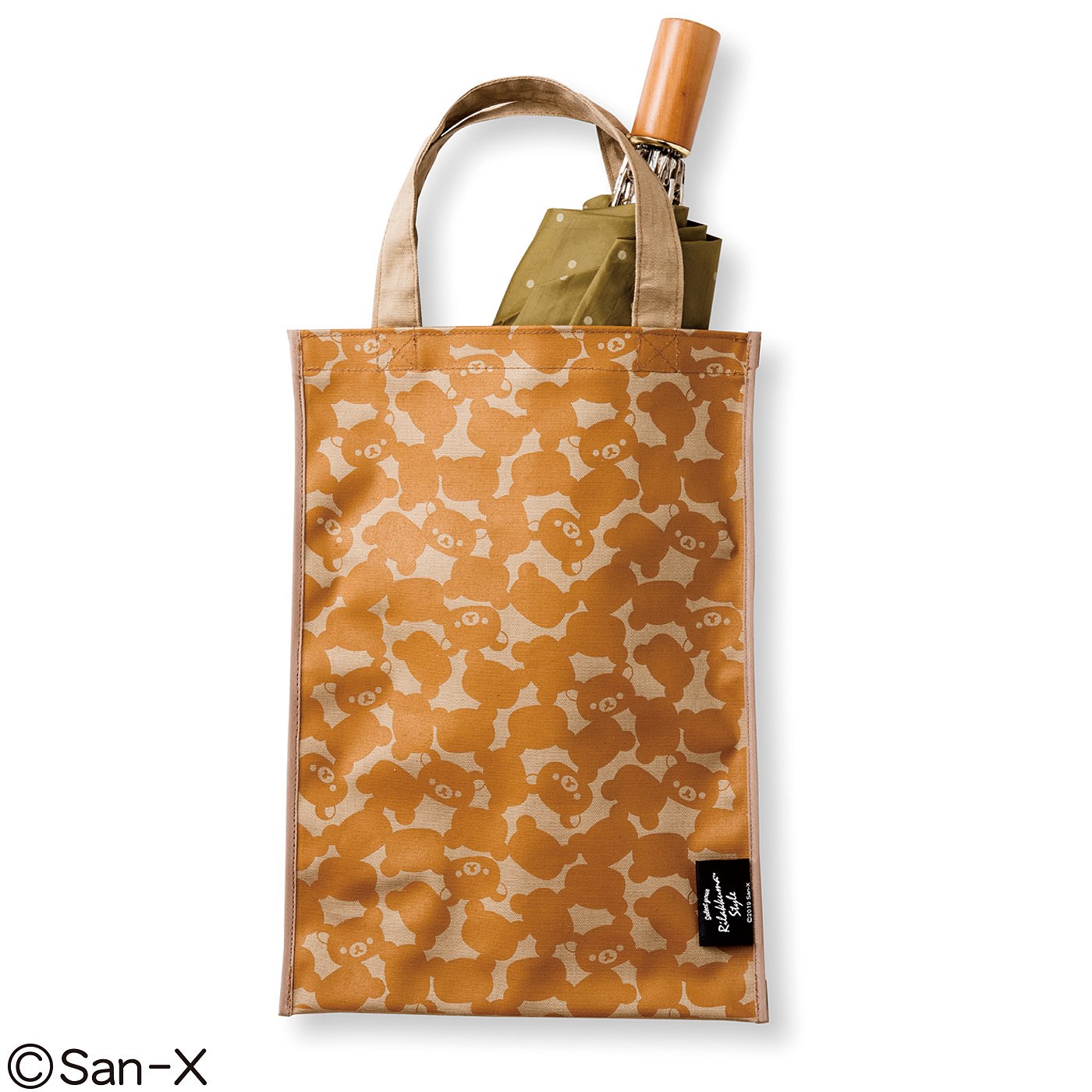 There is also a separate bag you can purchase to put your umbrella in after it rains so you don't get the floor wet if you go inside anywhere.
©San-X
RELATED ENTRIES
Rilakkuma 20th Anniversary Cafe Be Held in Omotesando, Tokyo in March and April

To commemorate the 20th anniversary of Rilakkuma and his adorable friends, the Rilakkuma 20th Anniversary Cafe will open in Omotesando, Tokyo from March 9 until April 16, 2023. You'll want to come and spend a peaceful time looking back at two decades of everyone's favorite lazy bear!

The menu features colorful and festive dishes inspired by Rilakkuma, Korilakkuma, Kiiroitori, and Chairoikoguma. The characters express their thanks for 20 successful years, and fans can enjoy floats topped with Rilakkuma and friends wearing ribbons and topped with ice cream, a jelly soda inspired by Chairoikoguma and his friends in the honey forest, and a hot drink inspired by Rilakkuma's favorite pudding.

Menu

Rilakkuma's Honey Mustard Hamburger

コリラックマのクリームパスタ

Korilakkuma's Cream Pasta

Kiiroitori's Egg Burger

Chairoikoguma's Cheese Curry 

Rilakkuma and Friend's Celebratory Cake

Congratulatory Flower Parfait

You Can Choose♪ Rilakkuma and Friends Mini Ice Cream

You Can Choose♪ Rilakkuma and Friends Floats 

Honey Forest Jelly Soda

Relaxing Pudding Drink

Take-Out Drink Bottle

Original Merch

Acrylic Clip (7 varieties, random)

Acrylic Keychain (5 varieties, random)

Mini-Bottle / Muddler with Charm (4 varieties)

Lunch Tote / Drawstring Bag

Acrylic Stand with Clip / Cork Coaster

Stuffed Animal

In addition, the cafe will offer original goods, special offers, and a Twitter campaign to celebrate Rilakkuma's 20th anniversary.

Come enjoy the elaborate original menu and goods while sharing memories at this limited time themed cafe!

©2023 San-X Co., Ltd. All Rights Reserved.

Information

RILAKKUMA 20th Anniversary Cafe
Venue: BOX cafe&space Omotesando
Running: March 9 – April 16, 2023
Address: Pine Under Flat B1F (5-13-2 Jingumae, Shibuya-ku, Tokyo)
Reservation Fee: ¥715 (Tax included) *Reservations include bonuses.
*Reservations can be made for up to four guests per application.

Online Shop: https://rilakkuma20th-cafe.jp/online_store/
Sales Open: March 9, 15:00 – April 16, 23:59
(Items will ship starting in early May 2023.)
Official Site: https://rilakkuma20th-cafe.jp

Rilakkuma Celebrates 20th Birthday with Strawberry Buffet at the Keio Plaza Hotel

The Keio Plaza Hotel in Tokyo is celebrating Rilakkuma's birthday in the sweetest way! The Strawberry Collection with Rilakkuma sweets buffet will be available from January 7 until March 31, 2023 at All-Day Dining Jurin on the hotel's second floor. 

 

The most popular strawberry buffet will be back and better than ever in 2023. Sweets featuring Rilakkuma and his friends will be on full display, including strawberry tarts, tiramisu, and other strawberry-filled sweets. The lazy bear's favorite pudding and pancakes will also be available along with soothing hot tea for the cold winter months. This will mark the first time that Rilakkuma's sweets buffet will appear at a hotel.

Small tartlets featuring Korilakkuma and Kiiroitori will be too cute to eat, and Chairoikoguma will appear on cookie sandwiches.

The dessert plate will include gorgeous fondant chocolate with images of Rilakkuma and each of his friends to set the mood for the opening of the event.

 

The location itself will also be decked out in sweet decorations, with guests being welcomed at the door. Taking pictures is encouraged, so make a reservation today if you're looking to impress on Instagram!

 ©2022 San-X Co., Ltd. All Rights Reserved. 

Information

Strawberry Collection with Rilakkuma

*Reservations required
Running: January 7 – March 31, 2023
Venue: All-Day Dining Jurin / 2F

Times: (1) 15:00-17:00 (Last order at 16:30) / (2) 15:30-17:30 (Last order at 17:00)

Details/Reservations: https://www.keioplaza.co.jp/event/strawberry-sweets/

Ad Museum Tokyo and Felissimo Collab on Nail Stickers Inspired by Edo Period Trends and Showa Style

Felissimo's Museum Department has teamed up with Ad Museum Tokyo to release a collection of nail stickers inspired by famous works of art from the Edo Period. They also released an incense collection inspired by classic matchbooks on November 21, 2022. Nishiki-e is a type of Japanese multi-colored woodblock printing, and those interested in traditional art will love showing off their new style with these easy-to-apply stickers. 

Edo Trend Nishiki-e Gel Style Nail Stickers

One Hundred Beauties from Famous Places of Edo – Ninghocho

Sixteen Female Sennin

Keisei Oyodo – Ichikawa Masunojou

Showa Modern Incense with Matchbox Labels

These incense sets were inspired by classic matchboxes, each featuring ads from the time. Each stick burns for about 10 minutes, making them perfect for use in your spare time. After using the incense, these are perfect for using as boxes for jewelry or other small items!

Felissimo Releases Items Inspired by Popular Manga Series Ranma ½

On November 16, Felissimo unveiled a collection of original items inspired by Rumiko Takahashi's popular manga series Ranma ½ on their official website. These items were made for adults to enjoy, and the collection includes plenty of apparel and items for the home. Whether you're looking for pajamas, tote bags, or pillowcases, Felissimo's got you covered!

Naruto Patterned Pajamas

These soft pajamas are perfect for the cold winter months and were inspired by the PJs Ranma wears in the series.

Fluffy P-chan Pouch

With his yellow bandana and fluffy body, this P-chan pouch is sure to brighten up your desk at school or work!

Pouch

This scene of Ranma walking along the fence while Akane follows on the ground is one of the most well-known moments in the series. Now, fans can relive it each time they reach for a pencil or pen.

Sweatshirt

This romantic moment from the series has been immortalized on a sweatshirt perfect for adults to wear with muted colors and a sleek design.

Pass Case

These pass cases are perfect for your Suica card and are each printed with popular battle poses from the series. 

2-WAY Earrings with Tassels

These earrings feature designs of Ranma, Akane, Shampoo, and P-chan. The tassels can be removed for a more subtle look. 

Reversable Tote Bag

This tote bag features a mature black design with a print of Ranma and friends. It's also reversible, with the opposite side a sleek white with flowers. This bag easily fits A4-size items.

Character Nail Stickers

Decorate your nails with Ranma, Akane, and Shampoo! These gel-like nail stickers are decorated with gold and silver foil. Tip: paint your nails different colors for unique effects!

 

Socks

These socks can be paired with a number of styles. While they were inspired by the classic manga series, there's no reason you can't wear them with a proper dress for a night out!

 

Pillowcase

These pillowcases will bring some fun to your bedroom! Whether you want something romantic or cute, snag one of these while you can.

Rilakkuma Cream Soda Appears at Maholova Minds Miura Tokyo Bay Hotel

Maholova Minds Miura, a hot spring resort on the Miura Peninsula in Kanagawa Prefecture, celebrated its 30th anniversary in June 2022. Royal Salon Yamato, a popular spot for coffee and parties since its opening, was transformed into the Rita Cafe this summer.


On September 23, Rita Cafe will begin selling its own original cream soda!

Rilakkuma's Miura Ocean Cream Soda / Korilakkuma's Watermelon Cream Soda

Rilakkuma Room (Bedroom/Living Room)

To celebrate the special Rilakkuma room and Korilakkuma room, guests can enjoy two new drinks: Rilakkuma's Miura Ocean Cream Soda and Korilakkuma's Watermelon Cream Soda. The rooms aren't too easy to book, but even if you can't, at least you can see plenty of adorable pictures on social media!

Felissimo's Cat Club Collaborates with f winery for Special Event

Felissimo's small-scale urban winery f winery is teaming up with Cat Club! From August 11 until September 25, guests can enjoy three original wines, chocolates, bread, and other unique merchandise featuring everyone's favorite kitties. This is the first collaboration between the portside winery and the popular cat collection.

Collaboration Products

Brown-and-White Sailor Cat (Cabernet Sauvignon & Merlot)


Tuxedo Sailor Cat (Sauvignon Blanc)


Grey Tabby Passenger Cat (Japanese Muscat Berry A)

Orange and Bitter Chocolate / Coffee and Bitter Chocolate / Matcha Chocolate

Collab Menu


Chocolate Plate with Wine (Example)


Blue Sky White Wine Jelly / Morning Sunrise Orange Jelly / Evening Sunset Red Wine Jelly

Chocolate Latte / Tea Latte / Tea Soda

The collaborative menu with Cat Club Parlor includes a wine set and a lineup of non-alcoholic drinks that everyone can enjoy. The original label wines will be available on the Felissimo website starting August 18, and one percent of the proceeds will be donated to the company's foundation supporting dogs and cats and helping them to find foster homes, as well to prevent cat overpopulation. 

Be sure to check out these adorable products–they'll make great gifts!

Netflix Releases New Trailer and Visual for 'Rilakkuma's Theme Park Adventure'

Netflix will begin streaming the stop-motion series Rilakkuma's Theme Park Adventure on August 25, 2022. 

 

The series is a continuation of the 2019 series Rilakkuma and Kaoru, which became incredibly popular around the world. The heartwarming story of the cuddly, lazy bear, the office worker Kaoru, and friends Korilakkuma and Kiiroitori, struck a chord with audiences. The new series will depict a day in the lives of Kaoru and Rilakkuma as they go have fun at an amusement park. Not everything will go according to plan, and the characters get caught up in a number of hilarious hijinks. 


The trailer and key visual for the series have been revealed, highlighting Rilakkuma, who is always completely relaxed no matter what kind of trouble he's in. The theme song for the series will be Inside Your Pocket by Quruli. Additional cast members include Takayuki Hamada as Hayate and Reina Ueda as a mysterious new character.



The trailer shows the craziness that will be happening during the series, including an epic car chase. Both adults and children are sure to fall in love with this series.

Trailer



Rilakkuma has the power to make anyone feel warm and fuzzy, so be sure to tune in. It will do your soul some good.

Information

Rilakkuma's Theme Park Adventure on Netflix

Streaming on August 25, 2022

Felissimo Releases Parakeet-Shaped Marshmallows to Support Small Bird Conservation Efforts

Felissimo's 'Little Bird Club' has unveiled a new collection of mini Japanese-style marshmallows! These tasty treats, flavored with chocolate and Anko (red bean paste) are available to order online. 

Mini Japanese-style Parakeet Marshmallows Round 2 (Chocolate Anko)

Mini Japanese-style Parakeet Marshmallows Round 2 (Chocolate Anko)

These adorable sweets were a smash hit during their first release, and this new collection features a variety of colorful parakeets certain to delight bird lovers. Its cute packaging makes it a perfect gift, and there's no doubt that these sweets will be a hit on social media. A portion of the sales will be donated to the Felissimo Little Bird Fund, which supports bird conservation activities.

Felissimo's KAWAII COMPANY to Sell Colorful Miwa Soumen Noodles for a Limited Time

In late 2020, Felissimo teamed up with the 'King of Kawaii' Sebastian Masuda to create KAWAII COMPANY, a project selling adorable original items. The company is now teaming up with Ikeri, a long-running Miwa Soumen shop in Nara, to create some colorful noodles to enjoy this summer. Five colors will be available, and these noodles can be purchased online until September 30, 2022. 

The Kawaii Soumen box includes five scents and flavors of noodle–purple sweet potato, plum, Kabosu, Blue Beefsteak Plant, and plain. The adorable box is also reusable!

Ikeri has been selling soumen in Nara for over 170 years. This new collaboration aims to introduce more 'kawaii' into traditional pieces of Japanese culture. Ikeri's thin soumen noodles are made by hand one by one and shine like jewels when boiled.

Customers are welcome to try different arrangements with these gorgeous noodles. These are the perfect summer gift for adults who love tasty food, tradition, and appearance! The wooden box is handmade by craftsmen in Nara Prefecture.

How would you like to not only eat these tasty noodles but post them all over social media?

Rilakkuma Teams Up with SpoGOMI to Sponsor National Cleanup Competition

In an effort to clean up areas around Japan, everyone's favorite lazy bear is teaming up with the Social Sports Initiative's SpoGOMI! Rilakkuma is currently on his own nationwide tour, traveling from the northernmost to the southernmost points in Japan over 18 months. Guests visiting each event will be able to find unique prefecture-based environmentally-friendly merchandise. 

SpoGOMI is an entirely new sport started in Japan, combining a traditional sport with trash pickup! It's always more fun to turn a chore into a game, and participants compete to see who can pick up the most garbage. 

Merchandise at a Glance

Mug

Pin

Fan

Round Coin Purse

Merchandise (Exclusive to the Hokkaido Area)

T-Shirt

Canvas Tote Bag (S)

Hand Towel (M/L)

Along with the standard rules, a new version of the game inspired by Rilakkuma will be introduced, perfect for both children and adults to enjoy.

After helping to clean up, why not enjoy some delicious local food and sightseeing? Join Rilakkuma in his efforts to clean up Japan and connect local communities. 

©2022 SAN-X CO., LTD. ALL RIGHTS RESERVED.

Information

Ensemble Tour ~Let's Share the Leisurely SDGs Together~
Running: July 13, 2022 – Fall 2023
Venue: To open sequentially at event sites in each prefecture
Participation Fee: Free Entry into Venue
Official Site: https://sdgs-events.com/

New Rilakkuma Merchandise Features Amusement Park Filled with Sweets

Everyone's favorite lazy bear Rilakkuma is bringing fans a new merchandise collection! These items show the character and friends in an amusement park filled with sweets, and these goods will be on sale at retail stores nationwide and online in early July.

Everyone would love to visit an amusement park filled with desserts, and these items are sure to add some retro pop flare to your daily life.

Product Lineup at a Glance

Memo Pad: ¥385 (Tax Included)

Memo Pad with Clipboard: ¥660 (Tax Included)

These cute memo pads are available in four designs, and fans can also grab a special set including a colorful clipboard.

Camera Shoulder Strap: ¥2,750 (Tax Included)

Give your camera some extra pizazz with this cute camera strap! Each comes with a decorated synthetic leather pad made to reduce neck and shoulder strain.

Ferris Wheel Cushion: ¥3,850 (Tax Included)

This cushion also includes pockets for small stuffed animals!

These new items were made in conjunction with the Netflix series Rilakkuma's Theme Park Adventure, scheduled to stream on Netflix worldwide starting August 25, 2022.

©2022 SAN-X CO., LTD. ALL RIGHTS RESERVED.

Rilakkuma 20th Anniversary Tour to Visit Aomori, Akita, Miyagi, and Iwate Prefectures

Everyone's favorite lazy bear Rilakkuma is turning 20, and to commemorate the big event, Sanrio is holding a special tour that is traveling around Japan. From September 8 until October 31, events will pop up in four prefectures in the Tohoku region–Aomori, Akita, Miyagi, and Iwate. Starting in July, the event will be visiting Hokkaido.

Tohoku Area Exclusive Art♪

The tour will travel from the northernmost to the southernmost points in Japan over 18 months, and guests visiting each event will be able to find unique prefecture-based environmentally-friendly merchandise. Fans will also be able to participate in SDGs (Sustainable Development Goals) such as beach cleanups and support for local food banks and social programs.

Come take part in this celebration while also giving back to local areas around Japan!

©2022 SAN-X CO., LTD. ALL RIGHTS RESERVED.