Hello Kitty & KAWAII MONSTER CAFE Collaboration Begins July 12
The KAWAII MONSTER CAFE in Harajuku is teaming up with Sanrio bring Hello Kitty, Harajuku culture and kawaii culture to the restaurant in a collaborative event that will run from July 12 to September 1. This year marks Hello Kitty's 45th anniversary and KAWAII MONSTER CAFE's 4th anniversary making this an event not to be missed.
"Harajuku x Kawaii x Hello Kitty" Themed Menu
Eight dishes will make up the colourful menu arriving at the KAWAII MONSTER CAFE on July 12 inspired by Harajuku, kawaii culture and Hello Kitty.
Dishes include the Hello Kitty Burger packed with colourful melted cheese sauce, the Hello Kitty Harajuku Rainbow Curry which imagines Hello Kitty looking up to a rainbow after the rain lets up, and more.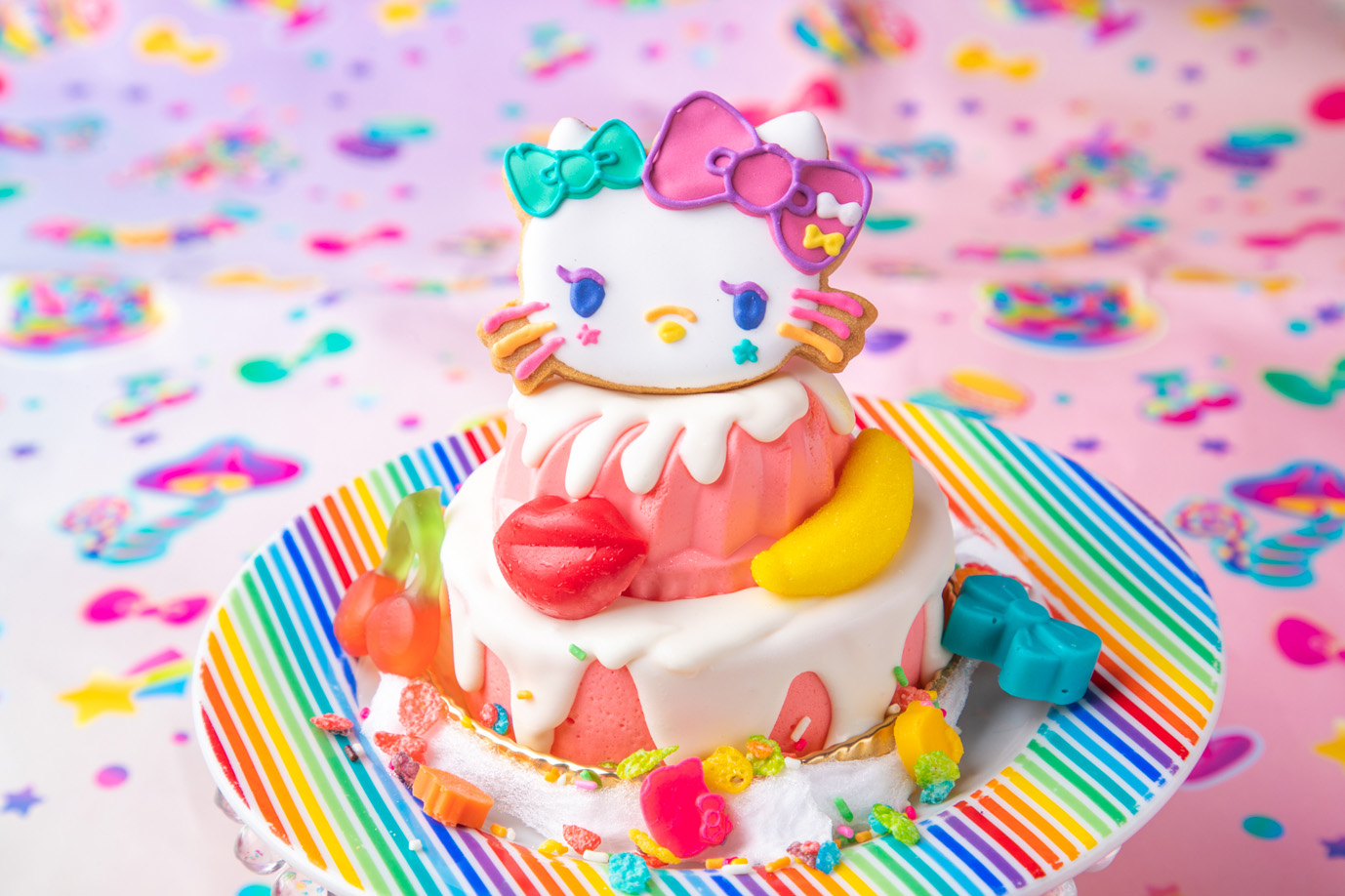 Don't forget the beautiful desserts either from a vibrant pop cake to a gorgeously layered parfait, all imbued with kawaii♡

During the event, customers who order from the collaborative menu will receive one of these original coasters featuring Hello Kitty and the restaurant's popular character Mr. Choppy.
Mel-Tea Hello Kitty Room: A Special Reservation-Only Room
Also running at the restaurant during the event will be a special reservation only "room" which can be found at the KAWAII MONSTER CAFE's popular Mel-Tea-Room area. This room will see Hello Kitty take on the theme of a Harajuku girl and be decorated in pastel colours, ribbons, strawberry cake and more. You'll wish this room was your own!
Mel-Tea Hello Kitty Room
Running: July 12, 2019 – September 1, 2019
Reservations: Once reserved please speak to the Mel-Tea Hello Kitty Room staff
Slots: [Weekdays] 11:00/13:00/15:00 [Sundays & Holidays] 11:00/13:00/15:00/17:00/19:00
*2 hours per slot, limited availability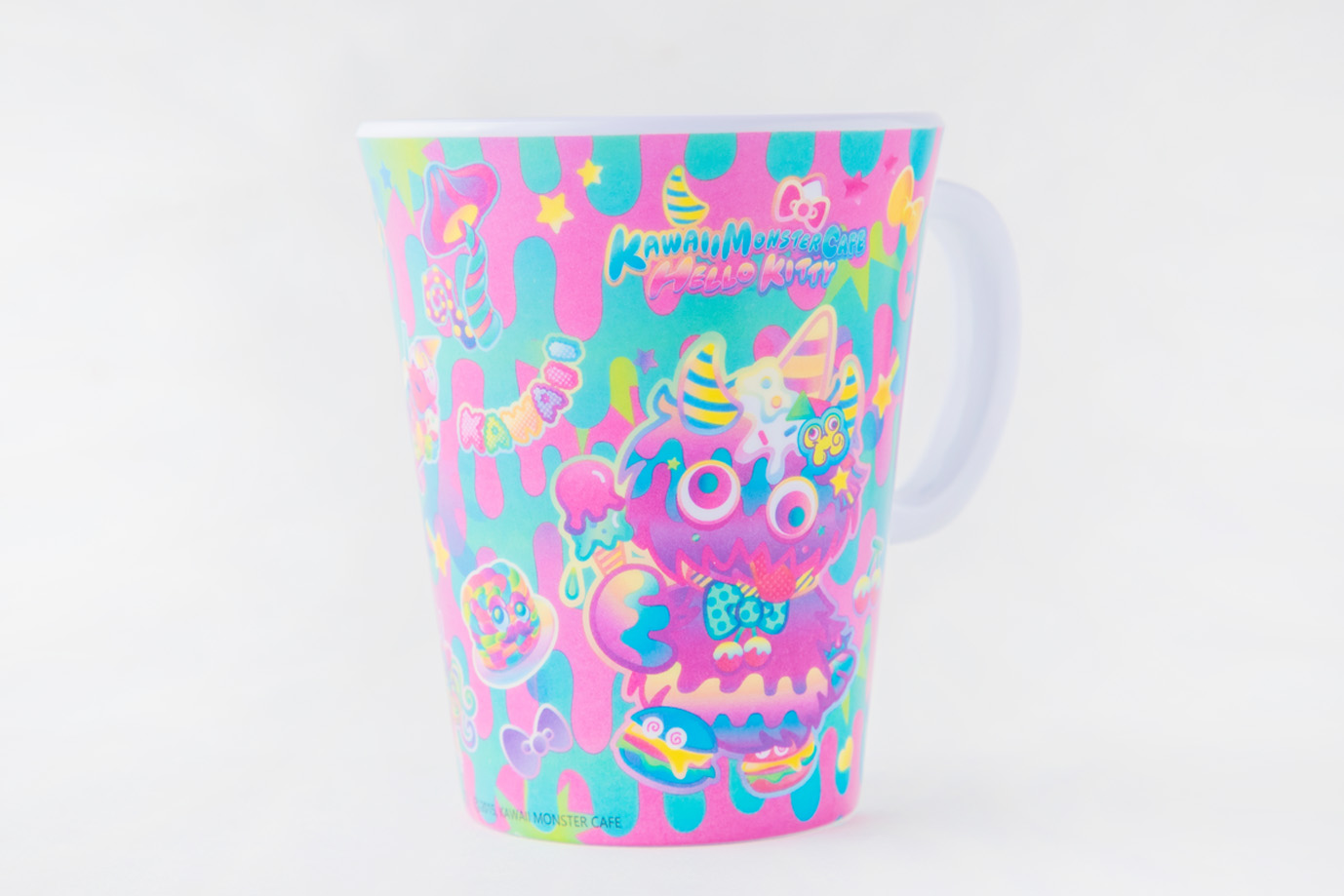 Original merchandise and novelties will also be available to purchase and pick up at the restaurant.
The collaboration is running until the end of Japan's summer break, so if you're here this summer then be sure to plan a trip to Harajuku to eat at the KAWAII MONSTER CAFE.
Information
Harajuku x KAWAII x Hello Kitty
Location: KAWAII MONSTER CAFE HARAJUKU
Running: July 12, 2019 – September 1, 20192019年7月12日(金)から9月1日(日)
Address: YM Square Bldg. 4F, 4-31-10 Jingumae, Shibuya, Tokyo
Access: 5-minutes on foot Harajuku Station via JR / 1-minutes on foot from Meiji-Jigumae Station via Chiyoda Line and Fukutoshin Line
TEL/FAX: 03-5413-6142/03-5413-6143
Business Hours
Weekdays & Saturday:
[Lunch] 11:30-16:30 (last entry 15:30 / last orders 16:00 – 90 min stay max)
[Dinner] 18:00-22:30 (last orders 22:00)
Sundays & Holidays:
11:00-20:00 (last orders 19:30)
*During busy times, a max stay time of 2 hours may be implemented.
Official Website: http://kawaiimonster.jp
RELATED ENTRIES
Adorable Hello Kitty Plush Toy & Key Ring Releasing by Steiff

As part of this year's celebrations to commemorate Hello Kitty's 45th anniversary, Sanrio are teaming up with German-based plush toy company Steiff to release an original Hello Kitty teddy and key ring. Orders will open on October 5 and they will be released on November 1 at Sanrio stores and select department stores stocking Sanrio goods.

The plush toys and key rings are all individually handmade in Germany and each comes with a unique serial number and packaged in a special gift box.

The left ears are tagged with Steiff's company logo. These tags feature the serial number and the time the item was manufactured.

Embroidered on the foot of the Hello Kitty teddy is her name in gold together with a red and gold ribbon. Her arm, legs and neck are adjustable so you can pose her how you like. Both of these products are limited in stock and will discontinue once all have been sold, so if you're looking to add to your collection you'll want to get in there quick.

©️1976,2019 SANRIO CO., LTD. ©️Margarete Steiff GmbH 2019 

That Time I Got Reincarnated as a Sanrio Slime Fair Opens at Three KIDDYLAND Stores

From September 21 to October 11, three KIDDYLAND stores will be holding a fair dedicated to the anime That Time I Got Reincarnated as a Slime, which has become a big hit overseas. 

 

The series, which was created by Fuse, aired two seasons from October 2018 to March 2019. It has been confirmed that a sequel will be made in the year 2020. Following the anime's successful reception, a novel version of the anime series which goes by the same name was produced by GOT A CHANCE novel. More than 14 million copies have been sold so far.

The story follows an extraordinary event which happened to a normal man. The main character Satoru Mikami died to random knife attack and was reincarnated as a monster called a slime. The series became massively popular once the adorable figure of the main character as a slime was revealed.

That Time I Got Reincarnated as a Sanrio Slime: Slime Keyring (5 designs): ¥1,200 each (before tax)

All your favourite characters have been reincarnated in a cute Sanrio-style! Head to the KIDDYLAND fair to get your hands on a KIDDYLAND-limited Slime Keyring. A large variety of new goods are being sold here ahead of any other shop and online service.

That Time I Got Reincarnated as a Sanrio Slime: Cuddly Characters Badge (5 designs): ¥680 each (before tax)

Come explore all your favourite characters in their adorable Sanrio form!

©川上泰樹・伏瀬・講談社/転スラ製作委員会

Information

That Time I Got Reincarnated as a Sanrio Slime Fair IN KIDDYLAND

Location: KIDDYLAND (Harajuku, Ikebukuro Sunshine City, Sannomiya)

Running: September 21 ー October 11,2019 

More Information: https://www.kiddyland.co.jp/event/ten-sura/

Tokyo's Revolutionary Buena Àrte Hostel to Open in Ryōgoku Area On September 14

Buena Àrte Hostel is a revolutionary new hostel set to open in the Ryōgoku area of Tokyo on September 14, 2019.

In response to the increase in the number of foreigners staying in Tokyo, and especially in anticipation of the Tokyo 2020 Olympics and Paralympics-when numbers are expected to skyrocket-Japan's capital is well underway in developing more accessible accommodation options for foreign travellers, from hotels to hostels.

Hostels in particular are a huge focus for the city, and so more and more of them are opening. Catered to younger people and travellers, hostels are a much cheaper accommodation option when compared to hotels, and thus are likely to increase the number of days in which people will stay.

However, what is considered much more valuable for foreign travellers is the level of comfort, cleanliness, and safety. Buena Àrte Hostel is all of these and more, meaning even somebody travelling on their own can feel safe and secure. With over 200 pieces of art adorning its walls, it is the world's first art-centred capsule hotel, focusing on "fun, comfort, and encounters."

The hostel has collaborated with globally-active artists and up-and-coming illustrators to bring their art to the walls of the communal spaces, restaurant, and even bedrooms. A lot of the pieces you can buy too.

Found in over 160 of the bedrooms are illustrations drawn by artists who want to convey the fun and excitement of travel. These illustrations are exclusive as they were drawn for the hostel and so there is only one of each in the world. There are around 60 rooms without illustrations yet, so the hostel is asking for submissions. If your illustration is picked, the hostel will offer you a free night with breakfast and dinner as thanks. You can find more details on the official website.

Buena Àrte Hostel has its own cafe and restaurant on the first floor, the Buena Cafe & Dining Bar, where guests including foreign tourists can enjoy authentic Japanese cuisine. The "Washoku Plate" is a meal set aimed at those arriving from overseas so they can enjoy a filling portion of Japanese-style cuisine. It includes everything from sukiyaki to tempura, kushikutsu, and more. It also includes Japanese sake. The bar sells other drinks too including wine, whisky and highball.

The closest station to Buena Àrte Hostel is Ryōgoku Station. Ryōgoku is a district of Tokyo filled with Japanese tradition. It is home to Ryōgoku Kokugikan, which is considered the holy ground of sumo wrestling, as well as the Sumida Hokusai Museum which houses works by the famous ukiyo-e painter Hokusai, the Japanese Sword Museum, the traditional Japanese garden Former Yasuda Garden, the Edo-Tokyo Museum-the list goes on. And all of these places and more are within 10-minutes' walking distance from Buena Àrte Hostel.

©2003-2019 valuepress CO,LTD. ALL RIGHT RESERVED.

Information

Buena Àrte Hostel

Address: 2-9-11 Yokoami, Sumida, Tokyo

Grand Opening: Buena Arte Hostel – September 14, 2019 / Buena Cafe & Dining Bar – September 20, 2019

Opening Hours: Breakfast 7:00-10:00 / Lunch 11:00-15:00 / Afternoon Tea 15:00-17:00 / Dinner 17:00-23:00

Access: 6-minutes on foot from Ryōgoku Station's JR Line Building West Exit / 5-minutes on foot from Ryōgoku Station's Toei Ōedo Line Building A1 Exit

TEL: 03-6658-8489

Official Website: http://buenaarte.com/

*No car park

*Children aged 6 years and under not permitted; those aged 6+ must share a room with parents or guardians and are charged the same price as adults

Gamers! Rally Your Teammates For A New Quest: TOKYO GAME SHOW

The TOKYO GAME SHOW is in a league of its own. It is a mecca for gamers who cannot get enough of Japanese games and entertainment. This is where Japan's major game publishers from all kinds of platforms unite to put on an enormous exhibition. 

This includes the opportunity to explore games that are yet to be released as well as hear new announcements about the direction developers are steering the future of gaming. There's no lagging behind. This is a major event for the gaming industry, raking in leagues of heroes every year. 

On August 28, a total of 2,417 game booths were announced, which is the largest number the event has ever seen in its history. This event is home to games on a range of platforms including for console, smartphone and PC. The enormous variety of genres includes the most cutting-edge and latest trends including Esports, VR and much more.

For those of you who love cosplay, this event is your chance to finally meet your fantasy. The outside area of Hall 9 will have a Cosplaying Area Stage where two events will take place: a cosplay fashion show and a gathering. 

On Saturday 14th, Hall 1 event stage will hold the Cosplay Collection Night@2019 event where participants and event staff will take over the stage in game character cosplay. Spectating is free, so feel free to watch as each cosplayer dominates the entire stage, showing off their excellent craftsmanship and skills as they walk the runway and strike a pose definitely worth saving in your highlights! 

On Sunday 15th at 2:30 pm, cosplayers will take to the stage in units of two or more to put on a dance or combat show that you just cannot critically miss out on. 

Schedule:

September 14 (Sat)  From 12:00 ー Cosplay Runway  From 15:30 ー Cosplay Runway

September 15 (Sun) From 13:30 ー Cosplay Runway From 14:30 ー Cosplay Dance and Combat Shows From 15:30 ー Cosplay Runway

The Gathering is where cosplayers can interact with one another and have photos taken ー the perfect opportunity to send those friend requests. On September 14, a gathering dedicated to the Final Fantasy Tales Series will take place on the Cosplay Area Stage. On September 15, there will be gatherings for the Dynasty Warriors and Samurai Warriors series.

Schedule:

September 14  13:00-13:30 Final Fantasy Series Gathering  14:00-15:00 Final Fantasy Tales Series Gathering 

September 15 12:30-13:00 Dynasty Warriors and Samurai Warriors Series Gathering

More information on the exhibitions, booths and events will be announced on the morning of September 12 so please check it out. 

There is no better way to multi kill your time than to spend the entire day at TOKYO GAME SHOW 2019 ー get your tickets and GLHF!

Information

TOKYO GAME SHOW 2019

Event Information

Business Days*: September 12 & 13, 2019 (10:00~17:00)

*Business Days are open to industry and press only.

Public Entry*: September 14 & 15, 2019  (10:00~17:00)

*Doors may open at 9:30 am according to conditions on the day.  

Venue: Makuhari Messe (Mihama Ward, Chiba)

Exhibition Halls 1-11/ Event Hall/ International Conference Hall

Entry Fee: Advanced tickets: ¥1,500 (after tax)

On The Door: ¥2,000 (after tax)

Those under Elementary School age can enter for free (public entry days only)

Official Website: https://expo.nikkeibp.co.jp/tgs/2019/en/

Cute Hello Kitty Dumb Phone Can Feature As Extension To Your Smartphone

As part of the ongoing celebrations for Hello Kitty's 45th anniversary, Sanrio just launched the all-new Hello Kitty FIGURINE KT-01BT in Japan on September 2.

This Hello Kitty Smart Mate features the same design of the popular original Hello Kitty FIGURINE KT-01 released back in 2016. Featuring as both a flip dumb phone and figurine, the device is small enough to fit in the palm of your hand.

Everything from its design and shape to the packaging it comes in is inspired by 1970's Hello Kitty―the year she first showed her cute face to the world―clad in an pink adorable dress and ribbon.

The device connects to both smartphones and Bluetooth, meaning it can serve as an extension to your smartphone, allowing you to take calls from it when your smartphone is in the bottom of your bag. It can also copy over your contacts and phone history from your smartphone, making it a very handy addition indeed. It features all the basic functions too including a calculator, clock and more.

Check out how cute that design is!

Pre-orders first opened on Amazon Japan on August 1, but the device is still available to purchase right now. It also arrived at Sanrioworld GINZA in Tokyo on September 2. Announcements for future stock will be made available on OLA and Yoozi will be made available in the near future.

©1976, 2019 SANRIO CO., LTD. APPROVAL NO.S 601882 ©2019 OLA Inc. ©2019 Yoozi Inc.

Information

Hello Kitty FIGURINE KT-01BT
Release Date: September 2, 2019
Price: ¥8,980 (Before Tax)
Available: Amazon Japan / Sanrioworld GINZA (NISHIGINZA Floor 1F, Ginza, Chuo Ward, Tokyo)

70's Inspired Superalloy Hello Kitty Figure Releasing Worldwide

BANDAI SPIRITS is teaming up with Hello Kitty and the 1974's brand Chogokin, which started as the name of a fictitious material in Go Nagai's mecha manga series Mazinger Z meaning "superalloy" and ended up becoming a new line of die-cast metal toys. They will release the new Superalloy Hello Kitty toy in Japan in December 2019 and it will subsequently roll out in 22 countries around the world.

The toy celebrates the 45th anniversaries of both Chogokin and Hello Kitty. It takes on the 1970's Hello Kitty design and comes with a range of items including a pedestal, milk bottle, goldfish bowl, and a sign.

Her head is also rotatable. The toy itself is heavy as you would imagine something claiming to be "superalloy" would be! Make sure you don't miss out on this special collaboration.

©️1976, 2019 SANRIO CO., LTD.

Information

Chogokin (Superalloy) Hello Kitty – 45th Anniversary

Price: ¥4,400 (+10% Tax)

Release Date: December 2019 (Subject to change)

Ages: 15+

Height: Approx. 60mm

Materials: Die Casting, ABS

Contents: Figure, Milk Bottle, Fish, Chogokin Logo Panel, Pedestal

Product Page: https://tamashii.jp/item/13036/

Hello Kitty Collaborates With Licca-chan For 45th Anniversary

Hello Kitty is teaming up with Takara's dress-up doll series Licca-chan to release the "Hello Kitty 45th Anniversary Style" doll outfit as part of the LiccA Stylish Doll Collections. Pre-orders will open on September 2 and go on sale on Hello Kitty's birthday, November 1.

This is Hello Kitty's second collaboration with the doll franchise following the success of the "Hello Kitty Celebration Style" which dropped back in January this year. The first outfit sold out in just a few days, receiving adoration from fans of both Hello Kitty and Licca-chan alike.

The first style was uniformly red, from the Hello Kitty ribbon to the dress and bag. This time the outfit takes on a pure white colour inspired by Hello Kitty. Licca-chan is serving a white knitted one piece with Hello Kitty ribbons. The inner part of the coat is also decorated with ribbons. Everything from the earrings to the accessories and even the gold-leaf packaging breathes the world of Sanrio's most recognisable character.

The outfit also comes with a red apple-shaped bag and message card which is packaged in its own gift box―a congratulations to Hello Kitty on her 45th anniversary.

 

©TOMY ©1976,1985, 2019 SANRIO CO., LTD.TOKYO,JAPAN

Information

LiccA Stylish Doll Collections – Hello Kitty 45th Anniversary Style
Pre-Orders: From September 2, 2019

Release Date: November 1, 2019

Price: ¥14,000 (Before Tax

Ages: 15+
Available: Omocha no Yoshida (Ashikawa, Hokkaido),  Hakuhinkan Toy Park (Ginza, Tokyo), KIDDY LAND Harajuku (Harajuku, Tokyo), KIDDY LAND Osaka Umeda (Umeda, Osaka), Takara Tomy Online Store, Sanrio Online Shop, and elsewhere


LiccA Official Website: licca.takaratomy.co.jp/official

Hello Kitty and Where's Wally to Release Collaboration Goods

Hello Kitty will be collaborating with Where's Wally? to release a lineup of general goods from November 2019.

Where's Wally? is a picture book we are all familiar with. Wally first made his debut 32 years ago and soon became a famous picture book character known all over the world. Where's Wally original illustration exhibitions in Japan have been met with a hugely positive response, being visited by people of all generations and nationalities.

The company Plazastyle holds a license to use the character Where's Wally in Japan.  With this license, they have created the WHERE'S WALLY? HELLO KITTY collaboration, which is based on Where's Wally encountering Hello Kitty while on his travels around the world. 

Just some of the collaboration goods include T-shirts, socks, pouches, compact mirrors, mobile phone accessories such as smartphone cases and chargers, and much more.

All we can do is wait in excitement for the goods to be released!

ⓒ DreamWorks Distribution Limited. All rights reserved.ⓒ 1976, 2019 SANRIO CO., LTD.

Tokyo DisneySea Releases Duffy and Friends Autumn Goods and Menu

Tokyo DisneySea® is releasing delightful collection of Autumn-themed Duffy and Friends merchandise, food and drinks from August 28. 

Special Merchandise

To celebrate the onset of autumn, the collection is themed around the woods in autumn where Duffy and Friends come out to play dressed up as different autumn animal friends. Duffy can be seen disguised as a squirrel and Gelatoni has become an owl!

Autumn Plush Toy Costumes: ¥4,800 each *plush toys (small) sold separately 

StellaLou and Shellie May have also come to play in their own cute autumn costumes. There is a total of 40 items in the autumn collection.

Plush Toy Strap: ¥1,700 each

Plush Toy: ¥2,900 each

You can also purchase a strap to attach your toy to your arm and carry around the park. When you get back home, you can use your new toy as a curtain tie. 

Rice Paddle: ¥1,000 

Bowl and Chopsticks Set: ¥3,000 

Multipurpose Cloth: ¥3,800 

With this autumn collection of Duffy-themed goods, your family dinner will become even more fun. The cute Duffy rice paddle is the perfect size to fill your plate quickly with a hearty serving of rice. There is also a bowl and chopsticks set and a multipurpose cloth. The cloth can be used as a tablecloth or even be draped on your sofa or bed. 

Chestnut Paste Filling Marshmallows: ¥600

After decorating your table with the Duffy and Friends Multipurpose Cloth and tableware, these Chestnut Paste Filling Marshmallows are the perfect way to add the finishing touch to your autumn-themed dinner party. 

Special Food and Drinks

There are four new Duffy and Friends-themed menu items that all come with a free souvenir cup. The cup is decorated with a special Duffy and Friends autumn adventure design. 

Milk Chocolate Mousse and Vanilla Pudding (comes with a souvenir cup): ¥900

This dessert served in a cup consists of rich chocolate which is accented with a sweet and tangy mixed berry sauce. The cup features an image of Duffy and Friends playing in the woods among the beautiful autumn leaves. 

Sweet Potato Mont Blanc with Souvenir Plate: ¥900

This purple sweet potato dessert has a sweet and mild flavour. The souvenir plate will definitely increase your satisfaction level. 

Souvenir Lunch Bag: Cape Cod Cook-Off First Prize Set (¥1,200)

Iced Caramel Milk Tea (Comes with Souvenir Travel Mug): ¥1,400

You can choose to enhance your meal with other merchandise or even drinks and food from the menu such as the lunch bag or sweet Iced Caramel Milk Tea. The Iced Caramel Milk Tea comes with a souvenir travel mug.

*The contents of the autumn-themed merchandise collection and food and drinks menu is subject to change at any time without prior notice. These can be sold out at any time. 

*Images displayed may differ to the actual merchandise, food and drinks.

©Disney

Information

 Duffy and Friends Delightful Autumn Woods Collection

Merchandise: McDuck's Department Store

Food and Drinks: Cape Cod Cook-Off

(The Iced Caramel Milk Tea and Souvenir Travel Mug are sold at Cape Cod Confections)

Tokyo Disney Resort Official Website: https://www.tokyodisneyresort.jp/en/index.html

Harajuku To Open A Micro Pig Cafe Themed Around The Three Little Pigs

Japan is famous for its animal cafés. If you are looking for something less conventional, then mipig cafe ー a heavenly cafe where you can play endlessly with adorable micro pigs ー might be just what you are looking for. mipig will be opening its second cafe in Harajuku in November 2019.

With the concept of "becoming a home for micro pigs", mipig cafe opened their first cafe in Meguro on March 1st, 2019. After just half a year, over 30,000 people visited the cafe and reservations were full every day.

Check out our previous report on the Meguro mipig cafe here: P→★ (TEMPURA KIDZ) Animal Café Diary #5: Visiting Japan's First Micro Pig Cafe 'mipig cafe'

The concept for the Harajuku branch is "entering the world of a micro pig picture book" and therefore, the cafe decoration is based on the famous story "The Three Little Pigs". This is the perfect environment to play with the adorable little pigs and create some loving memories together.

Information

Information

mipig cafe Harajuku

Address: Barbizon76, 1 Chome-15-4 Jingumae, Shibuya, Tokyo

Reservations: Advanced reservation required. The reservation period will open from approximately the end of October. 

* For more information, please check mipig's official Instagram and Twitter accounts:

Instagram: (@jpmipig)

Twitter:(@mipigcafe)

Prepare for New Year by Ordering a Minion or Hello Kitty-Themed New Year Osechi Food Bento in Advance

 To properly celebrate a Japanese New Year, Osechi cannot be overlooked. Osechi is a Japanese term referring to special food traditionally served during the New Year holidays. The food is filled with the hopes, wishes and happiness of people. This year, Belle Maison has released Minion-themed and Hello Kitty-themed osechi bento boxes.

Belle Maison opened their reservation website for these Osechi Bento boxes on August 23rd. 

2-Tier Minion Osechi Bento Box: ¥22,000 (after tax)

Underneath the dazzling smiling face of the minion is a bento box packed with delicious New Year's goodness. The box contains a mix of traditional flavours as well as small appetizer-style bites. This is something that children as well as adults would love. The box even includes a delicious soup and a cured and steamed white fish kamaboko, which bears the image of a minion.

3-Tier Hello Kitty Osechi Bento Box: ¥19,900 (after tax)

The Hello Kitty Osechi comes in a Hello Kitty 45-year anniversary box. From the Hello Kitty ribbon-shaped mochi to the pink lilies made from yokan jellied red bean paste, this bento box is packed with cute and beautiful Hello Kitty goodness. There is also Hello Kitty mousse made from whipped cream and a Hello Kitty steamed bun with a sweet potato and chunky adzuki bean paste filling. This box is packed tightly with so many delicious desserts. 

Order online during one of the following advanced sale periods for a discount:

Period 1 (10% off): August 23 ー September 30, 2019

Period 2 (7% off): October 1 ー 28, 2019

Period 3 (3% off): October 29 ー November 25, 2019 

 The earlier you order, the larger the discount so if you are interested, you should order earlier rather than later. 

There is no better way to experience a Japanese New Year than with a Minion or Hello Kitty-themed Osechi Bento Box. 

ⒸUniversal City Studios LLC. All Rights Reserved ©1976,2019 SANRIO CO.,LTD. APPROVAL NO.G600783

Information

2-Tier Minion Osechi Bento Box

List Price: ¥22,000 (after tax)

Best Before:  Store in the freezer and consume before January 31, 2020 

* Deliveries to Okinawa or the outer islands of Japan are not accepted. Delivery available to majority of locations in Japan.

*Sales will end once stock has completely sold out. 

 

3-Tier Hello Kitty Osechi Bento Box

List Price: ¥19,900 (after tax)

Best Before:  Store in the freezer and consume before January 31, 2020 

*Sales will end once stock has completely sold out. 

Websites

2-Tier Minion Osechi Bento Box: https://www.bellemaison.jp/minion

3-Tier Hello Kitty Osechi Bento Box: https://www.bellemaison.jp/kosechi

 

Deadlines to Order

Online: December 19, 2019 (17:00)

Catalog: December 18, 2019 (Wednesday)  

 

Delivery Dates

December 29 ー 30, 2019

* Requests for specific delivery times and dates are not accepted. 

MOSHI MOSHI ROOMS Opens Origami Themed Accommodation 'ORIGAMI' in Harajuku

The second room of the ASOBISYSTEM-produced home sharing facility MOSHI MOSHI ROOMS has finally opened. Named "ORIGAMI," the room is available via Airbnb, and is a joint-effort between ASOBISYSTEM, which promotes Harajuku culture to the rest of the world, and Rokuyon, which manages unique accommodations in Shibuya.

MOSHI MOSHI ROOMS SAKURA 

MOSHI MOSHI ROOMS is an accommodation service that offers concept rooms brimming with originality which you won't find at any other hotel, hostel or home sharing facilities. The first room, SAKURA, opened in December last year, proving popular with travellers around the world with its cherry blossom theme.

Joining as the second room in the series is 'ORIGAMI,' a room based entirely on the Japanese art of paper folding which covers the entire room at every turn.

Living Room

The cosy living room is decked out with benches and stools, furnished in the style of a Japanese tea house. Dangling overhead are lights which brighten the room with their warm colour. The light shades are in fact traditional Japanese umbrellas which help bring that quaint Japanese atmosphere alongside the colourful folding fans, matcha-making tea set, and more.

Bedroom

The picturesque room is floored with tatami where you can sit and relax on a zaisu―a traditional chair with no legs used for sitting on tatami mats. The paper lanterns and sliding doors elevate an exciting air in the room. The stairs leading upstairs are made up of chests of drawers which you can use to store your luggage.

Both the upstairs and downstairs are fitted with mattresses spreading 2.6 meters wide which can accommodate up to 6 people in total. The mattresses are by Nishikawa which offer dreamy comfort and a high quality sleep. The mattresses can also be switched out for a different type depending on what kind of feel you are looking for.

Powder Room

The Powder Room is equipped with amenities including cotton swabs, cotton pads, and hairbands. Seat yourself comfortably at the wide table and get ready for your day or night out.

Shower Room

The Shower Room also has everything you need including shampoo, conditioner, and body soap. As well as a shower, there is also a Japanese-style Washlet toilet.

Everything Else & The Amenities

ORIGAMI has all of the living essentials. If you're looking to cook while staying here, the kitchen has a microwave, refrigerator, plates, pans and more. There is even a washing machine.

Guests can also rent a kimono haori. Be sure to take lots of pictures!

4F Entrance – Staircase

The ORIGAMI room begins from the staircase leading from the third floor to the fourth floor. The door is actually made of tatami mats.

Building Entrance

Our building is very easy to spot at the ground floor entrance with the giant neon sign that reads "MOSHI MOSHI NIPPON" in Japanese as well as the MOSHI MOSHI ROOMS logo on the wall.

Rooftop

Guests are free to use the rooftop which offers a panoramic view of Harajuku.

Like SAKURA, ORIGAMI is available to book on Airbnb only. Whether you're coming from overseas and in need of a room, are doing a staycation, or just want a place to get together with the girls, then book now with MOSHI MOSHI ROOMS.

Information

MOSHI MOSHI ROOMS -SAKURA-

Address: 2-18-7 Jingumae, Shibuya, Tokyo

Access: 8-minutes on foot from Meiji-Jingumae (Harajuku) Station via the Chiyoda and Fukutoshin lines

Occupancy: 1-6 people

Price: ¥40,000 (does not include handling and service charges) *1 room 1 night

*Accommodation prices are subject to change depending on the period. For full details please check the Airbnb website

Official Website: https://rooms.moshimoshi-nippon.jp

ORIGAMI Bookings: https://bit.ly/2Ug3nVv

SAKURA Bookings: https://bit.ly/2NwrA8x