Visiting Shibuya's Candy Apple Store | Food Review
Hello everyone! This is Midori from MOSHI MOSHI NIPPON.
Candy apples are the staple food of summer festivals. A crunchy candy coating and a sweet, fruity apple is such a divine combination. It can be quite difficult to find candy apples outside of festivals. That's where Candy Apple steps in. This is a brand new shop on the block that specialises in candy apples!
This is located just a five-minute walk from Shibuya Station's west exit. If you check out their saved Instagram story, you probably won't get lost. During the weekdays and on Saturdays, this is an Italian restaurant called Buonappetito. On Sundays, when the restaurant is closed, it transforms into a candy apple shop.
The shop interior is gorgeous.
Plain: ¥600
I ordered the plain apple without wasting any time. This is much larger than what you would usually get at a festival. Although these are usually eaten by immediately sinking your teeth in and biting out a big chunk, you can cut your apple here and enjoy it at your own pace.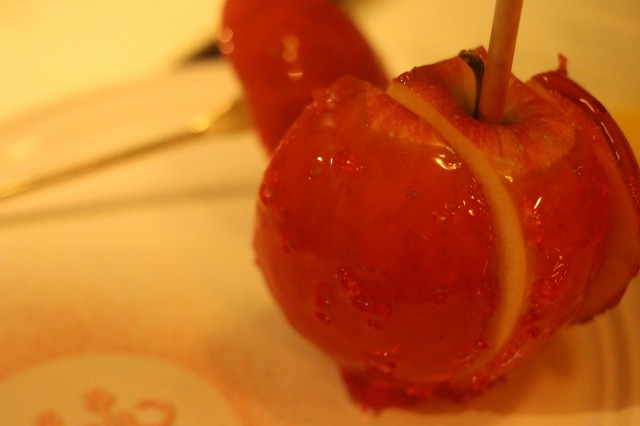 After taking your first bite, you will realise just how different this is to your normal candy apple. The apple is coated in a thin layer of candy, creating a delicious crunch. The apple is fresh, juicy and sweet. Some candy apples are made with mushy apples that are not fresh, however these apples are extremely fresh and delicious right to the last bite.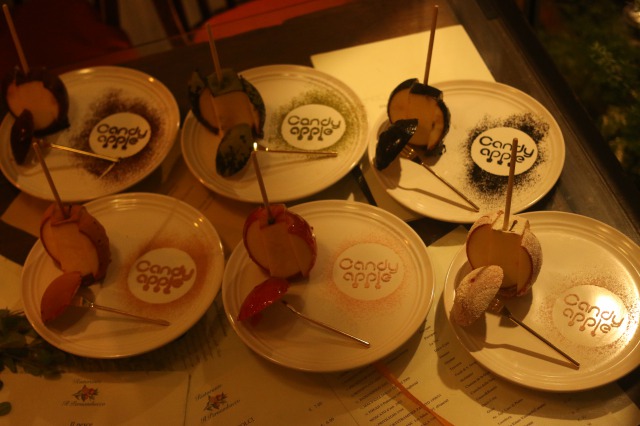 These candy apples are full of a variety of flavours.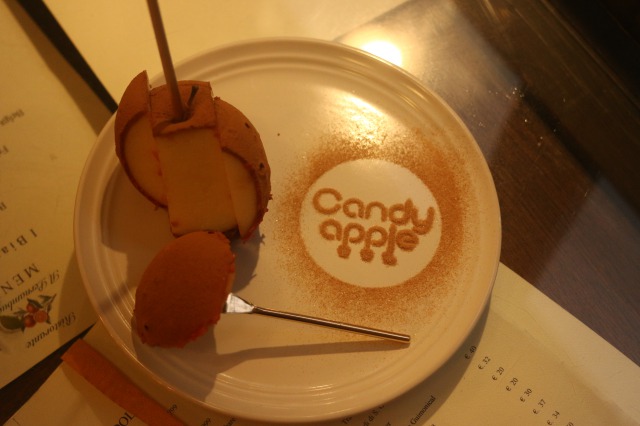 Cinnamon Sugar: ¥600
The apple with the dusting of beige-coloured powder is cinnamon-flavoured. The sweet cinnamon scent spreads everywhere as soon as you set it on the table. The sweet flavour of the apple and the fragrant cinnamon is a match made in heaven. 
Cocoa: ¥600
The apple covered in the brown powder is cocoa-flavoured. The slightly bitter flavour of the chocolate is a perfect match for the sweet apple. The colour contrast between the brown chocolate and white apple is also beautiful. ♪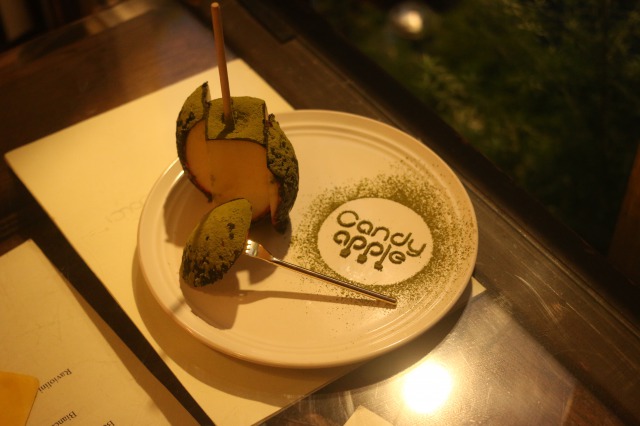 Matcha: ¥600
The apple with the green powder is matcha as you may have already guessed! The flavouring of the Uji matcha used for this apple was carefully balanced to maximise the flavour when combined with the apple. After you take your first bite, you just won't be able to stop.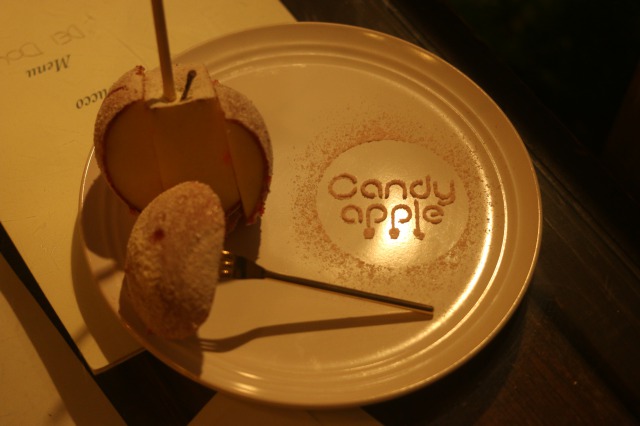 Blueberry Yoghurt: ¥600
The bright white dusting on this blueberry yoghurt-flavoured apple is beautiful. The blueberry scent is mild and is perfect with the yoghurt.
Black Cocoa: ¥600
The pitch black colour of the Black Cocoa Candy Apple is very appetizing. The black cocoa is even more bitter than the cocoa apple, which really brings out the flavour of the sweet apple even more.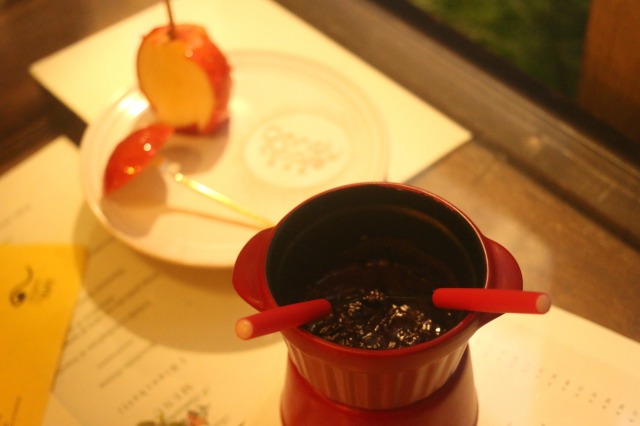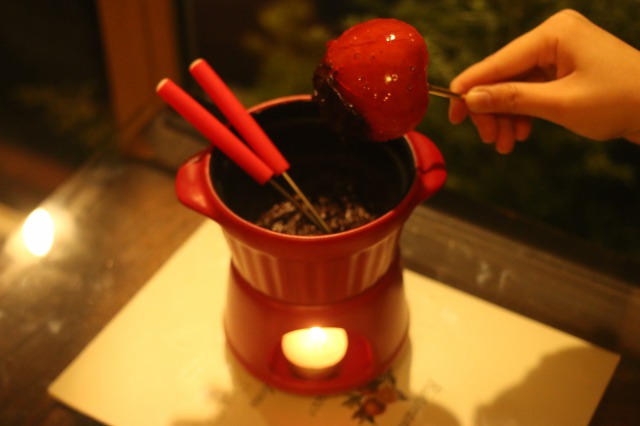 You can even get chocolate fondue for your candy apple (¥400). By adding the fairly bitter chocolate to your candy apple, you can enjoy three different kinds of sweetness when it mixes with the chocolate, candy and the apple.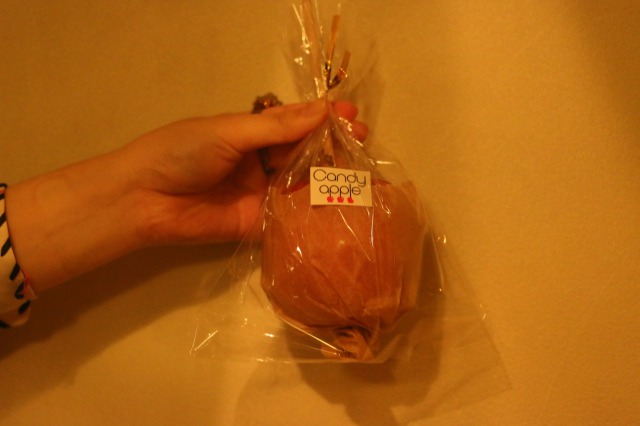 You can even order your candy apple to go, making it the perfect summer souvenir. Taking it home to enjoy is also another wonderful way to make the most of your experience. 
This candy apple shop is only open on Sundays, but you can order to take away on other days. 
This is a flavour that a festival candy apple will never be capable of offering. You can tuck into your apple inside the beautiful shop, or take it home to enjoy at home at your own pace. 
Information
Candy Apple
Address: Nomura Building 1st floor, 7-12, Sakuragaocho, Shibuya, Tokyo
Opening Hours: 11:00-20:00 (Open every week on Sundays only)
*Only the Italian restaurant Buonappetito is open on weekdays.
Instagram: https://www.instagram.com/candy_apple_369/
RECOMMENDED ENTRIES
Osamu Watanabe's Mouthwatering Museum of Sweets Showcases Giant Candy Unicorn & More

Have you heard of Osamu Watanabe? You won't forget his name by the end of this article. He is an installation and contemporary artist that draws his inspiration from the world of sweets and confections. He has drawn much attention not just in Japan but overseas too in countries like the US, Italy, Turkey, Indonesia and China with his various exhibitions.

Watanabe is set to take his "Museum of Sweets" exhibition to Shinjuku where it will open at the Odakyu Department Store on July 31.

The candy creations will be split throughout 9 different areas such as the titular room Museum of Sweets as well as the Forest of Sweets, Banquet of Sweets, Sweets Aquarium and more, all of which are sure to tickle the taste buds of sweet tooth visitors.

What's more is that you are permitted to take photos, opening the door for countless photo opportunities for Instagram.

Osamu Watanabe will also be present to host a workshop on 4 separate days so you can craft your own cookie charm using materials Watanabe actually uses in his creations.

Enter a fantastic candy land cooked up by the one and only Osamu Watanabe.

Information

Museum of Sweets

Running: July 31, 2019 – August 14, 2019

Time: 10:00-20:00 (Until 20:30 from August 7-13 / Until 17:00 on August 14)

*Last entries 30 minutes before closing times

Location: Odakyu Department Store Shinjuku Floor 11F

Entry: General ¥600 / High School & Junior High School Students ¥400 / Elementary School Students & Younger – Free

*If you are disabled you and a guardian can get in for free if you take a physical disability certificate

*Those who hold an Odakyu Points Card or Odakyu Ladies Club Card can get ¥100 off entry (applicable only to those who have a card)

Odakyu Department Store Official Website: http://www.odakyu-dept.co.jp/

Workshop: Make a Cookie Charm With Osamu Watanabe!

Running: August 3, 2019 / August 4, 2019 / August 11, 2019 / August 12, 2019

Slots: 13:00 / 13:30 / 14:00 / 14:30 / 15:00 / 15:30 (Each Day)

Participants: 10 per slot

Price: ¥500

Applying: Please apply at the department store from 10:00 on the day

Osamu Watanabe Official Website:  http://watanabeosamu.tokyo/profile_en.html

The Entire World Is Curious About PAPABUBBLE's Candy Art Museum To Open In Ginza

Described as the "most interesting sweets shop in the world", PAPABUBBLE sells a range of cute and fun confections. On July 1, PAPABUBBLE will open a Candy Art Museum on basement floor 2 of GINZA SIX.

PAPABUBBLE has set up shop in over 30 cities worldwide. The main shop will contain art pieces made from candy. Considering all the candy shops that are currently out there in the world, nobody has ever seen anything quite like this before. 

The museum contains around 20 different ornaments that are edible sweets. Visitors who wish to purchase the ornaments can do so. Besides the standard sweets, the display items and range of sweets for sale will be changed every day. 

When the museum opens in July, visitors will be able to enjoy the wonderful texture and flavour of candy lampshades, enjoy the artistic and charming glow of candy mushrooms, and gaze in bewilderment at an antique vase baumkuchen cake. 

To commemorate its grand opening, customers who spend more than ¥5,000 (after tax) on display items or on the sweets shop range will receive either a soft gummy brain or soft gummy dentures. This campaign will be running throughout July. 

Along with the grand opening of the art museum, there will also be Ginza-limited products on sale that are completely unique to the Ginza branch. The lineup includes sweets made from ingredients that are rarely seen in Japan. This includes colourful and fruity chocolate such as rocky roads and soft candy sweets made from snow sugar. PAPABUBBLE will also sell souvenirs that represent Ginza such as Kirihako boxes which are beautiful boxes made from wood. 

If you are in Tokyo, you just cannot miss this museum that is overflowing with originality.

Information

Candy Art Museum by PAPABUBBLE (Gallery of Sweets Art by PAPABUBBLE)

Address: B2F, 6-10-1, Ginza, Chuo Ward, Tokyo 

Opens: July 1, 2019 

Opening Hours: Mondays ー Sundays (10:30 ー 20:30)

TEL: 03-6228-5535

PAPABUBBLE JAPAN Official Website: http://www.papabubble.jp

Häagen-Dazs Releases Mouthwatering Yuzu Orange Blanc Manger Ice Cream

Häagen-Dazs Japan will release their mini cup Yuzu orange Blancmange ice cream countrywide on 23rd July. This will be available for a limited period only. 

This cooling ice cream is made with milky blancmange. You will be hit by the sudden sourness of the yuzu orange which accents the flavour perfectly. Blancmange is a chilled French dessert which is perfect for the summer. It is made by boiling milk and adding milk, sugar, whipping cream, vanilla and gelatin. This is then cooled to solidify. 

This ice cream is made using rich-flavoured milk and the juice of Japanese yuzu oranges. This is then combined with Häagen-Dazs ice cream. Yuzu oil is also added to the ice cream so that you immediately taste the deeply-flavoured and aromatic yuzu orange with your first mouthful. The refreshing fruitiness will instantly spread all over your mouth, simultaneously harmonising with the milky flavour.

Even the sauce for the ice cream is made using the skin of Japanese yuzu oranges so that ice cream-lovers can fully enjoy the true flavour of yuzu oranges. The rich milky flavour is accented with the refreshing sourness of the yuzu orange. 

This summer, treat yourself to a mild and milky yet fruity and flavourful ice cream.

Information

Häagen-Dazs Mini Cup Yuzu Blanc Manger (limited time ice cream)

Release: July 23, 2019

Price: ¥319 (RRP)

Available at: Supermarkets, convenience stores and department stores countrywide.

Special Edition Website: https://www.haagen-dazs.co.jp/yuzu_blancmanger/ 
RELATED ENTRIES
Blue Bottle Coffee to Open First Pop-Up Store in Tokyo

Blue Bottle Coffee Japan is opening its first-ever pop-up store this spring at Tamagawa Takashimaya S.C. where it will run from April 21 to May 11.

Check out some of the products that will be on offer from the minimalist and stylish coffee brand.

Castella & Coffee Bean Set | ¥3,564 (Tax Included) | Exclusive pre-sale at Tamagawa Takashimaya S.C.

Eco Bag & Instant Coffee Set | ¥4,180 (Tax Included) | Exclusive pre-sale at Tamagawa Takashimaya S.C.

First Light Single Origin | ¥1,944 (Tax Included)

Renewal Blend | ¥1,836 (Tax Included)

Coffee Beans (200g x 2 bags) | ¥3,456 (Tax Included)

Coffee lovers can get their hands on a range of Blue Bottle Coffee's bean range as sold at their cafes across Japan as well as an original tote bag to encourage "Coffee Time, Everywhere," pre-sales on select items like the Blue Bottle Coffee Castella developed in collaboration with Bunmeido Tokyo, seasonal coffee beans, and more.

The pop-up shop will not be serving coffee for customers, but they can enjoy their coffee picks once they get home. And don't worry if you don't have a coffee grinder as there are instant coffees too.

Information

Blue Bottle Coffee Pop-Up Store

Running: April 21, 2021 – May 11, 2021

Where: Tamagawa Takashimaya S.C.

Address: 3-17-1 Tamagawa, Setagaya-ku, Tokyo, 158-0094

Official Website: https://store.bluebottlecoffee.jp/

Peanuts Comic Launches 70th Anniversary Birthday Campaign in Japan

Japan's five Peanuts comic-themed cafes are now holding a birthday plan campaign in celebration of the series' 70th anniversary.

Each cafe branch is offering something different

PEANUTS Cafe Nakameguro x WHYTROPHY With Birthday Rosette

PEANUTS DINER Yokohama With Embroidered Striped Pin

PEANUTS DINER Kobe With Embroidered Striped Pin

PEANUTS Cafe Snoopy Museum With Tote Bag

PEANUTS Cafe Nagoya With Tote Bag

Campaign Art

Customers at the cafes will also be randomly selected to stay at the PEANUTS HOTEL and will receive a free sticker as pictured above. All who order the birthday plan and their group will even receive a free present.

(C) 2021 Peanuts Worldwide LLC (短縮形 (C) 2021 Peanuts)

Japanese Sensu Folding Fan brand BANANA to YELLOW Opens Pop-Up Shop in Shibuya

Japan's long-standing Kyoto-based sensu folding fan brand BANANA to YELLOW, which has been around since 1823, opened a pop-up shop at Shibuya PARCO in Tokyo on Friday, the store's first-ever pop-up shop outside Kyoto.

BANANA to YELLOW's goal is to make traditional Japanese sensu folding fans a fun and stylish experience for the modern day no matter the scene or season. The fans sold at the Shibuya pop-up shop will also include limited-edition designs.

Sensu

The line-up features some of the brand's signature fans which fuse traditional Kyoto-style folding fans with modern designs. Some of the fans are also printed by hand.

The fans can not only be used as they were originally intended—for manners, style, art, warding off evil, and so on—but also as a general accessory.

T-Shirts

The brand also has a collection simple and casual of t-shirts featuring a classic folding fan pocket as originally featured on Japanese kimono.

Bags

A hand two-way tote bag also equipped with a sensu pocket.

Eau de Toilette

Miyawaki Baisen-an's popular eau de toilette makes an appearance at the pop-up shop in four daily fragrances with a Japanese-style scent to them.

Guests

BANANA to YELLOW has collaborated with various artists to develop a range of fans. The first three guests include fashion designer Kunihiko Morinaga (Anrealage), artist Shinro Ohtake, and Mahito the People (Gezan).

Information

BANANA to YELLOW POP-UP STORE

Running: April 9, 2021 – April 22, 2021

Where: Shibuya PARCO's Floor 1F GATE Pop-Up Space

Address: 15-1 Udagawacho, Shibuya-ku, Tokyo

Official Website: https://shibuya.parco.jp/event/detail/?id=3285

Keio Plaza Hotel Announces Special Room Plan to Celebrate 50th Anniversary

Keio Plaza Hotel will turn 50-years-old on May 1, 2021. To celebrate its 50th anniversary, the hotel has announced a special room plan which will take place in its Imperial Suite Room, the only room in the hotel that still has the same design as when it first opened 50 years ago.

The Imperial Suite Room sits on the 41st floor of the hotel, offering a panoramic view of the east and west of Tokyo. This premium suite has been stayed in by countless VIPs and state guests. The concept for its design was conceived by Japanese modernist designer Isamu Kenmochi who is known as a pioneer of the 'Japanese-Modern' style.

Guest staying in the room for this plan will be greeted and serviced by a concierge. An optional tour of the hotel will also be offered by the concierge who is an expert in its history.

Before dinner, guests will be treated to a piano performance and enjoy some aperitifs made by the bartender. The bartender in question has won numerous awards at cocktail competitions and can make a drink catered to guests' preferences. 

Dinner is enjoyed with a front-row seat of Tokyo's nightscape from up on the 44th floor. The full course meal is made with seasonal ingredients chosen by the head chef and comes with wine selected by the hotel's sommelier. As a freebie, guests are given delicious baked confections as well as a bath towel embroidered with their own name.

Information

Hospitable Concerto Echoing from the Skyscraper – Hotel Plan

Japanese Plan Name: 摩天楼に響く、おもてなしの協奏曲(コンチェルト)

Running: March 1, 2021 – March 28, 2022 (Saturdays Only)

Where: Keio Plaza Hotel

Reservations: Must be made 3 weeks in advance

Price: ¥500,000 (Tax Included) for one room for two guests

Capacity: 2-4 (an extra ¥100,000 for 3+ people)

TEL: (03)-5322-8000

Keio Plaza Hotel Official Website: https://www.keioplaza.co.jp/corporate/

Rich and Divine Matcha Roll Cake Gets Baked by 170 Year Old Japanese Tea Shop

Japanese tea shop and cafe Tsuboichi Seicha Honpo has baked up a brand new matcha roll cake made with high quality matcha leaves specially selected by their own tea experts. If indulgence is your calling, then this cake is the perfect accompaniment with a cup of tea whether it be matcha, Japanese tea, black tea – or any other of your favourite kind of tea.




The cake is a striking black colour, one that is featured in traditional Japan. The soft matcha filling provides an eye-catching contrast to the sponge. It's baked on a high temperature over charcoal and bamboo which serves to deepen the colours even more and elevate the vividness of the green matcha.

Cafe time can now be enjoyed at home with this very special treat.

X Japan's hide's 23rd Memorial Year Celebrated With PSYCHOVISION MUSEUM Exhibition

As part of the 'hide The 23rd Memorial' project being held to commemorate the last X Japan guitarist hide, an exhibition titled PSYCHOVISION hide MUSEUM Since 2000 is set to be held at Seibu Ikebukuro from May 11 to May 25.

hide was born in 1964, the year of the Tokyo Olympics. He was sometimes known as the Ugly Pink Machine, a name used in a phrase from some of his own artwork, the titles of his works, and more which read "Who's this ugly pink machine?" And for 2021, also the year of the Tokyo Olympics, this phrase is making a return as part of the PSYCHOVISION hide MUSEUM Since 2000 exhibition.

hide passed away on May 2, 1998. On July 20, 200, the 'hide MUSEUM' was built in his hometown of Yokosuka in Kanagawa, where fans could go and enjoy all things related to the musician. The museum unfortunately closed in 2005, but not before 500,000 fans visited the site. Fans can now look forward to an all-new hide MUSEUM experience.



The museum exhibition will be themed on the future that hide looked to. It will be split into five zones that explore everything from his childhood to setting his eyes on the rock world, forming Saver Tiger, joining X Japan which was originally just called X, embarking on his solo career, and more.

Fans will also get to see a collection of outfits actually worn by hide, his beloved guitars, lyrics of his famous songs actually penned by him on paper, and much more, all of which has been under lock and key by his official management group HEADWAX ORGANIZATION CO.,LTD.

Fans of X Japan and fans of hide won't want to miss out on this incredible intimate and detailed account of the life of one of Japan's most revered musicians.

Information

Who is hide? hide The 23rd Memorial Special Exhibition PSYCHOVISION hide MUSEUM Since 2000

Japanese Exhibition Title: hideって誰? hide The 23rd Memorial 特別企画展 PSYCHOVISION hide MUSEUM Since 2000

Running: May 11, 2021 – May 25, 2021

Location: Seibu Gallery, Seibu Ikebukuro Bekkan Floor 2F

Address: 1-28-1 Higashi-Ikebukuro, Toshima-ku, Tokyo, 171-8569

Exhibition Website: https://www.psychovision.online/

Japanese Illustrator Mai Yoneyama Releases Limited-Edition T-Shirts

To commemorate her exhibition "EGO" exhibition currently taking place at Anicoremix Gallery in Harajuku, Japanese illustrator Mai Yoneyama has released a collection of limited-edition t-shirts in collaboration with the sneaker brand atmos. The exhibition, which is showcasing many of Yoneyama's works, is running until April 14.

Wear Mai Yoneyama's iconic pop style wherever you go with these limited-edition tees.

Japanese Organic Cosmetic Brand SABON to Open Green Pop-Up Shop in Shinjuku

Japanese natural and ethical cosmetic brand SABON is set to promote its line-up with the opening of its Blissful Green Limited Collection Pop-Up Shop at Isetan Shinjuku on April 14.

The pop-up shop serves as a promotional space and pre-sale opportunity for the brand's upcoming Blissful Green Limited Collection which incudes body scrub, body lotion, shower oil, and more. The collection invites people to a luxurious, natural self-care and shower-time experience. The brand will also hold a four-day calligraphy service for the spring season where customers can buy the items as gifts and include a special message.

Calligraphy Service

Customers who spend over ¥12,000 (tax included) can have a special sticker or gift card penned by a professional calligrapher who will write a name and gift message. Full details here in Japanese.

 

Dates/Times

April 16, 2021 @ 13:00-18:00

April 17, 2021 @ 16:00-20:00

April 24, 2021 @ 13:00-18:00

April 25, 2021 @ 13:00-18:00

Blissful Green Limited Collection

The Blissful Green Limited Collection is the embodiment of the SABON brand and offers thanks to the joy we feel being surrounded by nature. It captures the clean air inhaled in the forest, the gentle light filtering through the trees, and the coming-together of the mind, body, and nature. It includes body, face, and home items all packaged inside gorgeous bottles and tubs.

Information

SABON Blissful Green Limited Collection Pre-Release Pop-Up Shop

Running: April 14, 2021 – April 27, 2021

Where: SABON Isetan Shinjuku

Address: 3-14-1 Shinjuku, Shinjuku-ku, Tokyo

Opening Hours: 10:00-20:00

Product Page: https://www.sabon.co.jp/special_contents/Blissful_Green/

LINE Friends Themed Cafe Opens in Ikebukuro

The popular LINE Friends characters now have their own pop-up cafe inside Ikebukuro PARCO which is running until April 25. The characters form part of a series of stickers used on the Japanese messaging app LINE which is used by other 200 million people worldwide.

The Menu

Brown's Beef Burger | ¥1,250

Lattes | ¥950

LINE FRIENDS Parfaits | ¥1,100 Each

Cafe-Original Merchandise

Alphabet Die-Cut Stickers | ¥330 Each

Lunch Tote Bag | ¥1,650

Brown Mug | Available to the first 300 people who visit to the cafe

Join Brown, Cony, and Sally as they serve up a fun and tasty menu along with a collection of merchandise exclusive to the cafe as well as items also sold at the LINE Friends Store.

Information

LINE FRIENDS POP-UP CAFÉ

Running: April 1, 2021 – April 25, 2021

Where: THE GUEST cafe&diner Ikebukuro

Address: Ikebukuro PARCO Floor 7F, 1-28-2 Minami-Ikebukuro, Toshima-ku, Tokyo, 171-8557

TEL: 03-5391-8604

Official Website: http://the-guest.com/

Kyary Pamyu Pamyu's Fragrance Brand Nostalgia Syndrome Releases Lily & Jasmine Series

Nostalgia Syndrome opened pre-orders for its new Lily & Jasmine series of fragrances on March 31. The products will be released on April 22.

Nostalgia Syndrome is a fragrance brand produced by Kyary Pamyu Pamyu which launched last year. The new Lily & Jasmine series will be available to purchase online and will also be sold at two brand pop-up shops in Tokyo and Osaka. Those who spend over ¥10,000 online or at either of the stores (tax included) will receive a free Nostalgia Syndrome novelty – these are available in limited supply.

Online Store Novelty: Original Thermal Bottle

Pop-Up Store Novelty: Original Big Eco-Bag

Lily & Jasmine Series

Eau de Toilette | ¥8,250 (Tax Included)

Room & Fragrance Spray | ¥3,300 (Tax Included)

Aroma Diffuser | ¥7,150 (Tax Included)

Bath Salts | ¥3,410 (Tax Included)

Hand Soap | ¥3,520 (Tax Included)

Scented Candle | ¥8,140 (Tax Included)

Eau de Toilette Two-Set (9mL)

Kyary Pamyu Pamyu | Comment

"This is Nostalgia Syndrome's second fragrance release. After mixing together various ingredients, I was finally able to catch the right scent. The theme for this one is 'travel fragrance.' Because of COVID, our time spent outdoors has gone down dramatically, but smells tied to our memories make up part of us all. And smelling them brings back those memories. This is a blend of sweet, sophisticated lily and refreshing jasmine, so it's a really easy one to use that can be enjoyed by both guys and girls. We're also opening our first pop-up shop so please be sure to drop by to try out!"

Lily and jasmine are vibrant fragrances and perfect for the spring season. Order yours today!

Information

Nostalgia Syndrome Lily & Jasmine

Pre-Orders: March 31, 2021 (Shipping from April 22)

Release Date: April 22, 2021

Pop-Up Stores

・+SPBS (SHIBUYA SCRAMBLE SQUARE 2F)

Running: April 22, 2021 – May 26, 2021

Where: +SPBS, SHIBUYA SCRAMBLE SQUARE Floor 2F, 2-24-12 Shibuya, Shibuya-ku, Tokyo

Opening Hours: 11:00-21:00

・Shinsaibashi PARCO

Running: May 13, 2021 – May 20, 2021

Where: Shinsaibashi PARCO Floor B1F, 1-8-3 Shinsaibashisuji, Chuo-ku, Osaka-shi-, Osaka

Opening Hours: 10:00-20:00

Nostalgia Syndrome Official Website: https://www.nostalgia-syndrome.com/

Geoffrey Bouillot x Masahito Noto Launch Welcome Katsushika Art Project

Tokyo-based French artist Geoffrey Bouillot has teamed up with Japanese footballer Masahito Noto to launch the Welcome Katsushika Art Project, an artistic initiative to help promote the Tokyo ward of Katsushika by using it as a tourist spot to exhibit their works throughout the town and developing new collaborative items with traditional Japanese crafts as a crowdfunding return.

Katsushika will be decorated with new artwork that will act as photo spots for tourists and sightseers, and the project will collaborate with professionals throughout the town, all in an effort to help revitalise the tourism and traditional industries of Katsushika which have been affected by COVID-19.

Geoffrey Bouillot

Geoffrey Bouillot is a French artist based in Tokyo. In 2019, he was featured as a guest artist at Shibamata Art World, an art event held in Shibamata, Tokyo. His monochromic pieces make use of grey-scale painting and combine cubism and minimalism.

Masahito Noto

Masahito Noto is a Japanese professional footballer and athlete. He is also an artist whose artistic process involves layering paint to create unique pieces.

The project has developed items in collaboration with traditional craftwork companies, such Edo Kiriko glass-cutting with Shimizu Glass and wazarashi hand towels with Tokyo Wazarashi. These will be donated as a return for the crowdfunding that was required to fund this project.

There will also be an art panel showcased by the local soccer team Nankatsu SC as well as items made in collaboration with businesses such as t-shirts and hoodies by CON±RAD, soccer cleats by BMZ, blueberry brownies with a local eatery, and much more.

Disney's Zootopia Themed Cafe to Open in Tokyo, Osaka, and Nagoya for Film's 5th Anniversary

The Tokyo, Osaka, and Nagoya branches of OH MY CAFE are set to pay host to cafe experiences themed on Disney's Zootopia in celebration of the movie's 5th anniversary which hit last month. The cafes will transform into a Zootopia extravaganza from April 23.

Customers who book a table in advance receive one of six possible lunch mats

The Menu

Vegetable Curry ¥1,890 (Before Tax)

Sandwich Plate ¥1,990 (Before Tax)

Corn Cream Pie ¥1,590 (Before Tax)

Salsa Burger ¥2,390 (Before Tax)

Carrot Doria ¥1,490 (Before Tax)

Acrylic Coasters +¥900 (Before Tax)

Iced Milk ¥990 (Before Tax) / With Mug +¥1,600 (Before Tax)

Iced Coffee ¥690 (Before Tax) / With Mug ¥1,600 (Before Tax)

Iced Drink ¥990 (Before Tax)

Exclusive Merchandise

Movie Stills Series

Acrylic Key Rings

Square Magnet ¥550 (Before Tax) / Acryluc Key Ring ¥650 (Before Tax) / A4 Folder ¥350 (Before Tax)

Mask Cases ¥500 (Before Tax) / Masking Tapes ¥800 (Before Tax)

Tiny Animals Series

Acrylic Charms ¥450 (Before Tax) / Mini Notebook Set ¥850 (Before Tax)

A5 Folder Set ¥800 (Before Tax) / Mini Pouch Set ¥1,800 (Before Tax)

Mini Towels ¥1,000 (Before Tax) / Eco Bag ¥1,850 (Before Tax)

Zootopia fans won't be able to resist the tasty and healthy themed menu featuring Nick Wilde and Judy Hopps, as well as getting their hands on a range of merchandise from stationery to fashion.

©Disney

Information

Zootopia OH MY CAFE

OH MY CAFE TOKYO

Running: April 23, 2021 – June 27, 2021

Address: Tokyu Plaza Omotesando, 4-30-3 Jingumae, Shibuya, Tokyo

OH MY CAFE OSAKA

Running: April 28, 2021 – July 6, 2021

Address: 1-6-1 Shinsaibashisuji, Chuo-ku, Osaka-shi, Osaka

kawara CAFE&KITCHEN

Running: June 2, 2021 – July 13, 2021
Address: Nagoya PARCO, 3-29-1 Sakae, Naka-ku, Nagoya-shi, Aichi

Official Website: https://zoo.ohmycafe.jp/