Visiting Shibuya's Candy Apple Store | Food Review
Hello everyone! This is Midori from MOSHI MOSHI NIPPON.
Candy apples are the staple food of summer festivals. A crunchy candy coating and a sweet, fruity apple is such a divine combination. It can be quite difficult to find candy apples outside of festivals. That's where Candy Apple steps in. This is a brand new shop on the block that specialises in candy apples!
This is located just a five-minute walk from Shibuya Station's west exit. If you check out their saved Instagram story, you probably won't get lost. During the weekdays and on Saturdays, this is an Italian restaurant called Buonappetito. On Sundays, when the restaurant is closed, it transforms into a candy apple shop.
The shop interior is gorgeous.
Plain: ¥600
I ordered the plain apple without wasting any time. This is much larger than what you would usually get at a festival. Although these are usually eaten by immediately sinking your teeth in and biting out a big chunk, you can cut your apple here and enjoy it at your own pace.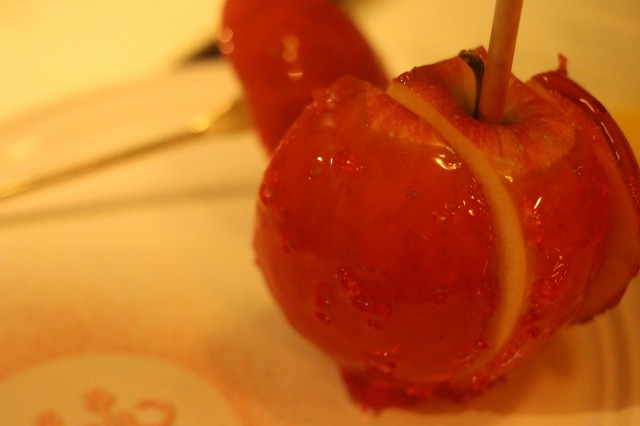 After taking your first bite, you will realise just how different this is to your normal candy apple. The apple is coated in a thin layer of candy, creating a delicious crunch. The apple is fresh, juicy and sweet. Some candy apples are made with mushy apples that are not fresh, however these apples are extremely fresh and delicious right to the last bite.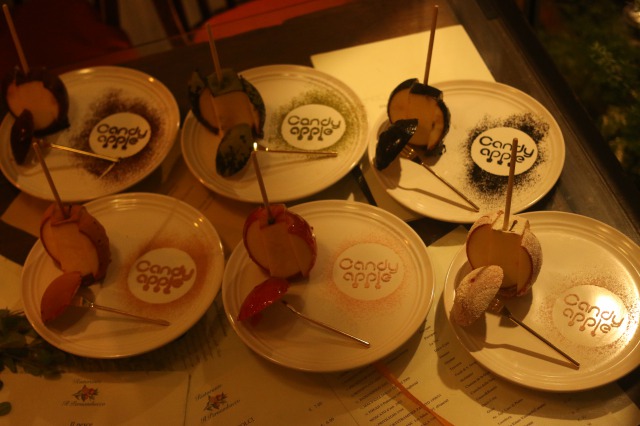 These candy apples are full of a variety of flavours.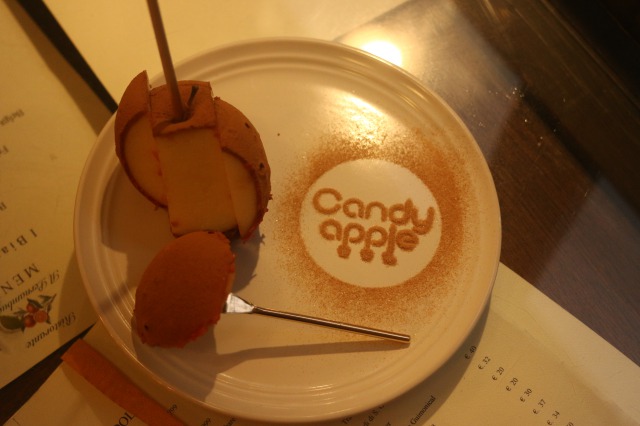 Cinnamon Sugar: ¥600
The apple with the dusting of beige-coloured powder is cinnamon-flavoured. The sweet cinnamon scent spreads everywhere as soon as you set it on the table. The sweet flavour of the apple and the fragrant cinnamon is a match made in heaven. 
Cocoa: ¥600
The apple covered in the brown powder is cocoa-flavoured. The slightly bitter flavour of the chocolate is a perfect match for the sweet apple. The colour contrast between the brown chocolate and white apple is also beautiful. ♪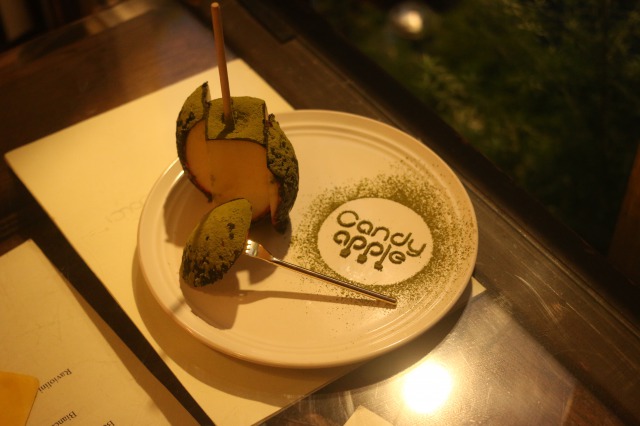 Matcha: ¥600
The apple with the green powder is matcha as you may have already guessed! The flavouring of the Uji matcha used for this apple was carefully balanced to maximise the flavour when combined with the apple. After you take your first bite, you just won't be able to stop.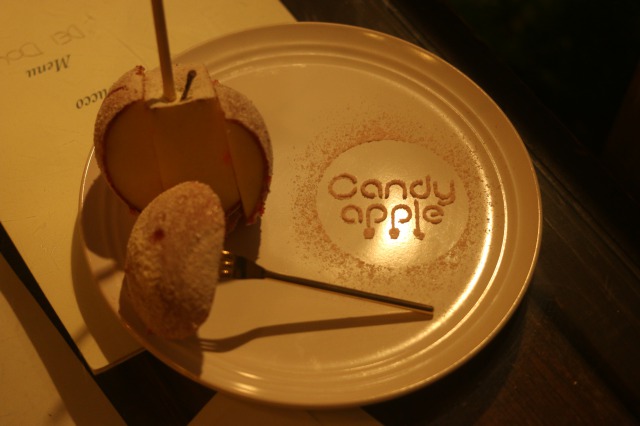 Blueberry Yoghurt: ¥600
The bright white dusting on this blueberry yoghurt-flavoured apple is beautiful. The blueberry scent is mild and is perfect with the yoghurt.
Black Cocoa: ¥600
The pitch black colour of the Black Cocoa Candy Apple is very appetizing. The black cocoa is even more bitter than the cocoa apple, which really brings out the flavour of the sweet apple even more.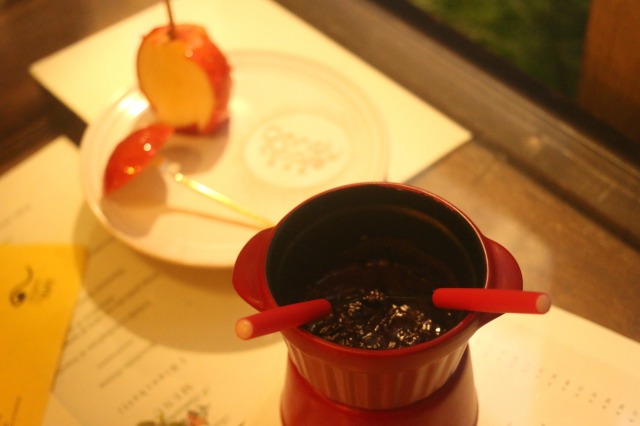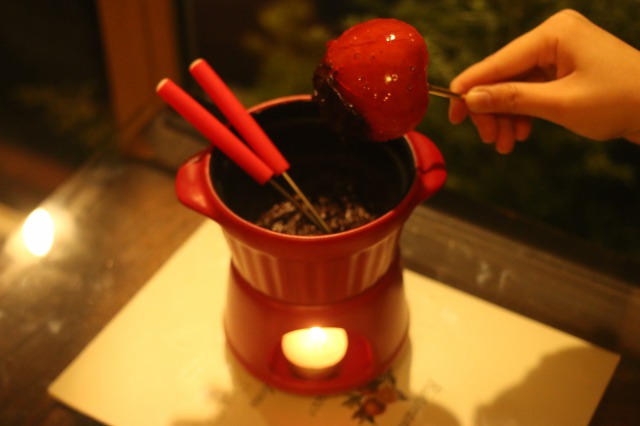 You can even get chocolate fondue for your candy apple (¥400). By adding the fairly bitter chocolate to your candy apple, you can enjoy three different kinds of sweetness when it mixes with the chocolate, candy and the apple.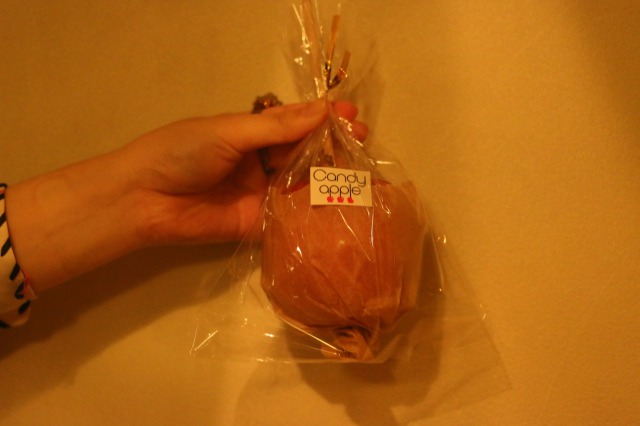 You can even order your candy apple to go, making it the perfect summer souvenir. Taking it home to enjoy is also another wonderful way to make the most of your experience. 
This candy apple shop is only open on Sundays, but you can order to take away on other days. 
This is a flavour that a festival candy apple will never be capable of offering. You can tuck into your apple inside the beautiful shop, or take it home to enjoy at home at your own pace. 
Information
Candy Apple
Address: Nomura Building 1st floor, 7-12, Sakuragaocho, Shibuya, Tokyo
Opening Hours: 11:00-20:00 (Open every week on Sundays only)
*Only the Italian restaurant Buonappetito is open on weekdays.
Instagram: https://www.instagram.com/candy_apple_369/
RECOMMENDED ENTRIES
Osamu Watanabe's Mouthwatering Museum of Sweets Showcases Giant Candy Unicorn & More

Have you heard of Osamu Watanabe? You won't forget his name by the end of this article. He is an installation and contemporary artist that draws his inspiration from the world of sweets and confections. He has drawn much attention not just in Japan but overseas too in countries like the US, Italy, Turkey, Indonesia and China with his various exhibitions.

Watanabe is set to take his "Museum of Sweets" exhibition to Shinjuku where it will open at the Odakyu Department Store on July 31.

The candy creations will be split throughout 9 different areas such as the titular room Museum of Sweets as well as the Forest of Sweets, Banquet of Sweets, Sweets Aquarium and more, all of which are sure to tickle the taste buds of sweet tooth visitors.

What's more is that you are permitted to take photos, opening the door for countless photo opportunities for Instagram.

Osamu Watanabe will also be present to host a workshop on 4 separate days so you can craft your own cookie charm using materials Watanabe actually uses in his creations.

Enter a fantastic candy land cooked up by the one and only Osamu Watanabe.

Information

Museum of Sweets

Running: July 31, 2019 – August 14, 2019

Time: 10:00-20:00 (Until 20:30 from August 7-13 / Until 17:00 on August 14)

*Last entries 30 minutes before closing times

Location: Odakyu Department Store Shinjuku Floor 11F

Entry: General ¥600 / High School & Junior High School Students ¥400 / Elementary School Students & Younger – Free

*If you are disabled you and a guardian can get in for free if you take a physical disability certificate

*Those who hold an Odakyu Points Card or Odakyu Ladies Club Card can get ¥100 off entry (applicable only to those who have a card)

Odakyu Department Store Official Website: http://www.odakyu-dept.co.jp/

Workshop: Make a Cookie Charm With Osamu Watanabe!

Running: August 3, 2019 / August 4, 2019 / August 11, 2019 / August 12, 2019

Slots: 13:00 / 13:30 / 14:00 / 14:30 / 15:00 / 15:30 (Each Day)

Participants: 10 per slot

Price: ¥500

Applying: Please apply at the department store from 10:00 on the day

Osamu Watanabe Official Website:  http://watanabeosamu.tokyo/profile_en.html

The Entire World Is Curious About PAPABUBBLE's Candy Art Museum To Open In Ginza

Described as the "most interesting sweets shop in the world", PAPABUBBLE sells a range of cute and fun confections. On July 1, PAPABUBBLE will open a Candy Art Museum on basement floor 2 of GINZA SIX.

PAPABUBBLE has set up shop in over 30 cities worldwide. The main shop will contain art pieces made from candy. Considering all the candy shops that are currently out there in the world, nobody has ever seen anything quite like this before. 

The museum contains around 20 different ornaments that are edible sweets. Visitors who wish to purchase the ornaments can do so. Besides the standard sweets, the display items and range of sweets for sale will be changed every day. 

When the museum opens in July, visitors will be able to enjoy the wonderful texture and flavour of candy lampshades, enjoy the artistic and charming glow of candy mushrooms, and gaze in bewilderment at an antique vase baumkuchen cake. 

To commemorate its grand opening, customers who spend more than ¥5,000 (after tax) on display items or on the sweets shop range will receive either a soft gummy brain or soft gummy dentures. This campaign will be running throughout July. 

Along with the grand opening of the art museum, there will also be Ginza-limited products on sale that are completely unique to the Ginza branch. The lineup includes sweets made from ingredients that are rarely seen in Japan. This includes colourful and fruity chocolate such as rocky roads and soft candy sweets made from snow sugar. PAPABUBBLE will also sell souvenirs that represent Ginza such as Kirihako boxes which are beautiful boxes made from wood. 

If you are in Tokyo, you just cannot miss this museum that is overflowing with originality.

Information

Candy Art Museum by PAPABUBBLE (Gallery of Sweets Art by PAPABUBBLE)

Address: B2F, 6-10-1, Ginza, Chuo Ward, Tokyo 

Opens: July 1, 2019 

Opening Hours: Mondays ー Sundays (10:30 ー 20:30)

TEL: 03-6228-5535

PAPABUBBLE JAPAN Official Website: http://www.papabubble.jp

Häagen-Dazs Releases Mouthwatering Yuzu Orange Blanc Manger Ice Cream

Häagen-Dazs Japan will release their mini cup Yuzu orange Blancmange ice cream countrywide on 23rd July. This will be available for a limited period only. 

This cooling ice cream is made with milky blancmange. You will be hit by the sudden sourness of the yuzu orange which accents the flavour perfectly. Blancmange is a chilled French dessert which is perfect for the summer. It is made by boiling milk and adding milk, sugar, whipping cream, vanilla and gelatin. This is then cooled to solidify. 

This ice cream is made using rich-flavoured milk and the juice of Japanese yuzu oranges. This is then combined with Häagen-Dazs ice cream. Yuzu oil is also added to the ice cream so that you immediately taste the deeply-flavoured and aromatic yuzu orange with your first mouthful. The refreshing fruitiness will instantly spread all over your mouth, simultaneously harmonising with the milky flavour.

Even the sauce for the ice cream is made using the skin of Japanese yuzu oranges so that ice cream-lovers can fully enjoy the true flavour of yuzu oranges. The rich milky flavour is accented with the refreshing sourness of the yuzu orange. 

This summer, treat yourself to a mild and milky yet fruity and flavourful ice cream.

Information

Häagen-Dazs Mini Cup Yuzu Blanc Manger (limited time ice cream)

Release: July 23, 2019

Price: ¥319 (RRP)

Available at: Supermarkets, convenience stores and department stores countrywide.

Special Edition Website: https://www.haagen-dazs.co.jp/yuzu_blancmanger/ 
RELATED ENTRIES
FRUITS ZIPPER Holds First Anniversary Concert, Announce Appearance at the 'Sayonara Nakano Sunplaza Music Festival' in June

On May 4, the 7-member idol group FRUITS ZIPPER held the first Tokyo performance of their first-anniversary concert tour at Toyosu PIT.

Tickets for both the Tokyo and Osaka shows sold out immediately after they went on sale. To celebrate the first anniversary of the group's debut, the lucky fans who were able to snag tickets came together at Toyosu PIT.

In the year since their debut, FRUITS ZIPPER has skyrocketed in popularity, performing live at several idol festivals and some of Japan's largest fashion events, and successfully touring Tokyo, Nagoya, and Osaka. Their show at LINE CUBE SHIBUYA garnered incredible attention.

For the first anniversary concert, the stage was transformed by a special set and the member appeared in new never-before-seen costumes. They performed a total of 17 songs, and each member expressed their gratitude to their fans during the MC segments.

During the performance, it was announced that the group would perform at the Sayonara Nakano Sunplaza Music Festival on June 26. The venue, which has seen countless performances over its long history, will be demolished and replaced to commemorate its 50th anniversary. Fans are excited to see their favorite artists perform on this legendary stage, and many are curious to see how it will be transformed in the future.

FRUITS ZIPPER has also released the song Cho Medetai Song ~Konnani Shiawasede Iinokana? ~ (The Super Joyful Song ~Is It Okay to Be This Happy?~) on all major streaming services. The track was co-written by Sho Yamamoto, who wrote the group's hit song Watashino Ichiban Kawaiitokoro, currently with over 700 million views on TikTok, and Gento Miyano, who has written songs for numerous popular artists. The super-happy pop tune has a sound reminiscent of idol tracks from the 2000s and has been a smash hit at live shows, stirring the fans into a frenzy.

Information

<Sayonara Nakano Sunplaza Music Festival Performance Information>
Sayonara Nakano Sunplaza Music Festival
Date: June 26, 2023
Venue: Nakano Sunplaza (Tokyo)

Ticket information and additional information will be posted on the official FRUITS ZIPPER Twitter page(@FRUITS_ZIPPER)as it becomes available.

<Release Information>
FRUITS ZIPPER New Single
Cho Medetai Song ~Konna ni Shiawase de Iinokana?~
Streaming Date: May 4, 2023
Streaming URL: https://kawaiilab.lnk.to/CSKSI
Available on all major music streaming and download sites

1. Cho Medetai Song ~Konna ni Shiawase de Iinokana?~
2. Cho Medetai Song ~Konna ni Shiawase de Iinokana?~ -Instrumental-

<FRUITS ZIPPER Tour Information>
FRUITS ZIPPER Japan Tour 2023 AUTUMN
9/3 – Zepp Namba (Osaka)
9/5 – Zepp Nagoya (Aichi)
9/8 – Zepp Fukuoka (Fukuoka)
9/10 – BLUE LIVE HIROSHIMA (Hiroshima)
9/13 – PENNY LANE24 (Hokkaido)
9/16 – KT Zepp Yokohama (Kanagawa)

ZEROTOKYO and ASOBISYSTEM Collaborate on ASOBIZA Party Event

ZEROTOKYO, an entertainment mecca known for heating up Tokyo nights, is teaming up with ASOBISYSTEM to create an exciting new party! ASOBIZA, named after the origin of Kabukicho, will be held on April 28.

The lineup includes music artists as well as charismatic figures at the top of their fields in fashion, beauty, and art. Transcending musical genres and generations, this night will embody ZEROTOKYO's concept of being a true "Entertainment Junction."

Additional performers may be announced in the future.

CANDY TUNE Releases First Album 'CANDY TUNE'

CANDY TUNE, the newest group from KAWAII LAB, released their first album on March 7. KAWAII LAB is continuing to introduce Japanese idol culture to fans around the world.

The seven-member group is comprised of members Rino Fukuyama, Mizuki Kirihara, Natsu Minami, Nanako Ogawa, Bibian Murakawa, Shizuka Miyano, and Kotomi Tachibana. Just like candy, which comes in tons of different flavors and shapes, the members will bring their own unique personalities and quirks to their pop tunes as they carry on KAWAII LAB's mission of sharing Harajuku style with the world.

Two songs on the group's first album CANDY TUNE were produced by Naoki Kubo and Suu, former members of SILENT SIREN–the sweet and playful Kiss Me Patissier and the inspiring song hanamaru. Hirotaka Hayakawa, who has produced hit songs for countless artists, also contributed. Nanairo Prologue tells the story of the seven members moving forward across a rainbow-colored bridge, andMikan na Seishun (Unfinished Youth) has a fast-paced sound sure to be a hit with new fans. The group's artist photo and the jacket art for the album were provided by Yuko Takayama (yenter).

CANDY TUNE will hold its debut concert titled KAWAII LAB. SESSION ~CANDY TUNE~ on March 14 at Spotify O-EAST. To commemorate the special occasion, IDOLATER and FRUITS ZIPPER will also perform. The three groups will perform the FRUITS ZIPPER hit track Watashi no Ichiban Kawaiitokoro together during the event, and tickets are now on sale.

Additionally, new interviews with the members and behind-the-scenes footage have been uploaded to CANDY TUNE's official YouTube channel.

Information

CANDY TUNE – CANDY TUNE (1st Digital Album)
Streaming: March 7, 2023
Streaming URL: https://kawaiilab.lnk.to/CANDYTUNE
Available to stream on all major subscription music streaming services

Tracklist:
M1 Kiss Me Patissier
M2 hanamaru
M3 Nanairo Prologue
M4 Mikan na Seishun
M5 Kiss Me Patissier -Instrumental-
M6 hanamaru -Instrumental-
M7 Nanairo Prologue -Instrumental-
M8 Mikan na Seishun -Instrumental-

[Debut Concert Details]
Event Title: KAWAII LAB. SESSION ~CANDY TUNE~
Venue: Spotify O-EAST
Date: March 14, 2023
Time: Doors open 17:30 / Show starts 18:30 / VIP Event Ends 22:30
Performers: IDOLATER / FRUITS ZIPPER / CANDY TUNE

[Tickets]
Admission: VIP ¥5,000 / General ¥3,000 / Day-of ¥3,500
Tickets: https://w.pia.jp/t/candy-tune/

<Profile>
The idol group CANDY TUNE consists of seven members: Rino Fukuyama, Mizuki Kirihara, Natsu Minami, Nanako Ogawa, Bibian Murakawa, Shizuka Miyano, and Kotomi Tachibana.

The group was formed by the KAWAII LAB project, started by ASOBISYSTEM to promote Japanese idol culture around the world. CANDY TUNE will make its debut in March 2023.

Just like candy, which comes in tons of different flavors and shapes, the members will bring their own unique personalities and quirks to their pop tunes as they carry on KAWAII LAB's mission of sharing Harajuku style with the world.

Twitter: https://twitter.com/candy_tune_
Instagram: https://instagram.com/candy__tune
TikTok: https://www.tiktok.com/@CANDY_TUNE
YouTube: https://www.youtube.com/channel/UCU0PgOXf0lxzVxN2TLzMJkw
note(Live Schedule):https://note.com/candy_tune

<What is KAWAII LAB?>

KAWAII LAB is a new project by ASOBISYSTEM aiming to promote Japanese idol culture to the world. The company works to discover, train, and produce idols with the potential to be active on the world stage.

KAWAII LAB is produced by Misa Kimura, a model and TV personality. A fan of idols for many years, Kimura was formerly the leader of the idol group Musubizm.

Other KAWAII LAB. groups include IDOLATER, a culture-holic idol group consisting of finalists from ASOBISYSTEM's first national audition in 2018, and FRUITS ZIPPER, a group transmitting NEW KAWAII from Harajuku to the world debuting in April 2022.

In March 2023, the project launched a new idol group.
KAWAII LAB. will continue to promote Japanese idol culture to the world, launching and developing new idol groups, not only in Tokyo but in other cities as well!

Twitter: https://twitter.com/kawaii__lab
YouTube: https://youtube.com/channel/UCW8Q9LBGGBgK6a-u0C0h95A
Fan Club: https://kawaiilab.asobisystem.com/

Tokyo Diary Map #1: Actor Ryo Ogata Recommends Relaxing Spots in Tokyo

The new Tokyo Diary Map series aims to introduce readers to awesome spots in Tokyo that they might want to visit! Each entry features locations recommended by a single artist or talent, and fans will get to not only discover new places to visit in Japan's capital, but also get to learn more about the thoughts and feelings of these unique individuals.

The first participant in the Tokyo Diary Map series is Atsushi Ogata, a multi-talented TV personality and actor. Last year, he appeared as a beauty-concious man on Nippon TV's DANCING SANMA PALACE, spurring a major buzz by revealing his cosmetic routine. He's also a notable actor, having appeared in the papercraft theater company's 7th performance Sekai ga Asa wo Shiroutomo (Though the World May Know Morning), telling the story of a man and a woman, a couple of friends, and a certain woman "until morning."

 

  

-Tell us about your favorite spot in Tokyo!

"Daikanyama T SITE TSUTAYA. I feel like I can really relax there. I love being surrounded by my favorite fashion magazines, and no matter what magazine you pick up, they're all so exciting and educational. That's what I like about bookstores–you can pick up something you're not usually interested in and learn something new. It's the best."

Daikanyama T SITE TSUTAYA
16-15 Sarugakucho, Shibuya-ku, Tokyo
https://store.tsite.jp/daikanyama/

– How do you like to spend your time at Daikanyama T SITE TSUTAYA?

"I pick up a new book, find a seat, and take my time reading. I like people-watching and checking out people's fashion too. Also, there's a nice café called ivy place nearby, where I can read while having a relaxing cup of coffee."

Ivy Place

東京都渋谷区猿楽町16-15

https://www.tysons.jp/ivyplace/

 

-You studied fashion design in the United States. How did that experience influence you? How do you want to make use of that experience going forward?

 "Learning about fashion at art school was very inspiring. It was also very interesting to see how people with different ethnic backgrounds dress and to see their individual personalities. For example, I saw high school students wearing backpacks instead of using school bags. I just loved seeing people's unique fashion. It made me realize something that I still believe in to this day–that there's  nothing more beautiful than wearing what you like in your own way. I'd actually like to create my own clothing brand in the future, so I hope to put my high school fashion design studies to good use."

–Which apparel stores do you frequent?

I always peek into Dover Street Ginza!

Dover Street Ginza
Ginza Komatsu West Building (6-9-5 Ginza, Chuo-ku, Tokyo)
https://ginza.doverstreetmarket.com

-What fashion styles are you interested in lately?

"I like a lot of different genres, but lately I've been into chic styling, like pairing shirts and sweaters. I dream of dressing like Thom Browne. I want to try to buy at least one piece from his collection.

-You post a lot of illustrations on your Instagram. Do you usually like to draw? When do you lke to create? 

"I bought an iPad to draw because I really wanted something to do something new during COVID. For me, when I plan time to draw something, it never goes well, so I tend to just draw when inspiration suddenly strikes. I have no particular style, I just draw whatever I want!"

-What inspires you as someone so expressive? What has piqued your interest lately?

"I get inspiration from a wide range of different people. It could be people walking on the street, people on the train…lately, I've been meeting the most inspiring and wonderful people. Listening to their stories is what inspires me the most. Fashion inspires me, humanity inspires me, people's auras inspire me."

 

-Finally, please give a message to those who are planning on coming to Japan!

"Japan is just wonderful. It's the best. The food, the people, the scenery, all of it is incredible. Once you visit, you'll definitely want to come back. Please come and enjoy!" (Laugh)

Hisashi Eguchi's Illustration Exhibition "Tokyo Girlfriend" Coming to Tokyo Midtown Hibiya, New Works to be Exhibited for the First Time

From March 14 until April 23, 2023, Tokyo Midtown Hibiya will hold Hisashi Eguchi's Tokyo Girlfriend illustration exhibition, set to show off the artist's unique perspectives on people and cityscapes. The exhibition will feature new illustrations of the titular girlfriend standing in the streets of Hibiya drawn especially for this exhibition, as well as various other girlfriends both large and small.

GING NANG BOYZ Kimi to Boku no Dai 3ji Taisen-teki Renai Kakumei CD Jacket (2005)

A LONG VACATION – Eiichi Ohtaki 40th Tribute Illustration (2021) ©2023 Eguchi Hisashi

Hisashi Eguchi, a manga artist and illustrator, continues to convey the charm of the city and its people by vividly depicting Tokyo and the many unique happenings within. As Tokyo Midtown Hibiya celebrates its 5th anniversary along with many other nearby businesses, the Tokyo Girlfriend exhibition of illustrations by Hisashi Eguchi is being held to celebrate.

The exhibition will feature a new painting of the mysterious girlfriend standing in the streets of Hibiya, newly created for the Tokyo Midtown Hibiya exhibition. A number of original pieces using Pantone overlay, Eguchi's favorite painting medium in the 80s and 90s, will also be on display for the first time.

During the exhibition period, guests can enjoy autograph sessions, live sketches in which Eguchi himself will draw a portrait of selected subject on the spot, and workshops where he will teach tips on how to be a better illustrator.

Don't miss your chance to meet one of the greatest illustrators of the modern era!

©2023 Eguchi Hisashi

FRUITS ZIPPER Valentine Pop-Up Shop to Open at Laforet Harajuku

Laforet Harajuku will host a pop-up shop inspired by the up-and-coming idol group FRUITS ZIPPER from February 1 until February 14! The FRUITS ZIPPER Valentine Pop-Up Shop will be found on the 5th floor MAKE THE STAGE area.

FRUITS ZIPPER debuted in April 2022 and embodies a simple concept: "From Harajuku to the World." The group's second single Watashino Ichiban Kawaiitokoro exploded in popularity on TikTok, pulling in over 600 million views. In February, the girls will embark on their first solo concert tour in Tokyo, Nagoya, and Osaka. This is the first FRUITS ZIPPER-inspired limited-time shop, and during the event, visuals of the group's members will be displayed in the show windows found on the first floor of Laforet Harajuku.

◆About the FRUITS ZIPPER Valentine Pop-Up Shop

When entering the venue, fans will be greeted by a 5-meter-wide board where visitors can write and attach their messages to the FRUITS ZIPPER members on heart-shaped cards. Costumes that the members have worn on stage will also be on display, allowing fans to see each stitch up close.

Exclusive items featuring new photos of the members will be on sale at the pop-up shop. Fans can enjoy seeing the girls in their own personal style, and these items will only be available during the event! Starting February 4, tour merch for the group's upcoming solo concert series will also be available for purchase.

◆Collaboration with Fruit Sandwich Specialty Store 'Fruits Box Daikanyama'

Last year's popular collaboration with Fruit Box Daikanyama, a well-known fruit sandwich shop, is happening again in 2023! Fans can find the Collaboration Gift Box for sale, including seven baked meringue goods each featuring one of the member's colors. The box also comes with snapshots of the members, and for a few lucky fans, these snaps might be signed! The idol group and sandwich shop have also teamed up to create the Collaborative Lucky Grab Bag Lottery, including popular FRUITS ZIPPER goods and original items from Fruits Box Daikanyama. The lucky first-prize winner will receive a special set of all available February tour merchandise in all sizes.

◆Member Appearance Planned on Valentine's Day

On February 14, the final day of the pop-up shop, the members of FRUITS ZIPPER will make an appearance! Guests will be able to participate in the first-ever hands-on event with the members, so keep an eye out for more details!

Stay up to date with the latest FRUITS ZIPPER news at the official Twitter page (@FRUITS_ZIPPER).

FRUITS ZIPPER Pop-Up Shop Exclusive Goods


Random Photo – Valentine pop-up ver. (21 varieties): ¥330 (Tax Included)


Random Pin – Valentine pop-up ver. (7 varieties): ¥500 (Tax Included)


Random Purikura Stickers – Valentine pop-up ver. (14 varieties): ¥600 (Tax Included)

Information

FRUITS ZIPPER Valentine POP-UP SHOP
Running: February 1 – February 14, 2023
Venue: Laforet Harajuku 5F MAKE THE STAGE
*Closed on February 7 and February 8

[Fruits Box Daikanyama Collaboration Goods]
Collaboration Gift Box: ¥3,500 (Tax Included)
Collaborative Lucky Grab Bag Lottery: ¥1,500 per try (Tax Included)

Check out more details about the pop-up below!
https://www.laforet.ne.jp/pop_up_shop/fruitszipper_2301/

Stay up to date:
FRUITS ZIPPER Official Twitter
https://twitter.com/FRUITS_ZIPPER/

<Tour Information>
FRUITS ZIPPER 1st LIVE TOUR 2023 WINTER

Date: February 3, 2023
Venue: ReNY limited
Time: Doors open 17:30 / Show starts 18:30
Contact: Sunday Folk Promotion (052-320-9100) *Open daily 12:00-18:00

Date: February 5, 2023
Venue: Nanba Hatch
Time: Doors open 16:30 / Show starts 17:30
Contact: Kyodo Information (0570-200-888)

FRUITS ZIPPER 1st LIVE TOUR 2023 WINTER 〜FRUITS DAY〜
Date: February 9, 2023
Venue: Shibuya WWW X
Time: Doors open 18:00 / Show starts 19:00
Contact: HOT STUFF PROMOTION (03-5720-9999) *Open weekdays 11:00-19:00

FRUITS ZIPPER 1st LIVE TOUR 2023 WINTER 〜ZIPPER DAY〜
Date: February 10, 2023
Venue: Shibuya WWW X
Time: Doors open 17:30 / Show starts 18:30
Contact: HOT STUFF PROMOTION (03-5720-9999) *Open weekdays 11:00-19:00

FRUITS ZIPPER 1st LIVE TOUR 2023 WINTER -TOUR FINAL –
Date: February 12, 2023
Venue: LINE CUBE SHIBUYA
Time: Doors open 17:00 / Show starts 18:00
Contact: Sunrise Promotion Tokyo (0570-00-3777) *Open weekdays 12:00-15:00

Buy tickets for all shows here: https://l-tike.com/artist/000000000899959/

Macaroni Empitsu 10th Anniversary Exhibition Makes Triumphant Return to Tokyo

Fans of the pop rock band Macaroni Empitsu will want to head to Tokyo from February 17 to March 6, 2023 to enjoy a newly-reworked 10th-anniversary exhibition. Guests are invited to look through various macaroni holes around the exhibition hall to catch glimpses of some curious and rare items only on display for a limited time.

After being held at several locations around Japan, the exhibition will return to Ikebukuro PARCO in Tokyo next month.

Items appearing in the Macaroni Empitsu 10th Anniversary Book -Macaroni Kuronikuru- will be on display, and a short film titled Aspirations will be screened following its premiere in Shibuya.

Graphic designer Shun Sasaki served as the art director for the exhibition.

Fans won't want to miss out on the exhibition's original merchandise featuring key visuals and lyrics from the band. Come get a glimpse at the history and personal lives of Macaroni Empitsu's members while you can!

[Comment from Vocalist Hattori]
"Macaroni Empitsu's exhibition is making a triumphant return to Tokyo! New content has been added this time around, so be sure to come fall into the macaroni hole!"

Information

Macaroni Empitsu 10th Anniversary Exhibition in Tokyo
Running: February 17 – March 6, 2023
Venue: Ikebukuro PARCO 7F / PARCO FACTORY
Hours: 11:00 – 21:00 *Admission permitted up to 30 minutes prior to closing
*Closing at 18:00 on March 6
Admission: ¥500 (Tax Included) *Reservations required. For more information, check parco.art.
*Free for preschool children
Details: https://art.parco.jp/parcomuseum/detail/?id=1147
*Event details are subject to change without notice.
*Hours of operation are subject to change.

<Touring Exhibition Information>
Osaka Venue
Umeda LOFT 4F Event Space
Running: January 13 – February 5, 2023

■Release
wheel of life EP
Release Date: March 8, 2023
wheel of life EP Special Site: https://macaroniempitsu-wheeloflife.com/

■LIVE
TALTO Night 2023
March 3, 2023 / Zepp Haneda
Performers: SAKANAMON / Macaroni Empitsu / Yayuyo / WON
*Opening act planned

Official Site: http://macaroniempitsu.com/

Atarashii Gakko! to Perform Solo at Zepp Venues in Tokyo and Osaka in Spring 2023

Atarashii Gakko! will hold solo concerts at Zepp venues in Tokyo and Osaka in April and May of 2023.

These performances will be held almost a year after the girls held their solo concert at Zepp DiverCity in Tokyo last May. This year's events will be held at Zepp Osaka Bayside on April 30 and Zepp Shinjuku in Tokyo on May 2.

ATARASHII GAKKO! – HANAKO (Official Music Video)


ATARASHII GAKKO! – Pineapple Kryptonite (Official Music Video)


Information

Atarashii Gakko! at Tokyo & Osaka Zepp
-We're working on some amazing new songs and we're dying for everyone to see our newest evolution (Tentative title)-
April 30, 2023 – Zepp Osaka Bayside
May 2, 2023 – Zepp Shinjuku (Tokyo)
Fan's Presale Tickets (Starting January 1)
https://www.fansnet.jp/leaders

Tokyo Bay Night Cruise Collaborates with Hatsune Miku for Four Days Only Starting February 2023

For four days only starting in February 2023, fans of Hatsune Miku will want to take an incredible night cruise around Tokyo Bay. The virtual singer will collaborate with the popular Tokyo Bay Night Cruise which travels between Yokohama and Tokyo. The event will include special tickets, exclusive bonuses for guests, collaborative goods, and onboard decorations. Collaborative goods will be available to purchase on the ship or from the Shimapochi online store.

Outline

Dates: February 19, February 26, March 5, March 12

Night Cruise Itinerary:

Osanbashi, Yokohama / Check-in 16:00-18:00

Osanbashi, Yokohama / Departure 18:10, Enjoy the night view from the ship

Takeshiba Wharf, Tokyo / Arrival 19:45

*Guests will be led by a special MC narrating the night scenery. Snacks and drinks will be available for purchase.

Special Ticket Fare:

Adults ¥2,000 / Children ¥1,500 (Includes consumption tax and fuel price adjusted for inflation)

[Includes Hatsune Miku Collaboration Sticker and Postcard (6 varieties, random)]

Special tickets featuring Hatsune Miku will only be available to those reserving their spot online. Reservations can be made two months prior to the boarding date. Space is extremely limited, so grab a spot while you can!

Those not interested in bonuses can also enjoy a night cruise during this period, with adult tickets costing ¥1,000 and children's tickets costing ¥500. More details will be released at a later date.

Report: Kyary Pamyu Pamyu's Tasty Time in Gastropolis Kobe – Sweets Edition

Kobe is filled with famous sightseeing spots like the nostalgic Ijinkan neighborhood and port. The city is packed with fashionable shops and restaurants and is highly regarded for its selection of tasty sweets!

The port city, with over 150 years of history, has fostered a unique and diverse culinary culture.

Recently, Kyary Pamyu Pamyu began starring in a series of promotional videos for the Gastropolis Kobe project. The artist traveled to the city to partake in plenty of delicious treats, and MOSHI MOSHI NIPPON went along for the ride! Here are some of the singer's favorite spots around town.

Kobe, known as a city where East meets West, is lined with sweets shops that are unique to the area.

The tea salon TOOTH TOOTH Dekoboko Sabo opened in 2019 in the Kobe City Museum and offers a menu that mixes Western food and sweets with tea and ingredients from traditional Japanese cuisine. Kyary ordered the Dekoboko Sabo Afternoon Tea Set, a collection of western sweets blended with the essence of traditional Japanese flavors. Guests are invited to enjoy their tea and sweets in a one-of-a-kind space filled with Meiji period flare and retro Western furniture. Those interested will need to make a reservation, so be sure to remember the next time you're in Kobe.

TOOTH TOOTH Decoboco Sabo

Address: 24 Kyomachi, Chuo Ward, Kobe (Inside the Kobe City Museum)

Hours: 9:30-17:30 (Last Order at 16:30) 

Closed Mondays

Official Site: https://toothtooth.com/restaurant/decoboco-sabo

The next stop was Kobe Nankin-machi, one of the three major Chinatowns in Japan. Kobe MILK is known nationwide for its Apricot Pudding, which is made with local ingredients. The raw apricot pudding is mixed with milk brought from the foot of Mt. Rokko and other ingredients from Hyogo Prefecture. Of course, Kyary ordered some, and was amazed by its fluffy texture. You can only enjoy it in Kobe–also, the shop sells other puddings mixed with seasonal fruits, so don't miss those either!

Kobe MILK

Address: Shin-Motomachi Building 1F (1 Motomachi-dori, Chuo-ku, Kobe)

Hours: Weekdays 9:30-19:00 / Weekends 9:30-19:30

Official Site: https://kobe-milk.com

For Kyary's final stop, the singer visited the Moore House, a cafe located in a building with over 100 years of history. Guests are surrounded by greenery, and the Western-style building is incredibly elegant. The Strawberry Mille-feuille Kyary ordered was created by an expert patissier and based on the strawberry mille-feuille recipe from the legendary French restaurant Maxim's de Paris in Ginza. A generous amount of custard cream complements the crispy pie crust and enhances the sweetness of the fresh strawberries. We'd recommend it with a glass of champagne–if you're of age.

Kitano Ijin-kan Moore House

Address: 2-9-3 Kitanocho, Chuo-ku, Kobe

Hours: 11:00-17:00

Closed Tuesdays

Official Site: https://www.kitanomoore.com/cafe/

The streets of Kobe are packed with sweets that you can only enjoy if you visit. Why not come experience these incredible spots like Kyary did?

Kobe Sweets Trailer: https://youtu.be/Sx9B1ZdAvlI

Popular Illustrator and Character Designer Mika Pikazo Holds Solo Exhibition in Shibuya

Mika Pikazo is an illustrator and character designer. The artist has designed characters for many popular titles including Fire Emblem Engage, the latest in Nintendo's Fire Emblem series, as well as book covers and CD jackets.

Starting December 10, the artist will hold his second solo exhibition in three years at the Hz event space in Shibuya.

According to a press release, the exhibition is being held to show a number of creations Pikazo has made recently, and aims to show off new animation and past illustrations to merge his past and future selves. The creator hopes to challenge himself more going forward.

The first main visual, REVENGE, can be seen on the exhibition's official website. A total of three visuals have been newly drawn for the event and will be released sequentially. In addition, a number of collaborative works with other creators will be on display, so art fans won't want to miss out.

Limited-edition merchandise featuring new illustrations will be on sale at the venue, and autograph sessions are planned to be held. For more details, check the official Twitter page!

Be sure to come to see Mika Pikazo's colorful pieces in person!

Information

Mika Pikazo Exhibition – REVENGE POP

Running: December 10 – December 29, 2022

Hours: 10:00-20:00

Venue: Hz, 1F (4-3 Udagawacho, Shibuya-ku, Tokyo)

Admission: Free

Official Website: https://revenge-pop.mikapikazo.info/

The World of Peanuts to Take Over Grandberry Park this Winter

The limited-time Christmas event 'SNOOPY Merry Colorful Christmas' will be held at the Grandberry Park shopping mall from November 12 until December 25, 2022. The complex is directly connected to Manami-Machida Grandberry Park Station on the Den-en-toshi Line. 

This year's event is the most colorful one yet, focusing on diversity and individuality. Fans of Snoopy and friends are in for a treat, as the area around Grandberry Park will be illuminated in beautiful colors and decorated with unique Christmas decorations that will excite the whole family. 

Colorful Sculpture

Colorful Illuminations

Snoopy Ice Rink

Snoopy Happiness Float 2022

During the event period, a giant 8-meter-tall Christmas tree decorated with Peanuts-inspired ornaments will be set up for guests to enjoy. A huge and very colorful sculpture measuring 6 meters across and over 2 meters tall will also welcome visitors to this Christmas wonderland. In addition, colorful lights will be scattered around the entirety of Grandberry Park, and a special Christmas menu filled with cakes and hors d'oeuvres is sure to delight.

On December 10, the Snoopy Ice Rink will open at Oasis Plaza, and the Snoopy Happiness Float 2022, a giant Snoopy that has traveled across Japan, will return for another year of fun.

Come have a fun time this holiday season with Snoopy and friends! A series of events will be held over the next year to market the Colors of Peanuts marketing campaign throughout the country, so keep an eye out for more news!

*Sample images only.