Witness The Refreshing False Anemone In Full Bloom At Rokko Alpine Botanical Garden, Hyogo
The beautiful false anemone flowers of Rokko Alpine Botanical Garden are currently in full bloom.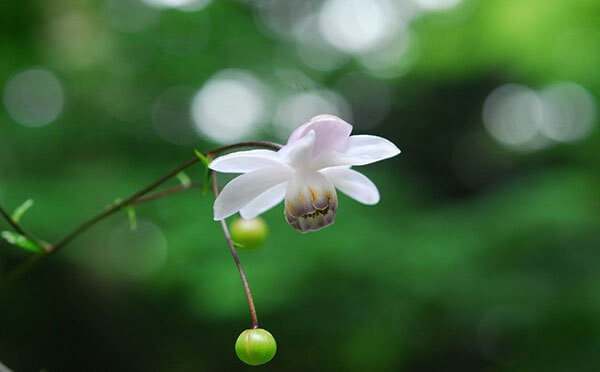 False anemone can be found scattered from the south to the central part of the Tohoku region. In the Kansai region, it can only be found growing wildly among the limestone rocks of Mount Omine. Each flower blooms facing downwards and has a diameter of up to 3cm. The petals are a translucent light purple colour. This is a very popular species, especially amongst photographers.
This is the perfect opportunity to take beautiful photos of the refreshing flowers as they are shaken by the gentle breeze, swaying under the pure light that filters through the trees towering above them. The false anemone are predicted to be in full bloom until mid August, so please come see them.
Information
Rokko Alpine Botanical Garden
Address: Kitarokko-4512-150 Rokkosancho, Nada Ward, Kobe, Hyogo 
Open Period: March 16 ー November 24
Closed: September 5, 12
Opening Hours: 10:00 ー 17:00 (Reception closing time: 16:30)
Entry Prices
Adults (Middle School +):¥620/Children: (4 y/o ー Elementary School): ¥310
Rokkosan Web Portal: https://www.rokkosan.com/
RECOMMENDED ENTRIES
Don't Miss The Beautiful Blooming of Karuizawa Lake Garden This Summer

Over the summer, Karuizawa Lake Garden is holding a range of events for parents and children to immerse themselves in the beautiful nature, smell the fragrant lilies, and experience the popular false anemone, water lilies and many more gorgeous flowers. Approximately 33,000m2 of space is covered with the Karuizawa's most beautiful plants and even a lake.  

At Karuizawa, roses are particularly beautiful during the summer O-Bon festival season, flourishing more than ever in Karuizawa's unique climate. As the roses bloom for the second time in the year during mid august, this is a particularly beautiful sight. ♪

The entire garden consists of eight areas where you can enjoy different sceneries. The rose garden, for example, consists of roses and a whole range of plants that flower at different times of the year, so you can enjoy the variation in appearance of the garden throughout the year. Different flowering plants and roses surround a waterfront in the rose garden. You must come witness just how beautiful it looks during the summer. 

Information

Lake Garden

Address: Lake New Town, Karuizawa-machi, Kitasaku District, Nagano 

Opening hours: 9am ー 5 pm (Last entries: 4:30pm)

※ The opening hours of the garden vary according to the season, so please confirm these times by visiting the garden's official website. 

※ The garden will close one hour earlier than the usual time on Wednesdays for maintenance. 

Entry fees: Vary depending on the season.

Website: http://www.karuizawa-lakegarden.jp/ 

Witness the Phantasmal Hydrangea Shichidanka at Rokkō Alpine Botanical Garden

The season has arrived at Rokkō Alpine Botanical Garden in Hyogo Prefecture when you can see the "phantasmal" hydrangea known as the shichidanka.

The shichidanka is a type of hydrangea serrata, also known as "mountain hydrangea." It is known for its distinct double-flowering. Its ten or so sepals give it a beautiful star shape. Its delicate form has earned the plant much popularity in the gardens where it blooms in two locations.

As well as this flower, several other hydrangeas are now in bloom or soon to be in bloom a the garden too which are making their way to Japanese social media. Let's take a look at some of the various hydrangeas you can see there.

Shichdanka (Hortensia serrate var.serrata f.prolifera)

This flower stands at 1 to 1.5 meters tall. The flower appears in Philipp Franz von Siebold's studies of Japanese flora and fauna during the Edo Period, but its existence subsequently became unnoticed until 1959 where it was discovered by chance at Mount Rokkō. The flowers were then cut and planted and seedlings spread across various places. The flower, which was given the name "mountain hydrangea," took on a beautiful blue colour as a result of acid soil from caused by granite. It can be enjoyed in full bloom right now until mid-July.

Himeajisai (Hortensia cuspidata f.cuspidata) [Blooming: June – July 2019]

Also known as the "garden hydrangea," the himeajisai is recognisable for its shape which is like a temari – a type of toy ball from Japanese folk art. It was given its name by Japanese botanist Tomitaro Makino in 1929. It is strong and durable against hot and dry weather and takes on a gorgeous blue colour when grown in soil with a high level of acidity.

Amagiamacha (Hortensia serrata var.angustata) [Blooming: June – July 2019]

This delicate, sweet-smelling flower has thin leaves that grow no longer than 10cm. Since long ago this flower has not been used as a sweetener in hydrangea tea but instead during the manufacturing process of soy sauce for its embalming effect. It has also been used to prevent mould and mildew from building up. Not only that, the flower has also been combined in home remedies such as mouth fresheners and toothpaste for its sweet flavour. Locals also use it for balancing sweetness and acidity with daikon pickled vegetables.

Tamaajisai (Platycrater involucrata) [Blooming: August 2019]

The tamaajisai grows natively across the Kanto region to Gifu Prefecture. It blooms in mountainous regions that have a high level of humidity. Its leaves' surface have thick and hard hairs on them. They get the tama ("Ball" in Japanese) in their name for their ping pong ball-like buds. During wartime the flower was also used as a substitute for tobacco and so it also gets the name "mountain tobacco." The flower is popular for its appearance just before its full bloom too.

Visit Rokkō Alpine Botanical Garden this summer to see all of the different hydrangeas on show.

Information

Rokkō Alpine Botanical Garden

Location: Rokkō Alpine Botanical Garden (Kitarokkō-4512-150 Rokkōsanchō, Nada Ward, Kobe, Hyogo Prefecture)

Price: General (12+ Years) ¥620 / Children (4-11 Years) ¥310

Opening Period: March 16, 2019 – November 24, 2019 (Closed September 5 and September 12)

Opening Hours: 10:00-17:00 (Reception desk closes at 16:30)

Official Website: http://www.rokkosan.com

Hi everyone! This is Midori from MMN's Editorial Department.

Now that summer is here, it's the perfect opportunity to visit a beer garden! Having a refreshing cold beer on a rooftop during a hot summer's day is on a whole new level. Every year, beer gardens put a lot of effort into coming up with new ideas for their customers to have the time of their lives. The entire atmosphere is an entirely new experience. That's why today, I will be introducing you to 2019's must-visit beer gardens in Kyoto and Osaka.

Or click here to discover Tokyo's top 5 beer gardens instead!  

Korean BBQ Sakeba

Head to the rooftop of Keihan City Mall which is attached to Temmabashi station  in Osaka for a Korea-themed beer garden. From grilled meats such as Korean grilled pork belly, (Samgyeopsal), and gourmet food such as cheese Dak-galbi (spicy stir-fried chicken), there are just so many delicious meals to try. You can treat yourself to the free self-service drinks or get your beers, highballs and lemon sours topped up as many times as you like! Korean grilled meat and beer is the perfect combination. No wonder it is so popular!

▼ Temmabashi Korean BBQ Sakeba

Address: Keihan City Mall rooftop, 1-1 Tenmabashikyomachi, Chuo Ward, Osaka,

Running: May 22 ー September 30, 2019 (No regular holidays.)

※ Closed on days of severe or stormy weather

Opening Hours: 17:00 ー 22:30 (Last entries: 20:00)

Official Website: https://www.matsuri-bbq.com

Hotel Keihan Rooftop Beer Garden

Before the rooftop garden opens at Keihan Hotel, Osaka, you can still enjoy alcohol at the "Choi Nomi" alcohol stand. Here, you pay for each individual drink, which is perfect for those who do not want to drink too much. You can also enjoy a couple of drinks here with friends while you are waiting for the beer garden to open. Whether you want to drink a little or go all the way, this beer garden caters for all kinds of alcohol-lovers. ♪

▼ Rooftop Beer Garden

Location: Hotel Keihan Kyoto Grande

Address: 31 Higashikujo Nishisannocho, Minami Ward,

Running: June 1 ー August 31, 2019

※ Closed during bad weather

Opening Hours: 17:30 ー 21:00 (Last orders: 20:45) (Choi Nomi alcohol stand opening times: 16:00 ー 17:30

Website: https://www.hotelkeihan.co.jp/Kyoto/

Senri Hankyu Hotel

Senri Hankyu Hotel Poolside Beer Garden also has private spaces this year, allowing you to relax in private with your friends without having to worry about others around you. Amongst all the typical drinks, you can also enjoy Smirnoff and Sangria. There will also be a variety of dance performances to keep you entertained including samba, hula and belly dancing. Grab your girlfriends and boyfriends for the perfect summer reunion party.

▼ Senri Hankyu Hotel Beer Garden

Location: Senri Hankyu Hotel Poolside

Address:  2-1 Shinsenri Higashimachi, Toyonaka, Osaka

Running: June 1 ー September 30, 2019

Opening Hours: Mondays ー Saturdays (17:30 ー 21:00)

Last orders: 20:30),

Sundays, national holidays: 17:30 ー 20:30 (Last orders: 20:00)

Website: https://www.hankyu-hotel.com/home/hotel/hh/senrihh/contents/beergarden/

Hotel New Hankyu Kyoto

Right now, the rooftop of Hotel New Hankyu, is home to a beer garden. From the same rooftop, you can enjoy a view of Kyoto Tower amongst the breathtaking scenery of nightfall in Kyoto. There is also a live performance menu at the grilled dish corner, performance desserts and much more. Treat yourself to a luxurious beer garden experience.

▼Hankyu Top Beer Garden Kyoto

Location: Hotel New Hankyu Kyoto (Rooftop )

Address: Opposite Kyoto station (Karasuma central exit), Shimogyo Ward, Kyoto

Running: May 17, 2019 ー September 23, 2019

On national holiday August 16, opening hours will change due to the Gozan no Okuribi festival of Kyoto.

Opening Hours: 17:30 ー 21:30

※ Open until 22:00 on Fridays and Saturdays during July and August, however a time limit of 120 minutes for each group of customers applies.

Website: https://www.hankyu-hotel.com/hotel/hh/kyotoshh/restaurants/beergarden

So, what do you think? A beer garden with friends is the perfect way to have fun with friends in the evening!
RELATED ENTRIES
Cherry Blossom Themed Drink Appears at Flower Miffy

Flower Miffy Juice Garden, a drink stand featuring Dick Bruna's popular character Miffy, is now offering a limited-time cherry blossom beverage at its Asakusa location!

Strawberry

Green Apple

Cherry Blossom Season with Miffy

The Slightly Sakura Drink is inspired by springtime and features a sweet whipped topping with cherry blossom-colored copeau de chocolat. The base of the drink is sakura-colored milk available in green apple and strawberry flavors. Each beverage comes with a Miffy cookie for added cuteness!

 

A Cherry Blossom flower arrangement is also available for purchase at the Flower Miffy online store. 

Illustrations Dick Bruna Ⓒ copyright Mercis bv,1953-2022 www.miffy.com

Luxury Inn ICHIJO with only Six Rooms Opens In Kami, Hyogo Prefecture

Accommodation and restaurant company Saika opened ICHIJO, a luxury inn with six rooms, on September 22 2021.

Restaurant Monomi Yuyama

ICHIJO Jigokumushi

ICHIJO Jigokumushi Matsuba Crab

Guest Room 'Miyabi (elegant)'

Guest Room 'Soso (graceful)'

Private Bath 'SANKEI (mountain view)'

Private Bath 'KAI (sea)'

Open Lounge 'ISARIBI'

Meditation Room 'MU'

Smoothie & Soup Shop 'mellow'

A buffet is available offering wonderfully fresh and seasonal seafood, Tajima beef, Yaka pork, and a selection of local vegetables. Saika have made the most of the inn's location in a town known for its fish, offering a delicious all-you-can-eat menu. In addition, local brand crabs such as Kasumi and Matsuba will be added to the butter throughout the autumn and winter seasons. You can also enjoy a bowl of Takikomi rice with seasonal soup stock, fresh sashimi, and even charcoal-grilled dried fish.

The ICHIJO Jigokumushi is a fascinating area where a large amount of steam can be seen rising from the ground. The area can be used as a lounge, workspace, and reading area outside of meal times. The hall is all-inclusive, meaning you can make the most of the variety of local sake, draft beer, soft drinks, and snacks at no additional charge. 

 

You can relax in the two private baths, which both boast water from the Kasumi hot springs. The 'KAI' bath has an infrared sauna installed, while the SANKEI features a mist sauna, allowing you to chill out while enjoying the fresh hot springs. 

The inn also provides a large communal bath with open air facilities through the Sadasuke sister inn, which is adjacent to ICHIJO.

If you're looking to heal both body and heart, why not try the meditation room?

Smoothie and soup shop 'mellow' will be opening at the same time as ICHIJO. Guests staying at the inn will be able to purchase food and drink from inside the store, while general customers can use the takeout window. The delicious fruit and vegetables used in the food were grown in the San'in region by Saika, who are experienced in agriculture production.

 

Relax your body and soul with the new ICHIJO inn!

Information

ICHIJO

Address: 636 Shimohama, Kami-ku, Kami-cho, Mikata, Hyogo, 669-6564

TEL: 0796-36-1010

Details & Reservations: https://ichi-jo.com/ 

Noseden Artline Festival 2021 Bringing Light, Sound, and Food to the Kawanishi Area

A celebration of light, sound, and food, the biennial Noseden Artline 2021 Festival will take place from October 30 until November 23, 2021. Set in one city and three towns along the Nose Electric Railway, the regional art event began in 2013 to celebrate the 100th anniversary of the rail line, and brings local artists and residents together. 

The festival will be in Kawanishi and Inagawa in Hyogo Prefecture, as well as in Toyono and Nose in Osaka Prefecture, with Mt. Myoken marking the center point. Each part of the event will connect the history, industry, and tradition of the area with new and engaging creations. 

The theme of the 2021 Noseden Artline Festival is 'Enlarged Mentality.' By taking things that are subjective, like an artist's thoughts and senses, and applying them to the objective world that can be shared, it creates a one-of-a-kind way to connect fully with others. The event will feature local cuisine and music, as well as art focused on light, inspired by the North Star. After a year of solitude due to the pandemic, the festival hopes to remind people to cultivate, nourish, and preserve local relationships. 

Art can make life more enjoyable, so why not come and see what the area has to offer?

 (C)Kousei Ikeda(SPEKTRA)

Information

Noseden Artline Festival

Running: October 30 – November 23, 2021

Location: Nose Electric Railway Line ~ Near Summit of Mt. Myoken

Official Site: http://noseden-artline.com/2021/

#MissDior Art Event Held to Comemorate New Fragrance In Omotesando, Tokyo

Miss Dior, the fragrance and maison first started in 1947, is being reborn thanks to Dior perfume creator Francois Demachy.

A new MISS DIOR art event will be held to commemorate the new fragrance, inheriting the art and passion for women that inspired Monsieur Dior himself. Reservations are now open for the AS SEEN BY exhibition, held alongside the MISS DOOR MILLEFIORI GARDEN pop up store between September 1 and 12, 2021, at THE MASS/BA-TSU ART GALLERY/STANDBY in Omotesando, Tokyo.

Kojin Haruka: Reflectwo for Miss Dior 2021

Pop Up Store MISS DIOR MILLEFIORI GARDEN

The AS SEEN BY exhibition, held in Tokyo and several cities around the world, will feature MISS DIOR inspired artwork and creations from 10 female artists, including visual artist Kojin Haruka, sculptor Donna Ingrid, and designer Sabine Marcelis.

Experience the renewed MISS DIOR at the MISS DIOR MILLEFIORI GARDEN pop up store, where you can try the new Au De Perfume and it's personalization service, alongside limited cosmetics that were inspired by the new fragrance.

Those who attend the MISS DIOR event will also be able to enjoy the guest-only cafe, which features Laudrée collaboration macaroons, with the original flavors each lined up in a package reminiscent of the colorful flowers at the MISS DIOR art event. Plus, a limited takeaway drink will be available at the exhibition cafe, allowing you to bask in the afterglow of the event even after exiting the venue. In addition, customers who connect their reservation to the official MISS DIOR Beauty LINE account will receive a free original tote bag.

A special film that delves into the history and charm of MSS DIOR will be screened at the exhibition, narrated by DIOR beauty ambassador Yoshizawa Ryo, who will guide you through the glamorous world of MISS DIOR.

You mustn't miss the livestream with DIOR ambassador Araki Yuko, who will be attending the event via livestream to introduce the wonders of the new MISS DIOR. The stream will start on August 31 at 20:30.

Why not check out this flower-filled event where you can immerse yourself in the world of MISS DIOR for yourself?

Information

MISS DIOR Art Event

Availability: September 1 ~ September 12, 2021

Opening Hours: 10:00 ~ 20:00

Admission: Free, reservations required

Reservations: https://qr.paps.jp/ksjcw

Location: THE MASS / BA-TSU ART GALLERY / STANDBY

Address: 5-11-5 Jingumae, Shibuya, Tokyo

Araki Yuko Livestream: August 31 2021, 20:30 ~ 21:00

Event/Streaming Details: http://on-pp.dior.com/missdior-artevent

Official Site: https://www.dior.com/

※Admissions are limited to one per person.

※Last admissions are 30 minutes before closing.

※Opening hours and admissions are subject to Covid rules. Check the official website (http://on-pp.dior.com/missdior-artevent) for the latest information.

※Accepted payment methods at the venue include credit card, electronic money, and QR payments. Cash payments are not accepted.

Anime Theme Park Nijigen no Mori to Hold Second Kakashi & Obito-themed Escape Game

A special event is coming to the Naruto-themed area of Nijigen no Mori, an anime theme park located on Awaji Island in Hyogo prefecture! The Naruto Shippuden x Escape Game: #009 Kakashi & Obito event is taking place from August 21 to October 10!

A look at NARUTO & BORUTO Shinobizato

A look at the game

Participation bonus: 4 special wooden phone straps with new illustrations

The first escape game in the series was held in 2020 to positive feedback. It was first held to celebrate Kakashi's birthday, which is September 15, and all visuals of both him and Obito are completely new and made for the event. 

Guests can also write their celebratory messages on special 'petal stickers' and place them on the character panel of their choice!

Would you like to come celebrate Kakashi's birthday? 

©Masashi Kishimoto /Shueisha・TV Tokyo・Pierrot

Information

Naruto Shippuden x Escape Game: #009 Kakashi & Obito

Running: August 21-October 10, 2021

Opening Hours: 10:00-20:00

Estimated Play Time: 30 minutes

Nijigen no Mori

Address: 2425-2 Kusumoto, Awaji, Hyogo

Official Website: https://nijigennomori.com/

Japan's Poké Lid Project Lays Down New Manhole Covers in Hyogo Prefecture

Three new Pokémon manhole covers were unveiled in Awaji, Hyogo Prefecture on August 11, as part of the Poké Lid project. The new designs depict the legendary Pokémon Lugia, Bayleef, Aromatisse, and Cloyster. These are the first Poké Lids to be placed in Hyogo. 

Including these new additions, the total number of Pokémon-themed manhole covers across Japan is now 201. The project began with the installation of a Eevee manhole cover in Ibusuki City, Kagoshima Prefecture in December 2018. 

Each one features completely original Pokémon art, and going on a pilgrimage to visit each of them has become a popular new fad. The project aims to promote local tourism by using these internationally-loved characters. 

There are also plans to turn each cover into Pokéstops, used in the popular location-based Pokemon GO smartphone game. 

Which Poké Lid would you like to find first? 

©2021 Pokémon. ©1995-2021 Nintendo/Creatures Inc./GAME FREAK inc.

Pokemon, Pokémon and Pokémon are registered trademarks of Nintendo, Creatures and Game Freak.

Naruto and Boruto Summer Event Begins at Nijigen no Mori

Nijigen no Mori, an amusement park located on Awaji Island in Hyogo, began a summer event at its Naruto and Boruto-themed zone on July 22 which is set to run until September 30.

Event-exclusive stickers

The event includes a huge water gun event where 25 litres of water will be sprayed to cool down guests during the hot summer event. With themed character panels displayed around the park, join Naruto and the gang, including Zabuza and Haku, for some summer fun. All guests receive a free original sticker too.

© 岸本斉史 スコット/集英社・テレビ東京・ぴえろ

Information

NARUTO&BORUTO SHINOBI-ZATO
Running: July 22, 2021 – September 30, 2021

Location: Nijigen no Mori

Opening Hours: 10:00-18:00
Price: Free (But park entry payment required)
Official Website: https://nijigennomori.com/naruto_shinobizato/

Milkshake Shaved Ice and Milk Frozen Desserts Served Up at Motosue in Hyogo

The new Motosue Hanare has opened next to Motosue Kurakuen in Hyogo where they are selling a range of desserts including the Milkshake Shaved Ice and Milk Frozen.

Milkshake Shaved Ice Pudding | ¥1,290 (Tax Included)

Milkshake Shaved Ice Sweet Potato | ¥1,350 (Tax Included)

Milkshake Shaved Ice Matcha Adzuki | ¥1,200 (Tax Included)

Milk Frozen Chocolate Banana | ¥650 (Tax Included)

Milk Frozen Strawberry | ¥720 (Tax Included)

Eggy Bread | ¥750 (Tax Included)

Using milkshake as the base ingredients, the shave ice line-up gets its super fluffy texture from free range eggs. There are three flavours to enjoy, such as the pudding one which is topped with a whole Japanese pudding, adding a smooth and velvety texture to the fluffy shaved ice. Each is a perfect pick for cooling down during the summer season.

The 'Milk Frozen' desserts use frozen milk for the base and are topped with fruit. Each is made carefully handmade one by one, and they are even more refreshing than the shave ices. The eggy breads also come in a range of flavours including plain and custard.

Information

Motosue Hanare

Japanese Shop Name: 本巣ヱ 離れ

Address: 1-28 Kikutanichō, Nishinomiya, Hyogo 662-0078, Japan

Access: 3-minutes from Kurakuenguchi Station

Opening Hours: 10:00-19:00 (Last Orders 18:30)

Closed: Every 2nd and 4th Tuesdays of the month

Official Website: https://supertamago.com/

Hello Kitty Summer Event Themed On the Undersea Palace Princess Oto-hime Kicks Off in Hyogo

The Hello Kitty media art facility and restaurant HELLO KITTY SMILE on Awaji Island kicked off a summer event on July 1. Titled "HELLO KITTY SMILE Oto-hime Ryugu-jo Beach Summer Festival," the event is set to run until the end of August.

Digital fireworks set the summer vibe

Catch your own Sanrio figure

Decorate your own Sanrio character ceramic

Children's meal at the Party Terrace


Hello Kitty afternoon tea at the Party Balcony

Spicy tortilla at the Garden Terrace

The event is themed on Oto-hime, the princess of the underwater palace Ryugu-jo which features in the Japanese folktake of Urashima Taro. It focuses on Hello Kitty and is a celebration of Bon odori, a type of dance that takes place during the Japanese summertime Bon Festival. Hello Kitty performs the dance on stage, and the audience can join in with handclapping, dancing, and waving the free fan they receive upon entering the venue. Visitors can also buy a ticket to meet Hello Kitty, and those who do receive a free plush toy along with a photo with the Sanrio queen herself.

At the event, visitors can enjoy Sanrio versions of all the fun things Japanese summer festivals, or natsumarui, have to offer like catching a Sanrio figure instead of a goldfish, painting ceramics, making vinyl prints, squirting water pistols, jumping on a giant trampoline, and so much more.

Other things to look out for include special screenings at the HELLO KITTY SMILE theatre and the firework projection mapping show. The event also has four different restaurants which are serving limited-time, seasonal summer treats: the Party Terrace, Party Balcony, Restaurant Tamatebako, and Garden Terrace.

Ⓒ2021 SANRIO CO., LTD. APPROVAL NO. L627610

Information

HELLO KITTY SMILE Oto-hime Ryugu-jo Beach Summer Festival

Japanese Event Title: HELLO KITTY SMILE 乙姫竜宮城 海辺の夏祭り

Running: July 1, 2021 – August 31, 2021
Opening Hours:10:00-19:00 (Last Entries 18:00)
*Brunch served exclusively on weekends and public holidays at the Party Terrace at 9:00-10:00 (last orders 10:30)

Closed: Tuesdays

Address: 985-1 Nojimahikinoura, Awaji, Hyogo 656-1721, Japan

Official Website: https://awaji-resort.com/hellokittysmile/

Chibi Maruko-chan x Coji-Coji Pop-Up Shop to Open in Tokyo and Hyogo

Nippon Animation has announced the Maruko & Coji-Coji Fest, two pop-up shops that will open at Kita-Senju Marui in Tokyo and Kobe Harborland umie in Hyogo on April 20 and 29 respectively.

Inside the Kita-Senju Marui store

New merchandise

Acrylic Key Rings | ¥880 Each (Tax Included)

Sticker | ¥385 (Tax Included)

Postcard | ¥275 (Tax Included)

Mugs | ¥2,200 Each (Tax Included)

Bonus Item: Wrapping paper bag

The Maruko & Coji-Coji Happy Fest welcomes an all new series of original artwork themed around snacks and sweets. Fans will be able to enjoy pre-sales of new merchandise, and all who spend over ¥2,000 (tax included) will be given a free wrapping paper bag.

Information

Maruko & Coji-Coji Happy Fest

Tokyo
Running: April 20, 2021 – May 6, 2021

Where: Kita-Senju Marui Floor 2F

Opening Hours: 10:00-20:00

TEL: 03-6876-8600


Hyogo
Running: April 29, 2021 – July 18, 2021

Where: Kobe Mosaic Floor 2F

Opening Hours: 11:00-19:00

TEL: 078-381-5125

Official Website: https://www.nippon-animation.co.jp/

Hello Kitty Themed Restaurant HELLO KITTY SMILE Launches 3rd Year Anniversary Event

The Hello Kitty-themed media art venue and restaurant HELLO KITTY SMILE is celebrating 3 years since its opening on Awaji Island back in April 2018 with a special anniversary event that's running from March 20 to May 31.

Challenge yourself to puzzles in the Princess's Palace of the Dragon King

Enjoy a musical performance with the Smile Parade

Win Hello Kitty freebies

Tuck into the anniversary menu

Hello Kitty Afternoon Tea | ¥3,500 (Tax Included)

Acrylic photo frame with every menu order

Acrylic photo frame with every menu order

HELLO KITTY SHOW BOX

There are many exciting things happening to celebrate the 3rd anniversary of HELLO KITTY SMILE, from performances and events to exclusive merchandise, a themed menu, and more. But that's not all, as visitors have the chance to win tickets to the HELLO KITTY SHOW BOX theatre restaurant. Only ten groups can win per day for the duration of the celebrations.

Ⓒ2021 SANRIO CO., LTD. APPROVAL NO. L617982

Information

HELLO KITTY SMILE 3rd Anniversary Event

Running: March 20, 2021 – May 31, 2021

Opening Hours: 10:00-19:00

Closed: Tuesdays

Address: 177-5 Nojimahirabayashi, Awaji, Hyogo Prefecture

Official Website: https://awaji-resort.com/hellokittysmile/

Sweet Strawberry Desserts Get Baked Up at Kobe-Sanda Premium Outlets

Kobe-Sanda Premium Outlets, an outdoor shopping centre in Hyogo, is having a strawberry-loaded time with a selection of desserts made with strawberries harvested in Sanda as well as a market themed on strawberries. The event is taking place from February 12 to March 21.

The line-up doesn't shy away from strawberries in anyway, with the sweet and succulent red gems being used for crepes, pancakes, pizzas, drinks, and more.

The Sandai Ichigo Marche arrives for the first time at Kobe-Sanda Premium Outlets where visitors can buy whole bunches of strawberries of different types directly from the harvesters. It is being held on February 13 and 14 and March 13 and 14. And you can't have a strawberry festival in Japan without enjoying a strawberry daifuku either, kindly provided by the old-time Sanda-based confectionery store Matsuedo.

Sanda Strawberry Menu (Prices Include Tax)

The menu features a line-up of desserts made with numerous strawberry varieties gathered in Sanda, such as the akihime and benihoppe. Each is made by different participating shops.

Tana Forno

Sanda Benihoppe Chocolate S'mores Pizza – ¥748 / Strawberry Squash – Single ¥550, Set ¥495

The dessert pizza is a perfect combination of benihoppe strawberry and chocolate.

Delifrance

Kobe-Sanda Strawberry Anpan – ¥300

Moist sweet bread with low-sugar coarse sweet bean paste, whipped cream, and strawberries.

Canvas

Sanda Strawberry Mixed Berry Crepe – ¥649

A triple whammy of strawberries, blueberries, and raspberries decorate this crepe.

Kua'aina

Strawberry Pancake Brûlée – ¥930

A pancake brûlée loaded with strawberries.

Crazy Crepes

Sanda Strawberry Crazy Ichigo – ¥750

Enjoy the natural flavours of the strawberries as they are without any additions like chocolate.

Sandai Ichigo Marche

At the Sandai Ichigo Marche, visitors can buy strawberries, vegetables, strawberry daifuku, and more. It's a celebration of all things Sanda.

Running: February 13, 2021 / February 14, 2021 / March 13, 2021 / March 14, 2021
Time: 11:00-15:00 (While supplies last)
Location: Garden Court (Will move under the galleria in front of the food gallery if it rains)

Enjoy the delicious taste of seasonal strawberries grown in the lush environment of the Rokkō Mountains.

Information

Sandai Ichigo
Running: February 12, 2021 – March 21, 2021
Location: Kobe-Sanda Premium Outlets
Address: 7-3 Kozudai, Kita-ku, Kobe, Hyogo
Closed: February 18, 2021 (3rd Thursday of February each year)
TEL: 078-983-3450
Kobe-Sanda Premium Outlets Official Website: https://www.premiumoutlets.co.jp/kobesanda/