Third Pokémon Smart Device Collaboration Launched by CASETiFY
CASETiFY is a global lifestyle brand established in LA that has enjoyed hugely popularity with celebrities and influences around the world for their services that enable you to customise your digital devices from smartphones to Apple Watches and more.
The company launched its "Day & Night" themed collaboration with Pokémon back in May. The third collection in the line has finally been unveiled which will be released worldwide on August 15 at 10:00pm (JST).
1st Collaboration: https://www.moshimoshi-nippon.jp/206562
2nd Collaboration: https://www.moshimoshi-nippon.jp/229807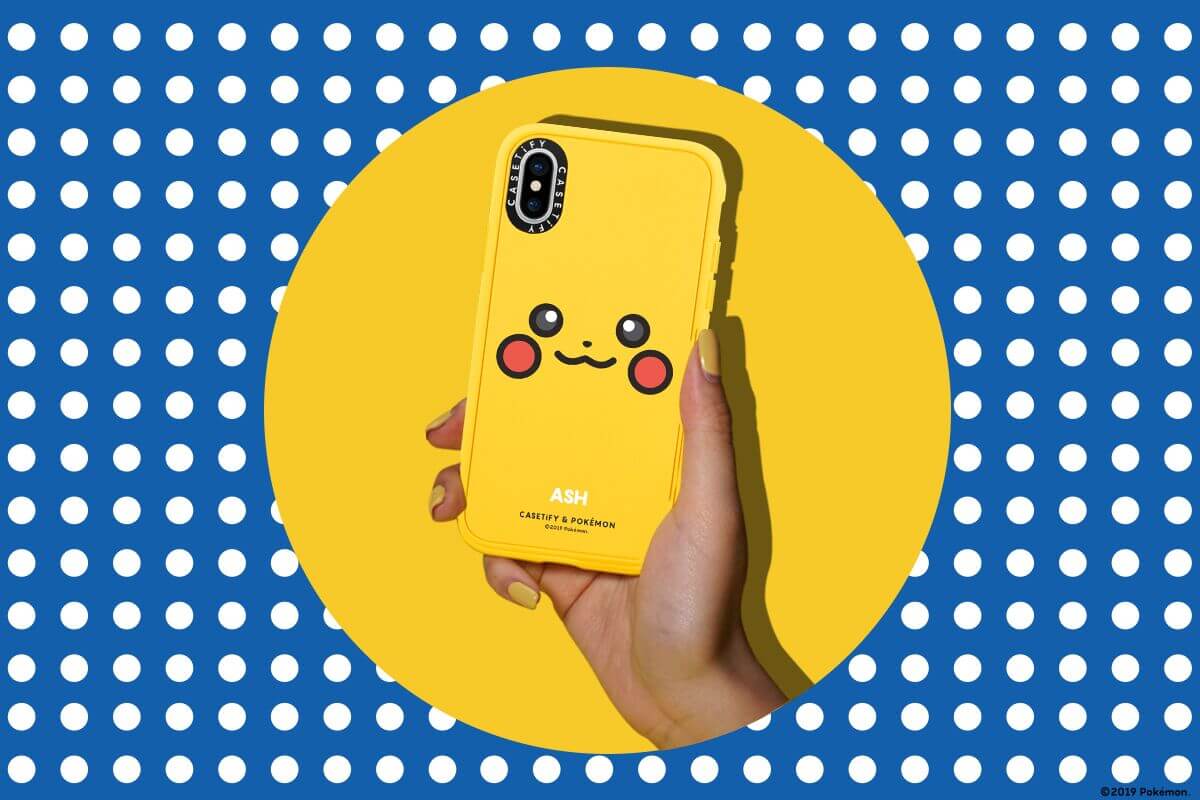 For the third collection, CASETiFY has New York and London-based artist duo Craig & Karl. Titled "The Icons by Craig & Karl," the new collection incorporates the two artist's signature style and shines the spotlight on four Pokémon―Pikachu, Charmander, Bulbasaur and Squirtle―and three Poké Balls.
Pokémon Trainers out there can choose from CASETiFY's signature Impact Case, the DTLA Case, and for this third collaboration, the Floaty Glitter Case, and there's a bunch of cool tech accessories too with limited-edition designs. You also have the option to put your name on your case.
Back when the second drop launched on July 10, CASETiFY set up a waiting list which gave people priority access to purchase these limited edition items before they sold out. The waiting list surpassed a whopping 90,000 people. The waiting list has returned for the third drop which you can sign up to right now.
As a fan of the Pokémon franchise, Craig Redman of the artist duo spoke about how enjoyable it was to be able to collaborate with Pokémon on this project and implement their signature style. He also praised the customisable aspect of the collection which he said can bring you closer to Pokémon.
This marks the final drop of the CASETiFY & Pokémon Day & Night collection which you can also catch at pop-up shops in Tokyo, London, Paris, Los Angeles, and the Landmark shopping mall in Hong Kong.
©2019 Pokémon. ©1995-2019 Nintendo/Creatures Inc. /GAME FREAK inc.
Information
CASETiFY & Pokémon Collaboration – 3rd Drop
Release Date: August 15, 2019
Items: iPhone cases, Macbook cases, wireless charging pads, iPad cases, AirPods cases, card holders
Price: ¥2,700-¥7,800
Official Website & Waiting List: https://www.casetify.com/pokemon
RELATED ENTRIES
Pokémon Virtual Fest Virtual Theme Park to Open in Japan

The Pokémon Company has announced the opening of a virtual theme park―Pokémon Virtual Fest―in Japan which will open from August 12 to 31 this year.

Pokémon Virtual Fest will be accessible via the 'cluster' app on mobile or PC. Pokémon Trainers can look forward to jumping into a fully-realised Pokémon world with themed attractions, events, and much more. Let's take a look at just some of the content players can look forward to experiencing.

Entrance

The first place that users will come to when entering Pokémon Virtual Fest is the Entrance. Just like a real theme park, Pokémon Virtual Fest has its own proper entrance too, beckoning players to the fun that is to be had. This first virtual area will feature holograms of Pikachu, Polygon, and other Pokémon. At the centre of the entrance is a board which displays the results of players' who have completed missions in the park.

Avatars

Choose your own avatar from Grookey, Scorbunny, or Sobble. More avatars are in the works to be added to the roster. Users can take photos in the virtual space too. Find an ideal spot and snap some pictures with friends.

Mission

The missions are in the style of an escape game. Created by escape game specialists SCRAP, players must figure out how to escape the room which will earn them a clear. There is the "Maze Mission" where you must navigate through twists and turns while answering questions, the "Word Puzzle Mission" where you must collect letters scattered around the room to solve the puzzle, and the "Riddle Missions" where you must decipher codes to figure out the riddle.

Theme Park

When players approach the gate, they are welcomed by an enormous Pikachu. As they walk around the park, checking every nook and cranny, they may even find Pokémon hidden here and there.

Attractions

Since this is a theme park, you've got to have attractions. At Pokémon Virtual Fest, there is a Pokémon Ferris Wheel, the Galarian Weezing Train which gives players a tour of the park, and many more.

Store Area

Numerous shops will line the park where players can get themselves a range of virtual souvenirs, ice cream, and other fun summertime things.

Beach Area

There's even a beautiful beach in the park. Players are invited to listen to the sounds of the waves while doing some beach athletics on the water with friends, take photos, and make some great summer memories.

Event Stage

Sat underneath the giant Pikachu monument is a stage where a flurry of exciting events will take place. Players can watch Pokémon Sword and Shield Pokémon battles amongst other things. And from August 29 to 31, a special event will take place which includes a Pikachu dance show, fireworks, and more.

Pokémon Virtual Fest will open from August 12 to 31 in Japan.

©2020 Pokémon. ©1995-2020 Nintendo/Creatures Inc. /GAME FREAK inc.
Pokémon, ポケットモンスター, and ポケモン are registered trademarks of Nintendo, Creatures Inc., and GAME FREAK inc.
© 2017 Cluster, Inc.
*Photos are of a product still in development


Information

Pokémon Virtual Fest
Running: August 12, 2020 – August 31, 2020
Compatible Devices: Smartphone (iOS/Android), PC (Win/Mac), VR HTC VIVE/VIVE Pro, Oculus Rift/RiftS)
How to Acess: Create a free account on the 'cluster' app. The app must be installed on your device. For full details, visit the Pokémon Virtual Fest website below.
Pokémon Virtual Fest: https://pokemon2020.cluster.mu/

Cautions
*Information and content subject to change without notice.
*Time slots are allocated, and so there may be restrictions on the number of people who can enter at once.
*Please note that it is possible for devices (smartphone, PC or VR device) may overheat if you play for long periods of time. If you are concerned about this occurring, you are encouraged to close the 'cluster' app and let your device cool down for a while before playing again.

Pikachu Ice Lollies and Frappe to Arrive at Tokyo's Pokémon Cafe This Summer

The Pokémon Cafe in Ikebukuro, Tokyo is introducing some refreshing Pikachu sweet treats  to its menu this summer, beginning on August 1.

Pikachu Pineapple Ice Bar | ¥650 (Before Tax)

First up on the is the tropical pineapple flavoured ice bar which comes with four different variations of Pikachu's adorable face. There's also two different packaging designs which come in blue or pink.

Pikachu Tail Chocolate Banana Frappe | ¥700 (Before Tax)


Drink Sleeve | ¥550 (Before Tax)

For drinks, the Pokémon Cafe is serving up a chocolate banana frappe topped with Pikachu's tail made from chocolate. The drink comes with a free sleeve of Pikachu's chubby face.

© 2020 Pokémon.©1995-2020 Nintendo/Creatures Inc./GAME FREAK inc.

Information

Pikachu Sweets by Pokémon Cafe
Address: Sunshine City Alpa 2F, 3-1-2 Higashi-Ikebukuro, Toshima-ku, Tokyo
Opening Hours: 10:00-20:00

Official Website: https://www.pokemoncenter-online.com/cafe/pikachu_sweets/

Cautions
*Opening hours subject to change. Please check the official website before travelling.
*Duration of these limited-time menu items subject to change without notice.
*Available while supplies last.
*Photos are for illustrative purposes only. Actual products may differ in colour and design.

CASETiFY Releases Pokémon Smartphone Cover Collection Worldwide

CASETiFY is releasing another new collection of Pokémon smartphone covers which will be available to purchase online worldwide this summer.

CASETiFY is a global lifestyle brand established in LA that has enjoyed hugely popularity with celebrities and influences around the world for their services that enable you to customise your digital devices from smartphones to Apple Watches and more.

The company has teamed up with Pokémon on numerous occasion, the last being in collaboration with New York and London-based artist duo Craig & Karl.

Featuring original designs, CASETiFY's new Pokémon collection was made in their own CASETiFY studio. Set to be a series featuring multiple collections, the first will drop on August 12, 2020 at 17:00 (JST) on their official website. Users can now sign up to their Pokémon Waitlist for early pre-sales.

CASETiFY & Pokémon Collection 1: ¥2,700~¥13,200

The first collection is inspired by the themes "Past, Present, Future," and takes on 90's themed designs like checkerboard and tie-dye.

Designs include familiar Pokémon faces like Pikachu, Squirtle, Magikarp, Cubone, and more.


Other items in the collection include iPhone cases, AirPod ring cases, Apple Watch bands, iPad cases, MacBook cases, and more. Browse CASETiFY online to see their full stock.

Tokyo & Osaka's Pokémon Cafés Reveal New 'Pokémon Café Mix' Menu

The Tokyo and Osaka branches of Pokémon Café have revealed a new limited-time menu they are introducing which is inspired by the free-to-play puzzle video game Pokémon Café. It will be served from August 8 to November 23.

Vulpix's Burnt Caramel Sundae: ¥1,298 (Tax Included)

This gateau chocolate, vanilla ice cream, and fruit-filled sundae is drizzled in burnt caramel that has been scorched by Vulpix's Ember.

Gossifleur's Salad Plate: ¥1,848 (Tax Included)

Salad, soup, and plenty of veg fill this healthy late.

Sneasel's Pickle Burger: ¥1,848 (Tax Included)

The combination of the tartar sauce, teriyaki chicken, and cheddar cheese is pure perfection. Served with pickles and a side of salad, this makes for a healthy and filling meal.

Additionally, if customers own the Pokémon Café Mix and show their in-game meal list on their console screen to the staff, they can receive the following special menu items.

Buneary's Nutty Frappe: ¥1,188 (Tax Included)

Exclusive to those who have cleared up to Order 21.

Yamper's Hide & Seek Bolognese: ¥1,848 (Tax Included)

Exclusive to those who have cleared up to Order 31.

The more orders you clear in-game, the more special and exclusive menu items you can receive.

Information

Pokémon Cafe (Nihombashi, Tokyo)
Address: Nihombashi Takashimaya SC East Bldg. 5F, 2-1-2 Nihombashi, Chuo Ward, Tokyo
Business Hours: 10:30-22:00
No Fixed Holidays (Except when Nihombashi Takashimaya SC is closed)
Reservations: https://www.pokemoncenter-online.com/cafe/reservation.html

Pokémon Cafe (Shinsaibashi, Osaka)
Address: Daimaru Shinsaibashi Honkan 9F, 1-7-1 Shinsaibashisuji, Chuo Ward, Osaka, Osaka Prefecture
Business Hours: 10:00-21:30
No Fixed Holidays (Except when Daimaru Shinsaibashi is closed)
Reservations: https://www.pokemoncenter-online.com/cafe/reservation.html

Pokémon Design Underwear Released by HIPSHOP in Japan

Japanese clothing brand HIPSHOP released its new "Pokémon Series" line of underwear online and in-store in Japan on July 23.

The collection features HIPSHOP's iconic full-face designs. Each pair is packaged in its own special Pokémon packaging, and there's even a special gift box available for those who buy the complete set.


6 Designs / Sizes: Medium, Large, LL

The underwear is made from polyester which ensures elasticity and is quick to dry.

Get your hands on this new Pokémon collection this summer.

Beautiful and Exclusive Pokémon Merchandise Collection to be Released by ITS'DEMO

Fashion variety store ITS'DEMO will begin rolling out its exclusive new Pokémon merchandise collection "POKÉMON LOVE ITS'DEMO" over on its official website on July 28, 2020. The items will be released in-store at ITS'DEMO in Japan on August 4, 2020.

This will be ITS'DEMO's ninth Pokémon collection which it releases every year to huge popularity with fans. This time around, they have two beautiful pieces of art as pictured above which will adorn the merchandise.

The left design is called "Star Hunt!" which will be released on July 28 and sees the Pokémon playing amongst a summery star-filled sky. The right design is "Sweet Dream" which will be released on August 18 and features the Pokémon in cute, deep slumbers. Both collections are so precious you'll want any of the items with you all day.

©2020 Pokémon. ©1995-2020 Nintendo/Creatures Inc./GAME FREAK inc.

Information

POKÉMON LOVE ITS'DEMO
Online Release: July 28, 2020
In-Store Release: August 4, 2020

Official Website: http://itsdemo.jp

Pokémon Hat Collection 'Find POCKET MONSTERS' by CA4LA Released

Japanese hat brand CA4LA has teamed up with Pokémon to release an all-new, made in Japan, hat collection called "CA4LA Find POCKET MONSTERS" which released on July 22.

There is a Pokémon hat for every Trainer out there to wear while they're out there catching Pokémon, whether it be the felt "PIKACHU FACE HAT," a hat with all of the original 151 Kanto region Pokémon on it, hats with embroidered Pokémon on them like Bulbasaur, Squirtle, Charmander and Pikachu, and more.

PIKACHU FACE HAT: ¥55,000 (Tax Included)

The "PIKACHU FACE HAT" is exactly what it says on the tin. Made from felt, it's a detailed recreation of Pikachu's adorable face by CA4LA FACTORY. Each and every hat is handmade individually, ensuring a consistent Japanese quality. These hats are made to order only and are limited to the first 50 people who order them on a first-come, first-served basis, making it a limited edition item. CA4LA has a sample of the hat at their Daikanyama branch in Shibuya, Tokyo.

FIND YOUR POKEMON HAT: ¥10,340 (Tax Included)

The "FIND YOUR POKEMON CAP & HAT" has every single Kanto region Pokémon on it, so you can have fun finding your favourite Pokémon from the original 151. It also comes with a detachable rubber Poké Ball pin.

RUBBER WAPPEN CAP: ¥11,880 (Tax Included)

The "RUBBER WAPPEN CAP & HAT" features embroidery of not only the three original starter Pokémon—Bulbasaur, Squirtle, and Charmander—but Pikachu and a Poké Ball too. They can be detached and placed wherever you like.

PIKACHU HAT: ¥9,350 (Tax Included)

The "PIKACHU CAP & HAT" includes an embroidered Pikachu and Poké Ball, as well as Pikachu's cute tail.

©Nintendo・Creatures・GAME FREAK・TV Tokyo・ShoPro・JR Kikaku ©Pokémon

SCALP-D Collaborates With Pokémon to Release Pikachu Design Eyelash Serum

ANGFA will is collaborating with Pokémon to release Pikachu packaging in Japan for its SCALP-D Eyelash Serum on July 22, 2020.


This is the first time the brand has teamed up wit Pokémon, and sees both the packaging and bottles of the eye serums with cute Pikachu designs.

SCALP-D Beaute Pure Free Eyelash Serum Pokémon Design: ¥1,762 (Tax Included)

SCALP-D Beaute Pure Free Eyelash Serum Premium Pokémon Design: ¥3,524 (Tax Included)

The SCALP-D Eyelash Serum is a daily use product to make women's eyes beautiful, healthy, and supple so that they don't fall out as easy. The Pikachu collaboration concept is to make the user's eyes "as cute as Pikachu." There are two products to choose from: the regular eyelash serum and a premium version.

A social media campaign is also being held in Japan for 30 random people to win a bottle of the serum. All you need to do is follow SCALP-D on Twitter or Instagram and retweet/repost the following posts.

Campaign: July 13, 2020 @ 12:00 – July 20, 2020 @ 23:59 (JST)

SCALP-D Instagram: scalpd_eye

SCALP-D Twitter: @scalpd_eye

ANGFA is also selling sets of the serum with a limited-edition Pikachu towel. These are available while supplies last.

SCALP-D Beaute Pure Free Eyelash Serum Towel Set: ¥5,286 (Tax Included)


SCALP-D Beaute Pure Free Eyelash Serum Premium Towel Set: ¥7,048 (Tax Included)

Make your eyelashes Pika-Pika pretty with a cute bottle of Pikachu SCALP-D!

Pikachu Snack Collaboration Launched For Kara Mucho & Suppa Mucho Potato Chips

Japanese snack food manufacturing company KOIKE-YA has collaborated with Pokémon to release two Pikachu-inspired flavours for its Kara Mucho and Suppa Mucho potato chips, two of the most popular potato snack products in Japan. The packages were released across Japan on July 13, 2020.

Kara Mucho was first launched in 1984. Over 35 years on, both the spicy Kara Mucho and sour Suppa Mucho have become two of Japan's leading potato chip snacks. The new collaboration brings together the worlds of these nationally-loved snacks and Pokémon.

Pokémon Kara Mucho 10,000 Volt Pepper

10,000 volts of Pikachu strike your tongue with these hot potato chips which are sprinkled with electrifying kasho and kosho pepper.

Pokémon Suppa Mucho Denko Sekka Lemon

A sour, tangy combination of vinegar and lemon lend a refreshing bite to this flavour.

Both snacks also have their own unique packaging featuring a cute Pikachu. There is also a rare version of the packaging that people should be on the lookout for where a different Pokémon has taken on the appearance of Pikachu.

©Nintendo・Creatures・GAME FREAK・TV Tokyo・ShoPro・JR Kikaku
©Pokémon

Shockingly Cute Pikachu Designs Featured On Cola Flavoured Puré Gummies

Japanese confectionery company KANRO has joined pika-paws with Pikachu for the second time to feature the beloved Pokémon on the cola flavour their Puré gummies. They will be released in Japan from July 21, 2020 in limited quantities.

The collaboration brings together delicious Puré gummies, which are always by people's sides in Japan to support them, and Pikachu, your cute Pokémon partner. It is their second collaboration, following the one back in June.

The flavour in question is the "Electric Tropica," a mix of pineapple, mango and banana juice together with some Pikachu electricity which comes from the cola flavour. The combination of gelatin and pectin gives the gummies their satisfyingly chewy flavour. The candies themselves are Pikachu-shaped, while the packaging comes in four different Pikachu designs which scream summertime.

Additionally, the packaging of the regular lemon, grape, and muscat flavours of Puré will also feature Pikachu paw prints on them for a limited time.

©2020 Pokémon. ©1995-2020 Nintendo/Creatures Inc./GAME FREAK inc.

Information

Puré Gummy Pokémon Electric Tropica 2
Release Date: July 21, 2020 (date may differ from store to store)

Price: ¥150 (Tax Included)

Special Site: https://www.kanro.jp/pure/pure_pika/

Mew and Snorlax Charge Your iPhone With These Pokémon Cable Bites

Two new Mew and Snorlax "Cable Bites" have been added to the popular iPhone accessory series and will be released in Japan in late June.

A common problem iPhone users face is their phone cable disconnecting so they can't charge. The Cable Bite series was developed to tackle this issue.  Leave it to your Pokémon to look after your cable and look super cute while doing it.

Cable Bite Pokémon Mew: ¥680 (Before Tax)


Cable Bite Pokémon Snorlax: ¥680 (Before Tax)

Take your Pokémon with your wherever you go with the Pokémon Cable Bite series.

SAMANTHAVEGA's Pokémon Bag and Accessory Collection Kits Out Pokémon Trainers

Japanese clothing and accessory brand SAMANTHAVEGA, which is popular amongst girls in Japan, has teamed up with Pokémon to release a very special collection which is sure to please all you female Pokémon Trainers out there.

The theme of the cute and fun collection is "cute//mode" and captures the essence of Tokyo-born Japanese pop culture as well as the world of Pokémon.

Pikachu


Eevee

The collection features a line-up of bags—from shoulder bags to backpacks, tote bags and more—as well as T-shirts, bag charms, and iPhone cases. Pikachu, Eevee, Gengar, and Team Rocket are the focus of the designs.

Team Rocket

Gengar

Modelling the collection in the photos is Japanese model and actress Tina Tamashiro who also produces SAMANTHAVEGA's bags.

Limited Edition Shopper Bag


Pokémon Series Eco Tote Bag

Those who purchase anything from the collection in Japan will receive a limited-edition shopper bag—or the eco tote bag if they spend over ¥15,000. Both are limited in stock so customers will want to grab something quick.

SAMANTHAVEGA meets Pokémon Collection

Pokémon will also take over the Samantha Thavasa Omotesando GATES pop-up digital store from July 9, 2020.

©Nintendo・Creatures・GAME FREAK・TV Tokyo・ShoPro・JR Kikaku
©Pokemon

Information

SAMANTHAVEGA meets Pokémon collection
Release Schedule:
June 23, 2020 @ SAMANTHAVEGA Online Shop (Pre-Sale)
July 15, 2020 @ SAMANTHAVEGA Stores (Japan)

Special Pop-Up Shop
July 9, 2020 @ Samantha Thavasa Omotesando GATES Pop Up Digital Store
August 12-18, 2020 @ Hankyu Umeda

Official Website: http://www.samantha.co.jp/