Become Poop and Travel Through the Body in Kyoto's Bizarre Exhibition
The Toei Kyoto Studio Park―a theme park in Kyoto modelled after the Edo period of Japan―is set to hold an exhibition from next month titled "A Bizarrely Great Adventure Through the Body" in which you can travel through a giant model of a body to learn all about faeces.
The event is themed on the best-selling children's book series Grossology by Sylvia Branzei which gives humorous but straightforward descriptions of bodily functions and various medical conditions.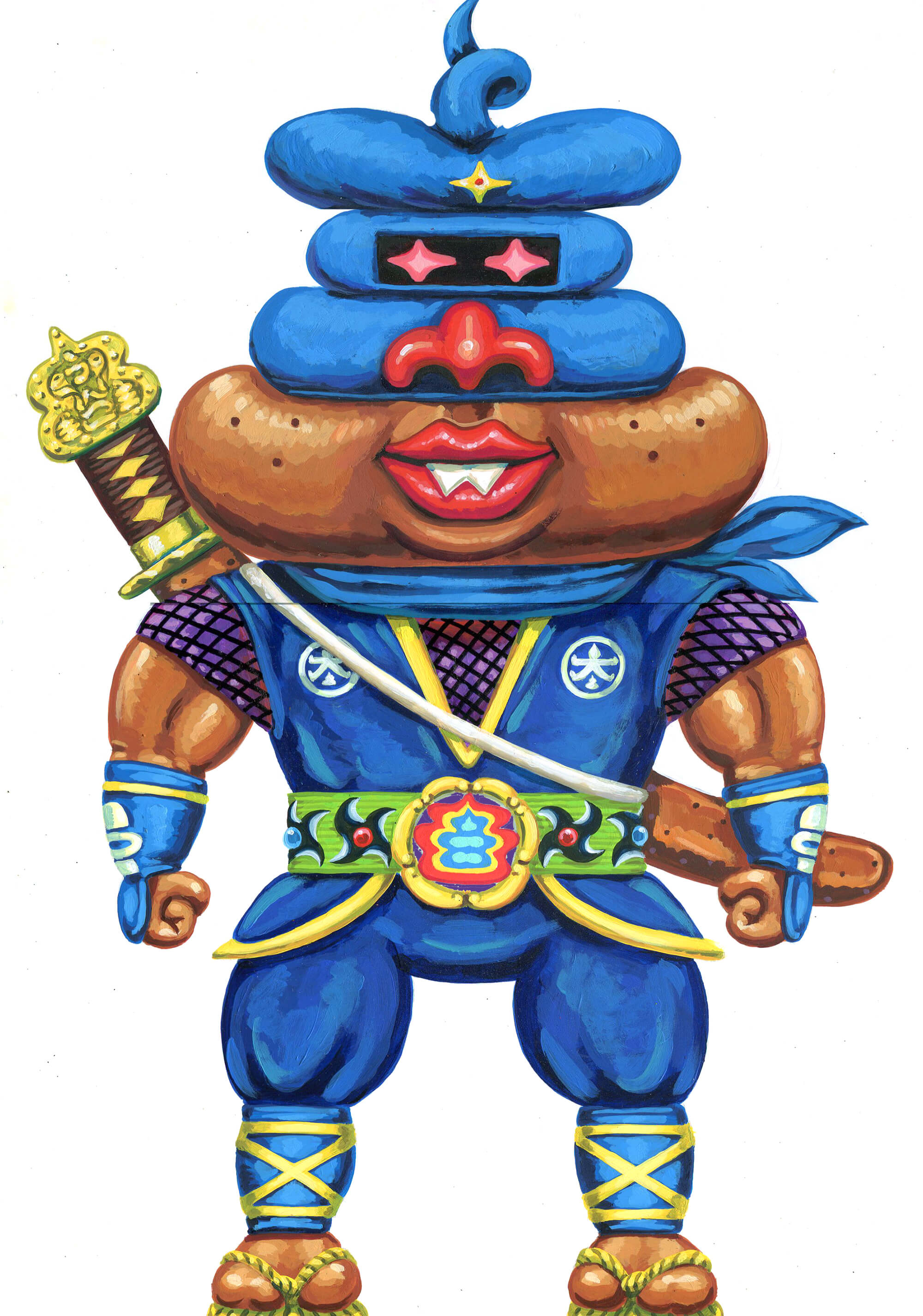 Stinky Poop (Unchi Kusai), the ninja mascot of the event, will join visitors on their adventure as they experience the gross potential of the human body: burps, farts, bodily odours, and more.
A total of fifteen attractions will make up the event where kids and adults can discover the "secrets" of the human body.
Sneeze Shutter
At the Sneeze Shutter you will learn why we sneeze by firing balls―the "foreign substance" entering the nose―into the giant nostrils which will cause it to become itchy. If you can get five balls into the nose it will let out a sneeze and blown out the balls.
The Kidney Game
At the Kidney Game you will help deliver urea, sugar, and other materials necessary for the kidney to the blood vessels to understand how the kidney functions.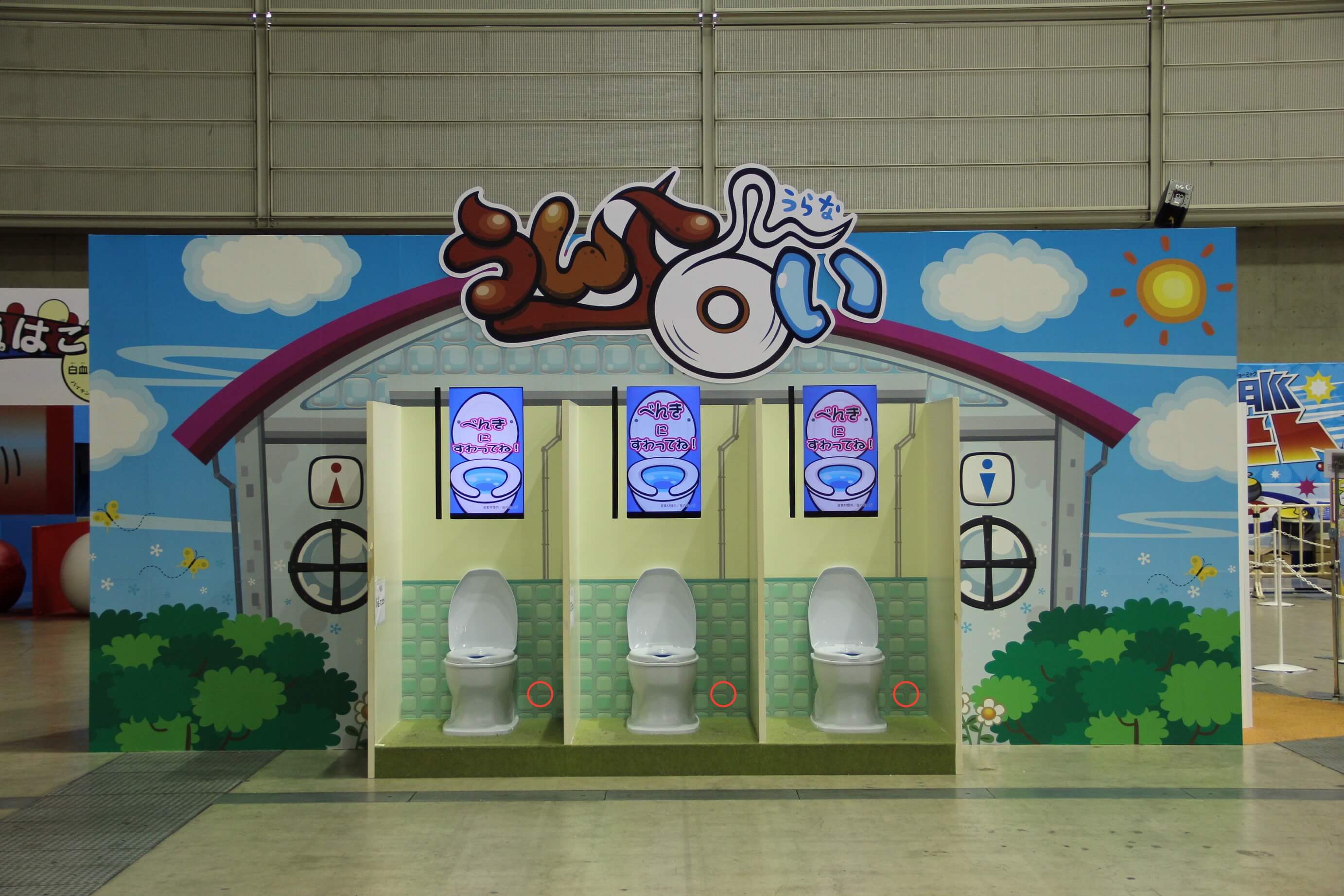 Poop Fortune Telling
Sit on a real toilet and a poo character will appear on the monitor to tell you your fortune that day.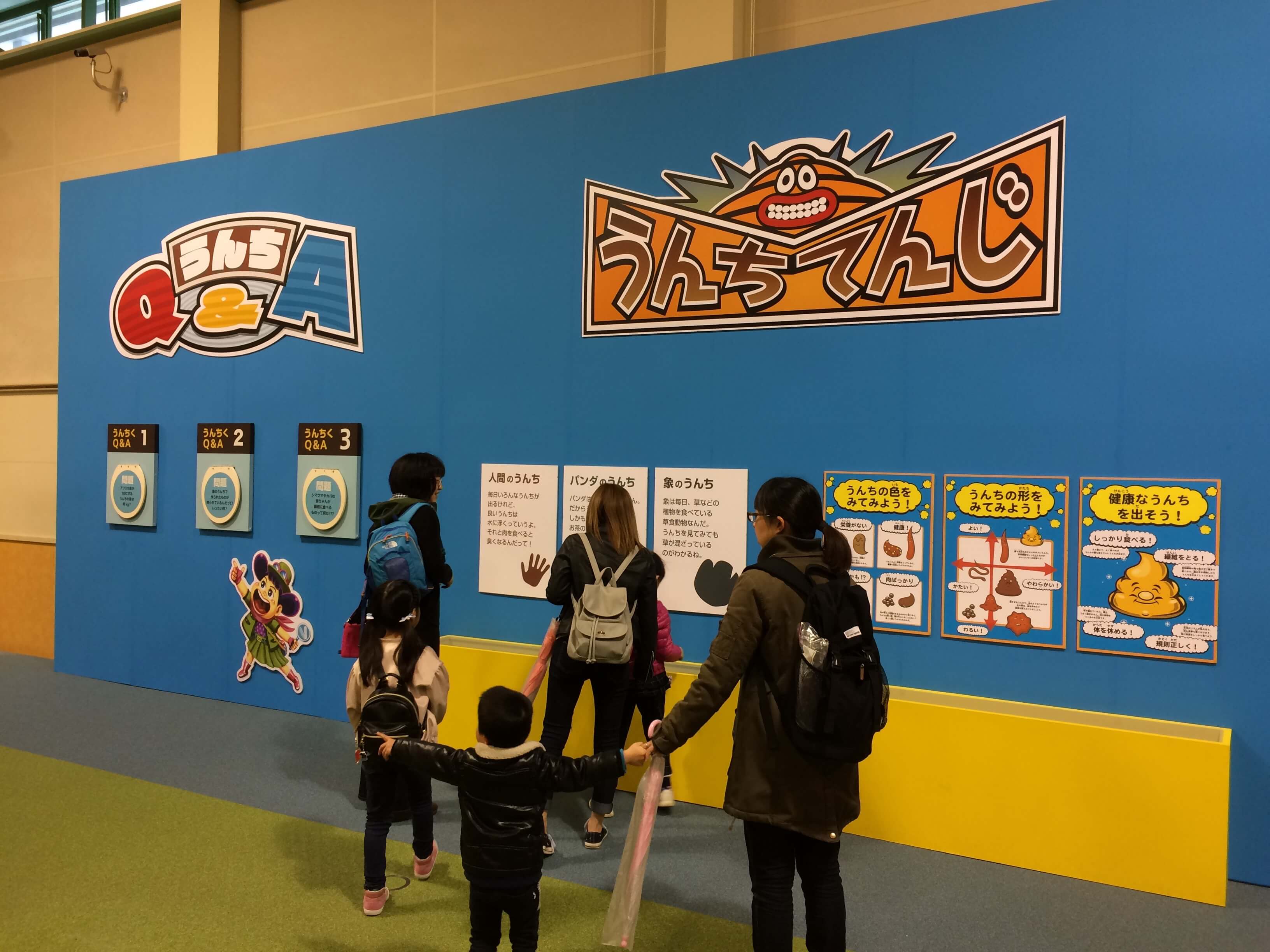 Poo Exhibition
Learn all about poo at the display board which features lots of interesting information.
Burp Kid
Why do we burp when we drink fizzy beverages? Burp Kid will explain it to you.
Take a photo with the giant poo
At the end of your trip to the event, take a commemorative photo next to the giant poo pile and butthole.
This is just a snippet of what there is to see at Kyoto's bizarre poo exhibition. Visit to learn all about something we all do but don't talk about!
Information
A Bizarrely Great Adventure Through the Body (Japanese: からだのふしぎ大冒険)
Running: September 14, 2019 – December 15, 2019
Price: General (13+ Years) ¥800 / Children (3-12 Years) ¥600
*A separate fee will be charged for entry to Toei Kyoto Studio Park
*Children aged 2-years and below are permitted free entry
Event Page (Japanese): http://www.toei-eigamura.com/event/detail/240
Tickets
Set tickets for the event and entry to Toei Kyoto Studio Park are now on sale at FamilyMart.
Adults: Park Entry ¥2,100 + Event Entry ¥800
Junior High School Students: Park Entry ¥2,000 + Event Entry ¥800
Children (3-12 Years): Park Entry ¥1,600 + Event Entry ¥600
*By buying this set you get ¥100 off what you would pay for purchasing them separately. The first 2,000 people to buy a children's ticket set will receive a plush toy
Buy: https://www.funity.jp/eigamura-event/
Toei Kyoto Studio Park
Address: 10 Uzumasa Higashihachiokachō, Ukyo Ward, Kyoto
Homepage: http://www.toei-eigamura.com
RELATED ENTRIES
4 Must-Try Kawaii Bubble Teas & Desserts in Kyoto

Japan is a haven for bubble tea and tapioca-based beverages. Here on MOSHI MOSHI NIPPON we have covered many shops selling these tasty drinks in Harajuku―the town which started the tapioca boom in Japan―but today we will be heading to the ancient city of Kyoto.

We are joined by Kyoto café life tiara who posts photos of the best drinks and desserts they have tried around the Kansai region of Japan. They have provided us with photos of two must-try bubble teas and two must-try desserts in Kyoto.

ROCCA & FRIENDS PAPIER KYOTO in Shijo

ROCCA & FRIENDS PAPIER KYOTO is just a 5-minute walk from Shijo Station. The cafe is made from a traditional townhouse along an old-fashioned Kyoto-esque street.

It takes a little while for your drink to arrive placing your order, but that's because each beverage is carefully handmade from fresh. I ordered the mango smoothie soda and the strawberry smooth soda. Both are fruity and super refreshing and full of chewy tapioca pearls.

▼ROCCA & FRIENDS PAPIER KYOTO

Address: 735-2 Shinkamanzacho, Shimogyo Ward, Kyoto, Kyoto Prefecture

Opening Hours: 10:00-18:00

Closed: Mondays

Official Instagram Page: https://www.instagram.com/rocca.papier/

&Hana in Shijo

&Hana is located at the back of Kyoto Daimaru. The cheese rose tapioca milk tea I bought is a cute pink colour. It's a mix of rose which is good for skin and relaxation, sweet brown sugar tapioca, and sour cheese.

Draped at the back of the cafe are bunches of dried flowers which provide an Instagrammable background for your drinks.

▼&hana

Address: 619 Nishiuoyacho, Shimogyo Ward, Kyoto, Kyoto Prefecture

Opening Hours: Weekdays 11:00-22:00 / Weekends & Holidays 10:00-22:0

No Fixed Holidays

Official Instagram Page: https://www.instagram.com/and_hana_/

KISSHOKARYO KYOTO in Gion

This honey and tea parfait is special because they only serve 20 of them a day. Tapioca pearls go well not just in drinks but in desserts like this one too♡

The fluffy shaved ice is a perfect match with the homemade Earl Grey tea syrup. The rest of the parfait is made up of milk tea flavoured jelly, tapioca pearls, tea ganache, and other delightful surprises.

I enjoyed mine with lots of syrup and roasted soybean flour!

▼KISSHOKARYO KYOTO Gion Honten

Address: 306 Ishibashicho, Higashiyama Ward, Kyoto

Opening Hours: 10:00-19:00 (Last Orders 18:30)

No Fixed Holidays

Official Website: https://kisshokaryo.jp/

MASHOLA in Kawaramachi

MASHOLA is a South Korean-style cafe which of course sells tapioca pearl drinks, but also this delicious capo egg brulee tart as well. As soon as you put the order in their fire up the tarts fresh along with hot tapioca pearls for a heavenly melt-in-the-mouth experience.

They also sell bottled strawberry milk packed full of fresh strawberries, and for an extra ¥80 you can top if off with tapioca.

▼MASHOLA

Address: 406 Sakuranocho, Nakagyo Ward, Kyoto, Kyoto Prefecture

Opening Hours: 11:00-20:00

No Fixed Holidays

Official Website:  https://mashola.business.site/

Did you enjoy this list? Kyoto café life tiara has lots of other tempting recommendations of drinks and desserts on their Instagram page too, so if you're looking for something to try while in the Kansai region of Japan be sure to give them a follow.

Text & Photos: @happy_pinkrose_tiara

Translation: Joshua Kitosi-Isanga

Colourful New Agar & Mango Jelly Drink Released at Kyo Yakasa Pudding in Kyoto

Kyo Yakasa Pudding opened its doors to the world back in April, and since then they have whipped up many different kinds of Japanese custard pudding, known as purin. Earlier this month they released their all new "Yasaka Cider," a jelly-like drink which became a hit on Japanese Instagram (search with #京八坂プリン).

The shop's most popular product since launching is the Kyo Yasaka Pudding―named just like the shop. It has a honey and lemon flavoured jelly which is full of agar and mango jelly balls, giving it a cute appearance and very refreshing flavour and completely new kind of texture.

Now, the shop has released its new Yasaka Cider. The word "Cider" in Japanese doesn't actually refer to the alcoholic drink, but instead is usually a carbonated mixture of lemon and/or lime.

Available this summer only, the Yasaka Cider is the perfect accompaniment for cooling yourself down while strolling the streets of Kyoto, filled with Kyo Yasaka Pudding jelly, agar balls, mango jelly balls, and an in-house made lemon slice and honey mix. The beverage is made fresh to order and comes in a cute bag which you can carry around easily with you.

There are lots of great photo opportunities for Instagram in the store too! If you're in or travelling to Kyoto this summer then be sure to stop.

Information

Kyo Yakasa Pudding

Address: 87-4 Hoshinocho, Higashiyama, Kyoto, Kyoto Prefecture

Opening Hours: 10:00-17:30

No Fixed Holidays

Website: http://www.kyo-yasaka-pudding.co.jp

Kyoto's Kurodani Temple Autumntime Illuminations Begin on November 4

Konkaikōmyō-ji, also known as Kurodani Temple, is set to open its doors to the public from November 4 for its autumn illuminations.

Kurodani Temple has a long history, best known as serving as the Kyoto Shugoshoku―the office of the Tokugawa shogunate―during the Bakumatsu period. It has relations to the Shinseigumi, a military force which was active during this time which was dedicated to suppressing anti-shogunate activities. It is also the first place that Hōnen, the founder of Japanese Pure Land Buddhism, spread his teachings.

For the special opening, you will be able to see the famous chicken painting Tori-zu Oshiebari Byobu by Itō Jakuchū as well as treasures associated with Hōnen and more.

The number of tigers on the famous tiger doors of the temple changes as you slide them.

From the temple grounds you can enjoy a breathtaking scene of the gardens where the autumnal colours of the trees reflect from the surface of the pond.

Kurodani Temple is also home to the Gokōshiyui Amidabutu Statue, which became the talk of the town in the media when it was dubbed the "Afro Buddha," and looks deep in contemplation.

There will also be performances three times a day in the evening using traditional Japanese instruments like the koto and shinobue.

If you pay for the premium entry plan you can enter 30 minutes earlier and will be guided by one of the official gardeners or expert of the gardens.

Information

Autumnal Light-Up

Running: November 4, 2019 – December 8, 2019

Time: 17:30-21:00 (Last Entries 20:30)

Price: Adults ¥800 / Children ¥400 / Infants – Free

*Groups of over 20 people – ¥700

Music Performances: Everyday at 18:00/18:45/19:30

Premium Plan

Running: Fridays & Weekends

Time: From 17:00

Price: Adults ¥1,200 / Children ¥600

Kurodani Temple

Address: 121 Kurodanicho, Sakyo Ward, Kyoto, Kyoto Prefecture

Event Page: https://www.kurodani.jp/lightup_aut/

Travel Japan: Turtle Rock, Oshinkoshin Waterfall & Other Must-Visit Sites in Hokkaido's Shiretoko Peninsula

Shiretoko Peninsula was registered as a UNESCO World Heritage Site in 2005 and is the northernmost location in Japan to have been so. Even in a place such as Hokkaido, which strikes all with its marvellous natural landscape, Shiretoko is said to be home to many secluded locations. Many of these have not been touched by the hands of man―they have been left as they are―and so one can discover sights, animals and much more that they cannot anywhere else.

We are joined by Mirina, an Instagrammer who posts her experiences travelling to Hokkaido's many sightseeing spots located in pockets of nature. She has provided us with photos of her trip to the Shiretoko Peninsula and its must-see spots.

The Shiretoko Five Lakes

The Shiretoko Five Lakes are situated inside an old-growth forest from which you can admire the grand Shiretoko mountain range in the back. Many wild animals live here such as the brown bear and black woodpecker. The view is one would expect from a World Heritage Site, with gorgeous scenery to soak up in every direction.

▶︎The Shiretoko Five Lakes

Address: Onnebetsumura, Shari, Shari District, Hokkaido

Shiretoko Shari Machi Sightseeing Website: https://www.goko.go.jp/multilingual_eng/index.html

Turtle Rock (Cape Chashikotsu)

Cape Chashikotsu, located on the Utoronishi side, can be seen from Shari and looks just like a giant turtle which is where it gets its nickname "Turtle Rock" from.

▶︎Turtle Rock (Cape Chashikotsu)

Address: Utoronishi, Shari, Shari District, Hokkaido

Oshinkoshin Waterfall

Oshinkoshin Waterfall is listed as one of Shiretoko's "8 Sights." This towering waterfall rolls down the rocks and splits into two separate waterfalls halfway down which has given it the nickname "Two Beautiful Falls." The are stairs that enable you to walk beside the waterfall halfway up, letting you get nice and close to the water. There is also an observation deck atop the waterfall from which you can see many sights such as the Sea of Okhotsk and Shiretoko mountain range. The waterfall is also listed as one of Japan's top 100 waterfalls.

▶︎Oshinkoshin Waterfall

Address: Utoronishi, Shari, Shari District, Hokkaido

Shiretoko Shari Machi Sightseeing Website: https://www.goko.go.jp/multilingual_eng/index.html

The Road To Heaven

This long stretch of road spans 18km and has been dubbed the "Road To Heaven" as when observed from uphill looks like it disappears into the clouds. Situated on one side of the farmlands, one can enjoy a quiet and breathtaking view of the road. It's also a popular road with bikers and travellers riding bicycles. It's also a must-see from the observation deck close by.

▶︎The Road To Heaven (Japanese Name: 天に続く道)

Address: Minehama, Shari, Shari District, Hokkaido

Shiretoko Shari Machi Sightseeing Website: https://www.goko.go.jp/multilingual_eng/index.html

Did you enjoy this list? There are countless places to visit in Japan, and some of the best are the quiet, secluded ones. If you get the opportunity to visit Hokkaido, put the Shiretoko Peninsula on your list of must-visit places.

Top 4 Must-Visit Places in Ishikawa to Keep Cool This Summer – MOSHI MOSHI NIPPON

Ishikawa Prefecture was formerly split between Kaga Province and Noto province and is still sometimes thought of as two peas in a pod. What was once Kaga Province in the now southern part of Ishikawa consists of six cities and towns including Kaga, Komatsu, Nomi, Kawakita, Hakusan, and Nonoichi.

Kaga Province is home to many waterfall spots widely known as great places for keeping cool in the hot sun. Providing as great sightseeing experiences, one can bask in the negative ions of the waterfalls and overcome the summer scorch.

Watagataki Waterfall

Watagadaki gets its name from its appearance which is likened to falling torn cotton (wata being the Japanese word for the material). You will arrive right next to the waterfall when you descend down the path beside it, at which its great tumbling sound will fill you with a feeling reminding you that you are enveloped in nature.

▶︎Watagataki Waterfall (綿ヶ滝)

Address: 1-4 Shimoyoshitanimachi, Hakusan, Ishikawa Prefecture

Enquiries: 076-274-9544 (Hakusan Tourist Centre)

Access: 50-minutes south of Japan National Route 157 via Hakusan Interchange / 60-minutes from Kanazawa Station

 

Nanatsudaki Falls

Nanatsudaki Falls is comprised of seven smaller waterfalls which it gets its name from. It has long been a place of worship. Six of the waterfalls are found upstream, where the water rolls beautifully over the rocks which have formed over tens of thousands of years as a result of the movement of the earth's crust. The surrounding trees boast lush green verdure or red and yellow autumnal leaves depending on the season, offering different spectacular sights to behold whatever time of the year you visit. There's a path you can walk along where the upper six waterfalls are so you don't have to worry about falling in!

▶︎Nanatsudaki Falls (七つ滝)

Address: Nagatakimachi, Nomi, Ishikawa

Enquiries: 0761-51-2308 (Nomi no Satoyama Fan Club)

Access: 25-minutes by car from Nomi-Neagari interchange

Tsuruga Falls

 

The water at Tsuruga Falls flows down five levels, and the biggest waterfall at the back splits into two separate waterfalls. Collectively the waterfalls tower up 30 meters high which is an incredible sight to see when up close. Tsuruga Falls gets its name from the splitting waterfall at the back which is said to look like the legs of a crane.

▶︎Tsuruga Falls (鶴ヶ滝)

Address: Yamanakaonsen Aratanimachi, Kaga, Ishikawa Prefecture

Enquiries: 0761-78-0330 (Yamanaka Onsen Tourist Association)

Access: 15-minutes by car from Yamanaka Onsen Bus Terminal

Junigataki Waterfalls

 

The name origin of Junigataki Waterfalls lies in its twelve separate falls which flow from the Gotani River. The incredible crashing sound of the water cannot be put into words; it's an overwhelming spectacle that will have you wanting to go back more than once. In summertime it's common to see families and young people playing in the water from up at the top of the waterfall down to the lake below. The waterfalls are a quite a distance from the city of Komatsu, but there are roads that lead right to it so it's very accessible.

▶︎Junigataki Waterfalls

Address: Nunohashimachi, Komatsu, Ishikawa Prefecture

Enquiries: 0761-22-4111 (Komatsu City Hall)

Access: 45-minutes by car from JR Komatsu Station

Did you enjoy this list? If you're in Japan this summer visiting Ishikawa then be sure to pay a trip to one of Ishikawa's many waterfalls to cool yourself off.

Kyoto's Sweet and Salty Matcha Cheese Tea is an Enlightening Flavour Discovery

Kiyomizu Cheese Kobo opened at Kiyomizu Gojozaka at the foot of the famous Kiyomizudera Temple as Kyoto's first ever cheesecake shop to sell its delicious cheesecakes in a cute jar. On August 13, they released a mouthwateringly rich Matcha Cheese Tea which will enlighten you with a new way to enjoy matcha.

The Matcha Cheese Tea harnesses Kyoto's unbeatable Uji matcha which is full of rich and fresh flavour. A light cloud of fluffy cheese foam floats on top of the drink, adding a salty accent to the overall flavour. A traditional tea combined with a sweet and salty cheese flavour ー this brand new flavour discovery will leave you feeling refreshed and enlightened. The recipe for the cheese foam consists of cream cheese carefully selected by the cheesecake shop's specialists. This is then blended with a small amount of salt to accent the flavour. 

If you mix the matcha milk tea with the cheese foam, the rich matcha mixes with the saltiness of the cream cheese, creating a sweet salty flavour that you will not be able to get enough of. As the flavour is not too overpowering, you can enjoy this drink endlessly and will feel refreshed even on a hot summer's day. 

Matcha Cheese Tea: ¥460

Kiyomizu Cheese Kobo recommends three different ways to drink the Matcha Cheese Tea to enjoy three different levels of flavour combinations. 

① First off, drink just the matcha milk tea so you can experience the true authentic flavour of Kyoto's famous rich Uji matcha tea. 

② Next, move your straw so that you taste just the cheese foam on its own. The fluffy foam will gently slide over your tongue and spread a mild and sweet flavour all over your mouth. 

③ Finally, it's time to mix everything. The saltiness of the cheese foam and the sweetness of the matcha milk will create a new salty sweet flavour that you will want to try again and again.

Whether you are a Japanese local or a foreigner, this drink is a fun new way to enjoy matcha. If you are new to matcha, this is a good way to try the flavour without being too overwhelmed. 

Information

Kiyomizu Cheese Kobo (清水チーズ工房)

Address: 569-10, Shiraitocho, Higashiyama Ward, Kyoto City, Kyoto

Opening Hours: 11:00 ー 17:30

No fixed closed days.

Official Website: http://kiyomizu-cheese.com/

Gundam Artist Yuji Kaida Exhibition Announced For Osaka Umeda LOFT

To celebrate 40 years of Yuji Kaida's illustration artwork for the Gundam series, an exhibition entitled Yuji Kaida Gundam Gallery will take place on the fifth floor LOFT Forum of Umeda LOFT in Osaka from August 23 to September 8.

Yuji Kaida is known for his longtime work on box art for Gunpla model kits. The exhibition will feature a gorgeous collection of his iconic Gundam artwork, covering traditional art from Mobile Suit Gundam to Mobile Suit Gundam Wing to digital art in Mobile Suit Gundam: Iron-Blooded Orphans.

Over 70 pieces illustrated by Kaida will be displayed, each categorised into one of four themes. Many of these will include artworks being shown to the public for the first time such as the Gwazine-class battleship.

There will also be enormous towers of piled-up Gunpla boxes, a showcasing titled "Maiking of Hi-νGUNDAM" the process of digital art, and more.

The exhibition is an absolute must-visit for all fans of the Gundam franchise.

©Sotsu Co., Ltd.・Sunrise Inc.

Information

Yuji Kaida Gundam Gallery
Running: August 23, 2019 – September 8, 2019

Time: 11:00-21:00 (Until 18:00 on September 8) *Last entries 30-minutes before closing time
Location: LOFT Forum, Umeda LOFT Floor 5F, 16-7-5 Chayamachi, Kita Ward, Osaka
Entry Price: Adult ¥500 (Includes novelty gift) / High School Children & Below ¥400 (Includes novelty gift) / Elementary School Children & Below – Free
Official Website: https://art.parco.jp/

Seafood Heaven at Shizuoka's New Restaurant Atami Ginza Osakana Shokudo

Atami Ginza Shopping District in Shizuoka's seaside city of Atami is enjoying a new boom of bustling customers this year, and they're sure to continue pouring in with the opening of its new seafood entertainment restaurant Atami Ginza Osakana Shokudo. The eatery opened its grand doors on August 8, offering fresh, flavourful seafood dishes. In the evenings, the restaurant turns into Osakana Sakaba where they serve gorgeous sake.

Atami is home to many fishing harbours, including those in Ajiro, Izuyama, and Hatsushima. Atami's waters are a treasure trove of sea life, offering a bounty of seafood such as mackerel, salmon, shrimp, Splendid alfonsino, shellfish, and more.

The restaurant uses a previously vacant building which has been renovated for the opening. Their menu concept is "Atami nostalgia" which will fuse together traditional Atami food with new spins. Food is prepared in an open kitchen in a variety of ways including sashimi, grilled, steamed, and so on.

Splendid Alfonsino Rice Bowl – ¥2,780 (Before Tax)

The absolute must-try on their menu is their Splendid alfonsino rice bowl. It's topped generously with huge cuts of horse mackerel, mackerel, and Splendid alfonsino, all caught fresh from neighbouring harbours.

The restaurant also serves the ginormous Japanese spider crab which is a local speciality in the city of Izu. They are kept fresh in tanks in the restaurant. In the evening, when the restaurant turns into a bar, you can have this crab served however you like: as sashimi, grilled, or even steamed. As well as fresh seafood, they also serve vegetables and other meat, all sourced locally. Tofu, desserts and other food is too.

Japan is known for its exquisite seafood. If you're travelling to Shizuoka this summer, be sure you pay a visit to the new Atami Ginza Osakana Shokudo.

Information

Atami Ginza Osakana Shokudo (Osakana Sakaba at night)

Address: 8-8 Ginza-cho, Atami, Shizuoka Prefecture

Opening Hours: Lunch 11:00-16:00 (Last Orders 15:30) / Dinner 17:00-22:00 (Food Last Orders 21:00/Drink Last Orders 21:30)

No Fixed Holidays

Access: 14-minutes on foot from JR Atami Station

Official Website: http://www.osakana-atami.com/

4 Must-Visit Fireworks Festivals in Kyoto This Summer

Kyoto―also known as the "old capital" and said to be the birthplace of Japanese culture. In its 1,200 year history, this ancient city has given rise to much of what can be considered quintessential Japanese culture. Fireworks are a monumental feat of summer in Japan with countless festivals up and down the country dedicated to them, and Kyoto is no exception.

If you're in Kyoto this summer then you mustn't miss these 4 fireworks festivals.

Kameoka Peace Festival Hozugawa River Fireworks Festival – A Magnificent Arsenal of 8,000 Beauties

This long-running event is held every year to pray for world peace. Its spectacular display features a lineup of fireworks specially selected by the Japan Fireworks Artist Association which aims to evolve the tradition of firework culture. Expect to see the night sky illuminated with a rainbow of colours from the festival's launch of 8,000 fireworks, including the Starmine which shoots a cloud of bright stars into the overhead abyss, as well as some original fireworks crafted for the festival such as the "Kamemaru Hanabi."

▼Kameoka Heiwasai Hozugawa Fireworks Festival (Kameoka Peace Festival Hozugawa River Fireworks Festival)

Date: August 11, 2019

Time: From 19:30
Location: Hozubashi Bridge
Official Website: http://kameoka-hanabi.jp/

Kyoto Nantan City Fireworks Festival – The Spectacular Starmine

Held by the riverbed of the Katsura River, the fireworks festival in Nantan makes use of the opposite shore from the viewing point which makes the fireworks look like they are raining down from the sky like a waterfall. The finale of this festival welcomes the behemoth of all Starmine fireworks which rips across the night sky in a blazing spread. The festival is also held as part of the Bon Festival and so lanterns are let loose down the Ōi River, creating a sight of subtle grace and beauty.

▼Kyoto Nantan City Fireworks Festival

Date: August 14, 2019

Time: From 19:30

Location: Katsura River
Official Website: http://www.yagi-hanabi.com/

Miyazu Toronagashi Fireworks Festival – Floating Lanterns & Fireworks For 400 Years

Held in the city of Miyazu, this festival combines fireworks with floating lanterns and shoryobune―boats adorned with tanzaku paper slips that are sent out to light the way for the deceased as part of the Bon Festival.  Floating lanterns on the water (known as toronagashi in Japanese) in Miyazu began 400 years ago. This year, it was counted as one of Japan's three biggest toronagashi events.

Together with the boat, around 10,000 lanterns are sent into Miyazu Bay, creating a beautiful and majestic atmosphere. Close to 3,000 fireworks are set to illuminate the sky above, leading to an indescribable beauty as the fireworks and lights give off their own light.

▼Miyazu Toronagashi Fireworks Festival

Date: August 14, 2019

Time: From 19:30

Location: Shimasaki Park
Official Website: https://www.kyo.or.jp/miyazu/hanabi/

Ine Fireworks – Fireworks Galore Envelop Ine Bay

Around 1,200 fireworks climb up and over Ine Bay, lighting the calm water surface and the funaya boat houses of Ine with their brilliance. The boat houses themselves are also strung and lined with hanging lanterns.

▼Ine Fireworks

Date: August 24, 2019

Time: 20:15

Location: Ine, Kyoto
Official Website: http://www.ine-kankou.jp/inehanabi/

Did you enjoy our pick? It isn't summer in Japan without fireworks. If you're travelling to Kyoto to catch some sun this year, finish the day off with one of its many fireworks festival―from traditional Kyoto-esque events to large-scale ones with 8,000 fireworks ready to be deployed.

Sold Out On Day One―Itohkyuemon's Matcha Parfait Bars Release at Gion Shijo Store

Kyoto-based Uji tea store Itohkyuemon released its new Matcha Parfait Bars at its new branch in Gion Shijo on August 7.

The bars proved so popular that all 1,500 in stock sold out on the first day. The store is currently being piled with orders for future sales. There are five flavours to enjoy: the classic matcha parfait flavour as well as cherry blossom, tropical, mont blanc, and strawberry.

Matcha Parfait Bar – Matcha

The matcha flavoured bar retains the original rich flavour of the Uji matcha, which has been passed down since the Muromachi period, and combines it with a delicious assortment of parfait toppings including raw matcha chocolate, mini daifuku, coarse sweet red bean paste, and more.

Matcha Parfait Bar – Sakura (Cherry Blossom)

For another traditional Japanese twist there is the springtime sakura parfait bar which is made with cherry blossom pink rice flour dumplings and ice cream. It's also topped with cherry blossom cream and salted cherry blossom petals for a cute finish.

Matcha Parfait Bar – Tropical

Tropical flavours like pineapple and mango blend together in this bar which is drizzled in a sweet, sour and refreshing tropical sauce. Topped with fresh tropical fruits, this is the ultimate summertime luxury.

Matcha Parfait Bar – Mont Blanc

This bar incorporates a sense of autumn with its mix of candied chestnut, astringent chestnut skin, and melt-in-the-mouth mont blanc cream.

Matcha Parfait Bar – Strawberry

Strawberry lovers will delight in the handmade strawberry sauce and strawberry meringue of this bar. The meringue elevates the sumptuous flavours of the parfait even more, including the fresh strawberry, raspberry and blueberry toppings which provide a sweet and sour kick.

Which of these Matcha Parfait Bars do you want to try the most?

Information

Matcha Parfait Bars

Released: July 10, 2019 (On August 7, 2019 at the Gion Shijo branch)

Prices

Matcha Parfait Bar – Matcha: ¥540 (Tax Included)

Matcha Parfait Bar – Sakura (Cherry Blossom): ¥590 (Tax Included)

Matcha Parfait Bar – Tropical: ¥590 (Tax Included)

Matcha Parfait Bar – Mont Blanc: ¥590 (Tax Included)

Matcha Parfait Bar – Strawberry: ¥640 (Tax Included)

Participating Branches: Uji Honten, JR Uji Station, Gion Shijo, Byodoin, Kyoto Station, and online shop

Online Shop Product Page: https://www.itohkyuemon.co.jp/site/parfait-bar/index.html

Stay Cool This Summer in Kyoto at These 4 Nature Spots

When talking about seasons in Kyoto, a lot of people are sure to point towards autumn when the leaves turn fiery red and sun yellow. But did you know that in Kyoto enjoys cool and truly beautiful summers?

If you're in the old capital this summer, or are planning to catch the sun there with a trip next year, then you'll want to add the 4 spots in this list into your schedule, each abloom with magical foliage and verdure.

We are joined by Macchan, a Japanese Instagrammer who snaps photos of sightseeing spots around Kyoto lush with greenery.

Giouji Temple

Giouji Temple is a modest thatched hut wrapped in a bamboo thicket and maple trees. The temple is detailed in the epic The Tale of the Heike in which the dancer Gio fled to the temple from her home in the capital with her mother and sister after falling out of love with Taira no Kiyomori.

A visit here ensures you can enjoy the summer with more than just your eyes as you listen to the dancing of the bamboo thicket and the cries of the cicadas.

Giouji Temple
Address: 32 Sagatoriimoto Kozakachō, Ukyo Ward, Kyoto
Official Website: http://www.giouji.or.jp/en

Adashino Nenbutsu-ji

Adashino Nenbutsu-ji is a Buddhist temple with a history spanning 1,200 years. A memorial service for those who died without kin is taking place on August 23 and 24 at the riverbed of the temple's west wing where candles will be lit in their honour. Lanterns are also lit in the surrounding area along the streets.

Adashino Nenbutsu-ji

Address: 17 Saga Toriimotoadashinocho, Ukyo Ward, Kyoto

Official Website: http://www.nenbutsuji.jp/index.html

Fushimi Port Park

Fushimi Port Park is a huge park home to a gymnasium and sumo area. They also have a hiking course. The sea does not reach here, but there is a canal which boats go up and down, and this is where the park gets its name. It has a bounty of trees and plants, so if you're looking to enjoy a peaceful stroll in nature then be sure to visit.

Fushimi Port Park

Address: Yoshijima Kanaidocho, Fushimi Ward, Kyoto
Official Website: http://www.kyoto-park.or.jp/fushimi/

Kan'in-no-miya Residence

This residence was built for and used by the Kan'in-no-miya family in 1710, with Prince Naohito as its founder―the son of Emperor Higashiyama. The family lived in the house until 1877 after which they moved to Tokyo. Following the war, it was liberated and became a park, and today it is used to exhibit photography and paintings. The residence is famous for its peach trees, making it a popular spot in spring. However, in summertime, it's much quieter, adding grace to the tranquillity of the surrounding green landscape. What's more is that despite it being such a prestigious location, it's free to enter! Don't tell too many people about this secret spot.

Kan'in-no-miya Residence

Address: 3 Kyotogyoen, Kamigyo War, Kyoto, Kyoto Prefecture

Official Website: https://kan-in-nomiya-teiato.jp/eng/

Macchan has visited many incredible spots around Kyoto, so if you're in need of recommendations be sure to give them a follow.

Photos: @macchan358

Best Kyoto Souvenirs to Pick Up This Summer at Daimaru Kyoto

Are you planning to shop for souvenirs in Kyoto this August? Daimaru Kyoto has the perfect lineup for the summer season, from cool and refreshing wagashi confections to sweets made with matcha grown in Kyoto and more―all packaged in gorgeous in packaging exclusive to the Kyoto branch of Daimaru. Here's our top picks for summer 2019!

Ryo no Seifuu (Contains 8) @ Sasaya Iori, Floor B1F Wagashi Marketplace – ¥2,160 (Tax Included) *Available until Mid-August

Inspired by cool springs, this tasty Japanese-style confection comes in 4 different refreshing and fruity flavours.

Kuzu Nagashi (Contains 3) @ Oimatsu, Floor B1F Wagashi Marketplace – ¥1,339 (Tax Included) *Available until Mid-August

Indulge in two different flavours of arrowroot: one made with brown sugar from the island of Hateruma and another with sweet apricot juice. The brown sugar arrowroot is also mixed with honey and the apricot with apricot honey.

Kakitsubata (Contains 6) @ Shogoin Yatsuhashi Sohoten, Floor B1F Wagashi Marketplace – ¥540 (Tax Included)

Yatsuhashi is a classic Japanese confection and is a famous souvenir sweet in Kyoto. These uncooked yatsuhashi have a faint cinnamon aroma and are formed in a way similar to dango.

Salted Lemon Pound Cake (1 Cake) @ Adachi Otoemon, Floor B1F Wagashi Marketplace – ¥2,160 (Tax Included)

Laced with tangy lemon skin, this refreshing pound cake is topped with rock salt which elevates the flavours to delicious new heights.

Raw Uji Matcha Chocolate (Contains 8) @ ATELIER de GODIVA [Kyoto Branch Only], Floor B1F Wagashi Marketplace – ¥2,916 (Tax Included) *Available until Mid-August

Luxurious, rich and melt-in-your-moth raw chocolate made lavishly with bitter Uji matcha.

Kyo Chafure (Contains 5) @ Kyoto Tsuruya, Floor B1F Wagashi Marketplace – ¥810 (Tax Included)

These soft doughy sablés made with rich Uji matcha.

Koto no Natsu @ Nomura Kyotsukidani, Floor B1F Tsukudani Marketplace – ¥1,080 (Tax Included)

If you're looking for something a little more savoury then you'll absolutely want to check out the popular chirimen sansho, dried whitebait seasoned with pepper. It comes packaged in beautiful summery Kyoto packaging.

Did you enjoy this list? Be sure to pick up as many tasty edible Kyoto souvenirs while exploring the ancient city.