Get yourself one of these new Rilakkuma hoodies and some kawaii Rilakkuma merchandise!
The ubiquitous character Rilakumma, loved worldwide, has teamed up with FELISSIMO to release a new brown hoodie, themed accessories, Rilakkuma cat purses and more. The items went on sale on December 12th. If you're a Rilakkuma fan, you are most definitely going to want to check this merchandise out.
・Become Rilakkuma's friend "Chairoi Koguma" with the official "Chairoi Koguma Hoodie"
This hoodie is in the design of Rilakkuma's new friend Chairoi Koguma. The hood comes designed with a cute face, so if you're eating food with the hood up you'll look just like a kawaii Chairoi Koguma! The material of the hoodie is fluffy to touch, enough to warm your heart and body. The inside of the hood is coloured in the same colour as Chairoi Koguma's beloved honey. This is an all around kawaii hoodie that you'll want to get your hands on.
Details regarding the hoodie can be found here >>> http://www.felissimo.co.jp/s/pr161220/1/
・Always be together with Rilakkuma with these "Rilakkuma Earrings"
From afar, these may seem like some chic earrings, but up close you'll find it's actually Rilakkuma chilling out. And the pearls are in fact one of Rilakkuma's favourite treats – dango! These accessories come as either earrings or piercings.
Details regarding the earrings can be found here >>> http://www.felissimo.co.jp/s/pr161220/6/
・Rilakkuma dresses as a cat for this cute collection of "Rilakkuma Soft and Fluffy Toy Kitten Purses"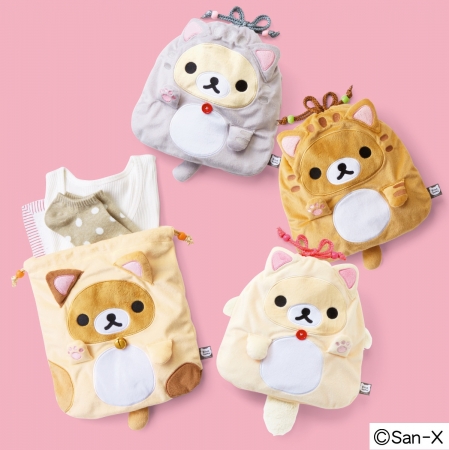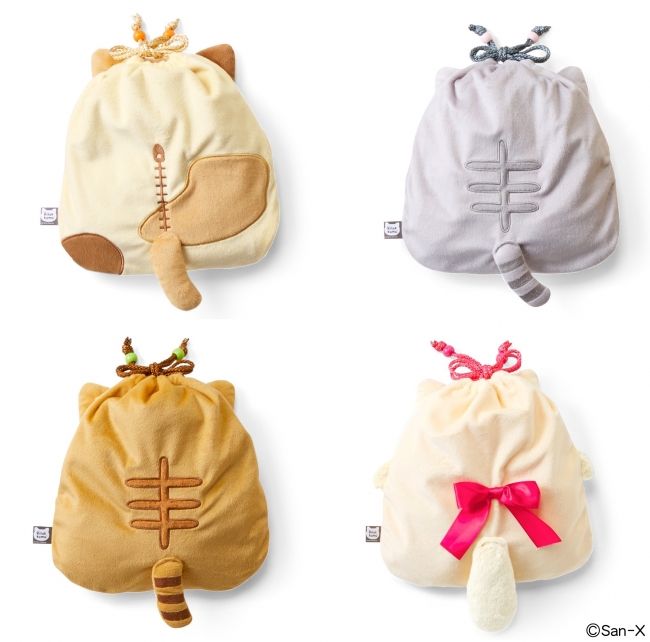 Now you can get your hands on your very own cat versions of both Rilakkuma and Korilakkuma in the form of a purse. They are adorable, soft and fluffy just like a stuffed toy, and you can put your bits and bobs inside of them and tie it back up with the string. The fatter they get the more cute they become. They have cats' tails and ears, as well as a bell and a ribbon to complete the cute look. They come in 4 different designs: "3 Colours – Rilakkuma", "Grey – Korilakkuma", "Tabby Cat Brown – Rilakkima", and "White – Korilakkuma". Pick your favourite and keep your things safe with your very own Rilakkuma purse!
Details regarding the purses can be found here >>> http://www.felissimo.co.jp/s/pr161221/1/
■Information
「felissimo meets Rilakkuma」
Official website: http://www.felissimo.co.jp/s/pr161221/7/
−−−
■Related Article: Doraemon and Rilakkuma are now edible… but they're too cute to eat!! ♡
■Related Article: Be healed by the latest addition to the Rilakkuma healing cushion line!
RELATED ENTRIES
Tokyo Daijingu Shrine in Iidabashi Offering Rilakkuma Themed Ema Plaques

The popular character Rilakkuma was recently appointed as the tourism ambassador for Chiyoda City in Tokyo. To commemorate this lofty position, Tokyo Daijingu Shrine will begin offering Ema decorated with Rilakkuma starting December 1, 2021. Ema are small wooden plaques found at shrines, and visitors can write their wishes or prayers on them before hanging them up for the Gods to receive them. 

Tokyo Daijingu was built in the early Meiji period so that residents of Tokyo could worship the many deities enshrined at the Grand Shrine of Ise from afar. Originally built in Hibiya, the shrine was moved to Iidabashi in 1928 after the Kanto Earthquake. 

Rilakkuma became the tourism ambassador for Chiyoda in August and aims to convey the many charms of the area to as many people as possible. These Ema feature an original Rilakkuma design along with the crest of Tokyo Daijingu.

Information

Tokyo Daijingu Shrine Rilakkuma Ema

Available: December 1 *Only available while Rilakkuma is Tourism Ambassador. 

Hours: 8:00-17:00

Size: 12cm 

Fee: ¥500

Official Site: http://www.tokyodaijingu.or.jp/

Sebastian Masuda Kawaii Exhibition to be Held at 1,300-Year-Old Kanda Myojin Shrine

Sebastian Masuda, the Godfather of Kawaii, is bringing his 'Yes, Kawaii is Art' exhibition to Tokyo. If that isn't cool enough, the event will be held from December 4 until December 12, 2021, at the 1,300-year-old Kanda Myojin Shrine, known as one of the most important shrines during the Edo period. 

Kanda Myojin, the Tokyo Venue

Work at 'Yes, Kawaii is Art' Venue in Osaka

Related Event, 6%DOKIDOKI Fashion Show

Originally scheduled to arrive in Tokyo in September, the exhibition was postponed due to the state of the COVID-19 pandemic. Kanda Myojin is known as the site of the Kanda Festival, one of the three major Shinto festivals in Tokyo started by Tokugawa Ieyasu in 1600. The shrine is very close to Akihabara, and has become a place for technophiles to pray for their electronics!

Sebastian Masuda is known as the Godfather of Kawaii, and his colorful and crazy art is known around the world. In 2020, Masuda asked a number of questions to fans of Japanese pop culture around the world–what is Kawaii? Why does Kawaii cross borders, generations, and gender? This new exhibition tries to find an answer to those questions while bringing some joy and excitement to the local community. 

Osaka's City of Art Kitakagaya has hosted Masuda's exhibition since October 30, with his works spread out across three different venues. These will be open until November 30, 2021. 

Additionally, on November 13, a street fashion show by Masuda's popular Harajuku fashion brand 6%DOKIDOKI will be held at the third venue. The brand turns 26 this year. 

Information

Yes, Kawaii is Art

Tokyo Event

Sebastian Masuda's "Yes, Kawaii is Art" Exhibition at Kanda Myojin Shrine

Running: December 3 – December 12, 2021

Hours: 12:00-18:00

Address: Kanda Myojin Shrine (2-16-2 Sotokanda, Chiyoda-ku, Tokyo)

*Details to be announced at a later date.

Osaka Event

Exhibition Pricing

Venue 1: ¥500 (Weekdays) ¥1,000 (Weekends/Holidays) 

Both Venue 1 + Venue 2: ¥1,500 (Viewing) ¥2,000 (Experience) 

Venue 3: Free

Details: https://sebastianmasuda.com/works/osaka/

Access: Close to Kita-Kagaya Station on the Osaka Metro Yotsubashi Line, Exit 4

Map: https://www.google.com/maps/placelists/list/fGC5yMFnbboXkfjYxijLmbHIzgP88w

Venue 1: kagoo

Main Work: 'Colorful Rebellion -Seventh Nightmare-

Running: October 30 – November 21, 2021

Closed Mondays and Tuesdays, November 17

Hours: 12:00-18:00

Address: 5-4-19 Kita-Kagaya, Suminoe-ku, Osaka

Venue 2: Oto Building

Main Work: 'Fantastic Voyage, Prototype II' 

Running: November 5, 6, 7, 12, 13, 14

Hours: Shows at 13:00, 15:00, 17:00 *Only at 17:00 on November 14

Address: 5-5-1 Kita-Kagaya, Suminoe-ku, Osaka

Tickets: https://sebastianmasuda.peatix.com/

Venue 3: Chidori Bunka

Main Work: 'Colorful Rebellion -WORLD TIME CLOCK-

Running: November 12 – November 21, 2021

Closed on Mondays, Tuesdays, Wednesdays

Hours: 12:00-18:00

Address: 5-2-28 Kita-Kagaya, Suminoe-ku, Osaka

Related Event

6%DOKIDOKI Fashion Show 'Colorful Riot'

Date: November 14, 2021

Time: 15:00~

Address: Venue 1 (Free Admission)

Official Site: https://sebastianmasuda.com/

King of Kawaii Sebastian Masuda Opens Exhibition in Osaka

Artist Sebastian Masuda is a leading figure in Japan's culture of KAWAII. The creator of the popular Harajuku brand 6%DOKIDOKI, the creator has worked with Kyary Pamyu Pamyu and a number of other kawaii personalities in the past. Now, his exhibition titled 'Yes, Kawaii is Art' is coming to Osaka from October 30 to November 21, 2021. The event will take place in Kitakagaya, an art district located in an old factory area, with three distinct venues opening each week. Each will exhibit a different work. 

Fantastic Voyage Digest Video

Presale tickets for Fantastic Voyage, Prototype II, a performance taking place at the second venue, went on sale on October 21. The prototype was created as a device for 'imagining the isolated future,' and shows a transparent capsule traveling through space. The thirty-minute performance will surround viewers with sounds and images and is sure to dig deep into the psyche. 

An exclusive VIP plan will be available on October 30 and 31 and is reserved for only two groups per day. Those who can afford the ¥80,000 per person ticket price can enjoy a luxurious Halloween buffet at the Conrad Osaka hotel. Each scrumptious sweet was designed by Masuda himself, and VIP guests can also tour rooms where his works are displayed. Masuda will accompany visitors to directly explain his works, so the cost might be worth it!

Information

Yes, Kawaii Is Art 

Details: https://sebastianmasuda.com/works/osaka/

1st Showing – kagoo (General reception and ticket office)

Featuring 'Colorful Rebellion -Seventh Nightmare– and more 

Running: October 30 – November 21, 2021 (Closed Mondays and Tuesdays, and November 17)

Hours: 12:00-18:00

Address: 5-4-19 Kitakagaya, Suminoe-ku, Osaka

2nd Showing – Oto Building

Featuring 'Fantastic Voyage, Prototype II'

Open: November 5, 6, 7, 12, 13, 14 at 13:00, 15:00, and 17:00 (Only 17:00 on November 14)

Address: 5-5-1 Kitakagaya, Suminoe-ku, Osaka

Details: https://voyage-osaka2021.peatix.com/

3rd Showing: Chidori Bunka

Featuring 'Colorful Rebellion -WORLD TIME CLOCK– and more

Open: November 12 – 21, 2021 (Closed Monday, Tuesday, Wednesday) 

Hours: 12:00-18:00

Address: 5-2-28 Kitakagaya, Suminoe-ku, Osaka

6%DOKIDOKI Fashion Show 'Colorful Riot'

Date: November 14, 2021 from 15:00-16:00

Address: At 1st Showing location's Free Area

 "Yes, Kawaii is Art" VIP Plan

Yes, Kawaii is Art VIP Plan Including Conrad Osaka Halloween Buffet

Price: ¥80,000 per person (Tax Included, limited to two groups per day) 

Dates: October 30 & 31, 2021

Hours: 14:30-18:30

Private Art Tour Plan for Groups and Businesses

Price: ¥200,000 (Tax Included) 

Dates: November 6, 7, 10, 11, 12

Hours: Morning Group 10:00-12:00 / Evening Group 18:30-20:30

VIP Plan Details/ Reservations: https://forms.gle/BMjMHb9jr6RMZg1G7

Masuda Sebastian is Spreading KAWAII Culture with these Commemorative Events

Artist Masuda Sebastian, a leading figure in Japan's KAWAII culture, is celebrating his 30th year of activities this year. His works express KAWAII from a variety of perspectives, taking the world by storm and creating a new KAWAII culture with new values. His store 6%DOKIDOKI opened in Harajuku in 1995, and Masuda has since been working as an art director, spreading KAWAII culture throughout Japan and across the world. 

He has also been in charge of the art direction and costumes for Kyary Pamyu Pamyu's music videos since her debut in 2011, often featuring 6%DOKIDOKI pieces. The combination of art and music captured the imagination of fans across the globe, inviting them into their world of music.

 

 

To commemorate his anniversary, fans will be able to experience his artwork, both past and present, at a variety of special KAWAII events. 

Be sure to check out these unmissable events and exhibitions!

 

【SPOT】Masuda Sebastian and 6%DOKIDOKI 1995→2021

Duration: Until October 3 2021

 

Masuda Sebastian opened 6%DOKIDOKI in Harajuku back in 1995. To commemorate the 26th anniversary since it's opening, a limited pop up shop has opened in Shibuya PARCO to celebrate the brand's history. Here you can find posters featuring designs from the 90's alongside modern 6% products. 

 

Details: https://www.moshimoshi-nippon.jp/ja/498415

【SPOT】MORI ART MUSEUM – Masuda Sebastian Pop Up Store

Duration: Until October 17 2021

A pop up shop from Masuda Sebastian's art brand, Sebastian Masuda ART. The shop will stock the latest goods from the brand, alongside a selection of art pieces. The store will be opened in TOKYO CITY VIEW on the 52nd floor of the Roppongi Hills Mori Tower, which is also hosting the 'Sanrio Exhibition: 60 Years of Japanese Kawaii History,' where you can view Masuda Sebastian's 'Unforgettable Tower' art piece. 

Details: https://www.moshimoshi-nippon.jp/ja/499990 

 

【SPOT/FOOD】Masuda Sebastian x Conrad Osaka Second Collaboration

Duration: October 31 2021 

Masuda Sebastian has worked closely with Conrad Osaka's executive pastry chef Jimmy Boulay to create a limited-time Halloween sweets buffet. Why not treat yourself to a colorful sweets party this Autumn, packed full of seasonal ingredients?

Details: https://www.moshimoshi-nippon.jp/ja/492445 

【SPOT】Yes, Kawaii Is Art

Duration: November 12 ~ November 21 (closed Monday,  Tuesday, Wednesday) 

A Masuda Sebastian art exhibition hosted in Kitakagaya, Osaka's City of Art. Here you can experience his artwork while discovering the "KAWAII" that has influenced the world and sparked new ideas.

Details: https://www.moshimoshi-nippon.jp/503083

【BOOK】Masuda Sebastian's Artworks PAINT IT, COLORFUL

 Published in 2020, this is Masuda's first artbook. It compiles a variety of his works, including those from Kyary Pamyu Pamyu's PONPONPON and Fashion Monster music videos, the KAWAII MONSTER CAFE restaurant, and Sanrio Puroland's Miracle Gift Parade. Dive into Masuda Sebastian's world with this colorful book which showcases all his art from around the world. 

 Details: https://www.moshimoshi-nippon.jp/ja/345928 

 

【SPOT】Future Peace Nursery

Masuda Sebastian was the visual producer for this nursery which opened in Sendagaya in June 2019. The community contribution project was headed by childcare facility developer Edulead and ASOBISYSTEM, which fosters and spreads Japanese culture. Masuda's colorful design creates a bright and charming space, ideal for nurturing children's growth. 

Details: https://www.moshimoshi-nippon.jp/ja/223582 

TEXT:Natalie(MOSHI MOSHI NIPPON)

Masuda Sebastian Exhibition "Yes, Kawaii is Art' Held in Kitakagaya, Osaka's City of Art

Artist Masuda Sebastian will be holding the 'Yes, Kawaii is Art' exhibition in Osaka and Kyoto. The exhibition will be starting in Kitakagaya, Osaka's City of Art, held between October 30 and November 30.

 

The exhibition explores the current state of 'Kawaii,' a keyword which has influenced the world, along with a selection of Masuda Sebastian's works.

In 2020, Masuda started conversations with Kawaii communities across the globe to light up the world with vivid colors following the pandemic. What is Kawaii? Why does Kawaii surpass borders, generations, and gender, as the community moves onwards? This exhibition investigates the depths and new possibilities that Kawaii offers, through the works of Masuda Sebastian and his activities as an activist. 

 

Special Focus

Venue 1: Japan's First Colorful Room Exhibition


The first venue features a full-room installation titled 'Colorful Rebellion Seventh Nightmare.' 

The piece was first released in 2014 and was created as a self-portrait representing the seven deadly sins. Following its first exhibition in Chelsea, New York, it has since been exhibited in Florida's Young at Art Museum, Milano's Milano Salone, Amsterdam's Tropenmuseum, and Antwerp's Museum aan de Stroon. This will be the first exhibition of this work in Japan.

Second Venue: An Experience Based on the Artist's Memories

The second venue features the experience-type exhibit, 'Fantastic Voyage.' The piece, which was originally shown for just three days in Tokyo during February 2021, has been reworked and will be exhibited once more. The art reflects the current world, where everything is rapidly changing due to the Covid pandemic. 

A transparent capsule drifts through space, travelling through a world studded with snippets of sound and words. Both the guest experiencing this world and the person within the capsule are experiencing the same time together without exchanging words. It is the concept and prototype of "a device that imagines the future in an isolated world." The performance lasts for 30 minutes, reaching deep into the viewer's senses.

Venue Three: Harajuku's Famous World Time Clock is Revived in Two New Forms


The third venue features the famous 'Colorful Rebellion -WORLD TIME CLOCK-,' a piece which was beloved by the city of Harajuku since its unveiling in 2015, remembered by tourists from all over the world. The original 2015 world clock, which was displayed on the streets of Harajuku, has been reconstructed while retaining the original faded materials. The 2019 version, which was made based on the colors of the original world clock, will also be displayed. 

 

The Tokyo exhibition was expected to open in September 2021 but was postponed due to Covid-19. Details for the new exhibition dates will be announced in the future. 

 

"I want to see the future of Kawaii. That is why I cannot stop creating; that is what drives me." – Masuda Sebastian. 

Information

 "Yes, Kawaii is Art"

First Venue – kagoo: 5-4-18 Kitakagaya, Suminoe-ku, Osaka

Duration: October 30 ~ November 21 2021 (Closed Sunday and Tuesdays, closed on November 17.)

Opening Hours: 12:00 ~ 18:00

 

Second Venue: 5-5-1 Oto Building, Kitakagaya, Suminoe-ku, Osaka

Duration: November 5, 6, 7, 12, 13, and 14, 2021

Opening Hours: 13:00 ~ 14:00 / 15:00 ~ 16:00 / 17:00 ~ 18:00 (*Only open between 17:00 ~ 18:00 on November 14.)

 

Third Venue: 5-2-28 Sendori Bunka Hall, Kitakagaya, Suminoe-ku, Osaka

Duration: November 12 ~ November 21 (Closed on Monday, Tuesday, Wednesday)

Opening Hours: 12:00 ~ 18:00

Official Site: https://sebastianmasuda.com 

Adorable Menu Items From Sapporo's Rilakkuma & Sumikko Gurashi Festival Revealed

The cute characters from Rilakkuma and Sumikko Gurashi are coming together in a new event being held at Sapporo Factory in Hokkaido! The Rilakkuma & Sumikko Gurashi Festival is now underway, and we've some new details to share about the goodies fans can expect. 

Guests attending the event will be greeted by their favorite characters at the entrance, and through the doors, tons of events will be underway! A collection of special goods and memorable photo spots will also leave fans of both series starstruck. 

Rilakkuma & Sumikko Gurashi Gelato: ¥750 each / Sally's Cupcake (Located on 2F) 

Relaxing and Restful Rilakkuma Chocolate Baumkuchen (2 piece set) / Haus Von Frau Kurosawa (Located on 2F)

Rilakkuma & Sumikko Gurashi Festival Cup: ¥900 each

Enjoy a ton of delicious and adorable original sweets and drinks, served in original cups made for the event! All items are available for takeout. 

For each eligible food or drink item purchased, a special magnet featuring a brand-new illustration will be gifted to guests at random. 

Godfather of Kawaii Sebastian Masuda Celebrates 30 Years in Showbiz with Pop-Up Shop at Roppongi Hills

Sebastian Masuda is a powerhouse of all things cute. From starting the popular Harajuku-based brand 6%DOKIDOKI in 1995 to creating the now-legendary music video for Kyary Pamyu Pamyu's PONPONPON, Masuda is now celebrating 30 years in the industry. An exhibition of the artist's works will be shown in an upcoming exhibition in both Tokyo and Osaka from Fall 2021 until 2022. Prior to that, a Sebastian Masuda pop-up shop is coming to Roppongi Hills and Shibuya PARCO starting this month!

From September 23 until October 17, the art goods brand Sebastian Masuda ART will hold a pop-up shop within the Mori Art Museum Shop on the third floor of Roppongi Hills West Walk. In addition to the latest art goods, including the brand-new 'Inner Voyage' series, a number of Masuda's colorful art pieces will be on display, with some being for sale. 

When visiting Roppongi Hills, don't forget to head up to the 52nd floor for the 60th Anniversary Sanrio Exhibition: The Beginning of Kawaii, running from September 17 until January 10, 2022. Sebastian Masuda's work 'Unforgettable Tower' will be on display when entering the event, while the Tokyo City View store will be selling some of the artist's products! Basically, both the 3rd and 52nd floors will be nothing but kawaii. 

Mori Art Museum Shop

Stickers: ¥550 – ¥2,860 (Tax Included)

 Inner Voyage T-Shirt: ¥7,480 (Tax Included)

Microcosmos -Tattoo Pink & Me-   

Sebastian Masuda & 6%DOKIDOKI 1995→2021

Mesh Top:  ¥10,450 (Tax Included)

Long Sleeve T-Shirt: ¥8,250 (Tax Included)

DOKI DOKI Earrings: ¥4,290 (Tax Included) / Logo Plate Necklace: ¥7,590 (Tax Included) / 6% Logo Pochette: ¥6,050 (Tax Included)

Charm Pouch – Kawaii Company: ¥2,860 (Tax Included) / Sebastian Masuda STUDIO COLOR PALETTE: ¥4,400 – ¥2,860 (Tax Included) Felissimo

The Sebastian Masuda & 6%DOKIDOKI 1995→2021 event will be held from September 17 to October 3 at Hobonichi CultureN, located inside Shibuya PARCO. Guests will be able to look back at the 26-year history of the 6%DOKIDOKI brand. 

2021, much like 2020, has lost a lot of it's brightness due to the ongoing pandemic. Why not surround yourself with some kawaii goods to raise your spirits? 

Information

Sebastian Masuda Pop Up Store

Running: September 23 – October 17, 2021

Address: Mori Art Museum Shop (Roppongi Hills West Walk 3F,  6-10-1, Roppongi, Minato-ku, Tokyo)

Details: https://art-view.roppongihills.com/jp/shop/

Sebastian Masuda & 6%DOKIDOKI 1995→2021

Running: September 17 – October 3, 2021

Address: Hobonichi CultureN (Shibuya PARCO 4F, 15-1 Udagawa-cho, Shibuya-ku, Tokyo)

Rilakkuma, Other Popular Bear Characters to Assemble at '#Kumafes in Ginza Mitsukoshi'

The '#Kumafes in Ginza Mitsukoshi' event will be held at the Ginza Mitsukoshi New Building 7F between September 15 and September 27. San-X have announced that a Rilakkuma will be participating with merchandise available to purchase at the event.

Rilakkuma Store Nagoya / Ueodai Store: Oda Nobunaga Plush: ¥1,848 (Tax Incl.)

Rilakkuma Store Abeno Q's Mall: Kushikatsu Wrapped Rilakkuma: ¥1,518 (Tax Incl.)

Rilakkuma Store Kansai: Rilakkuma with Takoyaki & Sauce : ¥1,738 (Tax Incl.)

Limited Edition Kusatsu Souvenir Onsen Rilakkuma: Kusatsu In-The-Onsen Rilakkuma: ¥2,200 (Tax Incl.)

Limited Edition Miyajima Teahouse Rilakkuma: Even Though He's a Deer, He Still Carries Momiji Manju Rilakkuma: ¥2,420 (Tax Incl.)

Rilakkuma Store Sabou: Lucky Cat Korilakkuma: ¥2,420 (Tax Incl.)

Soft & Fluffy Rilakkuma Plush: ¥4,400 (Tax Incl.)

Dangling Korilakkuma Plush: ¥2,200 (Tax Incl.)

Plush Rilakkuma Pouch: ¥2,200 (Tax Incl.)

A huge collection of regional and limited edition Rilakkuma products  will be available at the event, including items from regional Rilakkuma stores, Rilakkuma Onsen/Teahouse collaborations, and "Rilakkuma & Kaoru-san" items, so don't miss out!

 

©2021 SAN-X CO., LTD. ALL RIGHTS RESERVED.

'Rilakkuma & Sumikko Gurashi Festival' Photo Event Starting in Sapporo

The 'Rilakkuma & Sumikko Gurashi Festival Commemorative Photo Event' will be held between September 17 and November 28 2021 on the third floor of the Sapporo Factory San Jō-kan Building.

 

After enjoying yourself at the joint event, you can take some commemorative photos with Rilakkuma and the Sumikko's, who will be wearing new costumes especially for this event! 

October 9: 11:00/ 13:00/ 15:00/ 17:00 (Approx. 30 slots) (Each session lasts approx. 30 minutes)
Featured Characters: Korilakkuma and Tokage


October 31: 11:00/ 13:00/ 15:00/ 17:00 (Approx. 30 slots) (Each session lasts approx. 30 minutes)
Featured Characters: Chairokoguma and Neko

Weekday Limited Admission Freebies: 'RilaSumi Festival' Original Bookmark (Selected from 8 random designs: Rilakkuma & Kiirotori, Korilakkuma, Chairokoguma, Shirokuma, Penguin?, Tonkatsu & Ebifurai no Shippo, Neko, Tokage)


Don't miss out on this limited time opportunity! 

Information

'Rilakkuma & Sumikko Gurashi Festival'  Sapporo

Duration: September 17 ~ November 28, 2021

Closures: Every Thursday (excluding September 23)

Opening Hours:

Weekdays: 13:00 ~ 17:00(September 17 opening hours 10:00 ~ 17:00)

Weekends, Holidays: 10:00 ~ 17:00 ※Admissions close at 16:30

Location: Sapporo Factory San Jō-kan 3F

Address: 4-chome, Kita 2 Johigashi, Chuo Ward, Sapporo

Ticket/Event Information: https://www.ntv.co.jp/rilakkuma-and-sumikko-fest/ 

Official Twitter:  https://twitter.com/rk_sumikko_fest (@rk_sumikko_fest)

 

Commemorative Photo Spot Location: Sapporo Factory Event Space

Lottery Appilcation Period: September 1 ~ September 26 at 23:59

Details & Application Info: http://www.stv.jp/event/rilakkuma-and-sumikko-fest/photo.html 

Maison de FLEUR to Release Second Rilakkuma Collection

Popular Japanese accessories brand Maison de FLEUR is releasing a new collection of grown-up Rilakkuma-inspired goods, the second such collaboration for the brand. All goods will go on sale September 10 at Maison de FLEUR shops online, and at the STRIPE CLUB Online Store.

Goods

Square Tote Bag: ¥4,389 (Tax Included)

Rilakkuma & Kiiroitori Frilly Tote Bag: ¥5,489 (Tax Included)

Korilakkuma & Chairoikoguma Frilly Tote Bag: ¥5,489 (Tax Included)

Rilakkuma & Kiiroitori Tissue Case: ¥3,949 (Tax Included)

Korilakkuma & Chairoikoguma Tissue Case: ¥3,949 (Tax Included)

Rilakkuma Card Case: ¥4,059 (Tax Included)

Korilakkuma Card Case: ¥4,059 (Tax Included)

Kiiroitori Card Case: ¥4,059 (Tax Included)

Chairoikoguma Card Case: ¥4,059 (Tax Included)

Rilakkuma Bag Charm: ¥2,750 (Tax Included)

Korilakkuma Bag Charm: ¥2,750 (Tax Included)

Kiiroitori Bag Charm: ¥2,750 (Tax Included)

Chairoikoguma Bag Charm: ¥2,750 (Tax Included)

Lining Design

Maison de FLEUR released their first collection of Rilakkuma-inspired goods last year, focusing on the character Korilakkuma. Many of the goods sold out instantly, and restocks were necessary to keep up with demand for these adorable items. This new collection focuses not only on the popular Korilakkuma, but on Rilakkuma, Kiiroitori, and the honey-loving Chairoikoguma.

This limited-time collaboration features tote bags, tissue cases, card cases, and bag charms, for a total 0f 15 different products to collect. Each features these popular San-X characters adorned with the quintessential Maison de FLEUR ribbon. The tote bags are large and spacious, while the tote bags bring a more adult flair to those wanting a touch of playfulness in their wardrobe.

Which of these fluffy goods is on your wishlist?

Information

Maison de FLEUR x Rilakkuma

Release Date: September 10, 2021

Where to Buy: Maison de FLEUR locations nationwide,

STIPE CLUB Online store: https://stcl.page.link/FyQy

*Also available at some Rilakkuma Store locations and the San-X Online Shop: https://shop.san-x.co.jp/

Sanrio 60th Anniversary Event Reveals Collaboration Cafe Menu

One of the most popular franchises to come out of Japan is celebrating a massive milestone! The Sanrio Exhibition: 60 Years of Kawaii Culture in Japan will be held on the 52nd floor of the Roppongi Hills Mori Tower starting September 17. The event will feature over 800 unique character products, the largest number in Sanrio history, and will allow guests to experience the charm and wonder of one of the most well-known parts of Japan's 'kawaii' culture.

Special light effects have been added to the 'Godfather of Kawaii' Masuda Sebastian's unique entrance art, titled "Unforgettable Tower." Singer and actor Aoi Shouta acts as the audio guide for the exhibition.

Comment from Aoi Shouta / Audio Guide

"I'm excited to experience the history of Sanrio together with you as the audio guide for the exhibition. I'm also incredibly honored to be a part of this project, since I've been a fan of Sanrio for as long as I can remember. Please enjoy this time with your favorite characters!"

Comment from Sebastian Masuda / Designer of the "Unforgettable Tower" 

"Sanrio characters and goods exist in a far corner of everyone's memories. For a long time, this was specifically a Japanese feeling. Now, it's true of people all over the world. Memory is an odd thing. It can be fuzzy, and difficult to capture. However, sometimes the nostalgia and feelings remain, and I've captured this strange balance in the 'Unforgettable Tower.' The Sanrio exhibition is a journey to undertake along with your own memories. I invite you to let your thoughts wander as you gaze at this work of art, and pass through the entrance gate of the exhibition."

Collaboration Menu & Photo Spot

Left: My Melody Curry with Winter Vegetables and Pork Cutlet: ¥1,580 / Middle: Pochakko's Pumpkin Stew: ¥1,520 / Right: Hello Kitty's Whole Apple Waffle: ¥1,380

Left: Pochacco's Hot Strawberry Milk: ¥1,050 / Middle: Pom Pom Pudding in a Pudding Shake: ¥1,080 / Right: Cinnamoroll's Balloon Trip: ¥1,100

The restaurant and cafe THE SUN AND MOON is located on the same floor as the exhibition, so be sure to get these delicious treats when you visit!

Left: Halloween, September 17 – October 31 / Middle: Christmas, November 1 – December 20 / Right: Anniversary, December 27 – January 10

Seasonal afternoon tea will be available during each special event period.

Restaurant Photo Spot Image

*画像はイメージです
© 2021 SANRIO CO., LTD. APPROVAL NO. SP610376

The walls of this red retro restaurant are covered with images of popular characters, making it the perfect place to snap some commemorative photos. Each photo spot will change depending on the holiday season, so don't miss the Halloween, Christmas, and Anniversary backgrounds!

Original Merchandise

Left: Square Acrylic Keychain: ¥1,210 (4 designs) / Middle: Triple Acrylic Keychain: ¥1,210 (4 designs) / Right: Bag: ¥1,650 (4 designs)

Guests can grab over 100 original items, with both modern and vintage designs.

Rilakkuma Becomes Tourism Ambassador for Tokyo's Chiyoda City, New Goods Available

On August 18, 2021, an official inauguration ceremony was held in Chiyoda City, Tokyo, to appoint SAN-X's lazy and loveable bear Rilakkuma as the new tourism ambassador for the locale. To celebrate the new partnership, some special merchandise will also be released.

Collaboration Merchandise

Clear Folder: ¥300 (Tax Included) Release Date: August 19

Labels (2 designs per pack): ¥350 (Tax Included) Release Date: September 16

Ballpoint Pen: ¥600 (Tax Included) Release Date: October 8

Chiyoda City contains many of Tokyo's most visited attractions, such as the Imperial Palace, Hibiya Park, the National Museum of Modern Art, and beloved concert hall the Budokan. Many government agencies are also located within its borders, and anime fans will recognize Akihabara, an area specializing in Japanese popular culture.

SAN-X, the company behind Rilakkuma and his friends, is headquartered in Chiyoda City. The area hopes to use the globally-loved characters to convey the charm of Chiyoda to younger generations and families alike. The catchphrase for the campaign is "Let's take a detour and relax in Chiyoda."

How would you like to visit Chiyoda?


 

©2021 SAN-X CO., LTD. ALL RIGHTS RESERVED.

Information

Chiyoda City Tourism Association x Rilakkuma Collaboration Goods

Where to Buy: Chiyoda City Tourist Information Center (at Chiyoda City Tourism Association)

Hours: 10:00-18:00 (Closed on the 4th Sunday of every month and during New Year's holidays.)

Official Site: https://visit-chiyoda.tokyo/rilakkuma/