Celebrate Hello Kitty's 45th Anniversary at the Hello Kitty Collection Exhibition in Chiba
Lovers of Sanrio and all things Hello Kitty won't want to miss the 45th Anniversary Hello Kitty Collection Exhibition currently being held at Sogo Chiba until August 15.
The event look backs at the kawaii history of Hello Kitty with a huge range of old and new merchandise. There's also photo spots for taking cute photos, a wall of Hello Kitty plush toys, touch interactive digital videos, and much more.
If you're looking to stock up on your collection of Hello Kitty merch then you have around 850 items to choose from including goodies exclusive to the event, pre-sales of items to be released at a later date, and more. There's even a pottery workshop as well as a chance to take your photo with the real Hello Kitty.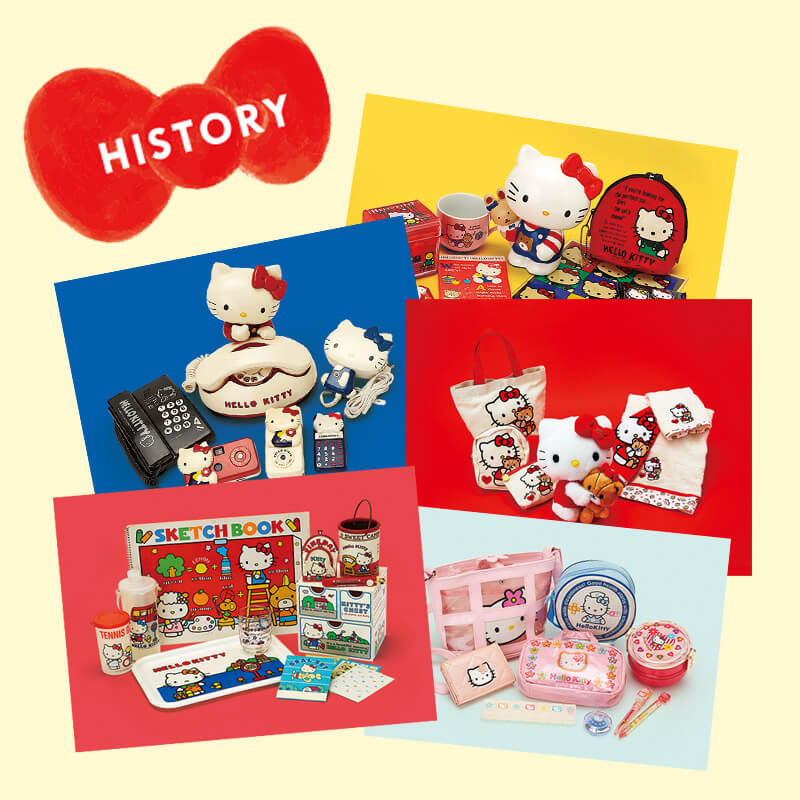 Kawaii Chronicles: Hello Kitty Design Museum
Get ready to witness a wide selection of Hello Kitty goods from across generations, including rare and vintage items no longer manufactured. Witness the history of Hello Kitty's kawaii world and how things changed through the years to fit each generation.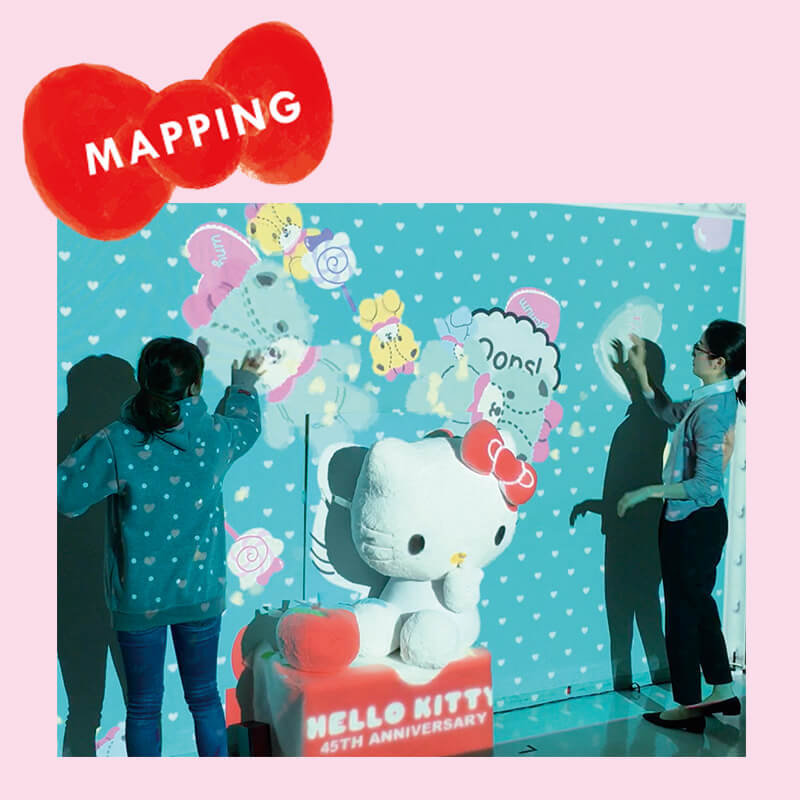 Digital Content & Plush Toy Wall
Get interactive with Hello Kitty with the wall mapping – touch the wall and see the visuals change. There's also another wall completely full of Hello Kitty toys which makes for a really cute photo opportunity.
Photo With Hello Kitty
Hello Kitty will be present on August 12 in a beautiful kimono ready to have her picture taken with you! Tickets will be handed out 30 minutes before each session. Spaces are limited so make sure you're on time!
Date: August 12, 2019 at 11:00/13:00/15:00
Location: Floor 6F Event Hall
No. of People: 20 per shoot
Workshop
Paint your very own ceramic Hello Kitty ornament. You colouring it means that yours will be unique and the only one in the world♡
Running: August 7, 2019 – August 15, 2019
Time: 11:00-16:00
No. of People: 30 per day
Price: ¥1,296
Hello Kitty Kawaii Market
Get your hands one one of 850 pieces of Hello Kitty merchandise from plush toys to stationery, interior items and more. Many of these items are exclusive to the exhibition.
Mascot Holder – ¥1,728 (400 Available – 1 Per Person) / Acrylic Key Ring – ¥648 / Mug – ¥1,080 / Hand Towel – ¥756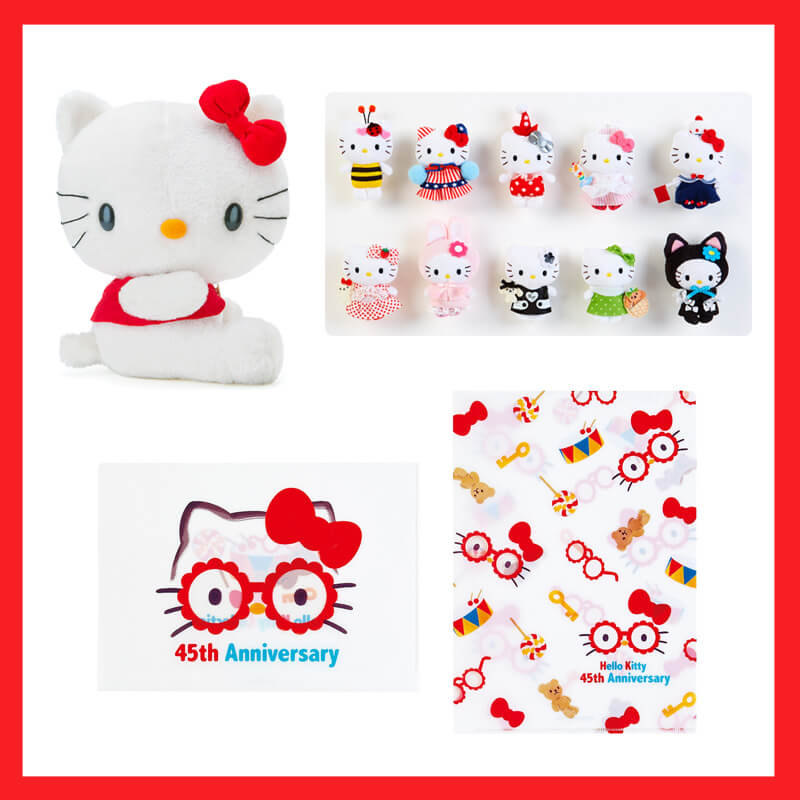 Replica Classical doll – ¥17,280 / Mini Mascot Brooch (20 Designs) – ¥1,080 Each (1 Per Person) / A4 Folders (Includes 2) – ¥486
Enter the adorable world of Hello Kitty this summer and help her celebrate her 45th anniversary.
Information
45th Anniversary Hello Kitty Collection Exhibition
Running: August 7, 2019 – August 15, 2019
Time: 10:00-20:00 (Until 17:00 on August 15) *Last entries are 30-minutes before closing time
Location: Sogo Chiba Floor 6F Event Hall (1000 Shinmachi, Chuo Ward, Chiba, Chiba Prefecture)
Price: Adults & University Students ¥500 (High School Students & Younger – Free)
*Those with a disability certificate can enter the exhibition for free (including one guardian)
Sogo Chiba Official Website: https://www.sogo-seibu.jp/chiba/
RELATED ENTRIES
Hello Kitty Double Wall Glasses by GOODGLAS Are Perfect For Dessert Servings

Japanese glass company GOODGLAS re-released the red versions of its Hello Kitty double wall glasses on Friday after they sold out in just two months when they first went on sale on July 20.

Handmade Hello Kitty Double Wall Glass

Hello Kitty Double Wall Glass (Red) | ¥3,600 (Before Tax)

Glass products at GOODGLAS are all handmade and use the traditional glass blowing method.

Not just cute but practical too

Limited Edition Blue Colour

The glasses can be used for beverages too. Winter is on the horizon, so this is the perfect vessel to sip a cosy hot drink from.

Enjoy a tea break at home with Hello Kitty

限定カラーゴールド

When you pour either your hot or cold drink into the glass, Hello Kitty's face stands out even more—and depending on the beverage you pour inside, you can create different looks.

©︎1976, 2020 SANRIO CO., LTD.TOKYO,JAPANⓁ

Information

Hello Kitty Double Wall Glass Red
Re-released: October 23, 2020
GOODGLAS Japan Official Website:  https://www.r-kj.com/

Sanrio Themed Cafe Celebrates Characters' Monthly Magazine 'Ichigo Shimbun'

Sanrio is once again collaborating with the EGG & SPUMA cafe located on the 8th floor of Shinjuku Lumine EST to celebrate the 45th anniversary of Ichigo Shimbun, a monthly magazine published by Sanrio which includes information about the latest character merchandise, the Sanrio Character Awards, and more. The limited-time cafe will run from November 1, 2020 to late January 2021.

Sanrio fans can expect a very special menu line-up of food, drinks, and desserts based on their favourite characters from the Sanrio roster.

There will in fact be two different menus served on separate occasions. The first menu will welcome a soufflé omelette topped with a potato salad Pochacco while the second will see an adorably pink My Melody cream stew.

There will also be an incredibly cute two-tiered afternoon tea set with desserts and savoury items.

For drinks, there is a Hello Kitty strawberry milk, Cinnamoroll milk, and milk caramel pudding Pompompurin.

© 2020 SANRIO CO., LTD. APPROVAL NO. L613344

And everyone who orders from the collaborative menu will receive one of eight possible coasters as thanks for visiting.

Information

Ichigo Shimbun 45th Anniversary CAFE
Location: EGG & SPUMA, Shinjuku Lumine EST Floor 8F, 3-38-1 Shinjuku, Shinjuku Ward, Tokyo
Running: November 1, 2020 – Late January 2021

Opening Hours: 11:00-21:00 (Last Orders)

TEL: 03-6273-0255
Official Website: http://salt-group.jp/shop/egg-spuma/

Japan's Elephant Zoo Ichihara Elephant Kingdom to Receive Revamp For Spring 2021

Ichihara Elephant Kingdom is the home to the largest number of elephants in Japan. The zoo has announced major renovations set for completion next spring which will allow for the elephants to live an even more enjoyable life.

Ichihara Elephant Kingdom is located in central Chiba and is home to 12 elephants. It's also home to around 80 other species of animals like red pandas, beavers, capybaras, hippos, and more. The zoo also has a variety of attractions, like the Elephant Ride which sits behinds where the elephants live, and the Elephant Lift where you can ride up and down an elephant trunk. The Head of  Ichihara Elephant Kingdom, Sayuri Sakamoto, served as the writer for the 2005 Japanese drama film Shining Boy & Little Randy. One of the zoo's Asian elephants, Randy, was also a model for the film.

The renovations will introduce a new home for the elephants as the current one is seeing wear over time, as well as a new large-scale pond for the elephants to play in, a playground, and more. The zoo has always ensured a safe distance between visitors and the elephants so people can enjoy watching them will making sure the elephants stay happy. It is now creating new spaces to continue that service.

The water pond the zoo is building for the elephants is called Elephant Splash, and they are launching a crowdfunder on October 27, 2020 to ask for people's help with funding the project. It will allow a new space for the elephants to play which visitors are sure to enjoy too, like seeing the 1- and 2-year-old Ramu and Momoka splashing around.

The crowdfunding project has nine different tiers including tickets to an evening cherry blossom party at the park, a chance to ride the elephants, and more. The campaign will end on January 15, 2021, the same date as Ramu's birthday.

Information

Ichihara Elephant Kingdom

Opening Hours: 10:00-16:00 (Last Entries 15:00)

Access

Car:
About 5 minutes from Ichihara-Tsurumai interchange of Ken-O Expressway

Highway-Bus:
About 65 minutes from Tokyo station,
About 80 minutes from Yokohama station,
About 35 minutes from Haneda airport
to Ichihara-Tsurumai Bus Terminal.
About 5 minutes by our free shuttle bus from Ichihara-Tsurumai Bus Terminal.

Train:
About 10 minutes from Takataki station of Kominato railway by the zoo's free shuttle bus.

Official Website: http://www.zounokuni.com/english/

Lipton Tea Announces Hello Kitty Collaboration With Cute Yellow Label Designs

Tea brand Lipton has announced its first-ever collaboration with popular Sanrio character Hello Kitty to release limited-edition designs of its Yellow Label tea in Japan. The tea will hit shelves in Japan this December.

Teabag design

Join Hello Kitty for a cup of tea with her first ever tie-up with Lipton, a company that has been sipped for 130 years. Hello Kitty is donning a cute teacup hat, a design made exclusively for this collaboration, which features on the packaging as well as the teabag packs.

The packs will be sold at major supermarkets and elsewhere in Japan this winter from December. And to celebrate Tea Day in Japan, as well as Hello Kitty's Birthday—both of which fall on November 1—select items in this new tea range will be released early at the end of this month at Sanrio.

Lipton Japan will also post the first chapter of an original 4-panel Hello Kitty comic on its Twitter page in early November. The cute comic will be centred on Hello Kitty enjoying her cup of tea.

Information

Lipton Yellow Label Hello Kitty Design (25 Bags)

Price: ¥300

Lipton Yellow Label Hello Kitty Design (50 Bags)

Price: ¥500

Lipton Japan Official Website: http://www.lipton.jp/

Tokyo's Mickey Mouse Exhibition 'THE TRUE ORIGINAL & BEYOND' Previews 5 Japanese Artworks

The Asahi Shimbun and Nippon TV are set to host an exhibition centred on Mickey Mouse at the MORI ARTS CENTER GALLERY in Roppongi, Tokyo, from October 30, 2020 to January 11, 2021, in celebration of 90 years since Mickey Mouse's screen debut. The exhibition will showcase works shown at the Mickey: The True Original Exhibition held in New York in 2018-2019.

Before the exhibition opens, five participating Japanese artists have each revealed their never-before-seen artworks which will be on display.

The Tokyo exhibition will be a travel back through time, looking at Mickey Mouse from the past to the present. It will be split into three zones: "The Origin," "The True Original," and "Beyond." The five artists showcasing their work early will be featured in the "Beyond" zone and include Tomoko Oshima, Kosuke Kawamura, Nana Soeda, Calligrapher MAMI, and WAKU. Below are their featured pieces along with their comments.

Tomoko Oshima | Comment

"What's fascinating about Mickey Mouse is, for reasons I can't begin to work out, how he became a part of each person's life. I was raised in a household that banned cartoon characters, so it always felt like something unobtainable. Mickey Mouse is like a hero to all of us. He's dazzling and radiant, a kind of being I can't look directly in the face of. When working on my Mickey Mouse art [for the exhibition], my concept was to create a Mickey that's special only to me, so I challenged myself to turning that Mickey Mouse that everyone feels happy looking at and loves into my usual art style."

Oheya (Bedroom), Tomoko Oshima

Kosuke Kawamura | Comment

"What I find fascinating about Mickey Mouse is that no matter how old I get, he always transports me away from the real world to a world of dreams. He's an idol of mine. I even have my own collection of merchandise I've been collecting over the years. For the exhibition, I needed to creating something for the Beyond [zone], so I tried shaping Mickey Mouse from how I see him in my head. I've always made sure to balance my artwork in such a way that it can be seen in two ways. When you stand close, you can see the detailed composition, but when you step away, it looks different. This time around I gave myself a little challenge and made the silhouette of his face and hands using flowers. If you get close to it you'll see that it's made up of lots of flowers, but stand from afar and you'll be able to see the facial expressions and his pointing figure. I'd like people to give both a go, so when you've looked at it up close then take a step back."

Untitled, Kosuke Kawamura

Nana Soeda | Comment

"I feel Mickey Mouse's appeal from his long history and how he has changed overtime, so I tried to express these aspects in the piece I made. The theme for it is centred on Mickey Mouse in the future, so when I was thinking about what he might look like in the future, I looked to past [designs] and tried fixing them up. So in my piece there's a trace of looking back at past Mickey Mouse while giving him an update. Creating those 'futures' made me feel like I was walking through my own past and processes. You can't know exactly what's to come in the future even for someone as internationally popular as Mickey Mouse. But by learning from past memories and mistakes, you can draw on those to create a future, don't you think? That's something I wanted to convey in this piece, and I did so by creating something that's close to the Mickey Mouse of the past with both 2D and 3D surfaces. The Mickey Mouse I drew is the one of ages past that looks completely different to his appearance today. But those look at it might feel something newer about it than older. That, or they might feel uncomfortable seeing him in a way they're not used to. I want people to take their time looking at both and feeling whatever they feel when they do."

LOVE, Nana Soeda

Calligrapher MAMI | Comment

"I've captured Mickey Mouse's silhouette as its own kanji by using calligraphy. His appearance is iconic worldwide, and by making him recognisable through this common language, I've tried to create a new kanji, effectively breaking the language barrier of calligraphy, something which is difficult in itself to overcome for people. Another thing with calligraphy is that you can write the same piece hundreds of times which means it can be fine tuned over and over. I believe that overlaps with Mickey Mouse's design as he has too has evolved for a hundred years. But by no means have his designs he just spring out of existence immediately. He has undergone trial and error through the times, and always shines bright. It's because of everyone who will see my piece as this exhibition that I've been able to create something I can feel from the heart."

ZEN Mickey, Calligrapher MAMI

WAKU | Comment

"I think the appeal of Mickey Mouse lies in the fact that people around the world all remember him from their childhoods. We form memories during our childhoods, and ever I've been able to recognise those memories inside of me, Mickey Mouse was something that was always close to me. When I see three circles together, Mickey Mouse's face comes into my mind. He might be the first internationally recognisable symbol. I felt that the affinity between symbolism and neon signs is very high. So for my piece, I incorporated the techniques used for traditional Japanese neon signboards, something which I see less of these days. I took that and created the three Mickey Mouse circles using light."

Untitled (Still Being Worked On), WAKU

Information

MICKEY THE TRUE ORIGINAL & BEYOND
Running: October 30, 2020 – January 11, 2021

Time: 10:00-20:00

Venue: MORI ARTS CENTER GALLERY (Roppongi Hills Mori Tower Floor 52F)

Entry Price: General ¥2,800 / Junior & High School Students ¥2,000 / Elementary School Students ¥1,200 / Preschoolers – Free
Official Website: mtob.exhibit.jp

Picasso's Ceramic Works to be Displayed at Tokyo's New YOKU MOKU MUSEUM

YM House is set to open the new YOKU MOKU MUSEUM in Minami-Aoyama, Tokyo, on October 25, 2020. The museum began taking bookings on October 2. It will limit the number of people allowed in the museum at once as a precaution against the spread of COVID-19 so that visitors can enjoy the works on display without worry. Tickets are available directly at the museum on the day, but since there's a capacity limit, it's recommended that visitors book online.

About YOKU MOKU MUSEUM

YOKU MOKU is a Japanese confectionery company best known for their Cigare cookies which are shaped to look like cigars. The company was founded by Noriichi Fujinawa, who maintained that "confections are creations." Toshiyasu Fujinawa, the Chairman of YOKU MOKU Holdings, will act as the Museum Director at YOKU MOKU MUSEUM where a wide selection of artworks from YOKU MOKU's collection will be displayed, including the Picasso ceramics the company has collected for over 30 years.

About the YOKU MOKU Collection

YOKU MOKU's collection boasts a comprehensive line-up of Picasso's ceramics that the artist himself made at the Madoura workshop in Vallauris. That makes the works in the collection even more prized as the ceramics themselves were shaped by Picasso's skilled hands.

The artist's passion for ceramics developed in 1947 and he worked on them at the Madoura workshop until his death in 1973. He forged everything from bowls to plates, jugs, and more.

Information

YOKU MOKU MUSEUM
Address: 6-15-1 Minami-Aoyama, Minato-ku, Tokyo

Opening Hours: 10:00-17:00 (Last Entries 16:30)

Closed: Mondays / New Year Holidays / October 26, 2020

Access: 12-minutes on foot from Omotesando Station
Bookings: https://www.e-tix.jp/yokumokumuseum/

*Information subject to change depending on COVID-19

The Promised Neverland Special Exhibition Arrives in Tokyo This December

A special exhibition centred on the popular manga series The Promised Neverland will take place at Roppongi Hills Tokyo City View in Tokyo from December 12, 2020.

The Promised Neverland is a manga series written by Kaiu Shirai and illustrated by Posuka Demizu. The series was published in Weekly Shonen Jump and concluded with its final volume on June 15, 2020.

The exhibition will explore and celebrate the world of The Promised Neverland in detail, with displays, illustrations, early conceptions, and much more. A special manga episode will also be shown.

Entrance Exhibition

A towering display of every manga book cover will be on show, spanning 6 meters tall and 17 meters across. A photo spot for fans to take pictures with their favourite characters will be placed at the entrance area. Tokyo's night sky will also provide a beautiful backdrop.

Tickets

Tickets to the exhibition will go on sale via LINE Tickets on October 5, 2020. Limited edition tickets will also be sold which comes with a special booklet. And to reduce the risk of COVID-19 spreading, visitors must book a time and date in advance when purchasing their tickets. Full details are available here in Japanese.

Merchandise & Themed Food

Fans can also get their hands on a selection of exclusive and rare merchandise. The exhibition will also open CAFE GRACE FIELD, a collaborative cafe serving up food themed on the series.

©Kaiu Shirai・Posuka Demizu / Shueisha 

Information

THE PROMISED NEVERLAND SPECIAL EXHIBITION

Running: December 11, 2020 – January 11, 2021

Opening Hours: 10:00-22:00 (Last Entries 21:30)

Location: Roppongi Hills Tokyo City View Sky Gallery

Address: Roppongi Hills Mori Tower Floor 52F, 6-10-1 Roppongi, Minato-ku, Tokyo

Exhibition Website: https://yakuneba-ten.jp/

Tokyo's TERRADA ART COMPLEX Ⅱ Welcomes 3 Modern Art Galleries

TERRADA ART COMPLEX Ⅱ, an art complex facility in Tokyo managed by Terrada, has announced the opening of three new galleries: Contemporary Tokyo, Tokyo International Gallery, and UG Gallery.

gallery UG Tennoz

gallery UG is not only celebrating its 20th anniversary this year, but opening its second-ever gallery at TERRADA ART COMPLEX Ⅱ. The gallery, like the Galerie Maeght in Paris, helps support the creation of artists' work as well as carries out various promotions and creates opportunities for the growth of young, up-and-coming artists. It aims to help expand the space of contemporary art, which it will do throughout the year at its new gallery with various exhibitions, such as solo exhibitions including one that showcases the amusement of 3D art, to more specialised exhibitions.

Contemporary Tokyo

Contemporary Tokyo takes on a more international approach by helping support Japanese artists based in Tokyo and various cities throughout China. The gallery will participate in numerous annual art fairs as well display the artworks of many contemporary Japanese artists. Looking towards the future, Contemporary Tokyo will eventually welcome artwork from Chinese artists, becoming a bridge between the art worlds of Japan and China.

Tokyo International Gallery

Tokyo International Gallery (TIG) was founded in 2019 with a mission to introduce global artists and global methods to the insular Japanese art scene. TIG wishes to to rethink the position of art in society, including environmental issues, urban planning, historical traditions, freedom of expression, and the questions and expressions that arise in the relationship between individuals and groups, subjectivity and objectivity, as well as dealing with subjects that are not framed or not actively discussed in a "borderless" manner. Its aim is to exhibit experimental works by a variety of unique artists.

TERRADA ART COMPLEX Ⅱ plans to open around 10 galleries by spring 2021 as well as a cafe and garden. TERRADA ART COMPLEX Ⅰ, which opened in September 2016, currently has 6 galleries which are also a must-see together with the upcoming new ones.

Information

TERRADA ART COMPLEX
TERRADA ART COMPLEX Ⅰ, 1-33-10 Higashishinagawa, Shinagawa-ku, Tokyo
TERRADA ART COMPLEX Ⅱ, 1-32-8 Higashishinagawa, Shinagawa-ku, Tokyo
Access: 8-minutes on foot from Exit B of Tennōzu Isle Station via the Rinkai Line / 11-minutes on foot from the Central Exit of Tennōzu Isle Station via the Tokyo Monorail Haneda Airport Line

Official Website: https://terrada-art-complex.com/ja/

Creamy Mami and Kimagure Orange Road Manga Artist Akemi Takada Gets Exhibition in Okayama

Kurashiki City Art Museum is now holding an exhibition dedicated to Japanese manga artist and character designer Akemi Takada. Titled TAKADA Akemi Exhibition: Angel Touch, the exhibition is set to run until November 8, 2020.

Akemi Takada majored in graphic design at Tama Art University. After graduating, she entered the world of animation where she learned character design working for the Japanese animation company Tatsunoko Production. She went on to design characters for a range of popular anime series such as Creamy Mami, the Magic Angel, Kimagure Orange Road, Patlabor, and more. Today, she works as an illustrator as well as a designer for book covers.

Angel Touch ©TAKADA Akemi


Creamy Mami, the Magic Angel ©Pierrot

The exhibition introduces original pictures of famous anime characters and Takada's illustration work. Though solo exhibitions have been held many times for her in both Japan and abroad, this hails as one of the largest exhibitions ever with 200 drawings. Fans will also get to see new works as well which were drawn for the exhibition.

Kimagure Orange Road ©Izumi Matsumoto / Shueisha・Nippon TV・Toho


Creamy Mami, the Magic Angel 2

Hello Kitty Collaborates With Japanese Ramen Restaurant Kourakuen

Kourakuen Holdings Corporation launched a collaboration campaign together with Sanrio's popular character Hello Kitty on September 26 which is set to run to October 25.

Hello Kitty takes over Kourakuen

For the duration of the collaboration, the Roppongi and Dogenzaka branches of Kourakuen will be decorated in all things Hello Kitty

Free folder with child meal sets

A free and exclusive A4 size folder will be given to all who order the children's meal set. This is available at select branches only and the folders are limited in stock.

Kourakuen original merchandise

Kourakuen x Hello Kitty Soy Sauce Plate | ¥200 (Tax Included)

Kourakuen x Hello Kitty Folder | ¥100 (Tax Included)

A special line-up of original and exclusive merchandise will also be sold at all Kourakuen branches including soy sauce plates, folders, and more.

Review: Tokyo Disneyland's New Big Hero 6 Attraction and Minnie's Style Studio

Tokyo Disneyland® is set to open its all-new Beauty and the Beast area of the park tomorrow on September 28, 2020. It's opening in line with the new Big Hero 6 attraction, Minnie Mouse area where guests can meet Minnie, and the park's new popcorn shop.

MOSHI MOSHI NIPPON was granted early access to the news areas, so here's our review!

Check out our review of the new Beauty and the Beast area too here: https://www.moshimoshi-nippon.jp/362152

The Happy Ride with Baymax: The world's first Big Hero 6 attraction

The Happy Ride with Baymax ride has guests joining one of the personal healthcare companion robots on an exciting cart ride.

The park is limiting the number of people allowed on the attraction at once due to the pandemic. To board the attraction, guests need to download the app after entering the park.

Big Pop: Tokyo Disneyland's first popcorn shop

Tokyo Disneyland's first permanent popcorn shop opens in Tomorrowland.

This space-themed shop serves up a whole range of flavours like cookie cream, caramel and cheese, and strawberry milk. There's also four different popcorn baskets to choose form, including Big Hero 6 and Beauty and the Beast designs.

Minnie's Style Studio: Meet Minnie Mouse

This studio imagines Minnie Mouse as an international fashion designer who designs outfits, shoots photos, and more. Guests can meet Minnie Mouse at her studio if they book in advance.

©Disney

Review: Tokyo Disneyland's New Beauty and the Beast Area

Tokyo Disneyland® is set to open its all-new Beauty and the Beast area of the park tomorrow on September 28, 2020. It's opening in line with the new Big Hero 6 attraction, Minnie Mouse area where guests can meet Minnie, and the park's new popcorn shop.

MOSHI MOSHI NIPPON was granted early access to the Beauty and the Beast area – here's our review!

Check out our review of the new Big Hero 6 attraction and Minnie's Style Studio too here: https://www.moshimoshi-nippon.jp/362221

The world of Beauty and the Beast brought to life

The area connects Belle's village to Beast's castle by way of the forest. At the entrance to the village, guests will immediately spot the cottage of Maurine, Belle's father and the vilage inventor. Beyond that is Gaston's water fountain as well as a restaurant inspired by Gaston's bar. There are also other shops that Belle visits in the film, such as the bookshop. It's like stepping into the magical world itself.

When you leave the village and head through the forest, you are met by the spectacle that is Beast's castle, coloured in a cute pink. There's a large-scale attraction inside called "Enchanted Tale of Beauty and the Beast."

The Tokyo Disneyland-original attraction "Enchanted Tale of Beauty and the Beast"

The attraction, located inside the towering 30m-tall castle, features magical cups that guests board. The cups dance in rhythm to music from the film as they take guests through iconic moments seen in the Disney classic.

There are many surprises and discoveries to be found inside the castle.

The park is limiting the number of people allowed on the attraction at once due to the pandemic. To board the attraction, guests need to download the app after entering the park.

Village shops based on the movie

The Village Shops area features a line of shops inspired by those seen in Belle's town, each of which sells various items from clothing to accessories and souvenirs.

There are around 100 pieces of merchandise for fans to sift through.

The shops are also carrying out measures against COVID-19, showcasing the items in a display only so they cannot be touched when entering the store. Guests must use the sign-up system on the app beforehand if they want to enter the shop.

La Taverne de Gaston

All the little details have been captured to recreate Gaston's bar, making it like a snippet right out of the film.

Big Bite Croissant

 

Very Cheers

Sweet Gaston

The menu features a line-up dishes, drinks, and desserts, like sausage croissants with, French toasted cheese sandwiches, soft drinks made to look like beer, and more. The bar also requires booking on the app prior to visiting.

Le Fou's Churros (Apple Caramel)

Le Fou's is located next to La Taverne de Gaston where you can get your fingers on snacks like apple caramel churros.

And don't miss up on visiting the new popcorn wagon either which serves popcorn in a Beauty and the Beast bucket.

The new Beauty and the Beast area is a must-visit for any fan of the film, or for people who want to feel like a Disney princess.

©Disney