Miniature Theme Park SMALL WORLDS TOKYO to Open in Tokyo Next Spring
The all-new SMALL WORLDS TOKYO theme park is set to open in the Ariake district of Tokyo in spring 2020.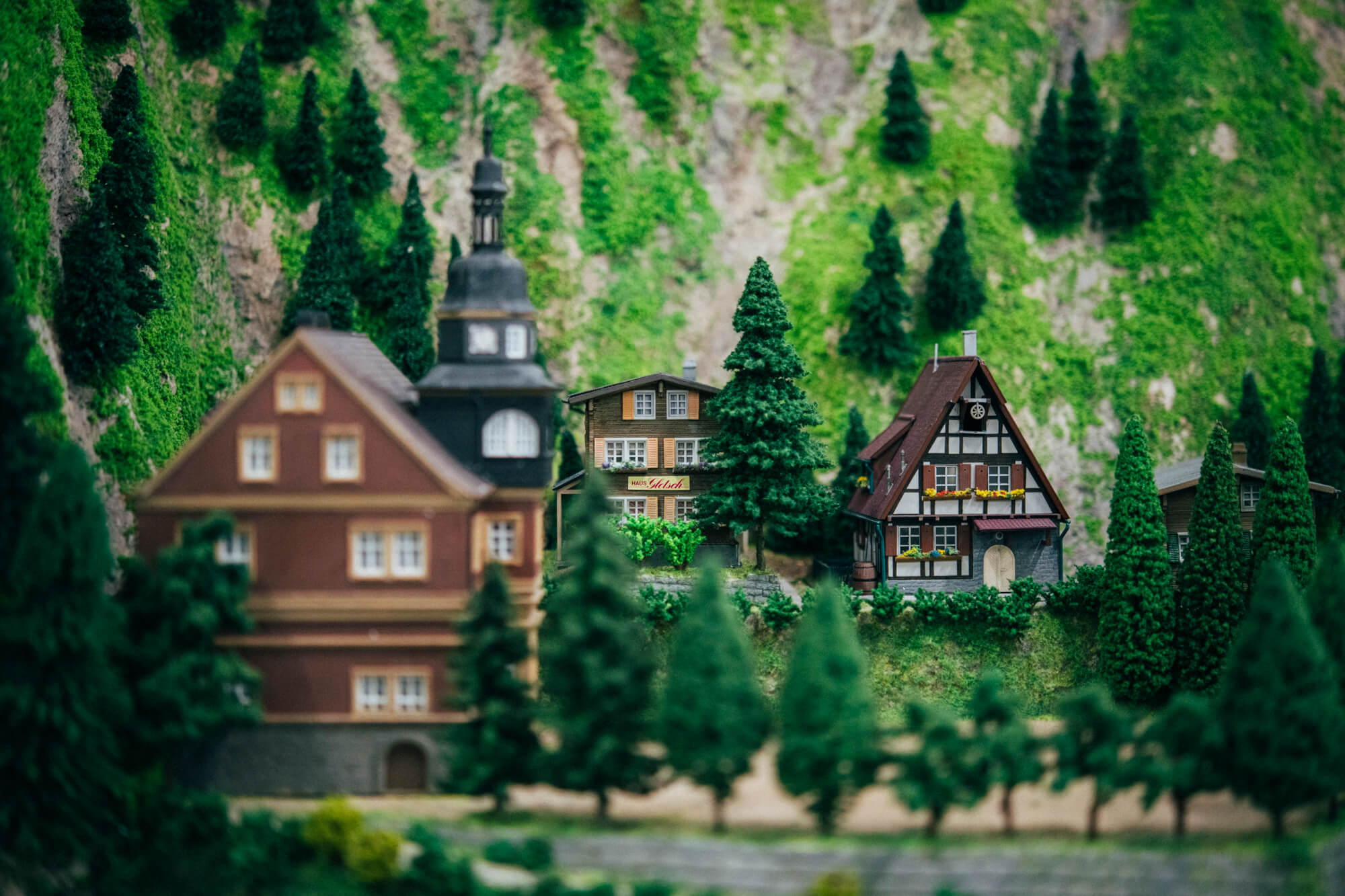 The park will cover an 8,000m2 area which will be split into seven different areas made up of moving miniature models: the Kansai International Airport, the Space Center, World Streets, Sailor Moon, Neon Genesis Evangelion Tokyo-3, and Neon Genesis Evangelion Evangelion Cage.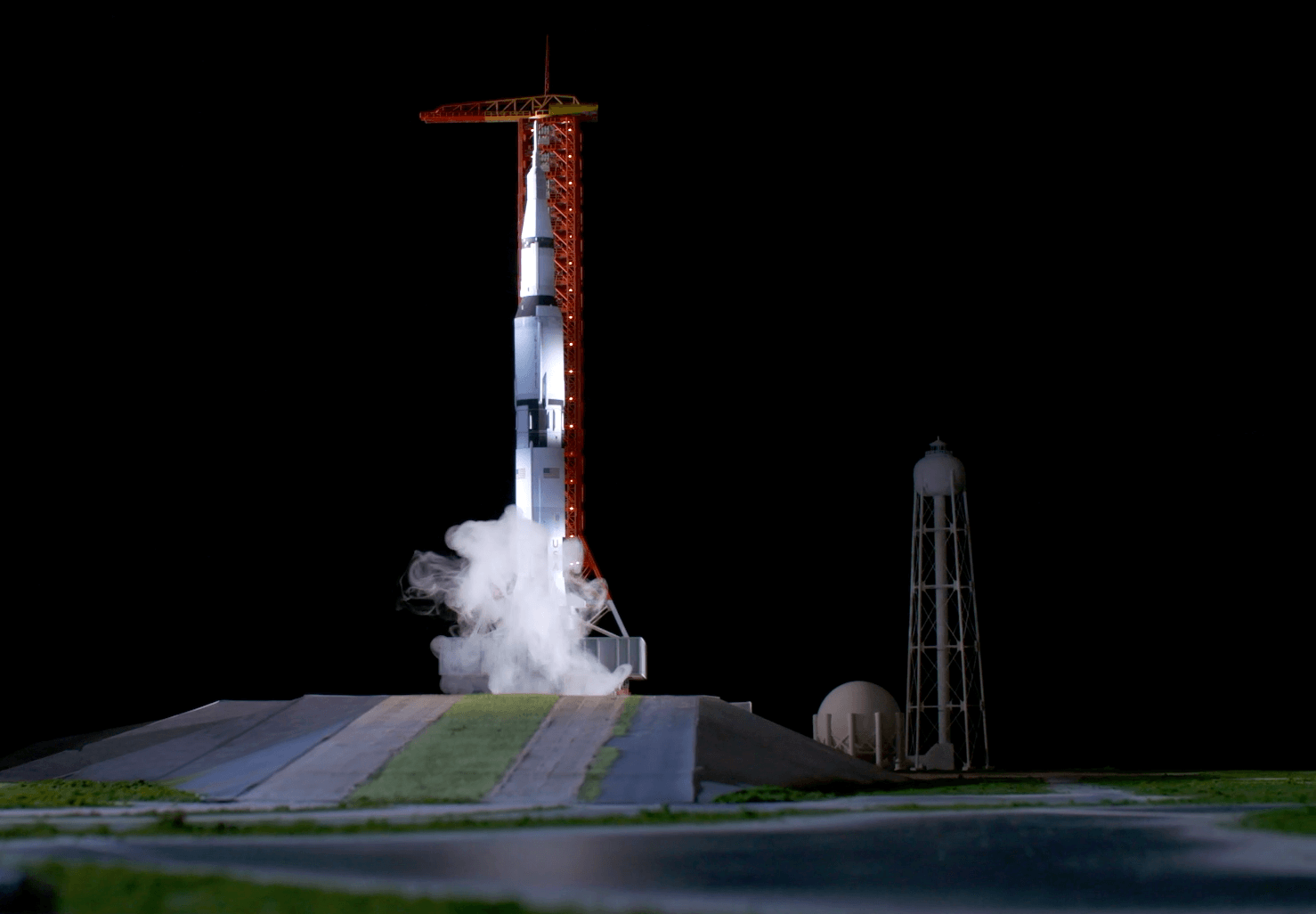 The facility hopes to bring a new level of immersion the likes of which we have not seen before. It is a joint project between Japanese creators Tatsuya Kaneko and Shōji Kawamori and a team of Japanese engineers. Using the latest cutting-edge technology and delicate artistry in Japan, the staff behind this project have built a moving miniature universe that will transport visitors to another world.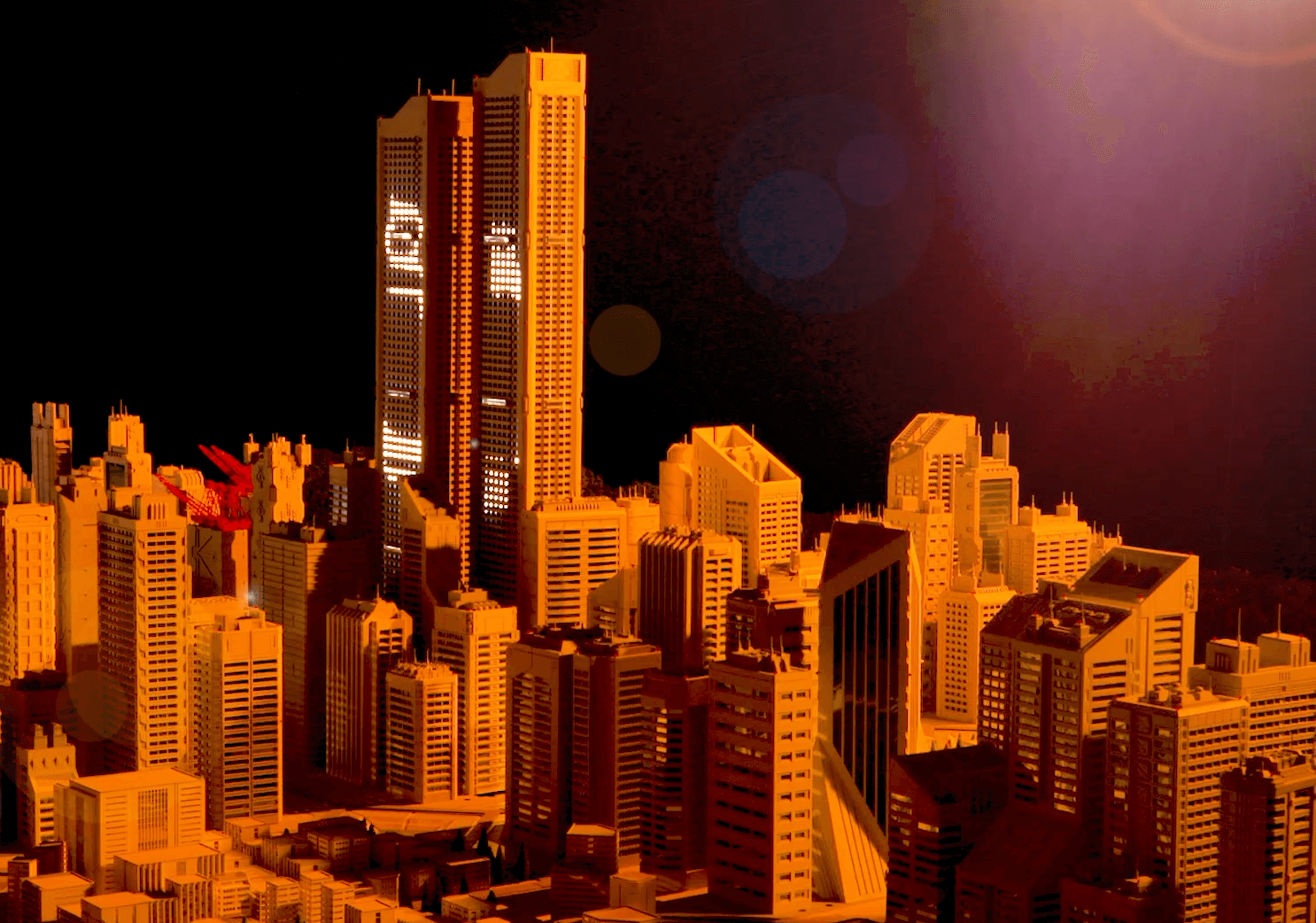 Sailor Moon fans will delight in the recreation of Azabu-Jūban, a district of Tokyo where the series protagonists reside, and Crystal Tokyo. Evangelion fans will also rejoice in witnessing Tokyo-3 as well as Evangelion Cages in which Evangelions are housed.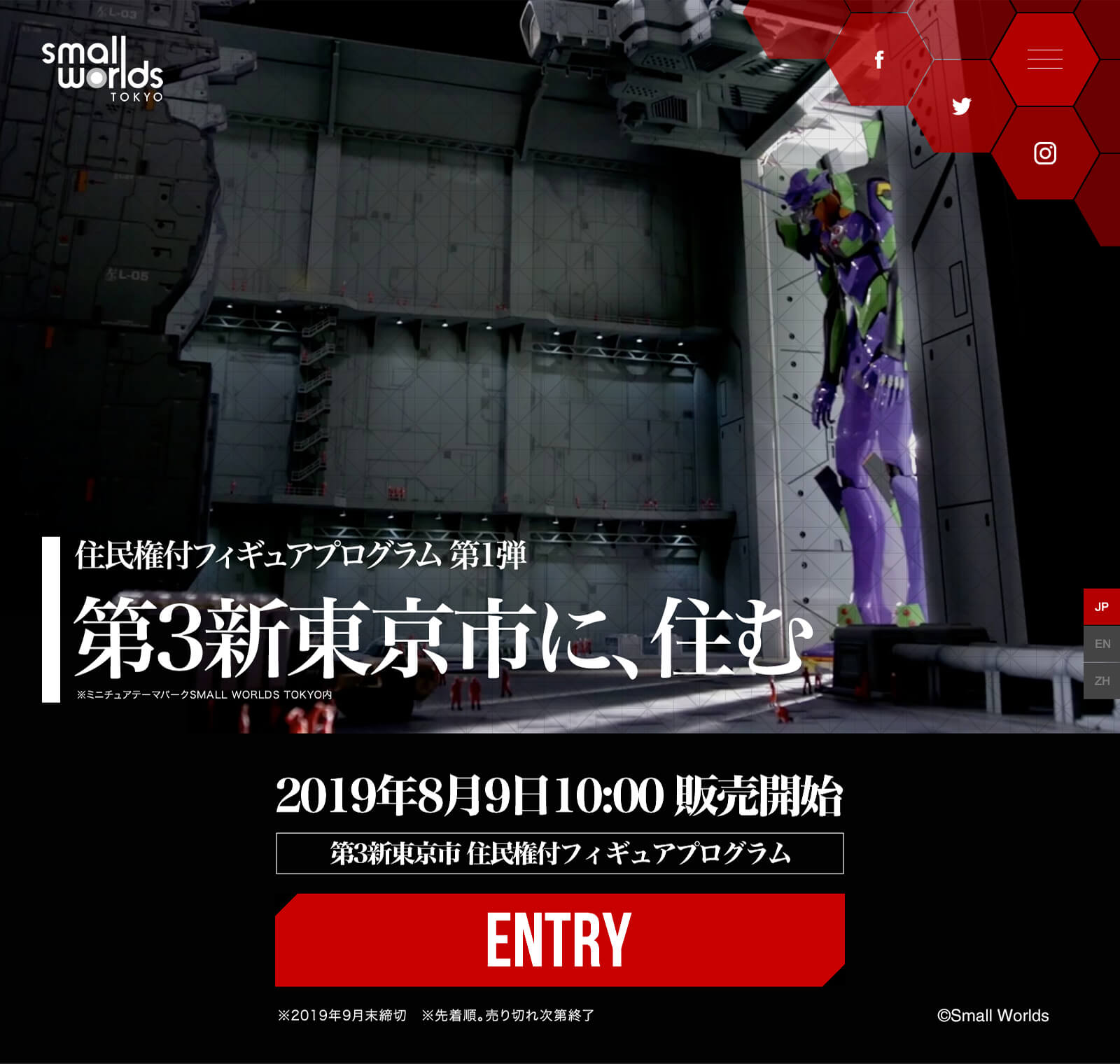 Not only will visitors be able to look at the miniature world, they can become part of it too with the Citizens Rights Figure Program which will scan a 3D model of the person and have a figure of themselves placed in the area of their choice. Sign-ups for this program will open on August 9 at 10:00 (JST) on the park's website.
Details on tickets and facility specifics will be announced in the near future.
©SMALL WORLDS. Inc
Information
SMALL WORLDS TOKYO
Address: Ariake Butsuryu Center, 1-3-33 Ariake, Koto Ward, Tokyo
Official Website: http://www.smallworlds.jp/
RECOMMENDED ENTRIES
LEGOLAND Japan Celebrates The Grand Opening of LEGO NINJAGO World

Looking for a fun day out with kids in Japan? LEGOLAND Japan is the perfect family day outing destination. At 1pm on July 1, the park celebrated the grand opening of the brand new area LEGO NINJAGO World. This is the first time this park has ever been expanded since opening in April 2017.

The opening ceremony featured special guests, including pop singer and actress Miki Shoji and approximately 70 students from Nagoya Shiritsu Inaei Elementary School. Miki Shoji, who also enjoys a trip to LEGOLAND from time to time, made the following comment at the ceremony:

"Whether you are a child or adult, the new LEGO NINJAGO World has many attractions such as the Flying NINJAGO that everyone can enjoy. This is the perfect place to have fun with your family this summer!"

There were many other special events held on the day of the grand opening, such as a countdown. At one point, Miki Shoji and the children even took part in a shuriken-throwing event with seven NINJAGO characters. What a spectacular day it was! After the ceremony had finished, some of the students who were selected as representatives of their school were given the opportunity to be the first to ride the Flying NINJAGO. 

LEGO NINJAGO World is the eighth area of LEGOLAND Japan and is a popular area in all Legolands across the world. From the moment the children step into the NINJAGO area, they will be immersed in an entirely new world. From the surroundings to the attractions and Ninja activities, they will learn a variety of essential ninja skills.

Whether you are a child or an adult, LEGOLAND Japan invites you to enjoy a ninja experience. ♪

Information

LEGOLAND Japan

Address: Kinjoufutou, LEGOLAND Japan Limited, 2 Chome-2-1, Minato Ward, Nagoya, Aichi

Website: https://www.legoland.jp/

Soar All Over The World With DisneySea's Brand New Attraction Soaring: Fantastic Flight

Tokyo DisneySea will open their new attraction Soaring: Fantastic Flight on July 23. This ride is an immensely popular attraction at theme parks around the world. DisneySea has created a new adaptation of this ride, offering a brand new and original experience to visitors.

Model Saki Shibata from MOSHI MOSHI NIPPON Editorial Department headed to DisneySea with model Kanako for an exclusive opportunity to experience this attraction before it opens to the rest of the public!

Climb up the stairs next to the Mediterranean Harbor and the attraction will lie right before your eyes. 

Before you enter the building, you will notice that there are lots of photo spots outside. 

You will also spot Camellia Falco; a keen flyer who became the first woman to be accepted in the Society of Explorers and Adventurers in 1851.

The Museum of Fantastic Flight located in the Mediterranean Harbor is celebrating Camellia Falco's innovation in the field of aviation by holding a special commemorative exhibition dedicated to her and her research. 

The final room of the museum is a gallery filled with Camellia's outstanding achievements.

Finally, it was time to climb aboard the invention of Camellia and her colleagues; an aircraft called the Dream Flyer.

The Dream Flyer was a magnificent trip. We soared through the sky, through the nature and around famous places of the world.

We were propelled from one place to another, experiencing a range of new atmospheres and surroundings in so many ways. At each location, we felt the wind and temperature of each country on our skin and could even smell a mix of intriguing smells unique to each location. 

The final destination we arrived at was our most favourite… 

This DisneySea original attraction is overflowing with imagination. It was like flying through an imaginary world. You absolutely must check it out. 

Fantastic Flight Churros (Pineapple): ¥400

Fantastic Flight Drink (Lychee Bubble Tea): ¥450

To celebrate the opening of the new attraction, new Fantastic Flight-themed merchandise and foods have been released. Zambini Brothers' Ristorante is even selling pineapple flavoured churros and bubble tea. Just looking at the blue sky colour of these delicious treats will leave you feeling refreshed.

Postcard: ¥200 

Origami Notebook: ¥400

Socks (22 ー 25cm/ 25 ー 27cm): ¥700

Please check out the full goods range!

It has been quite a while since DisneySea has opened a new attraction, so the park is booming with excitement in anticipation for its grand opening to the public! Climb aboard the Soaring: Fantastic Flight ride and embark on a worldwide adventure! 

©Disney
RELATED ENTRIES
Tokyo's Miniature Theme Park SMALL WORLDS TOKYO Begins Halloween Event

SMALL WORLDS TOKYO, the world's 'biggest' miniature theme park in Tokyo, opened its Halloween event on Thursday (September 10) which is set to run all the way up to Halloween Day.

Visitors will experience Halloween on a miniature scale this year at SMALL WORLDS TOKYO. Halloween Party 2020 is taking place in the Global Village Area where ghosts and monsters have taken to the tiny streets. You yourself can become part of that world too. Visitors who dress up in Halloween costumes and purchase the "Figure Program Plus Resident Rights" will have themselves scanned using a 3D scanner to create a miniature figure of themselves to put into the town.

There's also an entry fee discount to ¥1,000 (tax included) for those who wear Halloween attire and visit after 5:00pm. The theme park is also holding a variety of Halloween themed workshops like making your own Jack-o'-lantern and more.

SMALL WORLDS TOKYO is taking all necessary precautions against the spread of COVID-19 so that people can experience Halloween like never before.

©SMALL WORLDS

Sailor Moon Eternal Glasses Announced in Collaboration With JINS

JINS, a top eyewear brand in Japan, is teaming up with Sailor Moon in promotion of the upcoming anime film Sailor Moon Eternal which is slated for 2021. Orders for the glasses will open via JINS online shop, JINS stores in Japan, and via Premium Bandai, on September 11, 2020.

Sailor Moon is a shojo manga series written and illustrated by Naoko Takeuchi that was first serialised in Nakayoshi in 1991. The manga has been translated into 17 languages worldwide, and the anime series has been released in 40 countries. Sailor Moon Eternal will be the newest release to enter the franchise.

JINS first collaborated with the series for Sailor Moon Crystal in February 2016 to create a stylish and nonchalant collection of glasses for women who had grown up alongside Sailor Moon.

This new collection is made up of six different pairs of glasses each inspired by the six sailors from Sailor Moon Eternal.

Glasses: ¥12,00 Each (Before Tax) *Comes with prescription lenses, original case, and soft case

The frames of each pair feature little details and references to the Sailors like the items they use. The frames themselves are also in with the latest styles and trends.

But glasses aren't the only thing to arrive in the collection this time around.

Glasses Cases: ¥2,200 Each (Before Tax)

Fans can also get their hands on special glasses cases inspired by the costumes of the Sailors, each with a ribbon on the back and sealed with a metal stud.

Mini Pouches: ¥1,500 (Before Tax)

There's also mini pouches, and like with the glasses cases, are based on the colour schemes of each character. The pouches have metal charms on the side, and inside them are motif designs of the Sailors.

Glass Cords: ¥1,200 (Before Tax)

Finally, the chained glass cords have various references, like stars and the guardian marks of each Sailor. They can also be worn as necklaces, and them being gold means they'll go with almost anything.

Fans will be able to try the glasses on using a virtual service called MEGANE on MEGANE at JINS stores in Japan.

Information

Sailor Moon Eternal x JINS

Order Window: September 11, 2020 at 11:00am (JST) to September 27, 2020
*In-store orders available until September 23 only
*Delivery scheduled for April 2021
*Limited stock
*Made-to-order products, no changes or exchanges available
Sold at: JINS, JINS online shop, Premium Bandai

Product Page: https://www.jins.com/jp/collabo/sailormoon/

Sailor Moon Collaboration Campaign Includes Roomwear and Reversible Luna Pillow Prizes

Japanese manufacturing company Lion Corporation launched a collaboration campaign on August 3 between pain meds company BUFFERIN Premium and BUFFERIN Lunai and the upcoming animated film Sailor Moon Eternal which is being released on January 8, 2021.

BUFFERIN launched a campaign in June 2018 called "TIME IN A BOX" which was aimed at supporting women suffering with menstrual pain. The campaign featured an original story which saw the magical girl Sailors of Sailor Moon using BUFFERIN to battle the 'enemy' of menstrual pain to bring peace to women.

An original quiz has been conceived for the campaign which features the familiar faces of 10 Sailors from the Sailor Moon franchise. Participating in the quiz gives fans a chance to win a line-up of merchandise.

Left: Luna Reversible Cushion / Right: Super Sailor Moon Roomwear


Those who clear the quiz game will enter for the chance to win a line-up of Sailor Moon items. 100 lucky people can win the reversible Luna cushion while just 10 can win the one piece-style roomwear.

Clearing the quiz will also get you a special message from the Sailors.

The campaign is running in Japan only. It will be promoted across social media, such as on YouTube and Instagram, as well as inside trains in Tokyo, all in promotion of the upcoming film Sailor Moon Eternal.

BUFFERIN x Sailor Moon Promotional Video


If you're in Japan, or have a friend in Japan, don't miss out on this special collaboration.

©Naoko Takeuchi
©Naoko Takeuchi・PNP / "Sailor Moon Eternal' Film Production Committee


Neon Genesis Evangelion Escape Game Has You Dodging Lasers

Hakone Kowakien Yunessun, a hot spring amusement park in Hakone, began teaming up with Neon Genesis Evangelion on July 1 for a series of events. The newest event to be announced is the "Evangelion Laser Trap" escape game which is set to begin on July 23. The park's cave baths are also taking on a theme inspired by the Second Impact in Evangelion with special lights and sounds.

Evangelion Laser Trap Escape

Guests must become Evangelion characters and use their knowledge, experience, and whole body to make it through the dark room and avoid the red lasers. Those who clear the room will receive an original Evangelion sticker.

Second Impact Cave Baths

The cave baths will be illuminated with bright red lights inspired by the Second Impact cataclysm from Evangelion.

Evangelion themed food and drinks will be served at the event, and fans can get their hands on exclusive merchandise.

Information

Evangelion Laser Trap Escape
Running: July 23, 2020 – August 23, 2020
Location: Hakone Kowakien Yunessun

Opening Hours: 09:00-19:00 (Last Entries 18:00
Entry Fee: General ¥2,500 / Children (3-12 Years) ¥1,400

Participation Fee: ¥500 per person

Second Impact Baths

Running: January 10, 2020 – September 30, 2020

Location: Hakone Kowakien Yunessun

Opening Hours: 09:00-19:00 (Last Entries 18:00
Entry Fee: General ¥2,500 / Children (3-12 Years) ¥1,400

Participation Fee: Free

Official Website: https://eva-hakone.com/

Sailor Moon Cosmetic Set Released in Collaboration With MAQuillAGE

To promote the upcoming 2-part film Sailor Moon Eternal, Japanese makeup brand MAQuillAGE has created some special Sailor Moon cosmetic items including a foundation set, makeup base, and compact pouch. Pre-orders opened on Bandai's official shopping website Premium Bandai on June 22 and on the official Sailor Moon fan club Pretty Guardians on June 23.

Sailor Moon x MAQuillAGE Premium Bandai Special Set: ¥7,150 (Tax Included/Shipping & Handling Fees Charged Separately)

The line-up features a limited-edition design compact case made by Shiseido's MAQuillAGE in collaboration with the Sailor Moon franchise, the popular "Dramatic Powdery UV" foundation, the "Dramatic Skin Sensor Base EX," and an original design compact pouch. The item designs capture that sparkly moment when the Sailors transform.

*The compact pouch is exclusive to Premium Bandai and the Sailor Moon store

MAQuillAGE collaborated with Sailor Moon once before back in April 2017 and proved immensely popular amongst fans. Users have since expressed their desire for another collaboration, and their wish has finally been granted.

The "Dramatic Powdery UV" foundation gently covers your pores and colour spots, leaving your skin looking clear and beautiful. It comes in three colours, more than the last collaboration: Ochre 00, Ochre 10, and Ochre 20. The "Dramatic Skin Sensor Base EX" tones up your face and prevents it from looking shiny.

The products come as a set with the Compact Pouch which you can safely store them in. It's made from velvet, adding a luxurious feel.

Make your skincare routine even more glamorous with this new line-up of Sailor Moon cosmetics.

©Naoko Takeuchi
©Naoko Takeuchi・PNP / "Bishojo Senshi Sailor Moon Eternal" Production Committee

Information

Bishojo Senshi Sailor Moon x MAQuillAGE Premium Bandai Special Set
Includes: MAQuillAGE Dramatic Powdery / UV & Compact Case Limited Edition Set SMII (Foundation with sponge and compact case) / MAQuillAGE Dramatic Skin Sensor Base EX SMII / Original Compact Pouch

Pre-Orders: Now Open (Limited Stock)
Delivery September 2020

Buy Here: Premium Bandai / Sailor Moon Stores (Japan)

SMALL WORLDS TOKYO: The World's Biggest Miniature Theme Park Now Open

SMALL WORLDS TOKYO opened its doors to the public on June 11, 2020, with all necessary precautions in place to tackle the novel coronavirus (COVID-19).

SMALL WORLDS TOKYO is a miniature theme park that covers an 8,000 square meter area which is split into seven different areas made up of moving miniature models: the Kansai International Airport, the Space Center, World Streets, Sailor Moon, Neon Genesis Evangelion Tokyo-3, and Neon Genesis Evangelion Evangelion Cage.

The facility brings a new level of immersion the likes of which the world has never seen. It is a joint project between Japanese creators Tatsuya Kaneko and Shōji Kawamori and a team of Japanese engineers.

SMALL WORLDS TOKYO also has its own souvenir shop, as well as a restaurant called WHITE ART.

Not only can you see the six miniature areas—you can live in them too. The "Figure Program plus Resident Rights" scans a person's whole body using 3D scanning to create a 1/80 scale figure of yourself which can be placed into any of the six areas, including the Sailor Moon one.

The WHITE ART restaurant offers a dining experience that simulates the relaxation you feel when you finally arrive at the hotel of your travel destination. A special menu has been whipped put by head chefs of famous restaurants in Tokyo.

The Souvenir Shop sells not only original SMALL WORLDS TOKYO merchandise like the "Rocket Bottle" or wireless speakers, but exclusive items made in collaboration with Sailor Moon, Neon Genesis Evangelion, and more too. There are even workshops, such as how to make your own miniature model.

Discover a whole new miniature world at SMALL WORLDS TOKYO.

Information

SMALL WORLDS TOKYO

Address: Ariake Butsuryu Center, 1-3-33 Ariake, Koto Ward, Tokyo

Opening Hours: 9:00-20:00 (Last Entries 19:30)

Official Website: https://www.smallworlds.jp/en/

Neon Genesis Evangelion x GU's Second Clothing Collection Releasing June 19

GU has revealed its next collaboration collection with the Neon Genesis Evangelion anime series which is set for release on June 19, 2020.

The collection features a diverse design line-up, such as the Eva-02 from the upcoming film Evangelion: 3.0+1.0 Thrice Upon a Time. Each item features characters, logos, and motifs from the franchise that any fan can recognise instantly. The collection includes t-shirts, hoodies, open shirts, and more.

The key visual illustrated exclusively for the collection features the Evangelion pilots donning the GU attire.

Q-pot. x Sailor Moon Collaboration Features Sparkly Jewellery Collection

In promotion of the upcoming anime film Sailor Moon Eternal, Q-pot. is collaborating with the Sailor Moon series to release a new jewellery collection on June 27, 2020.

Q-pot is an accessory brand whose products are made to look just like delicious desserts. "Sugar Kaleido Dreams" is the theme of the new Sailor Moon collection, which is made up of sparkly jewellery as sweet as candy.

Sugar Kaleidoscope Necklace: ¥19,000 (Before Tax) / Chibi Moon Melty Rocket Pendant: ¥21,000 (Before Tax)

Sailor Moon's iconic Moon Kaleidoscope has been transformed into a gorgeous necklace, which changes colour when light hits it, creating a kaleidoscopic effect.

Super Sailor Chibi Moon's compact transformation brooch can now be worn as a pendant in all its shiny, sweet, and cute glory.

Melty Crisis Moon Necklace: ¥35,000 / Ring: ¥42,000 / Earring: ¥28,000 (All Before Tax)

Super Sailor Moon's "Crisis Moon Compact" is the base design for this selection of beautifully detailed accessories, combining gold and pink to create the moon and wing designs.

Sailor Shiny Candy Necklaces: ¥12,000 (Before Tax)

One necklace has been made for each of the Sailor Guardians, inspired by the brooches they all wear. Each has "Pretty Guardian" written on it together with each character's Planetary Symbols and distinct colours.

Diana Macaron Necklace: ¥9,500 / Ring: ¥6,500 / Bag Charm: ¥7,500 (All Before Tax)

Macaron accessories inspired by Chibiusa's adviser, Diana.

The Melty, Crisis, and Moon series of items are packaged in a special cushioned jewellery box, while everything else comes in an exclusive pink and gold tin.

Fans who spend over ¥40,000 (before tax) on items in this collaboration series will also receive a "Crystal Dome Paper Weight" while supplies last.

Orders Open For Neon Genesis Evangelion Exclusive Merchandise in Collaboration With 4 Brands

Four brands—tk.TAKEO KIKUCHI, Base Station, PLATINUM AURA, and UNBUILT TAKEO KIKUCHI—are teaming up with the popular anime franchise Neon Genesis Evangelion in promotion of the upcoming film Evangelion: 3.0+1.0 Thrice Upon a Time.

The items are set to roll out at WORLD ONLINE STORE from mid-June, each being a showcase of the brands as well as an expression of the popular anime franchise. The collection ranges from backpacks, tote bags and pouches to t-shirts, sneakers, and more. tk.TAKEO KIKUCHI will be releasing a special leather jacket featuring a large print on the back.

Be sure to check out the full collection in the lead up to Evangelion: 3.0+1.0 Thrice Upon a Time.

Evangelion: 3.0+1.0 Thrice Upon a Time Anime Film Collaborates With Eye Drops Brand Sante FX

Santen Pharmaceutical has teamed up with the upcoming anime film Evangelion: 3.0+1.0 Thrice Upon a Time to released limited edition versions of its eye drop products Sante FX NEO and Sante FX V+. The products went on sale on June 1, 2020.

The Sante FX series is a popular eye drops brand in Japan. It has previously collaborated with Evangelion in the past, with the last collaboration happening 8 years ago for the promotion of Evangelion: 3.0 You Can (Not) Redo. The product was promoted a series of commercials under the title "Refreshing Feeling Sante FX" which featured Evangelion references. They are doing the same for the new collaboration under the title "New Refreshing Feeling Sante FX."

Four different models will be released for both the Sante FX NEO and Sante FX V+ eye drops, including Shinji, Asuka, Rei, and Kaworu. Each features an original illustration of the characters along with colours that identify them.

A commercial was released to promote the products featuring narration by Kotono Mitsuishi who voices Misato Katsuragi in Neon Genesis Evangelion.

Sante FX x Evangelion CM


A special website was launched exclusively for the product where Sante FX are carrying out eye tests in Japanese. Users can answer questions to measure the "vigilance" of their eyes. The answers they get will also present them with the Evangelion character they are.

Sailor Moon Area to Arrive at Miniature Theme Park SMALL WORLDS TOKYO in June

The world's biggest miniature theme park SMALL WORLDS TOKYO has announced that the highly-anticipated Sailor Moon area will open on June 5, 2020.

The Sailor Moon area gives people the chance to be turned into miniature 1/80 scale figurines and live there. In the run up to the grand opening, members of the official Sailor Moon fan club "Pretty Guardians" will have early access to this program from May 29, 2020.

What is SMALL WORLDS TOKYO?

SMALL WORLDS TOKYO is a miniature theme park that opened Ariake district of Tokyo earlier this spring. The park covers an 8,000 square meter area which is split into seven different areas made up of moving miniature models: the Kansai International Airport, the Space Center, World Streets, Sailor Moon, Neon Genesis Evangelion Tokyo-3, and Neon Genesis Evangelion Evangelion Cage.

What is the Sailor Moon figurine program?

The Pretty Guardian Sailor Moon series is set in Tokyo's Azabu-Juban district, which is the setting for the area in SMALL WORLDS TOKYO. During the day, the series heroines, including Usagi Tsukino, live a lively life in Azabu-Juban. At night when the street lights turn on, the girls transform into Sailor Guardians under the moonlight.

On the opposite side of Azabu-Juban district you can see Crystal Tokyo, a future capital city in the 30th Century which also appears in the original series.

In the exclusive Pretty Guardians fan club area of the exhibit, members will find miniature figurines of themselves, making it feel like they really live in the world of Sailor Moon. More details on this program can be found on the official fan club website.

Information

Pretty Guardian Sailor Moon Area w/ Figure Program
Price: Adults ¥19,800 (Tax Included) / High School Students and younger ¥17,600 (Tax Included)

On Sale: June 5, 2020

*Available to Pretty Guardians fan club members from May 29, 2020

Pretty Guardians Official Website:
https://prettyguardians.com/

Pretty Guardian Sailor Moon Area w/ Figure Program Ticket Website:
https://smallworlds-sailormoon.jp/
*Open from June 5, 2020 at 13:00 (JST)

SMALL WORLDS TOKYO

Address: Ariake Butsuryu Center, 1-3-33 Ariake, Koto Ward, Tokyo

Opening Hours: 9:00-21:30 (Subject to change on weekends, holidays, and certain periods)

Official Website: http://www.smallworlds.jp/

Evangelion: 3.0+1.0 T-Shirts Releasing by UNIQLO's UT Brand

UNIQLO's graphic T-shirt brand UT it collaborating with the forthcoming anime film Evangelion: 3.0+1.0 to release a collection of T-shirts at UNIQLO stores across Japan and their online store on April 17, 2020.

The film, which is set for release on June 27, 2020, will wrap up the Rebuild of Evangelion film series as the fourth and final entry. The T-shirts in the collection feature completely original and exclusive designs.

Designs take inspiration from memorable scenes

The collection is comprised of 8 original T-shirt designs which were drawn exclusively for UT, ranging from Evanglion Unit-01, Unit-00, and Unit-01 to popular character Kaworu, and the first-ever Unit-00 Berserk mode T-shirt design. Fans of the Evangelion world are sure to appreciate all the little details.

UT x Evangelion UNIQLO 2020 Spring/Summer


Delivered in an exclusive box with the Evangelion font

Those who purchase from the collection via UNIQLO's online store between April 10-23 will have their orders shipped in a special box bearing various words in the "Eva Font," such as the UNIQLO brand concept, the brand name's original "Unique Clothing Warehouse," and so on.

Due to the ongoing situation surrounding the novel coronavirus, select branches of UNIQLO in Japan are closed or have had their opening hours altered. Details can be found on their website.

Information

Evangelion UT

Release Date: April 17, 2020

Price: ¥1,700 (Before Tax)

Designs: 8

Available: UNIQLO stores in Japan / UNIQLO Japan online store

Product Page: https://www.uniqlo.com/jp/ja/contents/feature/ut-eva2020/

*Exclusive boxes come in one design and are available while supplies last

*Product manufacturing and distribution, as well as release date and so on are subject to extensions or change depending on the latest developments surrounding the coronavirus