Hello Kitty Theatre Restaurant HELLO KITTY SHOW BOX Opens its Kawaii Doors to the Public
The official Hello Kitty theatre and restaurant HELLO KITTY SHOW BOX on Awaji Island had its grand opening on August 12.
Related Article: Stunning Hello Kitty Theatre Restaurant HELLO KITTY SHOW BOX to Open On Awaji Island
New photos have emerged giving us a peek inside the restaurant and at the menu.
The restaurant itself is situated in the farmlands of Awaji Island. Hiding on top of the building is an adorable hidden face of Hello Kitty which can't be seen from the ground.
At the back of the restaurant is a giant screen spanning 6 meters wide and 16 meters tall. The stage in front will give rise to a whole new kind of Hello Kitty entertainment with song, dance and performances.
The menu was conceived by Japanese chef Hal Yamashita and uses healthy, organic ingredients to make incredible dishes that both taste amazing and are fun to look at. As well as vegan dishes, there will be a dessert buffet which also uses healthier alternatives. Everything look delicious!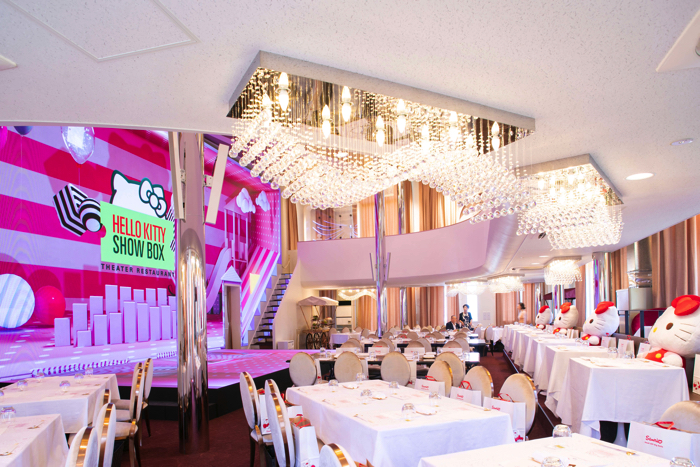 The interior is both cute and high class, offering the ultimate Hello Kitty restaurant. With its doors now open to the public, fans of Hello Kitty are set to flock to Awaji Island.
Ⓒ1976, 2019 SANRIO CO., LTD. 
Information
HELLO KITTY SHOW BOX
Grand Opening: August 12, 2019
Address: 177-5 Nojimahirabayashi, Awaji, Hyogo Prefecture
Business Hours: 11:00-20:00
Closed: Wednesdays
Weekday Hours: Lunch 11:00 / Cafe 15:00 / Dinner 18:00
Weekend Hours: Lunch 11:00 / Cafe 14:15 & 16:15 / Dinner 18:15
Reservations
①Reservations can be made via the homepage here (*Discount applied to all reservations)
②Reservations can also be made at the restaurant on the day depending on the number of available tables
Allotted Time: 2 hours max.
Official Website: https://awajiresort.com/hellokittyshowbox/
RECOMMENDED ENTRIES
Stunning Hello Kitty Theatre Restaurant HELLO KITTY SHOW BOX to Open On Awaji Island

The new HELLO KITTY SHOW BOX theatre restaurant is set to bring excitement and thrills when it opens on Awaji Island on August 12.

This theatre-restaurant combination will serve up a dining experience you will never forget with a selection of healthy cuisine including vegan cooking. For entertainment, you can look forward to browsing the incredible gallery which will make use of various media art forms including 3D holograms. There will also be a range of shows made up of song, dance and musical performance.

The building itself is situated within farmlands and is crowned with the adorable hidden face of Hello Kitty which can't be seen from the ground.

The Hello Kitty Dream Gallery will use 3D holograms to bring Hello Kitty to life before your very eyes. The story will follow our feline heroine in which her dream to become a pianist comes true. The Hello Kitty Dream Entertainment Show will make use of giant LED screens and Hello Kitty will put on a cute performance of song, dance and music.

The menu was conceived by Japanese chef Hal Yamashita and uses healthy, organic ingredients to make incredible dishes that both taste amazing and are fun to look at. As well as vegan dishes, there will be a dessert buffet which also uses healthier alternatives.

And if you're hoping to stock up on Hello Kitty merchandise then you're in luck―the site's Hello Kitty shop will stock exclusive items you can't get anywhere else.

Immerse yourself in all things Hello Kitty at HELLO KITTY SHOW BOX, opening on August 12, 2019.

Ⓒ1976, 2019 SANRIO CO., LTD.

*Photos are for illustrative purposes only

Information

HELLO KITTY SHOW BOX

Grand Opening: August 12, 2019

Address: 177-5 Nojimahirabayashi, Awaji, Hyogo Prefecture
Business Hours: 11:00-20:00
Closed: Wednesdays
Weekday Hours: Lunch 11:00 / Cafe 15:00 / Dinner 18:00
Weekend Hours: Lunch 11:00 / Cafe 14:15 & 16:15 / Dinner 18:15

Reservations
①Reservations can be made via the homepage here (*Discount applied to all reservations)
②Reservations can also be made at the restaurant on the day depending on the number of available tables
Allotted Time: 2 hours max.

Official Website: https://awajiresort.com/hellokittyshowbox/

Celebrate Hello Kitty's 45th Anniversary at the Hello Kitty Collection Exhibition in Chiba

Lovers of Sanrio and all things Hello Kitty won't want to miss the 45th Anniversary Hello Kitty Collection Exhibition currently being held at Sogo Chiba until August 15.

The event look backs at the kawaii history of Hello Kitty with a huge range of old and new merchandise. There's also photo spots for taking cute photos, a wall of Hello Kitty plush toys, touch interactive digital videos, and much more.

If you're looking to stock up on your collection of Hello Kitty merch then you have around 850 items to choose from including goodies exclusive to the event, pre-sales of items to be released at a later date, and more. There's even a pottery workshop as well as a chance to take your photo with the real Hello Kitty.

Kawaii Chronicles: Hello Kitty Design Museum

Get ready to witness a wide selection of Hello Kitty goods from across generations, including rare and vintage items no longer manufactured. Witness the history of Hello Kitty's kawaii world and how things changed through the years to fit each generation.

Digital Content & Plush Toy Wall

Get interactive with Hello Kitty with the wall mapping – touch the wall and see the visuals change. There's also another wall completely full of Hello Kitty toys which makes for a really cute photo opportunity.

Photo With Hello Kitty

Hello Kitty will be present on August 12 in a beautiful kimono ready to have her picture taken with you! Tickets will be handed out 30 minutes before each session. Spaces are limited so make sure you're on time!

Date: August 12, 2019 at 11:00/13:00/15:00

Location: Floor 6F Event Hall

No. of People: 20 per shoot

Workshop

Paint your very own ceramic Hello Kitty ornament. You colouring it means that yours will be unique and the only one in the world♡

Running: August 7, 2019 – August 15, 2019

Time: 11:00-16:00

No. of People: 30 per day

Price: ¥1,296

Hello Kitty Kawaii Market
Get your hands one one of 850 pieces of Hello Kitty merchandise from plush toys to stationery, interior items and more. Many of these items are exclusive to the exhibition.

Mascot Holder – ¥1,728 (400 Available – 1 Per Person) / Acrylic Key Ring – ¥648 / Mug – ¥1,080 / Hand Towel – ¥756

Replica Classical doll – ¥17,280 / Mini Mascot Brooch (20 Designs) – ¥1,080 Each (1 Per Person) / A4 Folders (Includes 2) – ¥486

Enter the adorable world of Hello Kitty this summer and help her celebrate her 45th anniversary.

Information

45th Anniversary Hello Kitty Collection Exhibition

Running: August 7, 2019 – August 15, 2019

Time: 10:00-20:00 (Until 17:00 on August 15) *Last entries are 30-minutes before closing time

Location: Sogo Chiba Floor 6F Event Hall (1000 Shinmachi, Chuo Ward, Chiba, Chiba Prefecture)

Price: Adults & University Students ¥500 (High School Students & Younger – Free)

*Those with a disability certificate can enter the exhibition for free (including one guardian)

Sogo Chiba Official Website: https://www.sogo-seibu.jp/chiba/

Sanrio Unveil New Sporty Merchandise Collection Featuring Hello Kitty, My Melody & Others

Sanrio has announced that it will release 24 pieces of merchandise on August 15 in support of the sports season from summer to autumn. The items feature the Sanrio characters donning their sports gear and include megaphones, charms, bags, and more.

There are many sports events happening right now, and the Sanrio cast are here to help you cheer on your favourite teams: Hello Kitty, My Melody, Pocchaco, Pompompurin, Cinnamoroll, and Kuromi.

The megaphones are a must-have, featuring cute plush toy attachments of the characters which can be used at events like a vuvuzela.


Keep your things safe with one of six "Mascot Holder" bags with each character donning different sportswear: table tennis for Hello Kitty, Tennis for My Melody, Rugby for Pompompurin, baseball for Cinnamoroll, soccer for Kuromi, and basketball for Pochacco.

And for good luck, grab one of the lucky charms which have a gold medal and message inside them. Attach them to your phone or keep them in  your pocket!

©'13, '19 SANRIO S/D・G

Information

Sanrio Character Sports Promotion
Release Date: August 15, 2019

Available: At Sanrio stores, select shops selling Sanrio merchandise, and the official Sanrio online store

Sanrio Official Online Store: https://shop.sanrio.co.jp/
RELATED ENTRIES
Soft and Adorable yoshikitty Pastel Moon Plushies Available for Preorder

Yoshikitty, a character formed in collaboration between Hello Kitty and rock legend YOSHIKI, is being featured in an adorable new collection! Items in the Moon Pastel collection are now available to preorder at the Asunaro Online Store and the yoshikitty Online Shop.

Yoshikitty first debuted in 2009 as a collaboration between YOSHIKI of X JAPAN and Sanrio's popular character Hello Kitty. These new plushies were inspired by YOSHIKI's hairstyle when he first debuted and his classic purple eyeshadow.

Since the character's creation, over 10 different designs have been released. The Pastel Moon Series is a first, showing a different side to the usual grungy rock 'n roll vibe. No one expected a fluffy unicorn yoshikitty with such soft colors!

Medium Plush : ¥5,800 (Tax Included) / Large Plushie: ¥8,800 (Tax Included)

Colorful Charm (Chain not included) : ¥1,100 (Tax Included)

The collection includes two plush toys, a mascot keychain, a colorful charm, and two reusable bags. Will you be snagging anything?

ⓒ 2022 SANRIO CO., LTD. APPROVAL NO. L630897   

ⓒ 2022 Japan Music Agency Co., Ltd.

YOSHIKI x Hello Kitty Goods Now Available at the Yoshikitty Online Shop

Yoshikitty, a character formed in collaboration between Hello Kitty and rock legend YOSHIKI, now has an online shop!


Yoshikitty first debuted in 2009 as a collaboration between YOSHIKI of X JAPAN and Sanrio's popular character Hello Kitty. The character's first goods collection sold out immediately, with additional items also selling out online the same day. Yoshikitty's popularity isn't limited only to Japan, with global fans also anxious to snag some of this sought-after merchandise.



Since 2015, Yoshikitty has been nominated for the Sanrio Character Awards, rising in popularity year after year and keeping up with other beloved Sanrio personalities.

To commemorate the eighth consecutive year of her appearance in the Sanrio Character Awards, the Yoshikitty Online Shop has opened its doors. Fans can now purchase a number of exclusive items whenever they please!

Opening Announcement Video

https://www.youtube.com/watch?v=YFDArLVYAuw

Pouch (3 colors: Purple, Red, Blue): ¥2,600 each (Tax Included)

Cushion (3 colors: Purple, Red, Gray):  ¥4,400 each (Tax Included)

To celebrate the shop's opening, a new collection of lace goods is on sale now, featuring the character alongside roses and musical notes in elegant black lace. Items available include pouches, tote bags, and plenty of other goods perfect for both everyday use and formal occasions.

©️ 2022 SANRIO CO., LTD. APPROVAL NO.L630057    

©️ 2022 Japan Music Agency Co., Ltd.

Hello Kitty and the United Nations Reveal New Collaborative Products

Sanrio has announced the Hello Kitty SDG series of products, scheduled to release on March 25, 2022. The designs for the series were developed in collaboration with the United Nations with the aim of spreading knowledge about Sustainable Development Goals (SDGs) throughout the world. These items will be available at Sanrio stores, in department stores, and online.

The Hello Kitty SDGs series features a lineup of goods made from environmentally friendly materials. These items are perfect for daily use, and all were designed to raise awareness of SDGs and the global environment with Hello Kitty in the office, at school, and at home.

Merchandise at a Glance

Tote Bag: ¥2,750

Each Tote Bag is made of 100% organic cotton canvas.

Clear Folder: ¥594



Made of recycled polypropylene.

Mug: ¥1,980

Each mug is made of recyclable materials.

Neck Strap: ¥1,980

Recycled PET bottles were used to create this product.

In September 2018, Hello Kitty launched her own YouTube channel to promote peace and harmony around the world.

As of March 16, Hello Kitty has uploaded 27 videos, so be sure to watch them all!

©'21、'22 SANRIO 著作(株)サンリオ

Information

Hello Kitty SDGs

Release Date: March 25, 2022
Where to Buy: Sanrio Shops Nationwide, Department Store Sanrio Corners, Sanrio Online Shop

Hello Kitty Channel: https://www.youtube.com/channel/UCyof-1Ko_jy2sOtivyTpc4Q

New Merchandise Now Available from the Hello Kitty Museum Art Collection

New items from the Hello Kitty Museum Art Collection, a series in which Sanrio's popular character Hello Kitty collaborates with a number of classic masterpieces, are now available at the Asunarosha Online Shop!

Hello Kitty Reimagined in 7 Iconic Paintings




・The Scream – Edvard Munch
・Mona Lisa – Leonardo da Vinci
・The Milkmaid – Johannes Vermeer
・The Fifer – Edouard Manet
・Woman with a Parasol – Claude Monet
・Portrait of Mademoiselle Irene Cahen d'Anvers – Pierre-Auguste Renoir
・The Green Dancer – Edgar Degas

Merchandise

Sliding Puzzle (3 varieties)

Cube Puzzle

Picture Frame Magnets (5 varieties)

Stickers (7 varieties)

Mini Mascot Stickers

Scratch Art (Pack of 10)

The Hello Kitty Museum Art Collection transforms Hello Kitty into famous masterpieces that everyone has seen before. The first collaboration in 2013 saw the popular character in Edvard Munch's The Scream and was a massive hit! Which piece of art is your favorite?

Ⓒ 2022 SANRIO CO., LTD. Ⓛ

Cotomono Marche Collaborates with Sanrio Characters for New Jewelry Collection

Cotomono Marche's original brand 'BUTTON&CUFFLINKS' has released a selection of earrings and brooches inspired by popular Sanrio characters! These are available online and at select Cotomono Marche stores. 

The accessories are inspired by Hello Kitty, Cinnamoroll, Pompompurin, My Melody, Kuromi, and Little Twin Stars, and are perfect for Sanrio fans of any age. 

Earrings: ¥2,750 (Tax Included) / Brooch: ¥1,650 (Tax Included)

Hello Kitty debuted in 1974 and continues to captivate fans around the world. The character peeking out from behind an apple is an original design for the collaboration. 

Pompompurin and Cinnamoroll have been transformed into adorable accessories, while My Melody and Kuromi are featured in two different color palettes: seasonal pastel or vivid. 

The Little Twin Stars accessories are perfect for wearing with a friend, with a different character on each ear!

Information

Buttons & Cufflinks Sanrio Character Mini Accessories

Release Date: February 11, 2022
Where to Buy: 26 Cotomono Marche stores nationwide, Limited-Time Shop, Online Store

Online Shop: https://cotomono.official.ec

Hello Kitty Releases Collaboration Video with YouTube's Most-Watched Cat Mochimaru

On February 22, Hello Kitty released her first collaboration video with the popular YouTube channel Mochimaru Diary, which currently has over 1.6 million subscribers!

Mochimaru Diary follows the uneventful life of Mochimaru, a Scottish Fold, whose life is documented by his owner. The collaboration was planned as a celebration of Cat Day, which takes place in Japan on February 22. 

In the video, Hello Kitty talks passionately about the 10 most adorable things about Mochimaru. Be sure to give it a watch!

Hello Kitty is a Mega-fan?! Video Highlights and Screencaps

Comment from Hello Kitty

I've been such a big fan of Mochimaru for so long, I can't believe we finally get to collab~

We had a super happy day talking about all the things Mochi likes!

I'm a little embarrassed to be THIS excited, but I'm just so happy to bring everyone this video for Cat Day!

Give it a watch for me! ♡

©'22 SANRIO S/F・G 著作(株)サンリオ

Resi Stay The Hotel Kyoto Opens Hello Kitty-Themed Room

Japanese hotel chain Resi Stay is known for having some stylish rooms. After a Hello Kitty-themed room opened at the hotel's Kyoto Nishiki branch, Resi Stay The Hotel Kyoto in the center of the city has now opened a brand-new Hello Kitty room!

The new concept room combines the cuteness of the Sanrio character with traditional Japanese elements like sliding doors and paper screens. Made to look like a Kyoto teahouse, guests also won't leave empty-handed–those reserving the room will get a free Hello Kitty tote bag, mask, hand sanitizer, and mask case. 

© 2022 SANRIO CO., LTD. APPROVAL NO. L622077

Hello Kitty and Cinnamoroll Collaborate with Pringles for the First Time

Sanrio characters Hello Kitty and Cinnamoroll are collaborating with the potato chip brand Pringles, which are sold in over 140 countries around the world. The new products were made just in time for White Day, and are currently available for purchase on the Sanrio Online Shop, at Sanrio stores nationwide, and at Sanrio corners in major department stores.

Pringles and Plushie

Pringles Pen Holder

Pringles Drawstring Bag

Pringles Pouch

Pringles Mini Tote Bag

Reuseable Bag

Mini Towel

Stickers

The two popular Sanrio characters are sporting fake mustaches to look like Mister P. These gifts are paired with the popular snack and are perfect not only for White Day, but just to give to a friend for fun! The Pringles & Plushie sets come with detachable fake mustaches for the stuffed animals as well.

 

The Pringles paired with Hello Kitty is the traditional salty flavor, while Cinnamoroll is in charge of Sour Cream & Onion. 

Mario, Pokemon, and Other Iconic Characters Dance Together at USJ's New Parade for Spring 2022

After a year on hiatus, Universal Studios Japan will be bringing back the daytime parade with the  'NO LIMIT! PARADE,' scheduled to be held for a year starting in Spring 2022.

 

 

The 'NO LIMIT! PARADE' is like a dance party, unifying each guest as one with the power of dance. The energetic entertainment turns everybody into "the protagonist."

In addition to well-known 

park characters like the Minions and Hello Kitty, Mario and his Nintendo friends will also be joining the parade from their home in the super popular Super Nintendo World™, bringing some Pokémon buddies along for the ride. The various worlds will collide to a range of party tracks, from 60's rock to modern EDM, with each character performing a representative dance.

By dancing with these iconic characters and entertainers, everybody can become "The Protagonist" – young or old! The grand finale of each parade truly pushes the meaning of NO LIMITS, with production exceeding all expectations. Each visitor will feel their mind and body growing "Super Energetic" from all the fun with this all-new entertainment experience!

Become one with the all-star cast at the 'NO LIMIT! PARADE!'

 WIZARDING WORLD and all related trademarks, characters, names, and indicia are © & ™ Warner Bros. Entertainment Inc. Publishing Rights © JKR. (s21)
Minions and all related elements and indicia TM & © 2021 Universal Studios. All rights reserved.
© Nintendo
TM & © 2021 Sesame Workshop
© 2021 Peanuts Worldwide LLC
© 2021 SANRIO CO., LTD. APPROVAL NO. EJ1100402
TM & © Universal Studios & Amblin Entertainment
© 2021 UNIVERSAL STUDIOS
©2021 Pokémon. ©1995-2021 Nintendo/Creatures Inc. /GAME FREAK inc.
TM & © Universal Studios. All rights reserved.

Hello Kitty and Cosmetics Company Shu Uemura Release Holiday Collection

Japanese cosmetics brand Shu Uemura is releasing two new holiday collections in collaboration with beloved Sanrio character Hello Kitty! The first collection, featuring twelve items, will go on sale on November 1, 2021, and the second collection, featuring four items, will be available on November 15, 2021. Only limited quantities will be available. Preorders are now available on the official online store. Certain products will also be available at Sanrioworld GINZA 1F starting October 30 to celebrate the new collaboration. 

Bold, edgy, and chic makeup looks

Rich Collection Lineup

1st Collection Lineup

Rock the Party Palette (6 limited-time colors/ 4 existing colors): ¥9,900 (Tax Included) 

Discogram Eye Palette (6 limited-time colors): ¥7,150 (Tax Included) 

Unlimited Disco Glitz Lipstick (2 limited-time colors): ¥4,070 (Tax Included) 

Unlimited Satin Lipstick (2 limited-time colors): ¥4,070 (Tax Included) 

Unlimited Lacquer Shine Lipstick (1 limited-time color/1 existing color): ¥3,740 (Tax Included)

Unlimited Cream Lipstick (2 limited-time colors): ¥4,180 (Tax Included) 

Ulim8∞Sublime Beauty Cleansing Oil (Limited-time packaging) 450ml: ¥12,650 (Tax Included) / 150ml: ¥5,060 (Tax Included)

Limited-Time Channel Goods

*Available only at the official online store and Global Flagship Beauty Boutiques

Unlimited Satin Lipstick VIP Auburn: ¥4,070 (Tax Included) 

Hard Formula 9 Seal Brown: ¥2,860 (Tax Included) 

Rock the Party Premium Makeup Box: ¥35,200 (Tax Included) 

Rock the Party Mini Lipstick Set: ¥7,150 (Tax Included) 

*Available only at the official online store and Global Flagship Beauty Boutiques

The new collaborative collection is inspired by Tokyo nightlife and is perfect for creating both a glamorous rock 'n roll look or something more soft and sweet. A number of new shades of eyeshadow and lipstick appear in this holiday collection, so why not snag some of these high-quality goods before they're gone? 

© 2021 SANRIO CO., LTD. APPROVAL NO. L614617

Information

shu uemura x Hello Kitty 1st Collection

Limited-Time Release Starting November 1, 2021 / 12 Items Total

Preorders Begin October 15, 2021

2nd Collection

Limited-Time Release Starting November 15, 2021 / 4 Items Total

Preorders Begin November 8, 2021

Where to Buy: 

Shu Uemura Locations Nationwide and Online / Global Flagship Beauty Boutiques

Official Site: https://www.shuuemura.jp

Hello Kitty and Pierre Hermé Collaboration Series Coming to Sanrio Stores

Everyone's favorite cartoon cat Hello Kitty is about to celebrate her birthday! To celebrate, Sanrio is releasing a collection of limited-time goods in collaboration with world-famous patisserie Pierre Hermé starting October 20, 2021. These items will be on sale at Sanrio stores nationwide, in specific department stores, and on the official Sanrio online store. 

Collaboration with Hello Kitty's favorite sweet, Ispahan

Ispahan, a raspberry cake, is Hermé's signature dessert. For Hello Kitty's birthday celebration the creator drew the character in an elegant rose-inspired dress inspired by the sweet. This design was made with the hope that Hello Kitty will continue to bring different people and cultures together for years to come. 

Mascot Keychain  Hello Kitty/Mimmy: ¥2,530

Accessory Case: ¥3,080

Inspired by Pierre Hermé's Ispahan and Satine sweets, fans will love these colorful goods perfect for a birthday celebration. 

Hello Kitty Birthday Doll: ¥15,400 (Tax Included)

Each year a Hello Kitty Birthday Doll is released, and 2021 is no different! This year, the doll is wearing an elegant dress designed exclusively for the collaboration. Each one has an embroidered serial number on the left leg, and quantities will be limited. 

Gâteau Anniversaire Hello Kitty: ¥2,640 (Tax Included)

This special birthday dessert will be available at Pierre Hermé Paris Aoyama from November 1 to November 15. It includes a special Hello Kitty Ispahan along with a scoop of rose ice cream and a dusting of raspberry powder!

©'21 SANRIO 著作(株)サンリオ

Information

Hello Kitty and Pierre Hermé Collaboration Design Series

Release Date: October 20, 2021

Sanrio Official Goods Page: https://www.sanrio.co.jp/goodsinfo/kt-pierreherme-202110/ 

Hello Kitty and Pierre Hermé Birthday Doll 2021

Price: ¥15,400 (Tax Included)

Release Date: October 20, 2021

Where to Buy: Sanrio Stores, Sanrio Areas at Department Stores

Gâteau Anniversaire Hello Kitty 

Available: November 1 – 15, 2021 *Limited-time only

Where to Buy: Pierre Hermé Paris Aoyama 2F Heaven

Luxury Inn ICHIJO with only Six Rooms Opens In Kami, Hyogo Prefecture

Accommodation and restaurant company Saika opened ICHIJO, a luxury inn with six rooms, on September 22 2021.

Restaurant Monomi Yuyama

ICHIJO Jigokumushi

ICHIJO Jigokumushi Matsuba Crab

Guest Room 'Miyabi (elegant)'

Guest Room 'Soso (graceful)'

Private Bath 'SANKEI (mountain view)'

Private Bath 'KAI (sea)'

Open Lounge 'ISARIBI'

Meditation Room 'MU'

Smoothie & Soup Shop 'mellow'

A buffet is available offering wonderfully fresh and seasonal seafood, Tajima beef, Yaka pork, and a selection of local vegetables. Saika have made the most of the inn's location in a town known for its fish, offering a delicious all-you-can-eat menu. In addition, local brand crabs such as Kasumi and Matsuba will be added to the butter throughout the autumn and winter seasons. You can also enjoy a bowl of Takikomi rice with seasonal soup stock, fresh sashimi, and even charcoal-grilled dried fish.

The ICHIJO Jigokumushi is a fascinating area where a large amount of steam can be seen rising from the ground. The area can be used as a lounge, workspace, and reading area outside of meal times. The hall is all-inclusive, meaning you can make the most of the variety of local sake, draft beer, soft drinks, and snacks at no additional charge. 

 

You can relax in the two private baths, which both boast water from the Kasumi hot springs. The 'KAI' bath has an infrared sauna installed, while the SANKEI features a mist sauna, allowing you to chill out while enjoying the fresh hot springs. 

The inn also provides a large communal bath with open air facilities through the Sadasuke sister inn, which is adjacent to ICHIJO.

If you're looking to heal both body and heart, why not try the meditation room?

Smoothie and soup shop 'mellow' will be opening at the same time as ICHIJO. Guests staying at the inn will be able to purchase food and drink from inside the store, while general customers can use the takeout window. The delicious fruit and vegetables used in the food were grown in the San'in region by Saika, who are experienced in agriculture production.

 

Relax your body and soul with the new ICHIJO inn!

Information

ICHIJO

Address: 636 Shimohama, Kami-ku, Kami-cho, Mikata, Hyogo, 669-6564

TEL: 0796-36-1010

Details & Reservations: https://ichi-jo.com/