Mario & Sonic at the Olympic Games Tokyo 2020 Release Date & Details Revealed
Sega has announced that Mario & Sonic at the Olympic Games Tokyo 2020 will be released on Nintendo Switch™ on November 1, 2019.
The upcoming sports video game is a crossover between Nintendo's Super Mario and Sega's Sonic the Hedgehog franchises which makes full use of the Joy-Con™ on the Nintendo Switch.
The latest trailer which dropped on Tuesday revealed that players will also be sent back in time to the Tokyo 1964 Olympics with a set of 10 games with classic 2D graphics. The game will also feature a Story Mode where players can compete in the Olympics and play a variety of mini games.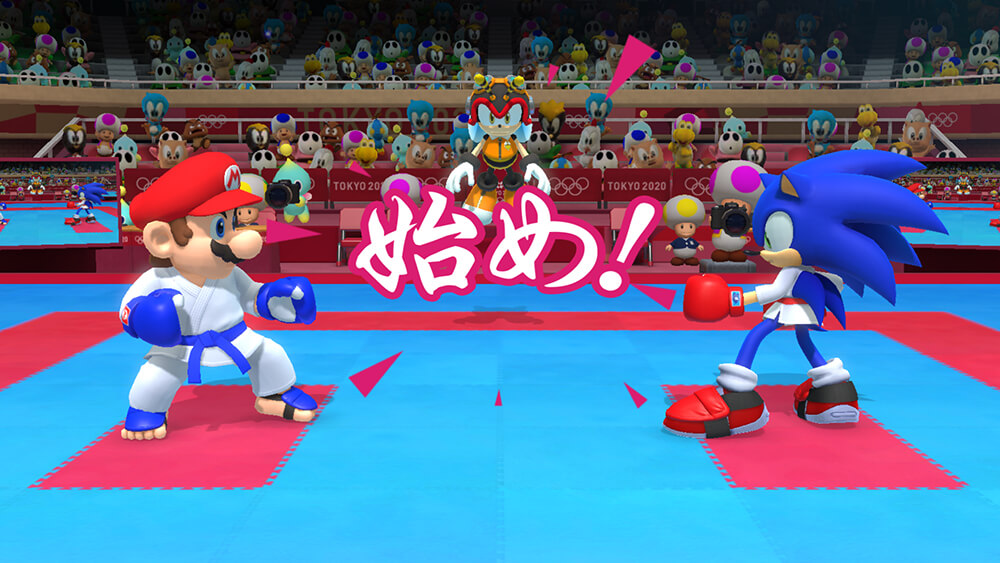 The game is now available for pre-order on the Nintendo eShop. If you pre-order the game you will be able to play the game immediately at midnight when it drops on November 1.
TM IOC/TOKYO2020/USOC 36USC220506. © 2019 IOC. All Rights Reserved. © NINTENDO. ©SEGA.
RELATED ENTRIES
Levi's® Releases Super Mario Collection in Collaboration With Nintendo

Levi's® has teamed up with Nintendo to release the "LEVI'S® × SUPER MARIO™" collection which dropped on April 1, 2020.


   

The colourful streetwear collection is a must for all fans of Mario, with embroidered appearances from popular characters such as the titular plumber, Luigi, Yoshi, and Princess Peach.

Each clothing item is a nod to the game's iconic make-up, from mushrooms and coins to Super Stars and event the game's logo.


Like Levi's®, Super Mario™ is a cultural icon, having appeared in over 200 games since the first video game was released in 1985. Shigeru Miyamoto, the game's creator, is perhaps the most respected designer in the video game industry's history.

Information

LEVI'S® × SUPER MARIO™
Release Date: April 1, 2020
Available: Levi's® stores in Japan & Levi's® online store

Collection:
Men's
'93 501® Selvage – ¥16,000
'93 501® Shorts – ¥8,000
Overalls – ¥16,000
Tracker Jacket – ¥14,000
Crew Neck T-Shirt – ¥4,000
Hoodie – ¥9,000
Polo Shirt – ¥6,000


Women's
501® Crop – ¥15,000
501® Shorts – ¥7,000
Short Overalls – ¥10,000
DAD Tracker Jacket – ¥14,000
Crew Neck T-Shirt – ¥4,000
Hoodie – ¥9,000

Accessories (Bandana, Bag, Hat & more) – ¥2,500 to ¥4,500
 

Levi's® Japan Official Website: https://www.levi.jp/

Official Mario Themed LEGO to be Released in Collaboration With Nintendo

The LEGO Group and Nintendo are teaming up to release a new line of Super Mario themed LEGO in the second half of 2020.

The LEGO Super Mario collection lets you build your own Mario courses from LEGO bricks. It comes with an interactive LEGO Mario figure you can use while collecting coins. Now you can built levels like in Super Mario Maker in your very own home.

LEGO Super Mario brings LEGO to a whole new level, allowing you to create your own original courses using the many different blocks provided while incorporating your own coin-collecting system. Check out the collection's official trailer below.

More details are to be announced, but expect LEGO Super Mario to drop sometime in the second half of 2020.

Airbnb to Offer Olympic Experiences With Olympians and Paralympians

The International Olympic Committee (IOC), International Paralympic Committee (IPC), and Airbnb announced in December last year a major long-term partnership to support the Olympic Movement which will run from 2020-2028. During this period, Airbnb will offer unique accommodation and experiences, and experience tours hosted by Olympians and athletes will also take place.

The IOC, IPC, and Airbnb are currently actively recruiting hosts to offer these services. These Olympic and Paralympic hosts include not only those who have participated in previous Olympic games, but those set to compete in the 2020 Summer Olympics (henceforth Tokyo 2020) too.

 

Olympians and Paralympians will not only share their wisdom about the games and their sports, but their skills, knowledge, and experiences with things other than sports that they are also passionate about, e.g. the best way to brew delicious coffee, useful business self-motivation tips for setting goals and building confidence, and so on. Athletes will also be able to freely pick the dates and times they can offer these experiences that best align with their schedules.

 

Daichi Suzuki, Sports Director and the President of the Japan Olympians Committeeーwho also has experience as an Olympic athlete himselfーsaid: "I think it's a really wonderful thing that athletes in Japan are helping to grow the value of the Olympics and Paralympics through sports with the support of Airbnb while using the opportunity to think about their careers to give rise to new experiences. I expect Olympians and Payalympians will use the Tokyo 2020 games as a framework to carve a second career for themselves, and that it will be part of the legacy of the games." *Translated from Japanese

To date, Airbnb's 'Experience' service in Japan has provided new careers for people and has been an opportunity for people to earn an income. This is done by people opening up their houses to travellers, or vacant properties being shared by travellers, to teach them a new skillーall of which is done under the support of Airbnb. The Experience service has garnered huge popularity around the world from foreign travellers for the diversity activities offered; there is something for everyone, no matter their age nor gender. Airbnb's collaboration with IOC will provide the opportunity for people to experience interacting with athletes, while also providing a second career for Japanese Olympians and Paralympians, whether they are competing this year or have retired.

Information

Airbnb Olympian & Paralympian 'Experience' Host Summary

How to Apply: ①Fill out the IOC's Athlete 365 details via the official Airbnb website, or ②Apply via the Airbnb's OLYHOUSE booth at the Olympic Village

Application Page (Japanese): https://www.airbnb.jp/d/olympicgames

Application E-mail: JP-olympians@airbnb.com

Aimed At: Japanese Olympians and Paralympians (Whether retired or competing)

Application Conditions: For all Olympians and Paralympians who have competed in games and new competitors competing at Tokyo 2020. Must be aged 18+ and be an Airbnb user or have an Airbnb account.

Sonic the Hedgehog Movie Dashes Past $200 Million in Box Office

It has been revealed that the Sega-published Sonic the Hedgehog movie has broken $200 million in the box office worldwide. The film was distributed by Paramount Pictures.

 

Sonic the Hedgehog was released worldwide on February 14, 2020. It hit up 4,167 theatres in the US, and in its three-day weekend debut amassed $58 million, breaking Detective Pikachu's record ($54.3 million) for the biggest opening weekend for a movie adapted from a video game.

In its second weekend, the film made $26 million and retained its top spot in the box office. After 10 days, it had garnered $107.7 million in the US and $102.2 million elsewhere for a total of $209.9 million.

Sonic the Hedgehog will be released in Japan on March 27, 2020.

©︎2019 PARAMOUNT PICTURES AND SEGA OF AMERICA, INC. ALL RIGHTS RESERVED.

Mario Question Blocks Appear in New York to Win a Trip to SUPER NINTENDO WORLD

SUPER NINTENDO WORLD is set to open at Universal Studios Japan (USJ) in 2020ーthe year of the Tokyo Olympicsーas the world's first theme park area centred on the world, games and video game characters from Nintendo. A whopping 60 billion yen has been injected to make the park a reality.

In promotion of the park, the "SUPER NINTENDO WORLD CHALLENGE" was held in New York, US on February 19.

Fans dashed to Grand Central Terminalーa tourist hot spotーwhere the event was held to play a game involving the iconic Question Blocks from the Mario video game franchise. The set-up, which brought to mind a Bonus Stage from the game, had people hitting the question blocks just like Marioーsomething which we all must have imagined doing before.

1,000 people participated in the event which they signed up to prior. It was a day of fun for not only players but onlookers too. Grand prize winners won trips to SUPER NINTENDO WORLD, which is set to open before the Tokyo Olympic Games start, while all other participants got their hands on some exclusive SUPER NINTENDO WORLD merch early.

One participant said: "I love everything about Mario, so I knew I'd definitely be taking part today! I've loved Mario since I was a kid, I even had a plush toy of him. Mario really is exciting. I've always wanted to be Mario, so I'm really happy with how today turned out. I want to go to SUPER NINTENDO WORLD with my best friend and try out all the attractions. I'm sure it's gonna be a lot of fun!" (Male, 20 / Staten Island, New York) *Translated from Japanese

One of the grand prize winners said: "I've been a huge fan of Nintendo's games since I was 3-years-old. I was lucky to get to take part in the SUPER NINTENDO WORLD CHALLENGE today, but to go and win the grand prize is an amazing feeling! I'll be going to Japan with my girlfriend who I love so much! I'm always paying attention to news about SUPER NINTENDO WORLD. The Mario Kart attraction will definitely be a ride, I'm looking forward to it so much I just can't wait! I always thought it would be great if they made a Mario theme park, so the fact they're doing it in both Japan and even the US is amazing!" (Male, 20 / The Bronx, US) *Translated from Japanese

The Question Blocks also made an appearance in Times Square. The event was covered on the morning news in the US with fans visible at the event, Rockefeller Plaza, and elsewhere.

If you're a Mario and Nintendo fan planning a trip to Japan then be sure you get to experience SUPER NINTENDO WORLD when it opens this year.

Latest News On SUPER NINTENDO WORLD at Universal Studios Japan – MOSHI MOSHI NIPPON

SUPER NINTENDO WORLD is set to open at Universal Studios Japan (USJ) in 2020ーthe year of the Tokyo Olympicsーas the world's first theme park area centred on the world, games and video game characters from Nintendo.

What is "SUPER NINTENDO WORLD"?

SUPER NINTENDO WORLD will be the first-ever multilevel Nintendo-themed area at USJ, and the first of its kind in the world. Fans of the internationally beloved games can expected to see a whole host of rides and attractions dedicated to their favourite characters, from Mario Kart to Yoshi and beyond, as well as themed restaurants, merchandise shops, and more.

Power Up Band

Guests at SUPER NINTENDO WORLD will be able to feel like they are in a Mario video game with the Power Up Band, a purchasable wristband which works in connection with the USJ app for smartphones., which enables them to collect digital coins and compete with their friends for the highest score on the scoreboards.

Hit question blocks to collect coins

Just like Mario does in his quest to save Princess Peach from Bowser, guests can collect coins by hitting Question Blocks with their Power Up Bands. They will feel like they are competing in a video game, in real time, with the other guests in the park. The Power Up Band has numerous features, including the ability to obtain collectable items like Mario character stamps by completing various conditions listed on the app.

 

Battle bosses with friends

Additionally, guests can collect 'Keys' in a new attraction called 'Key Challenges' with which they can unlock various gameplay opportunities including 'Boss Battles.' They will be able to battle bosses together with their friends.

Charli XCX & Galantis drop music video to promote the park's grand opening

To promote the opening of SUPER NINTENDO WORLD, USJ dropped a music video entitled WE ARE BORN TO PLAY on their official YouTube channel on Tuesday in collaboration with Swedish electronic DJ duo Galantis and English singer-songwriter Charli XCX. The music video merges the real world with the world of Mario, with Charli hanging out with Toad on top of Peach's castle and people stomping on digital Goombas. The song features original music mixed together iconic leitmotifs from the Mario games.


We look forward when SUPER NINTENDO WORLD finally opens and will most definitely cover it once it does.

Mario & Sonic at the Olympic Games Tokyo 2020 Unveils 5 Sports in the Game

As excitement is on the rise worldwide in anticipation for the Tokyo 2020 Games, the world just cannot wait for the release of the iconic Nintendo Switch™ game Mario & Sonic at the Olympic Games Tokyo 2020, which is due to be released very soon. Sega has just unveiled a small snippet of information on five events that are going to be included in the game which we are sharing with you today.

Tokyo 2020 100m

Aim for nothing but first place in the Tokyo 2020 100m. Increase your speed with the rapid push of a button. By building up your speed before the race starts and releasing it at the correct moment, you will get off to a dashing start. The "special dash" is a way to rapidly cut down on your time. 

Tokyo 2020 Rugby Sevens

This game will plunge you straight into the action. Work with your team of seven and use a range of tactics such as passes, strong tackles and kicks to get the upper hand. Carry the ball to the goalline to watch those points roll in. When your special gauge reaches its max power, you will be able to use a "super dash" ability to get the ball to the goalline if on the offense. If on defence, your special ability is the "special tackle", which will provide you with the power to whip the ball away from your opponent. These special abilities have the power to drastically turn the tables and are not to be taken lightly. This game features guest character Diddy Kong!

Tokyo 2020 Canoeing

Get your heart pumping with the thrill of competition while staying synchronised with your partner in a canoeing race. If your timing is perfect, you will pick up speed straight away. Team up with your friend and dive right into the fun. If you are falling behind, don't let your heart sink in despair. Paddle as much as you can and you will be able to catch up with the others in no time!

Toyko 2020 Equestrian Jumping

Let no hurdle taint your gracefulness as you soar through the sky and clear each one. You can take part in Equestrian Jumping individually or as part of a team. Be careful of sharp turns and hurdles! When you increase your speed, your stamina will drop, however, you will recover lost stamina with every hurdle you successfully clear. If you manage to clear lots of hurdles in succession, you will gain enormous amounts of speed and will be on your way to a record-breaking winner. You can also use a special dash once in this game. If you manage to use it while successfully striking a difficult pose, you will continue to zoom off to the finish line at high speed. This game features Larry Koopa as a special guest!

Tokyo 2020 Table Tennis

Face off in a singles match or team up with your friend for a doubles match. Your avatar will move automatically, allowing you to fully dedicate your brain power to using a range of techniques. Build up your power to change the speed and spin of the ball.Zazz has infiltrated this game to take part as a guest character!

Join in the Tokyo 2020 celebration fun with these new epic games!

TM IOC/TOKYO2020/USOC 36USC220506. © 2019 IOC. All

Rights Reserved. © NINTENDO. ©SEGA.

Information

Mario & Sonic at the Olympic Games Tokyo 2020™

Platform: Nintendo Switch™

Initial Release Date: November 1, 2019

Price: ¥5,990 (before tax)

Genres: Sports, action

Players: 1 – 4

* Play with up to 8 people when you play online.

*Nintendo Switch™ supports 2 – 4 local players.

Official Website: https://www.olympicvideogames.com/marioandsonic/jp/

Team of Globally Sensational Artists Chosen to Design Official Art Posters for Tokyo 2020 Games

The Tokyo Organising Committee of the Olympic and Paralympic Games has launched a project the Tokyo 2020 Official Art Poster Project to bring together domestic and international artists. This is a project that was stated as a requirement in the Host City Contract 2020*. Extraordinary artists from Japan and overseas have been carefully chosen to take part in the project. The selected artists have finally been announced. 

*Following the selection of Tokyo as the Host city for the 2020 games at the International Olympic Committee session in September 2013, the Tokyo Metropolitan Government (TMG), International Olympic Committee (IOC) and Japanese Olympic Committee (JOC)  signed the Host City Contract 2020 which details the preparations and running of events related to the 2020 games.

The official poster designs are intended to be artistic pieces that are themed on the Olympics and Paralympics. As official Tokyo 2020 posters, their intended purpose is to raise spirits, excitement and anticipation as well as to inspire.

The artists were chosen after endless discussions between the Culture and Olympic Heritage Commission, which manages the project, and the Artist Selection Committee.

Naoki Urasawa

Shinro Ohtake

Daijiro Ohara

Shoko Kanazawa ©sho

The Japanese artists who have been chosen to create the Olympic-themed designs include Naoki Urasawa, who wrote the famous manga YAWARA!, Shinro Ohtake, who works on a global scale, graphic designer Daijiro Ohara and calligrapher Shoko Kanazawa. 

Theseus Chan

11 non-Japanese artists were selected to contribute to the designing of the Olympic posters including art director Theseus Chan and photographer Viviane Sassen.

The eight artists who were chosen to design the Paralympic posters include Hirohiko Araki, who wrote and illustrated JoJo's Bizarre Adventure, and Mika Ninagawa, who is a sensational photographer and movie Director.

Many more famous artists have been specially chosen to take part in this project. Anticipation levels are high as we wait to see what these phenomenal artists produce.

Run the Olympic Torch Relay at Tokyo 2020 With Aquarius Summer Campaign

The Coca-Cola System has announced a summer campaign with the sports drink brand Aquarius which is set to begin in Japan on June 17, 2019.

The campaign is recruiting groups of runners to join the Olympic torch relay at the Tokyo 2020 Olympics. It is being promoted across Japan through TV advertisements which feature notable names including Japanese professional footballer Ritsu Doan and long-distance runner Suguru Osako.

With the Olympics right around the corner, more and more people are expressing their desire to join the Games and compete together with their friends.

Full details are to be announced over on the campaign's official website on June 17.

The details of 33 challenges based around the 33 Tokyo Olympic Games will be released. Participants will select their favourite challenge and compete in teams of over 10 people and film the session. They must then post the video to Twitter with the hashtag #アクエリチャレンジ ("Aquarius Challenge") and the place in Japan written in Japanese that they want to run the torch relay such as #東京 ("Tokyo"). Runners for this Aquarius Challenge will be selected by the Tokyo Organising Committee of the Olympic and Paralympic Games. The campaign will run until August 31.

New Trailer Release For the Tokyo 2020 Official Video Game On PS4® & Nintendo Switch™

A new trailer has dropped for the forthcoming PlayStation4® and Nintendo Switch™ game Tokyo Olympics 2020 Official Video Game detailing more information regarding online matchmaking and the games we can expect.

Ranked Games: Aim for gold online

Ranked Games will pit you against other players online where you will compete to get the highest worldwide rank. The rank system ranges from C- to A+. Matches in this mode are carried out with a timetable just like the real Olympic Games. The athletic events will change every 30-minutes within which you are free to retry as many times as you like. The match time limit will be chosen according to your rank, and players will be given an opponent with a close rank to themselves. Players will receive a "Rank Score" when they play. As their Rank Score increases so does their rank. If their rank goes high enough they will be able to participate in special ranking matches.

Boxing

Players will go head to head against each other 1 on 1 in a boxing ring and control each fist with the left and stick analogue sticks respectively. Even inexperienced players to boxing games have a chance at winning these matches as they continue to roll out the punches. Players can also side step and guard to block incoming attacks. If they fill up the three-bar gauge fully they can throw out a "Special Blow" and deal high damage.

Hammer Throw

In the Hammer Throw game, players will need to swing their hammers with the analogue stick with increasing speed to reach the furthest distance. If players continue rotating the analogue stick after the hammer has been thrown their character will let out a war cry which can make the hammer fly even further.

Participate in the Olympics from your own home by picking up a copy of the official video game dropping in Japan on July 24, 2019.

TM IOC/TOKYO2020/USOC 36USC220506. © 2019 IOC. All Rights Reserved. ©SEGA.

Be Part Of the Tokyo 2020 Olympics With the New PS4® & Nintendo Switch™ Video Game

This year, Sega Games Co., Ltd. is celebrating the 2020 Olympics with the release of the new Tokyo 2020 Olympics: The Official Video Game™ on Wednesday 24th July 2019! The game will be available on PlayStation®4 and Nintendo Switch™.

Tokyo 2020 Olympics: The Official Video Game™ includes 16 varieties of games, allowing sports fans from across the world to enjoy some full-blown sports action!

This official sports game allows you to create an avatar that looks like you to take part in the games, allowing anyone to take part in and personally experience the Tokyo 2020 Olympic games! Nothing can compare!

There is a game promotion video on YouTube which introduces the variety of games you can compete in, the realistic stadium areas and the large variety of options when customising your avatar!

Tokyo 2020 Olympics: The Official Video Game™ promotion video:

The promotion ambassador for the game is retired Japanese Olympic swimmer Takeshi Matsuda, who participated in the Olympics in Athens, Beijing, London and Rio and won four gold medals. Matsuda will be appearing in many events and videos from here on out, so don't be shy! Come join in the celebration and get gaming!

This Olympics-themed game is adding a splash of fun to the world and anyone can join in!

TM IOC/TOKYO2020/USOC 36USC220506. © 2019 IOC. All Rights Reserved. ©SEGA.

Information

Tokyo 2020 Olympics: The Official Video Game™

Release date: Wednesday 24th July 2019 (subject to change)

Price: Packaged version/ downloadable version: ¥4,990 (+ tax)

Official website: http://www.olympicvideogames.com/

UNIQLO Releases Super Mario Bros. T-Shirts from UT Brand

UNIQLO released their new Super Mario Family Museum collection as part of their UT t-shirt graphic brand on April 1 at UNIQLO branches across Japan and via their online store.

Since the releases of the original Super Mario Bros. in 1985, Mario has continued to reign as one of the most symbolic and iconic video game characters of all time. UNIQLO pays their respect to the legendary plumber with this new collection which features classic designs from the game.

Men's Collection

This first white t-shirt bears a print of the original 8-bit Mario. Underneath him is the B Dash command, something which will be familiar to any gamer. This commands enables Mario to run. If you look to the right of the t-shirt you'll see part of Mario's figure―he's dashed off screen!

The next t-shirt has a chic black design with a pocket that features multiple Bullet Bills firing in all directions.

Another pocket design this time with a Chain Chomp poking its head out. We all have our memories with these feisty and irritable critters―one misstep or bad jump offers you as a meal to this crazy chomper.

Colourful stripes and a Yoshi egg decorate this t-shirt. Fans will be able to relate to the relief and excitement of seeing one of these shaking eggs.

Women's Collection

This Princess Peach t-shirt is available as part of the women's collection. A cute pink decorates the design which is complemented by a beautiful 2D graphic of Peach.

Mario has jumped on many boxes in his career and this one gives him a love heart. The t-shirt has simple black stripes against a white background which gives a French vibe to it.

At first glance you see polkadot, but upon closer inspection you'll notice they're actually Boos! They go perfectly with the pitch black background as they wait in the dark for Mario to walk by…

Kid's Collection

Similar to the t-shirt in the men's collection, this one has the jump command on it. If you line it up with the men's t-shirt it creates an image of Mario running and jumping!

Donkey Kong is another member of the Mario family, and only kids get his t-shirt. You'd better not steal his bananas.

Kids also get this exclusive bright green t-shirt with an adorable sleeping Yoshi on it. This one is perfect for easily-excitable children.

If you buy anything from this collection in-store it will come bagged in one of these question block shopping bags. These are limited in stock and are available on a first-come, first-served basis.

If you're in Osaka then you'll definitely want to stop by the Shinsaibashi branch of UNIQLO. The entire store (from March 29) is lit up to create an awesome looking 8-bit Mario! More characters are planned to show their faces on the building too  up until mid-April.

Which t-shirt are you eyeing up the most?

Information

"SUPER MARIO FAMILY MUSEUM" UT

Release Date: April 1, 2019

Price: Men's & Women's – ¥900 (Before Tax) / Kid's – ¥790 (Before Tax)

Available: At UNIQLO branches across Japan and their online store

Sizes: Men's (XS-4XL) / Women's (XD-3XL) / Kid's (100-160)

*Men's and women's XS and XXL-4XL sizes as well as kid's 100 and 160 sizes are available online only.

Product Page: www.uniqlo.com/jp/store/feature/uq/ut/nintendo-museum/

UNIQLO Official Online Store: https://www.uniqlo.com/jp/

©Nintendo