BT21 Cafe Serves World Food in Shibuya, Umeda, Nagoya and Sapporo
LEGS COMPANY is opening four BT21 themed cafe called "BT21 CAFE 2019 WORLD"over the next couple of weeks. The Tokyo and Osaka branches opened on August 22. The Nagoya branch will open on September 4 and the Sapporo branch will open on September 5.
BT21 are the LINE messenger app characters created by K-pop group BTS. The cafe will serve up many different dishes of food from around the world, all with motifs of the various BT21 character line-up. Pictured below is just a select portion of the menu and merchandise you can look forward to.
Cafe Menu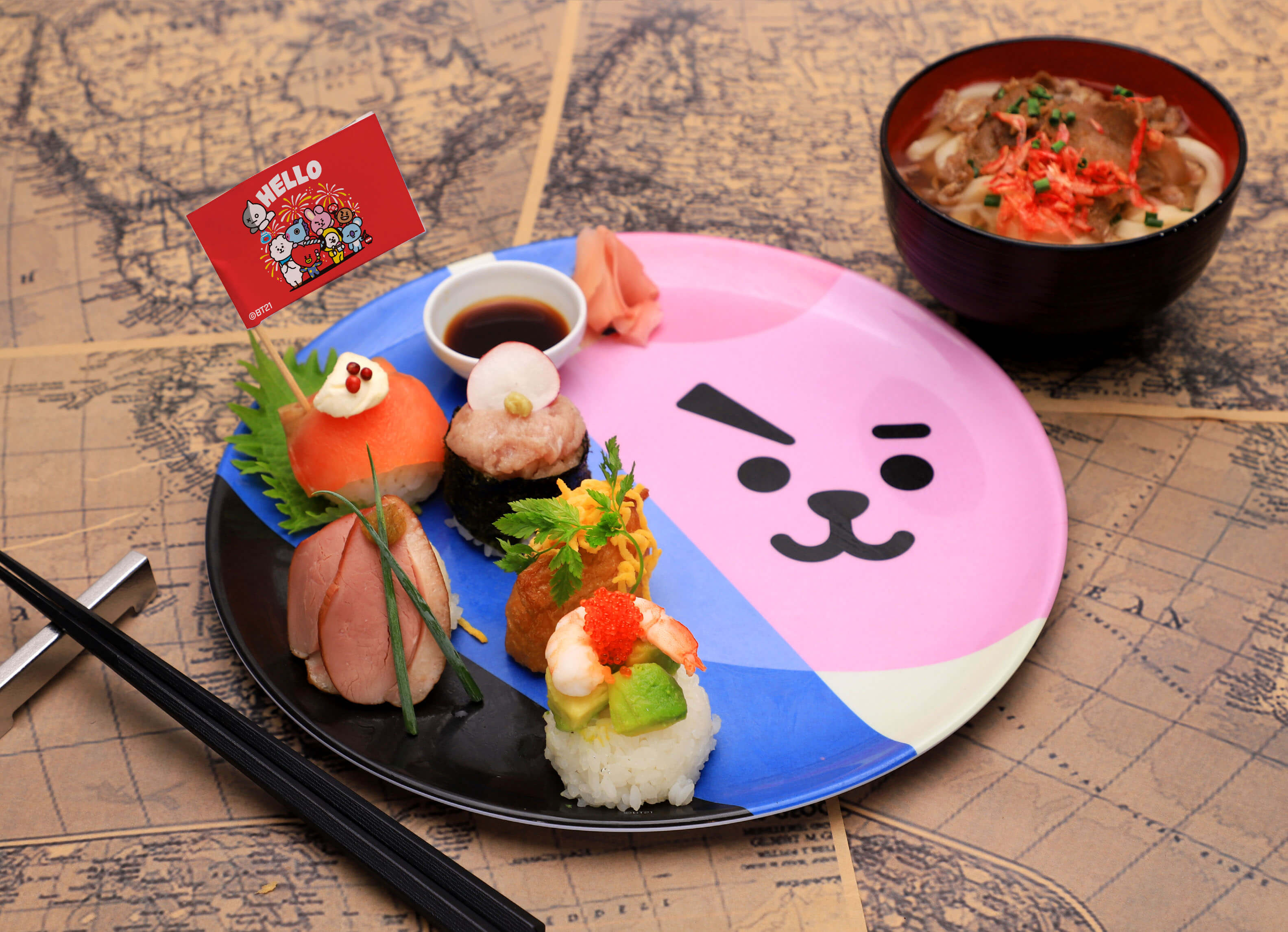 Japanese Food Plate: Temari Sushi (Salmon, Duck, Minced Tuna, Fried Tofu, Shrimp Avocado) & Meat Udon – ¥1,490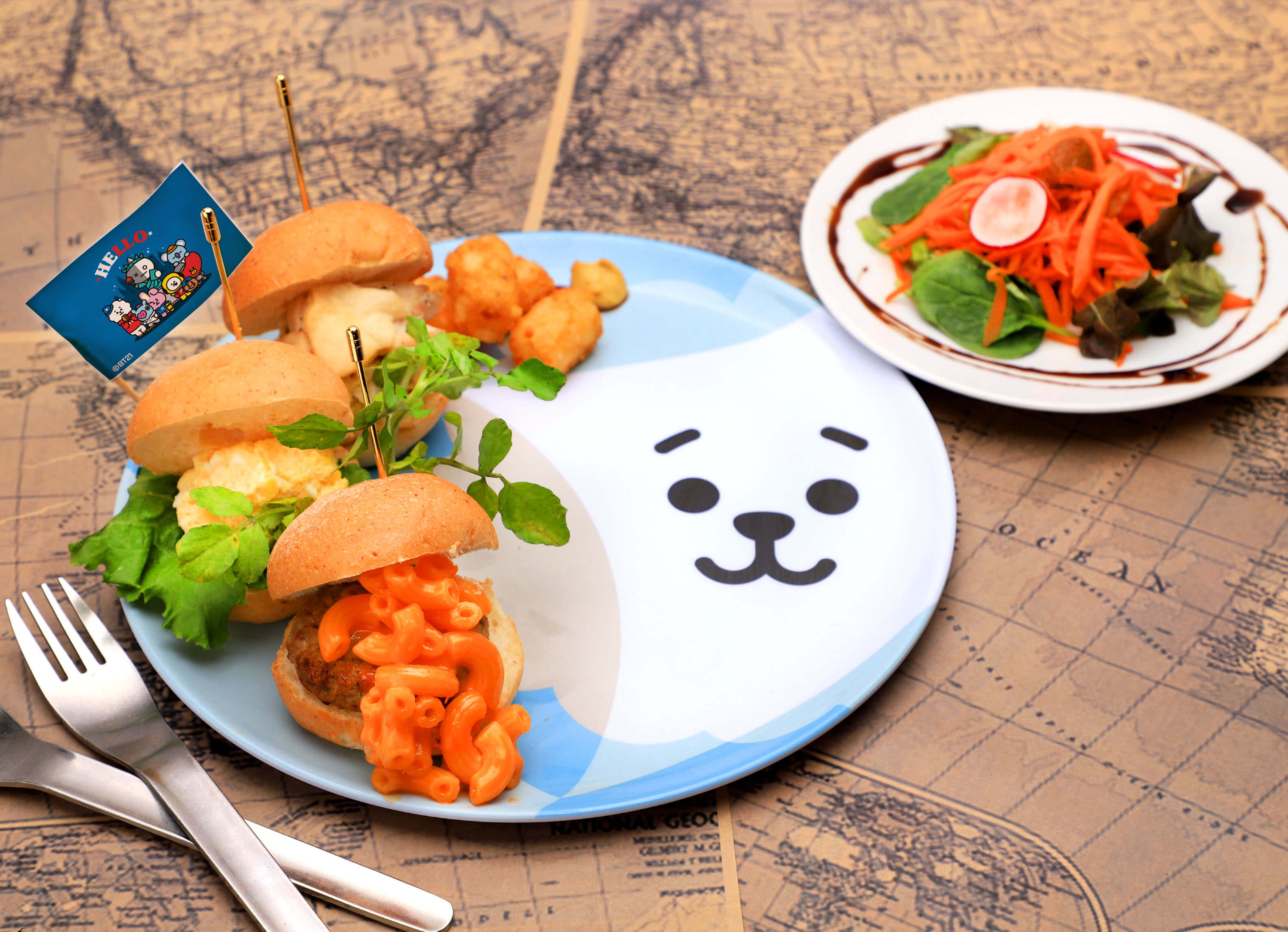 American Food Plate: Slider Burgers (Macaroni Cheese, Egg Salad, Grilled Chicken), Potatoes & Carrot Salad – ¥1,490
South Korean Food Plate: Tteok-bokki, Japchae, Yangnyeom Chicken & South Korean-Style Rice Ball  – ¥1,490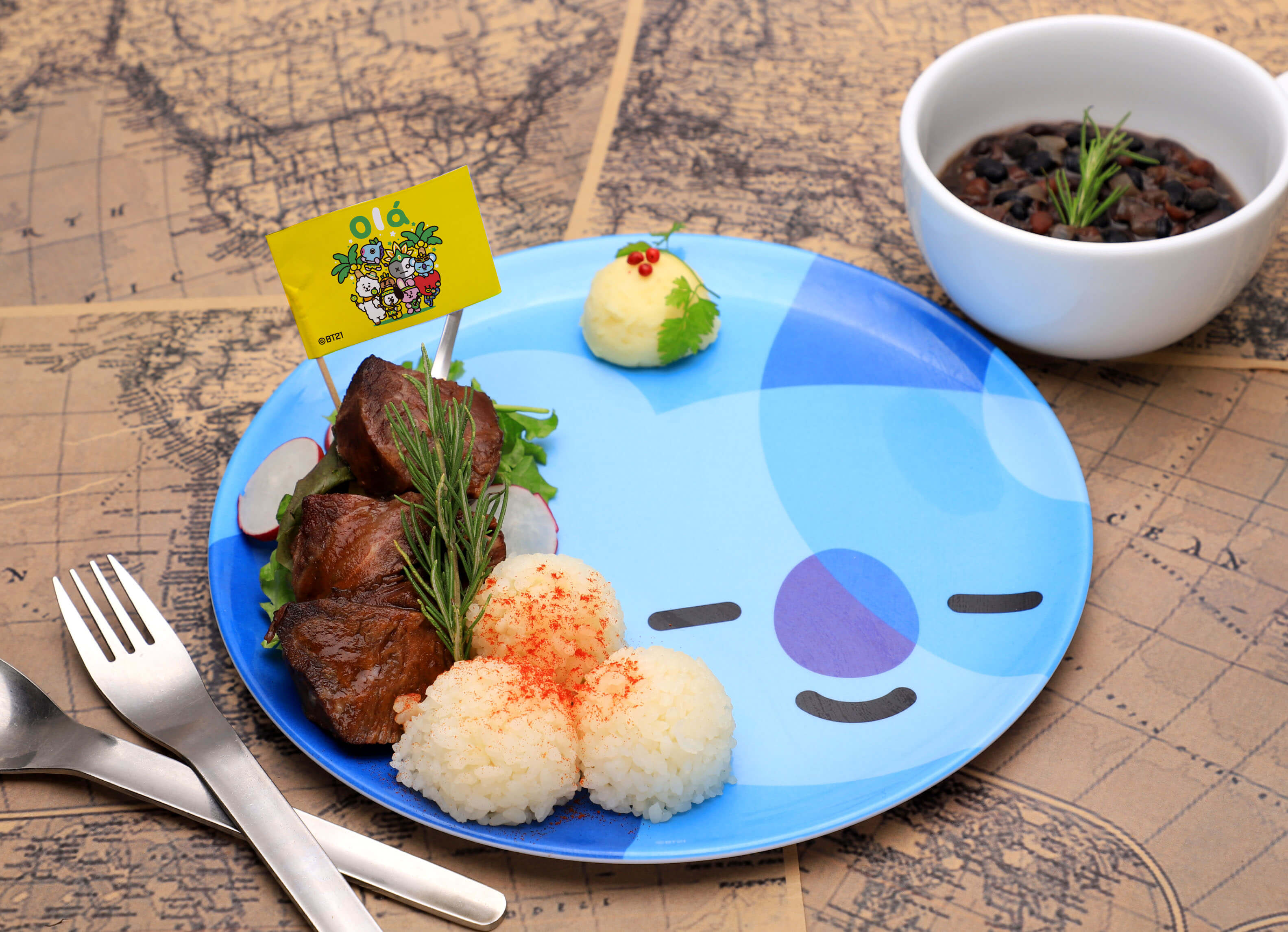 Brazilian Food Plate: Churrasco, Mashed Potato & Feijoada – ¥1,490

Japanese Dessert (Left): Custard Taiyaki, Strawberry Daifuku, Berry Bean Paste Dango, Matcha Ice Cream – ¥1,290 / American Dessert (Right): American Waffles – ¥1,290
RJ (Left): Peach Calpis – ¥990 / CHIMMY (Right): Pineapple Soda – ¥990

COOKY (Left): Guava Soda – ¥990 / TATA (Right): Pineapple Soda – ¥990
Exclusive Merchandise
Japan Acrylic Key Rings (Left) – ¥750 / South Korea Acrylic Key Rings (Right) – ¥750
Folders (Left) – ¥400 Each / Hologram Stickers (Right) – ¥500 Each
Bonus Items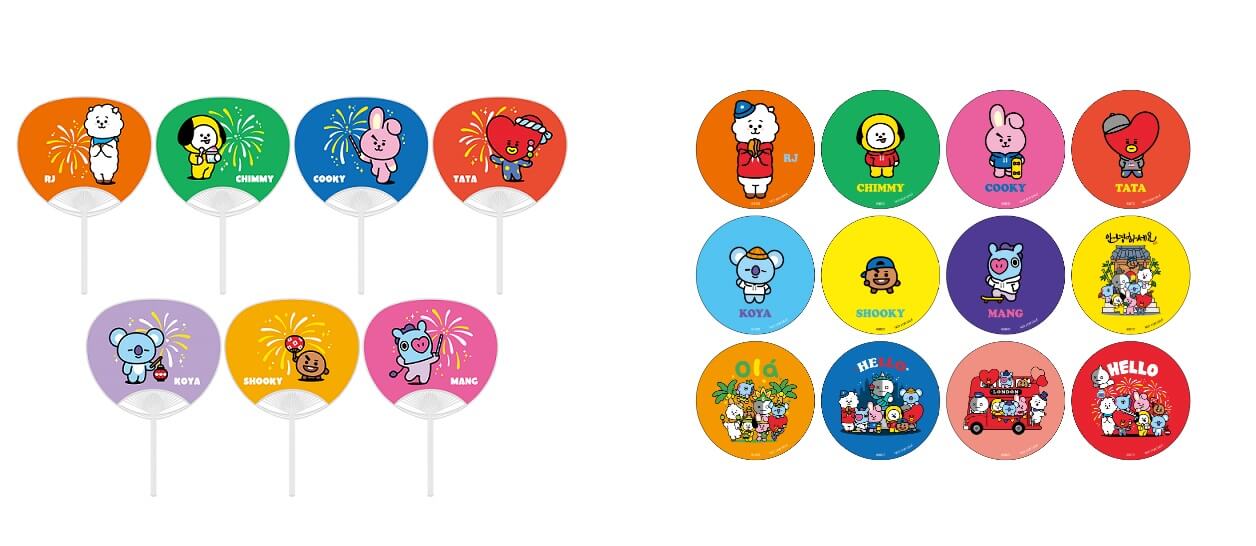 Every person who books a table in advance (¥650) will receive one of 7 possible mini fans pictured above on the left. Those who order a drink will receive one of 12 possible coasters pictured on the right.
There are lots of other cute pieces of merchandise and menu items to look forward to too. Full details can be found on the cafe's official website below.
*All listed prices are pre-tax. Photos are for illustrative purposes only.
©BT21
Information
BT21 Cafe 2019 WORLD
Locations/Dates:
SHIBUYA BOX CAFE&SPACE SHIBUYA 109 (August 22, 2019 – September 29, 2019)
UMEDA BOX CAFE&SPACE (August 22, 2019 – September 23, 2019)
NAGOYA BOX CAFE&SPACE (September 4, 2019 – October 6, 2019)
TOWER RECORDS CAFE at Sapporo PIVOT (September 5, 2019 – October 20, 2019)
*Cafes closed on September 30, 2019
Reservations
・Price: ¥650 (Before Tax)
Official Website: http://box-cafe.jp/
The BT21 Cafe is reservation-only
RELATED ENTRIES
Alice in Wonderland Themed Afternoon Tea Buffet 'Lost in Europe' Heads to Nagoya

This spring, Hilton Nagoya is set to serve up a special afternoon tea set and buffet plan at its first floor all-dining restaurant IN PLACE 3-3. The theme of the afternoon tea line-up, which will be served either as a set-only plan or the set plus a buffet, is 'Lost in Europe.' Fans of Lewis Carroll's beloved novel Alice's Adventures in Wonderland can look forward to jumping in the rabbit hole as they indulge in a colourful and delicious line-up that sends them straight to wonderland.

The plans will run for three months during which three different menu line-ups will be served, each with a European feel to them as Alice finds her curiosity tending away from Japanese cuisine to the delectable assortments of overseas.

Spain will serve as the first menu. Travelling to Spain, Alice finds the country one overflowing with creativity in the arts, so says the story of this fun afternoon tea. Dishes will be plated with desserts fusing together Spain's food culture with that of Wonderland, traditional Spanish desserts, sweet treats inspired by Spanish art, and more. Many of the irresistible items will also be made with almonds – Spain being the second largest producer of almonds in the world.

Inside the restaurant, diners will feel like they have travelled to a Spanish rendition of Wonderland with a mix of styles from both locations, such as Spanish sunflowers, mosaic tiles, stained glass windows, and more.

A little look at the menu (some of it)

1. Afternoon Tea Set Menu: ¥4,600 (Tax Included)

Cubism Cheshire Cat Arroz Con Leche

A coconut-flavoured Spanish rice pudding made with coconut lavender jelly. Its design, from the stripes to the grinning teeth, are references to the Cheshire Cat.

Blue Caterpillar Siesta Cake

A cake covered in striking blue chocolate, made with pistachio mousse, and filled with a mixed berry jelly.

Butterfly Windmills Mousse

An artistic delight made with smooth chestnut mousse and colourful butterfly wings attached.

Plate Menu

Pistachio Crema Catalana in Berry Sauce

A traditional dessert of Catalonia, this crema catalana features a rich pistachio-flavoured custard cream and is served with a berry sauce.

Savoury Items

Salted churros that are crunchy on the outside and fluffy in the inside, and a checked bocadillo filled with Spanish omelette.

Lost in Europe Afternoon Tea Set Summary

10 desserts, two savoury items, and a choice of a soft drink, coffee, or tea.

2. Afternoon Tea Set & Dessert Buffet: Adults ¥5,000 / Children ¥2,500

Mischievous Crazy Clock Cake 

A warped, melted clock made with passion fruit cream and orange and mango mousse.

Mosaic Tile Sangria Jelly (Non-Alcoholic)

A refreshing beverage made with non-alcoholic white wine and grape, strawberry, and grapefruit jelly, all made to look like mosaic tiles.

Savoury Items

Pick from nine different savoury items like paella, sopa de ajo garlic soup, patatas bravas, tapas, and more.

There are also a range of other desserts like a coffee jelly ice cream, a melon cake, and more, as well as fruity iced candies.

Afternoon Takeout Box

Customers can also get their afternoon tea set to go with a mix of desserts and savouries.

Sustainable Fashion Week Event to Take Place at Earth Day Tokyo 2021

Earth Day Tokyo 2021 is set to run from April 17 to April 25 both online and offline. Messages of eco-friendliness, organic products, sustainability, ethics, and inclusiveness will be at the core of various events held as part of the festival and it will bring together environmental NPOs, charities, and locals.

As part of this year's Earth Day Tokyo, sustainability and fashion are set to interweave with the SUSTAINABLE FASHION WEEK 2020+1 event which is running on April 24 and 25.

With less than nine years to go until the world must achieve the 17 Sustainable Development Goals (SDGs), Earth Day Tokyo believes individuals need to be doing more to change their lifestyles and the way they do certain things. Fashion is an area that enrichens people's lives—but it's also one that can call for environmental action by changing our consumption habits.


SUSTAINABLE FASHION WEEK 2020+1 will bring together various teams and organisations to hold booths and talk sessions online and offline where people can learn about these issues. It's a collaboration between Fashion Revolution Japan, the Japanese branch of the global Fashion Revolution campaign to reform the fashion industry by enabling a greater transparency in the fashion supply chain amongst other problems. Fashion Revolution Week takes place every year on April 24, the same date as the 2013 Dhaka garment factory collapse where 1,134 people died and more than 2,500 people were injured.

The main visual for SUSTAINABLE FASHION WEEK 2020+1 features Japanese singer and artist KOM_I who is best known as a member of the Japanese music group WEDNESDAY CAMPANELA. It was created by HYPE FREE WATER, an artist collective headed by KOM_I and art director Minori Murata. KOM_I will participate in a planned talk program at MIYASHITA PARK on April 24 and 25.


A Message From KOM_I

"HYPE FREE WATER will be taking part in Sustainable Fashion Week at Earth Day this year. Our organisation focuses on the future of water. We want to be able to wear something beautiful without having to make sacrifices like selling out the future or destroying the environment. I'm looking forward to new people getting involved with us as this discussion takes off."

Information

Earth Day Tokyo 2021

Running: April 17, 2021 – April 18, 2021

Earth Day Tokyo Official Website: https://www.earthday-tokyo.org

SUSTAINABLE FASHION WEEK 2020+1

Running: April 17, 2021 to April 25, 2021

Time: 11:30-18:00
Where: Shibuya Miyashita Park / RAYARD MIYASHITA PARK

Address: 1-26-5 Shibuya, Shibuya-ku, Tokyo

Fashion Revolution Japan: https://www.fashionrevolution.org/asia/japan/

Little Glee Monster and Other Japanese Artists Announced For Tokyu Musix Challenge

Tokyu Musix Challenge is set to take place at Bunkamura Orchard Hall this year on March 7 at 18:00.

2020 saw the cancellation of music events across the world, with Japan being no exception. Shibuya, Tokyo's hub of countless live music venues and halls, was particularly affected by the effects of the pandemic. But the energy and power that music artists hold is one they can offer to brighten up peoples' time during today's times. That's where Tokyu Musix Challenge comes in, a new kind of music festival that will bring together a multitude of genres, and where better for it to be held than the cultural melting pot that is Shibuya.

This year will be the first run of the festival, where a collaboration between classical music and contemporary pop music will clash at Bunkamura Orchard Hall. The Tokyo Philharmonic Orchestra, which is recognised as Japan's oldest symphony orchestra, will play alongside acts such as Little Glee Monster, Ai Higuchi, Win Morisaki, Meimi Tamura, Kayoko Yoshizawa, ROTH BART BARON, and more. And the line-up is set to grow as more performers will be announced in the lead up to the event.

Comments from the Artists

Little Glee Monster

"We are really looking forward to feeling the fresh breeze of our music colliding with the grand scale of an orchestra. We'll be sure to play our part so that we don't lose to the overwhelming performance of everyone in the Tokyo Philharmonic Orchestra, but also so that our music complements theirs. We hope that everyone can have a good time and feel good from the strength that music has."

Ai Higuchi

"In 2020, we may have all lived kind of complicit with so many options in front of us leading down different paths. A certain friend might have gone to a drinking party, another might not have seen their lover for a long time. What choices do we make? We become darker depending on our choices. In Shibuya, a city that continues to change, I will sing my unchanged songs."

Win Morisaki

"Over this past year, the respect I have for the position I'm in where I can express myself has really sunk in. I'm so happy I've been able to get involved with this challenge. And getting to sing with an orchestra, it's magnificent. I'm so excited about what's to come."

Meimi Tamura

"I can't contain my excitement at a genre collaboration between classic, which is the foundation of music, and pop which is strongly tied to Shibuya. I think I'm going to start feeling tense at getting to perform alongside everyone in the Tokyo Philharmonic Orchestra and singers of all different kinds of music. We don't have a lot of freedom today during the pandemic, but I will work my hardest so that I can deliver love through music from the city of Shibuya."

Kayoko Yoshizawa

"My chest roars and having the opportunity to perform along side Japan's oldest and longest-running Tokyo Philharmonic Orchestra at the legendary Orchard Hall. It's my first time experiencing singing with an orchestra, so I'm looking forward to seeing how the songs will be structured, and how my voice will sound, when we do it."

Harajuku's Pompompurin Maid Café to Open on April 14

Akihabara's premiere maid café chain "@home café" announced last month the opening of a permanent maid café themed on Sanrio's popular character Pompompurin. The café is set to open along Harajuku's famous Takeshita Street on April 14, 2021.

 © 2021 SANRIO CO., LTD.  APPROVAL NO. S620028

@home café has collaborated with many of Sanrio's popular characters in the past at its Akihabara-based café branches such as Hello Kitty, My Melody, Cinnamoroll, and of course Pompompurin, but this time the collaboration is flying out of Akiba and straight into the heart of Japanese pop culture: Harajuku.

This new Pompompurin Café is themed on Pompompurin throwing a party for everyone—that's you and your friends. It's a place for Purin to deliver happiness to all who visit in the form of cute and tasty food.

Of course, the @home café maids will also be present, and all wearing original maid uniforms coloured like Pompompurin.

A little look at some things on the menu

The Food

Soufflé Omurice | ¥1,450

Butter Chicken Curry | ¥1,300

The Desserts

Pompompurin Pudding | ¥700

Chocolate Banana Mountain Waffle | ¥1,200

The Drinks

Custard Pudding Latte | ¥850

Muffin's Caffe Mocha | ¥850

Take a commemorative photo

For just ¥550, you can take a chekki photo at the café. It comes with café-original stickers and paper. For an extra ¥300, you can take a photo with one of the maids.

Pompompurin Birthday Party

 

April 16 is Pompompurin's birthday, so on that day the café will have a special dessert prepared (which you can see below) along with novelties for customers, new decorations, and more.

Pompompurin's Birthday Dessert

Special Birthday Parfait | ¥1,700 | Serving: April 14, 2021 – April 30, 2021

Birthday Novelty

To commemorate Pompompurin's birthday and the opening of the café, all visitors will receive the pin below for free.

Pompompurin will visit the café

On the evening on April 16, Pompompurin will visit the cafe for his birthday to celebrate with everyone. Details and bookings can be found here in Japanese.

Information

Pompompurin Cafe x @home cafe

Grand Opening: April 14, 2021

Where: CUTE CUBE HARAJUKU Floor 3F, 1-7-1 Jingumae, Shibuya, Tokyo

Opening Hours: [Weekdays] 11:00-22:00 / [Weekends] 10:00-22:00

No Fixed Holidays

Pompompurin Cafe Official Website: https://pompompurincafe.com/

@home Official Website: http://www.cafe-athome.com/

Renai Mangaka Drama Series Gets Themed Cafe in Tokyo

Fuji TV's ongoing drama series Renai Mangaka opened a theme cafe in Ebisu on April 8 with dishes inspired by the series.

The Menu

Renai Pancakes | ¥1,892 (Tax Included)

Renai Fondant Chocolate | ¥1,122 (Tax Included)

Renai Lemon Sour | ¥660 (Tax Included)

Renai Strawberry Milk | ¥990 (Tax Included)

Renai Bread Gratin | ¥2,805 (Tax Included)

Renai Bread Dessert | ¥990 (Tax Included)

Renai Dessert Plate | ¥1,232 (Tax Included) | Available Early May 2021

Renai Omurice | ¥1,452 (Tax Included) | Available Early May 2021

The story of Renai Mangaka follows Karibe Seiichiro, a manga artist who's not the best at socializing. He rarely goes outdoors and has a strange way of thinking. One day, he meets his late-brother's former girlfriend Kuon Aiko, and asks her to be his pseudo-romance partner.

Information

Cafe Accueil Ebisu x Renai Mangaka Collaboration Cafe

Opened: April 8, 2021

Where: Cafe Accueil Ebisu

Address: 2-10-10 Ebisunishi, Shibuya-ku, Tokyo

Opening Hours: 11:00-21:00 (Last Orders 20:00)

Official Website: http://www.fujitv.co.jp/

Japanese Sensu Folding Fan brand BANANA to YELLOW Opens Pop-Up Shop in Shibuya

Japan's long-standing Kyoto-based sensu folding fan brand BANANA to YELLOW, which has been around since 1823, opened a pop-up shop at Shibuya PARCO in Tokyo on Friday, the store's first-ever pop-up shop outside Kyoto.

BANANA to YELLOW's goal is to make traditional Japanese sensu folding fans a fun and stylish experience for the modern day no matter the scene or season. The fans sold at the Shibuya pop-up shop will also include limited-edition designs.

Sensu

The line-up features some of the brand's signature fans which fuse traditional Kyoto-style folding fans with modern designs. Some of the fans are also printed by hand.

The fans can not only be used as they were originally intended—for manners, style, art, warding off evil, and so on—but also as a general accessory.

T-Shirts

The brand also has a collection simple and casual of t-shirts featuring a classic folding fan pocket as originally featured on Japanese kimono.

Bags

A hand two-way tote bag also equipped with a sensu pocket.

Eau de Toilette

Miyawaki Baisen-an's popular eau de toilette makes an appearance at the pop-up shop in four daily fragrances with a Japanese-style scent to them.

Guests

BANANA to YELLOW has collaborated with various artists to develop a range of fans. The first three guests include fashion designer Kunihiko Morinaga (Anrealage), artist Shinro Ohtake, and Mahito the People (Gezan).

Information

BANANA to YELLOW POP-UP STORE

Running: April 9, 2021 – April 22, 2021

Where: Shibuya PARCO's Floor 1F GATE Pop-Up Space

Address: 15-1 Udagawacho, Shibuya-ku, Tokyo

Official Website: https://shibuya.parco.jp/event/detail/?id=3285

Hio Miyazawa and Suzu Yamanouchi Feature in Special Rainwear Commercial

Japanese rainwear brand Wpc. released a special new commercial featuring actors Hio Miyazawa and Suzu Yamanouchi. The collaborative video is entitled "What's Changed, What Hasn't Changed."

The Rainwear Items

Basic Jump Umbrella – Off Paint

Big Silhouette Rain Poncho – Unisex Caramel

Floral Pink Gradation


Colour Mesh Coat – Beige

Free Lookbook

The message of the commercial is one of positivity: that though somethings might change, others do not. It refers to the state of the world during the COVID-19 pandemic, that despite being unable to see our loved ones, and that we're unable to lead the lives we once did, our feelings towards those special to us, and those around us, is eternal.

Information

What's Changed, What Hasn't Changed

Lookbook: Free distribution at Wpc. Shinsaibashi PARCO and Wpc. pop-up shops

Official Website: https://bit.ly/3uw2BFn

Shun Nakao Solo Exhibition to Open at SkiiMa Gallery in Shinsaibashi

Japanese artist Shun Nakao is set to hold their GENKOUHAN exhibition at SkiiMa Gallery in Shinsaibashi PARCO from April 9.

A look at some of the merchandise to be sold

Lithographs | ¥4,200 Each (Tax Included)

Lithographs | ¥4,200 Each (Tax Included)

T-Shirts | ¥4,200 (Tax Included)

Sodagirl Acrylic Key Ring | ¥1,100 (Tax Included)

Nakao's colourful and laid-back art is a pleasant sight for the eyes during these dark times. Fans of their work can also get their hands on a range of merch from lithographs to t-shirts, acrylic key rings, and more – all created for this exclusive exhibition.

Information

GENKOUHAN

Running: April 9, 2021 – April 26, 2021

Opening Hours: 10:00-20:00

Location: SkiiMa Gallery at Shinsaibashi PARCO's (Floor 4F)

Entry: Free

SHUN NAKAO Official Website: https://www.shunnakao.com/

LINE Friends Themed Cafe Opens in Ikebukuro

The popular LINE Friends characters now have their own pop-up cafe inside Ikebukuro PARCO which is running until April 25. The characters form part of a series of stickers used on the Japanese messaging app LINE which is used by other 200 million people worldwide.

The Menu

Brown's Beef Burger | ¥1,250

Lattes | ¥950

LINE FRIENDS Parfaits | ¥1,100 Each

Cafe-Original Merchandise

Alphabet Die-Cut Stickers | ¥330 Each

Lunch Tote Bag | ¥1,650

Brown Mug | Available to the first 300 people who visit to the cafe

Join Brown, Cony, and Sally as they serve up a fun and tasty menu along with a collection of merchandise exclusive to the cafe as well as items also sold at the LINE Friends Store.

Information

LINE FRIENDS POP-UP CAFÉ

Running: April 1, 2021 – April 25, 2021

Where: THE GUEST cafe&diner Ikebukuro

Address: Ikebukuro PARCO Floor 7F, 1-28-2 Minami-Ikebukuro, Toshima-ku, Tokyo, 171-8557

TEL: 03-5391-8604

Official Website: http://the-guest.com/

Snoopy Café Opens in Niigata in Collaboration With Hoshi Tabeyo Rice Crackers

Befco is collaborating its Hoshi Tabeyo star-shaped rice crackers with the lovable Peanuts comic strip to open a themed café at Hotel Nikko Niigata. Named the "Hoshi Tabeyo x Snoopy Café @ Hotel Nikko Niigata," the café will open for a limited time from April 9 to May 9."

Snoopy and fans of Japanese snacks can look forward to an original themed menu, with every food item and drink ordered getting them a free novelty. Of course, the café will sell its own original merchandise too. The café will be decorated in all things Peanuts and Hoshi Tabeyo, and there will even be two photo booths for snapping a commemorative photo of your fun day.

The Menu

1. Snoopy Beef Stew: With a juicy meat and bouillon base, this stew is made with beef, onion, and mushrooms, all topped off with a Snoopy made from rice.

2. Snoopy Hamburger Curry: Snoopy's rice ears are topped with a hamburger, and the curry sauce is made with fruit and vegetables. There's even a little Woodstock made from cheese.

3. Snoopy Hot Sandwich: There are two different sandwiches, one with ham and cheese and the other with potato salad, and both have a different toasted illustration on them. These come in a free lunch box.

4. Hoshi Tabeyo Shaka Shaka Caesar Salad: A salad served in a cup drizzled in a Caesar dressing and with Hoshi Tabeyo rice crackers instead of croutons.

5. Thick Soufflé Pancake: Fat and fluffy pancakes combined with French meringue and served with a Snoopy cookie and sweet-tasting Hoshi Tabeyo. Enjoy together with the accompanying strawberry sauce.

6. Chocolate Parfait: A towering, chocolate-packed parfait layered with chocolate sauce, chocolate cornflakes, chocolate ice cream, and brownie. This is all topped off with a Snoopy cookie and Hoshi Tabeyo rice cracker.

7. Hotel Original Cookies (Set of 4): Crunchy cookies with various prints of familiar faces like Snoopy and Woodstock.

8. Lemonade: A sweet and refreshing lemonade beverage served with honey.

*Dishes 1-3 come with the Shaka Shaka Caesar Salad

*Ordering anything from the menu gets you one of four possible Hoshi Tabeyo x Snoopy postcards

Merchandise

© 2021 Peanuts Worldwide LLC( 短縮形 © 2021 Peanuts )

Information

Hoshi Tabeyo x Snoopy Café @ Hotel Nikko Niigata

Running: April 9, 2021 – May 9, 2021

Location: Hotel Nikko Niigata Floor 31F

Address: 5-1 Bandaijima, Chuo Ward, Niigata

Opening Hours: 11:30-18:30 (Last Orders 17:30)

Official Website: https://www.hotelnikkoniigata.jp/sys/news/detail/323

Kyary Pamyu Pamyu's Fragrance Brand Nostalgia Syndrome Releases Lily & Jasmine Series

Nostalgia Syndrome opened pre-orders for its new Lily & Jasmine series of fragrances on March 31. The products will be released on April 22.

Nostalgia Syndrome is a fragrance brand produced by Kyary Pamyu Pamyu which launched last year. The new Lily & Jasmine series will be available to purchase online and will also be sold at two brand pop-up shops in Tokyo and Osaka. Those who spend over ¥10,000 online or at either of the stores (tax included) will receive a free Nostalgia Syndrome novelty – these are available in limited supply.

Online Store Novelty: Original Thermal Bottle

Pop-Up Store Novelty: Original Big Eco-Bag

Lily & Jasmine Series

Eau de Toilette | ¥8,250 (Tax Included)

Room & Fragrance Spray | ¥3,300 (Tax Included)

Aroma Diffuser | ¥7,150 (Tax Included)

Bath Salts | ¥3,410 (Tax Included)

Hand Soap | ¥3,520 (Tax Included)

Scented Candle | ¥8,140 (Tax Included)

Eau de Toilette Two-Set (9mL)

Kyary Pamyu Pamyu | Comment

"This is Nostalgia Syndrome's second fragrance release. After mixing together various ingredients, I was finally able to catch the right scent. The theme for this one is 'travel fragrance.' Because of COVID, our time spent outdoors has gone down dramatically, but smells tied to our memories make up part of us all. And smelling them brings back those memories. This is a blend of sweet, sophisticated lily and refreshing jasmine, so it's a really easy one to use that can be enjoyed by both guys and girls. We're also opening our first pop-up shop so please be sure to drop by to try out!"

Lily and jasmine are vibrant fragrances and perfect for the spring season. Order yours today!

Information

Nostalgia Syndrome Lily & Jasmine

Pre-Orders: March 31, 2021 (Shipping from April 22)

Release Date: April 22, 2021

Pop-Up Stores

・+SPBS (SHIBUYA SCRAMBLE SQUARE 2F)

Running: April 22, 2021 – May 26, 2021

Where: +SPBS, SHIBUYA SCRAMBLE SQUARE Floor 2F, 2-24-12 Shibuya, Shibuya-ku, Tokyo

Opening Hours: 11:00-21:00

・Shinsaibashi PARCO

Running: May 13, 2021 – May 20, 2021

Where: Shinsaibashi PARCO Floor B1F, 1-8-3 Shinsaibashisuji, Chuo-ku, Osaka-shi-, Osaka

Opening Hours: 10:00-20:00

Nostalgia Syndrome Official Website: https://www.nostalgia-syndrome.com/

A BATHING APE® x COMME des GARCONS Launch Second Collaboration

After one year since their first collaboration, A BATHING APE® and COMME des GARCONS released their second collection at BAPE STORE® and COMME des GARCONS OSAKA on April 3 featuring a new line-up that emphasises everything quintessential about both brands.

The collection includes full-zip hoodies, sweat shorts, tapered pants, and more, all branded with BAPE and GARCONS' logos and serving hard, casual vibes. The brands released a look-book as pictured below with a simple yet aesthetic style.