Transvaal Daisies & Wind Chimes Cool Down You This Summer at Kasuga Shrine in Fukuoka
Situated on the northern shore of Kyushu is Fukuoka Prefecture, a hot spot for tourists and travellers both Japanese and foreign, particularly those visiting from parts of Asia such as China, Taiwan and South Korea.
When it comes to delicious Japanese food, Fukuoka is high on the list, home to a bounty of incredible restaurants. It's the same with shopping too―there are countless stores to rummage through with shelves lined with innumerable things you'll want to buy.
But your Fukuoka experience will not be complete without a trip to one of the prefecture's breathtaking tourist spots. Today, we are visiting Kasuga Shrine (not to be confused with Kasuga Grand Shrine in Nara), and we are joined by Japanese Instagram user Rie, who posts about her trips around Kyushu, and who has provided us with her experience visiting the shrine along with photos. You'll find out how to get there and the must-see aspects.
Kasuga Shrine is located in the city of Kasuga, Fukuoka. It's about a 30-minute drive from Fukuoka city. But if you're looking to catch the public transport, you'll want to hop on the JR Line to Kasuga Station, or you can board the Nishitetsu Bus and get off at Kasuga (春日). The shrine is about a 7-minute walk from either of these stops.
The shrine has a long history. Its origins are said to lie in Emperor Tenji enshrining the male deity Ame-no-Koyane-no-mikoto there.
In the shrine grounds there is a camphor tree called "Kasuga no Mori" (The Grove of Kasuga) which is registered as a natural monument. The shrine is also home to a festival called "Kasuga no Muko Oshi" which has also been designated as an significant intangible folk cultural asset.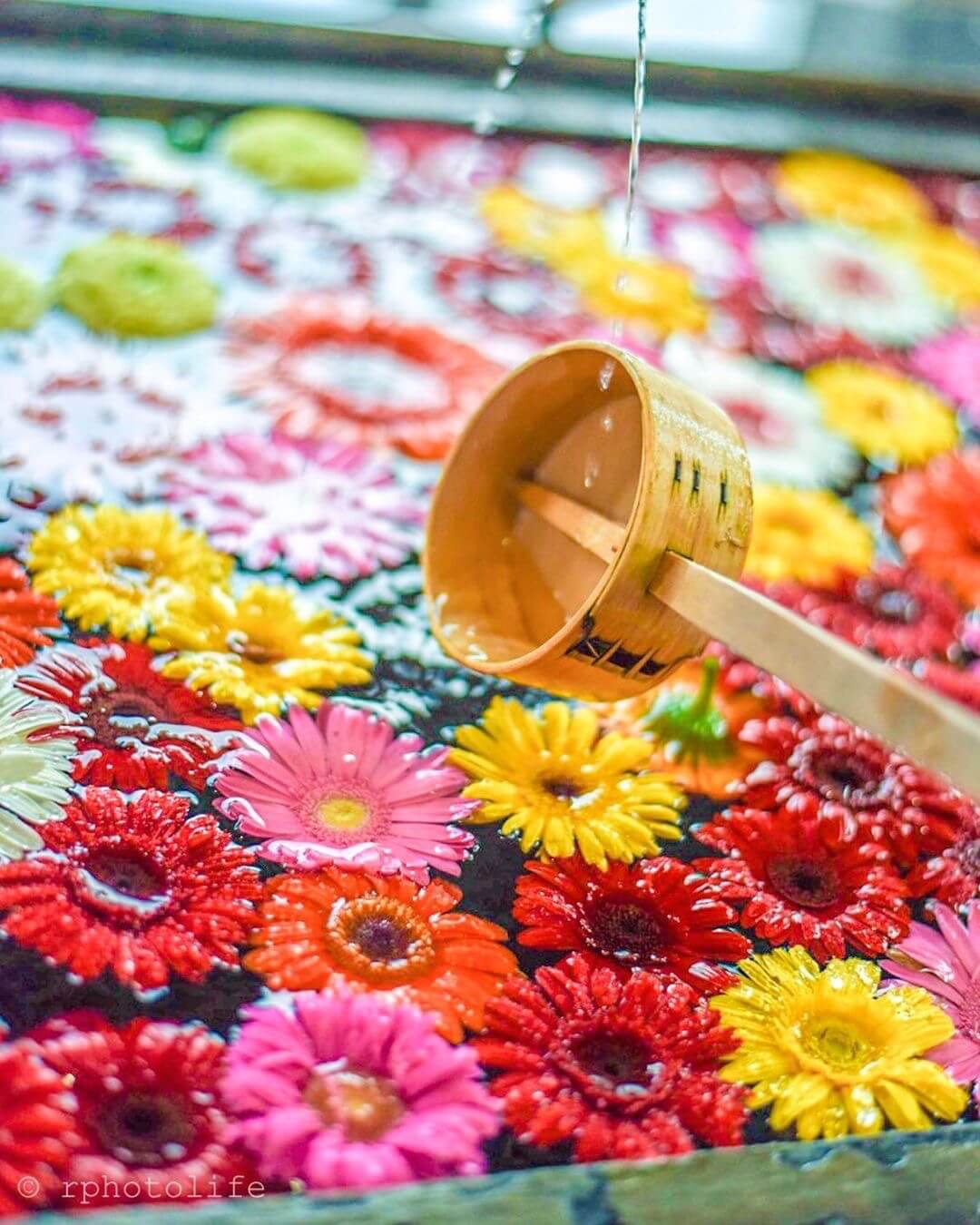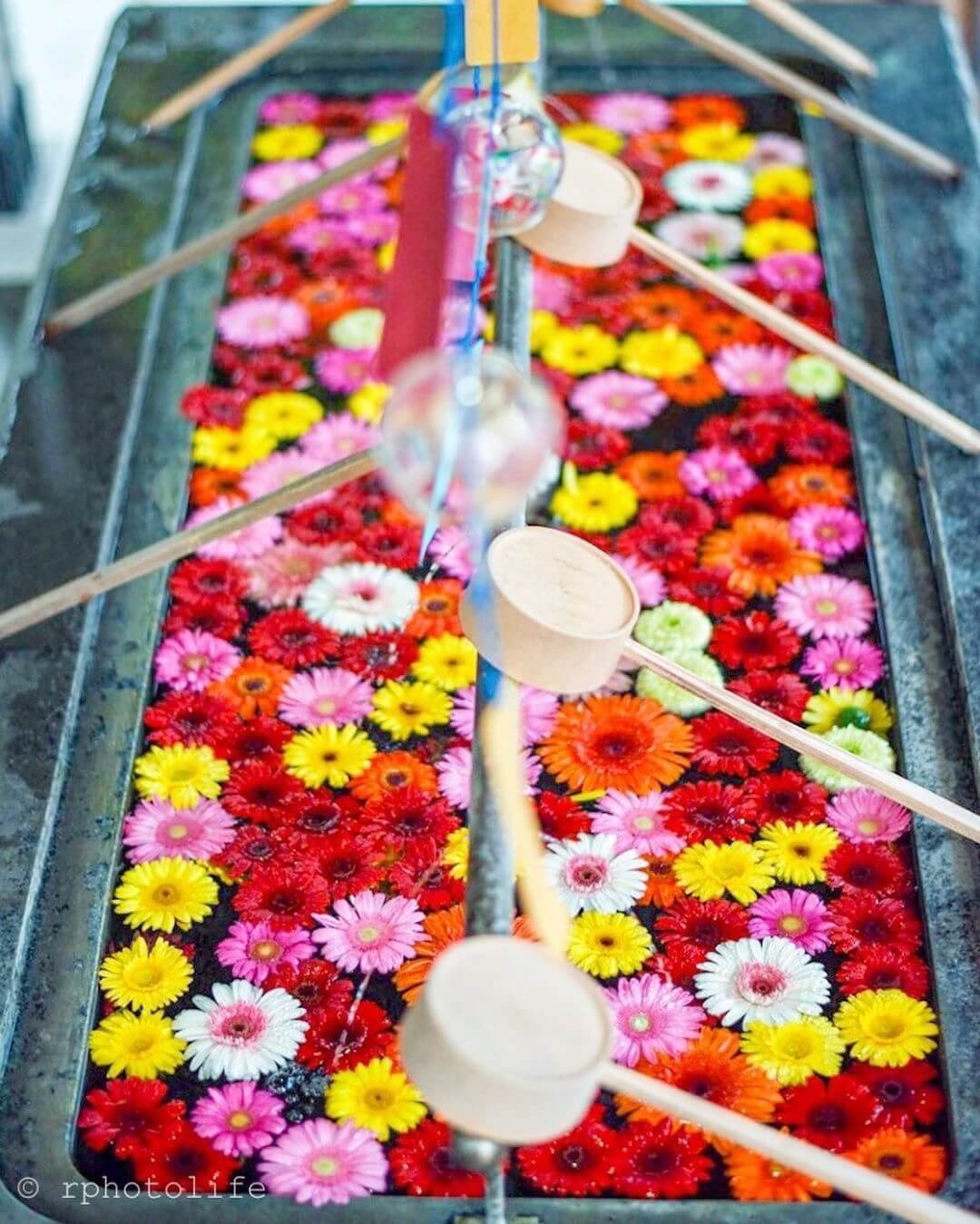 But what's been catching people's attention recently is the flower-filled chōzuya. A chōzuya, also known as a temizuya, is a water basin placed at shrines and temples in Japan which visitors use to cleanse themselves before entering the shrine or temple.
It's more common in May and June to see hydrangeas placed in the basins, but at Kasuga Shrine they flutter in transvaal daisies♡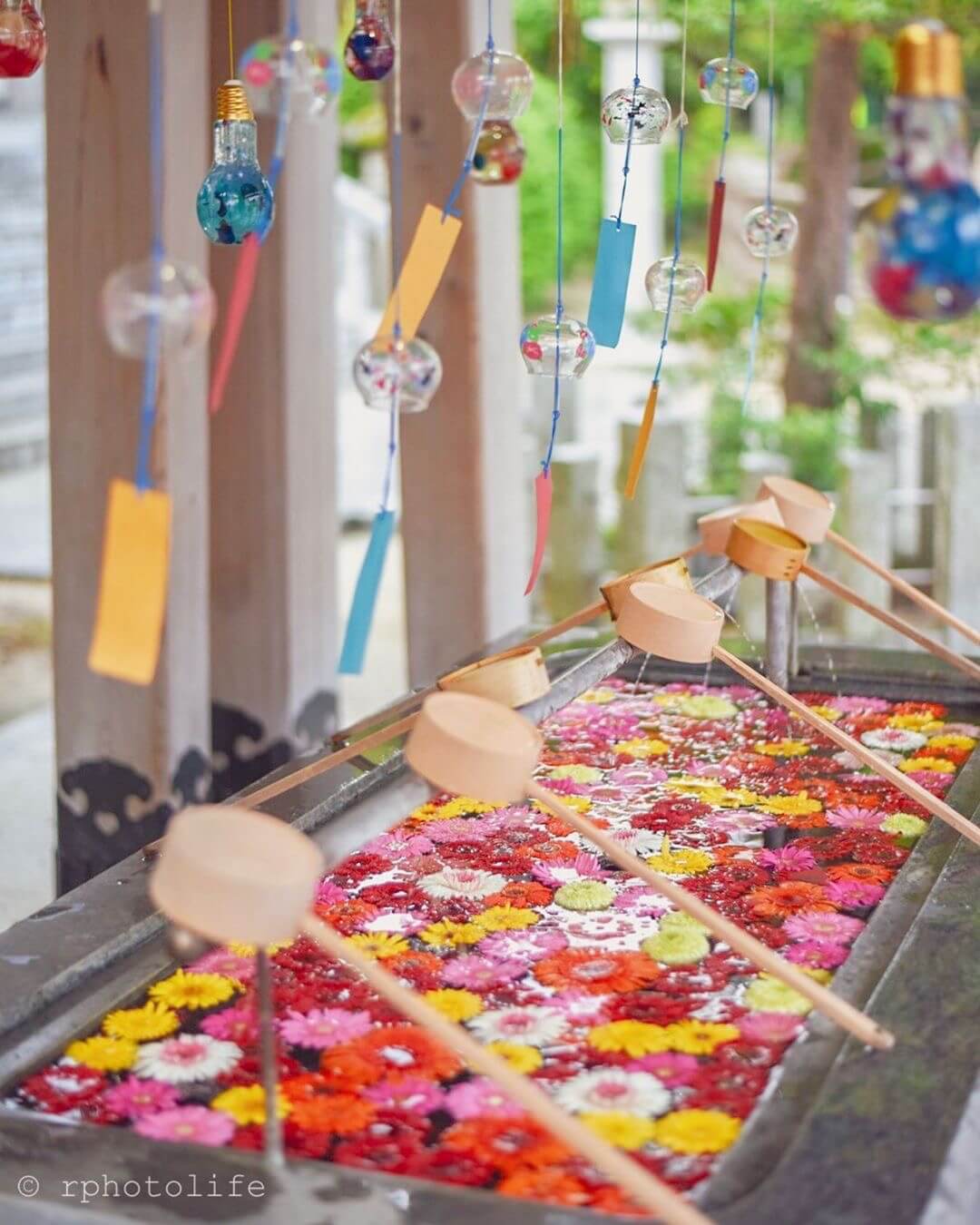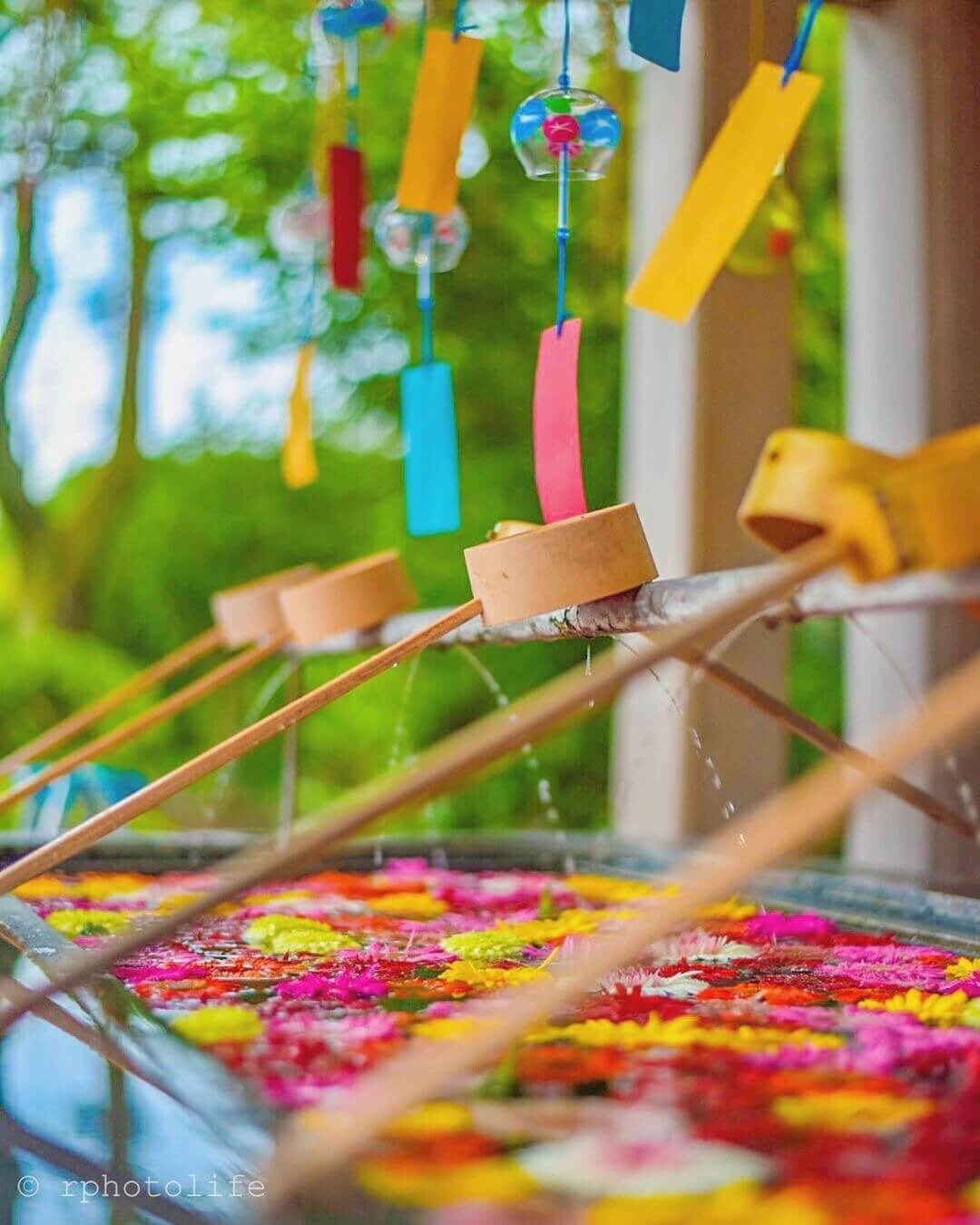 The flowers were placed in there on August 19 and will remain there until September 1. During the same period, there are lots of beautiful wind chimes being strung up around the shrine ground. Their tranquil sound as the breeze blows, together with the watery flowers, are enough to make you feel cool this summer.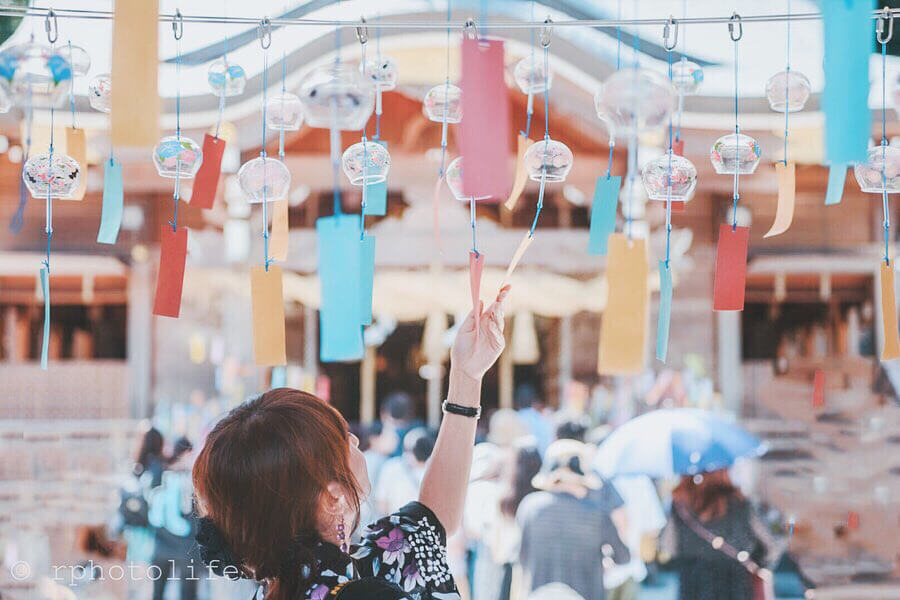 If you're looking to find more beautiful places to visit around Kyushu, Rie has plenty of recommendations on her Instagam page so be sure to give her a follow.
Photos by Rie
RELATED ENTRIES
Japan Hotels | New Hotel The OneFive Terrace Fukuoka to Open on December 15

Hakata Hotels is welcoming the third branch of its The OneFive brand hotels with the opening of The OneFive Terrace Fukuoka in Chuo, Fukuoka, on December 15, 2020.

The OneFive is based around the old Japanese way of ichigo ichie, which roughly translates to "treasure every meeting, for it will never reoccur." It has taken considerate measures to question what really constitutes as necessary service when it comes to hotels, and launched as a new brand of simple yet comfortable and high quality hotels serving Japanese omotenashi, or hospitality.

Simple yet fine quality comfort

The OneFive Terrace Fukuoka is located in busy central Hakata—within walking distance of the entertainment district of Nakasu and the lively riverside area of Tensu—while offering spacious and comfy rooms.

Rooms are 27㎡~48㎡ in size, with Double Rooms being equipped with king size beds and Twin Rooms with two double beds. Each has a bath, toilet, and wash area, as well as a writing desk, closet, and other pieces to make the hotel stay as comfortable and convenient as possible. There are of courses terraces too, living up to the hotel's name, which act as 'another living room' for guests.

The 4 S's of Japanese Tea at The OneFive Terrace Fukuoka

1. Select
A selection of specially-selected teas from around locations in Kyushu such as Yame (Fukuoka), Chiran (Kagoshima), Ureshino (Saga), and elsewhere.

2. Style
Enjoy tea in a variety of different styles from creamy and foamy draft tea to hand drip tea and more.

3. Sweets
The hotel's pastry chefs will whip up a range of tea-flavoured desserts that fuse the traditional Japanese taste with modern western ideas.

4. Scene

All guests staying at The OneFive Terrace Fukuoka are offered a welcome cup of tea. The hotel is a chance for them to appreciate the local culture, region, and lifestyle arranged in a contemporary way.

Kirby Café Launches Autumn Menu in Tokyo and Fukuoka

The Kirby Café in Tokyo and Fukuoka released three new dishes for autumn last Friday (September 18).

The menu items are made with seasonal flavours like pumpkin, sweet potato, and chestnut.

Filling Autumn Plate – Salmon Cream Pasta & Pumpkin Salad Sandwich | ¥1,480 (Before Tax)

One plate packed with fall flavours including a rich salmon cream pasta and pumpkin salad sandwich. If you look closely, you'll spot cute pieces of Waddle Dee cheese.

Fallen Leaf Waterfall☆Mont Blanc and Baumkuchen With Friends | ¥1,280 (Before Tax)

Rick, Kine, and Coo feature on this tasty-looking dessert plate which is a baumkuchen piled with a chestnut mont blanc cream.

Kirby's Hot Sweet Potato Sticks | ¥1,080 (Before Tax)

Crunchy on the outside, hot in the middle, and seasoned with fresh rosemary. Kirby is a pro at inhaling food, but don't burn yourself with these!


Information

Kirby Café TOKYO
Address: Tokyo Skytree Town Solamachi Floor 4F (1-1-2 Oshiage, Sumida, Tokyo)
Opening Hours: 10:00-22:00 (Last Orders 21:00)

Kirby Café HAKATA

Address: Canal City Hakata North Bldg. B1F, 1-2-1 Sumiyoshi, Hakata, Fukuoka, Fukuoka Prefecture

Opening Hours: 11:00-23:00 (Last Orders 22:00)

Book Here: https://kirbycafe.jp

Kirby Café Official Twitter: https://twitter.com/kirbycafe.jp

Japan's New High Speed Bus Travels From Kyoto to Mount Koya

Keihan Bus and Nankai Rinkan Bus are bringing back their high-speed bus service this year which will run from September 18 to November 30. The service will incorporate a mandatory booking system, making it even more convenient than last year.

Mount Kōya is the name of the temple settlement found in Wakayama which first settled in 819. It is the centre for the Kōyasan Shingon sect of Japanese Buddhism and is designated as a World Heritage Site, one of many found in Kyoto alongside Kinkaku-ji, Kiyomizu-dera, and Shimogamo Shrine.

The new Kyoto Koya-san buses offer a smooth, direct ride to the World Heritage Site, arriving there from Kyoto in just 2 hours and 40 minutes.

Information

Kyoto Koya-san Bus (Japanese Name: 京都高野山線)
Running: September 18, 2020 – November 30, 2020

Keihan Bus Official Website: https://www.keihanbus.jp/

5 Peachy Desserts to Indulge Yourself in This Summer in Fukuoka

We've featured many different must-eat desserts in Fukuoka on here MOSHI MOSHI NIPPON. Today, we're adding to that long list of tasty treats as we are joined by moe one again who has provided us with tasty photos from their Instagram along with descriptions of 5 peachy desserts to indulge yourself in this summer in Fukuoka.

Related Article: 5 Must-Try Desserts On Fukuoka's Beach-Lined City Of Itoshima

Kurasukoto | Hiroo, Fukuoka

Peach Shaved Ice

This super cute-looking pink shaved ice is drizzled in a syrup made from Fresh peaches grown in Kyushu. It's made even more refreshing with the freeze dried raspberries and crunchy pistachios. Hidden underneath everything is lots of almond jelly.

Kurasukoto
Address: 2F, 1-11-21, Hiroo, Chuo-ku, Fukuoka
Opening Hours: 11:30-17:00 (Last Orders 16:15)
Closed: Sunday / Monday
Official Website: https://www.kurasukoto.com/shop-hirao/

REC COFFEE | Yakuin, Fukuoka

White Peach & Lychee Tiramisu Parfait

This exquisite takeout parfait is made with a mix of white peach jelly, mascarpone, and rich espresso.

White Peach Tart

If coffee's not to your taste, then this luxurious and cute tart topped with really thinly sliced white peach will be. It's really refreshing, you'll finish it in no time!

REC COFFEE Yakuin Station
Address: 1F, 1-1-26 Shirogane, Chuo-ku, Fukuoka
Opening Hours: [Mon-Thu] 8:00-01:00 | [Fri-Sat] 8:00-02:00 | [Sun & Holidays]  10:00-01:00
Official Website: https://rec-coffee.com/

Pâtisserie Georges Marceau | Tenjin Watanabe-dori, Fukuoka

Flora

This parfait is made with a generous portion of fresh peaches. Looking at the glass, you can see lots of different layers of goodies, so no matter where you spoon from it's incredibly delicious. The textures of the tea sablé biscuit, mint and red shiso jelly, and nata de coco makes for a great combination.

Pâtisserie Georges Marceau

Address: 1F, 5-8-19 Watanabe-dori, Chuo-ku, Fukuoka

Opening Hours: 10:00-20:00 (Until 19:00 on Sundays)

No Fixed Holidays
Official Website: http://gm.9syoku.com/patisserie/

NOOICE food and coffee | Yakuin, Fukuoka

Whole Peach Plate Parfait

The name says it all: a whole stunning peach, and one served with a dollop of pistachio ice cream. Underneath the peach is an Earl Grey and mascarpone pudding. Peach and Earl Grey is simply a match made in heaven♡

NOOICE food and coffee

Address: 1-18-3 住所:福岡県福岡市中央区今泉1-18-3 1F
営業時間:9:00〜17:00
定休日:火曜日
Official site:https://www.nooice-cafe.com/

Tino | Ropponmatsu, Fukuoka

Cold Peach Lemon Cream Pasta

This one isn't a dessert but a pasta dish! It has a rich flavour but the lemon cream sauce and fresh peach adds a fresh taste to it.

Tino

Address: Takahashi Apartment 2F, 4-6-25 Ropponmatsu, Chuo-ku, Fukuoka
Opening Hours: [Lunch] 11:00-15:00 | [Dinner] 17:30-21:00
Instagram: https://www.instagram.com/tino_64st/

Did you enjoy these picks? If you're looking for even more desserts to try in Fukuoka then be sure to check out moe's Instagram page which is filled with just that!

—–

Original Japanese Text & Photos: moe

*The information about the items on this list are correct at the time of publishing. For the latest information, please visit each cafe's official websites and social media pages.

Inuyasha Spin-Off Anime 'Yashahime' Releases First Trailer, Promotional Exhibition to Take Place Across Japan

The first trailer for the upcoming TV anime series Yashahime: Princess Half-Demon is here. The anime, which will air from October 3, serves as a spin-off series of the anime adaptation of Inuyasha which originally ran from 2000-2004 and wrapped up with Inuyasha: The Final Act in 2010.

Confirmed cast members for Yashahime: Princess Half-Demon include Sara Matsumoto as Towa Higurashi, Mikako Komatsu as Setsuna, and Azusa Tadokoro as Moroha.

To promote the series, a series of exhibitions celebrating the history of Inuyasha will take place across Japan including Tokyo, Osaka, Nagoya, Fukuoka, and Niigata—the latter of which is the hometown of Inuyasha author Rumiko Takahashi. Merchandise will also be available for fans to buy.

The main visual for the exhibition

Details on tickets, merchandise, and the full content of the exhibition will be announced in the near future, so stay tuned.

ⒸRumiko Takahashi / Shogakukan・Yomiuri Telecasting Corporation・Sunrise 2009

Information

Inuyasha Exhibition

Tokyo Exhibition

Running: November 7, 2020 – November 23, 2020
Time: 10:00-21:00 (Last Entries 20:00)
Location: Ikebukuro PARCO 7F PARCO FACTORY
*Open until 18:00 (Last Entries 17:00 on November 23
*Advance tickets to be sold but are not required
*Opening hours subject to change depending on the COVID-19 situation at the time
*Exhibition subject to sudden changes, postponement, or cancellation depending on the COVID-19 situation at the time
*For the latest details and updates, check the event's official website and Twitter page

Niigata, Nagoya, Osaka and Fukuoka Exhibitions
Details TBA

TV Anime "Yashahime: Princess Half-Demon"
Initial Broadcast: October 3, 2020
Sunrise Official Website: http://hanyo-yashahime.com/
YTV Official Website: https://www.ytv.co.jp/hanyo-yashahime/

Tokyobike is set to open a new shop in Fukuoka, its first branch outside of Tokyo. The shop will have its pre-opening this week on July 23 followed by its grand opening on August 1. The store is being managed by FILAMENTS Inc. which is known for running the Hiroshima-based sports bike store "grumpy" as well as the bicycle lifestyle shop "pop grumpy."

What is Tokyobike?

Tokyobike is a bicycle manufacturer which launched in 2002 on the east side of Tokyo. Specialising in bikes that can be enjoyed in the city and people's everyday lives, the company now has over 200 stores in Japan, as well as three directly-managed shops in Tokyo and eight partner shops overseas.

The company's Tokyobike Plus brand is a concept shop made in collaboration with a range of the company's unique partners and offers a "plus" factor and value that can only be experienced with Tokyobike, showcasing a range to customers that shows them how to enjoy the bicycle life.

Tokyobike Plus Fukuoka is located in Yakuin which is just a 10-minute walk from Tenjin in central Fukuoka. It's surrounded by bustling cafes, interior design shops, popular confectionery stores, and more. It's also close to Ohori Park, Fukuoka Zoo and Botanical Garden, Ropponmatsu, and plenty of other places within 3km which can be easily reached by bike.

The store offers bike repairs and maintenance, sells bike-related goods which can be sifted through with a complementary cup of coffee, and staff can give information to riders on how best to enjoy riding around Fukuoka. Its interior design was conceived by Makoto Obuchi of GO!design factory Inc. who is responsible for creating the designs for the Italian restaurant Cernia in Fukuoka, the Akasaka-based izakaya Machiya Akariya, Meshiya Koyama Parking in Kego, and more.

To celebrate the opening of Tokyobike Plus Fukuoka, the first 80 customers will receive a free original Tokyobike hand towel designed by Kamawanu, a company specialising in making hand towels which are individually dyed using a traditional method known as chuusen.

Information

Tokyobike Plus Fukuoka
Address: 16-1 Yakuinifukumachi, Chūō-ku, Fukuoka
Opening Hours: 11:00-19:00
Closed: Tuesdays/Wednesdays
TEL: 092-406-7039

Official Website: https://tokyobike-fukuoka.com

Street Fighter Exhibition at Fukuoka City Science Museum Rescheduled For July

The Street Fighter exhibition "Street Fighter: Ore Yori Tsuyoi Yatsura no Sekai Ten" (Street Fighter Exhibition: The World of Those Stronger Than Me) was originally scheduled to run from March 14 to May 24 but was cancelled due to the COVID-19 outbreak. However, it has been announced that the exhibition has been rescheduled and will take place from July 1 to September 22.

A ticket system is in place where attendees need to book a time and date in advance as a precaution against the novel coronavirus. Tickets can be bought in advance from the exhibition's official website.

Street Fighter is a fighting video game franchise developed and published by Capcom. The first game was released in 1987 for arcades. Street Fighter II was released in 1991 is hailed as a landmark title in the series and would set the standard of fighting games that followed. The latest instalment to the series, Street Fighter V, was released in 2016, with Street Fighter V: Champion Edition following in 2019.

The Street Fighter exhibition is set to display treasured documents and art pieces from the franchise, as well as showcase a cabinet of the arcade games. With full support and cooperation from Capcom, the exhibition is a must-visit for all fans of the influential fighting game.

Here's just a select glimpse of what to expect.

Street Fighter Gallery

This incredible gallery features a physical catalogue of game packages and cases, posters, and much more from across the series.

Memorable Street Fighter Scenes

①BONUS STAGE 2020 in FUKUOKA

Interactive Content: Destroy the car with a Surge Fist

②CONTINUE? Match Loss Facial Expression Collection

EXTRA ROUND: Secrets

A display of initial Street Fighter concepts, logos, character art, backgrounds, and more

CONTINUE: The Legend of Street Fighter Continues to Evolve

Information

Street Fighter Exhibition (Japanese Name: ストリートファイター「俺より強いやつらの世界展」)
Running: July 1, 2020 – September 22, 2020
Closed: Tuesdays (Except August 11/August 18/September 22)
Time: 9:30-18:00 (Last Entries 17:30) (Open until 21:30 from August 7-19)

Location: Fukuoka City Science Museum (4-2-1 Ropponmatsu, Chuo Ward, Fukuoka)
Price: General ¥1,100 / High School & Junior High School Students ¥800 / Ages 4+ ¥500

Official Website: https://streetfighter.artne.jp/

Help Fukuoka's Hotels During COVID-19 With Crowdfunding Project

Fukuoka's tourism industry is suffering greatly as a result of the novel coronavirus (COVID-19) pandemic, and so the city has launched a crowdfunding project to ask for people's help and support.

By donating, you can receive a special ticket which can be used when travel returns to normal which can be used at hotels you have donated towards. The tiers are priced at ¥3,000 and ¥5,000, which will get you tickets priced at ¥3,300 and ¥5,500 respectively to be used in the future. If you're thinking of travelling to Fukuoka, or already had plans booked to go there, then consider donating towards the city.

Fukuoka is a city loved by Japanese people and foreigners alike. It has a rich food culture, incredible festivals, a rich history, and an amalgamation of urban and rural scenery.

MAXPLAN AZABU10: The New Landmark of Tokyo's Azabu Juban District

MAXPLAN Co. is set to open MAXPLAN AZABU10 on October 22, 2020 which is set to become the new symbol and a landmark of Tokyo's Azabu Juban District. The building will offer many unique and extraordinary experiences.

Nakamura Suzuko (CEO, MAXPLAN Co.) | Comment

"This project borrows the strength of internationally-active architect Kengo Kuma. I am overjoyed to have the opportunity to be a driving force together with him once again. This building, which is the 'Azabu Juban Development Project,' will be a place that creates and discovers new collective value between companies and individuals. A place of creative symbiosis. It aims to offer well being for companies that brings about a sense of cultural values. It will be a creative space for companies and individuals to resonate, bounce ideas off, and flow with one another. I pray from the bottom of my heart that these things will serve as a connection to how we want to live in the future."

Kengo Kuma (Architect) | Comment

"Azabu Juban is Tokyo's intersection between tradition and the future. I wanted to create a symbol for this district of 'fluctuations' around its crossroads. Combining panels of varying sizes with different heights, thicknesses, and textures expresses the district's diversity and energy. I wanted the building to blend in as part of the 'fluctuations,' as well as create a small 3D city which itself has 'fluctuations' […]"

We look forward to seeing how this new landmark and symbol of Azabu Juban brings together the traditional and the futuristic.

Information

MAXPLAN AZABU10
Building Site: 4-1-1 Azabu Juban, Minato Ward, Tokyo
Access: 1-minute on foot from Azabu Juban Station (via Tokyo Metro Namboku Line and Toei Oedo Line)
Grand Opening: October 2020 (subject to change)

Cherry Blossoms and Rape Blossoms Compete For Spring at Kusaba River in Fukuoka

The town of Chikuzen in Fukuoka Prefecture is home to a 2km strip of cherry blossom trees which bloom their pink beauty along the Kusaba River in spring. The area sees countless people flock there during the Hanami season to see the trees in full bloom.

But Kusaba River isn't only home to cherry blossoms; it also sees rape blossoms sprout their yellow flowers during springtime, which offers a beautiful contrast to the overhead pink from the cherry trees.

The place is lit up in the eveningsーa great chance to see the cherry blossoms in a different light at night.

Rich verdure lines the whole of Kusaba River, so be sure to visit if you're heading to Fukuoka this spring to see the cherry and rape blossoms.

Information

Kusaba River

Address: 875 Hisamitsu, Chikuzen, Asakura-gun, Fukuoka

Bloom Period: Late March – Early April

Access: 5-minutes on foot from Shincho Bus Stop (新町バス停) via Nishi Tetsu Bus

THE LOCAL COFFEE STAND FUKUOKA: New Coffee Shop Opens in Fukuoka's Hakata Ward

Japan's biggest online coffee publisher Good Coffee is opening a new cafe called "THE LOCAL COFFEE STAND FUKUOKA" in Hakata, Fukuoka.

Good Coffee looks to bring together coffee lovers with all kinds of coffee shops. THE LOCAL COFFEE STAND FUKUOKA will be their second branch of "THE LOCAL COFFEE STAND" in Japan following the branch they opened in Shibuya, Tokyo.

Good Coffee provides a wealth of information and the latest news on where to get delicious coffee inside and outside Japan. They have joint sponsorship and manage the TOKYO COFFEE FESTIVAL where roasters from across the country all come together and serve coffee in a variety of ways, host live performances, and more.


The coffee beans at THE LOCAL aren't roasted in-house. Instead, the head barista, Yuji Otsuki, personally selects roasts every month from shops published on Good Coffee. This is a rare style of coffee shop in Fukuoka where every month, customers can enjoy a different cup of high quality coffee every month from popular roasters inside and outside Japan from the comfort of Fukuoka.

The coffee beans used for the cafe's opening month of March will be drip coffee from GLITCH COFFEE&ROASTERS in Jinbocho, Tokyo and espresso from CRAFTSMAN COFFEE ROASTERS in Shimonoseki, Yamaguchi. Events are scheduled to be held at THE LOCAL COFFEE STAND FUKUOKA every month where baristas and coffee roasters will be invited as guests.

Find your new favourite coffee at THE LOCAL COFFEE STAND FUKUOKA.

Information

THE LOCAL COFFEE STAND FUKUOKA

Address: 2-14-1 Hakataekihigashi, Hakata, Fukuoka, Fukuoka Prefecture

Opening Hours: 9:00-23:00 (*Pre-opening hours)
Access: 5-minutes from Hakata Station's Tsukushi Exit
Official Website: http://thelocal2016.com/fukuoka/

Kirby Café HAKATA to Open Permanently in Fukuoka's Canal City Hakata

The second permanent Kirby Café, themed entirely on Nintendo's popular video game series Kirby's Dream Land, is set to open in Canal City Hakata in Fukuoka on March 12, 2020.

Kirby Café HAKATA has its own story that the cafe is based around. One day, Kirby motioned Whispy Woods to help him collect the tools needed to open another Kirby café. Together with Whispy Woodsーwho appears in the cafeーKirby will serve hospitality to his customers.



The food menu includes the same stone oven baked pizzas serve at Kirby Café TOKYO.

Kirby Café Stone Oven Baked Dessert Pizza ~Whispy's Caramelised Apples~: ¥1,380 (Before Tax)

Kirby Café Stone Oven Baked Dessert Pizza ~Waddle Dee's Freshly-Picked Chocolate Bananas~: ¥1,280 (Before Tax)

As well as standard savoury pizzas, the café includes a selection of dessert pizzas made with fresh fruit. The flavours of the dessert pizzas here are exclusive to the Hakata branch of Kirby Café.



Kirby's Home: ¥1,980 (Before Tax)

Kirby's High-Spirit Helping Parfait: ¥1,580 (Before Tax)


There are lots of cute food dishes and desserts to enjoy at Kirby Café. Kirby's Dream Land home has also been turned into a dessert, and there's also a cute parfait which Kirby himself helped make.



Kirby Café Hakata Exclusive T-Shirt – Kirby & Home: ¥3,400 (Before Tax)


Fans can also pick up a selection of new and exclusive Kirby merchandise, and an original Kirby Café soundtrack created by HAL Laboratory will play in the café.

Priorities are given to those who book a table in advance, which can be done on the café's official website starting on February 25, 2020.

Get sucked into the world of Kirby and inhale your food like he does at the all-new Kirby Café HAKATA.


Information

Kirby Café HAKATA

Grand Opening: March 12, 2020

Address: Canal City Hakata North Bldg. B1F, 1-2-1 Sumiyoshi, Hakata, Fukuoka, Fukuoka Prefecture

Opening Hours: 11:00-23:00 (Last Orders 22:00)

Official Website: https://kirbycafe.jp/hakata/
*Kirby Café is a character café managed by BENELIC CO.,LTD. under the license of WARPSTAR Inc., a copyright management company entrusted by Nintendo / HAL Laboratory, Inc.