Transvaal Daisies & Wind Chimes Cool Down You This Summer at Kasuga Shrine in Fukuoka
Situated on the northern shore of Kyushu is Fukuoka Prefecture, a hot spot for tourists and travellers both Japanese and foreign, particularly those visiting from parts of Asia such as China, Taiwan and South Korea.
When it comes to delicious Japanese food, Fukuoka is high on the list, home to a bounty of incredible restaurants. It's the same with shopping too―there are countless stores to rummage through with shelves lined with innumerable things you'll want to buy.
But your Fukuoka experience will not be complete without a trip to one of the prefecture's breathtaking tourist spots. Today, we are visiting Kasuga Shrine (not to be confused with Kasuga Grand Shrine in Nara), and we are joined by Japanese Instagram user Rie, who posts about her trips around Kyushu, and who has provided us with her experience visiting the shrine along with photos. You'll find out how to get there and the must-see aspects.
Kasuga Shrine is located in the city of Kasuga, Fukuoka. It's about a 30-minute drive from Fukuoka city. But if you're looking to catch the public transport, you'll want to hop on the JR Line to Kasuga Station, or you can board the Nishitetsu Bus and get off at Kasuga (春日). The shrine is about a 7-minute walk from either of these stops.
The shrine has a long history. Its origins are said to lie in Emperor Tenji enshrining the male deity Ame-no-Koyane-no-mikoto there.
In the shrine grounds there is a camphor tree called "Kasuga no Mori" (The Grove of Kasuga) which is registered as a natural monument. The shrine is also home to a festival called "Kasuga no Muko Oshi" which has also been designated as an significant intangible folk cultural asset.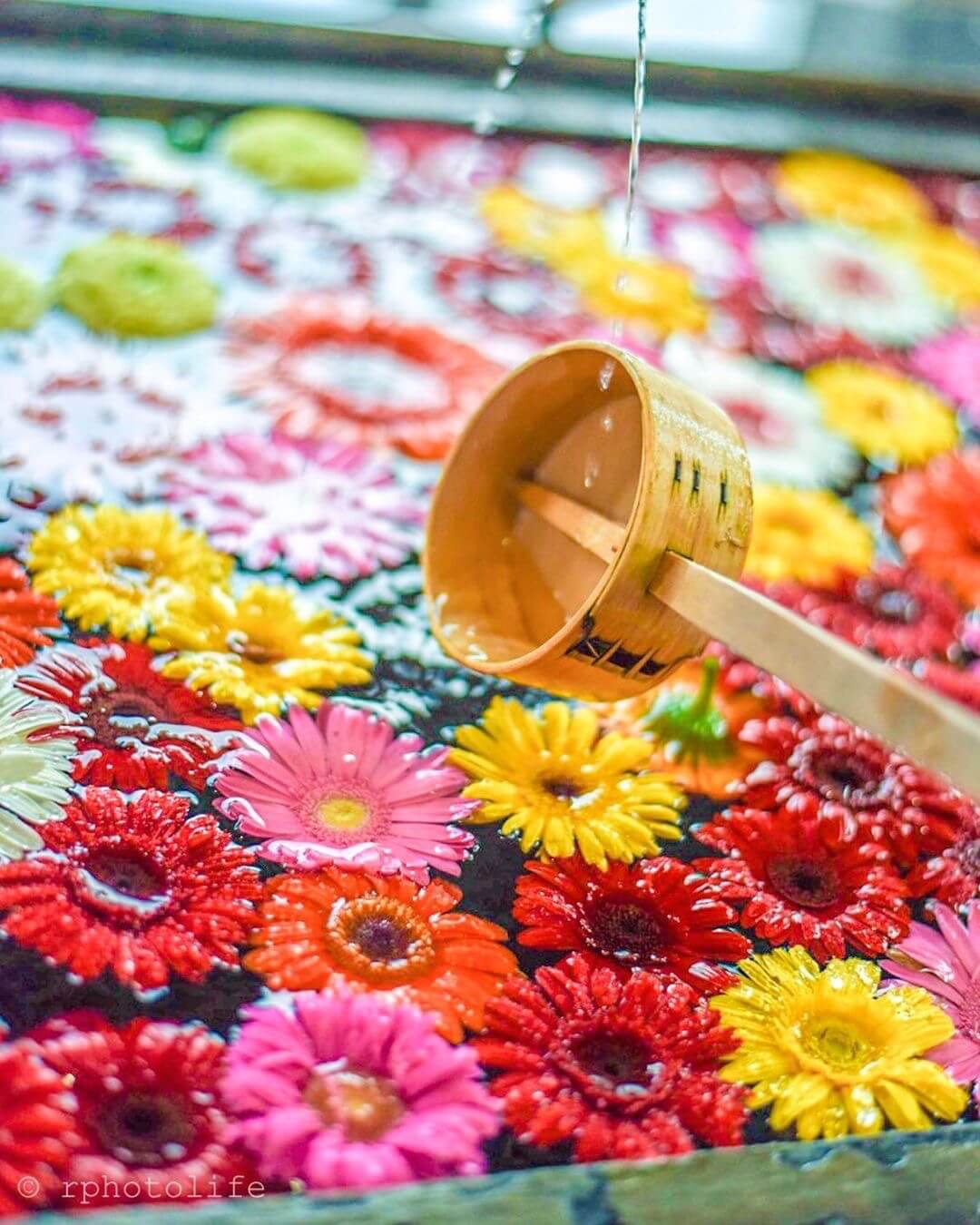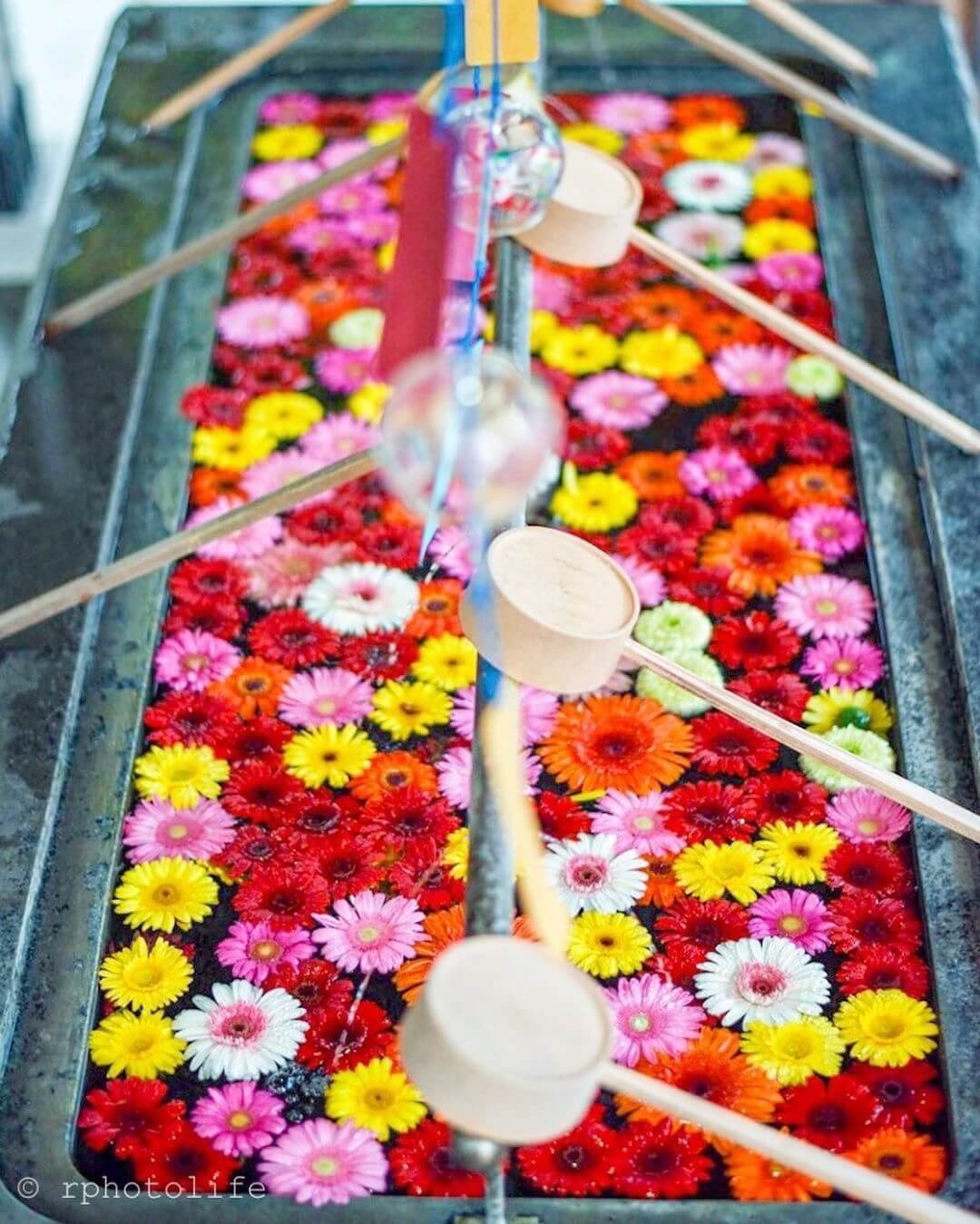 But what's been catching people's attention recently is the flower-filled chōzuya. A chōzuya, also known as a temizuya, is a water basin placed at shrines and temples in Japan which visitors use to cleanse themselves before entering the shrine or temple.
It's more common in May and June to see hydrangeas placed in the basins, but at Kasuga Shrine they flutter in transvaal daisies♡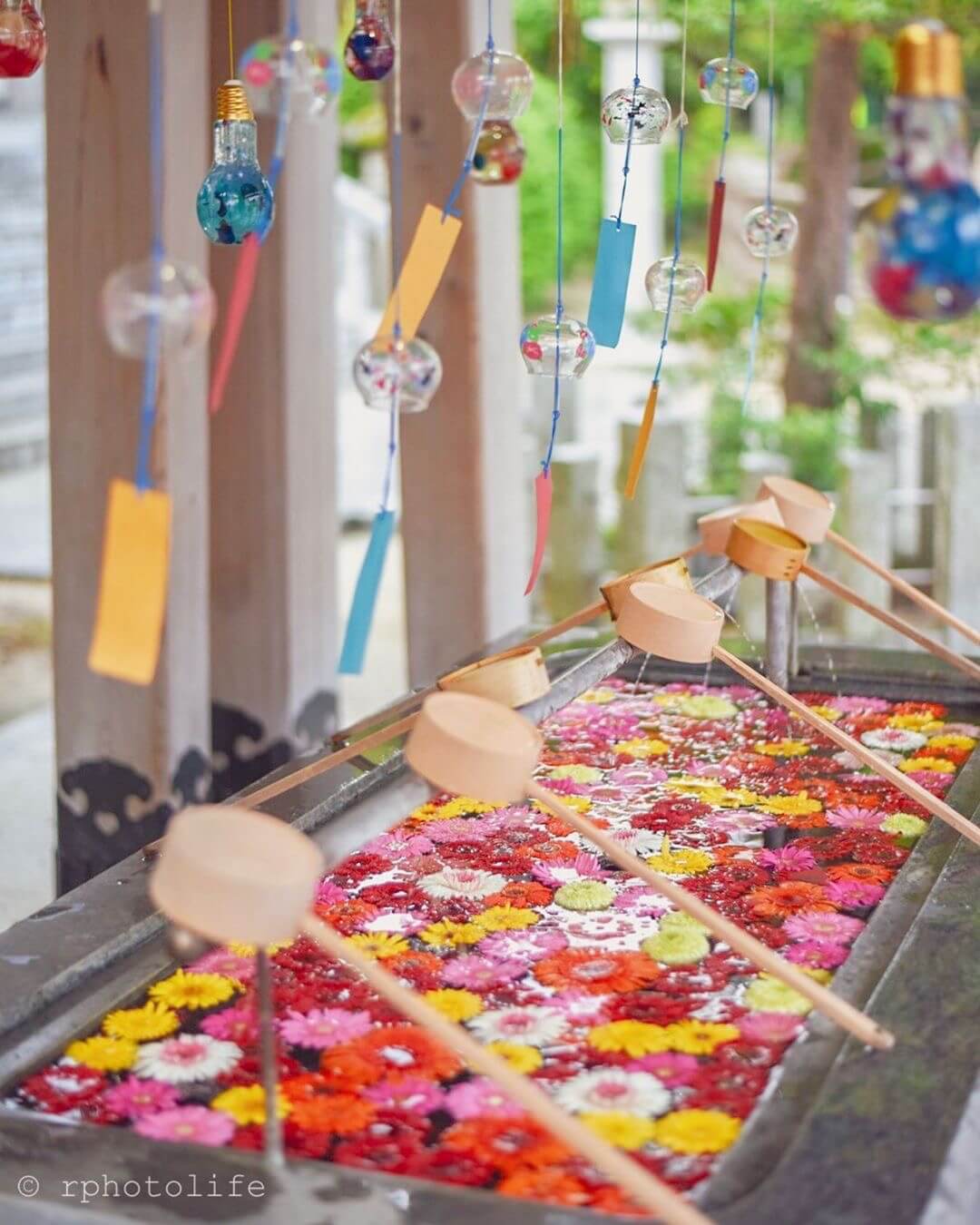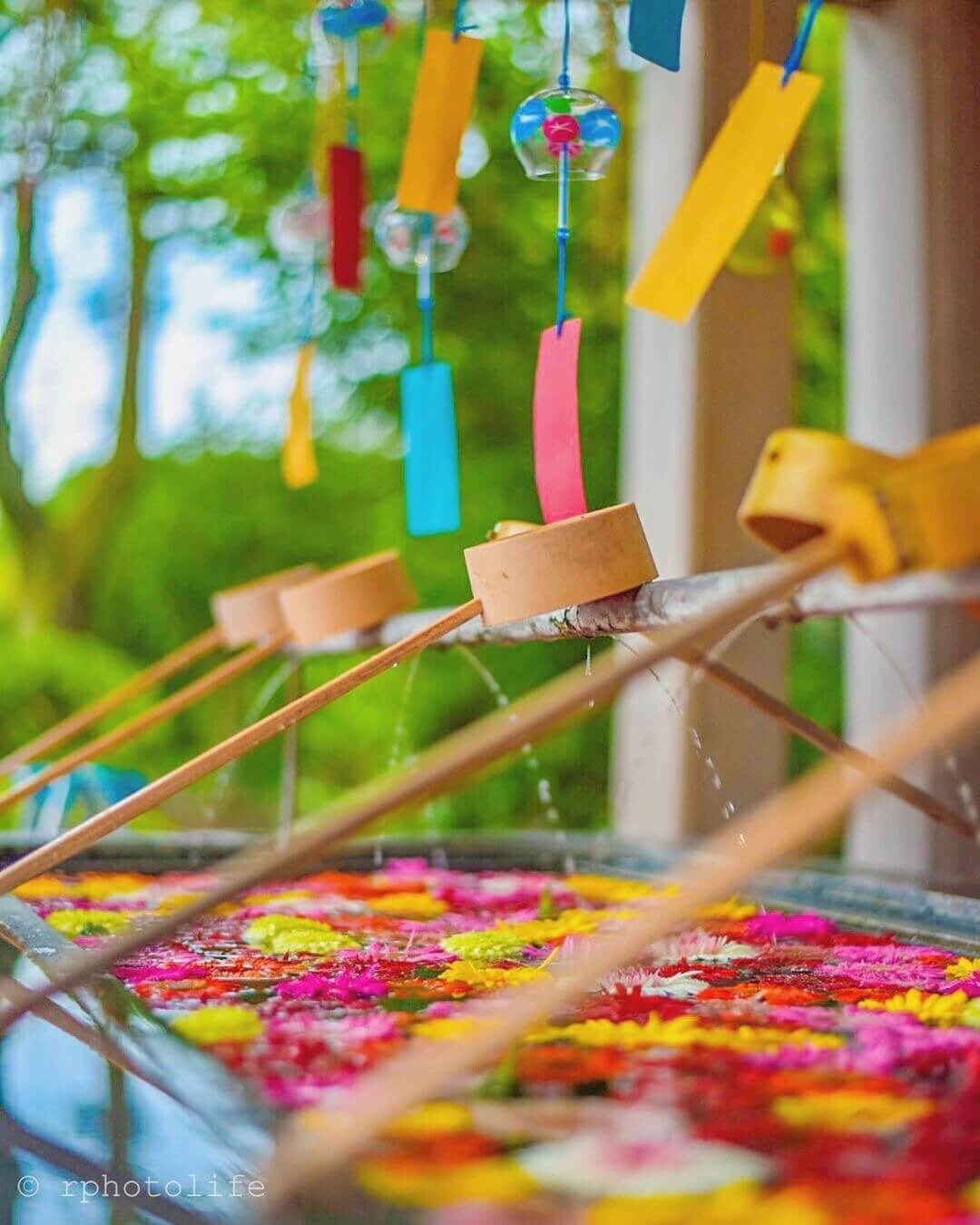 The flowers were placed in there on August 19 and will remain there until September 1. During the same period, there are lots of beautiful wind chimes being strung up around the shrine ground. Their tranquil sound as the breeze blows, together with the watery flowers, are enough to make you feel cool this summer.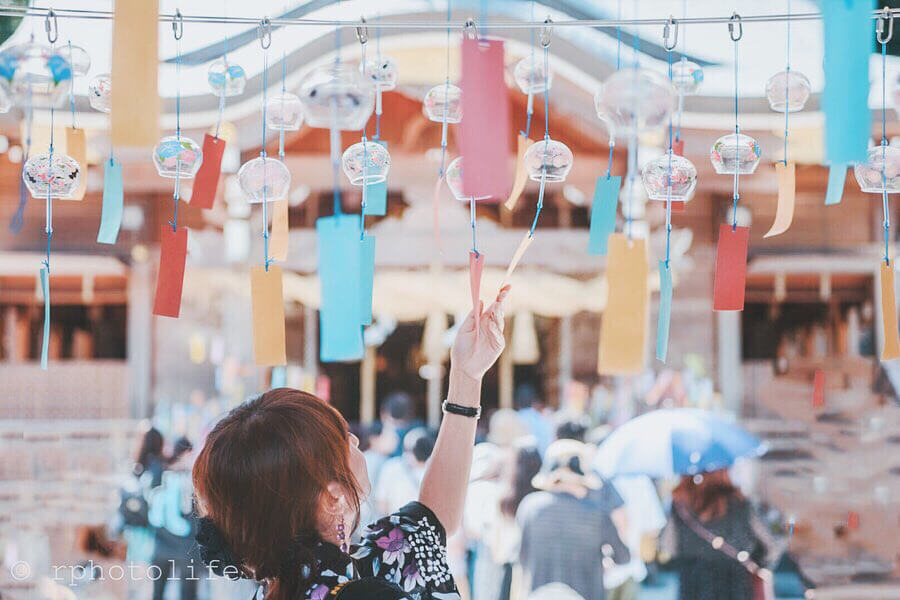 If you're looking to find more beautiful places to visit around Kyushu, Rie has plenty of recommendations on her Instagam page so be sure to give her a follow.
Photos by Rie
RELATED ENTRIES
Kirby Café HAKATA to Open Permanently in Fukuoka's Canal City Hakata

The second permanent Kirby Café, themed entirely on Nintendo's popular video game series Kirby's Dream Land, is set to open in Canal City Hakata in Fukuoka on March 12, 2020.

Kirby Café HAKATA has its own story that the cafe is based around. One day, Kirby motioned Whispy Woods to help him collect the tools needed to open another Kirby café. Together with Whispy Woodsーwho appears in the cafeーKirby will serve hospitality to his customers.



The food menu includes the same stone oven baked pizzas serve at Kirby Café TOKYO.

Kirby Café Stone Oven Baked Dessert Pizza ~Whispy's Caramelised Apples~: ¥1,380 (Before Tax)

Kirby Café Stone Oven Baked Dessert Pizza ~Waddle Dee's Freshly-Picked Chocolate Bananas~: ¥1,280 (Before Tax)

As well as standard savoury pizzas, the café includes a selection of dessert pizzas made with fresh fruit. The flavours of the dessert pizzas here are exclusive to the Hakata branch of Kirby Café.



Kirby's Home: ¥1,980 (Before Tax)

Kirby's High-Spirit Helping Parfait: ¥1,580 (Before Tax)


There are lots of cute food dishes and desserts to enjoy at Kirby Café. Kirby's Dream Land home has also been turned into a dessert, and there's also a cute parfait which Kirby himself helped make.



Kirby Café Hakata Exclusive T-Shirt – Kirby & Home: ¥3,400 (Before Tax)


Fans can also pick up a selection of new and exclusive Kirby merchandise, and an original Kirby Café soundtrack created by HAL Laboratory will play in the café.

Priorities are given to those who book a table in advance, which can be done on the café's official website starting on February 25, 2020.

Get sucked into the world of Kirby and inhale your food like he does at the all-new Kirby Café HAKATA.


Information

Kirby Café HAKATA

Grand Opening: March 12, 2020

Address: Canal City Hakata North Bldg. B1F, 1-2-1 Sumiyoshi, Hakata, Fukuoka, Fukuoka Prefecture

Opening Hours: 11:00-23:00 (Last Orders 22:00)

Official Website: https://kirbycafe.jp/hakata/
*Kirby Café is a character café managed by BENELIC CO.,LTD. under the license of WARPSTAR Inc., a copyright management company entrusted by Nintendo / HAL Laboratory, Inc.

Yellow Coloured Minnie Mouse Cafes to Open in Tokyo, Osaka, Nagoya & Fukuoka

A new line of Minnie Mouse cafes are set to open in Tokyo and Osaka from February 28, 2020 and Nagoya and Fukuoka from February 29, 2020 for a limited time. Named "OH MY! MINNIE MOUSE," the cafes are an official collaboration between Disney and the Japanese cafe chain OH MY CAFÉ.

The cafe takes on the theme of Minnie Mouse being a living, breathing icon of today with a positive lifestyle. This is represented through the yellow colouring of the cafe, which features her iconic polka dots as well as ribbon taking on a yellow colour. Tuck into a cute menu line-up and get your hands on some cafe-exclusive Minnie Mouse merchandise.

Original Menu

Cheerful Burger – ¥1,990

This healthy burger is packed full of vegetables with a black bun made in the image of Minnie's silhouette. Feel as energised as Minnie with one bite of this tasty burger.

Beef Hash Ribbon Rice – ¥1,390

Inspired by Minnie Mouse's iconic ribbon, this hearty dish is a beef stroganoff plated with rice and veg. The ribbon is so cute it almost seems a waste to eat!

Fruit Sandwich – Single ¥990/ With Plate ¥2,790

An absolute must-order if you're wanting a dessert. This sandwich is piled with fresh fruits creamy yoghurt, sprinkled with poppy seeds, and doused in lemon juice.

Fizzy Lemon Squash – Single ¥690 / With Coaster ¥1,390

Charge yourself up with this fizzy lemonade and its refreshing aftertaste.

Relaxing Chamomile Tea – Single ¥490 / With Mug ¥2,090

Kick back and relax after your meal with a cup of chamomile tea♡

Original Merchandise

Heart Badge (8 Designs/Chosen Randomly) – ¥500

Folder – ¥350

Lunch Mat (6 Designs/Chosen Randomly) – ¥650 (*Table reservation required)

Those who book a table in advance will be given one of six possible lunch mats chosen randomly.

If you're in Japan for the spring, then why not stop by the OH MY! MINNIE MOUSE cafe for a Disney treat?

©Disney

Information

OH MY!MINNIE MOUSE

Locations/Dates

Tokyo: OH MY CAFE TOKYO (Tokyu Plaza Omotesando Harajuku Floor 3F, 4-30-3 Jingumae, Shibuya, Tokyo)

Running: February 28, 2020 – April 12, 2020

Osaka: kawara CAFE&DINER Shinsaibashi (Shinsaibashi OPA Floor 9F, 1-4-3 Nishi-Shinsaibashi, Chuo Ward, Osaka, Osaka Prefecture)

Running: February 28, 2020 – April 19, 2020

Nagoya: kawara CAFE&KITCHEN Nagoya PARCO (Nagoya PARCO South Building Floor 5F, 3-29-1 Sakae, Naka Ward, Nagoya, Aichi Prefecture)

Running: February 29, 2020 – April 26, 2020

Fukuoka: Kawara CAFE & KITCHEN KITTE Hakata (KITTE Hakata Floor 9F, 9-1 Hakataekichuogai, Hakata Ward, Fukuoka)

Running: February 29, 2020 – March 28, 2020

"OH MY! MINNIE MOUSE" OH MY CAFE Booking Website: https://mm.ohmycafe.jp/

5 Must Try Strawberry Desserts in Fukuoka – MOSHI MOSHI NIPPON

If you thought we hadn't covered enough desserts and food from Fukuoka already here on MOSHI MOSHI NIPPON, never fearーwe've got you covered with another tasty line-up for you. This time we're looking at a list of 5 must-try strawberry desserts from Kyushu's northern island, and we're joined by Instagrammer moe who has provided us with some mouth-watering photos of each pick.

COFFEE COUNTY | Kurume

COFFEE COUNTY is a famous coffee shop in the city of Kurume. It has a chill and relaxing atmosphere which is wrapped with the delicious smell of freshly-brewed coffee and desserts. Their strawberry pie, which is made with amaou strawberries from Fukuoka, blends together harmoniously the sourness of the strawberries with the sweetness of the cake.

Also, if you love coffee and happen to buy some coffee beans from the cafe, you'll receive a free cup of coffeeーwhich goes great with the pie.

▼COFFEE COUNTY

Address: 1-21-21 Takasago, Chuo Ward, Fukuoka, Fukuoka Prefecture

Opening Hours: 11:00-19:00

Closed: Wednesdays

Kurasukoto | Hirao

Kurasukoto is another relaxing cafe, decked out with wooden tables and shelves. They also sell a range of miscellaneous items in addition to the food menu too, like clothes and accessories. Their strawberry parfait was incredibly popular last year, and is back again this year. It's loaded with handmade fresh cream and custard which sits on a pile juicy jam made from fresh strawberries. The top layer is subtly sweet while the bottom is sweet and sour. Combined, they make the ultimate balance of flavours.

▼Kurasukoto

Address: 1-11-21 Hirao, Chuo Ward, Fukuoka, Fukuoka Prefecture

Opening Hours: 11:30-18:00

Closed: Mondays & Sundays

DAIMYO SOFT CREAM | Hakata

Strawberry x Strawberry Ice Cream

DAIMYO SOFT CREAM is an incredibly popular ice cream shop which sells around 10,000 ice creams a day. During the daytime, there are lines of people waiting outside for a scoop. It's close to Hakata Station so is easy to get to.

Their ice cream is really soft and rich, and the flavours change with each passing season. They have an eat-in space too if you want to sit and relax to enjoy your cone.

▼DAIMYO SOFT CREAM

Address: 1-11-4 Daimyo, Chuo Ward, Fukuoka, Fukuoka Prefecture

Opening Hours: 11:00-22:00

Pinsirio | Kuromon

Pinsirio's parfaits get you excited by just looking at them. Their parfaits are made with fresh in-season fruits. The cafe has an open kitchen, so you can enjoy watching your parfait being made.

The "Strawberry Forest" is served in a glass and absolutely overflows with strawberries. Every mouthful down to the last bite is strawberry flavoured. The rich taste of the salted butter sable cookies and the light sourness of the cheesecake are to die for too.

▼Pinsirio

Address: 8-15 Kuromon, Chuo Ward, Fukuoka, Fukuoka Prefecture

Opening Hours: 11:00-18:00

Closed: Tuesdays

yorimichi | Kasuya

Shrimp & Egg / Strawberry Chocolate Chip

yorimichi is famous for being a bakery with a unique custom where customers must take their shoes off to enter. It's customary in Japan to take your shoes off when entering someone's home, as well as in certain restaurants and izakaya, but it's pretty much unheard of for a bakery.

The bakery makes a limited batch of 600 breads a day, meaning that most of the time they sell out their stock by evening time. The strawberry chocolate chip bread is filled with a homemade chocolate chip cream which is a match made in heaven when paired with the sweet strawberries. Try eating it together with one of the savoury sandwiches for a real treat.

▼yorimichi

Address: 1-10-43 Chōjabaruhigashi, Kasuya District, Fukuoka Prefecture

Opening Hours: 7:30-15:00

Closed: Tuesdays

Did you enjoy this list? If you're in need of more cafe recommendations in Fukuoka, then be sure to follow moe on Instagram.

Original Text & Photos: moe

Translation: Joshua Kitosi-Isanga

*Information written in this article is correct at the time of publishing. For more details on each shop, please visit their official websites and social media pages.

Kyoto Brighton Hotel Offers 5 New Hotel Plans For Springtime, Cherry Blossom & Temple Experiences

Kyoto Brighton Hotel is now selling reservations for its new "Haru no Asobi Plan" (Springtime Fun Plan) which is taking place between March and May this year and offers guests the opportunity to enjoy Kyoto in the spring and its cherry blossoms.

Spring in Kyoto is the most popular season for tourists and travellers who flock from not only across Japan but from around the world. The Haru no Asobi Plan is made up of 5 exciting plans to see the ancient capital's breathtaking cherry blossoms, vibrant green maples, and other offerings.

"Asakatsu" – An early morning temple visit and stroll

Get away from the crowded streets and enjoy the rare opportunity to experience incredible early morning sights you don't normally get to see. Spend a quiet morning in a gorgeous environment in this plan. Several temples and gardens are in place for the experience: Kōdaiji Temple, Bishamon-do Temple, Taizō-in, Haradanien, and Tenryū-ji.

Kiyomizu-dera Temple special night viewing

One of the must-visit spots when travelling to Kyoto is Kiyomizu-dera, officially a World Heritage Site. This plan rents out the temple for you to experience it at nighttime. The main building is currently undergoing large-scale renovation to secure the roof as well as the inner construction of the temple. Seeing the temple is truly a sight to behold.

You are guaranteed a view of the famous "Stage of Kiyomizu," an enormous veranda attached to the main hall. The surrounding trees will be lit with enchanting lights, and you'll be able to gaze at the distant city nightscape. Experience Kyoto like never before as the warm lights illuminate the Niōmon (Deva Gate), 3-storey pagoda, and purified water which runs from the Otowa Waterfall.

Discover the world of Kyoto embroidery

The traditional practice of Kyounui, or Kyoto-style embroidery, has continued since the Heian Period and is even garnering attention overseas. It's a delicate and refined style of embroidery unique to Kyoto.

After your embroidery session which will take place in a Kyoto town house nearby the cherry blossom-filled Hirano Shrine, you'll look at kimono and yukata so beautiful they'll look like they should be in an art museum, before heading to eat together with the creator.

See the green maple trees of Hōgon-in on a private train

Board the private 1-2 carriage Randen train on the Keifuku Electric Railroad, which runs from Shijō-Ōmiya to Arashiyama. This cute retro train will take you Arashiyama where the green maples are breathtakingly beautiful.

You'll also get to stroll through the quaint gardens of Hōgon-in Temple, view artwork painted by Noriko Tamura, and more.

Sky Bus

Enjoy a panoramic view on a private ride of the Sky Bus, a double-decker bus which is gaining huge popularity right now. You will ride through the city of Kyoto and see the rows of pink cherry blossoms. In April, they will also do an evening tour of the cherry blossoms so you can see them at night, and in May they'll do a green maple tree tour.

Discover the beauty of Kyoto in this very special hotel plan at Kyoto Brighton Hotel.

Star Wars Theme Cafe Opens in Tokyo, Osaka, Nagoya, Hokkaido & Fukuoka

With The Rise of Skywalker concluding the Skywalker saga of the Star Wars film franchise, fans are left craving more from the galaxy far far away.

If you're one of those people, and need a fix before season two of The Mandalorian, which is coming in late 2020, then you'll want to hit up the all-new Star Wars-themed cafes now open for a limited time at branches of OH MY CAFE across Japan in Tokyo, Osaka, Nagoya, Hokkaido, and Fukuoka.

We visited the Tokyo branch of the cafe which is located inside Tokyu Plaza Omotesando Harajuku. Here's our report of this must-see cafe for Star Wars fans, a museum-like space chock-full of concept art.

Ready to greet you as you walk into the cafe is none other than Darth Vader. This life-size recreation of the Sith Lord is really striking, but don't worryーthough he is realistic, he won't use his Force choke on you, he only wishes for you to have a nice meal.

Plastered across the cafe walls are pieces of concept art used during the production of the Star Wars film series.

Here's a galactic showcasing of the cafe's menu. There are 7 food items and 5 drinks to choose from, all inspired by the franchise and its characters.

<STAR WARS> Far Far Away Galaxy Black Curry – ¥1,590

A signature dish of the cafe, this black curry features the Star Wars logo which is actually an edible wafer. The space design is bamboo charcoal-cooked rice which is mixed with spicy sauce and topped with peanuts for stars.

<BB-8> Seafood BB-8 Gratin – ¥1,690

Fans of BB-8 won't be able to resist this delicious gratin, served with salad and French bread for a full belly.

<Yoda> Root Leaf Stew – ¥1,590

This stew is inspired by Yoda living his final years in his little shack in Dagobah during Star Wars: Episode V – The Empire Strikes Back. It's packed full of vegetables and will no doubt be enjoyed by both kids and adults alike.

<R2-D2 & C-3PO> Buddy Burger Plate – ¥1,990

This set of two chicken burgers comes with an R2-D2 seasoned with béchamel sauce and a C-3PO burger seasoned with meat sauce. You can take the flags home with you too. We recommend sharing this between two people.

Portion Bread – ¥500

This is the one I was most interested in personally, because I was curious to know from its appearance how it would taste. It's the portion bread that Rey tries eating in the film. At first glance it looks crunchy, but to my surprise it was soft with a subtle sweet flavour.

Lightsaber Drinks – ¥600 Each (w/ Coaster ¥1,300)

From the left, the flavours are Darth Vader blood orange, Luke Skywalker ramune, and Yoda melon. When you draw your straw from the paper wrapping, it turns into a lightsaber!

<STAR WARS > Jet Black Coffee – ¥600 (w/Bottle ¥1,750)

These limited edition bottles of black coffee feature the famous Star Wars opening crawl credits. Which one you get is randomーa must-have for all fans!

After enjoying some Star Wars food and drink, it's time to check out the cafe's exclusive merchandise. There are 13 types of merch in total all bearing artwork from across the film series.

Folder – ¥350

I recommend picking up one of these folders made in collaboration with the cafe. It has illustrations of the food and drinks being sold there.

Tote Bag – ¥3,500

This tote bag has illustrations of characters from Star Wars and how they are all connected.

There's plenty of other must-grab merch too, from music to stationery and more.

Customers who spend over ¥1,000 (excluding tax) on any of these exclusive items will receive the above-pictured limited edition bag. These are limited in stock so are available while supplies last.

There's plenty of places inside for fans to take great photos, so make sure you snap lots.

Also, if you book a table in advance and order something from the menu, you'll receive one of these 25 possible A5 folders, so be sure to book before you go!

© & TM Lucasfilm Ltd.

*All listed prices are pre-tax. Photos are for illustrative purposes only.

Information

"Star Wars" at OH MY CAFE

Locations/Dates:

■Tokyo: OH MY CAFE TOKYO (Tokyu Plaza Omotesando Harajuku) / January 18, 2020 – February 23, 2020

■Osaka: kawara CAFE&DINING Shinsaibashi / January 17, 2020 – February 23, 2020
■Nagoya: kawara CAFE&KITCHEN Nagoya PARCO / January 23, 2020 – February 25, 2020

■Hokkaido: Cafe Interlude, Coach & Four Shinkawa-dori / January 24, 2020 – February 24, 2020

■Fukuoka: kawara CAFE & DINING KITTE Hakata / January 24, 2020 – February 26, 2020

"Star Wars" OH MY CAFE Official Website: https://sw.ohmycafe.jp/

Bunjee Jump From the Top of Kyoto Tower With Their New VR Experience

Have you ever wondered what the thrill of bungee jumping would be like, but are too afraid of heights to even consider putting it on your bucket list? Have no fear, because Kyoto Tower is bringing a new VR bungee jumping experience to the top of the building which will be available to experience from February 1 for a limited time.

This VR experience was first brought to the tower in the fall of 2018, and this year it is making its grand return. After the event originally ended, there was huge demand for it to be held again.

Those brave enough to have a go at this VR bungee jump (or bungy, depending where you are from), will go above and beyond the 100 meter observation deck to the highest accessible point of Kyoto Towerーup 120.9 metersーwhich is normally closed off to the public, to the special VR deck which has been prepared.

The experience will offer you not only the thrill of jumping from Kyoto's tallest structure, but the chance to gaze upon a panoramic view of the beautiful city too.

Information

Kyoto Tower VR Bungy Jump

Running: February 1, 2020 – March 31, 2020

Time: 12:00-21:00 (Last Entries 20:45)

Location: Kyoto Tower Observation Deck – Floor 1F (the 11th floor of Kyoto Tower)

Price:

・VR Bungy Ticket: ¥800 (Tax Included)

・Observation Deck & Bungy Set Ticket (Tax Included): Adults: ¥1,400 (Individual Purchase: ¥1,600)/High School Students: ¥1,300 (Individual Purchase: ¥1,450)/Elementary & Junior High Students: ¥1,100 (Individual Purchase: ¥1,350)

*Ages 7+ only

*Set tickets are available to purchase on floor 1F of Kyoto Tower

*Run times subject to change

*Ticket charges applied for ages 7+; those aged below 7-years-old are not permitted to use the VR system

*An entry ticket to the Kyoto Tower observation deck is not necessary to experience the VR system

Official Website: https://vr-bungee.com/

Beautiful and Delicious Lunches You Have to Try in Fukuoka

With the help of moe, we've covered the best food spots in Fukuoka to enjoy a beautiful scenery, for desserts and much more. Today, we're joined by food Instagrammer moe again to introduce you to the top lunch spots in Fukuoka. 

cafe mii, Asakura

Curry Plate

cafe mii is one of those places that very few people know but is very delicious. The curry plate is full of spices and is accompanied by fried vegetables and many other side dishes. As Asakura is known for its delicious vegetables, this is the perfect opportunity to get your fill. The café is relaxing and the perfect spot to enjoy a quiet lunch.

▼cafe mii

Opening Hours: 11:00-17:00 (Last Orders: 14:30)

Closed: Wednesdays
Address: Floor 2, 531-2 Tonta, Asakura, Fukuoka
Website: https://www.instagram.com/cafe_mii/

Cosses, Chihaya

Plate Lunch

Cosses is a bakery shop full of pastries and desserts. The Plate Lunch includes a hamburger steak, soup, salad, yoghurt and much more. The thick bread that comes with the set perfectly completes it. The wide shop is full of delicious bread and pastries that would be perfect to bring back to your family.

▼Cosses

Opening Hours: 10:00-21:00 (Last Orders: 19:30)
No Regular Holidays

Address: Namiki Square Floor 1, 4-21-45, Chihaya, Higashi-ku, Fukuoka

Official Website:http://cosses.orto-cafe.com/

Chocolate Bar, Hirao

Chicken Curry Risotto

Whether you're looking for lunch, dinner or a casual snack, this is the place to go. When you order the Chicken Curry Risotto, you can choose how spicy you want it. Risotto and curry is quite a rare combination, but it is very tasty. After your lunch, you can choose to have a gâteau au chocolat from the main menu. 

 

▼Chocolate Bar

Opening Hours: 

Lunch Menu:  11:30-15:00 (Last Orders: 15:00)

Café Menu: 14:00-17:00 (Closed from 17:00 to 18:00)

Dinner Menu: 18:00-22:00 (Closed from 22:00)
Closed: Sundays
Address: 1-11-22 Takamiya, Minami-ku, Fukuoka

Official Website: https://www.facebook.com/CHOCOLATE-BAR-726314500885075/

Filipepe, Kego

Dry-Cured Ham and Creamy Lemon Spaghetti

Filipepe is a hidden Italian restaurant. The Dry-Cured Ham and Creamy Lemon Spaghetti is covered in a refreshing lemon cream sauce. The thinly-sliced cured ham and creamy pasta make the perfect combination. The tongue-tantalizing menu also includes fish, meat and much more.

▼Filipepe

Opening Hours:

Lunch: 11:30-14:00 (Last Orders: 14:00)

Dinner: 18:00-21:00 (Last Orders: 21:00)
No Regular Holidays
Address: Floor 3, 3-1-28 Kego, Chuo Ward, Fukuoka,
Website: https://www.facebook.com/Filipepe-フィリペペ-699810910145678/

Good up coffee, Hairo

Homemade Red Bean Paste on Toast

Good up coffee's homemade red bean paste on toast is often greeted by a long queue of customers. The fluffy bread is like a giant cushion and is filled with a generous serving of red bean paste. The butter melts, creating a moderate salty touch to the meal. This is a very popular shop and often sells out so if you want to try it, make sure to get there early.

▼Good up coffee

Opening Hours:

Monday, Tuesday, Friday, Saturday: 12:00-20:00

Wednesday and Sunday: 12:00-18:30
Closed: Thursdays
Address: 1-chōme-15-18 Takasago, Chuo-ku, Fukuoka
Official Website: https://www.instagram.com/good_up_coffee/

KURASUKOTO, Hairo

Lunch Plate

Fukuoka's famous and popular café KURASUKOTO serves parfaits, doughnuts, puddings and other famous desserts as well as delicious lunches. Choose to have meat or fish for your lunch plate and it will be served with lots of healthy vegetables. The café also sells small miscellaneous goods too.

▼KURASUKOTO

Opening Hours:11:30-18:00
Closed: Mondays and Sundays
Address: Floor 2, 1-11-21 Hirao, Chuo Ward, Fukuoka
Official Website: https://www.kurasukoto.com/shop-hirao/

Eureka, Sakurazaka

Duck and Lotus Root Ragout Pasta

Bistro and café Eureka is an isolated restaurant located out of the way in a residential area. The Duck and Lotus Root Ragout Pasta is available in the lunchtime menu and is served with tasty relishes made from pomegranate and Japanese persimmon. Duck and lotus root is cooked in a delicious ragout sauce with tagliatelle. The meal comes with relishes so your stomach will be left completely satisfied.

▼Eureka

Opening Hours:Monday-Thursday: 12:00-20:00 (Last Orders: 19:00)

Friday and Saturday: 12:00-22:00(Last Orders: 21:00)
Closed: Sundays
Address: 1-4-19 Sakurazaka, Chuo-ku, Fukuoka

Official Website:https://www.instagram.com/eureka.sakurazaka

Yamamoto no Hamburg, Ropponmatsu

Hamburger

The Kanto region's popular hamburger restaurant Yamamoto no Hamburg has opened in Fukuoka. Here, you can enjoy a burger served in a large curry bowl fit for a curry soup. The hamburger is surrounded by a hearty serving of sauce and is even topped with a mince cutlet. There is a bottle of Chinese red chile oil on the table for a satisfying meal. 

▼Yamamoto no Hamburg

Opening Hours:

Lunch: 11:30-15:30 (Last Orders: 14:30)

Dinner: 17:30-22:30 (Last Orders: 21:30)
No Regular Holidays
Address: Ropponmatsu Kobo Floor 1, Chuo Ward, Fukuoka

Official Website:  http://www.yamahan.tokyo/news/

 If you're stuck on where to get lunch in Fukuoka, or love looking at gorgeous food, let moe's Instagram be your guide. 

Original article contents and photos by: moe

7 Ways to Start Your Morning with Delicious Food in Fukuoka

Our website has loads of information on delicious desserts and food to try in Fukuoka. Today we'll be looking at the best places to try a traditional "Morning" according to expert Instagrammer moe. "Morning" is a typical breakfast enjoyed by the Japanese and is a great way to start the day. moe has been travelling from head to toe of Fukuoka, taste-testing different breakfasts and photographing them. Here are the findings. 

Full Full Kaze no Mori, Kashii-Kaenmae

Croque Madame Set and French Toast Set

Full Full recently opened at Kashii-Kaenmae. The Croque Madame Set or the French Toast Set is the perfect way to start your day. For the croque madame, their delicious bread made from special whole wheat flour is topped with tomatoes, bacon, white sauce and a sunny-side-up egg. The french toast is made from the same round bread used to make their popular Mentai France which is a baguette topped with creamy fish roe. The fluffy bread is topped with a crispy sweet sugar coating that is scorched like a crème brûlée.

▼Full Full Kaze no Mori

Opening Hours: 8:00-18:00 (Café Last Orders)
Closed: Tuesdays
Address: 7 Chome-4-2 Kasumigaoka, Higashi Ward, Fukuoka

Official Website: https://www.full-full.jp/

BAKERY TATSUYA, Minami

Simple yet stylish, BAKERY TATSUYA is white on the interior and exterior. There is space to eat-in so it is possible to enjoy your freshly baked goods upon purchase. There is so much variety that you will be spoilt for choice.

▼BAKERY TATSUYA

Opening Hours: 9:00-17:00
Closed: Mondays, every first and third Tuesday of the month.

Address: 2 Chome-45-29 Hanahata, Minami Ward, Fukuoka

Official Website: https://www.facebook.com/BakeryTatsuya

amam dacotan, Ropponmatsu

Fig Fruit Sandwich and Salted Milk Gelato Croissant 

amam dacotan's crusty bread is so delicious that it appeared on TV. The shop is packed with different varieties of bread. Alongside the takeout menu there is also an eat-in-limited menu. The Salted Milk Gelato Croissant is an exquisite balance of sweetness and saltiness that you just have to try.

▼amam dacotan

Opening Hours: 10:00-19:00 (Sales end once stock is depleted)

Closed: Wednesdays
Address: 3-chōme-7-6 RopponmatsuChūō-ku, Fukuoka

Website: https://www.instagram.com/amam_dacotan/

Siro coffee, Josei

Red Bean Jam and Butter Sandwich with a Japanese Tea Latte

The simple and stylish interior of Siro Coffee has earned its Instagram fame. Treat yourself to a warm red bean paste and butter sandwich to enjoy the sweetness of the paste as it fuses with the saltiness of the butter. Everything is packed into a neat and beautiful small bun. The rich Japanese tea latte is the perfect way to finish off a refreshing meal. 

▼Siro coffee

Opening Hours: 12:00-19:00
Closed: Wednesdays and the first and third Tuesday of the month.
Address: 2-12-16 Josei, Sawara Ward, Fukuoka
Official Website: https://www.instagram.com/siro_coffee/

Shirogane Sabo, Hirao

Platinum Salad Morning

Shirogane Sabo's classic pancakes can be simply enjoyed as they are for a buttery flavour or enhanced as you please by adding maple syrup or honey. The Platinum Salad Morning comes with juice, the platinum salad, classic pancakes and coffee. Shirogane Sabo can get quite crowded so it is best to reserve a time slot if you are set on going.

▼Shirogane Sabo
Opening Hours:

Weekdays: 10:00-22:00(Last Orders: 21:00)

Weekends and National Holidays: 8:00-22:00(Last Orders 21:00)
Address: 1 Chome-11-7 Shirogane, Chuo Ward, Fukuoka

No closing days.
Website: http://s-sabo.com/

Bread, Espresso & Hakata &, Fukuoka Ekimae

Teppan French Toast

Mu-Mentai

A Bread, Espresso & Hakata & opened in Hakata. This branch serves the Fukuoka-limited Mu-Mentai where you can enjoy a heap of creamy fish roe covered in butter and cream. The bread and sandwiches start to sell out past lunchtime so make sure you get there early if you are interested. 

▼Bread, Espresso & Hakata &

Opening Hours:8:00-20:00
No Regular Holidays
Address: 2-8-12 Hakataekimae, 1F, Hakata, Fukuoka
Website: https://www.instagram.com/bread.espresso.and.hakata/

Blue Jam, Sawara

Croissant d'Amande Choco Banana 

Blue Jam uses carefully-selected natural ingredients in their bread and pastries. The luxurious Croissant d'Amande Choco Banana is a three-in-one almond, banana and chocolate croissant. The melon pan here is also delicious.

▼Blue Jam

Opening Hours:8:00-18:00 (Last Orders: 17:30)
Closed: Sundays
Address: 3-1-41 Tamura, Sawara Ward, Fukuoka
Official Website: http://www.bluejam-fukuoka.com/

 So, what do you think? moe's Instagram is full of the most delicious lunches you have ever seen. If you're struggling on where to go for breakfast in Fukuoka, let moe's Instagram be your guide. 

Original Article Information and Photos by:  moe

Japan Shopping Festival: Hello Kitty Supports Huge Shopping Event Aimed at Foreigners

一The Japan Shopping Tourism Organization (JSTO) has announced that it will hold an event titled "Japan Shopping Festival" aimed at foreign tourists in Japan from December 1, 2019 to February 29, 2020.

①Questionnaire Campaign

A questionnaire will be carried out for non-Japanese travellers to win round-trip tickets to Japan. Travellers will be selected randomly from a lucky draw.

②Instagram Photo Contest

Follow Japan Shopping Festival on Instagram and post photos related to the designated themes with the hashtag #jsfphoto. The themes are: ①Memories of what you bought and experienced in Japan, ②Your favourite fruits in Japan, and ③Good things about Japan you want to boast.

③Coupons, Goods & Experiences

Japan Shopping Now is one of Japan's biggest online shopping portal sites, and they are now promoting information on Japanese shopping overseas in English, Traditional Chinese, Simplified Chinese, and Korean. This includes coupons, sales, and more at almost 1,000 participating stores.

④Special Events

・Japan Shopping Festival Tohoku (December 1, 2019 – February 29, 2020)

This shopping festival will take place at 6 prefectures across Tohoku. Discover Japanese confectioneries, fashion, sake, fruit and more, including a tie-up with JR EAST PASS.

Official Website:  http://tohoku.japanshopping.org/

・Matsuyama Shopping Festival (December 1, 2019 – March 31, 2020)

From Okaido Shopping Street to Matsuyama Gintengai Shopping Arcade, Matsuchika Town, and more, look forward to end-of-year lucky draws, food events, shopping, and so on.

Official Website:  http://matsuyama.japanshopping.org/

Discover the wonders of shopping in Japan and learn more about the country with the Japan Shopping Festival.

Top 4 Places to Visit in Kyoto This Winter: Snow, Gourmet Food, Hot Springs & More

Kyoto is known as the ancient capital of Japan. It is said to be the place where quintessential Japanese culture started, and has charmed the world over with its incredibly rich 1,200-year history. Today, we take a look at some of the best places to visit in Kyoto this winter as covered by the November 2019 issue of Japanese magazine Mou Hitotsu no Kyoto ("The Other Kyoto").

From gourmet food to sightseeing spots, the arts and moreーif you're in Kyoto this year, you have plenty of reasons to leave your hotel room or house.

Yuki Tourou: See the snowy thatched-roof huts

Miyama Kayabuki no Sato is located in Miyamachokita, Nantan. It is home to 39 houses with thatched roofs and is a popular sightseeing spot due to its gorgeous natural scenery throughout the entire year. It was listed in Japan's Groups of Traditional Buildings in 1993.

In the New Year, snow falls on the huts, which looks beautiful when they light up the "Yuki Tourou"ーor snow lanternsーin late January every year. There are stalls that serve hot food in this little town, and they also host an event where you can make your own snow lantern.

Running: January 25, 2020 – February 1, 2020

Official Website: http://www.yukitouro.jp/

Amanohashidate: One of Japan's "Three Scenic Views"

Amanohashidate is a sandbank located in Miyazu Bay that separates the north and south inlet of the Asoumi Sea. It formed as a result of pebbles being carried by the ocean current for thousands of years. Its name comes from the way it looks like a bridge spanning across the sky. It is known as one of Japan's "Three Scenic Views"

Amanohashidate is a sight to behold at any point throughout the year, but if you can travel there in the winter, you're in for a surprise, as the entire sandbank is littered with pure white snow. On very cold days in the morning the snow even covers the tops of the pine trees, but when the sun rises and the temperature warms up the snow on the frost-tipped trees melts. This has led to it being called an "illusionary sight" due to its rarity. Make a point of getting up super early so you don't miss it!

Address: Tango-Amanohashidate-Ōeyama Quasi-National Park, Miyazu, Kyoto

Official Website: https://www.amanohashidate.jp/lang/en/

Fukuchiyama Castle: The magnificent castle of snow

Fukuchiyama Castle sits atop a tall hill in the city of Fukuchiyama. The castle was established as the new Tanba province by Akechi Mitsuhide in 1579 following the province's capture in 1576. The castle was demolished once during the Meiji Period but was restored again in 1986. It is now the only castle that remains today built by Mitsuhide.

The castle architecture has a lot of personality, and during the winter months takes on a gorgeous white as a result of the snow. Gazing across the castle land from the watchtower is an absolute must when visiting. Also, if you're visiting next year, the new Fukuchiyama Mitsuhide Museum is set to open on January 11, so be sure to check that out too.

Address: 5 Chome Naiki, Fukuchiyama, Kyoto

Opening Hours: 9:00-17:00 (Last Entries 16:30)

Closed: December 28-31, 2019 / January 4-6, 2020

Entry Price: General ¥330 / Elementary & Junior High School Students ¥110
Official Website: https://dokkoise.com/en/temple_shrine/index.html

Monjusou Shourotei: Feast on crab fondue while gazing at Amanohashidate

Monjusou Shourotei is a ryokanーa Japanese-style innーlocated along Amanohashidate, one of Japan's Three Scenic Views which we mentioned earlier on this list. All guests staying at the inn are given a window view of Amanohashidate from their rooms.

The inn offers an original salted snow crab fondue. Snow crab is particularly enjoyed for its degree of freshness. It's served with vegetables and the boiled crab itself, making for a delicious combination of flavours.

The hot springs at Amanohashidate are famous and praised as "the baths of the gods." They are also said to leave your skin looking beautiful after a dip. The inn also offers open-air baths lined with stones from Shikoku and wild grass from the mountains, offering a truly indulging experience.

Address: Amanohashidate Monjudomisaki, Miyazu, Kyoto

Official Website: https://shourotei.com/

These are just some of the incredible places you can enjoy in wintertime Kyoto. You can find more information on Kyoto Side or from one of our many articles on Kyoto.

TOTOCO Odawara: Kanagawa's Sea Food Theme Park Opens November 22

Gyoko no Eki TOTOCO Odawara is a new "fish theme park" set to have its grand opening on November 22, 2019 at 10:00am (JST).

The facility was established to promote further exchanges with Odawara Fishing Port which is said to be the biggest fish market in western Kanagawa Prefecture. It is the first "Fishing Port" (Gyoko no Eki*) and will sell seafood sourced locally, fishery products and more, as well as hold events to help promote Odawara.

The building has three flours. The first floor is like a marketplace where fish, fishery products, produce, and more will be sold. The second and third floors house seafood restaurants and offer a panoramic view of Sagami Bay. This view is best observed from the terrace while you enjoy your delicious meal.

*Fishing Port (in Japanese: Gyoko no Eki, or 漁港の駅) is a registered trademark of Odawara City to highlight facilities that promote exchange with Odawara Fishing Port. (Registered Trademark No.: 6163121).

Odawara Fishing Port sells fresh fish sourced from the waters of Sagami Bay, which houses a variety of fish species, as well as fish and processed marine products from around Japan. TOTOCO Odawara will sell these very same products, all delivered directly from the port, to help spread the fishing culture and economy of Odawara.

Let's take a look at some of the delicious gourmet seafood meals you can expect to tuck into at TOTOCO Odawara!

Totomaru Summit Bowl – ¥2,480

A hearty and towering dish so high that it looks like it might topple over.

Greedy Sea Urchin Eggs & Salmon Roe Bowl – ¥4,280

A dream combination you've been waiting for your entire life. Savour the richness and sweetness of both of these mouth-watering delights.

Oyster Egg Donburi Set – ¥1,680

You can't even see the rice any more for the pile of tasty oyster eggs, with their exquisitely soft texture.

Osashimi Tengoku – Odawara Kaisen GO GO

The third floor of the building is home to Osashimi Tengoku – Odawara Kaisen GO GO, a restaurant that calls itself "Sashimi Heaven" and offers a 59 minute all-you-can-eat buffet of fish, sides, desserts and more.

59 Minute All-You-Can-Eat
Adults – ¥2,590 / Children (Elementary School & Younger) – ¥1,390 / 3-Years & Younger – Free (All Prices Before Tax)

Gyoko no Eki TOTOCO Odawara is easily reachable from Tokyo and right next to the local station. If you've come to Japan looking to try the country's famous seafood, then make sure to put this place on your list.

Information

Gyoko no Eki TOTOCO Odawara

Address: 1-28 Hayakawa, Odawara, Kanagawa Prefecture (West side of of Odawara Fishing Port)
Opening Hours: 9:00-17:00 (Subject to change depending on the season)
Access: By train – 10 minutes on foot from JR Hayakawa Station / By car – 2 minutes from Seishō Bypass Hayakawa Interchange or 4 minutes from Odawara-Atsugi Road Odawara-Nishi Interchange
Official Website: https://www.totoco-odawara.com

Instagram Launches #MY TOKYO IS Campaign With Tokyo Metropolitan Government

Instagram launched a campaign with the Tokyo Metropolitan Government entitled "#MY TOKYO IS" on November 11 together with three limited-time stamps that can be used on people's Instagram stories.

The campaign is a global initiative to have people capture their favourite moments in Tokyo in the form of photos, videos and stories on Instagram. Shared posts will be used to curate places and scenery in Tokyo that the Tokyo Metropolitan Government want to showcase to the people of the world. This curation will take the form of an exhibitionーwhich will take place at GINZA ATRIUM on floor 6F of GINZA SIX and GINZA TSUTAYA BOOKS in late March 2020ーas well as a website and a book.

Statistics have shown that Instagram has a significant influence on the Japanese economy in terms of tourism, and so the Tokyo Metropolitan Government hopes that this interactive campaign will help to promote the city to tourists and travellers worldwide.

The stamps created as part of the campaign only appear in the tray when you're in the city of Tokyo. When you click the stamp, the #MYTOKYOIS search result page will be displayed, allowing you to see the other photos and videos posted by the people who have used the campaign hashtag.

If you're in Tokyo, then be sure to get involved in the campaign and show the world your favourite things about the city!

Information

Enter via Feed Posts

・Follow the official Tokyo Tokyo Instagram account @tokyotokyooldmeetsnew

・Add hashtags #MYTOKYOIS and #TokyoTokyo to your post

・Add spot or location info to the photo or video you took, and post

Enter via Stories

・Follow the official Tokyo Tokyo Instagram account @tokyotokyooldmeetsnew

・Use the #MYTOKYOIS sticker or add the hashtag #MYTOKYOIS using the text tool / hashtag sticker

・Add spot or location sticker of the photo or video you took, and post

#MY TOKYO IS Campaign Website