Transvaal Daisies & Wind Chimes Cool Down You This Summer at Kasuga Shrine in Fukuoka
Situated on the northern shore of Kyushu is Fukuoka Prefecture, a hot spot for tourists and travellers both Japanese and foreign, particularly those visiting from parts of Asia such as China, Taiwan and South Korea.
When it comes to delicious Japanese food, Fukuoka is high on the list, home to a bounty of incredible restaurants. It's the same with shopping too―there are countless stores to rummage through with shelves lined with innumerable things you'll want to buy.
But your Fukuoka experience will not be complete without a trip to one of the prefecture's breathtaking tourist spots. Today, we are visiting Kasuga Shrine (not to be confused with Kasuga Grand Shrine in Nara), and we are joined by Japanese Instagram user Rie, who posts about her trips around Kyushu, and who has provided us with her experience visiting the shrine along with photos. You'll find out how to get there and the must-see aspects.
Kasuga Shrine is located in the city of Kasuga, Fukuoka. It's about a 30-minute drive from Fukuoka city. But if you're looking to catch the public transport, you'll want to hop on the JR Line to Kasuga Station, or you can board the Nishitetsu Bus and get off at Kasuga (春日). The shrine is about a 7-minute walk from either of these stops.
The shrine has a long history. Its origins are said to lie in Emperor Tenji enshrining the male deity Ame-no-Koyane-no-mikoto there.
In the shrine grounds there is a camphor tree called "Kasuga no Mori" (The Grove of Kasuga) which is registered as a natural monument. The shrine is also home to a festival called "Kasuga no Muko Oshi" which has also been designated as an significant intangible folk cultural asset.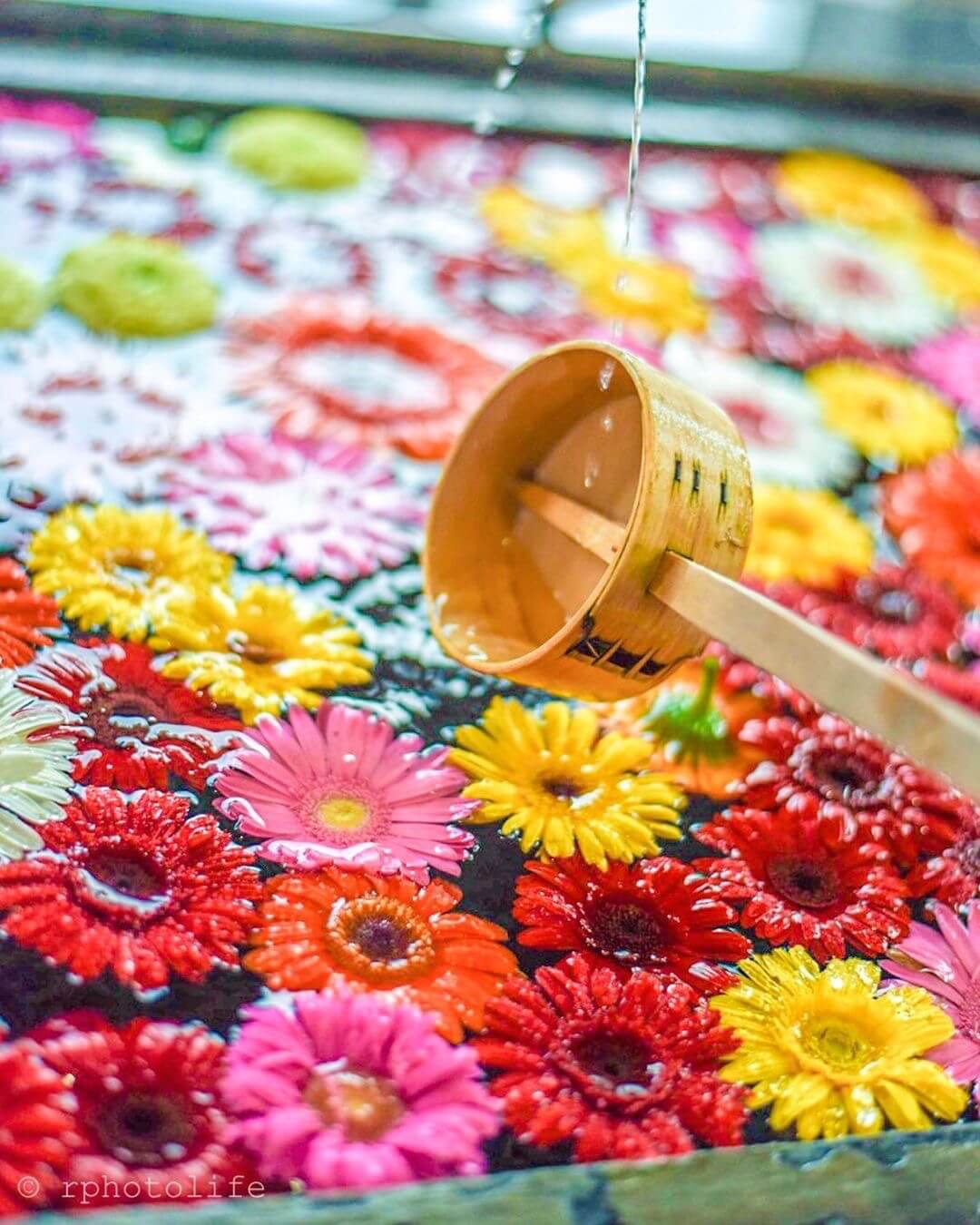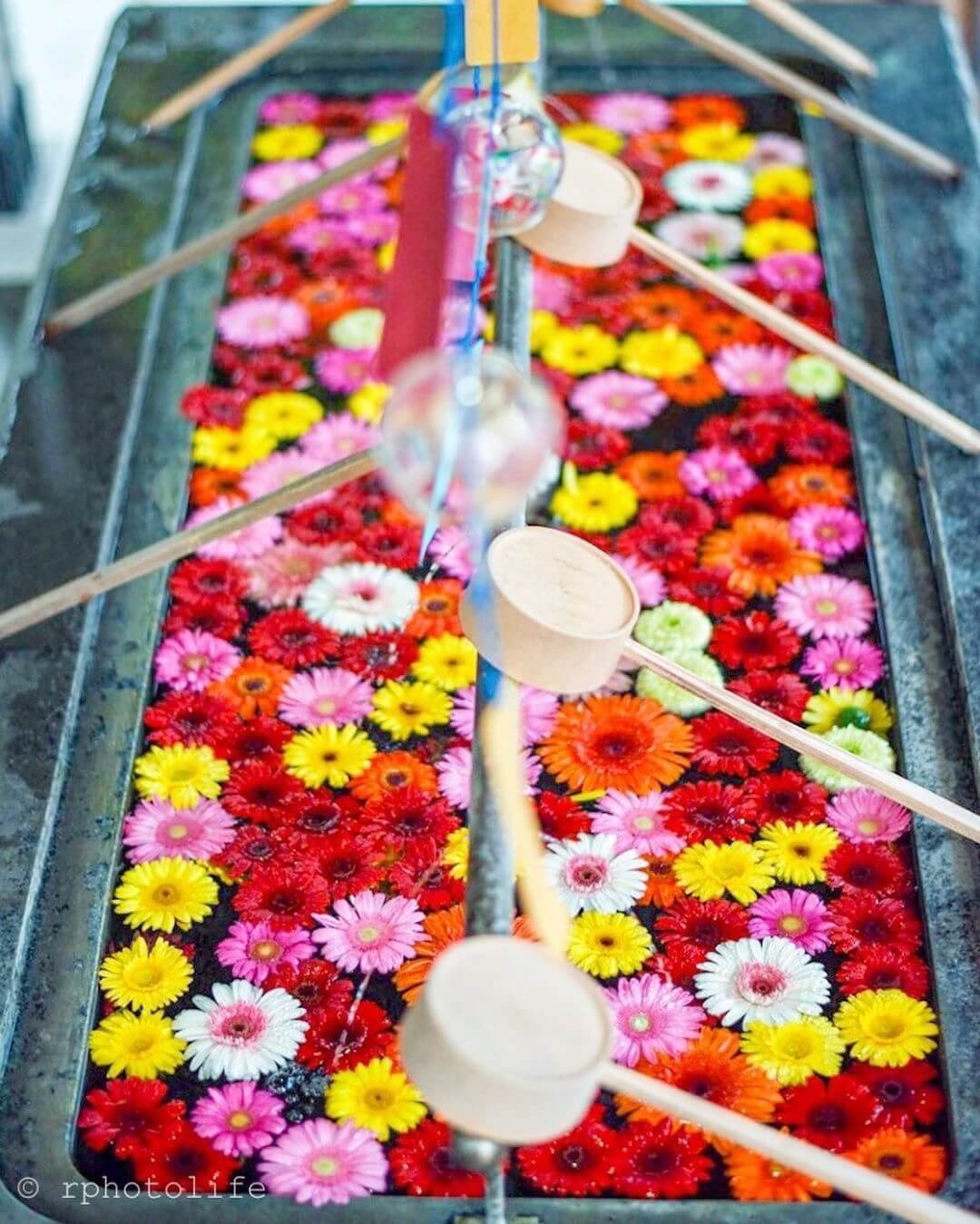 But what's been catching people's attention recently is the flower-filled chōzuya. A chōzuya, also known as a temizuya, is a water basin placed at shrines and temples in Japan which visitors use to cleanse themselves before entering the shrine or temple.
It's more common in May and June to see hydrangeas placed in the basins, but at Kasuga Shrine they flutter in transvaal daisies♡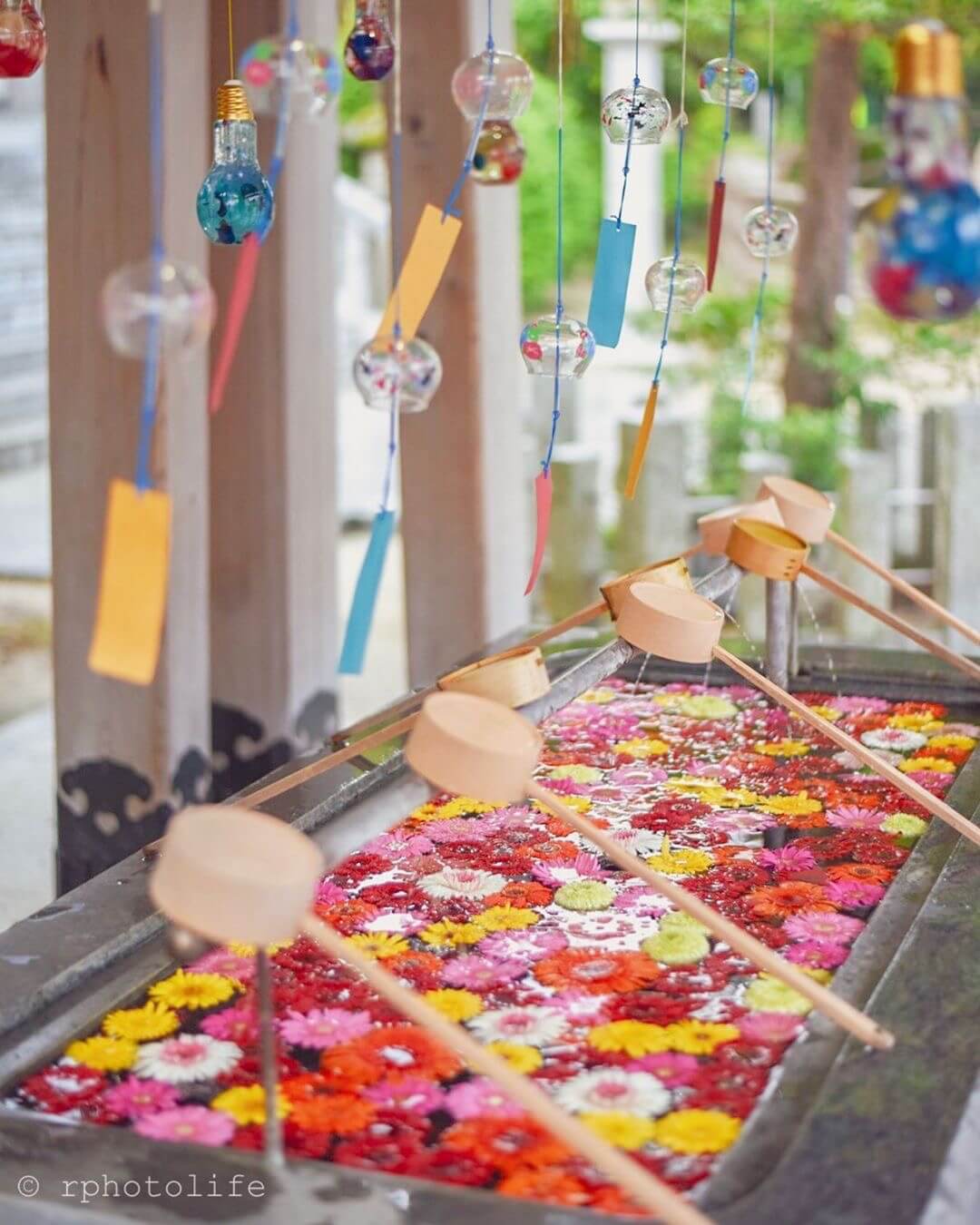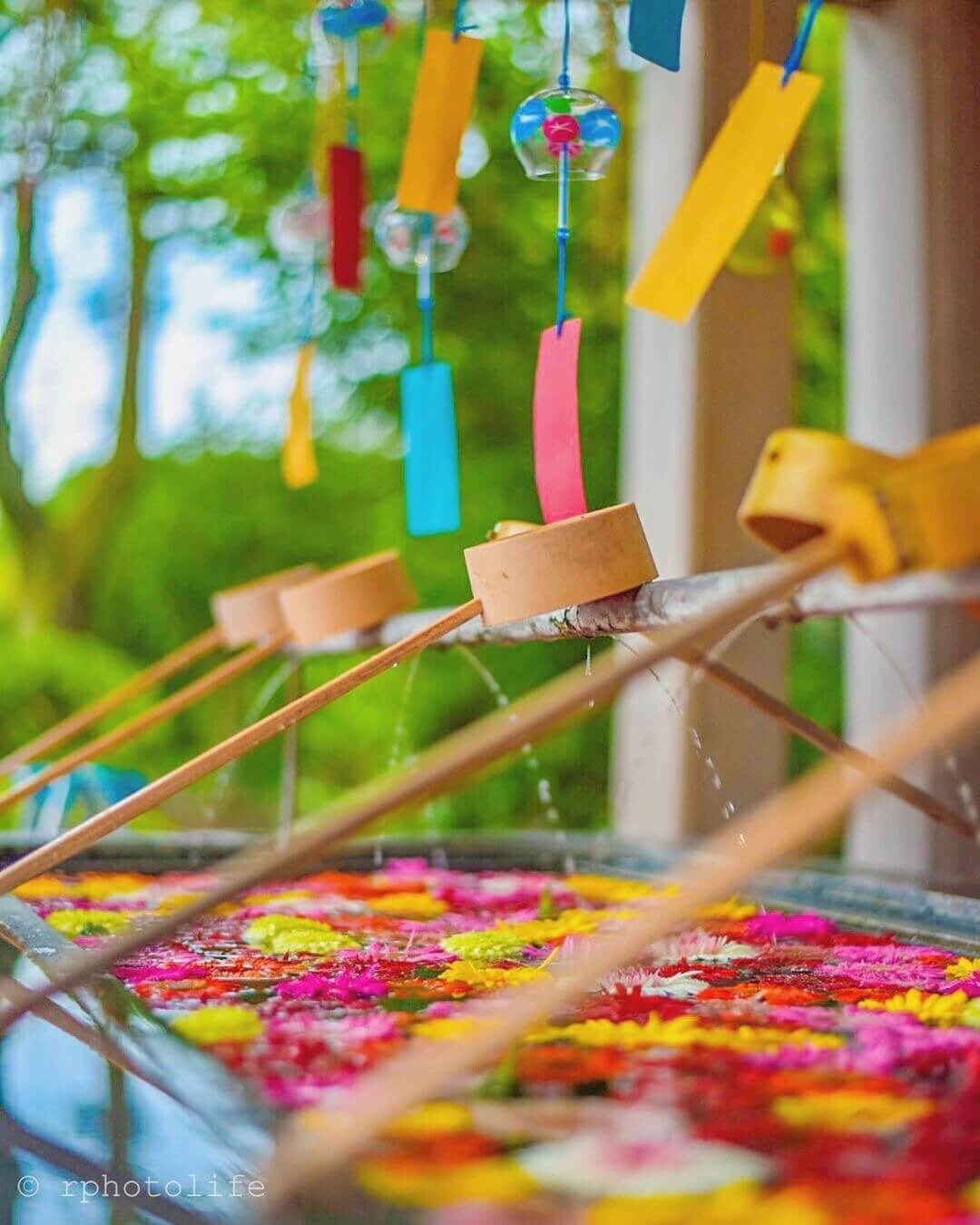 The flowers were placed in there on August 19 and will remain there until September 1. During the same period, there are lots of beautiful wind chimes being strung up around the shrine ground. Their tranquil sound as the breeze blows, together with the watery flowers, are enough to make you feel cool this summer.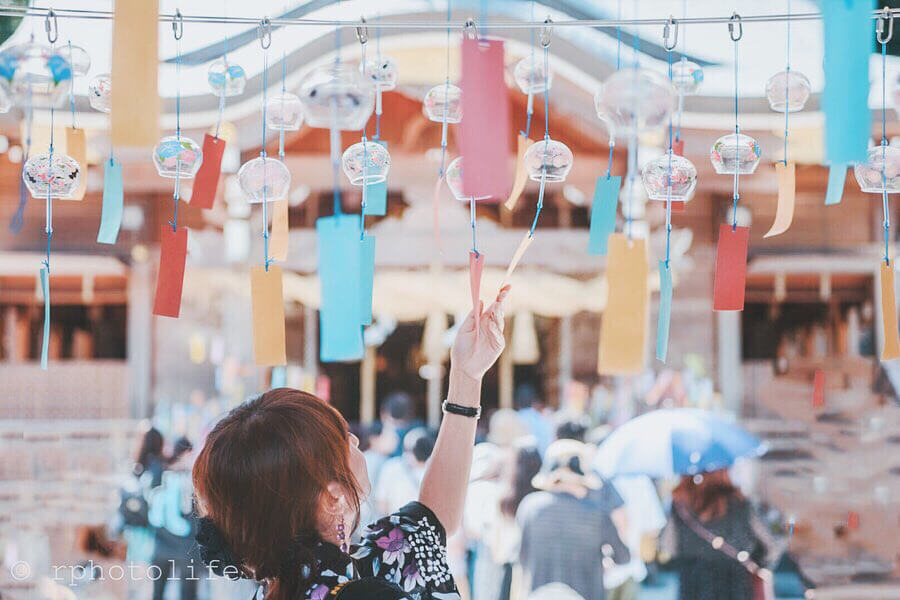 If you're looking to find more beautiful places to visit around Kyushu, Rie has plenty of recommendations on her Instagam page so be sure to give her a follow.
Photos by Rie
RELATED ENTRIES
Top 5 Delicious Must-Eat Parfaits in Fukuoka

This time, we're here to present a sweet assortment of parfaits in Fukuoka that are sure to get your mouths watering. We are joined by Instagrammer

moe

who has provided us with photos and descriptions of this tasty line-up.

green bean to bar CHOCOLATE in Imaizumi

 

Let's begin with the Chocolate Glass Parfait, an extravagant parfait which is made with cocoa beans from various different regions, offering plenty of flavour. It's a refreshing parfait topped with chocolate tea granita jelly. It's also drizzled in a chocolate sauce which is made with cocoa beans and imbued with berries. If you're a chocoholic then this one will provide the hit you need!

▼green bean to bar CHOCOLATE

Address: Nishitetsu Tenjin CLASS 1F, 1-19-22 Imaizumi, Chuo Ward, Fukuoka, Fukuoka Prefecture

Opening Hours: 11:00-21:00

Closed: Wednesdays

Patisserie Georges Marceau in Watanabedori

A floral fragrance dances around this beautiful parfait, which one would expect the refreshing peach to be the centerpiece, only to find out that other fruits come through the flavour assortment too like lychee and raspberry. As well as fruits, the parfait includes sherbet, panna cotta, and other refreshing combinations.

▼Patisserie Georges Marceau

Address: 1F, 5-8-19 Watanabedori, Chuo Ward, Fukuoka, Fukuoka Prefecture

Opening Hours: 10:00-20:00 (Until 19:00 on Sundays)

No Fixed Holidays

Oyatsu cafe Hibi to in Hirao

This classic strawberry parfait contains double-sized cornflakes. I would change nothing about its taste or appearance, which also matches the atmosphere of the cosy and beautiful cafe.

▼Oyatsu cafe Hibi to (Japanese: おやつcafe日々to)

Address: Maison Sansou 2F, 2-17-21 Hiaro, Chuo Ward, Fukuoka, Fukuoka Prefecture

Opening Hours: 11:00-20:00

No Fixed Holidays

Kurasukoto in Hirao

Left: Coffee Jelly Parfait / Right: Strawberry Parfait

Coffee jelly is a bitter flavour more suited to the adult palate. It goes perfect with the condensed milk and caramel nut-topped smooth ice cream cake. Piled with juicy strawberries and blueberries, you're sure to enjoy your fill with this strawberry parfait.

▼Kurasukoto

Address: 2F, 1-11-21 Hiaro, Chuo Ward, Fukuoka, Fukuoka Prefecture

Opening Hours: 11:30-18:00 (Food Last Orders 17:15 / Dessert Last Orders 17:30)

Closed: Sundays & Mondays

momotose in Hirao

Strawberries, kumquat, and flower petals adorn this piece of parfait art. The combination of the sour fruits and sweet ice cream is a match made in heaven. As well as parfaits, momotose also sells other delicious desserts too like roll cake.

▼momotose

Address: 1F, 3-19-20 Hiaro, Chuo Ward, Fukuoka, Fukuoka Prefecture

Opening Hours: Lunch 11:00-15:00 / Tea 14:00-18:00 / Dinner 18:00-21:00

No Fixed Holidays

Kenshi Yonezu's New Single 'Uma to Shika' Achieves Record-Breaking Sales

17.September.2019 | MUSIC

Kenshi Yonezu released his new single Uma to Shika on September 11 and it has soon become a new record-breaking sensation. The song served as the main theme for the TBS Sunday drama No Side Game, which just aired its last episode. The Oricon Weekly Single Rankings revealed that the single has so far been sold 412,000 times, which is Yonezu's largest sale yet.

The first ever solo Japanese artist to make over 400,000 sales within the first week of a release was achieved by Tomohisa Yamashita in June 2006 with his song Daite Señorita. After 13 years and 3 months, a new record has been set by Yonezuー the perfect way to start the brand new Reiwa Era.   

The Download Chart shows that the rank for Uma to Shika is remaining steady. The Oricon Digital Single Ranking Chart shows that the single was downloaded 74,178 times in just one week, earning the top place. Since the single's advanced sales which started on August 12, the single has remained at No.1 for five whole consecutive weeks. 

In the drama No Side Game, Hayato Kimijima (played by Yo Oizumi) works as the general manager of the company's rugby team named Astros. He puts up a rigorous fight to keep the team from falling apart so that they can face off against their arch rival team known as the Cyclones. Despite suffering an injury, team player Jo Hamahata, who carries the spirit of the team, rises to the challenge of the fierce battle with every ounce of energy to ensure victory, gambling his sports career by wagering everything on his last shot.

The team members, staff and even the team supporters joined forces as one to ensure the team's win, putting every ounce of their body and soul into the match. The theme drama's theme song Uma to Shika is perfect for summing up this heated moment. The overwhelming feelings of the drama resonate in Yonezu's song and has even stretched out to inspire many viewers. Many fans are still sending in messages about their lingering feelings towards the final episode. 

Information

Uma to Shika Commemoration Event

Fukuoka

Location: Tenjin Kirameki Square

Dates and Times: Saturday, September 21 (10:00-20:00)

Sunday, September 22 (10:00-20:00)

Osaka

Location: NAMBA PARKS Canyon Court

Dates and Times: Saturday, September (11:00-21:00)

Sunday, September 29 (11:00-21:00)

 

Official Twitter Account: @tabi_dekajake

 

Important Event Information:

* Please refrain from sending enquiries directly to the venues.

*As the commemoration exhibitions will be held outdoors in a public location, please act with consideration for others who are passing by. 

* Events will be cancelled in the case of stormy weather. Announcements will be made on the event's official Twitter mentioned above. 

*If there are many attending this event, please cooperate as staff control the crowds by placing rules and guiding the queues. 

Kenshi Yonezu: New Single 'Uma to Shika'

Release Date: September 11, 2019

Product Information:

First Press No Side Limited Edition (CD+Whistle Pendant+Leather Cover): ¥1,900 (Before Tax) [SECL-2493~94]

First Press Limited Edition Version with DVD: (CD+DVD, Paper Cover): ¥1,500 (before tax) [SECL-2495~96]

Regular Edition: (CD only): ¥1,000 (before tax) [SECL-2497]

 

Kenshi Yonezu 'Uma to Shika' Special Edition Website: https://reissuerecords.net/umatoshika/

Kenshi Yonezu 'Uma to Shika' Streaming Links: https://smej.lnk.to/JCJ0B

Official Website: http://reissuerecords.net/

5 Must-Try Desserts On Fukuoka's Beach-Lined City Of Itoshima

Itoshima is a city located in the western part of Fukuoka and is known for its many gorgeous and picturesque locations-especially its beaches.

Today, we are joined once again by Instagrammer

moe

who is here to show us the best delicious drinks and desserts to enjoy while gazing out at Itoshima's breathtaking beaches and rural landscapes.

OYATSU-STAND in Nishi-ku

Left: Tapioca Milk Ryokucha Green Tea / Right: Tapioca Milk Houjicha (¥600 Each)

What better way to enjoy a refreshing green bubble tea than with a sun-kissed blue sky and ocean right in front of you? As well as ryokucha and houjicha, there are plenty of other thirst-quenching flavours to choose from as well, including Japanese tea latte.

▼OYATSU-STAND

Address: 2198-3 Kota, Nishi-ku, Fukuoka

Business Hours: 10:30am until sunset

No Fixed Holidays

Itoshima Sabo in Nishi-ku

Specially-Made Single Classic Pancake – ¥500

You'll find yourself reaching for your camera to snap a picture of this Instagram-worthy pancake, branded with the cafe's name Itoshima Sabo in Japanese. They serve everything from breakfasts to full course meals.

▼Itoshima Sabo

Address: 2915-1 Kota, Nishi-ku, Fukuoka

Business Hours: 10:00-21:00

No Fixed Holidays

KUROKI in Nijoishizaki

KUROKI is a French restaurant that serves up a variety of courses. This fluffy homemade roll cake is filled with rich and smooth cream. You can order it as a set together with a meal too. Don't forget, this place is reservation-only!

▼KUROKI

Address: 459-3 Nijoishizaki, Itoshima, Fukuoka

Business Hours: Lunch 12:00-17:00 (Reservation Only) / Dinner 18:00~ (Reservation Only)

Closed: Sundays

Sumi Cafe in Hon

Salted Milk Houjicha Purin – ¥500

Sumi Cafe is a long-standing cafe that can be found by following a narrow road along the countryside. This irresistible salted milk houjicha purin is combined with astringent chestnut and candied chestnut to make a luxurious dessert.

▼Sumi Cafe

Address: 1454 Hon, Itoshima, Fukuoka

Business Hours: 12:00-17:00 (Lunch Last Orders 15:30 / Cafe Menu Last Orders 16:30)

Closed: New Year's Holiday

Loiter Market in Shimakeya

Left: Salt & Caramel / Right: Milk & Strawberry (¥400 Each)

Made with organic ingredients, Loiter Market's gelato is served in cute pastel colours. The salt and caramel is a must-try, it's made with salt sourced in Itoshima.

▼Loiter Market

Address: 166-3 Shimakeya, Itoshima, Fukuoka

Opening Hours: 12:00-17:00

No Fixed Holidays

Did you enjoy these picks? If you're looking for even more desserts to try in Fukuoka then be sure to check out

moe's

Instagram page which is filled with just that!

Cruise by the Dazzling Blue Grotto Illuminations in Fukuoka

As part of a project to vitalise and develop the town of Hakata in Fukuoka and promote its wonderful culture to the people of the world, the Blue Grotto FUKUOKA Executive Committee is set to hold a special illumination event titled Blue Grotto FUKUOKA at Nakasu Bridge from September 16 to October 6.

This illumination event first began in Nakameguro, Tokyo back in 2014 where it enjoyed great success. The location was then moved in 2016 to Shibuya where over 2.8 million people attended. It was then held outside the Tokyo area for the first time in Sapporo in February 2018 and then in Osaka in September of the same year. This enabled it to become widespread across the country and has consequentially made it become one of the main illumination events of Japan.

Blue Grotto will now make its way to Kyushu for the first time with Blue Grotto FUKUOKA. Boats will be prepared for the romantic and magical cruise which will take passengers from Nakasu Bridge to Canal City Hakata and Hakata Bay.

As well as the breathtaking lights, passengers can look forward to a specially-prepared pasta meal made by Nisshin Foods using Blue Grotto brand products.

Information

Blue Grotto FUKUOKA

Running: September 16, 2019 – October 6, 2019

Location: Nakasu Bridge (中洲懸橋), Fukuoka

Illumination Times: 18:30-22:00 (subject to change)
Access: 6-minutes on foot fromNakasu-Kawabata Station / 7-minutes on foot from Tenjin-Minami Station

Official Website: http://shibuya-aonodokutsu.jp/

5 Temples in Kyoto Announce Exclusive Viewings For Their Secret Cultural Assets

The history of Yamashina dates back over 1,400 years when Kyoto, then known as "Heian-kyō," was the official capital of Japan. Located in the southeastern part of Kyoto, Yamashina is rich in history, abound with nature, and has maintained a traditional industry that has gone unbroken since ancient times.

This year, with the arrival of Japan's new emperor and the opening of a brand new era, five of Yamashina's great temples are set to unveil several cultural assets, which until now have never been shown to the public.

They are as follows.

Anshoji Temple's Wooden Jūichimen Kannon Statue (Important National Treasure)

Kajū-ji Temple's Sliding Door Panel Artwork  – "Eight Views of Ōmi" & "Tatsuta River Autumn Leaves" (Important National Treasures)

Zuishinin Temple's Gold Lacquered Fan Inkstone Case & 4-Panel Folding Screen

Bishamon-do Temple's Imperial Prince Flag & Tortoise Shell Doors

Honkokuji Temple's Kyōzō (Important National Treasure)

Get away from the hustle and bustle of central Kyoto and steep yourself in its history with this very special once-in-a-lifetime opportunity.

Information

Special Viewings

Running: November 16, 2019 – December 1, 2019

Viewing Times:

Anshoji Temple, Kajū-ji Temple & Honkokuji Temple: 9:00-16:30 (Last Entries 16:30)

Zuishinin Temple: 9:00-17:00 (Last Entries 16:30)

Bishamon-do Temple: [Until November 31] 8:30-17:00 (Last Entries 16:30) / [From December 1] 8:30-16:30 (Last Entries 16:00)

Price

Anshoji Temple: ¥500 / Kajū-ji Temple: ¥400 / Bishamon-do Temple: ¥500

Zuishinin Temple: ¥500 (¥700 during illuminations at 6pm-8:30pm)

Honkokuji Temple: ¥500 (+¥500 to view the Kyōzō)

More details can be found over on Totteoki Kyoto Travel: https://totteoki.kyoto.travel/ (Japanese)

Kobe Readies For Rugby World Cup With Hospitable Events

The 2019 Rugby World Cup is set to take place in Japan from September 20 to November 2. Many stadiums are hosting the games across Japan this year, one of which is Kobe Misaki Stadium. It is predicted that there will be many people visiting the city of Kobe for the World Cup.

The competing teams at Kobe Misaki Stadium, also known as Noevir Stadium Kobe, are as follows: England vs USA on September 30, Ireland vs Russia on October 3, and South Africa vs Canada on October 8. An estimated 120,000 spectators will be present across the four matches, around 30,000 of which arriving from overseas.

In response to the many fans set to appear in Japan's sixth-largest city, venues are shops across Kobe are set to serve up a classic plate of Japanese omotenashi―or "hospitality―with a line-up of events and tours. Let's take a look at just some of the exciting things the city has planned for the 2019 Rugby World Cup.

1. Meriken Park Fanzone in Kobe

Rugby fans can enjoy the thrilling atmosphere of the World Cup at one of the many Fanzones set to open across Japan for the games. Entry to all of the Fanzones is free. In Kobe, look forward to live screenings of the matches, food stalls serving local food, promotional booths and more. The fun doesn't have to end at the matches: fans can continue to enjoy the excitement before and after too at a Fanzone.

 

2. Hospitable Events

The Kobe Tourism Bureau has teamed up with local business around the city to prepare what they are calling "Hospitable Events For Fans." Taking place from late September to early October, these events will offer exclusive and unique Kobe experiences. There are 6 in total, but we will take a look at just 2.

MUSIC&DANCE@KOBE PORTOPIA Night 2019

From big disco hits to rock tunes, EDM beats and groove, enjoy a feel-good late-night dance and music party at the fancy Kobe Portopia Hotel. Soak up the warm summer evening while freestyle boogieing.

YORU-BAR ~Night Food Festival~

People of all ages are invited to the popular YORU-BAR at Sannomiya Center Gai which will run from late September to early October. They will serve up a tasty selection of Japanese seafood to Kobe cuisine.

3. KOBE Experience Guided Tour

Aimed at foreign tourists attending the Rugby World Cup in Kobe, the Experience Guided Tour is comprised of 25 unique programs for people to experience Japanese culture, Kobe's local food culture, and more. The tours will not only be limited to Kobe either―some will also spread to neighbouring cities. Let's take a look at some of them.

*All programs available in English only

Premium Kobe beef at the almost 150-year-old restaurant Oi Nikuten

Kobe beef is one of the three top brands of high-quality Japanese Wagyu beef. It's the most well-known and popular type of Wagyu in Japan. With this program, you will learn various ways to enjoy Kobe beef at Oi Nikuten, a long-standing restaurant that first opened back in 1871.

▼Bookings

https://www.viator.com/tours/Kobe/Various-ways-to-enjoy-Kobe-beef-Long-established-store/d27432-165105P24

Experience Zen Meditation at Tenjoji Temple in Kobe City

Immerse yourself in traditional Japanese culture with Zen meditation session at Tenjoji Temple. Learn all about the rich history of the temple with an incredible guided walk before sinking deep into meditation.

▼Bookings

https://www.govoyagin.com/ja/activities/japan-kobe-experience-zen-meditation-tenjo-ji-kobe-city/11290

There is lots to be discovered in Kobe, and the doors to its culture are open and ready to embrace all for the Rugby World Cup. Look forward to everything here and much, much more when the matches begin on September 20.

Information

Meriken Park Fanzone in Kobe

Dates/Times

9/26@ 11:00-22:00
9/28 @ 11:00-21:30
9/29 @ 11:00-19:00
9/30 @ 11:00-21:30
10/3 @ 11:00-21:30
10/5 @ 11:00-22:00
10/6 @ 11:00-19:00
10/8 @ 11:00-21:30

Venue: Kobe Meriken Park (Address: 2-2 Hatobacho, Chuo Ward, Kobe, Hyogo Prefecture
Entry: Free

Official Website (English): https://www.2019kobe.com/news/20190816_03/

MUSIC&DANCE@KOBE PORTOPIA Night 2019

Dates: September 25th-30th / October 3rd-4th, 7th-8th

Time: 19:00-Midnight

*An event titled "FM802 & FM COCOLO Night" will run on September 27 and October 4

Venue: Party Room Key Notes at Kobe Portopia Hotel (South Building Floor 3F) (Address: 6-10-1 Minatojima Nakamachi, Chuo Ward, Kobe, Hyogo Prefecture)

Official Website (English): https://www.portopia.co.jp/en/convention/venues/keynotes/

Official Website (Japanese): https://www.portopia.co.jp/event-culture/event/detail/25/

YORU-BAR ~Night Food Festival~

Dates: September 26 / September 30 / October 3 / October 8

Time: 20:00-Midnight
Location: Sannomiya Center Gai, Kobe
Official Website (Japanese): http://yorubaru.kobe-sc.jp/

Adventure World Wildlife Theme Park in Wakayama Adopts SmaLingual Multilingual App

Adventure World has announced that it has adopted SmaLingual to the park, a multilingual app designed for foreign tourists and travellers in Japan to help them get around.

SmaLingual is a simultaneous multilingual interpretation service which uses a multilingual speech translation engine. Available in 10 languages including English and Brazilian Portuguese on both phones and browsers, the service translates and interprets both text and speech simultaneously, enabling people to have conversations with each other in different languages. The app's functions also have a language level over TOEIC800, ensuring that you convey the right information correctly.

Using this app means you will be able to read and understand descriptions and explanations written around the park, cautious on interacting with the animals, and so on.

Now guests can enjoy Adventure World with friends and family to the fullest without making a mistake.

Information

Adventure World – SmaLingual

・Park Services Using App: 45

・Adventure World currently accepts 10 languages including Japanese, English, Traditional Chinese, Simplified Chinese, Korean, Thai, Indonesian, Myanmar, Vietnamese, and Brazilian Portuguese

How to Use

①Scan the QR code provided on the park staff's tablet

②Translate your own text or voice using your own smart device

*Guests do not need to install the app if they do not wish. The app can be used online.

Adventure World

Address: 2399 Katata, Shirahama, Nishimuro District, Wakayama Prefecture

Official Website: https://www.aws-s.com/

Himeji Castle Places Number 1 On Japan's Top 20 Castles For 4th Year in a Row

TripAdvisor® has just released its list of the top 20 castles in Japan from 2019 as reviewed by travellers and tourists.

Himeiji Castle

This is the 7th time the website has run this list. Coming in at No. 1 for the fourth year in a row is none other than Himeiji Castle, located in the city of Himeiji in Hyogo Prefecture.

Matsumoro Castle

Kumamoto Castle

Moving up from 4th place to 2nd place this year is Matsumoto Castle in Nagano Prefecture, and from not ranking at all last year to 3rd place this year Kumamoto Castle. These top three castles comes as a package as they are considered Japan's three premier castles.

Kumamoto Castle is set to re-open this autumn after reconstruction work is complete. The castle suffered damages after the 2016 Kumamoto earthquakes. Although time is required for the full restoration, you can still see the majestic tower keep surrounded by paling. Japanese users on TripAdvisor have commended it as a symbol of restoration and their joy with the repairs being done.

Hirosaki Castle

For the first time in four years, Hirosaki Castle ranks on the list in 12th place. Situated in central Hirosaki in Aomori Prefecture, the castle is a known living symbol of the Edo Period (1603-1868). Construction work has been taking place since 2015 to repair the base of the castle structure on the east side due to deterioration. In summer 2015, the castle tower was moved 70 meters without taking the castle apart to allow for work to be carried out. A moving castle is certainly a rare sight to see in Japan-and something you only imagine from a Studio Ghibli movie!

The castle has been praised on TripAdvisor for how beautiful its surrounding nature is, from the cherry blossoms in spring to the red and yellow leaves in autumn. The castle can be enjoyed throughout all the seasons.

Tsuyama Castle

Making the list for the first time ever is Tsuyama Castle which can be found in the beautiful Kakuzan Park in Okayama. When you ascend the magnificent stone steps of the castle and turn around you can enjoy a panoramic view of the city of Tsuyama. In spring, the castle's white watchtowers look picturesque next to the pink cherry blossom trees.

From castles that have been maintained since they were first built to others that have been rebuilt from their former forms, there are countless sites to behold while in Japan. Be sure to use the Top 20 list as reference when travelling there!

A Magical Ice Village is Forming This Winter at Hoshino Resorts Tomamu in Hokkaido

Hoshino Resorts Tomamu―one of Hokkaido's leading snow resorts―is set to open a new area called the Ice Village this winter. It will run for a limited time from December 10 to March 14.

The Ice Village spans coolly across 3.2 hectares of land and is home to 11 domes made entirely of ice. This winter-only experience has been running every year since 1998. Made to look like a real village, some of its iconic sights include the Ice Church and Ice Hotel which can be found at the very back. Everything from the towering ceilings to the walls are formed solely of ice.

The main street, named fittingly the "Ice Street," includes a cafe, gallery, shops and more, all enveloped in a chilly white world.

Ice Crystal Park: A New Addition to the Ice Village to Gaze at the Sights and Scenery

The Ice Crystal Park is frozen over with tables and chairs made of ice and has snowflakes dotted here and there, creating a true winter wonderland. Order a hot drink from the Ice Bakery & Cafe or munch on a tasty treat from the Ice Sweets Shop as you sit and gaze at the snow-covered landscape of the Ice Village while surrounded by towering white birch trees. And everyday at 19:30, a 5-minute firework show will warm up the winter sky which is best enjoyed while sitting in the park.

Time: 17:00-22:00

Price: Free

Bite Down Frosty Treats at the Ice Sweets Shop

 

It wouldn't be a complete Ice Village without its own glacial cuisine. At the Ice Sweets Shop you can order ice cream which is made from liquid milk on an ice block. The temperature of the air coupled with the frozen coolness of the ice block causes the milk to freeze into a yummy dessert. There's also chocolate ice bars made from hot chocolate, colourful macarons, toasted marshmallows, and more.

Time: 17:00-22:00 (Last Orders 21:00)

Price: Milk Gelato – from ¥1,100 / Macarons ¥550 / Ice Bar ¥550 / Marshmallows ¥550 (*All prices include tax)

Grab a Drink From the Ice Bar

The village even has its own Ice Bar, complete with an ice counter and ice cellar for serving sake. This year, the bar will serve an all-new original gin drink made using snowmelt from Tomamu. There are over 50 drinks to pick from, including original cocktails, whisky, and more.

Time: 17:00-22:00 (Last Orders 21:45)

Price: Original Gin – ¥1,650 / Drinks With Ice Glass – from ¥1,100 (*All prices include tax)

There are many other exciting things to find at the ice village, including the Ice Hotel which you can sleep in, the Ice Atelier, and more. Have a reason to go out this winter by visiting the Ice Village in Hokkaido.

Information

Ice Village

Running: December 10, 2019 – March 14, 2019

Location: Hoshino Resorts Tomamu area

Time: 17:00-22:00 (Last Entries 21:30)

Entry Price: Elementary School Children & Older – ¥500 (Tax Included) *Free for guests staying at Tomamu The Tower or RISONARE Tomamu

Available: To both guests and visitors

Notes: Times, prices etc may vary depending on each service or activity. Select services and activities are subject to changes depending on weather conditions. Certain services and activities scheduled to start at later dates.

Hoshino Resorts Tomamu / Hoshino Resorts RISONARE Tomamu

Address: Nakatomamu, Shimukappu, Yufutsu District, Hokkaido

Official Website (English): https://www.snowtomamu.jp/winter/en/

Shibuya's New Tourist Information Center is Open For Business at Night & Offers Airport Bus Service

Tokyu Land Corporation has announced that Shibuya's all-new tourist information center will be named "shibuya-san." Located on the first floor of Shibuya FUKURAS, the tourist information and are center is set to open its doors to the public this December.

Tourist Information: Where you can become a Shibuya local

The tourist information section of the center is staffed by people from countries around the world, from Europe to Asia, most of which are non-Japanese students studying abroad. They are able to offer detailed tourist and sightseeing information for Shibuya from the perspective of a "foreigner in Japan."

The center also does away with the ordinary set-up of most tourist information centers in which you speak to someone over the counter. Instead, tourists entering shibuya-san will be greeted directly by staff and talk to them side by side.

They also offer English guide books with a map produced by Time Out Tokyo. Time Out is a city guide service published in 108 countries around the world in 39 languages.

Art Center: Where art brings Shibuya and the world together

shibuya-san will be the first tourist information center in Japan to have its own art gallery. Being located right in front of Shibuya Station means that people visiting from around the world will be exposed to Shibuya's culture through art. Focused on "Travel, City & People," the art gallery will offer not only exhibitions and performances, but also events in which tourists can participate, as well as opportunities to talk directly with artists.

Open Late: Shibuya's nightlife propelled with the center's night hours

Almost all tourist information centers close in the late afternoon/early evening, but not shibuya-san. Shibuya's nightlife is a huge part of the city's culture, and so to make it more accessible to tourists, shibuya-san will be open until 11:00pm, offering helpful information and suggestions for getting around and enjoying yourself after-hours.

shibuya-san even has its own drinks counter where alcohol is served in the evenings. Events will be held there periodically where you can meet and talk with people.

Limousine Buses: Haneda Airport and Narita Airport

The bus terminal in front of the tourist center offers regular buses and will soon offer airport limousine buses from Haneda and Narita Airport. They will serve to create a new doorstep to Shibuya at Shibuya Station's west exit for tourists visiting Shibuya. They will begin running in early December.

Whether you're visiting Shibuya for the first time or are a returning guest, find out all there is to know about the area when shibuya-san opens this December.

Information

shibuya-san tourist information & art center

Address: 1-2-3 Dogenzaka, Shibuya, Tokyo

Services: Tourist Information Center / Baggage Storage & Delivery / Airport Limousine Bus Tickets & Service / Foreign Money Exchange / Shibuya Experience Program / Drinks Bar / Art Center / Events

Business Hours: 10:00-23:00 (*Select services will run at varying times)

Grand Opening: December 2019 (subject to change)

Official Website: https://shibuyasan.jp

*The website is currently a teaser site which opened on August 28, 2019. The full website will go live in the coming months.

teamLab Now Holding Digital Art Exhibition at World Heritage Site Shimogamo Shrine in Kyoto

With the increase in number of collaborations between contemporary digital art and traditional and historical Kyoto sites, teamLab is getting in on the action with its new digital art exhibition "Digitized Forest at the World Heritage Site of Shimogamo Shrine."

We are joined by Instagrammer Macchan who recently attended the exhibition and who has provided photos for us.

Shimogamo Shrine is a shrine located between the Kamo River and Mount Kōya. It was registered it as a World Heritage Site by UNESCO. The shrine is associated good luck in marriage and welcomes sightseers from Japan and around the world. It can be reached by the 205 Bus from Kyoto Station and getting off at either Shimogamo Shrine (下鴨神社) or Tadasu Forest (糺ノ森前). It's also about a 20-minute taxi ride from Kyoto Station.

This marks the third run of teamLab's "Digitized Forest" exhibition at Shimogamo Shrine, and this year's exhibition has been made even bigger. It is running until September 2, 2019.

Floating by the Rōmon Gate of the shrine are spheres of light which change colour and emit various musical tones unique to the colour when touched by a person. They also react to the other spheres around them, changing to the same colour and letting out the same tone, creating a chain reaction.

Egg-shaped orbs of light can be found dotted around the Tadasu Forest by the shrine which illuminate the trees. Like the light spheres, when the eggs are pushed they change colour and play a musical noise specific to that colour, the sound and tone spreading through the forest.

These objects of light can also be found at Mitarashi Pond where they float on the water. The orbs shine brightly and then fade slowly as if breathing. If pushed by people or blown by the wind they will change colour and emit sound.

The best part about teamLab's art exhibitions is how visitors become part of the exhibition itself by interacting with the installations, offering a much more engaging experience than simply looking. Visit Shimogamo Shrine before the exhibition ends to see digital art meet a traditional Japanese shrine at night.

If you're looking for more sightseeing recommendations for Kyoto then be sure to follow Macchan on Instagram!

Photos by まっちゃん

Information

Shimogamo Shrine
Address: 59 Shimogamo Izumikawachō, Sakyo Ward, Kyoto, Kyoto Prefecture
Official Website: https://www.shimogamo-jinja.or.jp/english/

Digitized Forest at the World Heritage Site of Shimogamo Shrine, Kyoto Art by teamLab – TOKIO INKARAMI
Running: August 17, 2019 – September 2, 2019
Time: 18:30-22:00 (Last Entries 21:30)
Location: Shimogamo Shrine

Price: Weekdays ¥1,300 / Weekends ¥1,500
*Free entry for elementary school children and below. Must be accompanied by a parent or guardian aged 20+.

Official Website: https://www.teamlab.art/e/shimogamo/

Kagoshima's Sengan-en Gardens Nominated For Best Attraction in Travel & Tourism Awards

Both Sengan-en, Shoko Shuseikan Museum and Satsuma Kiriko Glassworks have been nominated for "Best Attraction" in the 2019 Travel & Tourism Awards, which are held in London every year as part of World Travel Market London (WTM).

This year marks the 40th run of WTM London, which brings together over 50,000 travel and tourism professionals from 186 countries to spread the latest tourism trends and must-visit locations around the world. The Travel & Tourism Awards is a universally recognised stamp of approval, held in front of over 500 seniors in the travel industry.

Sengan-en, Shoko Shuseikan Museum, and Satsuma Kiriko Glassworks have been recognised and nominated for their renovation efforts which have increased tourism. They are up against six other facilities in the same category, including Warner Bros. Studio Tour London – The Making of Harry Potter by Warner Bros Studios.

With only one entry from Japan, which location will take home the award? Japan will be watching intently for the reveal on November 5.