Tokyo Otaku Mode Now Selling Cute Cardcaptor Sakura Jewellery Online
Tokyo Otaku Mode Inc. is collaborating with adult jewellery and merchandise makers U-TREASURE to create dainty and delicate jewellery based on the anime and manga Cardcaptor Sakura. Preorders for their brand new jewellery series are now being accepted. 
This is the third time Cardcaptor Sakura collaboration jewellery has been created. This time, the designs are focussed around the characters Sakura, Syaoran and Yue from the Cardcaptor Sakura: Clear Card series.

Cardcaptor Sakura Petit series: Sakura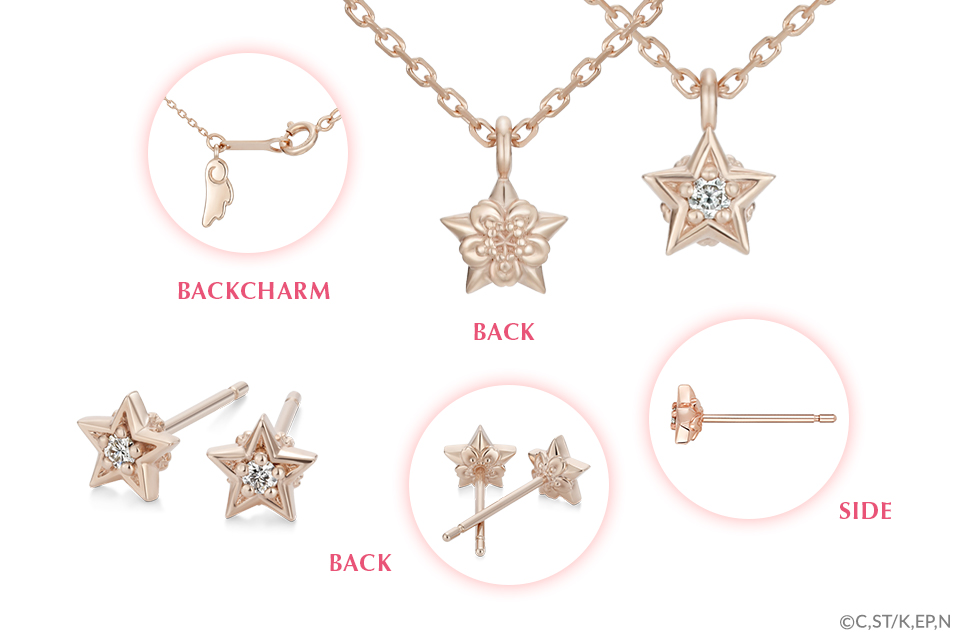 This petit series consists of a necklace and earrings which are both full of Sakura's cute personality. A twinkling diamond can be seen at the centre of the star motif. The back of the star also bears Sakura's cherry blossom flower motif. The back of the necklace is even decorated with a wing pattern. You are bound to fall in love with this intricate and dainty design. 
Cardcaptor Sakura Petit series: Syaoran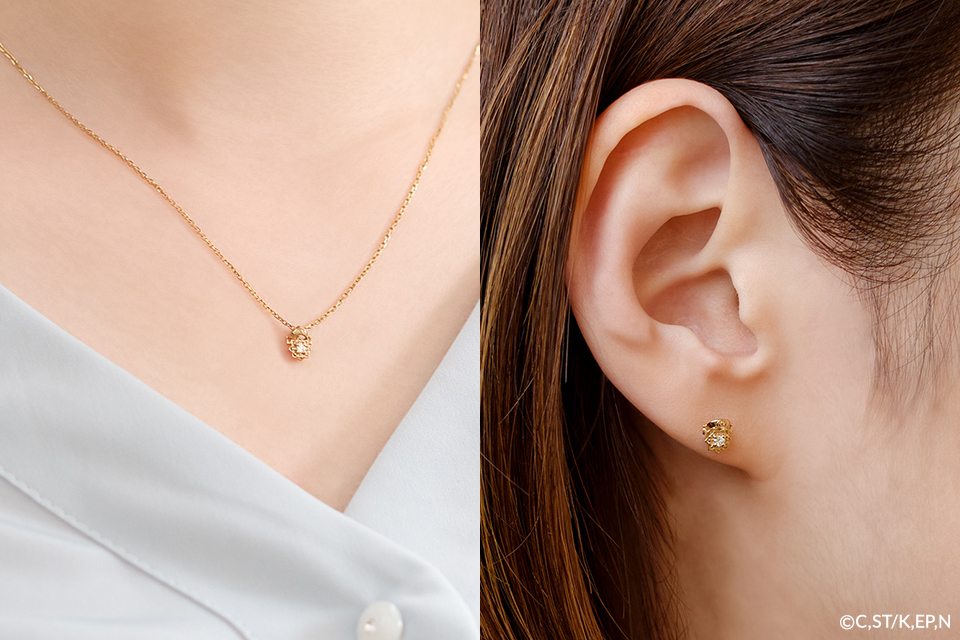 The Syaoran-themed necklace and earrings are based on Syaoran's compass and uniform hat. Even the details of the decoration on his hat are perfectly replicated in the design. Your eyes will be immediately drawn to the centre of the compass, where a small diamond sparkles. The back of the necklace is decorated with the design of Syaoran's Thunder Jufu paper charm. 
Cardcaptor Sakura Petit series: Yue
The design for this collection is based on Yukito and Yue. The motif of the design is a snowflake and the moon, which represents the acknowledgement of the other's presence. The charm incorporates both symbols together in its design, representing the unity of the two characters. The centre of this design also features a shiny diamond. The back of the necklace features the Clow Book design.
As a special bonus, you will receive a cleaning cloth for each item of jewellery purchased. (Not sold separately) 
Preorders are being accepted until September 23, 2019 so please check them out as soon as possible. 
 *These jewellery items are still in the development process. Therefore, the final product may differ slightly from the images shown.
©CLAMP, ST/Kodansha Ltd.・NEP・NHK
RELATED ENTRIES
Cardcaptor Sakura Inspires Four Pairs of Gorgeous Pumps

Women's fashion brand mayla classic is now accepting orders for four unique pairs of pumps inspired by Cardcaptor Sakura: Clear Card!

Original Box

Rocket Beat

Clear

Candy Lotus

Eternal Girly

Purchase Bonus

The collection features four pairs of shoes inspired by Sakura's iconic battle costumes seen in the anime series.

The elaborate finishes make it seem like the costumes have been directly transformed into shoes! These are perfect to wear for a special occasion or to simply put on display in your home.

©CLAMP・ST/講談社・NEP・NHK

Cardcaptor Sakura Anime Series 25th Anniversary Project Unveiled

Cardcaptor Sakura made its debut on Japanese television on April 7, 1998. To celebrate the series' 25th anniversary, a number of exciting events are underway!



CLAMP's Cardcaptor Sakura manga series was serialized in the monthly manga magazine Nakayoshi from June 1996 until August 2000 and remains a massive hit to this day.

The series celebrated its 20th anniversary in 2016 with the announcement of a new anime series, Cardcaptor Sakura: Clear Card Arc, which aired in 2018. The manga has sold over 19 million copies worldwide and its popularity has spread around the world to fans of all ages. 

Sanrio Collaboration Capsule Toys – Minifigure Series 2 / Cardcaptor Sakura 25th Anniversary Lunch Mat

To commemorate the 25th anniversary of the anime's original broadcast, a series of new goods, collaboration cafes, and events are planned for 2022. Those who grew up with the show should be sure to grab some cute items perfect for adults!

Collaboration Room

A collaboration room inspired by Cardcaptor Sakura: Clear Card Arc will also be available to book soon! Aside from Sakura, Kero, Syaoran, and Tomoyo voice lines that will play in the room, guests can also enjoy a full dinner course using concepts and designs from the Cardcaptor Sakura world. 

Those who stay at the hotel will also receive a number of special take-home goods featuring illustrations drawn exclusively for the collaboration. Other original goods will also be available for purchase through the room's catalog and on the official website.

Collaboration Cafe

The Cardcaptor Sakura collaboration cafe that ran until February 6, 2022 at Shibuya PARCO in Tokyo will also head to Nagoya and Osaka! Don't miss the special menu and exclusive goods. 

Cardcaptor Sakura and Sanrio Collaborate on New Collection

A new collection of goods featuring Sakura Kinomoto and popular Sanrio characters is here! The collection features everyone's favorite magical girl combined with beloved characters such as Hello Kitty, My Melody Pompompurin, Cinnamoroll, and Kuromi. 

The Cardcaptor Sakura manga series was serialized from 1996 until 2000 in the monthly girls' manga magazine Nakayoshi. In 2016, a new version of the series was released titled Cardcaptor Sakura: Clear Card and the magical girl series is celebrating its 25th anniversary in 2021. An anime series aired from 1998 to 2000, with a Clear Card adaptation airing in 2018. 

Costume Design

This is the second collaboration between Sanrio and Cardcaptor Sakura, with the first coming in 2018 with Little Twin Stars. In these collaboration designs, each Sanrio character wears costumes made by Sakura's best friend Tomoyo, and Sakura wears a special costume with Hello Kitty and My Melody ears. One of these designs is only available at official Sanrio stores. 

Sanrio Store Designs

The Sanrio Characters x Cardcaptor Sakura series will be available starting November 26 at Sanrio stores and November 25 at the Sanrio online shop. 

Drawstring Bag Set: ¥1,980

Secret Acrylic Keychains (6 varieties): ¥715 each

Acrylic keychains and charms will come in blind packaging. Five of the designs have been revealed, but there is a sixth secret one to find!

Fluffy Designs

Square Tags (5 varieties): ¥660 each / A5 Clear Folder (6 varieties): ¥385 each

Special Rubber Mascot Keychains

These keychains will be available in capsule machines nationwide, and in March 2022, Cardcaptor Sakura x Sanrio plushies will also be available!

©️C,ST/K,EP,N ©️'21 SANRIO 著作(株)サンリオ

Shibuya PARCO to Host Cardcaptor Sakura Cafe for a Limited Time

Popular magical girl series Cardcaptor Sakura is getting a brand-new collaboration cafe at Shibuya PARCO for a limited time! The event is happening from November 13, 2021, until January 10, 2022, and will feature an original menu inspired by the most recent anime adaptation Cardcaptor Sakura: Clear Card. 

Plenty of sweets and themed drinks will be available, with the main character Sakura featured in the event's key visual. How would you like to come to the 'colorful à la mode' cafe?

Collaboration Menu

Sakura and Friends Sweets Party Set: ¥3,960 (Tax Included) 

Order Bonus: Sakura Clear Lunch Mat

Sakura Doll Cake (Pink ver.): ¥1,650 (Tax Included) 

Sakura Doll Cake (Blue ver.): ¥1,650 (Tax Included) 

Sakura Doll Cake (Yellow ver.): ¥1,650 (Tax Included) 

Kero's Creamy Gnocchi -Surprise: It's Takoyaki flavored?!- : ¥1,430 (Tax Included) 

Sakura's Fruit Tea Soda: ¥990 (Tax Included, available for takeout) 

Bonuses

Paper Lunch Mat for Visitors to the Cafe (2 varieties) 

Menu Order Bonus

Original Merchandise

Acrylic Diorama Stand Part 2: ¥3,080 (Tax Included) 

Swinging Keychain: ¥880 (Tax Included) 

Heart Pin (Random, 6 varieties): ¥550 (Tax Included)

Stainless Steel Bottle feat. Kero, Suppi, and Momo: ¥2,750 (Tax Included) 

Advanced Reservation Bonus – Sakura's Invitation (3 varieties) 

 

The original art for the cafe was drawn by illustrator Etoile et Griotte, and fans of the long-running series won't want to miss out!

ⓒCLAMP・ST/講談社・NEP・NHK

Information

Shibuya TOKYO PARADE goods&cafe

Running: November 13, 2021 – January 10, 2022

Hours: 11:00-20:00

Location: Shibuya PARCO 6F 

(Last Food Order at 19:00 / Last Drink Order 19:30)

Official Site: https://cafe.parco.jp/parade/detail/?id=7203

Laputa: Castle in the Sky Crystal Necklace Inspired Accessory Collection Releases

Benelic released a new collection of seven accessories inspired by the crystal necklace and cube from Studio Ghibli's animated film Laputa: Castle in the Sky at Donguri Kyowakoku stores and the online shop Sora no Ue in Japan at the end of May.

The collection is part of the Studio Ghibli-themed "Pomponner" accessory series by Benelic. Pomponner is French for 'doll oneself up' or 'get dolled up.' It includes piercings, earrings, rings, and hairbands.

The crystal has been made from blue semi-transparent epoxy, giving it a high quality look. It's also glow in the dark, so leave it in a place with lots of sunlight and then put it somewhere dark where it will illuminate. The accessories are simple in design too so can be worn outdoors and at the office while still celebrating the Studio Ghibli classic.

Laputa: Castle in the Sky Accessory Series

Crystal Piercings & Earrings | ¥1,980 (Tax Included)

 

Crystal and Cube Piercings & Earrings | ¥2,750 (Tax Included)

Crystal Ring (Sizes: 11/13) | ¥1,980 (Tax Included)

 

Crystal & Cube Ring (Sizes: 11/13) | ¥2,200

 

Crystal Hairband | ¥1,540 (Tax Included)

Shaman King Cord Bracelet Collection Features Luxurious Designs Inspired by the Characters

Japanese character accessory brand Anaguma, which lines its jewellery with natural stones, is releasing a new collection of cord bracelets in Japan on June 19 in collaboration with the anime series Shaman King. Pre-orders are now open.

Shaman King Wind Cord Bracelets | ¥6,380 (Tax Included)

The collection is inspired by the characters from the Shaman King reboot which began airing in April. Each bracelet features natural stones and metallic Oracle Bells. There are five designs in the line-up including Yoh Asakura, Anna Kyoyama, Ren Tao, Horohoro, and Hao.

Yoh Asakura Model

Features colours inspired by Yoh. Includes the Oracle Bell and Futsunomitama Sword made from metallic parts.

Anna Kyoyama Model

Features colours inspired by Anna. Includes rosary beads and an apple made from metallic parts.

Ren Tao Model

Features colours inspired by Ren. Includes the Oracle Bell and Bâo-Lèi Sword made from metallic parts.

Horohoro Model

Features colours inspired by Horohoro. Includes the Oracle Bell and Ikupasuy made from metallic parts.

Hao Model

Features colours inspired by Hao. Includes the Oracle Bell and Gohukusei mark made from metallic parts.

Each bracelet comes in a box inspired by the colouring of each character as well as a mini character card.

Who's your favourite character from Shaman King and did they make it on this list?

Information

Shaman King Wind Cord Bracelet Collection

Order Window: May 12, 2021 – June 9, 2021

Release Date: June 19, 2021

Buy: Anaguma Store Online / Anahita Stones stores / Karasade stores / Tamayura Tokyo Solamachi

Product Page: https://anaguma-store.com/collections/shamanking

Hello Kitty Diamond Necklaces Released by Japanese Luxury Jewellers U-TREASURE

Japan's luxury character jewellery brand U-TREASURE, which creates accessories for character-loving adults, released a new collection of Hello Kitty-inspired necklaces on Tuesday which are available for a limited time until May 25.

The necklaces feature a simple design with a single diamond stone tipped with Hello Kitty's ribbon. The necklaces come in various versions including platinum, yellow gold, pink gold, and also silver with cubic zirconia. The collection is available to purchase at U-TREASURE's concept store in Ikebukuro and their online shop.

<Hello Kitty Ribbon Necklaces> Platinum 950: ¥88,000 / K18 Yellow Gold, K18 Pink Gold: ¥88,000 / Silver & Cubic Zirconia: ¥16,500

©2021 SANRIO CO., LTD.

Spirited Away's Makkuro Kurosuke Dust Bunnies Get Official Accessories

Benelic is set to release a new collection based on Studio Ghibli's Spirited Away at the end of this month at all Donguri Kyowaku stores and official online shop Sora no Ue in Japan.

The collection features six items based on the adorable Makkuro Kurosuke dust bunnies and includes piercings, earrings, bracelet, necklace, ring, and hairpin.  The necklace and bracelet are fitted with adjusters, and all the accessories are fitted with cute and colourful stars inspired by the Japanese konpeito sugar candy.

Spirited Away Konpeito Series

Piercing | ¥1,760

 

Earring | ¥1,760

 

Necklace | ¥1,540 

Ring | ¥1,320

Bracelet | ¥2,200 

Hairpin Set | ¥1,100

Information

Spirited Away Konpeito Series

Releasing: Late April 2021

Where: Donguri Kyowakoku / Sora no Ue

Official Website: https://www.donguri-sora.com

Ditto Pokémon Pink Gold Necklace Released by Japanese Luxury Jewellers U-TREASURE

Japan's luxury character jewellery brand U-TREASURE, which creates accessories for character-loving adults, welcomes its new Ditto Pokémon necklace coated in pink gold.

Ditto Necklace Silver (Pink Gold Coating) | ¥17,600 (Tax Included)

Ditto is known for its shapeshifting ability to transform into anything. This Normal-type Pokémon, first introduced in Generation I, has turned into a luxury pink gold necklace so you can take it with you on your Pokémon Trainer adventures wherever you go.

Inuyasha Character Ring Collection Releases at Animate

Movic is now selling a limited-time collection of new Inuyasha merchandise at Animate stores, Animate's online shop, and Movic's online shop in Japan until April 21.

The line-up includes a special collaboration with U-TREASURE who have crafted two luxury rings inspired by Inuyasha and Sesshomaru in K10 white gold.

Inuyasha Ring: ¥16,500 / ¥38,500

Inspired by Inuyasha's kimono, this ring features a narrow and simple unisex design. Sizes range from 5-19 in Japanese size. The ring is also fitted with one of Inuyasha's Beads of Subjugation and comes in a red box.

Sesshomaru Ring: ¥16,500 / ¥38,500

Similiar in design to Inuyashia's ring, the Sesshomaru ring is fitted with the a moon stone and comes in a white box.

These rings are perfect for fans of Inuyasha to express their love of the series nonchalantly and look stylish while doing it.

©高橋留美子/小学館・読売テレビ・サンライズ 2009

Luxury Neon Genesis Evangelion Pocket Watch Released by U-TREASURE

When it comes to character-themed jewellery for adults, U-TREASURE pulls out all the stops. Fans of the Evangelion series are sure to love the Rei Ayanami-inspired design of this gorgeous new pocket watch which was released on Monday (March 29).

Ayanami Rei Pocket Watch | ¥363,000

The silver case features a 3D metal design of Rei with the second hand and clip being based on the Spear of Longinus and the chain based on the Spear of Cassius.

This luxury watch is a must-have for hardcore collectors of Evangelion merchandise.

The Promised Neverland Jewellery Collection Features Emma, Norman, and Ray

Japanese collaboration licensing website Fan Fun MARKET is now taking orders for a new collection of jewellery inspired by the TV anime series The Promised Neverland which is currently airing its second season. Orders are open until February 24, 2021.

The Promised Neverland – Jewellery Line-Up

The accessory assortment includes rings and necklaces based on the main characters of the series including Emma, Norman, and Ray. The items are engraved with the characters' serial numbers and are fitted with a coloured stone based on the colour scheme of the characters. The rings are available in Japanese sizes 7-21.

Emma Serial Ring | ¥10,000 (Before Tax)

Norman Serial Ring | ¥10,000 (Before Tax)

Ray Serial Ring | ¥10,000 (Before Tax)

The three necklaces feature a special design where if you put each of the puzzle pieces together it writes out the message "Hopefully there is light ahead." The necklaces are 40m in size plus an extra 5cm using the adjuster.

Emma Serial Necklace | ¥11,000 (Before Tax)

Norman Serial Necklace | ¥11,000 (Before Tax)

Ray Serial Necklace | ¥11,000 (Before Tax)

Bookmark

The accessories are coupled with a bookmark of the character whose items you choose.

Original Jewellery Box

大人気TVアニメ「約束のネバーランド」の世界観を存分に楽しめるコラボジュエリーをチェックしよう。

©白井カイウ・出水ぽすか/集英社・約束のネバーランド製作委員会

Information

TV Anime "The Promised Neverland" Collab Jewellery
Running: January 21, 2021 – February 24, 2021
Available: FanFun MARKET
Buy Here (Japan): https://fanfunmarket.jp/neverland