Vinland Saga Anime PV Features New Ending Theme 'Drown' by milet
Japanese singer-songwriter and newcomer to the music industry has enjoyed huge success this year, releasing her debut EP inside you back in March and making it to No. 1 on Recochoku's ranking for Best New Act for the first half of 2019.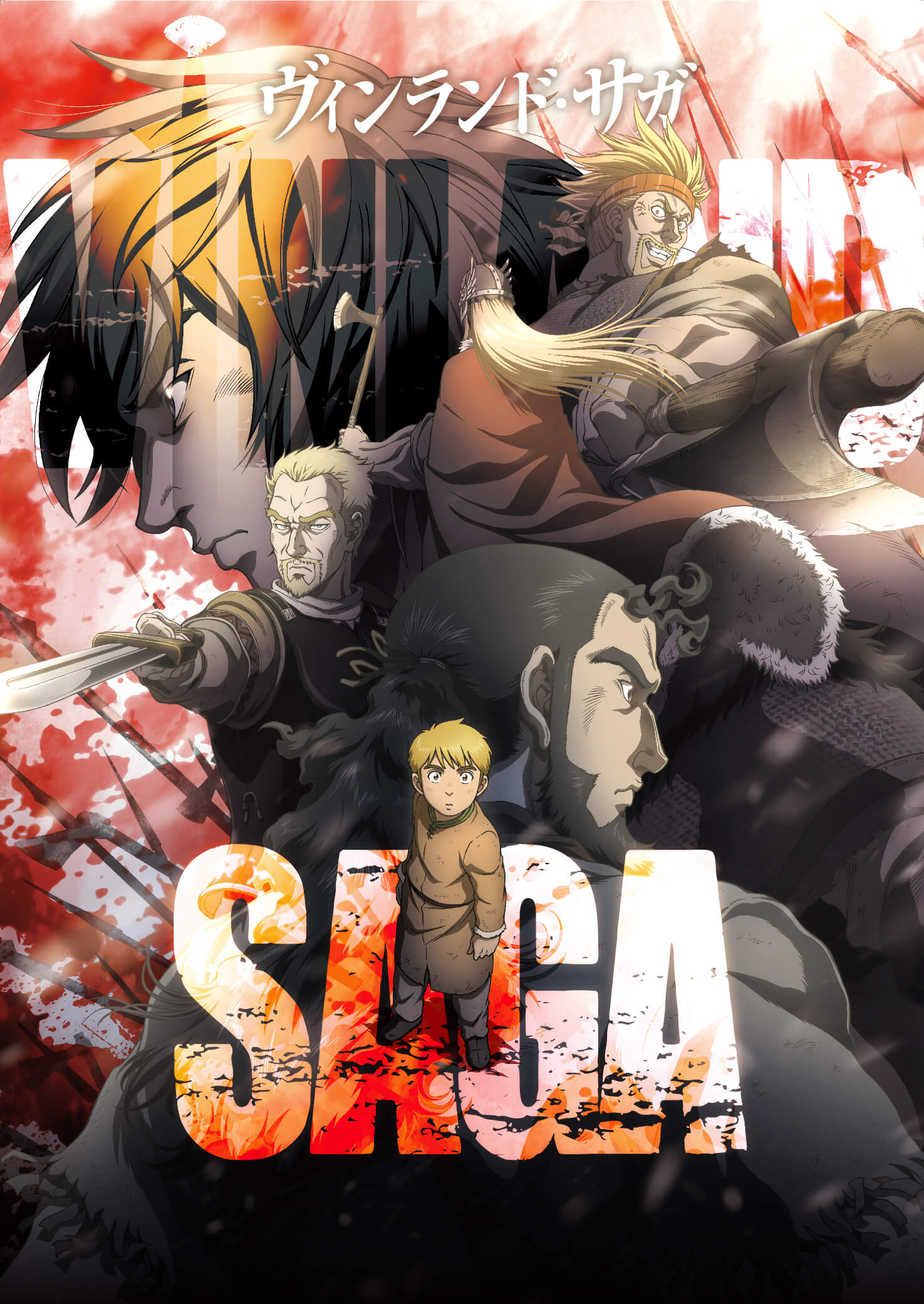 Having already dominated the charts with three releases, milet has announced that her fourth EP entitled Drown / You & I will be released on November 6. The song Drown will be used as the second ending for the ongoing TV anime series Vinland Saga. The song features in the latest PV for the anime series which you can watch below.
milet describes the song as her clashing with emotions to a beat that sounds like marching on the ground with intent.
Speaking about the Vinland Saga series, millet commented: "When I first stepped into the world of Vinland Saga, I felt something that I had never felt before. [The character] Thorfinn is someone who rides the invisible wave between life and death, and who lives his life while learning about a part of him he never knew before. I wrote the song about the whirlpool emotions that I feel: pain, hope, strength, and love. I clashed with my emotions when I sang, along to a beat that sounds like stomping on the ground one step at a time. I am so happy to be one small part of this wonderful series. I hope people enjoy the song together with it."
Information
milet 4th EP – "Drown / You & I"
Released Date: November 6, 2019
First Press Limited Edition (CD+DVD): ¥1,500 (Before Tax) [SECL-2500~2501]
Regular Edition (CD): ¥1,250 (Before Tax) [SECL-2502]
Limited Pressing Edition (CD+DVD): ¥1,500 (Before Tax) [SECL-2503~2504] *Comes with special Vinland Saga packaging
milet Official Website: http://www.milet.jp/
Vinland Saga
Premiere Date: July 7, 2019
Available on Amazon Prime Video in Japan and overseas.
Official Website: vinlandsaga.jp
RELATED ENTRIES
Fate/Grand Order Anime Ending Theme Singer milet to Stream Live Studio Concert On YouTube

It has been announced that Japanese singer milet will promote the release of her upcoming 5th EP Prover/Tell me with a live streamed performance on YouTube which will take place on her channel on February 19, 2020 from 21:00 (JST) below.

milet 5th EP – "Prover / Tell me" Release Promotion STUDIO LIVE

milet is a Japanese singer-songwriter whose debut track inside you took home the Tokyo Drama Award last year. It also dominated the Recochoku Yearly Charts foro 2019, placing number one in the Download and Streaming categories for New Artist. milet made her industry-shaking debut in March last year, and continues to march forward with unstoppable force.

Her new song Prover, taken from her upcoming new EP Prover Tell me which is set for release on February 19, began being used as the second ending theme for the ongoing TV anime series Fate/Grand Order – Absolute Demonic Front on Sunday. The song was released as an individual track on online music platforms, placing on the Top 10 on iTunes, mora, Recochoku and elsewhere.

milet is set to embark on her "Green Lights" tour from March 6, 2020. The tour will take her to 7 locations for 8 shows including two performances at Akasaka BLITZ in Tokyo. Her solo tour last year saw all tickets sold out.

Information

Prover/Tell me

Release Date: February 19, 2020

First Press Limited Edition (CD+DVD): ¥1,500 (Before Tax) [SECL-2535~2536]

Regular Edition (CD): ¥1,250 (Before Tax) [SECL-2537]

Limited Pressing Edition (CD+DVD: ¥1,600 (Before Tax) [SECL-2538~2539] *Fate/Grand Order – Absolute Demonic Front: Babylonia CD cover

milet Official Website: http://www.milet.jp/

Fate/Grand Order – Absolute Demonic Front: Babylonia
Initial Broadcast: October 5, 2019
Official Website: https://anime.fate-go.jp/ep7-tv/

milet's Fate/Grand Order – Absolute Demonic Front: Babylonia Ending Theme Released Digitally

Milet will release her new EP Prover/Tell Me on February 19, 2020. In the run up to its release, the singer just dropped the track Prover today digitally ahead of the CD. The song is being used as the second ending theme for the ongoing TV anime series Fate/Grand Order – Absolute Demonic Front: Babylonia.

milet is a Japanese singer-songwriter whose debut track inside you took home the Tokyo Drama Award last year. It also dominated the Recochoku Yearly Charts foro 2019, placing number one in the Download and Streaming categories for New Artist. milet made her industry-shaking debut in March last year, and continues to march forward with unstoppable force.

Together with the early release of Prover, the song's official music video was also posted on the singer's official YouTube channel.

The video was shot in a single take, and sees milet alone aboard a tiny boat with the vast night sky above her. A great storm surges, but we see her pull through, with a flock of birds flying overhead towards the end.

milet – "Prover" MUSIC VIDEO


milet is set to embark on her "Green Lights" tour from March 6, 2020. The tour will take her to 7 locations for 8 shows including two performances at Akasaka BLITZ in Tokyo.

ⒸTYPE-MOON / FGO7 ANIME PROJECT

Information

Prover/Tell me

Release Date: February 19, 2020

First Press Limited Edition (CD+DVD): ¥1,500 (Before Tax) [SECL-2535~2536]

Regular Edition (CD): ¥1,250 (Before Tax) [SECL-2537]

Limited Pressing Edition (CD+DVD: ¥1,600 (Before Tax) [SECL-2538~2539] *Fate/Grand Order – Absolute Demonic Front: Babylonia CD cover

Download/Stream Links:

milet Official Website: http://www.milet.jp/

Fate/Grand Order – Absolute Demonic Front: Babylonia
Initial Broadcast: October 5, 2019
Official Website: https://anime.fate-go.jp/ep7-tv/

Fate/Grand Order Season 2 Ending Theme Song Unveiled as 'Prover' Performed by milet

Popular anime Fate/Grand Order – Absolute Demonic Front: Babylonia, which broadcasts every Saturday from 23:00, has just unveiled the key visuals for season 2's new ending theme song which was performed by milet. The new ending theme song is called Prover and there is a chance to hear it in the anime's second promotional highlights compilation video Sōshūhen 2 Tamashii no Tatakai, which will be dropped on December 28.

milet's song inside you, which was released in March 2019, became a prize-winning theme song, earning the Tokyo Drama Award of 2019. milet recently sprung up as a new artist and is now becoming more and more widely known. You can hear the Fate/Grand Order's season 2 ending theme song performed by milet in the upcoming promotion video. 

The release of a small snippet and summary of episode 12 Ou no Shi (Death of the king) which is set to premiere on January 4, 2020 has also been announced to whet our appetites even more for the new season. 

A Statement by milet

I'm the singer of the season two ending theme song for Fate/Grand Order – Absolute Demonic Front: Babylonia. I just cannot express how happy I am to have actually contributed to a series that is not only deeply rooted in our culture, but so many people, including myself, have loved endlessly. This song is dedicated to all FGO characters who are fighting for their lives. I, along with other Fate fans, will always be absorbed in the fascinating world of FGO. I hope this song helps us to get even closer to the series. 

ⒸTYPE-MOON / FGO7 ANIME PROJECT

Information

Prover / Tell me

Release Date: February 19, 2020

First-Press Limited Edition (CD + DVD)

Price: ¥1,500 + Tax

Catalog Number: SECL-2535~2536

Regular Edition

Price: ¥1,250 + Tax 

Catalog Number: SECL-2537

Limited Pressing Edition (CD + DVD)

*Fate/Grand Order – Absolute Demonic Front: Babylonia Special Package

Price: ¥1,600 + Tax

Catalog Number: SECL-2538~2539

milet Official Website: https://www.milet.jp/

Fate/Grand Order – Absolute Demonic Front: Babylonia

Currently available on a number of popular channels

・TOKYO MX/BS11/ Gunma TV/ Tochigi TV: Every Saturday from 23:00

・MBS: Every Sunday from 03:08

・AT-X: Every Monday from 21:30

*Watch on repeat: Every Wednesday from 13:30/ Every Saturday from 05:30/ Every Monday from 02:30

・Hokuriku Broadcasting: Every Saturday from 01:55

Streaming

・AbemaTV: Every Saturday from 23:00

・Niconico live broadcast/ Niconico Channel/ Docomo Anime Store: Every Sunday from 23:00

・Amazon Prime Video/ Bandai Channel/ Hulu/ videopass/ J:COM On Demand/ Mega Pakku (メガパック)/ FOD/U-NEXT/GYAO!, Anime-houdai/ Hikari-TV/ Video Market: Every Tuesday from 12:00

・dTV: Every Tuesday from 18:00

・Netflix: Every Tuesday from 24:00

*Broadcasting and livestream times are subject to change.

Official Website: https://anime.fate-go.jp/ep7-tv/

MAN WITH A MISSION Unveil Vinland Saga Anime Opening Theme CD Covers

Wolf pack band MAN WITH A MISSION will begin their nationwide tour of Japan this week with their first show at Kumamoto-Jo Hall on October 13.

The band are set to release their new single Dark Crow on October 23. In the run up to its release, they have just dropped the cover art for each edition of the record. The First Press Limited Edition and Regular Edition feature band drummer Spear Rib holding a crow, while the Anime Edition features an original illustration of the anime series Vinland Saga.

The song is used as the opening theme for the anime series and first hit the show yesterday (October 6).

Information

"Dark Crow"

Release Date: October 23, 2019

First Press Limited Edition (CD+DVD): ¥1,800 (Before Tax) [SRCL-11320~11321]

Regular Edition (CD): ¥1,200 (Before Tax) [SRCL-11322]

Anime Edition (CD+DVD): ¥1,800 (Before Tax) [SRCL11323~11324]

MAN WITH A MISSION Official Homepage: https://www.mwamjapan.info/

Vinland Saga

Official Website: https://vinlandsaga.jp/

TV Anime Vinland Saga Ending Theme 'Drown' by milet Music Video Teaser & CD Cover Art Released

Japanese singer-songwriter and newcomer to the music industry has enjoyed huge success this year, releasing her debut EP inside you back in March and making it to No. 1 on Recochoku's ranking for Best New Act for the first half of 2019.

milet dropped her third EP entitled us on August 21, the title track of which was used as the main theme for the Japanese TV drama Gisou Furin. The song made it to No. 1 on Oricon's Daily Digital Singles ranking. It has also enjoyed the Top 10 list on both Oricon and Billboard's weekly streaming charts for three weeks in a row.

Having already dominated the charts with three releases, milet has announced that her fourth EP entitled Drown / You & I will be released on November 6. The CD covers for the new EP have just been unveiled.

The cover art features a breathtaking view of milet stood and sprawled across a frozen sea. The title track Drown will be used as the second ending for the ongoing TV anime series Vinland Saga, a series too which serves as a close reminder of the the seas of Iceland and Northern Europe.

A teaser for the song's music video has also been posted on milet's official YouTube channel. milet describes the song as her clashing with emotions to a beat that sounds like marching on the ground with intent.

Information

milet 4th EP – "Drown / You & I"

Released Date: November 6, 2019

First Press Limited Edition (CD+DVD): ¥1,500 (Before Tax) [SECL-2500~2501]

Regular Edition (CD): ¥1,250 (Before Tax) [SECL-2502]

Limited Pressing Edition (CD+DVD): ¥1,500 (Before Tax) [SECL-2503~2504] *Comes with special Vinland Saga packaging

milet Official Website: http://www.milet.jp/

Vinland Saga

Premiere Date: July 7, 2019

Available on Amazon Prime Video in Japan and overseas.

Official Website: vinlandsaga.jp

milet Performs Vinland Saga Anime ED Theme & Announces Collaboration With MAN WITH A MISSION

Japanese singer-songwriter and newcomer to the music industry has enjoyed huge success this year, releasing her debut EP inside you back in March and making it to No. 1 on Recochoku's ranking for Best New Act for the first half of 2019.

milet dropped her third EP entitled us on August 21, the title track of which was used as the main theme for the Japanese TV drama Gisou Furin. The song made it to No. 1 on Oricon's Daily Digital Singles.

Having already dominated the charts with three releases, milet has announced that her fourth EP entitled Drown / You & I will be released on November 6.

The song Drown will be used as the second ending for the ongoing TV anime series Vinland Saga, which milet describes as her clashing with emotions to a beat that sounds like marching on the ground with intent.

The anime's second opening theme Dark Crow will be performed by MAN WITH A MISSION, who are set to release the song as a single on October 23. milet will in fact feature as a guest vocalist on the single's coupling song Reiwa.

Speaking about the Vinland Saga series, millet commented: "When I first stepped into the world of Vinland Saga, I felt something that I had never felt before. [The character] Thorfinn is someone who rides the invisible wave between life and death, and who lives his life while learning about a part of him he never knew before. I wrote the song about the whirlpool emotions that I feel: pain, hope, strength, and love. I clashed with my emotions when I sang, along to a beat that sounds like stomping on the ground one step at a time. I am so happy to be one small part of this wonderful series. I hope people enjoy the song together with it."

Photo by Daisuke Sakai

She also commented on MWAM's song Reiwa on which she will feature, saying: "When I first heard to Reiwa, my heart shook at the vocals-which feel like they are wrapping around you gently-and the powerful and majestic music which sounds like a bright white world spreading before you. I sing about the transition from the Heiwa era to the new Reiwa era and reflect on what it means to be happy. The best thing though is that I get to be a part of MAN WITH A MISSION's music who I've always loved. I'm full of joy at that. Look forward to hearing us come together."

Information

milet 4th EP – "Drown / You & I"

Released Date: November 6, 2019

First Press Limited Edition (CD+DVD): ¥1,500 (Before Tax) [SECL-2500~2501]

Regular Edition (CD): ¥1,250 (Before Tax) [SECL-2502]

Limited Pressing Edition (CD+DVD): ¥1,500 (Before Tax) [SECL-2503~2504] *Comes with special Vinland Saga packaging

milet Official Website: http://www.milet.jp/

MAN WITH A MISSION – "Dark Crow" Single

Release Date: October 23, 2019

First Press Limited Edition (CD+DVD): ¥1,800 (Before Tax) [SRCL-11320~11321]

Regular Edition (CD): ¥1,250 (Before Tax) [SRCL-11322]

Anime Edition (CD+DVD): ¥1,800 (Before Tax) [SRCL11323~11324]

Vinland Saga

Premiere Date: July 7, 2019

Available on Amazon Prime Video in Japan and overseas.

Official Website: vinlandsaga.jp

Aimer Releases Vinland Saga Ending Theme 'Torches' Music Video

Aimer will release her 17th single Torches on August 14. While we wait for the CD to hit shelves, us fans have been treated to shortened version of the music video in a track-by-track preview.

The title track is used as the ending theme to the ongoing 24-episode anime series Vinland Saga which began airing on July 7. The music video paints grand imagery with fire and water along to the tribal-like sound of Torches.

The video also teases us with a sneak peek at the other songs on the single including Blind to you and Daisy.

Blind to you is reminiscent of Aimer's earlier ballads while Daisy is a jaunty, foot-tapping love song.

The title track Torches will receive an independent digital release on August 5 prior to the CD's release.

Information

Torches

Release Date: August 14, 2019

First Press Limited Edition (CD+DVD): ¥1,700 (Before Tax) [SECL-2480]

Regular Edition (CD Only): ¥1,300 (Before Tax) [SECL-2482]

Limited Pressing Edition (CD+DVD): ¥1,500 (Before Tax) [SECL-2483] *Comes in special anime packaging

*Limited Edition DVD comes with Torches, Stand By You, We Two and 3min music videos. Limited Pressing Edition DVD comes with creditless Vinland Saga ending theme video.

Aimer Official Website: http://www.aimer-web.jp/

Vinland Saga

Premiere Date: July 7, 2019

Available on Amazon Prime Video in Japan and overseas.

Official Website: vinlandsaga.jp

TV Anime Vinland Saga's New Trailer Shows ED Theme 'Torches' by Aimer

Aimer will release her new single Torches on August 14. The song will be used as the ending theme for the forthcoming TV anime series Vinland Saga which is set to premiere on July 7.

A new trailer was just released in which you can hear the track.

Aimer's emotional voice and the tribal sound of the chorus perfectly match the grand world of of Vinland Saga which is set in the seas of Iceland and Northern Europe.

The cover artwork for Torches was also posted on Aimer's official website. The artwork matches the title of the song with Aimer wielding a torch while shrouded in darkness, suggesting a glimmer of hope.

Information

Torches

Release Date: August 14, 2019

First Press Limited Edition (CD+DVD): ¥1,700 (Before Tax) [SECL-2480]

Regular Edition (CD Only): ¥1,300 (Before Tax) [SECL-2482]

Limited Pressing Edition (CD+DVD): ¥1,500 (Before Tax) [SECL-2483] *Comes in special anime packaging

Aimer Official Website: http://www.aimer-web.jp/

Vinland Saga

Premiere Date: July 7, 2019

Official Website: vinlandsaga.jp

TV Anime Vinland Saga Ending Theme 'Torches' to be Performed by Aimer

Aimer will release her new single Torches on August 14. The song will be used as the ending theme for the forthcoming TV anime series Vinland Saga which is set to premiere on July 7.

The song pictures a torch-lit ocean in the evening and reminds one of setting off on a new trip at night as with Aimer's digital single STAND-ALONE.

Speaking about the collaboration, Aimer commented: "While reading the manga, I pictured the evening sea lit by torchlight. When writing the song I thought about life and death, and [series characters] Thorfinn and Thors's feelings towards them. I put into the song the inspiration I got from these things. This has also been an opportunity to challenge myself to something new on the sound side of things. I would be overjoyed if people look forward to hearing it alongside the anime."

Information

Torches

Release Date: August 14, 2019

First Press Limited Edition (CD+DVD): ¥1,700 (Before Tax) [SECL-2480]

Regular Edition (CD Only): ¥1,300 (Before Tax) [SECL-2482]

Limited Pressing Edition (CD+DVD): ¥1,500 (Before Tax) [SECL-2483] *Comes in special anime packaging

Aimer Official Website: http://www.aimer-web.jp/

Vinland Saga

Premiere Date: July 7, 2019

Official Website: vinlandsaga.jp