PARCO Celebrates 50th Anniversary with New Fashion Coordination Event
PARCO has prepared a sensational autumn and winter campaign to celebrate reaching its 50th anniversary in 2019. This campaign, which is called 50 STYLES 50th PARCO, was launched on September 12 and is represented by the famous model Niki, who will be the main fashion icon for the duration of the campaign.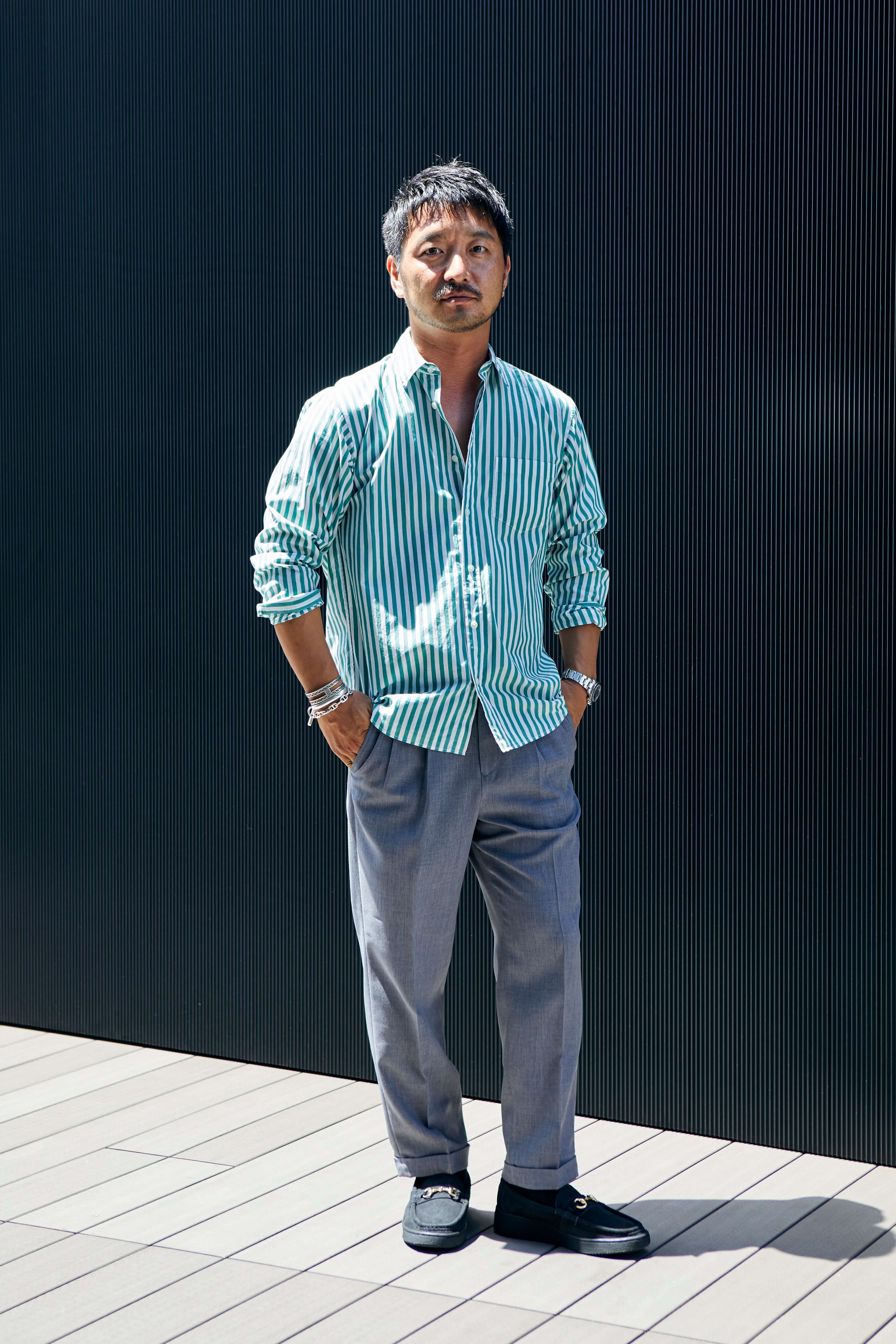 Hiroshi Doiji (BEAMS Communications Director) 
Ayami Yamanobe: SUPER A MARKET Purchasing Agent (TOMORROWLAND Sales Department)  
PARCO opened a commemoration website for the anniversary called 50 STYLES 50th PARCO. This anniversary edition website features the recommended autumn and winter fashion of the 50 brands that reside within their walls. There is also a section dedicated to the brands' important rules of fashion, the trends to look out for this autumn and winter, and much more. There is even a Q&A column consisting of 5 hot questions and answers.
There are even special features containing some of the leading figures in the fashion industry including BEAMS Communication Director Hiroshi Doiji and SUPER A MARKET (TOMORROWLAND) Purchasing Agent Ayami Yamanobe. 
In addition, there is a special lottery with the chance to win one of the brands' recommended fashion coordination items. For the chance to win, purchase something from one of the 50 brand shops at PARCO. You will then receive a sticker with a QR code to gain access to apply to take part in the lottery. There will be a total of 51 lucky winners.
Please check the special edition website to find out which brands are taking part in this campaign. 
Information
Campaign
Application period: September 12 ー October 6, 2019 
51 winners will be chosen by lottery.
Prize: One item introduced in the 50 STYLES 50th PARCO recommended fashion collection. 
* Prizes will be announced in mid October
50 STYLES 50th PARCO Special Edition Website: https://parco.jp/50styles/
RELATED ENTRIES
Yowamushi Pedal Live-Action Film Promoted With Art & Movie Exhibition in Shibuya

The live-action film adaptation of Wataru Watanabe's manga series Yowamushi Pedal was released on August 14, 2020, and to promote it PARCO is set to hold the "Yowamushi Pedal ART & MOVIE EXHIBITION" at Shibuya PARCO's GALLERY X between August 21-31.

The exhibition will showcase various colour and full-colour displays of panels from the manga series as well as costumes used in the live-action film and more. There will also be a behind-the-scenes photo exhibit featuring photos of Ryota Bando who plays Shoukichi Naruko in the live-action film.

Acrylic Key Rings | ¥400 (Tax Included)


T-Shirt | ¥4,400 (Tax Included)


Blanket | ¥4,180 (Tax Included)

Fans can get their hands on a selection of exclusive merchandise too. These items will be posted on PARCO's online store on August 25 for those who can't attend the event.

©️2020 "Yowamushi Pedal" Film Production Committee ©️Wataru Watanabe (Akita Shoten) 2008 

Information

Yowamushi Pedal ART & MOVIE EXHIBITION

Location: GALLERY X, Shibuya PARCO Floor B1F

Running: August 21, 2020 – August 31, 2020

Opening Hours: 11:00-21:00

Entry: Free

Official Website: https://art.parco.jp/

Shibuya PARCO: Food, Shopping & Events in July and August 2020

Shibuya PARCO has a packed showcase for summertime this July and August, with pop-up shops, events, exhibitions, new products, and much more. The YUI ARAGAKI NYLON JAPAN ARCHIVE BOOK 2010-2019 photo exhibition, which sold out tickets, was posted as an online exhibition. The popular curry house Good Luck Curry, originally located in Ebisu, has moved to Shibuya PARCO. Let's take a deeper look at the line-up.

4F PARCO MUSEUM TOKYO Relics of Kanto Through Time


Running: August 1, 2020 – August 16, 2020 | Entry Price: ¥700

New York City-based American artist Daniel Arsham is teaming up with Pokémon for a special exhibition centred around Arsham's concept of "Fictional Archeology." Visitors can enter for a chance to win a "Crystalized Pikachu" as well as get their hands on a variety of exhibition products. A two-meter tall Pikachu made from bronze will also be put on display on the first floor of Shibuya PARCO.

Details: https://art.parco.jp/museumtokyo/detail/?id=425

B1F GALLERY X YUI ARAGAKI NYLON JAPAN ARCHIVE BOOK 2010-2019 PHOTO EXHIBITION


Running: July 16, 2020 – July 27, 2020 (Online Exhibition) | Price: ¥300

This exhibition is centred around Yui Aragaki's photo book YUI ARAGAKI NYLON JAPAN ARCHIVE BOOK 2010-2019 which compiles her work features in the fashion magazine NYLON JAPAN between 2010 to 2019. The book celebrates Aragaki at the age of 31, and was so popular at the time of its release that it sold out.

Details: https://art.parco.jp/galleryx/detail/?id=424

B1F Good Luck Curry

Good Luck Curry is a curry house managed by the chefs of Ata, a bistro in Daikanyama. Originally situated in Ebisu, the restaurant has been revamped and moved to Shibuya PARCO where they are serving a range of delicious spicy curries topped with a colourful array of vegetables.

B1F GAN-BAN FUJI ROCK COLLECTION "CREW NECK T-SHIRT" Limited Edition Sale

The "FUJI ROCK COLLECTION" of T-shirts are always so popular that their stock never fails to sell out. The new crew neck version is now available at the official FUJI ROCK shop and are being sold at Shibuya PARCO.

B1F Mirai Nihonshu-ten & SAKE BAR "Summer Sake Cocktails"

For this summer only, Mirai Nihonshu-ten and SAKE BAR are serving up two refreshing cocktails.


Left: Hakuju Salty Lemon | Right: Suzu Sweet Green

The Hakuju Salty Lemon is like a Salty Dog cocktail. It has notes of citrus and a salty sea salt bite. The Suzu Sweet Green is made with a sake known as "Kubota Suijyu" which is mixed with cocoa vinegar. It has a subtle sweetness.

Tokyo Otaku Mode TOKYO Collaborates With Hatsune Miku at Shibuya PARCO

Tokyo Otaku Mode Inc. is opening a pop-up shop in collaboration with Hatsune Miku at Tokyo Otaku Mode TOKYO which is located on the 6th floor of Shibuya PARCO in Tokyo.

The shop will be open from December 27 until January 19 next year. Japanese illustrator hakusai is on board to illustrate the designs for the shop itself as well as the shop-exclusive merchandise. The design features Hatsune Miku, Megurine Luka, Kagamine Rin and Len, KAITO and MEIKO wearing traditional Japanese dress.

Acrylic Stands – ¥1,200 Each (Before Tax)

Mini Towels – ¥700 Each (Before Tax)

There are 10 original and exclusive pieces of merchandise with various designs to choose from. Plus, customers who purchase over ¥3,000 (tax included) worth of items will receive a special Vocaloid sticker.

The Snow Miku Sky Town store at New Chitose Airport in Hokkaido is also collaborating with the pop-up shop where they will sell select merchandise from Snow Miku Sky Town.

Those of you looking to get your hands on some limited-edition Vocaloid goodies will want to roll on up to Tokyo Otaku Mode TOKYO before the pop-up shop closes.

*The items shown in the photos above are of products in development. Actual products are subject to change.

Art by hakusai  © Crypton Future Media, INC. www.piapro.net  

Information

Tokyo Otaku Mode TOKYO

Address: Shibuya PARCO (floor 6), 15-1 Udagawacho, Shibuya Ward, Tokyo

Opening Hours: 10:00-21:00

Sales Period: December 27, 2019 – January 19, 2020

Corporate Website: https://corporate.otakumode.com/

Peanuts x The Marc Jacobs Pop-Up Shop Opens at Shibuya PARCO

A pop-up shop in collaboration with the Peanuts comic strip series starring Snoopy and The Marc Jacobs opened at GATE on the first floor of Shibuya PARCO today and will run until January 13, 2020.

[Pre-Release Item] THE PEANUTS T-SHIRT: ¥21,000 (Before Tax)

This special collaboration sees a line of apparel and items from The Marc Jacobs with gorgeous designs taken from the internationally comic strip series Peanuts by American cartoonist Charles M. Schulz.

The pop-up shop is inspired by Snoopy's dog house which when you step inside transports you into the wonderful world of Peanuts.

The shop is also collaborating with the PEANUTS CAFÉ for three days between December 20-22. Attendees can get themselves a hot chocolate at the wagon located in front of Shibuya PARCO Koen-dori Street. The delicious drink is topped with chocolate chip cookies—a favourite of the Peanuts gang—and marshmallows.

If you walk around the Center Gai, Dogenzaka and Koen-dori areas of Shibuya, you'll spot posters plastered up to promote the pop-up shop. There are five designs featuring Snoopy, Charlie Brown, Lucy van Pelt, Linus van Pelt, and Peppermint Patty. If you scan the QR codes on each of the posters you can download respective wallpapers for each character for your smartphone.

If you manage to scan all five of the QR codes, you'll receive a special present when you show your phone at the pop-up store. This is running right now until December 30, 2019, so don't miss out!

Information

PEANUTS x THE MARC JACOBS Pop-Up Store

Running: December 17, 2019 – January 13, 2020

Opening Hours: 10:00-21:00

No Fixed Holidays (Except when Shibuya PARCO is closed)

Location: Shibuya PARCO (GATE, Floor 1F)

*Please note that depending on how busy the shop is you may be given a numbered ticket upon arrival to determine when you can enter. More details can be found on the Shibuya PARCO website.

Shibuya PARCO Official Website: https://shibuya.parco.jp

Hot Chocolate Wagon

Running: December 20, 2019 – December 22, 2019

Opening Hours: 10:00-21:00

Location: In front of Shibuya PARCO Koen-dori Street

Shibuya PARCOーWhere You Can Enjoy Everything: Anime, Games, Food, Fashion & More

Shibuya PARCO finally opened its doors on November 22. The shopping complex is already receiving overwhelming love and attention as Shibuya's newest tourist spot as it strives to offer itself as "a unique, next-generation facility" for the world.

Boasting a gargantuan 193 shops, spanning fashion, food, art and more, Shibuya PARCO is a place where you can enjoy just about anything. MOSHI MOSHI NIPPON has compiled a list of our own recommended places from there for you, the readers, if you ever visit Shibuya.

Mirai Sake/KUBOTA SAKE BAR (Floor B1F)

Sake is a big part of Japanese culture, and is enjoyed by people worldwide. Mirai Sake/KUBOTA SAKE BAR are serving the ultimate sake experience, where you can select the drinks that best suit  your palate. The bar will serve original drinks, rare sake from ¥500 a cup, as well as food pairings from ¥400.

There will also be 12 original cocktails judged by YUMMY SAKE. If you've found you're not too good with sake, then you're sure to find one you like when pulling up a stool here.

Mirai Sake Official Website: https://miraisake.com/

ONITSUKA (Floor 3F)

Japanese fashion brand Onitsuka Tiger has announced a new luxury line entitled THE ONITSUKA. They have created a hybrid design combining formal shoes with sneakers that goes with a variety of styles, from suits to casual.

The shoes are made from high quality leather from the brand Kobegyu Leather. The heal of the souls are equipped with αGEL Foam to offer comfort and shock resistance for dynamic movement. This line will also be available to purchase at a concept store opening in New York in March 2020.

Onitsuka Tiger Official Website:  www.onitsukatiger.com

AKIRA ART OF WALL (Floors 4F & B1F)

The new PARCO MUSEUM TOKYO and GALLERY X housed inside Shibuya PARCO both aim to promote art and culture to the people of Tokyo. Decorating them as the opening exhibition is the "AKIRA ART OF WALL Katsuhiro Otomo × Kosuke Kawamura AKIRA ART EXHIBITION." This art wall is in fact a relocation of the AKIRA art wall that had existed at the infrastructure building site in Shibuya for almost two years. Parts of it had been damaged over time, and so has resurfaced at the new museum.

You can also get your hands on a range of merchandise, from classic manga prints to posters, clothing made in collaboration with apparel brands, and more. This is a limited-time exhibition, so if you're in Tokyo this December, don't miss out.

©MASH・ROOM/KODANSHA ©Kosuke Kawamura ©︎AKIRA ART OF WALL EXHIBITION

AKIRA ART OF WALL Otomo Katsuhiro × Kosuke Kawamura AKIRA ART EXHIBITION

Locations/Times

PARCO MUSEUM TOKYO (Shibuya PARCO 4F): November 22, 2019 – December 16, 2019 @ 10:00-21:00

GALLERY X (Shibuya PARCO B1F) November 22, 2019 – December 18, 2019 @ 10:00-21:00

*Exhibitions at both sites will end at 18:00 on their final dates. Last entries to PARCO MUSEUM TOKYO are 30-minutes before closing times.

Entry Price: General ¥1,000 / High School Students and Below ¥800 / Preschoolers – Free

Nintendo TOKYO/6F

At Nintendo TOKYO, the first long-awaited official Nintendo shop, fans can look forward to purchasing games, consoles, character merchandise, and more. There is also an area where you can play games, and events are scheduled to be held at the store.

The store stocks lots of exclusive goods you won't find anywhere else. If you love games, and you love Nintendo, then this place is a must-visit if in Tokyo.

Nintendo TOKYO Official Website: https://www.nintendo.co.jp/officialstore/index.html

Pokémon Center Shibuya (Floor 6F)

Pokémon fans won't be able to resist stepping into the Pokémon Center, where they can pick up countless Pokémon merch. Upon entry they'll walk past a 2-meter tall Mewtwo.

From plush toys to bags, kitchenware, stationary, Shibuya-exclusives and moreーstock up on all the Pokémon gear you could ever want. There's even some items made in collaboration with Nintendo TOKYO which is just next door!

Pokémon Center Official Website: https://www.pokemon.co.jp/gp/pokecen/

いかがでしたか?いろいろなジャンルのお店が大集結している渋谷PARCOにぜひ足を運んでみてくださいね。

Information

Shibuya PARCO

Address: 15-1 Udagawacho, Shibuya, Tokyo

Opening Hours: Shops & Services 10:00-21:00 / Restaurants 11:00-23:30 (*Times differ between shops)

No Fixed Holidays

Official Website: https://shibuya.parco.jp/teaser/

Giant 1/6 Scale Tokyo Ghoul Figure to be Sold at Tokyo Otaku Mode TOKYO in Shibuya PARCO

Tokyo Otaku Mode Inc. is set to display and start taking orders for a new 1/6 scale figure by Figurama from Sui Ishida's hit manga and anime series Tokyo Ghoul. Available in Japan only, it will be sold at the new Tokyo Otaku Mode TOKYO store from November 22 at 10:00am at the new Shibuya PARCO shopping complex.

Figurama is a Hong Kong-based figurine maker which has crafted many figures from popular titles such as Attack on Titan, Hellsing, Devilman, and Trigun, to name a few. The standout characteristic of their work is the size of their figures, the composition, and how detailed the figures are despite being so large.

The Tokyo Ghoul figure set to appear at Tokyo Otaku Mode TOKYO stands 63cm high, 44cm wide, and 35cm deep. It features series protagonist Ken Kaneki versus Yamori, who made Kaneki's hair turn white.

Only 800 of these figures have been made, of which Tokyo Otaku Mode TOKYO will sell 40, making them an extremely rare and limited edition collectors items. Perfect for any fan of the hit series!

©Sui Ishida/Shueisha・Tokyo Ghoul Production Committee

Information

TOKYO GHOUL: KANEKI VS YAMORI 

Maker: Figurama
Series: Elite Fandom
Scale: 1/6 

Materials: Ecofriendly Polystone, Translucent Resin, PU, LED 

Size: 63cm x 44cm x 35cm
Price: ¥100,000 (Tax excluded, shipping charge included)

Figurama Official Website: https://figurama-collectors.com/ 

BABYMETAL Collaborates On Fashion Designer Yohji Yamamoto's Ground Y Collection

2019 is the year of BABYMETAL, with their latest album METAL GALAXY having dropped in October and making them the highest Japanese group/artist to place on the Billboard Top 200 in the US in 56 years. As they continue knee-deep in their ongoing world tour, you might be wondering what else they have in the pipeline.

Well, we can confirm that for you right here and now: they have teamed up with internationally-lauded Japanese fashion designer Yohji Yamamoto on his revolutionary Ground Y collection which boasts a genderless and ageless style.

Pre-sales of the collection will take place at the new Shibuya PARCO which is set to open on November 22. This will be followed by sales at GINZA SIX, Laforet Harajuku, and the online store THE SHOP YOHJI YAMAMOTO.

The collection will bring together the unique world of BABYMETALーa band which has won love the world over and has featured as guest acts on many tours of international artistsーand Yohji Yamamoto, a rebel and innovator in the fashion industry whose DNA is woven into the Ground Y line. The inspiration for this jet black collaborative collection is "galaxy," an homage to BABYMETAL's latest record METAL GALAXY.

There are numerous items in the collection, including a jumbo cut and sewn embroidered with both the BMD FOX APPAREL logoーBABYMETAL's official apparel brandーand the Ground Y logo. There's also a big hoodie featuring a 360° print and BABYMETAL's logo, a draped silk satin long shirt, and more.

MASATOSHI YAMASHIRO snapped the photos in this photoshoot, a Tokyo-based photographer who started his career in LA and New York and works with fashion magazines, advertisements, and more.

Information

Ground Y feat.BABYMETAL "GALAXY" Collection

Items: Long Shirt / Shirt Dress / Jumbo Cut & Sewn / Big Cut & Sewn / Big Hoodie / Big Sweater

Prices: Cut & Sewn ¥25,000-¥28,000 / Hoodie ¥35,000 / Sweater ¥38,000 / Shirt Dress ¥110,000-¥120,000 (All prices tax-excluded)

Release Date: November 28, 2019 (Pre-sales bein at Ground T Shibuya PARCO on November 22, 2019)

▼SHOP INFO:

Ground Y GINZA SIX (Floor 4F, 6-10-1 Ginza, Chuo Ward, Tokyo)
Ground Y LAFORET HARAJUKU (Floor 1F, 1-11-6 Jingumae, Shibuya, Tokyo
Ground Y FaSoLa STARS (Narita International Airport 1, Passenger Terminal Central Building Floor 3F, Narita, Chiba)
Ground Y SHIBUYA PARCO (Floor 2F, 15-1 Udagawacho, Tokyo) *Opens November 22, 2019
THE SHOP YOHJI YAMAMOTO: http://theshopyohjiyamamoto.jp/JP/shop/c/c20

Shibuya PARCO's AKIRA ART OF WALL AKIRA ART EXHIBITION Merchandise Revealed

The new Shibuya PARCO shopping complex is set to open on November 22, 2019. It will house the new PARCO MUSEUM TOKYO (floor 4) and GALLERY X (floor B1), both of which aim to promote art and culture to the people of Tokyo. Both venues are home to the AKIRA ART OF WALL Katsuhiro Otomo × Kosuke Kawamura AKIRA ART EXHIBITION.

The unmissable ART WALL is covered in illustrations from the legendary manga series AKIRA, which was written by manga author and film director Katsuhiro Otomo, who stands at the forefront of the manga scene in Japan. The ART WALL was reconstructed in collaboration with collage artist Kosuke Kawamura. Details on the merchandise and entry process have been announced. 

Exhibition Merchandise

T-Shirt: ¥4,000 (Before Tax)

Long-Sleeved T-Shirt: ¥6,000 (Before Tax)

iPhone X/XS Case: ¥3,500 (Before Tax)

There will be a large number of commemoration merchandise to celebrate the opening of the exhibition. Each person can purchase up to four items per entry. This includes the same item of different sizes. A ticket must be for the exhibition in order to purchase merchandise. 

Exhibition Commemoration Book Set

AKIRA ART OF WALL Set of 4 Accordion Fold Books (comes in a special box)

The first three books display the different areas the of the AKIRA collage during Shibuya PARCO's renovation project. The fourth book contains the actual project itself with pictures by TAKAMURADAISUKE and includes both a discussion between and individual interviews with Katsuhiro Otomo and Kosuke Kawamura. Each book was specially designed by Katsuhiro Otomo and Kosuke Kawamura down to the covers. These books are filled with high quality and unparalleled designs. 

AKIRA ART OF WALL

Price: ¥10,000 (Before Tax)

Authors: Katsuhiro Otomo, Kosuke Kawamura

Book Set of 4 (3-Set Accordion fold book series on the making of the ART WALL + Interview Book) 

Comes with an A2 Poster

  

Collaboration Merchandise

AKIRA ART OF WALL × nana-nana

AKIRA ART OF WALL × nana-nana

AKIRA PVC A5: ¥9,500

AKIRA PVC A4: ¥10,500

AKIRA OPAQUE A5: ¥11,500

AKIRA OPAQUE A4: ¥12,500

AKIRA iPhone Case: ¥6,800

This is just a small selection of merchandise available at the exhibition. Fans will not be able to control themselves upon stumbling into the collaboration-limited merchandise goldmine.

Tickets for entry between November 22 and December 1 will be selling on a first-come, first-served basis on the ticket website E Plus. Depending on how many tickets are sold in advance, it may be possible to buy tickets on the door. This will be clarified nearer to the time.

©MASH・ROOM/KODANSHA ©Kosuke Kawamura ©︎AKIRA ART OF WALL EXHIBITION

Information

AKIRA ART OF WALL Otomo Katsuhiro × Kosuke Kawamura  AKIRA ART EXHIBITION

Location: PARCO MUSEUM TOKYO (Shibuya PARCO Floor 4)

Running: November 22 – December 16 (10am  – 9pm)

GALLERY X(Shibuya PARCO Floor B1) November 22, 2019 – December 8, 2019 (11am – 9pm)

* Last entry at both venues is 6pm on the last day)

*Entry to PARCO MUSEUM TOKYO is 30 minutes before closing time on all days)

Entry prices: ¥1,000 (General Entry), ¥800 (High School and Under), Free for Pre-School and Under

*E Plus tickets will sell from 12pm on November 2.

* Visitors who purchase advanced tickets will receive a logo sticker.

Official Exhibition Website: https://art.parco.jp/museumtokyo/detail/?id=299

 

Advanced Tickets

Tickets: Advanced tickets will include a specified date and time slot.

Selling Period: November 2 (12pm) until 6pm on the day of entry 

Entry Date/Time Slots: November 22 (10am) – December 1 (8pm)

Entry prices: ¥1,000 (General Entry), ¥800 (High School and Under), Free for Pre-School and Under (Tax Included)

*Tickets are valid for entry to both the  PARCO MUESEUM TOKYO venue and GALLERY X venue.

Show your Advanced Ticket to the staff upon arrival to receive your free logo sticker.

*Stickers will not be given to those who purchase tickets on the door or children who are Pre-School-aged or under. 

 

Ticket Website: https://eplus.jp/akiraten/

Ticket Enquiries: http://support.eplus.jp/

PARCO Art Official Website: https://art.parco.jp/

Shibuya PARCO Refurbishments Reveal Collaboration Exhibitions With AKIRA, AUTO MOAI, JUN INAGAWA And More

The new fully refurbished Shibuya PARCO shopping complex is set to reopen on November 22, 2019. When Shibuya PARCO closed for renovations in 2016, GALLERYX BYPARCO was moved to Spain-zaka in the centre of Shibuya. This November, GALLERY X will return to its home on the basement floor 1 of the shopping complex. 

The first opening exhibition of GALLERY X is titled "AKIRA ART OF WALL Katsuhiro Otomo × Kosuke Kawamura AKIRA ART EXHIBITION" which will see an entire wall decorated in a collage of art by manga author and film director Katsuhiro Otomo and his legendary series AKIRA until May 2020. 

The art wall is in fact a relocation of the AKIRA art wall that has existed at the infrastructure building site in Shibuya for almost two years. Parts of it was damaged over time, and so it will resurface at PARCO MUSEUM TOKYO on the 4th floor of the new Shibuya PARCO. That's not all: there will also be valuable original works displayed as well as posters, 3D model recreations of things seen in AKIRA, the series soundtrack by Geinoh Yamashirogumi playing, 3D attractions where you can interact with a futuristic "Neo Tokyo" and much more. 

AUTO MOAI (December 2019)

Kazuki Iio (Zun) (December 2019)

Misaki Tanaka (February ー March 2020)

JUN INAGAWA (April 2020)

The first exhibition will be followed by a strong lineup of exhibitions. The exhibition areas will be filled with a wide range of attractions, making it appealing for a wide range of people with different tastes. 

* The above information and dates are subject to change at any moment without prior notification.

GALLERY X is full of originality and is a source of the latest entertainment culture so please check it out. 

Information

GALLERY X

Address: Shibuya PARCO floor B1, 15-1 Udagawacho, Shibuya, Tokyo

Opening Hours: 11:00 ー 21:00

Official Website: art.parco.jp/

Embark on An Aquatic Adventure to The Little Mermaid OH MY CAFE in Tokyo

It has been 30 years since Disney's The Little Mermaid came to theatres. To celebrate, The Little Mermaid cafe has dropped its anchor in Tokyo, Osaka, Nagoya and Hokkaido and will be around for a limited time only.  Curious travellers are sure to fall in love with this world filled with Disney magic.

As a big Disney fan, curious model Kanako just could not miss the opportunity to visit, so we headed over to Tokyu Plaza, Omotesando (Tokyo) to create a tongue-tantalizing report just for you. 

The entrance was a treasure trove of exciting 30th anniversary celebratory designs.

Venturing deeper, we came across illustrations of the exciting underwater world. 

Seeing all the images of the characters, memories of the film will come floating into your mind. Just how many wonders can one cafe hold?

There are five delicious meals and five delicious drinks on the menu. Everything was so cute that it was difficult to decide what to order. Time to dive in!

Ariel Vegetable Pasta with Genovese Sauce: ¥1990

This dish particularly caught Kanako's eye. A graceful print made of powdered spices and sauce depicts Ariel gliding through the sea. It went perfectly with the salad. Feel free to take the beautiful paper mat home with you as a souvenir. 

Cream Beach Risotto: ¥1,990

This creamy risotto depicts a beautiful beach. Look closely and you will spot Ariel's most prized treasure: a dinglehopper.  Feel free to take the dinglehopper home with you and add it to your collection of treasure. A layer of shrimp sauce lies hidden between the rice and mountain of salad. Can you spot Sebastian keeping a careful eye on Ariel? 

Seven Princesses of Atlantica Colourful Tartine Plate: ¥2,290

 This plate of tasty tartines depicts the seven sisters and will send you on an exciting flavour journey. The fruity tartine will fill your mouth with a fresh fruity burst of blueberries and strawberries. Next on the plate is a luxurious cream cheese tartine, followed by a chunky vegetable tartine and finally, a filling boiled egg and potato salad tartine. The tartines are surrounded by colourful sauces such as blueberry sauce, pumpkin sauce and carrot sauce. 

 Sebastian's Strawberry Smoothie: ¥890 (with themed drink coaster: ¥1,790)

This yoghurt smoothie is dedicated to King Triton's royal court composer Sebastian. Mix in the strawberry sauce before tucking in to enhance the flavour. You can also take the decoration on the glass back home with you. 

Upon noticing the coaster that came with her drink, Kanako's eyes were sparkling with desire. The drink coaster is a sure way to add some magic to all your drinks at home. Unfortunately, they are in limited supply, so make sure to get one before they are all sold out.

Next, the curious Kanako explored the merchandise corner. The illustrations on the merchandise have been specifically designed for this special cafe.

Canvas Art A/B  (two designs): ¥3,500

Now you can decorate your room with your own collection of whose-its, whats-its, and thingamabobs.

Letter Writing Set with Case (1 design): ¥800

BIC Ballpoint Pen (2 designs): ¥500 each (Flounder/Seahorse)

The pink-themed gadgets and gizmos are very cute too.

Spend over ¥1000 (before tax) in the merchandise corner and you will receive a special Little Mermaid 30th anniversary shopping bag. There are a limited number of these and they are available on a first-come-first-serve basis, so we recommend you go to the cafe as soon as possible if you want one.

This cafe is a whole world waiting to be discovered. Reservations cost ¥500 per person (before tax). Just ordering from the menu will grant you the special gift of an A5 clear file and you can even pick your favourite from 30 designs. Make sure to reserve your spot in advance and get ready to plunge straight into the fun!

©️Disney

Information

The Little Mermaid OH MY CAFE

Tokyo: OH MY CAFE TOKYO Tokyu Plaza Omotesando Harajuku (September 21 – November 9

Osaka: kawara CAFE & DINING Shinsaibashi (September 21 – November 10)

Nagoya: kawara CAFE & KITCHEN Nagoya PARCO (September 27 – November 10)

Hokkaido: Cafe Interlude (September 22, 2019 – October 14)

The Little Mermaid OH MY CAFE Official Website: https://mermaid.ohmycafe.jp/

Shibuya PARCO: Vegan Food, Bistros, Cafes & More Coming to Shibuya's New Shopping Complex

Shibuya PARCO is a new shopping complex that will have its grand opening on November 22, 2019. The site will have two restaurant floors: the CHAOS KITCHEN on B1F and RESTAURANT SEVEN on 7F, each with their own concepts. Collectively, both areas will house 37 different restaurants. We have listed some of the most interesting looking ones.

CHAOS KITCHEN (B1F)

The CHAOS KITCHEN restaurant floor is inspired by "Food, Music & Culture," with restaurants and shops based around this concept. Check out some of this floor's restaurants below.

Äta's

Managed by the popular bistro Ata in Daikanyama, Äta's aims to be a "Shibuya-style bistro." Pizzas are cooked fresh before you in deck ovens, and the restaurant also offers takeout options too like boiled gyoza, shrimp noodles and more. The restaurant brings together Shibuya's diverse culture into an all-new bistro.

Udon Oniyamma

The main branch of Udon Oniyamma is located in Gotanda, an eatery which enjoys long lines of customers every day. This will be its first branch inside a shopping complex. The restaurant takes Japan's main fast food ingredient―udon noodles―and serves them as both cheap and delicious as possible. They will serve their regular menu as well as some menu items exclusive to this branch.

Kome to Circus

Kome to Circus is a popular sake bar, serving a range of unique foods from a variety of game to insects, the latter of which are high in nutritional value. The Shibuya PARCO branch will also have desserts made with insects as well as a cafe "Bugs Cafe" cafe menu.

RESTAURANT SEVEN (7F)

Upstairs in Shibuya PARCO is the RESTAURANT SEVEN restaurant floor, featuring a line-up of establishments that will be enjoyed by both Japanese people and the increasing number of overseas visitors alike.

Matsuo Jingisukan

Matsuo Jingisukan has become a much-loved place to eat out amongst the people of Hokkaido, as it serves a very particular Hokkaido soul food: jingisukan, a grilled mutton dish. This new restaurant branch will serve the dish in an entirely new style. They will prepare classic jingisukan, their famous jingisukan rice bowl, as well as original tea blends made with fresh herbs, and more. Experience the real pleasure of the Hokkaido palate.

goo ITALIANO

The concept of goo ITALIANO's menu is to serve up real local Italian cuisine. The staff themselves have travelled to Italy and will serve authentic Italian flavours, which aren't well known to Japanese people, at an affordable price. The Paccheri Pomodoro, which has the delicious flavour of Naples in it, and the Focaccia di Recco, which is loved in Genoa, are representative of this. You might even find Italian dishes you've never had before!

FALAFEL BROTHERS

FALAFEL BROTHERS is a vegan restaurant with a menu full of healthy, hearts, and vegetable-packed dishes. Their menu is centred around falafels, but they also serve cakes and drinks too. They also have limited-time sweets as well as a takeout option.

This is just a small glimpse of what's to come when Shibuya PARCO opens on November 22. Make sure to put it on your must-visit list when travelling to Tokyo.

Information

Shibuya PARCO

Grand Opening: November 22, 2019

Address: 15-1 Udagawacho, Shibuya, Tokyo

Opening Hours: Shops & Services 10:00-21:00 / Restaurants 11:00-23:30 (*Times differ between shops)

No Fixed Holidays

Official Website: https://shibuya.parco.jp/teaser/

Poop-Themed Exhibition to Teach People All About Poop in Fukuoka

Fukuoka PARCO and Higashiyama Zoo and Botanical Gardens are collaborating to hold a poop-themed exhibition entitled "Poop Exhibition: Poop Academy Cultural Festival in Fukuoka" on floor B1F of the south building of Fukuoka PARCO from September 27 to October 27.

There will be many elements to the exhibition. The first of these is the language section where sentences written in Japanese will be draped all across one room, each with references to poop.

Above photo taken from the Ikebukuro exhibition

In the "Outdoor Lesson" corner, there will be cased displays of different animal droppings with descriptions, enabling people to see the different shapes and sizes poop comes in.

In the "Poop Arithmetic 3rd Year Students" corner is a photo spot where you can pose like the Poop Maths Teacher as shown on the right.

At the end of the exhibition there's an exam room where you can take a test based on what you have learned from the exhibition.

There'll even be a range of original and exclusive merchandise.

Postcard Set (5 Designs) – ¥400

Folders – ¥300

Toilet Roll – ¥348 / Character Tape Cutter – ¥700 / Leather Futon Books (2 Designs) – ¥500 Each

Japan is having a poop craze right now, with the opening of the Unko Museum in Yokohama which is also set to arrive in Shanghai next month.

*Photos are for illustrative purposes only. Listed prices are pre-tax. Event content subject to change.

Information

Poop Exhibition: Poop Academy Cultural Festival in Fukuoka

Running: September 27, 2019 – October 27, 2019

Opening Hours: 10:00-20:30 (Until 18:00 on October 27; last entries 30 minutes before closing times)

Location: Fukuoka PARCO South Building Floor B1F

Entry Price: ¥600 (Free entry for preschoolers)

*POCKET PARCO members get ¥100 off

Event Page: https://art.parco.jp/fukuoka/detail/?id=297