PlayStation®4 Game Project Sakura Wars to Get Anime Series in 2020
It was announced on the SEGA Games stage at Tokyo Game Show 2019 that the upcoming PlayStation®4 title Project Sakura Wars, which will be released in Japan this year and internationally in 2020, will receive an anime adaptation next year entitled Project Sakura Wars the Animation.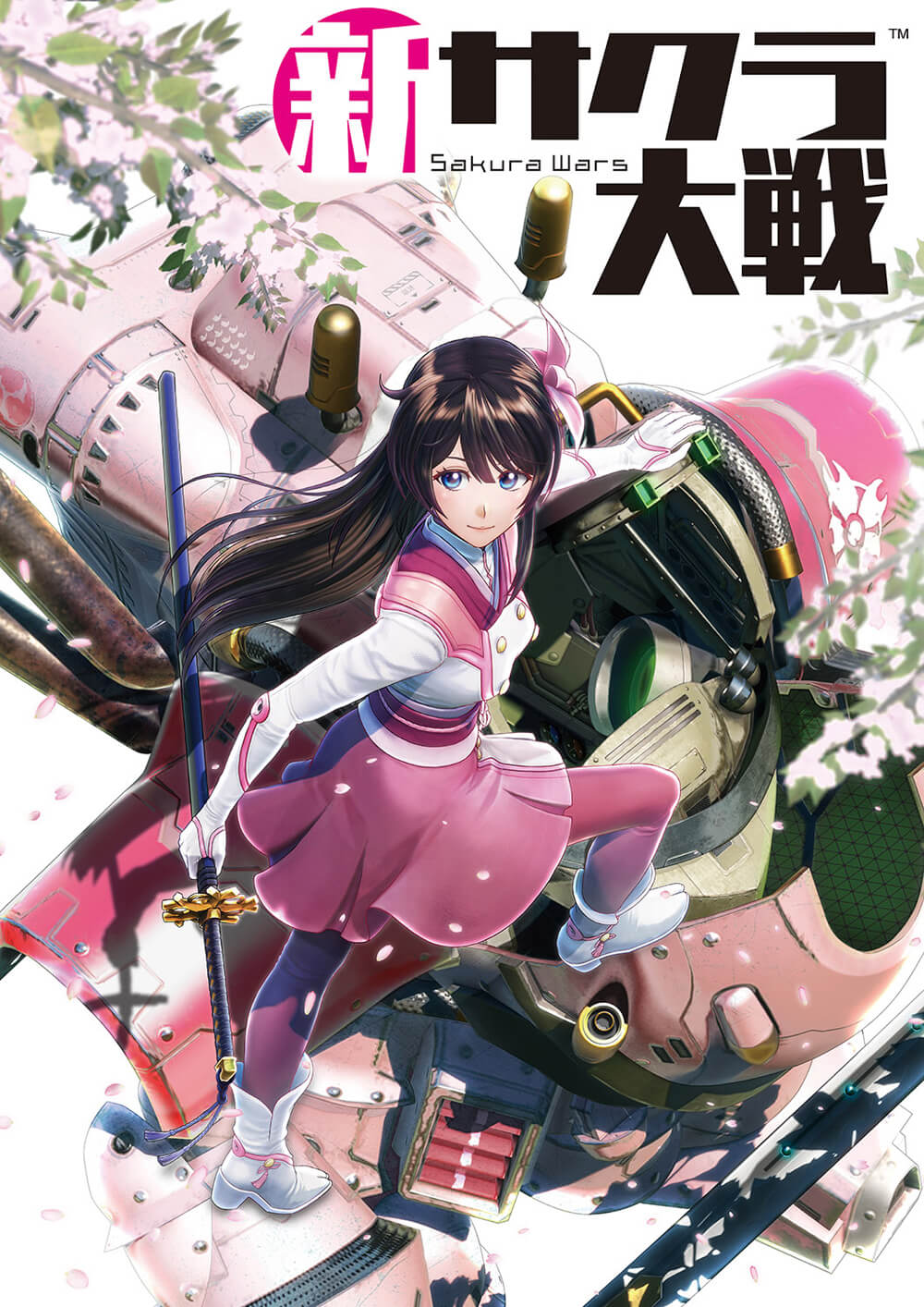 Game Packaging
The series will follow Sakura Amamiya (voiced by Ayane Sakura), a member of the Combat Revue's Flower Division. The series is being directed by Manabu Ono who is also co-screenwriting it with Tatsuhiko Urahata. It will be animated by Sanzigen who is also producing the opening cutscene and CGI cutscenes in the video game. The anime's opening song will be the same as the game's, entitled Geki! Teikoku Kagekidan which is composed by Kōhei Tanaka with lyrics by Oji Hiroi.
Anime Visual
Full details on the anime series and its air date have yet to be announced. Stay tuned for the latest updates.
©SEGA/SAKURA PROJECT ©SEGA
RELATED ENTRIES
Japanese idol group BiSH, also known as "the punk band without instruments," have announced the release of a mini album, which they are also calling their "3.5th album" to be released from their major label. Titled LETTERS, it will be released on July 22, 2020. The group were originally going to release a new single, but decided to release a mini album of 7 songs instead, which includes some newly-recorded tracks.

Confirmed tracks include TOMORROW which is the opening theme for the TV anime series Kingdom, Buchinuke which is the ending theme for the Japanese drama Super Radical Gag Family, and co which is the main theme for Yoru no Yuenchi Kara no Dasshutsu, an escape game.

BiSH members Sentochihiro Chicchi also posted a video on the group's official Twitter and YouTube channels to promote the album alongside photos taken by her and a message written to fans by her. You can hear a snippet of one of their new songs LETTERS in the video.

BiSH also announced the release of their first greatest hits album yesterday. Set to drop on July 8, 2020, all proceeds going to over 70 music venues which BiSH have performed at in the past.

Information

LETTERS
Release Date: July 22, 2020

First Press Limited Edition: ¥10,000 (Before Tax) [AVCD-96529~31/B]

DVD Edition: ¥5,800 (Before Tax) [AVCD-96532/B]

CD Edition: ¥2,000 (Before Tax) [AVCD-96533]

FOR LiVE -BiSH BEST-
Release Date: July 8, 2020

BiSH Official Website: http://www.bish.tokyo

The Quintessential Quintuplets Anime Gets Mobile Game

The popular TV anime series The Quintessential Quintuplets is getting its first ever mobile game. Titled Go-Tōbun no Hanayome Itsutsu Ko Chan wa Puzzle o Go-Tōbun Dekinai (The Quintessential Quintuplets: The Quintuplets Can't Divide the Puzzle Into Five Equal Parts), the game will be released digitally this year.

The Quintessential Quintuplets is a manga series written and illustrated by Negi Haruba. A second season of the anime series is set to air in January 2021. The story follows high school student Futaro Uesugi who becomes a private tutor for the sisters of the wealthy Nakano family, all of whom have no interest in study or grades. It's up to Futaro to change their minds.

The game is a romance comedy puzzle game whereby the player deepens their bonds with the five sisters. Players take the role of the series protagonist Futaro through an original story with new voice acting recorded for the game.

To promote the release of the game, the official Twitter page is running a campaign where fans can receive a signed card by the voice actress cast. Details on how to sign up can be found on the official Twitter page.

Running: May 27, 2020 – June 6, 2020 at 23:59 (JST)
Reward: Signed Card (5 winners to be selected)
Signers: Ichika (voiced by Kana Hanazawa), Nino (Ayana Taketatsu), Miku (Miku Itō), Yotsuba (Ayane Sakura) and Itsuki (Inori Minase)

Be sure to check out the campaign in the run up to the game's release.

©Negi Haruba・Kodansha / "The Quintessential Quintuplets ∬" Production Committee ©G Holdings Co., Ltd. ©enish,inc.

Daichi Miura's 2019 Tour Finale to be Posted on Amazon Prime Video

The final concert of Daichi Miura's 2019-2020 "COLORLESS" live tour held at Yoyogi National Gymnasium on November 5, 2019 is heading to Amazon Prime Video on June 17.

The release date June 17 would originally have actually been the finale of another one of Daichi Miura's planned tours, which was set to begin on February 28 with 31 shows. However, the tour had to be postponed as a result of the novel coronavirus (COVID-19).

The 6-date "COLORLESS" arena tour began on September 21, 2020 and took Daichi Miura to Makuhari Messe in Chiba, Osaka-jo Hall, Marine Messe Fukuoka, and finally Yoyogi National Gymnasium in Tokyo. The two-hour shows were jam packed full of excitement for fans, especially the performances of rendition of Katasumi—which was used as an insert song in the 2019 Japanese drama series Nurse In Action!—and Corner, a dance number which has the same melody as Katasumi.

Daichi Miura / LIVE TOUR COLORLESS at Yoyogi National Gymnasium (Teaser)


Pre-orders for the show are now available over on Amazon Japan.

BULK HOMME to Open Online Store in UK and France

Men's skincare brand BULK HOMME had postponed their sales in UK and France due to the novel coronavirus (COVID-19), but they are now set to open their official online store to the neighbouring countries on May 26, 2020.

The new global brand website will be viewable in both English and French. In-store sales however are currently on hold due to the lockdown measures. BULK HOMME's products will also be sold through the French men's cosmetics websites MenCorner and Comptoir de l'homme.

THE FACE WASH

THE SCALP SERUM

Select UK & France Products (Dropping May 26, 2020)
THE FACE WASH / THE TONER / THE LOTION / THE SHAMPOO / THE TREATMENT / THE SCALP SERUM / THE BUBBLE NET
*More products will be added to the list at a later date – those are still TBA.

Yuki Yuna Is a Hero Mobile Game Gets Short Anime

A short anime entitled Yūki Yūna wa Yūsha de Aru Churutto! which will be based on the smartphone game Yūki Yūna wa Yūsha de Aru Hanayui no Kirameki has been green-lit. It will have an original story featuring superdeformed versions of the characters.

A radio show featuring the voice cast of the three main characters of the Yuki Yuna Is a Hero anime series has also been announced.

To celebrate the 5th anniversary of Yuki Yuna Is a Hero, six exciting projects have been in the works for fans, with the newest being smartphone game.

Yuki Yuna Is a Hero: 6 Projects

1) "Yūki Yūna wa Yūsha de Aru Hanayui no Kirameki" Smartphone Game New Chapter

2) Greatest Hits Album "Yuki no Uta"

3) "Yuki Yuna is a Hero Kansha Matsuri" Event

4) New Serialisation "Hinata Uesato wa Miko de Aru"

5) Short Anime "Yuki Yuna wa Yūsha de Aru Churutto!"

6) ??? TBA ???

©2017 Project 2H KADOKAWA CORPORATION 2017  Developed by AltPlus Inc.

©2020 Project 2H

Information

"Yūki Yūna wa Yūsha de Aru Hanayui no Kirameki" Radio Show

Internet Radio Station: Onsen (音泉)

Broadcasting: Bi-Weekly on Fridays from June 5, 2020

Listen Here: http://www.onsen.ag/yyyi/

"Yuki Yuna is a Hero Kansha Matsuri" Event

Date: August 1, 2020

Venue: Olympus Hall Hachiōji, Tokyo

*Event subject to postponement or cancellation depending on the situation surrounding the novel coronavirus (COVID-19)

Matcha and Fruit Shaved Ice & Other Desserts Arriving to Saryo FUKUCHA in Kyoto This Summer

Saryo FUKUCHA is a cafe that was opened by FUKUJUEN in Kyoto Station in April 2019. A new batch of seasonal summertime menu items are set to arrive this June, including shaved ice drizzled in Uji tea and fruit sauce, a refreshing Uji matcha soda made with fresh fruit and jelly, and floats. These items will be served from June 1 to September 30 with a takeout option available.

Summer Menu

Uji Matcha & Fruit Shaved Ice


Matcha Berry Shaved Ice: ¥950 / Strong Matcha Berry Shaved Ice: ¥1,100 / Houjicha Banana Shaved Ice: ¥950 (All Before Tax)

The "Matcha Berry" shaved ice is paired with rich Uji matcha ice cream and berry sauce. It's also topped with a wafer cake shaped like a flower and filled with white bean paste, rice flour dumplings, and fruit.

Uji Tea White Peach Soda / Uji Tea Lemon Soda: ¥650 Each (Before Tax)

Full-bodied kabusecha tea from Uji made into a soda with fresh fruit pieces and jelly for a refreshing combination. Pick from super refreshing lemon or subtly sweet white peach.

Uji Matcha Float / Houjicha Float: ¥700 Each (Before Tax)

These floats are made using the best tea leaves selected by FUKUJUEN which are used to make a rich and frothy tea latte. Added to that is a dollop of soft serve ice cream topped with red bean paste and dried wheat gluten. Choose between authentic Uji matcha or aromatic houjicha.

Takeout Menu

Strawberry Flower Wafer Cake / Chestnut Houjicha Wafer Cake: ¥350 Each (Before Tax) 

Fruit wafer cakes are a popular dessert at Saryo FUKUCHA, and for the first time ever they are making them available for takeout so customers can enjoy them at home too. Pick from the strawberry flower flavour made with white bean paste or the chestnut and houjicha with chocolate cream.

Cream Anmitsu (Matcha/Houjicha): ¥700 (Before Tax)

FUKUCHAs specially-made anmitsu, or syrup-covered anko bean jam, is the perfect way to cool down on a hot summer's day. It's mixed with Uji tea honey and topped with various toppings like milk agar-agar, black soybeans, rice flour dumplings, white peach, raspberry, and mizu manju.

Information

Saryo FUKUCHA
Address: 901 Higashi Shiokojicho, Karasumadori Shiokoji Sagaru,, Shimogyo-Ku Kyoto Station Bldg. 2F, Kyoto 600-8216 Kyoto Prefecture
Opening Hours: 8:30-21:00 (Last Orders 20:30)
*The cafe is currently running on reduced opening hours as of May 26, 2020. Hours are now 10:00-19:00 (Last Orders 18:30). Times are subject to change.
TEL: 075-744-0552

Official Website: https://fukucha-fukujuen.com/

MIFA Music & Sports Company's Mifanda Mascot Gets Anime Series in July

Music Interact Football for All (MIFA), which combines soccer and music activities, has announced that its mascot Utau Soccer Panda Mifanda (Mifanda the Singing Soccer Panda) is getting a TV anime series this July. Confirmed voice cast includes Kensho Ono (Giorno Giovanna in JoJo's Bizarre Adventure: Golden Wind) and Taichi Ichikawa (Tower of God).

Who is Mifanda?

Mifanda is a soccer-loving and music-loving panda who strives to bring happiness to the people of the world using soccer and music. The official mascot of MIFA, their favourite foot is bamboo grass. At the center of MIFA's activities are UKASUKA-G, a music duo formed by Mr. Children band vocalist Kazutoshi Sakurai and East End hip-hop group member Gaku-MC.

The anime will premiere this July. Kensho Ono and Taichi Ichikawa will play the part of Mifanda's teammates "No. 3" and "No. 18" respectively.

Mifanda | Comment

"Hey, I'm Mifanda! I'm getting an anime series called 'Utau Soccer Panda Mifanda'! My wish is for this anime to deliver world peace once and for all! I, Mifanda, would be most impressed if I can bring a smile to your face and turn this world into a kind one! Be sure to watch it, okay?"

Kensho Ono (No. 3) | Comment

"I really love this vibe of this show! It's a surreal story about soccer with some black comedy sewn in there. It's also short so it's easy to watch! Please be sure to check it out."

Taichi Ichikawa (No. 18) | Comment

"I'll be playing No. 18 in 'Utau Soccer Panda Mifanda'! The show might not get across the true charms of soccer, but it's fun and surreal and there's plenty of laughs to be had! There's a lot to enjoy about it, so please give it a watch!"

*Comments translated from Japanese by MMN.

Ginza's Legendary Strawberry Mille-Feuille Dessert Arrives to Japan's Kansai Region

VMG HOTELS & UNIQUE VENUES is now serving a certain strawberry mille-feuille at several locations across Japan's Kansai region. Available from May 26 to 31, t's a recreation of the legendary dessert "Napoleon Pie" from Ginza in Tokyo.

In 1966, Sony co-founder Akio Morita opened a restaurant called Maxim's de Paris with the idea in mind to create a place for adults to meet and socialise over food. Since opening, it has tickled the taste buds of customers with its authentic French cuisine and dazzled them with its deep crimson decor. The "Napoleon Pie" is an especially popular dessert that has gained a legendary status. The custard is laced with fragrant cointreau, and the thick pastry is stuffed with strawberries. The dessert gets its name from how it looks like Napoleon's hat.

This strawberry mille-feuille is now being sold at select locations in Kyoto and Hyogo for just six days. It's the first time for the dessert to be served in Kansai.
The dessert is available for takeout so customers can enjoy an at-home cafe experience.

Information

Kyoto: LE UN FUNATSURU Kyoto Kamogawa Resort (TEL: 075-351-8541)
Kobe: LE UN Kobe Geihinkan (TEL: 078-739-7600)

Pricing
Half Size (8cm x 11cm x 12cm): ¥3,240 (Tax Included)
Full Size (16cm x 11cm x 12cm): ¥6,480 (Tax Included)

Locations
Kyoto (FUNATSURU Kyoto Kamogawa Resort, 180 Minoyachō, Shimogyō, Kyoto) [Serving: May 26, 30, 31]
Hyogo (Kobe Kitano Ijinkan-Gai, 2-9-3 Kitanochō, Chūō Ward, Kobe, Hyogo) [Serving: May 27-29]

*Available for takeout at THE GRAND GINZA following the Kansai sales
*Delivery available in the city until June 20, 2020

Kyoto City Kyocera Museum of Art Opens New ART LAB KYOTO Shop

Kyoto City Kyocera Museum of Art opened its new museum shop ART LAB KYOTO on May 26 where it is set to promote the centre of Japanese culture—Kyoto, a place which reveals in tradition and history while constantly evolving and innovating.

The museum shop opens in line with the recent revamp the museum underwent, with design work co-created by Japanese architects Jun Aoki and Tezzo Nishizawa.

ART LAB KYOTO is a spacious shop were guests can get their hands on goods related to exhibitions held at the museum as well as books and items on everything from traditional Kyoto culture to the city's contemporary art, items made in collaboration with artists, exclusive sweets, and more.

Let's take a select look at just some of the items you can pick up at ART LAB KYOTO.

Kyoto City Kyocera Museum of Art x BEAMS

Kyoto City Kyocera Museum of Art has teamed up with BEAMS to release a line of original merchandise bearing the museum's logo—a new logo which represents both the design of the revamped museum carried conceived by the museum's newly-appointed museum director Jun Aoki, and contemporary art. The merchandise's design is minimal, combining white and grey.

The line-up aims to function not just as souvenirs, but as items that can be used in everyday life, from bags to notebooks and more.

Kyoto City Kyocera Museum of Art Collection x Miyawaki Baisen-an

Miyawaki Baisen-an is a preserver of traditional Japanese folding fans which has been around since 1923. The company has joined hands with Kyocera to release an exclusive line of fans that represents the art museum.

Kyoto City Kyocera Museum of Art Collection x Juko Confections

"Juko" is a confectionery from Kyoto which changes flavours with the season. Twice a month, they will be sold in limited quantities at the shop.

SCANDAL Announce 'Kiss from the darkness' Live Stream as World Tour is Cancelled

All planned dates of SCANDAL's world tour SCANDAL WORLD TOUR 2020 "Kiss from the darkness" have unfortunately been cancelled in response to the novel coronavirus (COVID-19).

The band and staff had previously considered postponing the tour, but due to new announcements being released everyday on lockdown measures, as well as restrictions being placed on indoor events, it became difficult to predict how everything would unfold throughout the year, and so it was decided that the tour be cancelled. Information on ticket refunds till be announced at a later date.

However, not all is lost as SCANDAL has announced that they will perform on a special live stream on August 21, 2020—the date of the bands 14th anniversary. Check the details below and SCANDAL's official website for more information.

Information

SCANDAL WORLD TOUR 2020 "Kiss from the darkness" Livestream

Date: August 21, 2020

Time: From 19:00 (JST) (Subject to change)

Ticket Price: ¥3,000

Ticket Release Date: From May 27, 2020 at 22:00 (JST)

Buy Tickets: https://eplus.jp/821/scandal/

SCANDAL Official Website: https://www.scandal-4.com/

BiSH Announce Greatest Hits Album With All Proceeds Going to Music Venues in Japan

Japanese idol group BiSH, also known as "the punk band without instruments," have announced the release of their first ever greatest hits album FOR LiVE – BiSH BEST-. The 27 track record will drop on July 8, 2020.

The album will be sold at CD shops and online music stores in Japan only—there will be no digital release on online music services. The reason for this is that BiSH want people to support their favourite music stores.

All proceeds that Avex and WACK receive from the album will be donated to over 70 music venues which BiSH have performed at in the past.

WACK music executive Junnosuke Watanabe spoke about this project and how he wanted to do something to support venues and CD shops who have had to close due to COVID-19. The album is being promoted with the hashtag #BiSHベストアルバム大作戦 ("Operation BiSH Greatest Hits Album").

Details about the album will be announced in the near future.

3 New Limited-Edition Botanical Drinks to Arrive This Summer at BOTANIST Tokyo

BOTANIST Tokyo, the flagship shop of BOTANIST in Omotesando, has announced a new collection of limited-edition drinks will be served on the second floor BOTANIST Cafe from July 12, 2020. BOTANIST Tokyo is currently closed but it scheduled to reopen on June 1.

There are three new refreshing drinks to choose from, all of which can be ordered for takeout. From apple mint to grapefruit, each beverage us the perfect accompaniment for cooling you down in Japan this summer.

REFRESH MENU


Refresh Soda: ¥600 (Tax Included)

A combination of grapefruit jelly and fizzy soda water make this one of those drinks that you go "Ahh!" afterwards on a hot summer's day. There's also a hint of sweet green apple.

Botanical Melon Soda: ¥800 (Tax Included)

This is a smoothie which blends together two types of melon soda and adds melon jelly and a dollop of ice cream. It's like a dessert in a cup!

Banana & Avocado Refresh Smoothie: ¥720 (Tax Included)

Enjoy the sweetness of banana and sugar beet together with the smoothness texture of the avocado in this smoothie which has apple and mint mixed into it for that refreshing summertime kick.

The cafe's regular menu has also been revised to add three new desserts.

REGULAR MENU


Vegan Waffles w/Drink: ¥800 (Tax Included)

These vegan waffles are healthier for the body if you're looking for some guilt-free indulgence. It's topped with soy whipped cream, maple syrup, and fruits of your choice.

Lemon Cheesecake w/Drink: ¥1,000 (Tax Included)

A crunchy cookie base, a creamy cheese top, and a lemon to top it all off. The combination of the salty flavour with the sour hit is a match made in heaven.

Homemade Rich Pudding: ¥500 (Tax Included)

An in-house made purin, which is a type of Japanese custard pudding. It's a delightful mix of rich egg and subtly sweet soy whipped cream.

Customers who spend over ¥4,000 (tax included) on items in the Refresh Series will also be entered in for a chance to win a "Refresh Soda." The soda is available while supplies last.

Information

REFRESH MENU
Serving: June 1, 2020 – July 12, 2020

REGULAR MENU
Serving: From June 1, 2020

BOTANIST Tokyo
Address: 6-29-2 Jingumae, Shibuya, Tokyo (1st Floor – Shop / 2nd Floor – Cafe)
TEL: 1st Floor: 03-5766-3777 / 2nd Floor: 03-5766-3778
Opening Hours: 11:00-20:00
Official Website: https://shop.botanistofficial.com/