J-Pop Sensation Perfume Release First Greatest Hits Album 'Perfume The Best "P Cubed"'
19.September.2019 | MUSIC
Perfume just dropped their first-ever greatest hits album Perfume The Best "P Cubed" on September 18.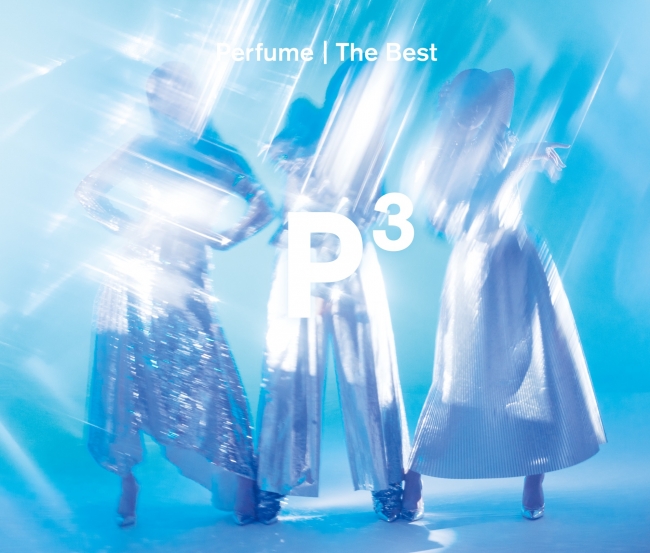 Perfume appeared as the first ever J-pop girl group to perform at the 2019 Coachella Valley Music and Arts Festival earlier this year―a year which marks 15 years since their major debut.

The enormous greatest hits album features a long list of 52 tracks, all created by Yasutaka Nakata, and all carefully selected by the group members and their staff. The line-up includes singles, hit tracks always perfumed at live shows, their latest track Nana Nana Nairo which was released digitally back in July, and an all-new song entitled Challenger.
The album will be released in several editions. Limited Pressing Edition and First Press Limited Edition copies are coupled with a bonus disc which features music video for the title track Future Pop as well as a digest live video compiling footage from the group's 4th world tour "FUTURE POP" which was taken across Shanghai, Taiwan and North America from February to April earlier this year. It also comes with the fan-favourite radio series featuring Perfume.

Additionally, Perfume's entire discography from their major debut to today, including albums and singles, was made available on major streaming platforms including Spotify on September 18. This includes everything from their 2005 major debut single Linear Motor Girl to the greatest hits album.
Celebrate 15 years of Japan's biggest J-pop group Perfume by listening to Perfume The Best "P Cubed".
Information
Perfume The Best "P Cubed"
Release Date: September 18, 2019
Limited Pressing Edition (3 CDs+Bonus Disc+Photo Book+Special Packaging): Blu-ray Ver. ¥7,037 [UPCP-9022] / DVD Ver. ¥6,574 [UPCP-9023]
First Press Limited Edition (3 CDs+Bonus Disc): Blu-ray Ver. ¥4,630 [UPCP-9024] / DVD Ver. ¥4,167 [UPCP-9025]
Regular Edition (3 CDs): ¥3,241 [UPCP-1005/7]
*Prices do not include tax


Special Limited Pressing Edition (ASMART/UNIVERSAL MUSIC STORE Exclusive)
Includes: 3 CDs+Bonus Disc+Photo Book+Special Packaging+Acrylic Photo Cube
Blu-ray: ¥8,300 (Tax Included) [PROJ-1909]
DVD: ¥7,800 (Tax Included) [PROJ-1910]
Official Universal Music Website (Japanese): https://www.universal-music.co.jp/perfume/
Perfume Official Website (English): https://www.perfume-web.jp/eng/
RELATED ENTRIES
Perfume: A Group Defining Live Performances of the Future & Tying the World to J-Pop

Perfume―a 3-member techno pop unit whose name is unknown to nobody in their home country of Japan. The J-pop trio embarked on their "Future Pop" arena tour last year―their 7th tour to date―which began on September 21, 2018 and took them to 9 locations across Japan for a total of 18 concerts. They subsequently played live on the 69th NHK Kōhaku Uta Gassen on December 31 with their performance being streamed live. Their sixth album Future Pop which the tour is named after made it to No. 1 on Oricon's Weekly Album Charts on August 27. In both name and reality they stand unshaken as a group representing Japan.

Thanks to streaming services such as YouTube and Spotify, Perfume's international fame and recognition has surged into the stratosphere. Their growing popularity recently led them to embarking their 4th world tour Perfume WORLD TOUR 4th "FUTURE POP" on February 23 this year to Asia and North America. This marks almost four years since touring Asia and two-and-a-half since the US. It's safe to say then that 2019 will reign once more as the year of perfume for overseas fans.

Before & After Perfume: How They Changed the Value of Entertainment
With Japan being home to so many girl groups, why is it that Perfume has rooted themselves to strongly overseas?

One answer points to their authentic electro sound which bursts intently with originality. Another is their dignified dance performances which are so tight that one might think them to be androids. This, combined with their live shows which incorporate digital media art using experimental and cutting-edge technology. The entertainment value of girl groups has changed since Perfume came on the scene. All of today's idol groups and girl units take great influence from Perfume.

Perfume's music has real intention behind it. It's the real deal that has impressed even the most crazed music lovers and audiophiles. Their discography―from their indie era debut in 2003 to today―has been entirely produced by Japanese record producer, composer and DJ Yasutaka Nakata. The songs he crafts, from techno pop to electro, have affixed a new kind of value to J-pop that never existed before. He has been able to take dance music made for club-goers and transform it into a type of J-pop that is able to reach all listeners.

His music has and continues to receive high praise not just in Japan but around the world. Perfume's latest album Future Pop which was released last year made it to No. 1 on the iTunes Electro Charts in 20 countries. Their previous album Cosmic Explorer even ranked 16th on Rolling Stone's 20 Best Pop Albums of 2016.

Another factor as to how Perfume has captivated the world is their choreography which mix cuteness with sci-fi, robotic-like moves. Their choreographer is MIKIKO who created the "Koi Dance" in the music video for Gen Hoshino's hit song Koi, and who has been appointed as part of the planning team for the opening and closing ceremony of the 2020 Summer Olympics in Tokyo. The three members of Perfume have received guidance from performers who are active internationally since their days at Actor's School Hiroshima.

Their music is irregular, and all of them are able to dance complex moves in formation while wearing 8cm heels. They are conscious of every single motion right down to the tips of their fingers. That is true art.

The Year 2020 Marks Perfume's 20th Anniversary

We mustn't forget Perfume's concerts, another part of their successful appeal, which make use of the latest technology. Their shows have been directed by Daito Manabe, an artist, programmer, designer, DJ, VJ, composer based in Tokyo who is the spearhead of Rhizomatiks, a Japanese company which uses the arts and technology to produce large scale artistic projects. Whether it be their on-stage performances or music videos, Perfume have given us insight into and let us experience the near-future.

In 2017, the group collaborated with docomo to put on a very special show to connect their performance around the world in Tokyo, London and New York. Using hyper-realistic visuals, fans were able to experience as if Perfume were actually there in front of them in spite of the 10,000km distance.

The girls have continued to pull us into a new world, something that we have not experienced with any other artist, through their projection mapped live performances, illuminated outfits, and more. They were extremely well received at SXSW in 2015 too, only solidifying their place in the music world.

Perfume have continually carved a path of originality on which left their strong presence both in Japan and overseas. They are now set to perform at Coachella Valley Music and Arts Festival in California this April, an event which celebrates its 20th anniversary this year. Perfume, too, will celebrate their 20th anniversary in 2020. We can rest assured that they have no signs of stopping their fiery force as they approach this historical milestone.

Text: Ayaka Sakai

Translation: Joshua Kitosi-Isanga

Information

Perfume Official Website

Perfume Release Fragrance Items From Their 'Perfume Closet' Fashion Project

J-pop trio Perfume are knee deep on their 4th world tour entitled "FUTURE POP" which began on February 23, 2019 and is taking them across Asia and North America.

a-chan, NOCCHi and KASHIYUKA are also known for their Perfume Closet fashion project for which they opened a pop-up shop at Laforet Harajuku last year. It has been announced that new fragrance items will be released from the brand.

Perfume released their own original perfume "PERFUME OF PERFUME" in 2016 which has gone on to be a hugely popular product. Using its scent as a base, two new products will be released from Perfume Closet on March 21.

PERFUME OF PERFUME Hand Cream (30g) – ¥1,600 (Before Tax)

The hand cream has great spread, isn't sticky and moisturises skin beautifully. Whether your hands are feeling dry, you want to care for your skin before going out or after getting out the bath, or you want to refresh during work, then this is the cream to go for.

PERFUME OF PERFUME Fabric Spray (100ml) – ¥2,000 (Before Tax)

This fabric spray can be used on everything from clothing to curtain, sofas and beds―even as room spray―to add a pleasant fragrance to your surroundings.

Both items will be released on March 21―the date of their indie era debut―for a limited time at ISETAN MiRROR stores across Japan and online via ASMART. They will also be released at Tower Records branches on April 2 in line with the release of their Blu-ray and DVD Perfume 7th Tour 2018 "FUTURE POP" dropping on April 3.


If bought on ASMART the products can also be sent with a special gift bag for an additional fee – a perfect Perfume present.

Information

Perfume Closet
Release Date: March 21, 2019 at 10:00am (JST)

Locations
March 21, 2019 – 17 ISETAN MiRROR stores

April 2, 2019 – Most Tower Records stores

*Only 2 of each product will be sold to customers

ASMART Page: https://www.asmart.jp/perfumecloset

Perfume Official Website: http://www.perfume-web.jp/

Japanese Music Artists Performing Overseas in 2019: Part 1

As we make headway into the new year, information on Japanese artists performing outside of Japan continues to roll out. This first article covers Japanese artists set to perform concerts overseas in the first half of 2019.

・Perfume

The global popularity of multi-platinum electro J-pop group Perfume is clear for all to see, with their latest album Future Pop released back in August charting in at No.1 in 20 countries across the world. And now, international fans in the US and Asia will be excited to hear that the trio are set to hit a city near them in March and April this year.

Full Details: https://www.moshimoshi-nippon.jp/138536

・SID

SID announced at their 15th anniversary tour Ichiban Suki na Basho 2018 that they are set to perform four dates in Asia.

Full Details: https://www.moshimoshi-nippon.jp/144270

 

・Kenshi Yonezu

Kenshi Yonezu took the charts by storm in 2018 breaking many records with a string of singles. While riding this wave of success, it has been announced that Yonezu will embark on his first ever arena tour which begins today on January 19. Two dates in Shanghai and Taipei have been added to the tour.

Full Details: https://www.moshimoshi-nippon.jp/158468

・Tokyo Ska Paradise Orchestra

Tokyo Ska Paradise Orchestra celebrate their 30th anniversary this year, and what better way to kick off it off than performing at Lollapalooza Chilie in March. Before they do however they will first perform at PA'L NORTE 2019, a 2-day music and art festival in Monterrey, Mexico. They are part of a line-up consisting of big names such as Arctic Monkeys, Kings of Leon and Santana.

Full Details: https://www.moshimoshi-nippon.jp/146658

・Taichi Mukai

Taichi Mukai is in the midst of his 2018-2019 "Pure Tour" to promote his newest album PURE. The artist is gaining much attention not just in Japan but across Asia too. Mukai is set to perform in Asia for the first time beginning on March 22.

Full Details: https://www.moshimoshi-nippon.jp/155274

・HYDE

HYDE started his solo music career up again last year and has various planned for 2019. He performed at L'Arc-en-Ciel's 2018 Christmas live show "L'ArChristmas" and will embark on an Asia tour in March.

・GARNiDELiA

GARNiDELiA released Kyoki Ranbu on September 26 this year, an album compiling every song from their internationally acclaimed online dance series including their hit song Gokuraku Jodo. The pop rock duo have announced that they will embark on their biggest Asia tour to date including shows in Hong Kong and Singapore.

Full Details: https://www.moshimoshi-nippon.jp/150236

・Wednesday Campanella

Wednesday Campanella is no stranger to performing solo concerts and at festivals outside Japan. The next place to be graced by KOM_I's incredible performance is Barcelona for the Primavera Sound music festival.

Full Details: https://www.moshimoshi-nippon.jp/150817

To all lovers of J-pop, J-rock and any kind of Japanese artist or band living outside Japan – if an artist is coming to a place near you, show your support and don't miss the opportunity to see them live.

Writer: Heir

'Perfume Closet' Pop-Up Shop to Open at Laforet Harajuku

The CONTAINER on the 2nd floor of Laforet Harajuku is raising Christmas spirits this year with a range of pop-up shops. The first to open will be  from J-pop trio Perfume who will promote their Perfume Closet fashion project from December 4 to 13.

Following this, another shop called mt store at Laforet Harajuku will run from December 14 and 26 to celebrate Laforet Harajuku's 40th anniversary and mt10's 10th anniversary. Expect to get your hands on lots of Christmas themed gifts and decorations.

Perfume Closet is a fashion project that began from a proposal to create clothes that connect with fans through Perfume's music. The concept behind the items in the line-up serves to give people the courage to take that necessary step forward and to support them.

This marks the third appearance of the pop-up shop which promises to be bigger than those before it. They will sell items that draw inspiration from the iconic outfits that a-chan, NOCCHi and KASHIYUKA wear in their music videos.

And for this holiday season only, Perfume Closet socks will come in special Christmas packaging. The shop will be decorated with visual panels of the members and there'll be a spot to take photos too.

The mt store at Laforet HARAJUKU pop-up shop will sell a whole range of original Laforet Harajuku and Christmas masking tape. The shop, too, will be decorated with masking tape.

Feel the Christmas spirit by getting your hands on some limited edition items at the Perfume Closet and mt x Laforet pop-up shops!

Information

Perfume Closet

Location: Laforet Harajuku (2F CONTAINER)

Running: December 4, 2018 – December 13, 2018

mt store at Laforet HARAJUKU

Location: Laforet Harajuku (2F CONTAINER)

Running: December 14, 2018 – December 26, 2018

Laforet Harajuku Official Website: https://www.laforet.ne.jp/

The global popularity of multi-platinum electro J-pop group Perfume is clear for all to see, with their latest album Future Pop released back in August charting in at No.1 in 20 countries across the world. And now, international fans in the US and Asia will be excited to hear that the trio are set to hit a city near them in March and April next year.

The title of the tour is Perfume WORLD TOUR 4th "FUTURE POP" which will take a-chan, NOCCHi and KASHIYUKA to Taiwan, Shanghai and China for the Asia leg and New York, Chicago, LA as well as Toronto, Dallas, Seattle and San Jose for the first time on the US leg. Details for the dates, times and venues of the China and Shanghai shows have yet to be announced, but ticket information can be found on the official tour website.

It has been 4 years since Perfume's last Asia tour back in 2014 for Perfume WORLD TOUR 3rd. It has also been 2 and a half years since their last US tour for Perfume 6th Tour 2016 "COSMIC EXPLORER."

Perfume's global site for international fans have also undergone renovation. It features live footage and music videos as well as a a showcasing of a range of technology Perfume have utilised as part of various projects.

Comment: Perfume
"We're so excited to announce our first world tour in 2 years! This is going to be our biggest world tour ever, including some cities we're playing for the first time. Our latest album "Future Pop" became No.1 electronic album in 20 countries. We will mainly be performing off of this album and will put out the coolest shows we can for our international fans. Can't wait to see you all at the show♪" – Perfume

Japanese girl group "Perfume" launches third round of fashion project "Perfume Closet"! Visit a pop-up shop near you!

Japanese pop girl group "Perfume" has launched the third round of their fashion project "Perfume Closet"! The project kicked off with the intention to enhance everyday fashion through their music.

The third round of this project involves the release of numerous goods that have been carefully designed by taking inspiration from the girls' unique fashion as seen in their music videos. The fashion goods combine the girls' seasonal fashion, which is currently centred around checkered tops, trousers and skirts, and combines this with the girls' fashion know-how and current fashion trends.

This round also brings new miscellaneous goods that come in original print designs to the scene. There are also many goods such as commuter pass cases, mini wallets and bags that are decorated with a special "P" design! (P for "Perfume").

The popular dance heels are now available in two new colours: lavender suede and navy suede!

The Perfume Closet pop-up shop will open in Tokyo, Nagoya and Osaka for a limited period only starting on Wednesday 17th October 2018! (Note: This shop will only be open in one location at a time). You can also purchase the goods from the same date on the artist online shop "ASMART". If you're around when the pop-up shop opens, please stop by!

Information

Perfume Closet (Round 3)
Open from: Wednesday 17th October 2018

Pop-up shop locations/dates:
(Tokyo) Wednesday 17th — Tuesday 23rd October 2018 — 2nd floor, Centre Park Tokyo Kaihoku area, Isetan Shinjuku Honkan floor

(Nagoya) Wednesday 31st October — Tuesday 6th November 2018 — 2nd floor ISETAN HAUS
(Osaka) Wednesday 14th — Tuesday 20th November 2018 —  3rd floor HANKYU Department Store Umeda main store

(Tokyo) Tuesday 4th — Thursday 13th December 2018 — 2nd floor CONTAINER area, Laforet Harajuku



Dance heels only available at the following:
Women's shoes area, 2nd floor, JR Kyoto ISETAN (New colours mentioned above are only available from Wednesday 17th October)
Women's shoes area, 2nd floor Ginza Mitsukoshi department store (Wednesday 17th October —  Tuesday 30th October)
Ladies shoes salon, 3rd floor Hiroshima Mitsukoshi department store (Wednesday 17th October — Wednesday 30th October)

Perfume Closet official website: http://www.perfume-web.jp/cam/closet/

Perfume Release New Album 'Future Pop' & Announce Cafe Collaborations in Tokyo, Nagoya and Osaka

Perfume released new and seventh album Future Pop on August 15 featuring hit singles TOKYO GIRL, If you wanna and Mugen Mirai.

The album comes as the first from the trio in two years since COSMIC EXPLORER. It features numerous singles in addition to songs used in commercials and brand new songs we haven't heard yet.

The limited edition of the album includes a bonus disc that features the music video for their new song Let Me Know, live performances of TOKYO GIRL and If you wanna held at a release event and live footage of FUSION taken from their Perfume x TECHNOLOGY presents "Reframe" performance at Shibuya NHK Hall in March 2018. It also includes an exclusive radio recording, something that's become a regular bonus feature on their albums.

Additionally, to celebrate the album's release, three Perfume Future Pop Cafes are now open at SUZU CAFE ‐jingumae‐ in Tokyo, Amelie Cafe in Nagoya, and W Cafe in Osaka. The Tokyo and Nagoya cafes are open until August 26 and the Osaka branch until August 24.

The collaborative cafes are decked out with Future Pop visuals and there's food and desserts inspired by the songs from the album. When you order from the collaborative menu, you can get your hands on an exclusive Perfume Future Pop Cafe lunch mat and coaster. There are two coaster designs. If you order one item from the menu you will receive the Future Pop Logo Coaster and i you order two items you'll receive the Future Pop Dress Coaster which features the album cover art.

Be sure to pick up a copy of Future Pop and hear Perfume's latest material.

■Information

Perfume 7th Album – "Future Pop"

First Press Limited Edition: (CD+Blu-ray+Stickers) – ¥4,980 (Tax Included) [UPCP-9020]

First Press Limited Edition: (CD+DVD+Stickers) – ¥4,600 (Tax Included) [UPCP-9021]

Regular Edition (CD+Blu-ray) – ¥3,980 (Tax Included) [UPCP-1003]

Regular Edition (CD+DVD) – ¥3,600 (Tax Included) [UPCP-1004]

Perfume Official Website: http://www.perfume-web.jp/eng/

Yasutaka Nakata performs alongside Perfume for the first time in 15 years at his hugely successful music festival "OTONOKO"

The highly anticipated music festival OTONOKO, produced by Yasutaka Nakata, was held on December 2nd in Hall 4 of Ishikawa Sangyo Tenji in Ishikawa, the birthplace of Nakata.

The first OTONOKO was held last year to a buzzing crowd of 6,500 and became a huge success. This year's event was only bigger and better, with a record breaking 8,620 music lovers lined up to witness once more this new kind of music festival, with an unmatched line up consisting of Yasutaka Nakata himself as well as CAPSULE, Perfume, tofubeats, C&K, Taiiku Okazaki, 80KIDZ, DAISHI DANCE and more.

The venue was broken into two sections: the main stage and the second stage. For the opening acts of the main stage, the crowd were graced by DJ audition winner DJ KOKI, ASOBISYSTEM's young and fast budding newcomer artist MANON, and Atarashii Gakkou no Leaders who made their major debut earlier this year.

Over on the second stage was a diverse range of artists blending together different areas of culture, including Una, Anna Yano, as well as local specialist schools who showcased hair & make-up and fashion shows and more.

The first of the main acts to open was none other than CAPSULE, welcoming the crowd with a set list that was inevitably guaranteed to get everybody pumped, including songs such as "more more more," "FLASH BACK" and "JUMPER."

Artists from last year's OTONOKO festival then returned to the stage such as DAISHI DANCE, TeddyLoid and 80KIDZ.

Popular Japanese YouTubers HIKAKIN & SEIKIN took to the stage during TeddyLoid's act. They added variety to their set by performing songs such as their 2015 hit "YouTube Theme Song." 80KIDZ's set electrified the audience with a full band set who provided some sharp and catchy beats.


The middle slot of the night was taken up by live acts Taiiku Okazaki and C&K as well as hugely popular DJs and close friends of Yasutaka Nakata, banvox and tofubeats. Taiiku Okazaki made his original style known with tracks such as "Open" and "We Can Get Over It."

C&K began their set with their emotional ballad "Y," changing the mood of the floor with their crystal clear vocals and pop musicality.


Then, like passing a baton, tofubeats effortlessly transitioned to the DJ booth from banvox where he created hooks with a selection comprised of "POSITIVE feat. Dream Ami," "LONELY NIGHTS," "Too Many Girls feat. KREVA" and more while interweaving them with the roaring beats of tracks such as "Drum Machine." Chisato Moritaka's vocals were played for his killer tune "Don't Stop The Music feat. Chisato Moritaka" to which the crowd clapped along. With the mic in hand, tofubeats sang along with everybody during "Asa ga Kuru Made Owaru Koto no nai Dance wo" and "Suisei."


Finally, the wait was over. The moment "GLITTER" began playing and the lasers shot through the air, the crowd knew that could only mean one thing – Perfume. The crowd went wild, and although dancing to the heavy and upbeat songs "FLASH" and "FAKE IT," A~chan gave spoke of some observations about the event: "Doesn't listening to that heavy bass all the time get to your ears after a while!? The people at OTONOKO are something else." Yasutaka Nakata has produced Perfume's music for a very long time, but this is the first time ever in 15 years that him and the J-pop trio have performed together. The girls see him as a "god" and commented: "He has been with us for such a long time and never grown tired. We were able to go on television with him this year, and he's even kindly invited us to OTONOKO. You probably think that Nakata is weird. But we're super thankful to be able to work together with a god." The crowd were divided into three sections – "na," "ka" and "ta" – for a call & response session to revere the godly Nakata.

Towards the end of the show Perfume switched to some club tunes, delivering "Chocolate Disco" and "TOKYO GIRL," before performing a completely brand-new, not yet released song titled "FUSION." Nakata surprised everybody by taking to the DJ booth for this song which showcases a cool side of Perfume the likes of which nobody has seen. The song has thick bass and is exotic with almost no lyrics, and the choreography has gentle movements and a downbeat rhythm to them.


Yasutaka Nakata subsequently took over the stage with his solo performance. After Perfume's act he was the only one up there where he played a number of songs from his forthcoming first ever solo album "Digital Native," set for released next year on February 7th. As well as that, he hit off a behemoth list of other tracks including "NANIMONO (feat. Kenshi Yonezu)," a remix of "Stay" by Zedd & Alessia Cara, new solo tracks "Give You More" and "Jump in Tonight (feat. Momo Mashiro)" announced this year, and more.

Perfume made a guest reappearance for "If you wanna" as if it was a return gift to collaborate once again. The spectacle of seeing Perfume sing and dance alongside Nakata had the entire room with their hands in the air.

For the night's grand finale, CAPSULE member Toshiko Koshijima stepped onto stage to perform CAPSULE's hit song "Starry Sky." The song encapsulated the show's climax with fireworks, smoke, confetti and endless strings of high speed lasers. With that performance, Yasutaka Nakata vividly proved his ready wit and unequalled talent as one of Japan's foremost leading artists, producers and DJs. The edgy dance beat defined that fact to the end before concluding OTONOKO 2017.

Nakata said his goodbye to the crowd: "Thank you for being here tonight! I will return to Kanazawa!"

With the forthcoming release of his 2018 solo album, it's time to get excited about Yasutaka Nakata and his spirited activity.

TEXT by Mami Naruta

■Information

Yasutaka Nakata presents OTONOKO 2017

OTONOKO Official Website: http://www.otonoko.com
Yasutaka Nakata Official Website: http://yasutaka-nakata.com

Photography:

Tetsuya Tsurumi
IMGRAPH
masatoshi okamoto
satoshi fukuda
KAZUYA OTA
Kei Nakagoshi

Panasonic released the video of Perfume's (techno pop unit) new single, "Everyday" called "Everyday – AWA DANCE 360°VR ver. (60 seconds)" on YouTube and on Panasonic's website.

YouTube  [MV] 「Everyday」-AWA DANCE 360°VR ver.-


In this video the stage is floating in an imaginary space. The space matches the new single of Perfume "Everyday" and you can enjoy the lively video rendition in a VR (virtual reality) world surrounded by bubble objects.


The members of Perfume are dancing an AWA (bubble) DANCE which was created for the VR video. You can enjoy a sense of immersion by watching this video which makes you feel like you are standing on the same stage with Perfume. The music video is very fun to watch since you can change the angle at will and watch your favorite member dancing.

Also, Panasonic Center Tokyo/Osaka are holding an VR experience event called "'Everyday' -AWA DANCE 360°VR ver.-" where you can watch it while wearing VR goggles.

Perfume "Everyday" AWA DANCE App


"Perfume "Everyday" AWA DANCE App" was released with the new music video and is a smart-phone application where anybody can dance this AWA DANCE of "Everyday" by photographing one's whole body (front and back). The date uploaded to the application will be played as the original movie and you can share it via SNS.

▼Perfume interview                                     
-Please tell us your impressions of the 360°VR shooting.
Nocchi: We had never before experienced shooting using a green background and therefore I could not imagine the content of the video.
Kashiyuka: I was kind of nervous while shooting this video but it was fun to dance with the other two members while facing each other.
Achan: Yes, it was fun.
Kashiyuka: It was like, "Hey, you're right in front of me!"
Achan: When we previewed ourselves, it took a long time since there were only a few VR devices to check the video. The staff were working hard too, and we created this video with a unified voice.

-What is the highlight of this movie?
Kashiyuka: The distance between us and the viewers gets really close at the last part of the video. I was thinking like "Is it OK to be this close?" while dancing.
Achan: The director was saying, "That's the fun part of VR." I hope everybody enjoys this video.
Nocchi: It is sure a brand new experience.  You can enjoy the video in many ways. You know, you can watch two of us at the same time or watch just one of us dancing. You can also get a close look at our legs if you want!
Kashiyuka: The angle of our past videos was fixed so I think it will be fun to watch your favorite member at will.
Achan: You can just watch Yuka chan's legs if you would like!
Kashiyuka: Or you can watch Nocchi's hair waving!
Achan: I hope everybody enjoys this video from various aspects.

Let's check out this interactive music video (360°VR) of Perfume's new single "Everyday."

Perfume×docomo / A project using the latest technology will be broadcasted live all around the world!!

"FUTURE-EXPERIMENT" is a project which will offer a brand new experience, an experiment that nobody has ever experienced before using the latest connection technology produced by docomo.

As the first stage in this project, they will hold an event titled, "Vol.01 Kyoriwo Nakuse,"where artists performing on a world-scale will collaborate together.


The first stage of this project, "Vol.01 Kyoriwo Nakuse,"will be a mixture of latest technologies and various standard technologies.

This project group will offer brand new contents which will be comprised of video technology that can be experienced in the near future (2020) though streaming live broadcast via the Internet.


Can't wait to see the video.

Perfume celebrate release of their new song "If you wanna" with live performance streamed online

Japan's biggest J-pop trio Perfume released their newest single "If you wanna" yesterday on August 30th, making it their 24th single to date.

 

In addition to the title song, Perfume's new release also features the song "Everyday," a track made as part of a collaborative campaign with Panasonic washing machines.

"If you wanna" will be released in two editions: a limited pressing edition with special packaging and a first press limited edition. Both types come with a DVD featuring the music video for "Everyday -AWA DANCE edit-." The limited pressing DVD will also contain the making-of footage for the music video, as well as live footage of their songs "TOKYO GIRL" and "Houseki no Ame" from their performance at the Perfume-hosted event "Perfume FES!! 2017" held at Makuhari Messe in Chiba back in June.

Keep an eye on the clock as well because later today (August 31st) from 20:00-20:30 (JST), Perfume will be holding a performance at an undisclosed location that will be streamed live on YouTube Live, Facebook Live and LINE Live to celebrate the release of "If you wanna." In addition, there is also a special project in place that is scheduled today called "'If you wanna' Studio" for people that have purchased a copy of the new single.

Tune in later today and watch Perfume live on their official YouTube channel or official Facebook page.

■Information

Perfume – "If you wanna"
【Limited Pressing Edition】(CD+DVD)
¥2,430 (tax incl.) / UPCP-9016 / Special Packaging
【First Press Limited Edition】(CD+DVD)
¥1,900 (tax incl.)  / UPCP-9017 / Slip Case

"If you wanna" Special Live Stream
When: Thursday August 31, 2017 at 20:00-20:30 (JST)

Official Website: http://www.perfume-web.jp/

Perfume to perform for the very first time at Yasutaka Nakata's music festival "OTONOKO"!

The OTONOKO music festival brought together an unprecedented number of attendees last year, and the event is set to return later this year. The third round of artists to perform has finally been announced – you can expect to see Perfume, 80KIDZ, and TeddyLoid performing at OTONOKO this December.

Last year's OTONOKO was a huge success and will return on December 2nd this year at Ishikawa Sangyo Tenji in Hall 4.

The festival is produced by none other than Yasutaka Nakata, Japan's leading musician, producer and DJ who receives huge support from artists all over the globe, and who is known as the producer for some of the Japan's biggest acts including Perfume and Kyary Pamyu Pamyu. Nakata has created music for international ceremonies, public showcases, countless movies both in Japan and overseas including Hollywood blockbusters and more.

3 new artists have been added to the line-up for this year's OTONOKO. Perfume, one of Japan's biggest and most successful J-pop groups, will appear at the event for the first time. The group's music has been produced by Nakata for 14 years now since the release of their single "Sweet Donuts" back in 2003. This will be their first ever performance alongside Nakata at an event.

80KIDZ and TeddyLoid will also be making a return to OTONOKO, having performed at last year's festival.

All three of these acts are in close relations to Nakata, and you can expect to see them all there on the day. Further information regarding the event will be released at a later date, so be sure to keep up to date over on the official site!

■Information

Yasutaka Nakata presents "OTONOKO 2017"

Date: Saturday December 2, 2017 (11:00 OPEN / 13:00 START)

Venue: Ishikawa Sangyo Tenji in Hall 4

Price: Standing Tickets – ¥6,800 (tax incl.)

Tickets go on sale at ticket agencies in Japan on August 26th at 10:00am.

Official Bus Tour: http://travel.willer.co.jp/tour/campaign/live/otonoko/

*2nd wave of tickets to go on sale from Friday September 1st.

"OTONOKO" Official Website: http://www.otonoko.com