Taiwanese Bookstore Chain Eslite Opens New Outlet in Nihonbashi, Tokyo
Eslite Bookstore is one of the prominent bookstore chains in Taiwan that opened an all-new outlet in Nihonbashi, Tokyo on September 27, 2019 that promotes reading, culture and lifestyle.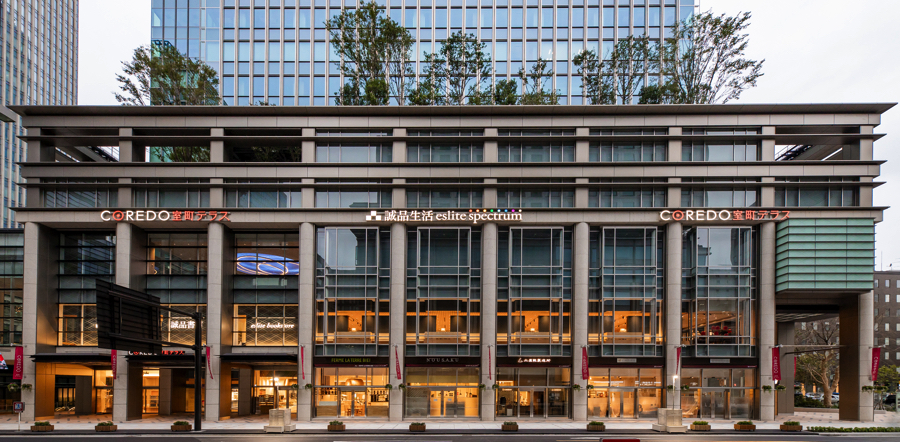 This will be the first Eslite Spectrum shopping mall to open outside Greater China. Its concept is "a cultural wonderland for reading and living" under wh ich Eslite has curated Nihonbashi's rich history and culture to promote to the people of Tokyo.
Eslite Spectrum is always in the front row when it comes to the latest in Taiwanese trends, and it's a place I never fail to visit when I travel to Taiwan. When I heard they would be expanding to Tokyo, I couldn't wait for the day of the grand opening to arrive. I made my merry way there, excited and eager to see what kind of place it would be, and what kind of items they would stock.
The outlet is split into 4 different zones: the bookshop zone, the stationery zone, the miscellaneous item and workshop zone, and the restaurant zone. The bookshop features a line-up of carefully selected reading material and book recommendations.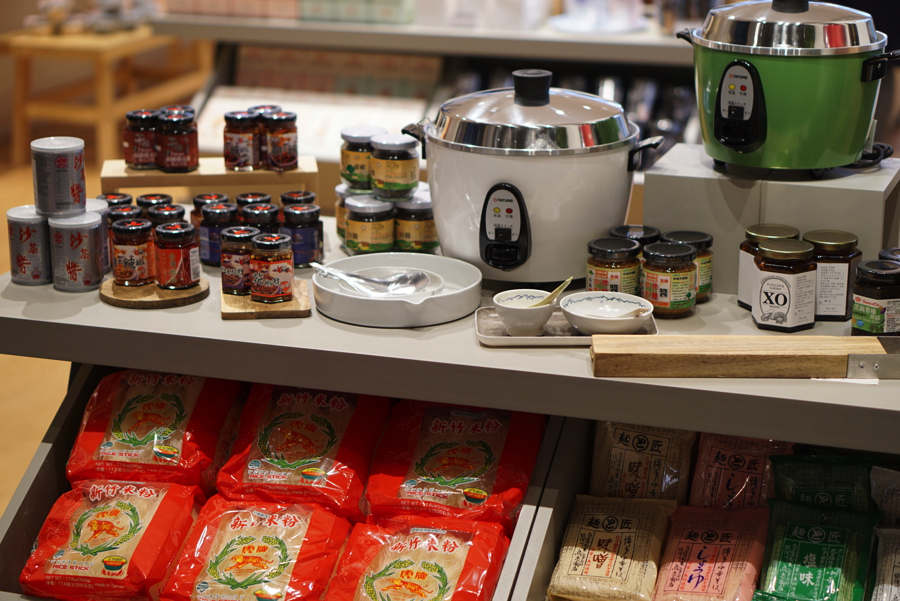 One hundred brands from around the world make up the miscellaneous and eating areas. Half of the brands are Taiwanese, meaning you can get your hands on authentic goods from Taiwan itself.
The building was designed by leading Taiwanese architect Kris Yao, whose concept for the design was "interweaving the old and new." It's a stylish, welcoming building with elements of the traditional Japanese aesthetic in there. The store front has indigo blue noren entry curtains, which is both stylish and quintessentially Japanese.
This new branch of Eslite Spectrum is home to stores setting up shop in Japan for the very first time. There are also many shops here selling items exclusive to Nihonbashi. I'm going to showcase four of the places I was particularly interested in.
Kuo Yuan Ye
Kuo Yuan Ye is a confectionery shop based in Shinlin, Taipei. Since opening, they have continued to use traditional confectionery-making methods, serving sweets with deep, rich flavours.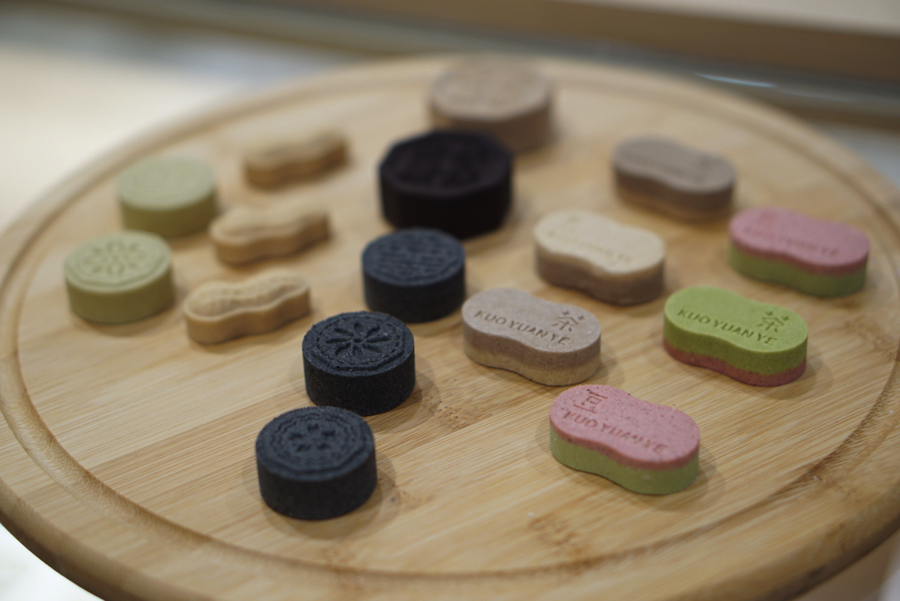 As well as having maintained tradition, they have also released products in collaboration with rising designers. I encourage you to try their beautiful line-up yourself to taste their long, delicious history.
Sarutahiko Coffee
We have covered Sarutahiko Coffee on MOSHI MOSHI NIPPON in the past when we visited the branch in Ebisu.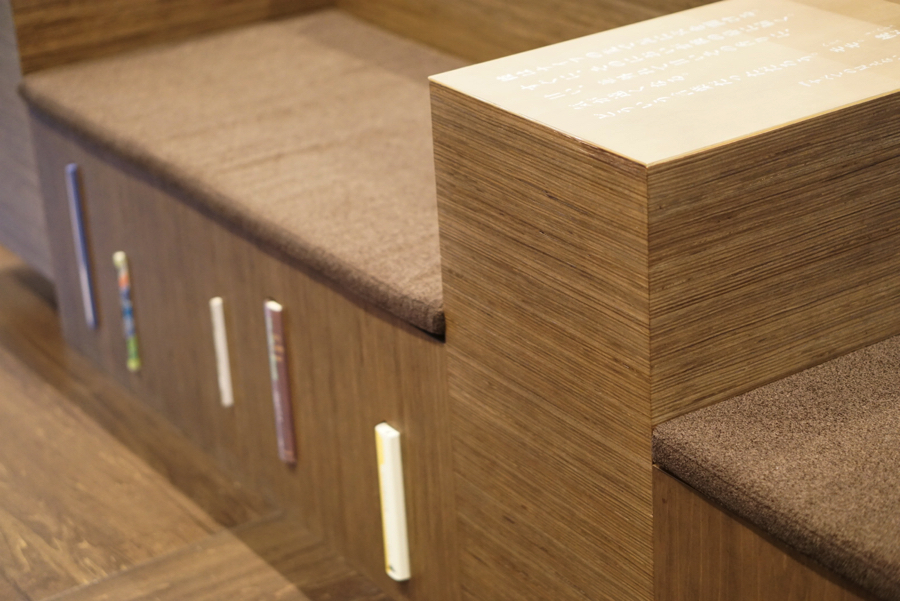 The first thing that struck me upon visiting this new branch is how different the interior design is to other places. The design and its concept of "coffee and words" were created by book director Yoshitaka Haba. Quotes pulled from the books can be found written all around the cafe. There is also a space underneath the chairs for storing books. No matter where you look in the cafe, it's nothing less than stylish.
The cafe has their own special hot cakes and original coffee blends exclusive to Nihonbashi. The hot cakes are topped lavishly with mont blanc, giving it an extremely rich taste and one reminiscent of autumn-time. Both the hot cakes and this original coffee blend are limited-time menu options available until November 14, so you'll want to get in there quick.
Wonder Chuan
For the first time ever, long-standing Taiwanese tea store Wonder Chuan arrives on the shore of Japan. The shop takes great care in the growing and brewing of its tea leaves, pouring their heart and soul into every cup.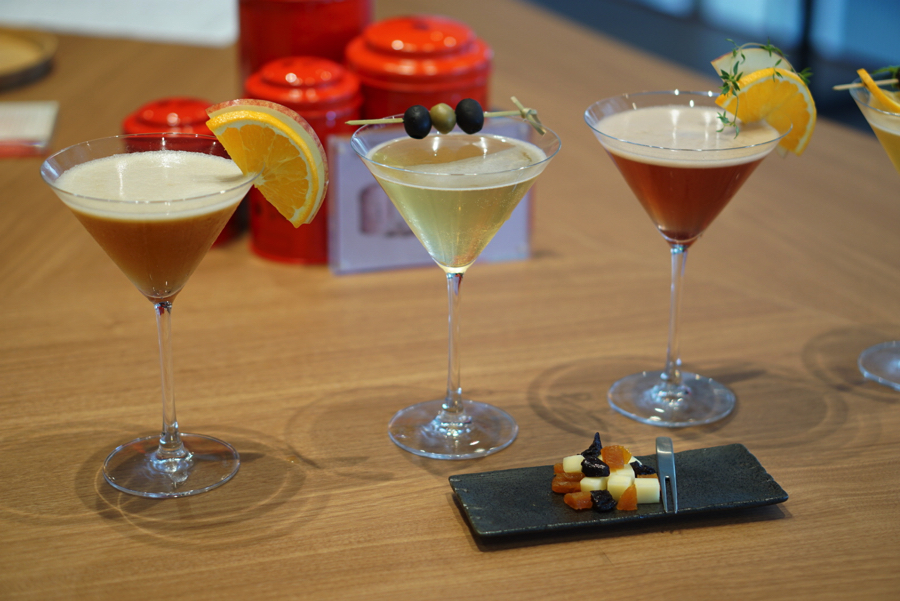 The Taiwanese oolong tea drank was a similar colour to matcha. It had a sweet flavour and a much smoother taste compared to Japanese oolong. The shop also serves a selection of cocktails made with oolong tea as well as perform traditional tea-making methods for customers. They even have plans to host their very own Taiwanese tea workshops in the future.
Fujin Tree
The last place I want to introduce is Fujin Tree, also a first in Japan. This is another one of my favourites, so I was thrilled when this one was coming to Tokyo too!
It's uncommon to be able to drink wine in restaurants in Taiwan, but the popular Fujin Tree serves Taiwanese cuisine and champagne in style.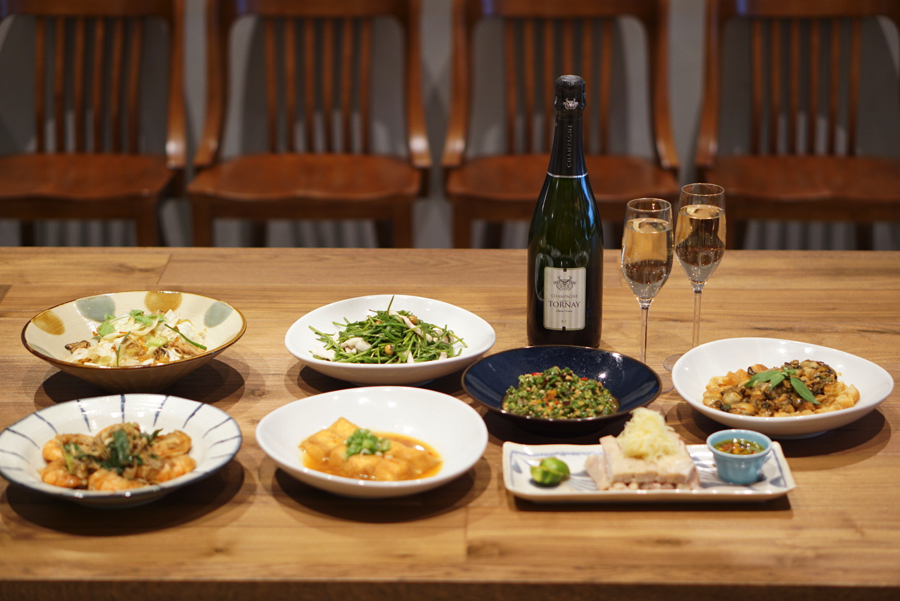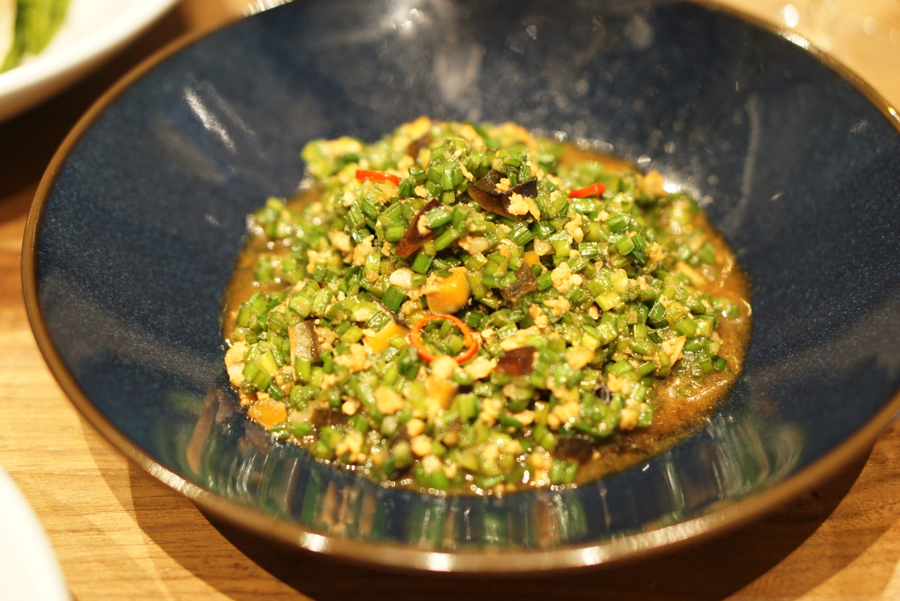 Their dishes are packed full of fresh vegetables and fruit. One of their popular picks is their springstar and century egg with spicy minced pork. It's a tasty dish with full, rich flavours that goes well with sake. It's also great with rice. There are many amazing options on the menu, but if you're spoilt for choice then I recommend this one.
Eslite is the bridge between Japanese and Taiwanese that aims to become a hub for Asian culture. Centred around reading, there are countless experiences to look enjoy here. Discover a new side of Nihonbashi by paying a visit.
Writer: Sayuri Mizuno (MOSHI MOSHI NIPPON)
Translator: Joshua Kitosi-Isanga
Information
Eslite Spectrum Nihonbashi
Address: COREDO Muromachi Terrace 2F, 3-2-1 Nihonbashimuromachi, Chuo Ward, Tokyo
Opening Hours: 10:00-21:00 (Fuji Tree is open 11:00-23:00)
No Fixed Holidays
Official Website: http://www.eslitespectrum.jp
RECOMMENDED ENTRIES
COREDO Muromachi Terrace: Shops and Exclusive Gourmet Treats to Arrive at Nihonbashi's New Hot Spot

COREDO Muromachi Terrace is a new shopping facility set to open on September 27, 2019. Connected directly to Mitsukoshimae Station via the Tokyo Metro Ginza Line and Tokyo Metro Hanzōmon Line, like its neighbouring facilities COREDO Muromachi 1, 2 and 3, it is set to incorporate the halcyon days of Japanese culture while hailing as the latest must-visit spot delivering the charm and appeal of Nihonbashi.

The facility has been gathering stark attention in the run up to its grand opening, so we have compiled a list of store and restaurant chains setting up shop in the Kanto region for the first time, and products exclusive to COREDO Muromachi Terrace.

Hakata NEW COMATSU (Floor B1F)

With its at-the-counter-seat style setup, Hakata NEW COMATSU sets foot in Japan's Kanto region for the very first time, ready to serve up a gorgeous menu made with ingredients from Kyushu. Whether it's lunch, dinner or just a little drink, their menu line-up caters to the needs of all of its customers.

Agodashi Kyushu Soy Sauce Motsunabe – ¥1,380 (Before Tax)

Motsunabe is a staple hot pot dish of Hakata. The deep-fried tofu is filled with yuzukoshō―a seasoning made from chili peppers, yuzu peel and salt―for a refreshing kick.

Hakata Chicken Skin Skewers With Sansho Black Pepper – ¥165 Each (Before Tax)

The people of Tokyo will now get to enjoy Hakata NEW COMATSU's most popular menu item: chicken skin skewers, seasoned with soy sauce and sansho black pepper

Dashi Inari Kaiboku (Floor 1F)

Kaiboku is a restaurant located along Watanabedori in the city of Fukuoka. This one too is set to take a spot in Kanto for the first time, serving freshly-made dashi inari sushi.

You can order them for takeout, including sets of 4 (¥1,296) and 8 (¥2,592). Or you can sit at the stylish counter seats and order the set of 2 with miso soup (¥1,296).

Dashi-soaked inari sushi is fluffy and has a completely different texture to Kanto-style inari.

Ferme La Terre Biei (Floor 1F)

This will be the first branch of Ferme La Terre Biei outside Hokkaido. Everyday, the bakery cooks up over 100 different types of bread, with over 30 different types of wheat flour used.

Hokkaido Jersey Milk Loaf – ¥600 (Before Tax)

Made with milk from Jersey cattle, Biei's popular Jersey Milk Loaf has been made even more delicious, and feels extremely soft and fluffy from the moment you take it in your hands.

Hokkaido Butter Croissants – ¥1,000 (Before Tax)

Biei's beautiful and buttery croissants are made over the course of 3 days, resulting in a crunchy texture and a lusciously buttery flavour.

Hokkaido Matured Cheese Bread – ¥450 (Before Tax)

The cheese bread is made with fresh mascarpone cheese and cream cheese, both from Hokkaido. It's also rounded in the shape of a cheese wheel.

Butter Cheese Sandwiches – ¥300 Each (Before Tax)

These butter cheese sandwiches are carefully handmade one by one by Biei's expert bakers. They are layers of thin, crunchy sablé biscuits and cream. They sell them individually and in sets, so they would make as great gifts.

Gino Sorbillo Artista Pizza Napoletana (Floor 1F)

With a history spanning over 80 years, immensely popular pizzeria Gino Sorbillo arrives in Japan for the very first time.

Margherita – ¥1,180 (Before Tax)

The margherita pizza is loaded with organic ingredients, made classically with tomato sauce, oregano, garlic, olive oil and basil. The pizza dough is cooked thin so it's nice and easy to eat.

Minamiaso Tea House (Floor 1F)

Established in the village of Minamiaso in Kumamoto, Minamiaso Tea House is a herbal tea house arriving in Tokyo for the very first time. The cafe creates their own original tea blends made from herbs grown by the cafe themselves and others carefully selected from around the world.

Limited Edition First-Pick Lemongrass (50g) – ¥1,620 (Tax Included)

Their lemongrass is a seasonal exclusive, with each bag made up of only the best first-picks. Once all bags have been sold, it will discontinue, so you'll want to get in there quick! Perfect for tea time, eliminating strong odours from fish when cooking, and many other things.

365 DAYS HERB (180g) – ¥1,944 (Tax Included)

This is one of the shop's most popular products. It uses Rooibos as the base blended with lemongrass, rose hip which is known for its beautifying effects, and peach leaves. It's a flavour that even those not familiar with herbs can enjoy.

ISHIYA (Floor 1F)

Ishiya Co., Ltd., a confectionery maker which is known for its Shiroi Koibito cookies, is setting up its ISHIYA cafe outside Hokkaido for the first time.

Parfait Nihonshu – ¥1,600 (Tax Included)

This parfait is exclusive to the new Nihonbashi branch, made with Japanese sake and cotton candy. It comes with a side of honey and matcha pudding for an amalgamation of flavours.

Saqu LANGUE DE CHAT (12 Included) – From ¥1,296

Packaged in six different flavours, their Language de Chat biscuits are crunchy and melt in your mouth. Their packaging is cute too, making them perfect gifts!

Did you enjoy our picks? There are countless other restaurants and shops to look forward too when COREDO Muromachi Terrace opens its doors on September 27.

Blind taste-winning Taiwanese Bubble Tea Jenjudan Opens In the Young and Trendy Shibuya

On June 14, popular Taiwanese bubble tea shop Jenjudan will open its first shop in Japan. The first shop will be located in the city that is known for capturing the hearts of Tokyo's young and trendy: Shibuya. More specifically, the shop will be located on the MAG 7 Food Floor (7th floor) of  MAGNET by SHIBUYA 109.

Jenjudan stands out for their skilled tea makers and carefully-selected ingredients that are used to make their high quality drinks. One of the main ingredients is 100% natural brown sugar, which is used to soak the tapioca pearls for full flavor. They also use rich Hokkaido milk. The best part is that all ingredients used here are natural and free from additives. Plenty of research went into harnessing the natural sweetness of the black sugar by determining the exact amount of time to soak the tapioca in the sugar syrup in order to extract its maximum flavour. Jenjudan managed to achieve flavourful tapioca where the flavour gradually spreads through your mouth when chewed. The softness and size of the tapioca were also carefully crafted after extensive research.

The first ever overseas branch has been set up in Singapore's famous tourist spot of Shilin Night Market. 

Jenjudan bubble tea was the winner in a blind tasting event conducted by Taiwanese lifestyle and current affairs popular smartphone app Mobile 01, so you absolutely must try it.

Photos: 宏勝商事株式会社

Information

Jenjudan Shibuya MAGNET109

Address: MAGNET by SHIBUYA109 7F (MAG7)

1 Chome-23-10 Jinnan, Shibuya City, Tokyo

Opening hours: 11:00 ー 23:00 (Closed Jan 1, closing days dependent on mall closing times)

TEL:03-6868-8477

Jenjudan Official Twitter: https://twitter.com/jx5p7ojqds0pk2y

Tairaku Tea: Ikebukuro's New Taiwanese Tapioca Sweets Shop

Tairaku Tea is a shop originating in Taiwan that makes homemade tapioca sweets. They opened a new branch in Japan near Naka-ikebukuro Park on April 27.

 

All the tapioca used in the shop is made specially made tapioca flour all directly imported from Taiwan.

This flour is used to make homemade tapioca pearls every morning, meaning they are fresh and irresistibly chewy. While in the shop, there's also a chance to see the pearls being made. The machine filers the flour through and turns it into cute colourful balls♡

The menu is centred around "Brown Sugar Tapioca Milk Tea." You can pick from three different milk teas including Assam, jasmine and houjicha. For the tapioca pearls you can choose brown sugar black pearls or clear honey pearls.

These fresh and delicious drinks are worthily Instagrammable. One sip will have you transported onto the streets of Taiwan―and completely addicted.

Information

Tairaku Cha Ikebukuro Higashi-guchi

Address: Amms Bldg. BF1, 1-15-12 Higashi-Ikebukuro, Toshima Ward, Tokyo
TEL: 03-5953-8929
RELATED ENTRIES
EMOCAL, a Project to Support Japanese Regions, Releases Music Using Local Sound Samples

The EMOCAL project aims to support small-town areas of Japan. As a new initiative in the project, specific soundscapes only found in certain areas of the country have been combined with music to create some unique tracks. A selection of musical artists have collaborated with the project to bring these songs to life!


EMOCAL was created by ZOWA's original label, CatchyStuck. The project supports local regions and communities by using ASMR soundscape videos recorded in each region to convey their particular charms to all of Japan. The sounds recorded in each place are considered to be very valuable and are intended to serve two purposes: to bring tourism back after the pandemic and to provide fans of ASMR a way to experience these areas from afar.



Check out each of these unique ambient tracks created by four up-and-coming musicians! Each song is available on viviON's ASMR platform ZOWA and on Spotify.

Ube, Yamaguchi Prefecture / Ikkyuu x Hige Driver, I Love Ikkyuu

Beard Driver created this ambient track with sounds recorded inside of Ikkyuu, a ramen shop.

ZOWA: https://zowa.app/play/20019
Spotify: https://open.spotify.com/track/1RP4RcpJwMrFzoYQbnfDYm?si=f1f1e816adb14db0


Odawara, Kanagawa Prefecture / Miyuki no Hama x Powerless, Seiren

Powerless created this track, inspired by the sounds of waves crashing at Miyuki no Hama, a seaside recreation area 20 minutes from Odawara Station.

ZOWA: https://zowa.app/play/20016
Spotify: https://open.spotify.com/track/5DkQ9FeM7jQBacUf7Nbuxc?si=c7d771e73ddd44b6

Shizuoka, Shizuoka Prefecture / Wasabi Field x baker, On the silent hill

Utogi in Shizuoka city is surrounded by incredible nature. Known as the birthplace of wasabi cultivation, baker used sounds recorded in the area to create this ambient track.

ZOWA: https://zowa.app/play/20017
Spotify: https://open.spotify.com/track/0oIU4x7MjVKmpouRwEPaXZ?si=04dcb805cea540b7

Ibusuki, Kagoshima Prefecture / Cape Tara x SeA0, Akushu

Cape Tara is a popular spot featuring an 800-meter-long sandbar at low tide. The sounds captured here were used by artist SeA0, and this track is sure to make you miss the water.

ZOWA: https://zowa.app/play/20018
Spotify: https://open.spotify.com/track/1Utz5j0oB4GmSDOMVdUcXU?si=eafa1949b3ea44d0

BT21 Amusement Park Event to Open in Tokyo, Osaka, and Fukuoka

NAMJATOWN, a theme park located in Ikebukuro, Tokyo, will be holding a special BT21 event from May 14 until June 12, 2022! The 'BT21 MerryLand ~Welcome to our Dreamy World!~' event celebrates the popular LINE FRIENDS characters, and guests can enjoy lots of games and treats!



The event recreates MerryLand, an amusement park in the BT21 member's dreams. Guests can participate in three unique mini-games inspired by amusement park attractions, along with a stamp rally and riddle-solving game! Original merchandise and menu items will also be available.

Original Mini-Games

BT21 MerryLand Spinning Ferris Wheel / BT21's  Whirling Teacups ♪ / The Full Stomach Yum-yum Wagon

Mini-Game Prizes

A Prize: Relaxing Cushion (7 varieties)

B Prize: Bandana (7 varieties)


C Prize: Mini Acrylic Stand (7 varieties, random)


D Prize: Character Pin (7 varieties, random)

*The design for A Prize and B Prize will differ depending on the mini-game.
(Guests can choose the design for each game.)
*For C Prize and D Prize, the design is the same for all mini-games.

Venue Exclusive Project! Rally Game

Rally Game Prizes

Participation Prize: Mascot Rubber Charm (7 varieties, random)
*Prizes are the same for each Rally Game.

Original Merchandise

Original Food & Drinks

Soft Drink with Acrylic Coaster / Fortune Latte (14 varieties) / Icing Cookie (7 varieties)


Those unable to attend the event can head to the Namco Parks Online Store to play some web-based mini-games offering the same prizes! Certain pieces of merchandise will also be available for purchase online.

Following Tokyo, the event will head to HEP FIVE in Osaka from July 2 until July 24 and Canal City Hakata in Fukuoka from August 5 until August 28.

©Bandai Namco Amusement Inc.

Information

BT21 MerryLand

Tokyo Event
Venue: NAMJATOWN
Address: Sunshine City World Import Part Building 2F/3F (3-1-3 Higashi-Ikebukuro, Toshima-ku, Tokyo)
Running: May 14 – June 12

Osaka Event
Venue: Hugood! from NAMJATOWN
Address: HEP FIVE 9F (5-15 Kakudacho, Kita-ku, Osaka)
Running: July 2 – July 24, 2022

Fukuoka Event
Venue: Namco Canal City Hakata
Address: Canal City Hakata South Building B1F (1-2-74 Sumiyoshi, Hakata-ku, Fukuoka)
Running: August 5 – August 28, 2022

Online Sales / Online Lottery Wheel

 https://parks2.bandainamco-am.co.jp/ 
Sales Period: May 16, 11:00 – June 13, 23:59

Official Site: https://event.bandainamco-am.co.jp/cx/bt21-merryland/ 

Special Shop to Open in Tokyo and Kanagawa to Celebrate the Release of Dragon Ball Super: Super Hero

A special pop-up store celebrating the upcoming Dragon Ball Super: Super Hero film is coming to four locations in Tokyo and Kanagawa! The film is scheduled to be released on June 11, 2022, and fans can pick up some exclusive merchandise at Shinjuku Station, Kawasaki Station, Ikebukuro Station, and Akihabara Station. The dates are listed below!

Exclusive Products

Special Bonus

Product Lineup

Shop Displays

The pop-up shop will feature exclusive items decorated with popular imagery from the Dragon Ball series. Fans will also be able to grab some home goods themed around the Capsule House where Bulma lives!

As a purchase bonus, customers spending ¥2,500 or more will receive a special holographic sticker!

Each venue will be decorated, so enjoy taking some photos with your family and friends.

Information

DRAGON BALL POP-UP STORE BY FLOWERING

Locations/Dates: 

Shinjuku Station / April 25 – May 8

Kawasaki Station / May 17 – May 24

Ikebukuro Station / June 1 – June 9

Akihabara Station / June 14 – June 23

Official Site: https://www.jr-cross.co.jp/

Kyary Pamyu Pamyu Collaborates with 153-year-old Kimuraya Bakery for LOCAL POWER JAPAN Project

Last month, Kyary Pamyu Pamyu performed on the Gobi Stage at Coachella, one of the largest music festivals in the United States. Her Weekend 1 performance was streamed live worldwide and trended on Twitter in both the U.S. and Japan. After an accident during the second weekend left the singer alone on stage, many wondered if she could pull of a dazzling performance. Kyary's joy and excitement completely transfixed the massive crowd, and the artist has drawn praise from around the world for her talent and passion.

Kyary has returned to Japan to continue her 'Kyary Pamyu Pamyu 10th ANNIVERSARY JAPAN TOUR 2022 CANDY WAVE,' seeing the singer performing 30 shows across Japan. On May 7, she'll perform at LINE CUBE SHIBUYA in Tokyo.

In conjunction with the nationwide tour, the LOCAL POWER JAPAN Project was launched to energize Japan through the appeal of regional towns and cities and has been attracting major attention. To celebrate the Tokyo leg of the tour, a new Tokyo collab has been announced!

Kyary is teaming up with Kimuraya Sohonten, a bakery that has been in business for over 150 years. The brand is known for inventing the anpan sweet bun in 1874. Given how much this simple food has influenced Japanese culture, it seems appropriate to team up with Kyary–the singer has brought Japanese influence around the world and continues to inspire fans with her creativity and sweetness. 

For the collaboration, fans will be able to purchase the aptly-named 'Ninjari Anpan,' based on Kyary's hit song Ninjari Bang Bang released in 2013. The limited-edition set includes five different flavors of anpan and shows Kyary in her ninja attire on the box. Concertgoers can purchase these sweets at the show on May 7, and they will also be available at select Kimuraya stores and online.

A collaborative T-shirt is also on sale featuring the new logo and the singer's 10th-anniversary logo. The shirt is available on the LOCAL POWER JAPAN Project website for two weeks only. Support Japanese businesses and pick one up while you can!

BTS Characters 'TinyTAN' to Appear at Cafes in Tokyo, Yokohama, Osaka, Nagoya, and Miyagi

The popular BTS chibi characters TinyTAN will be featured at TinyTAN Cafe locations in five cities for a limited time! Nine locations will be open across Tokyo, Yokohama, Osaka, Nagoya, and Miyagi starting April 21, 2022.

The TinyTAN characters were designed by the seven members of BTS to embody their "second selves."

Select Cakes: ¥990

Fruits Deco Style: Strawberry, Fruits Deco Style: Mango, Fruits Deco Style: White Grape: ¥1,760


The menu is packed with desserts, including seven different types of cakes each inspired by a member of TinyTAN.

American Sundae Style Chocolate Cookie, American Sundae Style Caramel Nuts, American Sundae Style Pistachio Honey: ¥1,870

Afternoon Style Tea: ¥3,190

The Afternoon Style Tea includes a base plate that can be customized with guest's favorite fruits and chocolates. Two types of TinyTAN Select Cakes will also be included to share!

Ham (2 types) & Scrambled Egg Peanut Butter Sandwich: ¥1,760

Cafe Style Drink & Cake Set *Prices vary based on drink selection.

Guests can choose from colorful bagel sandwiches, pancakes, and open sandwiches, along with a selection of sweet drinks to match each meal.

Bonuses

Acrylic Stand (7 varieties, random): ¥1,320

Sticky Note Roll: ¥880, Acrylic Nameplate (7 varieties): ¥990 each


Original cafe merchandise and special offers will make visiting the TinyTAN Cafe even more exciting!

© BIGHIT MUSIC. All Rights Reserved

Information

TinyTAN CAFE

Tokyo, Omotesando: BOX cafe&space Omotesando

April 21 – June 5, 2022

Pine Under Flat B1F (5-13-2 Jingumae, Shibuya-ku, Tokyo)

Tokyo, Shinjuku: BOX cafe&space Lumine EST Shinjuku

April 28 – July 3, 2022

Lumine EST Shinjuku B1F (3-38-1 Shinjuku, Shinjuku-ku, Tokyo)

Tokyo, Harajuku: BOX cafe&space Harajuku Alta

April 21 – June 5, 2022

Harajuku Alta 3F (1-16-4 Jingumae, Shibuya-ku, Tokyo)

Tokyo, Omotesando: BOX cafe&space Omotesando Hills

April 21 – June 26, 2022

Main Building, B3F (4-12-10 Jingumae, Shibuya-ku, Tokyo)

Kanagawa, Yokohama: Collabo_Index Lumine Yokohama

April 22 – June 19, 2022

Lumine Yokohama 6F (2-16-1 Takashima, Nishi-ku, Yokohama)

Aichi, Nagoya: BOX cafe&space Nagoya LACHIC #1

April 28 – June 5, 2022

LACHIC B1F (3-6-1 Sakae, Naka-ku, Nagoya)

Osaka, Umeda: BOX cafe&space HEP FIVE

April 28 – June 5, 2022

HEP FIVE 7F (5-15 Kakudacho, Kita-ku, Osaka)

Osaka, Shinsaibashi: Shinsaibashi contact

April 29 – July 3, 2022

1-6-24 Kitahorie, Nishi-ku, Osaka

Miyagi, Rifu: BALLER:S

April 27 – June 26, 2022

AEON MALL Shin-Rifu South Building 2F (3-1-1 Shinnakamichi, Rifu, Miyagi)

Reservations Open

Reservation Fee: ¥660 (Includes Bonus)

TinyTAN CAFE Official Site: https://tinytan-cafe.jp/

Tasty Half-Moon Sandwiches Coming in Second Doraemon Tokyo Banana Collaboration

Doraemon Tokyo Banana Half-Moon Sandwiches are coming on April 1, 2022! These tasty snacks come in a pack of eight and are sure to make the perfect gift.

This release of Doraemon Tokyo Banana is celebrating the 30th anniversary of the Tokyo Banana brand and the 50th anniversary of Doraemon. Why not enjoy your daily snack time with these cute treats?

Each sandwich is filled with chocolate-banana cream with the dough baked into a crispy, savory crust with a winking Doraemon on both sides.

©Fujiko-Pro,Shogakukan,TV-Asahi,Shin-ei,and ADK ※画像はイメージです

History of OSAMU GOODS to be on Display in 'OSAMU GOODS 45th Anniversary Exhibition'

Palette Club, a school for illustrators located in Tsukiji, will be holding a 45th Anniversary exhibition for OSAMU GOODS! The characters were created in 1976 by Osamu Harada, who is from Tsukiji, and Dusty Miller. Items featuring these adorable characters are still incredibly popular to this day.

Exclusive Merchandise

Rare original drawings, prints, and goods from the 1970s to the 1990s, as well as Dusty Miller store bags and fan club newsletters, will be on display during the event. Those more nostalgic about these characters and those new to them will both find something to enjoy!

Information

OSAMU GOODS 45th Anniversary Exhibition

Running: April 12 – May 22, 2022

Hours: 13:00-19:00 (Last Entry at 18:30)
*Closed Mondays
Admission: Free

Venue: Palette Club School (4-11-10 Tsukiji, Chuo-ku, Tokyo)

Information: https://www.osamugoods.com/

NAKED Collaborates with Uta no Prince-sama Game for Special Art Installation

Creative company NAKED is bringing the world of Uta no Prince-sama to life! From April 16 until April 24, fans will want to come to Ikebukuro Sunshine Plaza to see MAJI LOVE KINGDOM MEMORIES, a sensory photo booth decorated with floral art.

The first Uta no Prince-sama game was released in 2010, with an anime series following in 2011. In 2019, the first Uta no Prince-sama film, Maji LOVE Kingdom, was released.

NAKED's project mapping and digital art are being used to create unique photo booths where guests can take pictures with their favorite idols as seen in the 2019 film.

Each photo booth was created using a variety of techniques, combining video, sound, scent, and even wind. The flowers included in each booth were inspired by the flowers that members of ST☆RISH, QUARTET NIGHT, and HE★VENS wear on their chests. How often do you get to experience a 3D photo booth with your favorite fictional boys?

Guests can also enjoy a unique AR experience at the venue by using NAKED INC PLAY!

©︎UTA☆PRI-MOVIE PROJECT

Information

Uta no Prince-sama on Stage: MAJI LOVE KINGDOM MEMORIES

Location: Ikebukuro Sunshine City World Import Building 4F Event Hall A

Running: April 16 – April 24, 2022
Hours: 10:00-20:00 (Last admission 60 minutes prior to closing)
*Open 10:00-17:00 on April 24

Official Site: https://ml-kingdom-memories.com/

Kyo Hayashiya and Hayashiya Shinbei Offering Special Parfaits Perfect for Spring

Hibiya Hayashiya Shinbei in Tokyo Midtown Hibiya is now offering a scrumptious Strawberry Matcha Parfait until April 24, 2022! If that's not up your alley, four Kyo Hayashiya locations in Shinjuku, Omiya, Yokohama, and Ikebukuro will begin offering a Matcha and Berry Mascarpone Parfait from April 1 until May 8, 2022. 

Strawberry Matcha Parfait


The Strawberry Matcha Parfait is an eye-catching mix of green and pink, reminiscent of cherry blossoms and bright green grass. Green tea blends with rose jelly and lychee sorbet, offering a refreshing taste with a hint of bitterness. The sweet accent of crunchy chocolate feuillantine gives each bite a little kick.

Matcha and Berry Mascarpone Parfait


The Matcha and Berry Mascarpone Parfait mixes the deep, bitter taste of Uji matcha, the sweet and sour taste of berries, and the gentle sweetness of mascarpone cream. The berry sauce is blended with crunchy chocolate feuillantine, a layer of whipped cream, green tea jelly, green tea ice cream, and milk panna cotta. To finish, it's garnished with refreshing raspberry sorbet, bittersweet matcha ice cream, and fresh strawberries.

Information

Strawberry Matcha Parfait

Price: ¥1,650 (Tax Included) / with Tea: ¥2,090 (Tax Included)

Available: March 18 – April 24, 2022

Available at Hibiya Hayashiya Shinbei (Tokyo Midtown Hibiya 2F)

Matcha and Berry Mascarpone Parfait

Price: ¥1,430 (Tax Included) / with Tea: ¥1,870 (Tax Included)

Available: April 1 – May 8, 2022

*Available until April 30 at the SOGO Yokohama location.

Available at the following 4 Kyo Hayashiya locations. 

・Takashimaya Times Square (Shinjuku Takashimaya Times Square Main Building 2F)

・Seibu Ikebukuro (Seibu Ikebukuro Main Building 8F)

・SOGO Omiya (SOGO Omiya Main Building 9F) 

・SOGO Yokohama (SOGO Yokohama 10F)

Hotel New Otani Tokyo to Hold Fourth Collaboration with Paul & Joe

From April 1 until June 30, 2022, Hotel New Otani Tokyo will hold its fourth collaboration with the Paris-born fashion brand Paul & Joe! One specially designed room will be available per day. The brand is extremely popular with women in their 20s and 30s, and those wanting to reserve a room will want to act quickly, as the previous collab room was booked up almost immediately!

The pink and ivory interior is dotted with chrysanthemums and images of Gipsy and Nounette, the iconic cats of brand designer Sophie. Everything from the couch cushions to the hairbrush is completely inspired by Paul & Joe.

Items Only Available in the Paul & Joe Room


4th Collaboration Cosmetics

Limited Edition Pajama and Slipper Set with Room Plan

The fourth cosmetic collection has been sourced from the Les Vacances series, a collection made to take on summer vacation. The lineup includes a body primer sunscreen made to moisturize and protect and an 'After Sun Oil' with a floral citrus scent perfect for use after outdoor lounging.

A special Les Vacances-themed spa bag will also be available for guests to take home. Enjoy taking it to the pool, to the spa, or simply while taking a stroll around the hotel. 

Guests can also take home a sample of the brand's Protecting Foundation Primer, a makeup base that has taken home a number of Best Cosmetics Awards. Selected skincare samples, such as lotions and oils, will also be included in the room package. 

One of the collaboration plans will also allow guests to take home an exclusive pair of pajamas and slippers decorated with an adorable cat design. 

*Guests cannot choose the pajama color or slipper pattern.
*The design of pajamas and slippers is subject to change without notice.

Cherry Blossom Menu Appears at Cafe Accueil Ebisu for a Limited Time

Cafe Accueil Ebisu is currently offering a limited Sakura-themed menu featuring pancakes, afternoon tea, and drinks until April 10, 2022.

Sakura & Strawberry Pancakes

Sakura Afternoon Tea

Special Latte with Cherry Blossoms

The seasonal menu includes Sakura & Strawberry Pancakes with pale pink and strawberry red accents, and savory items such as a croissant with cherry cheese cream. Guests can also enjoy Sakura Afternoon Tea, a colorful 12-item menu featuring cherry and strawberry delights. Come enjoy the coming of spring at this gorgeous Tokyo cafe!

Information

Cafe Accueil Ebisu Sakura Season Special Menu

Available until April 10, 2022

Address: 2-10-10 Ebisunishi, Shibuya-ku, Tokyo

Hours: 11:00-22:00 (Last Order at 21:00)

Official Site: http://accueil.co.jp/ebisu/

ALL TIME BEST Ai Yazawa Exhibition Reveals Key Visual

Ahead of the opening of the ALL TIME BEST Ai Yazawa Exhibition, a key visual drawn by the manga artist herself has been unveiled. The exhibition will begin in Tokyo before traveling to Osaka and Yokohama. 

Yazawa's most popular manga series include Tenshi Nanka Ja Nai, Neighborhood Story, Paradise Kiss, and Nana. This exhibition will serve as a 'best-of album' for her many beloved works. 

The Ai Yazawa ALL TIME BEST Exhibition will feature over 100 original drawings and illustrations, as well as never-before-seen materials from the production of Yazawa's many manga series and anime adaptations. 

The key visual features Nana Osaki from the NANA series and Akira Sudou from Tenshi Nanka Ja Nai. Yazawa's works are filled with love, dreams, and fashion, so come experience her works in a whole new way.

🄫矢沢あい/集英社 🄫矢沢漫画制作所/集英社 🄫矢沢漫画制作所/祥伝社

Information

ALL TIME BEST Ai Yazawa Exhibition

Dates/Locations/Hours:

■Tokyo Exhibition

July 20 – August 8, 2022

Shinjuku Takashimaya 11F Event Space

10:00-19:00 (Closes at 17:30 on August 8)

 ■Osaka Exhibition

August 24 – September 12, 2022

Osaka Takashimaya 7F Grand Hall

10:30-18:30 (Closes at 16:30 on September 12)

■Yokohama Exhibition

September 21 – October 10, 2022
Yokohama Takashimaya Gallery 8F
10:30-18:30 (Closes at 16:30 on October 10)

Details: https://www.takashimaya.co.jp/store/special/yazawaai_ten/index.html