Netflix Anime Series 'Beastars' Promotional Event to Take Place at Tobu Zoo in Saitama
Tobu Zoo is set to collaborate with the upcoming drama anime series Beastars from November 2 to December 29.
Beastars is a manga series written and illustrated by Paru Itagaki. It is serialised in Weekly Shōnen Champion which is celebrating its 50th anniversary this year.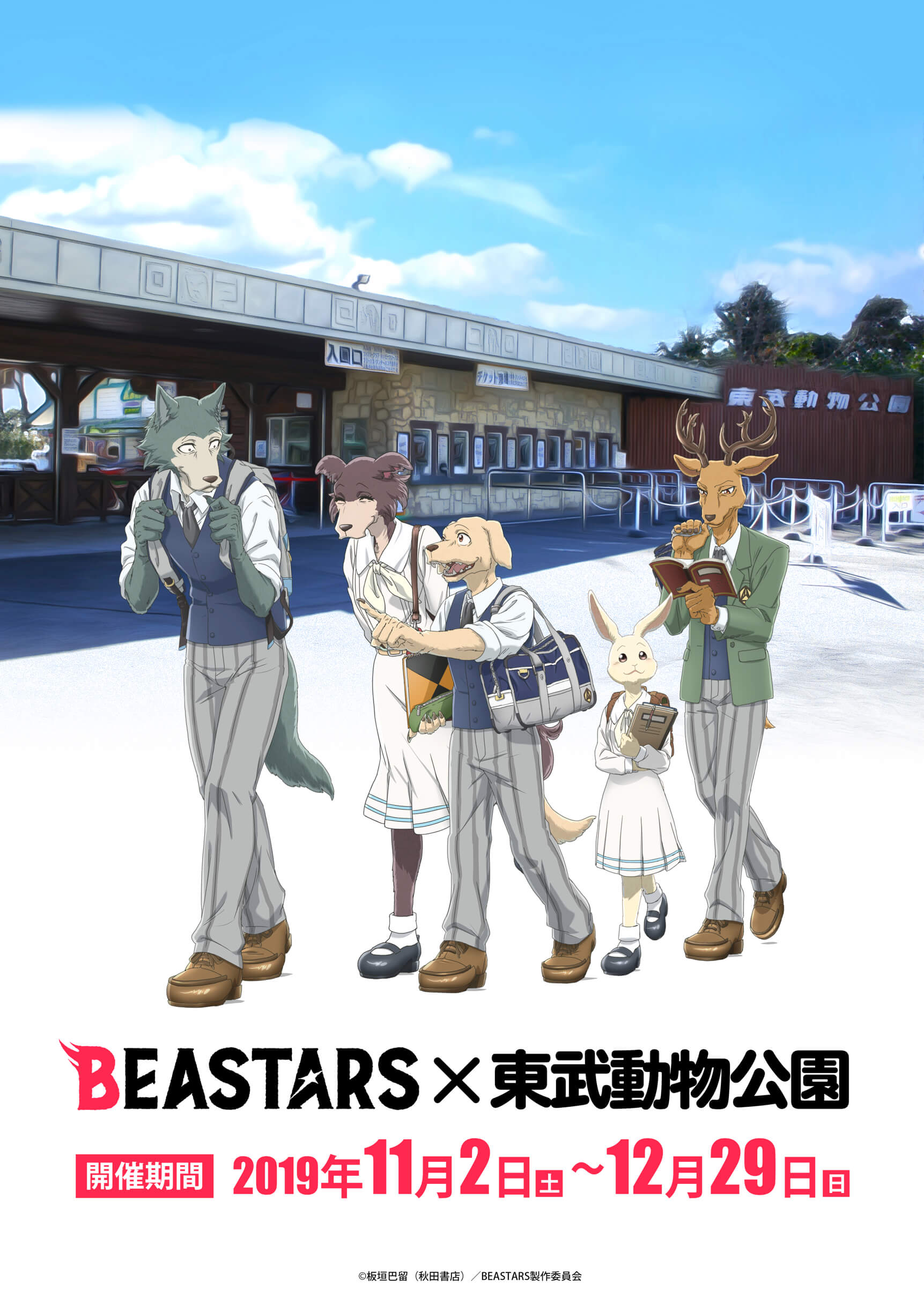 Beastars is set in a world of herbivores and carnivores. The story follows Legoshi, a quiet and gentle grey wolf and student at Cherryton Academy. His world is turned upside down when one of his fellow students is brutally murdered.
The collaboration event will see Tobu Zoo decorated with illustrations drawn specifically for the event. There will also be exclusive and original merchandise on sale, as well as themed food and more.
Beastars will premiere in Japan on Fuji TV's +Ultra programming block on October 9. It will also be streamed exclusively on Netflix.
©板垣巴留(秋田書店)/BEASTARS制作委員会
Information
BEASTARS
Release Date: October 9, 2019 on Fuji TV +Ultra
*To be released on Netflix on October 8, 2019 (Japan pre-release; overseas release date TBC)
Official Website: https://bst-anime.com/
Tobu Zoo
Address: 110 Suka, Miyashiro, Minamisaitama-gun, Saitama Prefecture
Official Website: http://www.tobuzoo.com/
RELATED ENTRIES
Gudetama Netflix Series Announced, Teaser Trailer Released

One of Sanrio's most popular characters, the lazy egg Gudetama, is coming to Netflix in a new CG live-action hybrid series! Gudetama: An Eggcellent Adventure will air on the streaming service worldwide later in 2022. 

Gudetama was created following Sanrio's Edible Character General Election, a project to brainstorm new food-themed characters held in 2013. The character came in second place, and from 2014 to 2020, Gudetama appeared in a number of animated shorts airing both on television and online. With over a million Twitter followers, you'd think he'd be a little more excited–but he's the same unmotivated egg as ever. 

 

The new series will follow Gudetama as he finally leaves the safety of the refrigerator to explore the world with his newfound friend Shakipiyo to find their mother. Shakipiyo is a go-getting chick, and these polar opposites might not find the journey to be an easy one. 


The teaser shows Gudetama in his typical stupor, and it's unclear exactly what hilarity the series is going to bring. Tune in later this year to find out!

©️ 2022 SANRIO CO., LTD. S/D・G  著作:㈱サンリオ

Netflix Reveals One Piece Live-Action Series Set Details and Concept Art

During the Netflix Geeked Week livestream, more details about the Hollywood live-action One Piece adaptation were revealed to a sea of anxious fans.

Along with six new cast members, fans caught a glimpse of the fantastic sets being used for the series and a greeting from the showrunners Steven Maeda and Matt Owens, along with the actor playing Luffy, Iñaki Godoy.


The new cast members include Alexander Maniatis as Klahadore, Steven Ward as Mihawk, Craig Fairbrass as Chef Zeff, Langley Kirkwood as Captain Morgan, Celeste Loots as Kaya, and Chioma Umeala as Nojiko.

 

A One Piece live-action project had been discussed before, finally coming to fruition after original creator Eiichiro Oda and other members of Shonen Jump staff were convinced that it could be done well. As announced by a number of cast members on social media, the project began filming recently in South Africa.

Behind-the-Scenes Time-lapse Footage

"We get to go to work every day and walk on these massive sets and see these characters come to life," Maeda said. 

"Oda's world is so unique. Seeing all of this stuff in person, being able to reach out and touch it, has just been such an experience," Owens continued.

Eiichiro Oda's manga series has become one of the best-selling manga series in history. Originally published in Weekly Shonen Jump in 1997, the series recently celebrated its 100th volume and will celebrate 1,000 anime episodes in the coming weeks. With over 490 million copies in circulation, Luffy's adventure is beloved by manga fans around the world.

On August 6, the newest One Piece film, ONE PIECE FILM RED, will be released in theaters in Japan.

This live-action adaptation is highly-anticipated by longtime fans around the world. Stay tuned for more news to come!


Netflixシリーズ「ONE PIECE」全世界独占配信
©尾田栄一郎/集英社

'Oni: The Thunder Gods Tale,' an Animated Netflix Series Inspired by Japanese Folklore, to Stream Worldwide

Oni: The Thunder Gods Tale, a new stop-motion-inspired animated series, will premiere on Netflix worldwide!

The series will be directed by Daisuke Tsutsumi, who co-directed the 2014 Academy-Award nominated short film The Dam Keeper. Animation studio Tonko House, founded in 2014 by former Pixar art directors Tsutsumi and Robert Kondo, is producing the show. Writer Mari Okada, known for Anohana and The Anthem of the Heart, is also on board.

The first trailer for the 4-episode series has been revealed ahead of its release. Set in a world filled with strange gods and monsters inspired by traditional Japanese mythology, viewers will enter the world of a brave girl named Onari fighting to protect her peaceful village.

 

Onari is determined to follow in the footsteps of the mighty heroes of lore, but her unique powers are yet to be revealed and her father won't teach her a thing. Does she have what it takes to fight to protect her peaceful village from the encroaching threat of the gods' mysterious enemies, the Oni?

The impressive teaser trailer shows off an encounter with the mysterious enemy. Those familiar with Japanese folklore will recognize the tengu, kappa, and dharma running through the mountains.

 

Oni: The Thunder Gods Tale Trailer #1


Tsutsumi is incredibly proud of the new work. "The story of this girl living between two worlds began as a story inspired by my own life. As production progressed, however, many of the staff members began sharing their own personal stories and passion for this story."


The cast includes Momona Tamada, Archie Yates, Craig Robinson, Tantoo Cardinal, Brittany Ishibashi, Omar Miller, Anna Akana, Charlet Takahashi Chung, Yuki Matsuzaki, Seth Carr, Robert Kondo, and George Takei. Miyuki Sawashiro, known for her work as Kurapika in HUNTERxHUNTER and Daki in Demon Slayer: Kimetsu no Yaiba, will also star in the series.

"This series features my absolute dream cast," said Tsutsumi. "All of these incredible talents accepted our proposal with such passion and empathy for the story and collaborating with them has been equally humbling and inspiring. They've given souls to our characters and unparalleled performances for our animators."

Netflixシリーズ「ONI:神々山のオナリ」全世界独占配信

Ryusenji Temple Offering Gorgeous Paper-Cut Summer Goshuin Shrine Seals with a Wish for Peace

Ryusenji Temple in Saitama is offering some exclusive summer goshuin! Goshuin are stamps or seals given to worshippers at shrines and temples around Japan, where somebody will stamp your goshuin-cho (stamp book) with the site's unique seal along with the temple's name and the day you visited handwritten in ink.

The two new goshuin feature summer fireworks and a cooling fan design. These will be available from June 1 until August. They might sell out, though, so be quick!

Summer Exclusive Paper-Cut Overlaid Goshuin: Fireworks and a Wish for Peace


The Fireworks and a Wish for Peace goshuin use five kinds of paper to depict fireworks in the summer night sky.


Fireworks are a popular summer tradition in Japan. It's said that fireworks were born following the discovery of gunpowder and its use in guns when some decided to use the substance to make something beautiful rather than use it as a weapon. 


Because of this, many see fireworks as a symbol of peace. The current war between Russia and Ukraine has seen gunpowder used as a horrific weapon used to end the lives of many innocent people, and this special goshuin was made in the hopes that the war will come to an end as soon as possible. Gunpowder should be used in fireworks to bring people happiness instead.

Summer Exclusive Paper-Cut Overlaid Goshuin: Refreshing Good Luck Charm

The Refreshing Good Luck Charm shows a traditional Japanese summer scene with a fan and goldfish swimming in clear blue water.

Fans are used by many Japanese to keep cool during the summer months, and some are even said to have the power to ward off illness and evil spirits. Goldfish are often seen during summer festivals, where visitors try to scoop them up using an easily-breakable net in a fun game with family and friends.

 

Goldfish became popular during the Edo period and were considered to be lucky creatures capable of bringing happiness into one's home and bringing financial fortune. 

If you're heading to Saitama, why not add these intricate goshuin to your book?

Ghost in the Shell: SAC_2045 Season 2 Trailer Released

The second season of Ghost in the Shell: SAC_2045 is set to premiere exclusively on Netflix worldwide on May 23, 2022. Directed by Kenji Kamiyama, the creator of Ghost in the Shell: Stand Alone Complex, and Shinji Aramaki, the director of the APPLESEED series, fans of sci-fi can't get enough. When sustainable war spawns a "post-human" threat, Major Kusanagi and her Section 9 team are called back into action.


For those wanting a recap of the first season, Ghost In The Shell: SAC_2045 Sustainable War has condensed these events into one easy-to-digest film. The blend of flashy cyberpunk action and the unpredictable story sets high expectations for an epic battle between Public Security Section 9 and the post-humans. Season 2 is sure to be a blast.

The first Ghost in the Shell series to be made entirely in 3D, SAC_2045 offers longtime fans a chance to see their favorite characters and locales in a new way. Check out the trailer below!

Trailer: 
https://youtu.be/IhxcBg4xAk4

Season 2 is sure to be a roller coaster, so check in when it releases next week!

©士郎正宗・Production I.G/講談社・攻殻機動隊2045製作委員会

Information

Ghost in the Shell: SAC_2045 Season 2 on Netflix

Streaming worldwide on May 23, 2022

Anime Film 'Bubble' Gets Online Exhibition at Anique for a Limited Time

Anique has opened an online exhibition to celebrate the release of the animated film Bubble until June 30, 2022! The event is also offering limited-edition merchandise.

Merchandise Lineup

Acrylic Stand Diorama

Pin Set

Postcard Set

Clear Folder

Mug

Purchase Bonus: Round Stickers

The exhibition will serve as a deep dive into the world of Bubble, focusing on four categories: story, worldview, characters, and artwork.

 

Guests can enjoy browsing images from the film, and can also see valuable creation materials like storyboards and original sketches.

 

Jun Shison, who voices Hibiki in the film, contributed comments to the exhibition, along with director Tetsuro Araki.

 

Merchandise is also available to buy now! These items can only be found at this exhibition, so order while you can.

 

Have you watched Bubble on Netflix yet?

©2022「バブル」製作委員会

'Shirokuma Cafe' Collaboration at EJ Anime Hotel Extended

Since January 2022, EJ Anime Hotel, an experimental hotel offering rooms in collaboration with various works of anime, comics, and games, has offered a Shirokuma Cafe room at participating Hotel Monterey locations around Japan. The collab is to celebrate the anime series' 10th anniversary and is also available at Kurumayama Kogen Skypark Hotel in Nagano Prefecture. Due to popularity, the room will be available to book until May 31, 2022. This is the first collaboration room produced by EJ Anime Hotel to be developed for a resort hotel.

Guest Room (Hotel Monterey Sapporo)

Exclusive Take-home Goods – Shironuma Cafe Luncheon Towel

Original Picnic Basket Dinner (Hotel Monterey Only)

Bonus: Original Pin

In the collaboration room, guests can enjoy newly-drawn character panels, special voiceover messages for guests only, and collaboration goods that they can be taken home. Hotel Monterey locations will offer an optional picnic-themed dinner that can be brought to the room!

During the collaboration period, Hotel Monterey Ginza, Hotel Monterey Osaka, and Hotel Monterey La Soeur Osaka will be holding a giveaway event to celebrate the 10th-anniversary of Shirokuma Cafe, so don't miss it!

©ヒガアロハ/しろくまカフェ製作委員会 2012
*Actual products may differ from the above images.


Information

Shorokuma Cafe Collaboration Room produced by EJ Anime Hotel

Participating Hotels:

・Hotel Monterey

Hotel Monterey Sapporo / Sendai / Ginza / Osaka / Kobe
Hotel Monterey La Soeur Osaka / Hotel Monte Hermana Fukuoka

・Kurumayama Kogen Skypark Hotel

Available: April 1 – May 31, 2022

Reservations: 

Hotel Monterey
https://www.hotelmonterey.co.jp/stay/shirokumacafe/
Kurumayama Kogen Skypark Hotel
https://hotel.kurumayama-skypark.com/

Anime Series 'Fushigi Dagashiya Zenitendo' Inspires New Attraction at Seibuen Amusement Park

Seibuen Amusement Park in Saitama Prefecture is ready to open an attraction based on the popular anime and novel series Fushigi Dagashiya Zenitendo! The incredible experience will open on April 27, 2022. 

Fushigi Dagashiya Zenitendo is a children's novel series written by Reiko Hiroshima and illustrated by Jyajya. With 16 volumes currently in circulation, an anime series was adapted by Toei Animation in 2020. The story centers on the mysterious candy shop Zenitendo, which only lucky people can find. The shop's owner is an old woman named Beniko who can recommend the perfect candy for each person's troubles. But things might turn out as hoped if people eat the sweets in the wrong way…whether Beniko's sweets bring fortune or misfortune is up to the people who receive them. 

Guests visiting the park will be able to visit Zenitendo, which is located somewhere on Sunset Hill Shopping Street–but the exact location will not be revealed. Only lucky guests will be able to find its location, but once you do, it will feel as though you've been transported into the story!

Beniko will be handing out mysterious candy that has never appeared at the park before, so don't miss out on this unique experience!

Mysterious Candy 'Possibly Lucky Cookie'

Baku Baku Wafer / Dou-dou Donut

Along with this new attraction, visitors will be able to experience Zenitendo in plenty of other ways! Plenty of merchandise inspired by the series will be on sale, including apparel and sweets.

*The attraction is currently under development. The final product may differ from the above images.

Information

Fushigi Dagashiya Zenitendo: The Real

Opening Date: April 27, 2022

Location: Seibuen Amusement Park, Sunset Hill Shopping Street
Ride Admission: ¥110
*A separate one-day admission ticket is required to enter the amusement park.

Where to Buy: Online, on-site ticket booth

Official Site: https://www.seibu-leisure.co.jp/

Hypnosis Mic -Division Rap Battle- Event Heads to Nagoya and Osaka after Successful Tokyo Run

In 2021, the Hypnosis Mic -Division Rap Battle- Hypnosis Flava event was held at Mixalive Tokyo, attracting tons of attention and making fans of the franchise extremely happy. Now, the event will travel to Nagoya and Osaka!

Hypnosis Flava -The Missing Case-

CAFÉ  Hypnosis Flava

Food

Hypnosis Flava 〜 Rap Roll Buster Bros!!! (Curry-flavored Chicken)/ MAD TRIGGER CREW(Meatball)/Fling Posse(Meat Tacos)/Matenrou(Grilled Salmon)/Dotsuitare Hompo(Yakisoba with Mayo)/Bad Ass Temple (Miso Katsu)

Dessert

Hypnosis Flava -Division Rap Battle-
Hypnosis Flava 〜 Mille Crepe Buster Bros!!! / MAD TRIGGER CREW / Fling Posse /Matenrou / Dotsuitare Hompo /Bad Ass Temple〜

Drink

Hypnosis Mic -Division Rap Battle-
Hypnosis Flava ~ Jelly Soda Drink Buster Bros!!! / MAD TRIGGER CREW / Fling Posse/ Matenrou / Dotsuitare Hompo /Bad Ass Temple

Menu Order Bonus

Coaster (36 varieties)

Cafe Merchandise Corner

Sticker Set /Clear Photo Card/Square Pin Hypnosis Flava Ver.2(6 varieties) / Acrylic Block Keychain Hypnosis Flava Ver. (18 varieties) / Candy and Magnet, Hypnosis Flava Ver. (6 varieties) / Handkerchief Hypnosis Flava Ver. (1 variety)

Store

2nd D.R.B Winner: Commemorative Acrylic Smartphone Stand (Fling Posse) / Acrylic Panel (Division Leaders) /2nd D.R.B Postcard Collection

T-Shirt /Hoodie Hypnosis Flava Ver.

The event contains three events: Hypnosis Flava -The Missing Case-, an interactive riddle-solving attraction that challenges guests to solve a mission to find the missing Division team leader, Cafe Hypnosis Flava, offering food and drinks inspired by the world of Hypnosis Mic, and Store Hypnosis Flava, a shop selling exclusive merchandise featuring newly-drawn illustrations. A merchandise corner will be set up at the cafe, where six new items will be on sale to commemorate the Nagoya and Osaka events.

©︎ヒプノシスマイク-Division Rap Battle- HypnosisFlava@Mixalive TOKYO製作委員会

Information

Hypnosis Mic -Division Rap Battle- Hypnosis Flava @ Mixalive TOKYO in NAGOYA & OSAKA

●Nagoya Event
The Missing Case

Running: April 28 – May 22, 2022 (11:00-20:00)

Venue: Nagoya PARCO South Building 9F Event Space


Cafe

Running: April 28 – June 6, 2022 (11:00-20:00) *Last food order 19:00 / Last drink order 19:30

Address: Nagoya PARCO South Building 8F THE GUEST cafe&diner

Store

Running: April 28 – May 22 (11:00-20:00)

Address: Nagoya PARCO South Building 9F Event Space

●Osaka Event
The Missing Case

Running: July 1 – July 31, 2022

Venue: Shinsaibashi Opa Main Building 6F Event Space

Admission: ¥2,100 (Tax Included)

Cafe

Running: July 1 – August 7, 2022

Venue: Shinsaibashi PARCO 6F THE GUEST cafe&diner

Reservation Deposit: ¥300 (Tax Included)


Store
Running: July 1 – July 31, 2022

Venue: Shinsaibashi Opa Main Building 6F Event Space

Admission: Free

Tickets/Official Site: https://art.parco.jp


Netflix Series 'Stranger Things' Inspires New Collection by PLAZA

PLAZA stores and MINiPLA stores nationwide will begin selling T-shirts and hats inspired by the globally popular Netflix series 'Stranger Things' starting April 8, 2022.

Fans have wanted to see this collaboration since 'Stranger Things' first premiered in 2016. The apparel lineup includes nine unique T-shirts and four hats to accentuate your spring wardrobe.

Lineup

 

The project was inspired by Starcourt Mall, a key location in the third season of the Netflix series. The colorful 80's shopping mall atmosphere comes through in this pop-art collection which also blends in PLAZA's signature cute style. 

 

The T-shirts include designs using photos from scenes in the show to simple logo shorts that are sure to be a staple in your spring outfit rotation! Quantities are limited, so don't miss out!

 

Rilakkuma & Sumikko Gurashi Festival to Open at Tokorozawa Sakura Town in Saitama

Popular Rilakkuma and Sumikko Gurashi characters will be taking over Tokorozawa Sakura Town in Saitama from April 16 until May 22 during the Rilakkuma & Sumikko Gurashi Festival! Guests will be greeted by the characters themselves, and will be able to participate in tons of fun activities, photo spots, and more!

The festival will have a full lineup of exclusive merchandise only available at Tokorozawa Sakura Town, from cute and useful items like clear folders to fans to use during the summer heat.

A limited collaboration menu with Kadokawa Shokudou will also be available during the event. The 'Rilakkuma & Sumikko Gurashi Festival Picnic Plate' is full of fun finger foods that are easy for both adults and children to eat and includes a special lunch mat. Guests can also participate in a commemorative photo session with the characters dressed in new costumes!

©2022 San-X Co., Ltd. All Rights Reserved.

Clothing Brand Green Parks Releases Apparel Collection with Netflix Series 'Stranger Things'

Japanese clothing brand Green Parks has announced a new apparel collection inspired by the popular Netflix series Stranger Things! The American series has been a global smash-hit, and now, you can rep your favorite characters in stylish new ways.



Green Parks wanted to express the emotional growth and subtle changes felt during adolescence, focusing on Max and Eleven, the two key female characters in the show. These items are directed at adult women who can understand what these girls are going through.

Be on the lookout for this Green Parks limited edition collection, and grab something before Season 4 of Stranger Things premieres this May!

Information

STRANGER THINGS × Green Parks
Online Preorders Open March 18
Items Available In-store April 1

Where to Buy: Green Parks Stores Nationwide / Online Shop 'STRIPE CLUB'
https://stripe-club.com/x/rVrjIxs7owtRW