Japan's Biggest Cycling Resort Hotel Hoshino Resort BEB5 Tsuchiura to Open in Ibaraki
Hoshino Resorts is set to open Japan's biggest cycling resort, named Hoshino Resort BEB5 Tsuchiura, at PLAY atré TSUCHIURA on March 19, 2020. The establishment will open right when PLAY atré TSUCHIURA celebrates its 2nd anniversary―after having opened back in 2018―and will be the fourth cycling hotel by Hoshino Resorts to open. It will act as a "base camp" to enjoy cycling, and the start point to the 180km Tsukuba Lake Kasumigaura Ring Ring Road cycling course.
PLAY atré TSUCHIURA is a 49-minute train ride from Tokyo and is directly connected to the station, making access very easy. It is home to Tsukuba Kasumigaura Ring Ring Road, one of Japan's prominent cycling courses that runs past many gorgeous natural landscapes, including Lake Kasumigaura and Mount Tsukuba. It is becoming one of Japan's foremost cycling facilities, catering to the needs of all cyclists.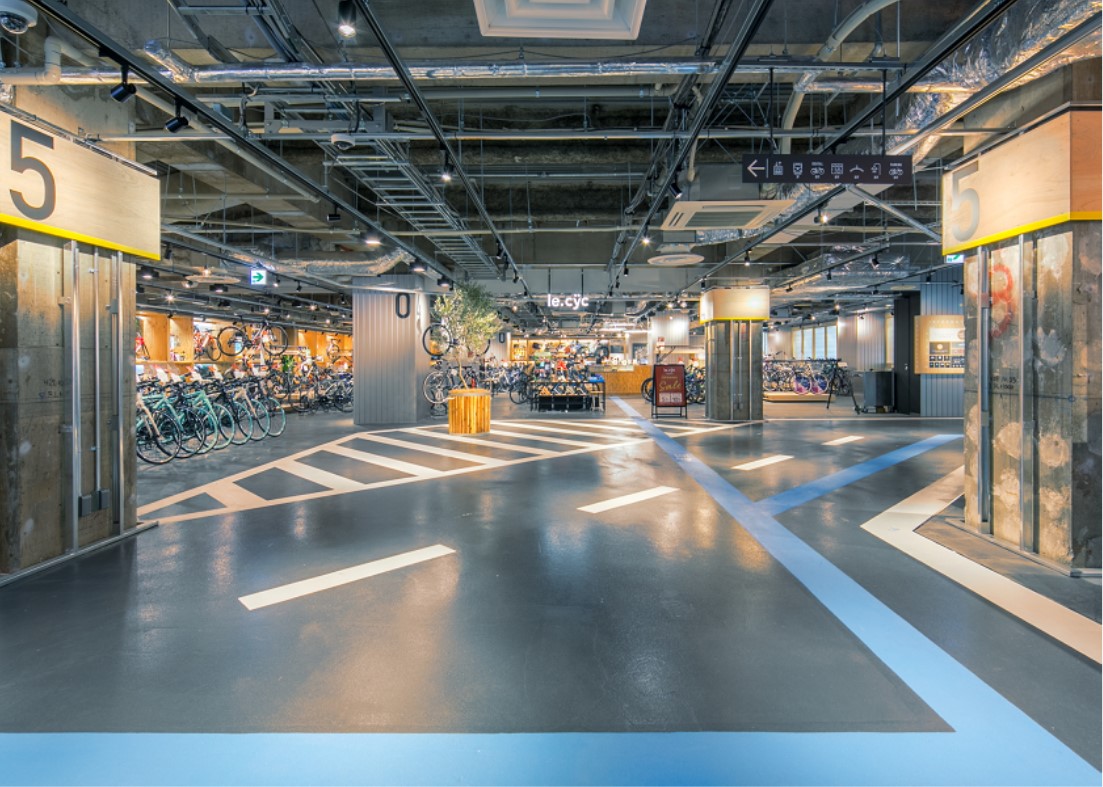 1F BIKE BASE / Ring Ring Square Tsuchiura
2F & 3F
This cosy and casual hotel is the perfect choice for travellers looking to cycle and go sightseeing in Japan.
Information
Hoshino Resort BEB5 Tsuchiura
Grand Opening: March 19, 2020
Price: 1 night from ¥6,000 (up to 2 people per room/tax not included/food charged separately)
Bookings: Now Open
Official Website: https://hoshinoresorts.com/ja/hotels/beb5tsuchiura
RELATED ENTRIES
Stay in a Penguin Themed Hotel Room at Hoshino Resorts OMO7 Asahikawa

Hoshino Resorts OMO7 Asahikawa opened its Penguin Room on April 6, a single new guest room themed around penguins designed in collaboration with Asahikawa Zoo.

Penguin Room Feature ①

Guests are immediately greeted with penguins galore as the enter their room, with penguin plushies by the bedside, on the ceiling, and pretty much everywhere else. It will be like staying with a family of penguins for the duration of their stay.

Penguin Room Feature ②

After a visit to Asahikawa Zoo, guests can head back to their hotel room where a variety of fun penguin-related items are stocked including games, all of which will remind them of their time at the zoo.

Penguin Room Feature ③

The room is also decorated with boards featuring photos and information of animals at Asahikawa Zoo. The boards are handwritten by the zoo staff, something they do every spring season.

Hoshino Resorts OMO7 Asahikawa previously collaborated with Asahikawa Zoo when a polar bear themed room. Now, penguin lovers can have their dream come true as they spend their time surrounded by penguin decorations in their room. The hotel is just a 30-minute car ride from Asahikawa Zoo, so why not make a plan to experience both if you're visiting Hokkaido this spring?

Hoshino Resorts Tomamu Releases Original Craft Beers

Hokkaido-based luxury resort Hoshino Resorts Tomamu is set to sell a limited-time selection of original craft beers this summer from July 1 to August 31.

Tomamu Pilsner

Tomamu Amber Ale

Tomamu Black Ale

The Japanese word for corn is toumorokoshi, but in Hokkaido it's called toukibi. This collection of corn beers is made with natural water drawn from Hokkaido along with other tasty ingredients. These beers are each made in collaboration with North Island Beer, The Heavy Snow Beer, and Onuma Beer, and come in response to the decrease in occasions to be able to enjoy chilled glass of beer as a result of COVID-19.

The beers have sweet notes of corn and are each made in the style of the three respective beermakers who each have their own malt, hops, and flavours they pick.

Karuizawa's New Apple Farm Opens in Collaboration With Hoshino Resorts and Local Farmers

The Karuizawa-based hotel and hot spring complex Hoshino Onsen Tombo-no-yu joined hands with local apple farmers last year to help support apple cultivation for their apple hot springs. This is now being taken to the next level with the opening of Ringo Tsuchi, an apple farm that Tombo-no-yu staff helped to build. The farm opened on March 19, and locals will be able to visit part of the farm for free starting on April 26.

The project ties in with the global Sustainable Development Goals (SDGs) initiative, specifically the 12th goal: "Responsible Consumption and Production," which looks to ensure sustainable consumption and production patterns. Karuizawa is located in Nagano Prefecture which is ranked as the 2nd biggest producer of apples in Japan. When growing apples, those fruits which incur any kind of damage or grazing isn't shipped to the country's supermarkets or stores. It's these not-so-perfect apples that Tombo-no-yu uses for its apple hot spring experience. Though it may just be a small step towards that goes, it still goes a small incremental way towards achieving it.

Free entry to Ringo Tsuchi

The main raw materials at Ringo Tsuchi ("Apple Earth") are the apples used in the apple hot springs and fallen leaves from around the Hoshino area. In addition to compost and water, the materials are fermented, which adds the necessary nutrients to growing apples and creates soft and breathable soil. And since compost is added, it creates an environment where gardening tools can be used in the earth without any prior preparation.

The completion of Ringo Tsuchi

In the mid-October last year, work was carried out at Nomoto Kajuen Orchards in Mimakigahara Okubo, Nagano, to carefully select picked apples and not-so-perfect apples. These apples were used for the apple hot springs at Tombo-no-yu over a three day period from October 23 to 25. The apples are placed in both the male and female hot springs to float on the water.

After that three-day period, the apples were collected, washed, and cut to be used for compost. Since fermentation removes water content, the staff also had to add water twice a month to manage the compost.

Working with the locals

Katsuya Nomoto is a representative of Nomoto Kajuen Orchards, a farm that grows apples, prunes, and more. The farm takes advantage of the area's high altitude and takes pride in its work to cultivate produce that is healthy to the body and environment using soil microbes as an organic fertiliser. It's also officially recognised as a farm dedicated to supporting Nagano's environment, and carries out school trips for children to visit, creating ties with the local community.

Hoshino Resorts BANTA CAFE Announces Art Festival by the Beachside

The incredible Hoshino Resorts BANTA CAFE, a beachside cafe which offers guests a breathtaking ocean view along the Okinawan coast, has announced the upcoming Beachside Art Festival which will take place from April 10 to May 9. The festival will bring together artwork from a range of artists born and raised in Okinawa and leading the island's youth culture. There will be a range of events from live painting to workshops, exhibits, and more.

The participating artists have all taken part in personal art exhibits, art events, showcased their work at concerts, and more both inside and outside Japan, but due to COVID-19, many events have of course been cancelled. Beachside Art Festival will serve as a way to display their wonderful works while supporting them at the same time.

The Artist Line-Up

DENPA

nami

HAYATO MACHIDA

Chibana Yukinaga

MACHIDA visiting BANTA CAFE to check the feel of the ocean and their artwork

Vibrant artwork with the ocean as the backdrop

Visitors will be greeted by artwork dotted across various locations around BANTA CAFE. If they follow the top of the cliff down to the beach they will find sofas to sit on which have also been decorated with the artists' artwork. Then there's the Goro Goro Lounge with its enormous window that stretches an entire wall and offers a panoramic view of the sea. Here, visitors can look out at the artwork which will look like it's floating above the horizon. All drinks ordered also come with a free sticker featuring artwork by the four participating artists.

Experience art-in-the-making with live painting

DENPA and MACHIDA will host their own live painting sessions where they will take inspiration from the surrounding environment.


HAYATO MACHIDA @ April 10, 2021 / April 11, 2021

DENPA @ April 18, 2021

Times: 11:00-13:00 / 14:00-17:00

Where: In front of BANTA CAFE on the beach

Price: Free

Have a go at traditional Okinawan bingata dyeing

Visitors can have a go at making their very own coasters from nine different colours using a traditional Okinawan stencilled dyeing technique known as bingata.


Running: April 24, 2021 / May 1, 2021 / May 2, 2021 / May 5, 2021

Times: 10:00 / 12:00 / 14:00 / 16:00 (Each slot lasts approx. one hour)

Capacity: 4

Where: Iwaba Terrace

Price: ¥2,000 (Tax Included)

Note: Online booking required

Take home a souvenir at the beachside museum shop

A museum shop will be open for the event on weekends and holidays where you can pick up art prints, stickers, postcards, and other mementos.


Opening Days: Weekends & Public Holidays

Opening Hours: 10:00-18:00

Where: Beachside Terrace

Information

Hoshino Resorts BANTA CAFE – Beachside Art Festival

Running: April 10, 2021 – May 9, 2021

Where: Hoshino Resorts BANTA CAFE, Okinawa

Official Website: https://banta-cafe.com/en/

Japanese Milky Candy Themed Hotel Rooms Open in Collaboration With Hoshino Resorts

Hoshino Resorts has launched a hotel plan at its BEB hotel branches called "Milky Sweet Room Stay." The plan was devised in collaboration with Japanese confectionery brand Fujiya and their popular Milky soft candy. Guests will be able to stay in rooms decorated in all things Milky, an experience that is running from March 26 to June 30.

Milky Sweet Room

Look like Peko-chan, the Milky mascot, with the top and overall set

Find Peko-chan at Hoshino Resorts BEB5 Karuizawa

Make a Milky smoothie on a bicycle at Hoshino Resorts BEB5 Tsuchiura

Milky Sweet Room Stay opening campaign

Guests will be able to enjoy Milky like they never have before in all kinds of deliciously sweet ways. Rooms are adorned with Milky cushions, a doll of Peko-chan who is the face of Milky, Milky wallpaper and decorations, Milky bath products, and of course Milky candy.

At the Karuizawa branch of Hoshino Resorts BEB5, guests must locate Peko-chan in three locations around the area. Those who find all three will win all-you-can-eat French toast covered in Milky sauce. at the Tsuchiura branch, guests can get a set of ingredients to make their own smoothie by pedalling on a bicycle. It takes about 30 seconds for your Milky shake to be ready.

The iconic Milky packaging design is also being revamped in celebration of the brand's 70th anniversary. As part of the celebration, guests can expect t see a line-up of past designs along with some rare ones. Hoshino Resorts is also holding a campaign to promote the room where dix people can win a ¥50,000 voucher for Hoshino Resorts as well as a set of assorted Milky candy.

Goldfish Festival to Take Place This Summer at Hoshino Resorts Aomoriya

If you're looking to experience Aomori's culture, then Hoshino Resorts Aomoriya is the hotel to stay at. Every year throughout the year the accommodation hosts many festivals. This summer, guests can look forward to the Goldfish Festival which will run from June 1 to August 31. Inspired by local tradition, the hotel will be decorated with paper goldfish floats—including one towering 3-meters tall—known as kingyo nebuta or kingyo neputa in Japanese. Shaved ice will also be served to help guests cool off.

Kingyo Nebuta goldfish floats, a summer tradition of Aomori

Aomori is synonymous with its myriad of goldfish festivals. The must-have decoration at these festivals are their goldfish floats which are lit up in the evenings. Their origin lies in the tsugaru-nishiki, a species of goldfish found only in Aomori's city of Tsugaru. People revered them back in the day and so created the floats to showcase that. They are a symbol of summertime Aomori and adored by locals and tourists alike.

Kingyo Sukui Yatai: Challenge yourself to Japanese festival goldfish scooping

A new stall arrives at Hoshino Resorts' Goldfish Festival this year: the classic Japanese goldfish scooping experience, a common sight at summer festivals. The goldfish you catch can be 'rented' and taken to your hotel room. Guests have to meet certain requirements if they want to be able to take the fish home with them. The staff look after the fish every day so guests can rest assured they are treated well. Goldfish scooping will be held with social distancing measures in place, with only one group allowed in the stall per turn.

4 Exciting Things to Look Forward to

Surrounded by over 450 ningyo neputa goldfish floats

Goldfish ice cream made in the form of traditional Japanese amezaiku candy art

Time: 19:00-22:00

Where: Yottemare Sake Bar

Price: ¥900 (Before Tax)

Take your scooped fish to your hotel room

Time: 16:00-21:00

Where: Jawamegu Plaza

Price: ¥500 (Before Tax)

Includes: 2-3 fish, fishbowl, air pump

Over 30 summer yukata to pick from with goldfish designs

Time: 15:00-20:00

Where: Jawamegu Plaza

Price: Adults ¥500 / Kids ¥300 (Before Tax)

Information

Shigakko Kingyo Matsuri Festival

Running: June 1, 2021 – August 31, 2021

Where: Hoshino Resorts Aomoriya

Conditions: Must be a guest staying at the hotel

Entry: Free

Event Details: https://hoshinoresorts.com/ja/hotels/aomoriya/

Reserve a Peach Blossom Farm to Yourself in Japan This Spring at HOSHINOYA Fuji

Japan's glamping resort HOSHINOYA Fuji is offering a very special service to guests this spring: the ability to reserve a peach blossom farm to themselves where they can enjoy their own private Hanami flower viewing experience together with complementary tables, chairs, blankets, and desserts. It will run from April 5 to 20.

Surrounded by peach blossoms in full bloom

The location of the peach farm is in Fuefuki, Yamanashi. This is an exclusive plan into a place that has never before been open to the public. It will offer a magical Japanese springtime experience with the florally-fragrant peach blossoms set against a backdrop of the snow-topped mountains.

Tuck into peach-flavoured crepes

Guests will be treated to a glass of sparkling wine together with skillet-cooked crepes in caramel sauce, peaches, and finished with a dollop of ice cream. A truly indulging and extravagant way to enjoy Japan's spring time this year.

Information

Peach Blossom Hanami

Japanese Plan Name: 桃源郷花見

Running: April 5, 2021 – April 20, 2021

Where: HOSHINOYA Fuji,

Address: 401-0305 Yamanashi, Fujikawaguchiko, Oishi 1408, Japan

Price: ¥6,500 per person (tax, service charge, and resort stay not included) *Includes drop-off and pick-up
Time: 10:00-12:30
Capacity: 5 groups of 10 people per day

Bookings: Must be made by 17:00 the day before

Notes: Will not run during bad weather

Official Website: https://hoshinoya.com/en/

Winter Travelling in Japan With Hoshino Resorts Promises Cosy Solitude

Hoshino Resorts is offering many ways for guests to enjoy themselves this winter with a range of activities and vistas, whether it be gazing at the starry sky, enjoying a holiday season glamping session, and more—all of which can be done while avoiding the Three C's during the pandemic, meaning you won't have to come into contact with others.

A Wintertime Agriturismo Resort Experience in Tochigi

At Hoshino Resorts RISONARE Nasu, guests can enjoy an authentic, vegetable-packed Italian course dinner, indoor bathing in their own guest rooms in an accommodation surrounded by nature, open-air hot springs to warm up during the winter season, and more. There's also a "Farmer's Lesson" for that true agricultural tourism experience ('agriturismo') so guests can feel at one with nature in Nasu.

▼Hoshino Resorts RISONARE Nasu
Address: 2301 Takakuotsu, Nasu, Nasu District, Tochigi
Running: December 1, 2020 – March 15, 2021

Stargazing On the Ice in Nagano

Guests can lose themselves in the stars while they enjoy a glass of Nagano wine or fondue from Hoshinoya Karuizawa's cafe and bar. One group of two guests can rent the area all to themselves for a romantic and memorable time.

▼HOSHINOYA Karuizawa
Address: 2157-428 Nagakura, Karuizawa, Kitasaku District, Nagano
Running: December 1, 2020 – February 28, 2021

Winter Season Glamping in Yamanashi

HOSHINOYA Fuji is offering a special glamping program this winter where guests get their very own private space to enjoy the outdoors. They can chop their own woods, build their own fires, and more. It's the perfect program to get your body warmed up during the cold winter months.

▼HOSHINOYA Fuji
Address: 1408 Ōishi, Fujikawaguchiko, Minamitsuru District, Yamanashi
Running: December 1, 2020 – March 15, 2021

An Unbeatable Ocean View With Hanami Flower Viewing in Shizuoka

Hoshino Resorts RISONARE Atami is offering a special program where guests can enjoy the earliest bloom of Japan's plum blossoms together with a panoramic ocean view. The hotel's rooftop Sora no Beach Books&Cafe is a cafe designed to look like a beach and serves as the perfect vantage point for this exclusive experience.

▼Hoshino Resorts RISONARE Atami
Address: 2 Chome-13-1 Minaguchicho, Atami, Shizuoka
Running: January 8, 2021 – March 12, 2021

Acquire Knowledge of the Blue Zone in Okinawa

HOSHINOYA Taketomi Island sits on Taketomi Island which is located inside one of the world's four Blue Zones, regions where it's claimed that a higher than usual number of people live longer. There, guests can gain knowledge on how to live a healthy lifestyle. They will spend time moving their bodies as they work out on the farm, learn the secrets to sunbathing and eating nutritional food, and more, all to rebalance the rhythm of their lifestyles.

▼HOSHINOYA Taketomi Island
Address: Taketomi, Yaeyama District, Okinawa
Running: From December 1, 2020 (Not running on select days)

Japan's First Icefall Open-Air Bath to Open at Hoshino Resorts Oirase Keiryu Hotel in Aomori

Hoshino Resorts Oirase Keiryu Hotel has announced the limited-time opening of its new Hyobaku open-air icefall bath which guests can enjoy this winter from December 18, 2020 to March 22, 2021. The bath overlooks a gorgeous mountain stream, offering an exclusive wintertime view.

Hoshino Resorts Oirase Keiryu Hotel

Hoshino Resorts Oirase Keiryu Hotel stands alone near the the picturesque Oirase Keiryu mountain stream which lets guests immerse themselves in the undisturbed serenity of nature. The hotel lobby features a grand fireplace created by Japanese artist Taro Okamoto.

The Icefall Bath

Icefalls are created when glaciers flow over a steep drop. The 14km Oirase Keiryu mountain stream is made up of 14 waterfalls which give rise to icecalls of various shapes and sizes. When light shines through them they turn a striking ice blue, something only visible during winter. The hotel has been offering the icefall bath service since 2017 to allow guests to see the icefall themselves, in the comfort of a warm bath, when the waterfalls freeze.

The Icefall Created Over Time

The waterfalls begin to freeze in early December which gradually gives rise to the icefall. The harsh cold allows the water to freeze and layer bit by bit overtime which. By mid January, the frozen waterfalls stand 3.5m high and 16cm accross. The icefall is ever-changing as its shape changes depending on the temperature, wind, and light shining through.

Experience an outdoor hot spring experience like never before in Japan during winter at Hoshino Resorts Oirase Keiryu Hotel.

Information

Icefall Bath
Running: December 18, 2020 – March 22, 2021
Times: 6:00-11:30 / 14:30-24:00
Location: Hoshino Resorts Oirase Keiryu Hotel
Address: Tochikubo-231 Okuse, Towada, Aomori

Official Website: https://www.oirase-keiryuu.jp

Hoshino Resorts Tomamu's Ice Village Will Be Open For Winter 2020-2021

Hoshino Resorts Tomamu, Hokkaido's top snow resort where you can stay, has announced that this year's Ice Village will open from December 10, 2020 to March 14, 2021.

Ice Village opens up at Tomamu in wintertime only and has done so every year since 1998. It boasts 3.2 hectares of land and houses 10 enormous igloos to create a little village of ice. At its lowest, the temperature there can drop to -30°C which is what works the magic behind the Ice Village.

Many events around Hokkaido have been cancelled this year as a result of the pandemic, and so Tomamu has decided to remain open to both guests and non-guests while operating under strict countermeasures against COVID-19. This way, people can still enjoy the wonderful winter season of Hokkaido. This year sees the opening of the Ice Milk Cafe and Ice Fruit shop in the Ice Village where they can order a variety of food and drink to take out onto the Ice Terrace. There's even the Ice Hotel and Ice Chapel.

Draw fresh milk from the Ice Milk Cafe

The one-meter tall Ice Milk Bottle lets visitors who order a glass of Ice Milk at the Milk Cafe draw fresh Tomamu Milk which has a distinctly deep flavour during winter. You can also mix the milk on an ice sheet to create gelato.

Ice Milk Cafe

Opening Hours: 17:00-22:00 (Last Orders 21:30)

Enjoy chilled fruits at the Ice Fruit Shop

Visitors can enjoy a range of whole frozen fruits that have been shaved into smaller pieces as well as frozen fruit beverages. They also serve fruits on skewers you can pick which fruit combinations you like to enjoy out on the Ice Terrace.

Ice Fruit Shop
Opening Hours: 17:00-22:00 (Last Orders 21:30)

Enter a magical frozen world at the Ice Terrace

Once you've ordered your takeout drink or dessert, you can go out onto the terrace to sit at the tables and chairs, which are also made of ice, and enjoy the frozen world around you, like the giant snowflakes.

Ice Terrace
Opening Hours: 17:00-22:00

Order a crisp drink at the Ice Bar

The ice bar serves over 50 different alcoholic beverages at the ice counter, with drinks like colourful cocktails served chilled in ice cubes.

Ice Bar

Opening Hours: 17:00-22:00 (Last Orders 21:45)

Dogs are allowed at the Ice Hotel

Everything at the Ice Hotel, from the ceiling to the walls, is made from ice. It's available to one group per day and has its own ice bath and hot springs. Dogs are also allowed and get their own pup igloo.

Running: January 18, 2021 – February 28, 2020
*Reservations required 7 days in advance

The Ice Chapel made entirely of ice

A chapel made entirely of ice which represents "the unbreakable love between two pure souls which shall last forever." From the altar and crucifix, to the wedding aisle and benches, everything is made of ice and snow. Firework displays will take place to congratulate newly-wed couples.

Running: January 18, 2020 – February 14, 2020

Visiting Times: 17:45 / 19:45 / 21:45 (10 minutes each)
Ceremony Times: 14:00 / 17:00 / 19:00 / 21:00

Crafts at the Ice Atelier and shopping at the Ice General Store

Visitors can craft things made from ice at the Ice Atelier as well as buy a selection of ice and snow-themed items like crafts, accessories, mugs, and more at the shop.

Ice Atelier / Ice General Shop
Opening Hours: 17:00-22:00

Kids and adults can have fun at the Ice Slide and Ice Rink

The Ice Slide is the most popular part of the Ice Village where kids and adults alike can slide down and overlook the bustling village. Right next to the slide is the Ice Rink, another bustling spot popular with visitors.

Ice Slide Opening Hours: 17:00-22:00
Ice Rink Opening Hours: 17:00-21:45 (Last Entries 21:30)

Information

Hoshino Resorts Tomamu Ice Village
Running: December 10, 2020 – March 14, 2021
Opening Hours: 17:00-22:00 (Last Entries 21:30)
Official Website: https://www.snowtomamu.jp/special/icevillage/en/
*Dates and content subject to change depending on the weather

Autumn Leaves at Ibaraki Prefecture's Ryujinotsuri Bridge Are a Must See in 2020

The marvel that is the 375m-long Ryujinotsuri Bridge in Ibaraki, is a must-see this autumn season as maple trees, sawtooth oaks, and other autumnal spectacles dye the area in breathtaking reds from mid to late November.

Ryujinotsuri Bridge: Japan's biggest suspension bridge

Ryujinotsuri Bridge is located in Okukujichanosato Park in Ibaraki Prefecture's city of Hitachiota. From atop the towering bridge one can overlook at the expansive gorge 100m down below where the misty Ryujin Lake flows. Trees stretch to a horizon in this incredible breathtaking environment, offering beautiful vistas throughout all four seasons.

Bungee jump over Ryujin Lake

Ryujinotsuri Bridge is the biggest suspension bridge in Japan, and so of course it has to offer something special to visitors. And that would be bungee jumping which is sure to excite thrill-seekers travelling to Japan.

Outdoor activities galore

Visitors can enjoy the surrounding nature by taking a canoe or boat on top of Ryujin Lake.

BBQ and camping facilities

There are also BBQ and camping facilities in the area for people to enjoy the outdoors and see the stars at night.

A full hiking autumn experience at Ryujinotsuri

There are several hiking courses on offer that cater to both beginners and pros. Get close with nature and see the autumn colours, hear the birds sing, and breathe in that fresh air.

Polar Bear Themed Hotel Rooms Paw Their Way to Hokkaido's Hoshino Resorts OMO7 Asahikawa

Hoshino Resorts OMO7 Asahikawa recently finished decorating their new polar bear themed hotel rooms which opened to guests today (November 1).

Polar bears here, polar bears there, polar bears everywhere

Everything from the bed covers to the walls are covered in cute polar bears, even the room keys, toothbrushes, and smartphone stands. The rooms even come with a special polar bear manga book for guests to read. If you love polar bears, this place will be a dream come true for you.

Asahiyama Zoo's signboards

The official Asahiyama Zoo signboards which are all hand-drawn by the zoo staff every spring will be displayed in the rooms. The hotel worked together with the zoo to be able to produce more for Hoshino Resorts OMO7 Asahikawa.

The boards feature stories and information about the various animals housed at the zoo in Japanese. Perfect for if you're staying at the hotel and are planning to visit the zoo.

Just how many polar bars are there? Try counting them all yourself!

There are many polar bears to be found in the guest rooms. Try counting them all and then telling your number to the front staff when you check out – they may just have something special prepared!

Information

Hoshino Resorts OMO7 Asahikawa – Polar Bear Rooms

Bookings: Now available

Price: ¥7,500 per night (for two people & doesn't include tax or food)

Book Here: https://omo-hotels.com/asahikawa/

TEL: 0166-29-2666