Minnie Mouse Takes Over Tokyo Disneyland for 'Very Very Minnie!' Event in 2020
The all-new Minnie's Style Studio is set to open in Tokyo Disneyland on April 15, 2020 as a character greeting location where you can meet the Disney cast. In the run up to its opening, Minnie Mouse is hosting a 70-day kawaii-packed event entitled "Very Very Minnie!" which will run at the park from January 10 to March 19 next year.
There's so much to look forward to at the event. The "It's Very Minnie!" show will take place at the Showbase amphitheatre where Minnie and her fellow Disney comrades will look back at past events and dress up in various costumes they've worn up to now, along with music, serving lots of different styles such as Latin, romance and club. For the finale, the Disney characters will step out in all-new costumes inspired by Minnie. They will also dance along to a new theme song.
There will be a mini parade titled "Very Minnie Remix" packed full of Minnie references. The parade will make a stop in 6 areas around the park, with the characters and cast dressed in new costumes, inviting guests into the world of Minnie Mouse. Depending on the day you see the parade and what location from, you can expect to see something different every time, meaning you can enjoy the parade multiple times.
There will of course be plenty of cute Minnie-themed food and merchandise to enjoy too. Merch will feature Minnie's iconic polka dot design.
Special Set – ¥990 @ Huey, Dewey and Louie's Good Time Cafe
Sparkling Tapioca Drink (Strawberry Yogurt) – ¥450 @ Huey, Dewey and Louie's Good Time Cafe
Minnie has a cute line-up for food and drink across various cafes and restaurants in the park. The "Mickey Mouse Pizza" now on sale at the Huey, Dewey and Louie's Good Time Cafe will be transformed into a Minnie Mouse Pizza for a limited time. There's also the tapioca drinks, filled with tapioca pearls so it looks like Minnie's polka dots.
Special Set – ¥2,800 @ Eastside Cafe
Blue Bayou Course – ¥5,200 @ Blue Bayou Restaurant
Eastside Cafe is also getting in on the action, serving up a cute pasta dish with pink sauce and a ribbon, as is the Blue Bayou Restaurant where you can dine on a Minnie Mouse-inspired course.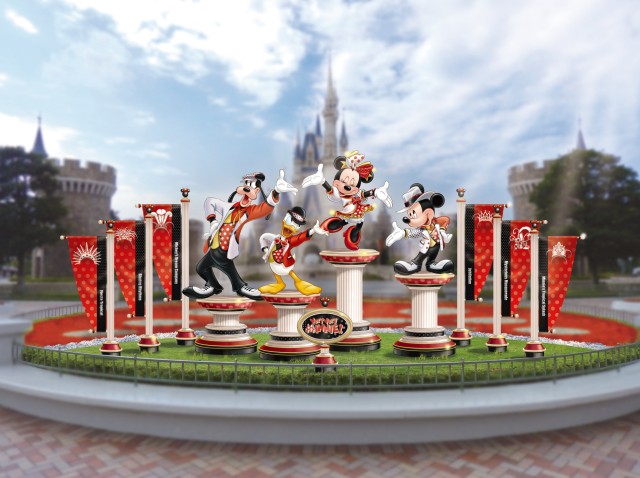 The park will be decorated in all things "Very Very Minnie!" and they will change throughout the duration of the event. Be sure to find all the photo spots too for Minnie, Mickey, Donald and Goofy too.。
Enter the dreamy world of Minnie Mouse next year with "Very Very Minnie!"
RECOMMENDED ENTRIES
Dress Up in Tokyo Disneyland's Spooky Outfits and Enjoy Disney Halloween 2019

It's only been a week since Halloween begun at Tokyo Disney Resort, and already guests are loving it. "Ghosts" are in the spotlight this year at Tokyo Disneyland, and they are serving up a spooky and ghostly time this year all the way up to October 31.

Tokyo Disneyland Halloween Gear

Since it's Halloween, and you've made the effort to travel to Tokyo Disneyland, why not dress up too with one of the park's many pieces of Halloween costume items?

Mickey Mouse Ear Hat – ¥2,000

The classic Mickey Mouse ear hat has taken on a Halloween theme for the event, wrapped in ripped bandages and spiderweb.

Poncho – ¥3,900 (Sizes S~LL) *Kid's size is ¥3,300

Mickey has also turned into a white ghost but it doesn't seem too spooky―friendly, actually―as he enjoys his drink and churro for the design of this poncho. It seems like he just wants to get in on the fun too.

Cap – ¥2,800 / Parker – ¥4,900

Transform into a black cat too with one of the many clothing items too, serving a completely different aura to the ear hats.

Spooky Boo! Parade

Once you're all dressed up, it's time to go and watch the Spooky Boo! Parade where the Disney cast and an army of ghosts invite guests into the Halloween festivities. Multiple stories will take place across the parade at once, so no matter which part of the parade you are watching, there'll be plenty to enjoy. The parade takes place twice a day.

Decorations

Be sure to check out the decorations in front of Cinderella's Castle while watching the parade, featuring the Disney cast dressed in their Halloween costumes.

You'll find ghosts hidden all around the park. Be on the lookout and see how many you can spot!

Special Menu

Wipe away your fatigue from walking around the park with one of the many special Halloween items on the menu at restaurants and cafes across Tokyo Disneyland.

Popcorn Soda & Doughnut – ¥600 @ Boiler Room Bites and elsewhere

The scrumptious popcorn coupled with the pumpkin flavoured doughnut make for a delightfully delicious combination. This is sure to whet your appetite right away.

Short Rib Cone – ¥500 @ The Gazebo

The cone is filled with ashed purple sweet potato and, short rib, and cheese sauce. A perfect little bite to walk around and eat while in the park when you're feeling peckish.

Special Set – ¥1,050 @ Sweetheart Cafe

Arriving with a cute Jack Skellington bun is this potato salad and tomato beef-filled burger. When you unwrap the packaging and place the burger on top like in the photo, it looks like Sally is gazing lovingly at Jack♡

Nighttime Decorations

When night falls, Main Street at World Bazaar will light up with projecting mapping and Halloween music will play, creating an exciting Halloween nighttime experience. Fireworks will also launch into the night sky and be Halloween-themed too.

Join the ghosts this year at Tokyo Disneyland for an exciting Halloween Party!

Jump Into the World Of Pixar with Tokyo DisneySea's Pixar Playtime Event Coming Winter 2020

Tokyo DisneySea has announced that it will hold a special event next year titled "Pixar Playtime" from January 10 to March 19. The event will plunge guests into the world of Disney•Pixar animated films.

The exciting "Pixar Playtime Pals" stage show is returning again for Pixar Playtime 2020. Guests will be invited to join in with familiar faces from the Pixar character cast for the show, which will take place at Mediterranean Harbor. Bo Peep from Toy Story 4 will make her first-ever appearance. At the end of the show, an entire band of characters will take to the stage for a grand finale with colourful balloons and decorations.

Head over to American Waterfront to catch the one and only Lightning McQueen from the Cars film series who will be rolling his way to greet the crowd. Guests are encouraged to join in with the Lightning McQueen Victory Lap where they will parade around the New York area along to jubilant music.

There will also be a Ratatouille stall where you can have fun cooking together with Remy.

Special Set – ¥1,980 @ Horizon Bay Restaurant

Horizon Bay Restaurant is serving up around 20 exciting dishes based on the Pixar cast, including an ocean-themed hamburger inspired by Finding Nemo and a roll cake based on the lovable Dory.

Special Set – ¥1,980 @ Vulcania Restaurant

If you love Monsters Inc., then you'll want to dine at Vulcania Restaurant where you can get your teeth into a custard-filled Mike Wazowski steamed bun.

Lots-o'-Cookie Sandwiches – ¥400 Each @ Liberty Landing Diner

There are countless Pixar-inspired foods, drinks and desserts to look forward to at this year's Pixar Playtime, and that includes plenty of never before seen options.

Scattered around all areas of the park you will find instantly-recognisable Disney•Pixar decorations, including the iconic Pixar Ball, as well as photo spots based on the Finding Nemo, The Incredibles and Coco film series'.

Decorations Forky from Toy Story 4 will also be making an appearance around the park.

If it's merchandise you want, you have over 100 items to choose from, such as the Pixar ball-themed smartphone case, headband and jumper; the Lightning McQueen Victory Lap series including the plush toy, flag, sun visor and more; and plenty of other exciting goodies.

Disney Hotels will will be offering special Tokyo Disney Resort® Vacation Packages which includes accommodation and access to the Pixar Playtime shows and food menus. There will also be lots of special events taking place as part of the festival, including at Tokyo DisneySea Hotel MiraCosta and up and down the Disney Resort Line.

Disney Ambassador®️ Hotel Now Serving Adorable Cake & Drink For Halloween

Disney Halloween 2019 is in full force at both Tokyo Disneyland and Tokyo DisneySea where "ghosts" are this year's theme. The spooky festivities are set to continue until October 31.

Disney Ambassador®️ Hotel is also getting in on the Halloween action, with a bone-chilling food and drinks line-up at the Hyperion Lounge.

Disney Halloween Cake Set – ¥1,700 (Available until October 31, 2019)

The eye-catching blueberry mont blanc is served with either tea or coffee. The sweet and sourness of the blueberry combined with the cream cheese is spot on.

It's also filled with blueberry jam for even more of a blueberry kick. Mix together with the powdered mango for extra flavour.

This cake set is serve from 12:00-22:00, but there is a limited number of servings per day so be sure to get in there quick!

Disney Halloween Special Drink – ¥1,300 (Available until October 31, 2019)

The Instagram-worthy drink is serving autumn vibes with its chestnut syrup and orange colour. It's also topped with whipped cream and a cute chocolate bat. The drink has a refreshing mix of range juice and grape juice which balance deliciously with the purple sweet potato whipped cream and sweet syrup. There's also grape jelly hidden underneath the cream.

This is also served from 12:00-22:00, and gets you an original coaster. These are limited in availability.

©️Disney
RELATED ENTRIES
Disney's Zootopia Accessory Collection to be Released by Q-pot.

Q-pot. is releasing a new Zootopia themed collection on August 1, 2020 as part of its Disney-inspired accessory line "Disney Story Dreamed by Q-pot."

Zootopia is an animated film released by Disney in 2016 which takes place in the titular city where anthropomorphic animals coexist. Q-pot. has created a unique collection in the brand's style which combines the worlds of Nick Wilde and Judy Hopps, the two main characters of the film who form an unlikely duo.

Judy Carrot Cake & Carrot Recorder

Homemade Carrot Cake – Necklace: ¥11,000, Bag Charm ¥9,000 | Carrot Recorder – Piercing, Earring (1 Piece) ¥5,000 (Before Tax)

The necklace and bag charm feature a cute cut of Judy's face in the style of a frosting-loaded cake, and are attached with the carrot recorder pen from the movie which brings her and Nick together. The carrot recorder pen also comes as an earring and piercing.

Nick Carrot Cake & Pawpsicle


Homemade Carrot Cake – Necklace: ¥11,000, Bag Charm ¥9,000 | Ice Candy – Piercing, Earring (1 Piece) ¥5,000 (Before Tax)

Nick's accessories are attached with detailed recreations of the pawpsicles made by him in the movie.

Police Badge Cookie


Police Badge Cookie – Badge, Brooch – ¥6,500 (Before Tax)

Once you're fixed on your Judy and Nick carrot cake accessories, don't forget your police badge either!

The items in this collection are a must-have for any fan of Zootopia.

Information

Zootopia Collection
Release Date: August 1, 2020 at 12:00pm (JST)
Buy: Q-pot. ONLINE SHOP 
*On August 1 and 2, two items max per person

Q-pot. Stores
Order Window: August 1, 2020 – August 16, 2020
Participating Stores: Omotesando / Tokyo Skytree Town Solamachi / Takashimaya / LUCUA Osaka / Q-pot. ONLINE SHOP

Delivery Window: Early November 2020

Official Website: https://www.q-pot.jp/news/2020/07/1285.html

Tokyo Banana's New Disney Sweets Collection Looks Delicious

Japan's popular confectionery souvenir shop Tokyo Banana is collaborating with Disney for one week from July 29 to August 7 at the Hankyu Umeda branch of Tokyo Banana in Osaka.

Officially named the "Disney SWEETS COLLECTION by Tokyo Banana," the line-up brings together the iconic Disney characters and centres them around the company's brand concept which is to bring happiness to all who see and taste their products.

Mickey Mouse Pancake Sandwich: ¥1,080 for 4 / ¥1,382 for 6 (Tax Inclusive)

A box of "Mickey Mouse Pancake Sandwiches" contains baked, deliciously fluffy treats filled with soft cream. They come in two shapes: Mickey's face and the iconic Tokyo Banana. The Mickey ones contain caramel cream and roasted almonds while the Tokyo Banana designs are filled with banana milk cream and chocolate chips.

Mickey Mouse Chocolate Sandwich: ¥1,080 for 12 / ¥2,160 for 24

The "Mickey Mouse Chocolate Sandwich" are crunchy cat tongue biscuits which have Tokyo Banana's distinct milky flavour. They are made to be like a delicious banana milkshake you can eat and contain rich chocolate.

 © Disney

Information

Mickey Mouse Pancake Sandwich / Mickey Mouse Chocolate Sandwich
Running: July 29, 2020 – August 4, 2020

Available: Tokyo Banana Hankyu Umeda
Official Website: https://www.tokyobanana.jp/disney/

Minnie Mouse Design Merchandise to be Sold at Lumine EST Shinjuku's 'Positively Minnie' Event

Lumine EST Shinjuku is set to hold a campaign from July 21 to August 31 this year as part of Walt Disney Japan's "Positively Minnie" promotion.

Disney "Positively MINNIE"

Minnie Mouse is known as an independent, charming spirit as well as a fashion icon. Positively Minnie is a promotional campaign launched by Disney for the global market which has Minnie inspiring all with her positive personality. She intends to teach us to live our best lives how we want to.

No shortage of Kawaii merchandise

29 shops inside Lumine EST Shinjuku are participating in the event by stocking their own range of Minnie Mouse merchandise. Let's take a look at some of them.

Minnie Mouse Ringer Telephone T-Shirts: ¥5,490 Each (Tax Included)

Shop: GYDA (Floor B1F) *Lumine EST exclusive, limited edition

Minnie Mouse Fleece Lined Tight Skirt: ¥8,800 (Tax Included)

Shop: Merry Jenny (Floor 2F)

Minnie Socks: ¥2,750 (Tax Included)

Shop: Tabio (Floor 3F) *Limited edition item

Minnie Mouse Mobile Cases: ¥4,180 Each (Tax Included)

Shop: Lycka (Floor 4F) *Lumine EST exclusive, limited-edition

Large Rollbahn Notebooks With Pocket: ¥850 Each (Tax Included)

Shop: Smith (Floor 6F) *Lumine EST exclusive

There will also be a pop-up shop by PONEYCOMB on the first floor of Lumine EST Shinjuku where you can get your hands on limited-edition merchandise with original art. It will be open from July 31 to August 13, and the items will also be available on Lumine's online shop until August 31.

When customers buy select items from the pop-up shop, they'll receive one of the three top stickers pictured above. When they order online, they'll receive one of the bottom three.

Luminest EST Shinjuku will be decorated in all things Minnie Mouse for the event, so that fashionista Minnie can serve her positive vibes to all who visit this summer.

©DISNEY

Information

Lumine EST Shinjuku Positively Minnie Campaign
Running: July 21, 2020 – August 31, 2020

Location: Lumine EST Shinjuku (Connected to JR Shinjuku Station's East Exit) / Lumine Online Shop

Campaign Website: https://www.lumine.ne.jp/est/positivelyminnie/ *Accessible from July 14 at 18:00 (JST)

Lumine Online Shop: https://i.lumine.jp/

Toy Story 4 Inspired Cupcakes Baked Up at Ginza Cozy Corner in Japan

Ginza Cozy Corner is following up the release of its teeny tiny Disney cupcakes with a new batch of Toy Story 4 themed cupcakes which will release at all branches around Japan on June 22, 2020.

Toy Story 4 was a hit across the globe when it released last year, becoming the highest-grossing instalment of the film series and at the time, the fifth highest-grossing animated film of all time. The iconic world of Toy Story has now been recreated in the form of nine colourful cupcakes.

Toy Story Collection (9 Cupcakes): ¥2,700 (Tax Included)

Everybody's favourite cowboy Woody has his own cupcake, featuring his signature hat and shirt design. Buzz Lightyear's trademark colour of green and white is expressed with grape jam an cream cheese, while Bo Peep's cupcake is topped with an edible Giggle McDimples and ramune and cheese cream flavoured roll cake. There's also a mint and lemon flavoured Ducky & Bunny cream tart, chocolate crunch-littered chocolate cream Slinky cupcake, and more.

The cupcakes are packaged in a super cute Toy Story box too.

Information

Toy Story Collection (9 Cupcakes)
Available: June 22, 2020 – July 16, 2020

Ginza Cozy Corner Official Website: https://www.cozycorner.co.jp/

Disney's Beauty and the Beast Themed Cafes to Open in Tokyo, Osaka and Nagoya

OH MY CAFE is set to take a Beauty and the Beast theme at three of its branches in Tokyo and Osaka from June 19, and subsequently Nagoya from June 26, for a limited time.

The concept of the cafe is based on the Beast gifting Belle a library. The main visual for the collaboration sees Belle wearing a green dress which she only wears during the library scene. The cafe too will fittingly take on a library look.

<Beauty and the Beast> Night Sky Cream Curry Rice: ¥1,890

A mild curry themed on Beast and Belle's romantic ball.

<Something There> Snow Thawed Love Cream Pasta: ¥1,990

Inspired by the scene in which Belle and Beast come closer together. Mushroom cream penne served with truffle meringue.

<The Mod Song> Chip's Assistance Afternoon Tea: ¥1,090 / With Spoon: ¥1,690

A tea set with the cute chipped cup Chip, a scone, and tea jelly. The perfect after-meal conclusion.

<Enchanted Rose> Rose Water: ¥890 / With Coaster: ¥1,590

A refreshing rose water mixed with lemon. Maybe you too will be able to find true love with a sip.

Message Cards (9 Designs): ¥450


Tinned Tea (Red/Blue): ¥1,600 Each

The cafe will also sell lots of special, exclusive merchandise.

Additionally, those who book a table in advance and order from the menu will receive one of 4 possible lunch mats chosen randomly. And if you spend over ¥2,000 (tax included) on merchandise at the cafe you'll get one of 9 possible bookmarks.

Information

Beauty and the Beast OH MY CAFE
Tokyo: OH MY CAFE TOKYO / June 19, 2020 – August 16, 2020
Address: Tokyu Plaza Omotesando Harajuku (Floor 3F), 4-30-3 Jingumae, Shibuya, Tokyo

Osaka: kawara CAFE&DINER Shinsaibashi / June 19, 2020 – August 16, 2020
Address: Shinsaibashi OPA (Floor 9F), 1-4-3 Nishishinsaibashi, Chuo Ward, Osaka, Osaka Prefecture

Nagoya: kawara CAFE&KITCHEN Nagoya PARCO / June 26, 2020 – August 25, 2020
Address: Nagoya PARCO South Building (Floor 5F), 3-29-1 Sakae, Naka Ward, Nagoya, Aichi Prefecture

Beauty and the Beast OH MY CAFE Reservations: https://bandb.ohmycafe.jp

Walt Disney Japan has announced that pre-sales for its new and original Disney themed yukata will open via shopDisney in Japan from June 9, 2020. Designs range from popular picks such as the Mickey Mouse yukata from last year to new designs like Alice in Wonderland.

The Mickey Mouse yukata has a white base which combined traditional Japanese prints of hemp leaves and a checked pattern with plum blossoms and Mickey. Dressing up in this gives off grown-up yet cute vibes.

The new Alice in Wonderland yukata has a navy base and features prints from the popular Disney movie made into a Japanese style design. It also comes with an obi sash featuring characters from the film on it in a casual manner, so it blends in well and isn't too flashy. shopDisney will also sell a bag, fan and other items with this design too so you can coordinate a style with the yukata.

Several items for kids will also be sold, such as a cute Elsa-inspired yukata, a Toy Story 4 jinbei, a Bunny shoulder bag, and more.

A TSUM TSUM series of summertime yukata will also be sold from June 9, 2020 which will include Mickey & Friends designs.

©Disney
©Disney/Pixar

Tokyo Disneyland and Tokyo DisneySea Release Their Own Spotify Music Playlist

Tokyo Disneyland and Tokyo DisneySea launched their first ever music playlists on all major streaming websites on Friday, including on Spotify and Apple Music.

Music from Tokyo Disneyland features everything from famous ballads and show music from the park to Tokyo Disneyland's nostalgic anniversary theme song, a "Ride Through Mix" that has you feeling like you're on the park's attractions, and more. It's a magic-filled Tokyo Disneyland musical fantasy.

Music from Tokyo DisneySea follows the same course as the Tokyo Disneyland playlist, except it also has the theme songs of the park's seven ports. It's packed full of imagination the likes of which you can only experience at Tokyo DisneySea.

New songs are set to be added from both parks each season, so you can feel like you're at Tokyo Disneyland and Tokyo DisneySea from your own home all year round!

Teeny Tiny Disney Cupcakes to be Baked Up by Ginza Cozy Corner in Japan

Ginza Cozy Corner is introducing nine new Disney "sports festival" themed cupcakes to cake shops through Japan on May 11, 2020.

Cute mini cupcakes with a sports theme

Nine cupcakes make up the collection which feature motifs from popular Mickey Mouse & Friends characters including Mickey, Minnie, Donald, Daisy, and Goofy. One look at the picture below is enough to have you thinking what a waste these nearly seem to eat because of how adorable they are.

Disney Sports Festival Cupcakes (Box of 9) – ¥2,500 / Available: May 11, 2020 – June 21, 2020

The designs take inspiration from different sports like tennis, rugby, skateboarding, and more. All nine come in a box so it's going to be difficult picking which one to start with!

Disney sports design box

Box Line-Up

Top Row From Left
Daisy Duck Rhythmic Gymnastics: Cheese Cream Roll Cake
Mickey & Friends Basketball: Chocolate & Vanilla Cream Roll Cake
Pluto Running: Chocolate Cream Cake

Middle Row From Left
Mickey & Friends Rugby: Sweet Adzuki Bean Paste Cream Matcha Cake
Mickey & Friends Cheerleader: Strawberry Cream Tart
Goofy Soccer: Orange & Chocolate Cream Tart

Bottom Row From Left
Minnie Mouse Tennis: Lemon Cream & Strawberry Cream Tart
Donald Duck Swimming: White Peach & Lychee Cream Shortcake
Mickey Mouse Skateboard: White Chocolate Cream & Raspberry Puree Tart

Kaori's Easy Recipe: Learn to Make a Toy Story's Little Green Men Japanese Parfait

With just a small bit of ingenuity, turn everyday food into something cute using Kaori's easy recipe! With a few simple ideas, an ordinary recipe magically transforms into a cute dish.

We're all locked up at home right now as a result of the coronavirus pandemic, and so I want to show you a fun character ice cream recipe that can be made with things you have at home! In this recipe, we'll learn how to make a Japanese parfait made in the image of the Little Green Men from Toy Story. This recipe is taken from the recipe book Disney Tsum Tsum Sweets Recipes.

Ingredients

Matcha Ice Cream

Chocolate Pens

Fruit

Toppings of your choice, such as red bean paste or soy flour

1.

Draw the eyes, ears, and antennae of your little green men onto a baking sheet using a chocolate pen. Place into the freezer to chill.

2.

Let the ice cream come to room temperature so it's easier to scoop, then scoop out with a round ice cream scoop.

You can get an ice cream scoop from a dollar store. If you don't have one, place the softened ice cream into something round, and then let it harden again in the freezer. Afterwards, remove and place it into some cling film to shape it roundーthe same method you use for making onigiri rice balls in Japan. Then let it solidify in the freezer once more.

3.

Before letting your ice cream from Step ② fully solidify, first place on the face parts from Step ①. If your ice cream is completely solidified and not soft enough, the parts will break when you try to fix them on, so make sure to take note. Once the parts are on, place into the freezer to harden. By doing this, the eyes, ears, and antennae will affix to the head.

4.

In the recipe book, they top their parfait with rice flour dumplings, but I'm using the outer part of a large daifuku for my toppings. It's something I saw on the TV recently.

Add a tablespoon of granulated sugar and two tablespoons of potato starch into a bowl and slowly add hot water until it becomes transparent. This is a super easy way to make gyuhi, a type of soft Japanese confectionery like mochi and daifuku.

5.

Add the gyuhi on top of the red bean paste and top with soy flour.

6.

Add your Little Green Man and fruit of your choice, then tuck int!

Kaori invites you into her world of character-themed food dishes in her recipe series. Be sure to check out her Instagram where she has uploaded many pictures of her character dishes!

©Disney

Kaori Kubota (@kaopan27)
I live in Hokkaido and I love to make character themed foods, desserts and pastries♡

I want to see my family smile, so I enjoy putting in a bit of effort to make character foods and changing food into something cute♡

You can see more of my character foods and character bento boxes on my Instagram page→@kaopan27

Information

ディズニーツムツムのスイーツレシピ

価格:¥1,000(税込)

販売先:amazon、楽天サイト他

Japan Coronavirus: Tokyo Disneyland® and DisneySea® To Close Temporarily Until March 15

Tokyo Disneyland and DisneySea will be temporarily closed until March 15 to reduce the spread of the new coronavirus. Japan's Coronavirus Countermeasures Taskforce has advised that there is a high risk of spreading the infection at large-scale sports and culture events and facilities where large numbers of people travel from across the country and congregate in one area. As many facilities and events in Tokyo are being restricted, postponed and even cancelled over the next two weeks, Tokyo Disneyland and DisneySea announced that both parks will close temporarily from February 29 – March 15, 2020.

The parks plan to reopen on March 16, 2020, however this will be decided following consultation with concerned administrative agencies and will be announced on their official website. If you have already purchased tickets which are valid during the parks' closing dates, please refer to the links below.

Baymax Themed Food Flies Into Tokyo Disneyland Ahead Of New Big Hero 6 Attraction

The world is about to get its first Big Hero 6 themed park attraction, "The Happy Ride with Baymax," at Tokyo Disneyland when it opens on April 15, 2020.

In promotion of the exciting new ride, Tokyo Disneyland has announced it will serve six different Baymax inspired menu items starting from April 8ーa week before The Happy Ride with Baymax's grand opening.

Baymax Curry – ¥1,480 @ Center Street Coffeehouse

When you think of Baymax, you think of his white, chubby round face and body. Well, that image has been brought to life in this curry dish, with Baymax's cute appearance recreated in the form of white rice. The dish takes inspiration from the spicy chicken wings made by Hiro's auntie, Cass.

Special Pancake Set – ¥1,080 @ Center Street Coffeehouse / Time Served: 13:00-18:00 (Not serving June 1, 2020 – September 2, 2020)

Like the curry, this pancake set is also sold at Center Street Coffeehouse. It comes with two thick pancakes topped with Baymax's faceーwhich is a Japanese 'manju' steamed cakeーassorted berries, strawberry sauce, and other delicious delights, mixing together Japanese and western flavours.

Sparkling Tapioca Tea (Cheese Cream & Berries) – ¥600 @ Tomorrowland Terrace / Time Served: 14:00-17:00

BB Popcorn w/Basket – ¥2,600 @ The Big Pop

There's also a dessert-style drink at Tomorrowland Terrace which is a berry flavoured ice tea packed with dollops of cheese cream, as well as popcorn which comes with a popcorn basket of Baymax riding. This will be sold at the new popcorn shop, The Big Pop, which is opening on April 15.

Tuck into some cute and delicious Baymax food at Tokyo Disneyland before The Happy Ride with Baymax opens for business.

©Disney

Disney Princess Inspired Cupcakes Released at Ginza Cozy Corner in Japan

Disney princesses around the world won't be able to resist the nine new cupcakes released at Ginza Cozy Corner last week in Japan.

The cupcake collection is being released to celebrate Hinamatsuri, a festival held annually in Japan on March 3, which prays for the well-being and healthy maturity of girls. The line-up can be enjoyed by child and adult Disney fans alike, and includes not only Disney princesses, but other female characters in the Disney cast. This includes Minnie Mouse, Belle, Snow White, Cinderella, Aurora, Ariel, Jasmine, and more.

Disney Girl's Collection (Contains 9) – ¥2,700 (Tax Included)

These cute cupcakes look like they have come straight out of a Disney character toy box. They not only look pretty, but sound delicious too, like the raspberry Minnie cupcake, lemon-flavoured Belle cake, cheesecake Cinderella, and more.

Celebrate Hinamatsuri in Disney-style by picking up a box of these cupcakes at Ginza Cozy Corner.